This shrimp creole recipe will make a delicious stew that wakes all your senses.
What Is Shrimp Creole?
Shrimp creole is a spicy shrimp stew seasoned with plenty of creole seasonings. It has shrimp and the so-called 'holy trinity' of Louisiana creole: onion, celery, and bell pepper.
The seasoning mix is built around paprika and plenty of dry herbs such as oregano, bay leaf, basil, thyme, and rosemary. Rather than mix all those herbs individually, however, we opted for just rosemary and pre-mixed Italian seasoning mix to give our dish a world of aromas.
Shrimp creole often comes with a red base made of tomato sauce and chicken broth. It's served with freshly cooked rice.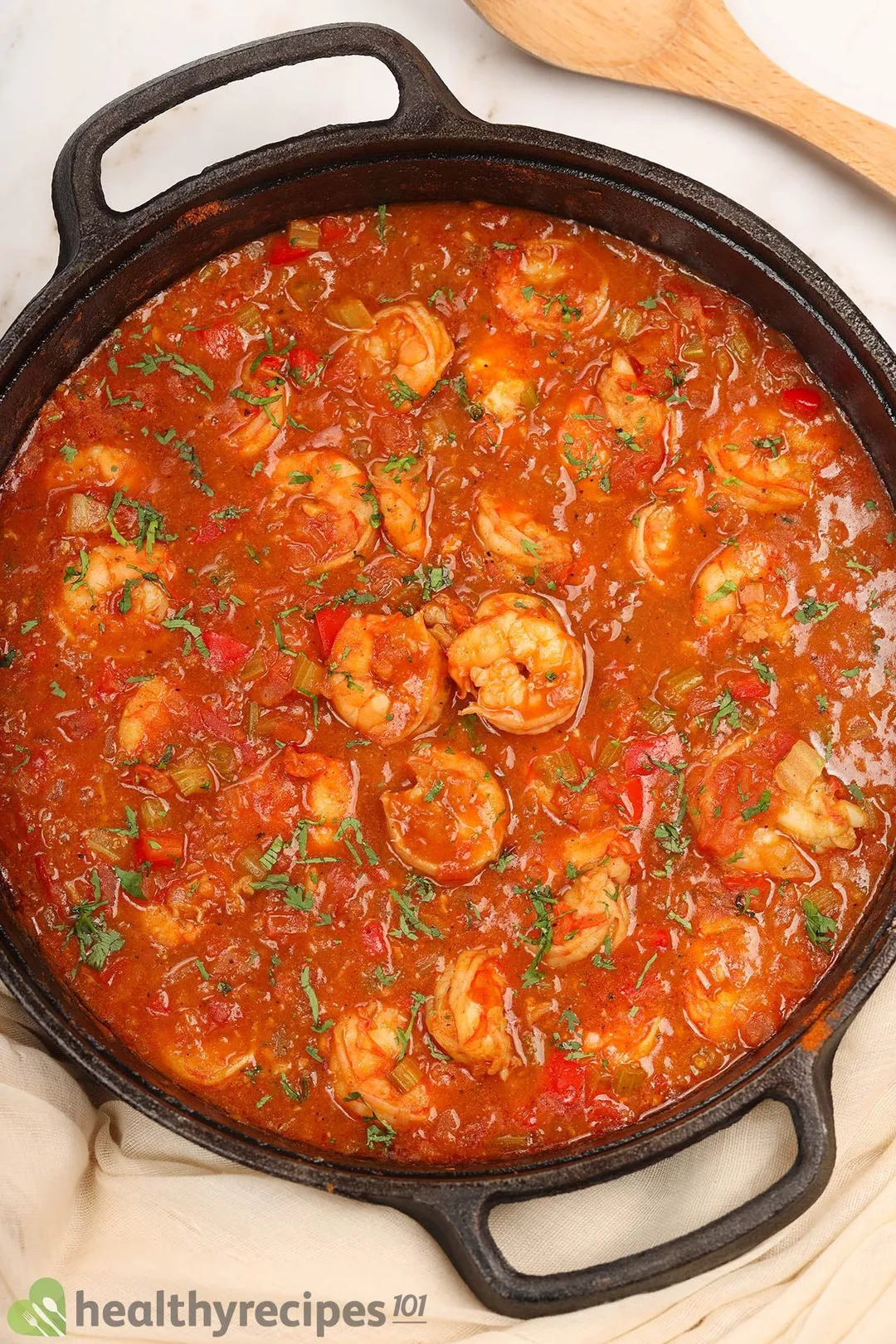 The Difference Between Shrimp Etouffee and Shrimp Creole
The two stews look a lot alike, but they have one subtle difference: the seasoning. Shrimp etouffee can be seasoned with either cajun or creole seasoning while shrimp creole mostly uses just creole seasoning. The mix is a combination of dry herbs and paprika, while its cajun counterpart includes plenty of red-hot spices.
Is Our Shrimp Creole Healthy?
Like many Louisianian stews, shrimp creole contains shrimp, cooked rice, and a variety of vegetables. It's a delicious concoction of proteins, carbs, fibers, and vital micronutrients.
Still, since people tend to eat with abandon, their sodium and calories can pile up in a hurry. To keep them within reason, we divide this stew into healthy portions, with each containing:
488 calories
4.1 g saturated fat
558.9 mg sodium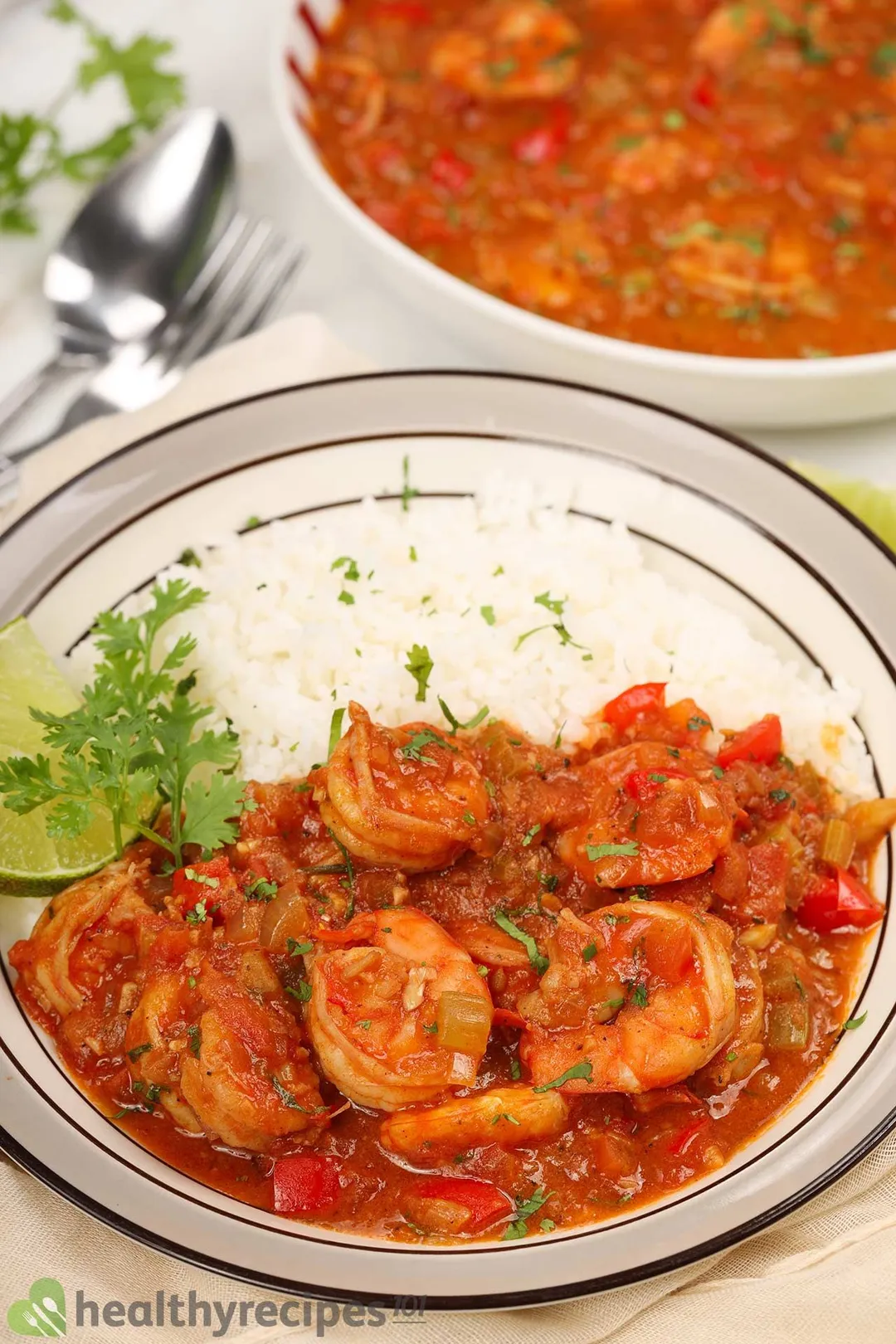 Main Ingredients for Shrimp Creole
1. Shrimp
For this shrimp creole recipe, size doesn't matter. You can pick up large, medium, or small shrimp, depending on your preference.
To skip the daunting process of deveining and peeling, we recommend frozen shrimp that's already peeled and packaged. By the time you get them home and have the veg prepped, they should be soft enough to work with.
If you have fresh shrimp instead, we suggest you read our shrimp prep procedure. It involves a toothpick and a knife and gets things done quickly.
2. Vegetables
The holy trinity — celery, onion, and bell pepper — is the soul of creole cooking, making for a classic Louisianian mirepoix. It gives the dish everything: a gentle sweetness, a complexity of light aromas, and a crucial savory overtone.
Additional vegetables differ from household to household, as the locals love making their food unique. Our shrimp creole recipe incorporates garlic and tomato, bringing even more flavor to the table.
Now, creole isn't typically thickened with flour; the sauce is instead reduced until it reaches the right consistency. Still, we found that a bit of flour will thicken the sauce with more liquid, and we prefer our creole this way.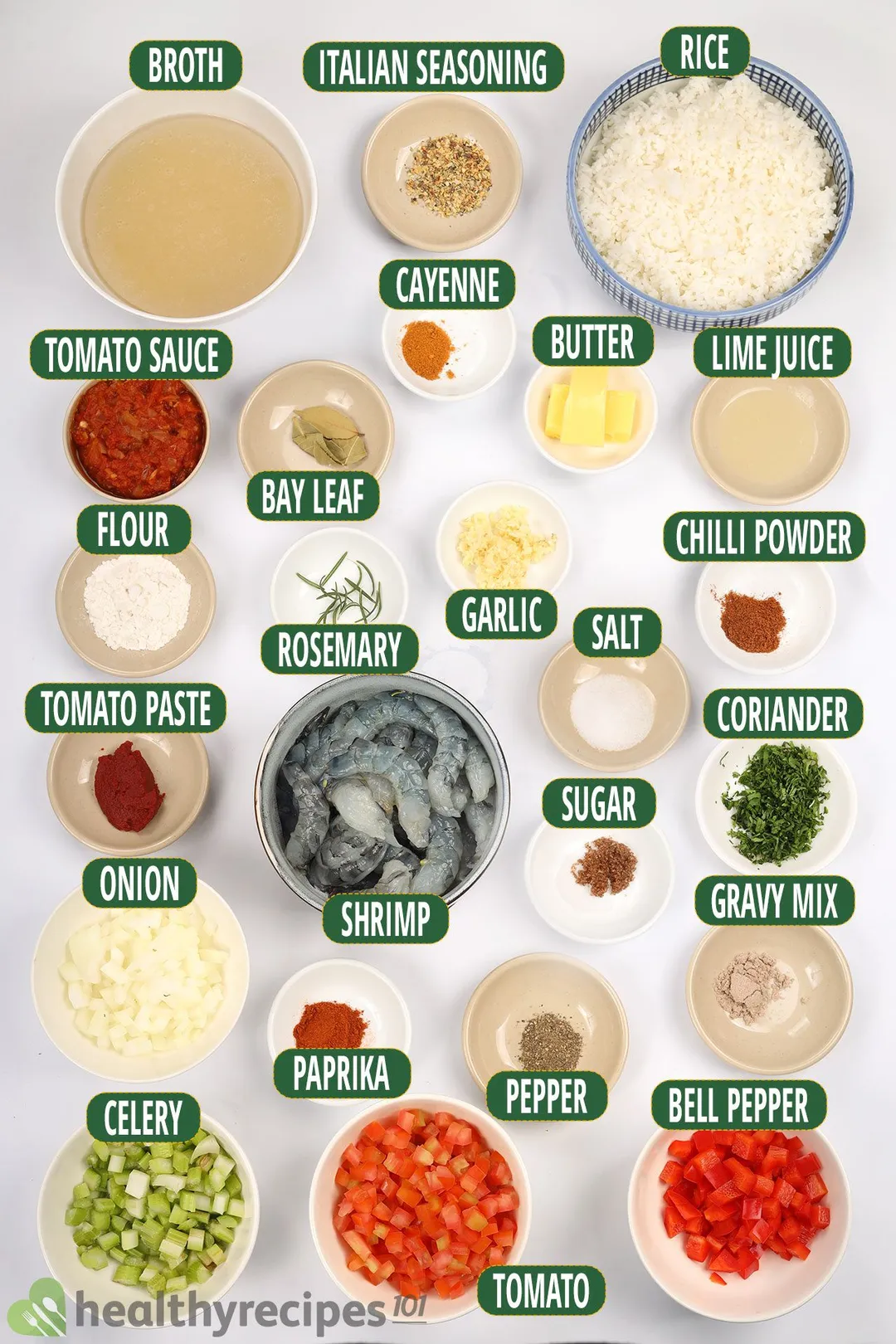 3. Sauce
We like to toss in a little lime juice anytime we're working with shrimp. It doesn't make the sauce sour but rather neutralizes some of that fishy seafood aroma.
The tomato base of the sauce comprises chopped tomatoes, tomato paste, and tomato sauce. The last two ingredients give access to that beautiful red hue and lovely consistency which can't be achieved with tomatoes alone.
It's a lot of tart components, though, so we balanced it with some sugar.
To it we added the creole mix made of Italian seasonings, rosemary, and paprika. We prefer it with some heat, so we also threw in some cayenne and chili powder.
Although not originally called for, we enhanced the sauce's savoriness with a bay leaf and a brown gravy mix from Knorr. It's simply a liquid-free concentration of beef broth that adds flavor.
Finally, we adjusted the taste with salt and pepper.
4. Rice
The sooner you serve this stew the better, so cook some rice before you begin on the rest. If you have rice in the fridge, 5 minutes in the steaming basket will bring it back to life, soft and steamy.
How to Store and Reheat Shrimp Creole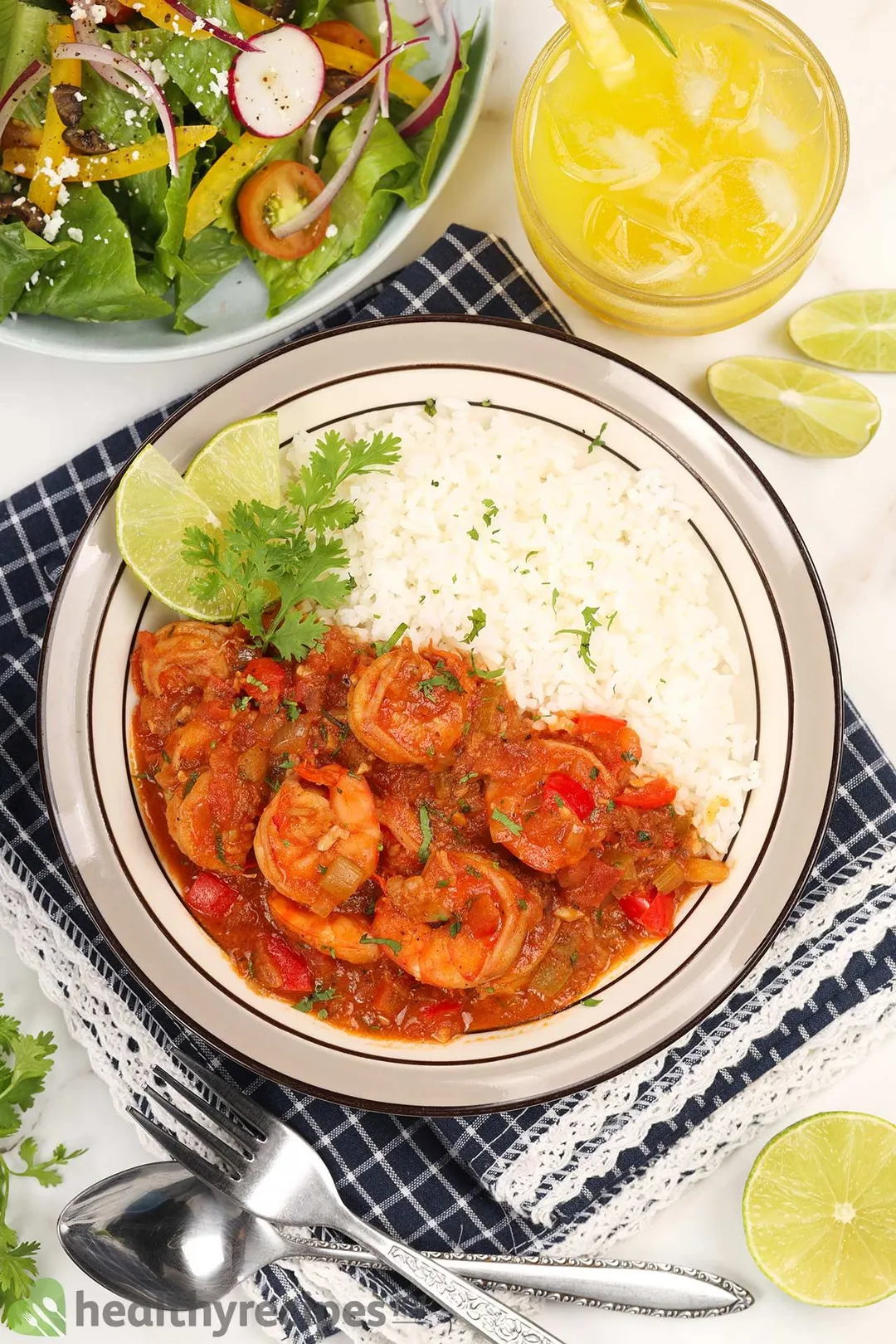 Refrigeration keeps properly-stored cooked shrimp for about 4 days while freezing it makes it last about 3 months. "Properly-stored" means letting the food cool to room temperature and covering it tightly before storage.
There are a few container options: Ziploc bags, biodegradable bags, air-tight containers, or a bowl and a piece of plastic wrap. When it comes to storing many portions, though, using a bag for each portion makes reheating much easier and saves on fridge space.
To reheat, place your desired portion(s) in a pot and simmer over low heat until heated through. Or place it all in a bowl, wrap with microwave-safe plastic wrap, and zap it on medium until hot.
Cooked rice lasts for about 7 days — if tightly covered and refrigerated — and can be reheated by steaming or microwaving with about 1-2 tbsp water. Rice doesn't freeze well — its delicious texture will turn mealy once thawed.
What to Serve With Shrimp Creole
This spicy, aromatic stew goes great with a crunchy, tangy salad and a glass of fresh juice. We picked a Greek salad and a sweet drink full of micronutrients: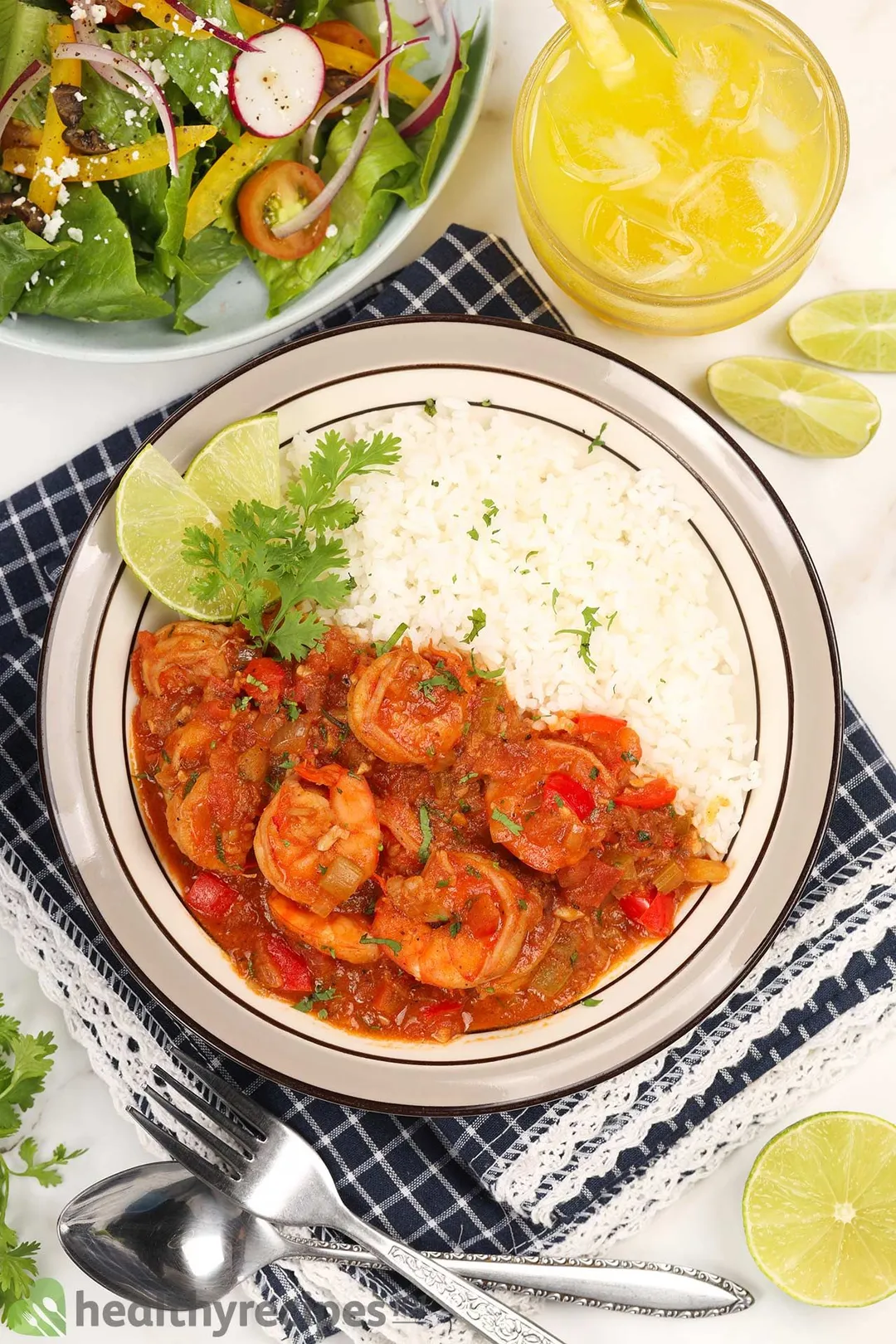 Looking for More Shrimp Dishes? Check These Out!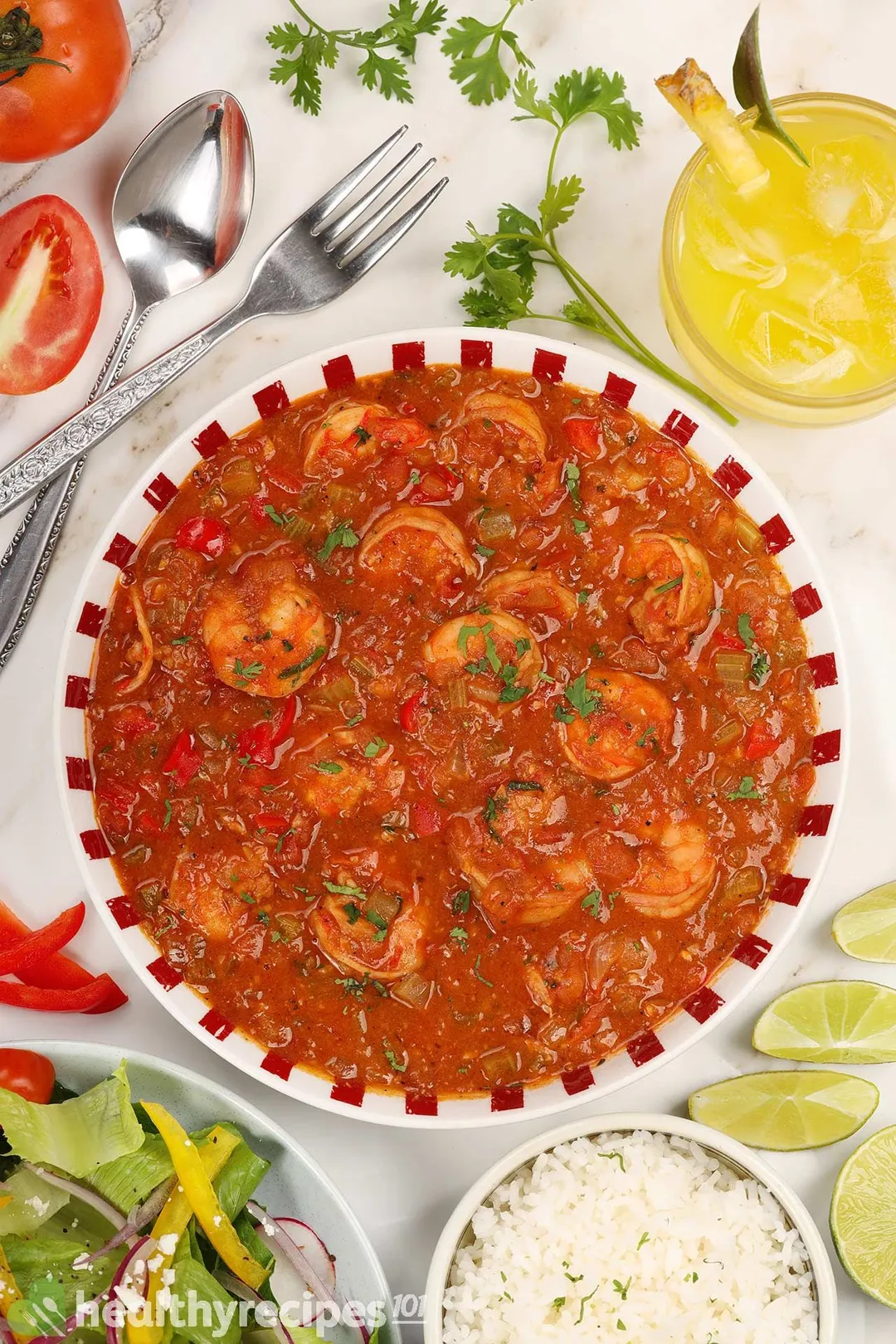 Shrimp Creole
This shrimp creole recipe makes a fragrant, spicy shrimp stew with a complexion of Louisianian staple aromas. It goes perfectly with cooked rice.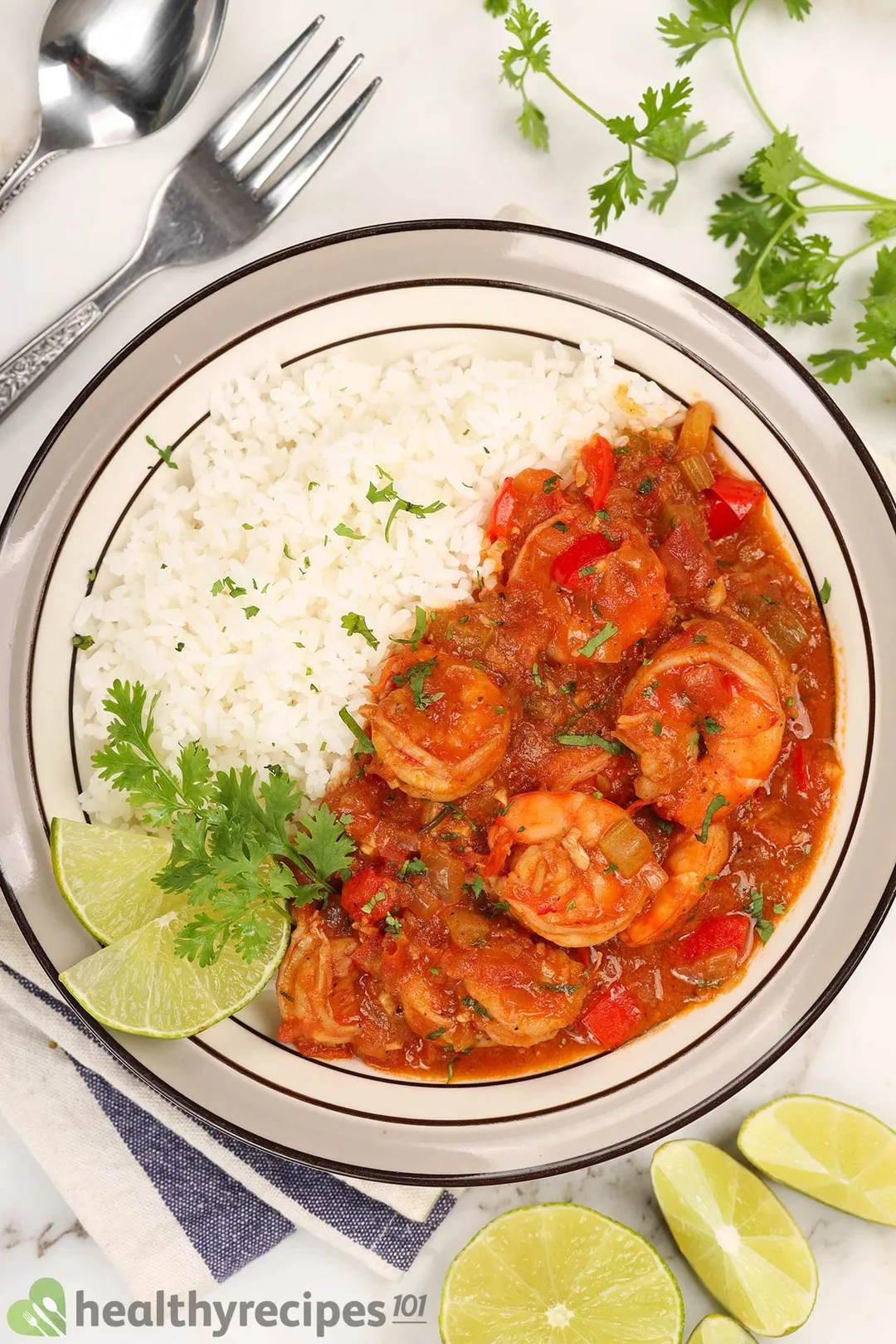 cook TIME

23 mins

prep TIME

7 mins

total TIME

30 mins
COURSE

Main Course

CUISINE

American, Louisianian

SERVINGS

CALORIES

488 kcal
INGREDIENTS
12 oz

peeled shrimp

(from about 24 oz whole)

4 oz

tomato

(about 1 medium, chopped)

1 1/2 cups

unsalted chicken broth

3 1/2 cups

cooked medium-grain rice

2 oz

celery

(about 1 medium stalk, chopped)

2 oz

onion

(about half a medium, chopped)

2 oz

red bell pepper

(about half a medium, chopped (other colors work too))

1 tbsp

garlic

(about 3 cloves, minced)

2 tbsp

unsalted butter

(about 1 oz)

1 tbsp

Hunts tomato paste

1/2 cup

homemade tomato sauce

1/2 tsp

Italian seasonings

1/2 tsp

ground black pepper

2 tbsp

cilantro

(chopped)
INSTRUCTIONS
1
Melt 2 tbsp unsalted butter over medium heat and sauté 1 tbsp garlic for about 30 seconds.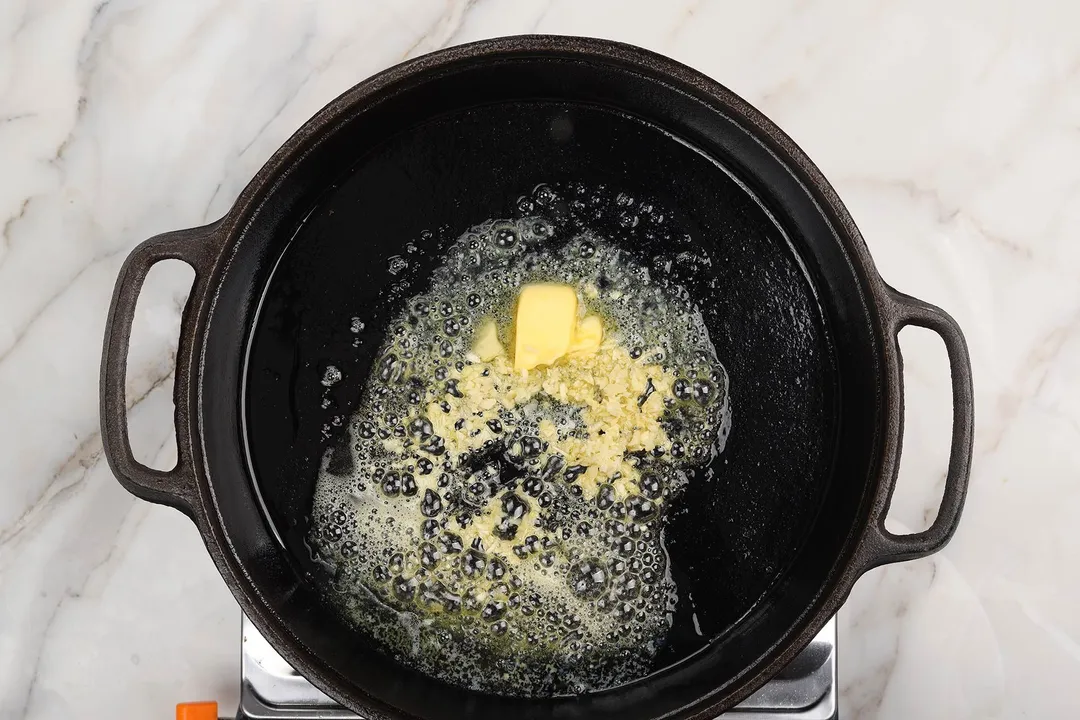 2
Add chopped celery, onion, and bell pepper (2 oz each) and stir to cook for 2 minutes.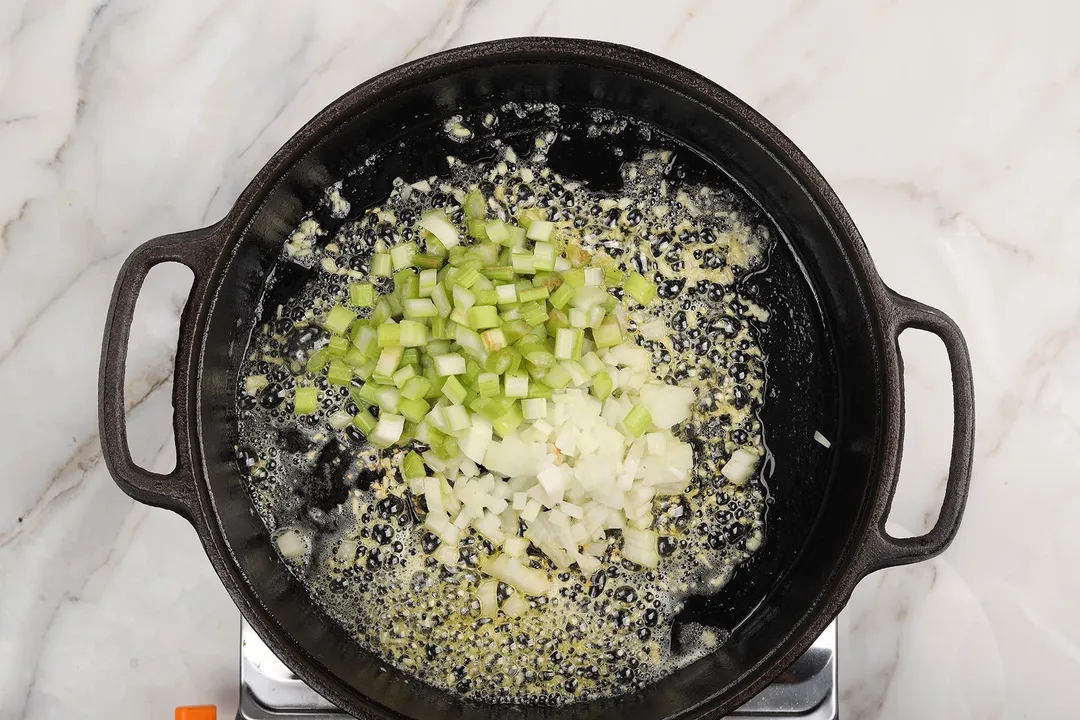 3
Add 1 tbsp tomato paste and stir until it melts and coats the aromatics evenly.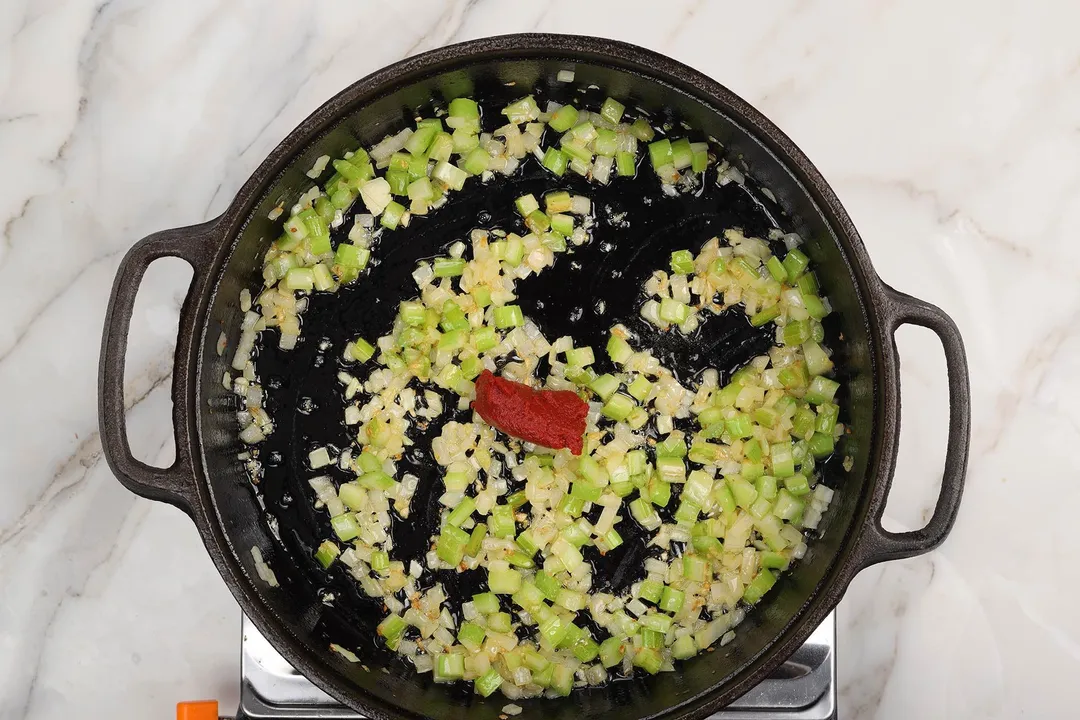 4
Add 4 oz tomato along with 1/2 cup tomato sauce. Stir and allow to cook for 2 minutes.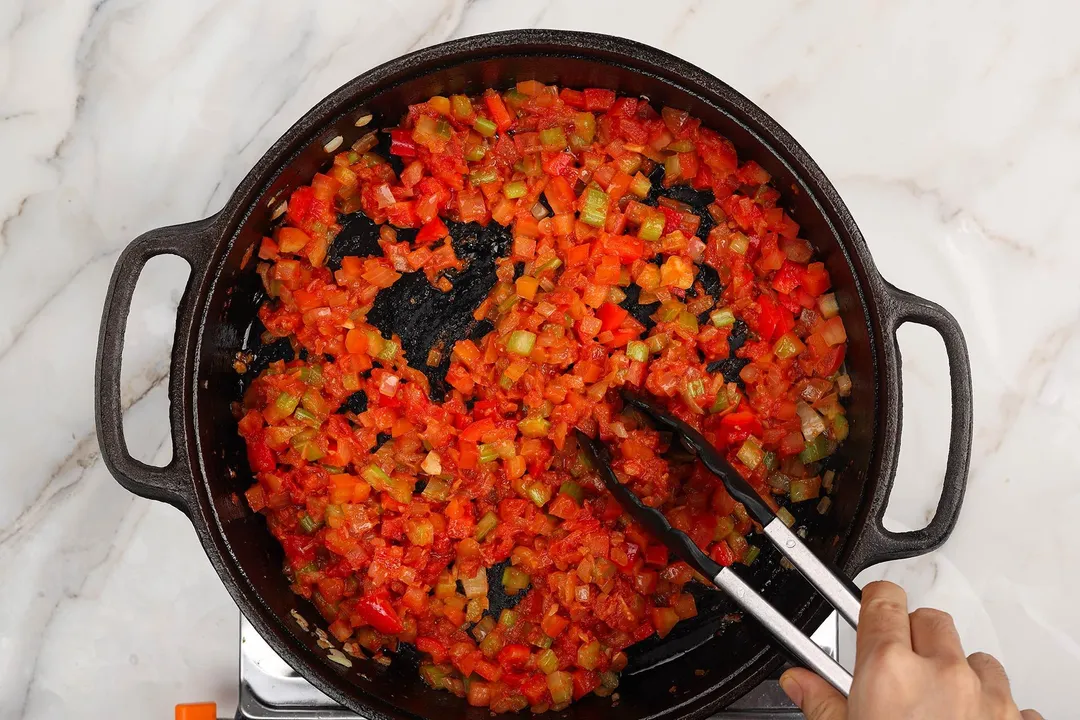 5
Add 12 oz peeled shrimp along with the seasonings: 1/2 tbsp lime juice, 1/2 tbsp paprika, 1/2 tsp brown gravy mix, 1/2 tsp Italian seasonings, 1/2 tsp salt, 1/2 tsp black pepper, 1/2 tsp brown sugar, 1/2 tsp cayenne, 1/4 tsp rosemary, and 1/4 tsp chili powder. Mix well.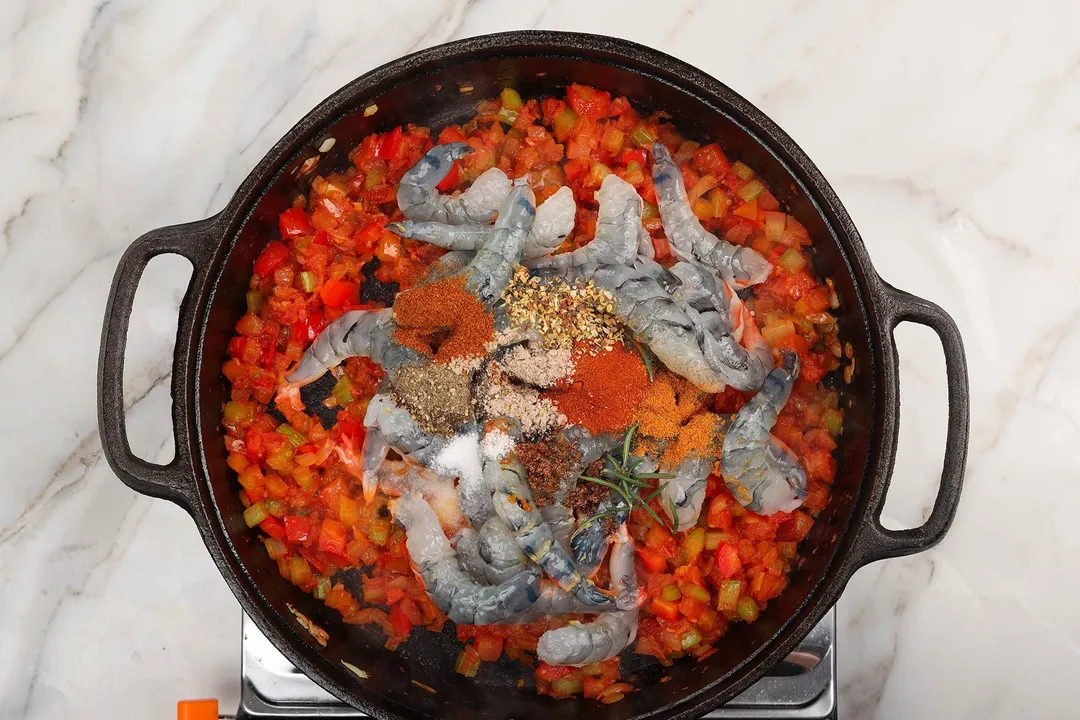 6
Add 1 tbsp all-purpose flour and stir to cook off its raw taste (about 1 minute).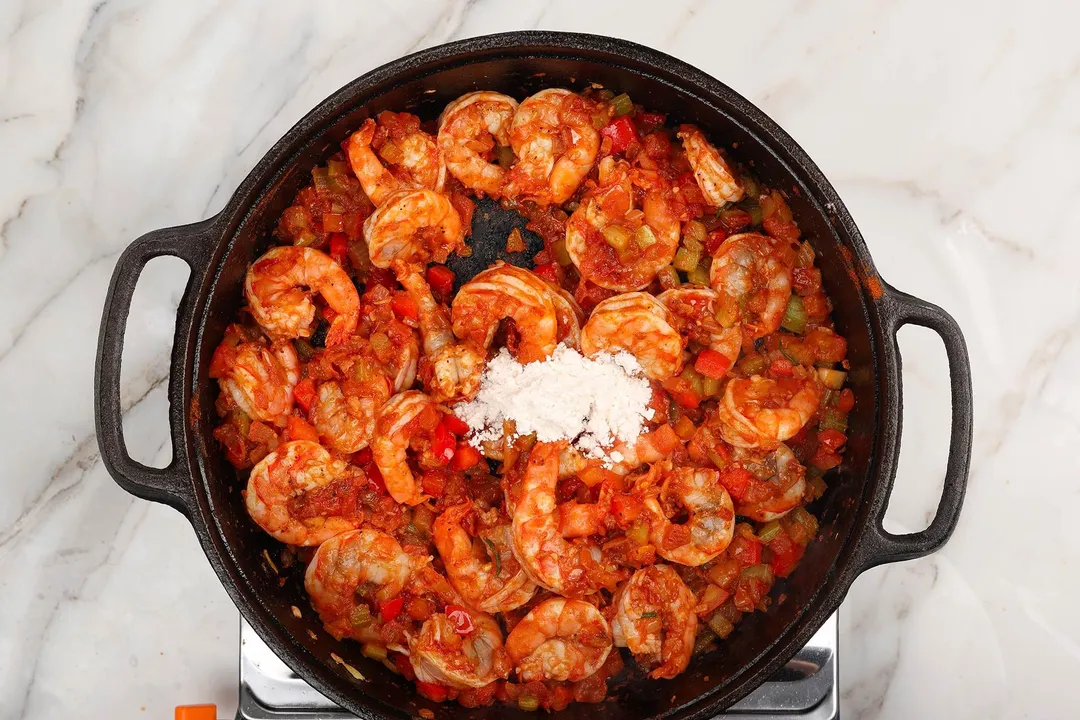 7
Pour in 1 1/2 cups chicken broth a little at a time while constantly stirring to loosen the flour. Once the flour is dissolved, add the remainder at once along with 1 bay leaf, and turn the heat to low. Simmer for 15 minutes.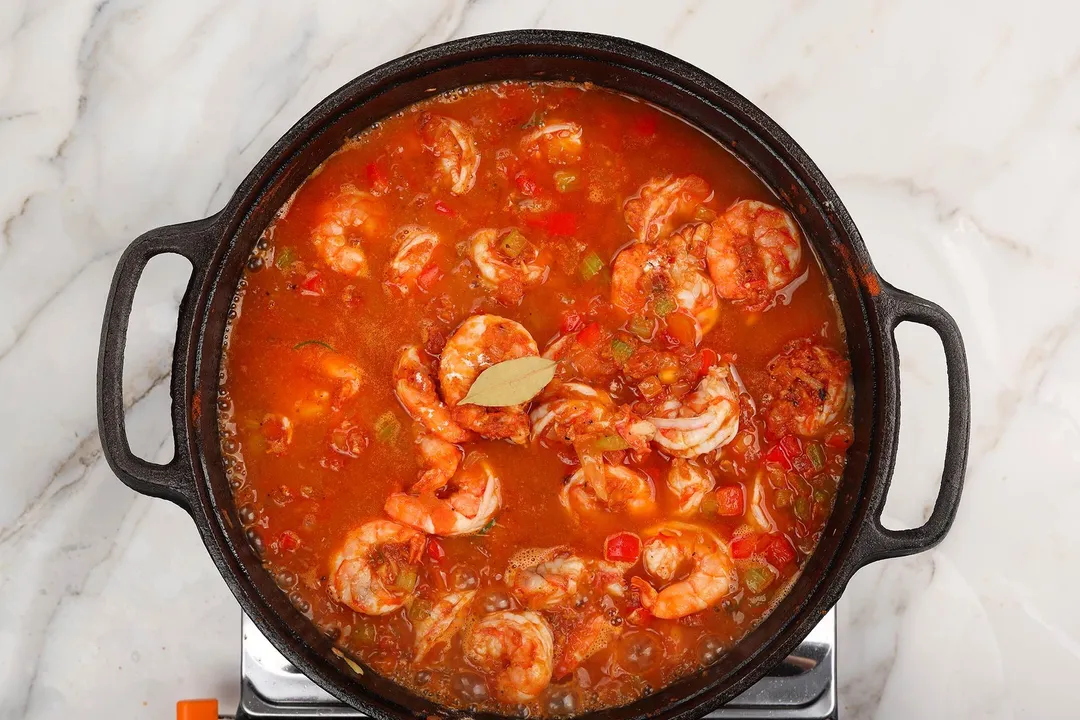 8
Remove from the heat. Garnish with 2 tbsp chopped cilantro and enjoy with 3 1/2 cups cooked rice.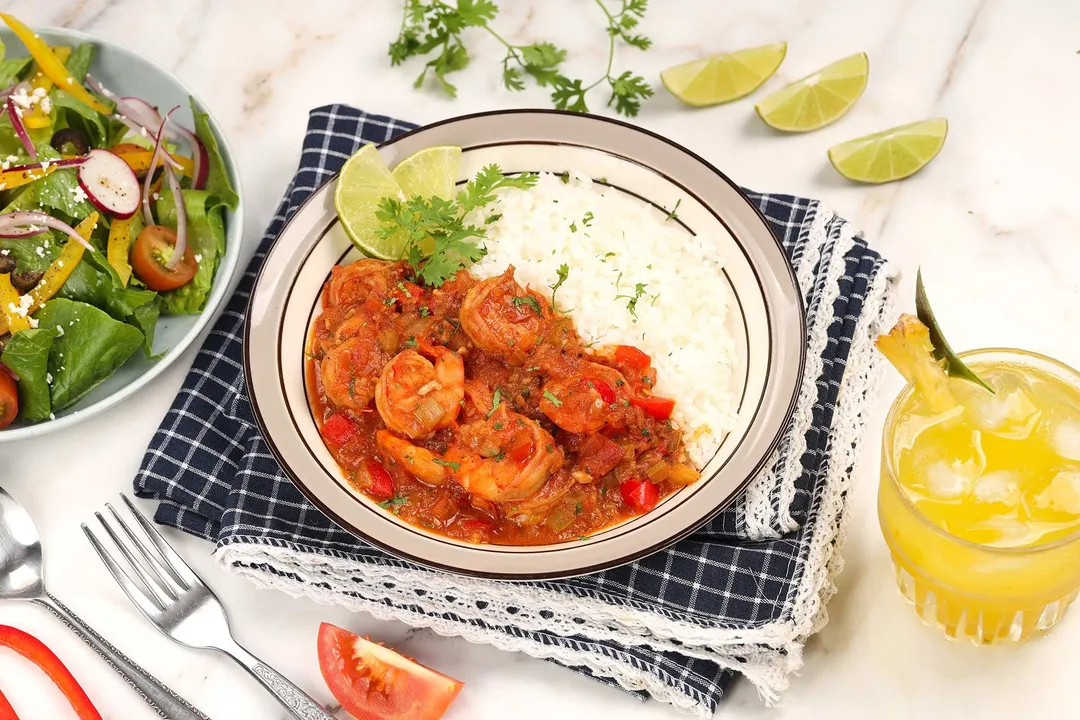 NUTRITION
Nutrition Facts
Shrimp Creole
Amount Per Serving (1 serving)
Calories 488
Calories from Fat 90
% Daily Value*
* Percent Daily Values are based on a 2000 calorie diet.
Keywords: how to make shrimp creole, healthy shrimp creole, shrimp creole, shrimp creole recipe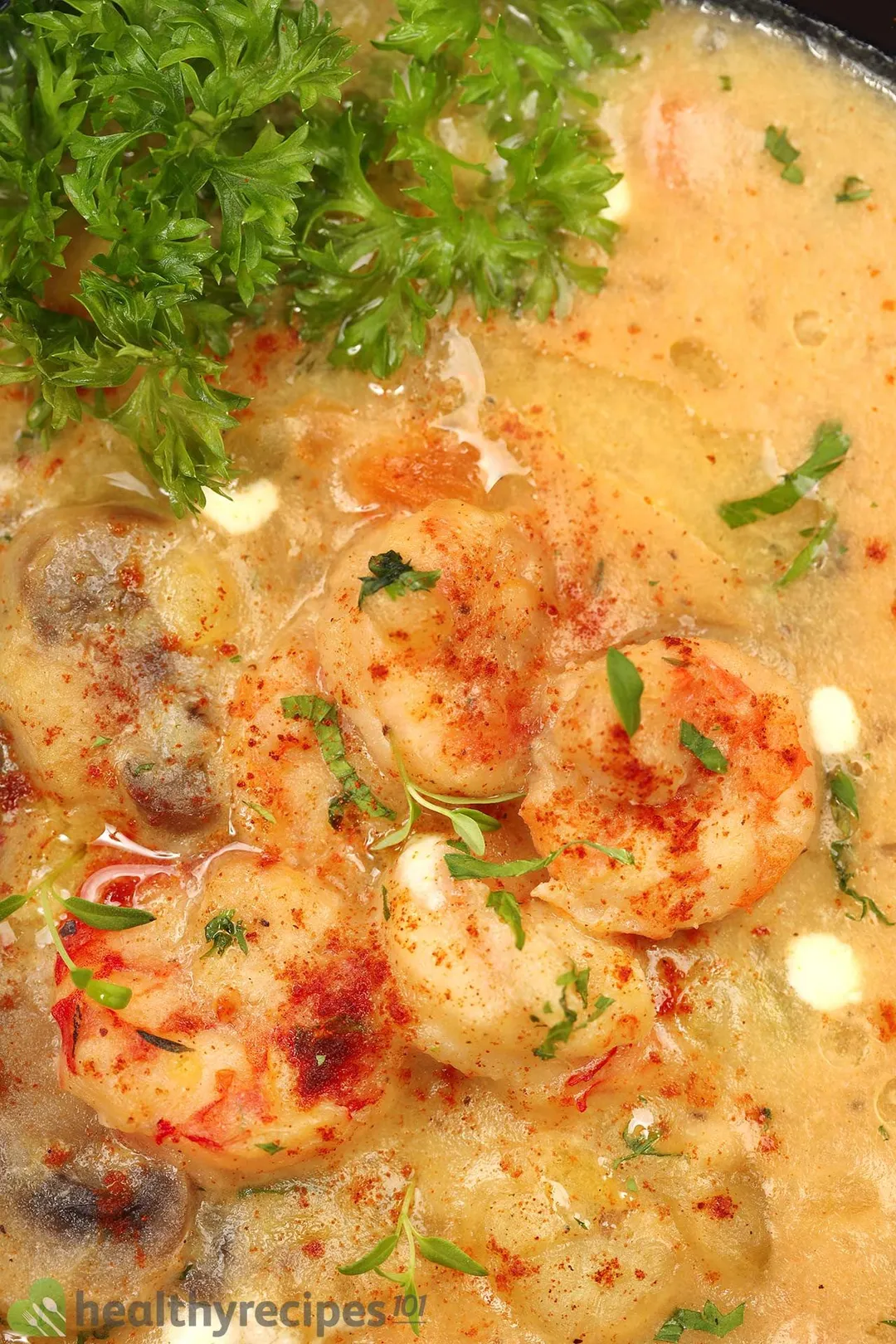 Previous Recipe
Shrimp Soup
Shrimp Soup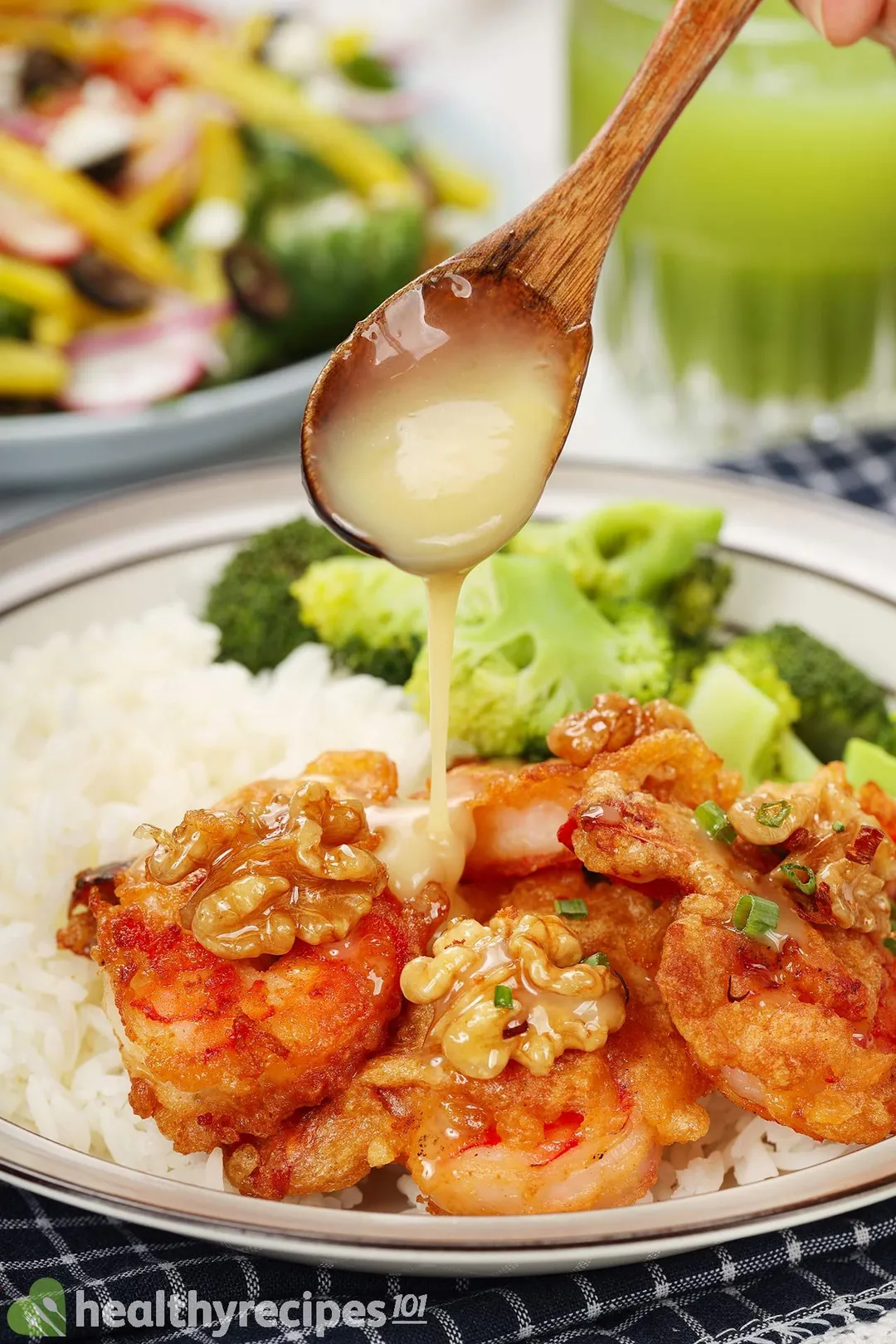 Next Recipe
Honey Walnut Shrimp
Honey Walnut Shrimp
Head Chef, Culinary Consultant
Tuyet Pham is an award-winning Saigonese chef who believes that joy is the secret ingredient to delicious food. At Healthy Recipes 101, Tuyet personally tests and simplifies every recipe, ensuring maximum flavor with minimal effort. With a background at prestigious French restaurants P'TI Saigon and Le Corto, Tuyet knows how to make every dish exceptional.
Writer, Author
Luna Regina is an accomplished writer and author who dedicates her career to empowering home cooks and making cooking effortless for everyone. She is the founder of HealthyKitchen101.com and HealthyRecipes101.com, where she works with her team to develop easy, nutritious recipes and help aspiring cooks choose the right kitchen appliances.
Nutrition Reviewer
Lizzie Streit is a Minneapolis-based dietitian and founder of It's a Veg World After All. She completed her MS in Human Nutrition from Drexel University, and is an expert in culinary nutrition, recipe development, and nutrition communications. Lizzie's philosophy is centered around making nutrition recommendations, and especially the advice to eat more vegetables, approachable and realistic. She is excited to be working with the team at Healthy Recipes 101 to ensure that their recipes are both nutritious and delicious.
The spices and vegetables creates a flavorful and hearty dish that is perfect for any occasion. I can't wait to try this recipe out!