Our shrimp etouffee recipe will give you an authentic Louisiana stew in just 25 minutes.
If you fancy thick, flavorful stews to serve with cooked rice like Gumbo, this one is no less tasty. It's filled with hearty veggies and crunchy shrimp cooked with classic Louisiana seasonings, assuring a simple, yet delightful meal.
What Is Shrimp Etouffee?
Etouffee (or Étouffée) is a French word for 'smothered', implicating the saucy nature of the classic Louisiana stew. It comprises shrimp, the holy trinity (celery, onion, bell pepper), a roux as a thickening agent, and a variety of seasonings.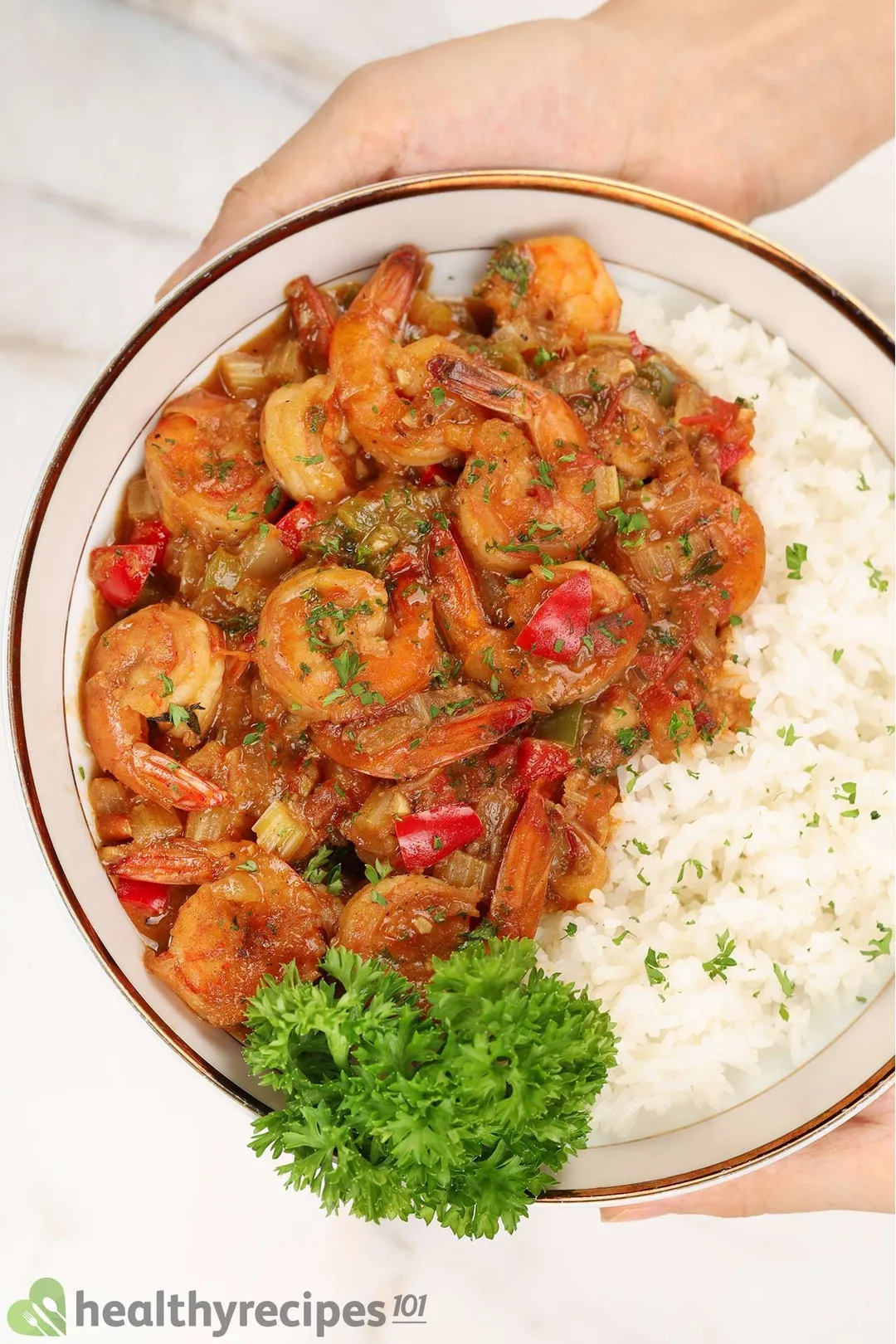 There are many variations of Etouffee — some prefer using Cajun seasoning while others prefer Creole, and sometimes, tomatoes are used. Some home cooks like to add their own unique flavors, making it a more personal and homely experience for their families.
No matter which version, the dish remains popular to this day for its complex flavor profile and, most likely, its short cooking time. Our shrimp etouffee recipe asks for just 25 minutes of your time.
Shrimp Creole vs Shrimp Etouffee
The two stews are often confused because they look similar, but after just a spoonful, you should be able to tell the difference.
You'll find shrimp creole is a little thinner and it's always seasoned with Creole seasoning.Unlike Cajun, which relies on hot pepper powders, Creole spice mix incorporates herbs like oregano, and thyme, etc. with a little kick of paprika.
If you're still curious about the difference, give our Shrimp Creole Recipe a try and find out for yourself!
Is Our Shrimp Etouffee Healthy?
Containing protein-rich shrimp, micronutrient-packed vegetables, and served with a healthy carb — rice, shrimp etouffee is a relatively wholesome dish. Still, it needs several tweaks to fit our healthy eating guidelines.
First, the roux is sometimes cooked until it darkens, which can form a significant amount of acrylamide. It's a cancer-promoting substance, emerging when carb (flour) is cooked in fat (butter) for too long. We aren't sure of the exact levels involved, but seeing as it's better to be safe than sorry, we cooked the roux just briefly.
Butter also contains lots of saturated fat, something we should restrict, so we used only a moderate amount to leave each serving with just 2.4 g, enough to preserve the dish's luscious consistency.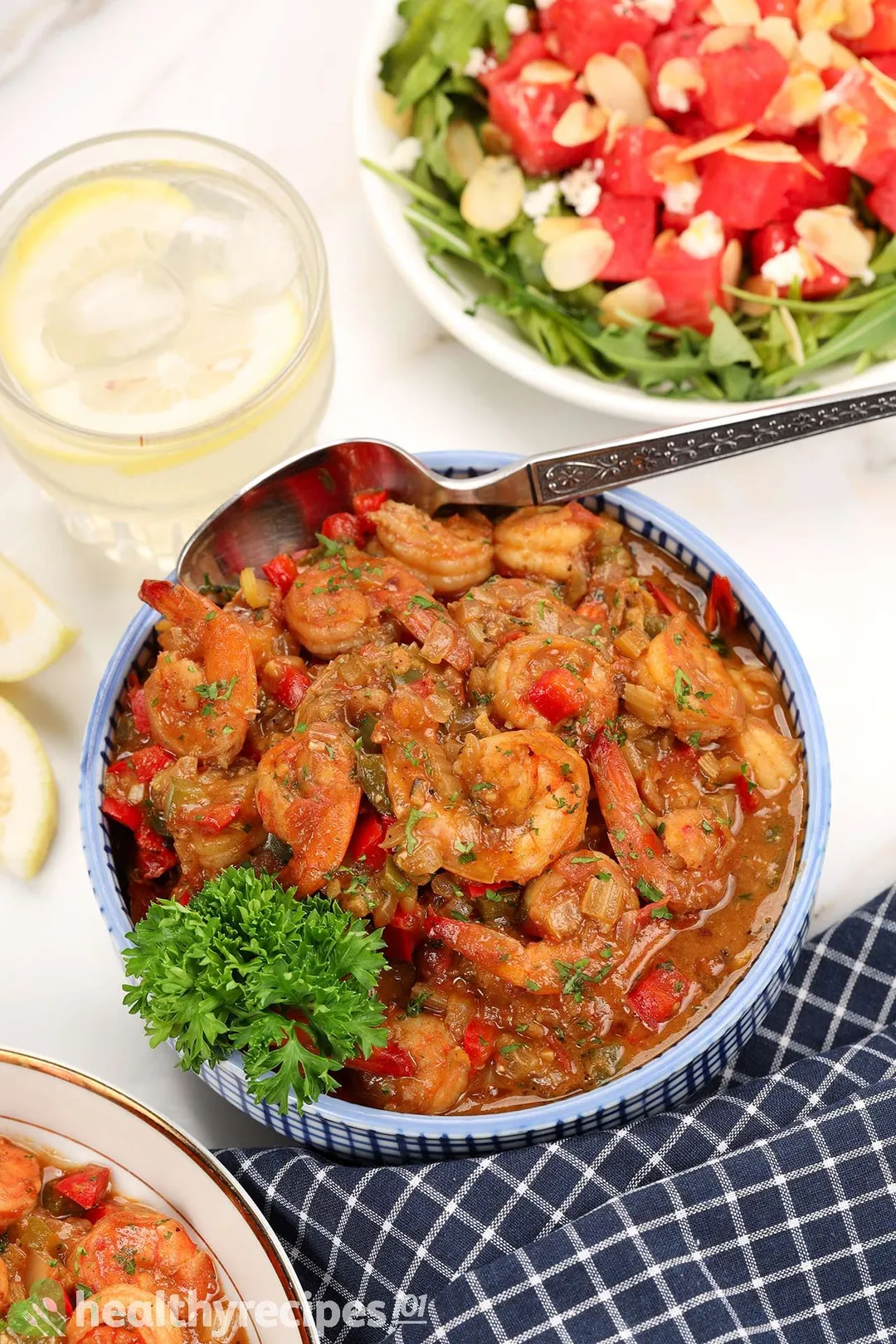 Besides saturated fat, the sodium and calorie content also had to be moderated. After adjusting some ingredient ratios, one serving yielded only about 487 calories and 553 mg sodium, reasonable amounts for a delicious and healthy dish.
Ingredients for Shrimp Etouffee
1. Shrimp
Smaller shrimp are the best choice for this recipe to ensure more spoonfuls with at least one shrimp. Plus, they release more moisture compared to larger ones of the same weight, diffusing a great deal more flavor into the sauce.
To avoid having to peel and devein the small shrimp, we suggest you find packaged shrimp. Typically, you'll find them in the frozen food section, readily deveined, peeled, and with heads removed.
2. Vegetables
When it comes to Louisiana cuisine, the holy trinity of celery, onion, and bell pepper is a must-have. It adds the perfect aromas and sweetness to complement the seasonings.
Garlic, too, should be included. It's not originally called for, but we thought if there's onion, there should be garlic.
Some shrimp etouffee recipes include tomatoes, which are the better versions in our opinion. Our stew can definitely use their tangy, umami flavors.
3. Seasonings
The primary seasonings are Cajun/Creole seasonings (we prefer Cajun), salt and pepper. You can personalize the stew with some of your favorite seasonings, and here's ours:
Sriracha and paprika, to add more heat
Lemon juice, because it enhances the shrimp's flavor
Fresh thyme or oregano, for their aromatics
A bay leaf, adding a hint of savoriness
These are the required basic ingredients, plus the roux and the chicken stock. We'll go into more detail in the cooking process, but for the best outcome, use the best chicken stock you can find (unsalted, of course).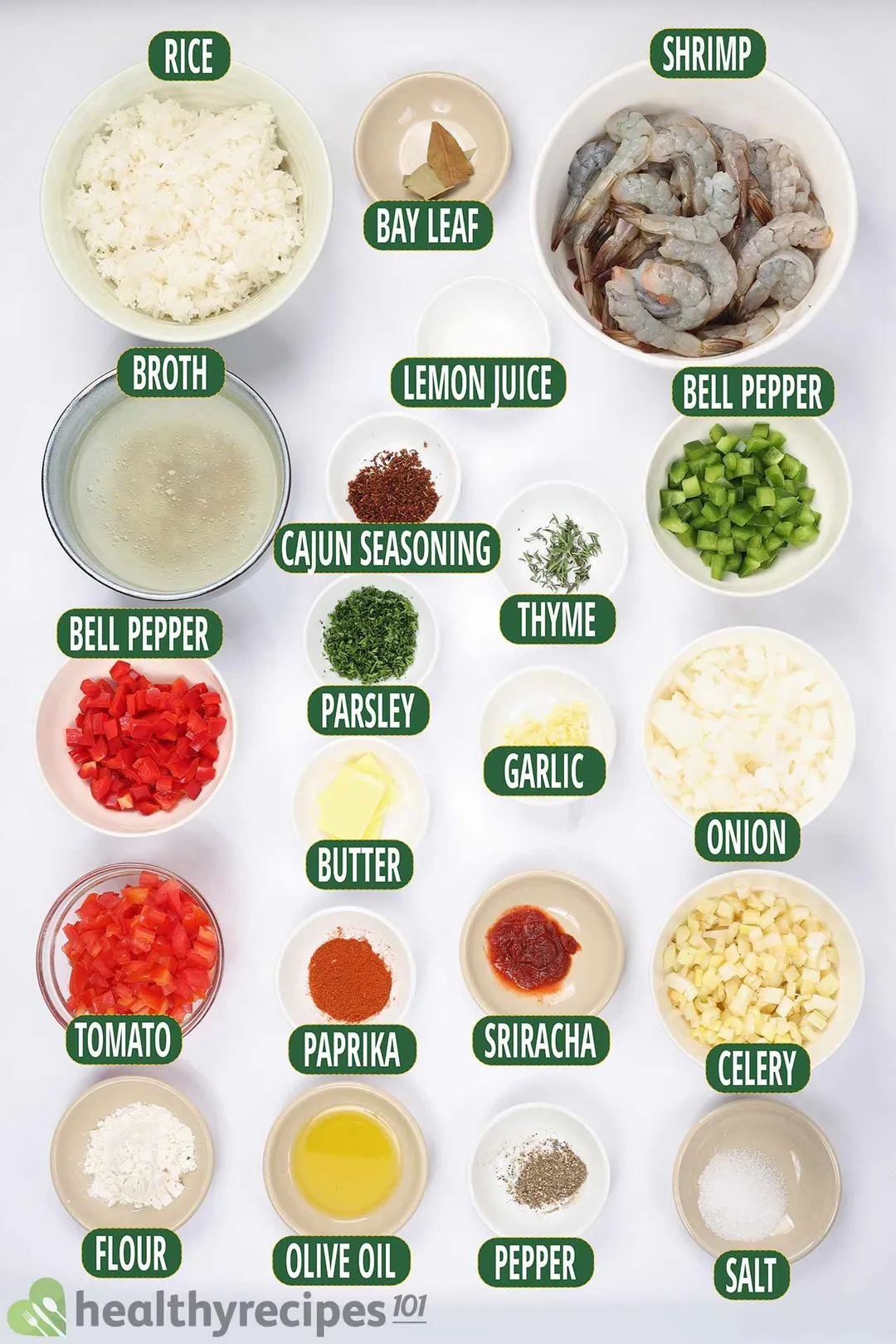 How to Make Shrimp Etouffee
Begin by measuring out and reheating any leftover cooked rice, if you have it in your fridge. If you don't have some to hand, cook some fresh rice.
You'll notice that the flour will absorb all of the liquid in the pan and turn everything dry, but that's normal. Keep stirring for a solid 1 minute before adding the stock, or the taste of flour won't disappear.
When you add the stock, be sure to add gradually while constantly stirring to slowly loosen the flour. Otherwise, you'll end up with undesirable lumps.
For the best result, follow our instructions in the Shrimp Etouffee recipe card at the bottom.
How to Store and Reheat Shrimp Etouffee
Cooked seafood lasts for about 4 days in the fridge and 3 months in the freezer. Keep the leftovers in an airtight container and store them accordingly.
We recommend you finish the leftovers within a week, but if there's more than you need, portion it into different containers. Keep half in the fridge and half in the freezer.
To reheat, simply place it in a pot and simmer, allowing it to bubble for about 2 minutes. If it looks dry, add about 1 tbsp of water.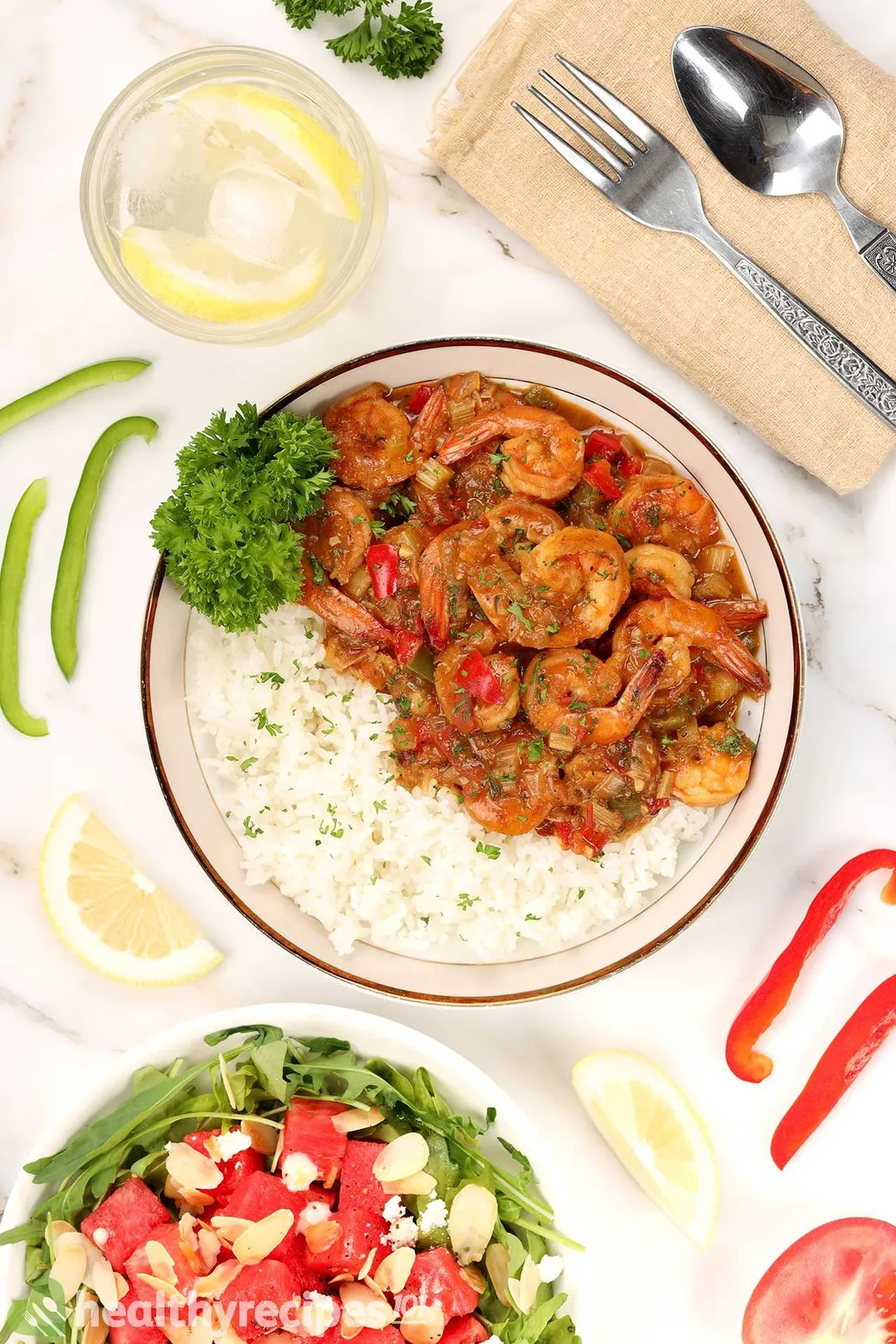 What to Serve With Shrimp Etouffee
Shrimp etouffee is filled with strong flavors, so it's only natural that we looked for something refreshing to go with it. In the end, we decided our juicy, peppery watermelon arugula salad would be a perfect match.
Finally, we chose a glass of sweet and tangy lemonade to round it all off. It's easy to make  and has loads of vitamin C to support your immune system.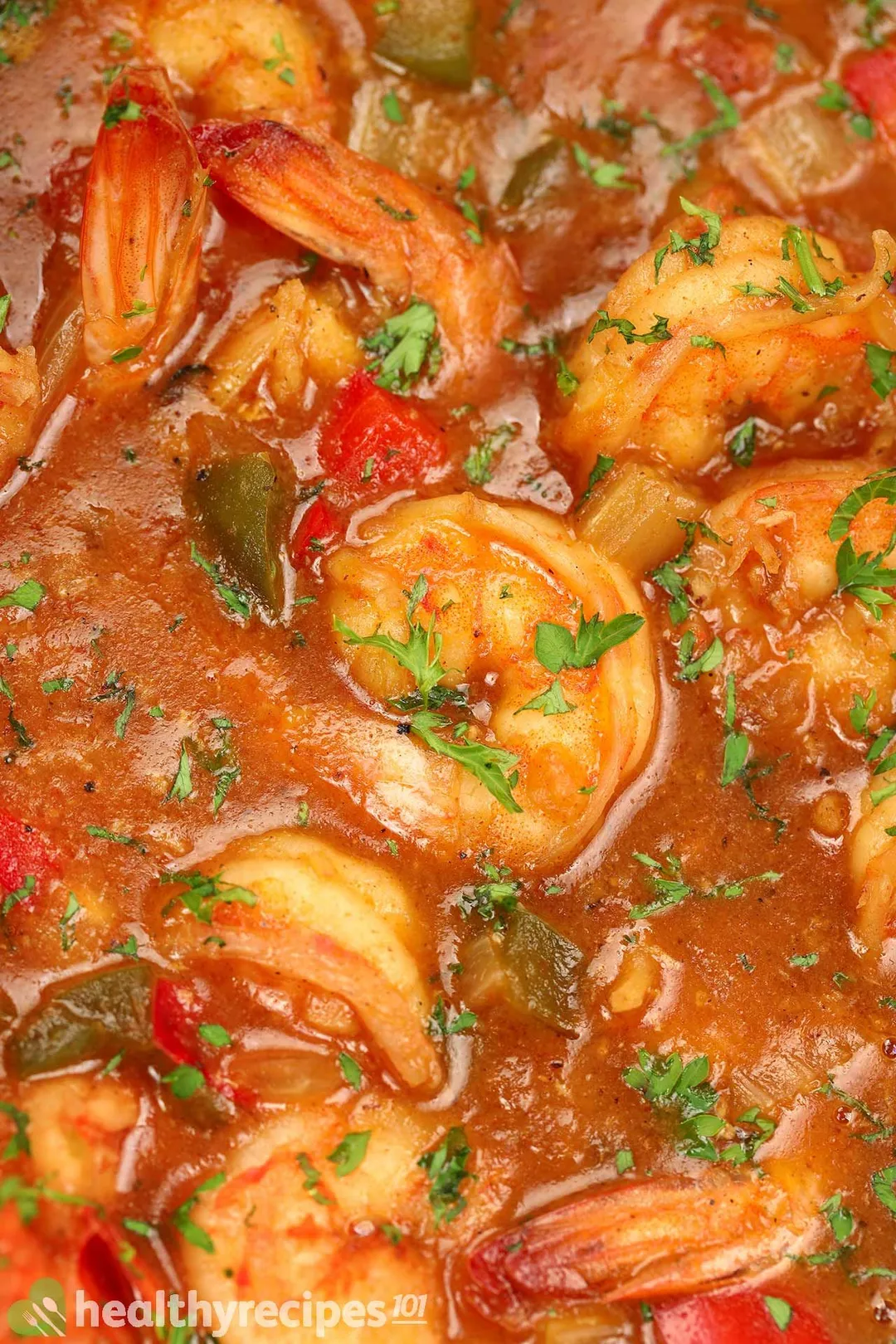 Check Out These Other Shrimp Recipes While You're At It!
Shrimp Etouffee
Our shrimp etouffee recipe makes a succulent shrimp stew in just 25 minutes. It packs tons of flavor.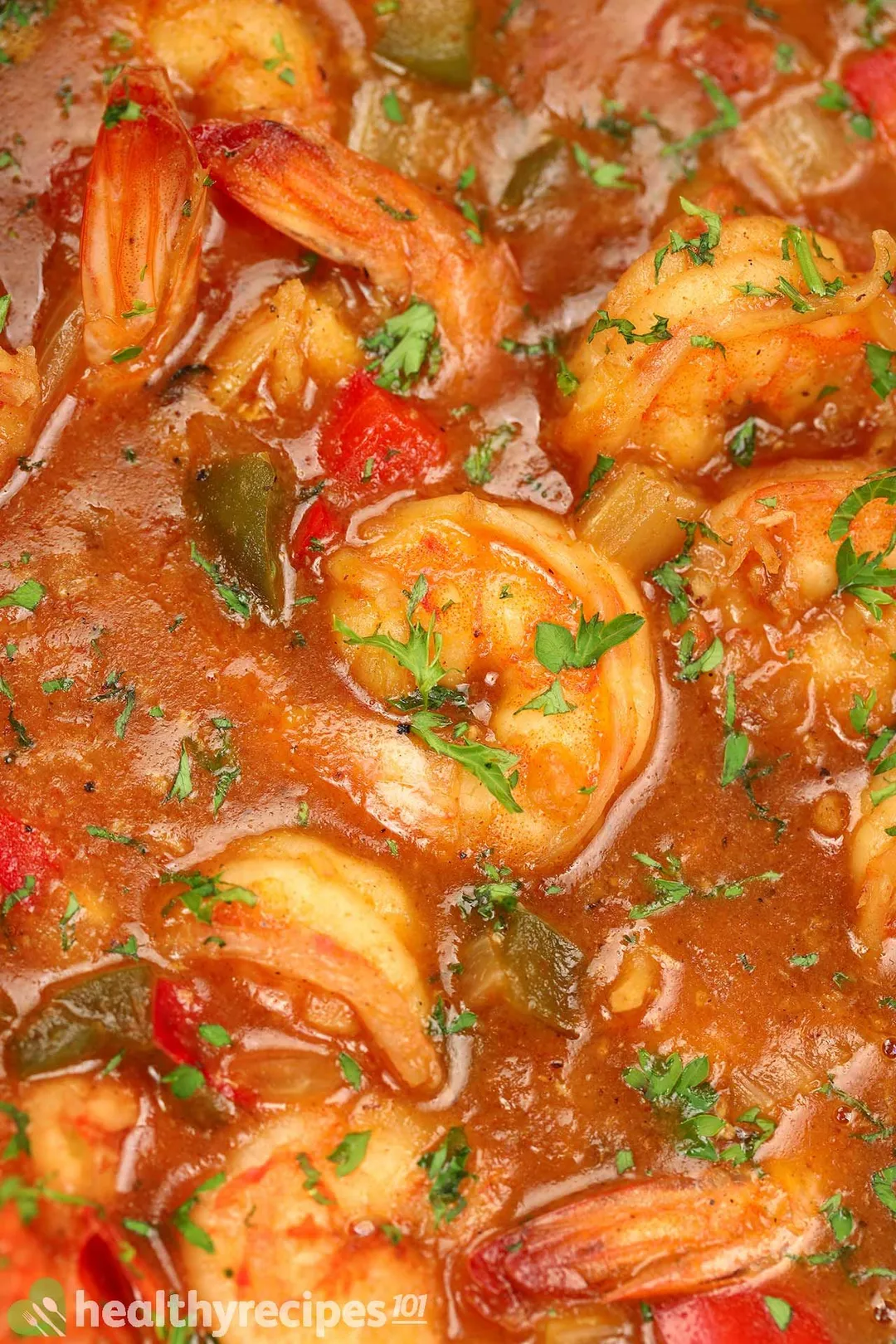 cook TIME

15 mins

prep TIME

10 mins

total TIME

25 mins
COURSE

Main Course

CUISINE

American, Louisiana Creole

SERVINGS

CALORIES

487 kcal
INGREDIENTS
16 oz

peeled shrimp

(from 28 oz raw small shrimp)

4 oz

tomatoes

(about 1 medium, chopped)

4 oz

onions

(from about a medium, chopped)

2 oz

celery

(about 1 large stalk, chopped)

2 oz

red bell peppers

(from about half a medium, chopped)

2 oz

green bell pepper

(from about half a medium, chopped)

1 1/2 tsp

cajun seasoning

1 1/2 cups

unsalted chicken broth

1 tbsp

garlic

(from about 3 cloves, minced)

1/2 tsp

ground black pepper

2 tbsp

parsley

(finely chopped)

3 1/2 cups

cooked medium-grain rice
INSTRUCTIONS
1
Heat 1 tbsp olive oil in a skillet over medium heat. Add 1 tbsp garlic and sauté for about 30 seconds or until fragrant.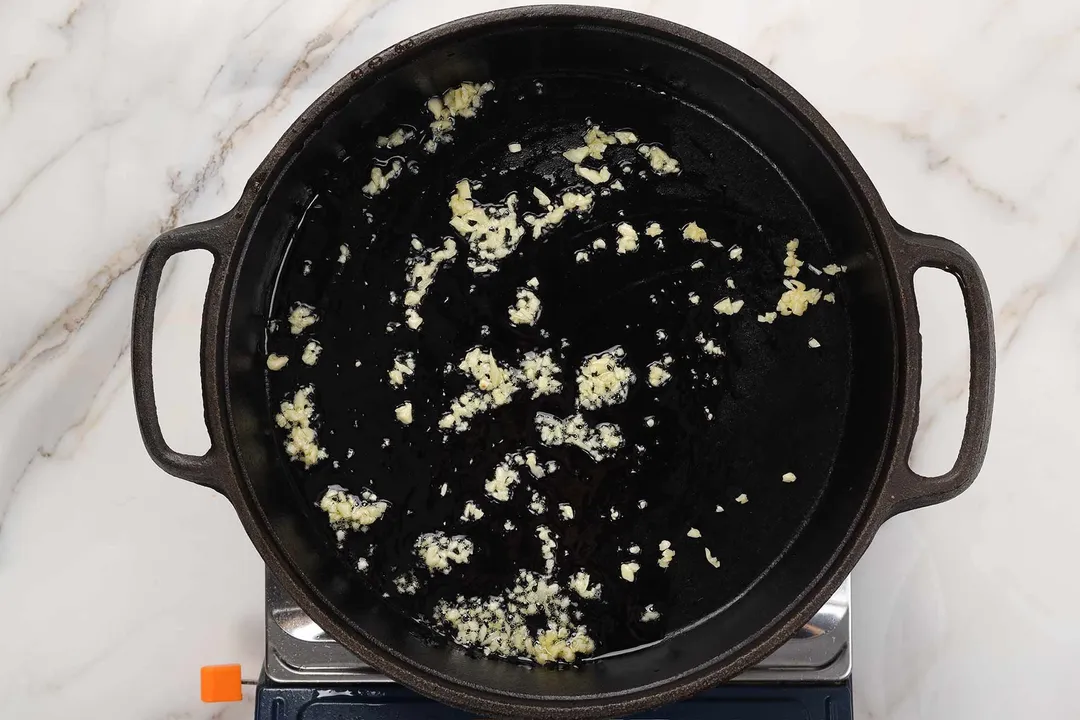 2
Add 4 oz onions and cook for about 2 minutes or until translucent.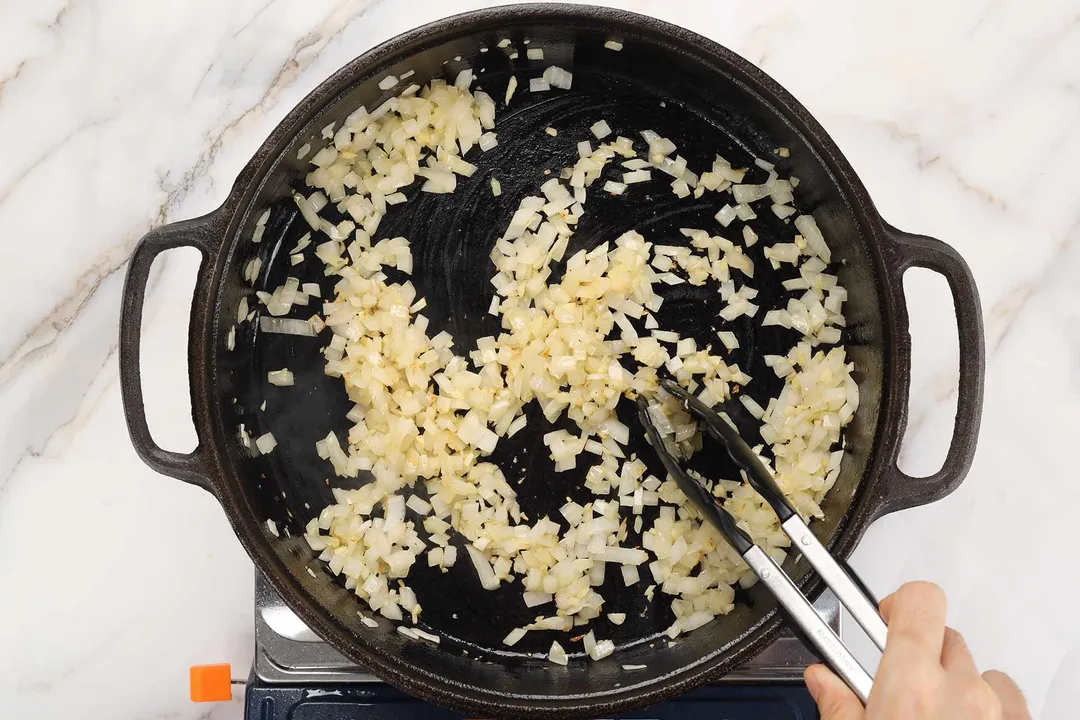 3
Add 4 oz bell peppers (2 red, 2 green), 4 oz tomatoes, and 2 oz celery. Add 1 tbsp unsalted butter and stir to cook for about 2 minutes.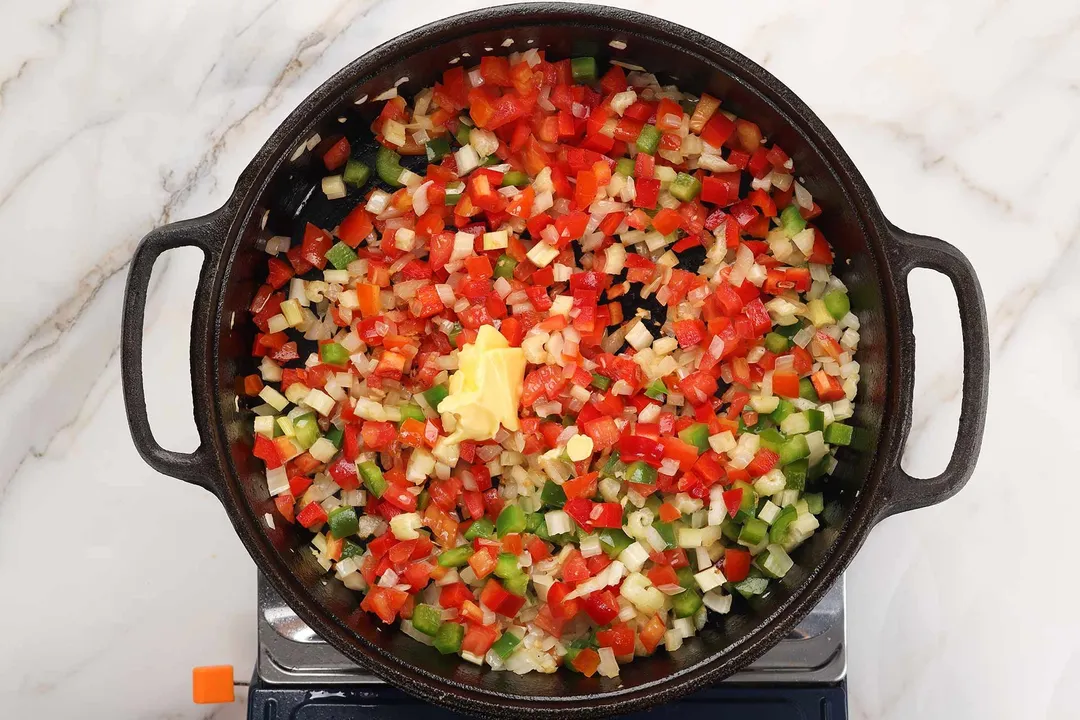 4
Add 14 oz peeled shrimp along with the seasonings: 1 1/2 tsp cajun, 1 tsp sriracha, 1 tsp lemon juice, 1 tsp fresh thyme, 1/4 tsp salt, 1/2 tsp pepper, 1/2 tsp paprika, and 1 bay leaf.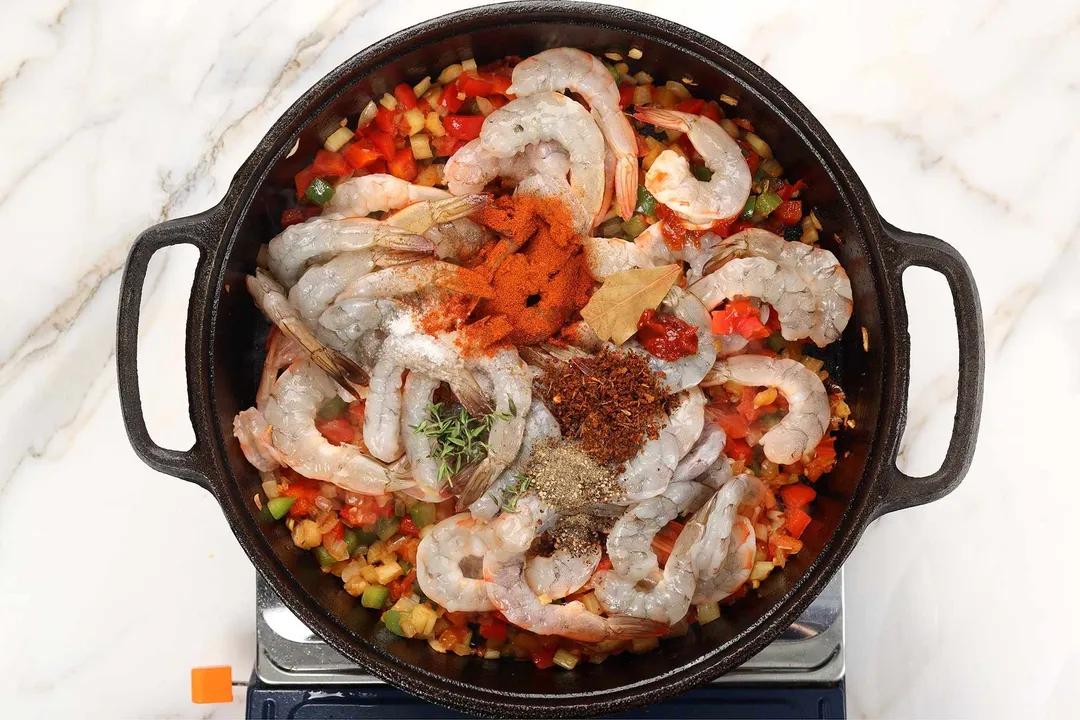 5
Mix everything nicely and leave to cook for 2 minutes.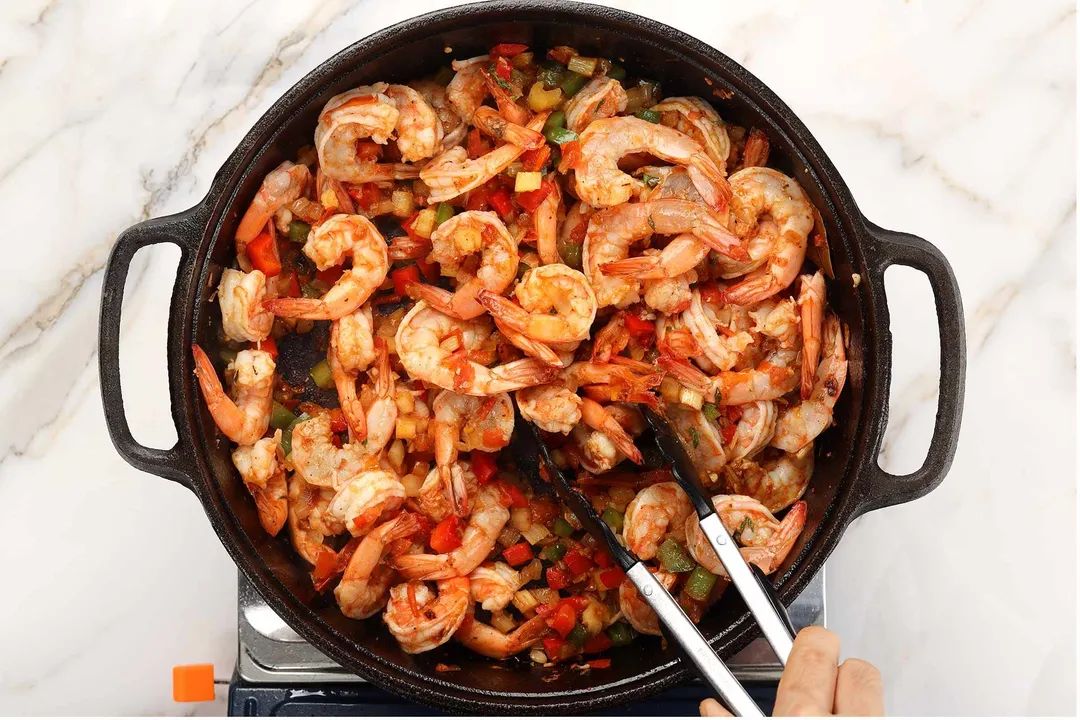 6
Stir in 2 tbsp all-purpose flour. It'll look dry, but keep stirring for about 1 minute to cook the flour. Use a wooden spoon to avoid damaging the pan.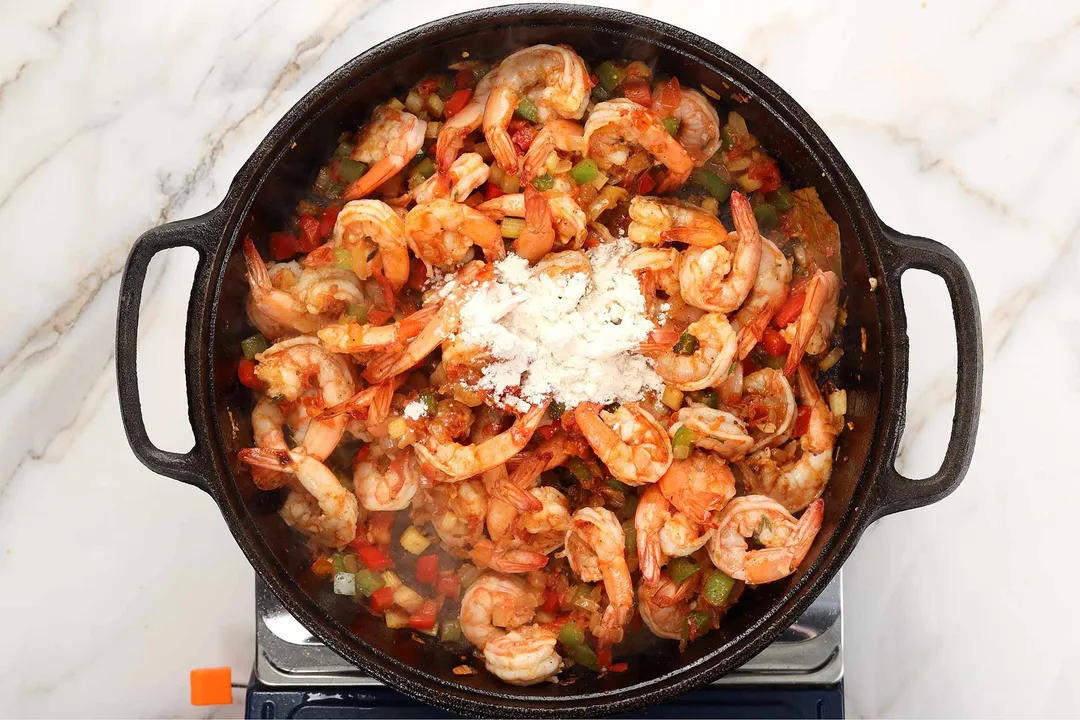 7
Slowly pour in 1 1/2 cups chicken broth and stir constantly to avoid lumps. Turn the heat to high and as soon as it bubbles, turn the heat to low and simmer everything for 7 minutes to thicken.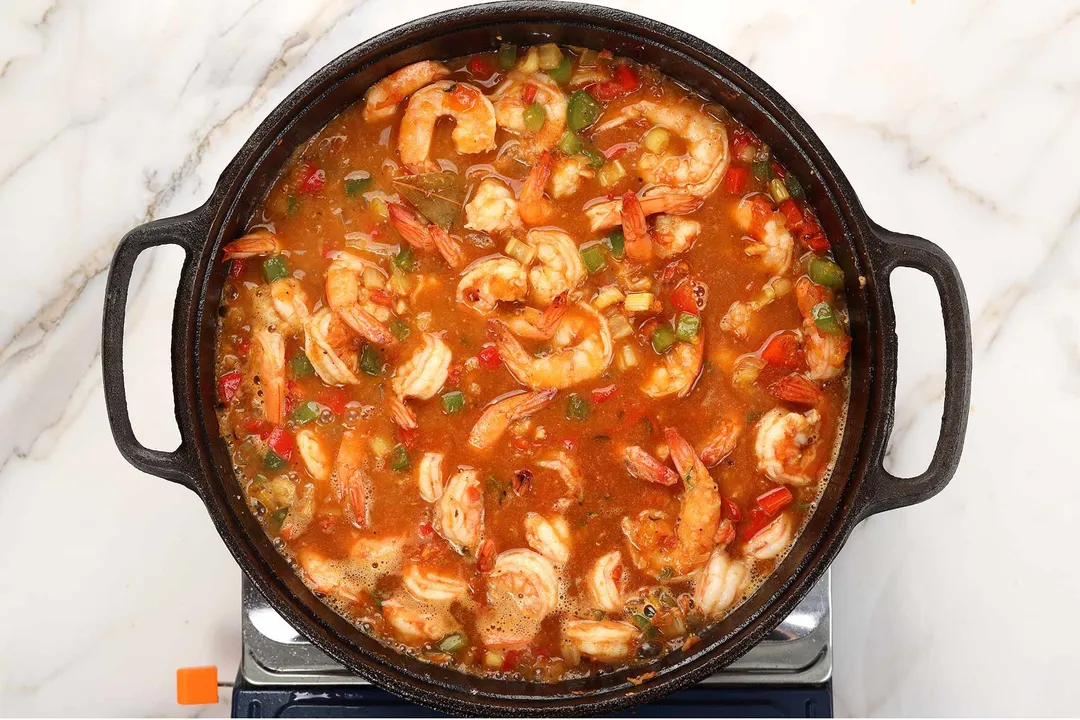 8
Turn off the heat and sprinkle on top 2 tbsp finely chopped parsley. Serve with 3 1/2 cups of cooked rice.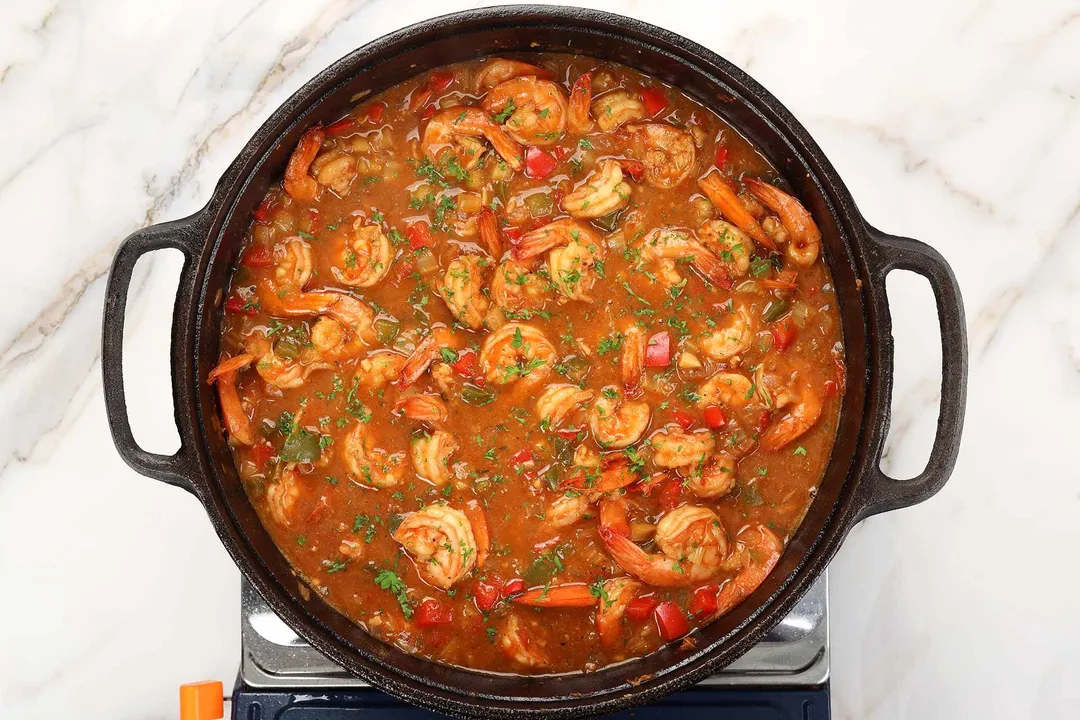 NUTRITION
Nutrition Facts
Shrimp Etouffee
Amount Per Serving (1 serving)
Calories 487
Calories from Fat 72
% Daily Value*
* Percent Daily Values are based on a 2000 calorie diet.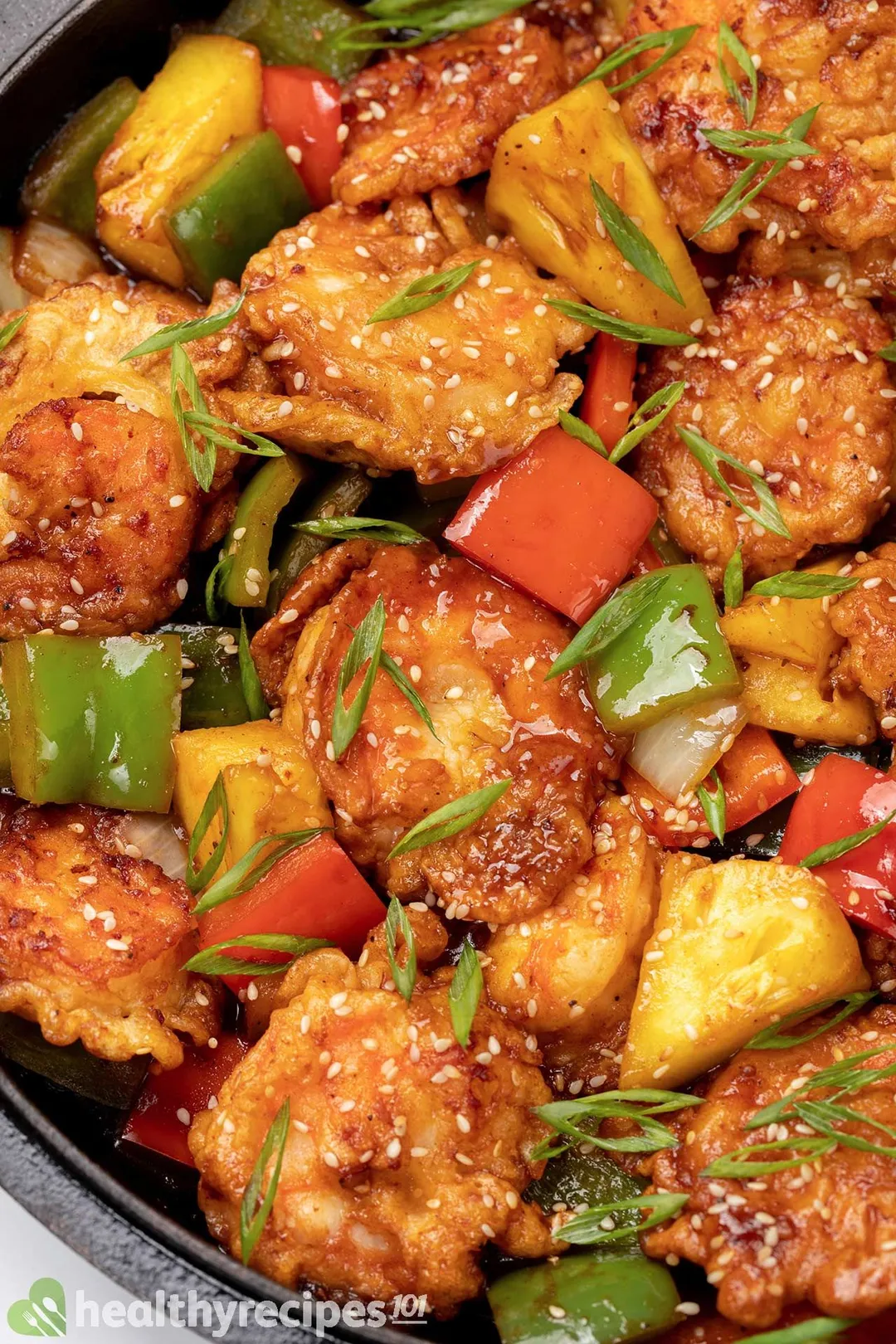 Previous Recipe
Sweet and Sour Shrimp
Sweet and Sour Shrimp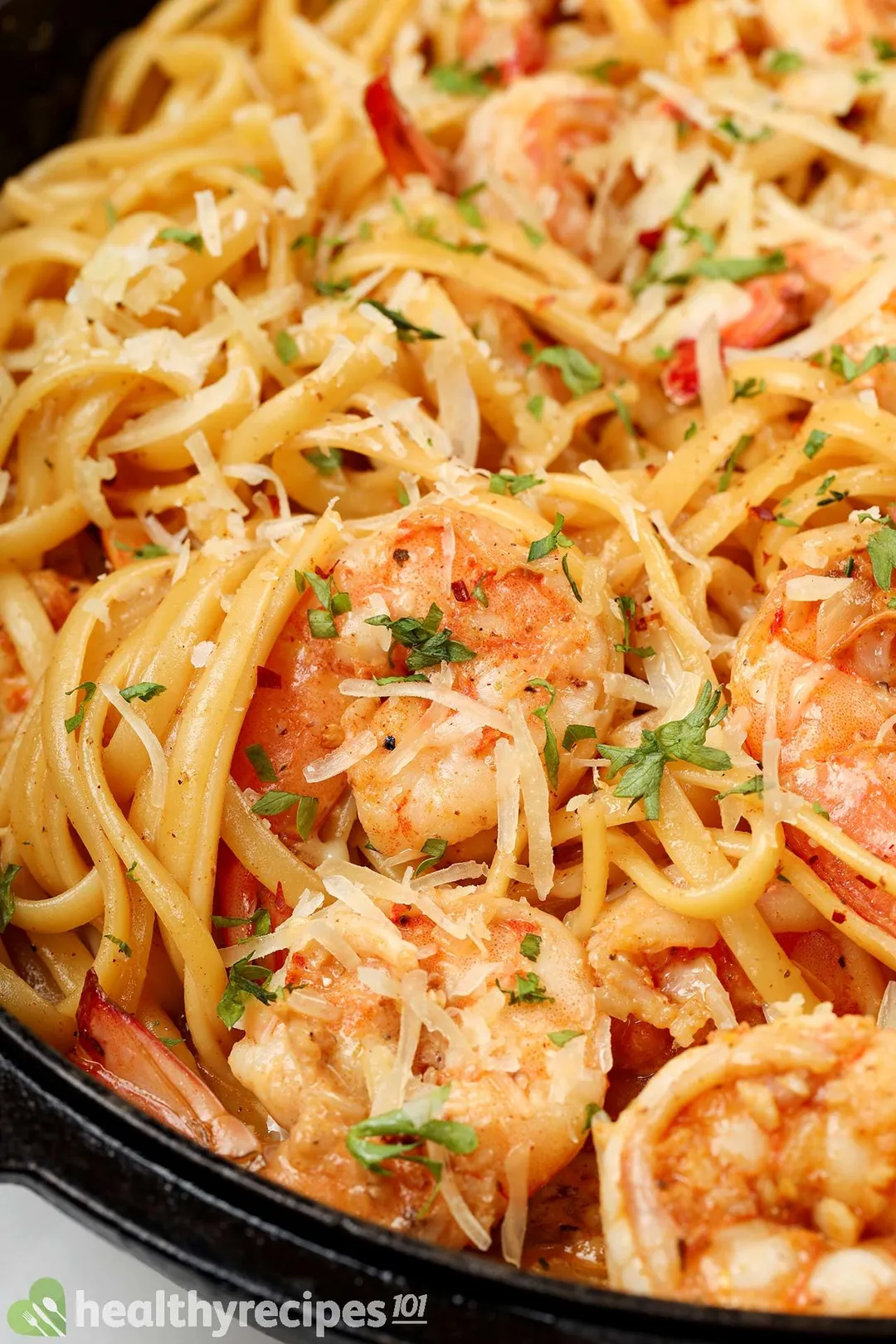 Next Recipe
Shrimp Alfredo
Shrimp Alfredo
Head Chef, Culinary Consultant
Tuyet Pham is an award-winning Saigonese chef who believes that joy is the secret ingredient to delicious food. At Healthy Recipes 101, Tuyet personally tests and simplifies every recipe, ensuring maximum flavor with minimal effort. With a background at prestigious French restaurants P'TI Saigon and Le Corto, Tuyet knows how to make every dish exceptional.
Writer, Author
Luna Regina is an accomplished writer and author who dedicates her career to empowering home cooks and making cooking effortless for everyone. She is the founder of HealthyKitchen101.com and HealthyRecipes101.com, where she works with her team to develop easy, nutritious recipes and help aspiring cooks choose the right kitchen appliances.
Nutrition Reviewer
Lizzie Streit is a Minneapolis-based dietitian and founder of It's a Veg World After All. She completed her MS in Human Nutrition from Drexel University, and is an expert in culinary nutrition, recipe development, and nutrition communications. Lizzie's philosophy is centered around making nutrition recommendations, and especially the advice to eat more vegetables, approachable and realistic. She is excited to be working with the team at Healthy Recipes 101 to ensure that their recipes are both nutritious and delicious.
Shrimp Etouffee was a new recipe for me, but I loved it! The roux-based sauce was full of flavor and the shrimp were perfectly cooked. Served over rice, it made for a hearty and satisfying meal.