A dreamy, creamy delight. Our recipe for fresh avocado egg salad is the perfect go-to for summer.
Is Avocado Egg Salad Healthy?
Yes, our avocado egg salad is healthy.
The main combination of egg and avocado is very beneficial to our bodies as the two components mostly contain heart-healthy fats (monounsaturated and polyunsaturated fats).
Avocados are also a great source of fiber, good for weight control and anti-aging.
As for eggs, we all know that they are a nutritious, cheap, and widely available food, which makes life a whole lot easier.
Still, you may be concerned about the high level of cholesterol in eggs affecting your heart health, but thankfully, it has been found that eating eggs in a moderate proportion will not increase the risk of heart disease.
We do include mayonnaise in this recipe for added creaminess. Knowing that mayo is not the healthiest of options, we limited the amount to only 1 tablespoon for 4 servings and added in 2 tablespoons of plain, healthy Greek yogurt.
If you want to go all out, feel free to leave out the mayo and add more yogurt.
Now, let's take a closer look at our ingredients.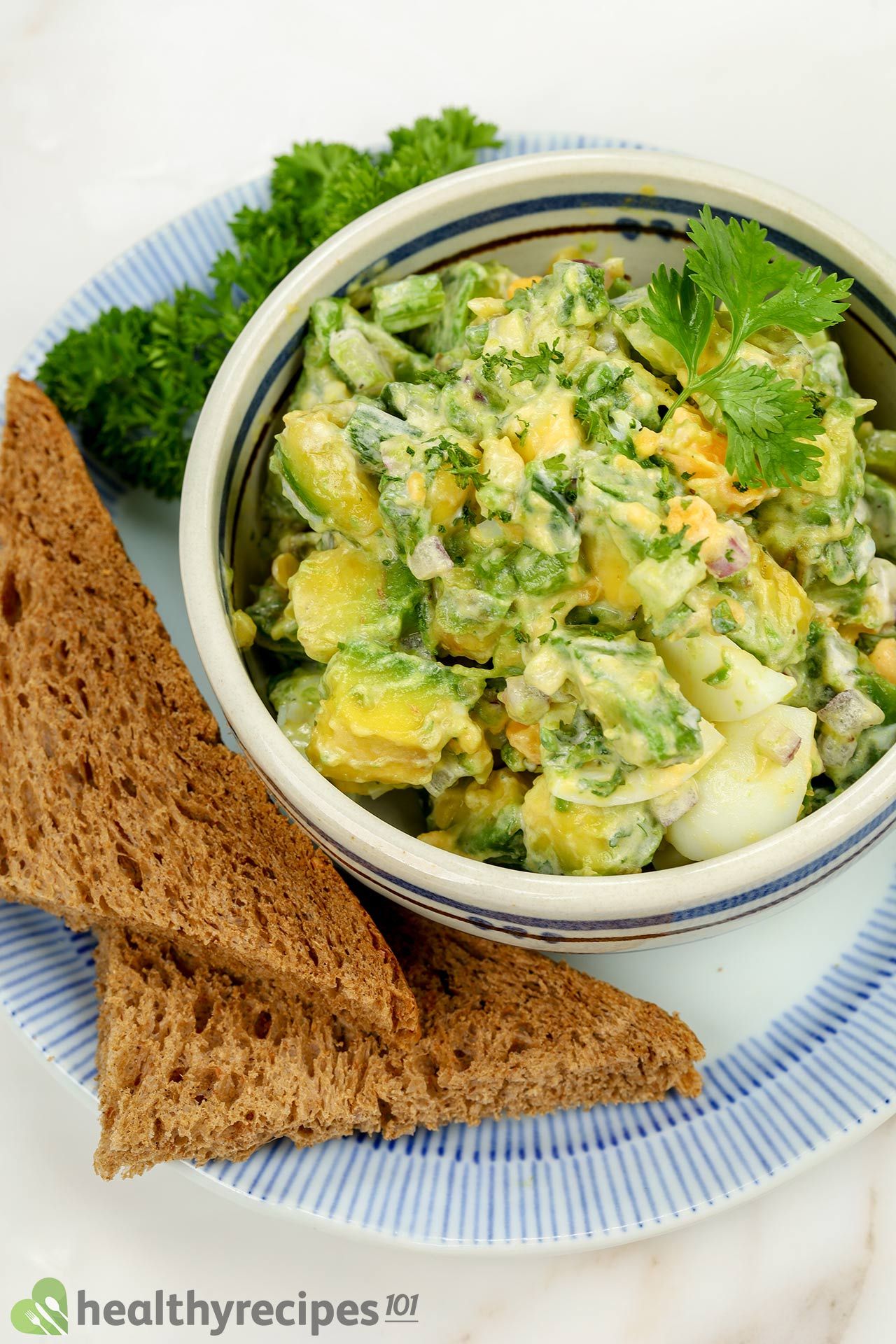 Ingredients for This Salad
The ingredients in this recipe make a satiating summer dish.
First, the eggs and avocado create a rich and creamy base, but it is the avocado that helps blend everything together in perfect harmony.
Underripe avocados leave a bitter taste and are hard to blend, while overripe ones make your salad too mushy and unappealing. So, make sure you choose ripe avocados for the ultimate taste and texture.
Next on the list are dairy products. The delightful taste of mayo and Greek yogurt combined works with the avocado to tie all the other ingredients together.
We also add some veggies like celery, red onions, and jalapeño for a more refreshing feeling.
Seasoning is simple, with only salt and pepper needed. You can also add or adjust the amount of these to fit your taste.
Lastly is sprouted wheat bread. Nothing works better than a slice of crispy toasted bread with avocado egg salad generously spread on top for a quick and satisfying summer lunch.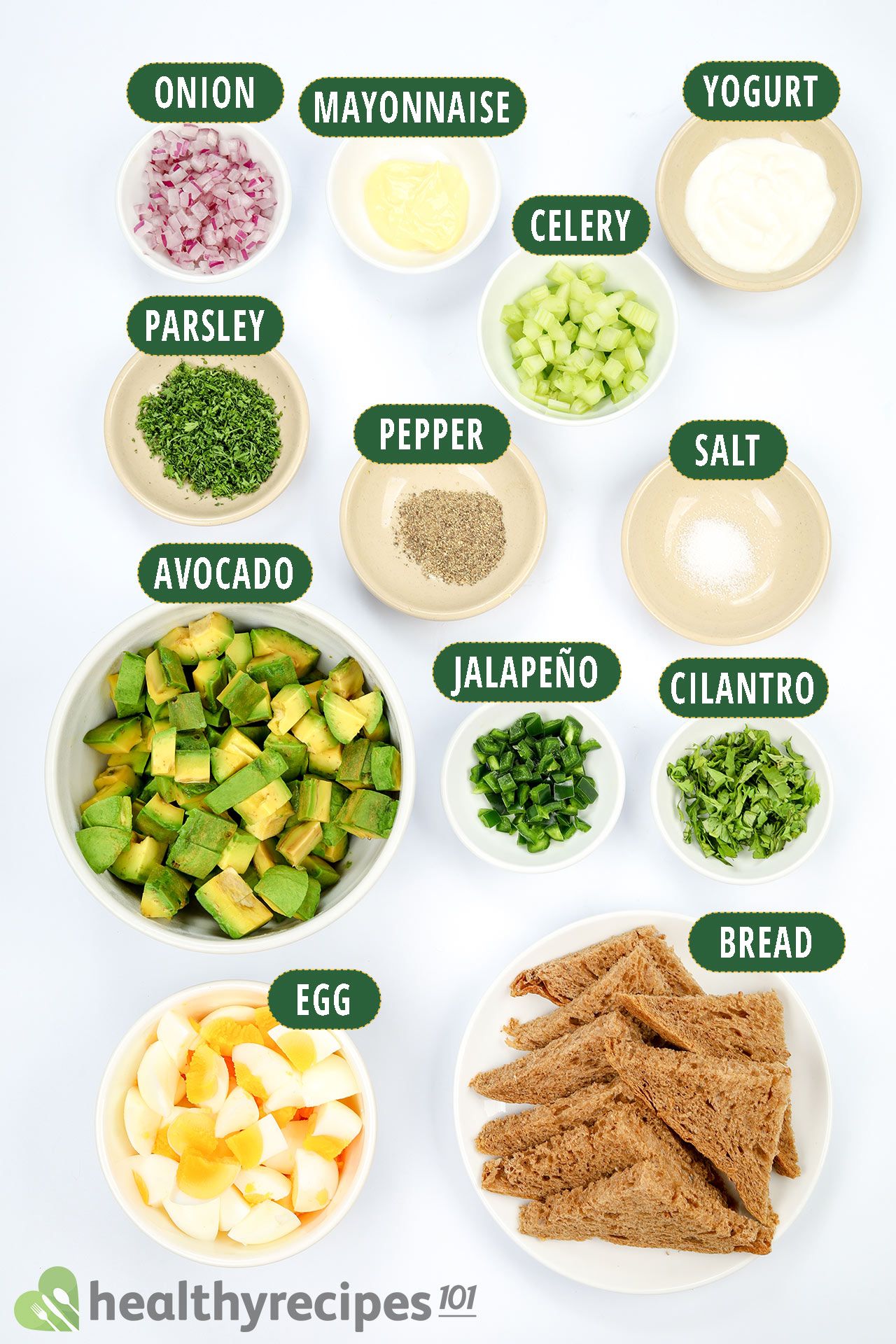 How to Prepare the Ingredients
For the hard-boiled eggs:
Pour water into a pot. Put the eggs in, then bring to a boil. This will take about 10 minutes (while you wait for the eggs to boil, you can prepare the other ingredients.)
Remove from heat. Transfer the eggs into a bowl of cold water. This will help the eggs cool down more quickly and be easier to peel as well.
After that, peel off the eggshells, then chop the eggs up into bite-sized pieces.
A little note: If you wait for the water to boil and then put the eggs in, there may be a chance of them cracking up while boiling. So follow our previous steps for perfect hard-boiled eggs.
For the avocado:
Halve the avocado, remove the seed and peel off the skin. Then, cut it up into small cubes.
For the herbs and veggies:
Chop the parsley and cilantro.
Dice the jalapeño, celery, and red onions.
For the sprouted wheat bread:
You can cut up each slice of bread into smaller pieces or leave it as is, depending on your personal preference and the meal's purpose.
Toast the pieces to add a nice crisp texture.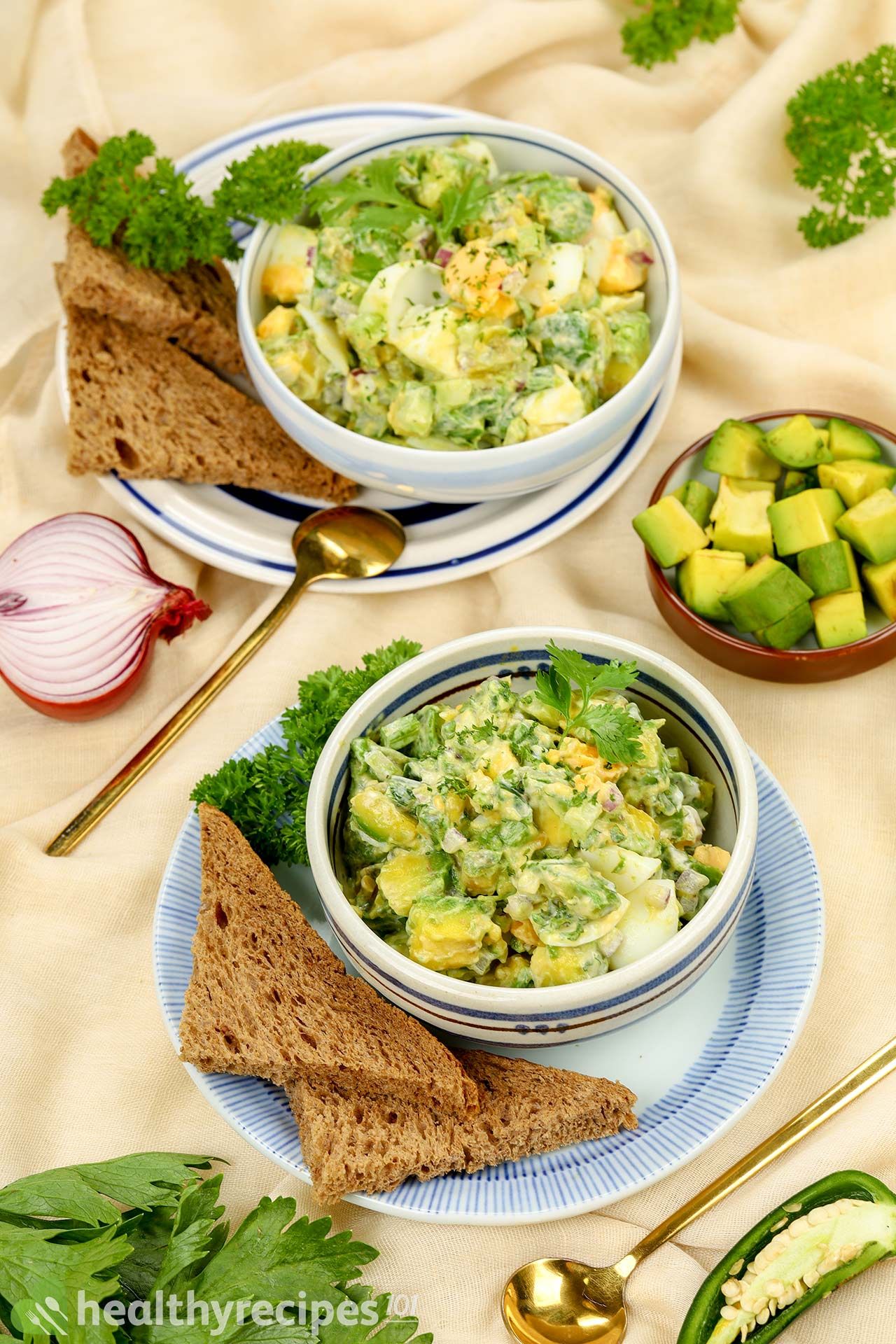 What to Eat With Avocado Egg Salad
Finally, it's time to serve!
Breakfast, lunch, dinner, or on its own as a tasty snack, this avocado egg salad has you covered.
For a fuller meal, you can enjoy this awesome salad with toasted bread or sandwiches. We recommend using sprouted wheat bread, as listed on the ingredient list, since it is a healthier option.
If you prefer a low-carb meal, then just toss it onto a bed of greens, such as kale and spinach. You can also wrap it in lettuce leaves for cute avocado egg salad wraps.
Another quick and creative way to eat this avocado egg salad is to take a scoop of the hearty green mixture, put it on a thick slice of tomato, then enjoy it as a cool and refreshing salad.
How Long Does Avocado Egg Salad Last?
Because avocados brown quickly due to oxidation effects, it is best to serve your salad right away.
Still, if there is any leftover, you can put it into an airtight container and store it in the fridge for up to 2 days.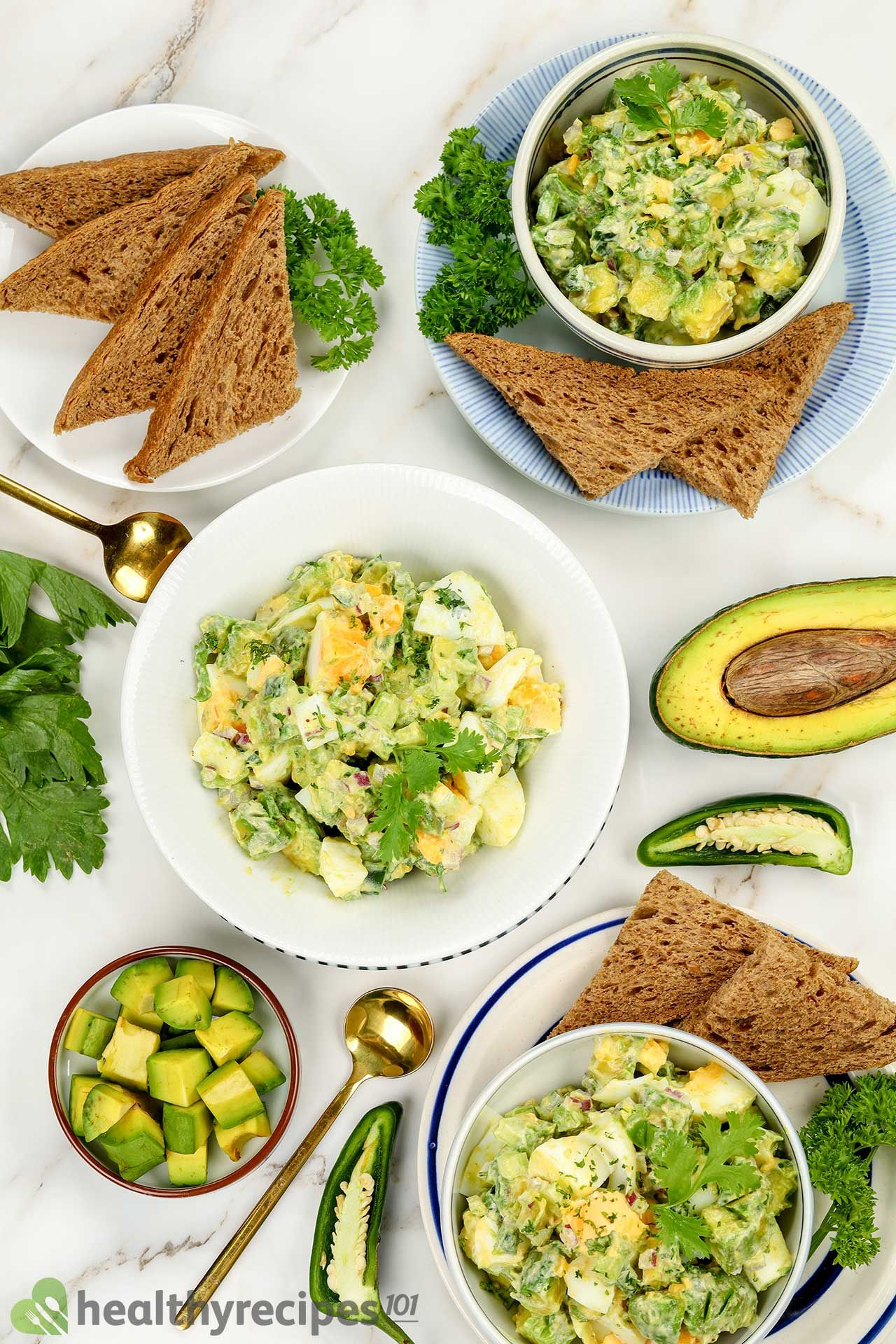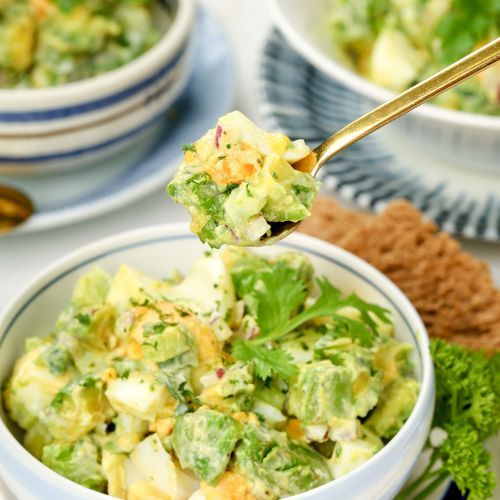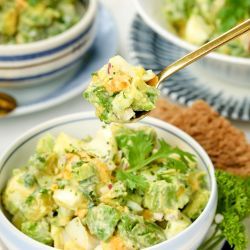 How to Make Avocado Egg Salad
Quick and easy, you can make this delicious summer dish in no time. The perfect combination of egg, avocado, mayo, and Greek yogurt creates a heavenly creamy texture, while the herbs and veggies add freshness and flavor to the mix.
Instructions
Place the wheat bread into the basket of your air fryer. Set the temperature at 400 °F and the cooking time at 3 minutes.

Make the salad while waiting. Add all of the ingredients to a medium/large bowl and gently mix them up. Adjust the seasoning if needed.

Garnish with some cilantro leaves on top. Serve with toasted sprouted wheat bread or anything that floats your boat.
Nutrition
Nutrition Facts
How to Make Avocado Egg Salad
Amount Per Serving (1 serving)
Calories 255
Calories from Fat 171
% Daily Value*
Fat 19g29%
Cholesterol 170mg57%
Sodium 281mg12%
Potassium 515mg15%
Carbohydrates 12g4%
Protein 8g16%
Vitamin A 458IU9%
Vitamin C 10mg12%
Calcium 43mg4%
Iron 1mg6%
* Percent Daily Values are based on a 2000 calorie diet.