Today's eggplant parmesan recipe is a vegetarian mash-up idea for the well-known chicken parmesan and lasagna.
The preconceived notion of eggplant has been a bland, soggy, and slimy vegetable. Much to your surprise, this eggplant parmesan has changed minds among our friends more than once.
For those who have never developed a love for eggplant, you really need to give eggplant parmesan a shot. It's crispy, cheesy, and delicious— ready to get people to open their hearts for a dish with eggplant as the main ingredient.
Is Eggplant a Fruit?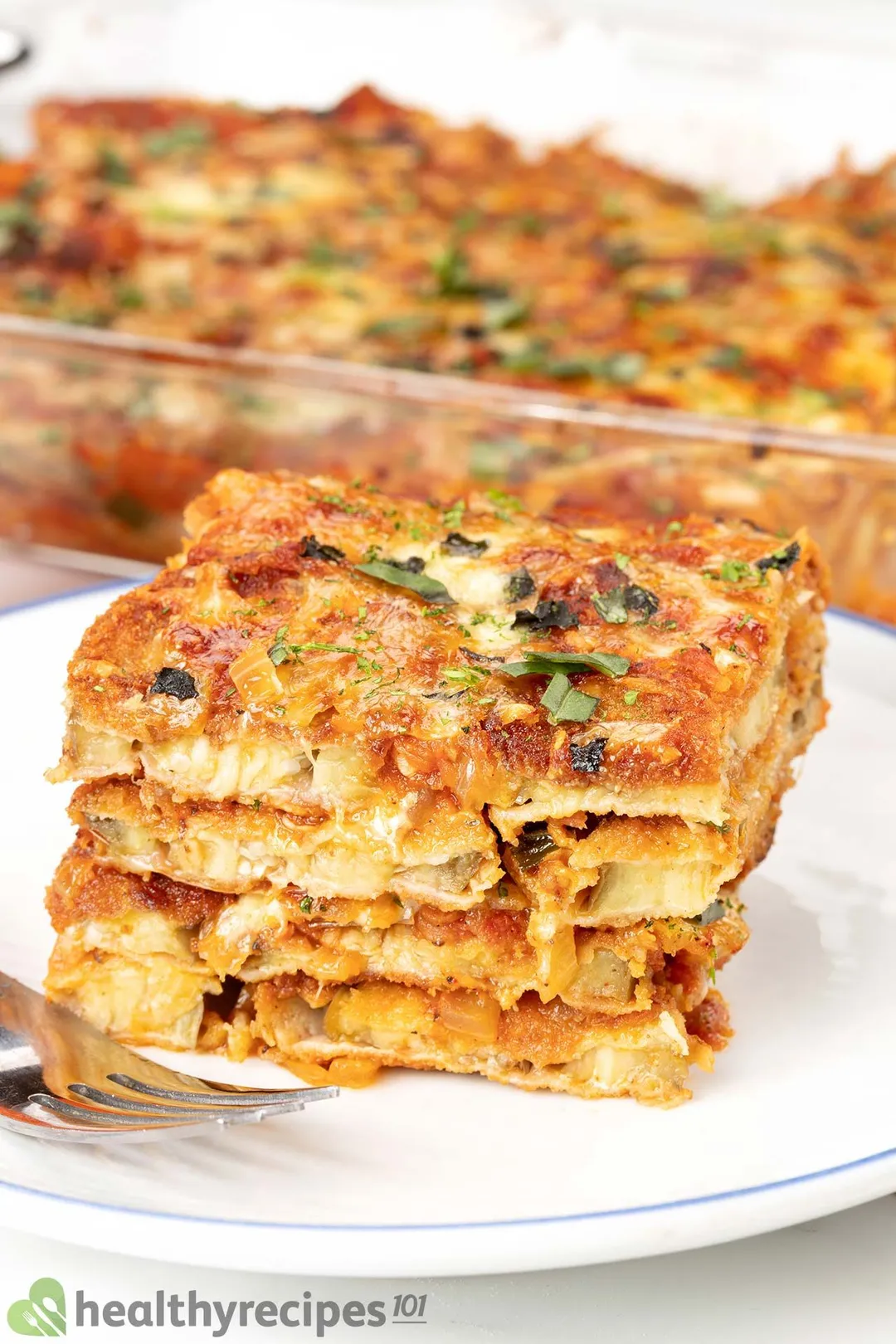 Yes, eggplant is a fruit.
Much to your surprise, eggplant is categorized as a berry. It belongs to the nightshade family and is a relative of tomatoes, potatoes, paprika, and also cayenne pepper.
Eggplant contains small, edible seeds, and is widely known for a slightly bitter taste and a spongy texture. The fruit of the eggplant is a shiny, egg-shaped fruit— usually with a deep purple shade that most people associate with it.
In addition to that, eggplant also comes in various sizes and colors such as green, lavender, orange, white, and yellow. All varieties of eggplant are significantly low in calories, fat, sodium, and cholesterol.
What Is Eggplant Parmesan?
Eggplant parmesan is a casserole dish that consists of sliced eggplant breaded, pan-fried, and baked with marinara cheese. Its origin is still in dispute— most people believe it has relations to either Parma, Sicily, or Naples in Italy.
Is Eggplant Parmesan Healthy?
Providing 466 calories per serving, eggplant parmesan can be served as a healthy, nutritious, and fulfilling breakfast. It's also vegetarian with no meat included, and contains only 206mg of sodium.
Another casserole dish that's also vegetarian and packed with greens is ratatouille. We believe it's a more appropriate choice for people who are following a Keto or low-carb diet.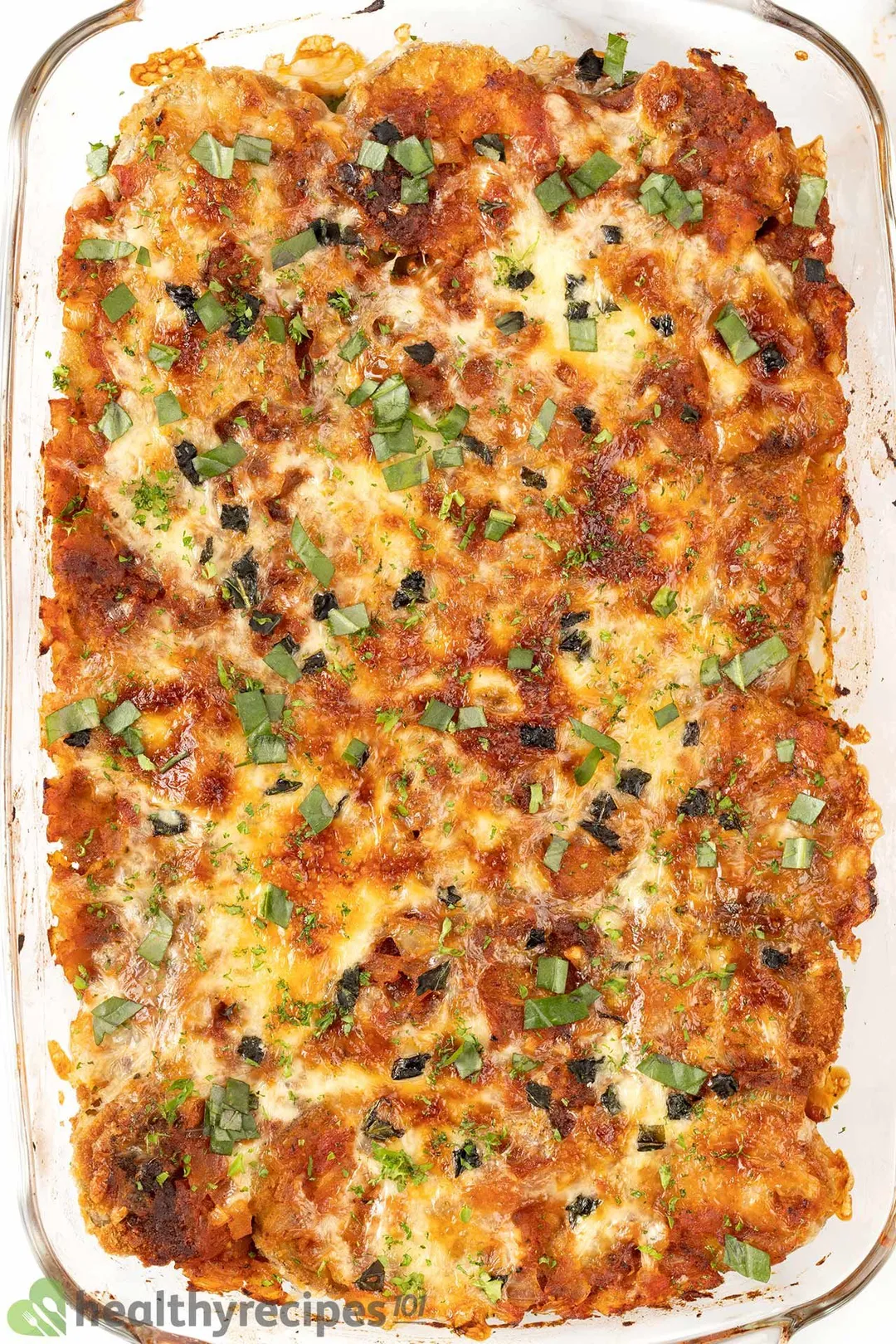 How to Cut an Eggplant for Eggplant Parmesan?
You know what they say, great food comes from great ingredients. So, first, make sure to purchase vibrantly colored eggplants with shiny, taut skins.
Like most fruit peels, the peel of an eggplant is edible. To peel or not to peel, that depends on the plant size.
Large and mature eggplants usually have a really thick and tough outer layer. Though their outer layer is still edible, it's a bitter part that nobody enjoys chewing.
Therefore, if you choose large eggplants, we suggest you peel them beforehand. Smaller eggplants do just fine in the frying pan without being peeled.
After you cut off both ends of the eggplant, start slicing it into even slices, and keep it up all the way through. Here, we cut the eggplant into 1/4 inch-thick pieces, which we believe is the perfect thickness for eggplant parmesan.
Tips for Making
There are several ways to prevent eggplants from absorbing too much oil. One way is to keep a close eye on the heat and the frying time.
If the heat is too high or too low, the eggplant will start to absorb more oil than it needs. You need to add the eggplant in right after the oil starts to simmer (but is not smoking hot).
Don't fry the eggplant slices for too long; instead, remove them immediately as they start to turn slightly golden. You'll have more time to cook them later in the oven.
After you've finished cooking, use a paper towel to drain excess oil from the fried eggplant slices. By doing so, they won't turn soggy right away when exposed to the air throughout your meal.
You can make eggplant parmesan ahead of time, but note that you'll run the risk of producing a slightly soggy eggplant.
To prepare eggplant parmesan ahead of time, all you need to do is assemble all ingredients in the casserole dish with marinara sauce. Next, cover it tightly with cling film and place in the refrigerator. 
Glass or ceramic cookware can sometimes crack under sudden heat changes (from low to high temperature). Therefore, you need to let it cool down completely before reheating it in the oven.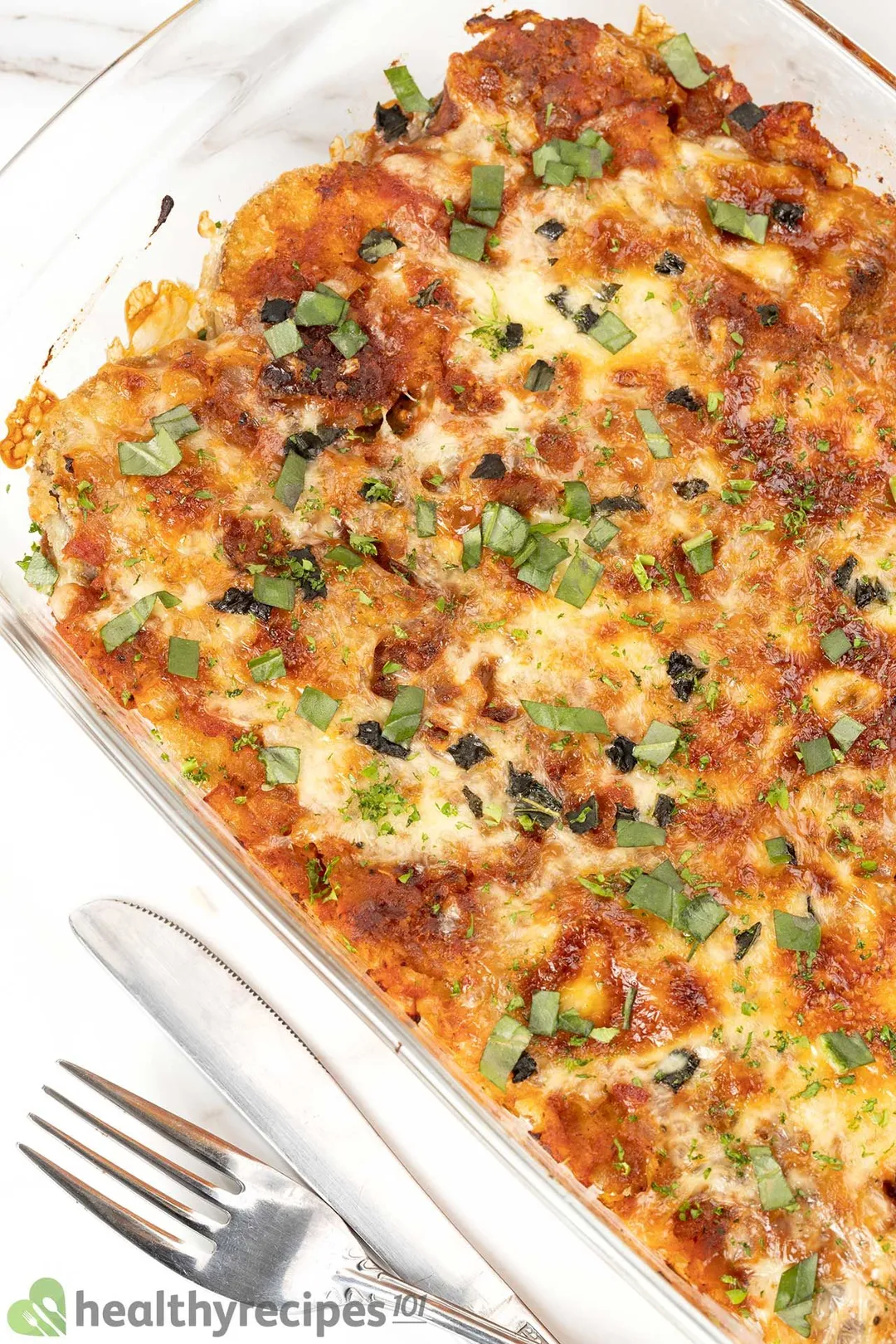 What Goes with Eggplant Parmesan
Eggplant parmesan is favorable among vegetarians as it's hearty and delicious with a meat-like taste. Aside from eggplant, here are the important ingredients that give the dish its remarkable texture and flavor.
1. Cheese
In this recipe, we use both mozzarella and parmesan cheese (also known as Parmigiano-Reggiano). 
Parmesan cheese is mixed with the breadcrumbs, and together, they develop a golden crust after deep-frying in the pan. Mozzarella cheese, on the other hand, is sprinkled on top and between the layers of eggplant to create the ooey-gooey melting effect.
You can also purchase a big piece of fresh cheese and grate or shred it yourself. By doing so, you'll get more of the original flavors while keeping your meals budget friendly.
2. Flour and Egg
Flour and eggs are the two binding ingredients that cannot be left out of this eggplant parmesan. The eggs help bind the breadcrumb mixture to the eggplant, and the flour helps glue the eggs to the slices.
We also have this healthy casserole recipes. They are easy to follow and complied with our healthy eating standards.How Long Does Cooked Eggplant Last?
If you want to save time preparing eggplant parmesan by frying the eggplant beforehand, it's necessary to know how long it can stay in the fridge.
In particular, cooked eggplant can retain good quality for up to 5 days in the refrigerator. However, if the recipe requires breading the eggplant, then the outer crust will turn soggy.
Therefore, we highly recommend you prepare this eggplant parmesan as explained below.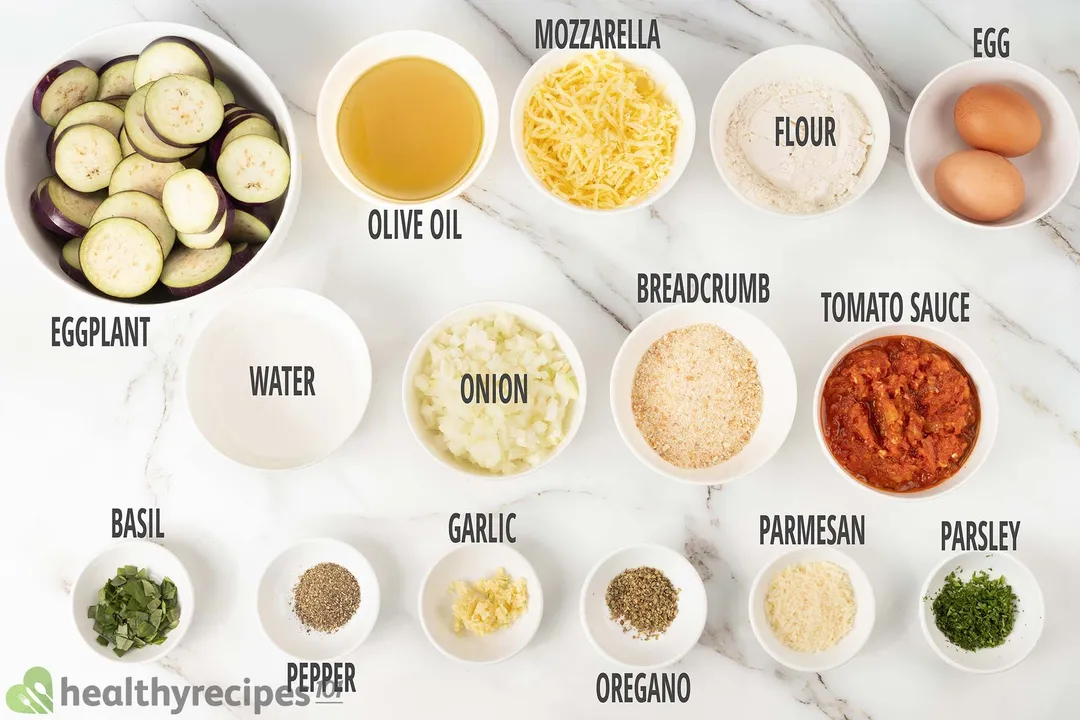 Can You Freeze Eggplant Parmesan?
Yes, you can. To freeze eggplant parmesan, simply put the casserole dish that contains the leftovers into the freezer.
Before reheating, you'll need bring it to room temperature and preheat the oven in the meantime. Make sure you let it thaw completely before popping it in the oven, otherwise, it will be melting and soggy.
One more important note: It's absolutely a no to freeze the uncooked casserole dish. The thawing (or, in other words, melting) process will make all the raw ingredients completely waterlogged.
What to Serve with Eggplant Parmesan
Eggplant parmesan itself is already a nutritious make-ahead breakfast. However, if you're looking for something else to side with this dish and create a complete meal, here's some suggestions.
1. Pasta
Pasta earns its love and fame in part thanks to its convenience. You simply cannot go wrong when serving pasta with any Italian dish.
If you're afraid of consuming that many carbohydrates for breakfast, consider replacing the traditional pasta with zucchini noodles. Or, feel free to enjoy it with some simple broiled veggies for more fiber.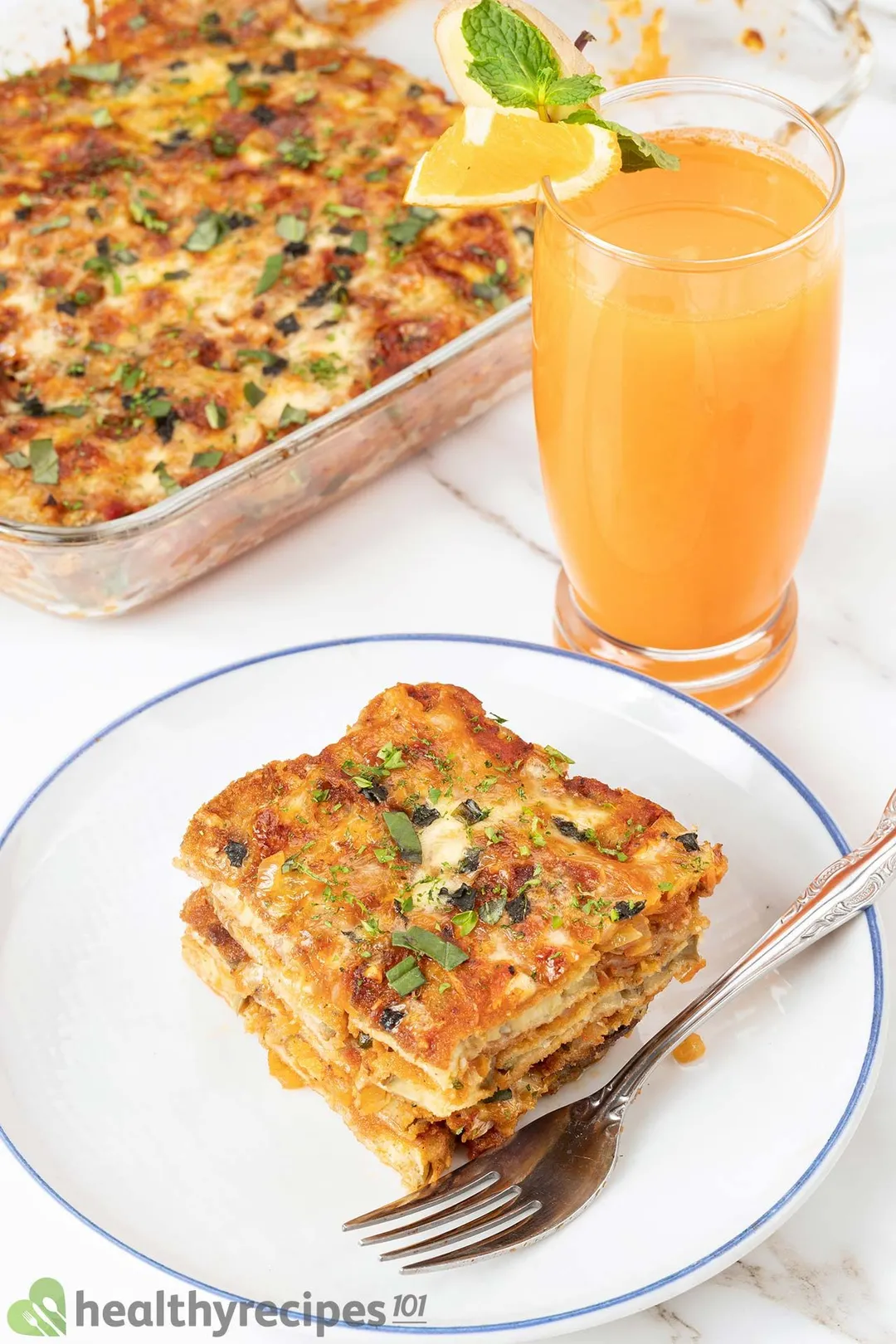 2. Carrot Orange Ginger Juice
A sweet and vibrant carrot orange ginger juice is the drink we chose to pair with this eggplant parmesan. It's packed with nutrients, vitamins, and aromatic flavors— even more amazing if served cold.
And that's pretty much everything you need for an energizing start to a new day. Join us next time for more filling meals!
More Amazing Egg Recipes to Try Out
Eggplant Parmesan
This eggplant parmesan will introduce you to an Italian dish that's crispy, tasty, and nutritious. As the eggplants are coated with breadcrumbs and deep-fried, everything becomes way more intriguing— crispier, and more flavorful.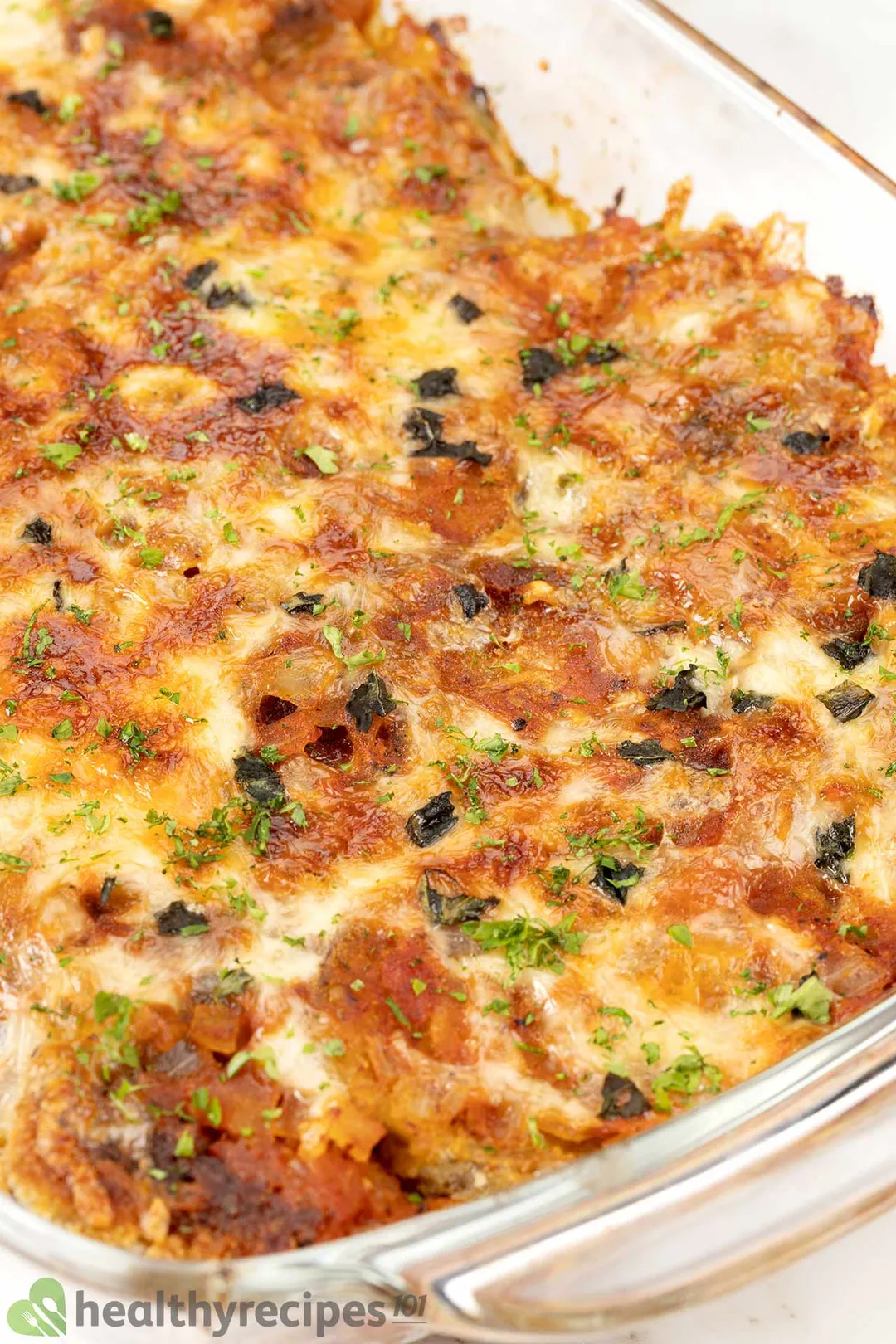 cook TIME

1 hr 5 mins

prep TIME

5 mins

total TIME

1 hr 10 mins
COURSE

Breakfast, Main Course

CUISINE

American, Italian

SERVINGS

CALORIES

466 kcal
INGREDIENTS
0.35 oz

shredded parmesan cheese

2 oz

baguette bread

(crumbled, *)

1/2 cup

all-purpose flour

(*)

1 cup

homemade tomato sauce

1 tsp

ground black pepper

2 tbsp

fresh basil

(chopped)

1 tbsp

fresh parsley

(chopped)
INSTRUCTIONS
Make the marinara
1
Heat 2 tbsp olive oil in a skillet over medium heat. Add 6 oz onion and 2 tbsp garlic, and stir for 5 minutes.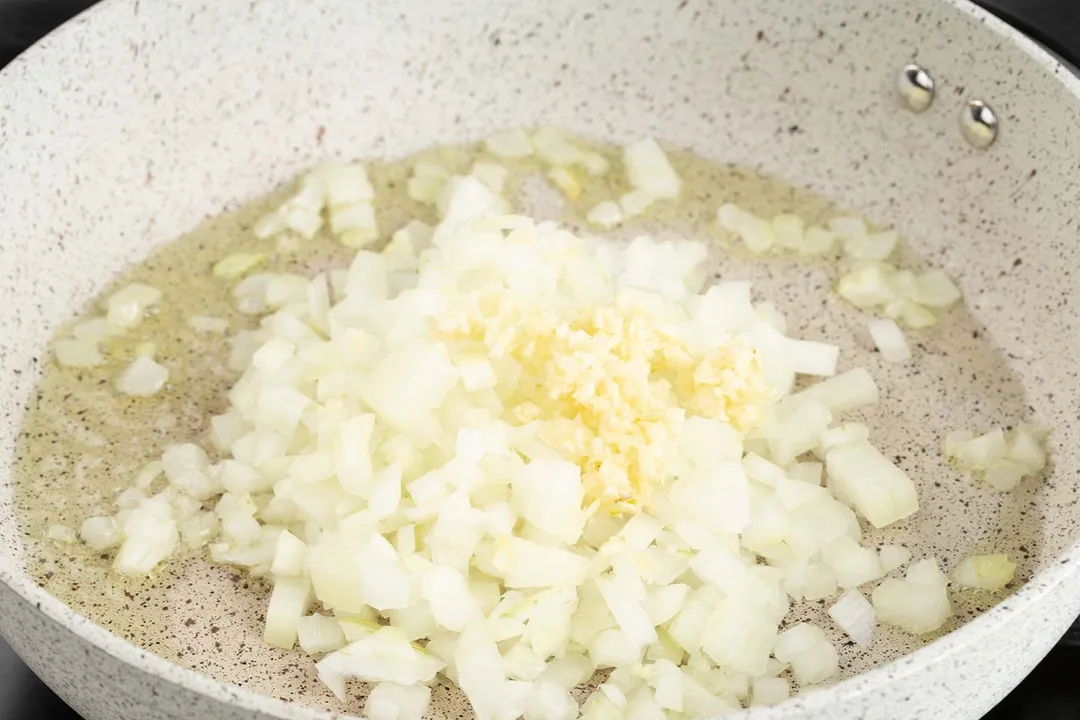 2
Continue to add 1 cup homemade tomato sauce, 1 tsp oregano, 1/2 cup water, and 1 tsp ground black pepper to the skillet. Whisk to combine.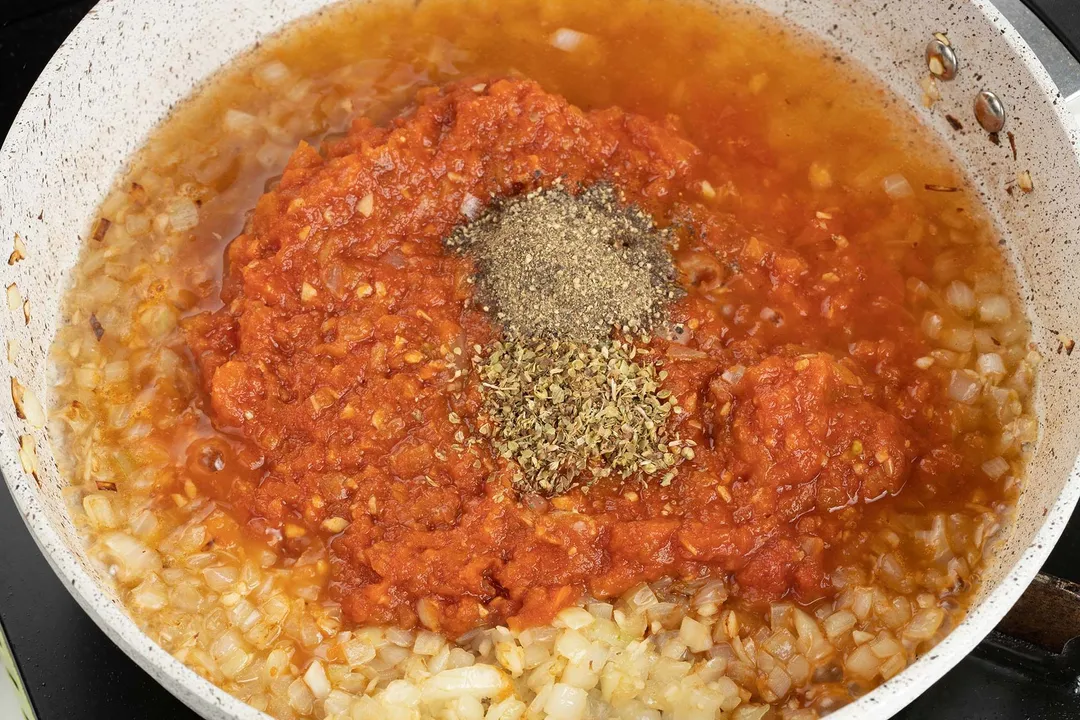 Coat the eggplant
1
Preheat the oven to 350℉.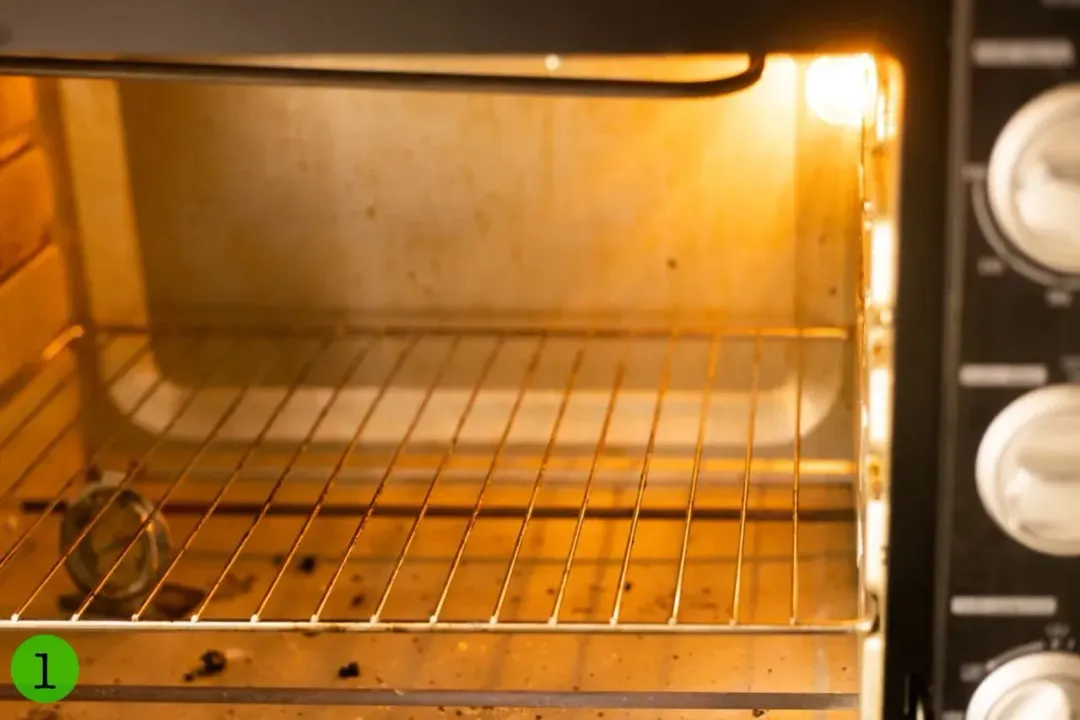 2
Prepare three large and shallow plates, the first one with 1/2 cup flour, the second one with 2 beaten eggs, and the third one with 2 oz breadcrumbs mixed with 0.35 oz parmesan cheese.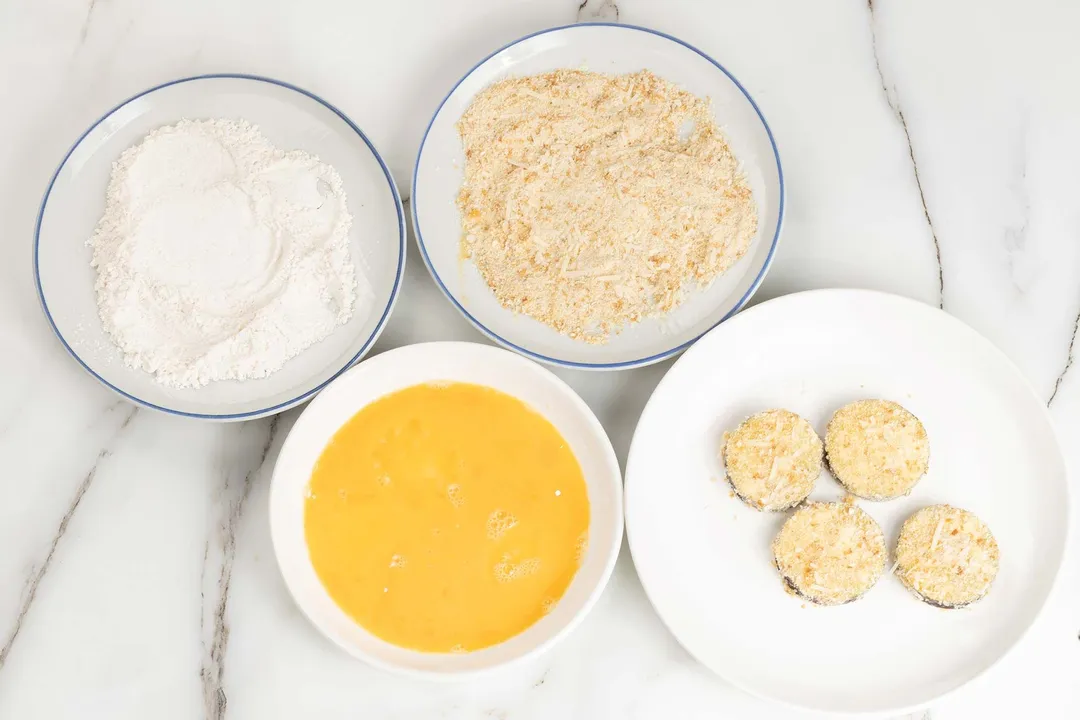 3
Dredge each eggplant slice (12 oz) in the flour mixture, dip it in the egg mixture, then coat it in the breadcrumbs and parmesan mixture. Work with one slice at a time and repeat to the end.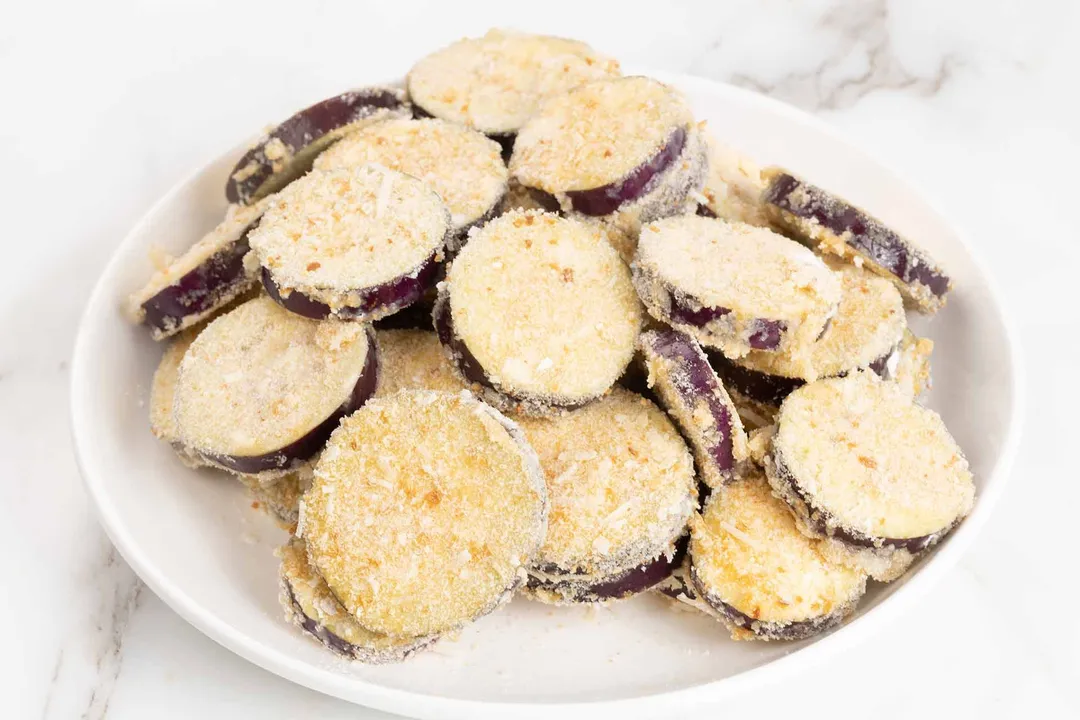 Fry the eggplant
1
Add 1/2 cup of olive oil to a non-stick pan and turn on medium heat. Once the oil is shimmering (not smoking hot), fry all the coated eggplant until slightly golden on both sides.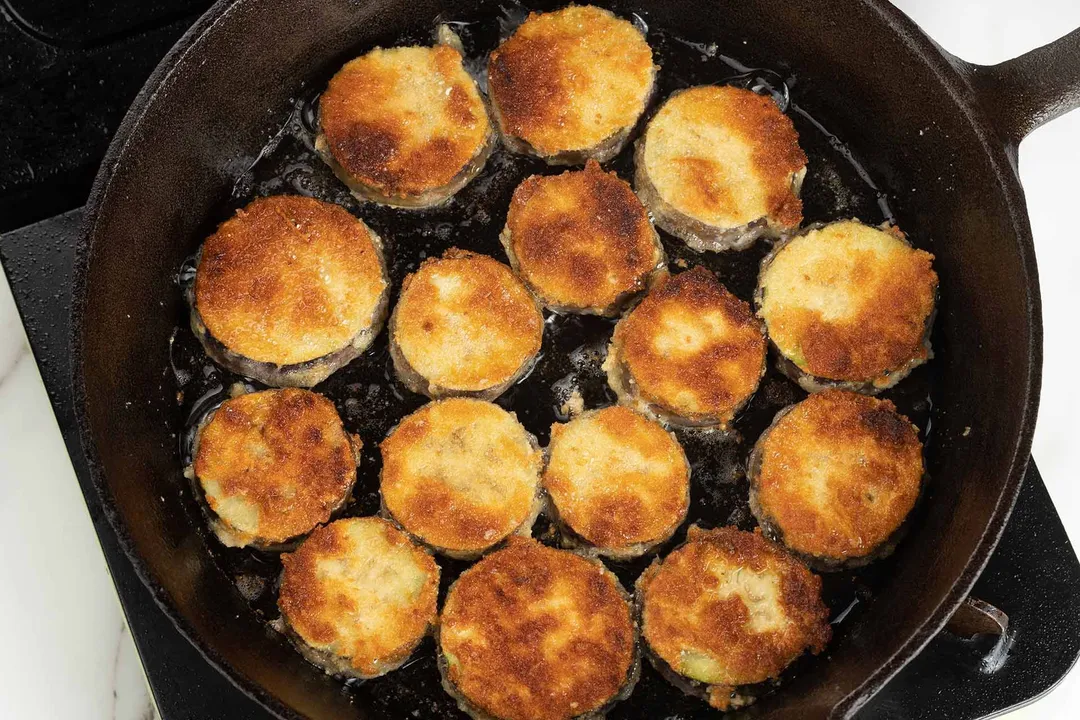 2
Transfer the fried eggplant to a wire rack lined with a few layers of paper towel to drain all excess oil.
Bake the eggplant
1
Divide the marinara sauce into three equal parts.
2
Spread one-third of the marinara sauce evenly over the bottom of a casserole dish. Place half of the fried eggplant on it.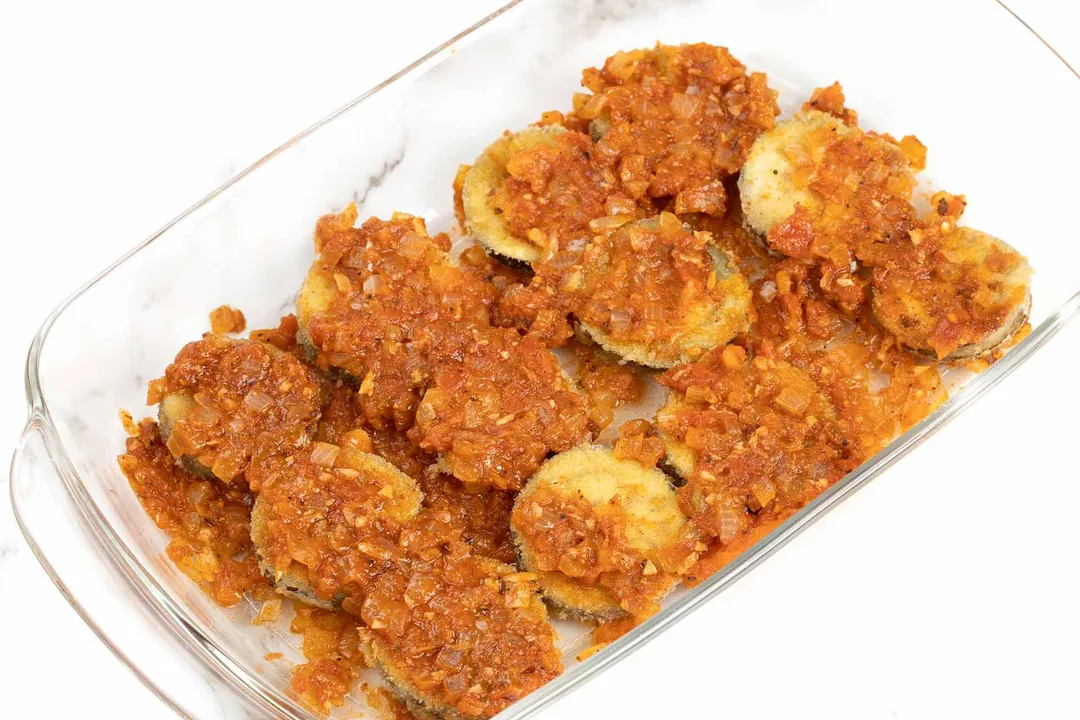 3
Sprinkle half of the chopped basil (1 tbsp) and half of the mozzarella cheese (1.5 oz) onto the first layer of eggplant.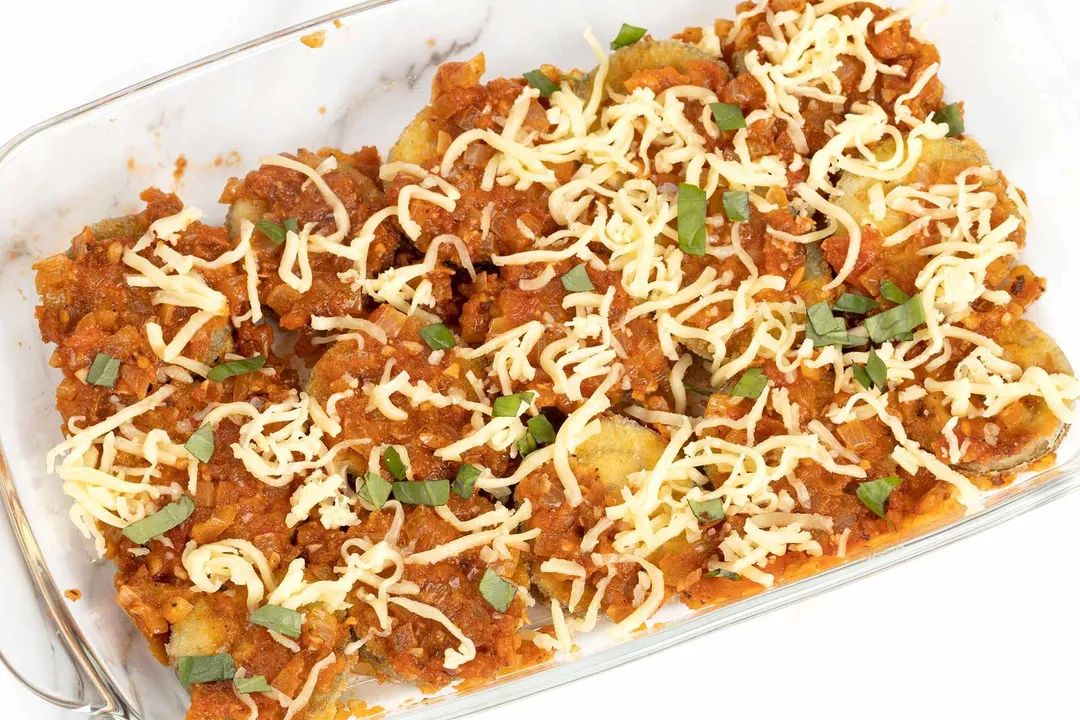 4
Repeat step two to make the second layer.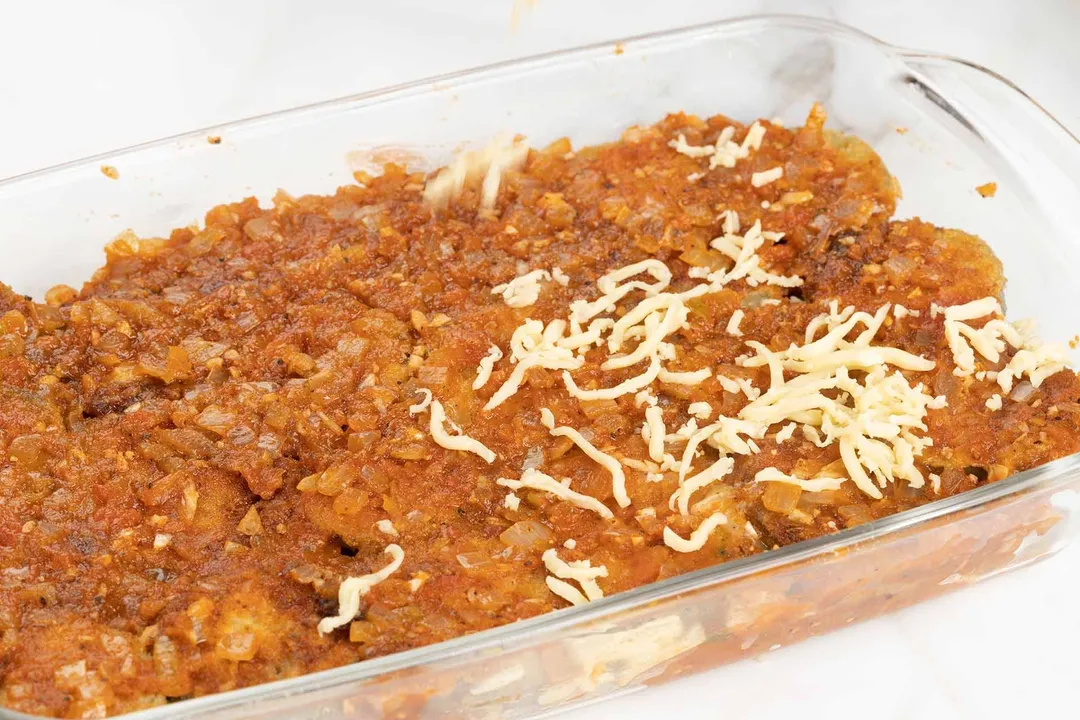 5
Spread the remaining marinara sauce evenly over the second layer. Sprinkle remaining 1.5 oz mozzarella cheese on it.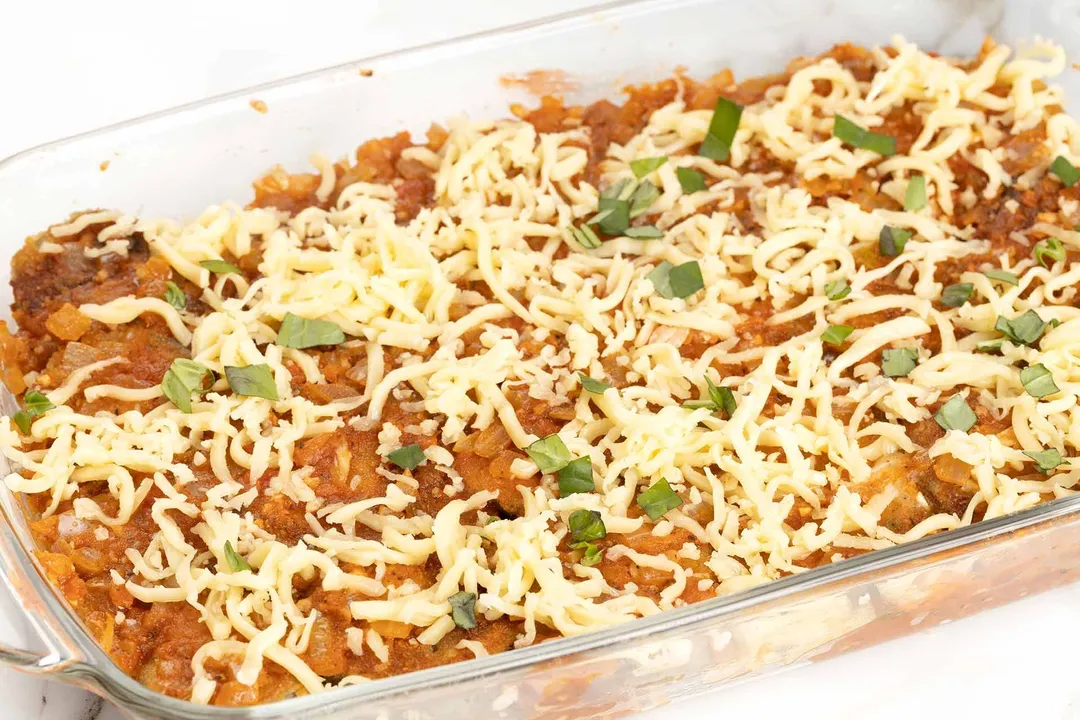 6
Bake at 350℉ for 20 minutes, until the cheese is melted and turns golden brown, and the marinara sauce is bubbling.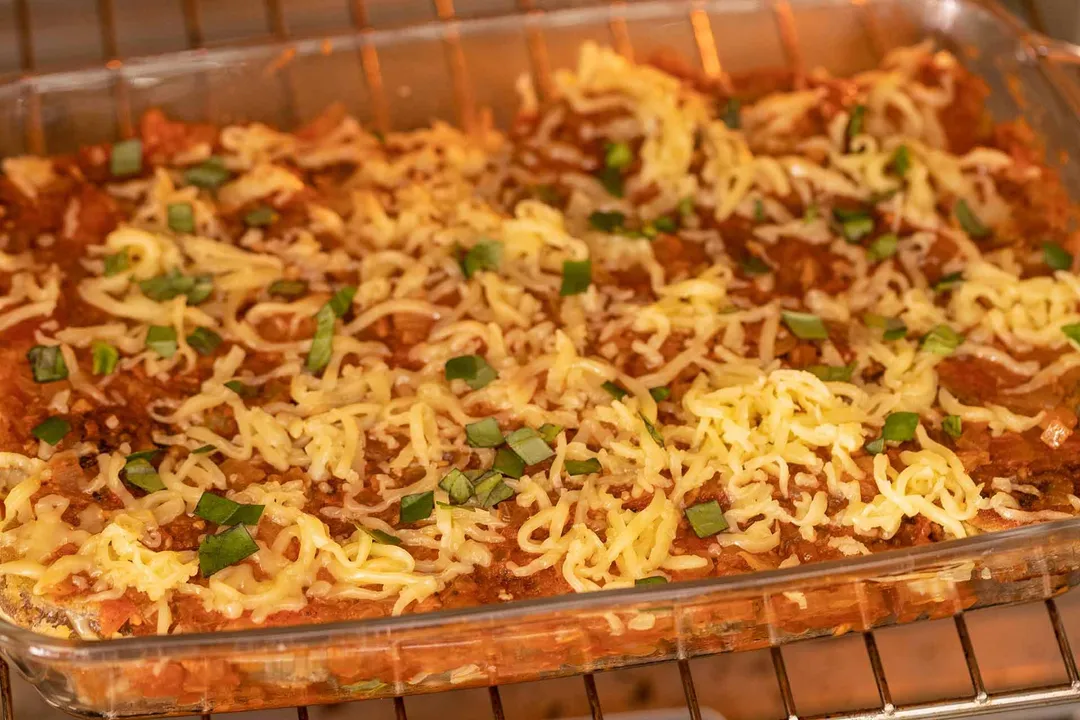 7
Remove the dish from the oven. Serve immediately.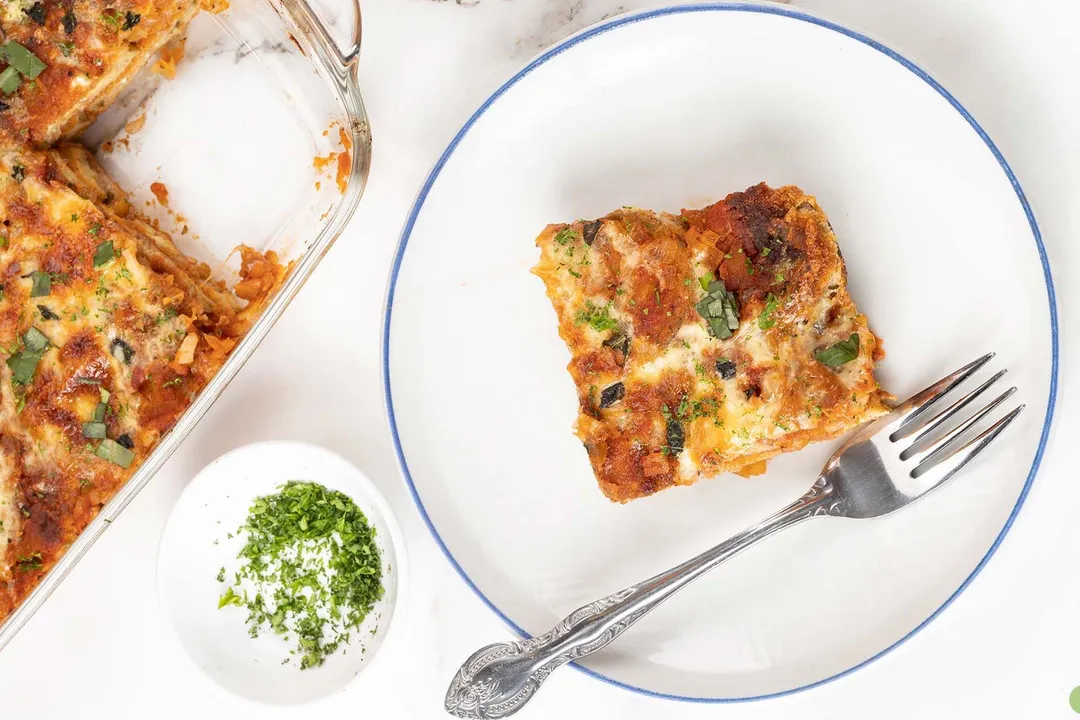 (*) Only part of these ingredients will end up in the final product, and we have calculated nutritional values based on that amount. The whole amount is needed for the coating and cooking process, but what actually ends up being consumed are 5 tablespoons of olive oil, 1 ounce of breadcrumbs, and 3 ounces of all-purpose flour.
NUTRITION
Nutrition Facts
Eggplant Parmesan
Amount Per Serving (1 serving)
Calories 466
Calories from Fat 270
% Daily Value*
* Percent Daily Values are based on a 2000 calorie diet.
Keywords: Eggplant Parmesan, Eggplant Parmesan Recipe, how to make Eggplant Parmesan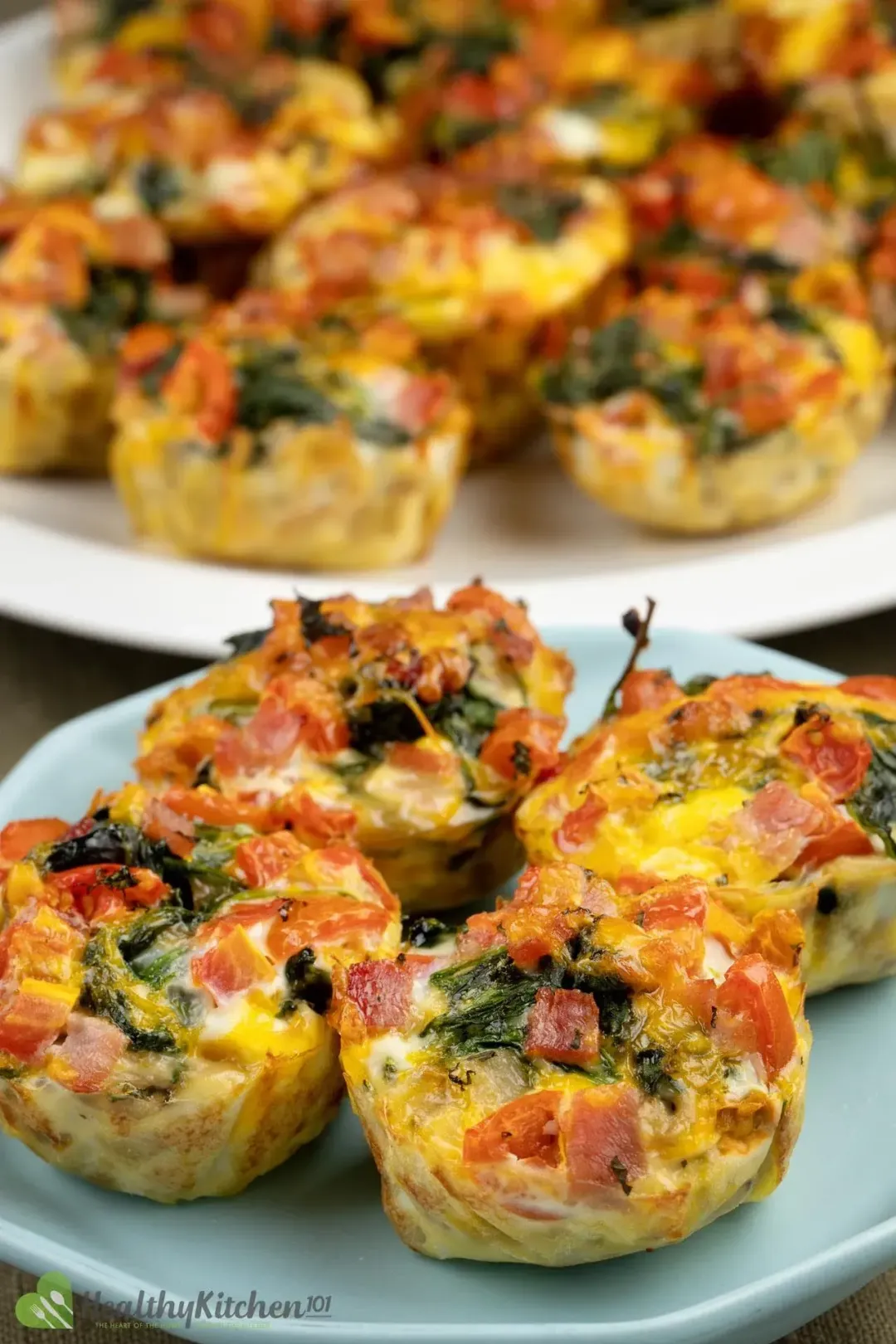 Previous Recipe
Egg Muffins
Egg Muffins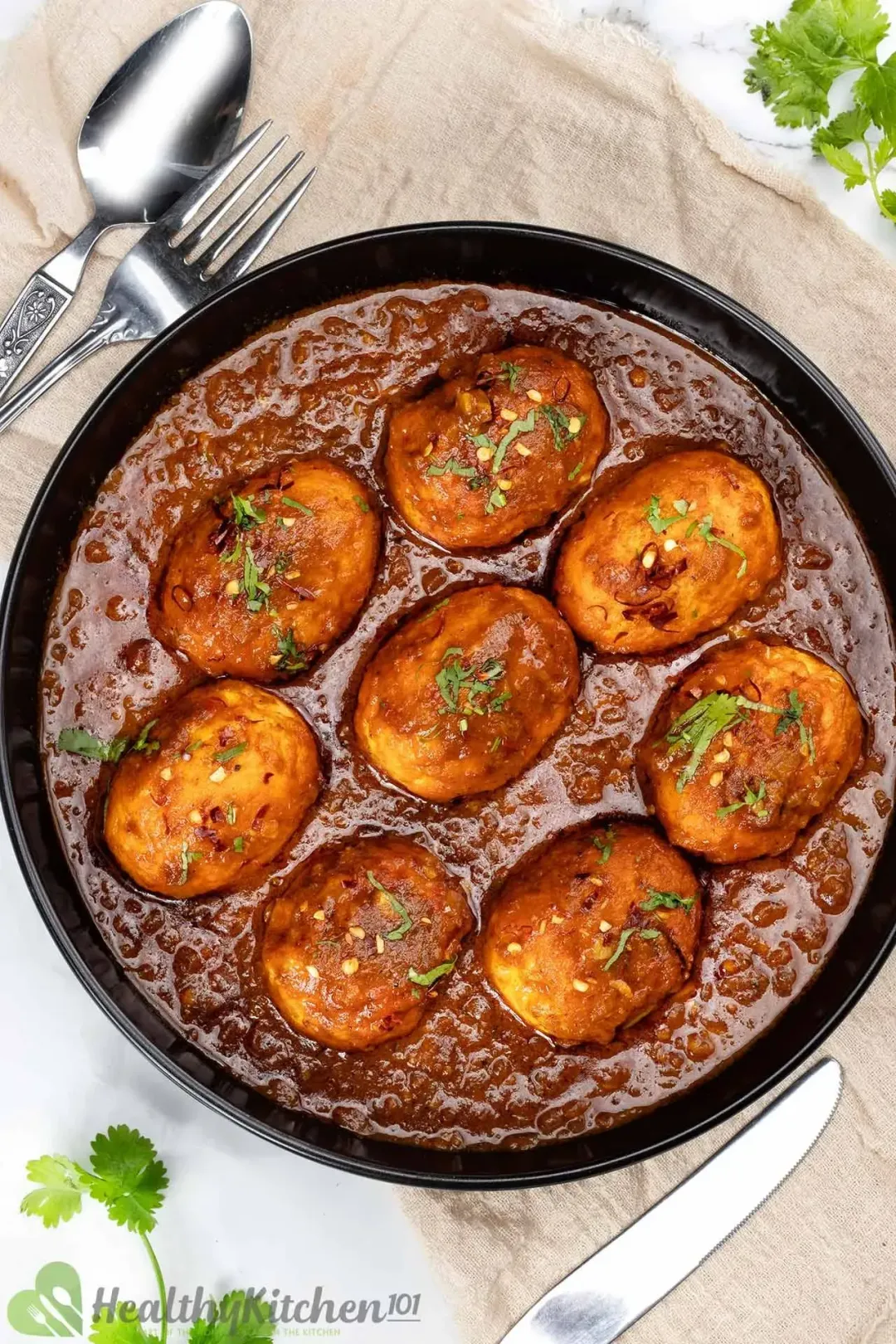 Egg Curry
Head Chef, Culinary Consultant
Tuyet Pham is an award-winning Saigonese chef who believes that joy is the secret ingredient to delicious food. At Healthy Recipes 101, Tuyet personally tests and simplifies every recipe, ensuring maximum flavor with minimal effort. With a background at prestigious French restaurants P'TI Saigon and Le Corto, Tuyet knows how to make every dish exceptional.
Writer, Author
Luna Regina is an accomplished writer and author who dedicates her career to empowering home cooks and making cooking effortless for everyone. She is the founder of HealthyKitchen101.com and HealthyRecipes101.com, where she works with her team to develop easy, nutritious recipes and help aspiring cooks choose the right kitchen appliances.
Nutrition Reviewer
Lizzie Streit is a Minneapolis-based dietitian and founder of It's a Veg World After All. She completed her MS in Human Nutrition from Drexel University, and is an expert in culinary nutrition, recipe development, and nutrition communications. Lizzie's philosophy is centered around making nutrition recommendations, and especially the advice to eat more vegetables, approachable and realistic. She is excited to be working with the team at Healthy Recipes 101 to ensure that their recipes are both nutritious and delicious.
The eggplant parmesan I just cooked was delicious! It was so easy to make, and came together quickly with great results!