Today's guide is about how to boil eggs, nutrition facts, and many interesting tips and tricks. It's the ultimate guide to eggs.
Let's get started.
Are Boil Eggs Healthy?
You may have heard talks about eggs being considered a superfood that contain all the nutrients you need. But they often give people mixed feelings for their high cholesterol content.
So, how exactly are eggs healthy? And how do we utilize them in our diet?
1. Cholesterol
One raw, large, whole egg contains 186 mg of cholesterol.
Because of their high cholesterol content, people often think that eggs are responsible for high blood cholesterol. But that is not the case.
There are studies that suggest dietary cholesterol in whole eggs is not well absorbed in the human body. This means it may not cause a rise in blood cholesterol.
So, does this mean it's safe to eat as many eggs as you want? Not exactly.
Foods high in cholesterol like whole eggs tend to have a large amount of saturated fat. And it is the consumption of saturated fat that may increase the risk of cardiovascular disease.
So, it's best to eat whole eggs in moderation.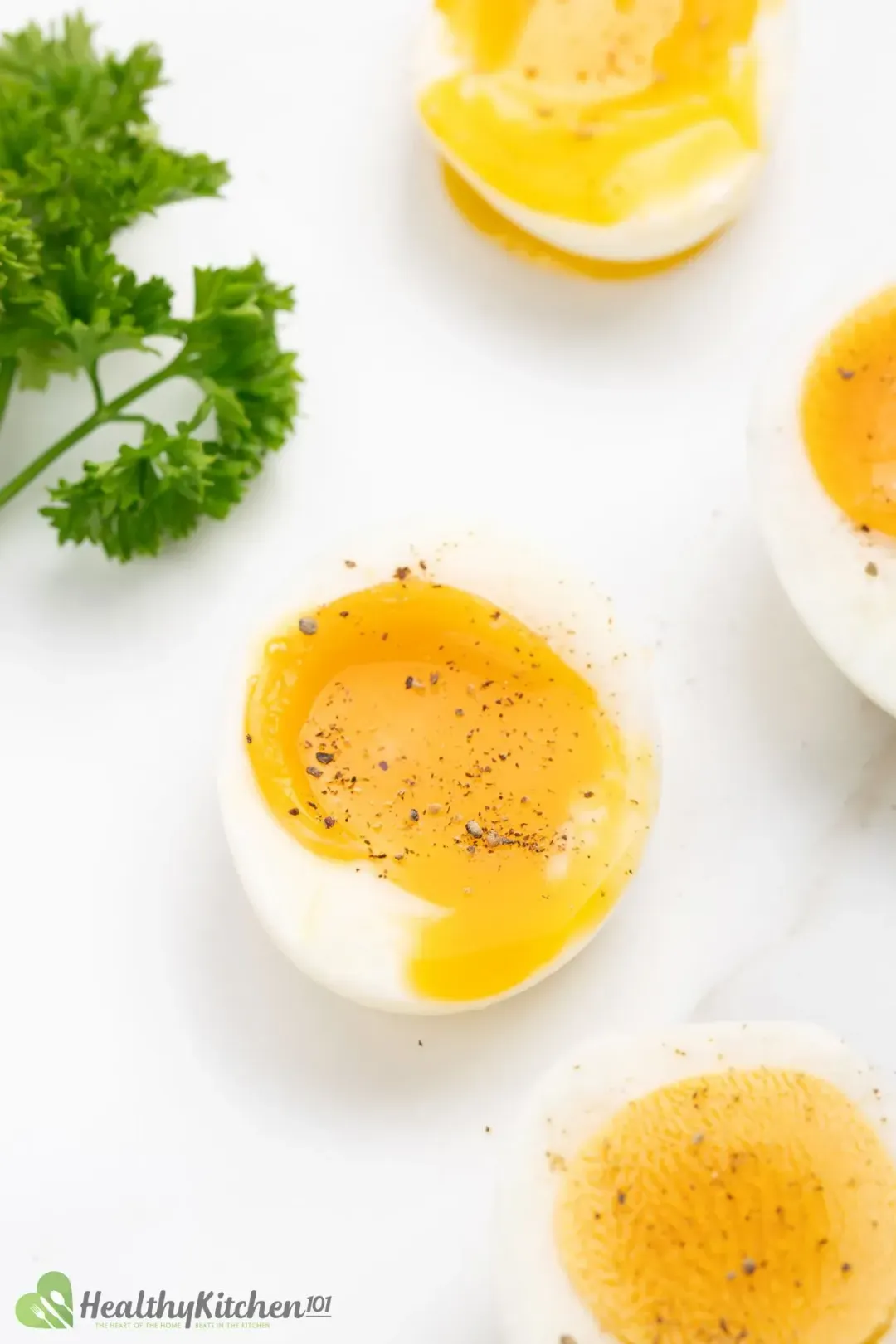 2. Carbs
There's only 0.36g of carbohydrates in a large egg. This is because eggs contain a very small amount of sugar and no fiber.
Since there's hardly any carbs in an egg, this makes eggs the perfect ingredient for any low-carb diet.
Apart from having no carbs and high amounts of cholesterol and saturated fat, eggs also contain lots of vitamins and micronutrients. Let's take a look at their nutritional value.
Eggs: Nutrition Facts
Here's a brief summary of an egg's nutrition facts, based on USDA Food Data. A raw, large, whole egg contains:
71.5 calories
6.28 grams protein
1.56 grams saturated fat
71 mg sodium
1. Calories
A fresh large egg contains 71.5 calories. This is relatively low in calories and it can be beneficial for those who follow a low-calorie diet.
2. Protein
There are 6.28g of protein in one large egg. Being high in protein and low-calorie makes eggs a great snack that helps relieve hunger without adding excessive calories.
Fitness gurus often encourage people to eat egg whites because they contain more protein than the yolk. But is it true?
100g of egg whites contain only 10.9 grams of protein. The same amount of egg yolks has 15.86 grams of protein.
So, egg whites actually have slightly less protein than egg yolks. But the fitness gurus aren't wrong when they promote egg whites.
Egg whites barely contain any fat, and no saturated fat. This makes them a better source of protein for those who are trying to reduce their saturated fat intake.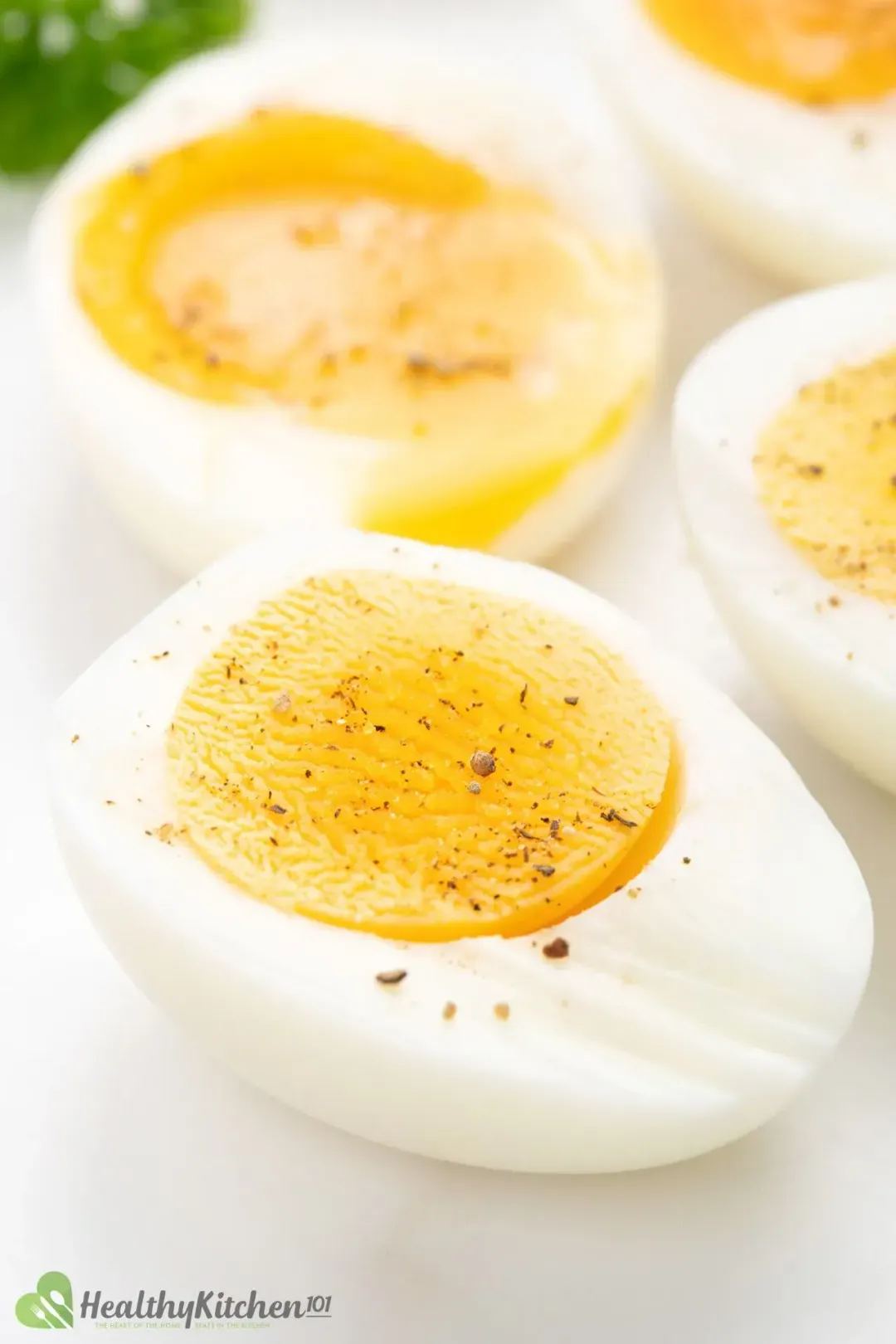 3. Vitamins
Eggs are incredibly nutritious. One large egg contains a decent amount of vitamin A, vitamin D, and vitamins B6 and B12.
Besides all these, eggs also contain calcium, iron, selenium, potassium, and magnesium.
The Difference between Brown and White Eggs
Eggs come in many different shapes and sizes. They can either be large, small, thumb-sized, dark brown, blue-ish white, pink-ish white, or spotted.
Brown and white chicken eggs are the most common ones you find in your local grocery store. But what causes this color difference?
The color of the eggshell is determined by the hen's genetics. This means different breeds of hen produce eggs with different colors.
So, quality-wise, are brown or white eggs better? Actually, the color of the egg doesn't determine the quality.
Basically, you can't judge a book by its cover, and you can't bet on an egg's quality based on its color.
On the other hand, there are other factors that determine the quality of an egg. These include the hen's diet and environment.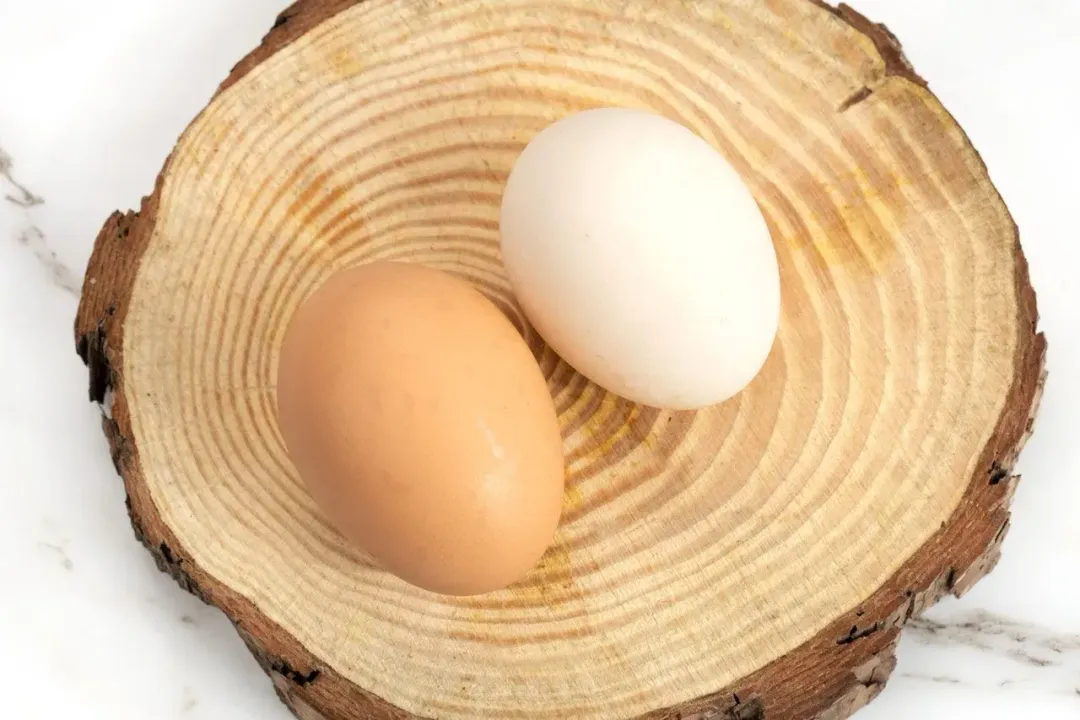 For example, hens that have been raised in a free-range farm produce eggs rich in vitamin D.
How Long to Boil Eggs?
Time duration varies depending on how you like your eggs. So, next in today's detailed guide on how to boil eggs, we'll cover a timeline of egg doneness:
4 minutes: The egg has a very runny yolk and slightly firm white.
6 minutes: The egg is soft-boiled with a firmer white and a jammy yolk.
8 minutes: The yolk can now hold its shape, yet is still slightly jammy in the middle.
10 minutes: An almost hard-boiled egg with a hint of softness in the middle of the yolk.
12 minutes: A perfectly-cooked hard-boiled egg. The white is not rubbery, and the yolk is not chalky either.
Yes, we use cold eggs, straight out of the fridge, and you should, too. Here's why:
Since every region has different weather and climate, the room temperature is also variable. If we start with room-temperature eggs, we're off to a different start.
Meanwhile, every refrigerator temperature is around 40°F or below, so refrigerated eggs are at the same temperature as well. This ensures we have the same base to start.
That being said, you shouldn't put cold eggs in boiling water all at once. It will take more time for the water to come back to a boil, thus more time cooking the eggs.
Ideally, we recommend using a medium saucepan filled halfway with water. Then, boil one egg at a time to prevent the temperature from dropping too low.
How to Make Soft-Boiled Eggs
Soft-boiled eggs are delicate and can be tricky to make.
Take them out 1 minute too soon and you'll have a raw egg that barely holds its shape. But if you leave it for 1 minute extra, it may end up being nearly hard boiled.
To make perfectly soft-boiled eggs, simply follow our guide:
Bring a pot of water to a boil.
Once boiling, put one cold egg into the water. Set the timer to 6 minutes and press start.
Once the timer rings, remove the egg. Transfer to an ice bath and leave to cool before peeling.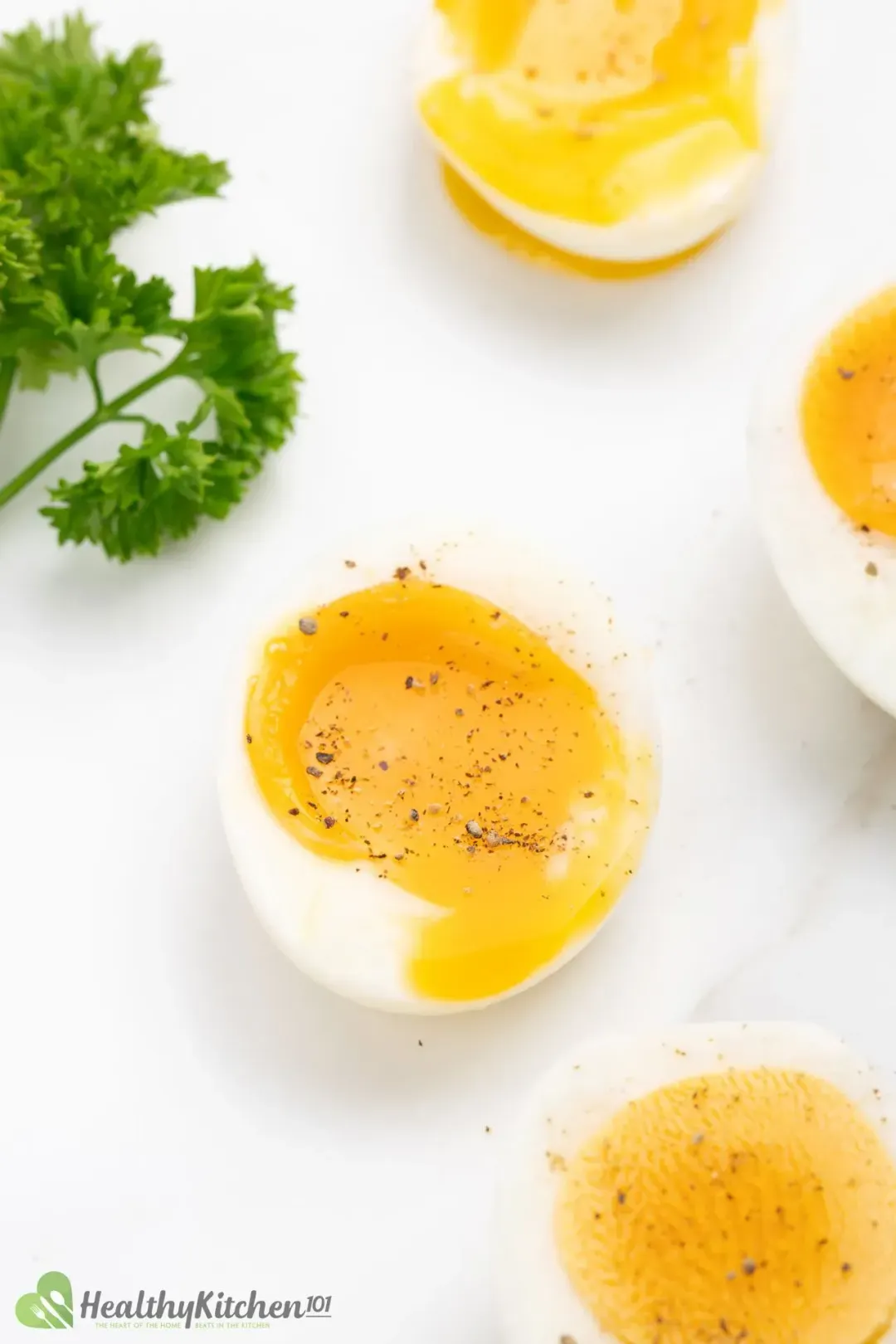 One example is this soft-boiled egg wrapped in a meat layer, which results in a delicious, runny egg center.
How to Boil Eggs in the Microwave
We've received a lot of questions about whether or not you can boil eggs in the microwave and how to do it.
Since this is new territory for us, we had to do some research. We also did some experiments to see if they actually worked.
In the end, there was one method that was successful. Here's how we did it:
In a microwave oven-safe bowl, add one cold egg (straight out of the fridge) and ¼ teaspoon of salt. Fill the bowl with water to submerge the egg.
Cover the bowl with a microwave oven-safe plate and microwave on high for 4 minutes.
Take the bowl out of the microwave and drain all the water. Let the egg sit for 5 minutes.
Put the egg in a bowl of cold water for 1 minute and peel. And there you have it: one perfectly hard-boiled egg.
However, we do not recommend this nontraditional method. It is NOT safe to try.
We tried four times and had three eggs explode. Fortunately, we had a lid (plate) on so the damage was minimized and no one was hurt.
Removing a bowl of hot water out of a microwave can be dangerous, too. The water can splash out of the bowl and burn you.
We also found that salt water prevents the egg from exploding. However, there's no scientific evidence to back this up, so we can't guarantee it.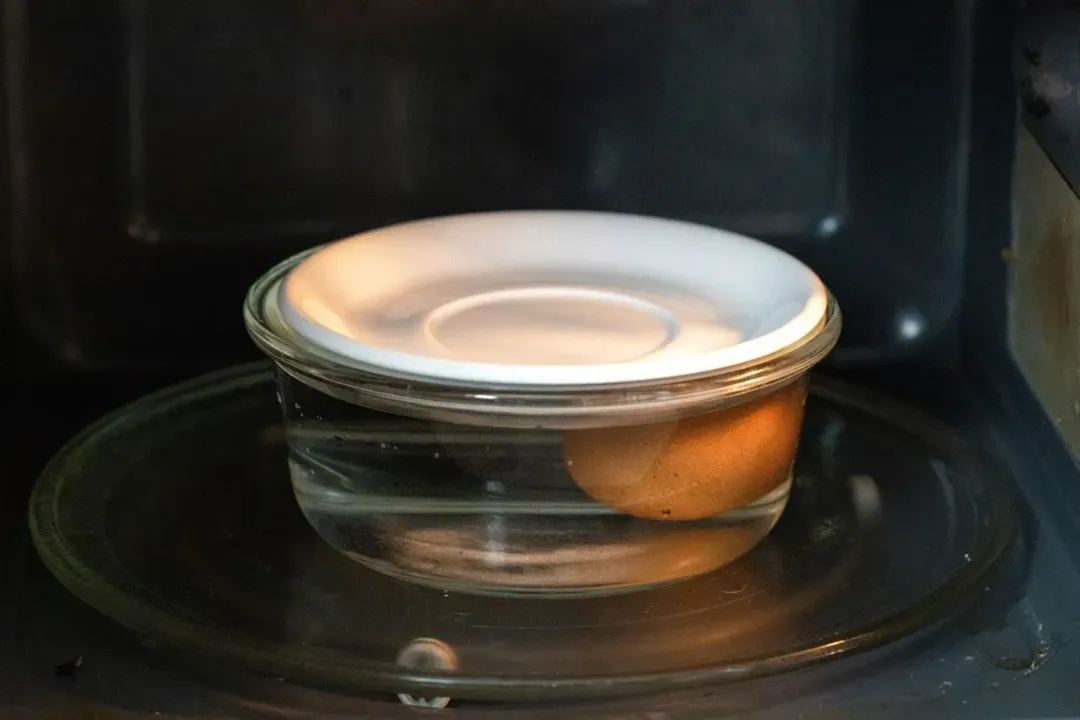 If the egg didn't explode in the microwave, there is still a chance it may burst afterwards. When the egg is still hot, it releases hot steam inside the shell and can explode due to compressed pressure.
So, please stick to the traditional method and boil your eggs in a pot over the stove.
How Long Do Eggs Last?
Now that we know how to boil eggs, let's learn how to store them properly.
1. At Room Temperature
In the US, egg manufacturers wash and sanitize them to prevent exposure to bacterial contamination. Once the eggs have been sanitized, they need to be refrigerated to decelerate the growth of bacteria.
This means it is best to keep raw eggs in the fridge at all times.
However, there will come a time when you need room-temperature eggs for a recipe. In that case, take them out of the refrigerator 30 minutes or 1 hour before cooking.
Leaving the eggs at room temperature for 2 hours or more increases the risk of bacterial contamination. This can lead to food poisoning, and we want to avoid that.
So, we advise you to leave raw eggs out for no longer than 1 hour, just to be safe.
This applies to hard-boiled eggs, too.
2. In the Fridge
If you insist on cooking ahead of time, peeled hard-boiled eggs can last up to a week if stored properly. Ideally, you should put them in an airtight container and cover with a sheet of paper towel to prevent dryness.
Raw eggs can last up to 5 weeks if you store them properly.
If possible, you should keep the eggs in their original cartons. Doing so can prevent them from absorbing refrigerator odor and being exposed to bacteria.
Keep your eggs in the fridge 45°F or lower and they shouldn't go bad for a long time.
To be sure, check the 3-digit code on the side of the carton. This is the Julian date that indicates the day the eggs were packed.
For example, if the code is 001, it means the eggs were packed on January 1st.
Google and find out what day that code is. Your eggs should last 4 to 5 weeks beyond that date.
If there's an expiration date or "sell by" date on the carton, you can refer to that date, too. This date just means the eggs are at the best quality to be put on shelves.
That being said, your eggs can still be safe to eat beyond the expiration date. Let's learn how to tell if your eggs are good to eat.
How to Tell If Eggs Are Bad
Here are some tips to tell if your eggs are bad:
Do the water test: To see if an in-shell egg is okay to eat, put it in water. If the egg floats to the top, it's likely not safe to eat. On the other hand, if the egg remains sunken, this doesn't guarantee 100% that the egg is good either.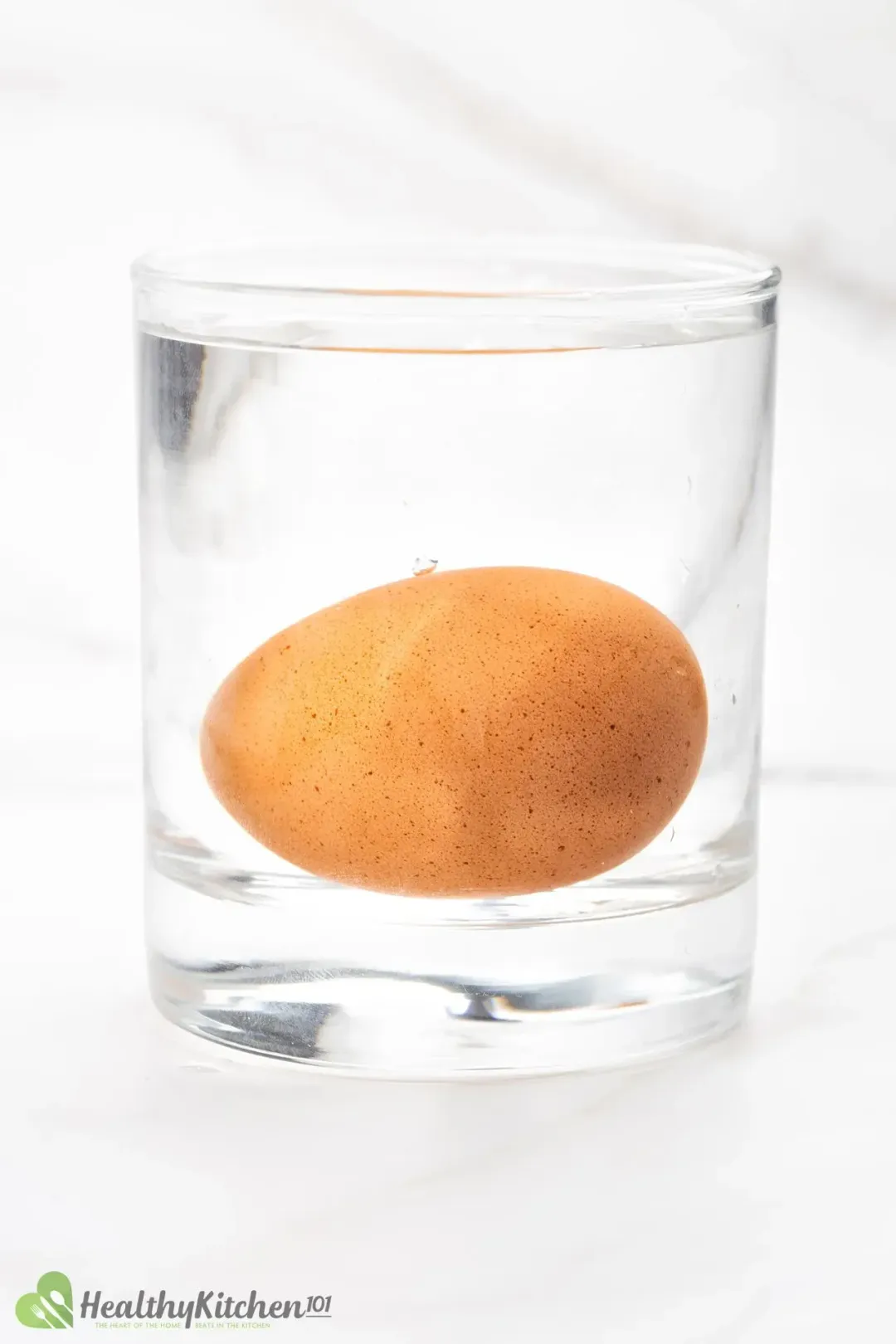 Check the appearance: If the shell is intact and undamaged, crack the egg into a bowl or dish. A good and/or fresh egg should have a clear egg white. The color of the yolk varies from pale yellow to deep orange. If the egg is too liquidy and/or you see discolorations, chances are the egg is bad or low quality.
Take a sniff: If the appearance check fails, smell the egg and trust your nose. A bad egg has a distinctively unpleasant odor no matter if it's raw or cooked.And that concludes today's ultimate guide on how to boil eggs.Despite this in-depth focus on boiled eggs, eggs, in general, are versatile. You can make a few for breakfast and come up with the absolute best scrambled eggs — that's their beauty; they're simple and convenient.
To try our other egg dishes, check out one of our favorite breakfast menu items, this way to cook eggs for breakfast or brunch, and a filling dish perfect for meal preps.
How to Boil Eggs
Boiling eggs to your liking is much easier now. With this guide on how to boil eggs, we will ensure you always get perfectly boiled eggs.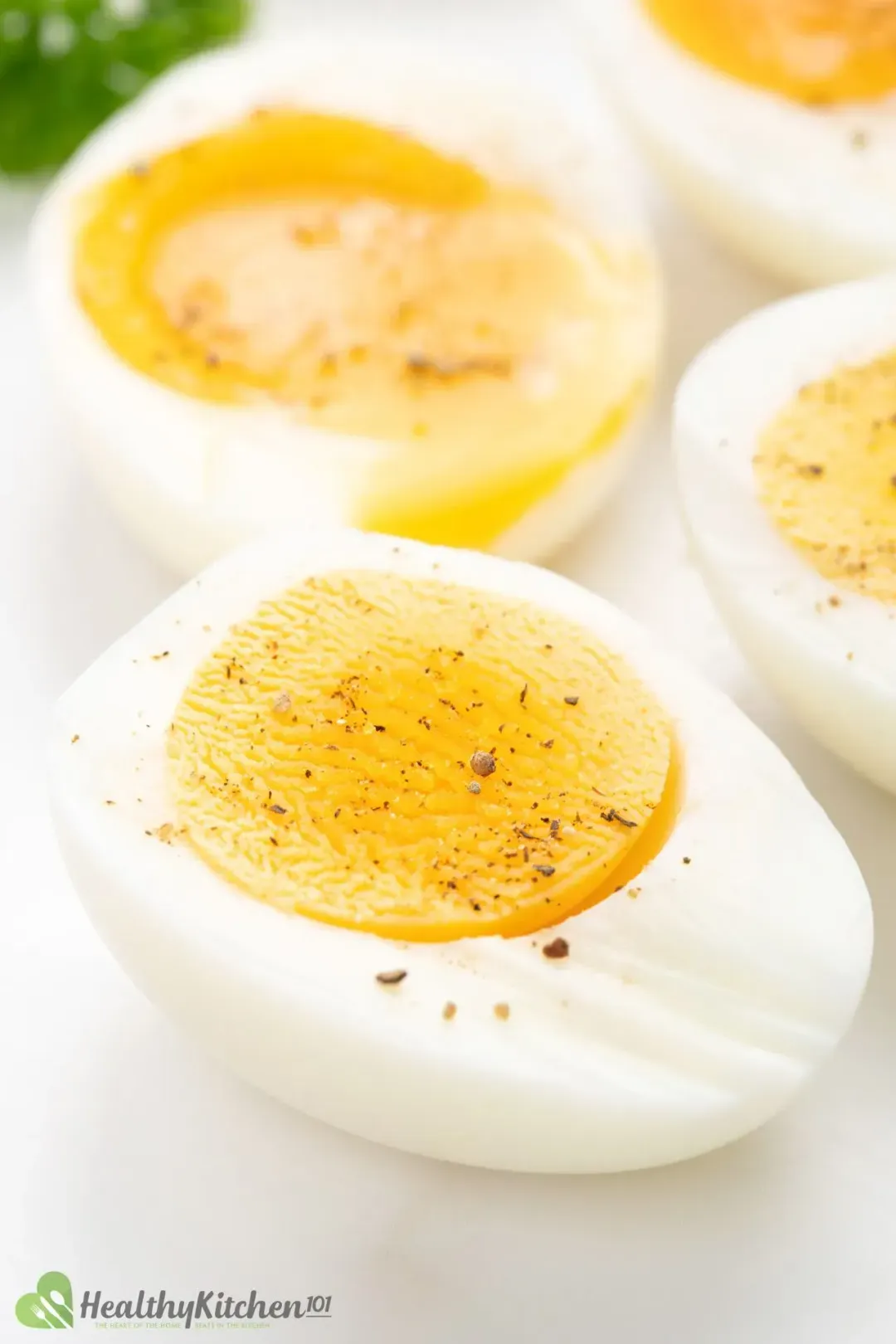 cook TIME

6 mins

total TIME

11 mins

INACTIVE TIME

5 mins
COURSE

Breakfast, Lunch, Snack

CUISINE

Global

SERVINGS

CALORIES

72 kcal
INGREDIENTS
32 fl oz

water

(or enough to submerge the eggs)
INSTRUCTIONS
1
Put a large saucepan on the stove. Fill it halfway with water, or enough to submerge the eggs. Bring water to a boil.
2
Set your timer to 6 minutes. Once the water is boiling, gently put one egg at a time into the pot with a slotted spoon. Start the timer immediately and wait for the eggs to cook.
3
Once the timer rings, remove the egg from the pot and transfer to a tub of ice water. Allow the egg to sit for 5 minutes before peeling off the shells. The eggs should be soft-boiled.
4
Enjoy them plain or with a sprinkle of salt, black pepper, or herbs.
Note: If your saucepan isn't big enough. It would be best to divide and cook the eggs in batches to achieve the right doneness.
We set the timer for 6 minutes to get soft-boiled eggs. Otherwise, check out our guide above and set your timer accordingly if you desire a different doneness.
NUTRITION
Nutrition Facts
How to Boil Eggs
Amount Per Serving (1 serving)
Calories 72
Calories from Fat 43
% Daily Value*
* Percent Daily Values are based on a 2000 calorie diet.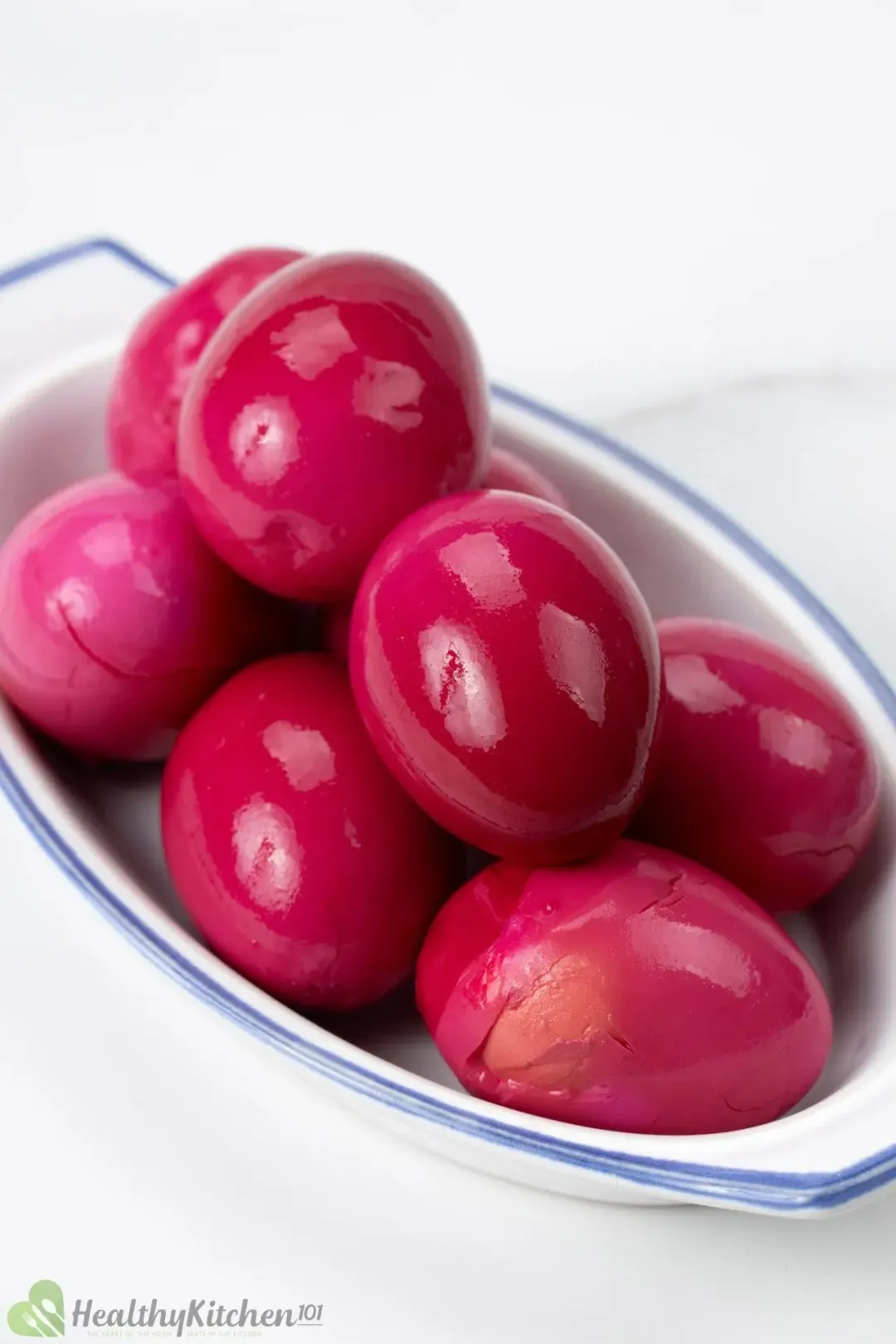 Previous Recipe
Pickled Eggs
Pickled Eggs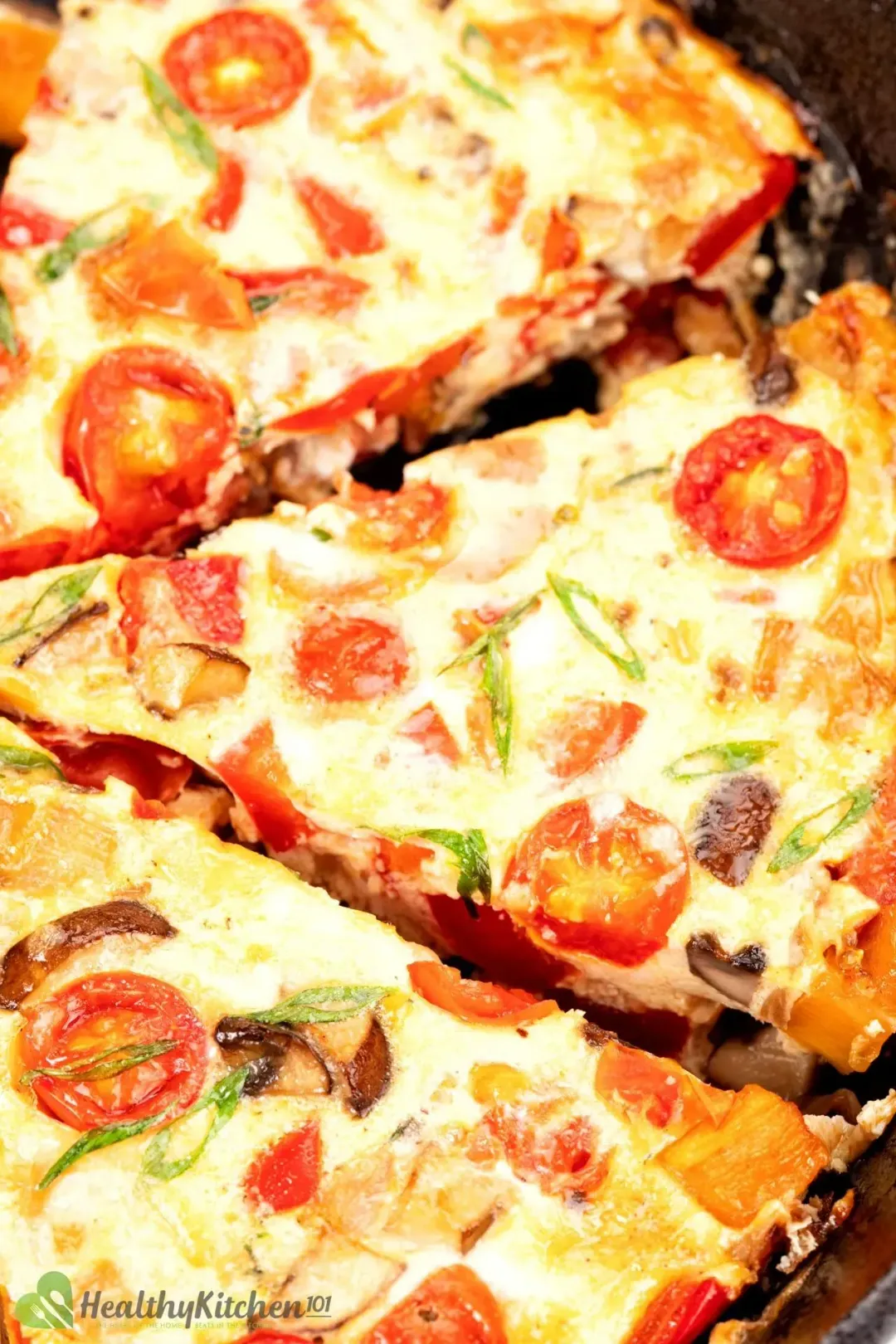 Frittata
Head Chef, Culinary Consultant
Tuyet Pham is an award-winning Saigonese chef who believes that joy is the secret ingredient to delicious food. At Healthy Recipes 101, Tuyet personally tests and simplifies every recipe, ensuring maximum flavor with minimal effort. With a background at prestigious French restaurants P'TI Saigon and Le Corto, Tuyet knows how to make every dish exceptional.
Writer, Author
Luna Regina is an accomplished writer and author who dedicates her career to empowering home cooks and making cooking effortless for everyone. She is the founder of HealthyKitchen101.com and HealthyRecipes101.com, where she works with her team to develop easy, nutritious recipes and help aspiring cooks choose the right kitchen appliances.
Nutrition Reviewer
Lizzie Streit is a Minneapolis-based dietitian and founder of It's a Veg World After All. She completed her MS in Human Nutrition from Drexel University, and is an expert in culinary nutrition, recipe development, and nutrition communications. Lizzie's philosophy is centered around making nutrition recommendations, and especially the advice to eat more vegetables, approachable and realistic. She is excited to be working with the team at Healthy Recipes 101 to ensure that their recipes are both nutritious and delicious.
Boiling Eggs according to this recipe gave me perfectly cooked yolks every time– even better than store-bought ones! This tips article is spot on when it comes to boiling eggs correctly.

Perfect guide for boiling eggs.