Today's scrambled eggs recipe is a simple instruction to a homemade fluffy, creamy, and custardy egg dish. It's moist and flavorful, but not scattered or runny— perfect for piling on buttered toast during busy mornings. It also guarantees you an easy dish for National Egg Day (June 3).
Are Scrambled Eggs Healthy?
Made of eggs, Parmesan cheese, heavy cream, and whole milk, scrambled eggs are undoubtedly healthy and wholesome. Their nutrition values are below.
You can check out another way to cook eggs for breakfast or brunch or how to boil eggs easy to peel and vary your egg dish menu.
Nutrition
Scrambled eggs are low in carbohydrates and sodium. They have been a top choice in the list of the most simple and hassle-free Keto breakfasts.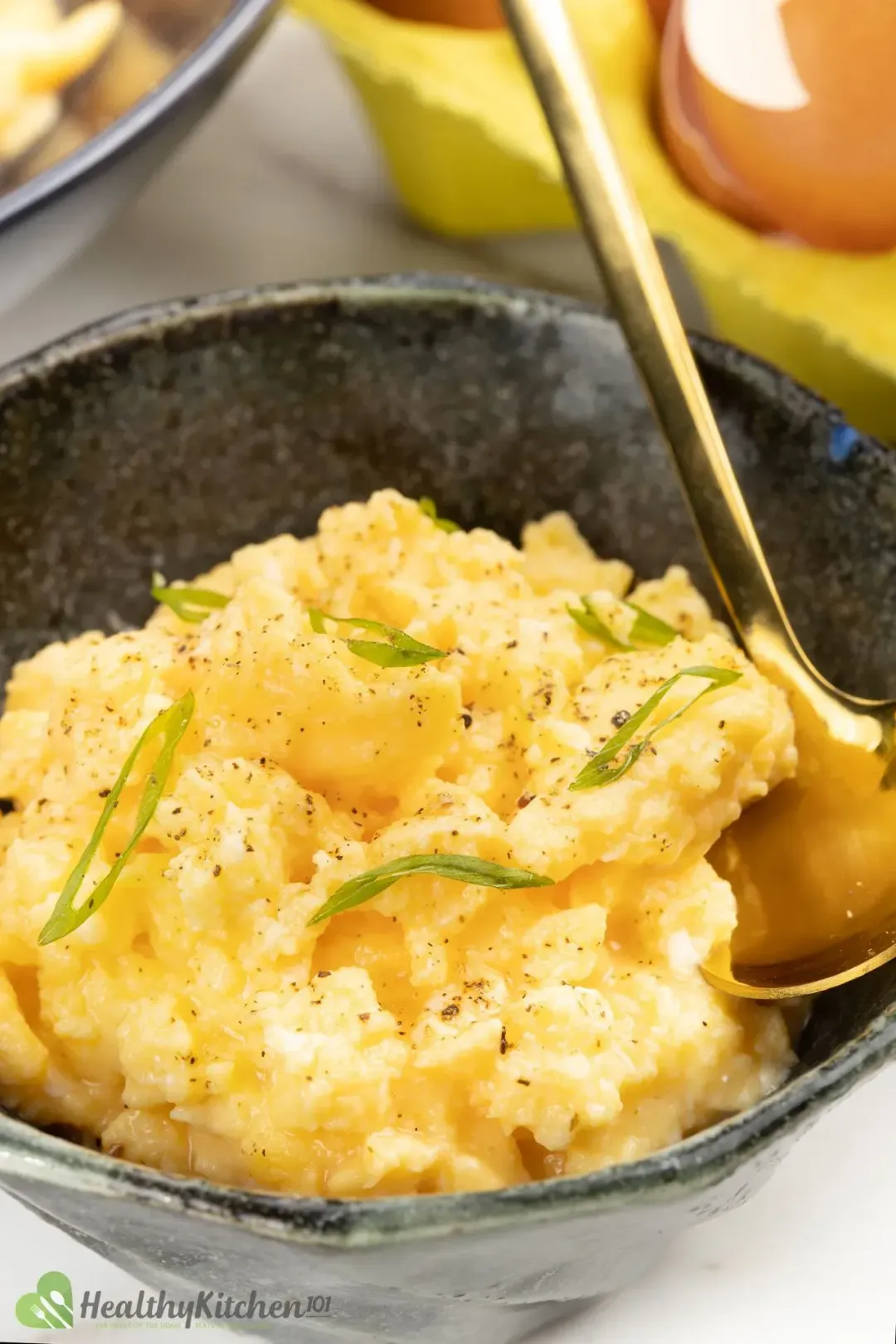 1. Calories
These eggs deliver only 122 calories per serving. We aimed to make them low calorie so you'll have plenty of room to get creative.
For instance, you can serve them on top of toasted slices of bread to make it a fulfilling breakfast. Otherwise, side it along with any main staple to create a nutritious meal for weeknight dinners.
2. Carbs
There are only 1.1 grams of carbohydrates in these scrambled eggs— making this dish a perfect choice for keto dieters.
3. Protein
You'll receive 9.3 grams of protein from one serving of these scrambled eggs. Most of them are from eggs, which also means they're packed with essential amino acids.
Our other healthy egg dishes include this recipe for egg muffins, the best egg curry recipe, and these easy scotch eggs.
What to Add to This Recipe
Similar to many other egg dishes such as omelets or eggs benedict, scrambled eggs are super versatile. With a wide range of options for add-ons, you can enjoy it any way you desire.
1. Cheese
For creamy and fluffy scrambled eggs, shredded cheese cannot be left off the ingredient list. When melted into the eggs, cheese adds a delightful mouthfeel and a subtle saltiness to the dish.
2. Milk
Adding milk to the egg mixture can lend extra moisture and richness to the result. However, too much milk can turn scrambled eggs runny, making it harder to form into nice, firm curds.
Watch the amount of milk that's going into the egg mixture and you'll be good.
3. Sour Cream
For people who always skip scrambled eggs because they find it too bland for their taste, our suggestion is to try making it with sour cream. Sour cream, if added, lends a subtle sweet and sour flavor that harmonizes really well with the rest.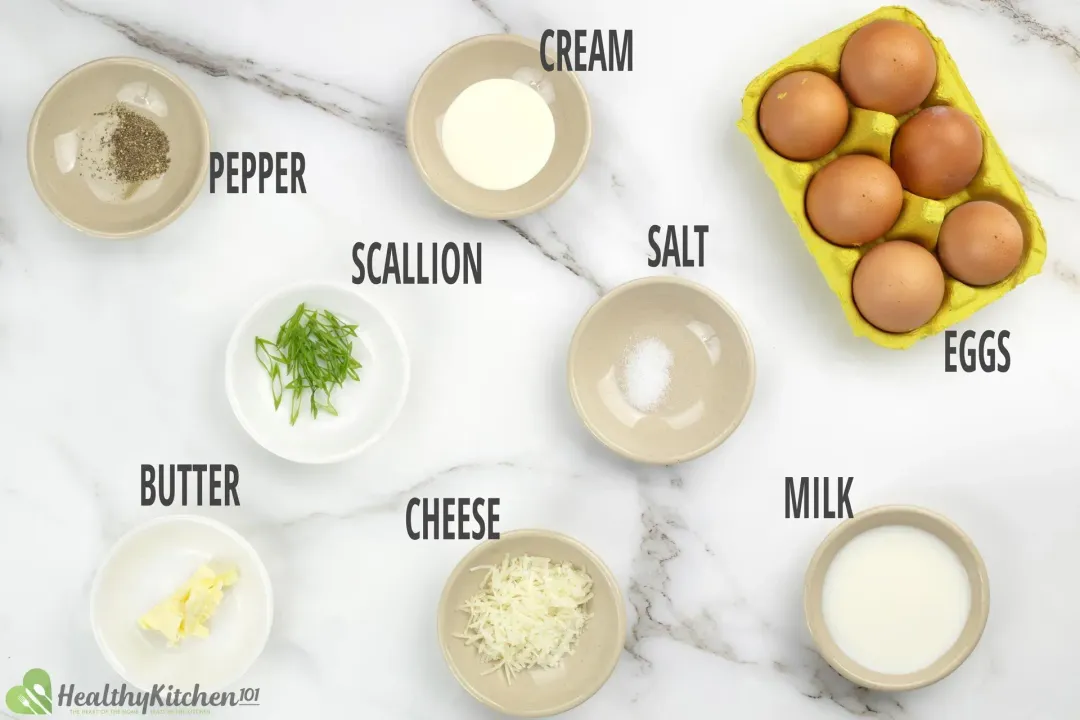 4. Avocado
Avocado, surprisingly, can complement scrambled eggs wonderfully by adding a unique, creamy texture to it. You'll also have soft, velvety diced avocado to munch on.
And it doesn't take much more effort than basic recipe. All you need to do is dice the avocados and add them to the egg mixture.
5. Cream Cheese
It's not difficult to imagine how scrambled eggs and cream cheese would work together. As cream cheese adds a special richness and a light tang to the egg curds, you'll get an outstandingly savory and creamy combo.
6. Butter
In this recipe, butter is used to grease the skillet and enhance the flavor.
Even if you're using a non-stick skillet, adding butter to coat the pan is still highly recommended. You'll only need a small amount of butter to help the eggs move around and hold together more easily.
7. Heavy Cream
Most of the fat content in this recipe comes from heavy cream. This ingredient adds a velvety texture and a remarkable richness to the eggs.
For scrambled eggs, we believe heavy cream and cream cheese can be used interchangeably. Therefore, you can grab whatever is convenient for you if you're in a rush.
8. Tomatoes
Another common variation of this dish is made with tomatoes.
It may sound unfamiliar, but scrambled eggs with tomatoes are super hearty and widely favorable in Asia. Simply chop and slice tomatoes into small chunks and cook together with the eggs until mushy.
9. Spinach
In this dish, it's even okay to swirl in chopped spinach into the egg mixture. It's a nice way to sneak some greens into this dish.
Like our easy sunny side up eggs and poached eggs with vinegar, scrambled eggs are a simple dish to make.
Cooking Tips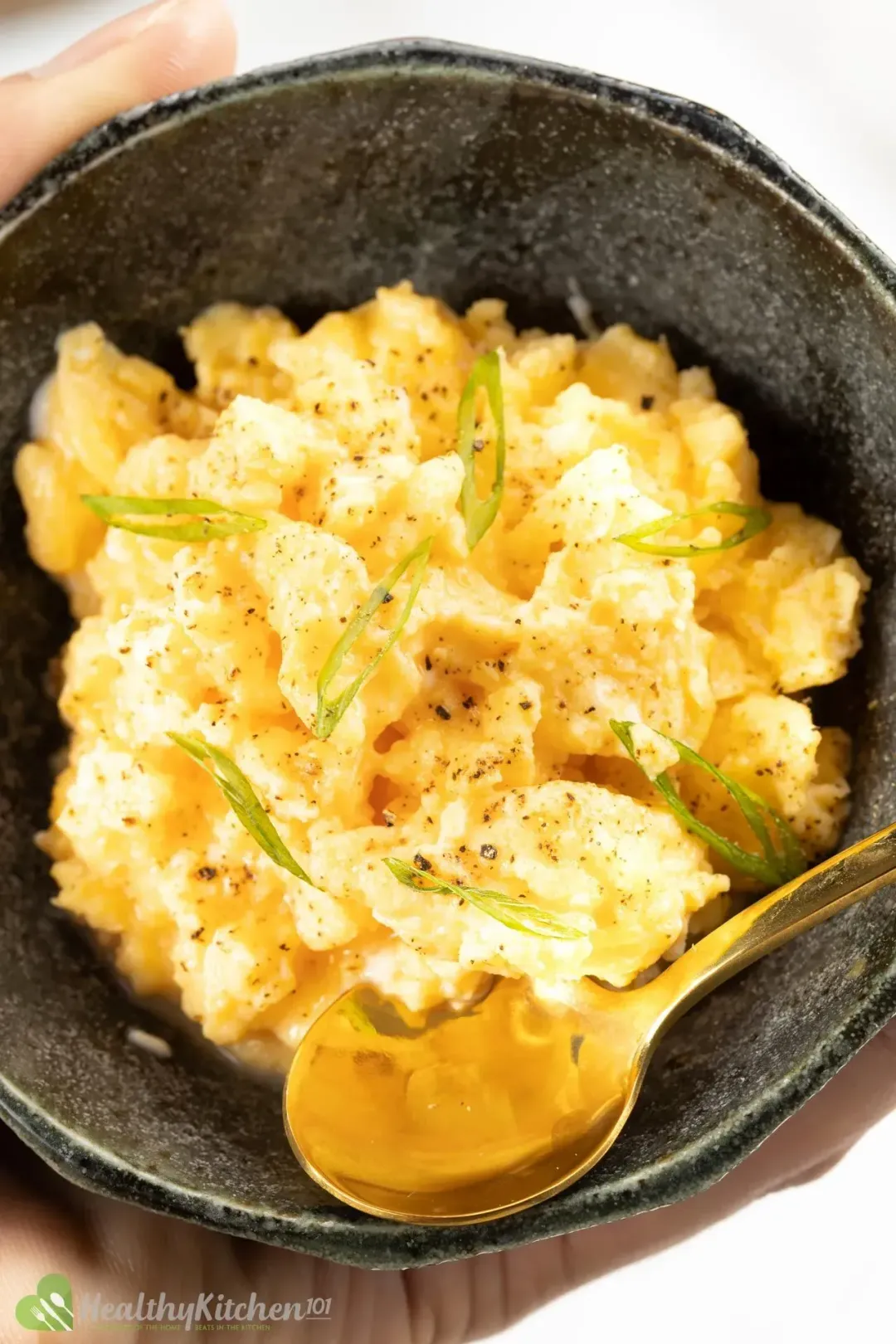 You should always use a non-stick skillet to make it. This is to avoid crumbled pieces of egg being glued to the skillet's bottom.
Also, make sure you always use medium-low or low heat for a skillet of scrambled eggs. Eggs are easily dried out and overcook very quickly.
It's important to scrape along the contours of the skillet so you'll get beautiful egg curds. To do that, make sure you have a rubber spatula to swirl, swipe, or push eggs around the skillet easily.
You need to swirl the egg mixture gently on the skillet until it thickens without runny eggs around the edges. Scrambled eggs need to be pillowy and creamy, therefore, they should be taken off the heat before they finish cooking.
If you want to create small egg curds, sweep the spatula in small circles. In the same vein, slowly sweep it in longer and larger movements if larger curds are what you love.
Looking for a fancy egg dish perfect for the holidays? Try out our classic egg salad recipe, these pickled eggs with beets, our eggs benedict dish, and the best egg drop soup recipe you'll ever come across!
How Long Does It Last?
Scrambled eggs can last up to 2 days in the fridge. We recommend storing it separately with any extra add-ons (if there's any) so it's more convenient to rewarm.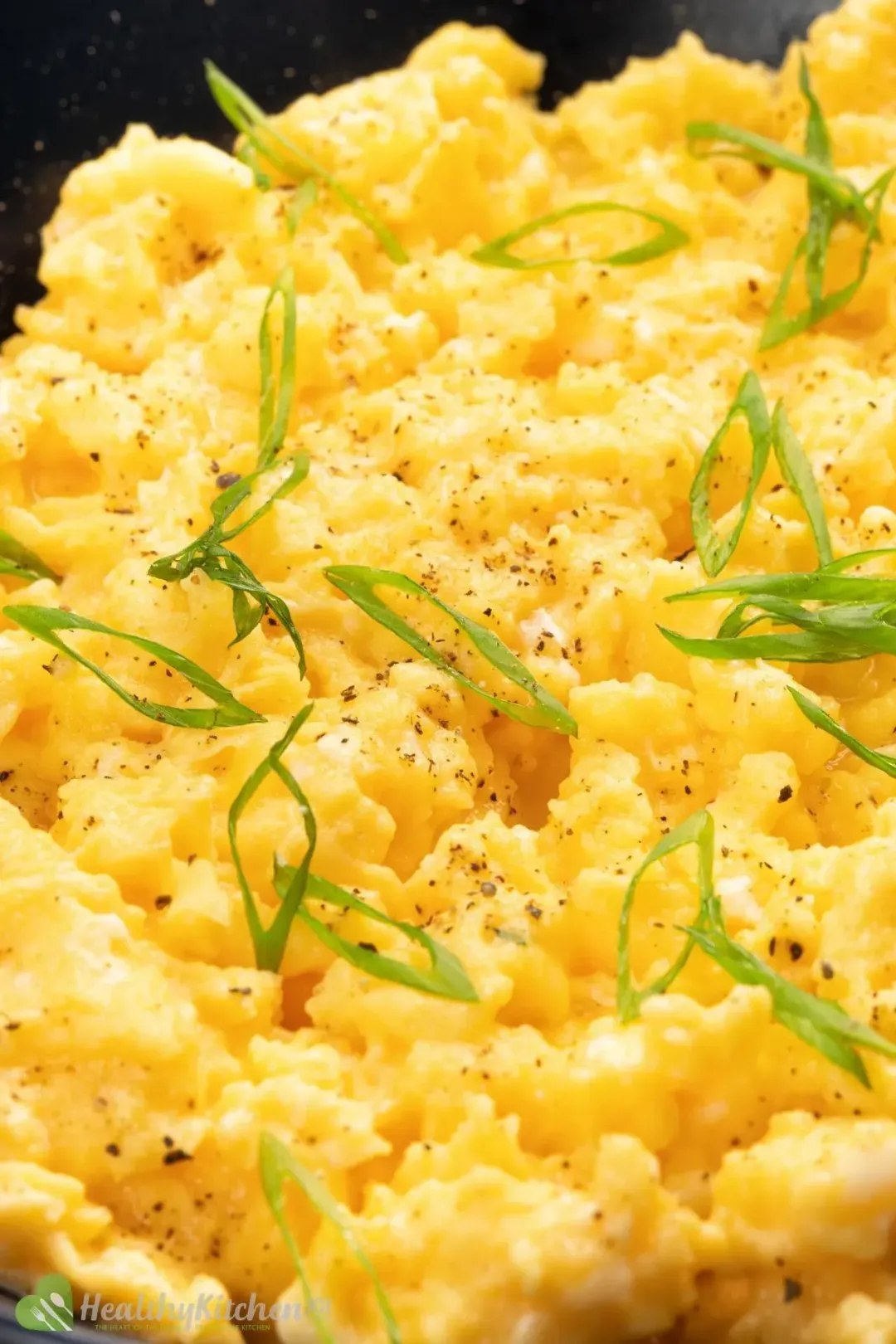 Can You Freeze It?
Yes, you can. Frozen can last up to 2-3 months.
You should also store the scrambled eggs and any ingredients siding with it in separate containers. By doing so, they won't stick together when frozen.
For a wider selection of eggs dishes, don't miss out this collection on the 40+ amazing eggs recipes that we've carefully sorted out for you!
Scrambled Eggs
Today's scrambled eggs recipe will produce homemade fluffy, creamy, and custardy scrambled eggs to pile on toast. They're moist, flavorful, and also super versatile— easily made into any dishes you love.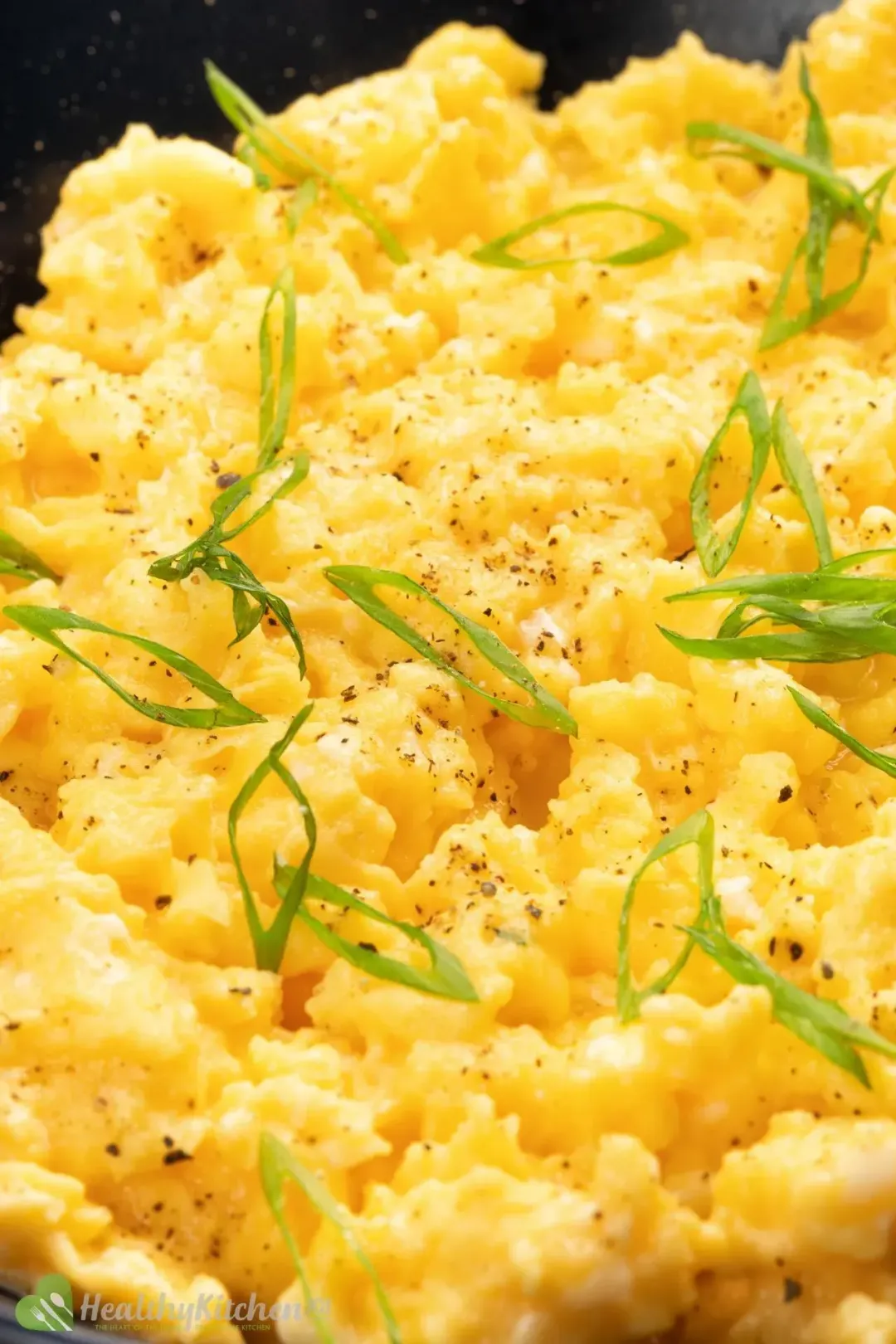 cook TIME

10 mins

prep TIME

5 mins

total TIME

15 mins
COURSE

Side Dish

CUISINE

American

SERVINGS

CALORIES

122 kcal
INGREDIENTS
0.25 oz

Parmesan cheese

(shredded)

1/4 tsp

ground black pepper

1 tbsp

scallions

(chopped)
INSTRUCTIONS
1
In a large bowl, whisk together 6 eggs, 0.25 oz Parmesan cheese, 1/8 tsp salt, 2 tbsp whole milk, and 1/2 tbsp heavy cream.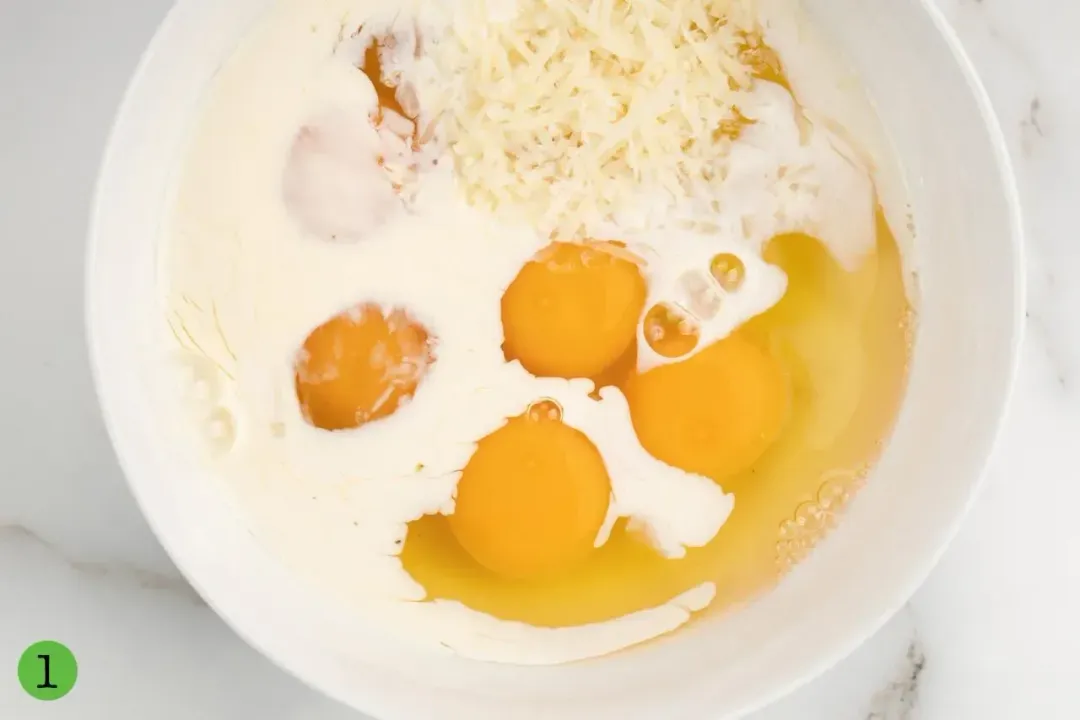 2
In a non-stick skillet, heat 1 tsp butter over medium heat.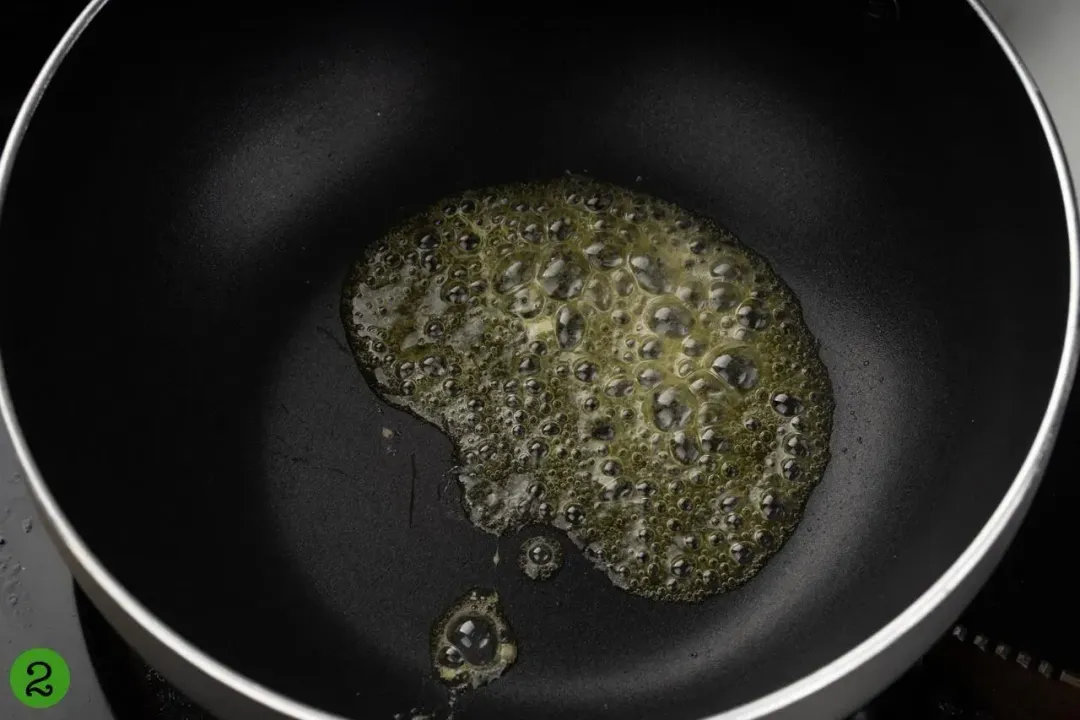 3
Reduce heat to low, then slowly pour the egg mixture into the skillet.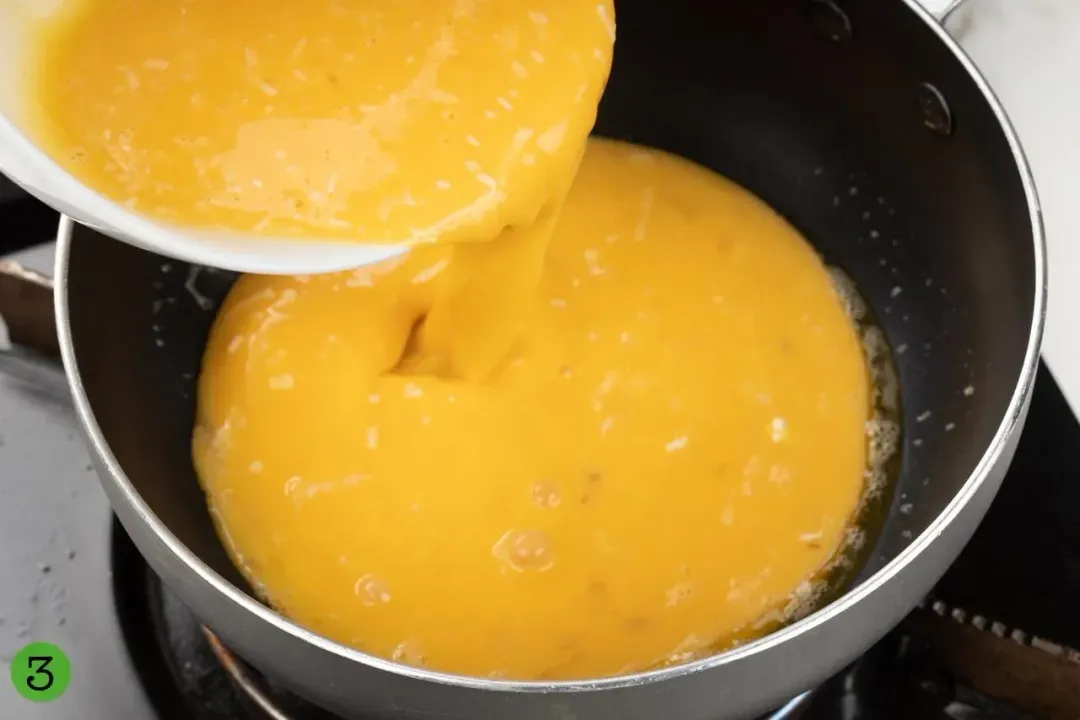 4
As the mixture begins to set, move the spatula across the bottom and side of the skillet slowly until it forms large, soft curds.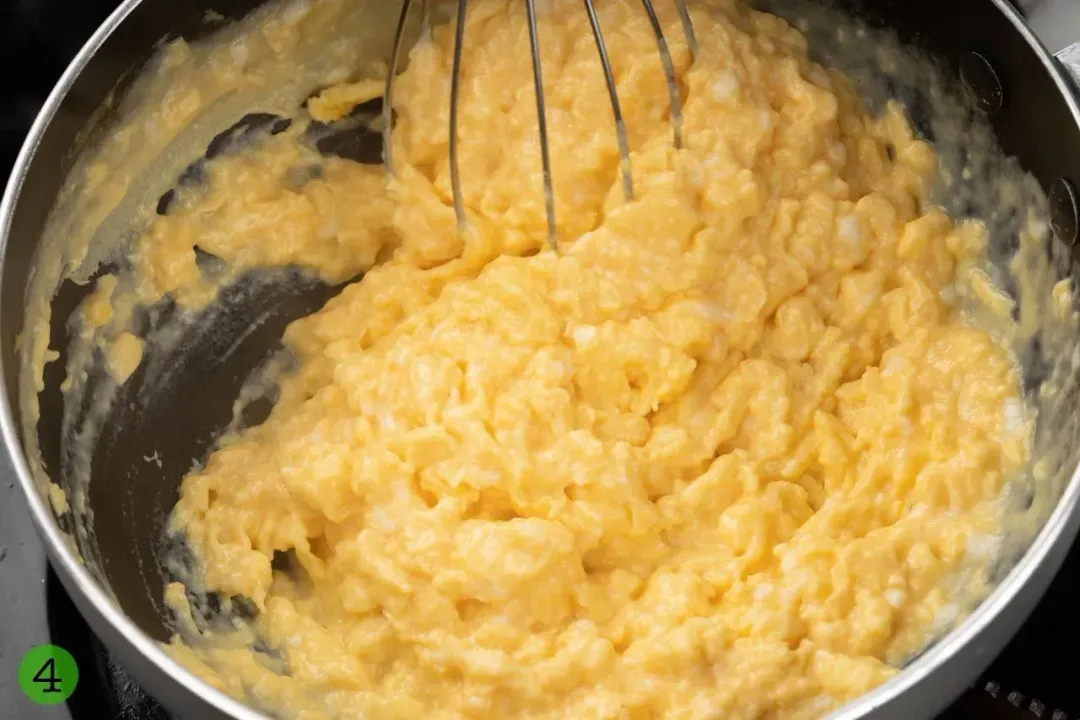 5
Sprinkle 1/4 tsp black pepper and 1 tbsp scallions. Serve.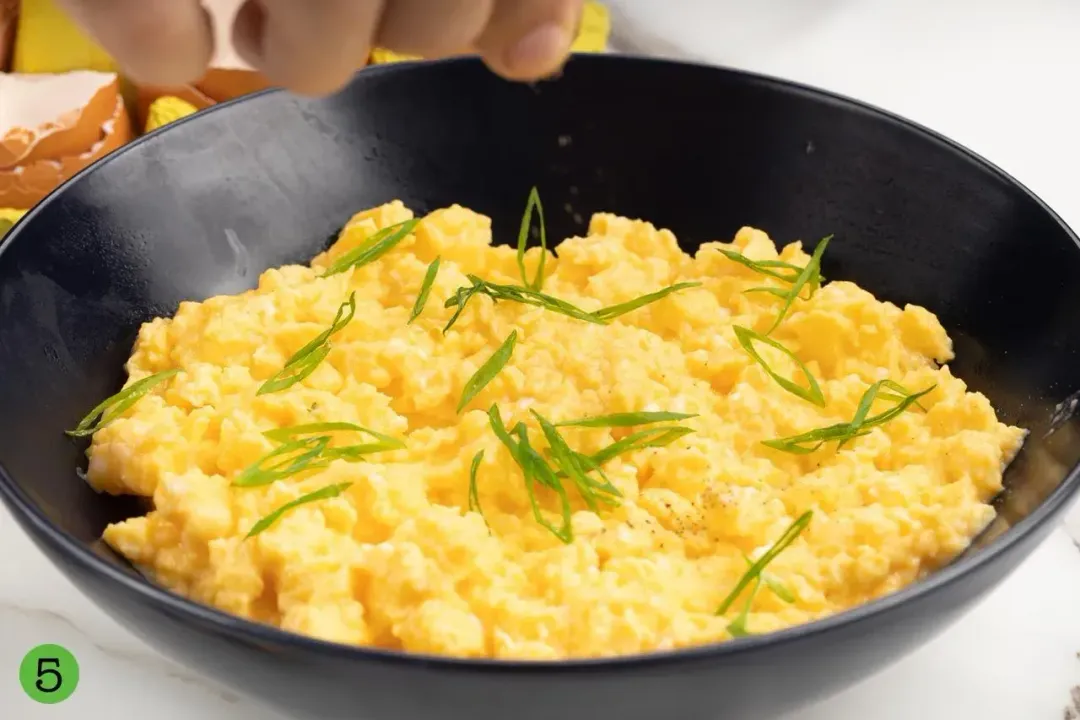 NUTRITION
Nutrition Facts
Scrambled Eggs
Amount Per Serving (1 serving)
Calories 122
Calories from Fat 81
% Daily Value*
* Percent Daily Values are based on a 2000 calorie diet.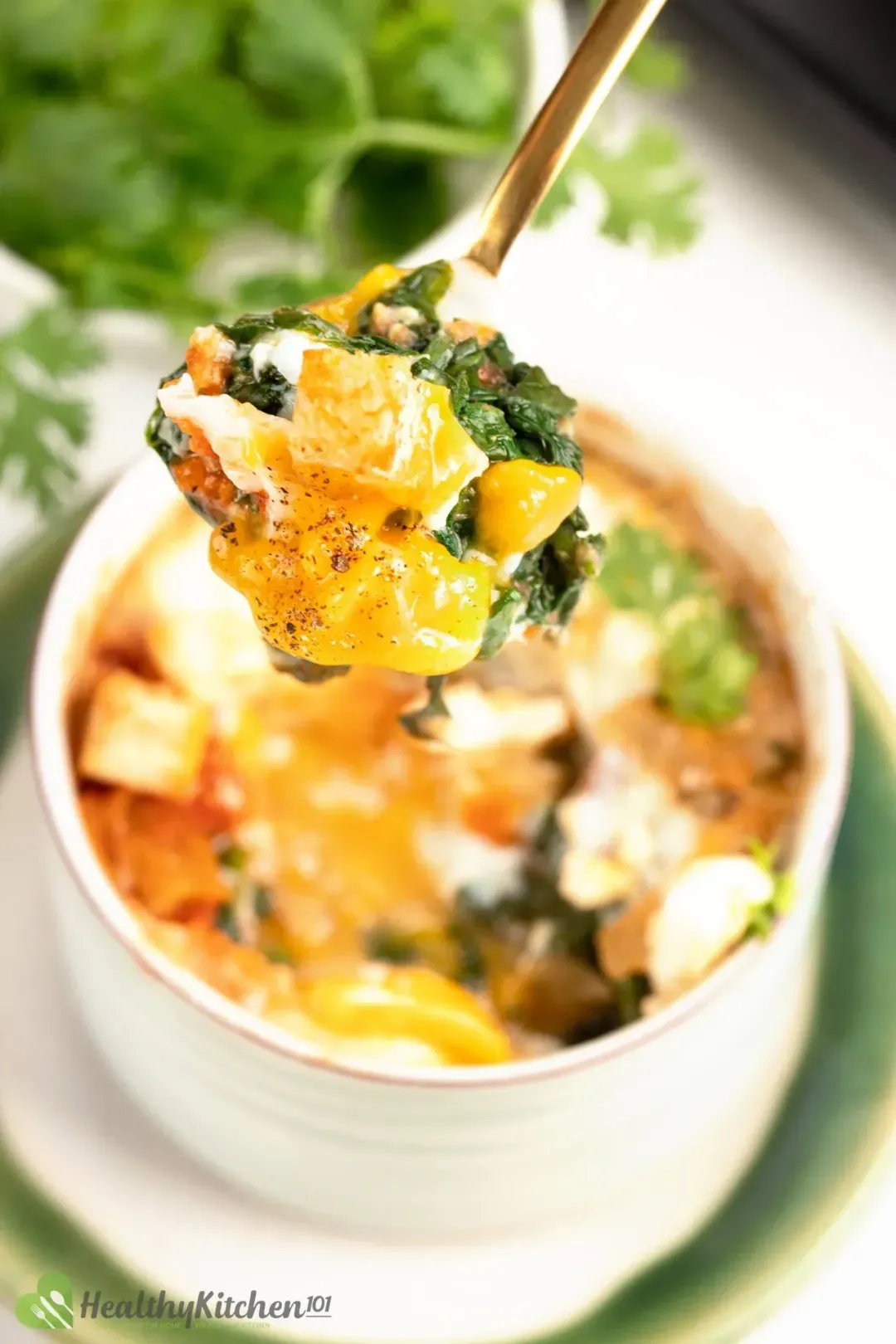 Previous Recipe
Shirred Eggs
Shirred Eggs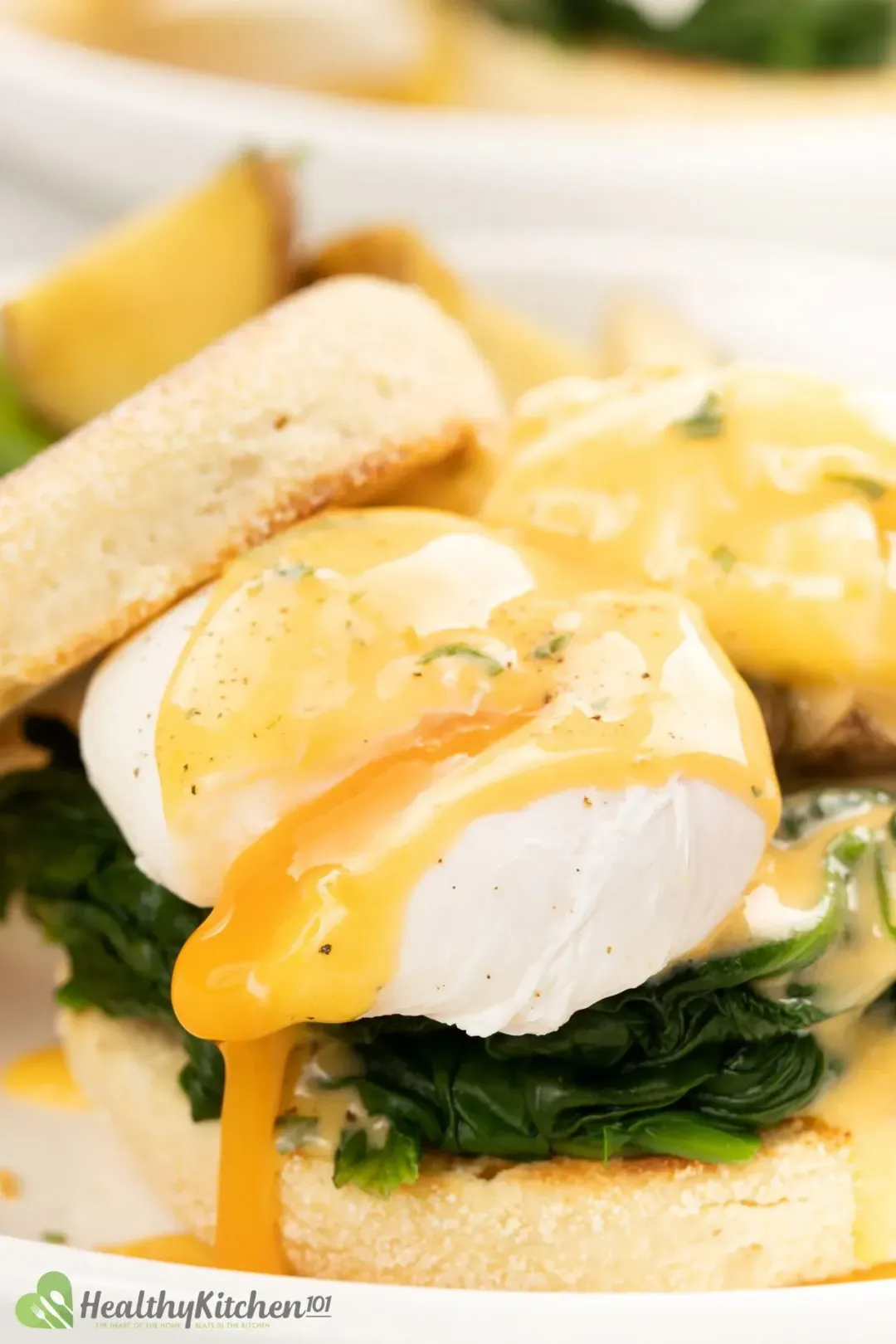 Eggs Benedict
Head Chef, Culinary Consultant
Tuyet Pham is an award-winning Saigonese chef who believes that joy is the secret ingredient to delicious food. At Healthy Recipes 101, Tuyet personally tests and simplifies every recipe, ensuring maximum flavor with minimal effort. With a background at prestigious French restaurants P'TI Saigon and Le Corto, Tuyet knows how to make every dish exceptional.
Writer, Author
Luna Regina is an accomplished writer and author who dedicates her career to empowering home cooks and making cooking effortless for everyone. She is the founder of HealthyKitchen101.com and HealthyRecipes101.com, where she works with her team to develop easy, nutritious recipes and help aspiring cooks choose the right kitchen appliances.
Nutrition Reviewer
Lizzie Streit is a Minneapolis-based dietitian and founder of It's a Veg World After All. She completed her MS in Human Nutrition from Drexel University, and is an expert in culinary nutrition, recipe development, and nutrition communications. Lizzie's philosophy is centered around making nutrition recommendations, and especially the advice to eat more vegetables, approachable and realistic. She is excited to be working with the team at Healthy Recipes 101 to ensure that their recipes are both nutritious and delicious.
I have made this recipe a gazillion times and the eggs always come out perfect.