If you love game day staples like buffalo wings and pizza, you'll surely adore this buffalo chicken pizza recipe. It tops regular pizza with chicken drenched in buffalo sauce, creating a brand-new yet familiar twist on this classic indulgent food.
Combining the best of both worlds, this pizza has a cheesy goodness that's laced with spicy splashes of buffalo sauce and the savory taste of chicken. Together with pieces of vegetables scattered throughout, each bite is a rainbow of flavors and textures that fills your taste buds with colorful excitement.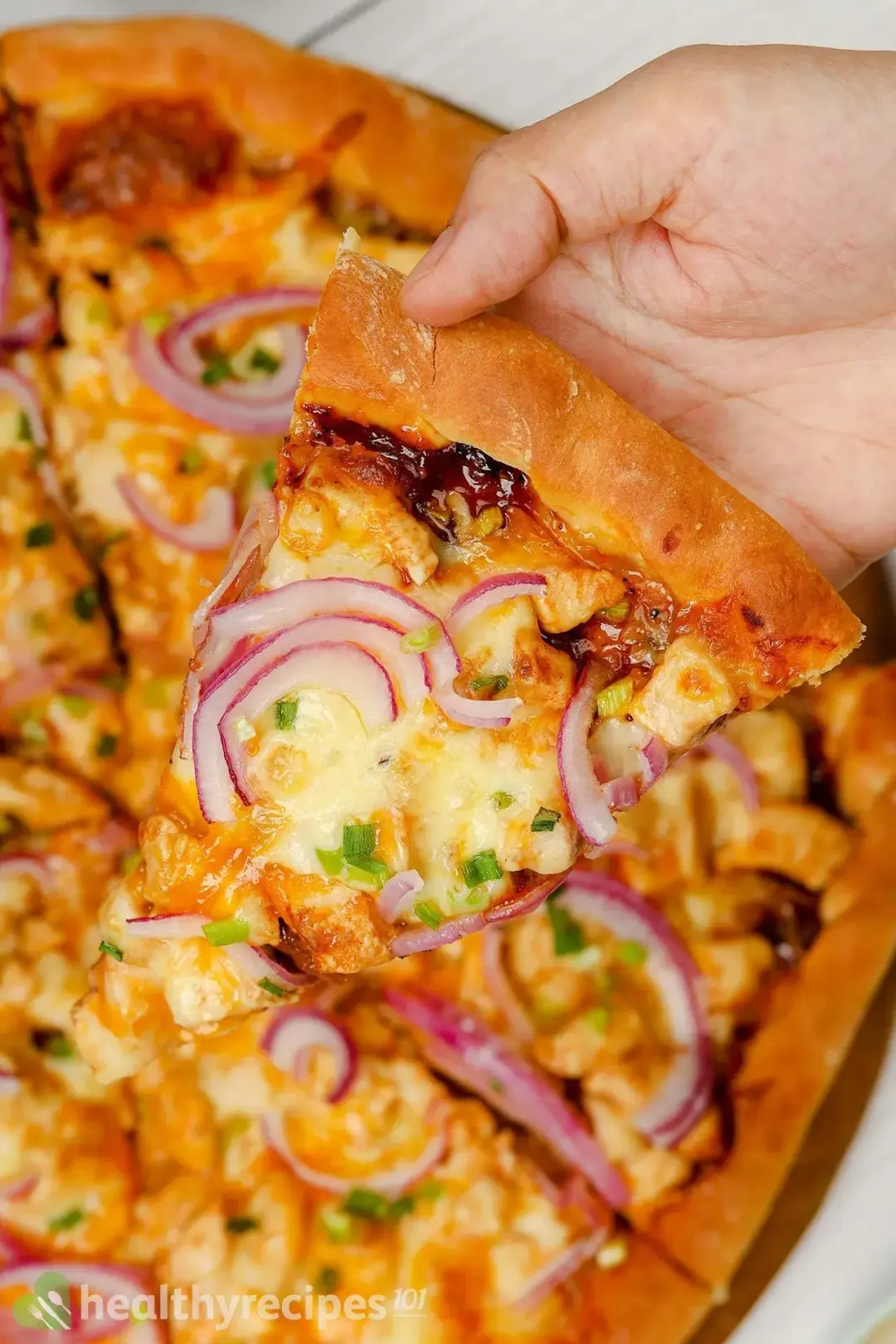 Is Buffalo Chicken Pizza Healthy?
Pizza is not known to be a healthy dish, but we have made adjustments for this recipe to follow the health standards set by our nutrition guidelines. Specifically, each serving contains approximately:
492 calories
7.9 g saturated fat
607 mg sodium
With chicken as the main ingredient, this pizza is also loaded with protein—each serving amounting to around 36.3 g. Chicken is also an incredible source of other nutrients like vitamin B12, zinc, iron, and copper. We went with the breast for this recipe, which is known for being lean and low-fat.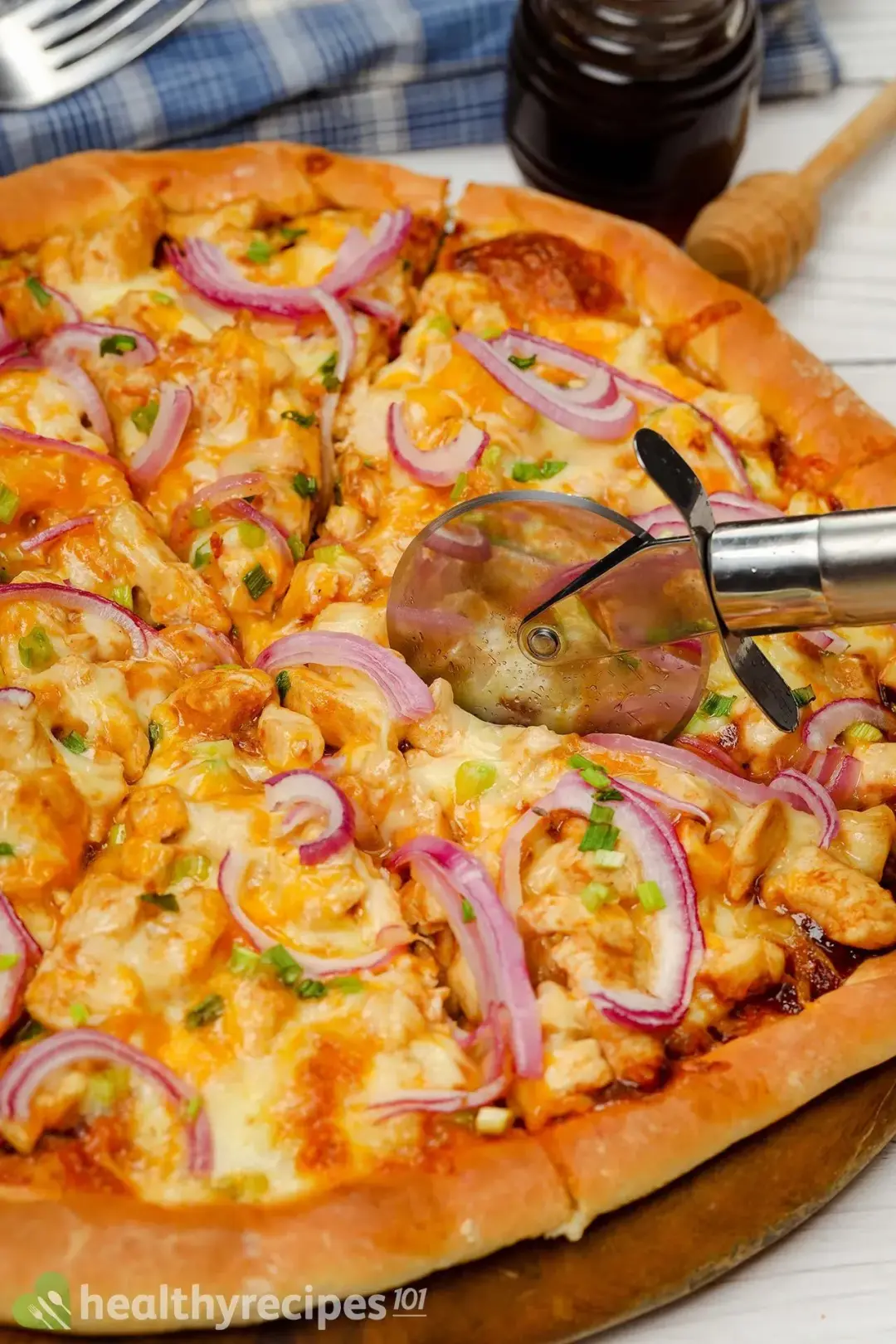 Ingredients for Buffalo Chicken Pizza
As is the case with most pizza recipes, this one does require quite a few ingredients. However, they're mostly familiar staples, with the addition of some buffalo condiments and pastry essentials.
1. For The Toppings:
Chicken: We used skinless boneless chicken breasts for this recipe. We diced them into small chunks, but you can also shred them into small pieces if you prefer a more textured mouthfeel.
Cheese: We sprinkled a generous amount of mozzarella and cheddar on top to give the pizza that irresistible and classic melted cheese appearance. They have a contrast in flavors that balance each other out perfectly, with the mozzarella being milky and sweet while the cheddar slightly tangy and earthy with distinctly sharp notes.
Vegetables: Keeping things simple, we only topped this pizza with red onion slices and bits of scallion. However, you can add anything else that you prefer, like bell peppers, mushrooms, tomatoes, cilantro, or jalapeño. The more the merrier!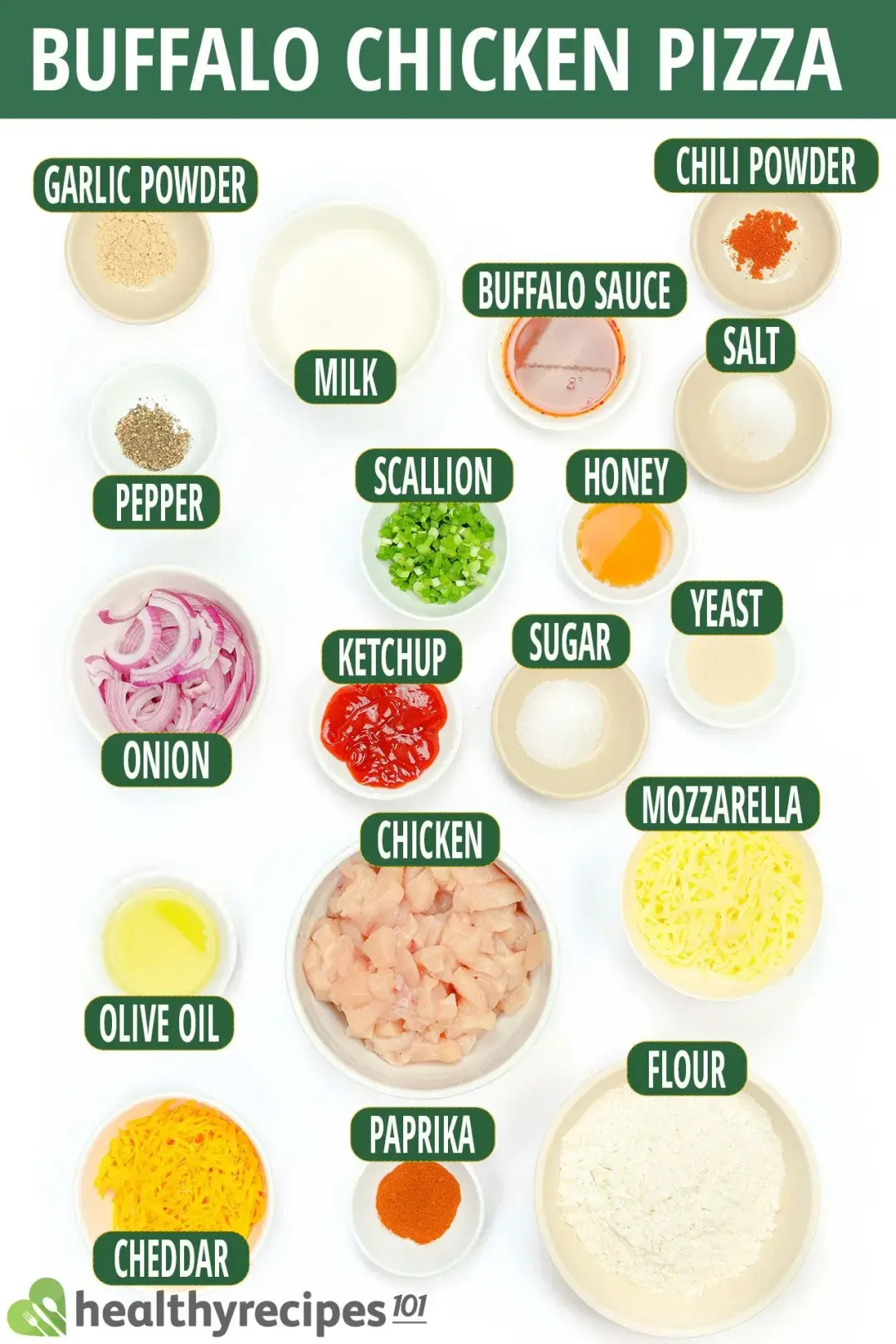 2. For The Pizza Crust
Yeast: You can obviously use store-bought crust if you're making this dish in a pinch. However, we recommend making your own from scratch to achieve a more authentic wheaty taste. The process is easier than you think, requiring only a few essentials. The first one is active dry yeast, which needs to be activated in lukewarm (no more than 110 °F) liquids. You can also use instant yeast but bear in mind that the dough will rise faster. Working with yeast requires precision, so be sure to thoroughly read and follow the package instructions.
Milk: As mentioned above, the yeast needs to be activated in a lukewarm liquid. You can do this by mixing it with warm milk—or other liquids depending on the yeast variety—and gently stirring. If the yeast is alive, it will foam and bubble after a few minutes.
Flour: After the yeast was prehydrated, we added some all-purpose flour and sugar and waited for the dough to rise. A well-fermented dough should be smooth and elastic with little bubbles underneath. Remember to keep an eye on your dough during this process to make sure it doesn't spend too long fermenting.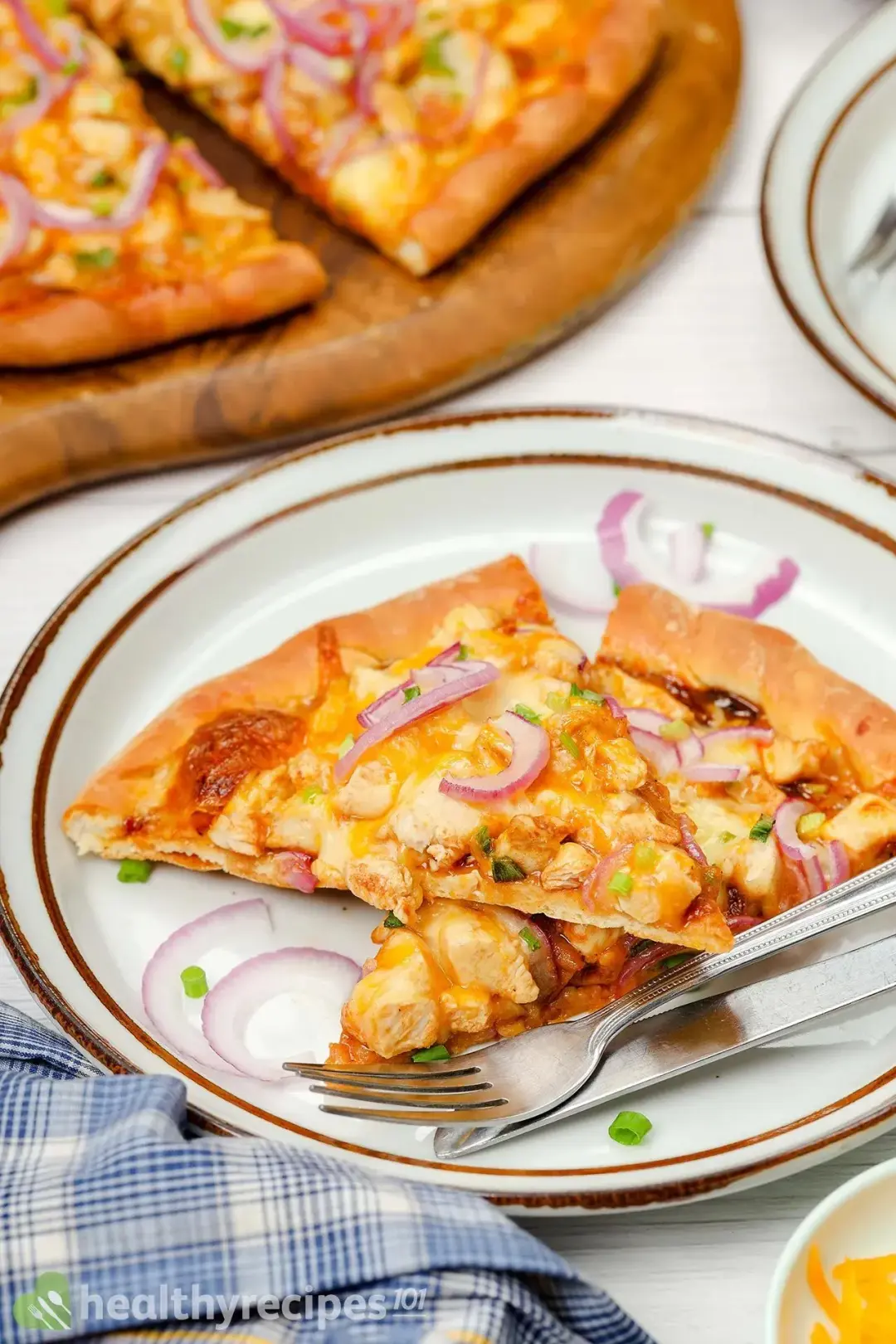 3. For The Sauce:
Buffalo Sauce: You can easily find bottled buffalo sauce at the store, but if you have time, we recommend using a homemade version for more vivid and intensely spicy flavors.
Condiments: Adding to the sauce's vibrant heat, we used spices like chili powder, paprika, salt, and pepper. The chicken was also seasoned with a little bit of garlic powder and paprika to stay consistent with the overall flavor profile.
Ketchup and Honey: We wanted to add a touch of sweetness to mellow out the spicy kick, so we also mixed in a small amount of ketchup and honey.
How to Store and Reheat the Leftovers
The leftover pieces can be stored in paper towel-lined airtight containers. To reheat, preheat the oven to 350 °F and leave your pizza in there for 5-10 minutes. The microwave is a faster option, although it might change the texture of the pizza.
What to Serve With Buffalo Chicken Pizza
This pizza makes an ideal main dish for so many occasions—game nights, casual dinners, and even small gatherings. Since it's already quite filling, we suggest accompanying it with a simple bowl of fresh salad to lighten the palate, like the following dishes: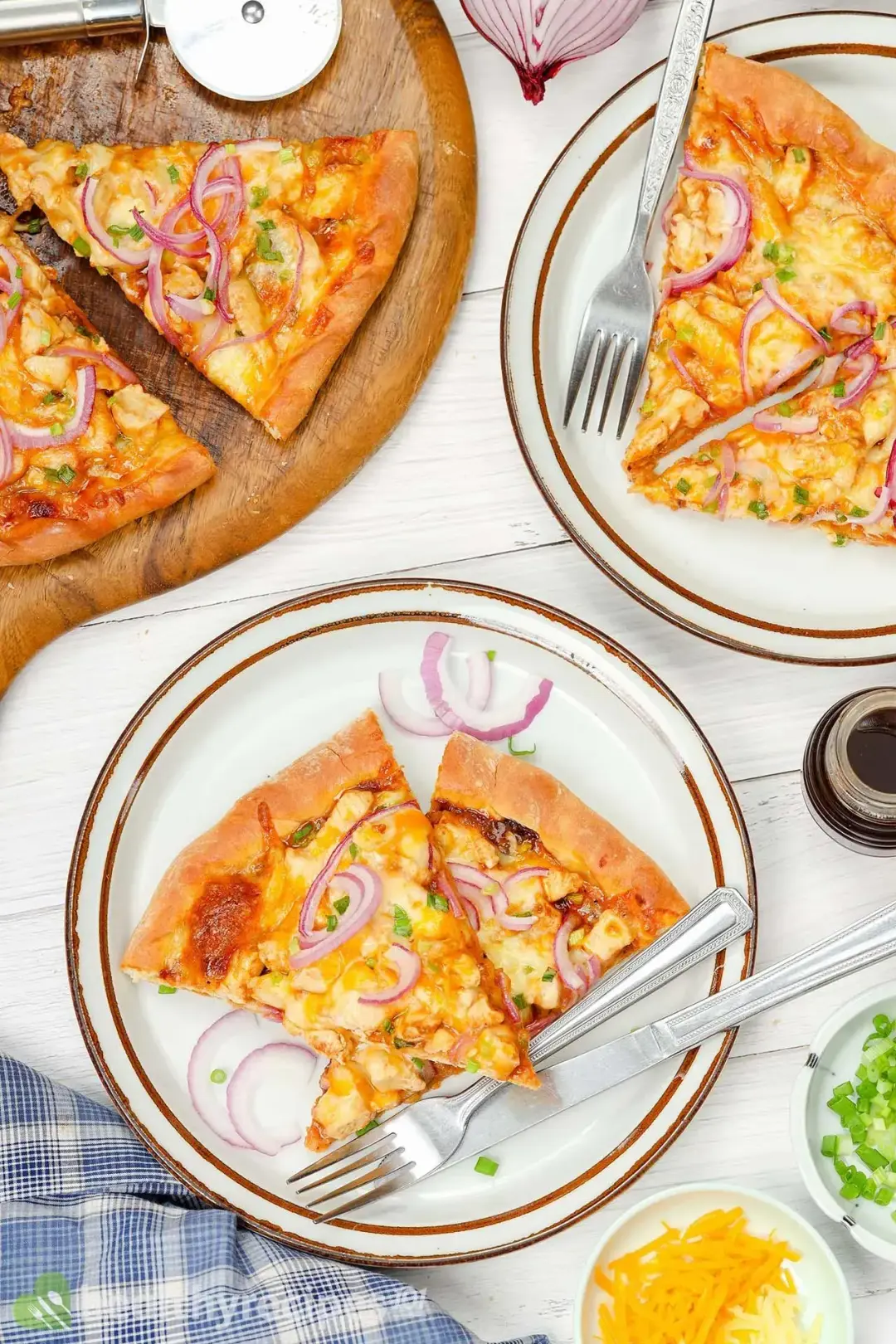 Other Recipes You May Want to Try:
How to Make Buffalo Chicken Pizza
If you love game day staples like buffalo wings and pizza, you'll surely adore this buffalo chicken pizza recipe. It tops your regular pizza with chicken drenched in buffalo sauce, creating a brand-new yet familiar twist on this classic indulgent food.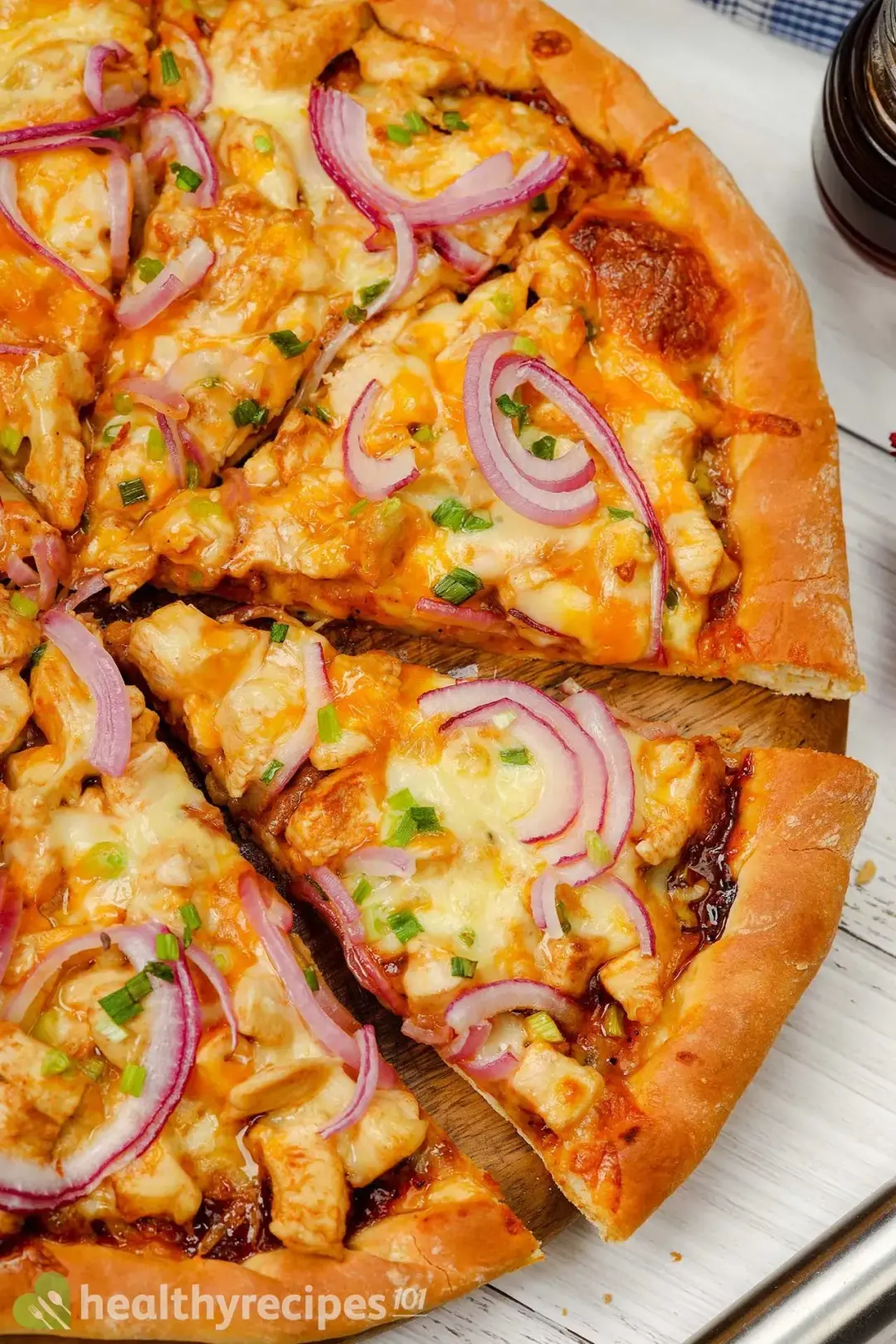 cook TIME

1 hr

prep TIME

7 mins

total TIME

1 hr 7 mins
COURSE

Main Course

CUISINE

American

SERVINGS

servings

CALORIES

492 kcal
INGREDIENTS
14 oz

skinless boneless chicken breast (sliced into small chunks)

2 oz

red onion (half ring sliced)

0.3 cup

scallions

1.5 tsp

active dry yeast

1.3 cups

all-purpose flour

0.5 cup

milk

3 tbsp

homemade buffalo sauce

2.5 tbsp

Heinz ketchup

2 oz

cheddar cheese (shredded)

2.5 oz

mozzarella cheese (shredded)

1.5 tbsp

olive oil

1 tbsp

honey

0.3 tsp

salt

0.5 tsp

ground black pepper

0.5 tbsp

sugar

1 tsp

paprika

0.5 tsp

chili powder

1 tsp

garlic powder
INSTRUCTIONS
Prep:
1
Slice the Chicken: Slice the chicken into small bite-sized chunks.
2
Slice the Onion: Cut off the roots and remove the peel. Then, slice the onion in half lengthwise. Lay each half horizontally flat and thinly slice.
3
Chop the Scallions: Cut off the tips and ends, then bunch the scallions together and chop.
Cook:
1
Activate the Yeast: In a large bowl, add 1 1/2 tsp active dry yeast and 1/2 cup milk and quickly stir. Cover the bowl with plastic wrap then leave in a humid area (between 95 °F and 120 °F) for 5 minutes.
2
Make the Sauce: In a bowl, mix 1/2 tbsp olive oil, 1 tbsp honey, 1/4 tsp salt, 1/2 tsp pepper, 1/2 tsp paprika, 1/2 tsp chili powder, 3 tbsp homemade buffalo sauce, and 2 1/2 tbsp Heinz ketchup until well-combined.
3
Add the Flour and Sugar: Add 1 1/4 cup all-purpose flour (leave out 1 tbsp) and 1/2 tbsp sugar to the yeast bowl then mix and mold the mixture. Cover the bowl with plastic wrap then leave in a humid area (between 95 °F and 120 °F) for 30 minutes.
4
Sauté the Chicken: In a pan over small heat, sauté 14 oz skinless boneless chicken breast with 1/2 tsp paprika, 1 tsp garlic powder, and 1 tbsp olive oil for 10 minutes.
5
Shape and Prick Holes in the Crust: Sprinkle 1 tbsp flour on your kitchen surface then lay the dough over it. Roll a rolling pin over the dough to flatten it then make small inward folds around the edge. Use a fork to prick holes all over the surface of the crust to let the steam escape and keep the crust from ballooning.
6
Bake the Crust: Line a baking sheet with parchment paper then lay the crust over it and bake at 450 °F for 7 minutes. Remove when the time's up.
7
Add the Chicken & Cheese: Spread the sauce all over the crust's surface, then layer the sauté chicken, 2 oz cheddar cheese, and 2 1/2 oz fresh mozzarella cheese over top.
8
Add the Veggies: Continue layering 2 oz red onion and 1/4 cup scallions over the pizza.
9
Bake the Pizza: Line the baking sheet with parchment paper then lay the pizza over it and bake at 400 °F for 15 minutes.
10
Serve: When the time's up, remove from the oven, slice into pieces and enjoy hot.
NUTRITION
Nutrition Facts
How to Make Buffalo Chicken Pizza
Amount Per Serving (1 serving)
Calories 492
Calories from FDA
% Daily Value*
* Percent Daily Values are based on a 2000 calorie diet.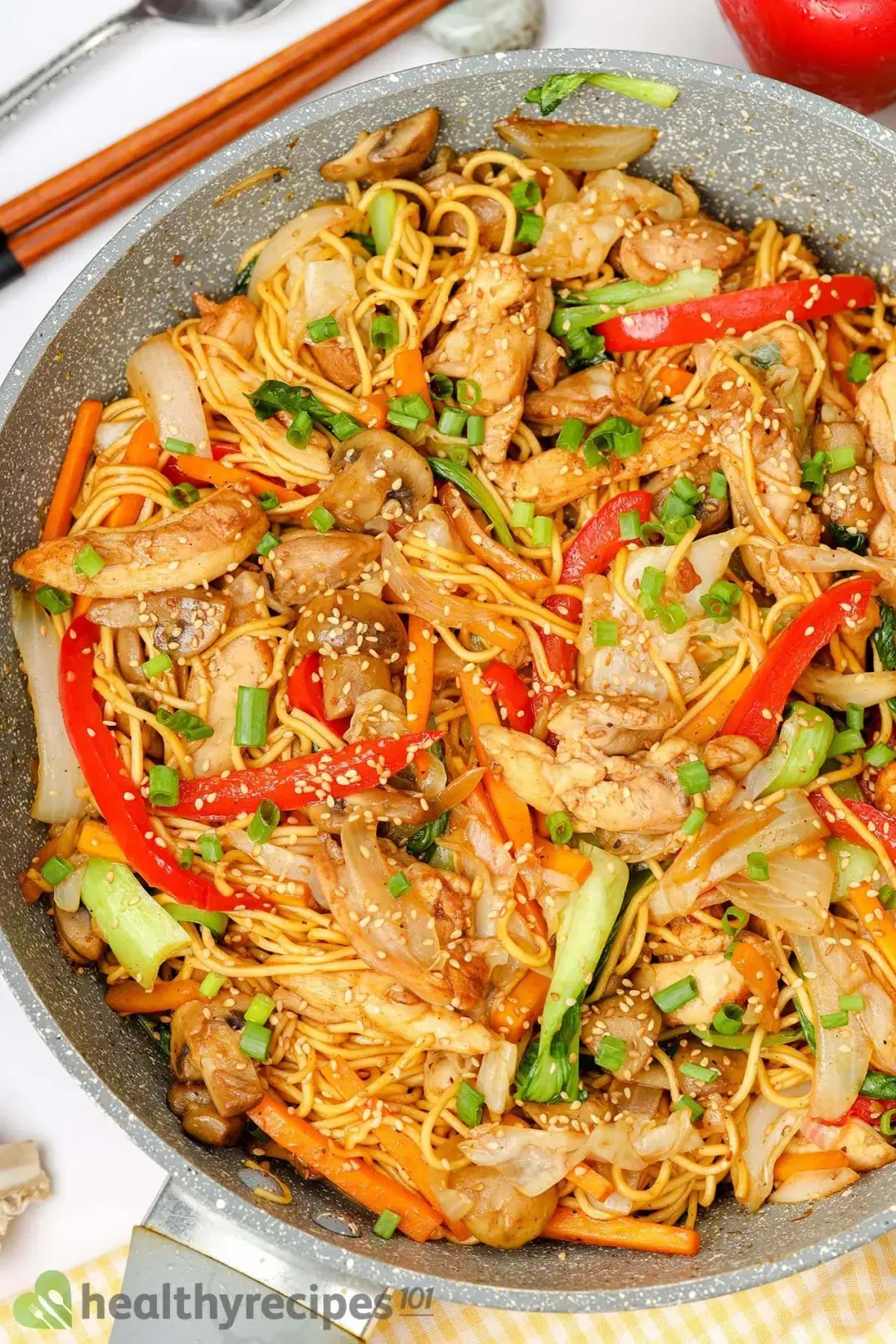 Previous Recipe
Chicken Chow Mein
Chicken Chow Mein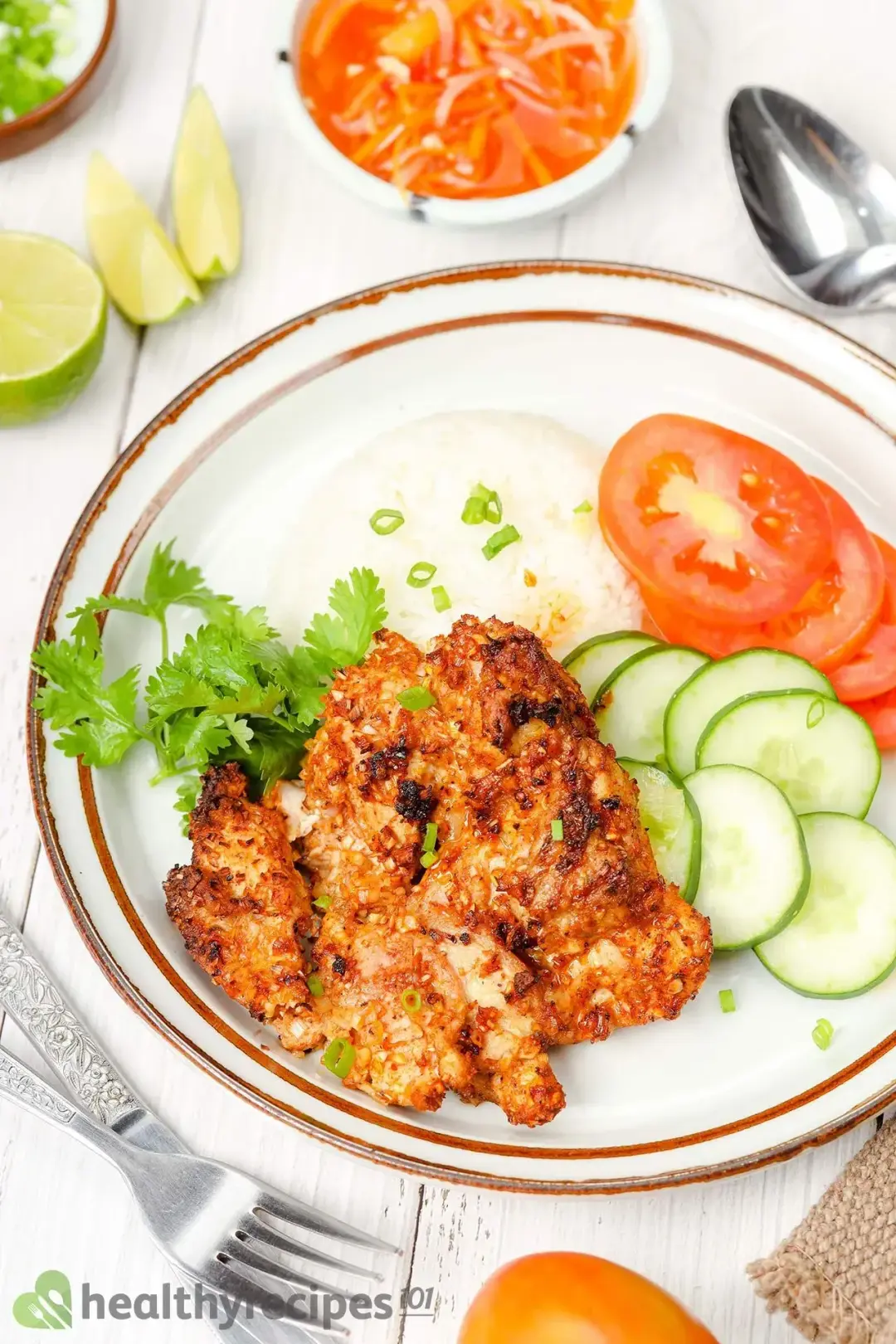 Next Recipe
Vietnamese Lemongrass Chicken
Vietnamese Lemongrass Chicken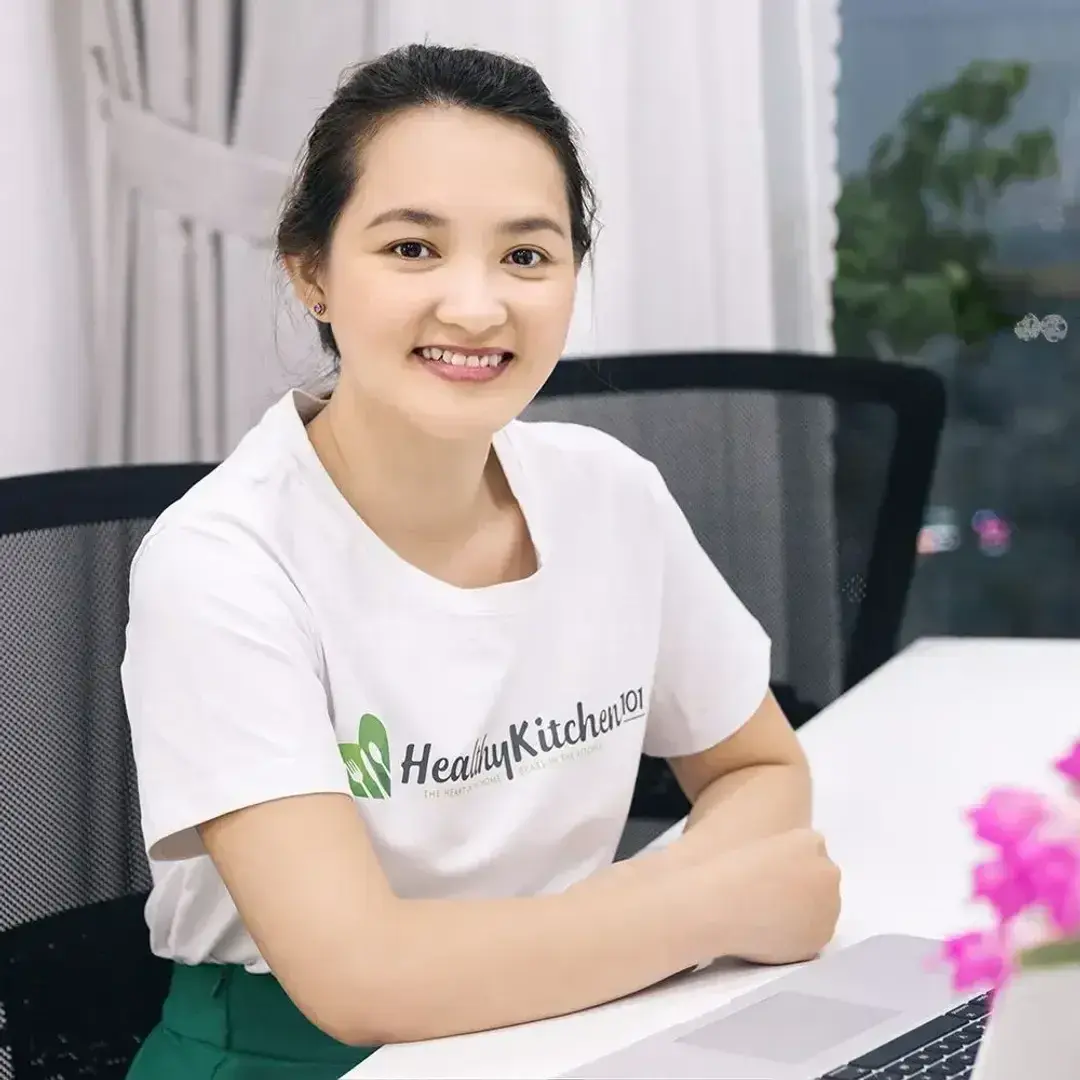 Founder
Luna Regina is an accomplished writer and author who dedicates her career to empowering home cooks and making cooking effortless for everyone. She is the founder of HealthyKitchen101.com and HealthyRecipes101.com, where she works with her team to develop easy, nutritious recipes and help aspiring cooks choose the right kitchen appliances.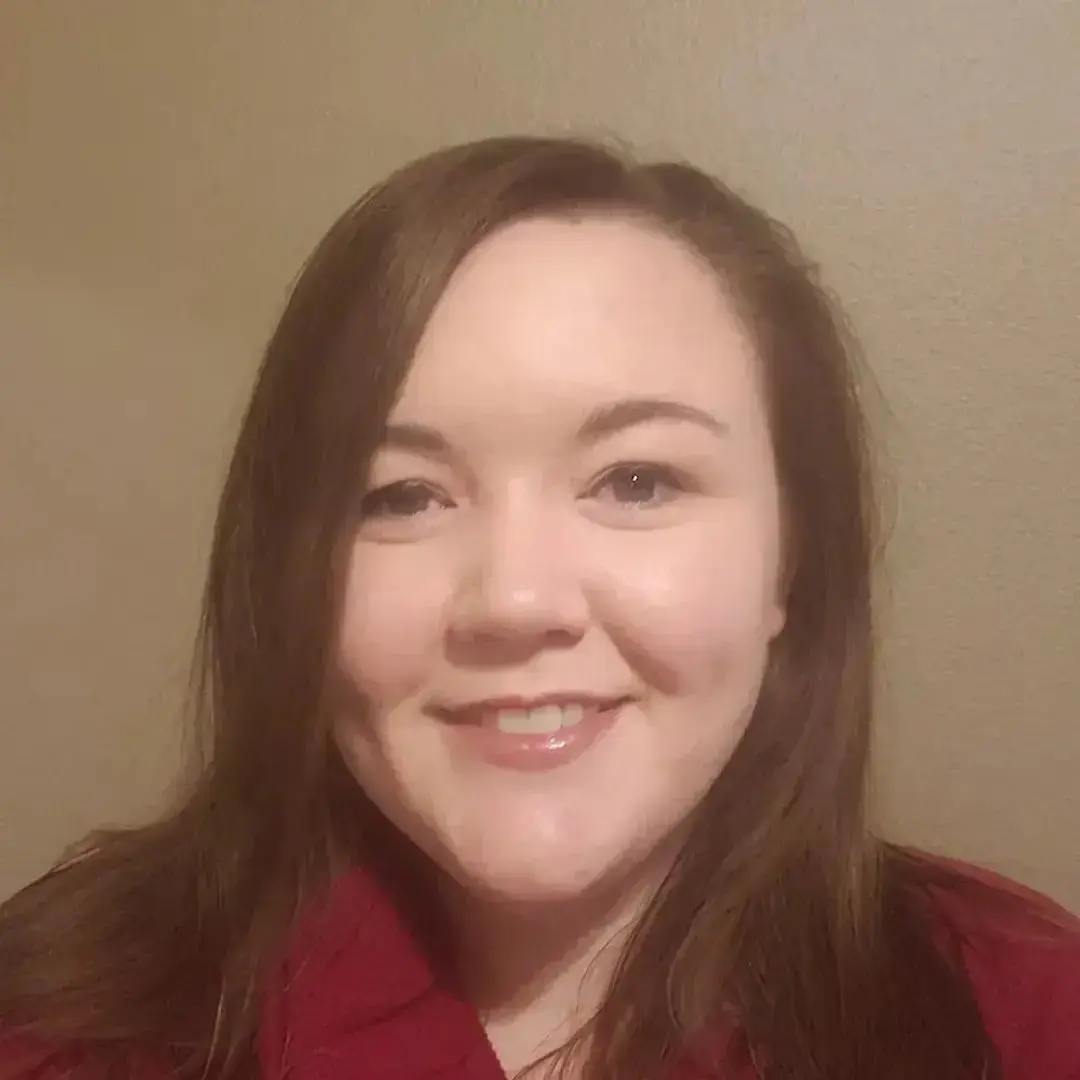 Nutrition Reviewer
SaVanna Shoemaker is a registered dietitian and freelance health and wellness writer. She's passionate about whole food-based eating and holistic nutrition, and uses her platform to help people embrace real food and reduce their sugar and processed food intake. Her work has appeared on Healthline, Greatist, Livestrong, Verywell Health, and more. In her free time, she enjoys gardening, reading, cooking, and weight lifting.
Comments/ Reviews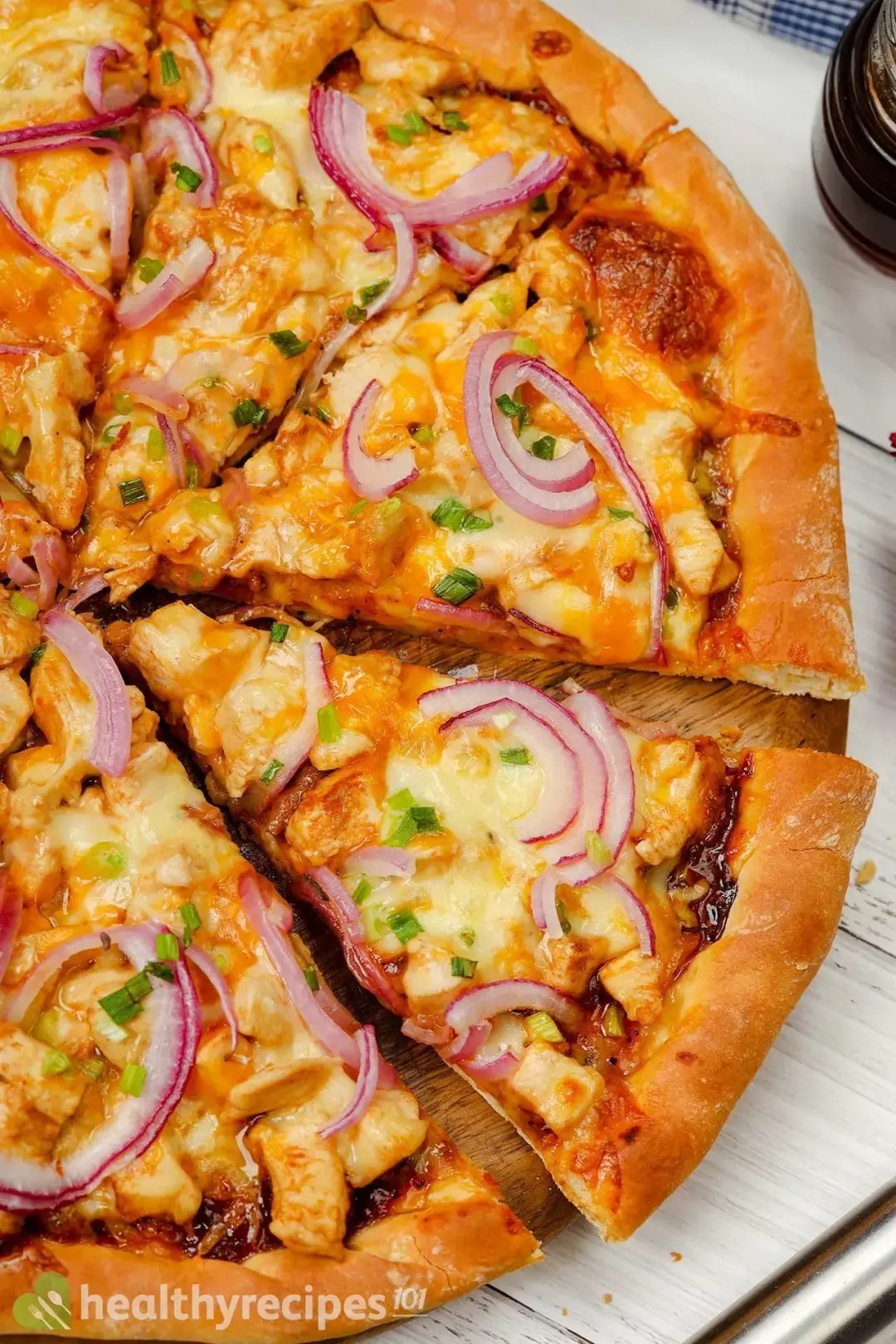 Buffalo Chicken Pizza Recipe