Steaks don't always have to be enjoyed on a fancy plate. This steak taco recipe is a gorgeous combination of fine dining and street food, pairing tender strips of beef with colorful veggies—all stuffed inside crunchy tortilla shells. The result is a savory yet fresh dish with a gorgeous mixture of exciting textures in every bite.
You can eat this taco both as a light meal, or even a main dish at casual dinners or festive celebrations. It's a fantastic and delicious treat that's suitable for almost any occasion.
Is Steak Taco Healthy?
Containing a balanced amount of vegetables and meat, this steak taco is a relatively healthy dish.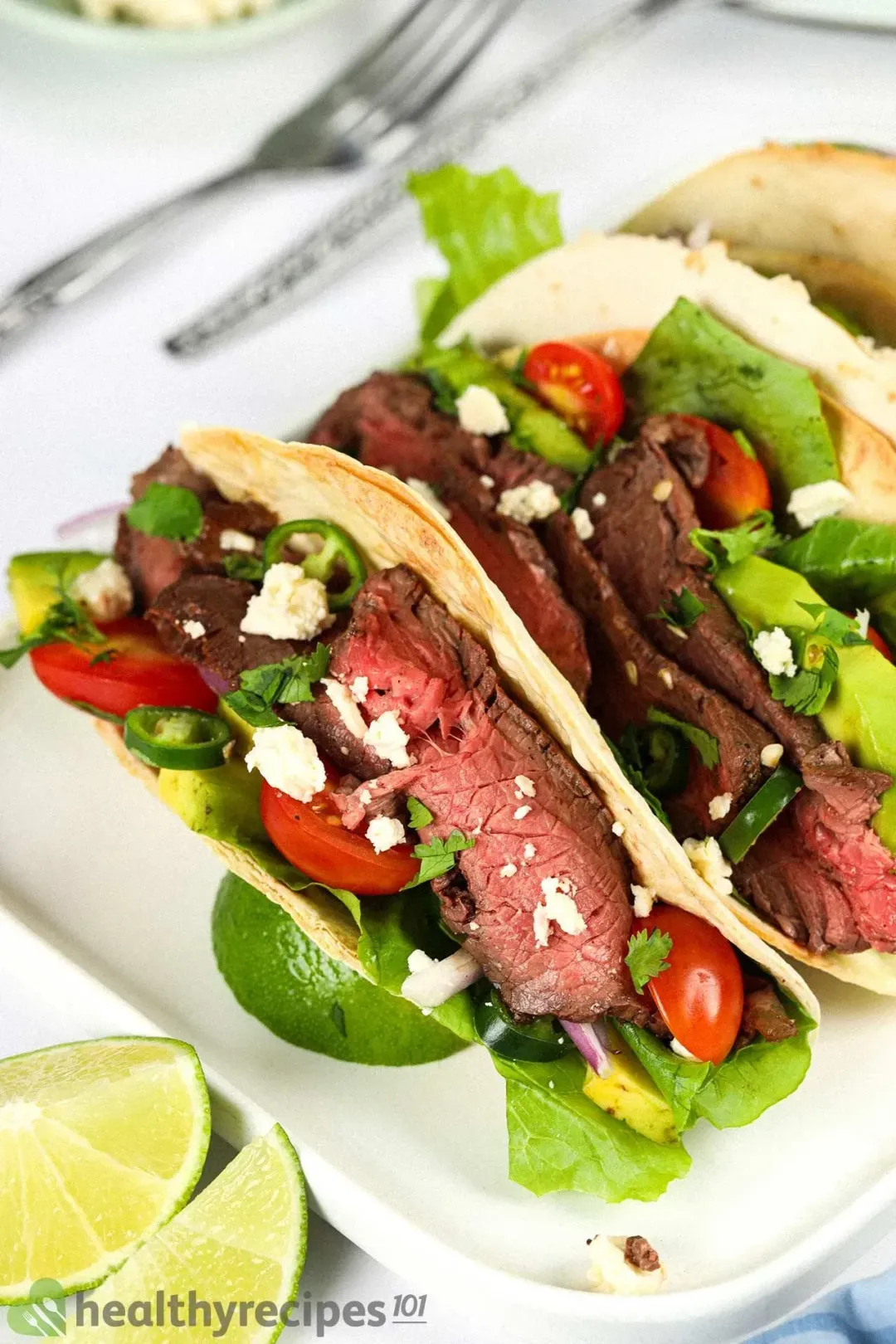 Our recipe uses lean red meat, which gives the dish loads of complete protein. This ingredient is also a good source of heme iron, zinc, and vitamin B12.
As for plant-based ingredients, we loaded this taco with romaine lettuce, cherry tomatoes, avocados, and red onions. The combination provides the dish with a myriad of nutrients like fiber, vitamins A, C, E, healthy fats, and minerals like calcium, iron, magnesium, and potassium.
Additionally, with the calculated adjustment of ingredients, the dish also follows the standards set by our nutrition guidelines. Each serving consists of approximately:
492 calories
7 g saturated fat
578 mg sodium
Ingredients You'll Need
This recipe features all the common ingredients you might find in regular tacos, with the addition of beef steak. You can customize the recipe to your liking but note that it might change the dish's nutritional value.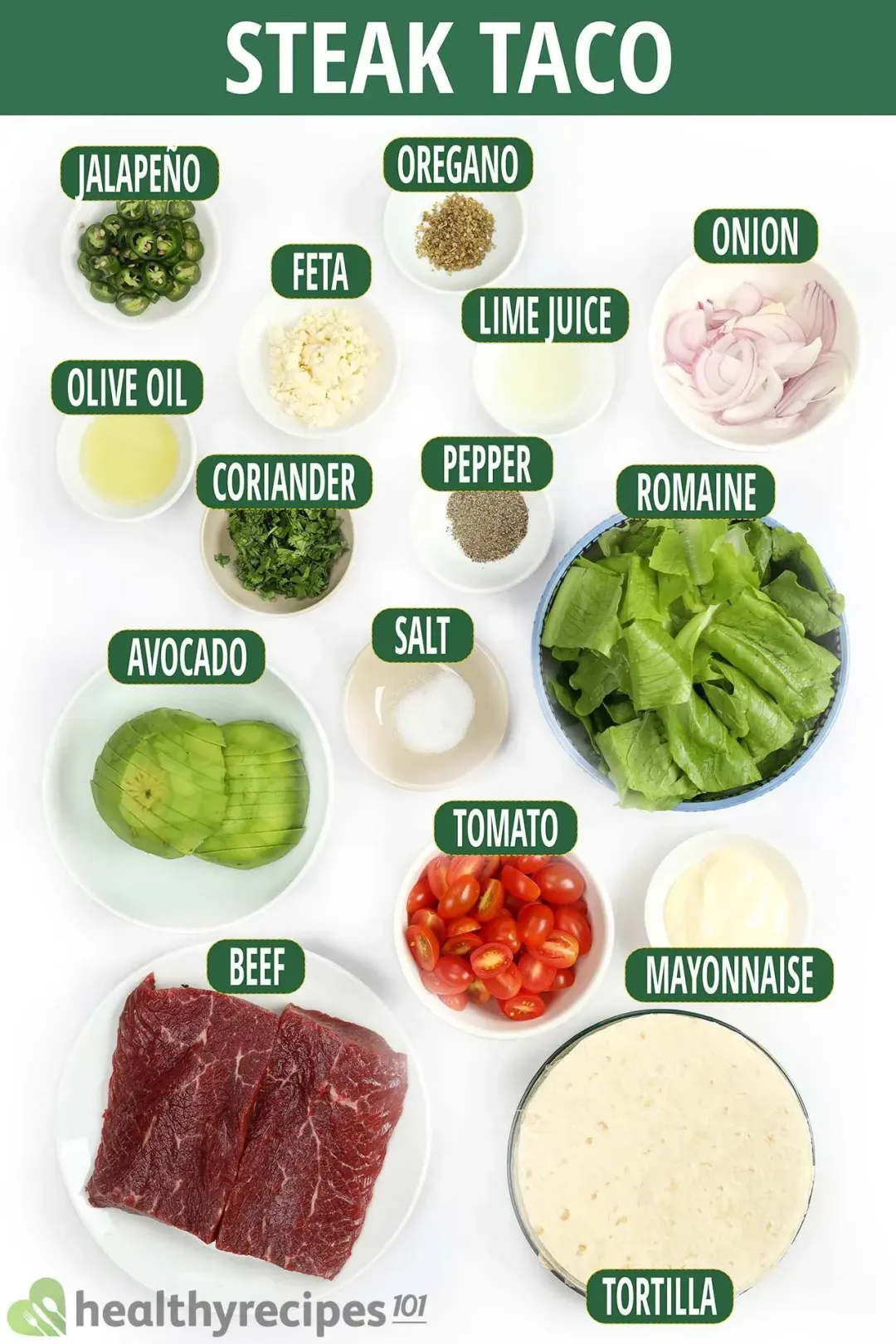 Beef: We went with flank steak for this dish. This affordable lean cut is relatively chewy but packs a load of intense beefy flavors that taste good even with minimum seasonings.
Avocados: The vibrant green slices of avocados add a subtle and delicate hint of nutty flavors to the dish. Its buttery and smooth texture also helps to diversify the textures and make the mouthfeel more exciting.
Vegetables: Taco recipes are known to be diverse and adaptable so you can use any veggies that you like. Our recipe features romaine lettuce, cherry tomatoes, red onions, and jalapeño. This combination gives the tacos gorgeous pops of colors and amazing bursts of flavors, ranging from earthy and sweet, to mildly spicy.
Tortilla: Go with your preferred tortilla variety for this recipe. We used yellow corn tortillas for their prominent corn flavor that tastes awesome when toasted.
Seasonings: We wanted to focus on enriching the beef's taste instead of overwhelming it with additional flavors, so the seasonings are kept simple with sprinkles of salt, pepper, and dried oregano.
Lime Juice: We also added a little lime juice while seasoning the beef. Other than adding a zesty undertone, its acidic content also breaks down the tough fibers and makes the meat more tender.
Feta Cheese: The tacos are garnished with little crumbles of feta cheese. They add hints of tanginess and saltiness to each bite, accompanied by a distinct softness that slowly melts in the mouth.
Tips to Make the Perfect Steak
Check out these simple tips and tricks that can help create juicy and tender steaks that are good enough to be restaurant-worthy:
Beef cuts usually have muscle grains that run either lengthwise or crosswise on the surface. When cutting, slice the knife across these grains to break up the rough fibers so that the meat will be more tender and less chewy.
Before putting the steaks on the heat, gently pat them dry with paper towels. This will help to remove the excess moisture so that the meat will brown better and form a crispy rather than soggy exterior.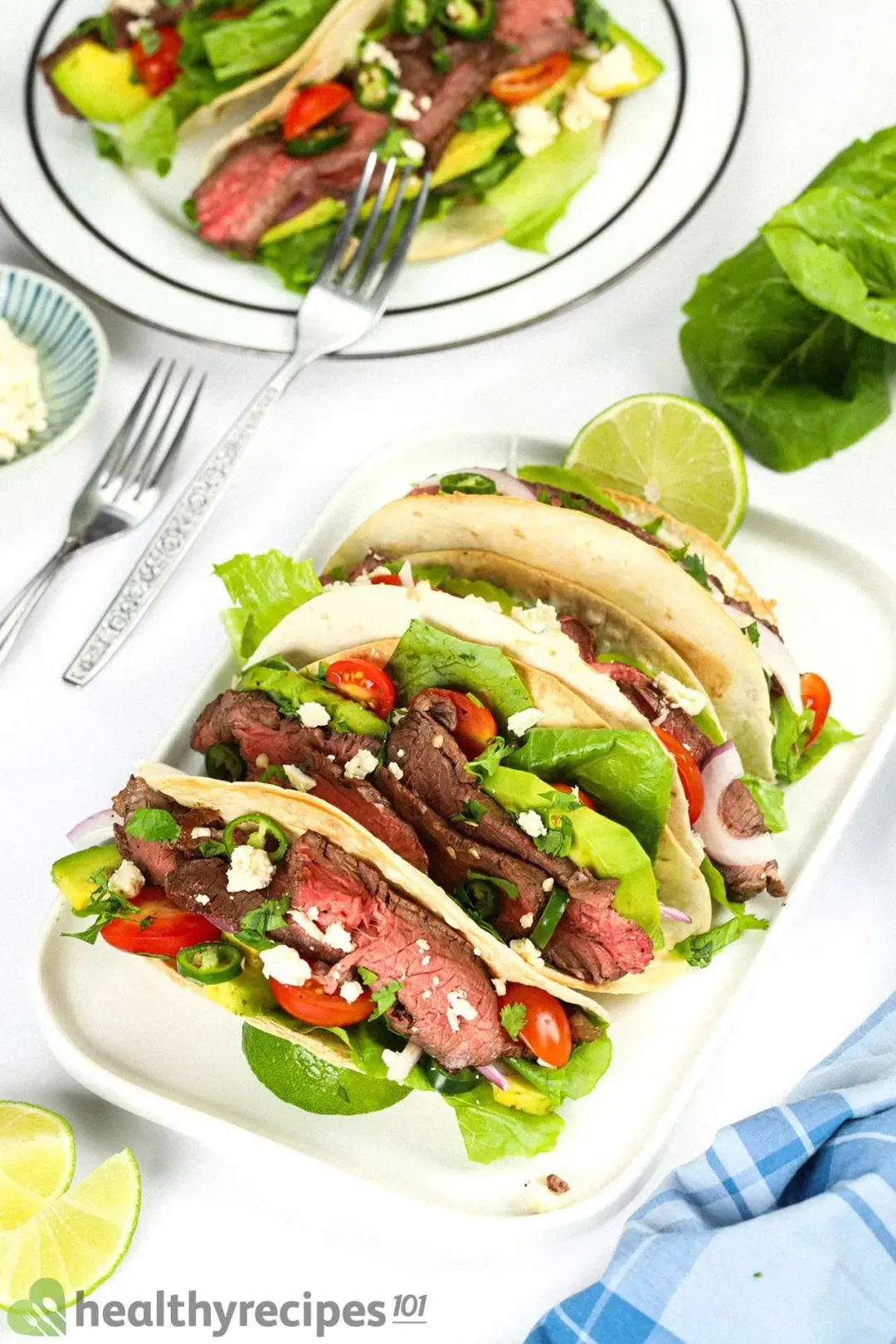 The pan shouldn't contain more than two steaks at a time. A larger number might stop the heat from distributing evenly, resulting in the meat losing flavor and texture.
If you're cooking steak on the stovetop, consider using a cast iron skillet because it retains heat well — ensuring that the meat cooks and caramelizes nicely.
When the steaks are done cooking, let them rest for 5-10 minutes. Cutting right away will cause the juice to spill onto the plate instead of distributing evenly through the meat. Without this juice, the meat might not be as flavorful and will likely dry out more easily.
How to Store and Reheat Steak Taco
This steak taco should last for around 1 or 2 days when tightly wrapped or kept in an airtight container in the fridge. To reheat, bake it in the oven at 370 °F for 2 minutes. Note that when reheated the taco shouldn't be too hot, otherwise the veggies might become soggy.
What To Serve With Steak Taco
This steak taco is filled with a balance of fresh and savory flavors that makes it ideal to eat both as a light meal and main dish. If you're looking to create a full meal, here are our side dish suggestions: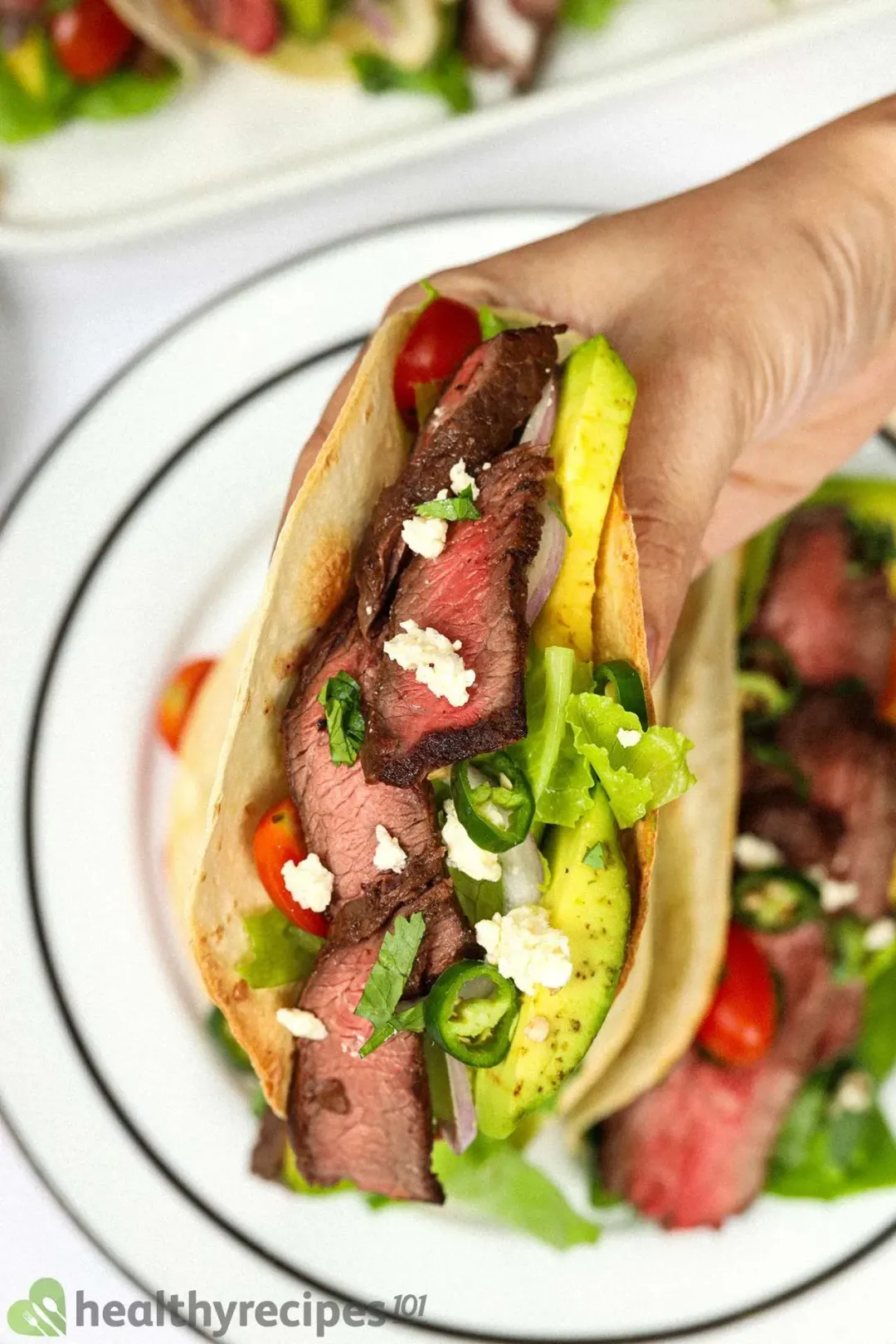 Upgrade Your Snack Game with These Quick and Easy Beef Finger Foods
These cheeseburger egg rolls are a fun twist on the classic American dish. Ground beef, onions, and cheese are wrapped in an egg roll wrapper and fried until crispy. Serve with your favorite dipping sauce for a delicious appetizer or snack.
This Middle Eastern-inspired dish features tender strips of beef marinated in a blend of spices and served with pita bread, hummus, and fresh vegetables. Perfect for a quick and easy weeknight dinner or a fun weekend meal with friends.
If you're on the hunt for more beef finger food recipes that are just as scrumptious, look no further than our roundup for a variety of mouth-watering choices.
How to Make Steak Taco
This steak taco recipe is an exciting combination of fine dining and street food, pairing tender strips of streaks with colorful veggies — all stuffed inside crunchy tortilla shells. It works marvelously as a light meal, or even a main dish to be enjoyed at cozy gatherings.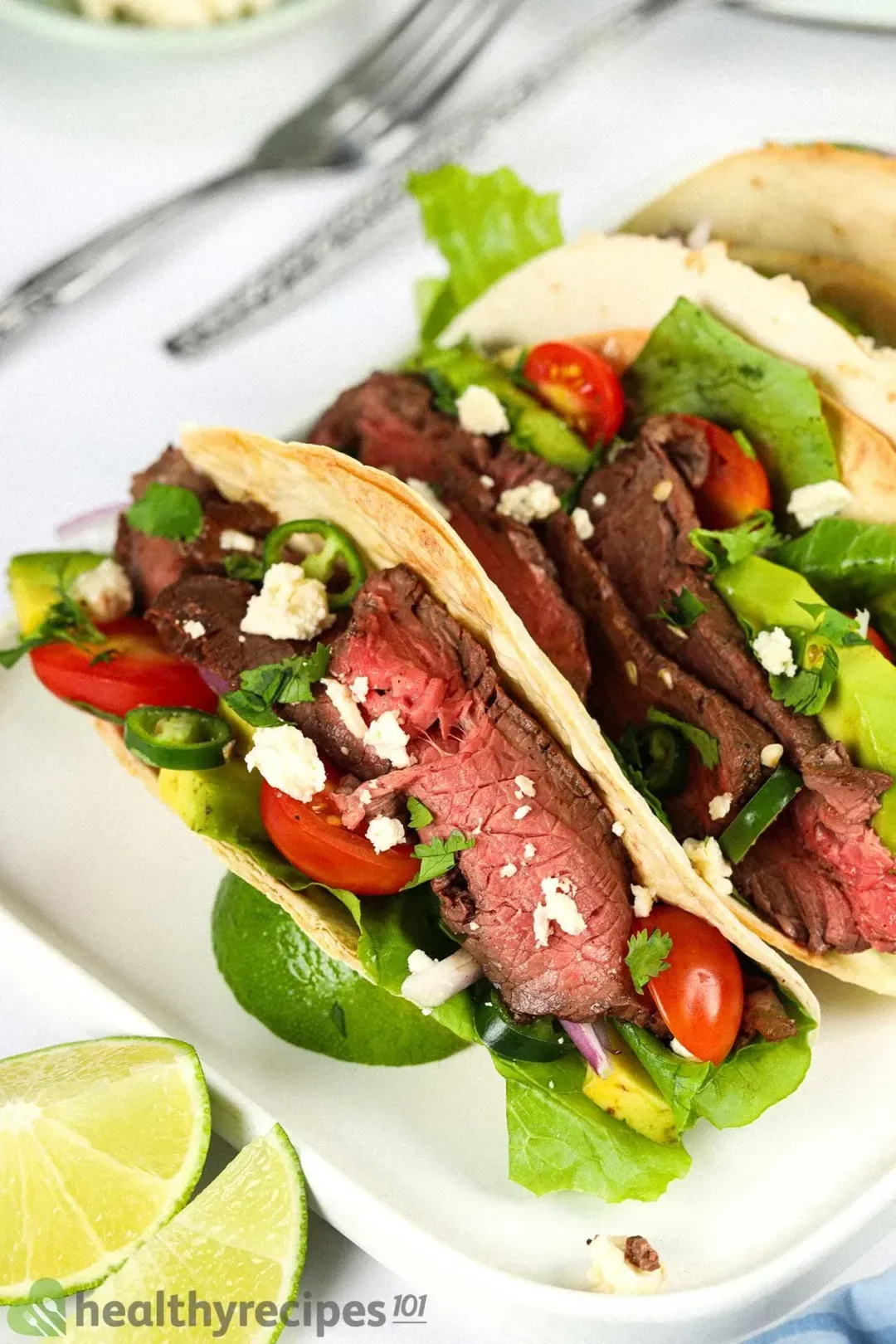 cook TIME

17 mins

prep TIME

10 mins

total TIME

27 mins
COURSE

Main Course

CUISINE

Mexican

SERVINGS

CALORIES

492 kcal
INGREDIENTS
8 oz

avocados

(peeled and sliced)

6 oz

cherry tomatoes

(halved)

2 oz

red onions

(half ring sliced)

1/4 cup

coriander

(chopped)

2 tbsp

Japanese mayonnaise
INSTRUCTIONS
Prep:
1
Prepare the Lettuce: Cut out the core, remove the outer layer, then cut or shred the leaves into large pieces.
2
Slice the Avocados: Cut lengthwise in half, remove the seed, then start peeling off the skin from the tip. Once done, cut the green part into thin slices.
3
Cut the Onions: Cut in half and remove the papery skin. Lay the half horizontally flat, cut off the ends, then thinly slice into half rings.
4
Chop the Coriander: Remove the stems, bunch the leaves together on one hand then chop with a rocking motion into small pieces.
Cook:
1
Season the Beef: In a large bowl or plate, season 14 oz flank steak by rubbing 1/4 tsp salt, 1/2 tsp pepper, 1/2 tsp dried oregano, and 1/2 tbsp lime juice all over the beef's surface to evenly spread.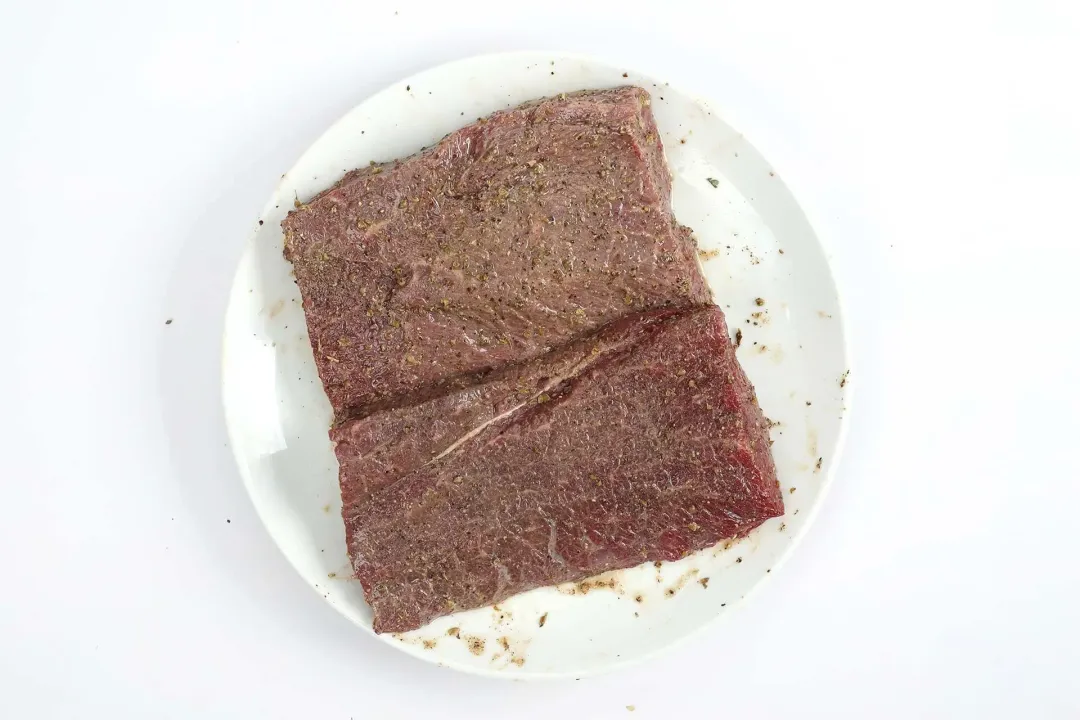 2
Pan-sear the Beef: In a pan over medium heat, pan-sear both sides of the seasoned flank steak with 1 tbsp olive oil for around 5 minutes until brown then lower the heat and continue searing for another 5 minutes.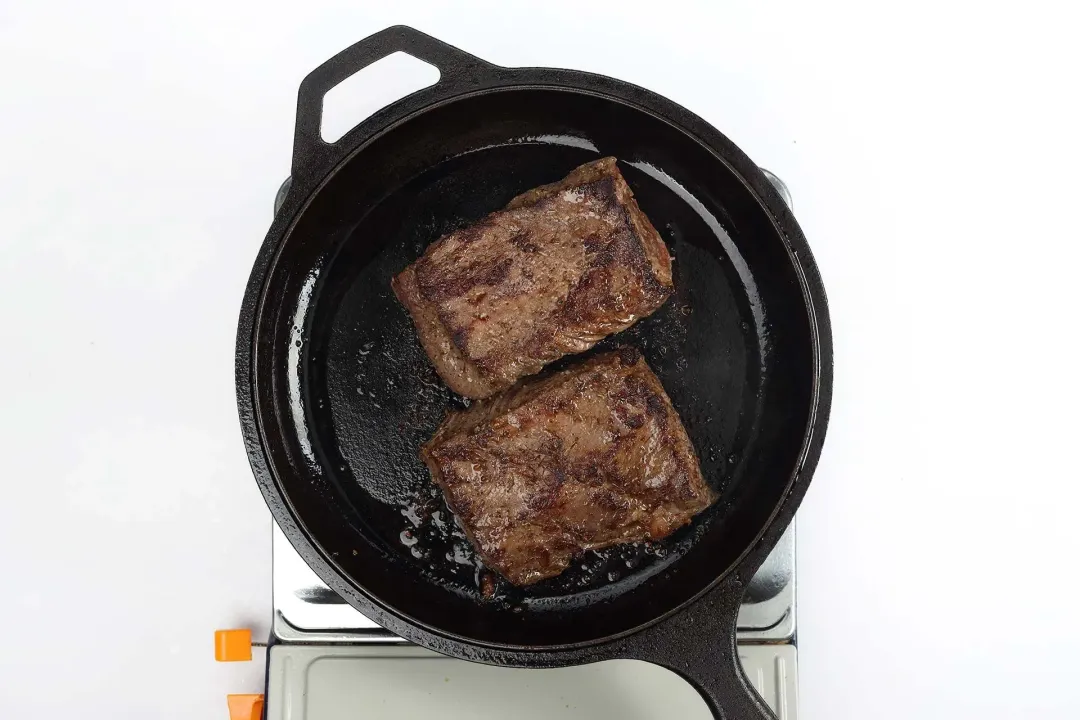 3
Bake the Tortillas: Preheat the oven to 370 °F. Flip a muffin pan over and arrange 8 6-inch flour tortillas between the cups into a taco shell shape. Bake for 4 minutes.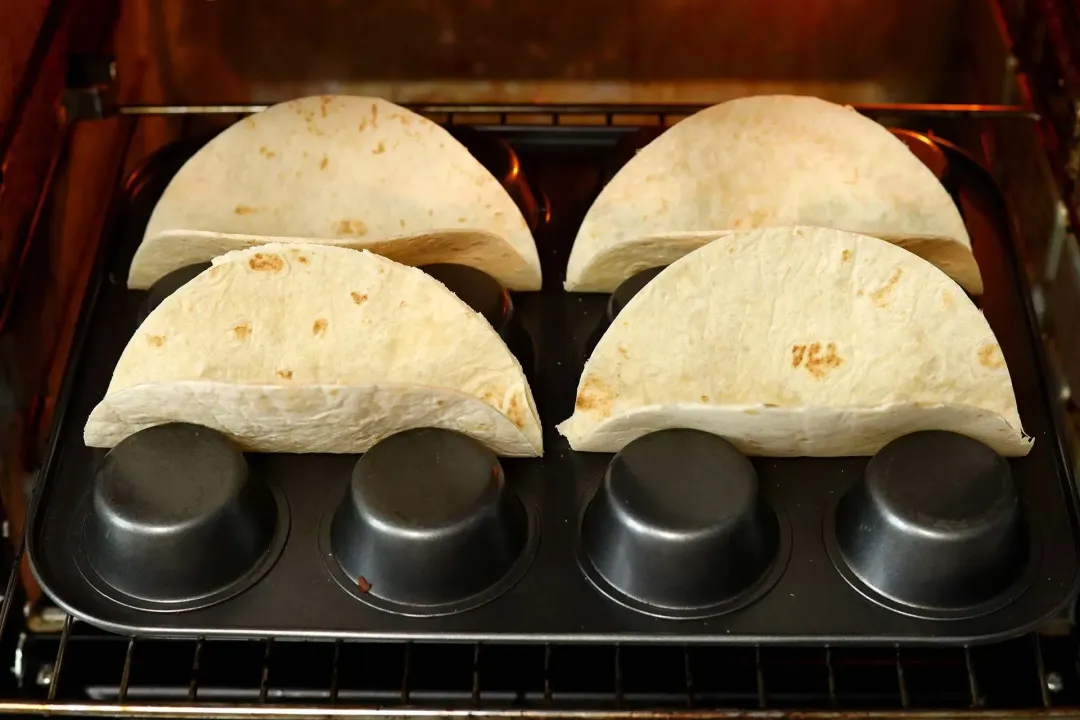 4
Slice the Beef: On a chopping board with a sharp chef's knife, cut the cooked beef across the grains into 1/2 inch-thick pieces.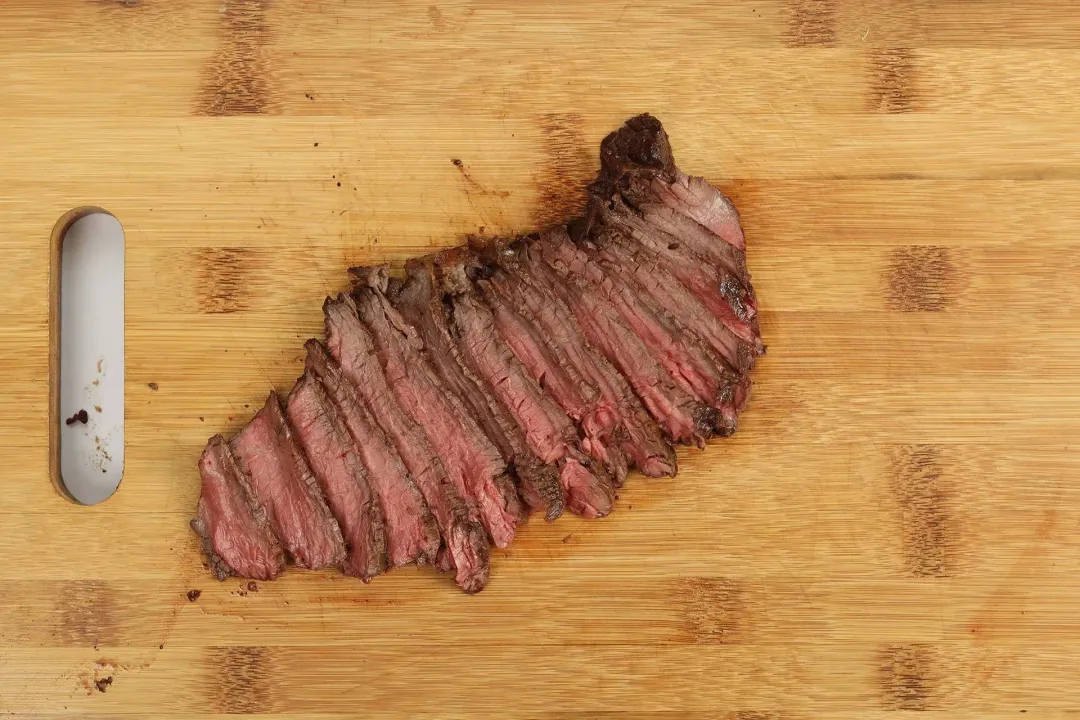 5
Fill the Tacos and Serve: Spread 2 tbsp Japanese mayonnaise on the inside of the tortilla shells then fill them with the cooked beef, 8 oz avocados, 4 oz romaine lettuce, 6 oz cherry tomatoes, 2 oz red onions, 1 oz jalapeño, 1/4 cup coriander, and 0.5 oz feta cheese. Enjoy.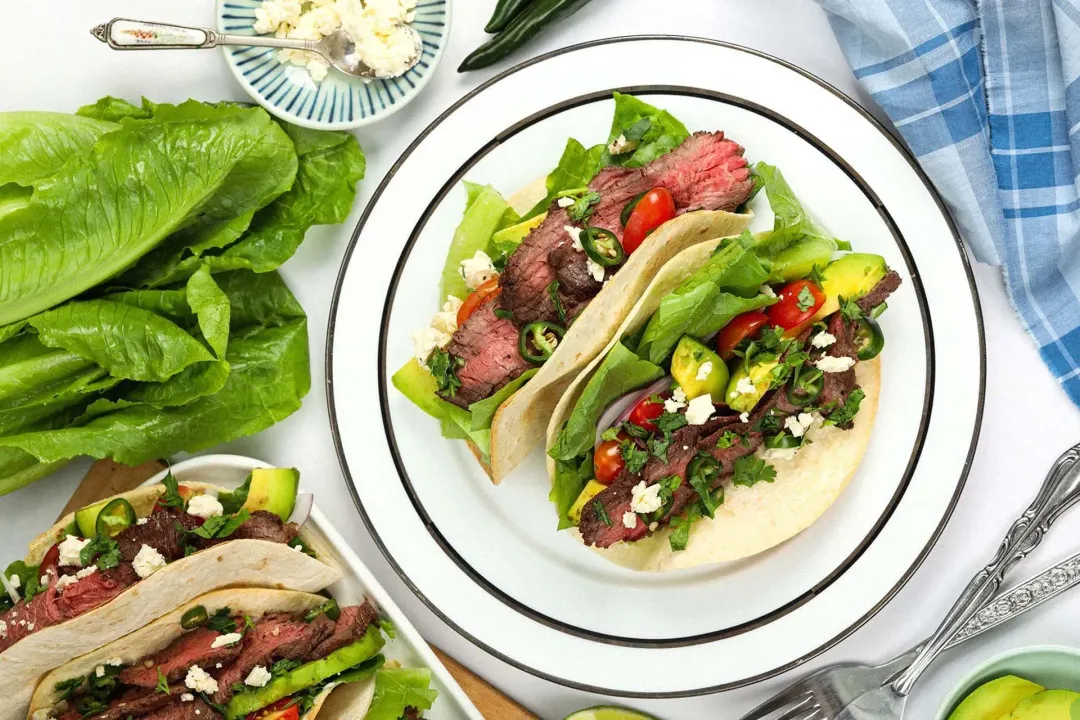 NUTRITION
Nutrition Facts
How to Make Steak Taco
Amount Per Serving (1 serving)
Calories 492
Calories from Fat 249
% Daily Value*
* Percent Daily Values are based on a 2000 calorie diet.
Keywords: how to make steak taco, steak taco, steak taco recipe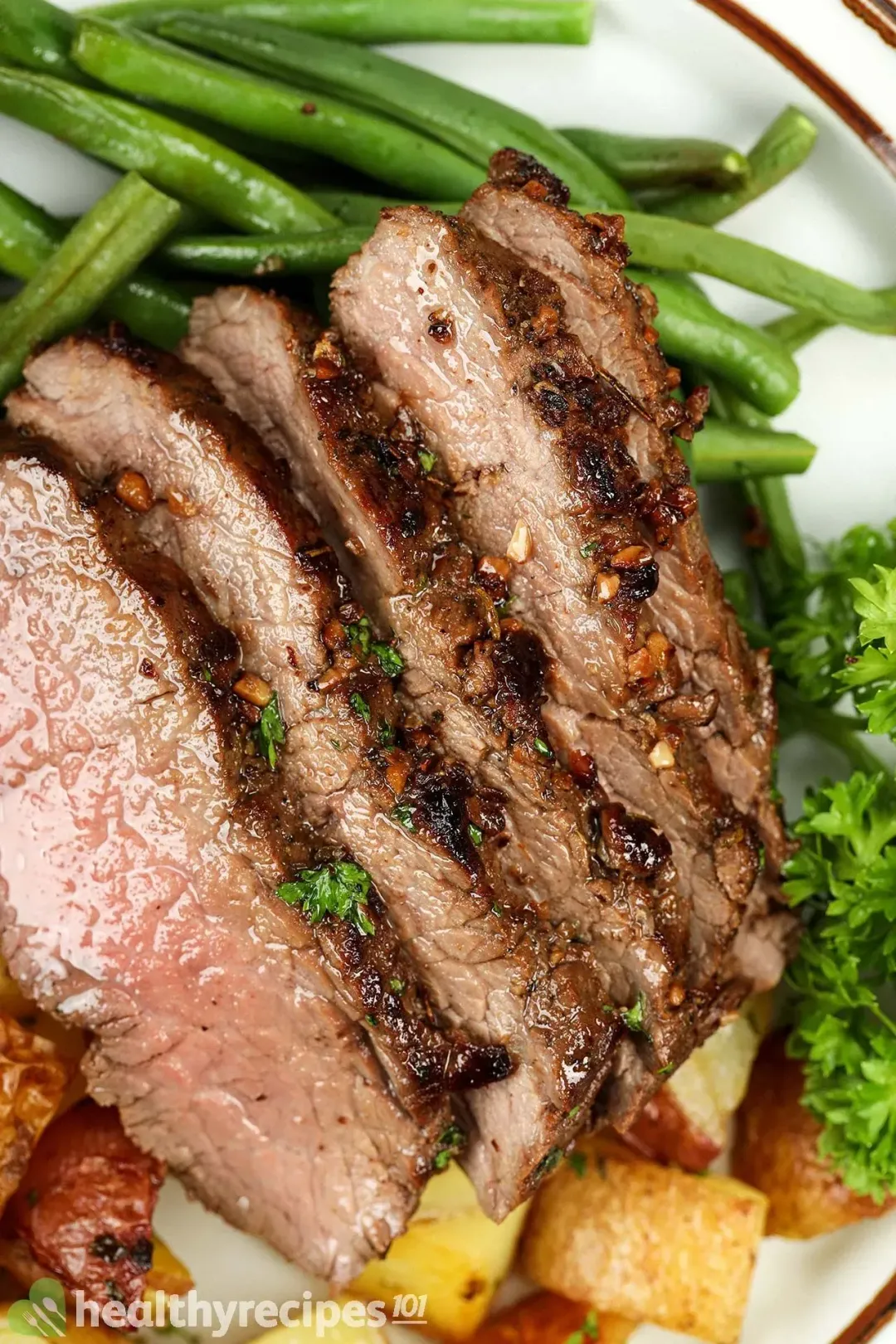 Previous Recipe
Beef Marinade
Beef Marinade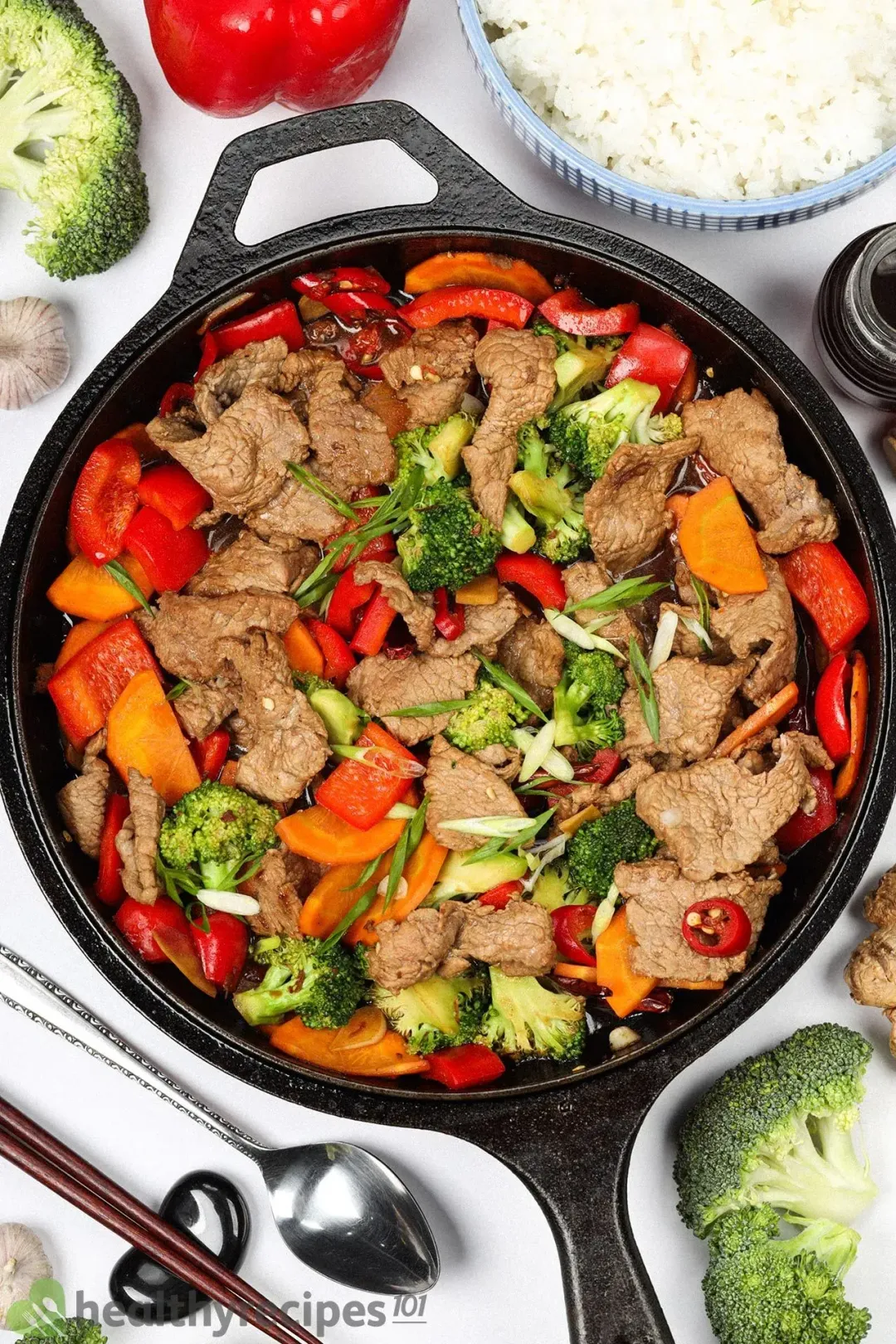 Hunan Beef
Head Chef, Culinary Consultant
Tuyet Pham is an award-winning Saigonese chef who believes that joy is the secret ingredient to delicious food. At Healthy Recipes 101, Tuyet personally tests and simplifies every recipe, ensuring maximum flavor with minimal effort. With a background at prestigious French restaurants P'TI Saigon and Le Corto, Tuyet knows how to make every dish exceptional.
Writer, Author
Luna Regina is an accomplished writer and author who dedicates her career to empowering home cooks and making cooking effortless for everyone. She is the founder of HealthyKitchen101.com and HealthyRecipes101.com, where she works with her team to develop easy, nutritious recipes and help aspiring cooks choose the right kitchen appliances.
Nutrition Reviewer
Natalie Butler is a registered dietitian nutritionist with a passion to help others live their best life through food, fitness, safer beauty and a healthy lifestyle. She has expertise with a variety of diets and diseases and believes that there is no one-size-fits-all approach for health.
Juicy and savory steak taco, a fiesta in your mouth!