Taste the summer feeling with every bite of the burger from this pulled chicken recipe. The chicken is simmered in a hearty sauce, then smothered between fresh veggies and air-fried buns—creating layers of sweet, savory, and mildly spicy flavors that seamlessly blend into one another.
With shredded chicken as the main ingredient, this burger is a refreshing change from the regular meat patties that you may already be too familiar with. Nevertheless, it still retains all the classic and irresistible qualities that make the humble burger such a widely beloved food.
Is This Recipe Healthy?
Despite the fast-food appearance, these pulled chicken burgers are actually relatively healthy.
We adjusted the ingredients so that everything adheres to the standards set by our guidelines. Consequently, each 477-calorie serving contains approximately 5.7 g saturated fat and 571 mg sodium.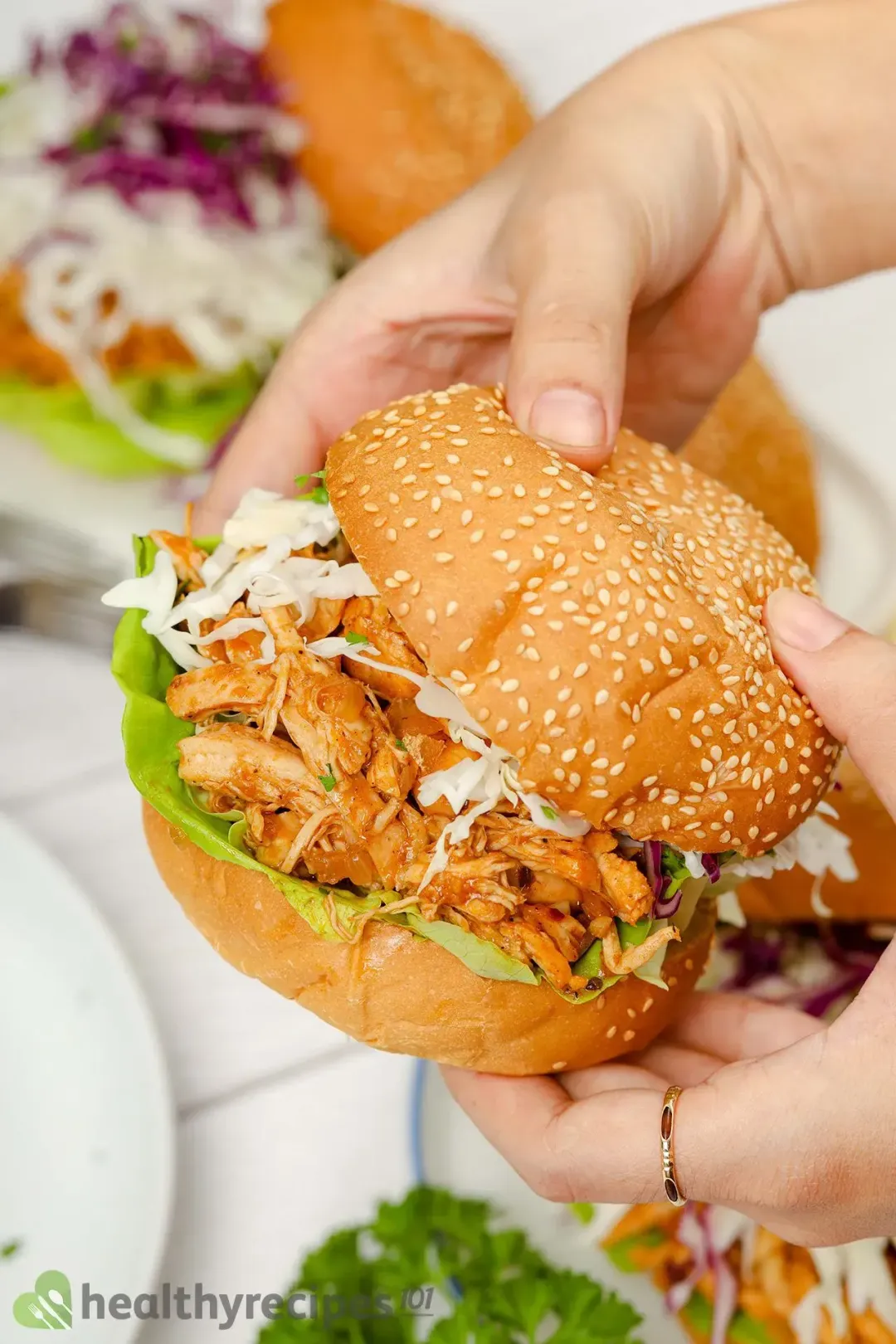 Furthermore, with chicken breast as the main ingredient, each serving is loaded with 40.9 g of complete protein. Chicken breast is also a good source of other nutrients like vitamin B12, zinc, heme iron, and copper while also being lean and low-fat.
To balance the dish, we served the meat between handfuls of cabbage and lettuce. These veggies help to increase the dish's nutritional value with their amazing fiber, mineral, and vitamin contents.
Main Ingredients
Here's a list of everything you'll need to put together these gorgeous burgers:
Chicken: We went with boneless skinless chicken breast since this recipe involves a lot of meat shredding. You can also use chicken thighs, which are more succulent but slightly higher in fat since they're dark meat. Whatever cut you use, make sure it isn't bone-in.
Buns: Go for burger buns that are pillowy and tender but retain a good structure, so they won't fall apart when stuffed with various toppings. Flavor-wise, they should have a sweet scent that's mild enough to complement the fillings without overwhelming their main flavors.
Vegetables: Sticking to the burger staples, we used red and white cabbages and green lettuce to mellow out the savory taste and freshen up the entire dish.
Ketchup: One of the highlights of this dish is the bold and rich sauce that the chicken is simmered in. We used Heinz ketchup to give the sauce a thick consistency and a savory-sweet flavor base.
Chicken Broth: We added chicken broth to bring a warming undertone to the soup as well as keep the meat moist and juicy.
Seasonings: We used a diverse variety of spices and dried herbs, such as brown sugar, cayenne, paprika, garlic powder, chili powder, and ground cumin. These intense seasonings infuse the chicken meat with layers of peppery, spicy, hearty, and earthy flavors that captivate the taste buds from the very first bite.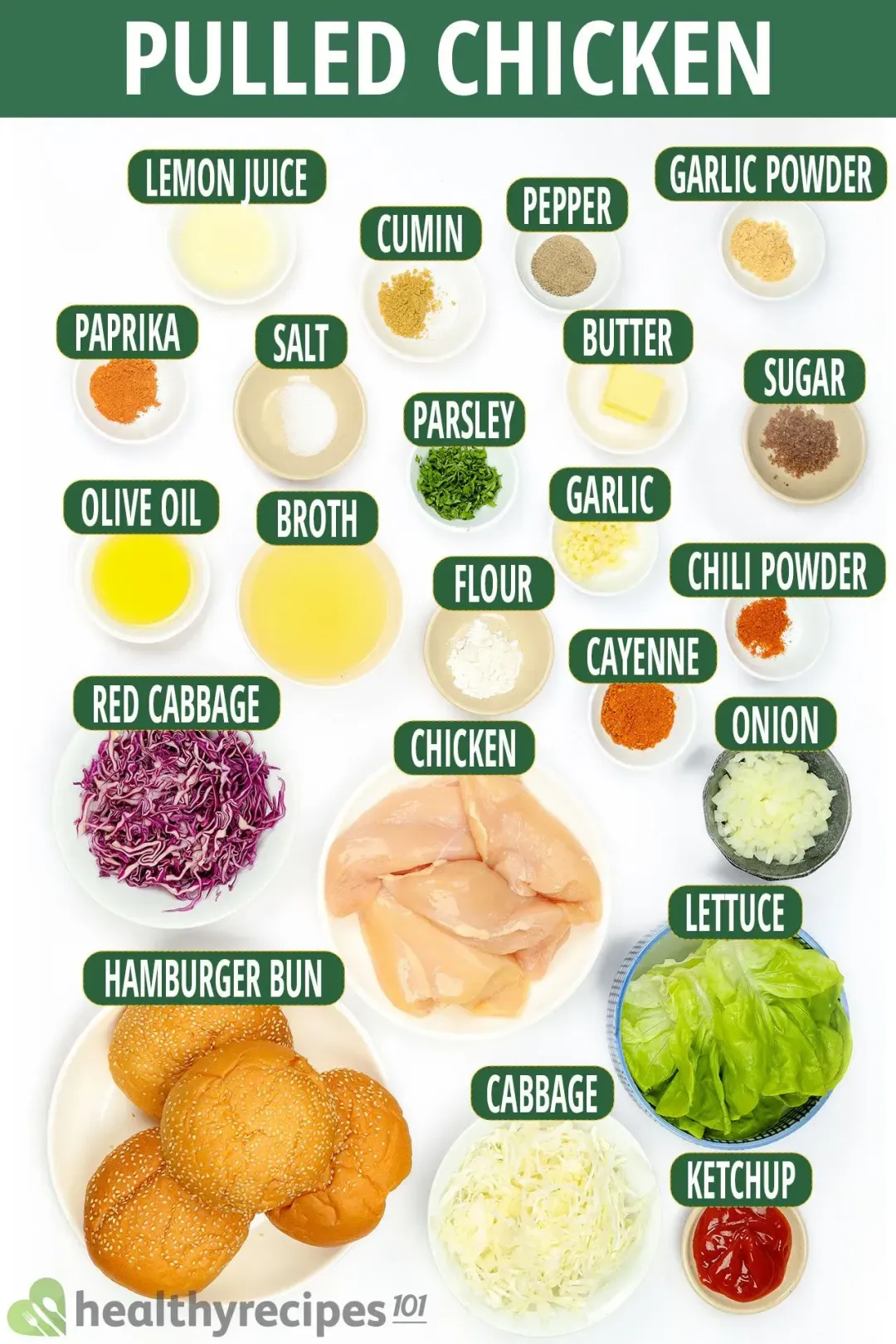 Tips for Cooking
Check out these simple tips that could help your chicken to turn out juicy, tender, and soaked in delectable flavors:
There are various ways to shred the chicken. For a mess-free and time-saving shredding, use a hand mixer to separate the meat instantly. If you don't have a mixer, simply use two forks or your hands to pull it apart.
Let the chicken cool for a few minutes before you start pulling to avoid burning your hands. However, don't leave until it's completely cool or refrigerated because the pieces won't come apart as easily.
It's important that the breasts aren't overcooked because they could easily dry out. For an accurate estimation of when they're cooked, use a meat thermometer. Stick it into the thickest part and check for a minimum internal temperature of 165 °F.
If you don't have a meat thermometer, look for physical indicators. Lightly poke at the meat to check for the juice's color. Cooked chicken should have clear juice that isn't tinted pink or red. 
To be more thorough, make a small incision to see if the meat has turned white. If it still has some pink hues, it needs to stay on the heat for a bit longer.
How to Store and Reheat Leftovers
These pulled chicken burgers can last up to 3 days when tightly wrapped or stored in airtight containers in the fridge. You can quickly reheat the buns and the meat on the stovetop. Lightly dab the buns and veggies with paper towels to soak up the excess moisture. 
What to Do With Leftover
The pulled chicken can also be added to other dishes if you don't feel like eating burgers again. Here are a few of our suggestions:
A good way to take full advantage of the chicken broth and leftover pulled chicken is by cooking them into warming soups. It's budget-friendly, comforting, and guaranteed to bring lots of flavors to the dish since the meat is already seasoned with heaps of robust spices.
Whether it's something simple like a chicken salad or a restaurant-worthy Cajun pasta, the intensely-flavored pieces of pulled chicken make an effortless topping that instantly elevates the dish.
Bake up a gorgeous and golden dish of enchiladas, casserole, or pot pie for a classic homemade dinner. Since the chicken will be cooked right into these dishes, you won't be able to tell it was leftovers. These dishes may look like they'd be a handful at first, but you'll be surprised to find out just how quickly and effortlessly they come together.
What to Serve With This Dish
These pulled chicken burgers make a fantastic light meal on their own, but you can always give them a side dish to make a complete meal. Check out these recipes for some quick, easy, and light side dishes: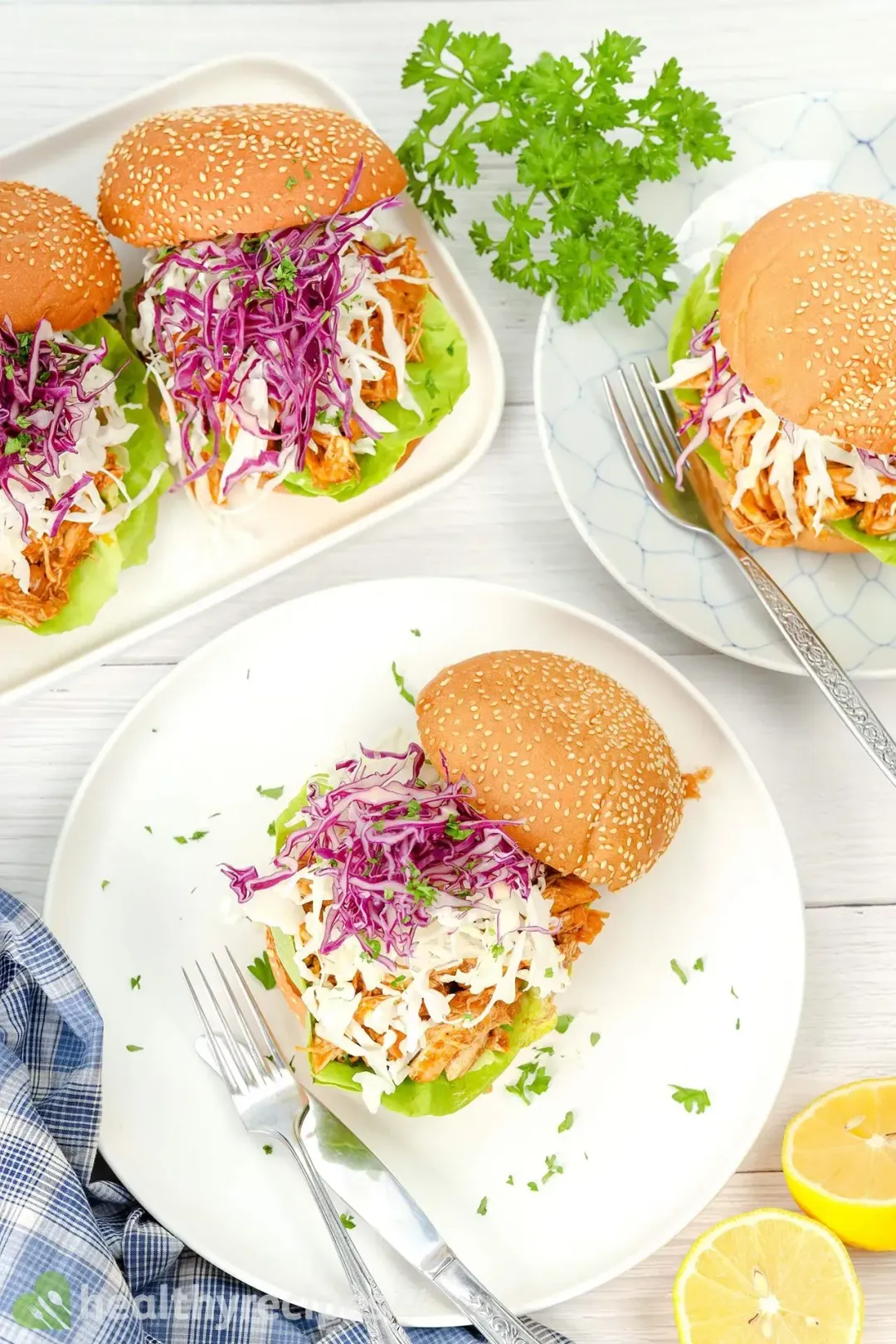 Other Delicious Chicken Sandwiches
Here's a forgiving Chicken Burger that won't fall apart. There's a crispy patty of chicken breasts on top of some lettuce, a cabbage mix, sandwiched between air-fried burger buns. The creamy cabbage really adds the final touch.
These chicklen salad sandwiches are perfect for lunch, with a creamy salad filling sandwiched between two layers. Aside from chicken and greens, it also has very juicy, sweet grape chunks.
How to Make Pulled Chicken
This pulled chicken recipe is a refreshing change from the regular meat patties that you may already be too familiar with. It features chicken simmered in a hearty sauce, smothered between fresh veggies and air-fried buns—creating irresistible layers of sweet, savory, and mildly spicy flavors.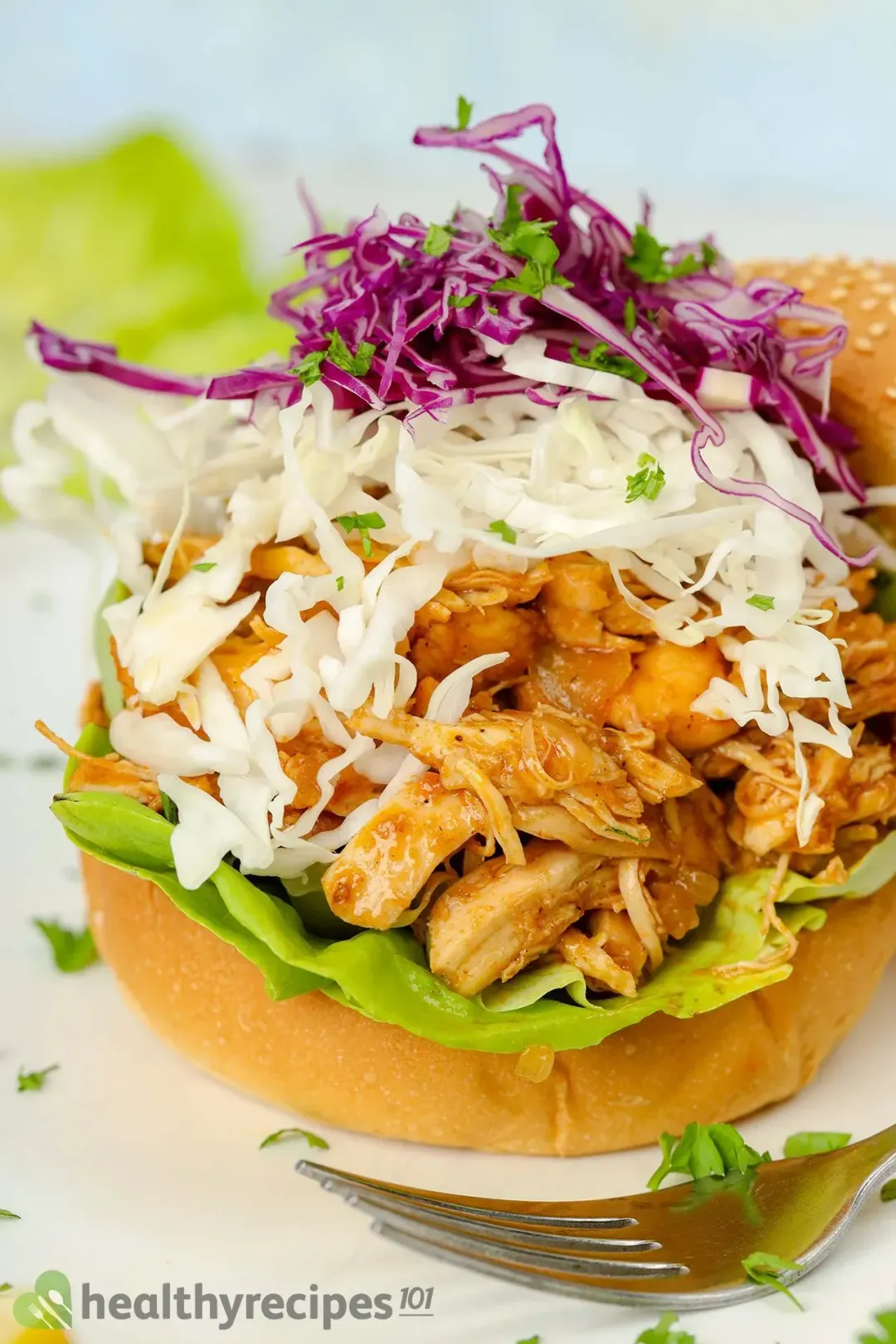 cook TIME

30 mins

prep TIME

7 mins

total TIME

37 mins
COURSE

Main Course

CUISINE

American

SERVINGS

CALORIES

478 kcal
INGREDIENTS
22 oz

skinless boneless chicken breast

2 oz

red cabbage

(shredded)

1/2 tbsp

all-purpose flour

3/4 cup

unsalted chicken broth
INSTRUCTIONS
Prep:
1
Shred the Cabbage: Lengthwise slice the cabbage in half, then again into quarters. Remove the core by making two diagonal incisions on the sides. Lay the quarter flat and thinly slice into cabbage shreds.
2
Mince the Garlic: Cut off the root, remove the peel then thinly slice each clove. Rock the knife over the sliced pile to finely mince the garlic.
3
Dice the Onion: Cut the onion in half lengthwise. Turn the half vertically and make thin slices but leave the root intact. Turn the onion horizontally, then push the knife crosswise into the slices. Then, thinly slice to make small, diced pieces.
4
Chop the Parsley: Bunch the leaves together, cut off the stems, then thinly slice. Rock the knife over the sliced pile of leaves a few times until they are finely chopped.
Cook:
1
Sauté the Aromatics: In a pan over medium heat, sauté 1 tbsp garlic and 2 oz onion with 2 tbsp olive oil for 2 minutes until fragrant.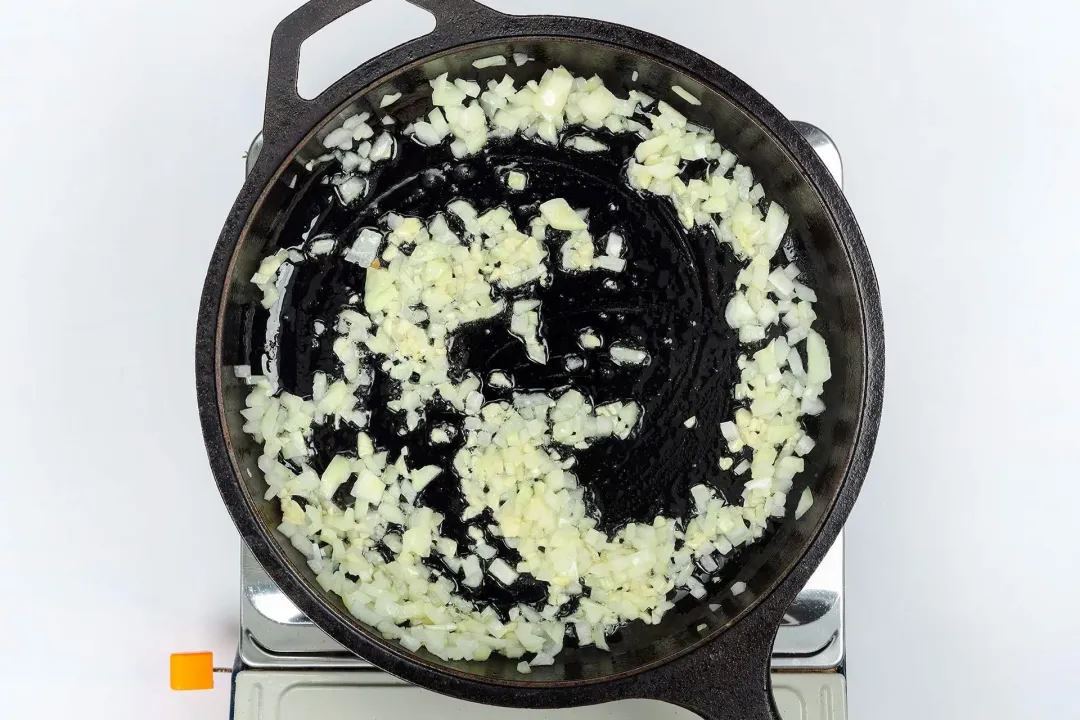 2
Make the Sauce: Add 1/2 tbsp all-purpose flour, 1 tbsp lemon juice, 4 tbsp Heinz ketchup, 3/4 cup unsalted chicken broth, 2 tsp paprika, 1/4 tsp chili powder, 1 tsp garlic powder, 1/4 tsp salt, 1/2 tsp pepper, 1 tsp brown sugar, 1 tsp cayenne, and 1/2 tsp ground cumin then evenly stir until well-mixed.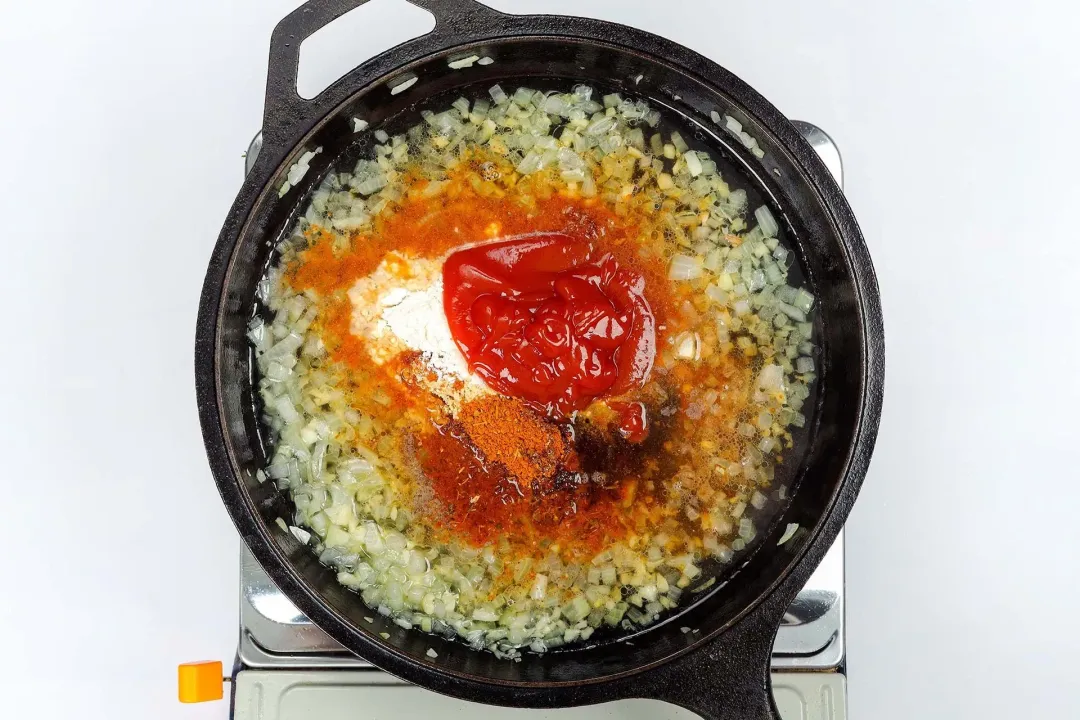 3
Add the Chicken: Add 22 oz skinless boneless chicken breast to cook, then lower the heat. Cook for 10 minutes, flip to the other side and cook for another 10 minutes.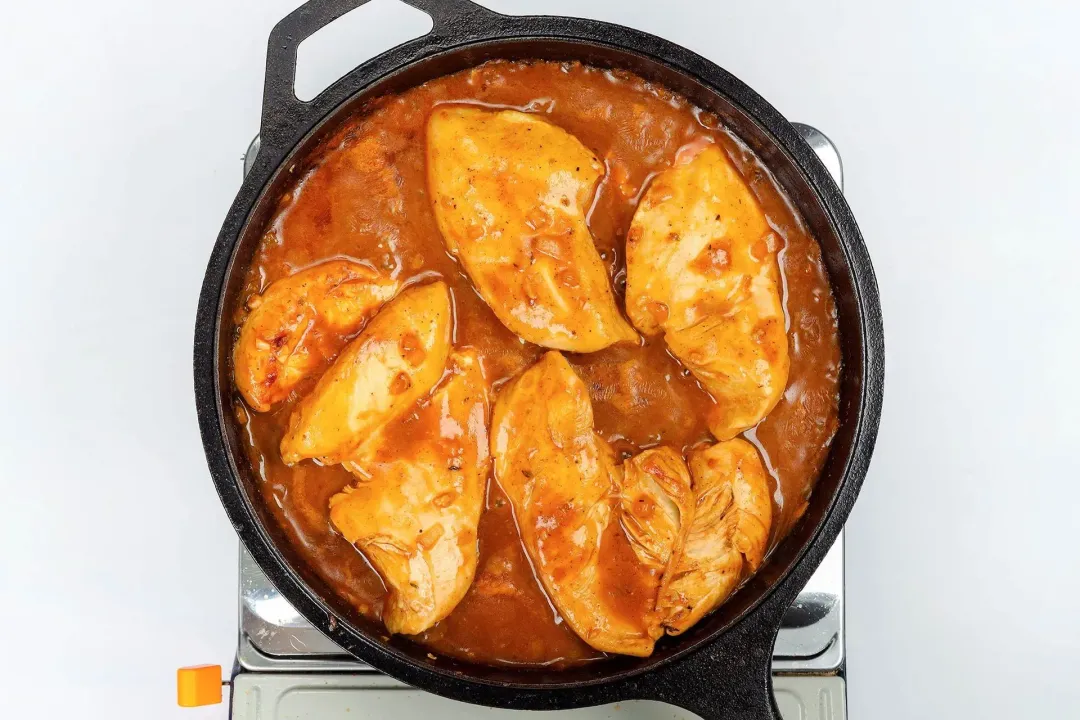 4
Shred the Chicken: Use two forks to shred the chicken, then cook for another 5 minutes until the sauce thickens.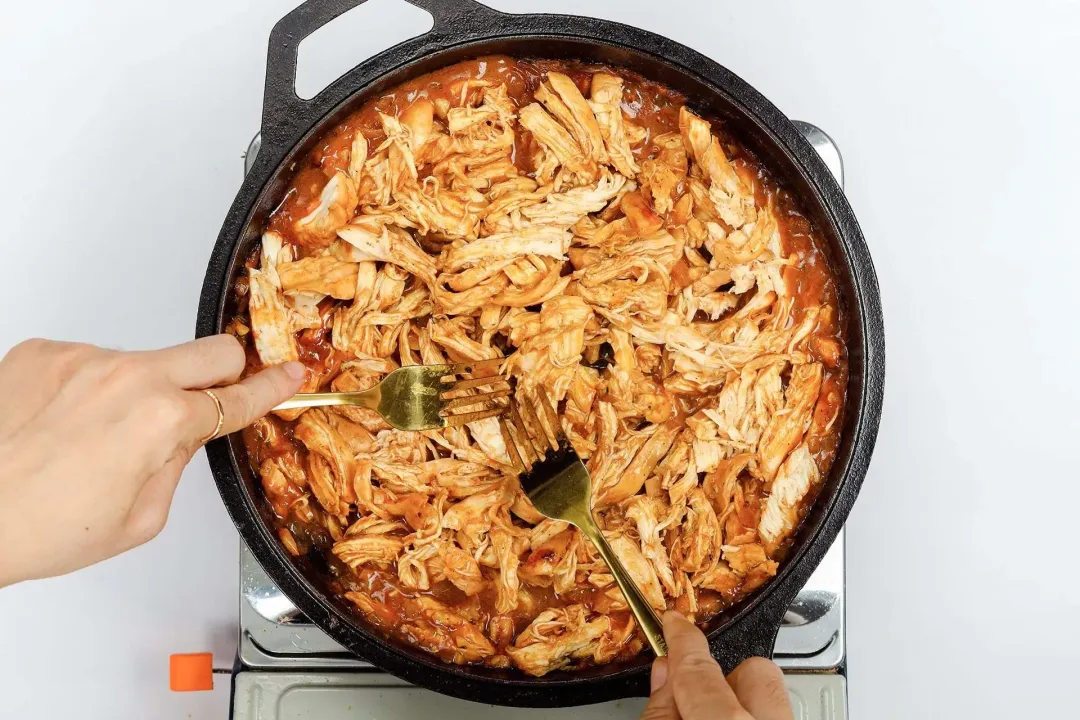 5
Slice and Butter the Buns: Slice 4 hamburger buns in half. Then brush 2 tbsp unsalted butter on the inner surface of the buns' halves.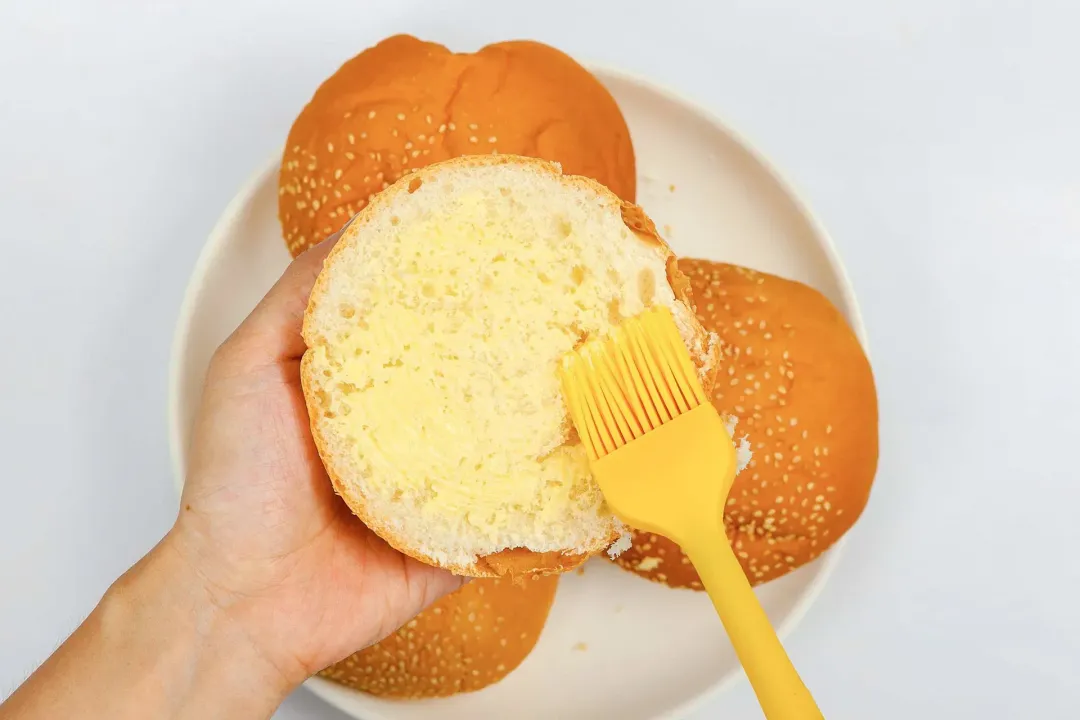 6
Air-fry the Buns: Lay the buns into the air-fryer with the buttered side facing upward, then cook for 3 minutes at 400 °F.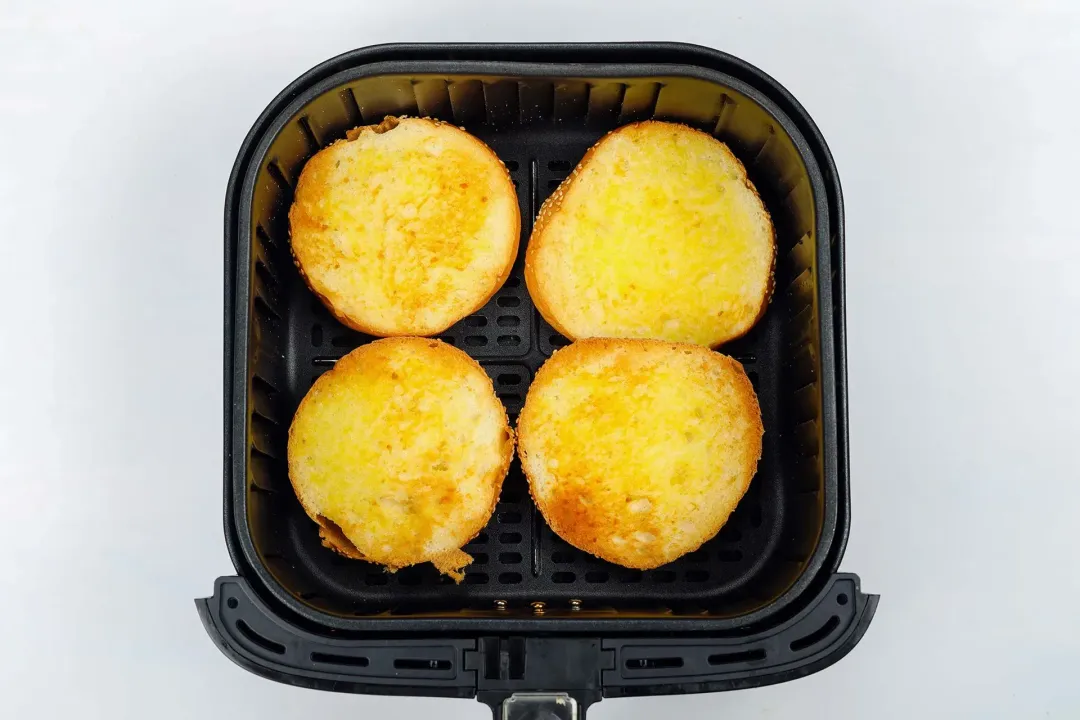 7
Assemble and Serve the Burgers: Layer 2 oz green lettuce, the shredded chicken, 3 oz cabbage, and 2 oz red cabbage, then garnish with 2 tbsp parsley. Enjoy.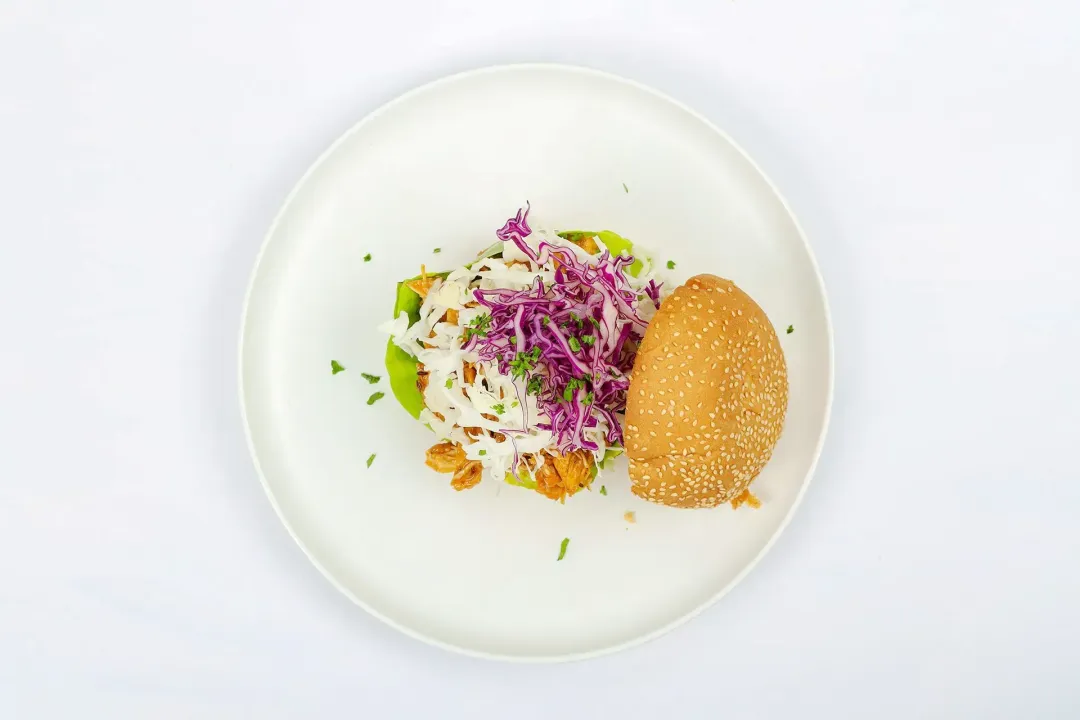 NUTRITION
Nutrition Facts
How to Make Pulled Chicken
Amount Per Serving (1 serving)
Calories 478
Calories from Fat 156
% Daily Value*
* Percent Daily Values are based on a 2000 calorie diet.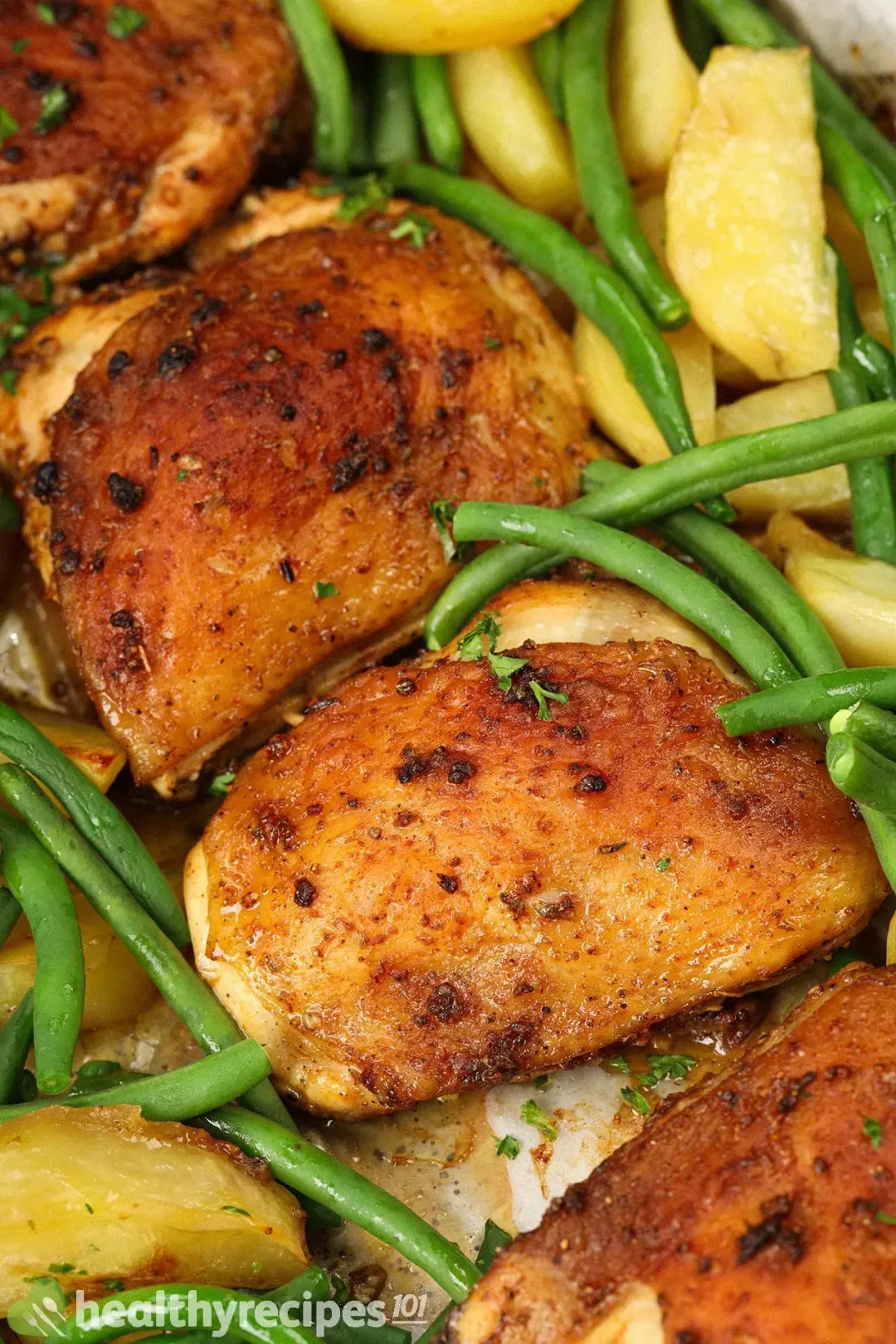 Previous Recipe
Easy Baked Chicken Thighs
Easy Baked Chicken Thighs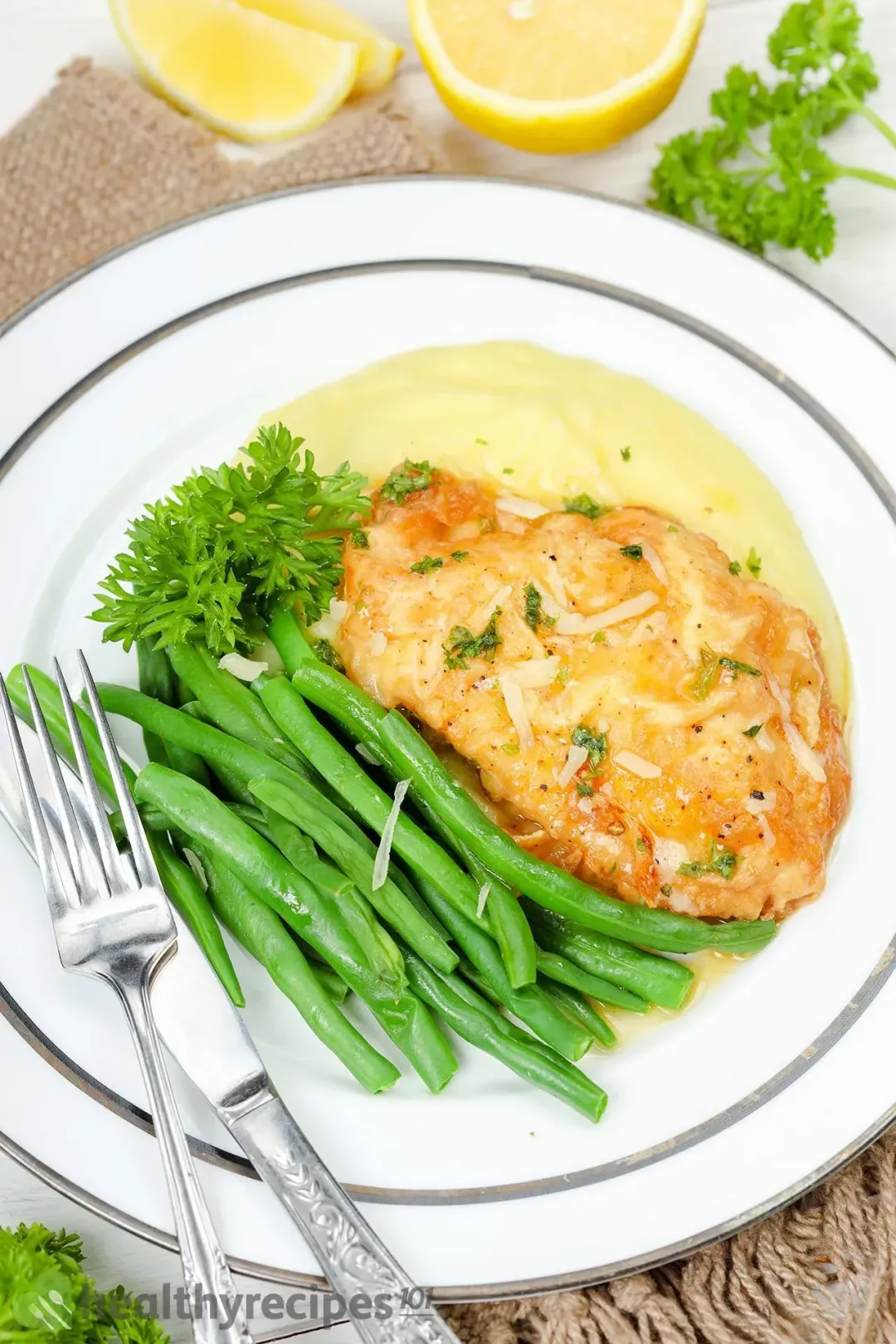 Next Recipe
Chicken Francese
Chicken Francese
Head Chef, Culinary Consultant
Tuyet Pham is an award-winning Saigonese chef who believes that joy is the secret ingredient to delicious food. At Healthy Recipes 101, Tuyet personally tests and simplifies every recipe, ensuring maximum flavor with minimal effort. With a background at prestigious French restaurants P'TI Saigon and Le Corto, Tuyet knows how to make every dish exceptional.
Writer, Author
Luna Regina is an accomplished writer and author who dedicates her career to empowering home cooks and making cooking effortless for everyone. She is the founder of HealthyKitchen101.com and HealthyRecipes101.com, where she works with her team to develop easy, nutritious recipes and help aspiring cooks choose the right kitchen appliances.
Nutrition Reviewer
Natalie Butler is a registered dietitian nutritionist with a passion to help others live their best life through food, fitness, safer beauty and a healthy lifestyle. She has expertise with a variety of diets and diseases and believes that there is no one-size-fits-all approach for health.
Delicious and easy-to-make meal that's perfect for a quick weeknight dinner.