This roasted baby broccoli recipe is proof that a simply prepared meal doesn't necessarily mean it is less flavorful. The main ingredient is the baby broccoli, which is seasoned and roasted to perfection. The dish is effortlessly put together, surprising you with new and exciting ways to enjoy veggies.
Contrary to popular belief, baby broccoli isn't unmatured broccoli. It's actually a hybrid of the regular and Chinese broccoli. Appearance-wise, it has loose florets and is much slimmer and longer than the variety we come across in supermarkets.
Baby broccoli's flavor is considered more delicate and sweeter than regular broccoli while still sharing its signature hint of earthiness and its crunchy texture. You can enjoy it raw, but it tastes better when cooked because the heat helps to highlight its caramelized sweetness and peppery undertones.
Is Roasted Baby Broccoli Healthy?
Yes, it is.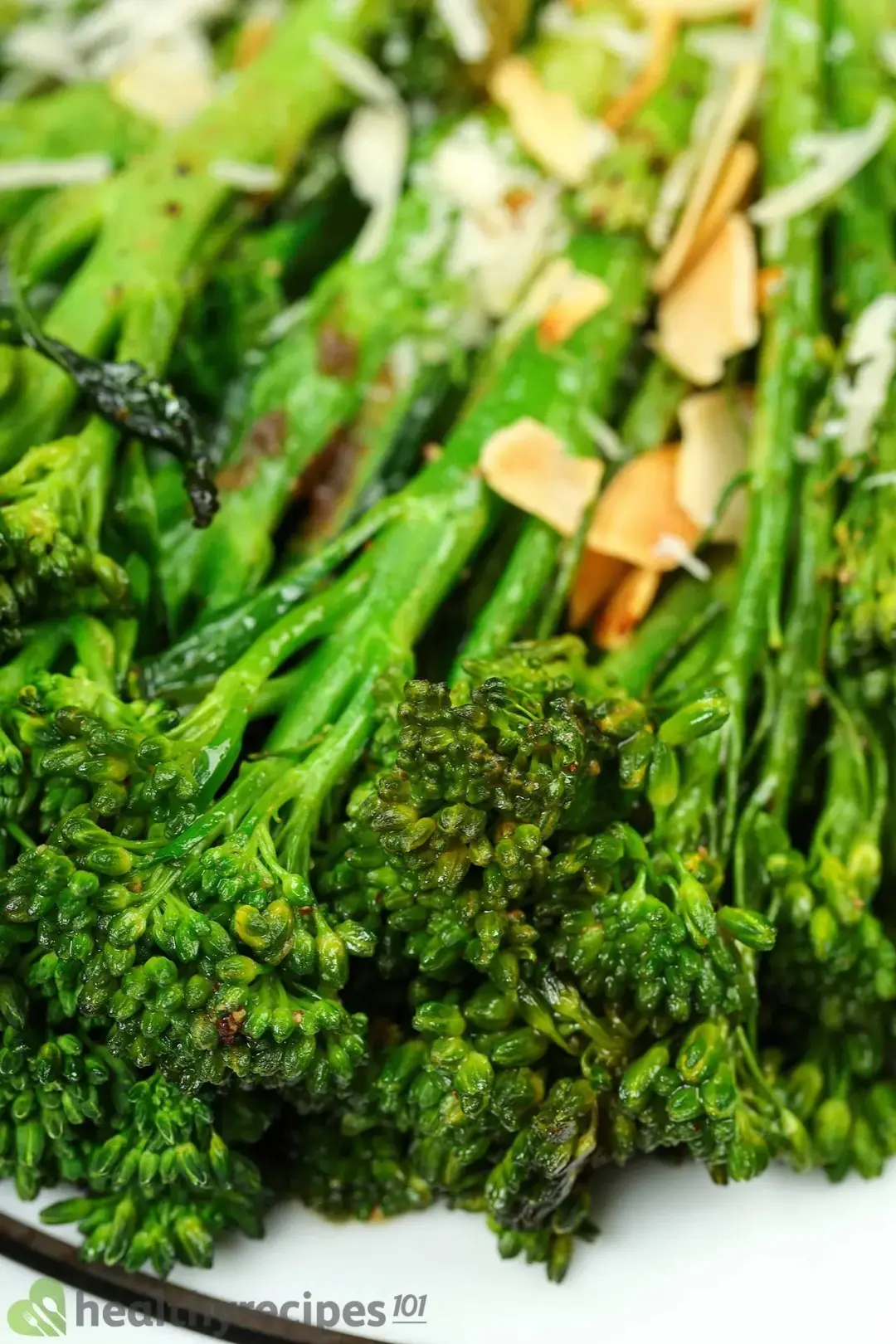 This dish features baby broccoli, or broccolini, as the main ingredient. As a cruciferous vegetable, it has a high amount of fiber, which can help maintain gut health, lower cholesterol levels, and aid in weight loss by making you feel full longer.
Baby broccoli also offers other potential health benefits, such as protecting against heart disease, aiding blood sugar control, and reducing inflammation.
This vegetable is quite low in calories, so, therefore, our dish has only around 130 calories. The saturated fat and sodium levels respectively amount to 14% and 9% of the daily intake limit. These numbers perfectly comply with the standards set by our nutrition guidelines.
Ingredients for Roasted Baby Broccoli
For the ingredients, we kept things simple and focused mainly on the baby broccoli while adding a handful of spices and some cheese to enhance its natural flavors.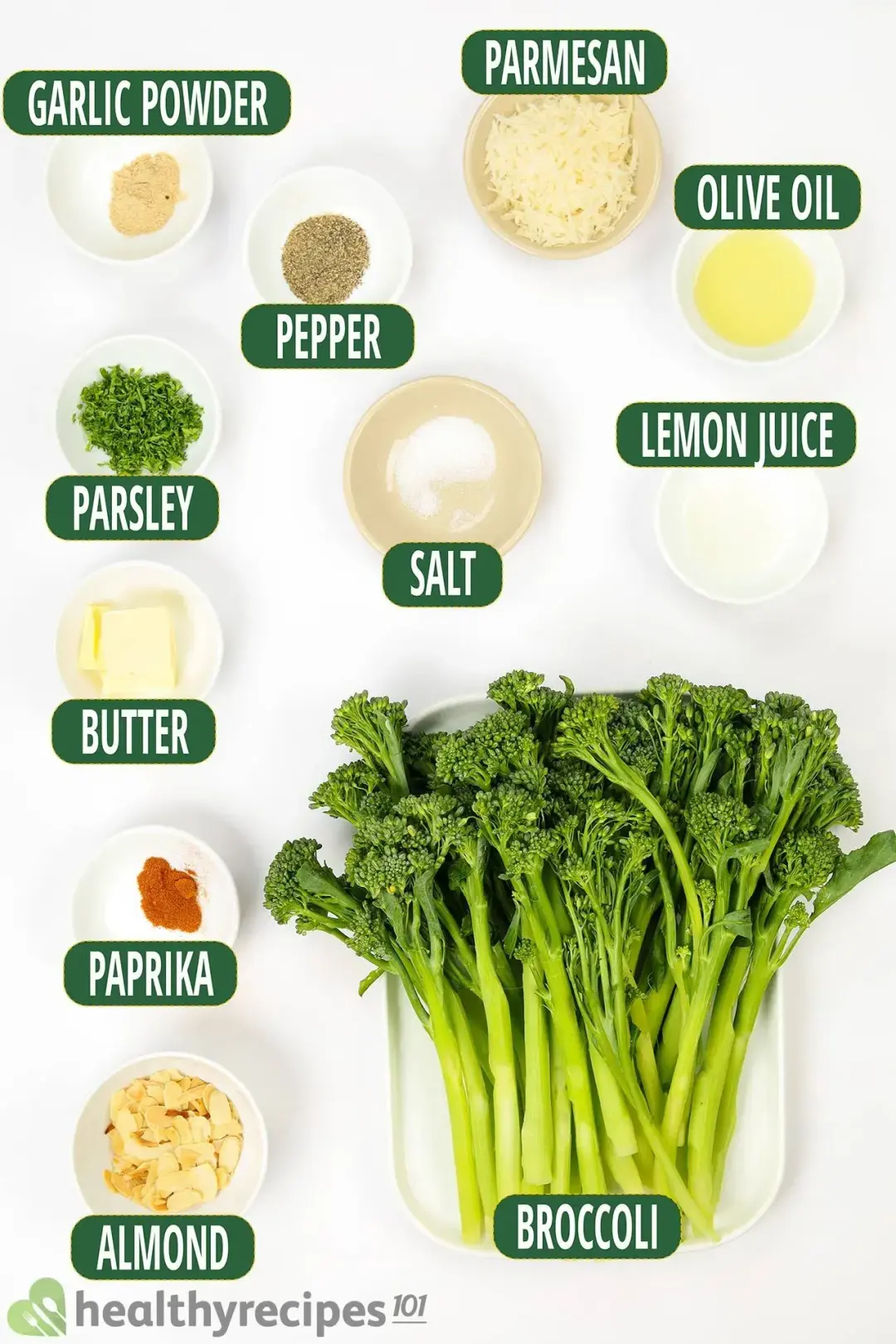 Baby Broccoli: When you're shopping for baby broccoli, choose the ones with fresh, firm stems and tightly closed florets. Color-wise, they should be bright green with little to no blemishes or yellow spots.
Lemon Juice: A small squeeze of lemon is enough to infuse the baby broccoli with an extra zesty layer of taste, adding a dash of vibrance and flavor to the dish.
Seasonings: Since baby broccoli is pretty mild, we decided to season it with salt, pepper, paprika, and garlic powder. After it's roasted, this veggie will be infused with a slightly spicy and robust combination of flavors, balanced out by its subtle natural taste.
Garnishings: We sprinkled some Parmesan cheese and a few slices of almonds to add a decorative touch to the dish. Moreover, these ingredients also layer the baby broccoli with exciting hints of tangy and nutty flavors.
What Do You Eat Roasted Baby Broccoli With?
This roasted baby broccoli dish is quite versatile. It's served on the side, but you can easily turn it into the main dish or offer it as a light meal, paired with a few simple accompaniments. Here are some suggestions: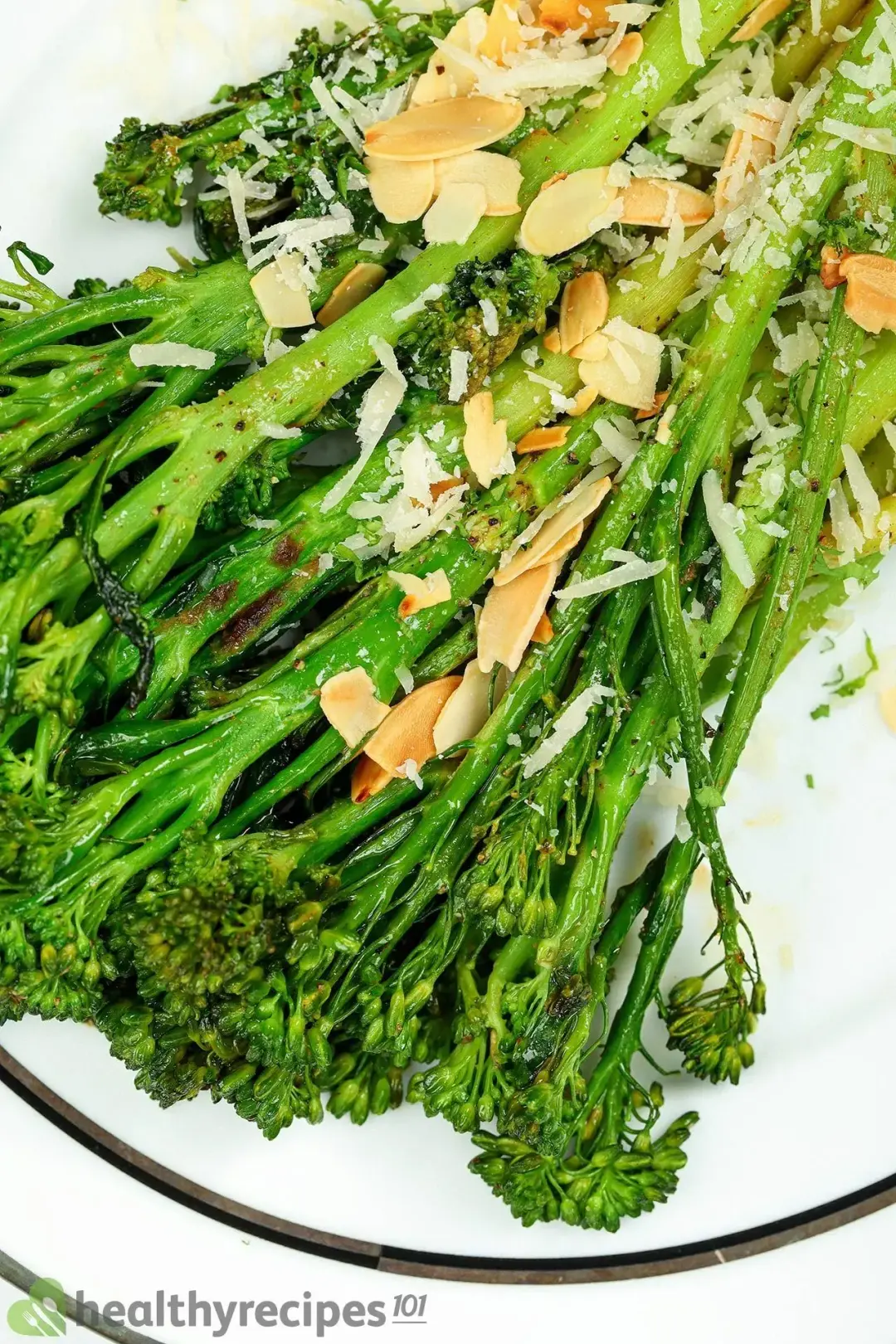 Toss in some more vegetables like asparagus, carrots, squash, and Brussels sprouts while you're roasting baby broccoli. It makes for a colorful side dish with marvelously diverse tastes and textures – perfect company for any grilled or roasted meat dishes.
Serve this dish over a bed of pasta, rice, quinoa, egg noodles, or any preferred base to instantly turn it into a simple and filling main dish. 
This dish goes well with almost any kind of meat, including chicken, pork, beef, and white fish. Since it's roasted, it pairs quite well with dishes that are roasted, grilled, or cooked with intense flavorings.
How to Store the Leftovers
This dish can last for up to two days when kept in an airtight container in the fridge. When you want to eat it again, reheat it in an oven at 350°F for 10 minutes.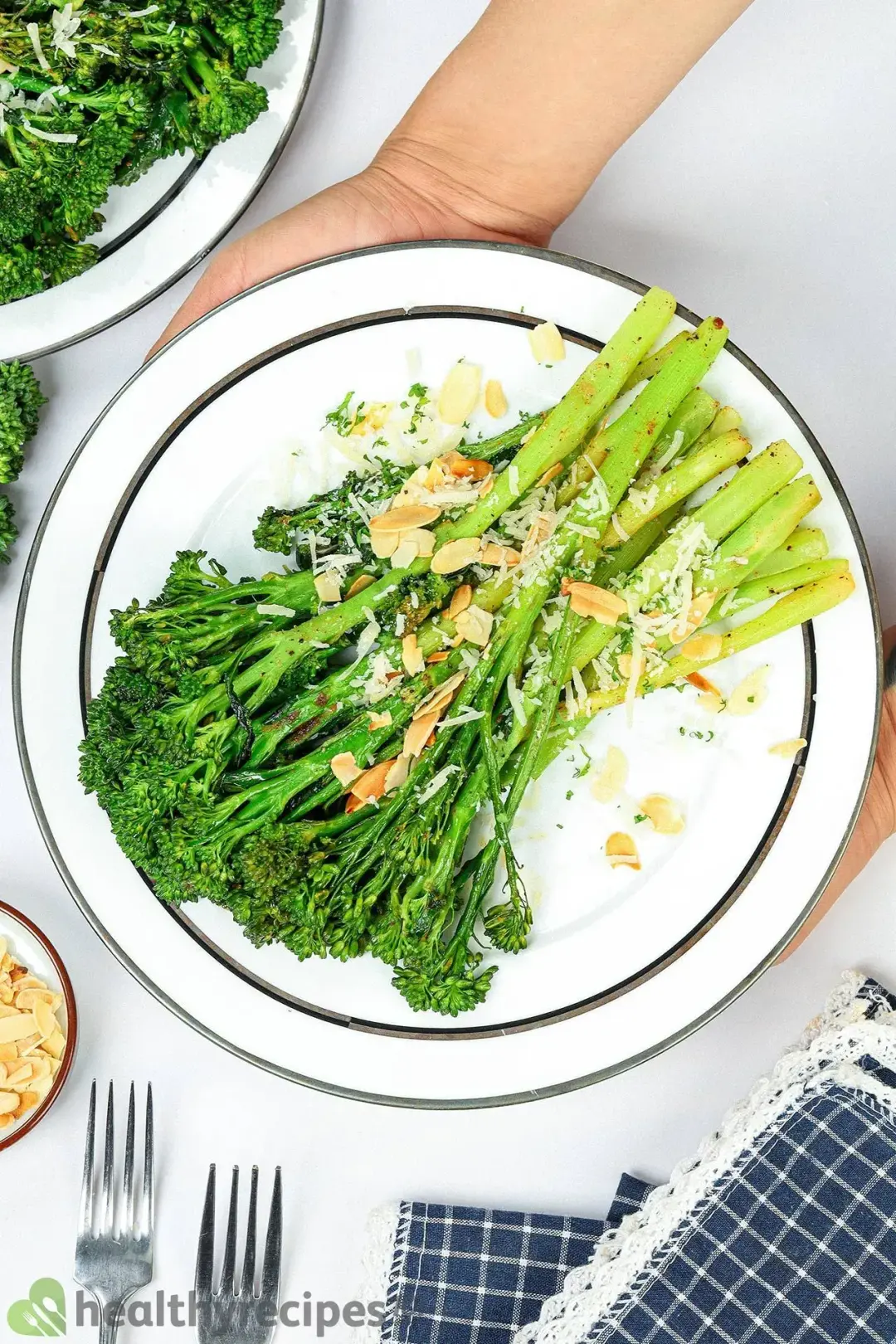 How to Make Roasted Baby Broccoli
Prepared with some basic seasonings and roasted to perfection, our roasted baby broccoli dish highlights this vegetable's glorious flavors. It's easy-to-prepare and makes for a flavorful side to enjoy with almost any meal.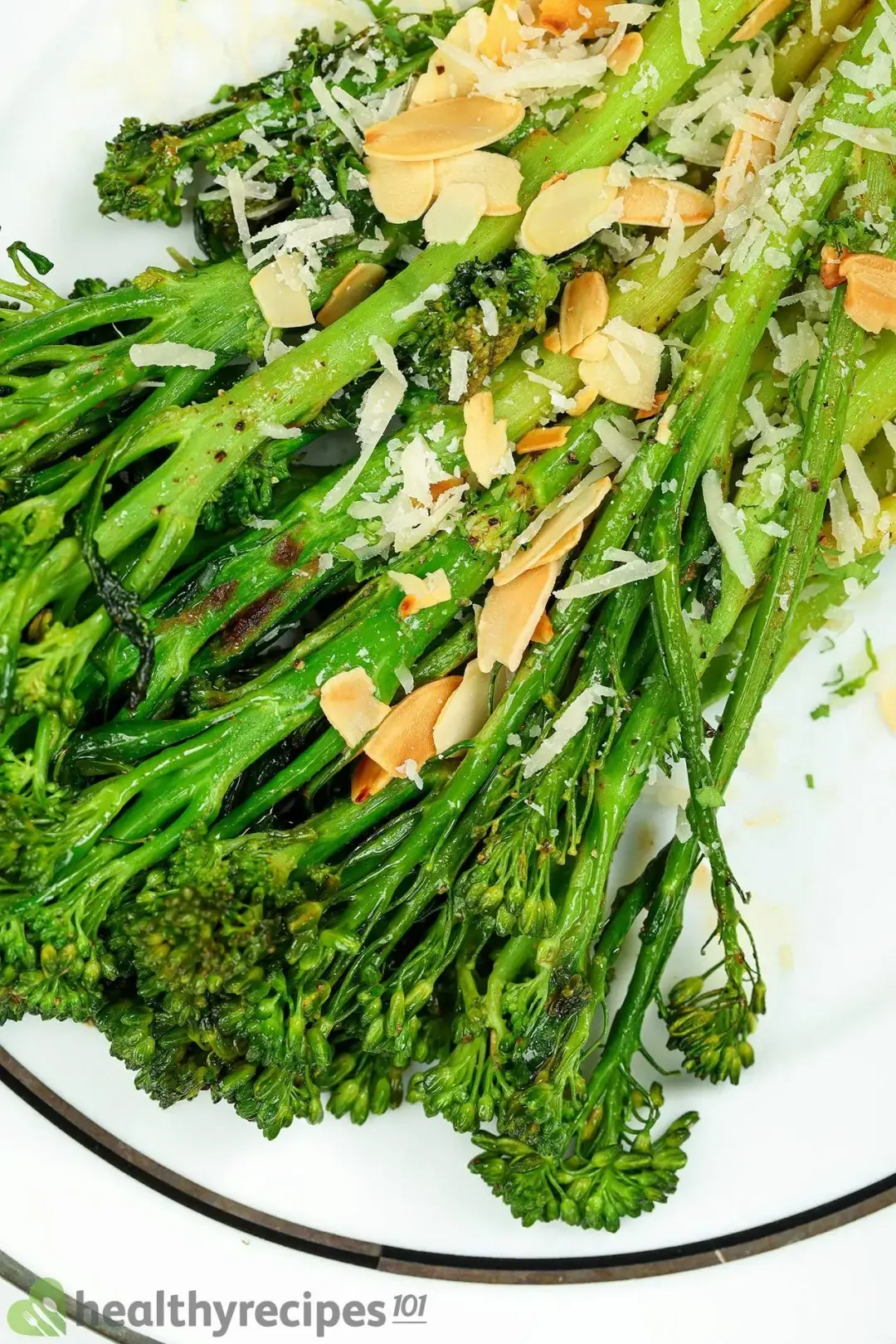 cook TIME

15 mins

prep TIME

7 mins

total TIME

22 mins
COURSE

Side Dish

CUISINE

American

SERVINGS

servings

CALORIES

130 kcal
INGREDIENTS
20 oz

baby broccoli

0.5 tsp

lemon juice

1 tbsp

olive oil

1 tbsp

unsalted butter

2 tbsp

parsley chopped

0.3 tsp

salt

0.3 tsp

pepper

0.5 tsp

garlic powder

0.3 tsp

paprika

0.5 oz

almonds sliced

0.5 oz

shredded Parmesan cheese
INSTRUCTIONS
Prep:
1
Prepare the Baby Broccoli: Run the baby broccoli under the faucet and lightly rinse to wash off the dirt. When done, pat it dry with paper towels, then use a sharp knife to trim off the hard ends of the stems.
2
Chop the Parsley: Bunch the leaves and hold them together. Thinly slice the pile with a chef's knife. Continue slicing the leaves in a rocking motion until they are finely chopped.
Cook:
1
Preheat the oven to 450°F.
2
Season the Baby Broccoli: On a baking tray lined with parchment paper, season 20 oz baby broccoli with 1/4 tsp salt, 1/4 tsp pepper, 1/2 tsp garlic powder, 1/4 tsp paprika, 1/2 tsp lemon juice, and 1 tbsp unsalted butter. Use a tong to lightly toss the baby broccoli around until well seasoned.
3
Roast the Baby Broccoli: Roast the seasoned baby broccoli at 450°F for 12 minutes.
4
Serve the Baby Broccoli: When it's done, remove the roasted baby broccoli from the oven, and garnish with 0.5 oz almonds and 0.5 oz shredded Parmesan cheese, Serve.
NUTRITION
Nutrition Facts
How to Make Roasted Baby Broccoli
Amount Per Serving (1 serving)
Calories 130
Calories from FDA
% Daily Value*
* Percent Daily Values are based on a 2000 calorie diet.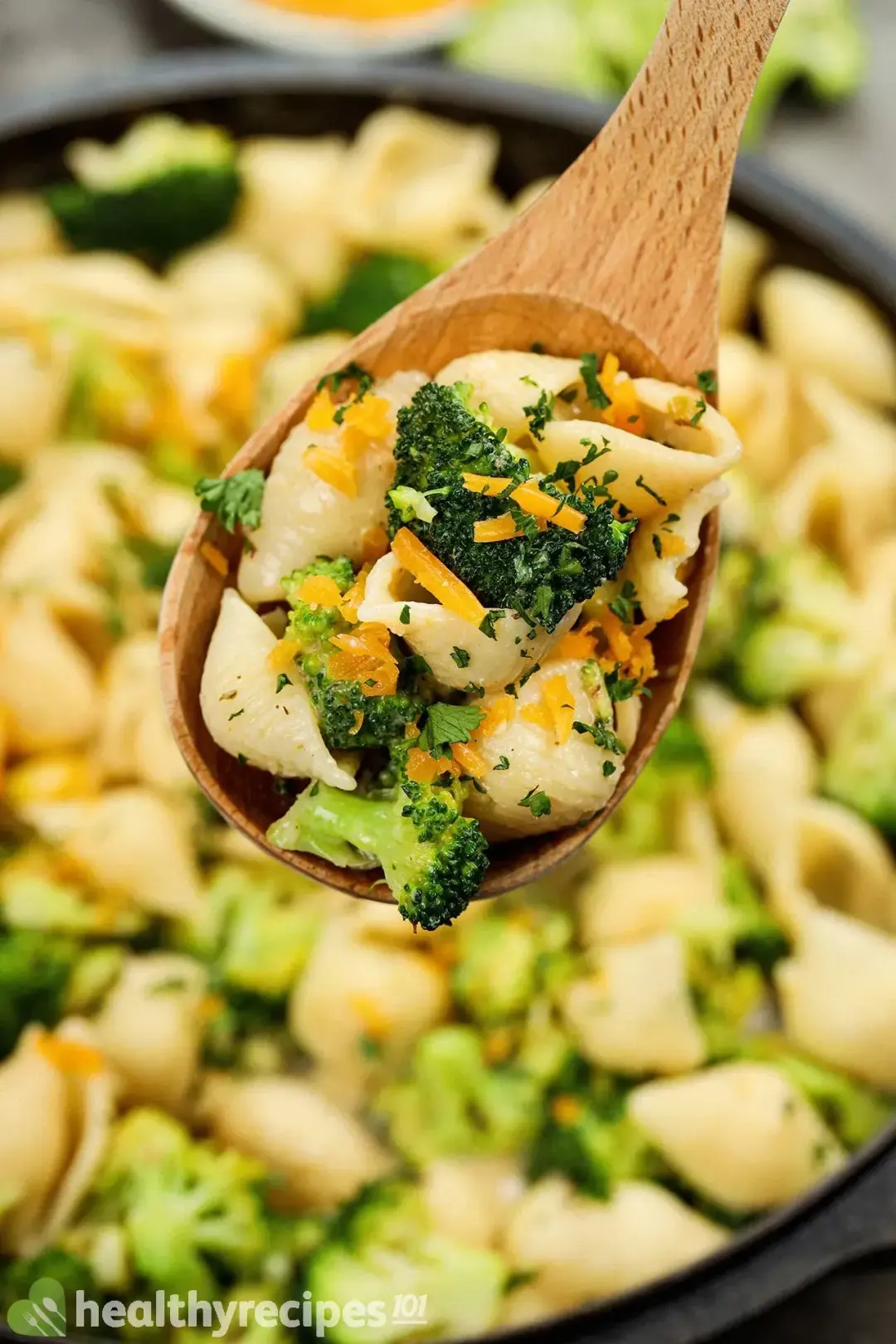 Previous Recipe
Broccoli Pasta
Broccoli Pasta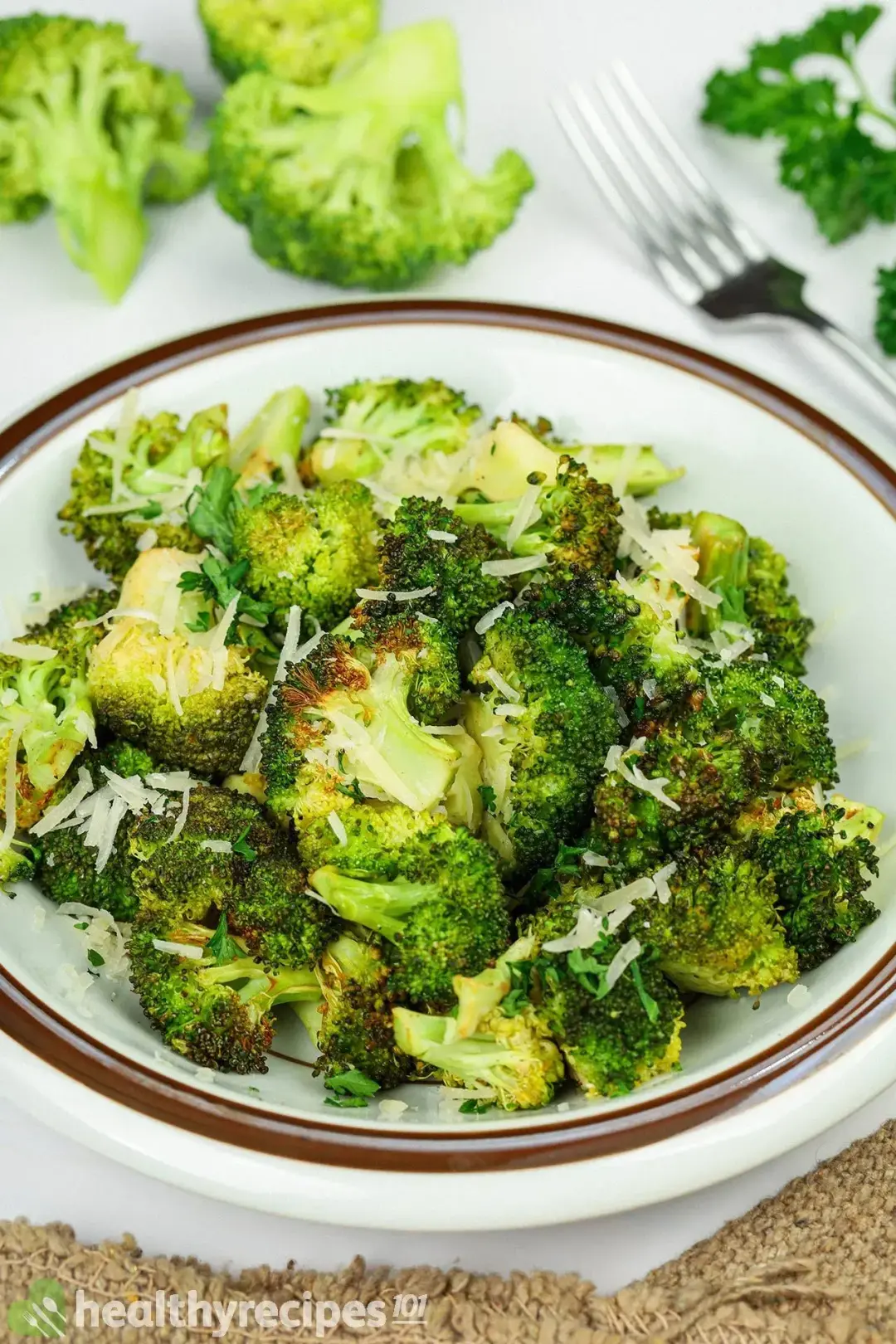 Next Recipe
Air Fryer Broccoli
Air Fryer Broccoli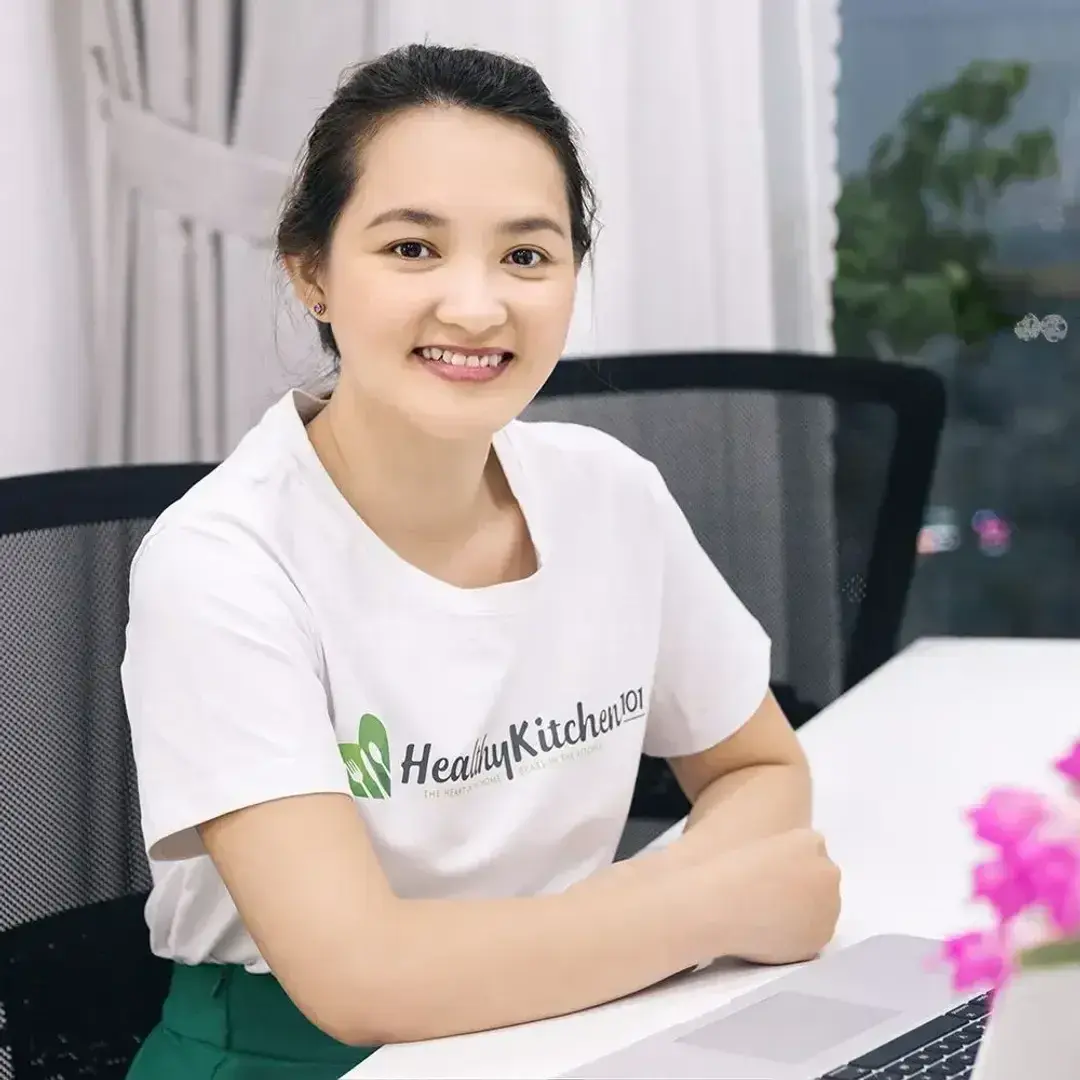 Luna Regina
Luna is the founder and chief recipe developer of Healthy Recipes 101. Apart from cooking, she also loves reading, programming, exploring the outdoors, and collecting useless facts about everything.