Grilled shrimp recipes can vary depending on culture and cuisine, but for sure, they're deliciously flavored and ready in a flash.
In our American-inspired version, the succulent shrimp is marinated in a homemade marinade until it's infused with layers of flavors then grilled in a flash. The marinade adds a deep, robust flavor while the grilling gives the shrimp that caramelized and smoky flavor we all crave. It promises to be the star of the table, at either a family dinner or barbecue party.

Is This Grilled Shrimp Recipe Healthy?
The short answer is yes, our grilled shrimp recipe is healthy.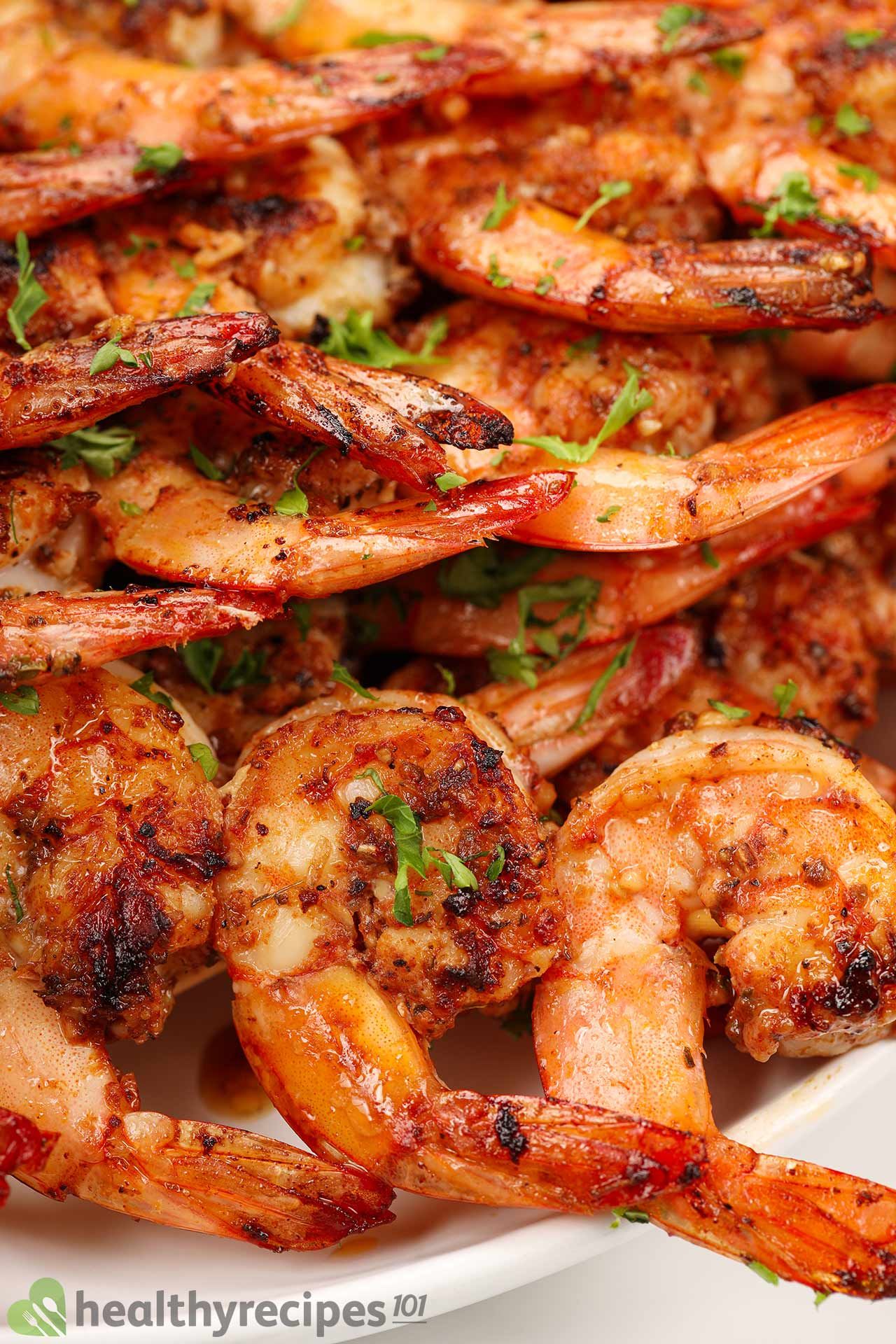 Our grilled shrimp is an excellent source of protein with each serving providing 44.8 gr, about 50% - 98% of your recommended daily intake.
Besides that, we minimized added salt and fat to keep the sodium and saturated fat content within healthy limits (567 mg and 4.2 g, respectively) while still ensuring the dish is mouth-watering.
Calories in Grilled Shrimp
Each serving of our grilled shrimp contains approximately 500 calories (with the rice included). This is a healthy amount for any main dish, and even with such satisfying mouthfuls it still leaves ample space for a green salad and freshjuice with the meal.
Grilled Shrimp Marinade
The purpose of the marinade is to tenderize the meat and infuse it with spices and herbs. Made with simple pantry ingredients, our homemade marinade is bursting with flavorful layers.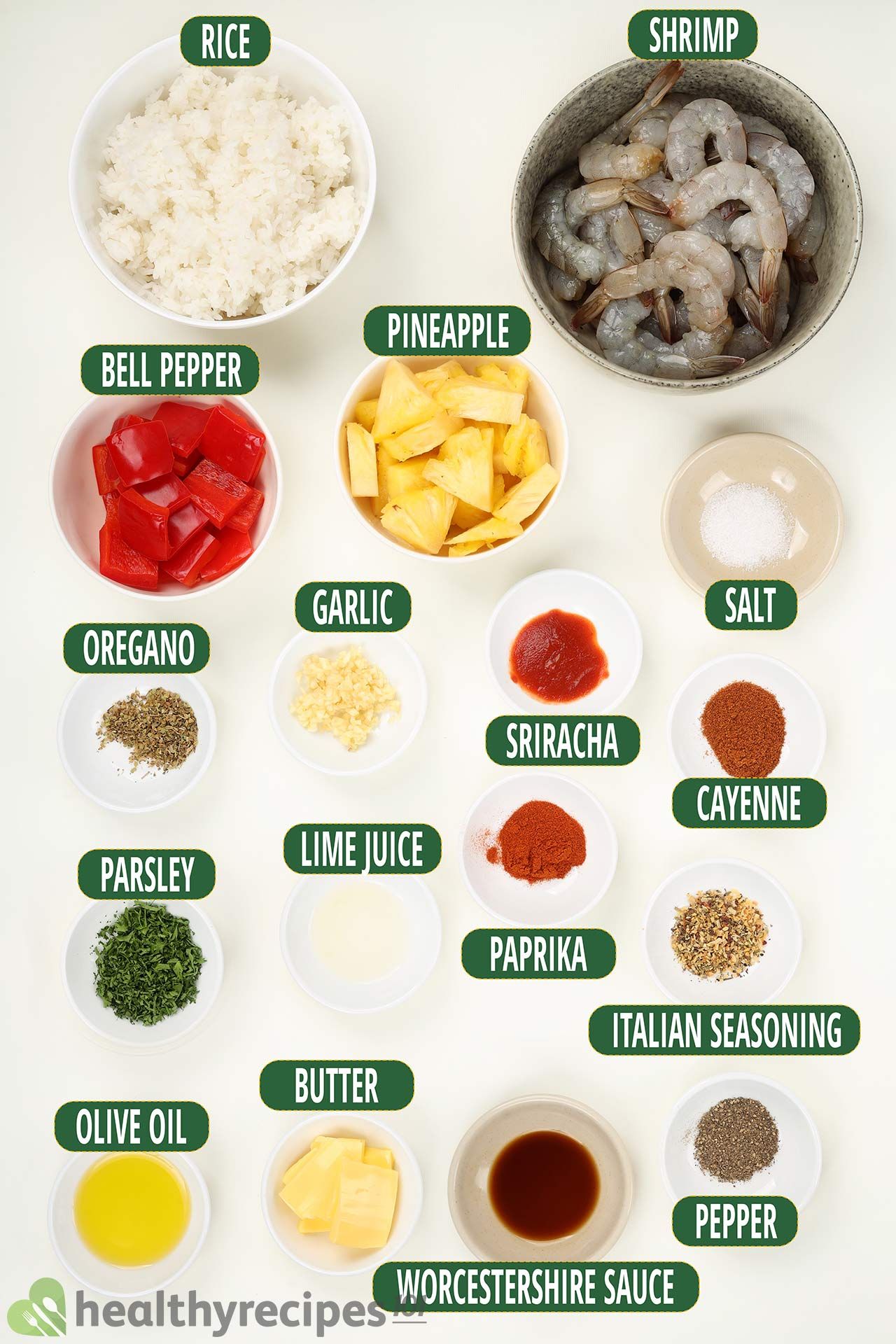 Salt and pepper are used as the main flavor enhancers while sriracha and cayenne give a lovely touch of heat. We added a layer of aromatics with plenty of fresh garlic, and dried oregano. A teaspoon of Italian seasoning or your favorite spices on hand will add even more layers of flavor, making it outstanding from regular store-bought variants.
Our secret component in this recipe is a squeeze of lime juice — to soften the shrimp and create a deliciously tangy note. Since the shrimp is tender, the grilling takes only mere minutes compared to other proteins.

How to Make Grilled Shrimp
If you need a quick meal, our grilled shrimp is one amazing option. In just 10 minutes you'll have a flavor-packed dish that will impress your guests and family.
Step 1: Marinate the shrimp.
Step 2: Thread the shrimp on skewers.
Step 3: Grill the shrimp.
Step 4: Grill the vegetables.
Step 5: Serve shrimp and veggies over rice.
What to Make With Grilled Shrimp
With a bright, exquisite flavor, grilled shrimp sit perfectly in many different dishes and various cuisines.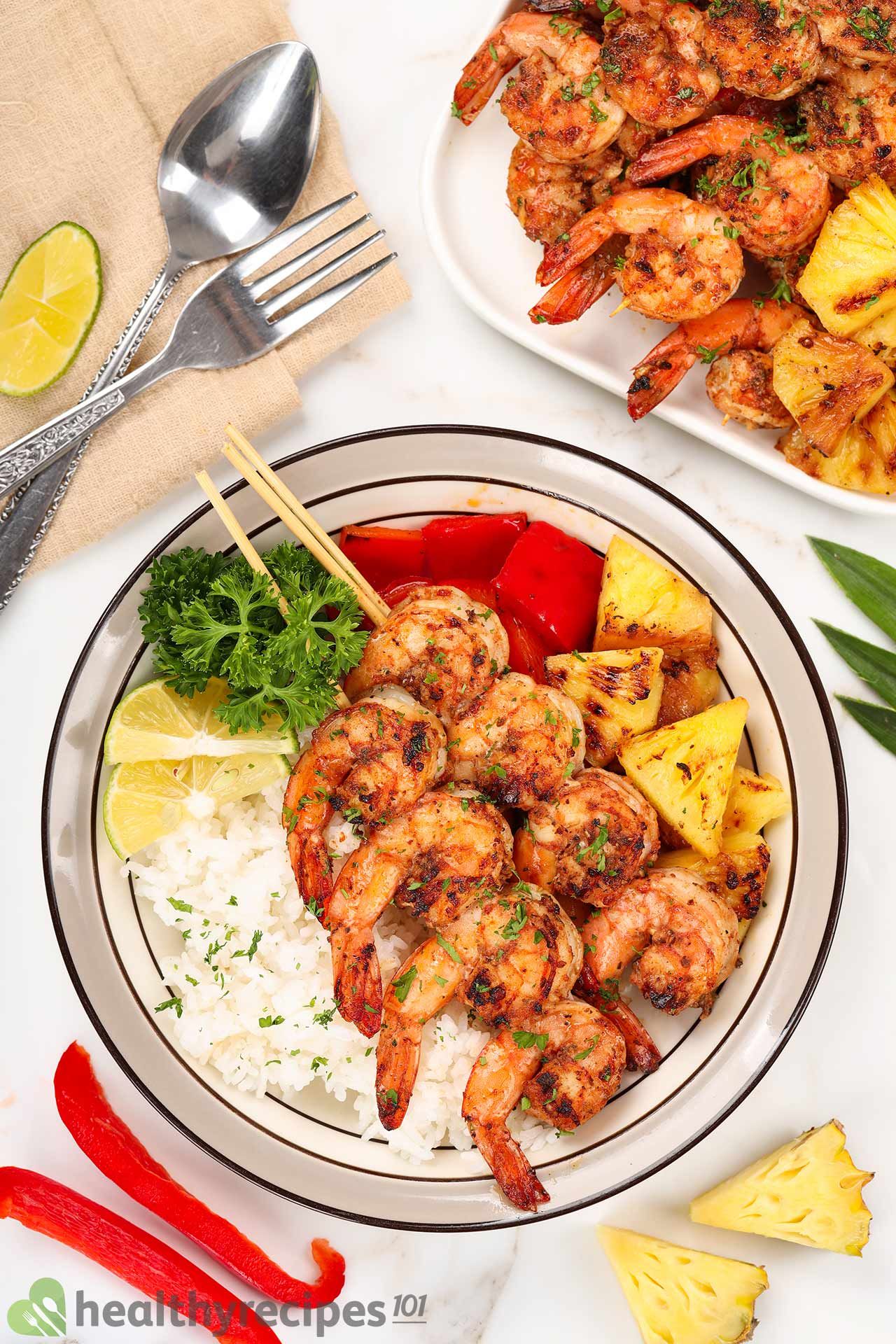 Grilled Shrimp Tacos: Filled with juicy grilled shrimp and avocado salsa, shrimp tacos make a delicious and festive dinner without the effort. You can prepare most of the filling ahead of time and quickly grab your leftover grilled shrimp for this Mexican-style recipe.
Salad With Grilled Shrimp: It takes a bit of time to chop up the veggies and toss them with olive oil, vinegar, and herbs, but this salad packs a punch. It's fresh, wholesome, and full of nutritious veggies. Salad topped with grilled shrimp is our go-to summer dish.
Grilled Shrimp Pasta: With their distinctive smoky notes, grilled shrimp will give a hint of luxury to your regular pasta. You can add cherry tomatoes, black olive, and your veggies of choice to turn the dish into a hearty meal.
Tips for Making Perfect Grilled Shrimp
Don't marinate for too long: If you prepare the marinade ahead of time, don't toss in the shrimp until 5 - 10 minutes before you have to cook. The acid from the lime juice will start to cook the shrimp if you leave it there for too long. Over-marinated shrimp will lose its distinctive umami flavor and also have an unappealing, mushy texture.
Presoak the skewers: If the skewers you're using are made from wood, then they should be soaked in cold water to prevent them from catching fire on the grill. No need to soak them for too long; a few minutes submerged in cold water (while the shrimp is marinating) will do the trick.
Do not overcook: Unlike other proteins, shrimp takes mere minutes to cook. When the meat is no longer translucent and turns a beautiful orange color it's done. Overcooking shrimp will result in a rubbery texture and sadly, there is nothing you can do to fix it.
Butter the shrimp: Butter in the grilling step will help in two ways: It helps to distribute the flavors from the marinade evenly and protects the fresh garlic and herbs from burning on the grill.

How to Store And Reheat Grilled Shrimp
Properly storing the cooked shrimp is the key to preserving their quality. Bacteria grow rapidly at 40 - 140 ℉ (the danger zone), so the food should only be left at room temperature for a maximum of 2 hours.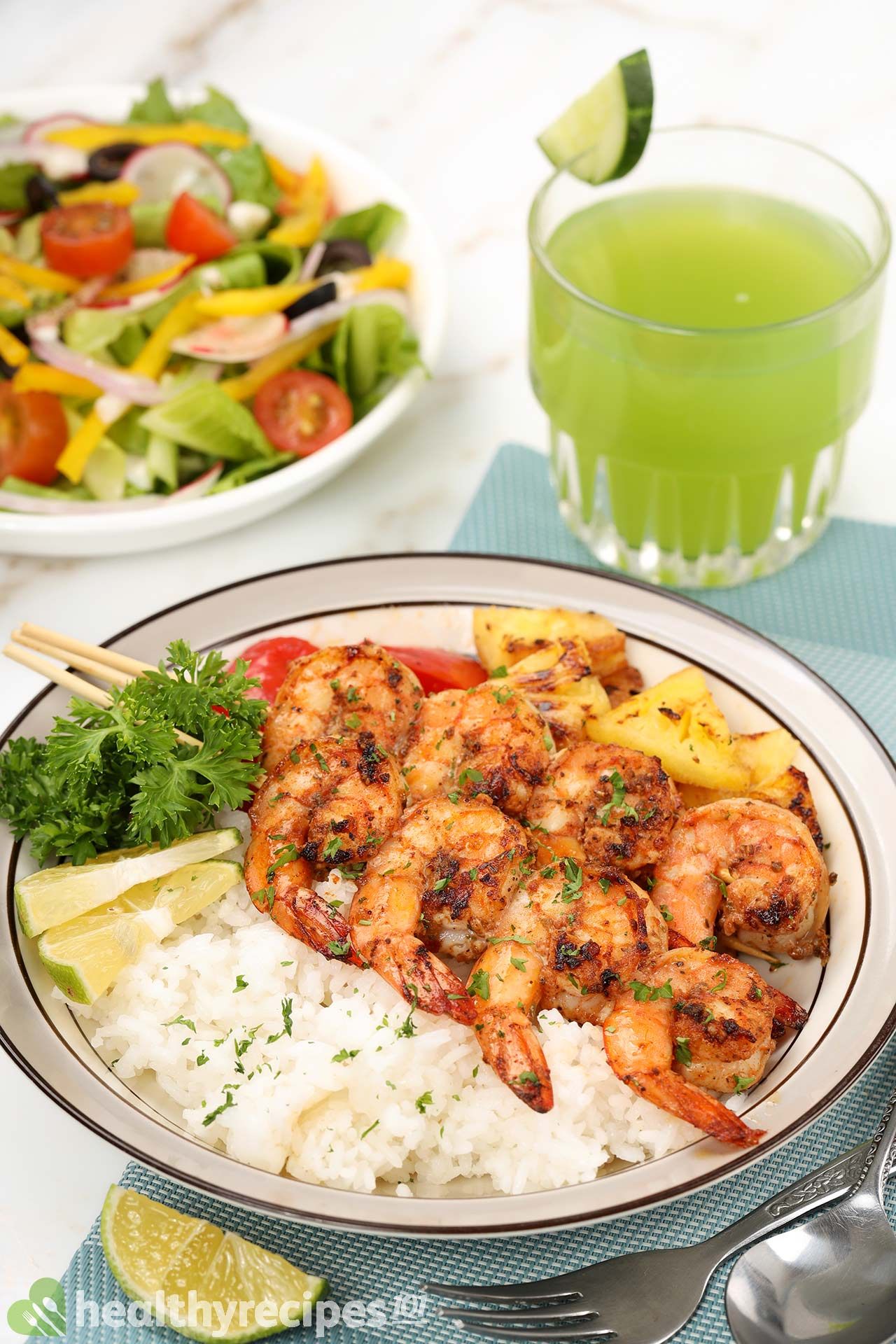 For storage, you will always want to keep the dish in an airtight container, aluminum foil, or plastic wrap. Refrigerated grilled shrimp stay fresh for 3 - 4 days and frozen they will last for up to 3 months.
Leftover grilled shrimp are a gift the next day. To retain the original flavor and texture, it's best to heat the shrimp in a pan. Simply add a little olive oil or cooking spray to the pan and heat them through.
How We Served Grilled Shrimp
Satisfying and protein-rich, our grilled shrimp is best served with rice, noodles, or pasta. 
The beauty of grilled seafood is that it can go with almost any side, but if you need an idea to get you started, here is our combination:
Greek Salad: Since our grilled shrimp is a perfect dish for the summer, you may want a light side to pair with it. Our easy Greek salad made with fresh vegetables and fruits will complement the seafood with its crunchy and refreshing texture.
Cucumber and Lemon Juice: A simple drink like cucumber lemon juice is an easy option to round out the meal. Its pleasing taste has a bright aroma and it takes 5 minutes to make.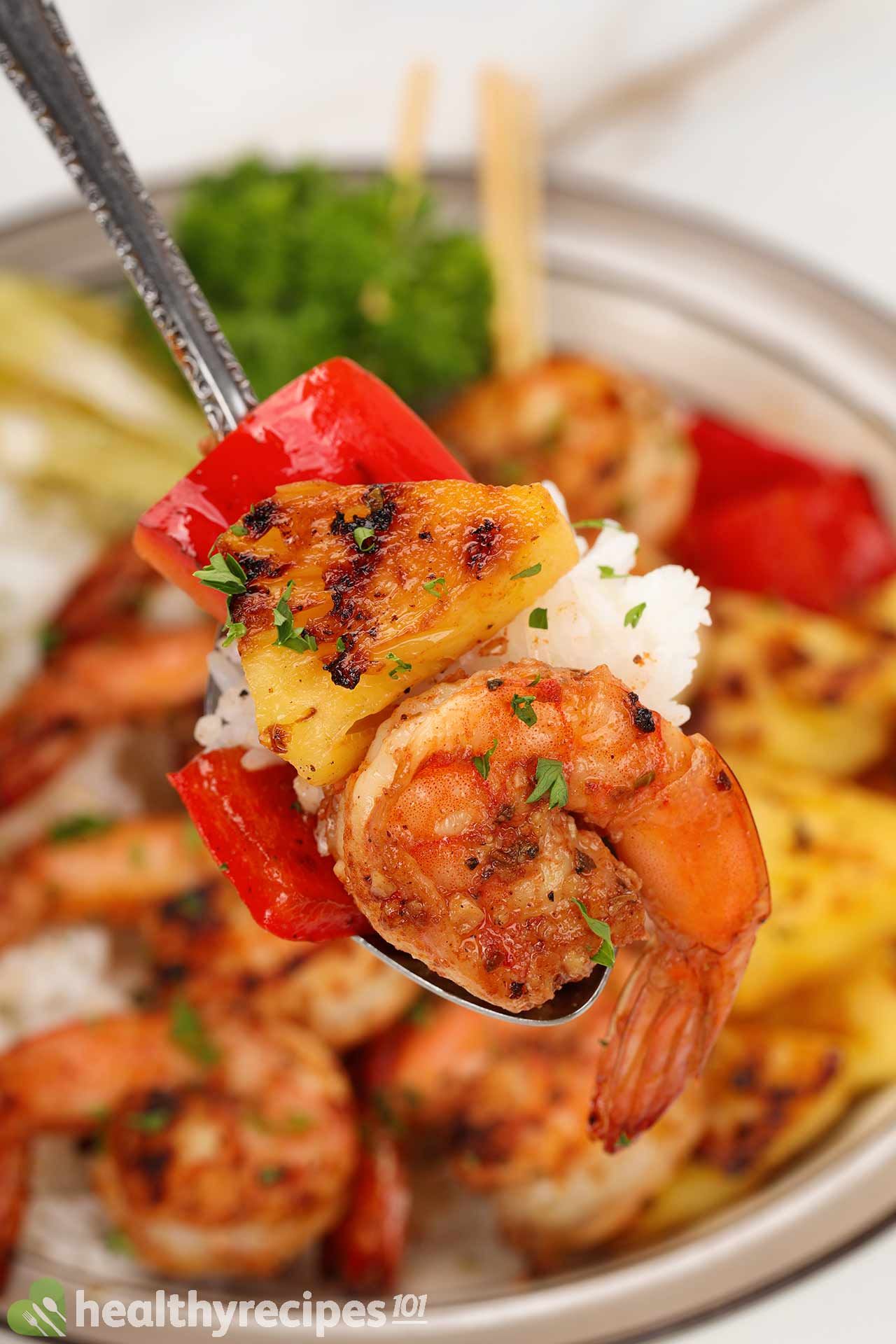 Previous Recipe
Shrimp Casserole
Shrimp Casserole
Next Recipe
Cajun Shrimp
Cajun Shrimp
Luna Regina
A writer and entrepreneur, Luna's day doesn't start at the computer keyboard, but in the kitchen.
Half of her working hours are spent on mixing ingredients for her recipes. The other half involve working with the tech team to research and test the tools and appliances that promise to make kitchen work effortless and mess-free. From a kitchen knife or water filter to the Instant Pot, if it can help save time and effort for the home cook, Luna and her team are on it.
Luna's extracurricular pastimes include camping, travel, and photography.