With this healthy Beef Lo Mein recipe, you'll be recreating this famous Chinese restaurant menu item at home. It'll be as easy as ABC.
Before we start, let's learn some interesting facts about today's dish.
What Is Beef Lo Mein?
Lo mein is a famous noodle dish that you can easily find in most Chinese restaurants.
It is often made with vegetables, meat or seafood, and egg noodles. A special savory sauce is added to season and bind all the ingredients together and make a flavorful dish.
What Are the Differences Between Chow Mein and Lo Mein?
Although you may find some restaurants use "chow mein" and "lo mein" interchangeably, they're not the same dish. Here are the most typical differences between these two noodle dishes: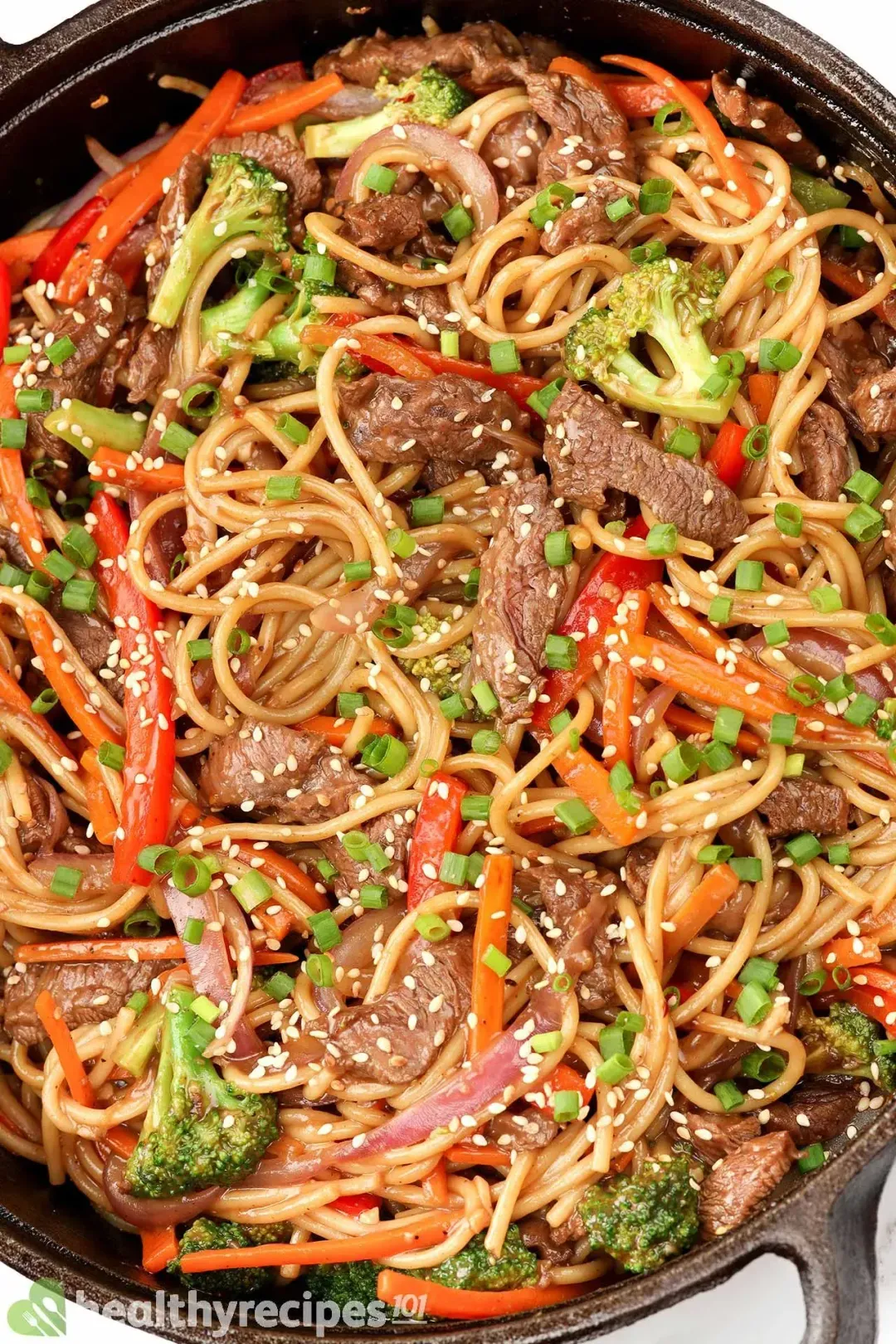 Chow mein literally translates to "fried noodles", indicating that the noodles have a crispy texture. Meanwhile, lo mein means "stirred noodles" in English.
Both dishes use a type of noodles made with egg and flour, which is similar to pasta. That being said, many chefs often use thicker noodles for lo mein and thin, elastic ones for chow mein.
To make lo mein, the noodles are cooked in boiling water and drained thoroughly. Then, they will be stirred with meat, vegetables, and a starchy sauce.
On the other hand, it is important to steam the noodles for chow mein to keep the moisture content low. This cooking method will ensure that the noodles will fry up to be nice and crispy later.
This may sound surprising, but meat is not a must-have ingredient in a chow mein recipe. These stir-fried vegetables and noodles can be served as a side dish to accompany a meaty main dish.
Is This Recipe Healthy?
Yes, our Beef Lo Mein recipe is healthy. Here's why:
Low in fat: Our Beef Lo Mein contains only 4 grams of saturated fat per serving.
High-protein: We recommend using relatively lean cuts of beef that contain less intramuscular fats such as flank steak.
Low in sodium: Chinese dishes are often well-seasoned with various types of savory sauces. For today's recipe, we're using reduced-sodium soy sauce to decrease the amount of sodium per serving as much as possible.
High in fiber: Adding more vegetables to your meal means you'll be consuming fewer calories and more fiber. This will ensure that you stay full for longer.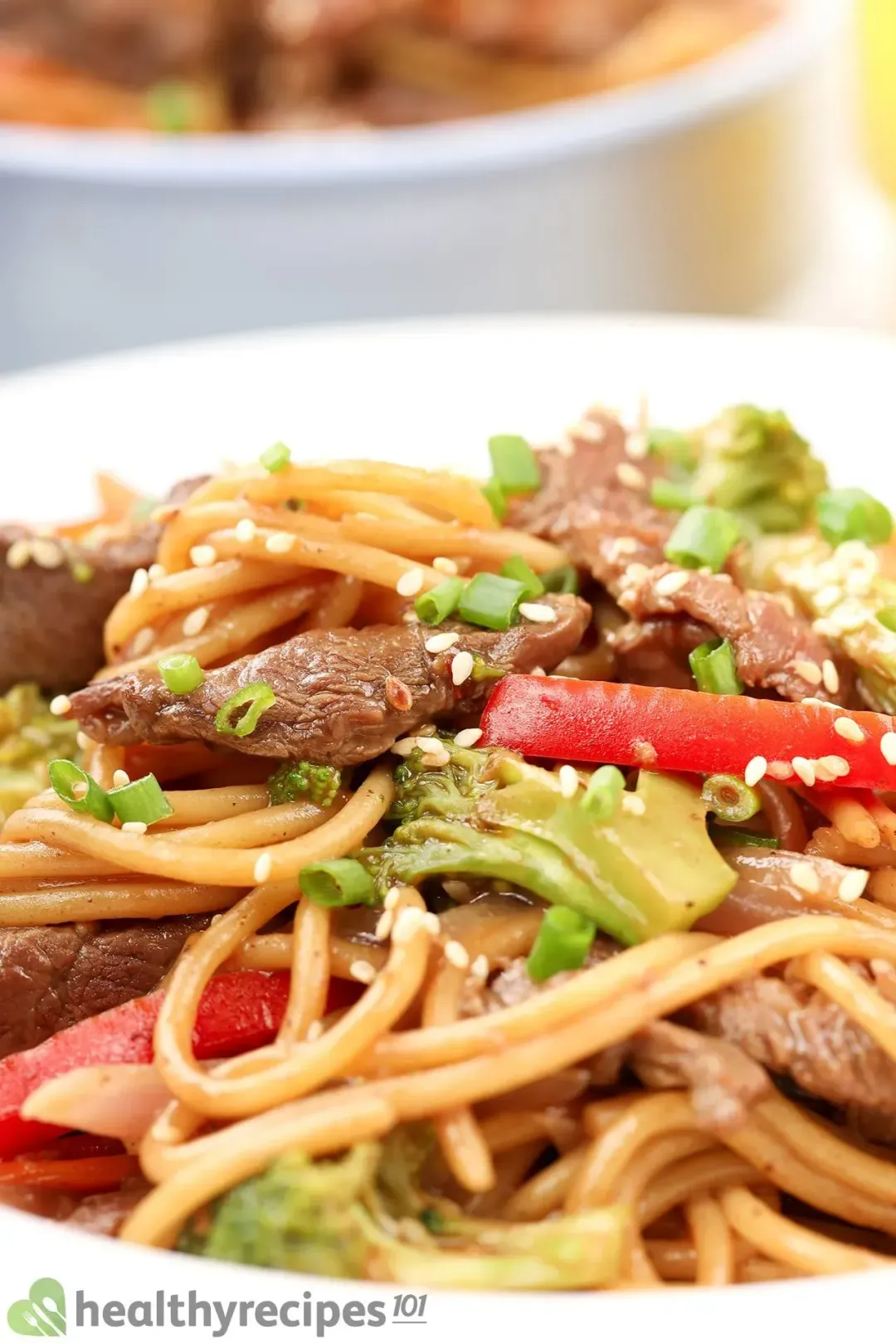 Main Ingredients
Before we start cooking, let's take a look at the ingredients for today's Beef Lo Mein recipe:
Beef: We're using flank steak for this recipe, but you can use striploin if preferred.
Aromatics: We're adding garlic and ginger to stir-fry with the beef to give it a warm, savory flavor.
Noodles: As mentioned, lo mein is often made with thick egg noodles. That being said, we're using spaghetti as an alternative because we couldn't find lo mein noodles in our area.
Vegetables: We're using broccoli, bell peppers, red onion, and carrot. Feel free to add more or leave out any vegetables that you don't like.
For garnish: We're using chopped scallions and sesame seeds.
And a special savory sauce.
Sauce
Here is what we used to make our lo mein sauce:
Red pepper flakes: The addition of a little heat to any stir-fried dish will stimulate your palate and make you want to eat more. However, if you don't enjoy the tingling heat, simply omit it.
Sesame oil: This fragrant oil will give the noodles a nutty and appetizing aroma. Only use a small amount, however, else it will overpower the other ingredients.
Black pepper: Although Chinese cuisine often uses white pepper in its recipes, black pepper will work just fine.
Soy sauce: As mentioned, we'll be using reduced-sodium soy sauce for this recipe.
Hoisin sauce: At first glance, this sauce can easily be mistaken for oyster sauce. Hoisin sauce, however, is made from fermented soybean paste and has a sweet and savory flavor.
Cornstarch: It will thicken the sauce slightly and give the noodles a velvety texture.
Water: It helps dissolve the cornstarch.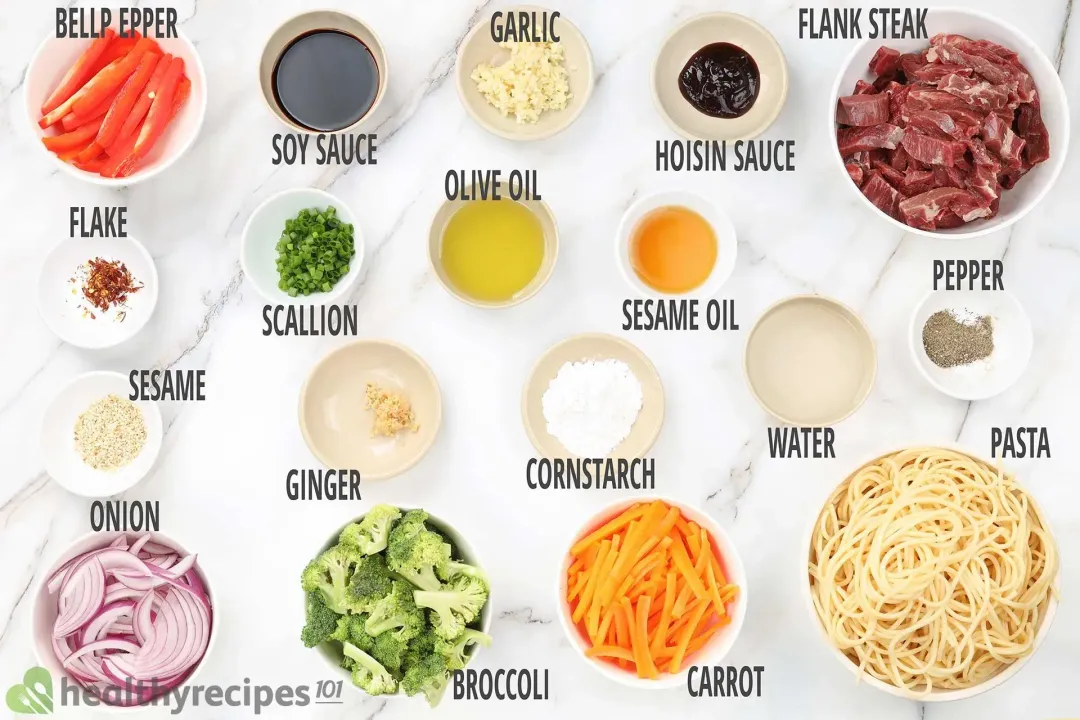 How to Store and Reheat The Leftover
Before you store your leftover lo mein, make sure you let it cool completely before putting it away.
We recommend keeping the noodles in an airtight container to keep the beef from drying. The noodles will last for up to 7 days in the fridge.
If you want to reheat the lo mein, we suggest putting it in the microwave for 2 minutes. Be sure to use a microwavable container and cover the noodles loosely with a lid.
For even more noodles and beef inspiration, be sure to check out our beef and noodles recipe post!
What to Serve With
Today's pick of a side dish is our very own winter melon meatball soup. This comforting soup will ensure that you feel full and satisfied.
We suggest making the soup first as it only takes 15 minutes to cook. Once the soup is done, you can cover it with a lid to keep it warm.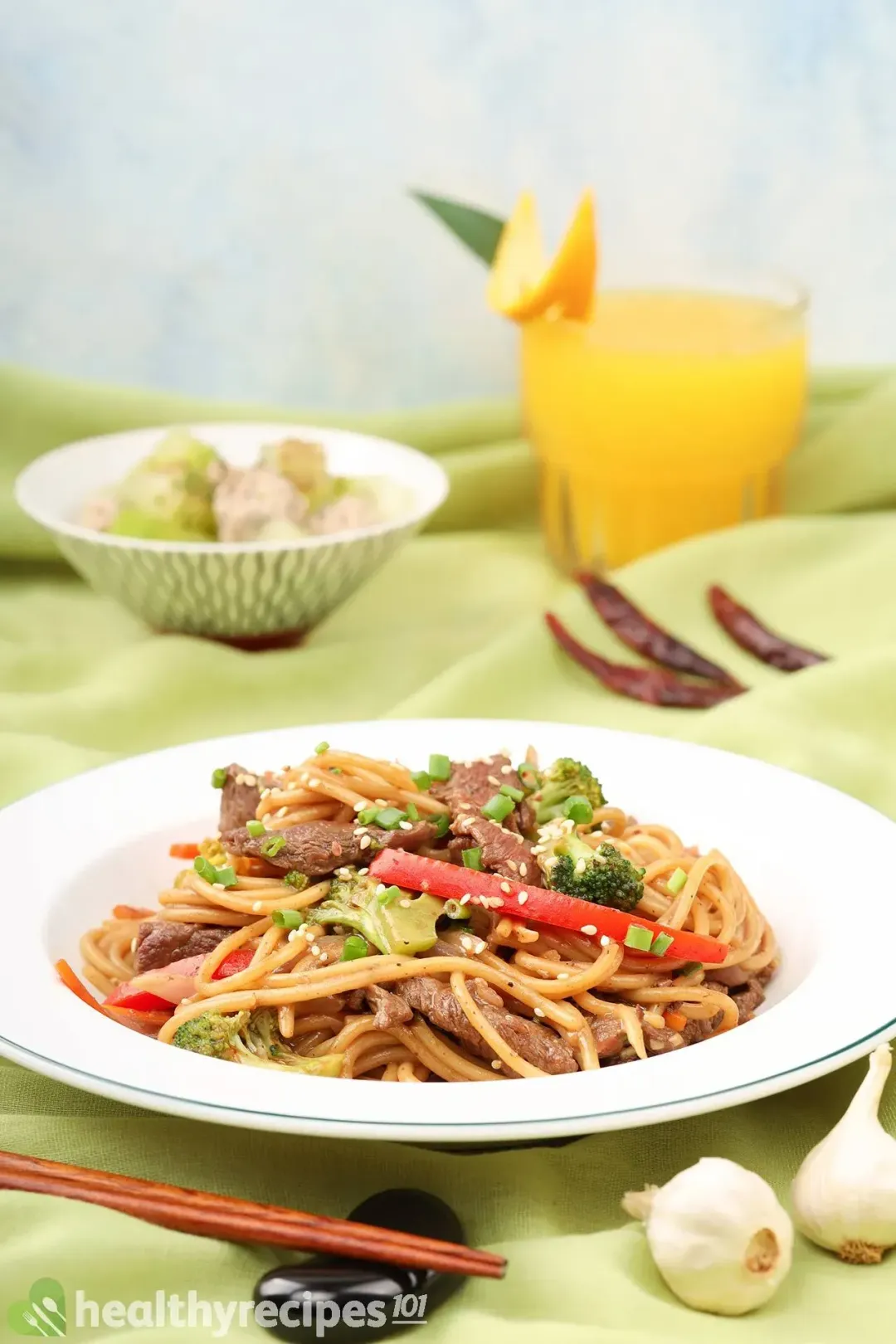 Upgrade Your Pasta Night with These Savory Beef Recipes
Salisbury steak is another popular beef dish that originated in the United States. It is made by shaping ground beef into patties and then cooking them in a rich brown gravy. This recipe also includes onions and mushrooms.
Indulge in a rich and satisfying meal with this creamy steak fettuccine recipe. Tender strips of beef are cooked to perfection and served over a bed of al dente pasta, all smothered in a decadent cream sauce that's sure to impress.
For those who can't get enough of beefy pasta dishes, we've compiled a list of even more delicious options to try in this roundup.
Beef Lo Mein
Our healthy Beef Lo Mein recipe makes this delicious dish in the blink of an eye. All it takes is 18 minutes and hardly any effort at all.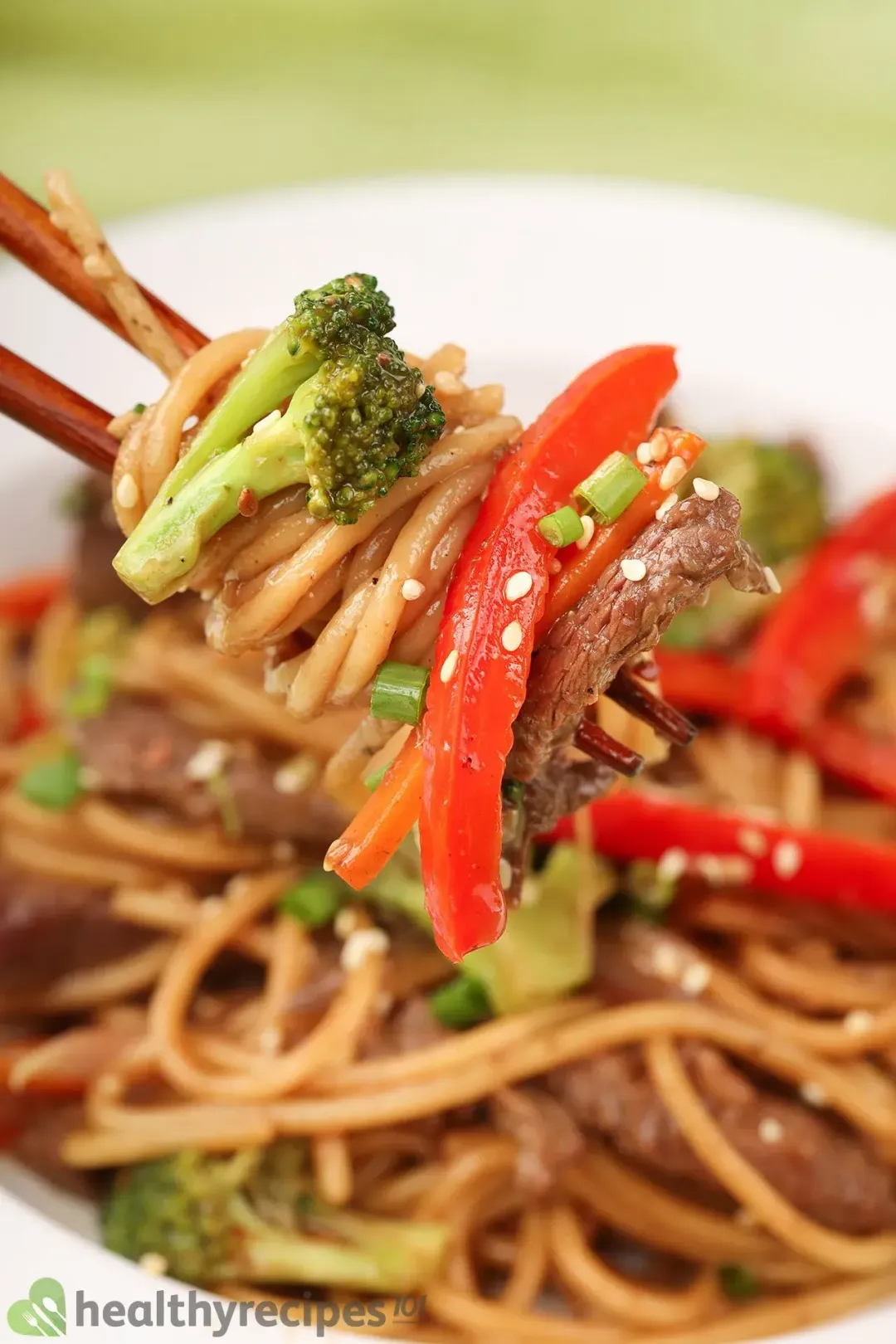 cook TIME

8 mins

prep TIME

10 mins

total TIME

18 mins
COURSE

Main Course

CUISINE

Chinese

SERVINGS

CALORIES

491 kcal
INGREDIENTS
16 oz

flank steak

(cut into strips)

12 oz

cooked spaghetti

(6 oz pasta dry)

4 oz

broccoli

(cut into florets)

2 oz

red bell pepper

(seeds removed, cut into thin strips)

4 oz

carrots

(peeled and cut into thin strips)

2 1/2 tbsp

olive oil

(devided to 1 tbsp, 1 1/2 tbsp)

2 tbsp

scallion

(finely chopped)

2 1/2 tbsp

reduced-sodium soy sauce

1 tsp

ginger

(peeled and minced)

4 oz

red onion

(thinly sliced)
INSTRUCTIONS
1
Make the sauce: In a bowl, mix well together 1/4 tsp red pepper flake, 2 tsp cornstarch, 1 tbsp sesame oil, 2 fl oz water, 1/2 tsp black pepper, 2 1/2 tbsp reduced-sodium soy sauce, and 2 tsp hoisin sauce.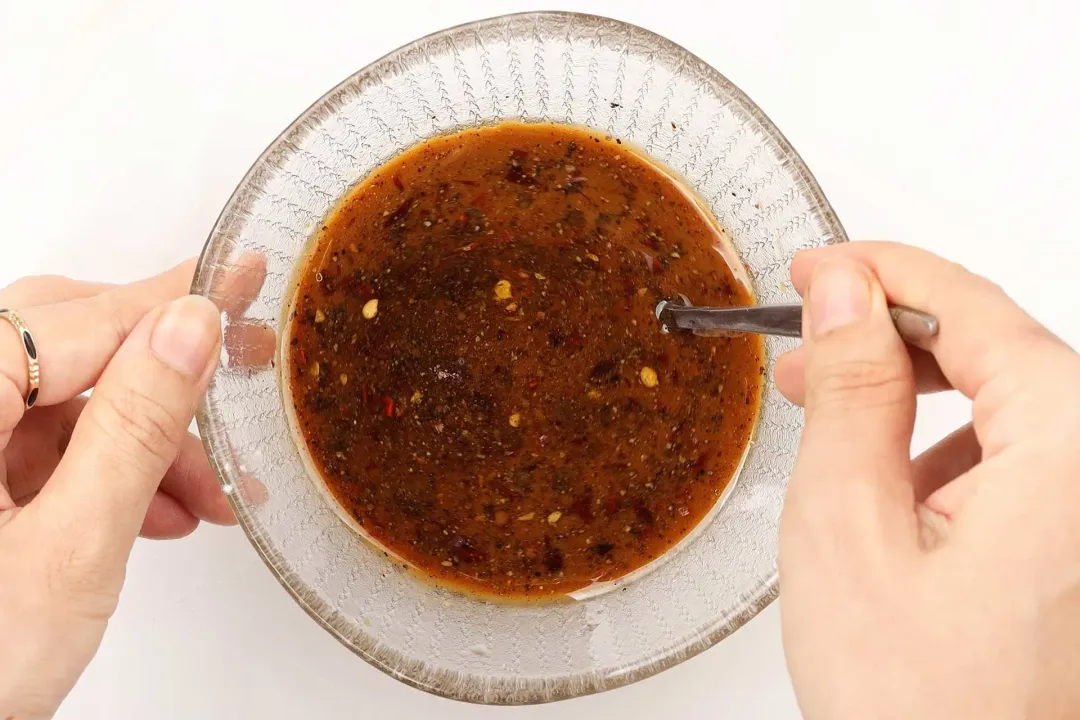 2
Stir-fry the vegetables: In a hot skillet over medium heat, add 1 1/2 tbsp olive oil, 4 oz carrot, 4 oz broccoli, 2 oz red bell pepper, and 4 oz red onion. Cook and stir constantly for 3 minutes. Transfer the vegetables to a plate and set aside.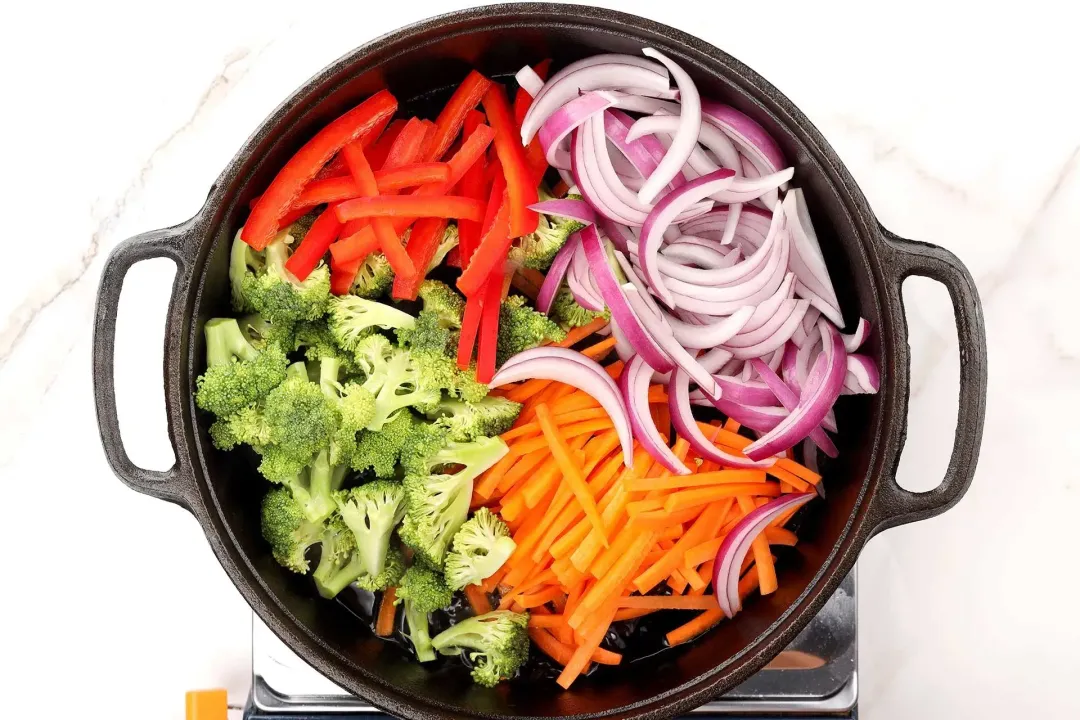 3
Cook the beef: In the same skillet, add the remaining 1 tbsp olive oil, 2 tsp garlic, and 1 tsp ginger. Stir for 30 seconds over medium heat until golden. Add the beef to the skillet and cook for 1 minute, stirring constantly.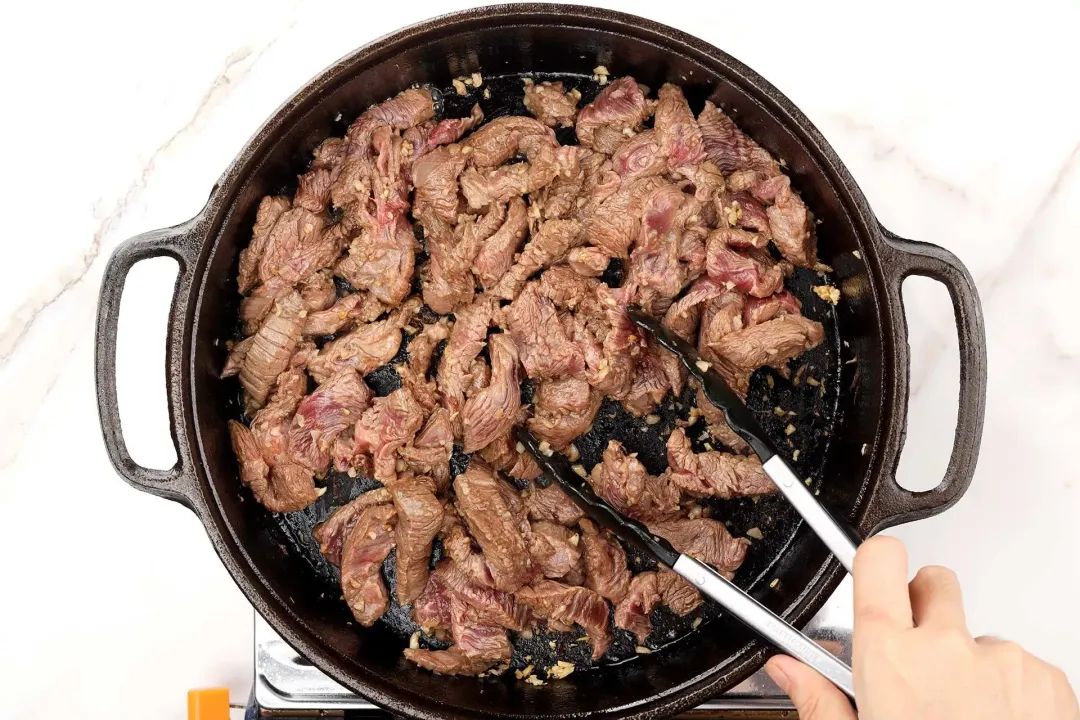 4
Combine all the ingredients: First, add 12 oz pasta to the skillet and stir for 1 minute. Then, add the cooked vegetables back to the skillet and stir well. Finally, turn the heat to low, add the sauce and stir constantly for 2 minutes. Turn off the heat.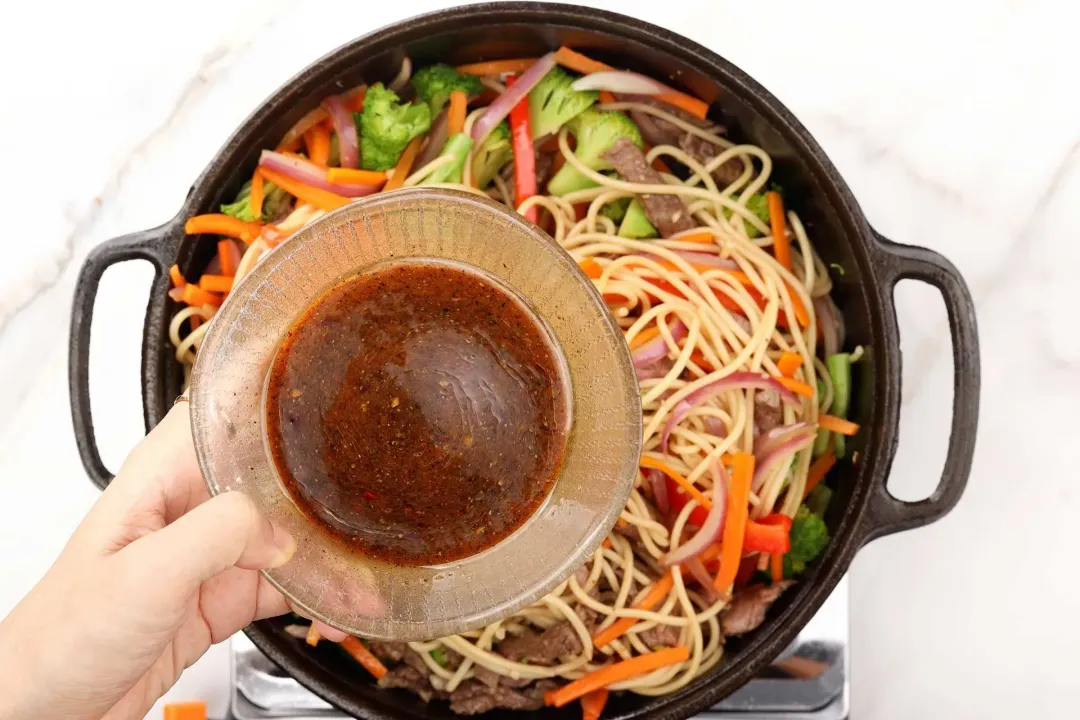 5
Garnish and serve: Sprinkle 1 tbsp sesame seed and 2 tbsp scallion on top and serve.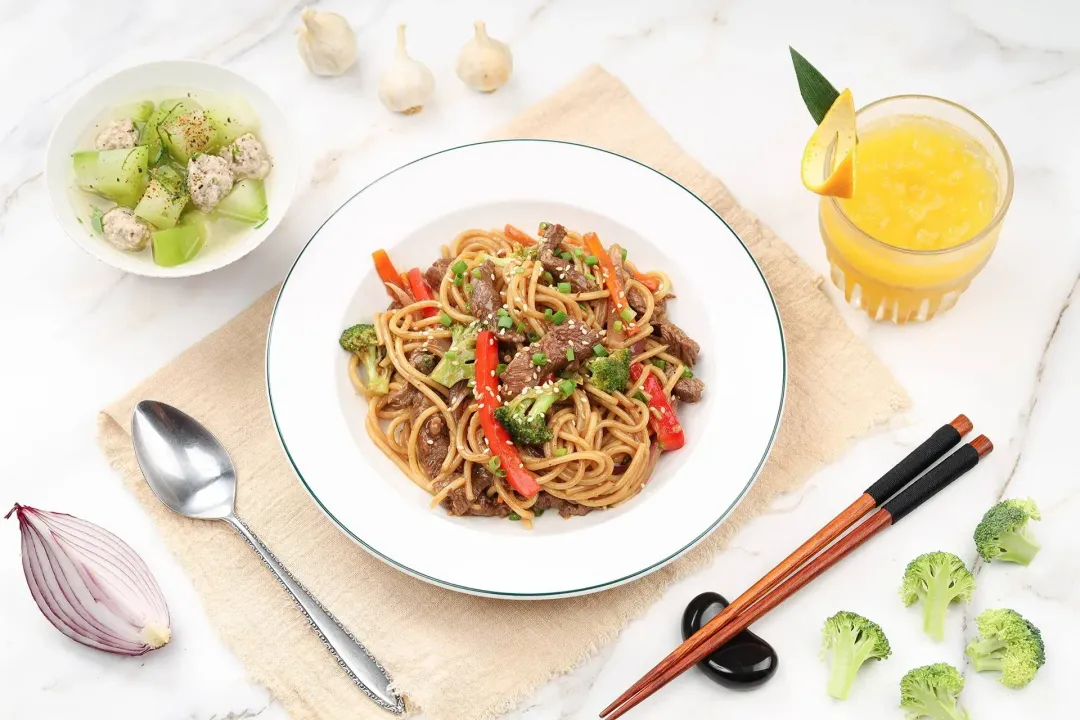 NUTRITION
Nutrition Facts
Beef Lo Mein
Amount Per Serving (1 serving)
Calories 491
Calories from Fat 180
% Daily Value*
* Percent Daily Values are based on a 2000 calorie diet.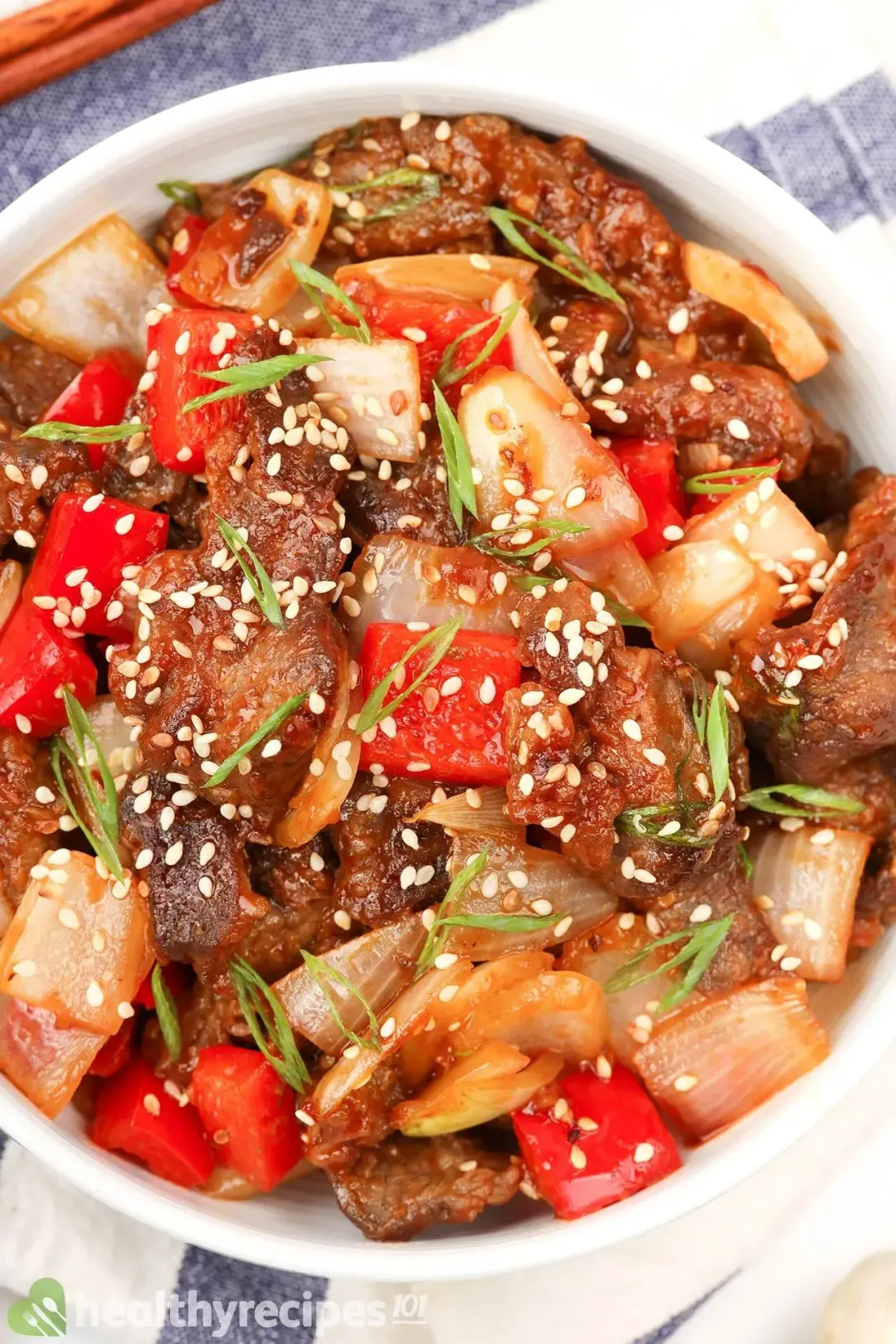 Previous Recipe
Beijing Beef
Beijing Beef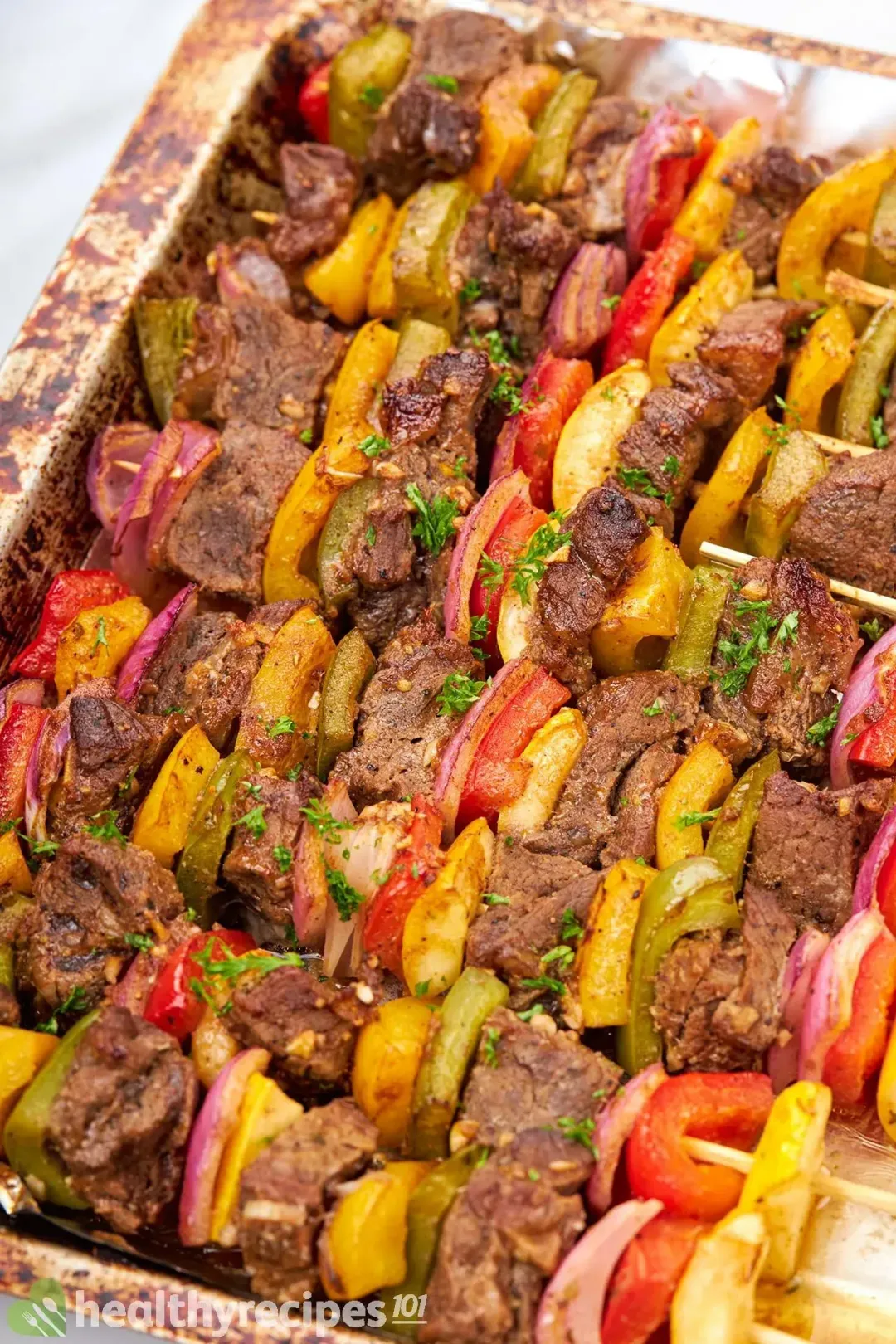 Beef Kabobs
Head Chef, Culinary Consultant
Tuyet Pham is an award-winning Saigonese chef who believes that joy is the secret ingredient to delicious food. At Healthy Recipes 101, Tuyet personally tests and simplifies every recipe, ensuring maximum flavor with minimal effort. With a background at prestigious French restaurants P'TI Saigon and Le Corto, Tuyet knows how to make every dish exceptional.
Writer, Author
Luna Regina is an accomplished writer and author who dedicates her career to empowering home cooks and making cooking effortless for everyone. She is the founder of HealthyKitchen101.com and HealthyRecipes101.com, where she works with her team to develop easy, nutritious recipes and help aspiring cooks choose the right kitchen appliances.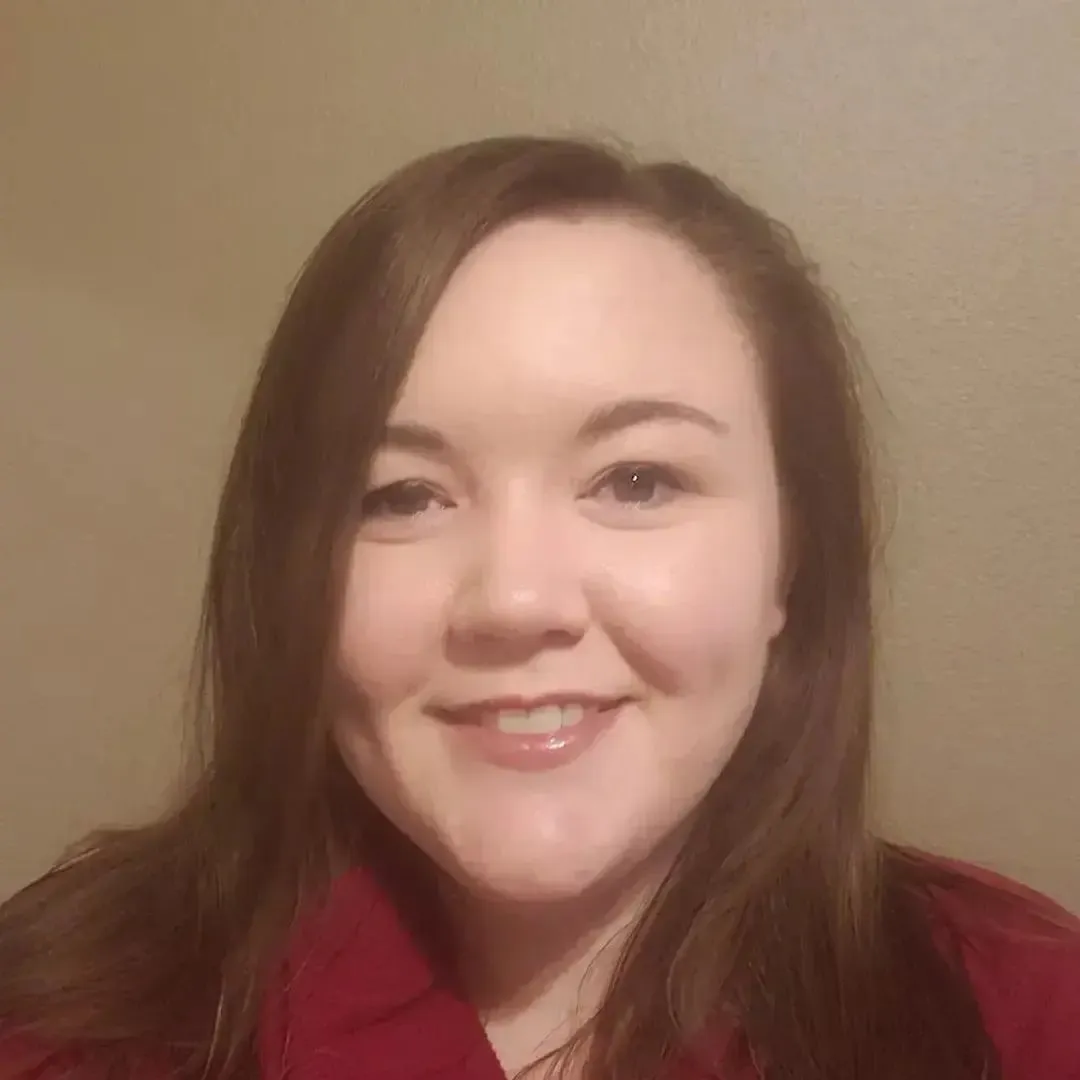 Nutrition Reviewer
SaVanna Shoemaker is a registered dietitian and freelance health and wellness writer. She's passionate about whole food-based eating and holistic nutrition, and uses her platform to help people embrace real food and reduce their sugar and processed food intake. Her work has appeared on Healthline, Greatist, Livestrong, Verywell Health, and more. In her free time, she enjoys gardening, reading, cooking, and weight lifting.
Beef lo mein is always a favorite.