Who says healthy food cannot taste good? This stir-fried chicken and broccoli recipe will prove them wrong. With simple everyday ingredients, plus easy prep and cooking, this dish is awesome for a delicious and nutritious meal.
Is Stir-fried Chicken and Broccoli Healthy?
Yes, our stir-fried chicken and broccoli has a great nutrition profile.
Thanks to the chicken breasts, this dish contains an impressive amount of protein: 37 grams for one serving.
And of course, we have the broccoli packing a healthy punch. These hearty greens are exceptionally rich in vitamins and minerals, especially vitamins C and K.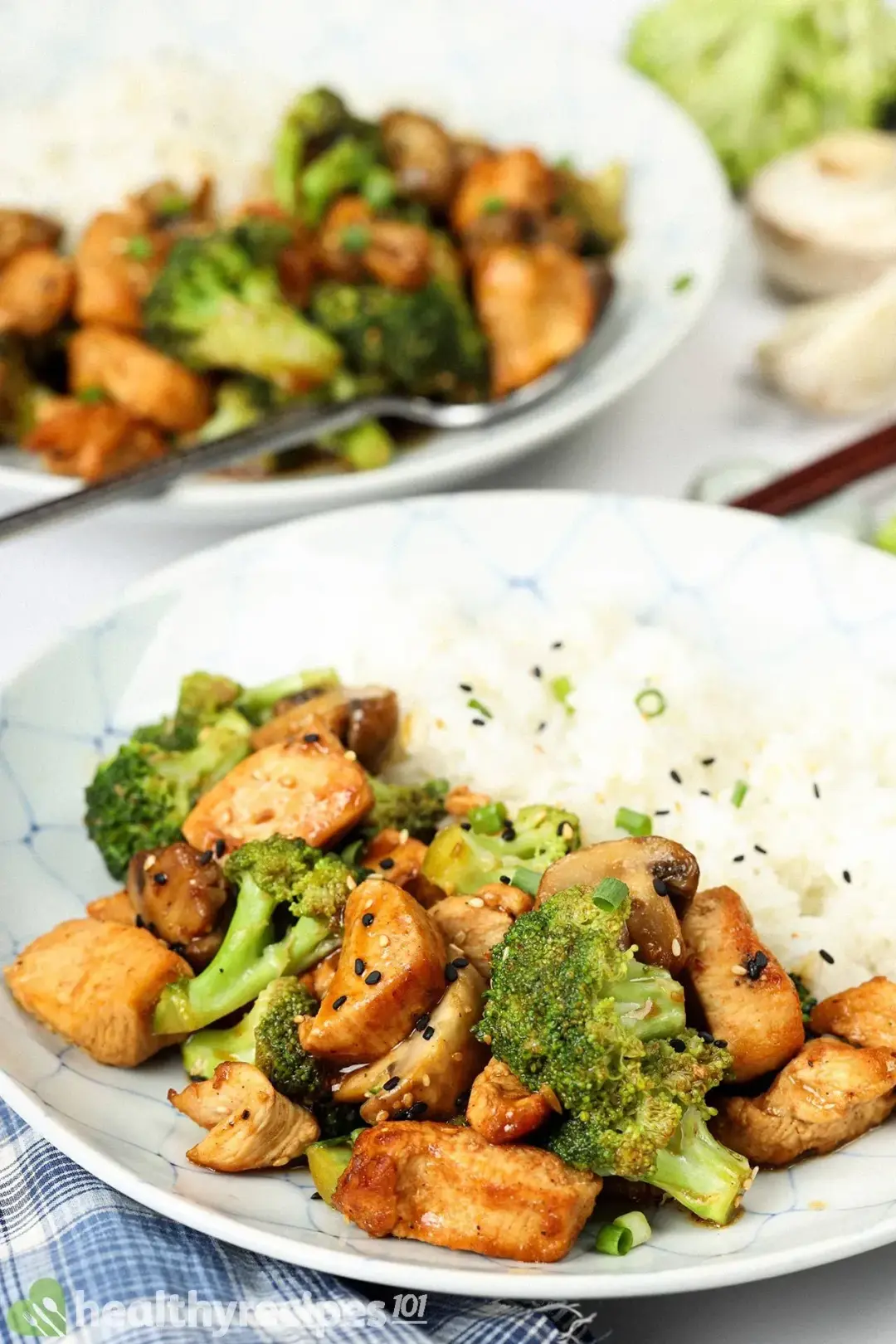 If you are concerned about the amounts of unhealthy fats in stir-fried dishes, then rest assured we have carefully estimated the amount of each ingredient for our stir-fried chicken and broccoli, cooking oil included, so that the amounts of saturated fats remain at only 1.6 g per serving.
Ingredients You'll Need
These simple ingredients can be easily found in any store or supermarket. Let's take a look!
We use skinless boneless chicken breasts for this recipe. They have a tender texture and are a wonderful source of lean protein. 
The chicken breasts are cubed, seasoned with paprika and garlic powder, then pan-seared in canola oil for a golden-brown exterior before being stir-fried with other veggies in a delicious savory sauce made up of water, cornstarch, pepper, sesame oil, brown sugar, soy sauce, and Hoisin sauce.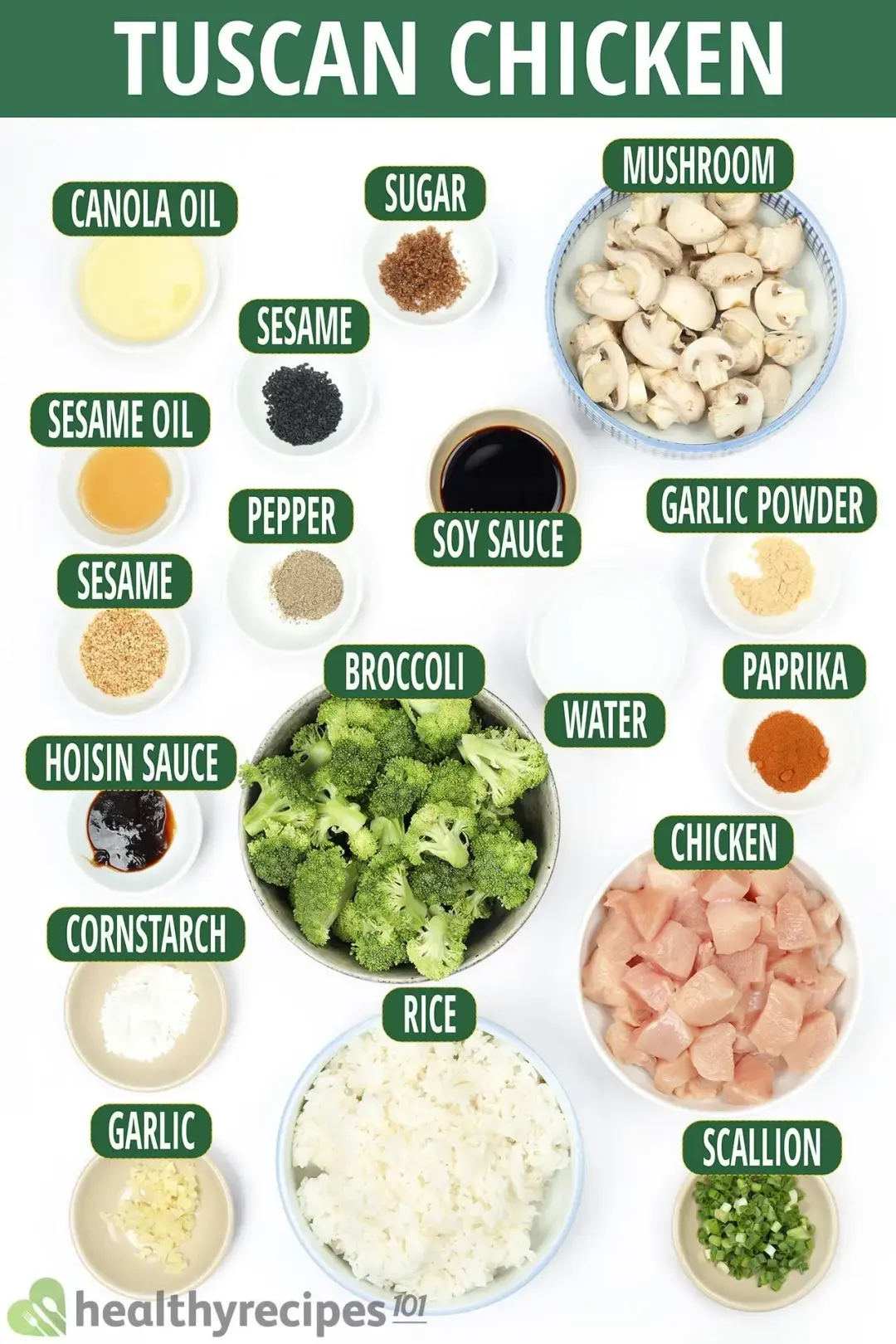 We use fresh broccoli for our recipe. When shopping, choose broccoli with a bright green color and without any yellow spots since these spots are the first signs of spoilage.
White button mushrooms make a great addition to our dish, with their tender-crisp texture and juicy, meaty taste. 
The white rice adds extra carbs to our dish, making it more fulfilling. Its mildly sweet taste and soft texture work wonderfully well with the savory flavor of our stir-fried chicken and broccoli.
Lastly, a generous sprinkling of fresh scallions, roasted white sesame seeds, and black sesame seeds adds a pop of color and a boost of aroma to our dish.
How to Store and Reheat
You can store the leftover stir-fried chicken and broccoli in an airtight container in the fridge. They should stay good for around 2 days.
For reheating, you can microwave the dish at high heat for 1 minute or give it a quick stir fry in a skillet over medium heat for about 3-4 minutes.
What to Serve With Stir-fried Chicken and Broccoli
Here are some recommended sides to serve with our stir-fried chicken and broccoli: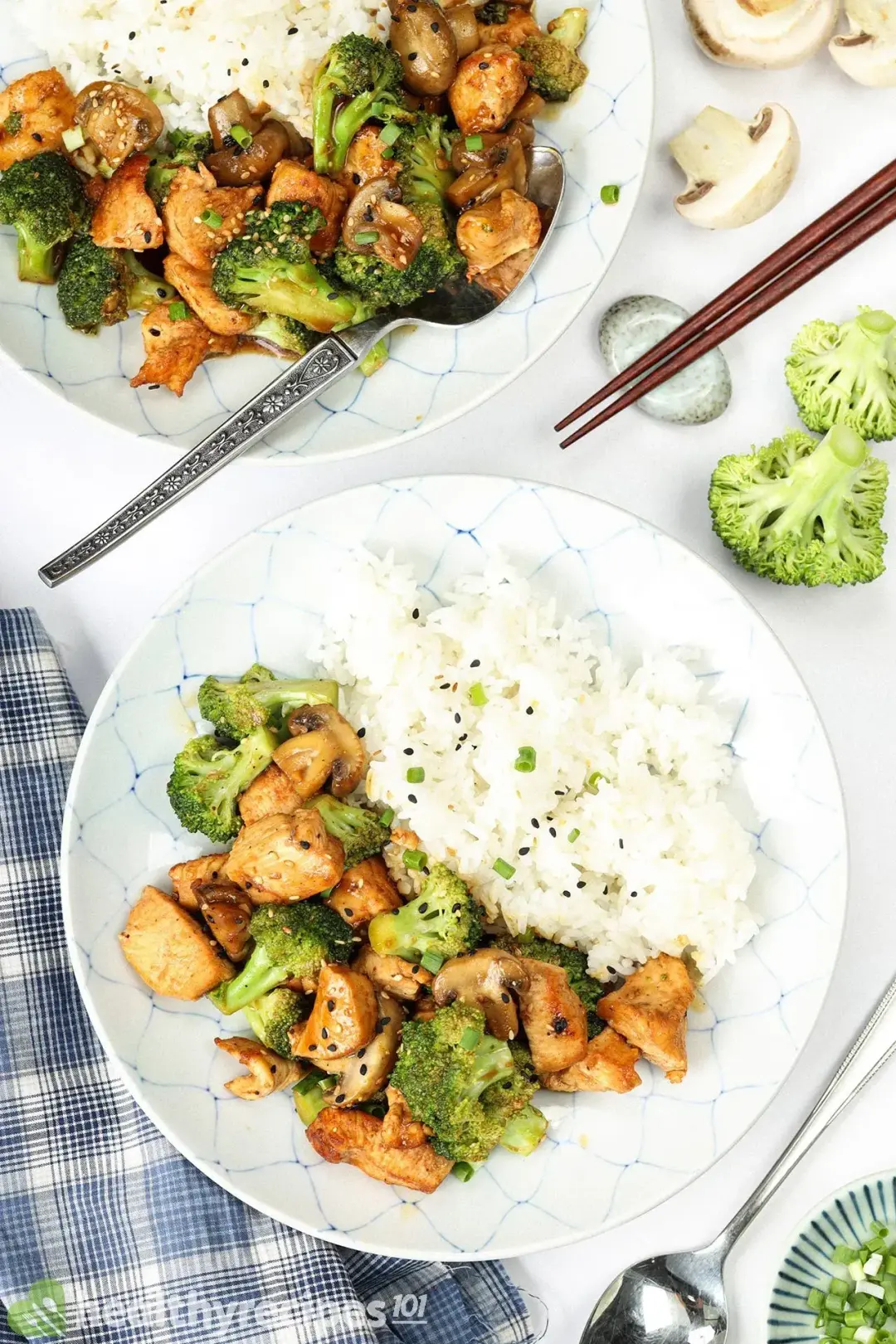 Delicious Chicken Dinners:
How to Make Chicken and Broccoli Stir Fry
Today's stir-fried chicken and broccoli recipe is quick and easy to make: in just around 30 minutes, you will have a delightful main dish with chicken cubes stir-fried with tender-crisp mushrooms and broccoli, served over hot white rice.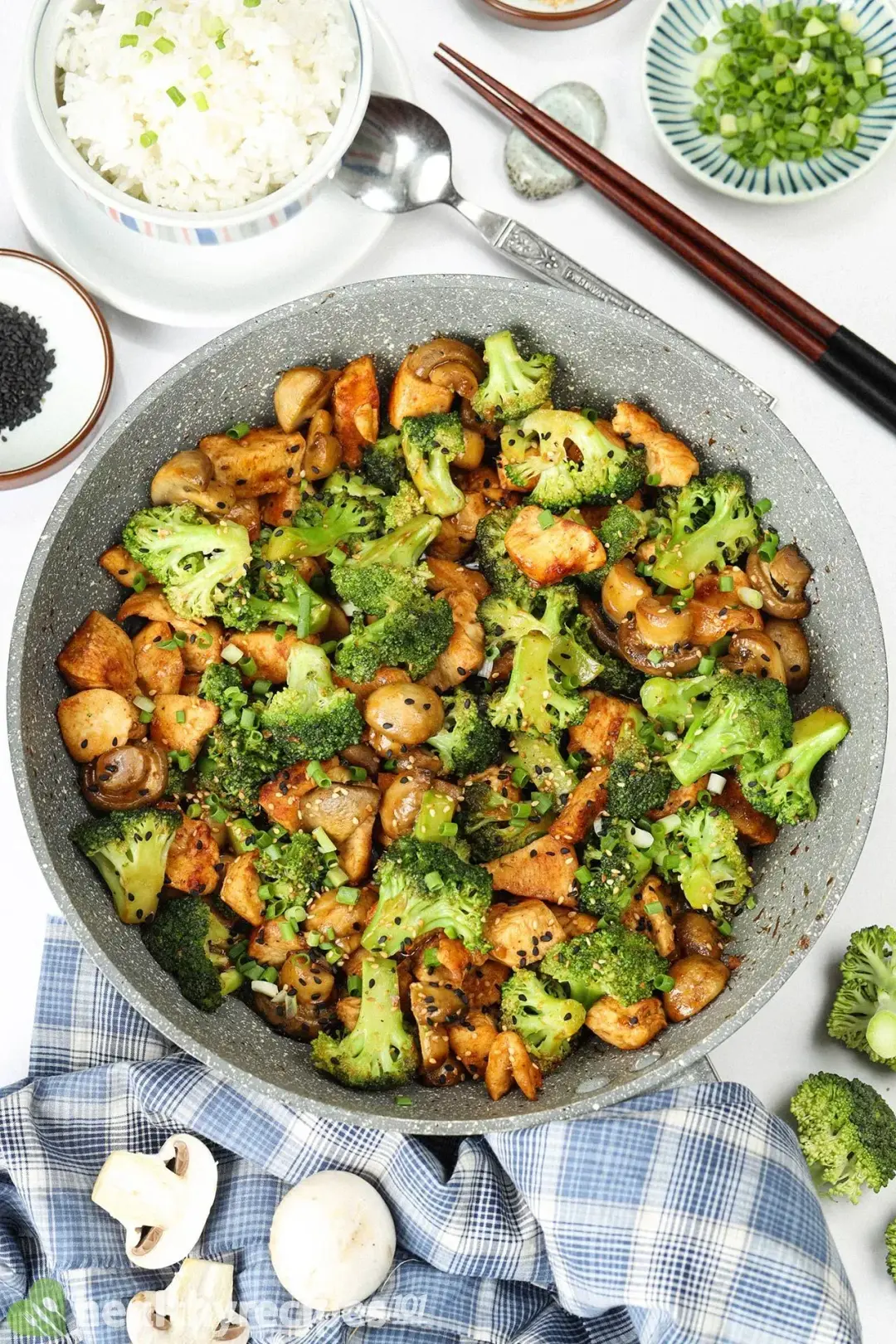 cook TIME

17 mins

prep TIME

15 mins

total TIME

32 mins
COURSE

Main Course

CUISINE

American

SERVINGS

servings

CALORIES

495 kcal
INGREDIENTS
6 oz

white mushrooms (sliced)

1 tsp

unsalted roasted sesame seeds

18 oz

skinless boneless chicken breast (cubed)

10 oz

broccoli (cut into florets)

1.5 tbsp

canola oil (divided)

1 tsp

black sesame seeds

1 tbsp

garlic (minced)

0.3 cups

scallions (chopped)

0.5 tbsp

cornstarch

0.5 tsp

ground black pepper

2 fl oz

water

0.5 tbsp

sesame oil

3.5 cups

cooked medium-grain rice (from 1 3/4 cups uncooked rice)

1 tsp

brown sugar

0.5 tsp

garlic powder

0.5 tsp

paprika

3 tbsp

reduced-sodium soy sauce

0.5 tbsp

Hoisin sauce
INSTRUCTIONS
Prep:
1
Cube the chicken breast: Slice the chicken breast lengthwise, then cut those slices crosswise to make cubes.
2
Cook the rice: Rinse the rice with clean water. Gently massage to remove any debris or excess starch. Change the water a few times until it becomes clear, then drain it out. After that, cook the rice using a rice cooker or an instant pot.
3
Cut the broccoli into florets: Wash the broccoli under running water, then pat dry. Place the broccoli on a cutting board, the large stem facing up. With a paring knife, slice the large florets away from the large stem, one by one. Half or quarter the florets to have even pieces.
4
Slice the white mushrooms: Use a clean cloth or tissue paper to wipe the dirt off the mushrooms (do not rinse). Cut them into halves, place them cut-side down, and then cut them into thin slices.
5
Peel and mince the garlic: Cut to remove the root part of each garlic clove and mash them down with a knife to remove the peel with ease. Mince the peeled cloves.
6
Chop the scallions: Rinse the scallions, pat dry, then lay them in an even layer on a cutting board. Remove 2 inches of the tops and the root ends, then slide the blade of a sharp knife in a back and forth motion to make scallion rings.
Cook:
1
Season the chicken breast: In a medium bowl, toss 18 oz skinless boneless chicken breast with 1/2 tsp paprika and 1/2 tsp garlic powder.
2
Make the sauce: In a small bowl, mix together 1/2 tbsp cornstarch, 1/2 tsp ground black pepper, 2 fl oz water, 1/2 tbsp sesame oil, 1 tsp brown sugar, 3 tbsp reduced-sodium soy sauce, and 1/2 tbsp Hoisin sauce.
3
Pan-sear the chicken: In a skillet over medium heat, add 3/4 tbsp canola oil and the seasoned chicken cubes. Stir to cook for 5 minutes, then remove from the heat.
4
Stir-fry the broccoli and mushroom in canola oil and garlic: In the same skillet, add 3/4 tbsp canola oil and 1 tbsp minced garlic, then stir for 30 seconds. Continue adding 10 oz broccoli and 6 oz white mushrooms and stir-fry for 4 minutes.
5
Add the chicken and sauce: Add the pan-seared chicken cubes together with the sauce. Stir well for 2 minutes and remove from the heat.
6
Garnish and serve: Serve the chicken with cooked white rice for 4 servings. Garnish with 1/4 cup scallions, 1 tsp unsalted roasted sesame seeds, and 1 tsp black sesame seeds before serving.
NUTRITION
Nutrition Facts
How to Make Chicken and Broccoli Stir Fry
Amount Per Serving (1 serving)
Calories 495
Calories from FDA
% Daily Value*
* Percent Daily Values are based on a 2000 calorie diet.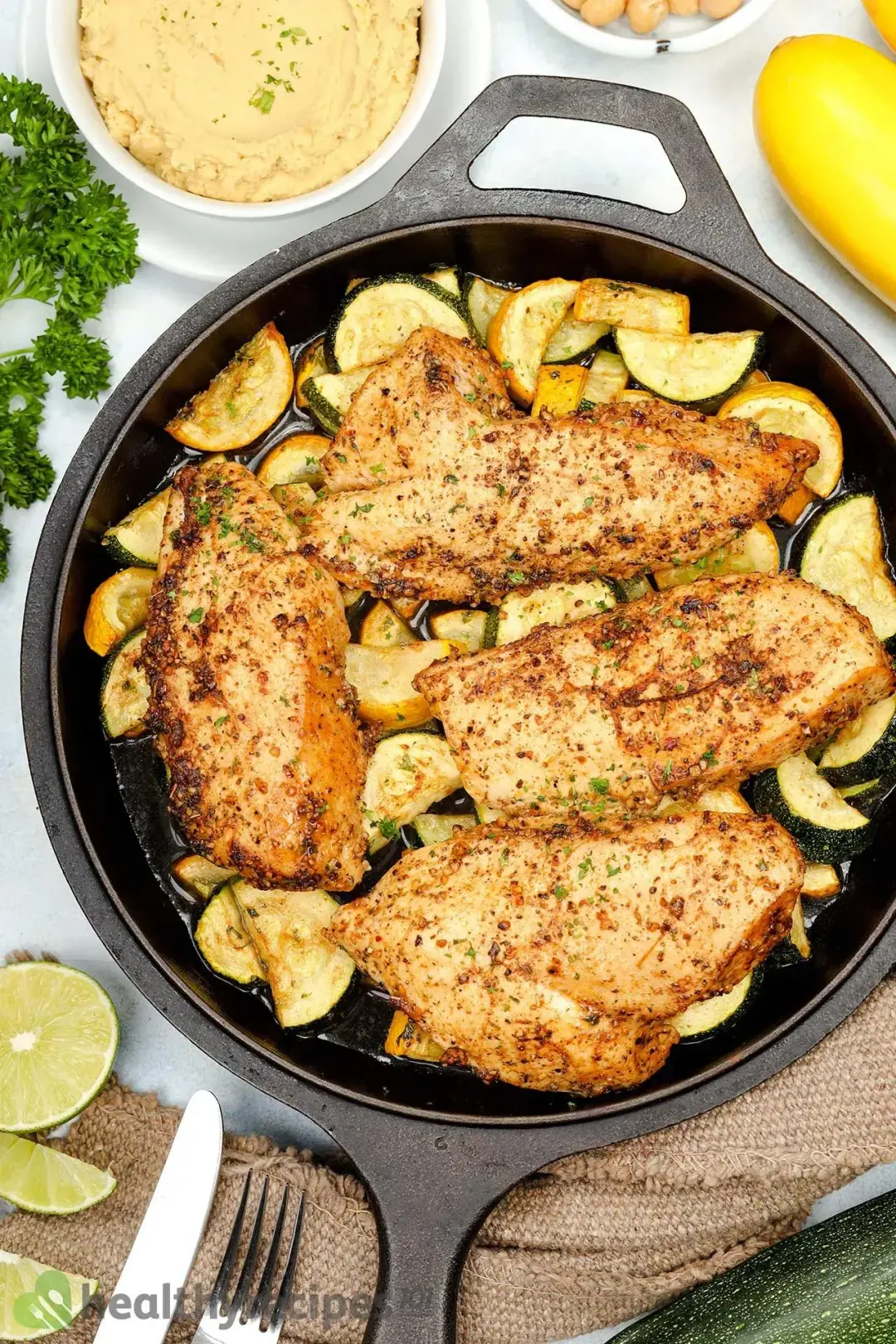 Previous Recipe
Skillet Chicken Zucchini
Skillet Chicken Zucchini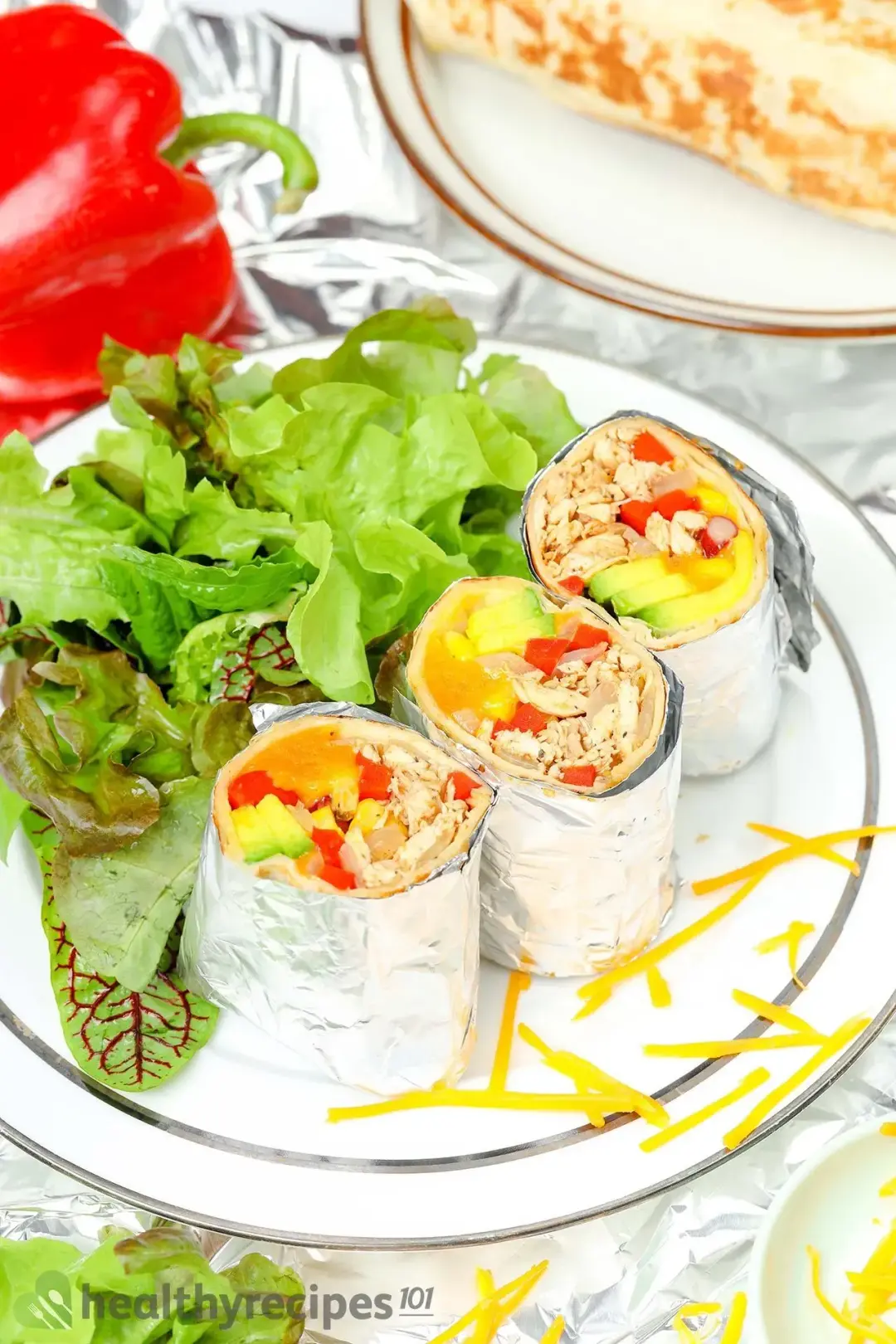 Next Recipe
Chicken Burrito
Chicken Burrito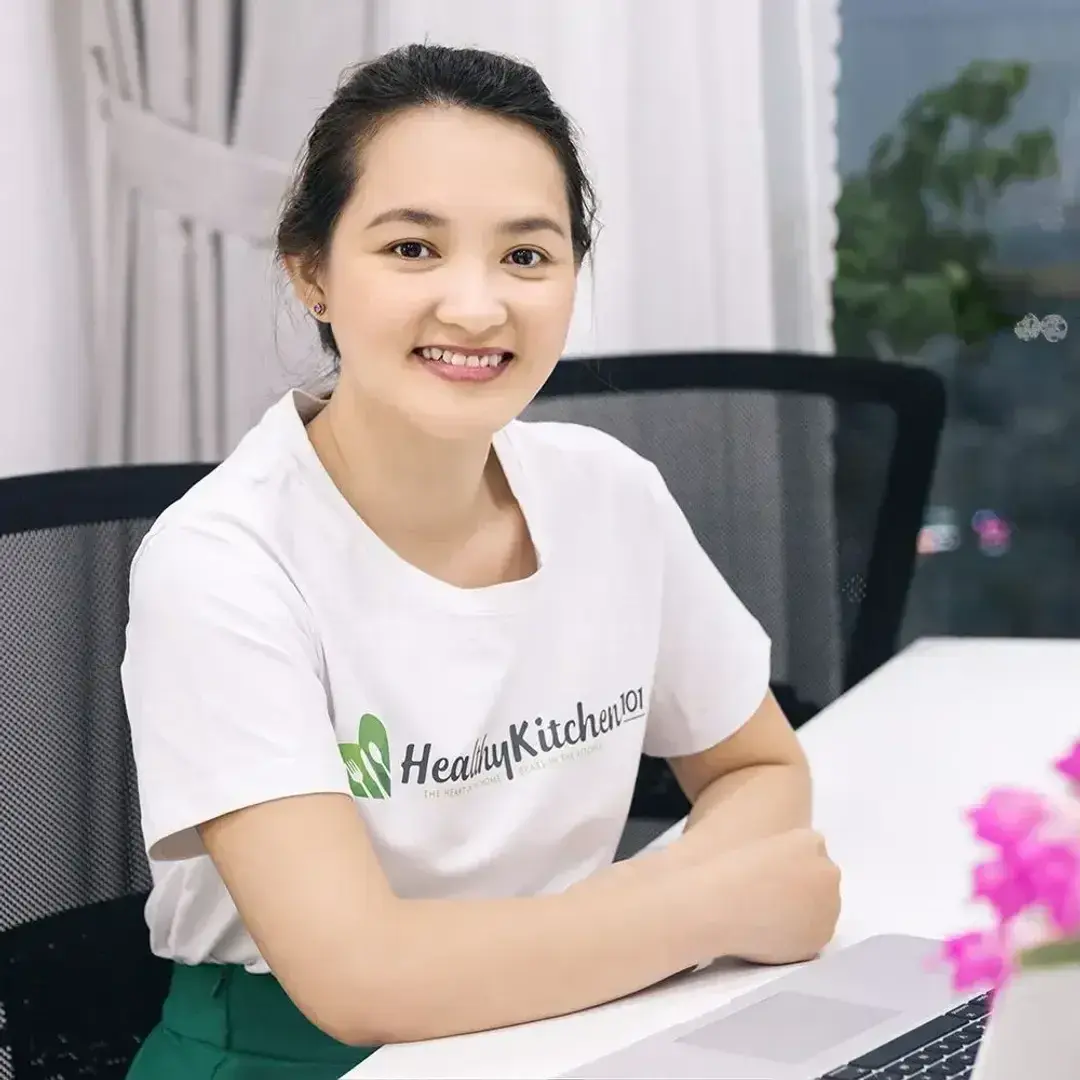 Founder
Luna Regina is an accomplished writer and author who dedicates her career to empowering home cooks and making cooking effortless for everyone. She is the founder of HealthyKitchen101.com and HealthyRecipes101.com, where she works with her team to develop easy, nutritious recipes and help aspiring cooks choose the right kitchen appliances.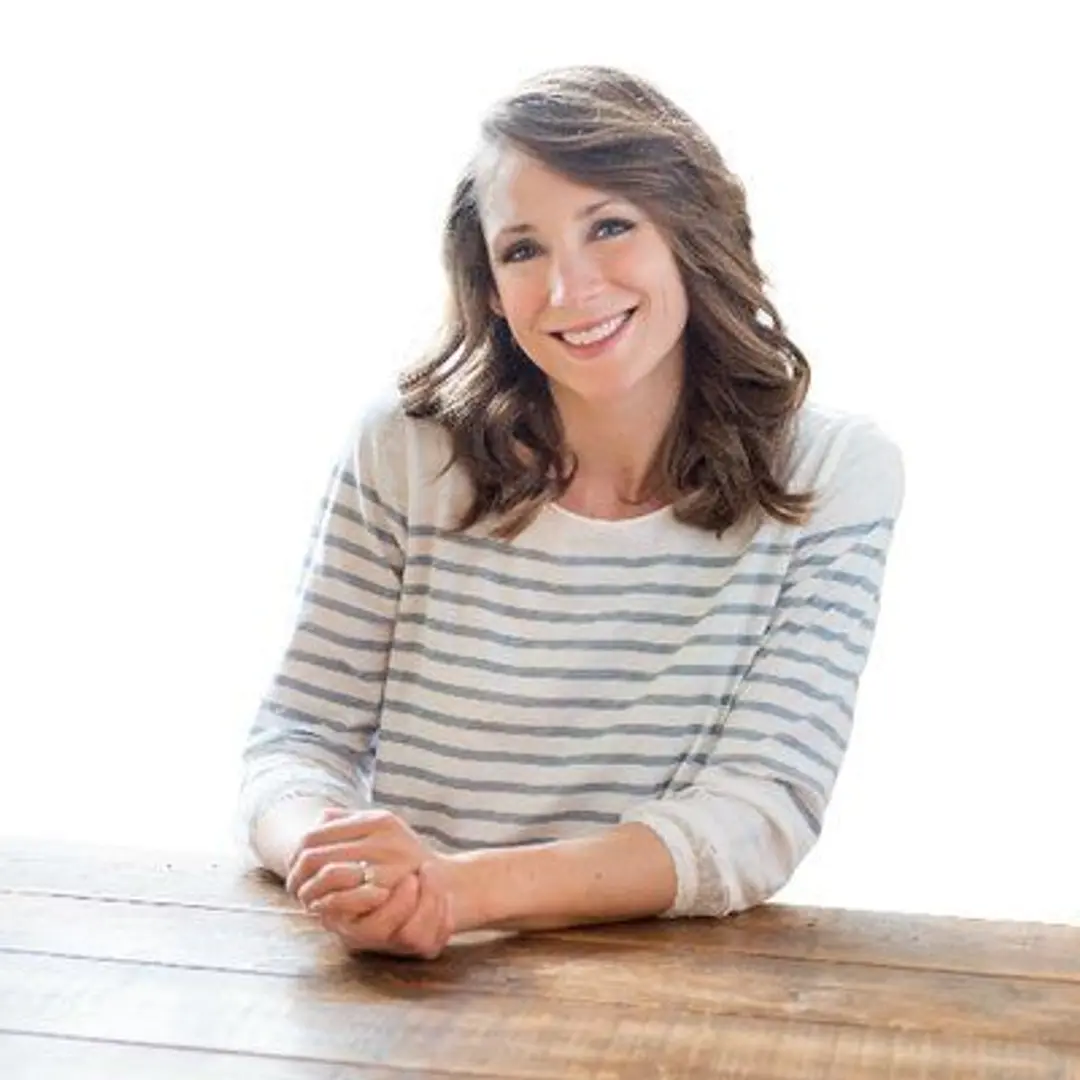 Nutrition Reviewer
Natalie is a registered dietitian nutritionist with a passion to help others live their best life through food, fitness, safer beauty and a healthy lifestyle. She has expertise with a variety of diets and diseases and believes that there is no one-size-fits-all approach for health.
Comments/ Reviews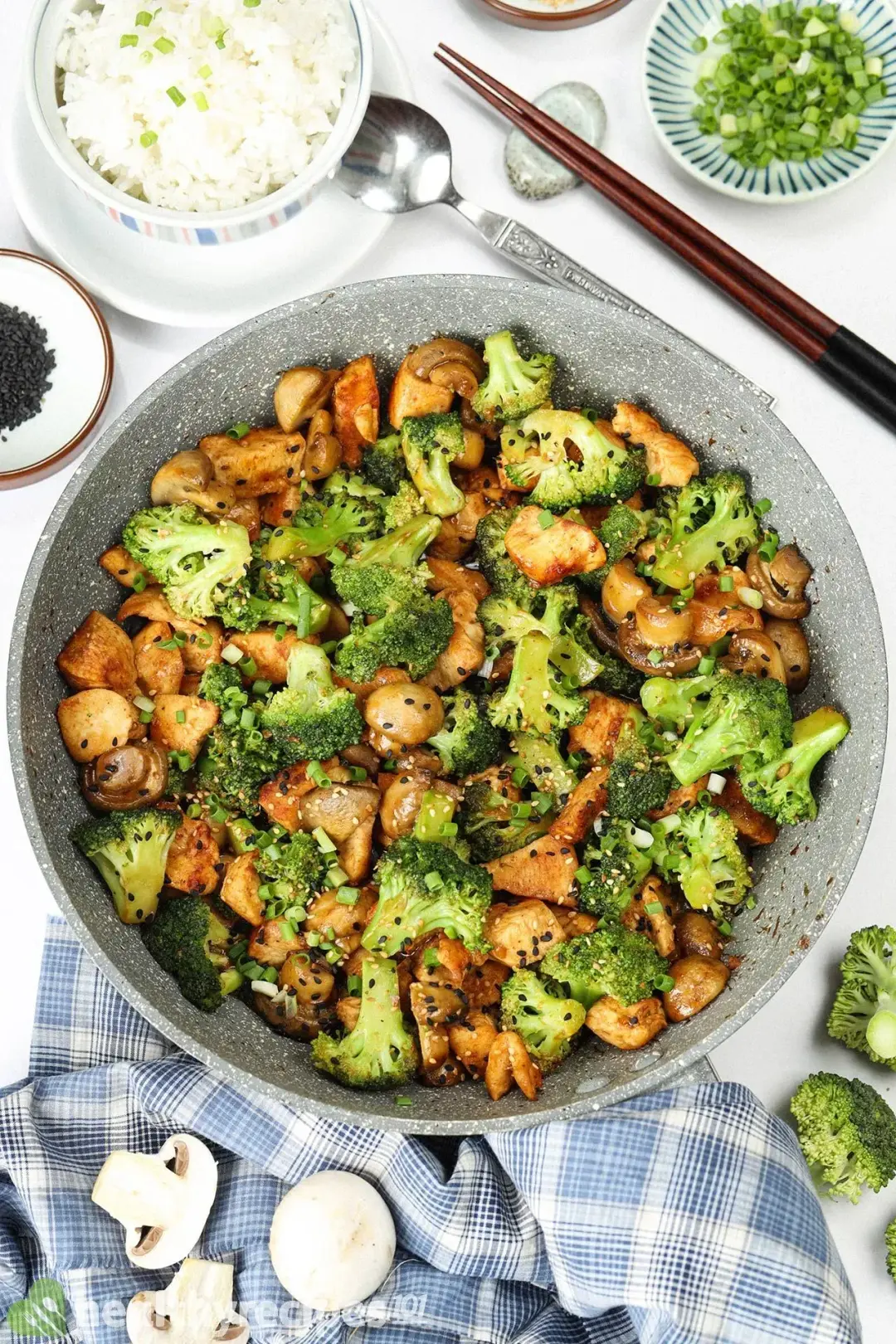 Stir-fried Chicken And Broccoli Recipe