This Kung Pao chicken recipe incorporates Asian elements: wok-fried chicken pieces, tangy herbs, and most importantly of all – the vital sapid spicy sauce. It is a well-known and well-loved American-Chinese dish.
What Is Kung Pao Chicken?
Kung pao chicken, originally named Gōngbǎo Jīdīng (宫保鸡丁), originates from Sichuan, a southwest province in China.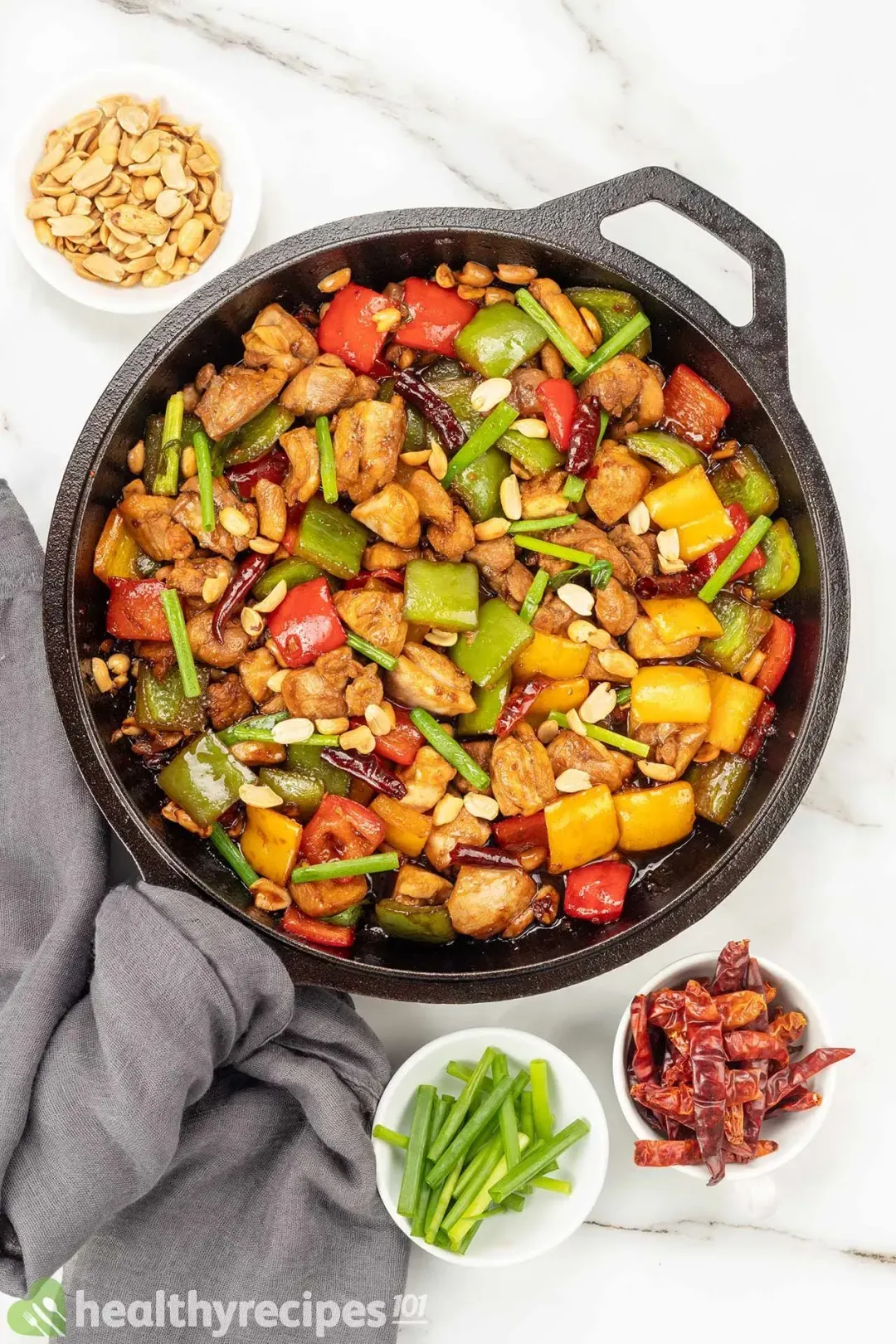 It's said to be an innovation of Din Bao Zhen, a governor-general of Sichuan province under Emperor Guangxu's rule. Starting as a Din family dish, Gongbao Jiding was soon adopted by other locals.
After Din Bao Zhen passed away, he was honored by the government for his remarkable achievements during his years of active duty. His title was Gongbao the Palace Guardian. And that is supposed to be why his chicken dish/creation was named Gong Bao, and later Kung Pao.
Chicken may be the body of the dish, but it would be nothing without the spices. Together with a few splashes of herbs like scallions, garlic, and ginger, Kung Pao has the familiar qualities of Chinese cuisine.
Not forgetting the chili which gives a final touch of heat to the dish. It is the skillful balance of flavors that elevates this dish and makes it so moreish.
Kung Pao Chicken vs General Tso
Kung Pao Chicken was originally an authentic Chinese dish that was later westernized later when introduced into the US. Therefore, it is much older than General Tso's Chicken.
Miles apart from Kung Pao, General Tso was actually rooted in the Upper East side of the US (New York City), then spread out to others among Chinese restaurants all across America in those 1980s. This should make some sense as General Tso's Chicken is pretty popular here. I suppose everybody who's been in a Chinese food store in this country could also have bumped into it once.
Though it's purported as Chinese food, native Chinese people were unfamiliar with it until US chefs brought it to China. Pretty much a surprising fact: At the first place, the native Chinese didn't know a thing about how General Tso's Chicken was generated – at least not until US chefs brought it to China.
Both Kung Pao and General Tso chicken of these two require boneless chicken cut into cubes or small pieces. However, unlike the unique hot and spicy flavor of Kung Pao, General Tso is much sweeter and less spicy. Its sticky sauce is also much brighter and more orange in hue than, and of course, with a brighter-colored sticky sauce (often more orange-ish than Kung Pao's dark brown sauce). One more difference is that there's never also no peanuts in General Tso dishes but there often is in Kung Pao's Chicken ever.
Is Kung Pao Chicken Healthy?
Yes, our kung pao chicken recipe is healthy. We take care to measure our ingredients and monitor the number of calories, saturated fat, and sodium going into the dish.
1. Calories
Each serving of this kung pao chicken offers 487 calories which is a bit low for a main dish. Serving the dish with some soup, salad, and juice is a healthy and tasty way to reach 750 calories.
2. Carbs
There are only 18 grams of carbohydrates, which means you get 6% of the recommended intake daily in one serving of kung pao. This makes the dish an ideal choice for a low carb or keto diet.
Kung Pao Chicken Ingredients
Don't be intimidated by the list of ingredients in our kung pao recipe, they are all simple, versatile, and you can easily find them I buy from any Asian market (or even the world foods section of your grocery store). 
1. Chilies
Authentic kung pao recipe calls for Sichuan peppercorn and dried chilies for an extra spicy flavor. We have Americanized it and used popular dried chilies which you can easily find at the store supermarkets. It may not be as authentic but it is as mouth-watering as any Chinese restaurant takeout.
2. Peanuts
Peanuts may not be an essential ingredient in the original kung pao chicken but they're a staple in the American version. Nuts give an additional crunchy texture which makes your eating experience even more enjoyable.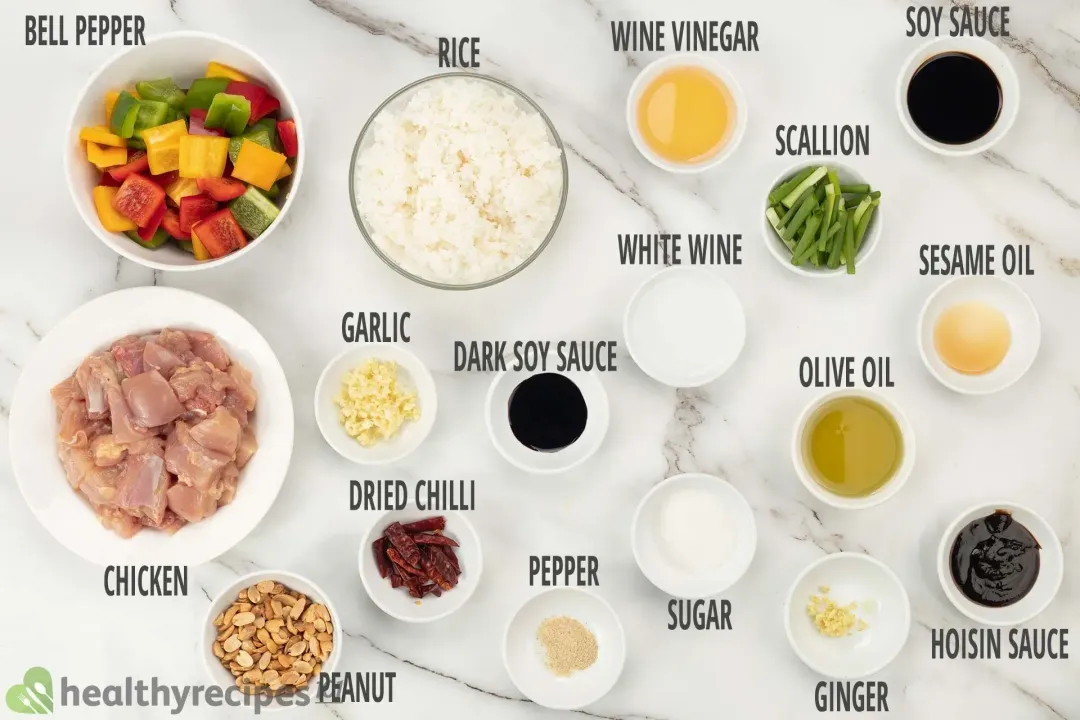 3. Vegetables
Adding fresh and bright flavor, as well as more nutrients, to the dish, veggies are an essential part of kung pao. The great thing is that you can use any veg you like from carrots, chestnuts, celery, zucchini, or broccoli. Just make sure that you have enough sauce to cover them.
Protip: double the sauce recipe if you are going to add more veggies.
4. Rice
Kung pao chicken sauce is a tasty blend of sweetness from sugar and slight acidity from vinegar. Spoon this lusciousness over hot cooked rice to balance the heat and add more carbs for a balanced meal and there are never any leftovers when you have the dish this way.
Sauce for Kung Pao Chicken
The sauce is what makes Kung Pao Chicken. Originally, Sichuan pepper, soy sauce, and hoisin sauce were the most common leading ingredients to enhance Kung Pao's one-off flavor. But after westernization, there bagan to beKung Pao Chicken came out with many more variations. 
Sichuan pepper has been swapped out for readily available prevalent domestic ingredients such as zucchini or red/green bell pepper (which weI used in this recipe). As a result, the sauce tastes much less spicy but sweeter in contrast. Feel free to check out the below ingredient list of mine for more details.
Unlike some sweetly glazed Western dishes like honey butter chicken, kung pao, on the other hand, is a combination of sweet and sour tasting flavors. It has starchy elements and can be a bit intense at the tip of your tongue but it's not too spicy, bringing out a great balancing taste that will have you going back to hook people up for a sure deal.
Of course, it's fine not out of line to eat kung pao on its own. However, siding it with steamed white rice, plainly cooked quinoa or a veggie salad can be a great way to create an even more wholesome meal venture trial. 
Is Kung Pao Chicken Spicy?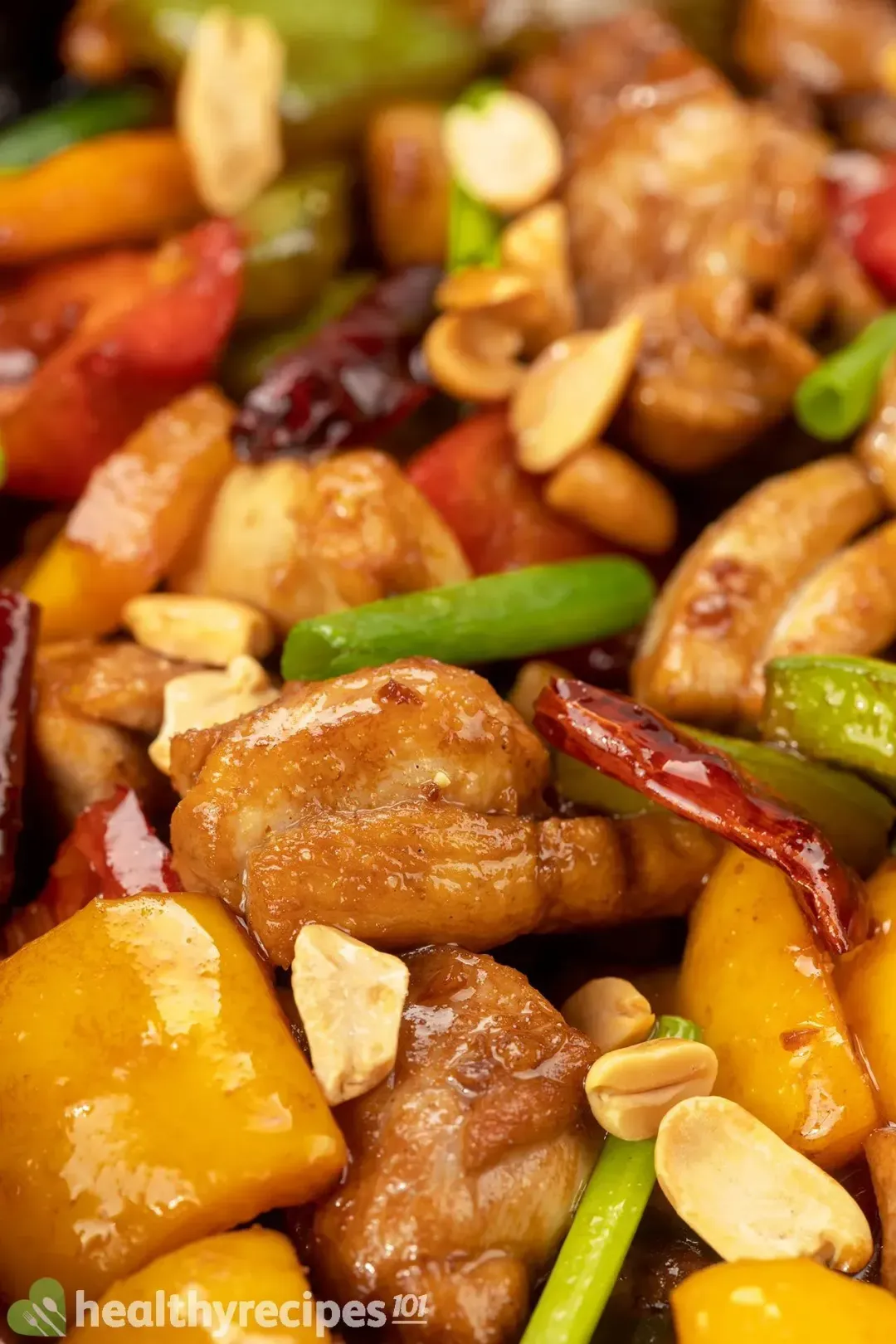 This Kung Pao chicken recipe has a strong flavor with a unique heat from the pepper. However, you can alter the level of spice to your liking. Not all chilies are equally hot; you can experiment with them and see which type works best for you.
If you don't like chilies, simply omit them. However, this will alter the overall taste and balance of the dish.
Now we're a bit more clear on what Kung Pao is and what it offers, let's look at how we make it.
How to Make Kung Pao Chicken
With all the ingredients gathered, here is how we made the wholesome Kung Pao chicken:
How Long Does Kung Pao Chicken Last?
At room temperature, kung pao chicken should be eaten within 2 hours of serving to reduce the risk of food-borne illnesses. 
For longer storage, you can keep the dish in an airtight container and place it in the fridge. This way your kung pao can last for up to 3 days.
If you want more Kung Pao dishes, feel free to try our Kung pao shrimp and Kung pao cauliflower versions.
What to Serve with Kung Pao Chicken
1. Shrimp Egg Drop Soup
Soup is an easy way to sneak more vegetables into your daily meal and this classic Chinese soup is a great accompaniment for any rice dish. It's more mild flavors also help to balance the heat from the sauce.
2. Watermelon Smoothie
A nice way to complete your fulfilling meal is to have a glass of smoothie. It provides a healthy dose of vitamins and oxidants while also offering a wonderfully refreshing mouthfeel.
Here are the nutrition facts for the whole meal: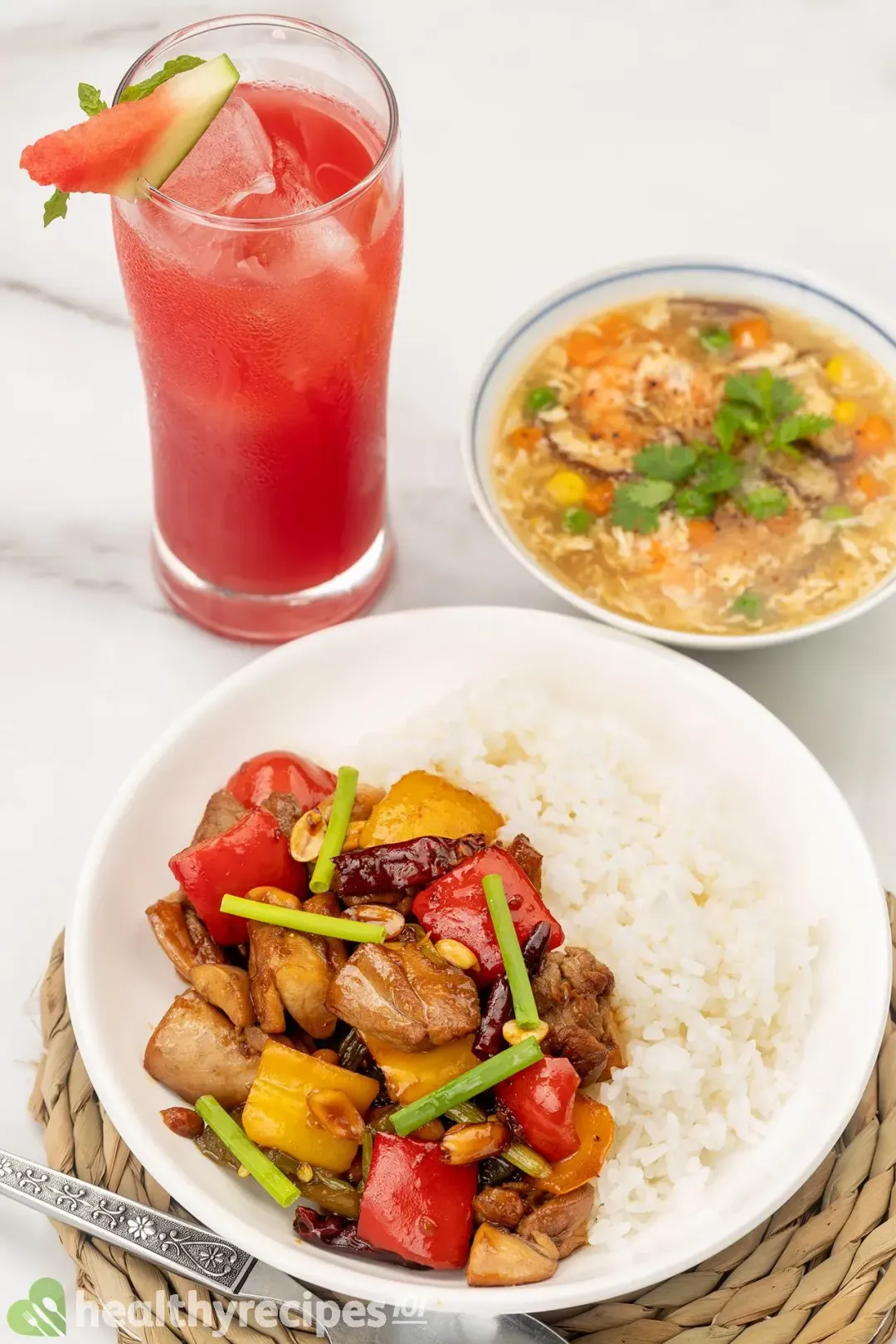 More Delicious Asian Chicken Over Cooked Rice
Cashew chicken is my guilty pleasure, not because it's unhealthy, but rather because I couldn't stop myself from having too many servings. It's easy to make, quick as well, and virtually has all textures and flavors in every bite: nutty cashews, tender chicken, and crunchy peppers in a savory and sweet sauce. It looks good, too.
Similarly, this chicken teriyaki stir fry can add diversity to your week meals and a whole range of flavors. It has chicken breasts, bell peppers, broccoli, and carrot all mingle-mangled in a savory, sweet sauce that smells of first-class soy sauce. It reheats really well, too.
We have more of these delicious recipes here, all take around 15-25 minutes and serve with cooked rice.
Kung Pao Chicken
This Kung pao chicken recipe is a great blend of readily available ingredients and classic Asian spices to create a beautiful dish. And it can be made within an hour.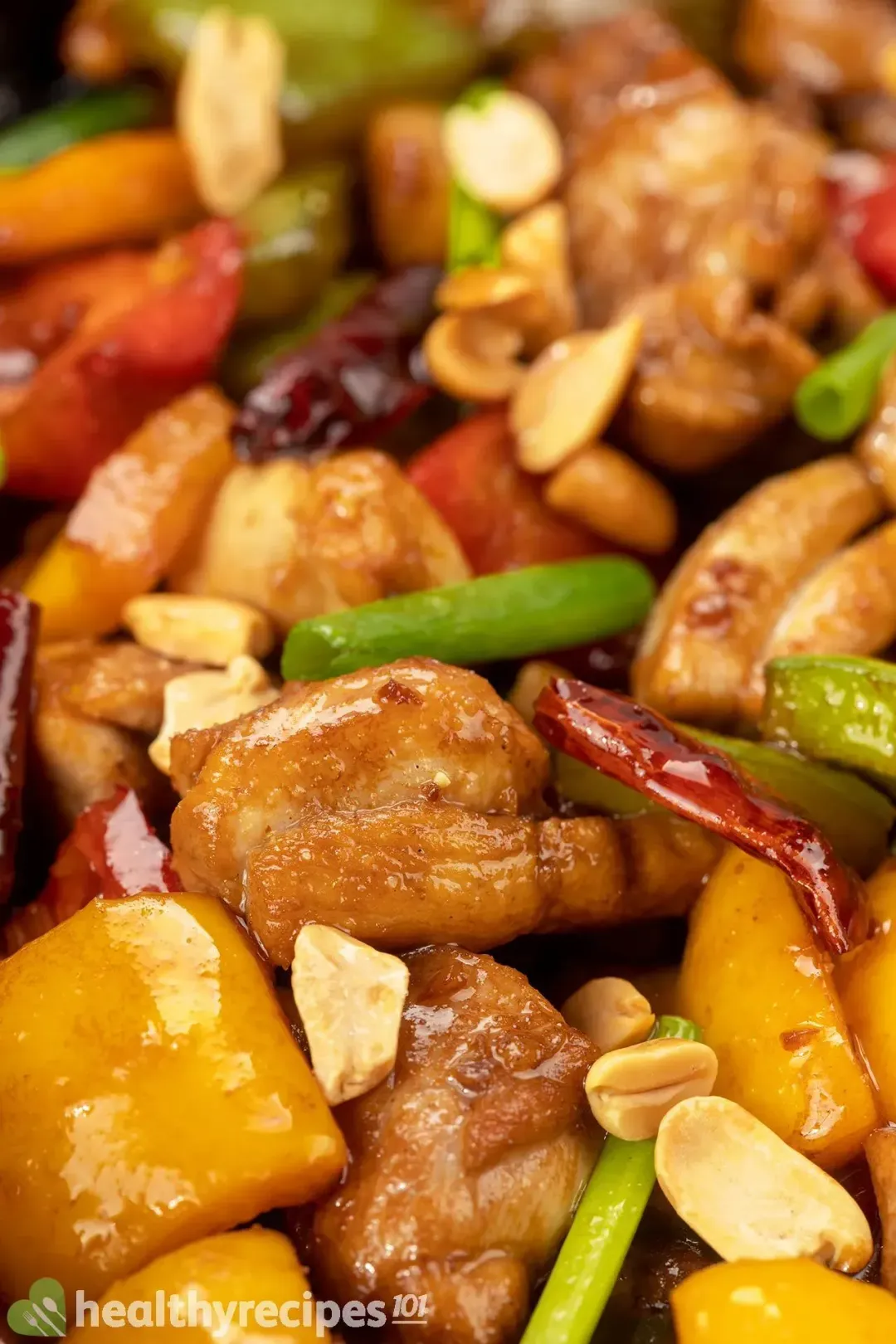 cook TIME

35 mins

prep TIME

15 mins

total TIME

50 mins
COURSE

Dinner, Lunch, Main Course

CUISINE

Asian, Chinese

SERVINGS

CALORIES

487 kcal
INGREDIENTS
12 oz

skinless boneless chicken thigh

(cut into 1-inch cubes)

10 oz

bell pepper

(2 medium, cut into 1-inch cubes)

3

dried chili pepper

(halved)

2 tbsp

scallion

(chopped)

1 tbsp

garlic

(3 cloves, chopped)

2 tbsp

white wine vinegar

1 1/2 tbsp

reduced-sodium soy sauce

1/2 tsp

fresh ginger

(minced)

3 cups

cooked medium-grain rice
INSTRUCTIONS
1
Heat cast iron pan on medium-high heat, stir 3 dry chilies for about 30 seconds and transfer them into a bowl.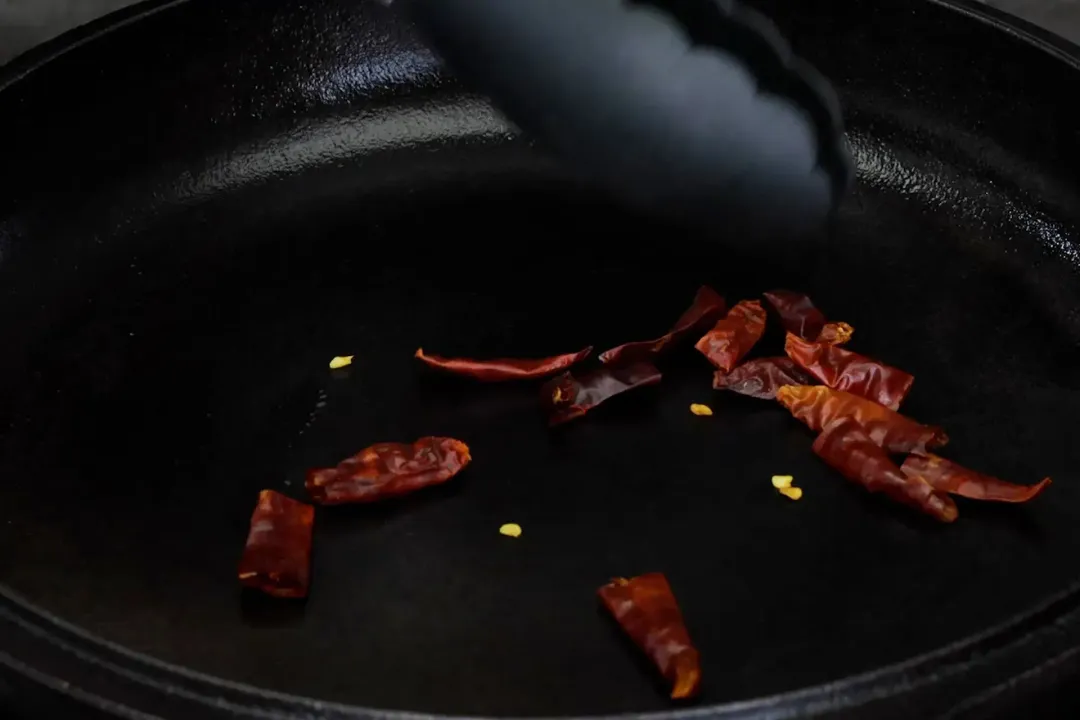 2
Add 1/2 tbsp olive oil to the pan, add 10 oz bell pepper. Stirring occasionally for about 2 minutes until crisp-tender. Remove from heat.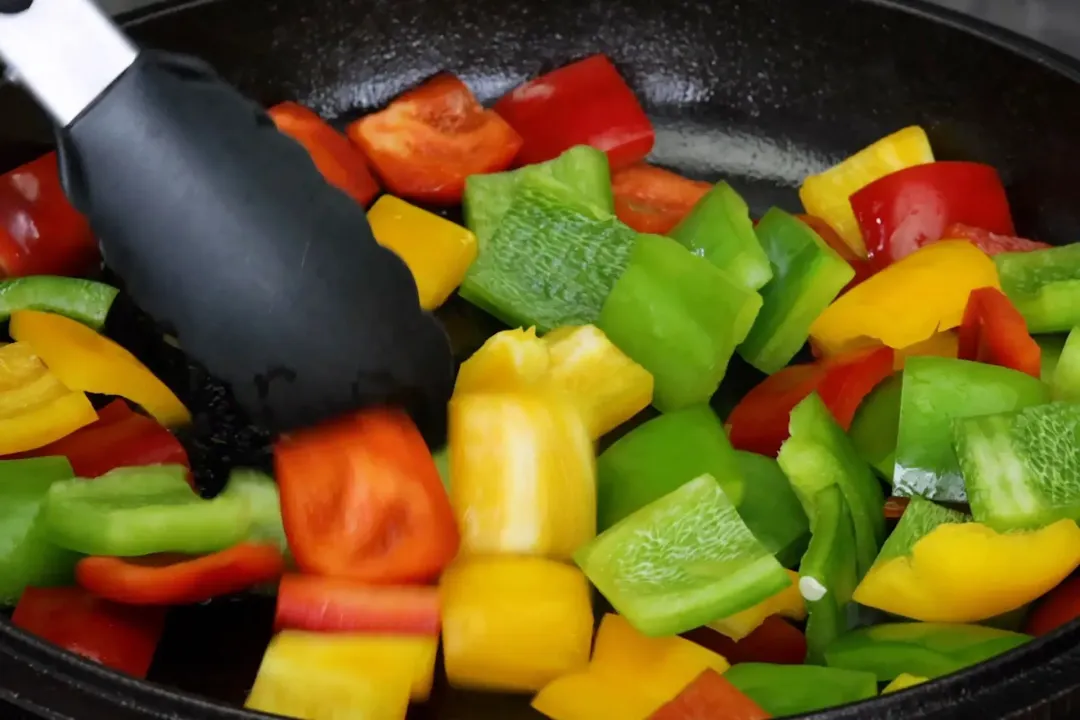 3
Heat 1/2 tbsp olive oil in the pan, add 12 oz cubed chicken and fry on medium heat for 15-20 minutes. Stirring until the edges are golden brown. Remove from heat.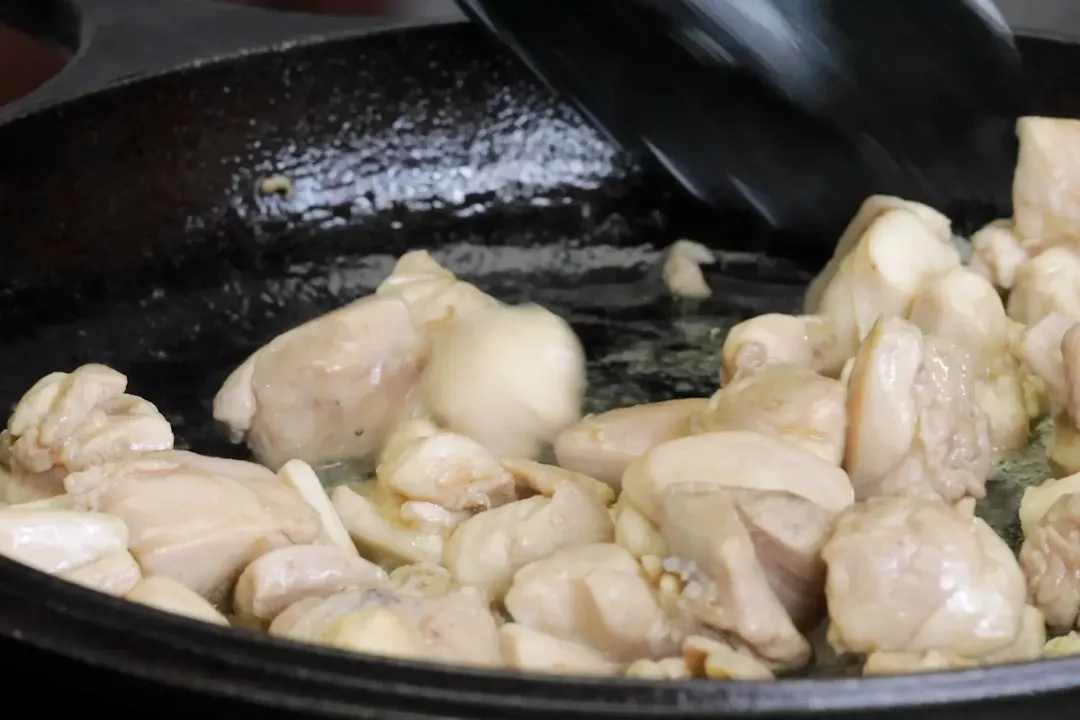 4
Add remaining 1/2 tbsp olive oil into the pan, stir in 1 tbsp garlic and 1/2 tsp ginger.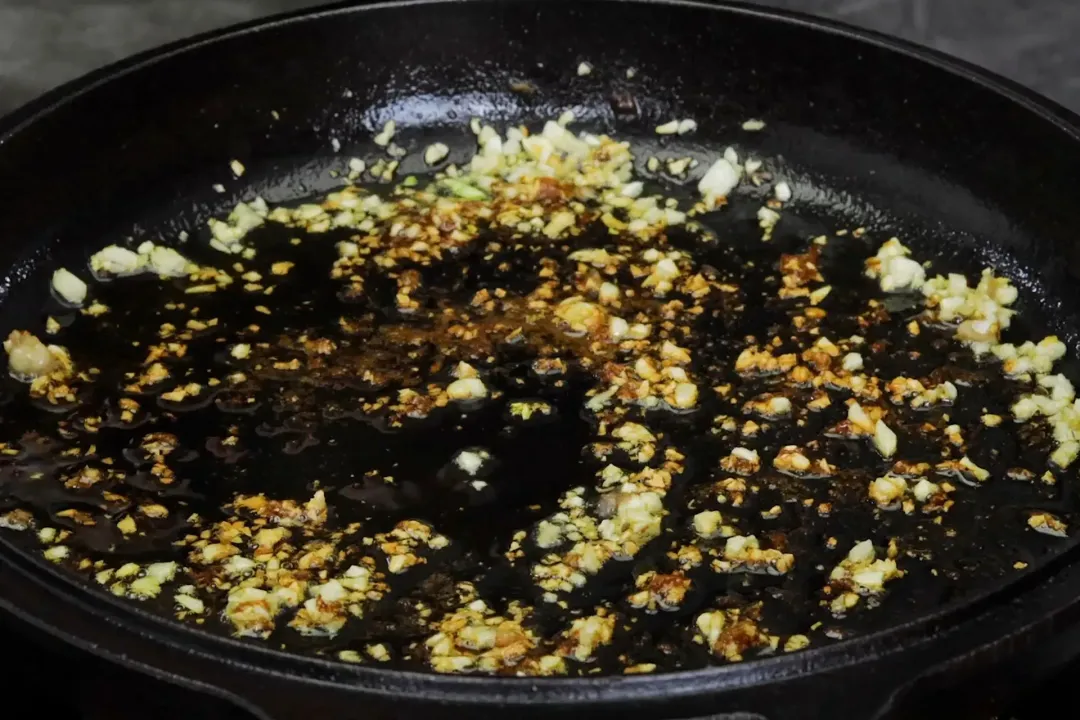 5
Then pour in 2 tbsp rice wine, 1 tbsp hoisin sauce, 1 tsp dark soy sauce, 1 1/2 tbsp reduced-sodium lite soy sauce, and 1 tbsp sugar. Bring them to a boil while stirring.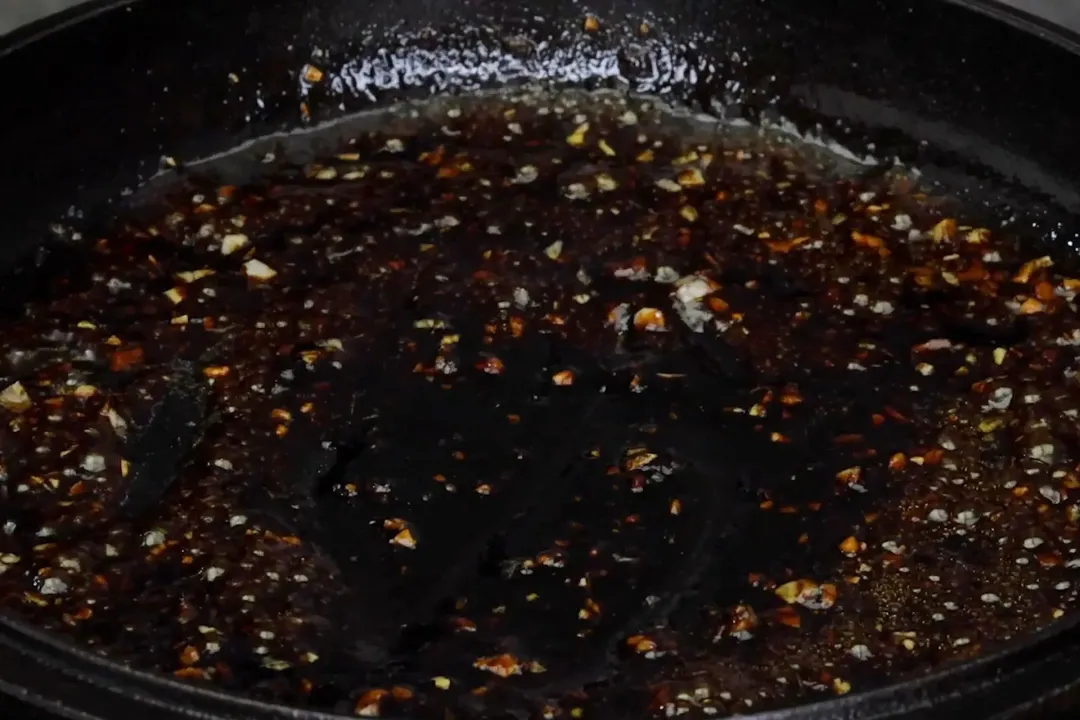 6
Once the sauce begins to thicken slightly, add the chicken and pepper back into the pan.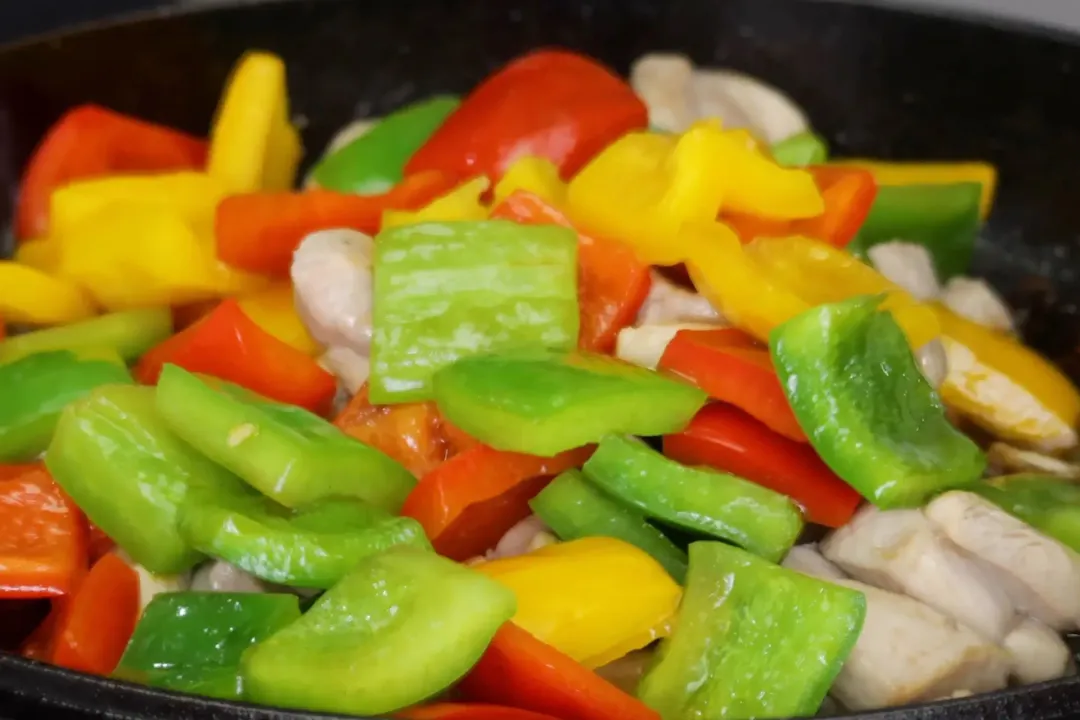 7
Stir in 2 tbsp white rice vinegar, 2 tbsp scallion, 1/4 tsp white pepper, and 1/2 tsp sesame oil. Toss well with 1/2 cup unsalted peanuts for a further 1 minute.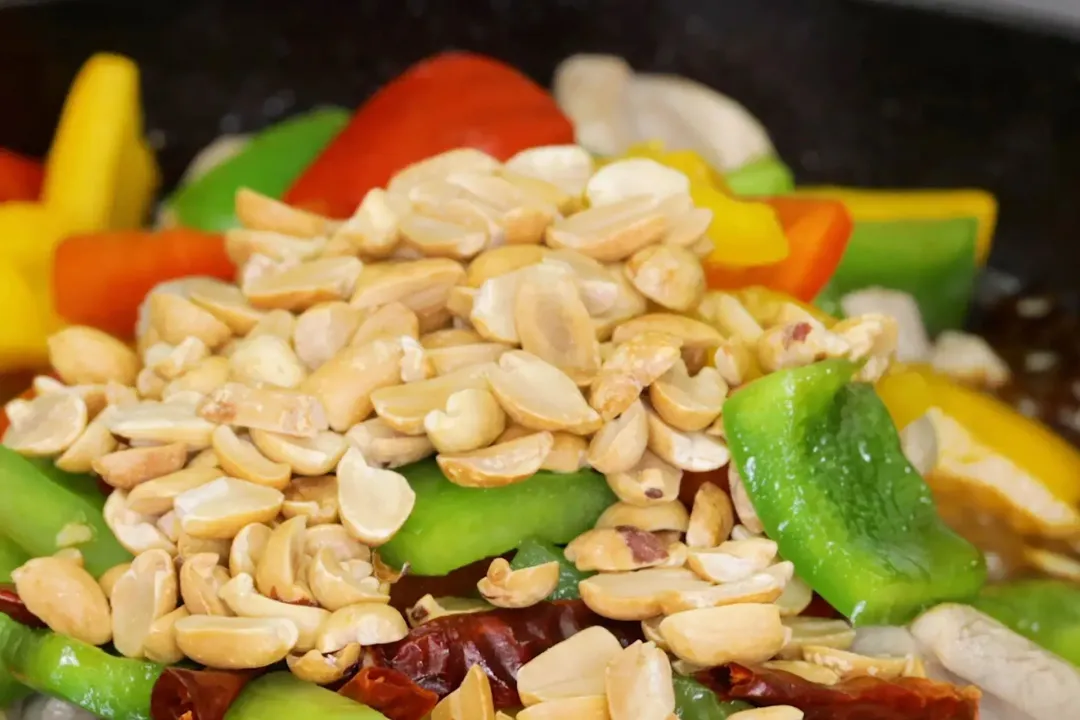 8
Serve immediately with cooked rice.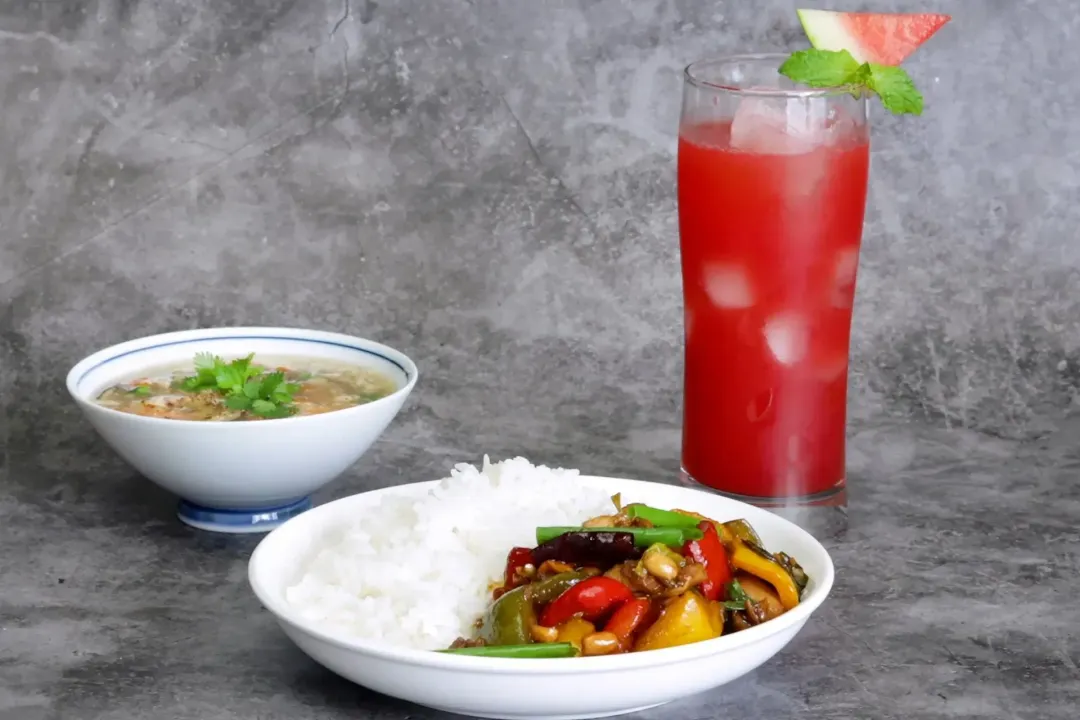 NUTRITION
Nutrition Facts
Kung Pao Chicken
Amount Per Serving (1 serving)
Calories 487
Calories from Fat 153
% Daily Value*
* Percent Daily Values are based on a 2000 calorie diet.
Keywords: kung pao, kung pao chicken, kung pao chicken recipe, kung po chicken, kung pow chicken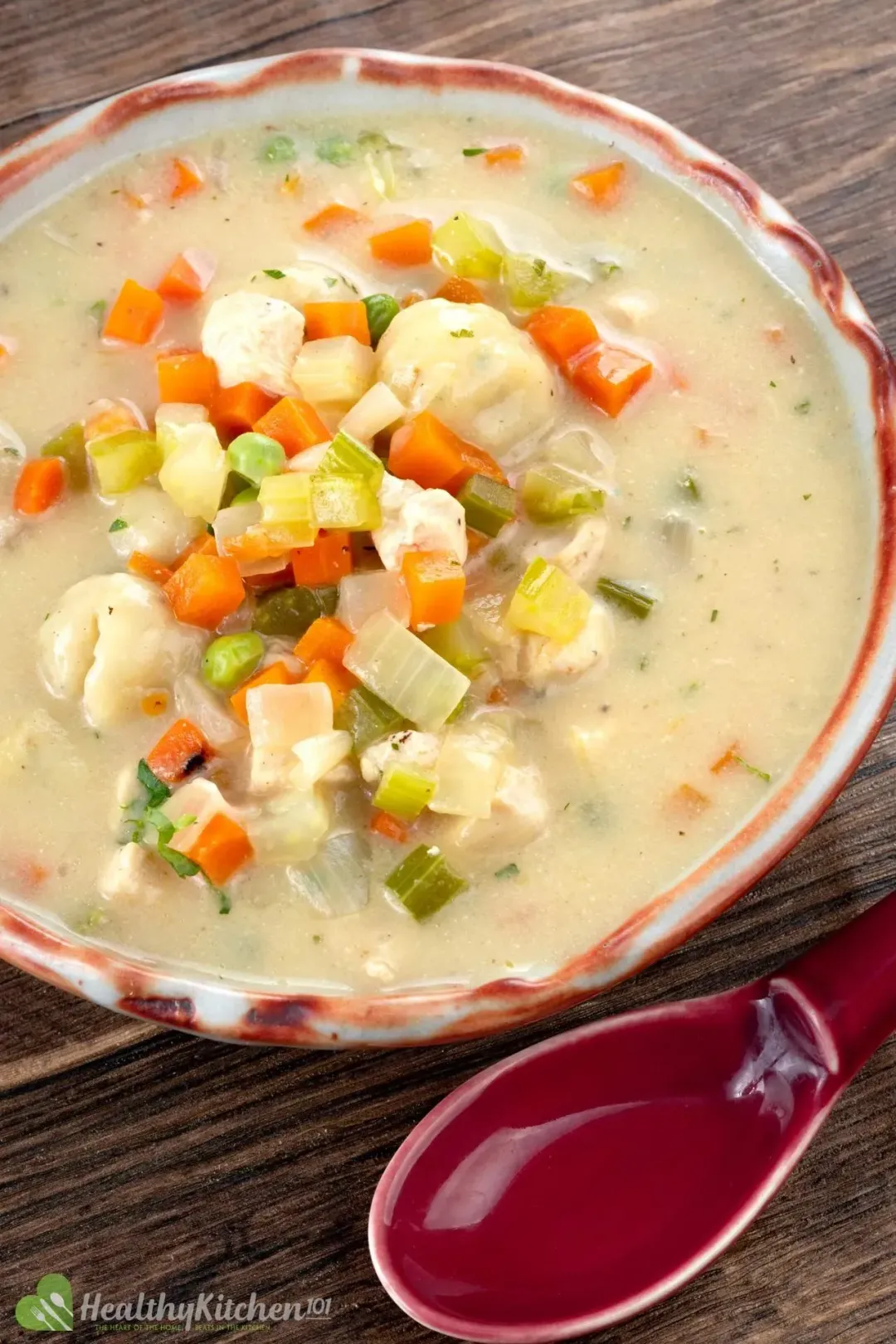 Previous Recipe
Easy Healthy Chicken and Dumplings
Easy Healthy Chicken and Dumplings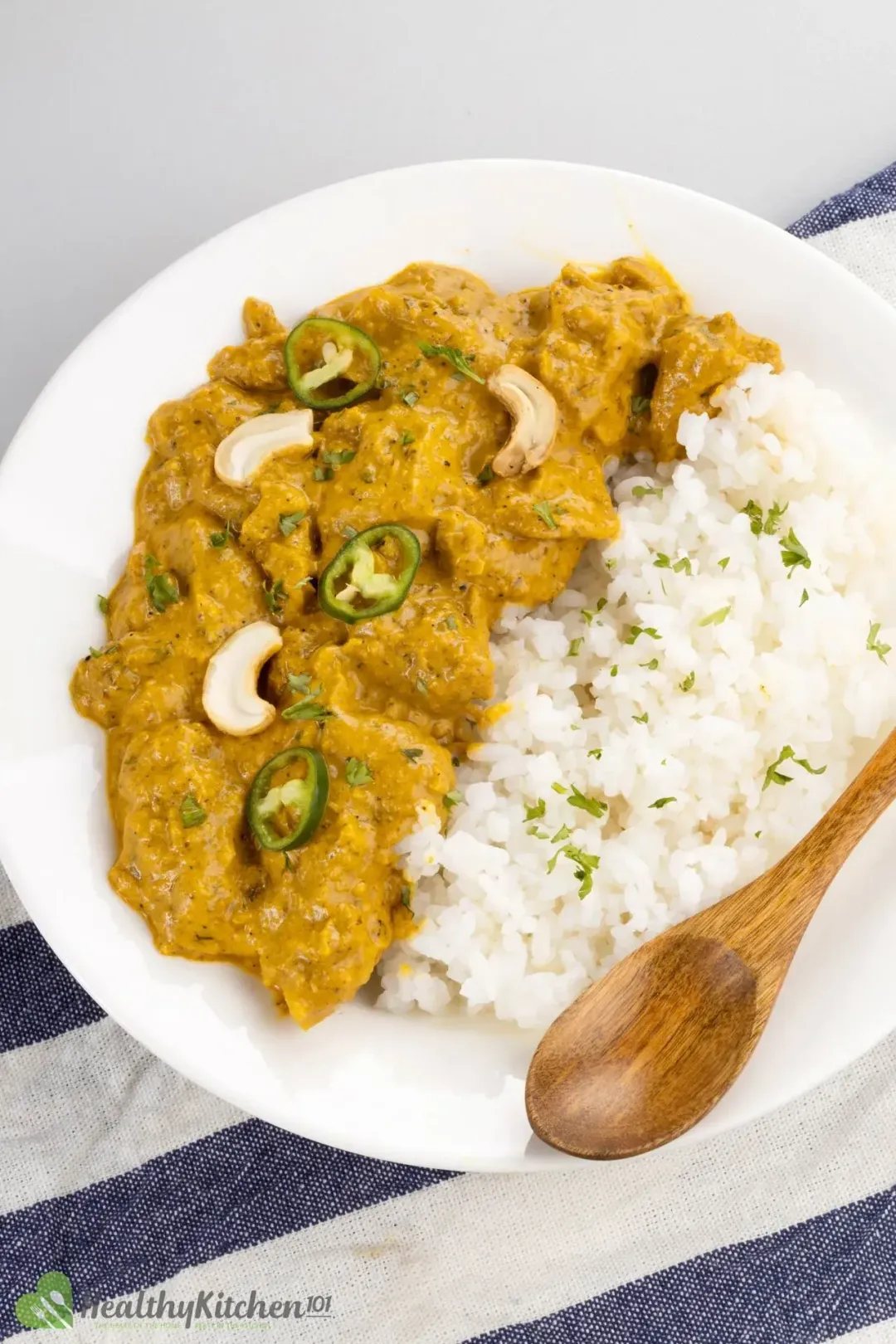 Chicken Korma
Head Chef, Culinary Consultant
Tuyet Pham is an award-winning Saigonese chef who believes that joy is the secret ingredient to delicious food. At Healthy Recipes 101, Tuyet personally tests and simplifies every recipe, ensuring maximum flavor with minimal effort. With a background at prestigious French restaurants P'TI Saigon and Le Corto, Tuyet knows how to make every dish exceptional.
Writer, Author
Luna Regina is an accomplished writer and author who dedicates her career to empowering home cooks and making cooking effortless for everyone. She is the founder of HealthyKitchen101.com and HealthyRecipes101.com, where she works with her team to develop easy, nutritious recipes and help aspiring cooks choose the right kitchen appliances.
Nutrition Reviewer
Lizzie Streit is a Minneapolis-based dietitian and founder of It's a Veg World After All. She completed her MS in Human Nutrition from Drexel University, and is an expert in culinary nutrition, recipe development, and nutrition communications. Lizzie's philosophy is centered around making nutrition recommendations, and especially the advice to eat more vegetables, approachable and realistic. She is excited to be working with the team at Healthy Recipes 101 to ensure that their recipes are both nutritious and delicious.
Sounds like a delicious Recipe! Is it 1/4cup peanuts or peanut butter?

Thanks Tammy! It's raw, skin-off peanut that we used in this recipe.

The blend of spices and vegetables provides a balanced and flavorful dish that can satisfy your taste buds and cravings.