This Kung Pao shrimp recipe combines simple ingredients to turn out a delicious stir-fry of crisp bell peppers, savory shrimp, and toasted peanuts. Everything is drenched in a spicy, salty, and sweet glaze that goes over the top of cooked rice for a wholesome, practical meal.
The dish is also an easy make-ahead, meaning your meal preps can be a breeze. Spend just 20 minutes and you'll have 4 servings (or more) to eat for dinner and save for later.
What Is Kung Pao Shrimp?
Kung Pao is a spicy Chinese stir-fry composed of crisp vegetables (typically onions and bell peppers) and a protein of choice — shrimp, in this recipe. Green beans and snap peas are sometimes used in place of or alongside the bell peppers, lending the dish a fresh element.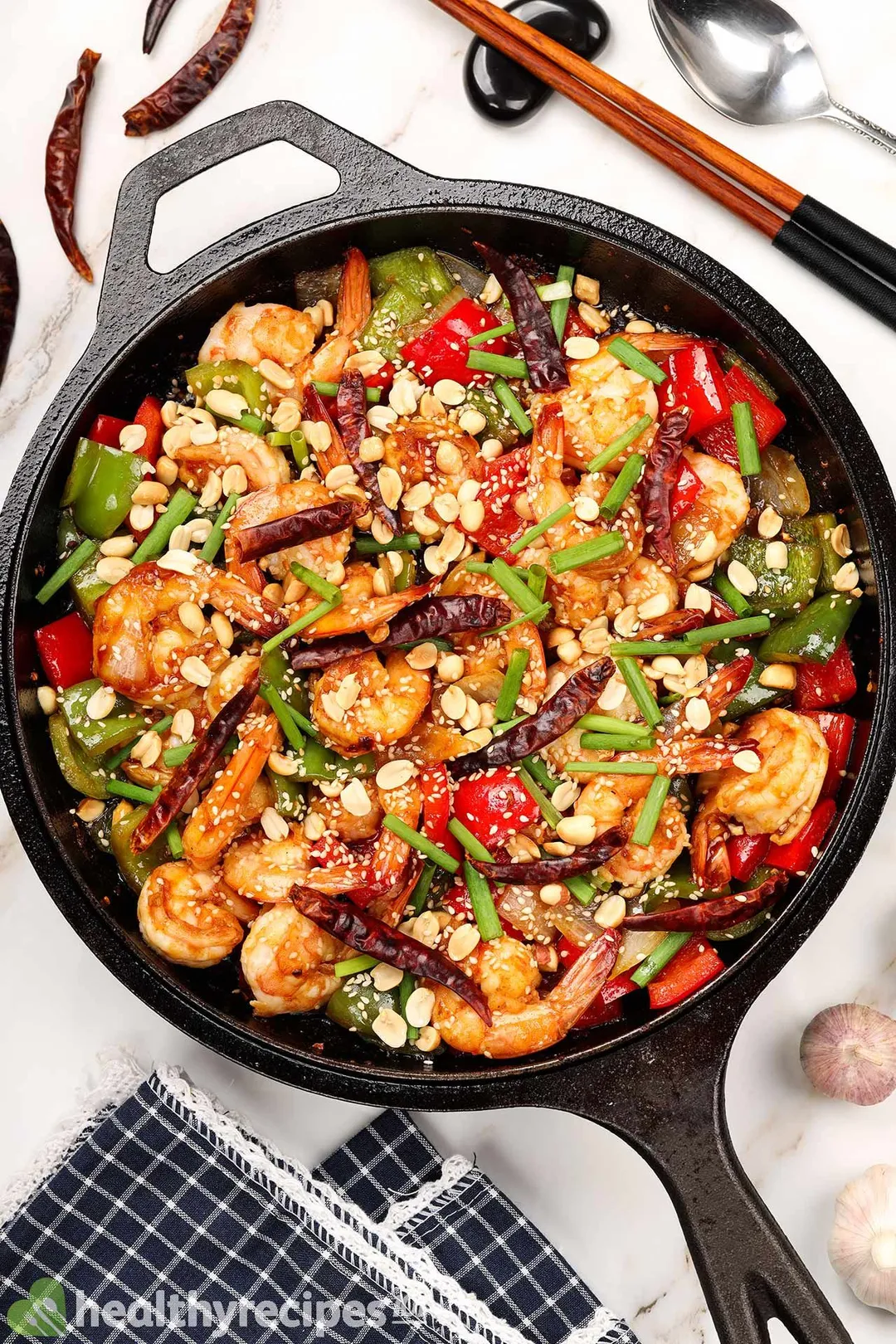 What makes Kung Pao dishes special is the sauce made with sugar, soy sauce, sesame oil, dried chilies, and sautéed aromatics. There's more to the list, but these alone create an addictive sauce that pulls everything together.
If you want more Kung Pao dishes, feel free to try our chicken and cauliflower versions.
Kung Pao Shrimp vs Szechuan Shrimp
Kung pao shrimp has a signature dark sauce that tastes sweet, salty, sometimes tangy, and a little hot. Szechuan shrimp, on the other hand, is a dry stir-fry. It tastes a lot more intense, and for good reason.
Szechuan (or Sichuan) is a region in China that's humid year-round and where it rains all the time. To cope with such cold and wet weather, people incorporate tons of dried chilies into their dishes to feel some warmth.
Besides chilies, the dishes are loaded with intense Chinese spices, seasonings, and Szechuan peppercorns. These peppercorns taste citrusy at first, but they'll soon numb the tongue and help to ease the heat from chilies.
Is Kung Pao Shrimp Healthy?
Yes, at least relatively so. Plus, we did one thing to make it even better.
Kung Pao dishes have bell peppers that pack lots of micronutrients, especially vitamin C. The amount we're using (2 oz per serving) alone provides you with 59 mg, about 65-84% of the recommended daily allowance (RDA).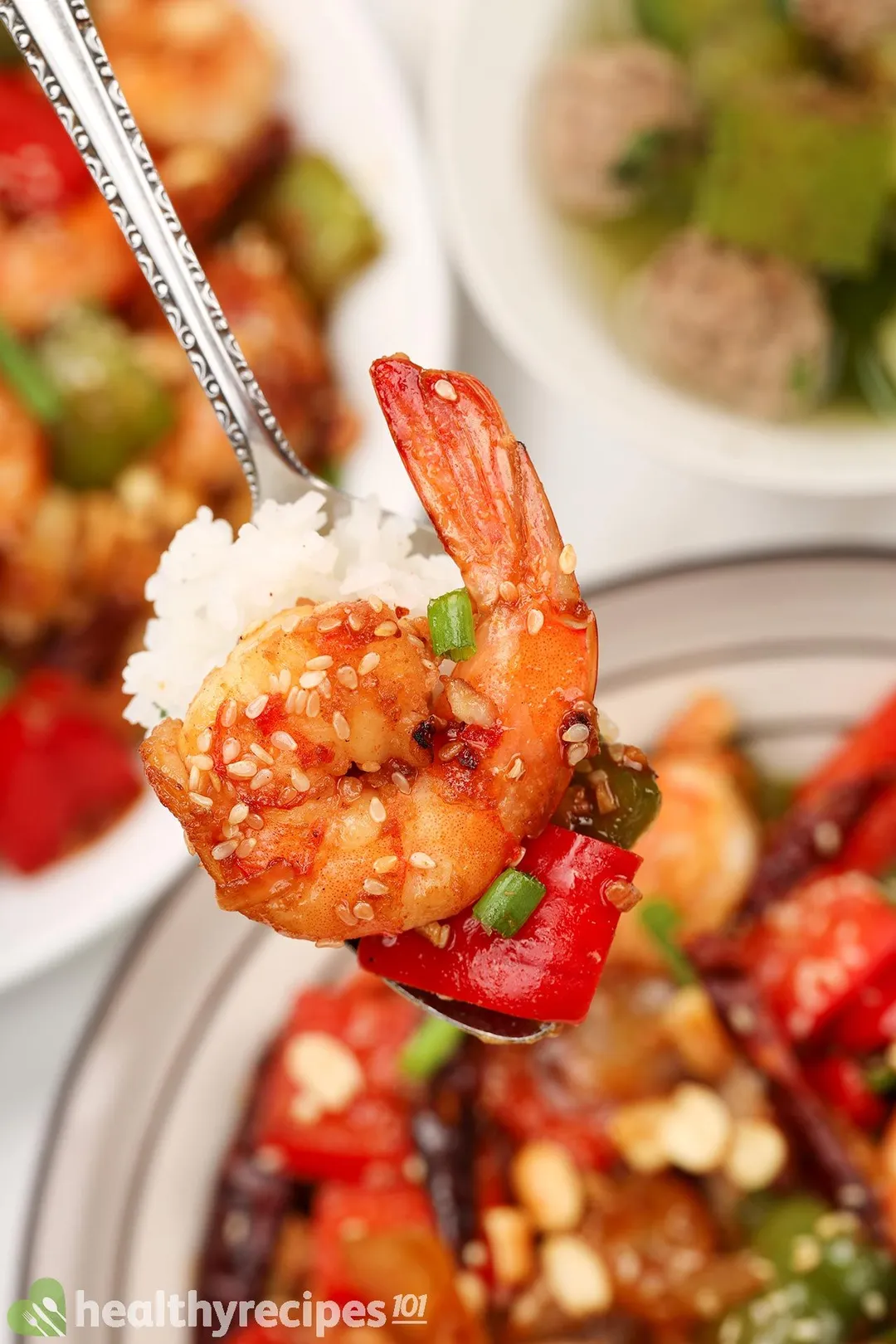 Our main ingredient, shrimp, contains a great deal of protein (41.5 g in each serving). It's also known to be a good source of omega-3 and omega-6, healthy fats for the body.
People say shrimp is bad because it has cholesterol, but it's still yet to be proven. Until it is, it's better to set more realistic goals. We focus on limiting our intake of saturated fat, sodium, and calories.
We limited these to 1.9 g, 541.1 mg, and 501 respectively, in compliance with our guidelines. That's done to leave space for appetizers, snacks, drinks, etc. that you might also have during the day.
What's in Kung Pao Shrimp?
To make Kung Pao shrimp, you first need to have shrimp, either fresh or frozen. We prefer using frozen shrimp that's peeled, de-veined, and with heads removed. It just makes preparation easier.
In terms of the veg, bell peppers and onions are the easy options, to which you can add other crisp veggies like snap peas or green beans. We use both red and green peppers to keep the dish colorful, but feel free to stick to just one color if you like.
The third element is the sauce made with:
Garlic and ginger, two important aromatics in Chinese cuisine. We're not mixing these two with other ingredients, but instead, sautéing them with the shrimp to get more flavor.
Soy sauce. Asian brands like Lee Kum Kee or Kikkoman make uniquely fragrant soy sauces that complement the food better.
Oyster sauce, a sweet, salty, savory seasoning that adds both flavor and thickness to the sauce. You can skip it and use soy sauce with 1 tsp sugar instead, if you prefer.
Brown sugar, the sweetening element. Substitute it with white sugar, honey, or corn syrup if you wish.
Sesame oil, lending the sauce a nice toasty aroma.
Cornstarch and chicken broth, giving the sauce that thick consistency to coat the components. Chicken broth also adds a depth of flavor.
Paprika (and dried chilis). Controlling the heat is easier with paprika. If you want to make something spicier, cut the dried chilis open and enjoy the intense heat.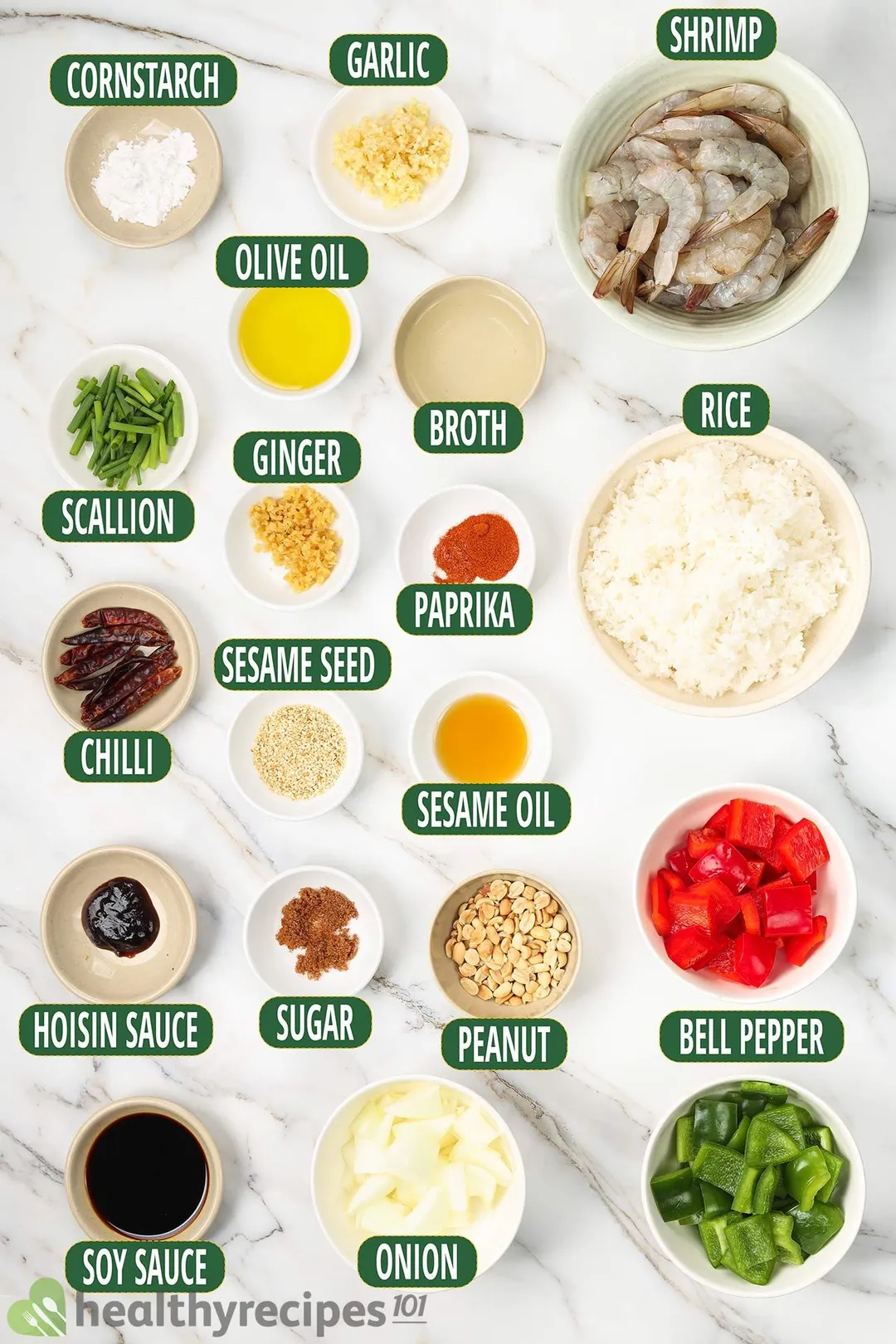 Before serving the stir-fry with cooked rice, we topped it off with toasted peanuts, sesame seeds, and chopped scallions. A little nuttiness and pungent freshness make a world of difference.
How to Store and Reheat Kung Pao Shrimp
Properly sealed in an air-tight container, this shrimp dish can be kept in the fridge for 5 days or in the freezer for up to 3 months. If you're storing cooked rice as well, the fridge will keep it for weeks.
To reheat, place the shrimp in a pot and simmer over low heat with 1-2 tablespoons of water for 3-5 minutes. For the rice, either steam it for 5 minutes or microwave it with 1 tbsp water for 2 minutes, stirring occasionally.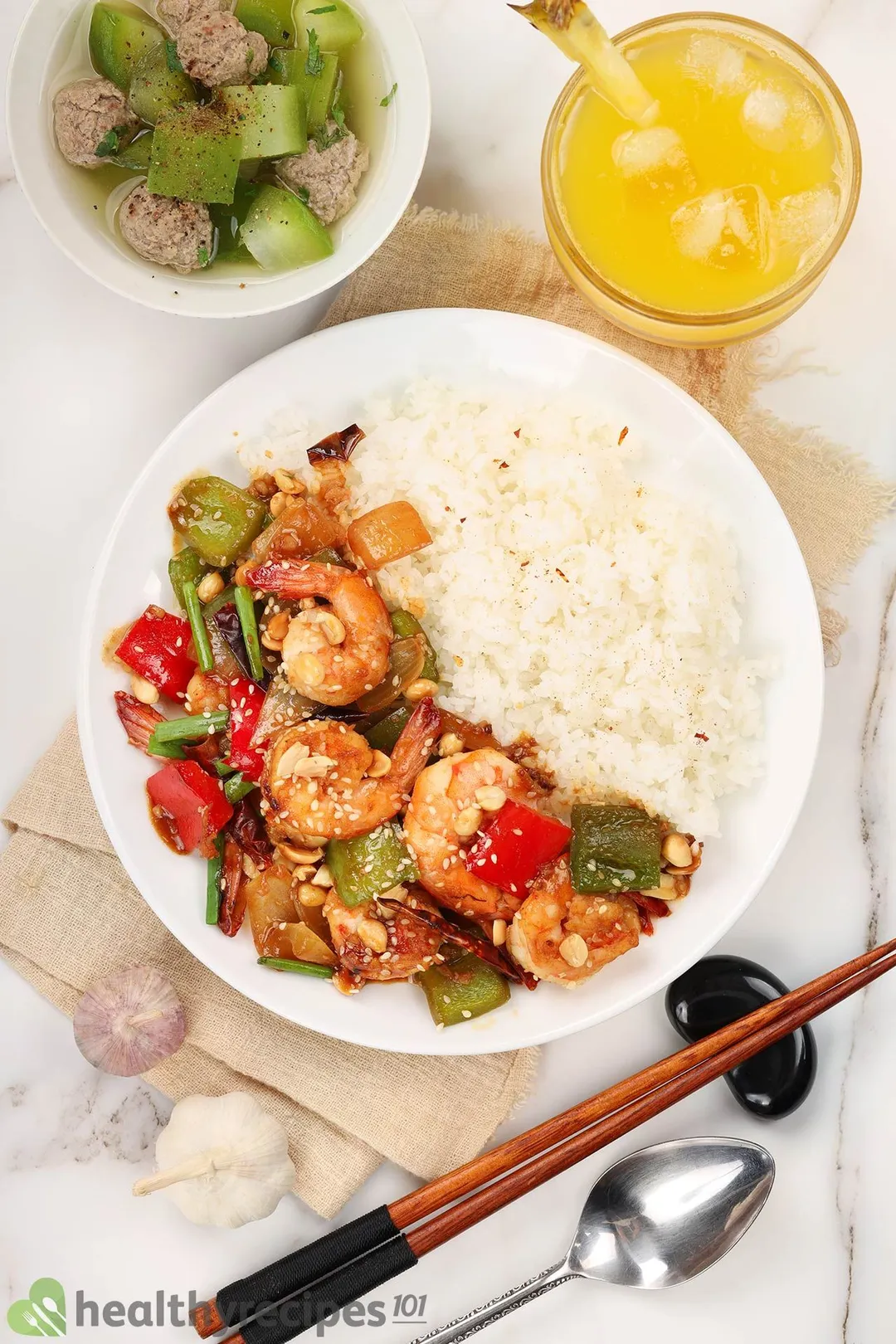 What to Serve With Kung Pao Shrimp
Chinese meals are often completed with a soup, so we picked our winter melon meatball soup from among the archives. It's full of tender squash and savory meatballs, balancing out the stir-fry's deep flavors.
Finally, we finish it out with a tantalizing fusion of orange and pineapple juice. It's tangy and sweet, a classic fruity drink that suits all occasions.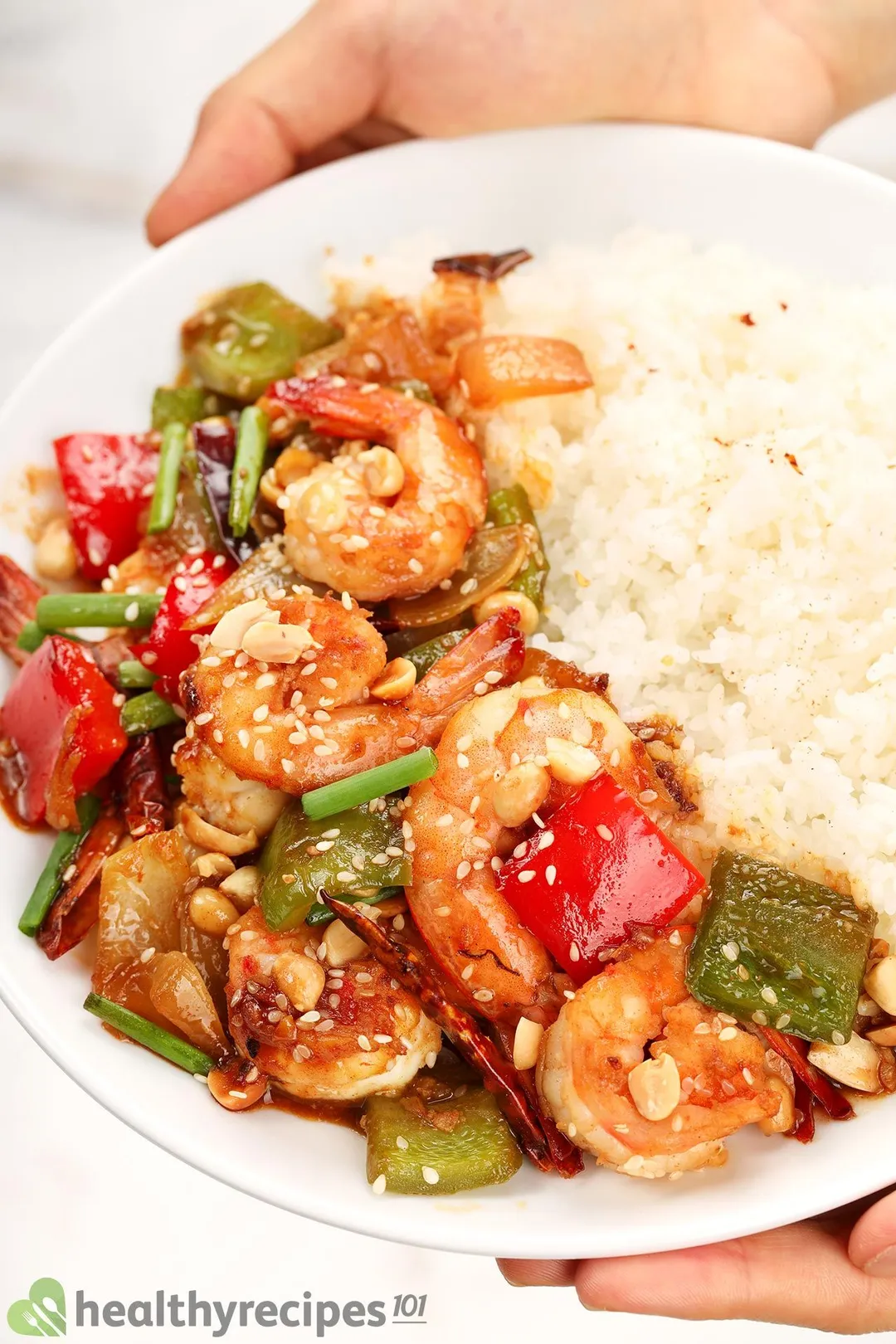 Want More Chinese Shrimp Dishes? We've Got Plenty!
Better yet, check out this complete collection of Asian Shrimp Recipes.
Kung Pao Shrimp
This Kung Pao shrimp recipe is quick and simple, so it's easy to implement into your everyday routine. It's packed with some of the best Chinese flavors.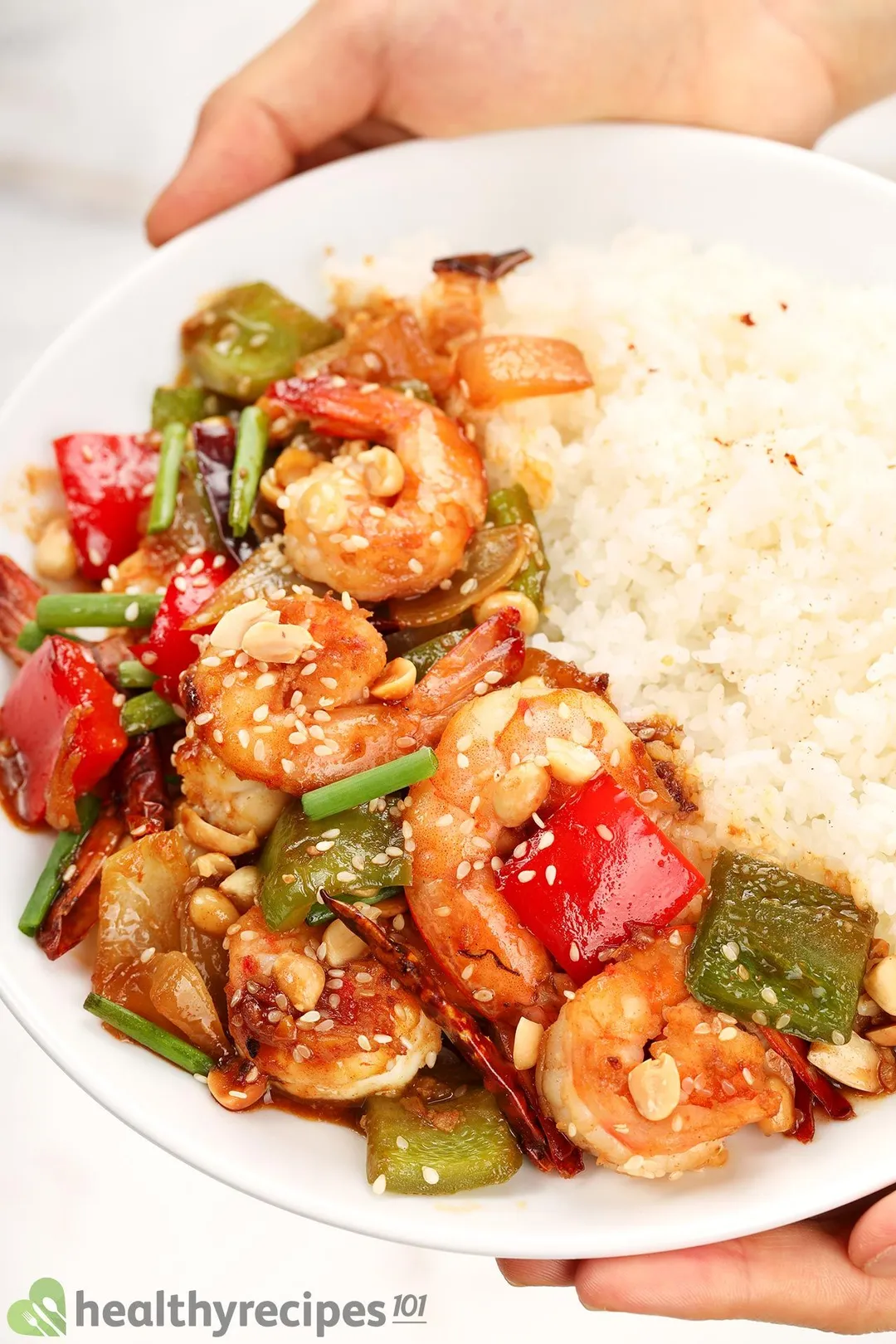 cook TIME

15 mins

prep TIME

5 mins

total TIME

20 mins
COURSE

Main Course

CUISINE

Chinese

SERVINGS

CALORIES

501 kcal
INGREDIENTS
24 oz

raw shrimp

(about 24 medium (12 oz if peeled))

4 tbsp

unsalted chicken broth

2 tbsp

reduced-sodium soy sauce

1/2 tbsp

sesame seeds

(toasted)

2 tbsp

olive oil

(divided)

4 oz

red bell peppers

(about 1 medium, cut into chunks)

4 oz

green bell peppers

(about 1 medium, cut into chunks)

3 oz

onions

(about 3/4 a medium, cut into chunks)

2 tbsp

garlic

(about 3 cloves, minced)

1 tbsp

ginger

(about 1 small knob, finely chopped)

2 tbsp

green scallion

(about 2 sprigs, cut into 1-inch segments)

6

dried chilis

(or to taste)

3 cups

cooked medium-grain rice
INSTRUCTIONS
1
In a bowl, mix together 4 tbsp chicken broth, 2 tbsp soy sauce, 1/2 tbsp sesame oil, 2 tsp cornstarch, 1 tsp brown sugar, 1 tsp hoisin sauce, and 1 tsp paprika. Set aside.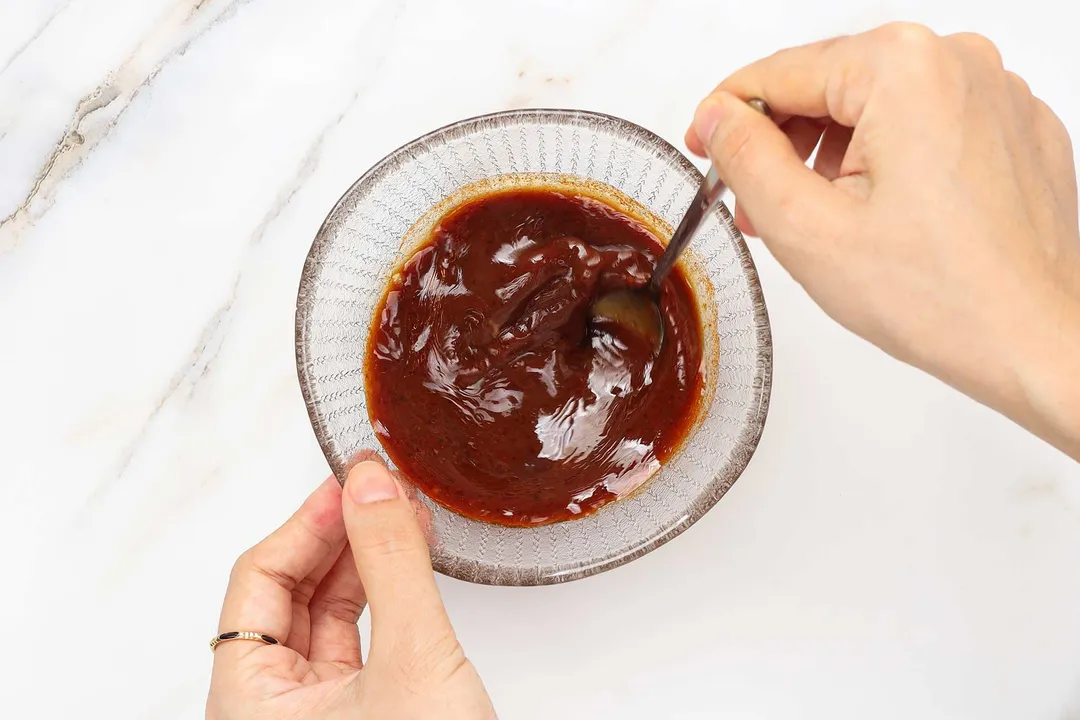 2
Heat 1 tbsp olive oil in a large skillet over medium heat. Add 4 oz red bell peppers, 4 oz green bell peppers, and 3 oz onions, and sauté for 3 minutes. Place the cooked vegetables in a bowl and set aside.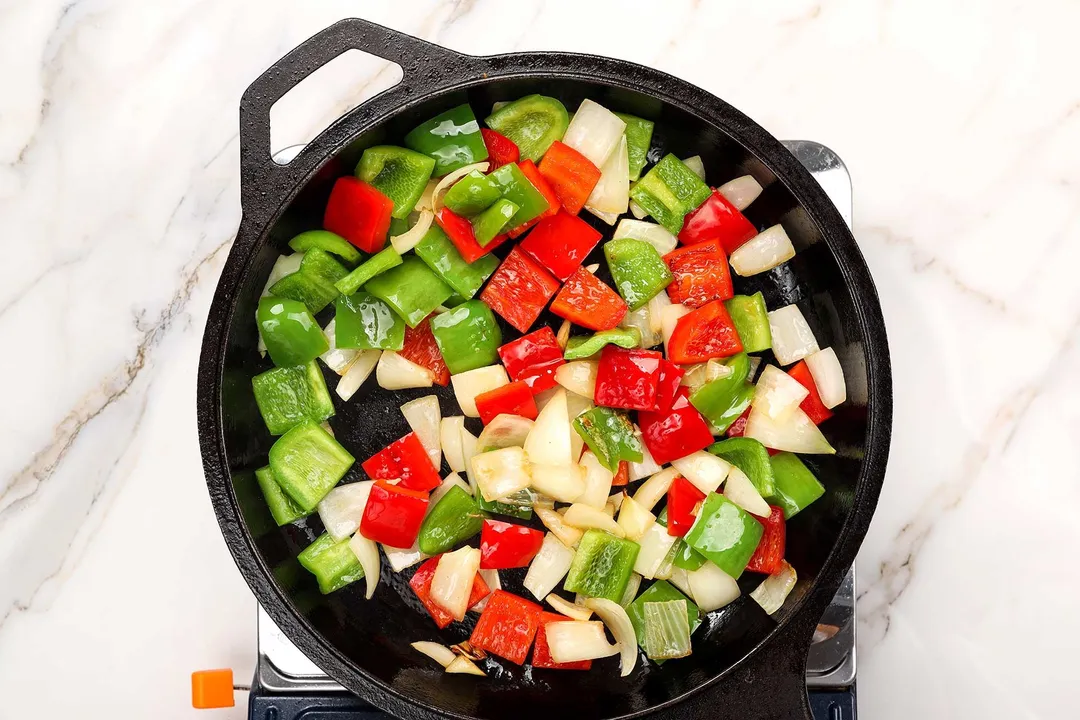 3
Add another 1 tbsp olive oil to the skillet. Sauté 2 tbsp garlic and 1 tbsp ginger for 30 seconds, then add the shrimp to sear. Stir them around so each shrimp touches the skillet, and leave them be so they sear nicely. After about 3 minutes, move the shrimp around and flip to sear the other side for 2 minutes.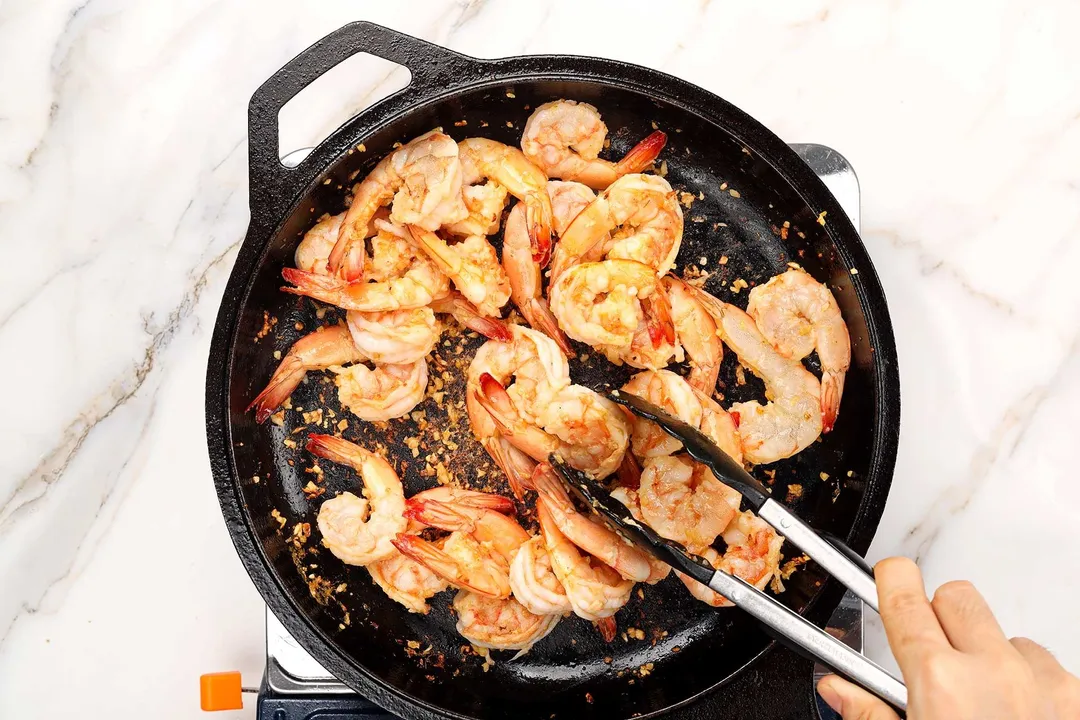 4
Add the cooked vegetables back to the pan and stir everything for 1 minute. Stir the sauce (the cornstarch will have settled to the bottom) and add it to the skillet. Allow it to reduce for about 1 minute.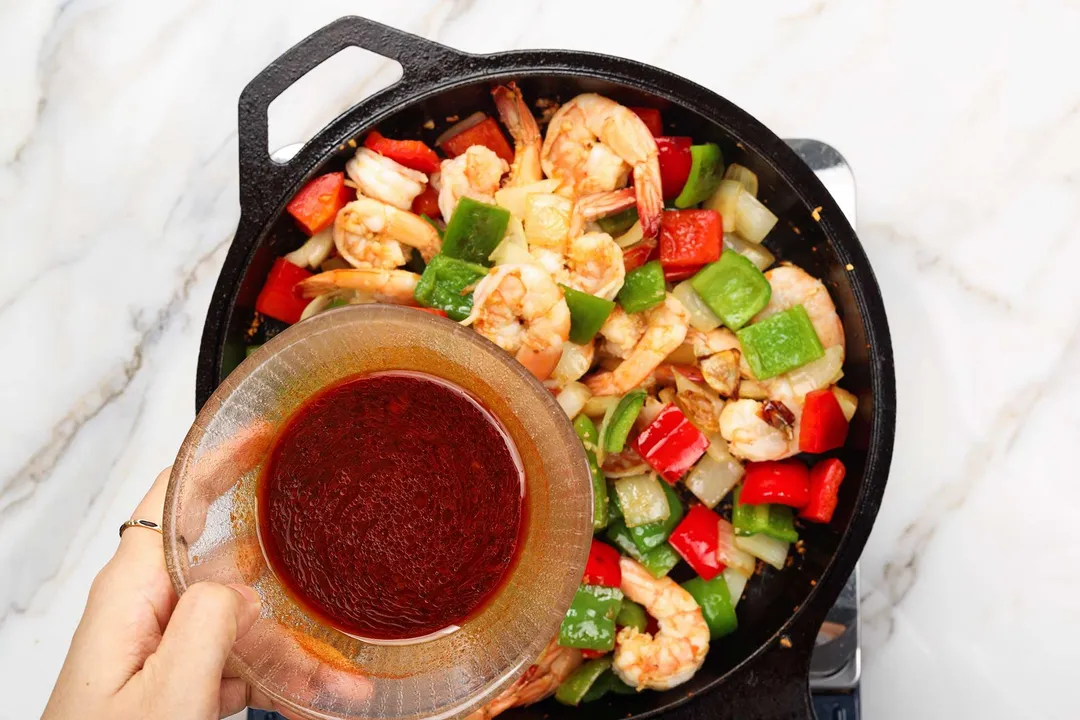 5
Turn off the heat. Mix in 6 dried chilis, 1 oz toasted peanuts, and sprinkle on top 2 tbsp chopped scallion and 1/2 tbsp toasted sesame seeds.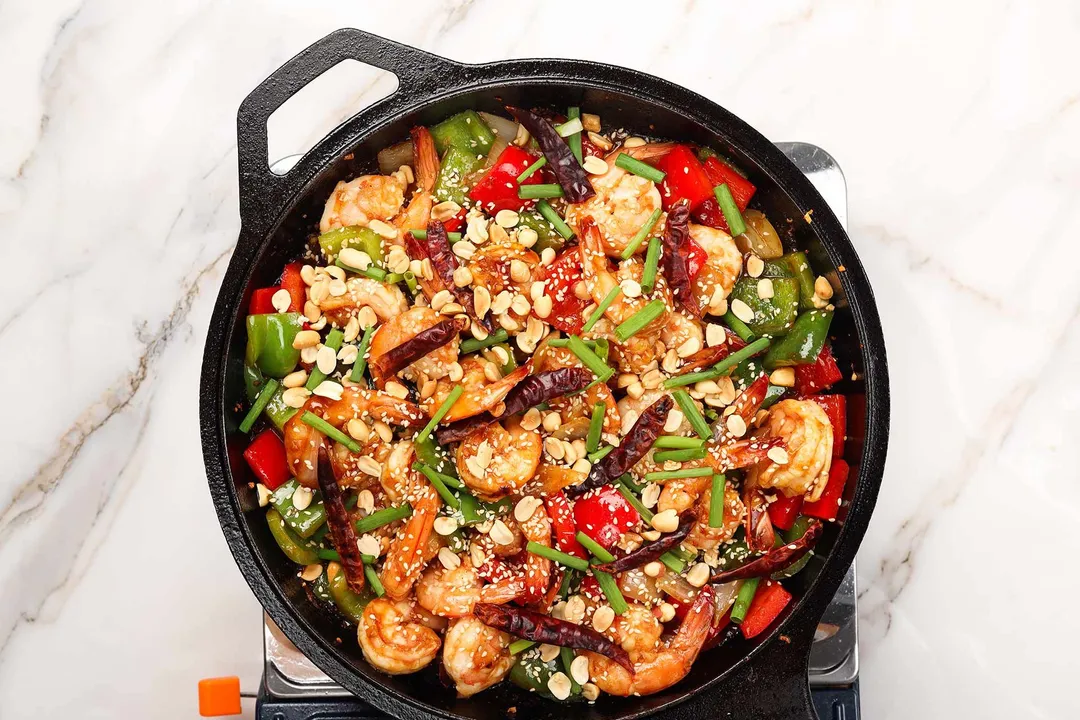 6
Serve with 3 cups cooked rice and enjoy.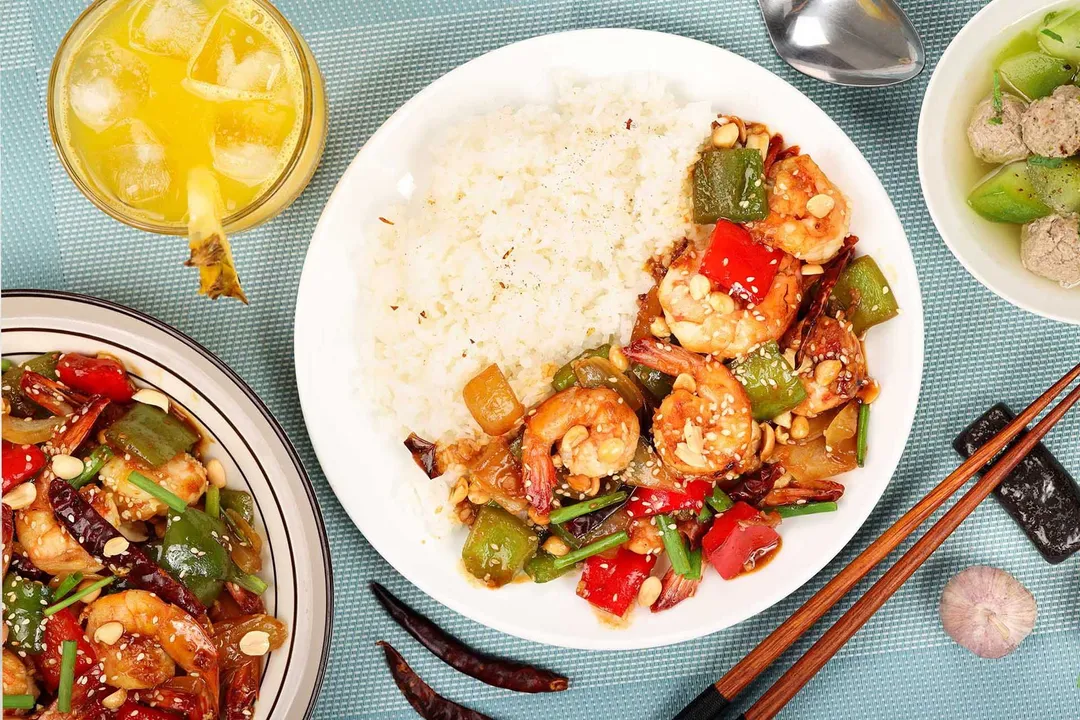 NUTRITION
Nutrition Facts
Kung Pao Shrimp
Amount Per Serving (1 serving)
Calories 501
Calories from Fat 126
% Daily Value*
* Percent Daily Values are based on a 2000 calorie diet.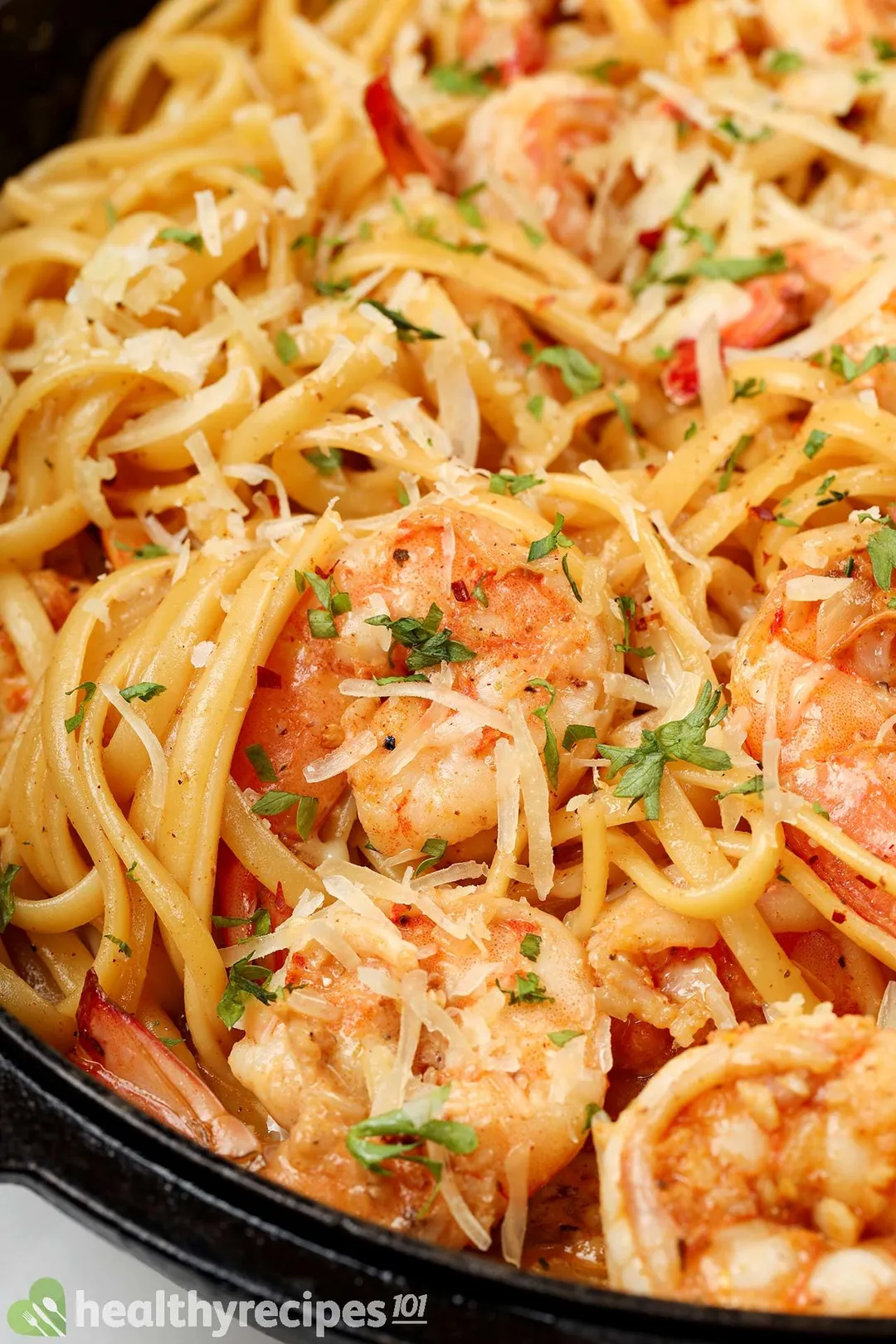 Previous Recipe
Shrimp Alfredo
Shrimp Alfredo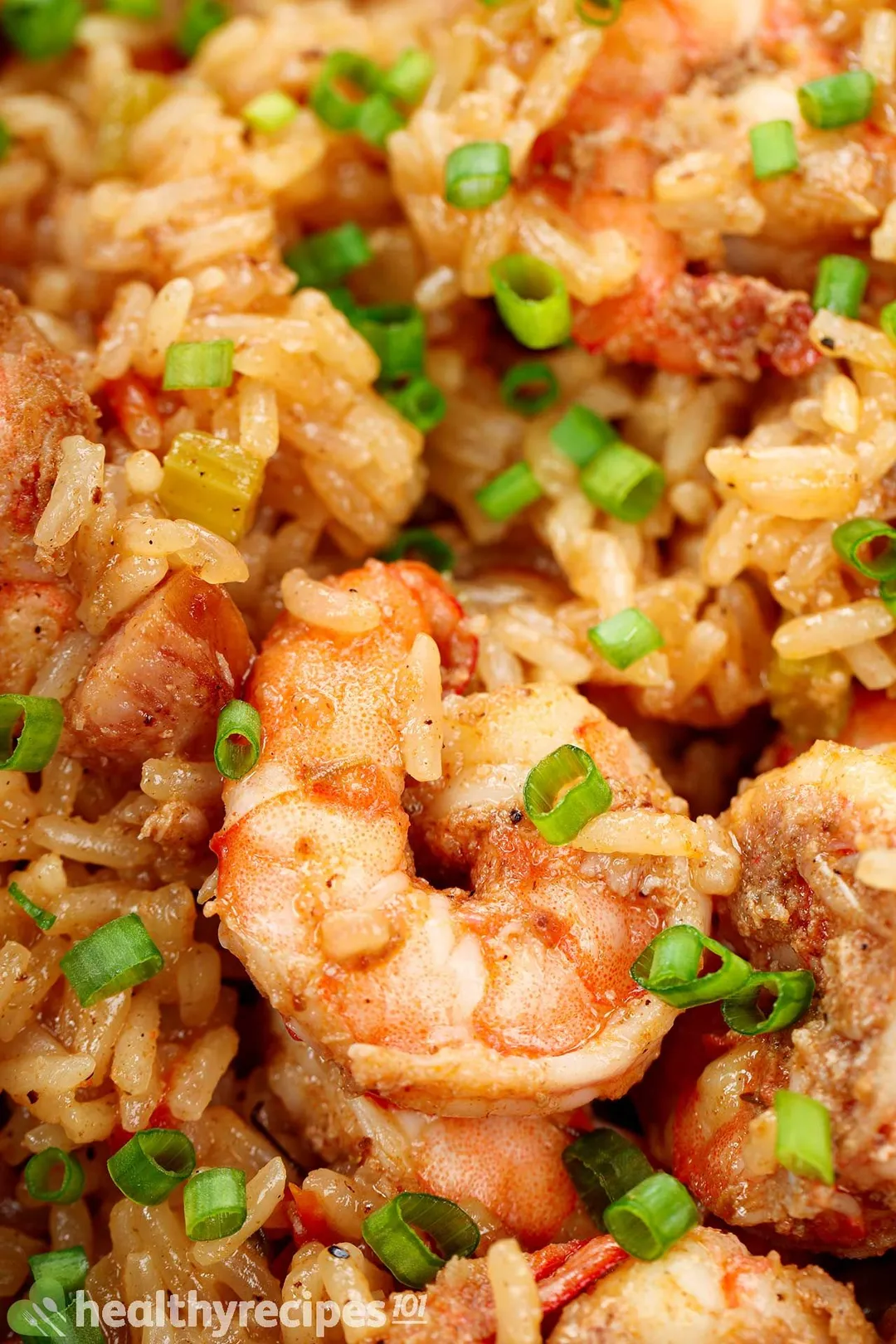 Next Recipe
Shrimp Jambalaya
Shrimp Jambalaya
Head Chef, Culinary Consultant
Tuyet Pham is an award-winning Saigonese chef who believes that joy is the secret ingredient to delicious food. At Healthy Recipes 101, Tuyet personally tests and simplifies every recipe, ensuring maximum flavor with minimal effort. With a background at prestigious French restaurants P'TI Saigon and Le Corto, Tuyet knows how to make every dish exceptional.
Writer, Author
Luna Regina is an accomplished writer and author who dedicates her career to empowering home cooks and making cooking effortless for everyone. She is the founder of HealthyKitchen101.com and HealthyRecipes101.com, where she works with her team to develop easy, nutritious recipes and help aspiring cooks choose the right kitchen appliances.
Nutrition Reviewer
Lizzie Streit is a Minneapolis-based dietitian and founder of It's a Veg World After All. She completed her MS in Human Nutrition from Drexel University, and is an expert in culinary nutrition, recipe development, and nutrition communications. Lizzie's philosophy is centered around making nutrition recommendations, and especially the advice to eat more vegetables, approachable and realistic. She is excited to be working with the team at Healthy Recipes 101 to ensure that their recipes are both nutritious and delicious.
The tender shrimp and crunchy vegetables are coated in a delicious sauce that's sure to satisfy your taste buds.