This sugar cookies recipe makes fun treats for Christmas, National Sugar Cookie Day (July 9), and National Cookie Exchange Day (December 22). Also, making and decorating cookies is a great activity to get everyone in the kitchen to spend time together.
For today's recipe, we'll show you how to make both the cookies and icing from scratch.
The phrase "from scratch" may sound intimidating, but no need to worry. We will give you step-by-step instructions for this simple recipe.
What Is a Sugar Cookie?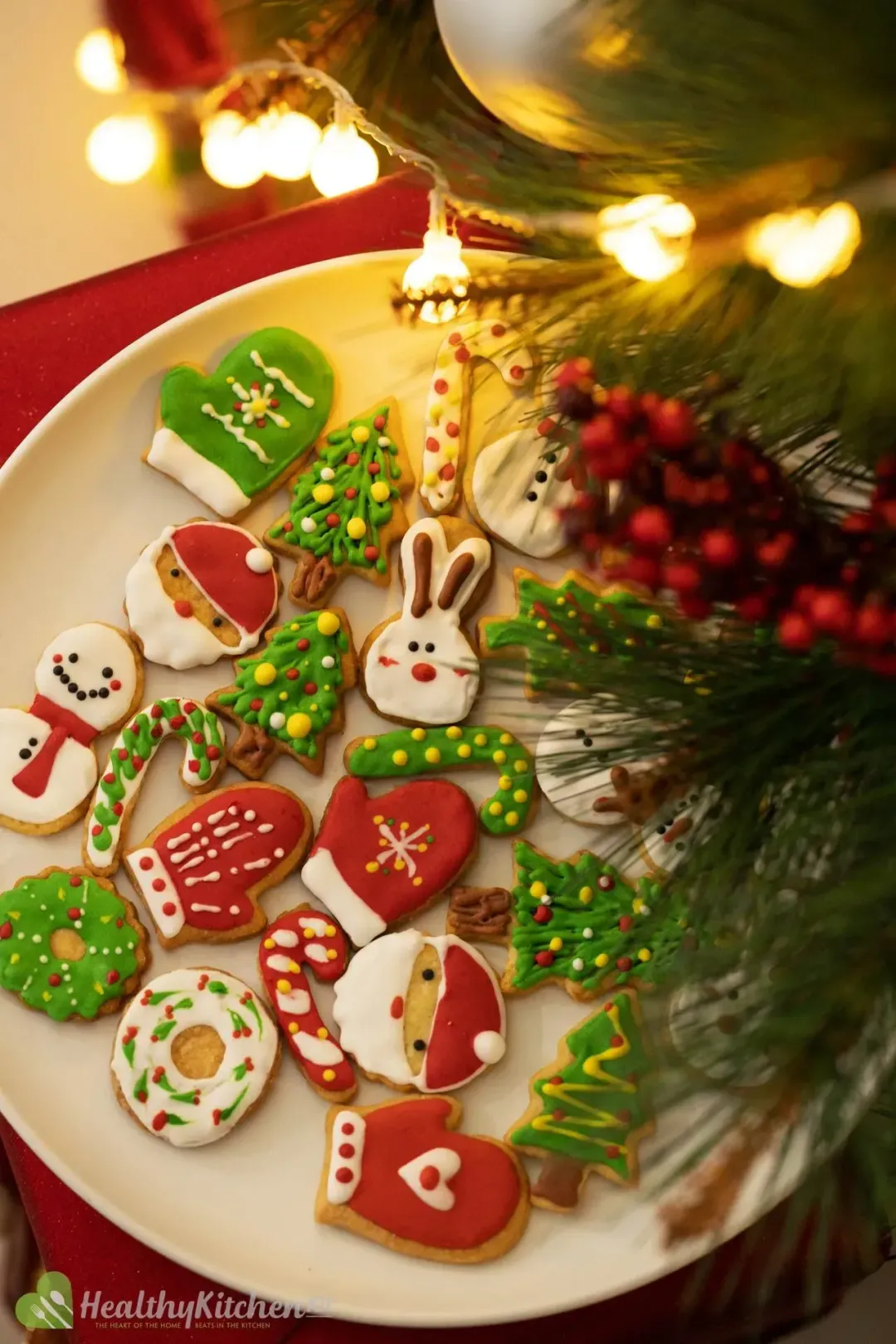 A sugar cookie is a type of cookie made with sugar, eggs, butter, flour, vanilla, and baking soda. Baking powder is a common alternative leavening agent.
Sugar cookies can be cut out into various shapes and sizes with the help of a cookie cutter. Or, they can be rolled out into bite-sized pieces by hand.
Once baked, these cookies are decorated with additional sweetening agents such as sugar, icing, and/or sprinkles.
Due to their high sugar content, sugar cookies are very sweet and tend to be crispy rather than soft and chewy. However, since they contain mostly sugar, they aren't exactly healthy.
Are These Sugar Cookies Healthy?
As mentioned, sugar cookies are basically sugar, starch, and fat. In other words, they are calorie-dense and thus are not commonly considered a healthy food.
However, we do understand that everyone enjoys sweet treats from time to time. That is the reason and motivation for us to develop a healthier sugar cookie recipe.
Apart from decreasing the amount of butter in the recipe, we reduced the added sugar to avoid a high sugar content.
Added sugar is classified as any sugar or caloric sweetener that does not naturally occur in foods. This includes honey, maple syrup, agave, granulated, brown, powdered sugar, etc.
So, how much sugar is considered "healthy"?
According to USDA's Dietary Guidelines, a person's daily sugar intake should be less than 10% of calories from added sugar.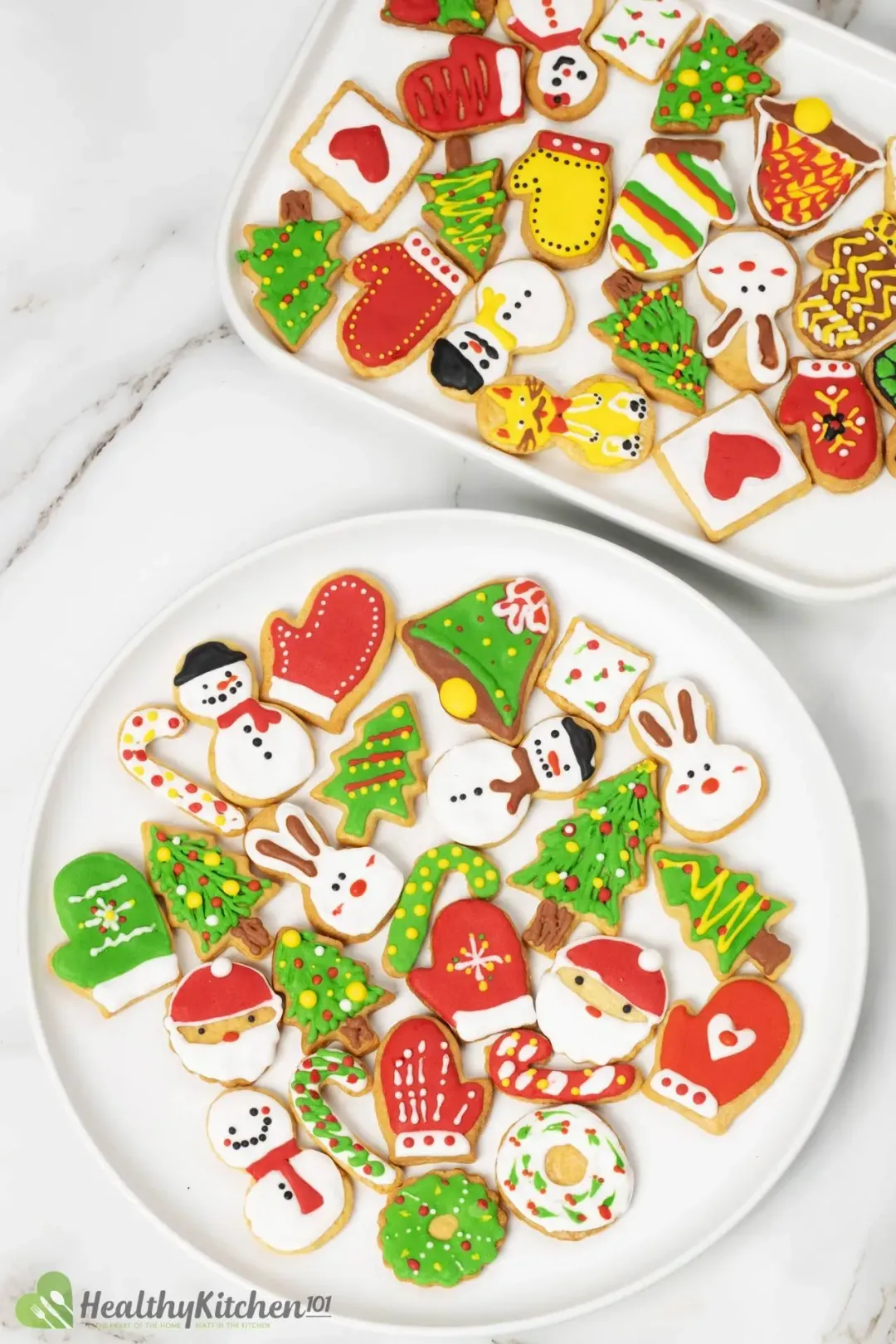 For example, if your daily calorie intake is 2,000 kcal, your recommended sugar intake should be less than 200 kcal. This is equivalent to around 50 grams or 12 teaspoons of added sugar.
Our sugar cookies contain about 1.6 grams of added sugar per cookie. This means you should eat no more than six of our cookies per day to avoid overconsumption of sugar.
If you love healthy sweet treats, you can check out our peanut butter cookies recipe and pumpkin cookies recipe later. Just like today's sugar cookies, they are all limited in added sugar as well.
How Many Calories Are in a Sugar Cookie?
There are only 27 calories per sugar cookie. However, our cookies are relatively small— roughly 2 inches in size.
If you make bigger cookies, the amount of sugar and calories per cookie will increase. It is best to keep an eye on your nutritional calculations.
3 Main Ingredients for Sugar Cookies
The 3 main ingredients that deeply affect the flavor and texture of cookies are:
All-purpose flour: The more flour you use, the harder the cookies will be. It makes it more difficult to bite into them.
Fat: In today's recipe, this comes in the form of unsalted butter and eggs. We recommend keeping them to a minimum to avoid overconsuming cholesterol and saturated fats.
Sugar: We use white granulated sugar. If you increase the amount of sugar, your cookies will become extra crispy.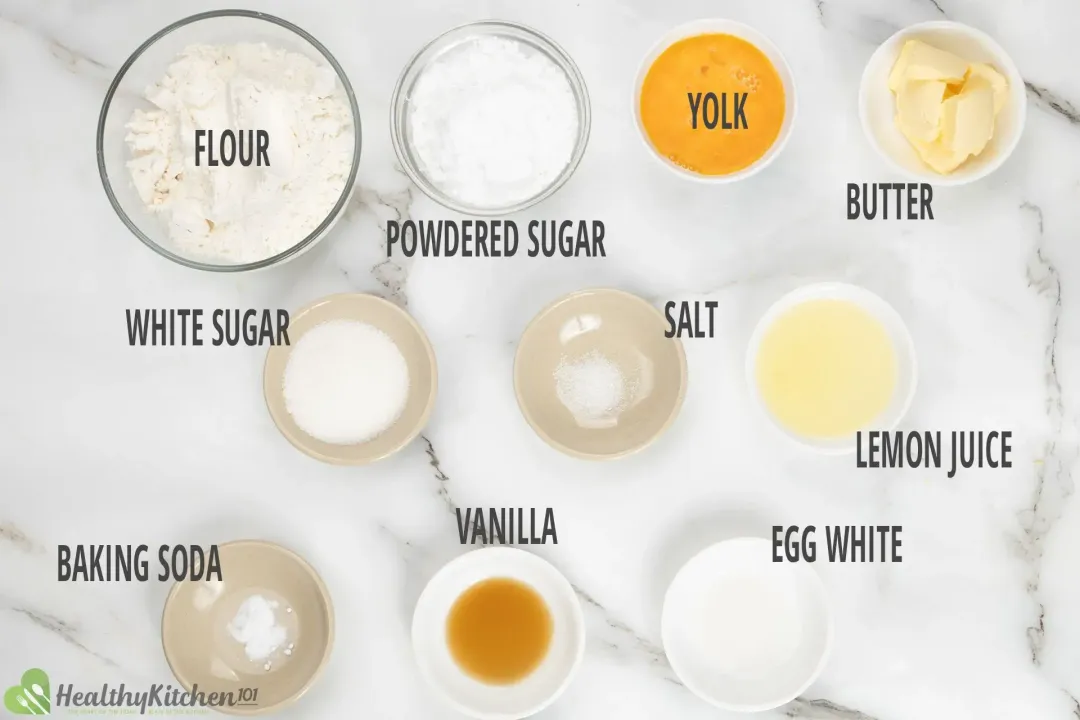 Other ingredients such as baking soda and vanilla also have a role in shaping the cookie texture and flavor profile. However, they are optional— you can skip them if you don't have them on hand.
Icing for Sugar Cookies
The process of making icing or frosting is actually simple.
All you need is cold egg whites, powdered sugar, and lemon juice. Beat vigorously, and there you have it: a simple icing for your cookies!
The icing tends to dry out quickly. You should start making the icing only when you are ready to decorate your baked, room-temperature cookies.
If you want to make it ahead of time, pour your icing into a piping bag to prevent it from drying. Just don't cut the tip of the piping bag, and be sure to leave it at room temperature.
"But wait, this recipe contains raw egg whites? Is that safe?" you may ask.
Generally, raw eggs are not safe to eat. Bacteria in raw eggs like Salmonella can cause diseases such as stomach irritation, vomiting, diarrhea, etc.
It would be best to refrain from eating raw eggs or raw cookie dough to avoid food poisoning. However, for today's recipe, you can use pasteurized eggs to ensure food safety.
How to Decorate Sugar Cookies
When it comes to decorating cookies, it is best to depend on your imagination (and maybe a few online references). That being said, here are some tips for decorating cookies: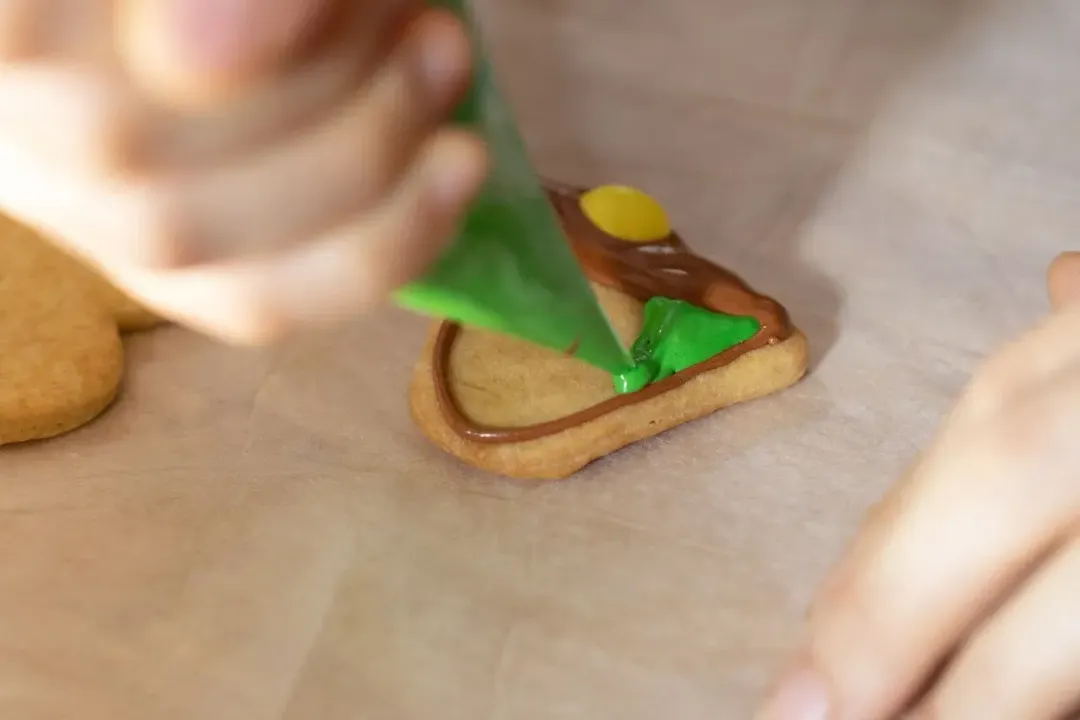 Sugar icing tends to dry quickly, so you might want to wait for the cookies to cool before making it. We use a piping bag and fill it with colored icing to decorate our cookies.
If you don't have a piping bag, a ziploc bag works, too. You can use a small piping tip to draw details on your cookies, but the tips are optional.
For those who don't have piping tips, simply cut a small piece off the tip of your piping bag. The result should be similar.
Practice piping the icing out on parchment paper before actually decorating cookies. That way, you can get used to the pressure and flow of the icing.
What Else Goes Well with Sugar Cookies?
Here are a few ingredients you can use to customize this recipe to your taste:
1. Brown Sugar
Brown sugar adds moisture to the cookie dough. This will make the cookies chewier than using regular white sugar.
If you love the combination of slightly crispy, yet still chewy cookies, use equal parts white and brown sugar.
2. Cinnamon
Ground cinnamon in the cookie dough will give you amazingly aromatic cookies. You only need a small amount of it because this spice is extra potent.
3. Chocolate
Chocolate can give a bittersweet, nutty flavor to your cookies. You can even use melted chocolate to decorate the cookies as well.
4. Sour Cream
Adding sour cream to the cookie dough is a creative way to take it to the next level. Whip the sour cream along with the butter and sugar until fully incorporated so the flavor distributes evenly in every cookie.
5. Cream Cheese
Similar to sour cream, cream cheese also adds an interesting flavor to the cookies.
Keep in mind that both sour cream and cream cheese have a different texture compared to butter. Adding either to your recipe will alter the overall texture and, most likely, appearance of the cookies.
Check out this healthy dessert compilation for more tasty cookies.
Tips for Making Sugar Cookies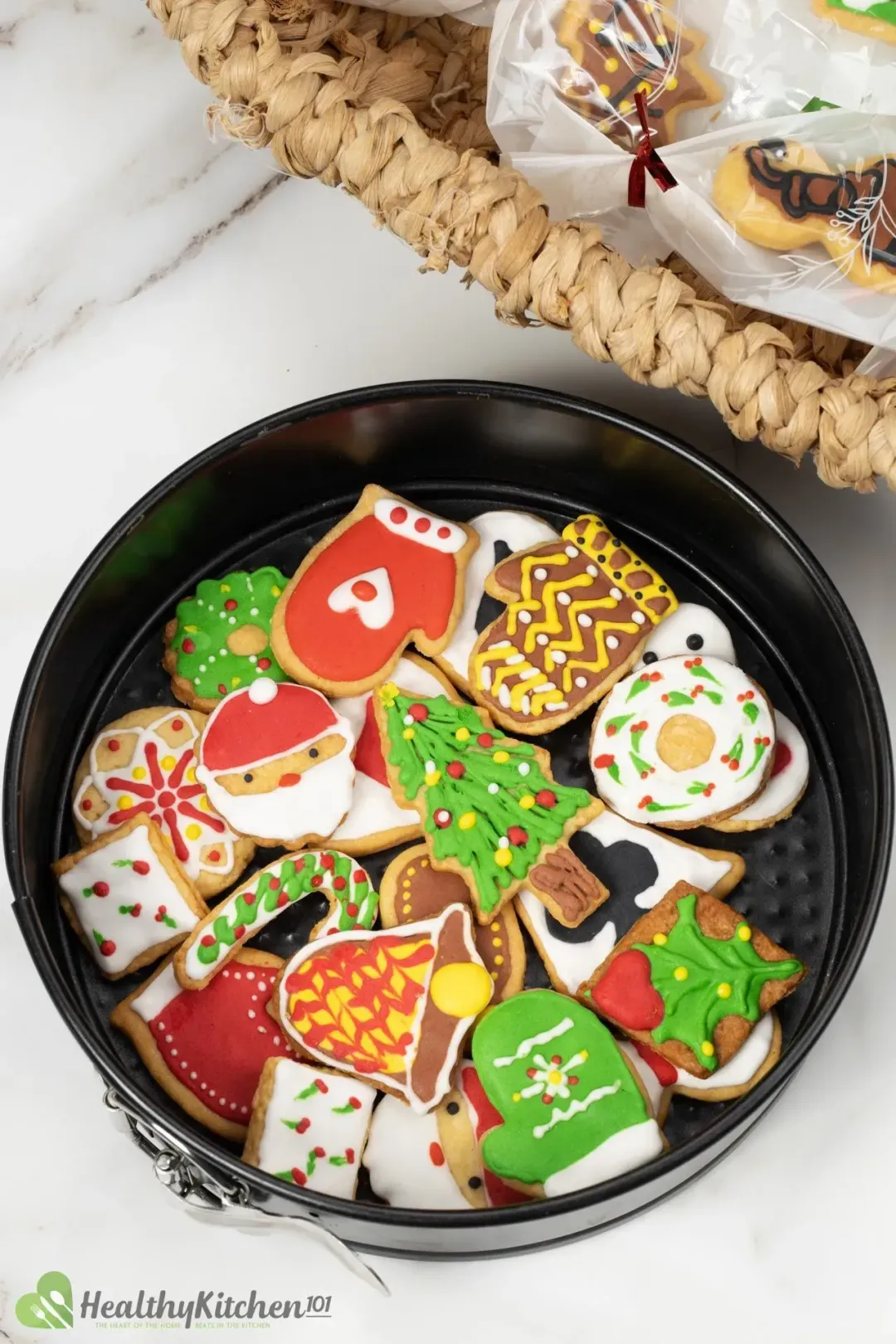 Sometimes during the baking process, the cookies may not hold their shape and will  spread out too much. You will end up with oddly shaped cookies that aren't easy to decorate.
This is one of the most common problems many home bakers encounter while making cookies.
The solution to this problem is simple: refrigerate or freeze your shaped cookies before baking.
After cutting out the cookies, transfer them to a baking tray, and into the refrigerator they go. Leave them in for at least 15 minutes before baking.
However, if you're in a hurry, you can put your cookies in the freezer for 5 minutes.
FAQ
1. Can You Freeze Sugar Cookies?
Yes, you can.
However, we highly recommend freezing raw cookie dough instead of baked cookies. If you love warm, freshly baked cookies, but don't have time to make a whole batch, this is your answer.
In your free time, whip up a big batch of cookie dough and roll it into a log. Divide it into sections that fit a ziploc bag and put them into the bag(s).
Place the logs into the freezer and they will last for about a month.
Whenever you have a sweet tooth, take a piece of dough out and defrost it in the microwave. Cut it into small cookies and bake for 15 minutes in the oven.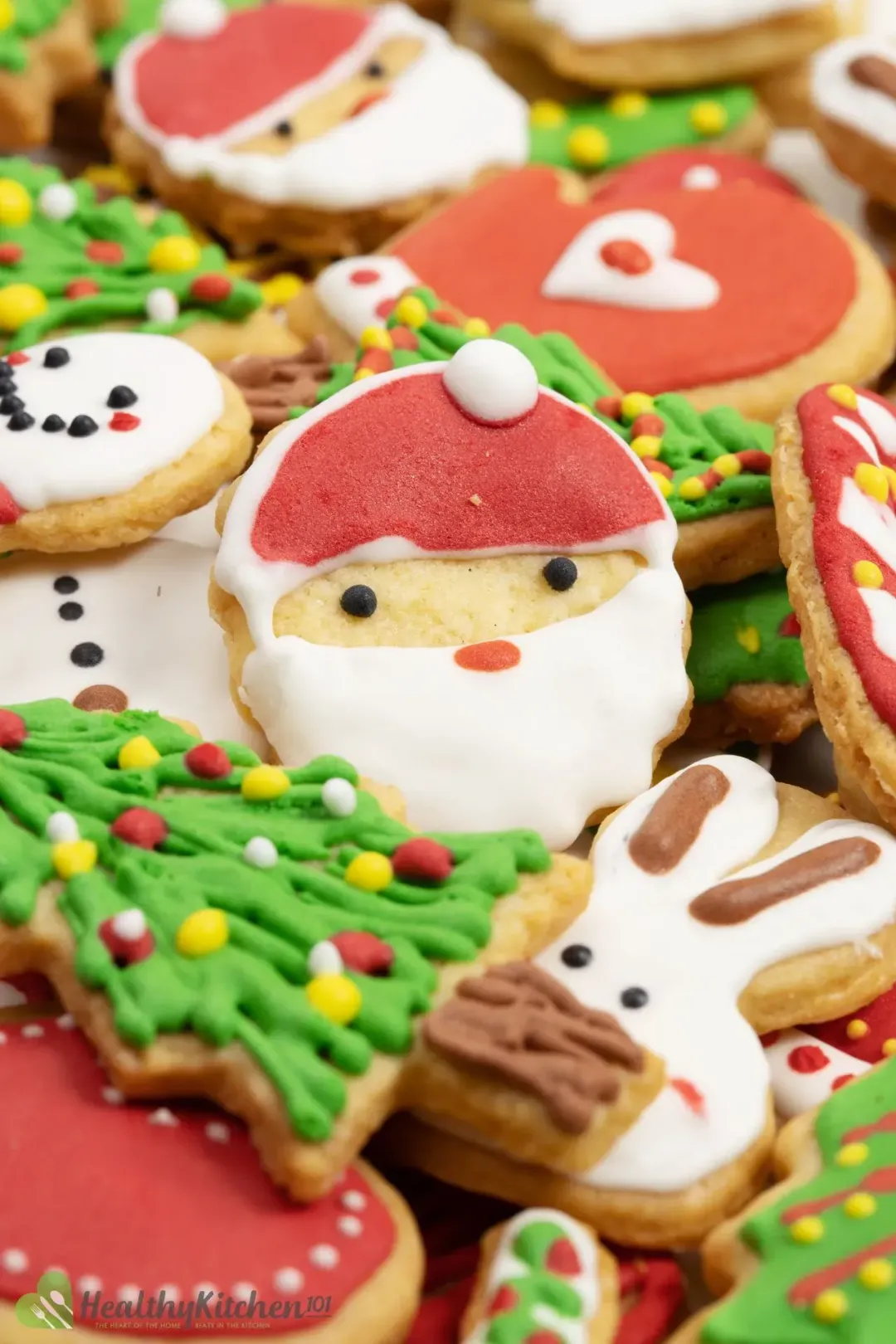 2. How Long Do Sugar Cookies Last?
Storing sugar cookies is very simple. You can keep them in an airtight jar and they will last up to 2 weeks at room temperature.
Keeping them in an airtight container will prevent them from getting stale and losing their crispy texture. Leave the container in a cool, dry place away from direct sunlight to prevent the icing from melting.
Give These Sweet Treats a Try
Sugar Cookies
This sugar cookies recipe may have a lot of steps, but it's actually very simple. You will be surprised how delicious these treats are.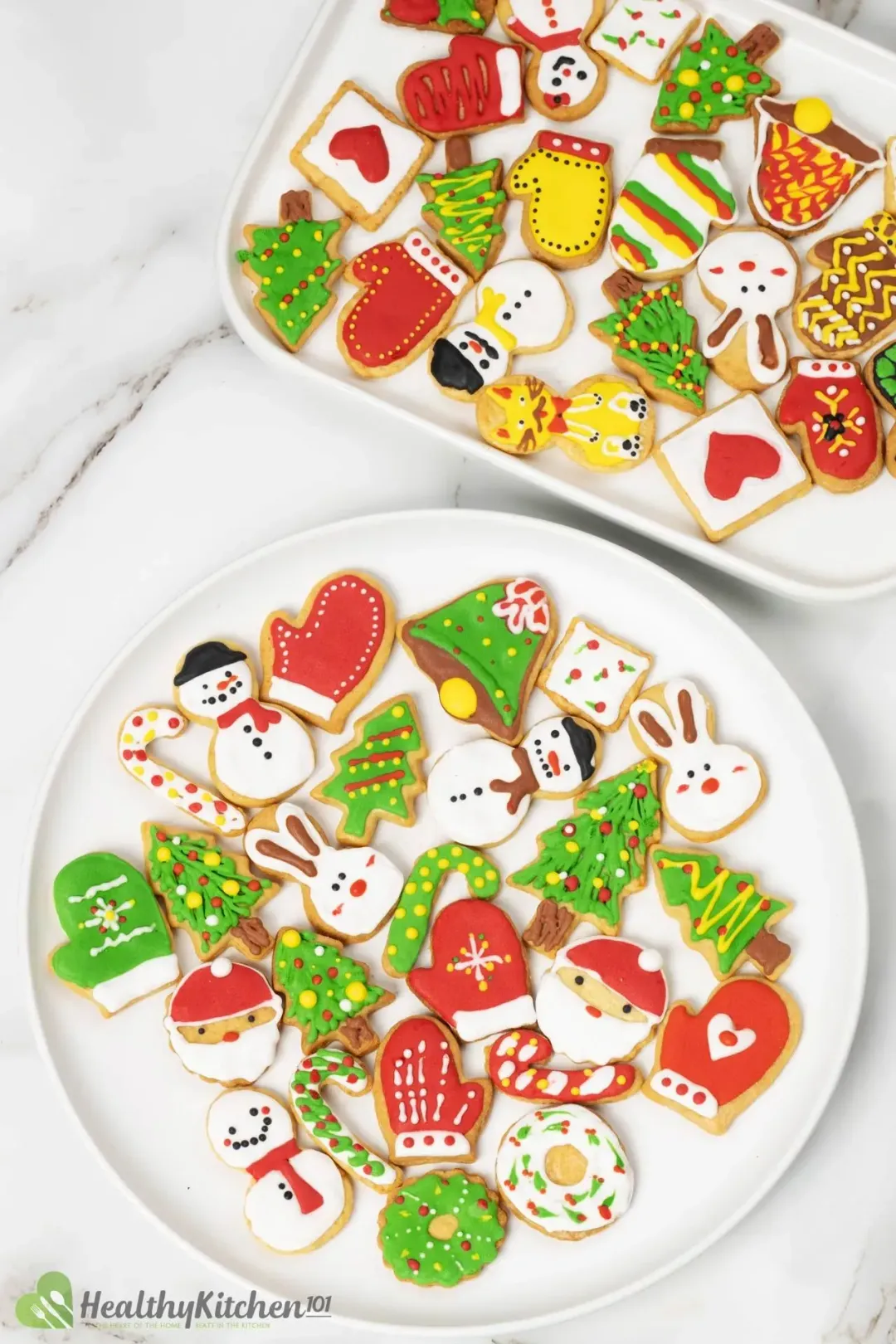 cook TIME

15 mins

prep TIME

10 mins

total TIME

1 hr

INACTIVE TIME

35 mins
COURSE

Snack

CUISINE

American

SERVINGS

CALORIES

27 kcal
INGREDIENTS
2 tbsp

white granulated sugar

2 oz

unsalted butter

(softened to room temperature)

2

medium eggs

(separated into 2 yolk, 1 egg white and 1 cold egg white)

1/2 cup

sifted powdered sugar
INSTRUCTIONS
Make the Cookies:
1
Sift the dry ingredients: Put a sieve over a large bowl. Add 1 cup all-purpose flour, 1/8 tsp salt, and 1/8 tsp baking soda. Sift them into the bowl.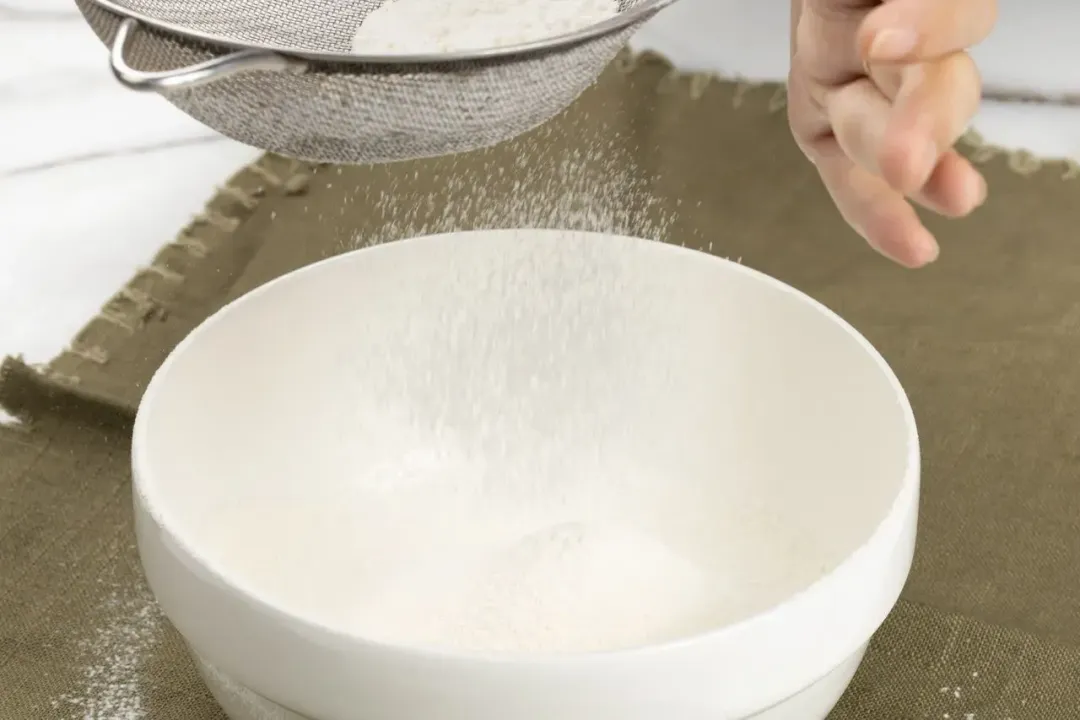 2
Beat the butter: In a clean bowl, add 2 oz unsalted butter and 2 tbsp sugar. Beat with an electric mixer until the butter turns pale.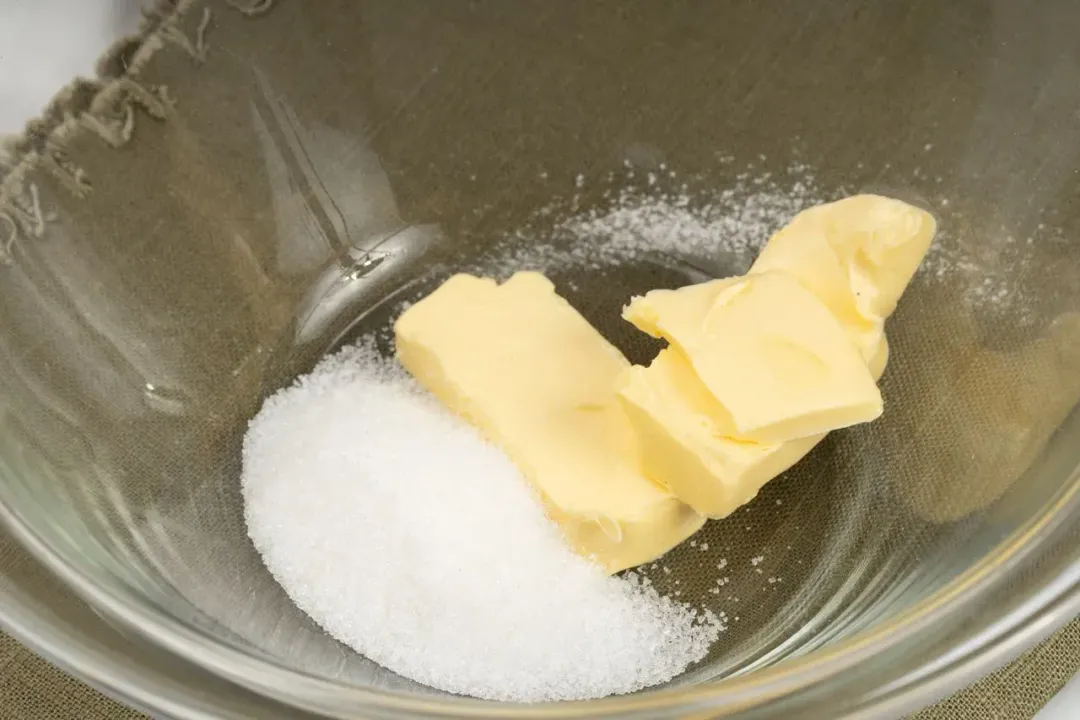 3
Beat egg and butter: Add 2 egg yolk, 1 egg white, and 1/2 tsp vanilla extract to the butter mixture. Continue beating until fully incorporated.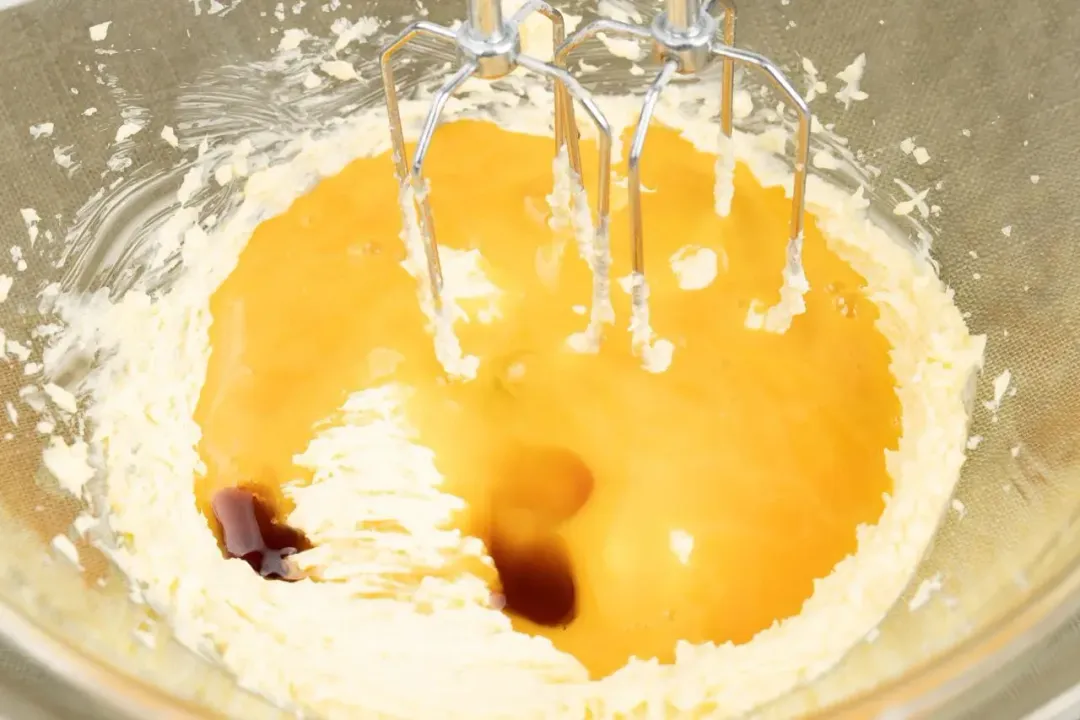 4
Add the dry ingredients to the butter mixture: Divide the flour mixture into three parts. Gradually add it to the egg and butter mixture. Beat it with the electric mixer. Once the batter starts to clump into pieces of dough, switch to a spatula.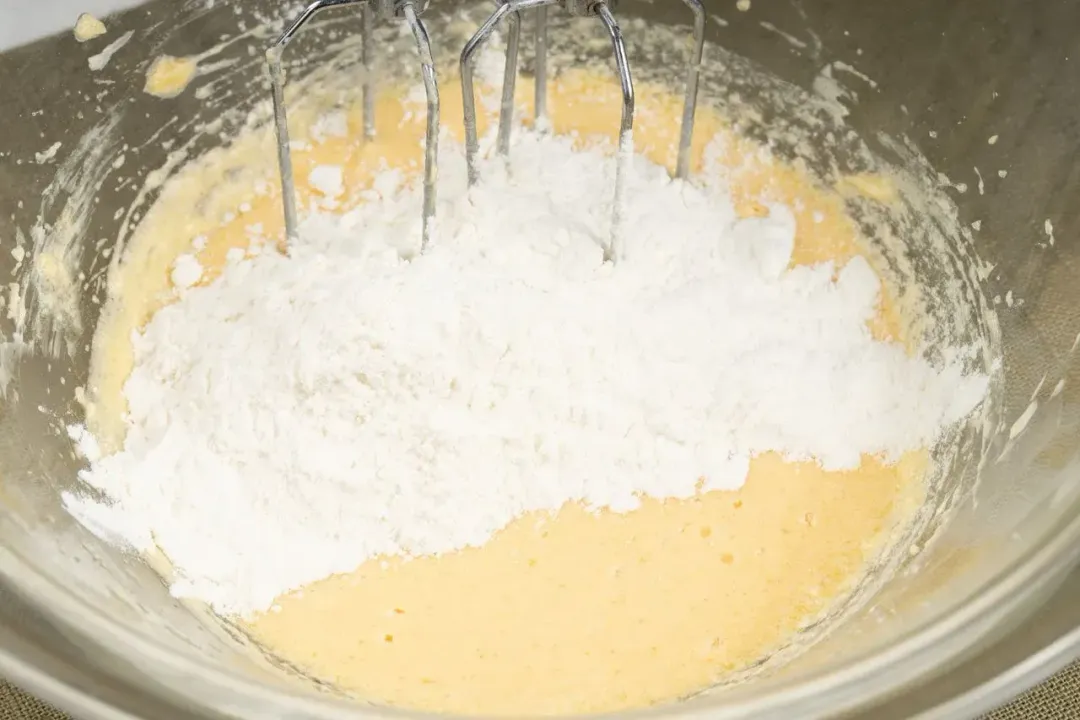 5
Form the dough: Turn the dough onto a clean work surface. Gather the crumbs and form into a roughly round dough ball. Wrap in cling film and refrigerate for 30 minutes.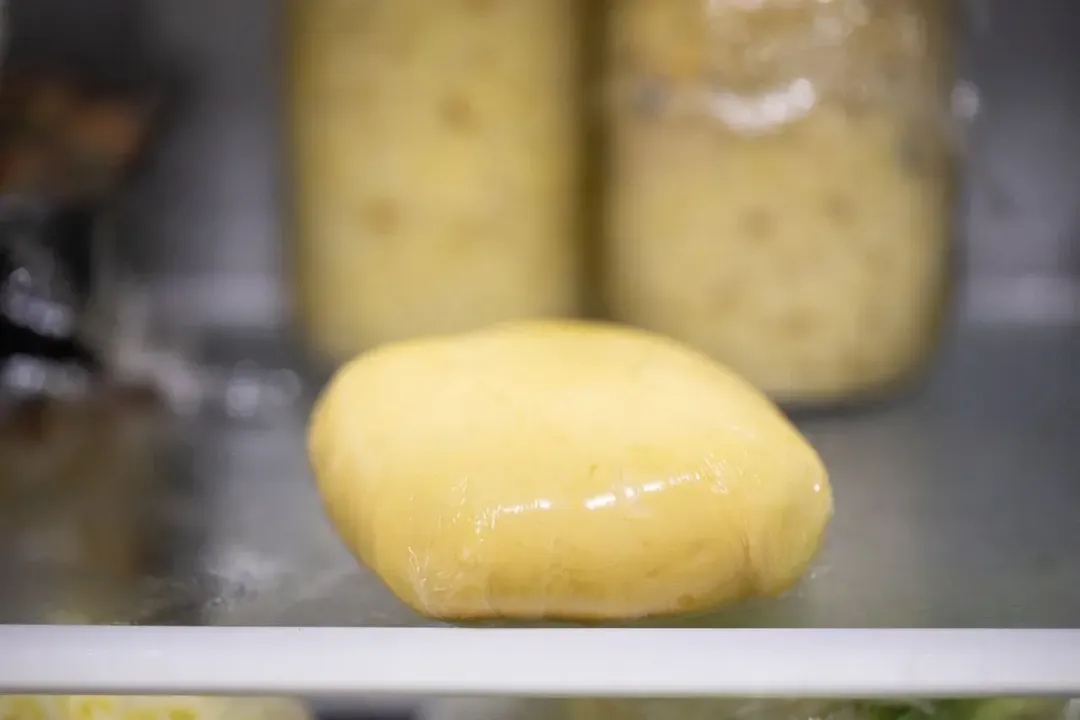 6
Put parchment paper over the dough: Put a large piece of parchment paper on the work surface and sprinkle flour on it. Place the dough on the paper and sprinkle more flour on the dough. Then, place another piece of parchment paper on top of the dough. These layers of paper will allow you to roll and remove the cut-out cookies with ease later.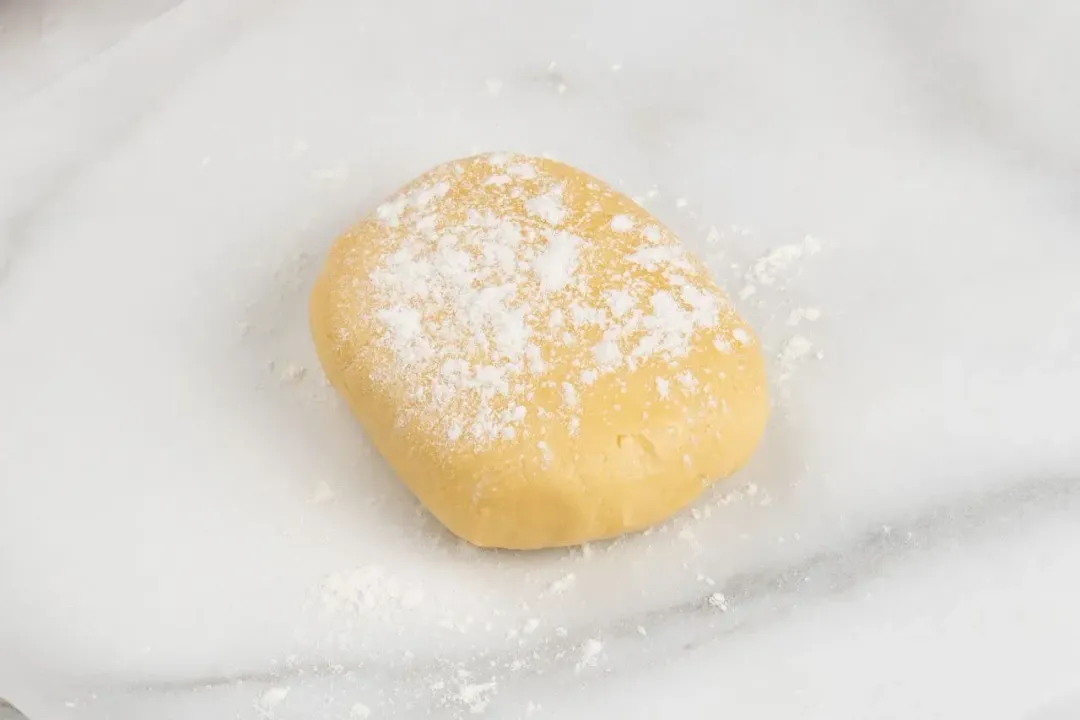 7
Roll the dough: Using a rolling pin, press the dough gently before rolling it 0.2-inch thick.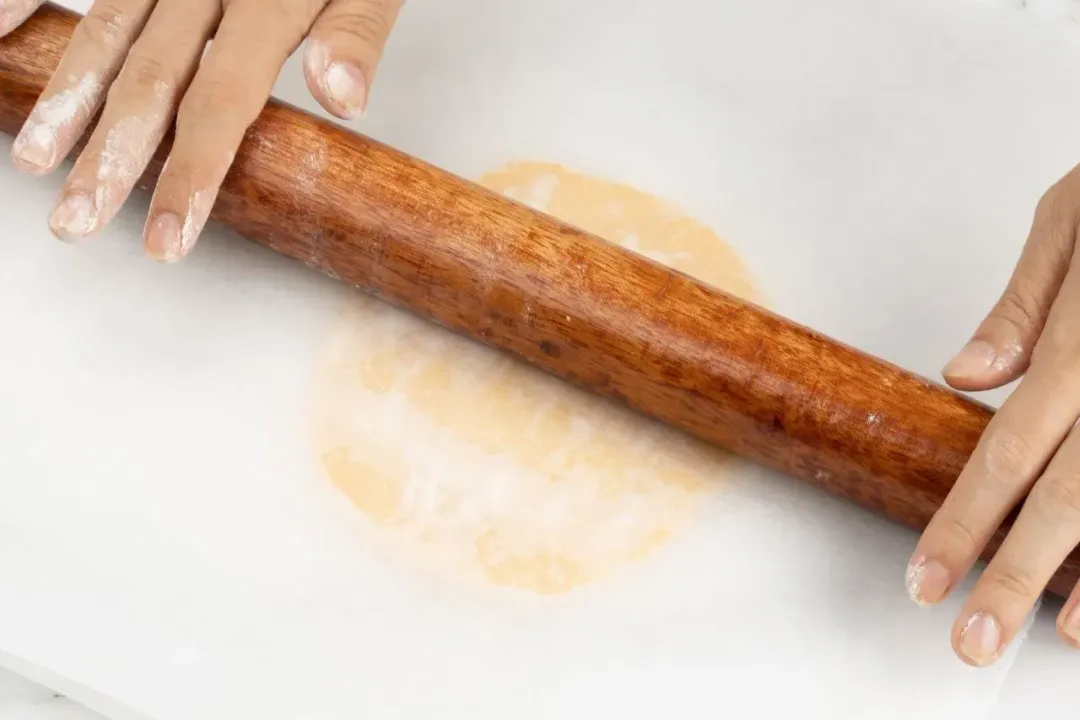 8
Cut out the cookies: Using a cookie cutter, cut the cookies into desired shapes. Carefully remove excess dough around the cookies and transfer them to a lined baking sheet using an offset spatula. Gather the scraps and form into a dough ball. Continue rolling and cutting until there is no scrap left.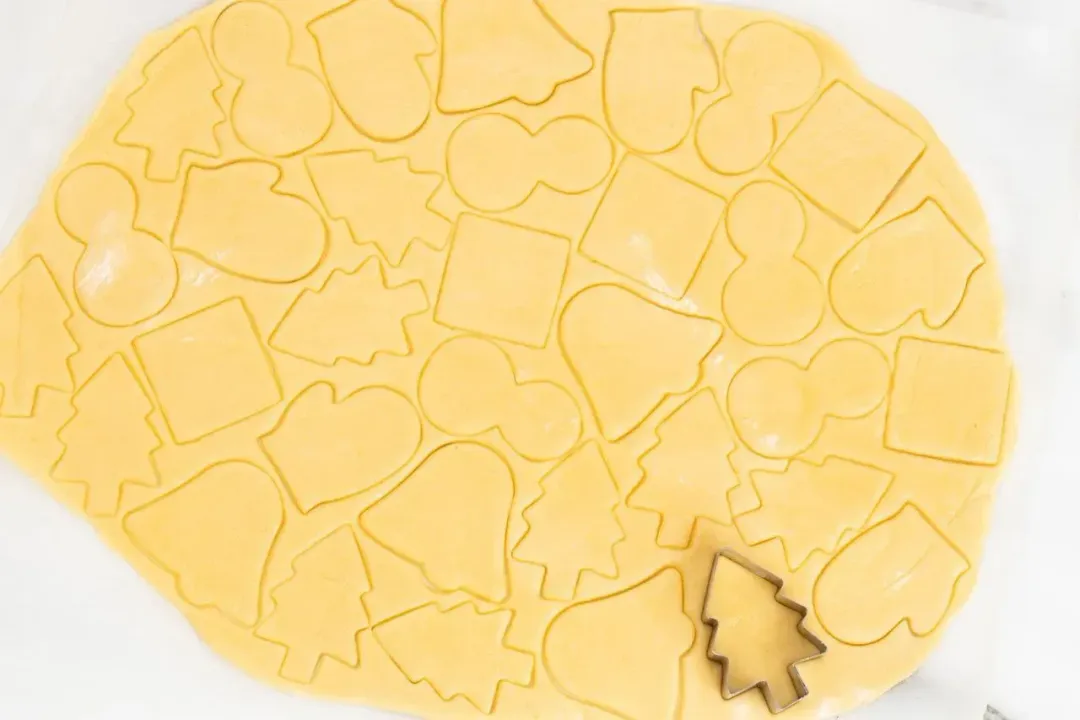 9
Freeze the cookies: Put the cookie tray in the freezer for 5 minutes before baking. While you wait, preheat the oven to 325°F.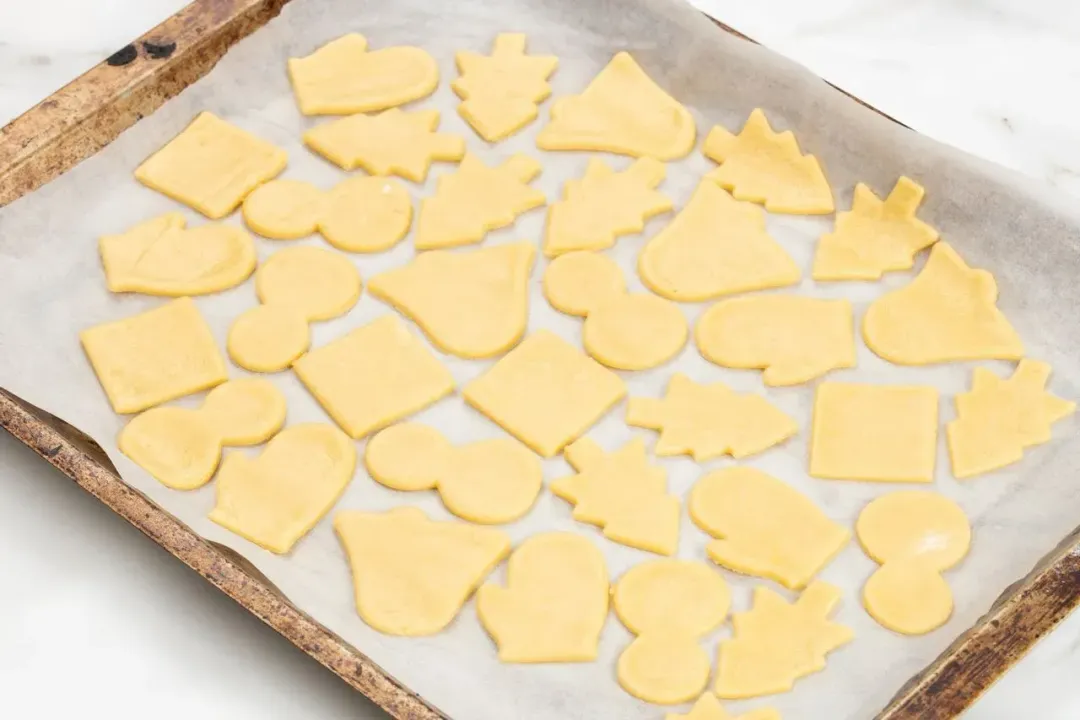 10
Bake the cookies: Put the cookie tray in the middle of the oven and bake for 15 minutes. Once baked, remove the cookies from the oven and let them cool completely. While you wait, make the icing.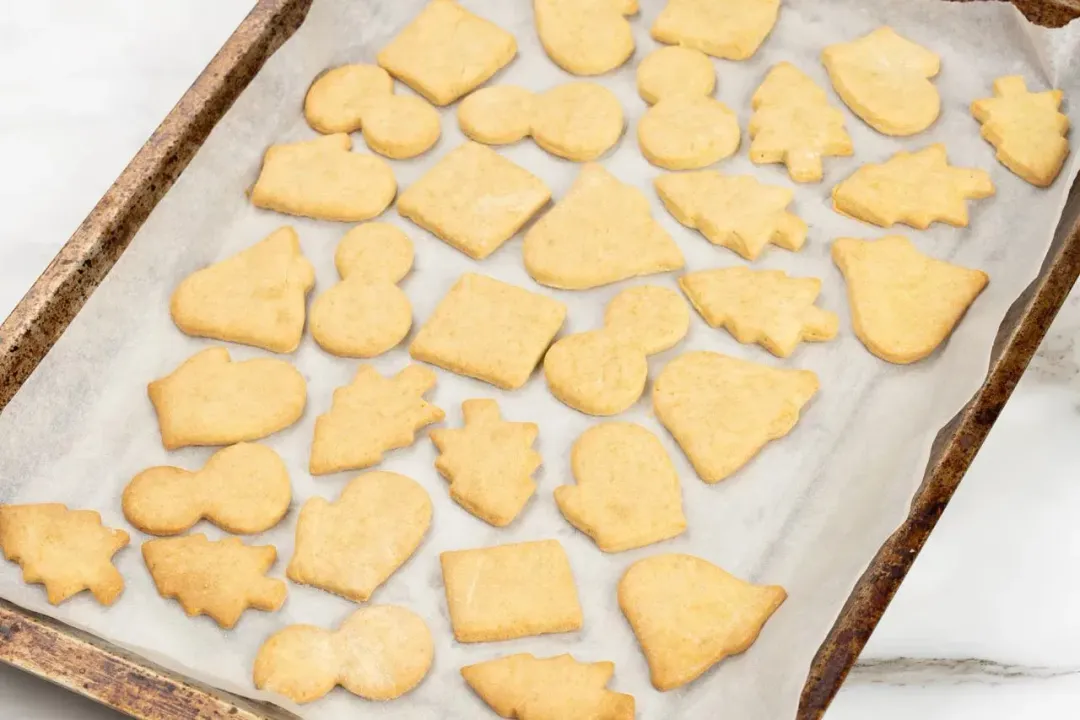 Make the Icing:
1
Beat the egg white and powdered sugar: In a clean bowl, add the remaining 1 cold egg white, 3/4 tsp lemon juice, and 1/2 cup powdered sugar. Using an electric mixer, beat for about 7 minutes or until stiff peaks form.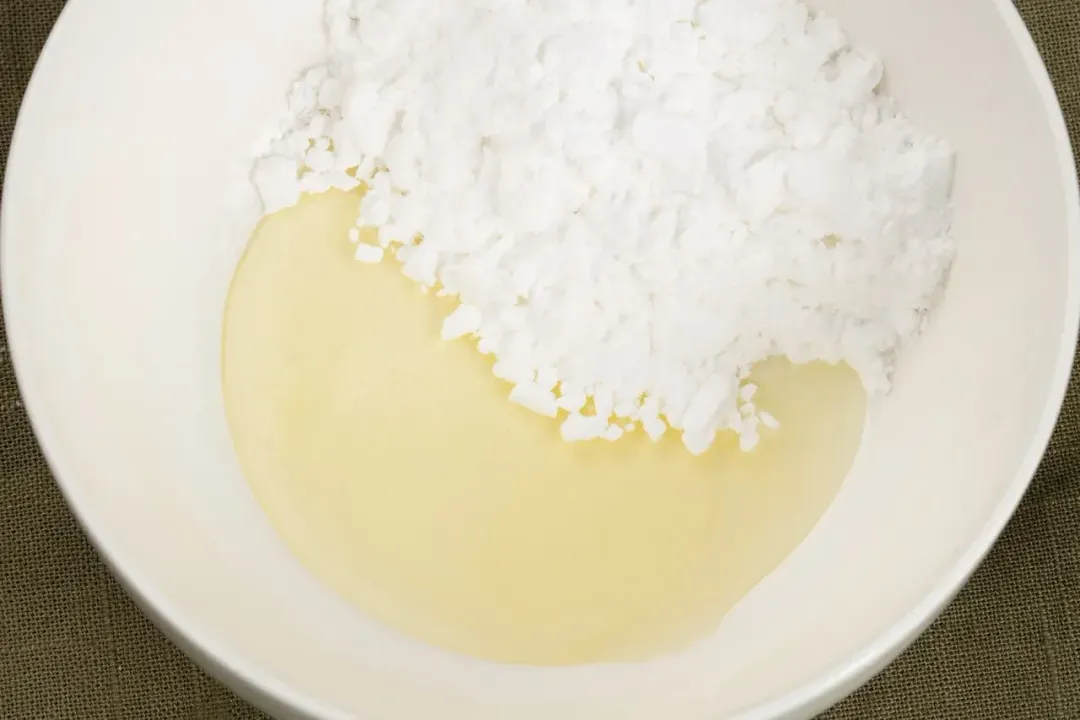 2
Add color to the icing: Divide the icing into small bowls. Add food coloring to each bowl and stir with a clean spoon to get the desired colors.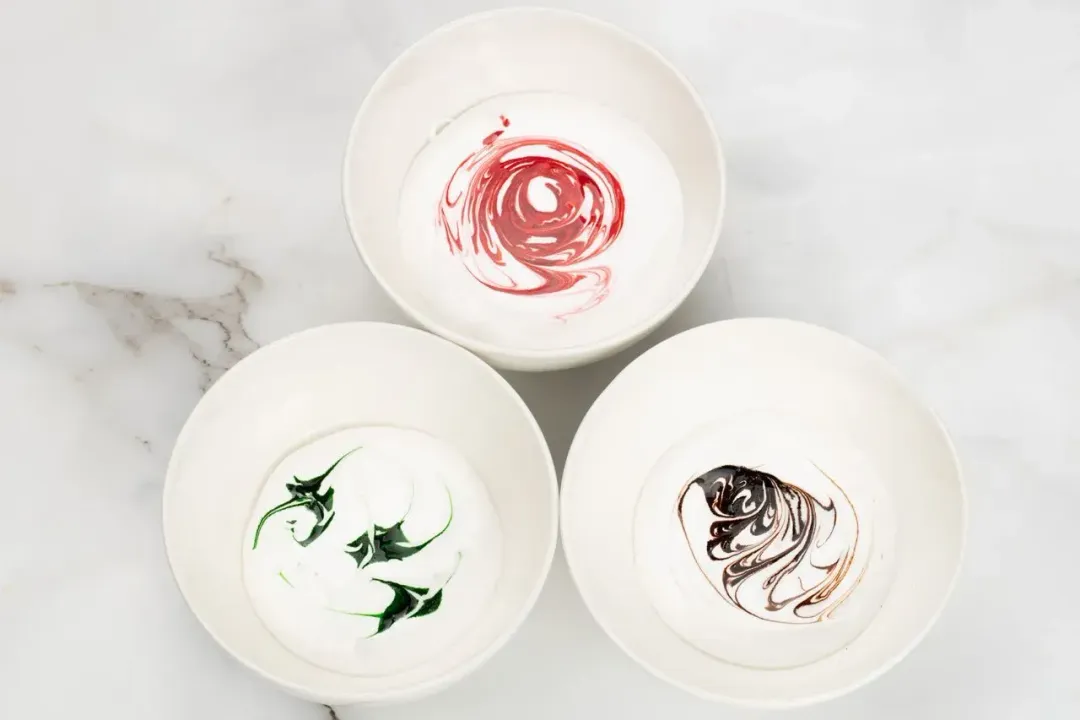 3
Decorate: Pour the colored icing into piping bags. Cut off a small part of the tip and start decorating.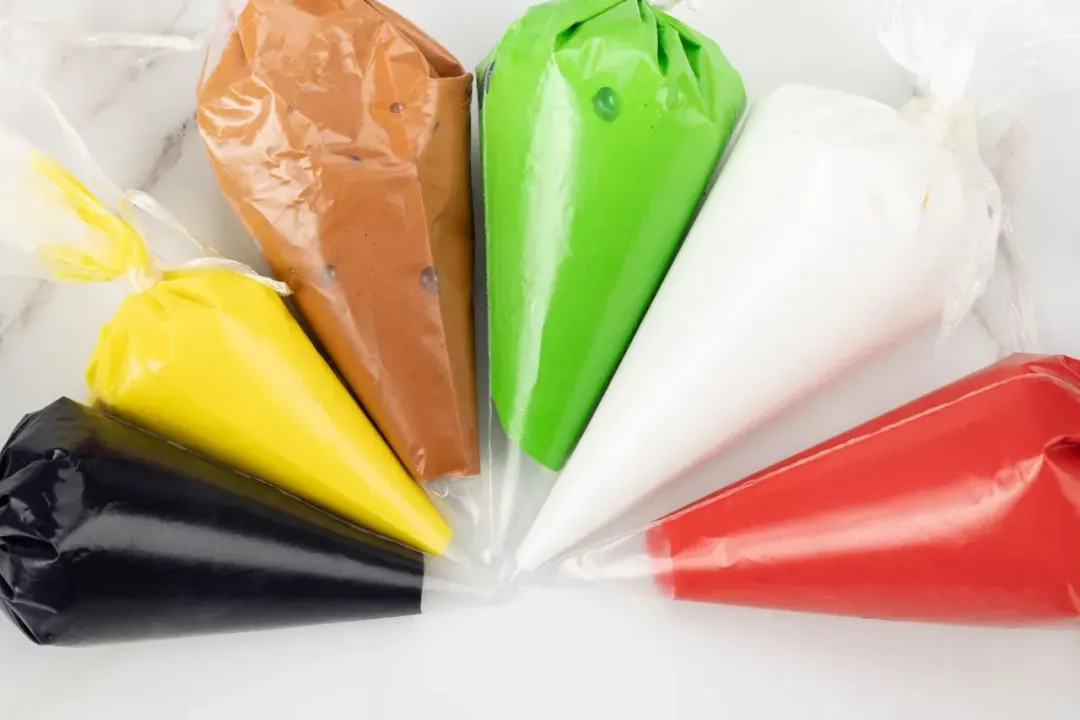 4
Allow the icing to dry for several hours before serving.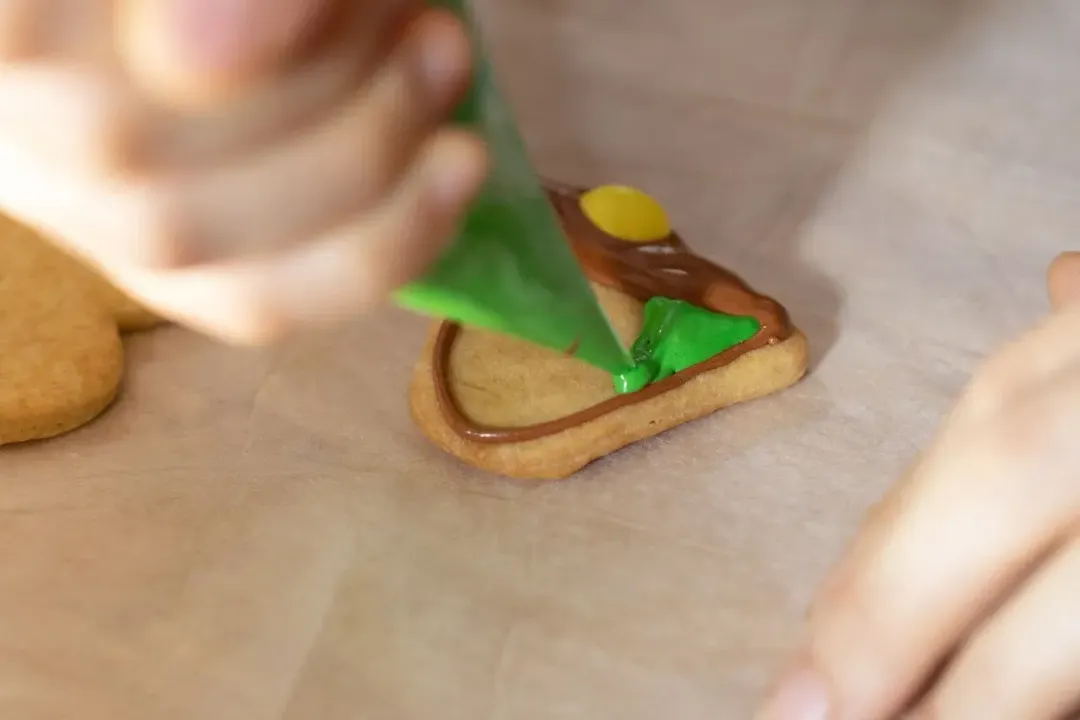 NUTRITION
Nutrition Facts
Sugar Cookies
Amount Per Serving (1 serving)
Calories 27
Calories from Fat 11
% Daily Value*
* Percent Daily Values are based on a 2000 calorie diet.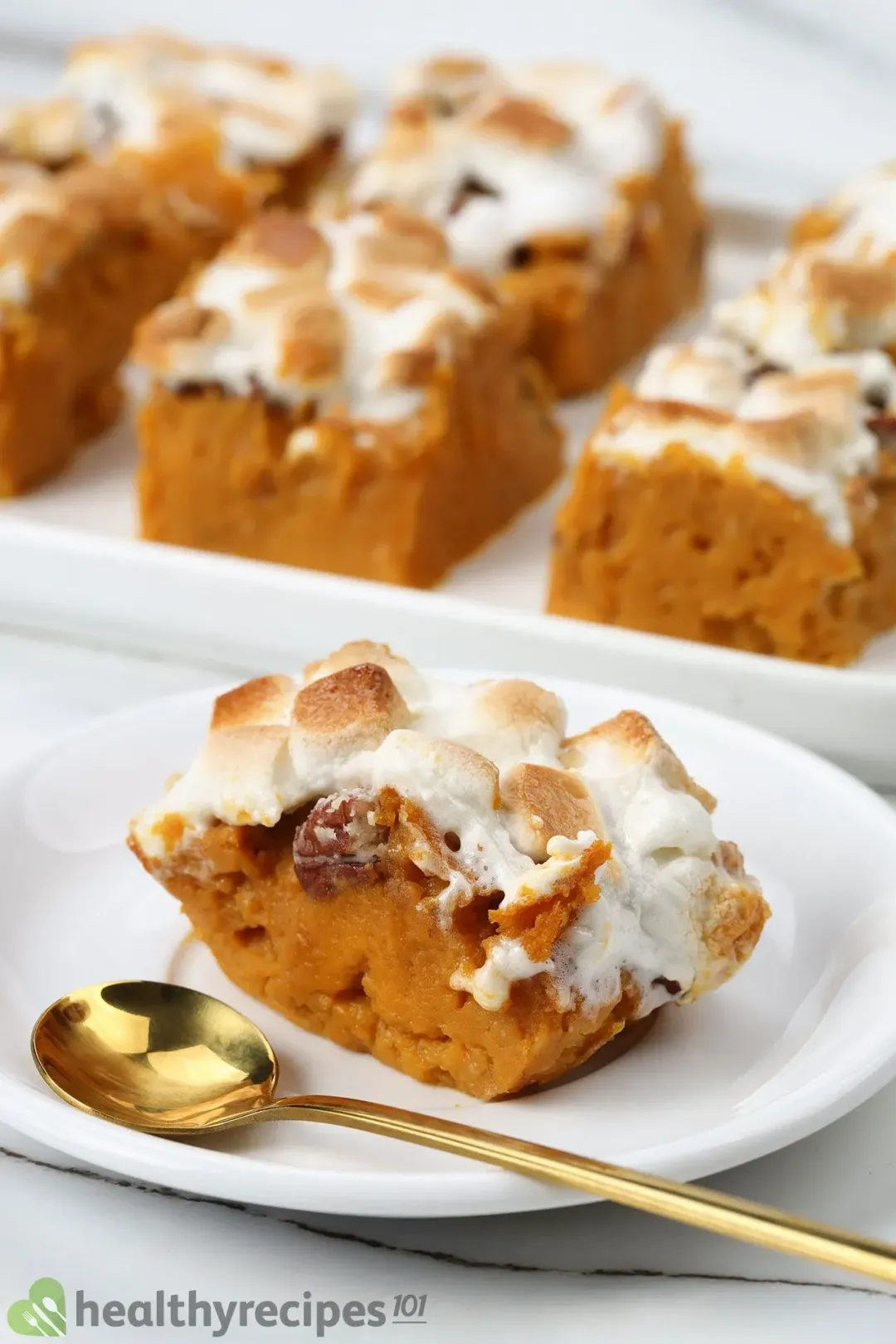 Previous Recipe
Sweet Potato Casserole
Sweet Potato Casserole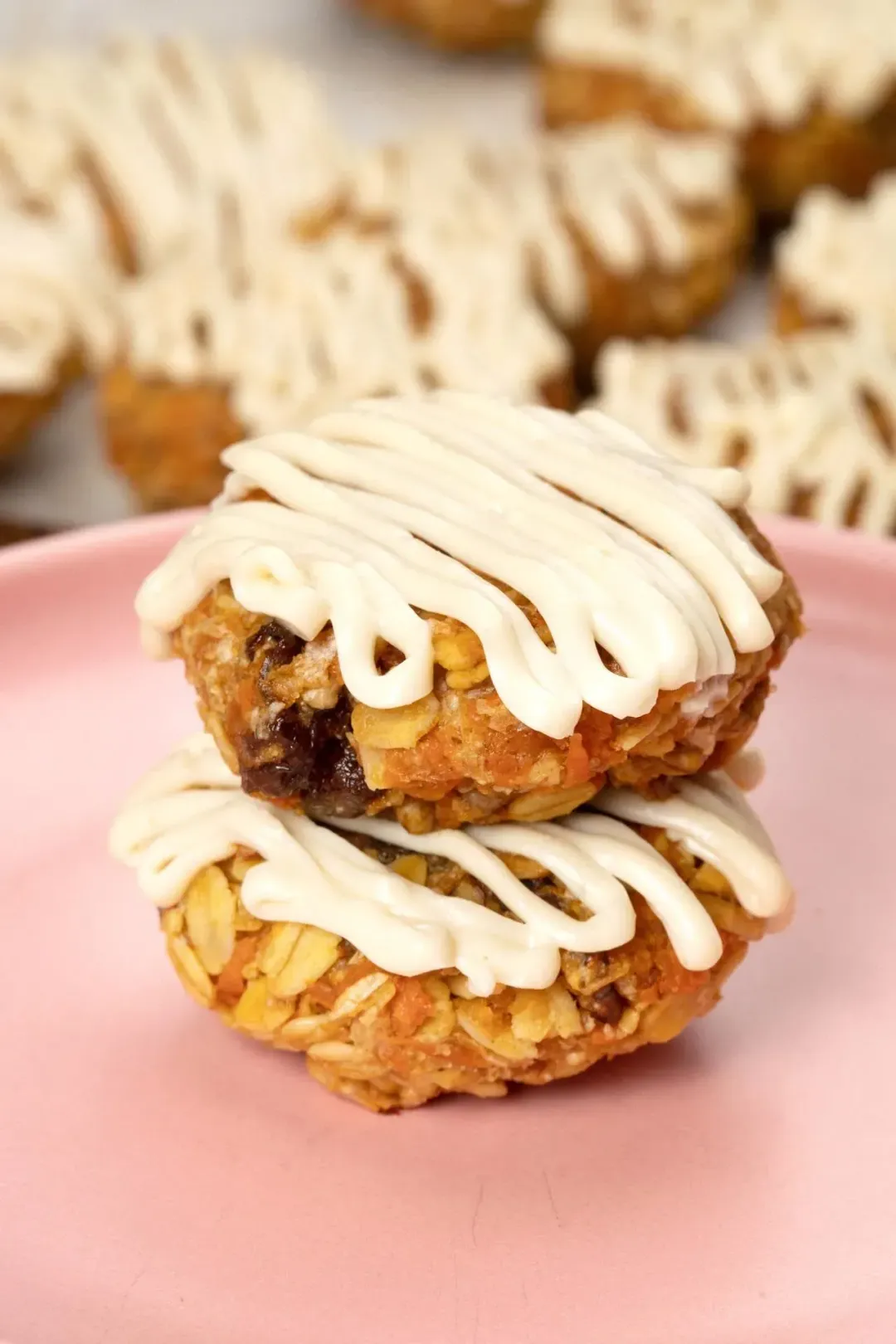 Next Recipe
Carrot Cake Cookies
Carrot Cake Cookies
Head Chef, Culinary Consultant
Tuyet Pham is an award-winning Saigonese chef who believes that joy is the secret ingredient to delicious food. At Healthy Recipes 101, Tuyet personally tests and simplifies every recipe, ensuring maximum flavor with minimal effort. With a background at prestigious French restaurants P'TI Saigon and Le Corto, Tuyet knows how to make every dish exceptional.
Writer, Author
Luna Regina is an accomplished writer and author who dedicates her career to empowering home cooks and making cooking effortless for everyone. She is the founder of HealthyKitchen101.com and HealthyRecipes101.com, where she works with her team to develop easy, nutritious recipes and help aspiring cooks choose the right kitchen appliances.
Nutrition Reviewer
Lizzie Streit is a Minneapolis-based dietitian and founder of It's a Veg World After All. She completed her MS in Human Nutrition from Drexel University, and is an expert in culinary nutrition, recipe development, and nutrition communications. Lizzie's philosophy is centered around making nutrition recommendations, and especially the advice to eat more vegetables, approachable and realistic. She is excited to be working with the team at Healthy Recipes 101 to ensure that their recipes are both nutritious and delicious.
Soft and chewy, these sugar cookies are a classic treat that everyone will love.

awesome recipe, easy to follow.