This easy honey butter biscuits recipe makes flaky, fluffy, buttery, and healthy pastries. They are perfect for dinner parties.
Next time you have one, make these to dazzle your family members and guests. And prepare to be showered with compliments.
What Is an American Biscuit?
An American biscuit is a type of pastry made with flour, butter, buttermilk, baking powder and baking soda. It's a side dish that usually accompanies fried chicken and gravy.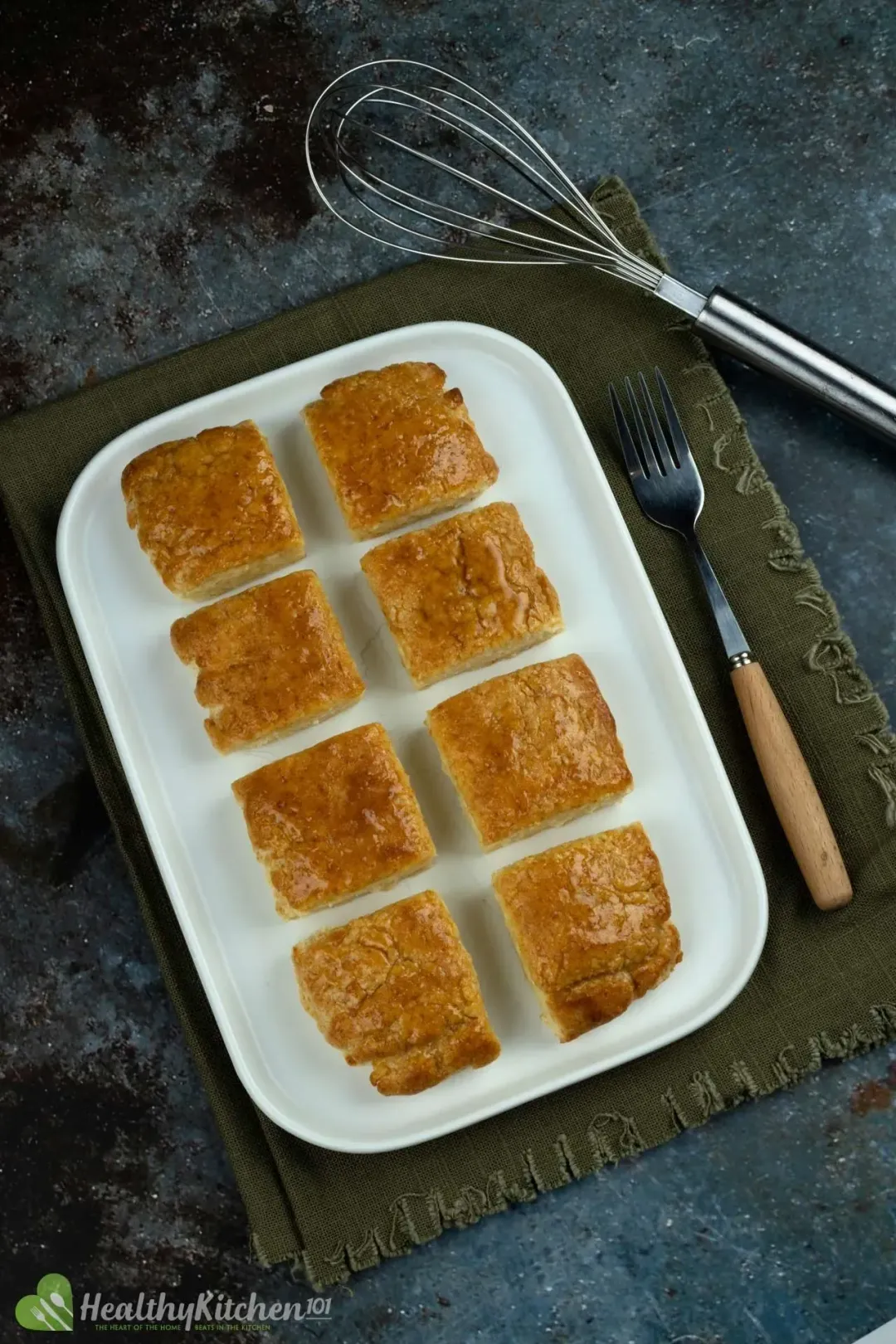 Try not to mistake them with British biscuits. Despite having the same name, British and American biscuits are two different things.
British biscuits are sweet treats that look similar to cookies and crackers. Meanwhile American biscuits tend to be on the savory side and look a bit like scones.
If you prefer savory biscuits, don't forget to also check out our Biscuits And Gravy Recipe.
What's the Difference between Biscuits and Scones?
Scones are a type of sweet treat that is popular in the UK, Australia and New Zealand.
They are generally less buttery and drier than light and flaky American biscuits. You can spread more butter and jam onto them and enjoy them at afternoon tea time.
Biscuits, on the other hand, are widely famous in the US and Canada. They're considered a side dish for lunch or dinner.
Biscuits are also famous for their versatility.
You can cut them in half and smear honey butter onto them, or dip them in gravy. Or, put a piece of fried chicken in the middle of the biscuits and you'll have a sandwich.
One of the differences between a biscuit and a scone is their shape. Unlike the traditionally round American biscuits, scones can have either a round, triangular, or irregular shape.
In addition, scones can be made with oatmeal and packed with dried fruits, while biscuits have no fillings.
Shaping the Biscuits
As mentioned, biscuits are traditionally round.
However, for today's honey butter biscuit recipe, we've decided to shape our honey butter biscuits into squares. The reason for this is because we want to maintain the quality of our biscuits.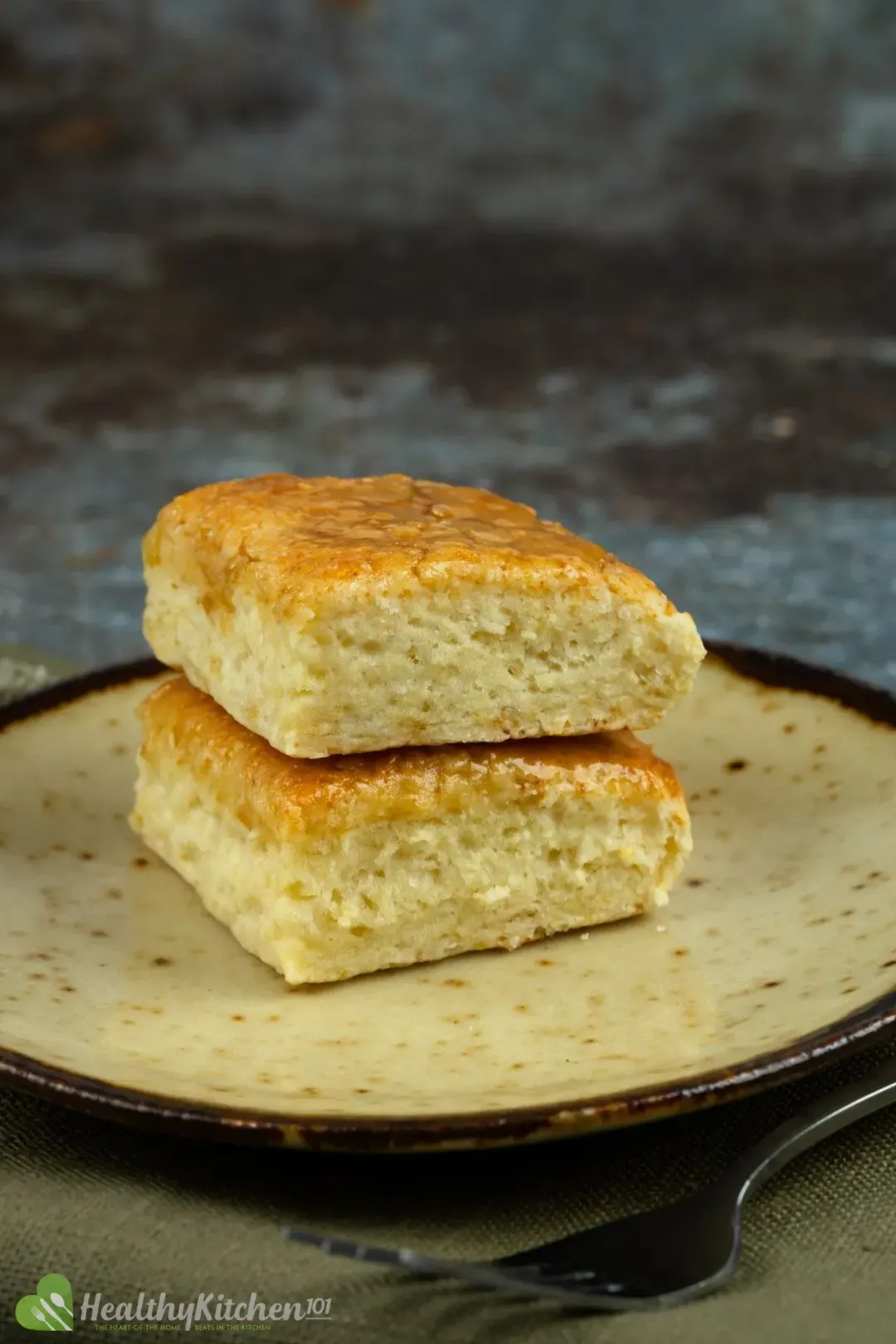 Biscuits are the type of pastry that you don't want to handle too much. That means we will steer away from kneading them.
Another problem is that when you cut the biscuit dough into rounds, you will have excess dough.
Obviously you can gather the scraps and form a new piece of dough to cut more rounds out of. But then you'll risk ruining the texture of the biscuits by kneading and handling the dough too much.
In the end, you will have half a batch of delicious biscuits, and the other half dull and chewy.
On the other hand, if you cut your biscuits into squares, there will be no excess dough and extra kneading. You'll have nothing but a batch of perfectly airy, flaky biscuits to enjoy.
How to Make Honey Butter Biscuits
Our honey butter biscuit recipe is probably one of simplest recipes you'll ever find. And if you happen to have a food processor, it makes the baking process so much easier..
If you don't have a food processor, you can still make it though. Here's how you do it:
In a large bowl, add all the dry ingredients and mix to combine.
Add the cold fat (butter and shortening). Mix it into the flour using a pastry cutter or a pair of forks.
Gradually add the cold liquid (water and/or buttermilk). Mix it in until the flour clumps together.
Now you just need to proceed with the last few steps of the recipe. You can check out the detailed recipe below.
Keep in mind that you should work quickly to avoid melting the fat. If it melts, your dough will be greasy and may reduce the biscuit's quality and flakiness.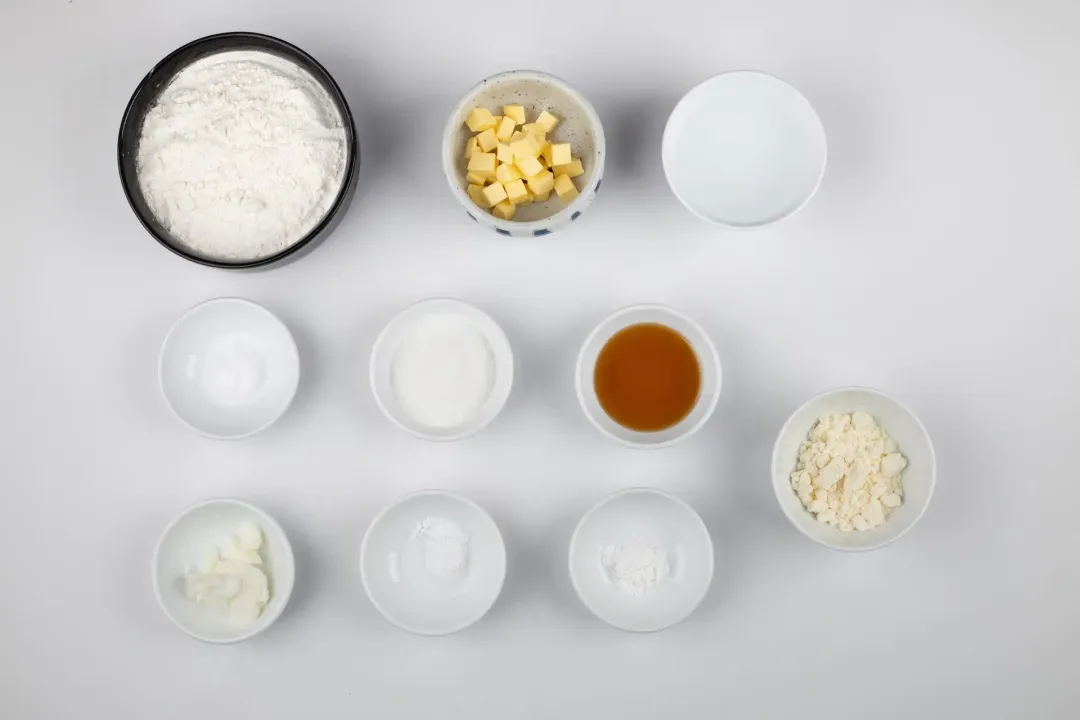 How Many Calories Are in a Honey Butter Biscuit?
Our honey butter biscuit recipe makes 8 biscuits. The serving size for our recipe is 2 biscuits.
And as you can see from the nutrition information below, each serving contains about 250 calories. This means there's 125 calories per biscuit.
How to Make Honey Butter Glaze for Biscuits
The recipe for this glaze is simple. Here are the ingredients for 4 servings:
½ tbsp unsalted butter
2 tsp honey
You will need a small saucepan to cook the sauce. It will only take 2 minutes over medium-low heat and voilà! Simple honey butter glaze.
This may seem like a little amount, but it's enough for you to generously brush the tops of your biscuits. If you want to make more glaze, simply multiply the recipe.
Is Honey Butter Healthy?
Honey butter tends to be sweet, fatty, and unhealthy if you eat too much of it. But it's actually healthier than you think.
Our recipe makes about 1 tablespoon of honey butter glaze in total.
If you're using a nutrition calculator, you'll see there are roughly 94 calories in 1 tablespoon of honey butter.
It may seem a lot, but keep in mind that you will use the glaze for 8 biscuits. So if you had 2, you would only be having a quarter of those calories.
In addition, honey is really what makes honey butter glaze healthier.
It doesn't contain any fat or cholesterol. On the contrary, honey has many health benefits that you may not be aware of.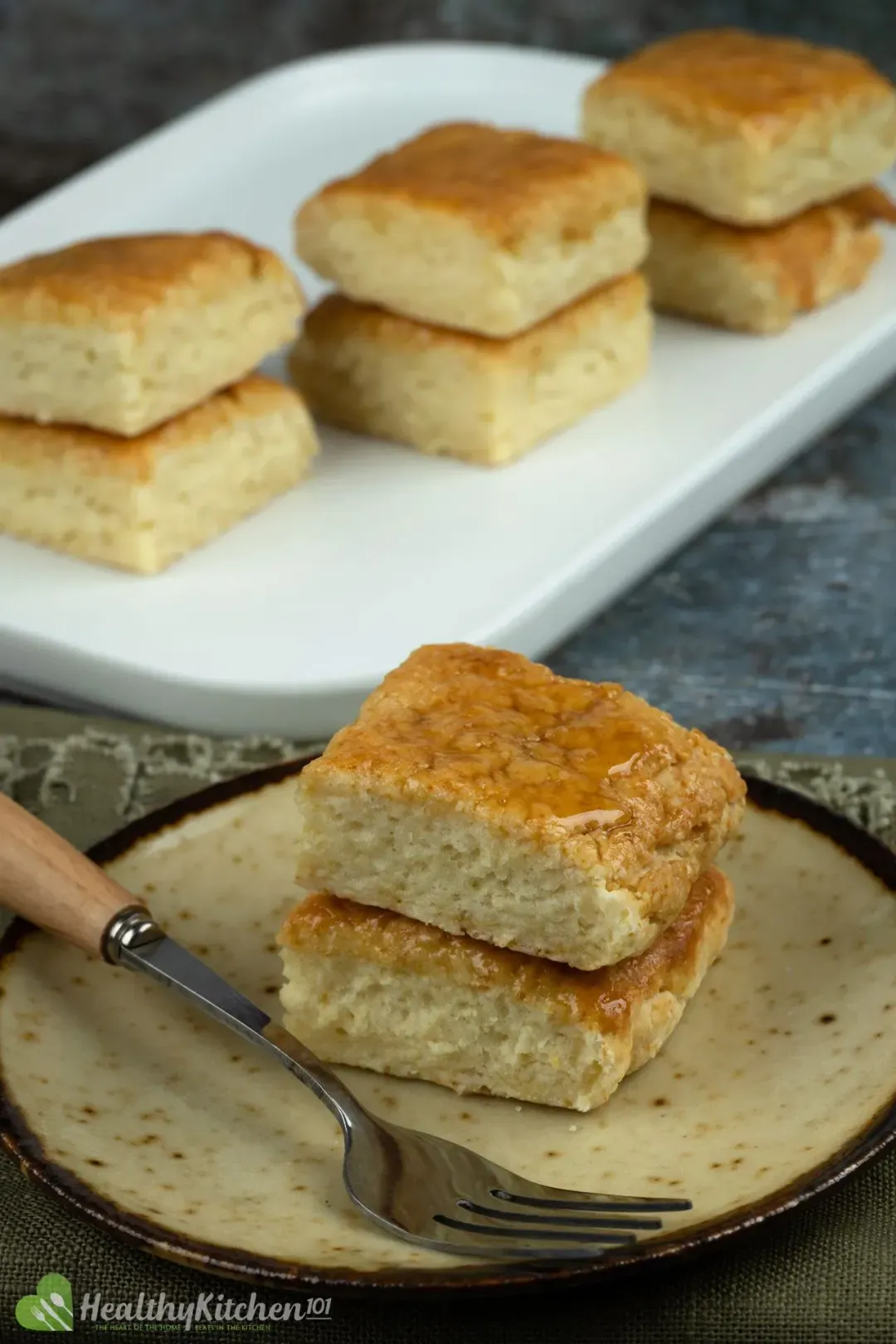 What to Serve with Honey Butter Biscuits
Although honey butter biscuits are versatile and can go well with any food, here are some of their common pairs.
1. Fried Chicken
Honey butter biscuits and buttermilk fried chicken is an iconic Southern meal.
Sandwich a piece of crispy fried chicken between layers of biscuits and have a bite. Despite the striking differences in textures and flavors, the two create a delightful gastronomical experience.
2. Sausage Gravy
Biscuits with sausage and gravy make one of America's favorite breakfast combos— biscuits and gravy.
Though plain buttermilk biscuits are more common for biscuits and gravy, the honey butter ones are a good substitution.
3. Bacon, Egg and Cheese
If you love making sandwiches out of biscuits, you shouldn't miss out on this combination. Here's how you build your own sandwich:
Bacon: one strip of bacon cut in half should fit one biscuit sandwich. Bake the bacon to render out all the fat and make it crispy.
Eggs: you can have your eggs scrambled, fried, poached, or soft-boiled with a gooey yolk. Just pick your favorite.
Cheeses: whether it's cheddar, fontina, provolone, or American cheese, it will be good. Choose your favorite melty cheese.
Though it may not be a healthy combination, it can be a satisfying bite for a cheat day.
Now then, roll up your sleeves and let's bake. You'll need to make some delicious honey butter biscuits first.
Love This Recipe? There's More!
If you're interested in other recipes as healthy as this one, we've got some seriously delectable ones:
Honey Butter Biscuit
This honey butter biscuit recipe only takes roughly 20 minutes to make, and only one bite to dazzle your friends and family.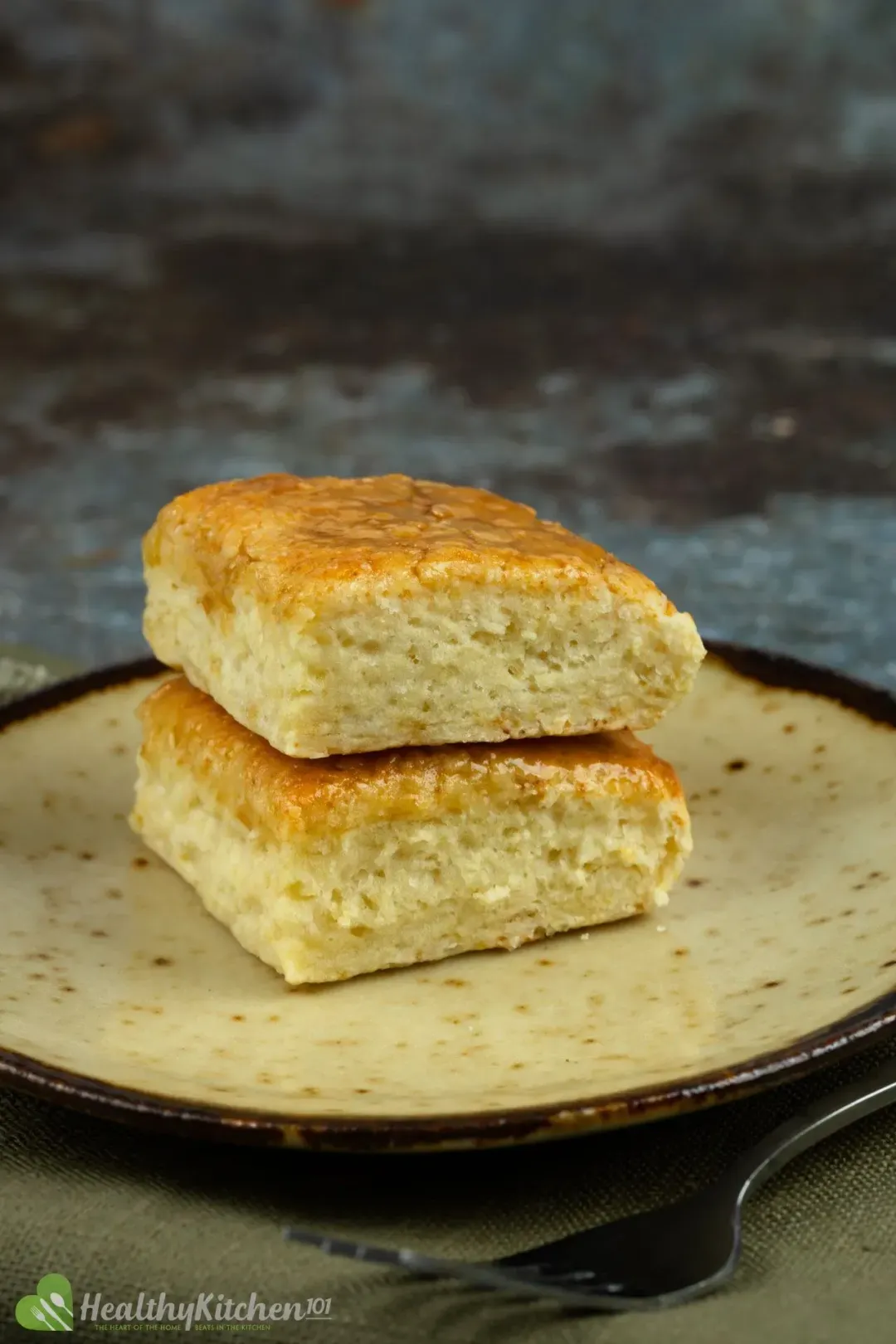 cook TIME

10 mins

prep TIME

10 mins

total TIME

20 mins
COURSE

Dinner, Lunch, Side Dish

CUISINE

American

SERVINGS

CALORIES

250 kcal
INGREDIENTS
1 1/4 cups

all-purpose flour

(plus more for dusting)

2 tbsp

unsalted butter

(cut into cubes, divided, freeze 1 ½ tbsp)

1/2 tbsp

vegetable shortening

(cold)
INSTRUCTIONS
1
Preheat the oven to 400°F. Line a baking tray with parchment paper. Set aside.
2
Making the buttermilk blend: In a small bowl, gradually add 6 1/2 tbsp water to 4 tsp buttermilk powder while mixing to dissolve. Set aside.
3
Making the dough: Using a food processor, blend 1 1/4 cups flour, 1/8 tsp salt, 6 tsp sugar, 1/2 tsp baking powder, and 1/4 tsp baking soda. Then add 1/2 tbsp cold vegetable shortening and 1 1/2 tbsp cold butter. Pulse a couple of times to mix the fat in until you no longer see chunks of butter. Add the buttermilk blend from step 2, one tablespoon at a time, while pulsing on and off. Once the dough starts to clump together, transfer to a clean work surface.
4
Forming the biscuits: Using a bench scraper, gather the clumps and press into a rectangle. Lightly dust a rolling pin with flour and gently roll it out to 1-inch thick. Fold the dough in half. Gently roll it out and fold it in half again. Repeat 5 times. Finally roll the dough into a 4"x8" rectangle, about ⅓-inch thick. Lightly flour a knife and cut the dough into 8 2"x2" square pieces. Transfer the biscuits to the lined baking sheet and bake for 8 minutes.
5
Making the glaze: melt the remaining 1/2 tbsp butter and 2 tsp honey in a small saucepan over medium-low heat. Cook, stirring constantly for 2 minutes. Once fully incorporated, turn off the heat and set aside.
6
Glazing the biscuits: After 8 minutes, take the biscuits out of the oven. Brush with half of the honey butter sauce. Bake for 2 more minutes.
7
Final touches: Remove the biscuits from the oven and brush with the remaining honey butter sauce. Allow to cool for 5 minutes. Transfer to a plate and serve.
NUTRITION
Nutrition Facts
Honey Butter Biscuit
Amount Per Serving (1 serving)
Calories 250
Calories from Fat 72
% Daily Value*
* Percent Daily Values are based on a 2000 calorie diet.
Keywords: flaky biscuits, honey biscuits, honey butter biscuits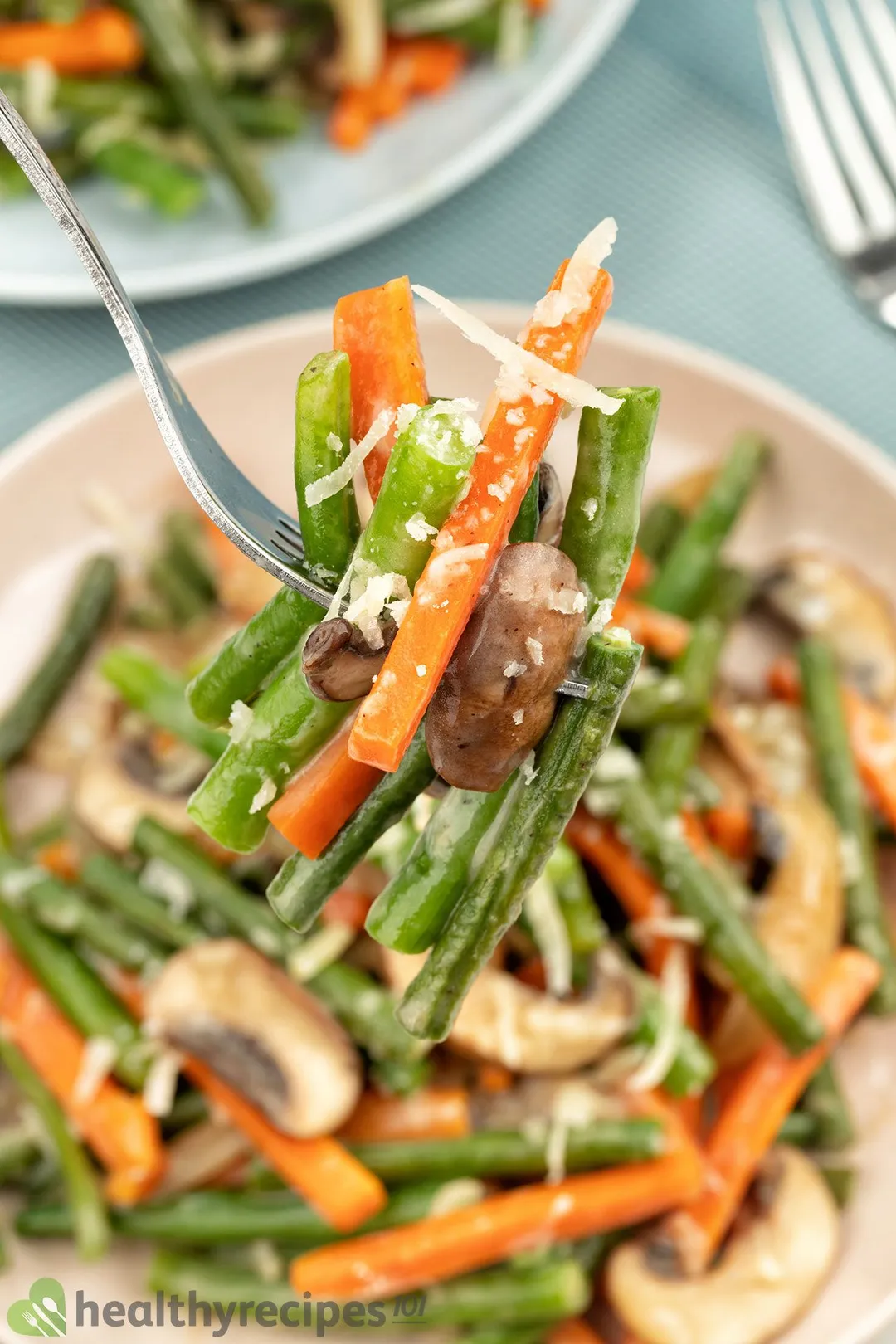 Previous Recipe
Sautéed Green Beans
Sautéed Green Beans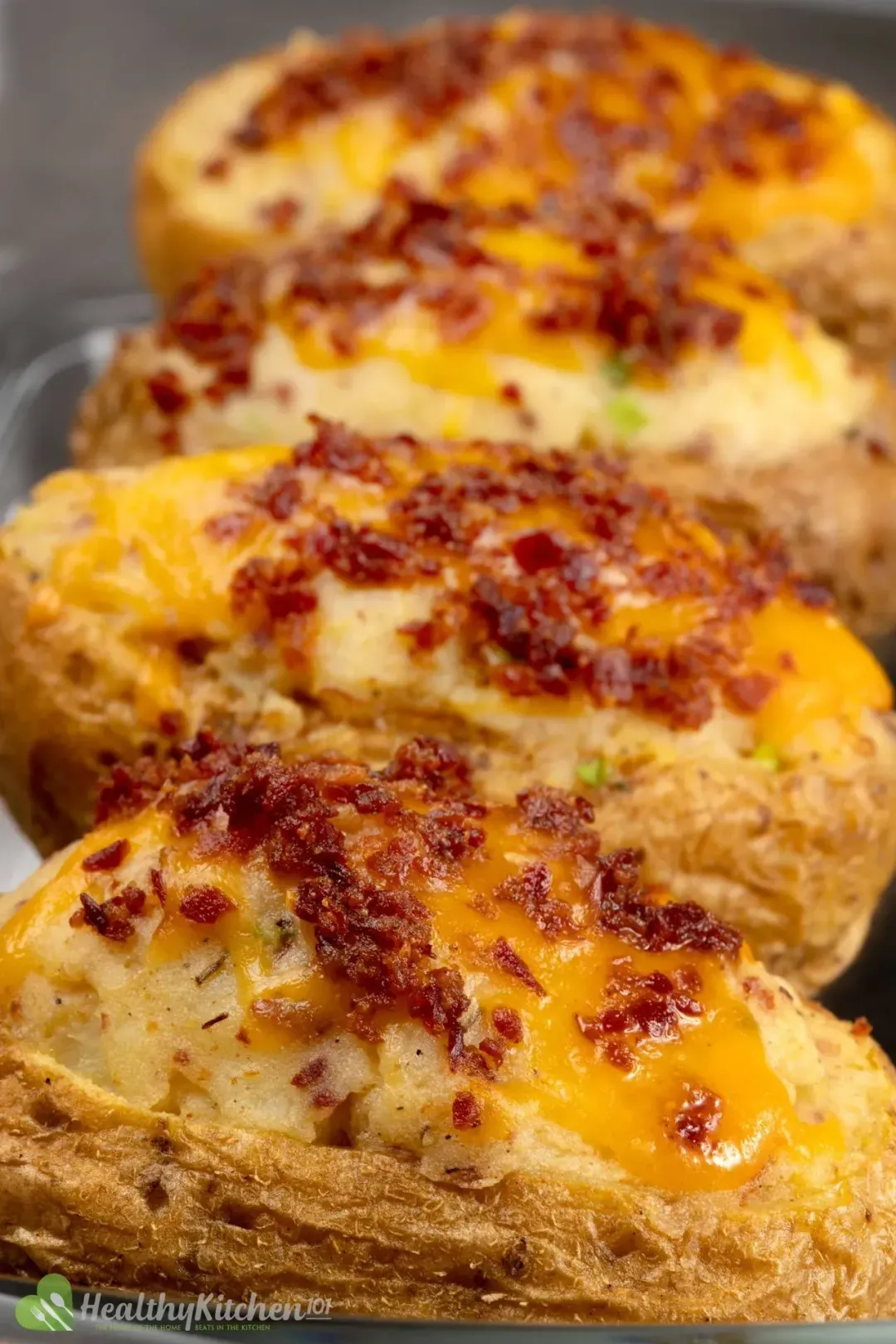 Next Recipe
Twice Baked Potatoes
Twice Baked Potatoes
Head Chef, Culinary Consultant
Tuyet Pham is an award-winning Saigonese chef who believes that joy is the secret ingredient to delicious food. At Healthy Recipes 101, Tuyet personally tests and simplifies every recipe, ensuring maximum flavor with minimal effort. With a background at prestigious French restaurants P'TI Saigon and Le Corto, Tuyet knows how to make every dish exceptional.
Writer, Author
Luna Regina is an accomplished writer and author who dedicates her career to empowering home cooks and making cooking effortless for everyone. She is the founder of HealthyKitchen101.com and HealthyRecipes101.com, where she works with her team to develop easy, nutritious recipes and help aspiring cooks choose the right kitchen appliances.
Nutrition Reviewer
Lizzie Streit is a Minneapolis-based dietitian and founder of It's a Veg World After All. She completed her MS in Human Nutrition from Drexel University, and is an expert in culinary nutrition, recipe development, and nutrition communications. Lizzie's philosophy is centered around making nutrition recommendations, and especially the advice to eat more vegetables, approachable and realistic. She is excited to be working with the team at Healthy Recipes 101 to ensure that their recipes are both nutritious and delicious.
I haven't had breakfast yet, and I want one (or more!) of these with my coffee! Great information on the differences between different biscuits.

I usually have them for breakfast, too. Hope you enjoy them. ^_^