Our migas recipe may be a little different from the traditional version, but it's healthy, simple, and just as delicious. All you need is a few basic ingredients that may already be available in your pantry.
What Is Migas?
'Migas' is a Spanish word that means 'crumbs' in English. There are many different versions of migas, including Spanish, Portuguese, Mexican, and Tex-Mex.
In the US, migas is a popular breakfast dish in Texas. It contains scrambled eggs, tortilla chips, sautéed onions, fresh tomatoes, jalapeño peppers, and cheese.
If you haven't had migas before, imagine adding a lot of fresh ingredients to a simple scrambled eggs recipe. With one bite, you'll taste the soft eggs, crunchy onions, juicy tomatoes and so much more— all bursting with flavor.
Although migas is often served as a breakfast, it also makes a great side dish or light appetizer as well. And that's why today's migas recipe is going to be a side dish.
Migas vs Chilaquiles
Migas and chilaquiles may have some similarities, but they're worlds apart.
Chilaquies is a traditional Mexican dish that contains corn tortillas cut into big triangles and fried until crispy. These tortilla chips are then cooked in salsa until slightly softened and garnished with various toppings.
While migas is basically scrambled eggs mixed with tortilla chips, eggs are optional with chilaquiles. Chefs can serve it with either a fried egg, scrambled eggs, or no eggs at all.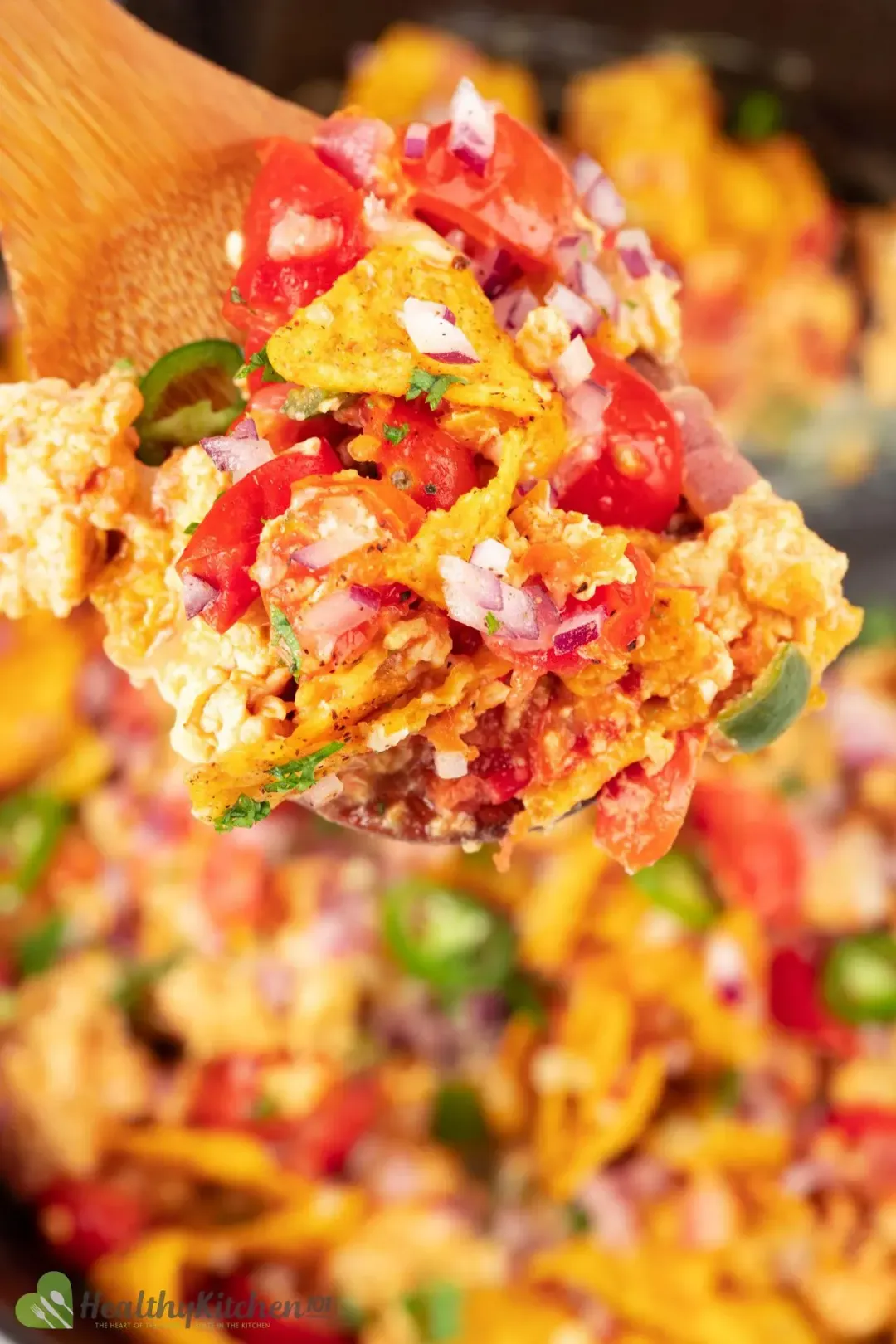 Is This Migas Recipe Healthy?
Yes, our migas recipe is healthy. And here's why:
We measure our ingredients so that we can monitor the amount of calories, fat, and sodium per serving closely. That's why although we use high-sodium ingredients like tortilla chips and cheese, the amount of sodium per serving is acceptable.
You'll also notice that we don't use salt in our recipe. It's because the chips and cheese are salty— when you mix them into migas, they'll season the whole dish. 
In our minds we don't think migas is an ideal breakfast dish.
It mainly contains eggs, tortilla chips, vegetables, and cheese. Although it may not be high in calories, sodium, or fat, it isn't high in protein and fiber either.
If you double our recipe and make migas for breakfast, you'd still consume enough calories. But it won't keep you full for a very long time.
And when you're hungry before lunch time, chances are you'll have some snacks and increase your calorie intake. This means you'll have excess calories, which will later be stored in your body as fat.
So we highly recommend looking for healthier breakfast alternatives and serve migas as an appetizer/side dish.
How Many Calories in Migas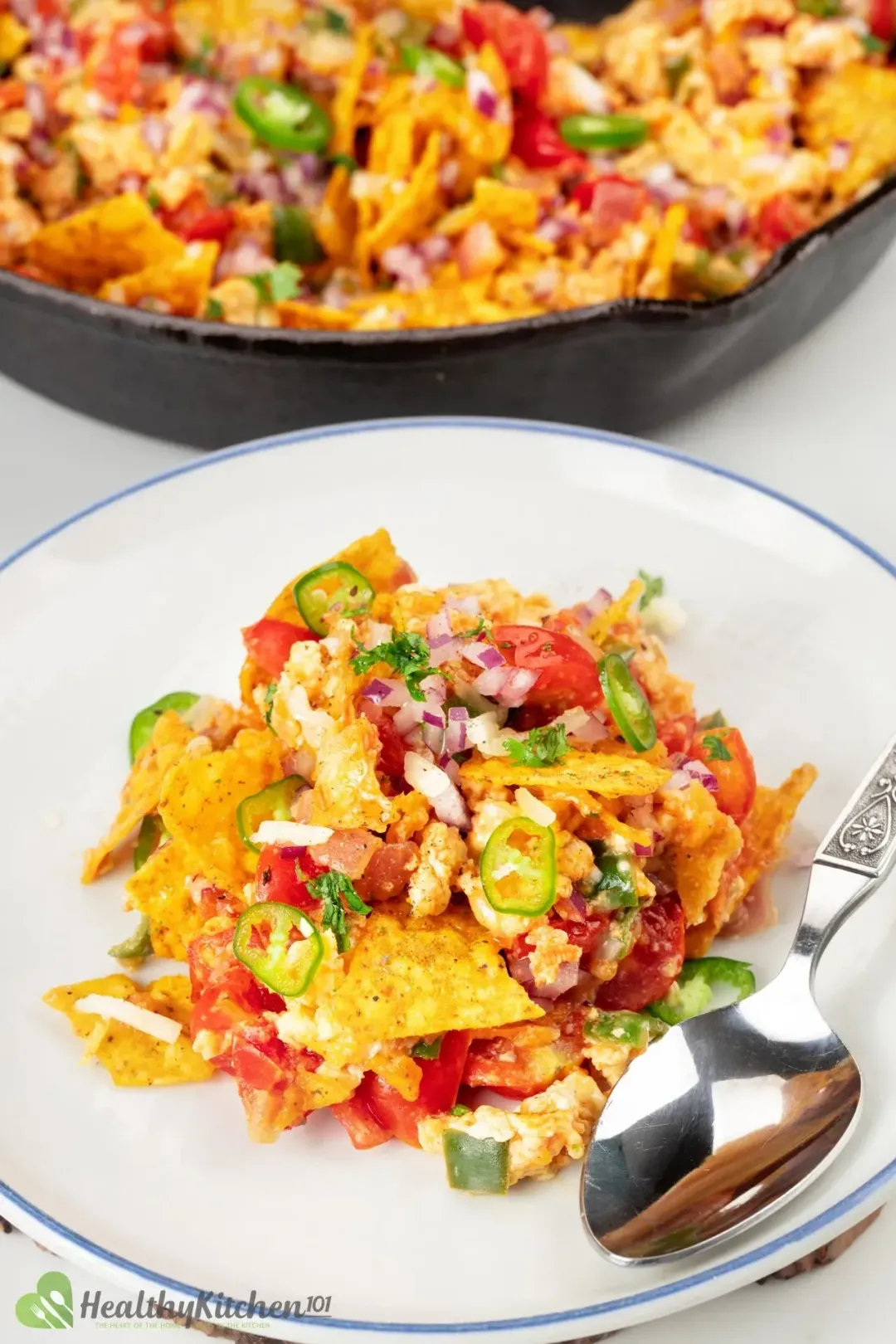 There are 212 calories per serving of migas. This isn't enough calories for a side dish/appetizer according to our healthy eating guidelines.
However, this is a side dish so we recommend pairing it with a main dish and beverage. We want to make sure that you get enough calories in a meal so that your body can function properly.
There are 212 calories per serving of migas. This isn't enough calories for a side dish/appetizer according to our healthy eating guidelines.
However, this is a side dish so we recommend pairing it with a main dish and beverage. We want to make sure that you get enough calories in a meal so that your body can function properly.
If you're not sure how many calories are enough for you, check out our healthy eating guidelines. TheyIt also includes the amounts of sodium and saturated fat you should eat to stay healthy.
We also have a large collection of healthy eggs recipes for your reference. Come check them out.
Migas Recipe: Ingredients
Here are the ingredients to our migas recipe:
Eggs
Red onions
Fresh jalapeño peppers
Fresh cherry tomatoes
Tomato sauce
Olive oil
Mozzarella cheese
Ground black pepper
Fresh cilantro
Tortilla chips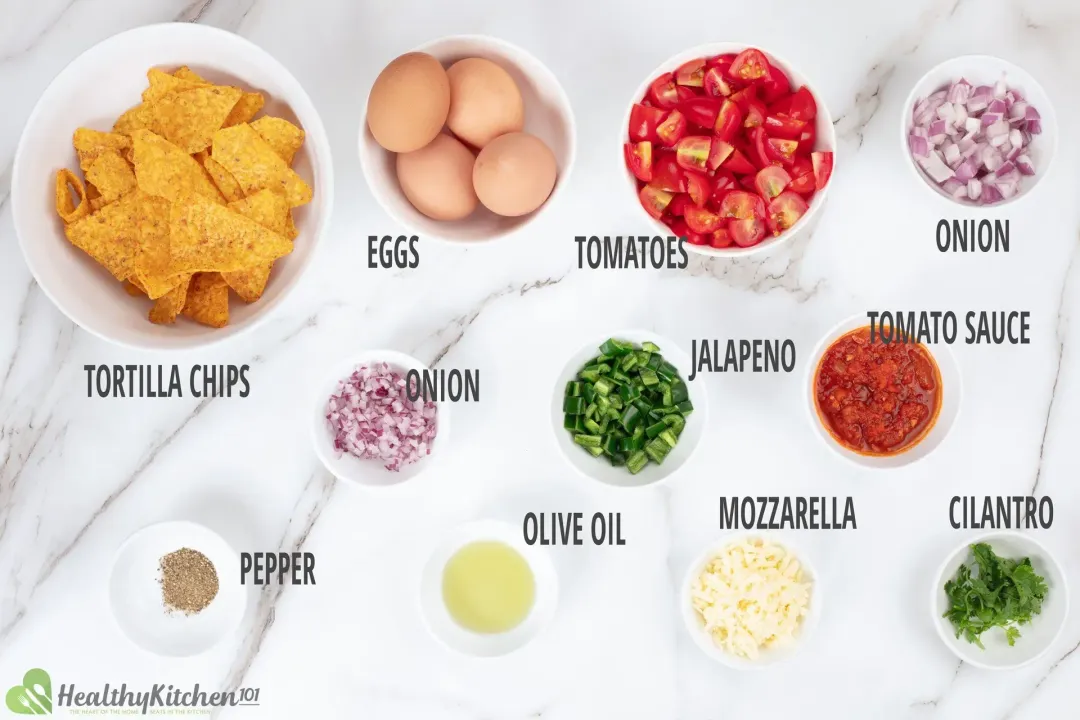 Full measurements are available in the printable recipe card below.
Keep in mind that our recipe is simply a guide and you can customize it all you want. Use whatever ingredients you have on hand to create your very own ultimate migas recipe.
What Goes Well with Migas
If you're looking for ways to up your migas game, here are a few options you can consider:
1. Tortilla Chips
It wouldn't be migas without tortilla chips. If you want your migas recipe to be more authentic, make your own tortilla chips.
All you need to do is buy or make corn tortillas, cut them into thin strips, and deep-fry them until extra crispy. At this point, you can season the chips with garlic powder, cumin, and chili powder and make them more flavorful.
Or if you want to keep it quick and easy, you can buy ready-made tortilla chips at the grocery store.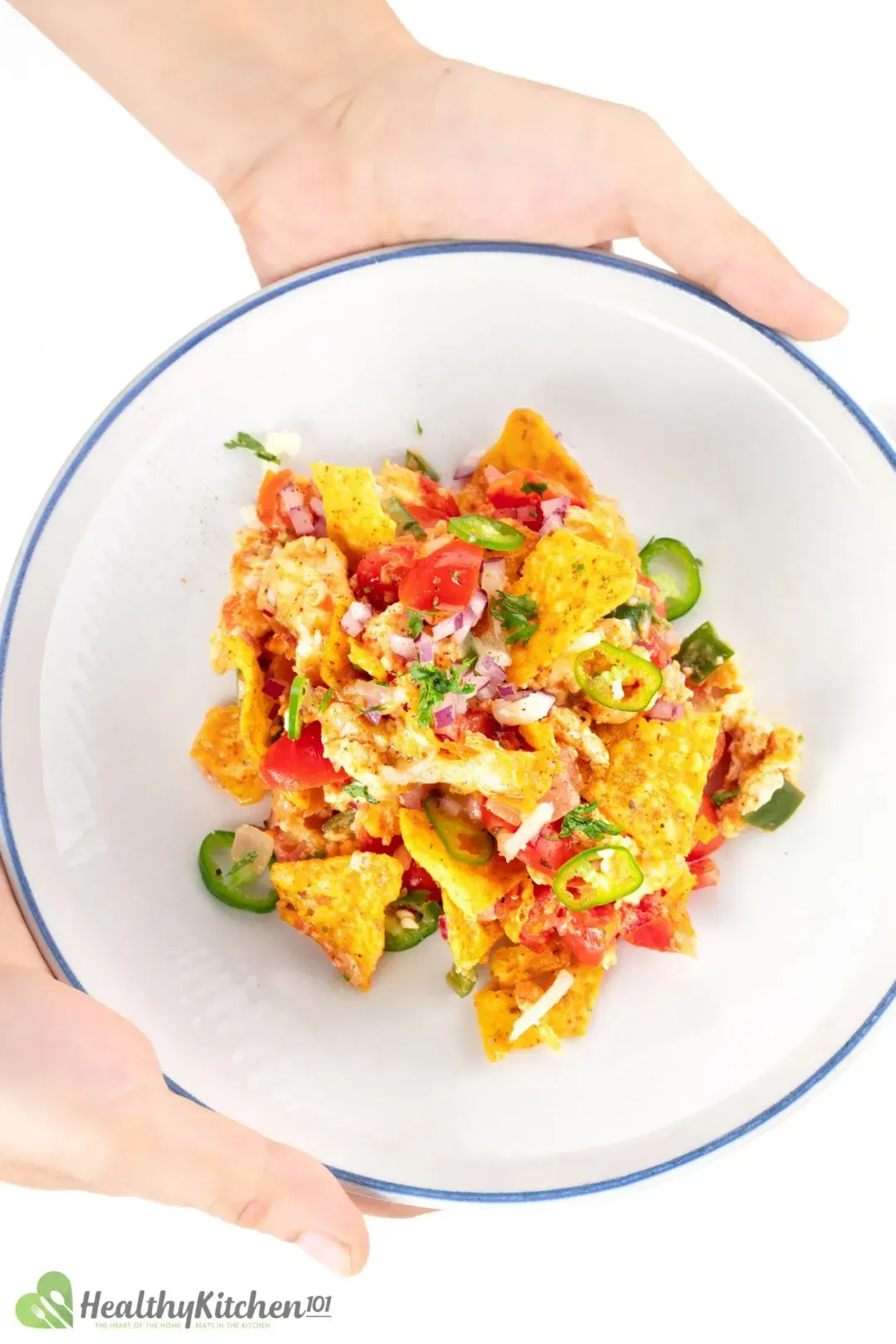 2. Beans
Beans simply go well with any Mexican-inspired dish. And migas is no exception.
They are a great source of fiber and protein, and can keep you full for a long time. You can use any type of canned beans and drain them well before adding them to your migas.
Refried beans are also a popular option when it comes to what to side with migas. If you're making Tex-Mex-style migas, you should definitely serve it with refried beans to make it more authentic.
3. Tacos
Migas is usually served as an appetizer to a main dish. But you can turn it into a main dish by making migas tacos.
All you need to do is put some migas in a taco and maybe sneak in some stir-fried ground beef. You can also add strips of raw bell peppers and onions to add more fiber to your migas tacos.
How Long Does Migas Last?
Migas can last up to 3 days in the fridge if you store it properly. It's best to let it cool completely before putting it in an airtight container and into the fridge.
However, migas isn't something you want to have as a leftover.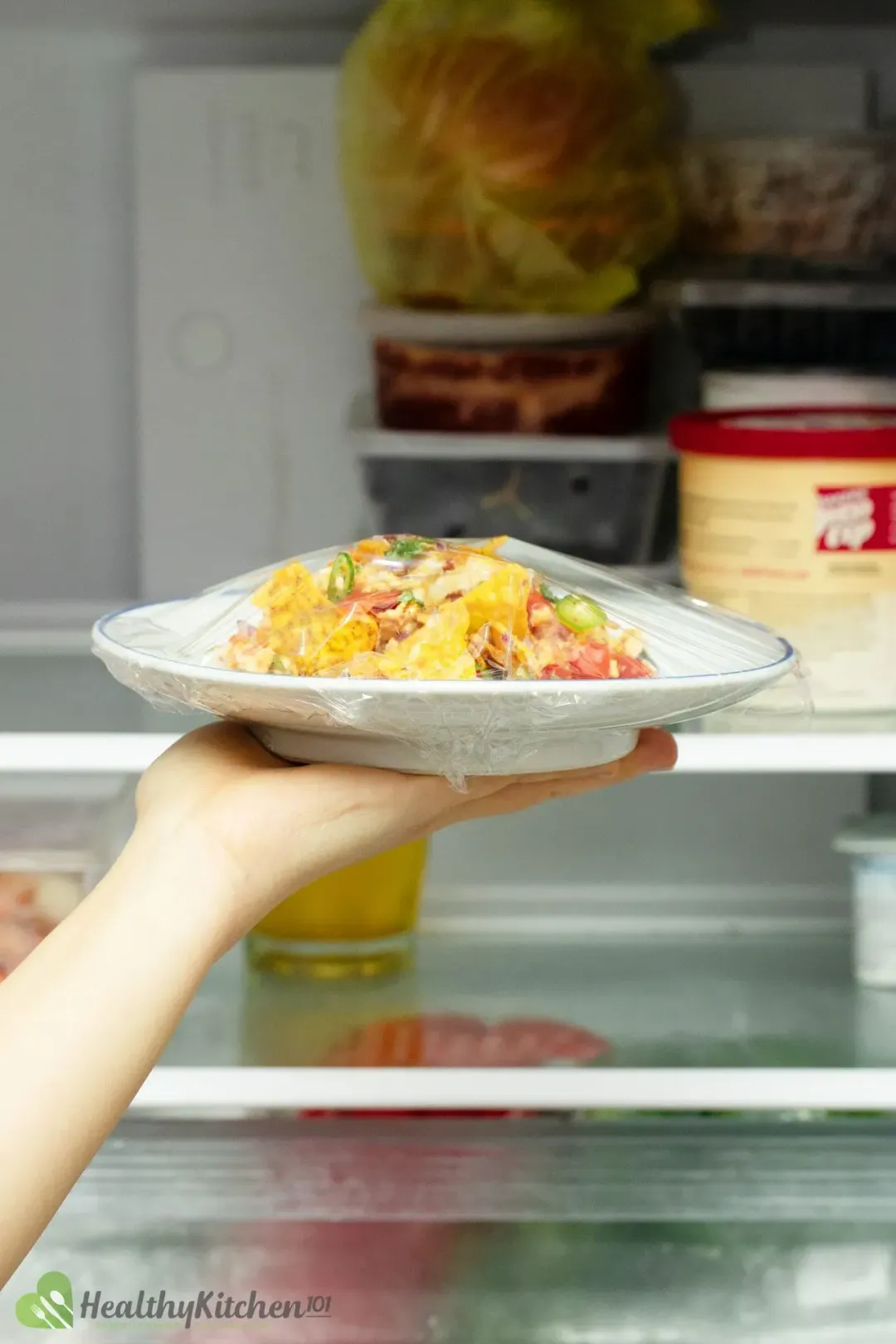 Since we mix the chips in with the scrambled eggs, the chips will absorb moisture and lose their crispiness within an hour. Without the contrast in textures, the dish will lose its quality and won't be as delicious.
You can, however, make it ahead of time. All you have to do is leave the chips out.
Make your scrambled eggs with vegetables and cheese, and store them in a container, without the chips. They'll stay good for 3 days.
Whenever you want a bite, simply take it out of the fridge, reheat, and add the chips on top.
Want More Eggs? We've Got You Covered
Your breakfast can be healthy, quick, and delicious without ever being repetitive with these egg recipes. Give them a try to discover new mealtime staples.
Healthy Migas
This migas recipe couldn't get any easier. It takes less than 30 minutes to make from start to finish and only a handful of basic ingredients.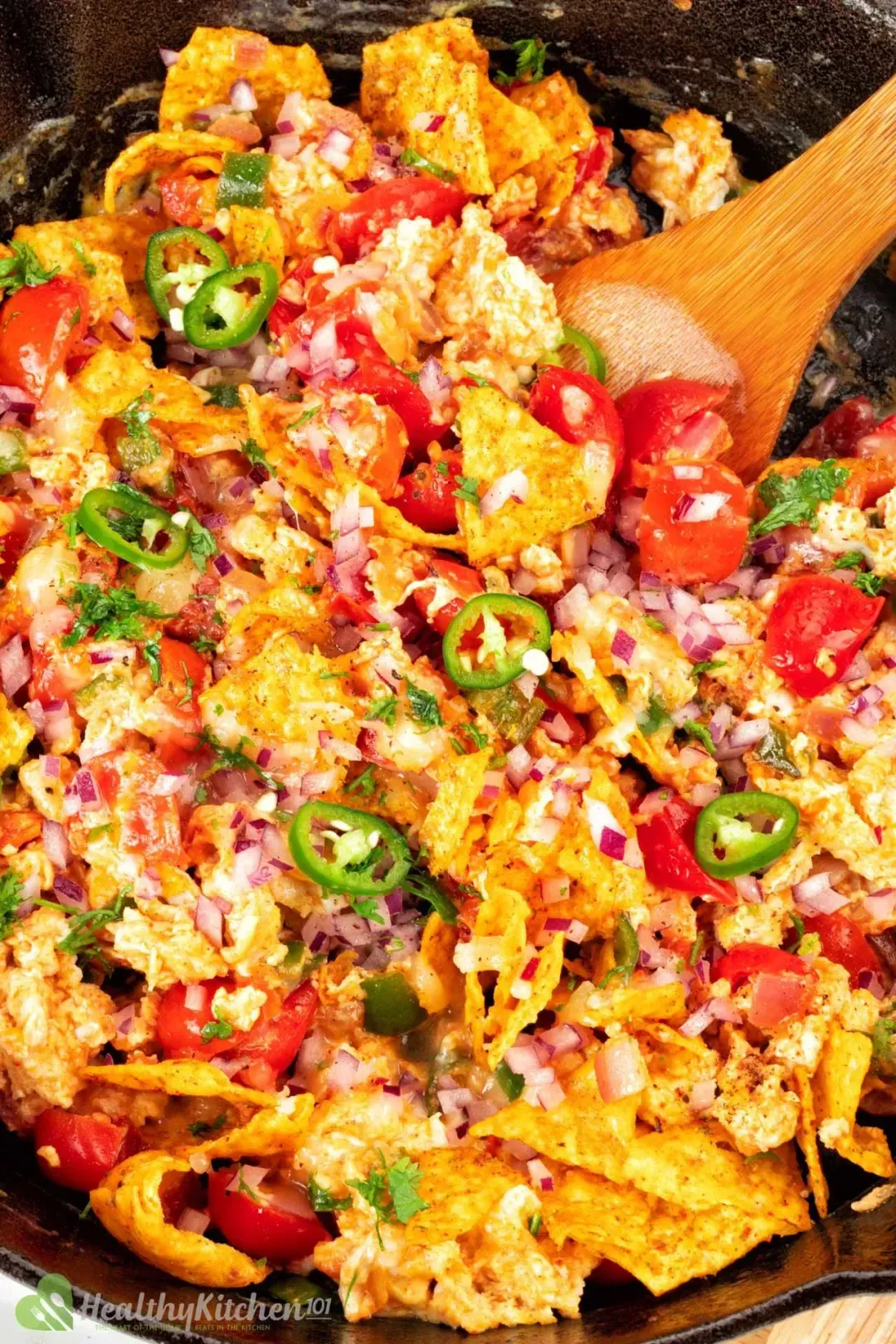 cook TIME

15 mins

prep TIME

5 mins

total TIME

20 mins
COURSE

Side Dish

CUISINE

Mexican

SERVINGS

CALORIES

212 kcal
INGREDIENTS
2 oz

red onions

(divided, 1 ½ oz roughly chopped, and ½ oz finely diced)

1 oz

jalapeño peppers

(fresh, divided, ¾ oz deseeded diced, and ¼ oz sliced)

8 oz

red cherry tomatoes

(quartered)

1/4 cup

homemade tomato sauce

1 oz

mozzarella cheese

(grated)

1 tbsp

cilantro

(chopped)
INSTRUCTIONS
1
Sauté the onions: Heat olive oil in a pan over medium heat. Add 1 ½ oz red onions and cook for 2 minutes or until slightly softened and translucent.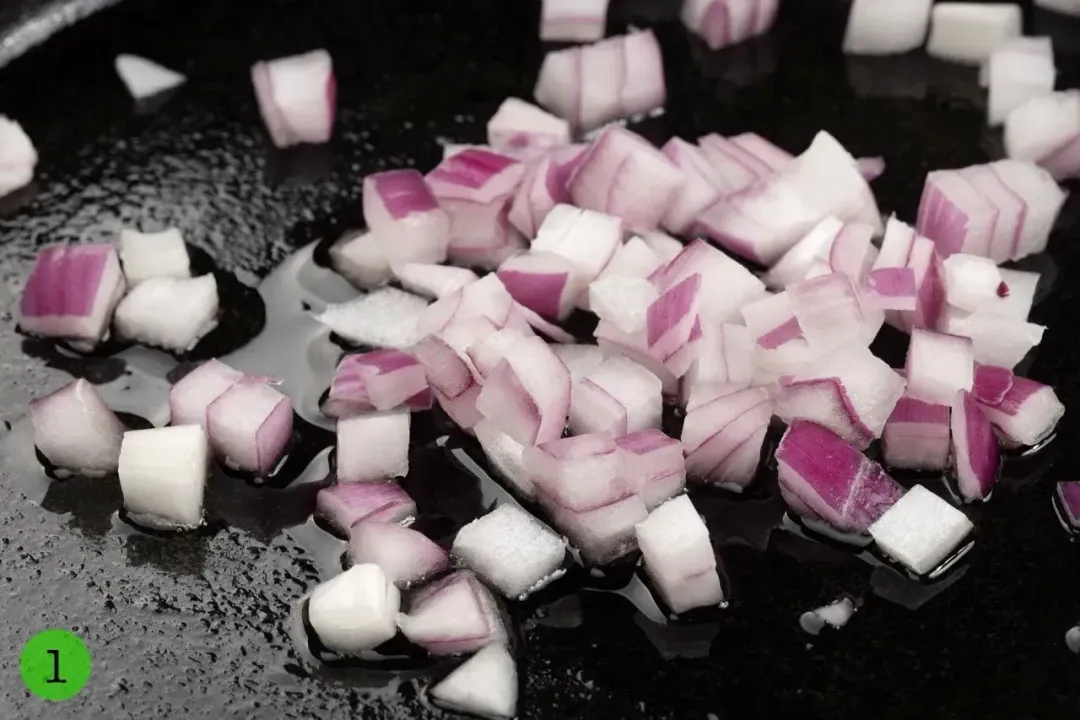 2
Sauté the jalapeño peppers: Add ¾ oz diced jalapeño peppers to the same pan and cook for another minute.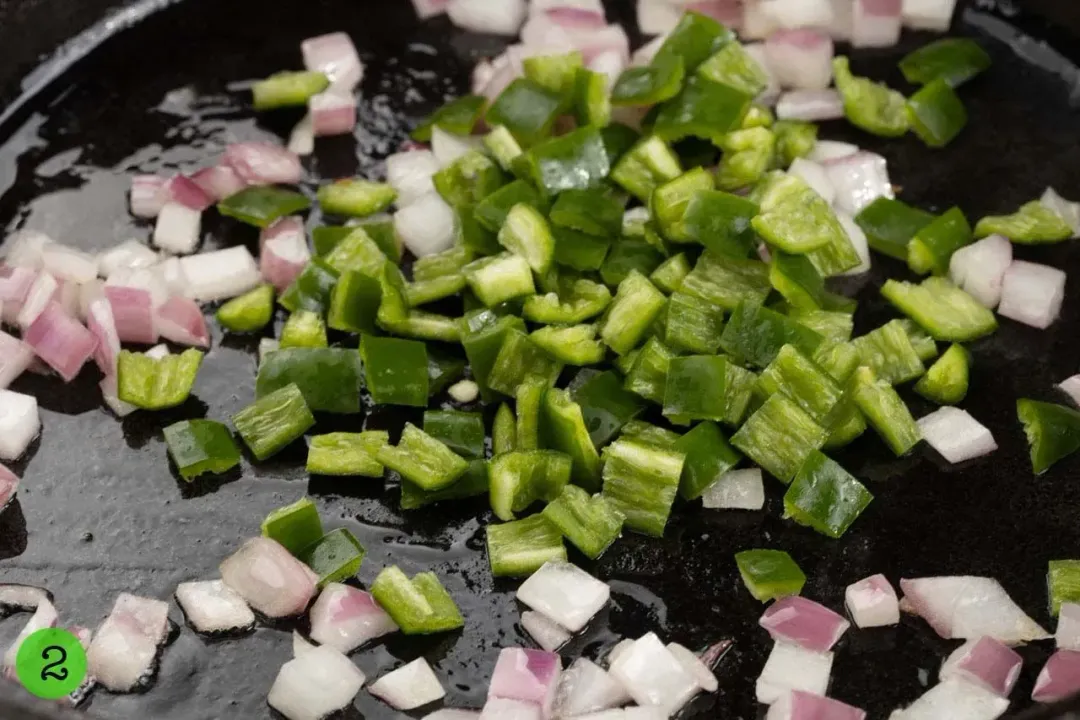 3
Cook the tomatoes: Add cherry tomatoes to the pan and cook for 5 minutes.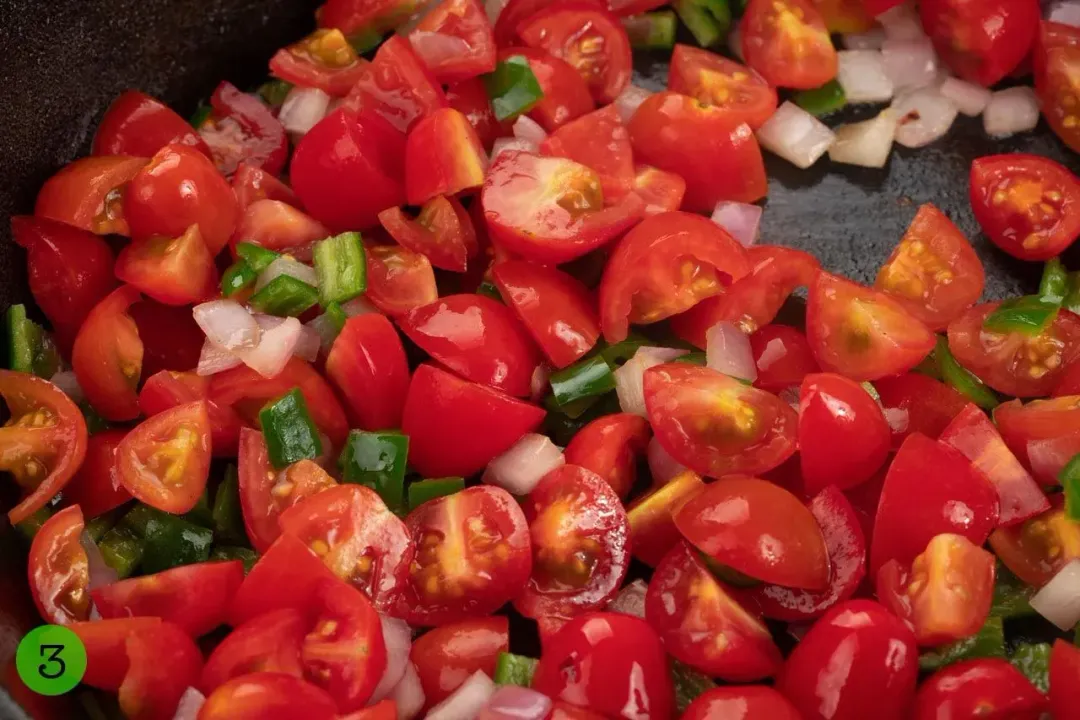 4
Make the sauce: Add tomato sauce and stir for 1 minute.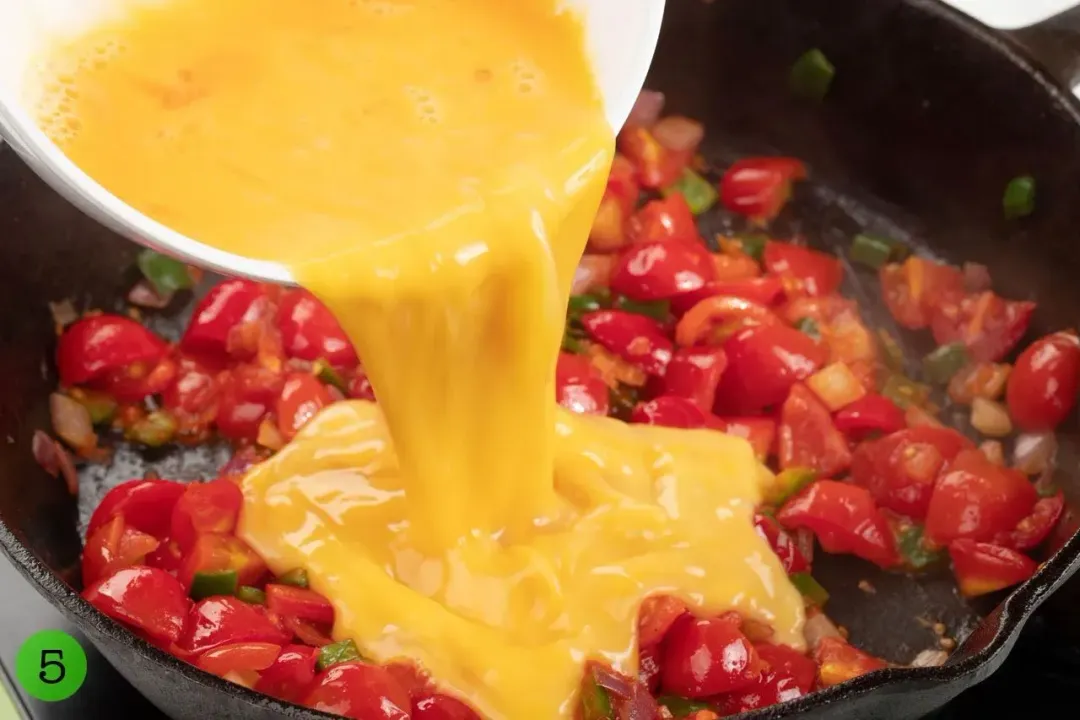 5
Scramble the eggs: Whisk the eggs in a bowl until combined. Add eggs to the pan and stir gently for 5 minutes over low heat until slightly set. Turn off the heat.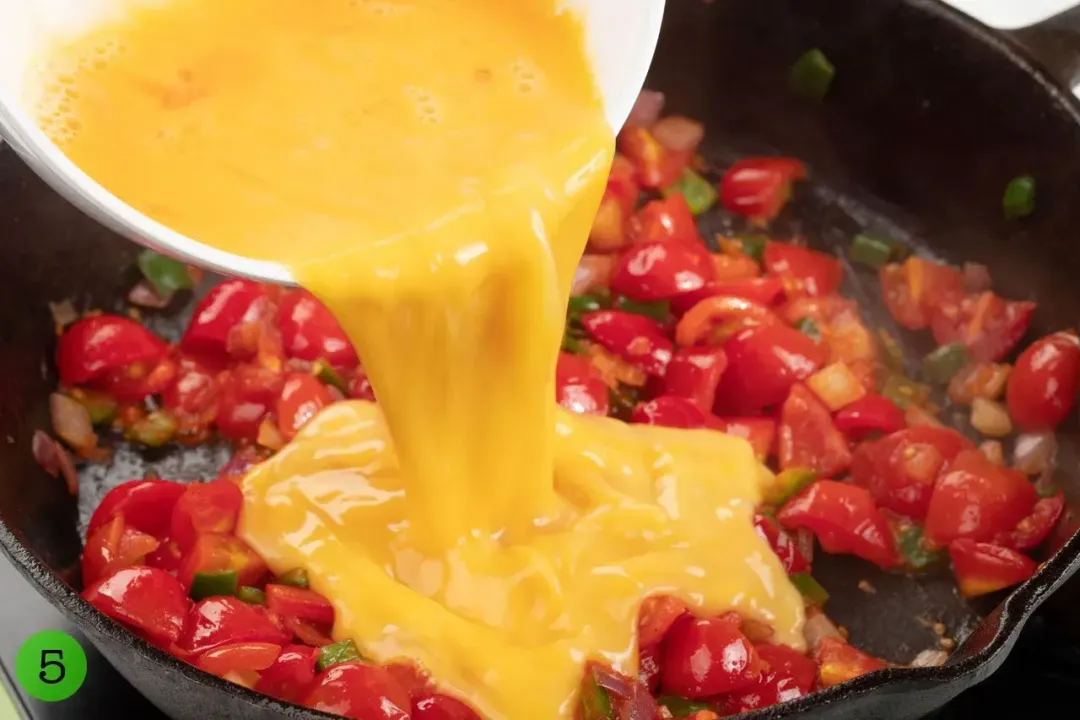 6
Mix in the tortilla chips: Add tortilla chips to the scrambled eggs and mix it in.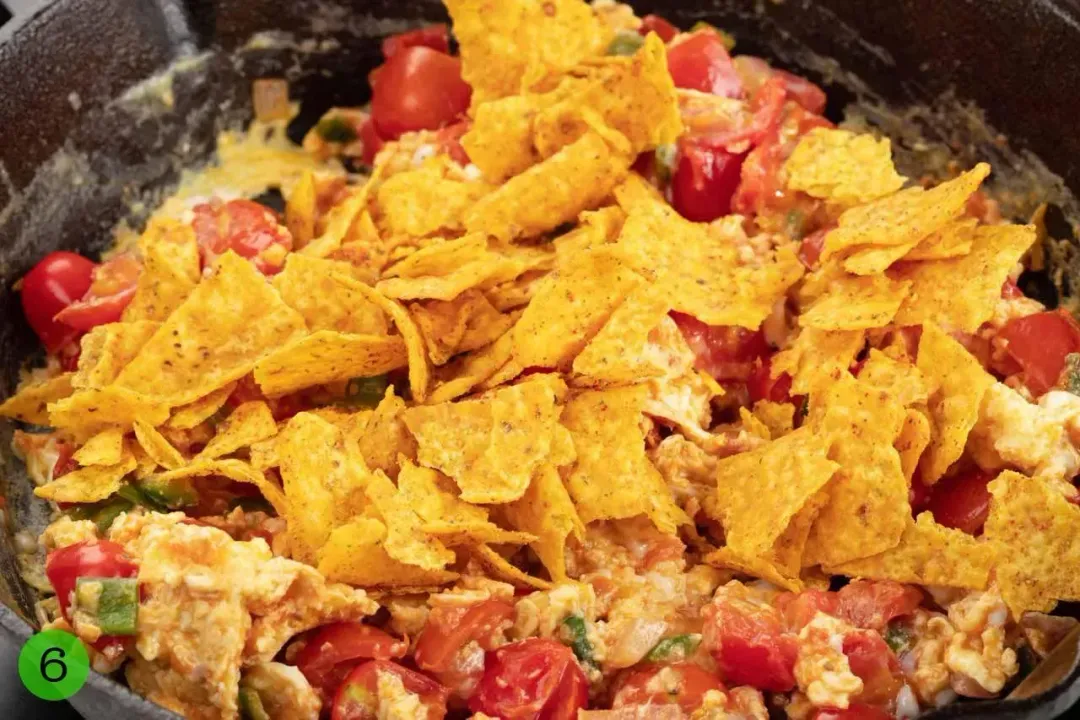 7
Garnish and serve: Sprinkle mozzarella cheese, ½ oz finely diced red onions, ¼ oz sliced jalapeño peppers, chopped cilantro, and black pepper. Serve immediately.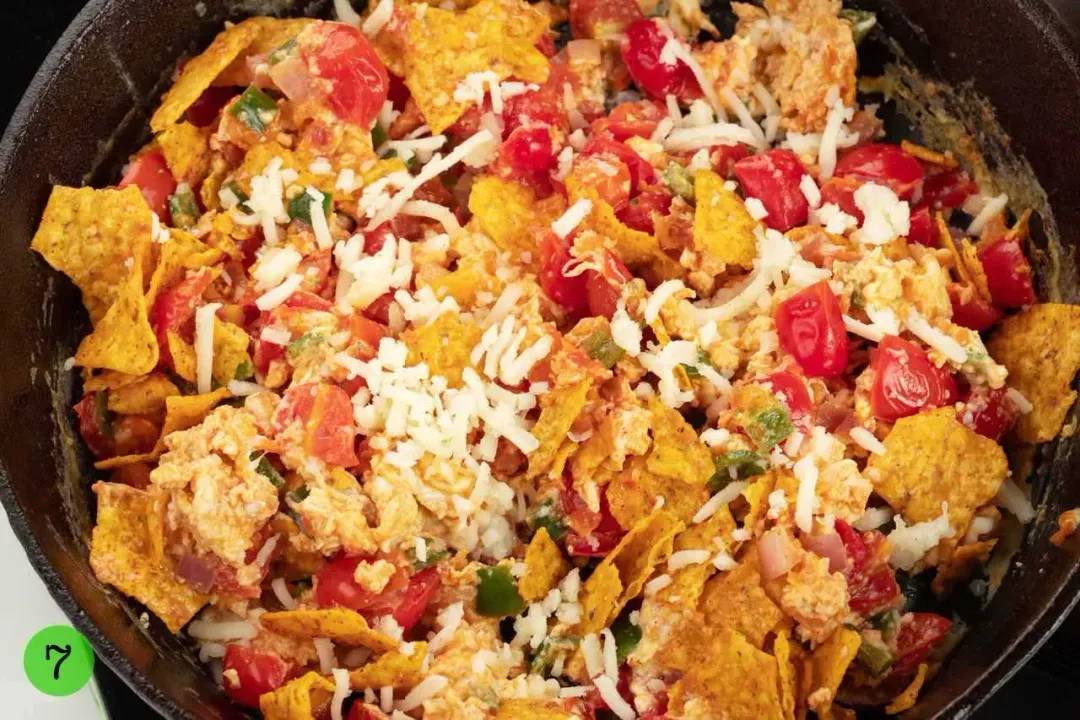 NUTRITION
Nutrition Facts
Healthy Migas
Amount Per Serving (1 serving)
Calories 212
Calories from Fat 117
% Daily Value*
* Percent Daily Values are based on a 2000 calorie diet.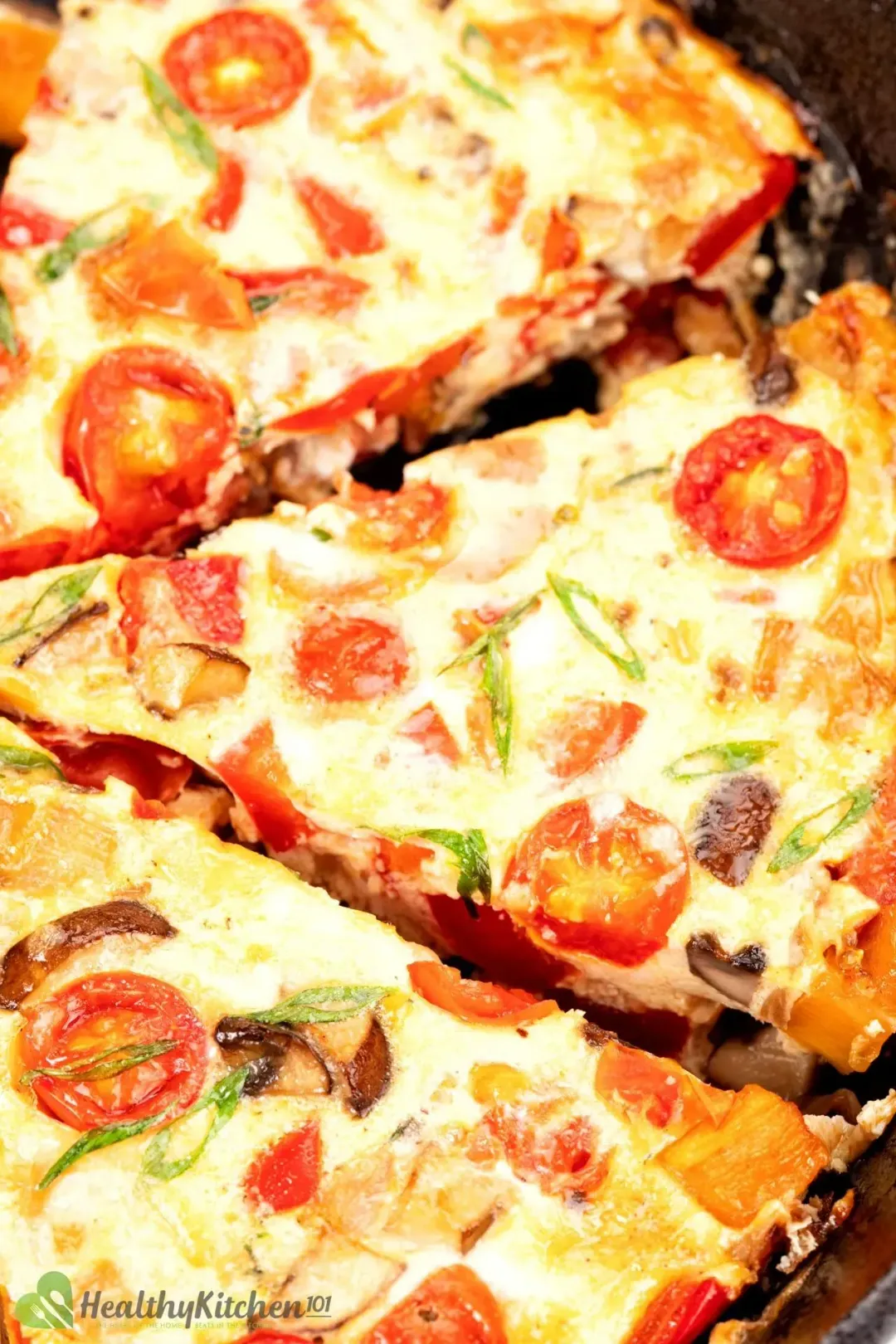 Frittata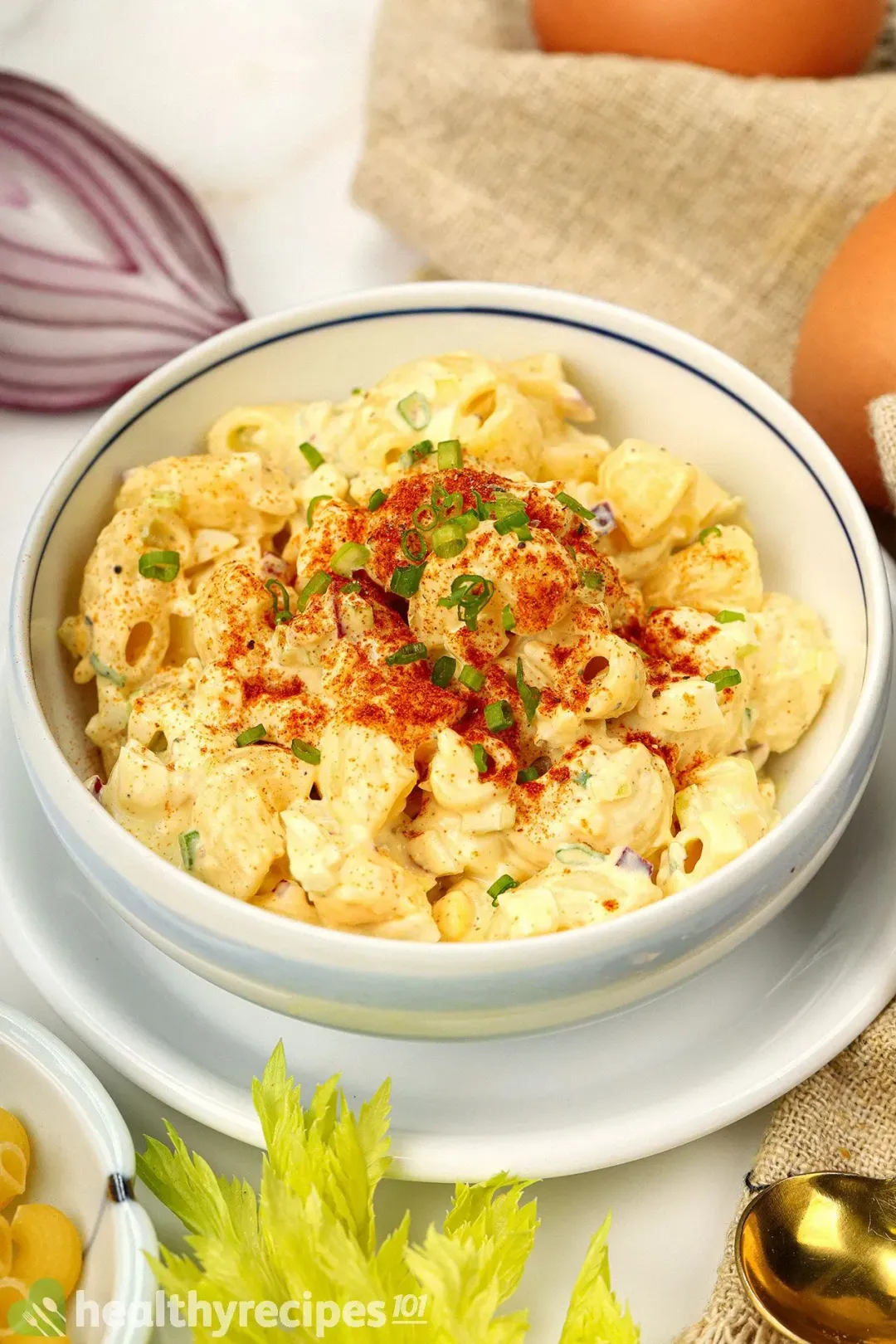 Next Recipe
Deviled Egg Pasta Salad
Deviled Egg Pasta Salad
Head Chef, Culinary Consultant
Tuyet Pham is an award-winning Saigonese chef who believes that joy is the secret ingredient to delicious food. At Healthy Recipes 101, Tuyet personally tests and simplifies every recipe, ensuring maximum flavor with minimal effort. With a background at prestigious French restaurants P'TI Saigon and Le Corto, Tuyet knows how to make every dish exceptional.
Writer, Author
Luna Regina is an accomplished writer and author who dedicates her career to empowering home cooks and making cooking effortless for everyone. She is the founder of HealthyKitchen101.com and HealthyRecipes101.com, where she works with her team to develop easy, nutritious recipes and help aspiring cooks choose the right kitchen appliances.
Nutrition Reviewer
Lizzie Streit is a Minneapolis-based dietitian and founder of It's a Veg World After All. She completed her MS in Human Nutrition from Drexel University, and is an expert in culinary nutrition, recipe development, and nutrition communications. Lizzie's philosophy is centered around making nutrition recommendations, and especially the advice to eat more vegetables, approachable and realistic. She is excited to be working with the team at Healthy Recipes 101 to ensure that their recipes are both nutritious and delicious.
This is an easy and tasty recipe. Yummy, yummy.