Today Healthy Recipes 101 is giving you a healthy eggs benedict recipe you can whip out on National Eggs Benedict Day (April 16). And it's easier than you may think.
What Is Eggs Benedict?
Eggs Benedict is one of America's favorite breakfast/brunch items. It contains an English muffin cut in half, a poached egg, smoked cured meat— usually bacon, and Hollandaise sauce.
The rich, perfectly poached egg and the savory bacon pair nicely with the buttery, creamy Hollandaise sauce. All the ingredients come together to create a lovely dish to start your day.
However, it's not always healthy. It can contain an excessive amount of sodium and saturated fat because of the bacon and sauce.
Is This Eggs Benedict Recipe Healthy?
Yes, our eggs benedict recipe is healthy. Here's why: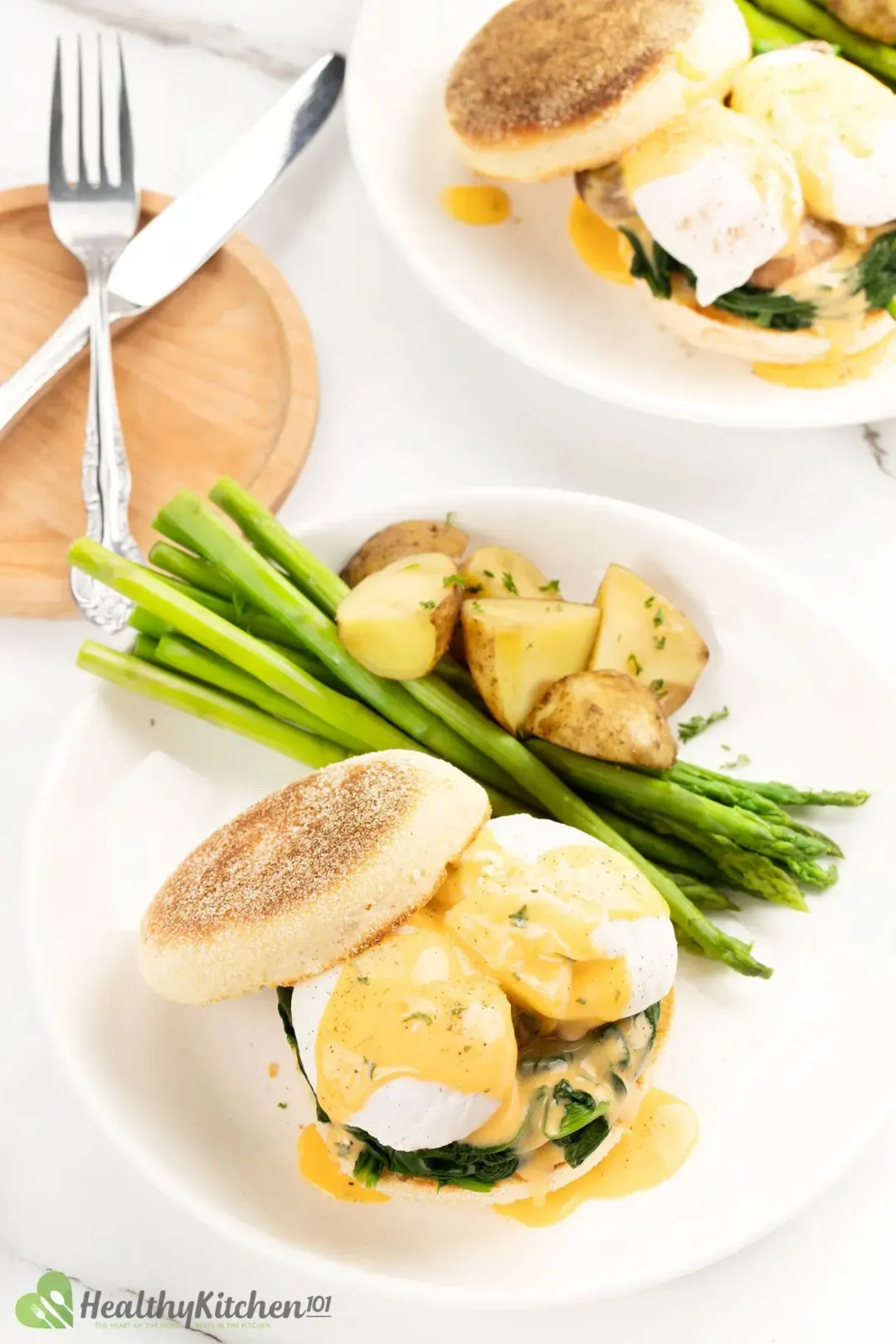 Our eggs benedict contains potatoes, spinach, and asparagus— that's nearly 8 grams of dietary fiber per serving. Having a high-fiber breakfast can help slow down the absorption of sugar, preventing a sudden spike in blood sugar levels.
A fiber-rich diet can also help you lose weight as fiber is low in calories. You can eat lots of fiber and feel full for a longer period of time without craving other things.
We also watch our ingredients closely and calculate the nutritional value of the meal. We recommend you do the same (as much as possible) so that you can monitor your daily calorie, saturated fat, and dietary sodium intake.
You can also check one of our favorite comfort foods or this recipe for breakfast to add to your healthy sides.
Calories
There are 457 calories per serving of our eggs benedict recipe.
If you follow our healthy eating guidelines, you can have a 600-calorie breakfast and serve eggs benedict with a drink. We'll go into detail about this later.
The Sauce for Eggs Benedict
There is only one eligible sauce for eggs benedict, and that's Hollandaise sauce. This infamous sauce is an emulsion of egg yolks, butter, lemon juice, and white wine.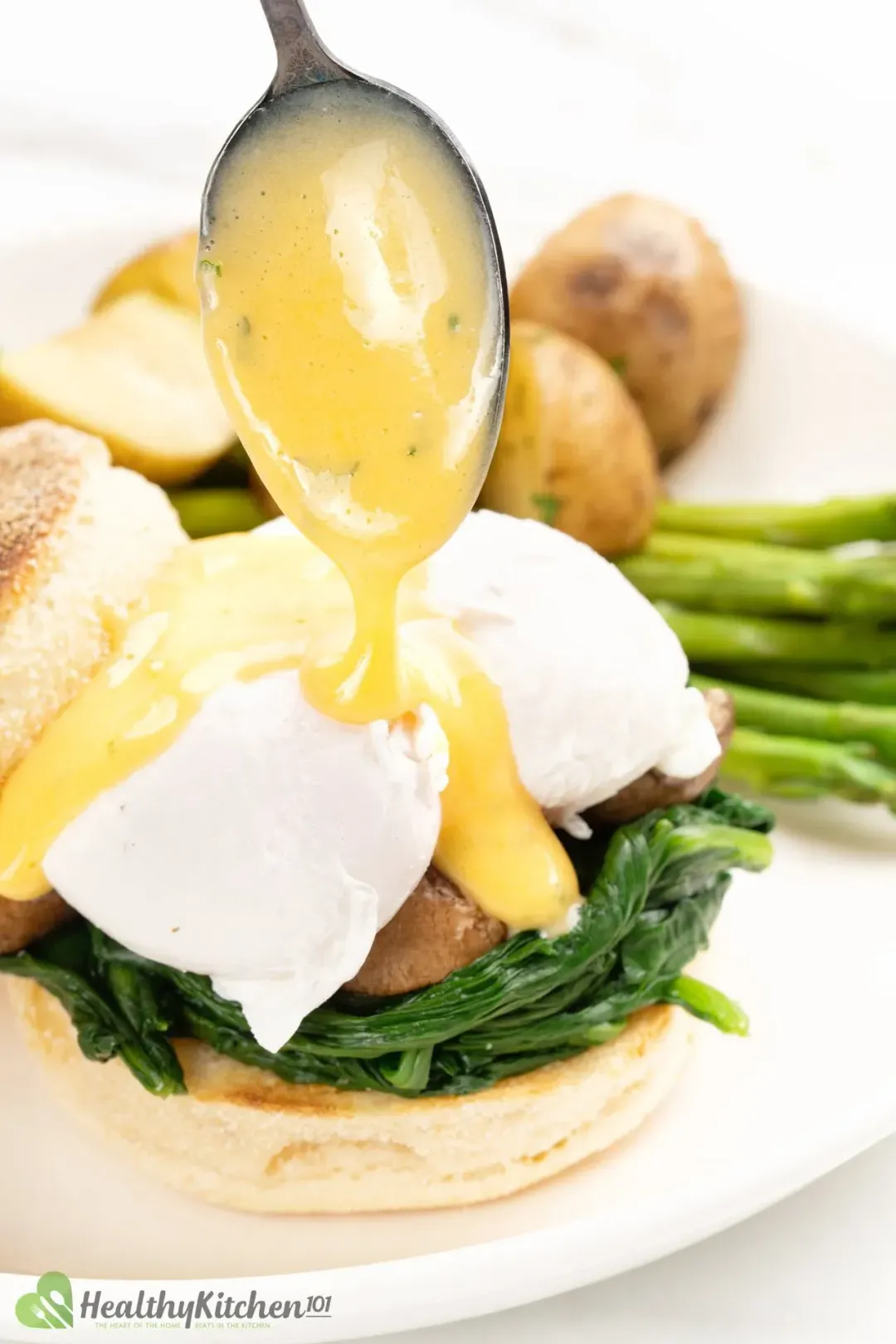 Here's how you make the sauce:
How to Make Eggs Benedict Sauce
To make Hollandaise sauce, we're going to use a double boiler. This just means cooking the sauce in a bowl placed over a pot of simmering water.
You will need a small pot or saucepan and a bowl that fits perfectly on top of the pot. We recommend using a metal one as it allows the heat to transfer faster.
Bring a small pot of water to a boil, then reduce the heat to medium and simmer. Place the bowl on top of the pot, making sure that the water in the pot is low enough that it doesn't touch the bottom of the bowl.
Add egg yolks, white wine, lemon juice, and salt to the bowl. Whisk vigorously for 2 minutes to cook the eggs.
Add cold butter to the sauce and continue to whisk until fully melted. Add freshly chopped parsley, whisk it in, and turn off the heat.
Tips for Making Eggs Benedict
The first tip we can give you when making eggs benedict is to prepare all your ingredients beforehand. The cooking process will be brief, so you want to have everything ready for you to grab and cook.
Notice how we put vinegar and white wine into the boiling water for poached eggs. That's our second tip.
Vinegar and white wine helps the egg white set more quickly without dispersing into the water. It also seasons the egg slightly, giving it a touch of savoriness as well as reducing the unpleasant eggy aroma.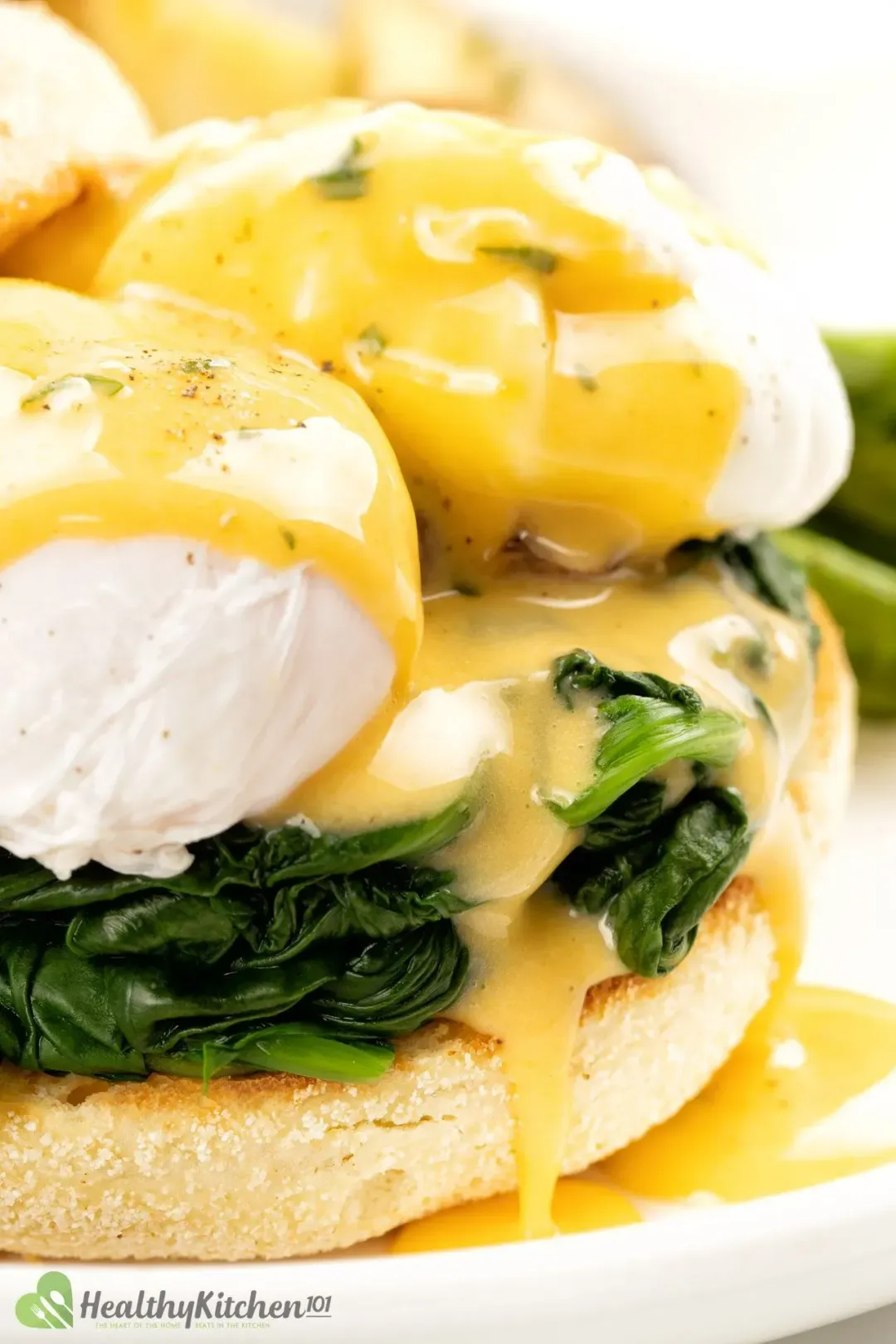 You probably also noticed that we use cold butter instead of melted, clarified butter like the traditional Hollandaise sauce recipe. There are a few reasons behind this decision.
When you whisk butter into egg yolks, the cold butter ceases the egg from cooking any further. This can prevent you from overcooking your sauce and ending up with scrambled sauce.
And with cold butter, you will have a more delicate, velvety sauce than with melted butter. Also, with melted butter, you need to pay extra attention, or you'll risk separating the sauce.
And if you use melted butter, you'll have to do an extra step to clarify the butter. This means that you need to skim off the milk solids and water in melted butter.
But not everyone has the time and energy for this early in the morning. So let's just stick to the cold butter.
What Goes with Eggs Benedict?
Looking for a way to elevate your eggs benedict recipe? We have a few ideas:
1. Smoked Salmon
Add some slices of cured, smoked salmon to your eggs benedict. They will take the whole dish to the next level.
The saltiness from the salmon pairs amazingly well with the rich, buttery Hollandaise sauce and runny poached egg. And its smoky flavor gives an added depth of flavor to the dish.
2. Crab
If you happen to have crab meat, freshly cooked or canned, add it to your eggs benedict. You'll be surprised how well the two can go together.
Season the crab meat with a bit of lemon juice, lemon zest, ground black pepper, and fresh chives or scallions. These seasonings will give the crab more character.
Keep in mind that crab meat is already salty. Have a taste before you decide to add more salt.
3. Avocado
Avocado goes well with any type of toasted buns, so naturally, it goes well with English muffins.
The creamy, soft avocado with crunchy, toasted bread and poached eggs make an iconic breakfast. It is even more legendary when you add Hollandaise sauce to it.
There are two ways you can prepare avocado for today's eggs benedict recipe:
The first step is to cut the avocado in half and discard the pit. Then use a spoon to scoop out the whole flesh.
Now you can either cut the flesh into thin slices and serve. Or you can mash it to make creamy avocado spread.
When you assemble your eggs benedict, put the avocado slices or spread on top of the bottom bun. Continue to put other ingredients on top of the avocado, and you're done.
4. Spinach
If you want to add fiber to your eggs benedict, spinach is one of the best options for this recipe. And it's super easy and fast to prepare.
All you need to do is bring a pot of water to a boil. Once boiling, add the spinach and blanch for 1 minute.
Then transfer the spinach to an ice bath. This stops the cooking and helps retain its vibrant green color.
After 1-2 minutes, the spinach should be cool enough to handle. At this point, you can squeeze the spinach to extract all the water out of it.
Be sure to squeeze it hard and leave it on paper towels to dry out further. You don't want to add wet spinach to your eggs benedict and end up with soggy buns.
5. Bacon
Though bacon is not very healthy, you can still enjoy it from time to time. And one of those times includes having it with eggs benedict.
Bake your bacon strips in the oven to render the fat out and make them extra crispy. That crispiness and savoriness of the bacon pairs heavenly with the soft poached egg and Hollandaise sauce.
We tried it with this healthy, deviled appetizer and loved the results!
6. Asparagus
You might be skeptical of the idea of serving asparagus with eggs benedict. But you'll be surprised how well the two can go together.
It's the Hollandaise sauce and its magic that brings flavor to the asparagus. The rich egg yolk, the buttery sauce, the crunchy veg, and the soft bun all come together to create a healthy, delicious meal.
In the end, you can choose to add one or more of the mentioned ingredients to your eggs benedict recipe. But remember to calculate the nutritional values for your recipe.
We don't want you to over-consume calories, saturated fat, or sodium. It's important that you eat good foods, but also healthy foods too.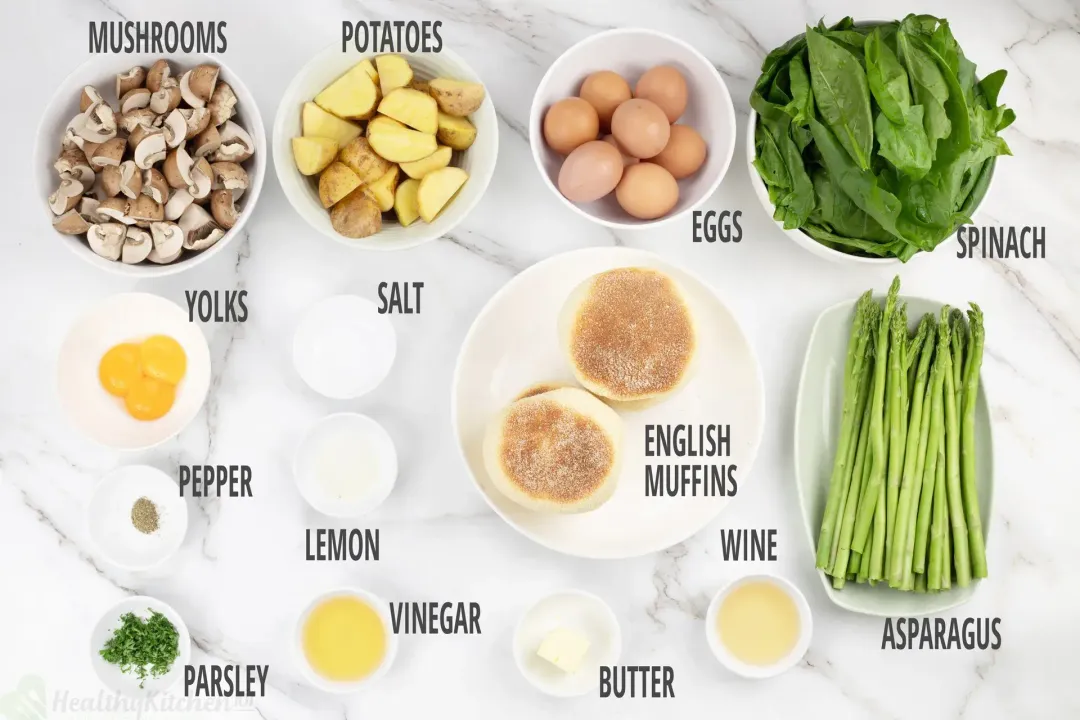 Can You Freeze Cooked Eggs?
Yes, you can freeze cooked eggs. Eggs that are fully cooked like hard-boiled or scrambled eggs can be stored in the freezer.
However, you should not freeze eggs that are undercooked, like soft-boiled or today's poached eggs. Technically they're raw and can be an ideal environment for bacteria to grow when you freeze and then thaw them.
How Long Do Eggs Benedict Last?
1. In the Fridge
Eggs benedict is a dish that contains lots of fresh ingredients like poached eggs, English muffins, and an egg-based sauce. Once you assemble the dish, it should be served immediately to preserve the quality.
If you want to store eggs benedict, we recommend keeping your eggs, muffin, and sauce separately. And you should also keep them in airtight containers to minimize spoilage as well.
We recommend eating poached eggs the same day you make them.
Both the English muffins and Hollandaise sauce can last up to 2 days in the fridge.
2. In the Freezer
Hollandaise sauce and English muffins can stay good for one month in the freezer.
You can either put the sauce in an airtight container or a ziploc bag before freezing it. As for the muffins, wrap each one separately in parchment paper and put them in a big ziploc bag.
For more easy and nutritious eggs, take a look at our 40+ healthy eggs recipes.
What to Serve with Eggs Benedict?
As mentioned, we'll be serving our eggs benedict with a drink. We recommend pairing it with our pomegranate blueberry juice.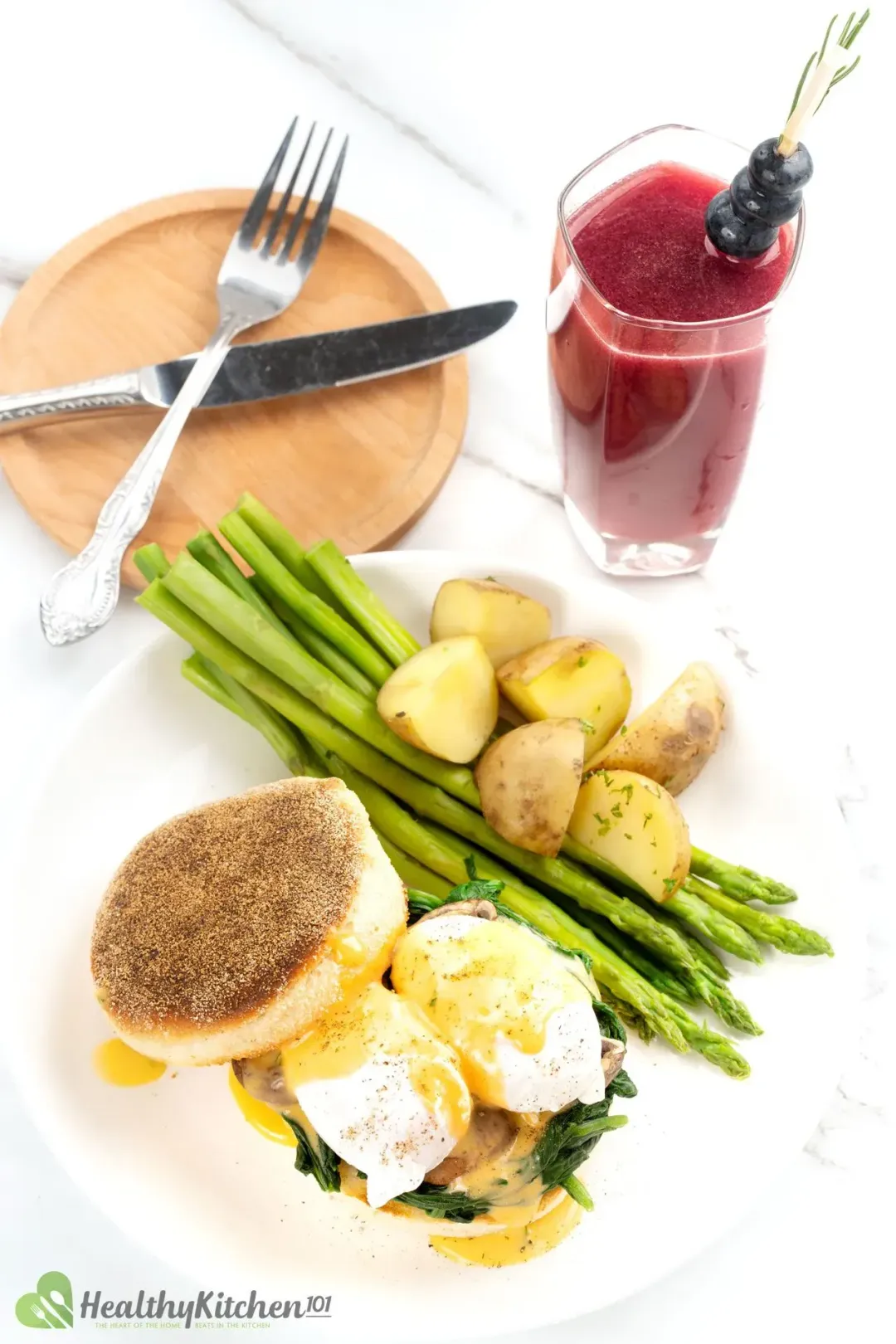 This refreshing juice is healthy and easy to make. Its tanginess helps cleanse your palate and wake you up, getting you energized for a new day.
Having a drink after breakfast can also help you wash down your food and make you feel fuller too.
Here's the nutrition facts of this meal combination:
Delicious Egg Side Dishes to Try
If you're looking for a perfect recipe for dinner or something made with simple ingredients, see the options below:
Eggs Benedict
With today's detailed, fail-proof eggs benedict recipe, you'll be mastering this iconic brunch in no time. Don't worry; it's easier than it seems.All you need is a handful of ingredients, patience, and concentration. Let's get started.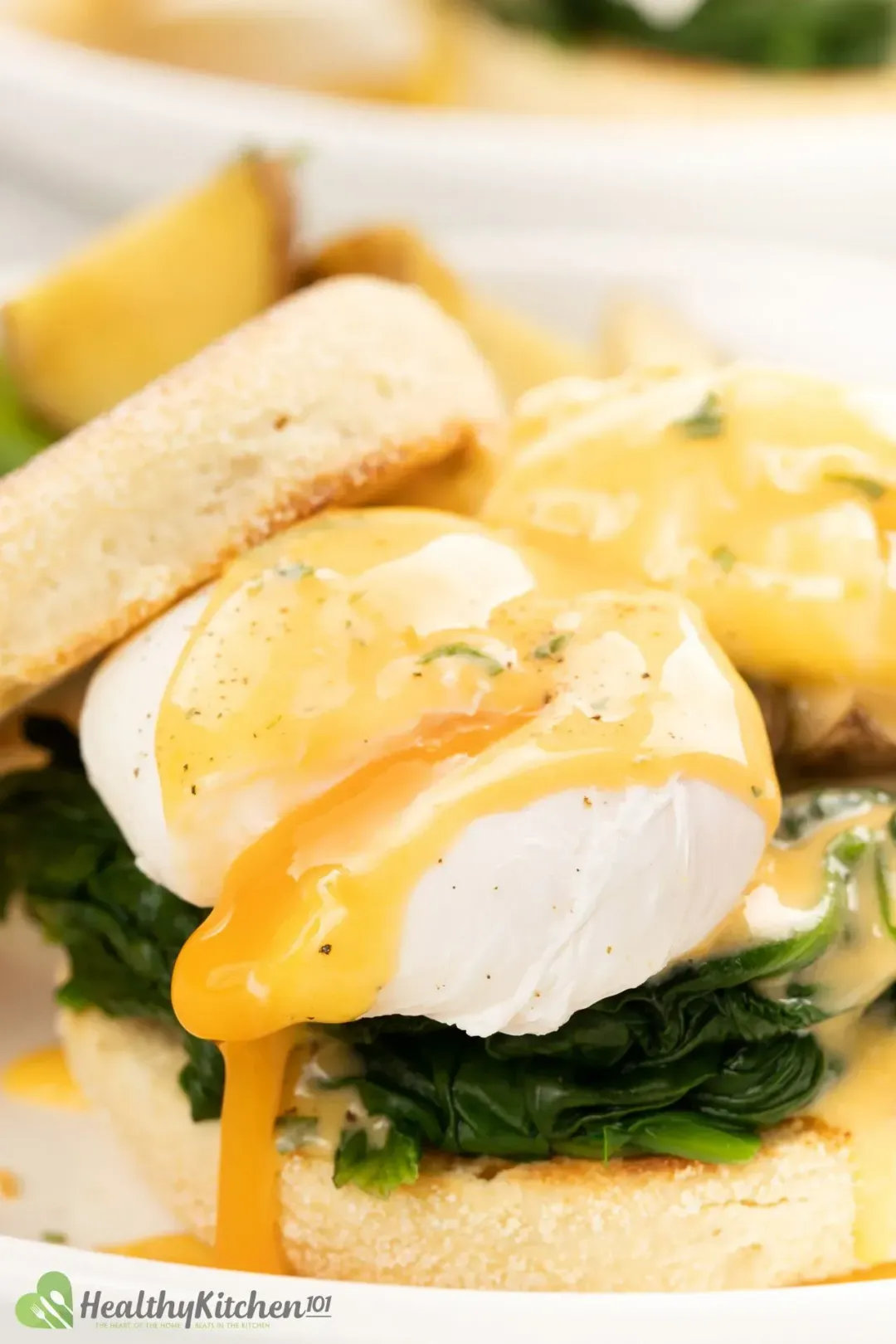 cook TIME

45 mins

prep TIME

5 mins

total TIME

50 mins
COURSE

Breakfast

CUISINE

American

SERVINGS

CALORIES

457 kcal
INGREDIENTS
12 oz

baby potatoes

(quartered)

10 oz

button mushrooms

(raw, quartered)

2 tbsp

white wine

(divided)

1 1/2 tbsp

unsalted butter

(cold)

1/8 tsp

ground black pepper

1 tsp

parsley

(fresh, finely chopped, divided)
INSTRUCTIONS
1
Blanch the spinach: Bring a pot of water to a boil. Once boiling, add 8 oz spinach and blanch for 1 minute. Remove with a slotted spoon, transfer to an ice bath, and leave to cool for 2 minutes. Drain and squeeze well to remove any excess water. Put on a plate lined with paper towels and set aside.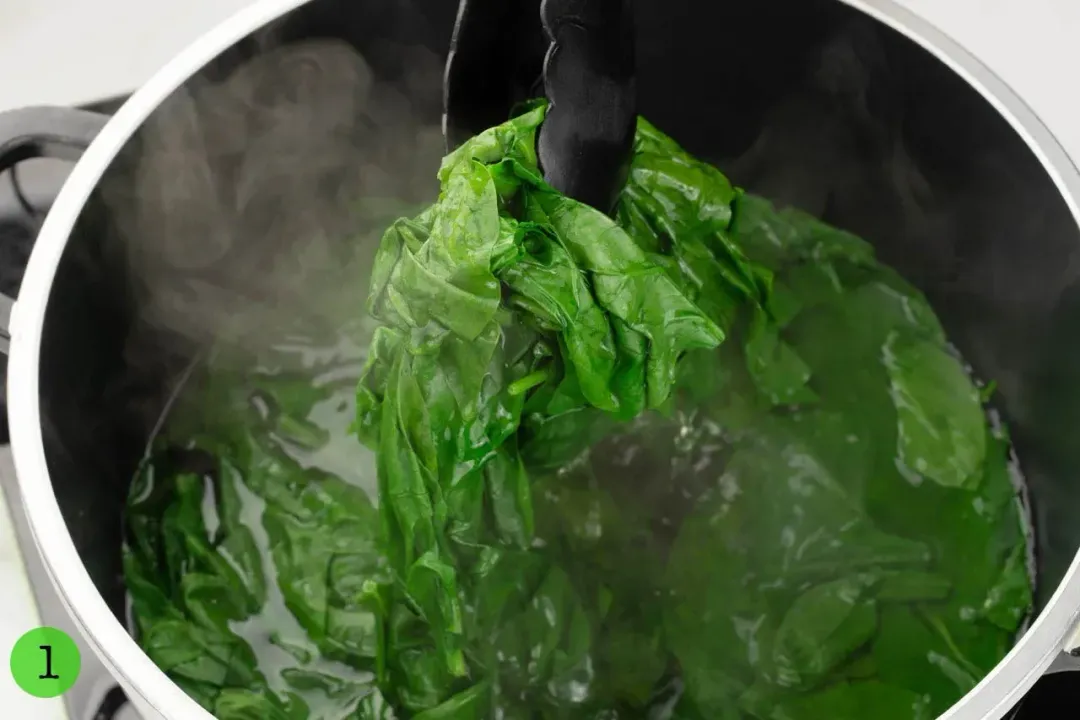 2
Steam the vegetables: In a large pot, fill it with 1-inch of water, put the steamer basket inside and bring to a boil. Once boiling, reduce the heat to medium and add potatoes to the steamer basket. Cook for 15 minutes. Then add 10 oz button mushrooms and 10 oz asparagus to the steamer basket and cook for another 10 minutes. Once cooked, transfer to a large plate and set aside.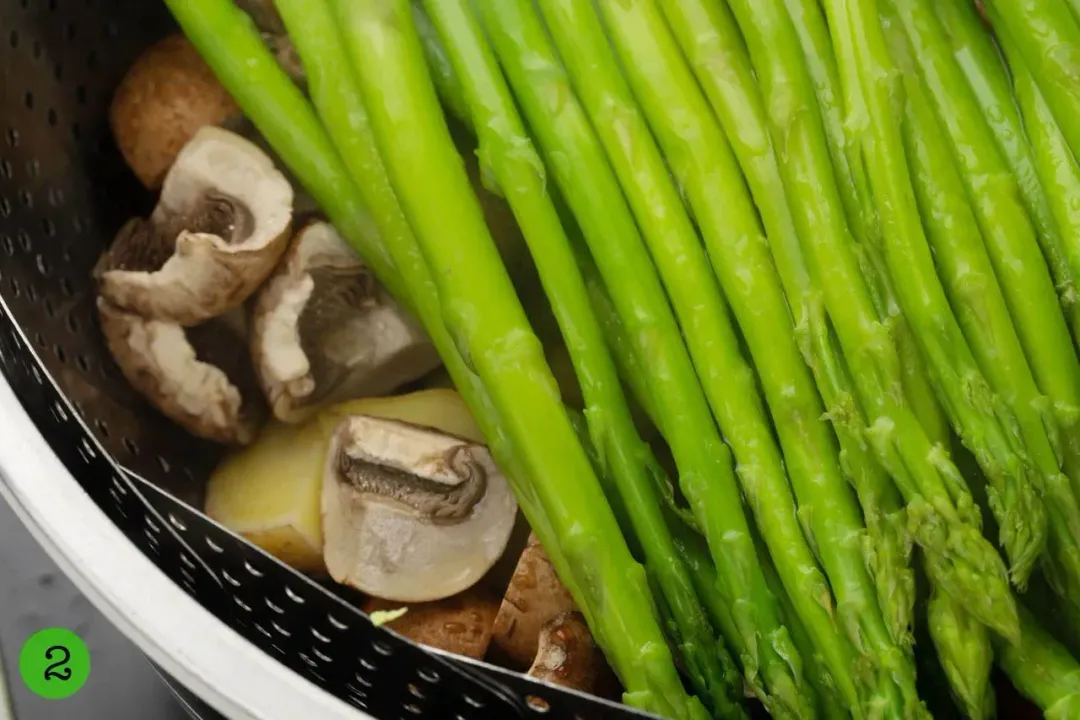 3
Make Hollandaise sauce: Bring a small pot of water to boil then simmer over medium heat. Place a glass or metal bowl that fits the pot on top, making sure that the water doesn't touch the bowl. Add 3 egg yolks, 1 tbsp white wine, 1 tsp lemon juice, and 1/8 tsp salt to the bowl. Whisk vigorously for 2 minutes. Add 1 1/2 tbsp unsalted butter cold and continue to whisk until fully melted into the sauce (about 1 minute.) Add ½ tsp chopped parsley and whisk in. Turn off the heat, remove the bowl from the boiler, and set aside.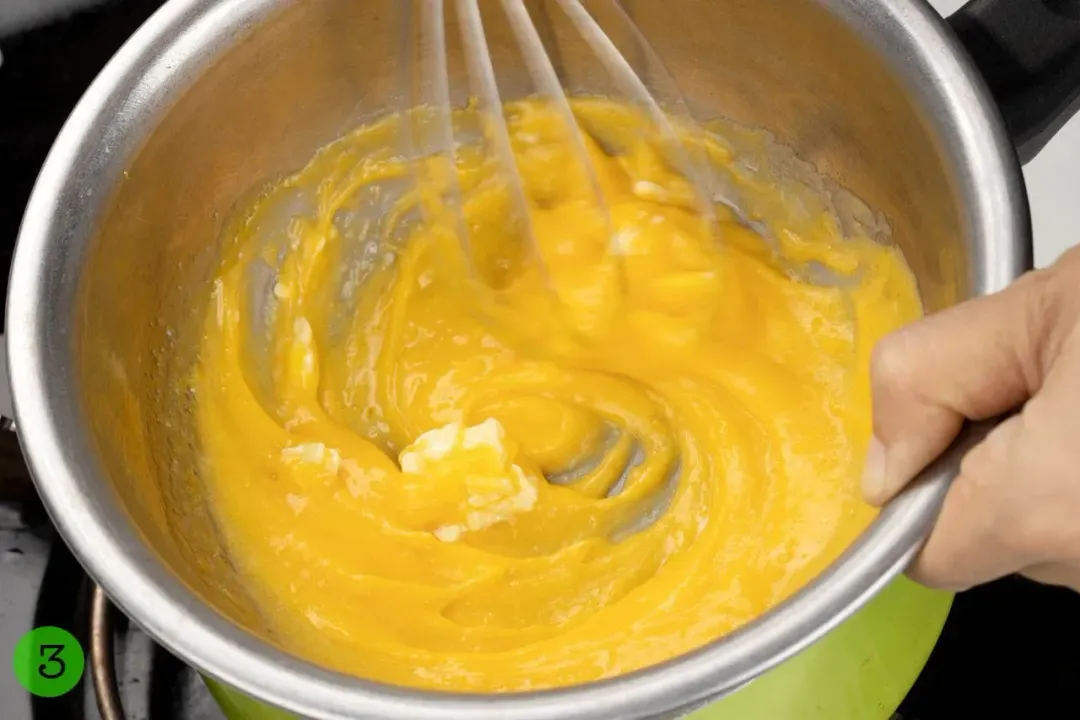 4
Toast English muffins: Slice 4 English muffins in half. Bake the muffins in a 375°F oven for 2 minutes. (You can also toast each slice in a toaster.)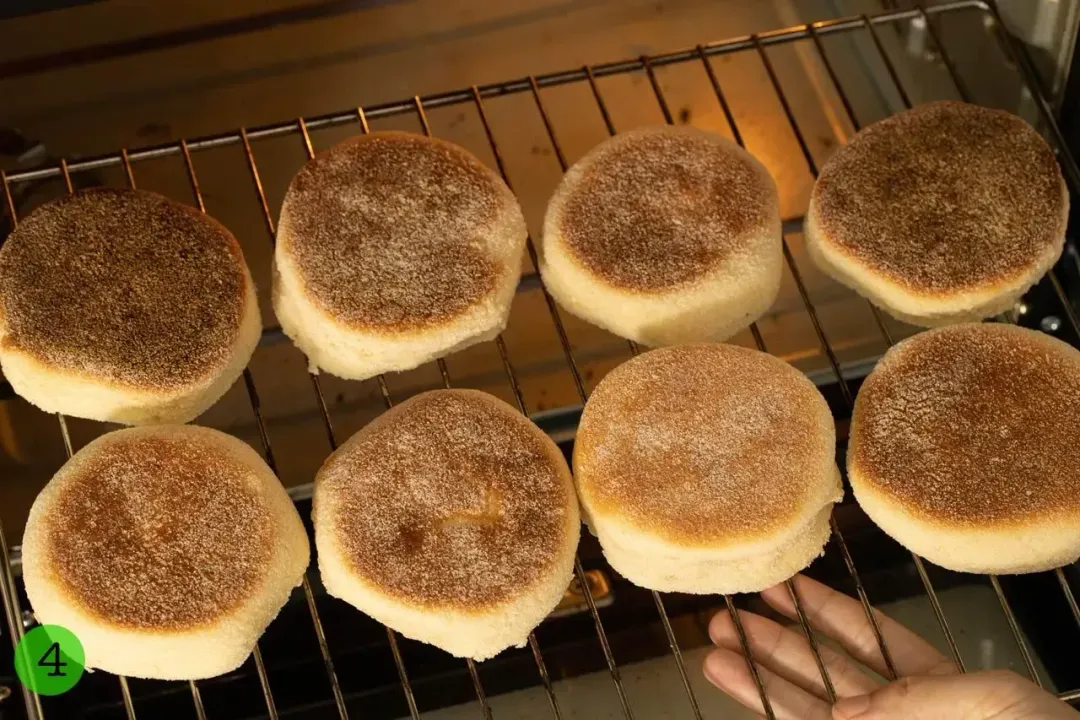 5
Poach the eggs: In a pot of water, add 1 tbsp white wine and 2 tbsp vinegar. Bring the water to a boil and then reduce the heat to medium. Use a spoon to swirl the water, creating a vortex. Add one egg, cook for 2 minutes, and remove from the water with a spoon. Transfer the poached egg to a dish lined with a paper towel to absorb excess water. Repeat with the remaining eggs.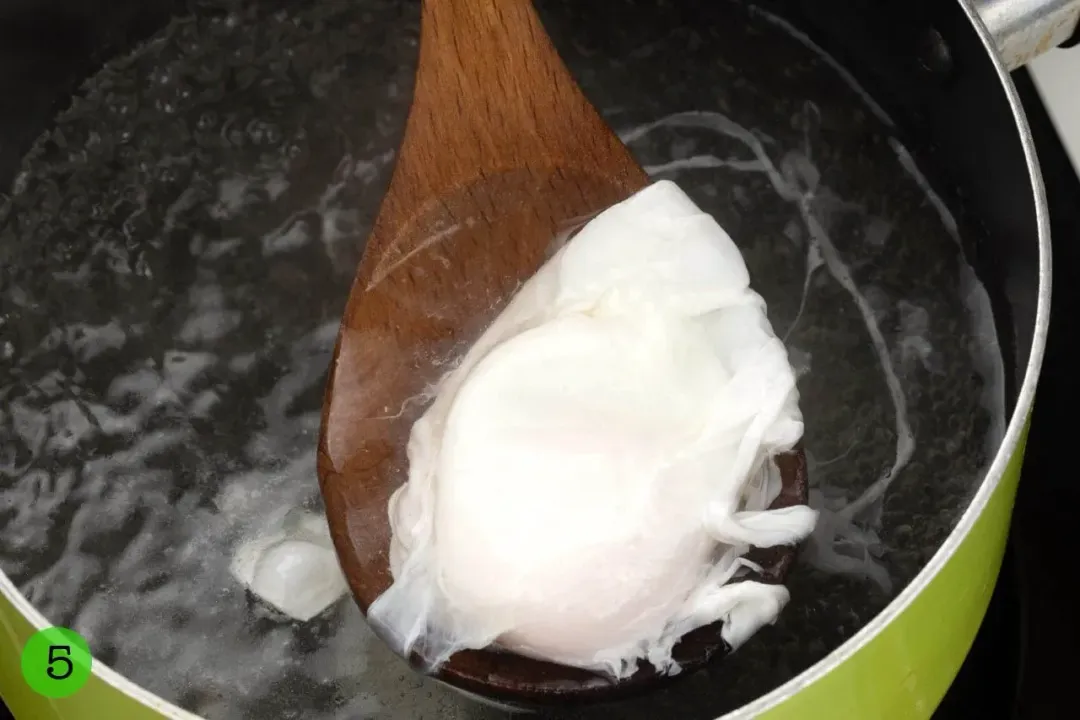 6
Serve: Put a muffin slice on one side of a plate, put spinach and mushrooms on top, then place 2 eggs over the veggies, spoon the sauce over the eggs, and put the other muffin slice on top. Place asparagus and potatoes on the other side of the plate. Garnish with the remaining parsley and ground black pepper.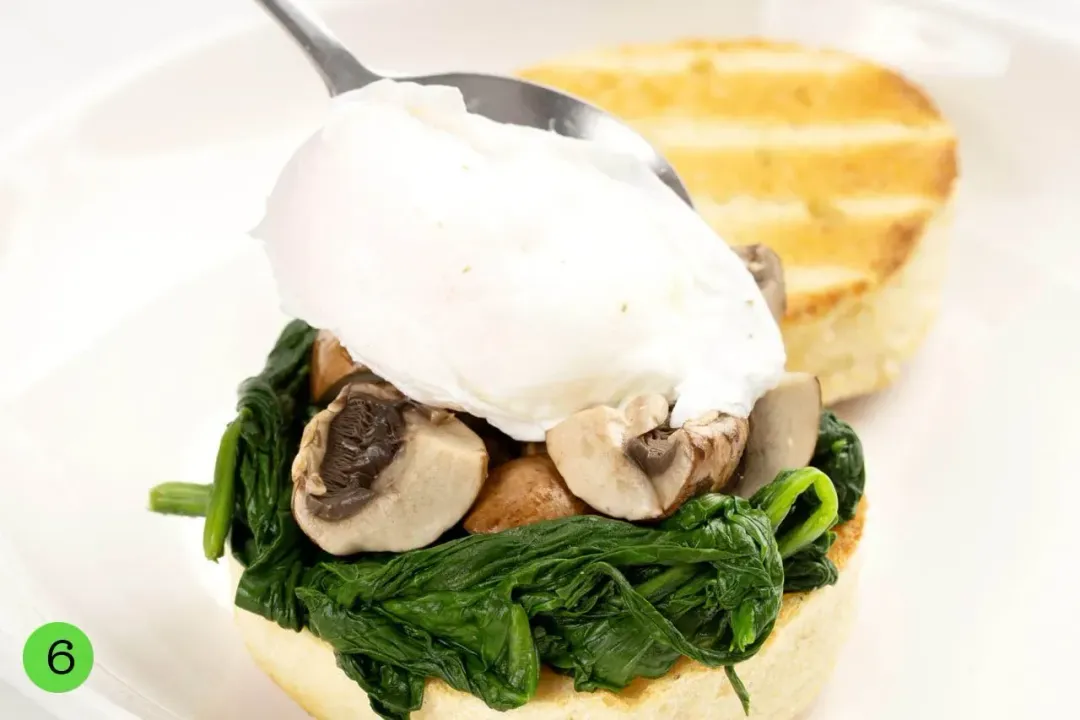 NUTRITION
Nutrition Facts
Eggs Benedict
Amount Per Serving (1 serving)
Calories 457
Calories from Fat 162
% Daily Value*
* Percent Daily Values are based on a 2000 calorie diet.
Keywords: Eggs Benedict, Eggs Benedict Recipe, How to make Eggs Benedict Recipe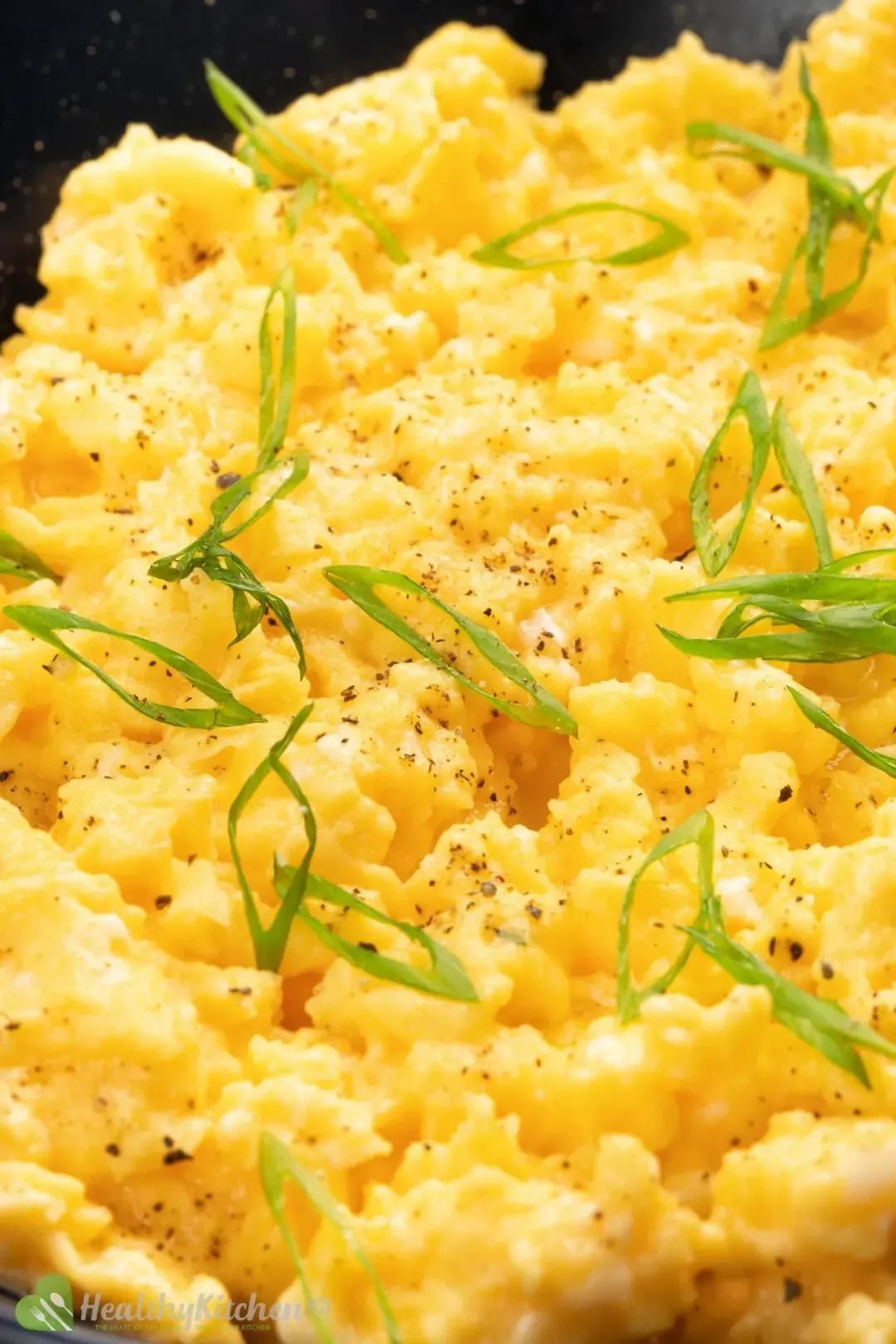 Previous Recipe
Scrambled Eggs
Scrambled Eggs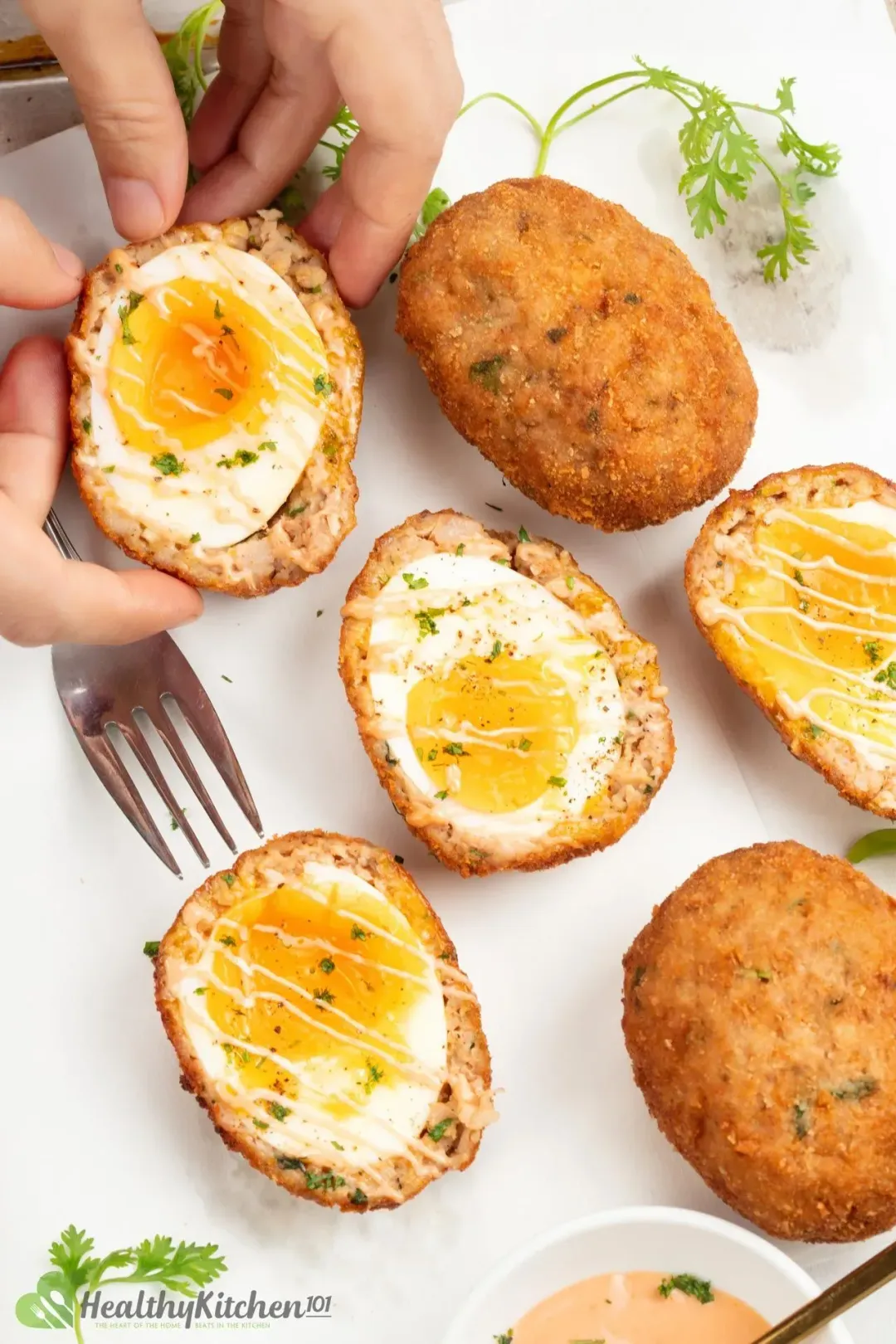 Scotch Egg
Head Chef, Culinary Consultant
Tuyet Pham is an award-winning Saigonese chef who believes that joy is the secret ingredient to delicious food. At Healthy Recipes 101, Tuyet personally tests and simplifies every recipe, ensuring maximum flavor with minimal effort. With a background at prestigious French restaurants P'TI Saigon and Le Corto, Tuyet knows how to make every dish exceptional.
Writer, Author
Luna Regina is an accomplished writer and author who dedicates her career to empowering home cooks and making cooking effortless for everyone. She is the founder of HealthyKitchen101.com and HealthyRecipes101.com, where she works with her team to develop easy, nutritious recipes and help aspiring cooks choose the right kitchen appliances.
Nutrition Reviewer
Natalie Butler is a registered dietitian nutritionist with a passion to help others live their best life through food, fitness, safer beauty and a healthy lifestyle. She has expertise with a variety of diets and diseases and believes that there is no one-size-fits-all approach for health.
This Eggs Benedict was tasty and incredibly easy to make. The creamy Hollandaise sauce went well with the eggs.