Today we continue our egg saga with this healthy scotch eggs recipe. And everything is made from scratch.
We'll talk about how deep-fried eggs can be healthy, and all the basics of how to make scotch eggs. First, let's define scotch eggs.
What Is a Scotch Egg?
Scotch eggs are a beloved staple in British cuisine. A scotch eggs recipe mainly consists of soft- or hard-boiled egg, ground meat, breadcrumbs, and seasonings.
The egg is wrapped in seasoned ground meat— usually pork sausage, and coated in breadcrumbs before being baked or deep-fried. Scotch eggs can also be served with a sauce for dipping as well.
When you bite into a scotch egg, you'll get to experience several layers of different textures and flavors. The crispy exterior, the savory sausage, and the soft, rich egg— all come together and create an indescribable gastronomical sensation.
You can serve these flavorful bombs as a snack or an appetizer. Mini versions of scotch eggs use quail eggs to make bite-sized finger food that are perfect for any party.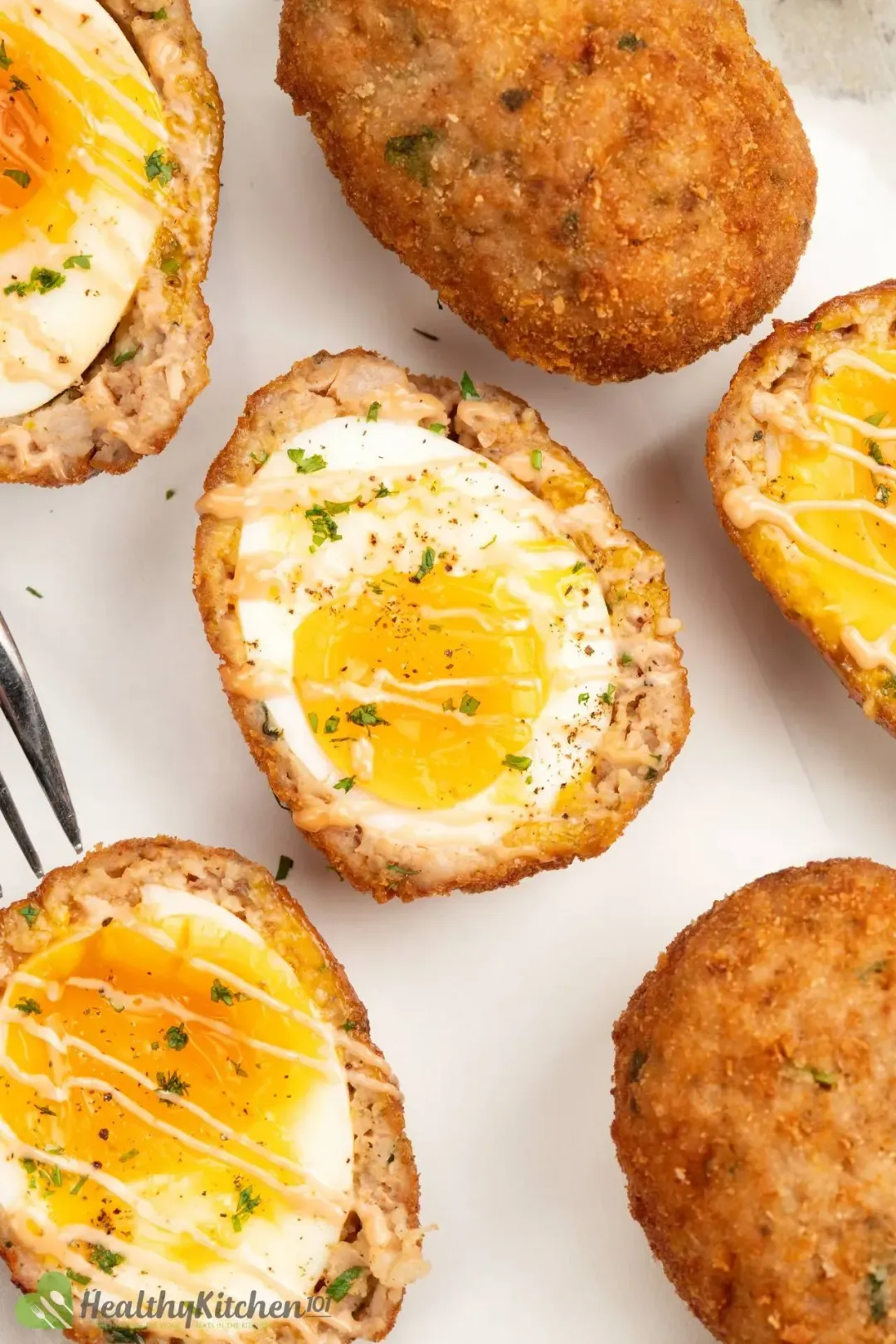 Are Scotch Eggs Healthy?
Unlike most deep-fried foods, our scotch eggs recipe is healthy. It doesn't absorb too much oil during the cooking process, nor is it heavily seasoned with salt before serving.
The deep frying adds only 1 teaspoon of canola oil to our scotch eggs, which translates to less than 0.1 grams of saturated fat per serving.
The majority of saturated fat in this dish comes from the eggs themselves, ground pork, and mayonnaise. It totals to about 4 grams, far below the daily limit of 23-30 grams.
We also monitored sodium in all the ingredients, including mayonnaise, ketchup, and seasoning salt. This is not exactly a low-salt recipe, as we still want it to taste good, but the amount of sodium is kept below the recommended limit of 300 grams.
We may not have a specific recommendation on how much your daily carb intake should be, but these scotch eggs are low-carb, each providing only 4 grams of carbs.
If you want to know more about your recommended daily calorie, saturated fat, or sodium intake, check out our healthy eating guidelines.
1. Calories
According to our nutrition calculator, there are 206 calories per scotch egg. Although this is enough calories for a side dish, appetizer, or a snack, it's not enough to fuel your body.
You'll need to pair these eggs with a main dish to consume more calories and keep your body functioning properly. And we will tell you what to serve with scotch eggs later.
By reducing your sodium intake, you can lower your blood pressure and thus reduce the risk of heart diseases.
2. Carbs
One scotch egg contains about 4 grams of carbs. This is relatively low on carbs so this makes our scotch eggs recipe suitable for a low-carb diet.
Check out the best scrambled eggs or this fantastic, healthy breakfast for more recipes to add to your repertoire.
How to Make Scotch Eggs
Scotch eggs are another low-calorie way to prepare eggs. Here's a brief summary of our scotch egg recipe: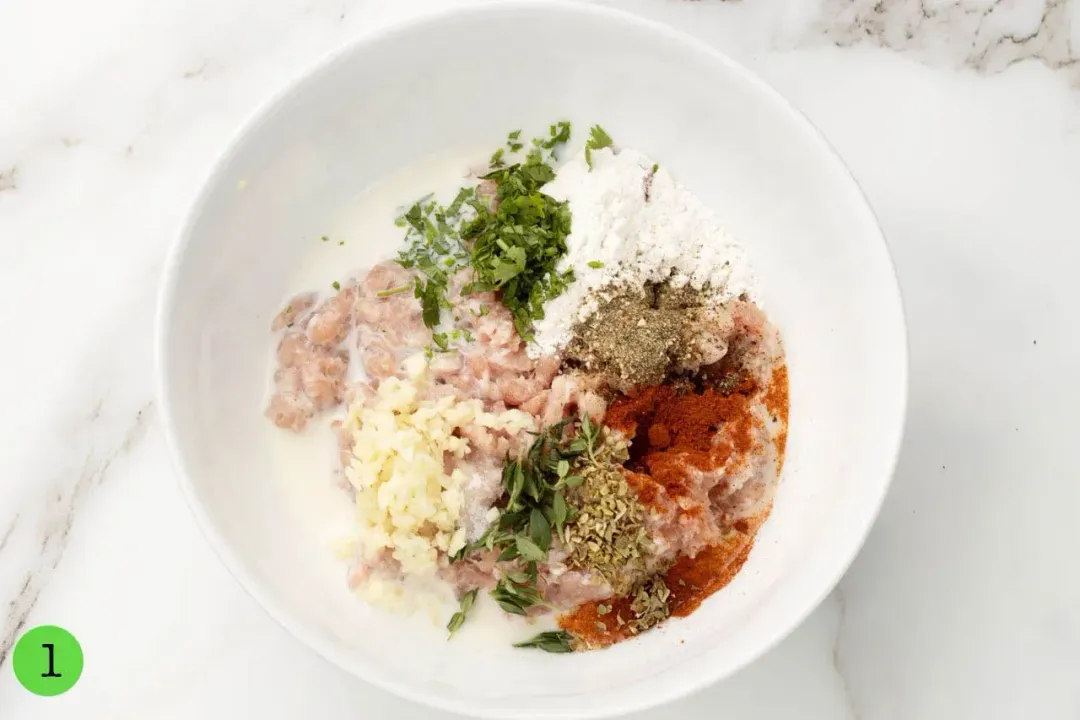 Make the sausage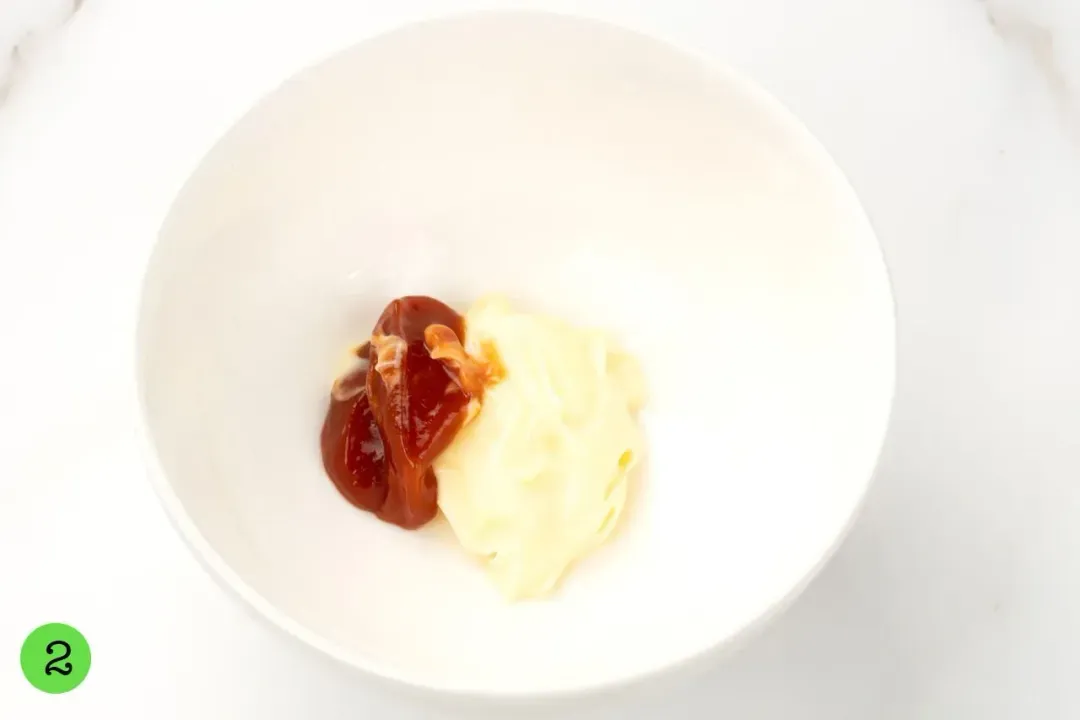 Make the sauce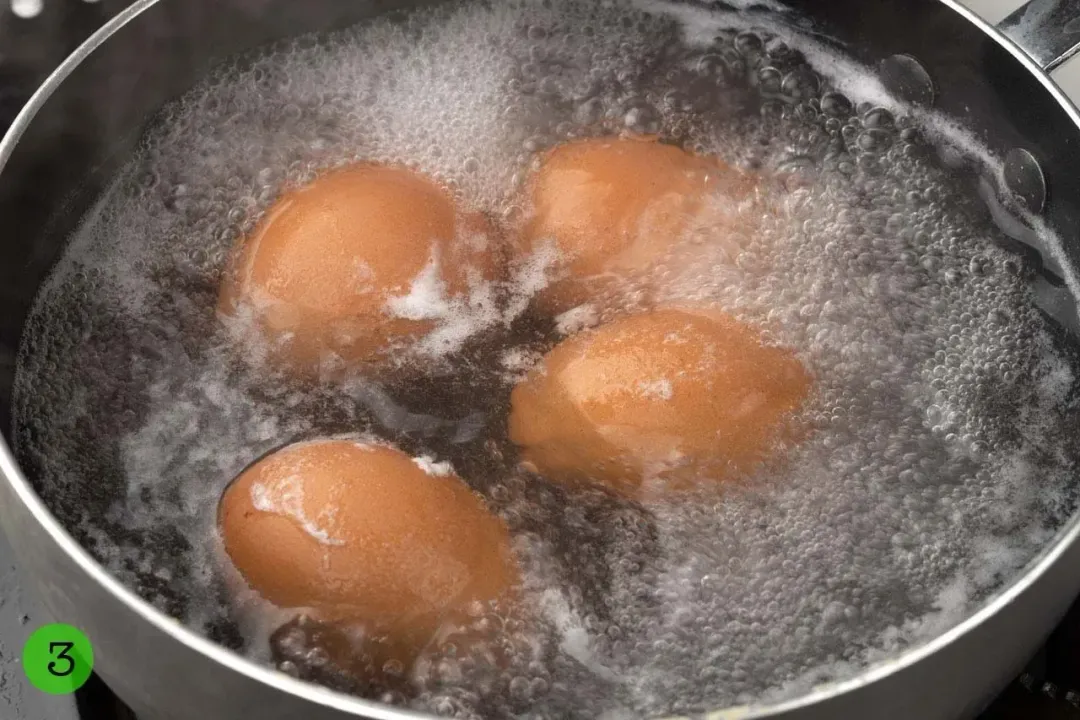 Boil the eggs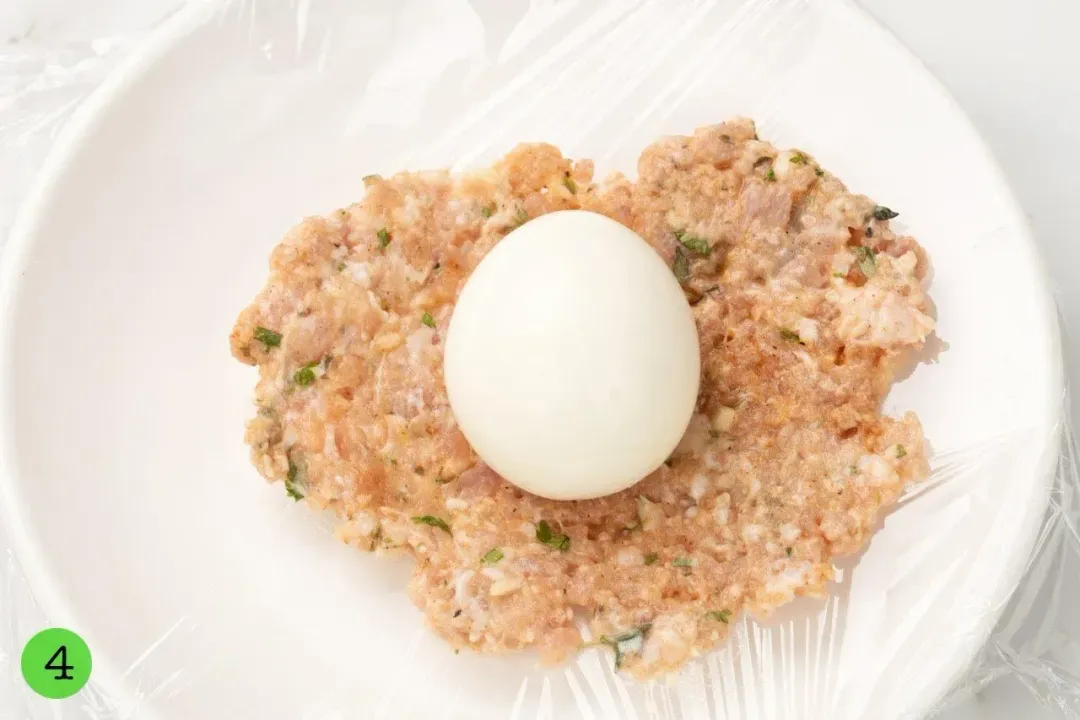 Wrap the eggs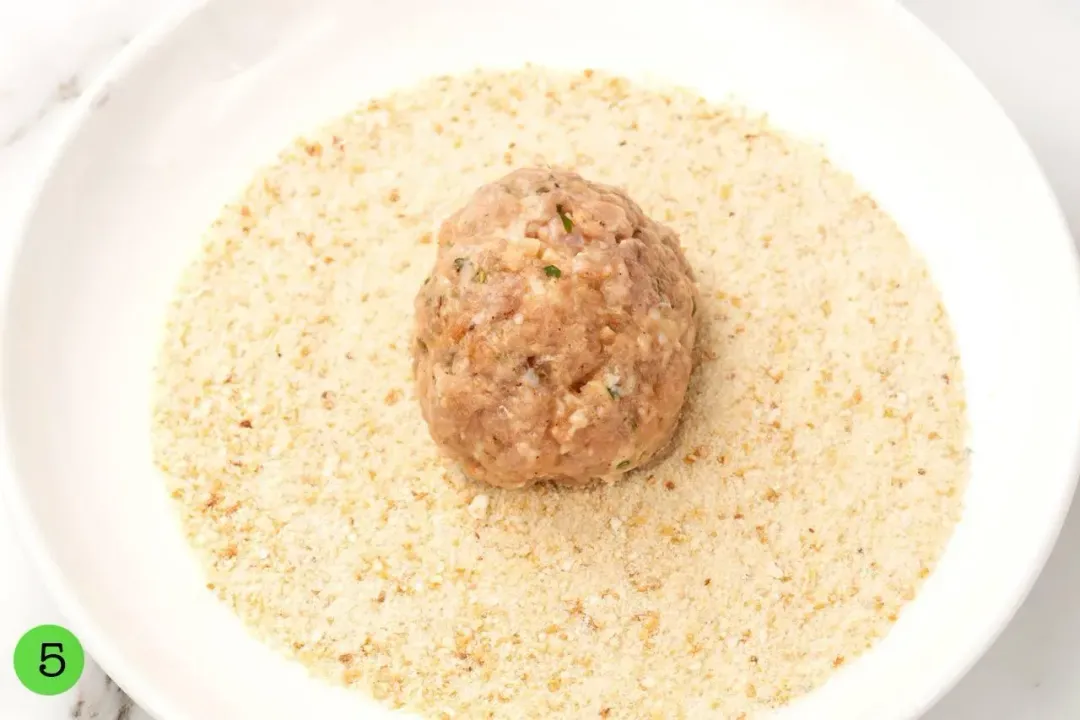 Roll in breadcrumbs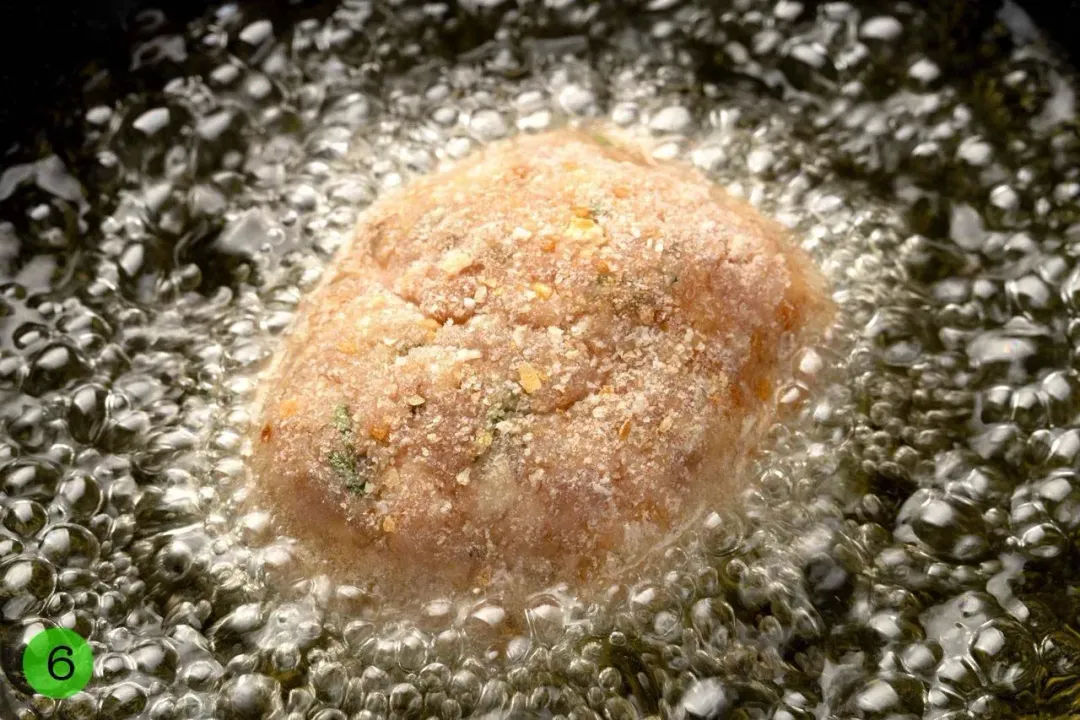 Fry the scotch eggs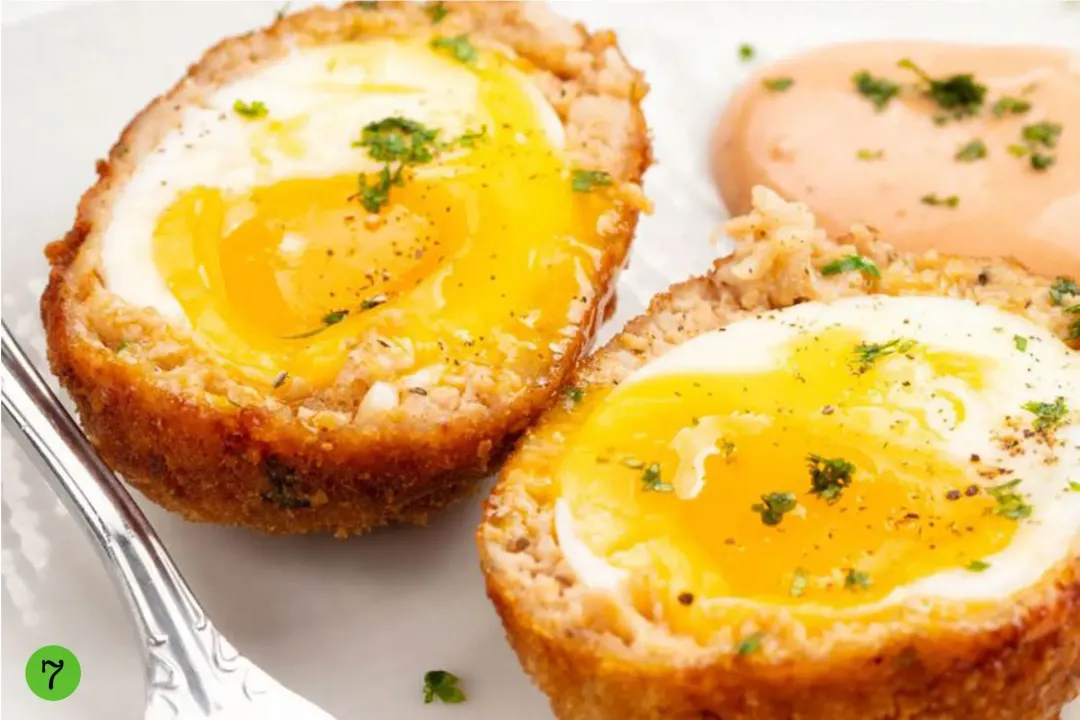 Serve
Drizzle with the sauce and sprinkle the remaining black pepper and fresh cilantro on top of the eggs.
Optional: you can either drizzle the sauce over the eggs, or serve the sauce in a separate bowl for dipping.
Although drizzling the sauce over the eggs may make them look more aesthetic, it may cause them to lose their crispiness.
How Long Should I Boil Eggs for Scotch Eggs?
This depends on how you like your scotch eggs:
If you prefer scotch eggs with a runny yolk like we're doing today, boil your eggs for 6 minutes. On the other hand, if you like hard-boiled eggs, boil for 12 minutes.
We start by bringing a pot of water to a boil. Once the water is boiling, gently lower cold eggs into the water and start the timer.
Keep in mind that we use cold eggs straight out of the fridge. If you use room-temperature eggs, you may have a different result.
If you want more information, check out our detailed guide on the best way to boil eggs. With this easy favorite salad, our quick, simple egg curry recipe, and this combination of a few, simple ingredients, you have a handy collection of instructions on boiling eggs!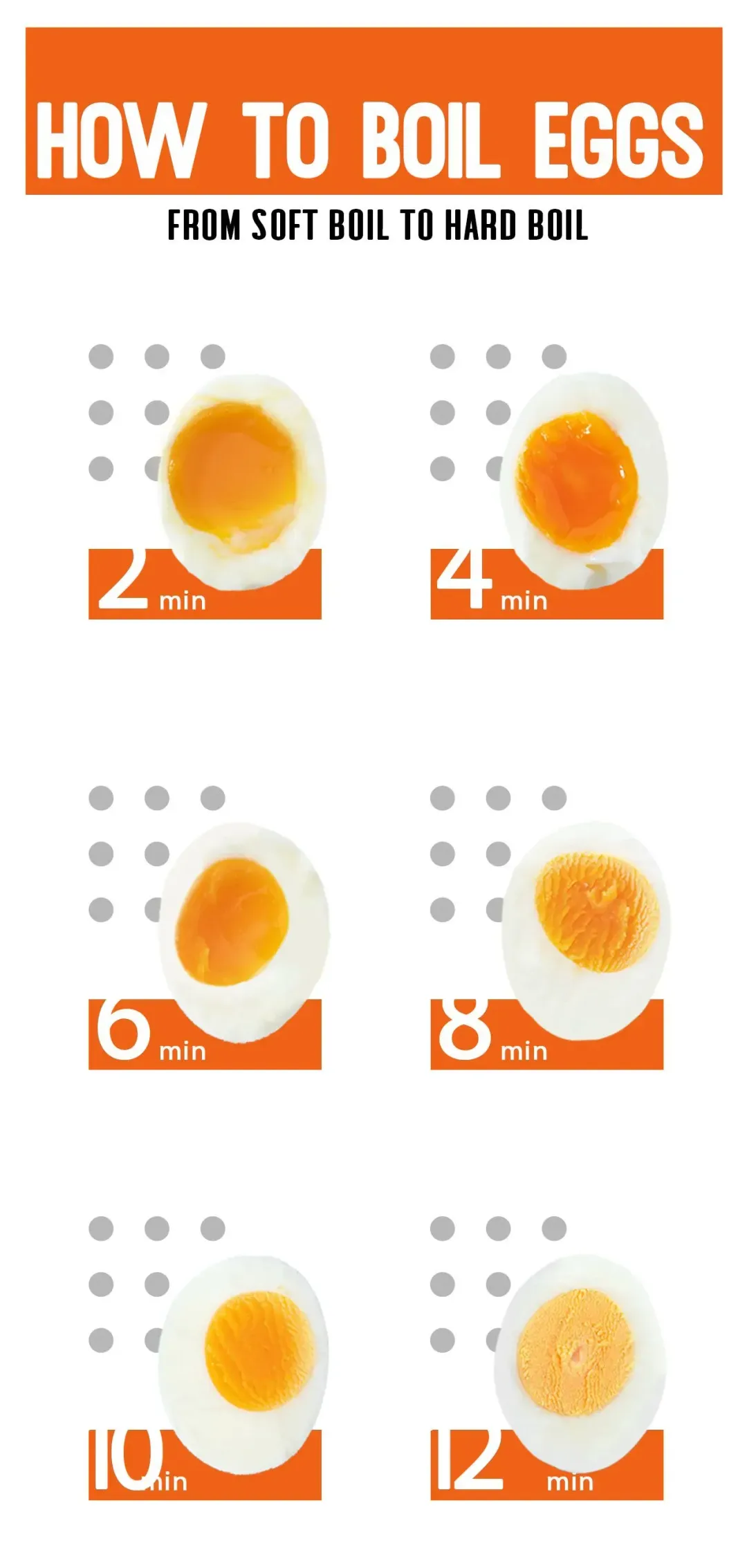 Sauce for Scotch Eggs
For today's scotch eggs recipe, we're going to make a simple ketchup and mayonnaise sauce. But you can customize the sauce to your liking.
You want to look for a type of sauce that cuts through the rich flavor of the eggs. We recommend something tangy like mustard sauce, or spicy like hot sauce.
Can You Freeze Scotch Eggs?
Yes, you can. We recommend freezing uncooked scotch eggs because if you cook, freeze, and thaw, they'll lose their flavor and have a different texture.
To freeze scotch eggs, you should wrap them individually in plastic wrap and put them in a ziploc bag. This will allow you to sneak one out and thaw it faster when you're hungry.
But whether you're freezing them cooked or uncooked, it is best to use hard-boiled eggs. Soft-boiled eggs are technically undercooked— this may increase the growth of bacteria when you freeze and then thaw them.
How Long Do Scotch Eggs Last in the Fridge?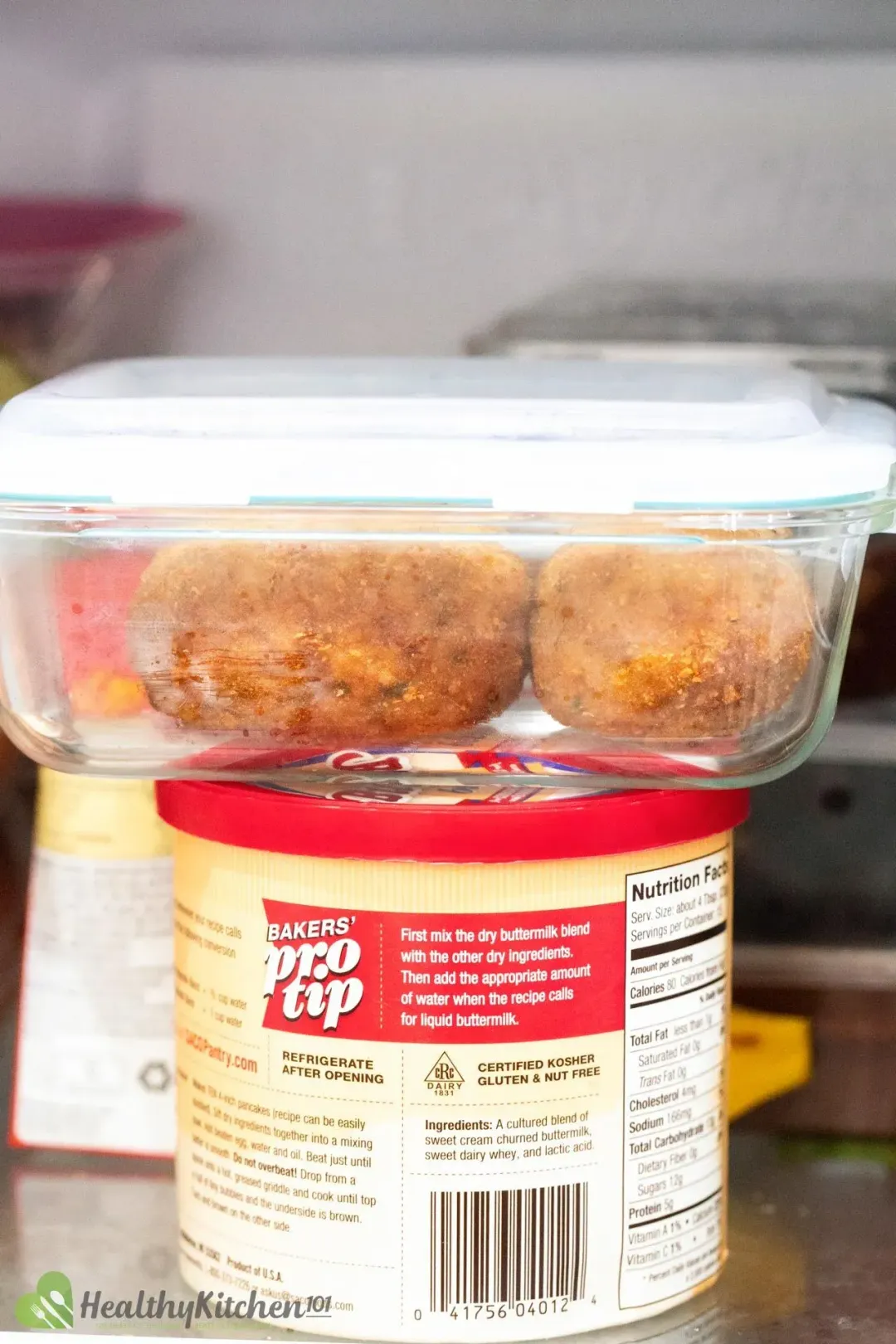 For scotch eggs with a soft-boiled yolk, we recommend eating it up as soon as possible. Just to be on the safe side and avoid the increasing risk of bacteria growth.
Hard-boiled scotch eggs, on the other hand, can last up to one week in the fridge. Be sure to let them cool completely before putting them into an airtight container and in the fridge.
Both raw and cooked hard-boiled scotch eggs can stay good in the freezer for one month.
For more eggs recipe ideas, have a look at our healthy eggs roundup.
What to Serve with Scotch Eggs
Traditionally scotch eggs are served as a cold snack or picnic food in the UK.
In the US, they are often served hot with a sauce or gravy for dipping. They can be a great finger food and/or appetizer.
Although they are delicious on their own, they are not nutritious enough for your body. And eggs alone can't make you feel full either.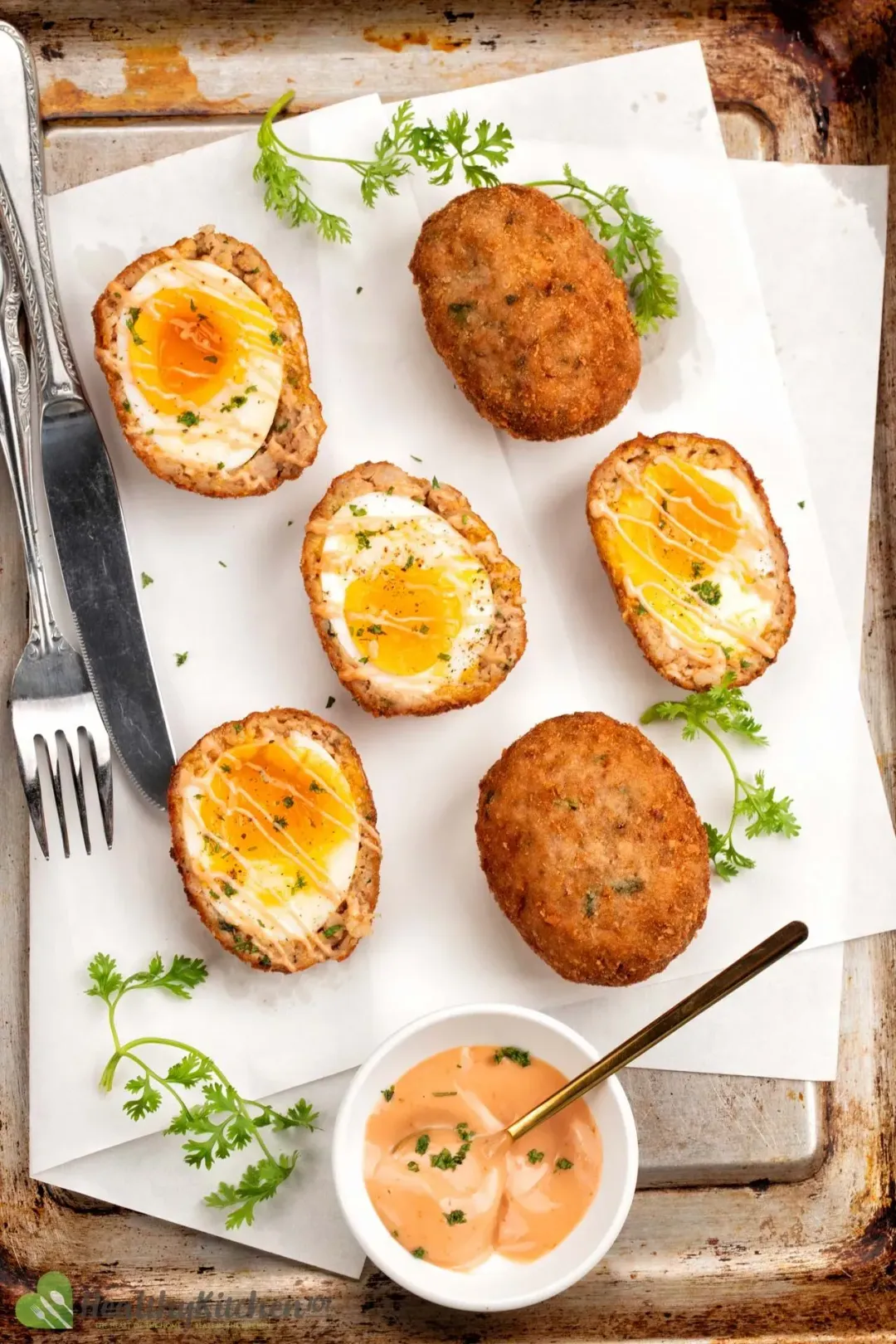 That is why we need to pair scotch eggs with other foods. Here are some suggestions:
1. Salads
Since the scotch eggs are savory and decadent enough, you'll need a salad. An addition of greens gives brightness, added nutrition and fiber, thus balances out the meal.
We recommend a simple mix of vegetables such as arugula, cherry tomatoes, and red onions with a lemon dressing. Or just pick your favorite veggies and put them together to create your very own favorite salad.
2. Plan a 3-Course Meal
Have scotch eggs as a starter for a 3-course meal. And then pick whatever protein you want for the main course.
Build your own perfect meal, as long as it's healthy and full of fiber.
And for dessert, instead of having sweet treats, we suggest cleansing your palate with refreshments. A simple juice, low-sugar sorbet, or juice-based cocktail should do the trick.
When you do plan a 3-course meal, remember to keep track of your calorie, sodium, and saturated fat intake. We don't want to over-consume anything.
So there's a few ideas of what to serve with scotch eggs. Choose whichever you like because at the end of the day, it's all about what sounds good to you.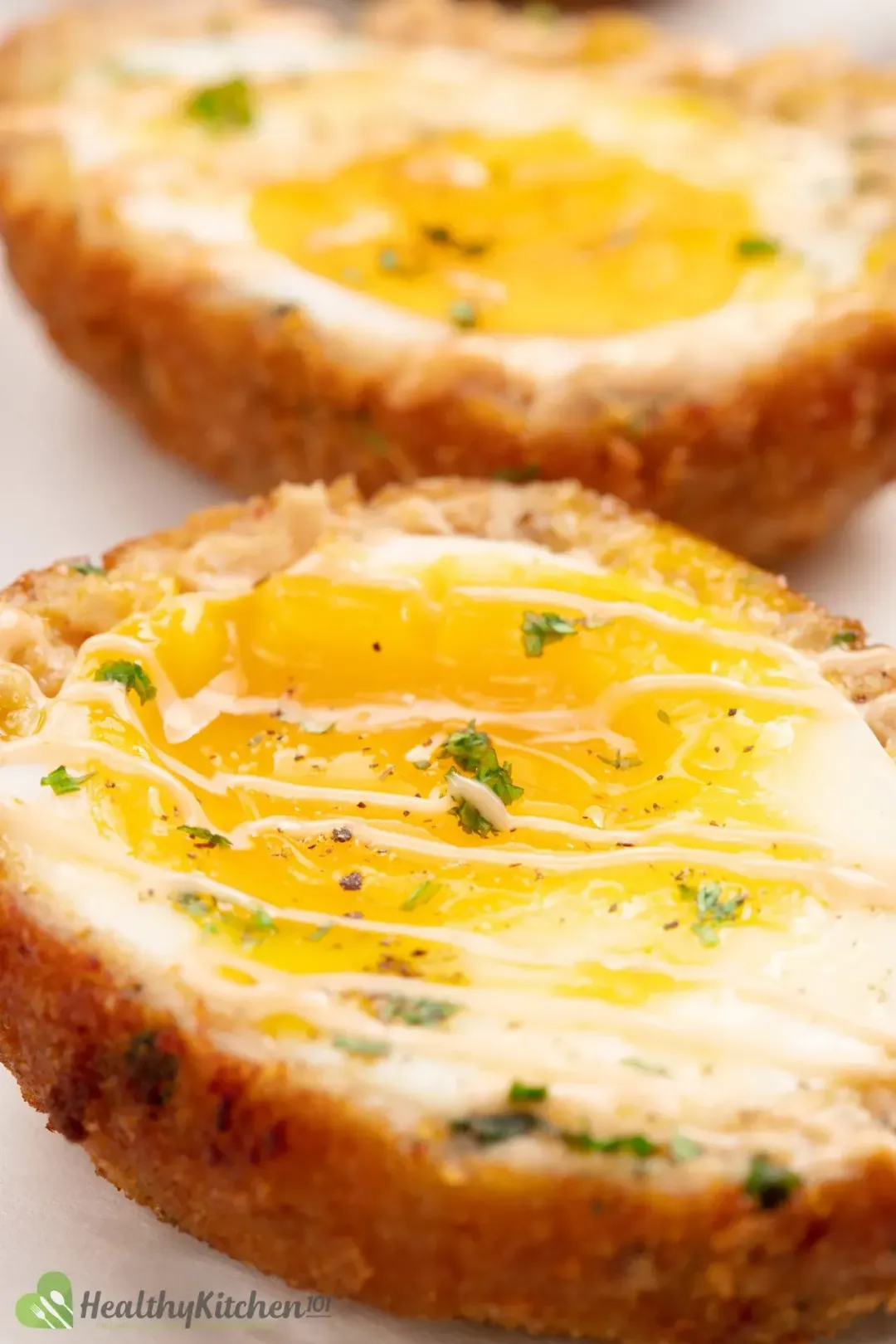 If you'd like to enjoy a common American breakfast or an even more divine dish, try this traditional egg drop soup, the best pickled eggs you'll have, or this delicious and healthy savor.
Scotch Egg Recipe
Today's scotch eggs recipe is a healthy take on the classic beloved British snack. It's delicious, simple, and takes only 20 minutes to make.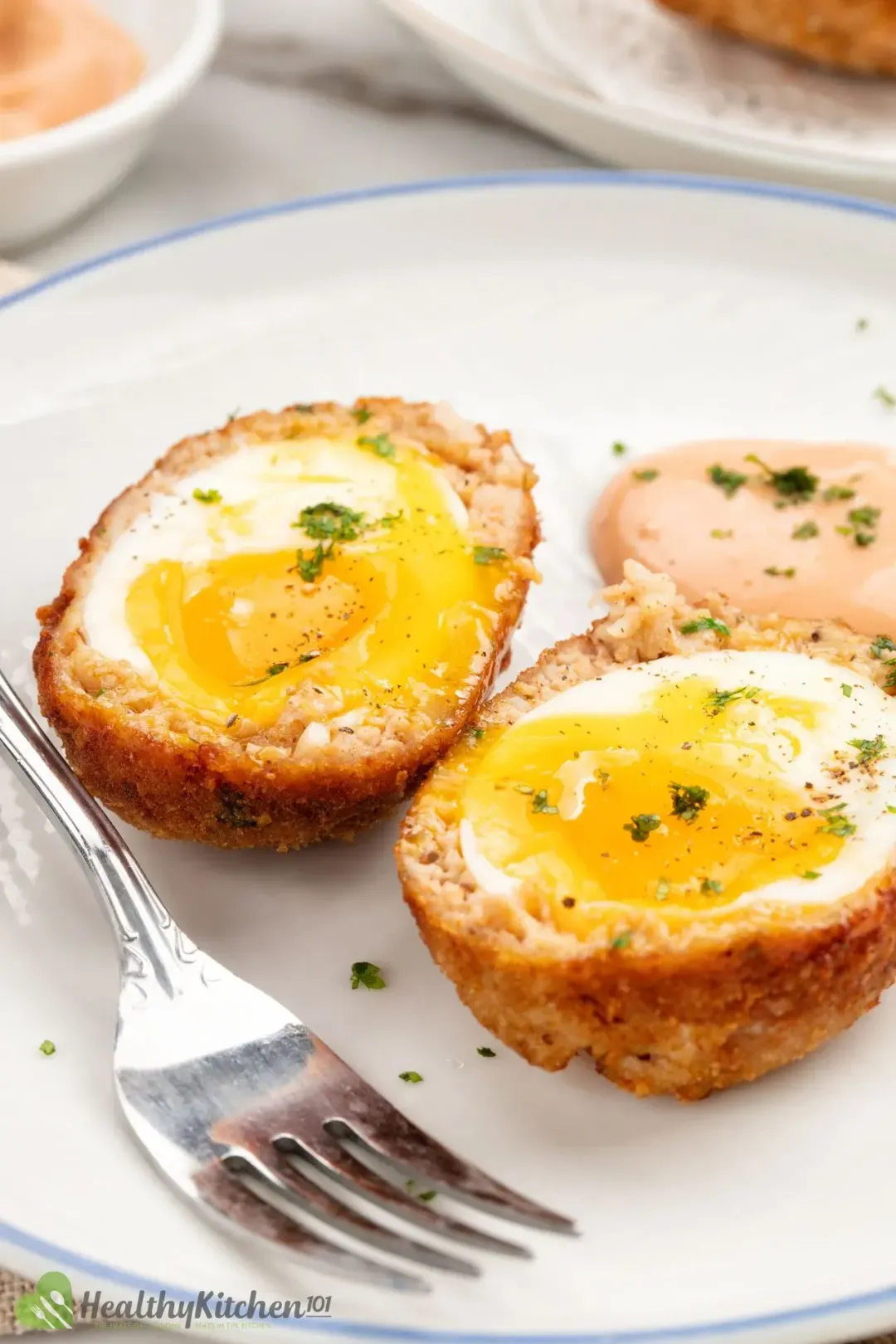 cook TIME

10 mins

prep TIME

5 mins

total TIME

20 mins

INACTIVE TIME

5 mins
COURSE

Appetizer

CUISINE

British

SERVINGS

servings

CALORIES

206 kcal
INGREDIENTS
6 oz

85% lean ground pork

1/2 tsp

garlic

(finely minced)

1/4 tsp

ground black pepper

1 tsp

fresh cilantro

(chopped)

1 tbsp

Japanese mayonnaise

1/2 cup

plain panko breadcrumbs

(*)
INSTRUCTIONS
1
Make the sausage: In a large bowl, mix ground pork with 1/2 tsp garlic, 1/4 tsp oregano, 1/4 tsp fresh thyme, 1/8 tsp salt, 1/4 tsp paprika, 2 tbsp whole milk, 1 tbsp all-purpose flour, 1/8 tsp black pepper, and 1/2 tsp chopped cilantro. Mix well, cover with plastic wrap, and let it rest in the fridge for 5 minutes.
2
Make the sauce: in a small bowl, combine 1 tsp Heinz ketchup and 1 tbsp Japanese mayonnaise. Mix well and set aside.
3
Boil the eggs: while the pork is resting, bring a large pot of water to a boil over high heat. Once boiling, gently lower the eggs into the pot and boil for 6 minutes. Turn off the heat and transfer the eggs to a bowl of iced water, let them rest for 2 minutes before peeling the shells.
4
Wrap the eggs: lay a piece of cling film on the cutting board. Divide the sausage into 4 equal portions. Spread one portion thinly on the plastic wrap. Place one egg in the middle, gather the corners of the cling film, and wrap the sausage around the egg. Repeat with the remaining eggs and sausage.
5
Roll in breadcrumbs: add breadcrumbs to a large bowl. Roll the meat-covered eggs in the breadcrumbs to coat evenly.
6
Fry the scotch eggs: in a saucepan, heat canola oil over medium heat for 1 minute (drop some breadcrumbs into the oil, if the oil bubbles, it's ready for frying.) Gently lower scotch eggs into the oil with a slotted spoon and cook for 1 minute. Once cooked, remove and transfer to a dish lined with paper towels to remove excess oil.
7
Serve: drizzle with the sauce and sprinkle the remaining 1/8 tsp black pepper and 1/2 tsp fresh cilantro on top of the eggs. Or put the sauce in a separate dipping bowl.
(*) Only part of this ingredient will end up in the final product and we have calculated nutritional values based on that amount. The whole amount is needed for coating the eggs and deep-frying, but you will end up consuming less than the listed amounts. The actual amounts being consumed are approximately:
2.88 tsp breadcrumbs
1 tsp canola oil
NUTRITION
Nutrition Facts
Scotch Egg Recipe
Amount Per Serving (1 serving)
Calories 206
Calories from FDA
% Daily Value*
* Percent Daily Values are based on a 2000 calorie diet.
Keywords: Homemade Scotch Egg Recipe, How to make Scotch Egg Recipe, scotch egg, scotch egg recipe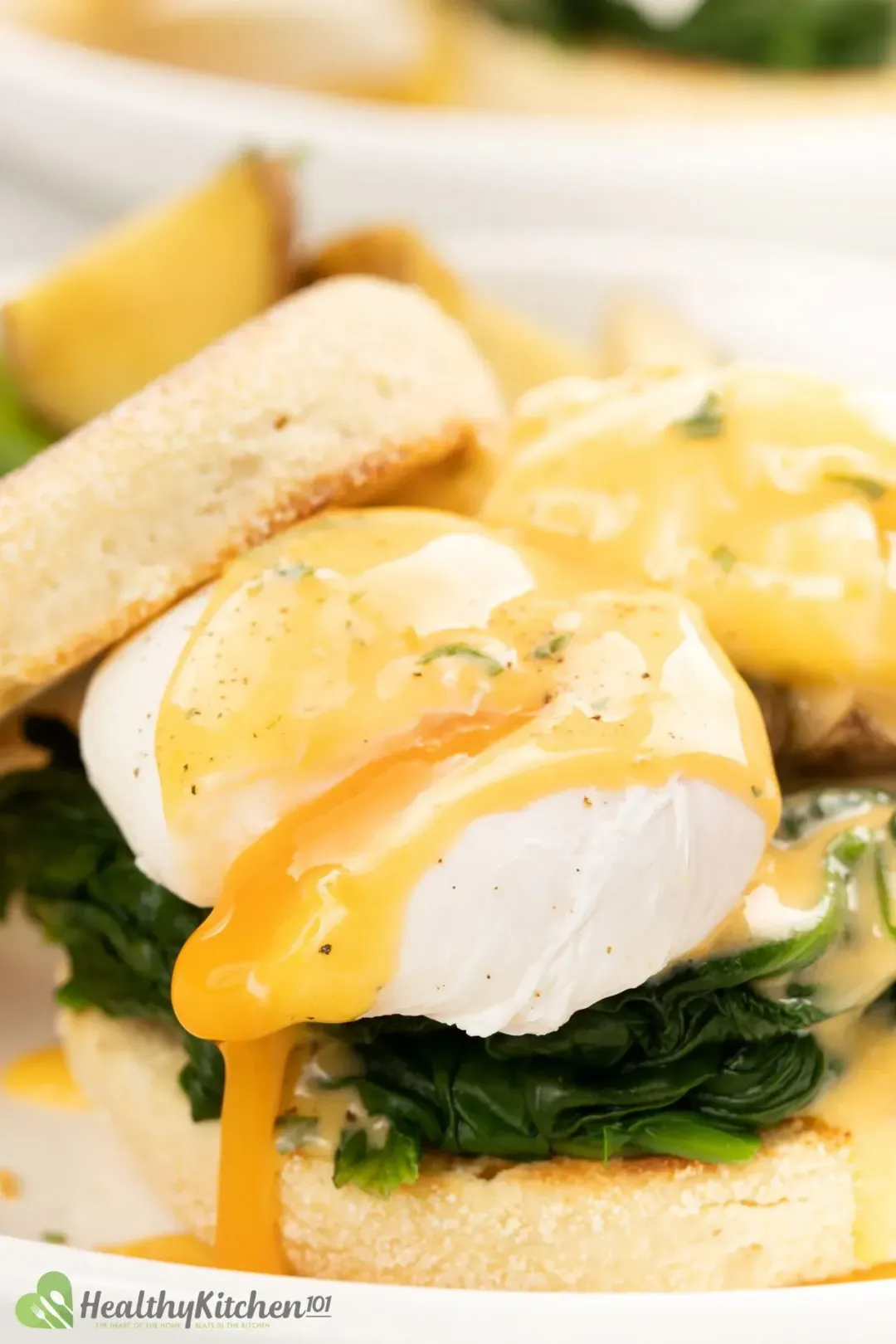 Previous Recipe
Eggs Benedict
Eggs Benedict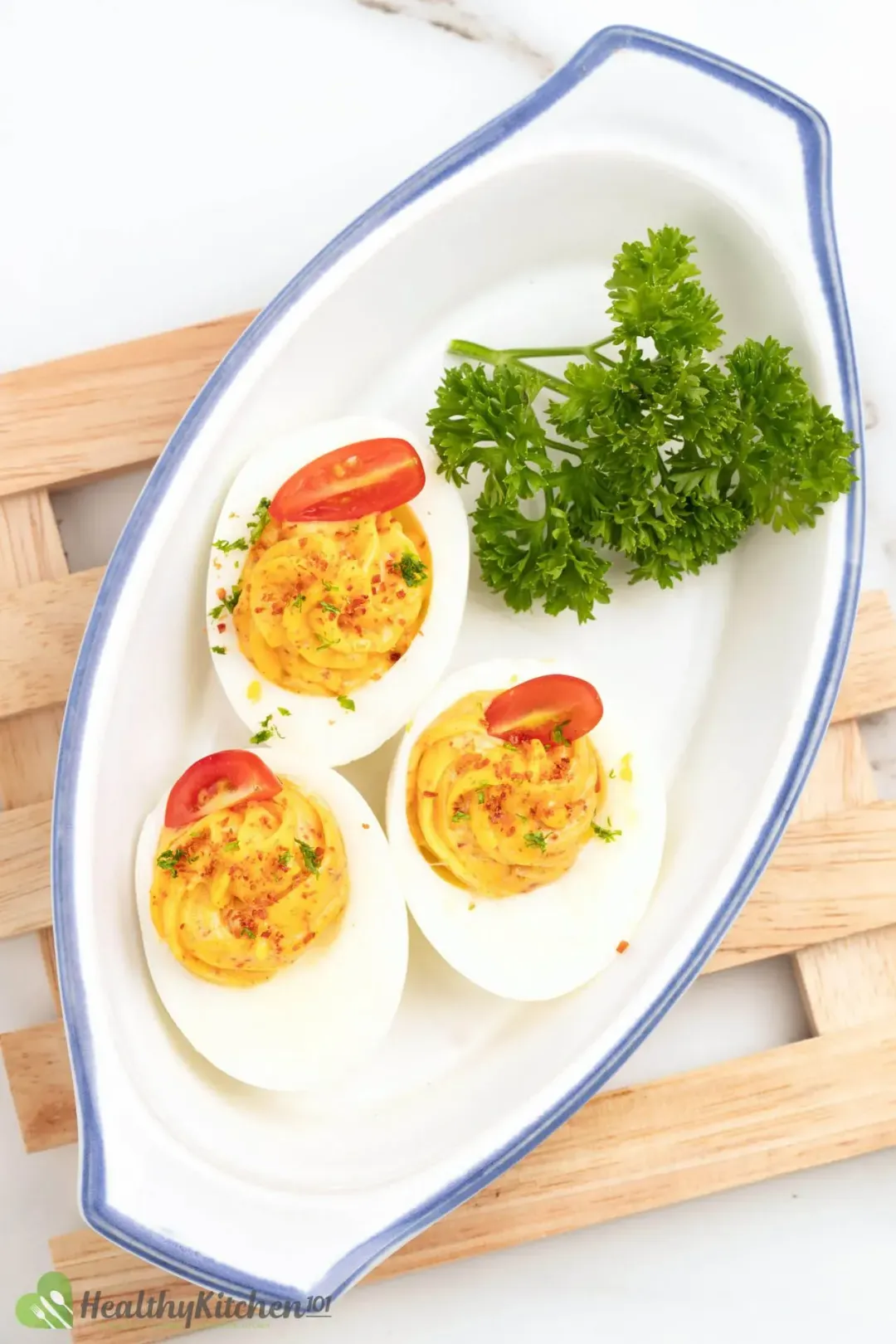 Next Recipe
Healthy Deviled Eggs
Healthy Deviled Eggs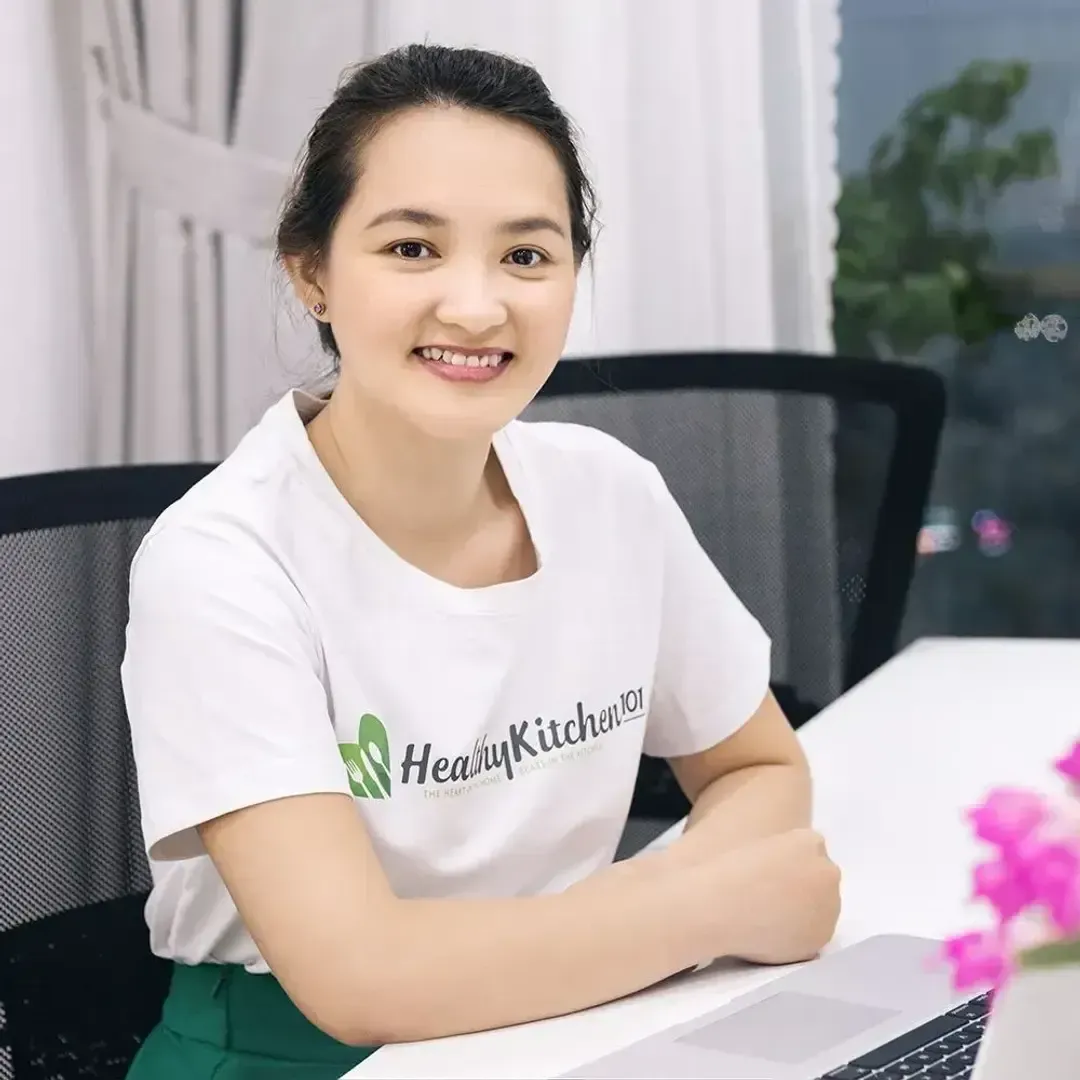 Writer, Author
Luna Regina is an accomplished writer and author who dedicates her career to empowering home cooks and making cooking effortless for everyone. She is the founder of HealthyKitchen101.com and HealthyRecipes101.com, where she works with her team to develop easy, nutritious recipes and help aspiring cooks choose the right kitchen appliances.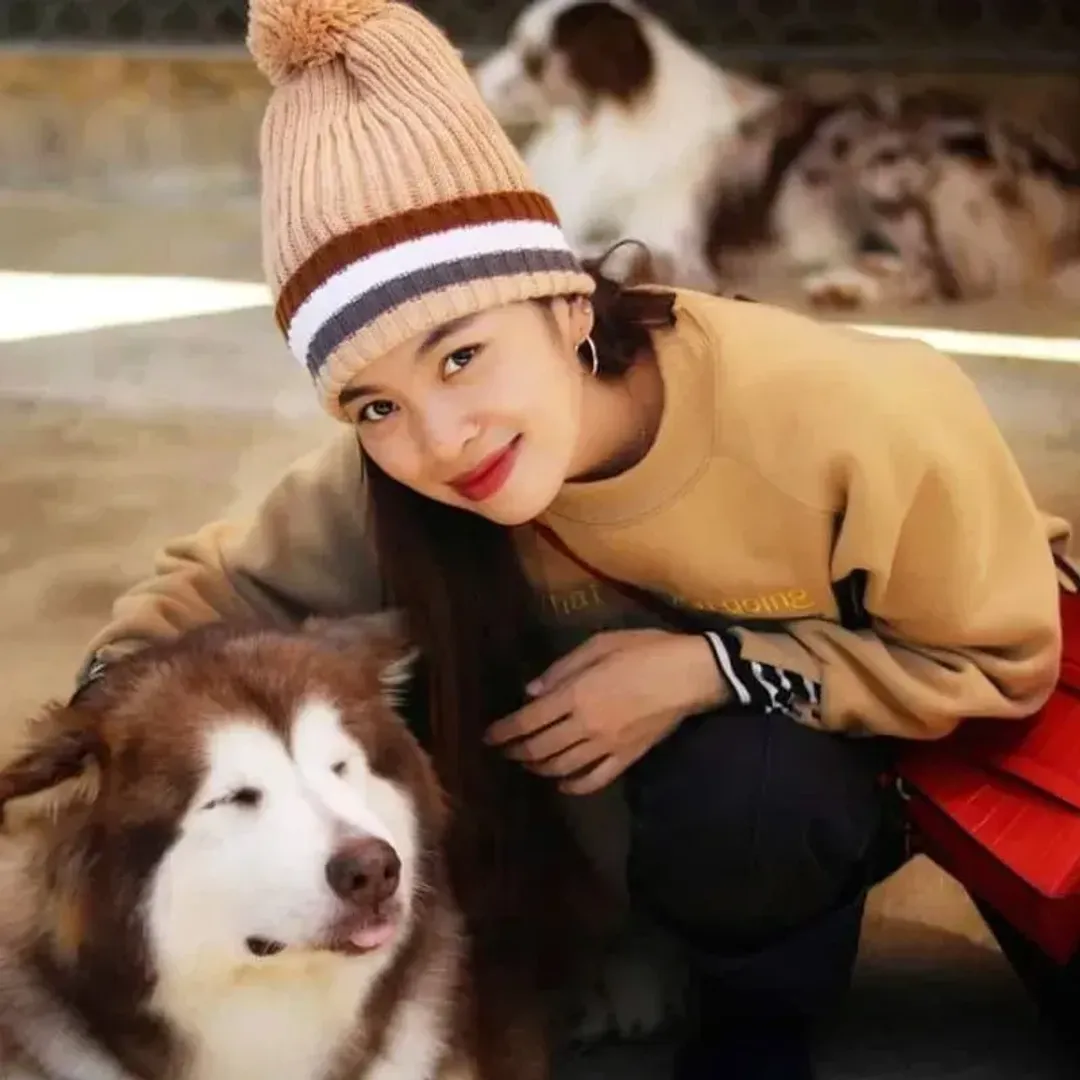 Chef, Culinary Consultant
Tuyet Pham is an award-winning Saigonese chef who believes that joy is the secret ingredient to delicious food. At Healthy Recipes 101, Tuyet personally tests and simplifies every recipe, ensuring maximum flavor with minimal effort. With a background at prestigious French restaurants P'TI Saigon and Le Corto, Tuyet knows how to make every dish exceptional.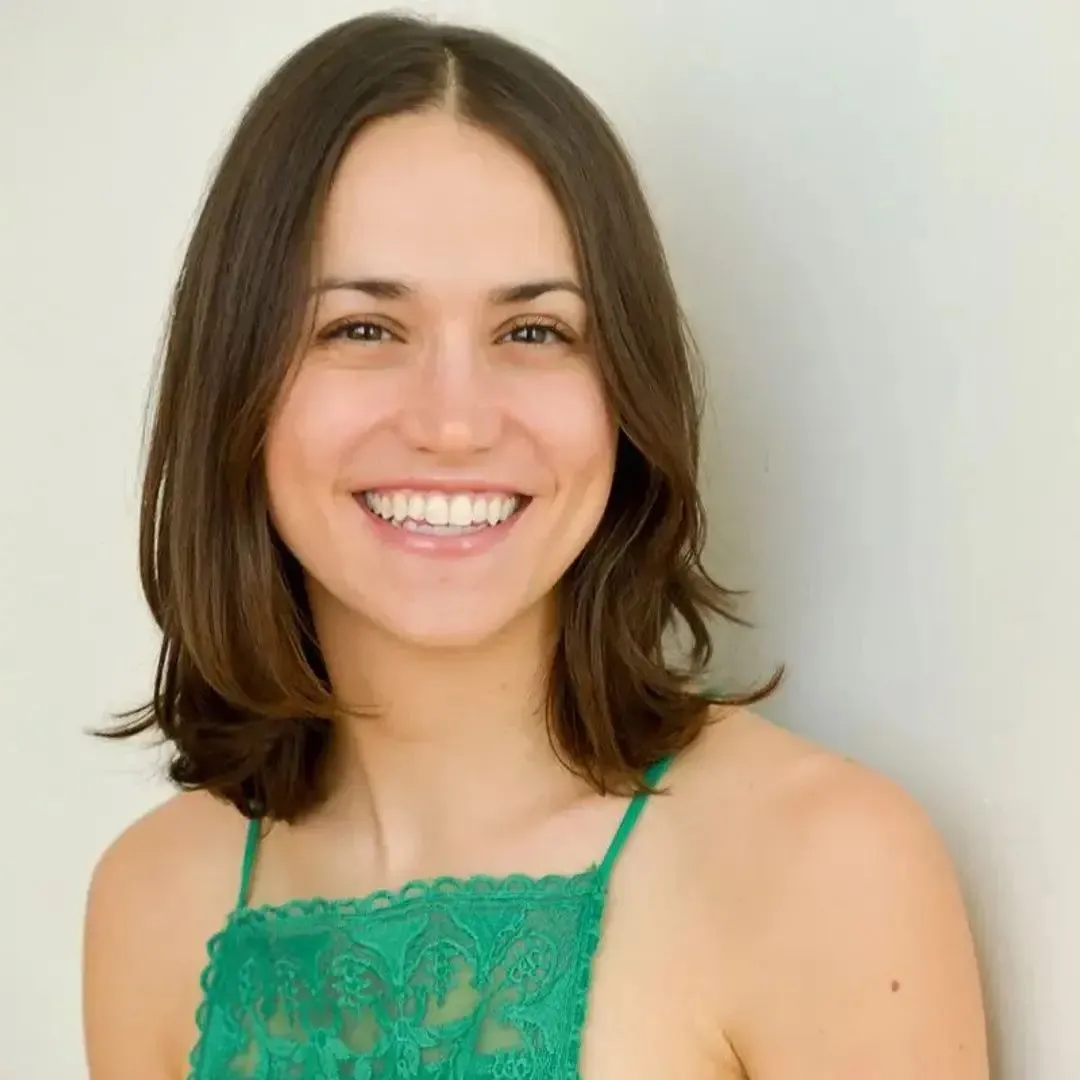 Nutrition Reviewer
Lizzie is a Minneapolis-based dietitian and founder of It's a Veg World After All. She completed her MS in Human Nutrition from Drexel University, and is an expert in culinary nutrition, recipe development, and nutrition communications.
Comments/ Reviews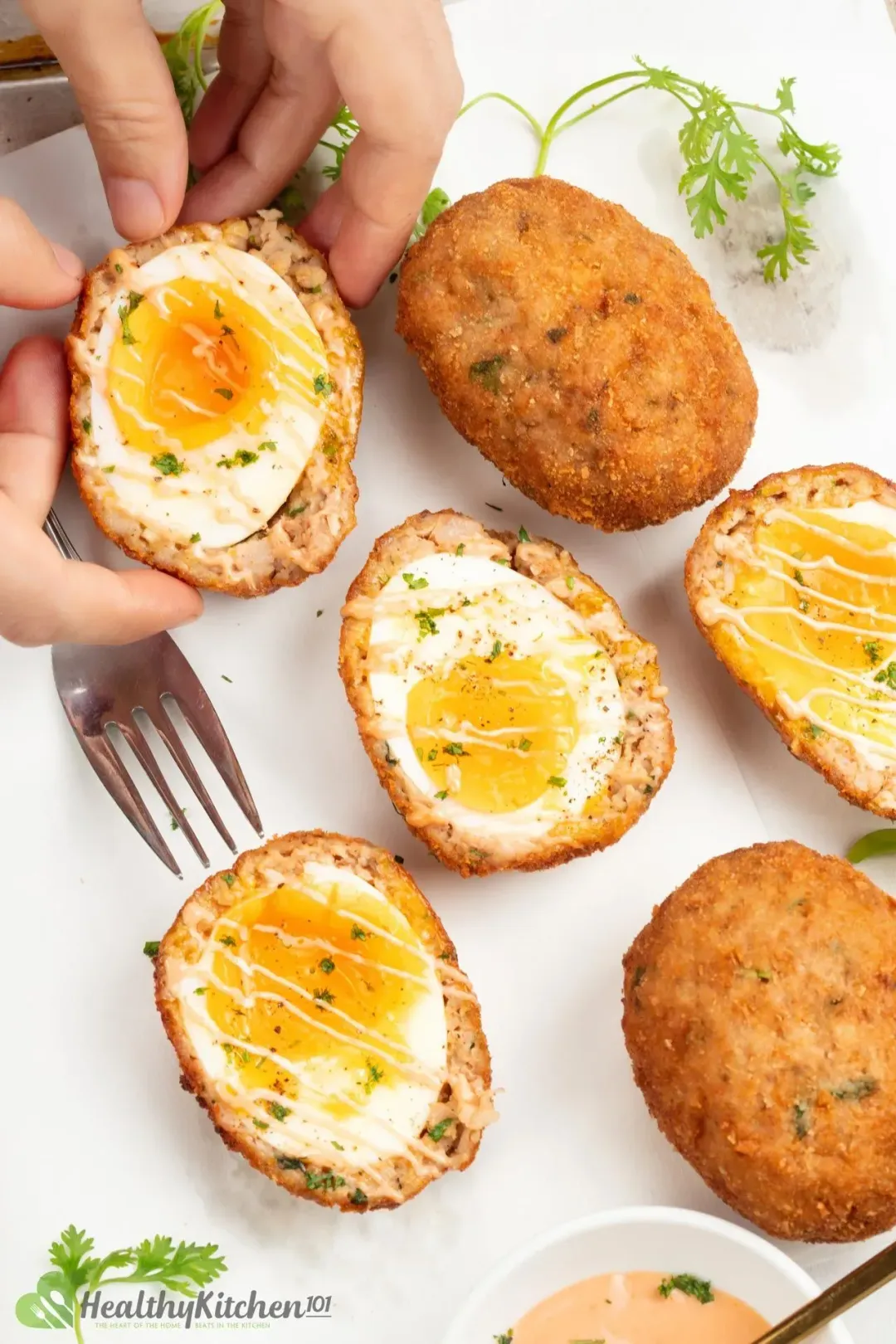 Nannie

March 7, 2023 at 4:59 AM

I recently cooked the scotch egg and it turned out really delicious! The subtle flavors of the herbs used in the filling were a great complement to the crispy outer layer.