This frittata recipe is a healthy twist on the classic Italian since we add many different veggies to it. Famous for its versatility, a frittata can be served for breakfast, lunch, or even dinner.
As a bonus, it requires little attention and less than 30 minutes to prepare. To make this egg-based dish even easier, we switched the traditional stovetop method to stir-then-bake.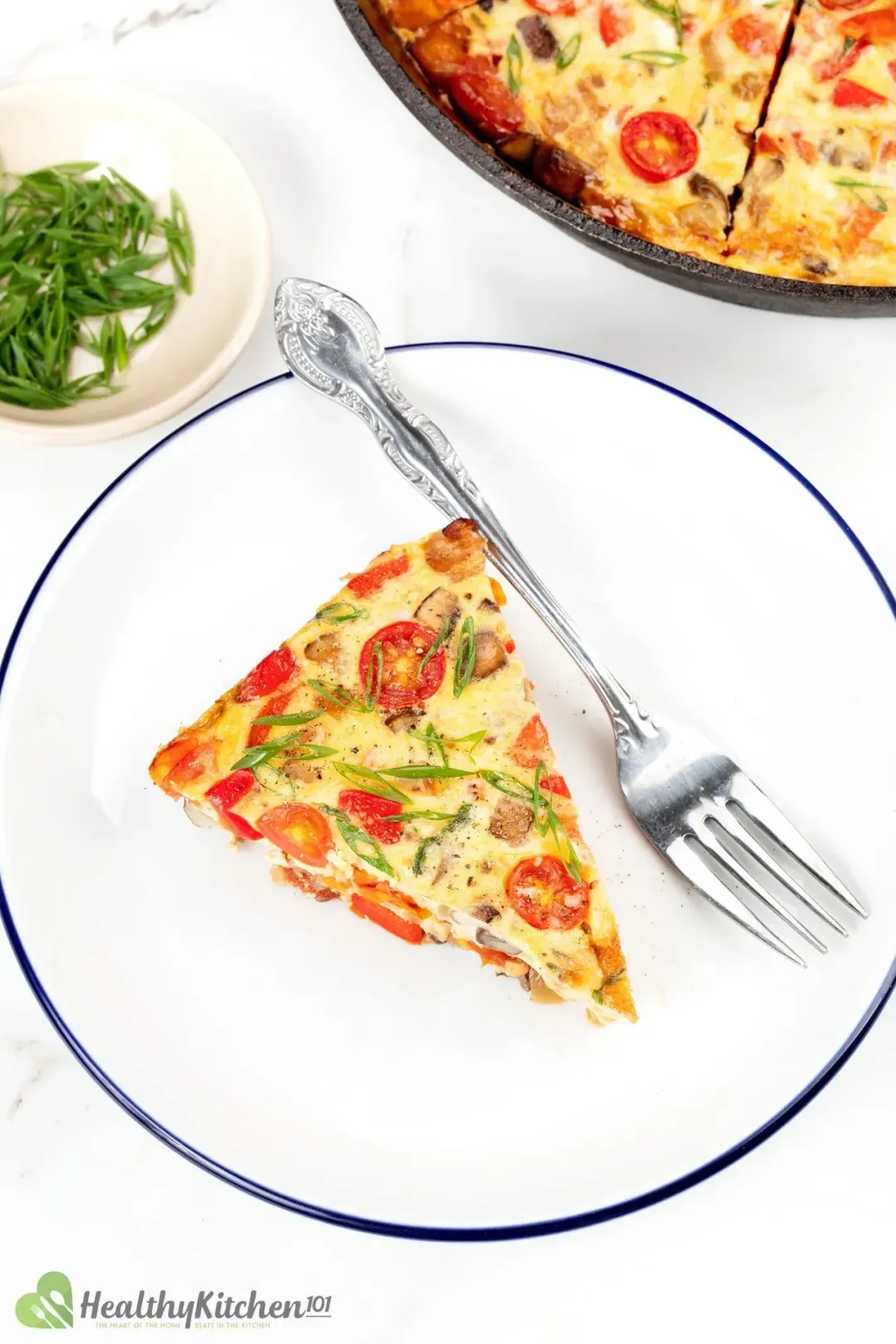 The result is a creamy, tasty dish with a silky texture that almost melts in your mouth. You can get creative with any ingredients in the kitchen— meat, vegetables, cheese— it's fun to play with them.
What Is a Frittata?
A frittata is a traditional Italian egg dish. It is often filled with pre-cooked vegetables and cheese, then cooked on the stove and finished in the oven.
The word "frittata" comes from the Italian word "fritta," which roughly means "to fry." It is beaten eggs fried open-faced with fillings in a skillet and sometimes finished in an oven. The fillings can be vegetables, cheese, meat, or pasta, or a combination of any random leftovers from the fridge.
Frittatas can be served hot or cold at any meal, though it's more often eaten as a breakfast.
Frittata vs. Quiche
Frittata and quiche are often used interchangeably and seem alike at first glance. They are both egg-based dishes and usually served at breakfast or brunch. You can add other ingredients like meat, seafood, vegetables, and cheese to flavor the egg base.
The biggest difference is that a quiche has a savory crust made from flour, sea salt, and butter while the frittata is a crustless cake.
Thanks to a large amount of milk and heavy cream, quiches have a more custard-like texture. Frittatas, with less dairy and more egg in their filling, have a firmer texture.
In terms of cooking techniques, the frittata is made in a skillet on the stove. The egg mixture— usually containing meat and veggies— is poured into a hot pan to let the bottom set before finishing in the oven. Quiches, on the other hand, are baked in a pie pan.
Lastly, frittatas have their origins in Italy while quiches come from France.
Are Frittatas Healthy?
As an egg-based dish, frittatas are packed with some great benefits.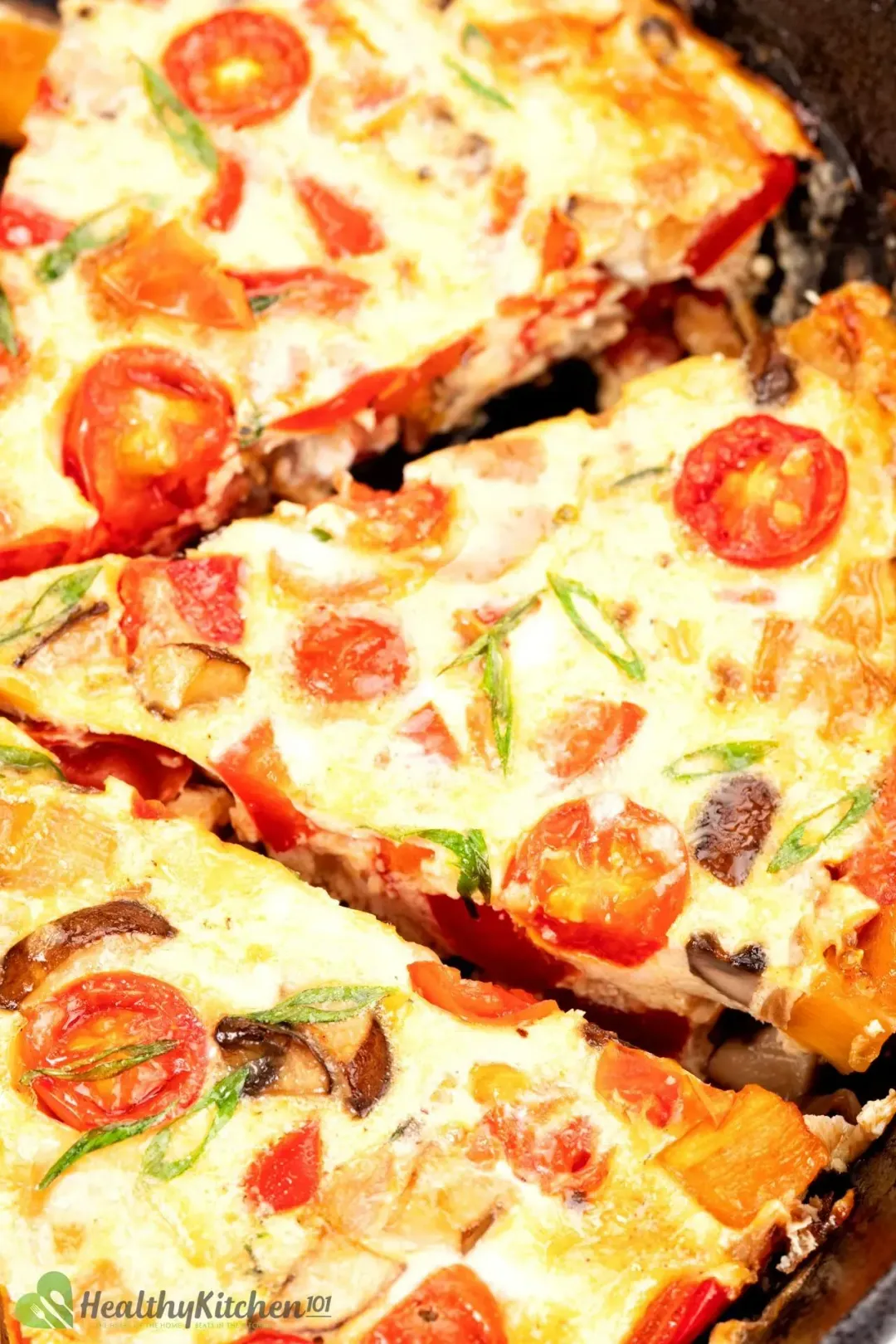 Eggs are famous for being a protein powerhouse, but more importantly, they're a complete protein. A complete protein is a food that contains all nine essential amino acids that are the building blocks for our body.
Eating enough protein helps to build and maintain muscles, grow hair and nails, and optimize bone health.
Traditional frittatas are known to be high in fat since the dish contains eggs, heavy cream, and cheese. However, our recipe is customized to balance out taste and health benefits. There are only 3.8 grams of saturated fat in one serving, which means the dish stays within the limits of our healthy eating guideline.
How Many Calories in a Frittata?
There are 205 calories in one serving of frittata made following our recipe. We recommend serving the dish as a side and accompanying it with a main to reach 750 calories for lunch or dinner.
What Goes with a Frittata?
Frittatas are versatile and can be made with whatever ingredients you have in your kitchen. Like pizza, frittata has many variations: vegetarian, meat, and seafood.
For visual appeal, top your frittata with a sprinkle of fresh herbs like parsley or basil. And for a special mouthfeel, finish it with a light drizzle of hot sauce or balsamic vinegar.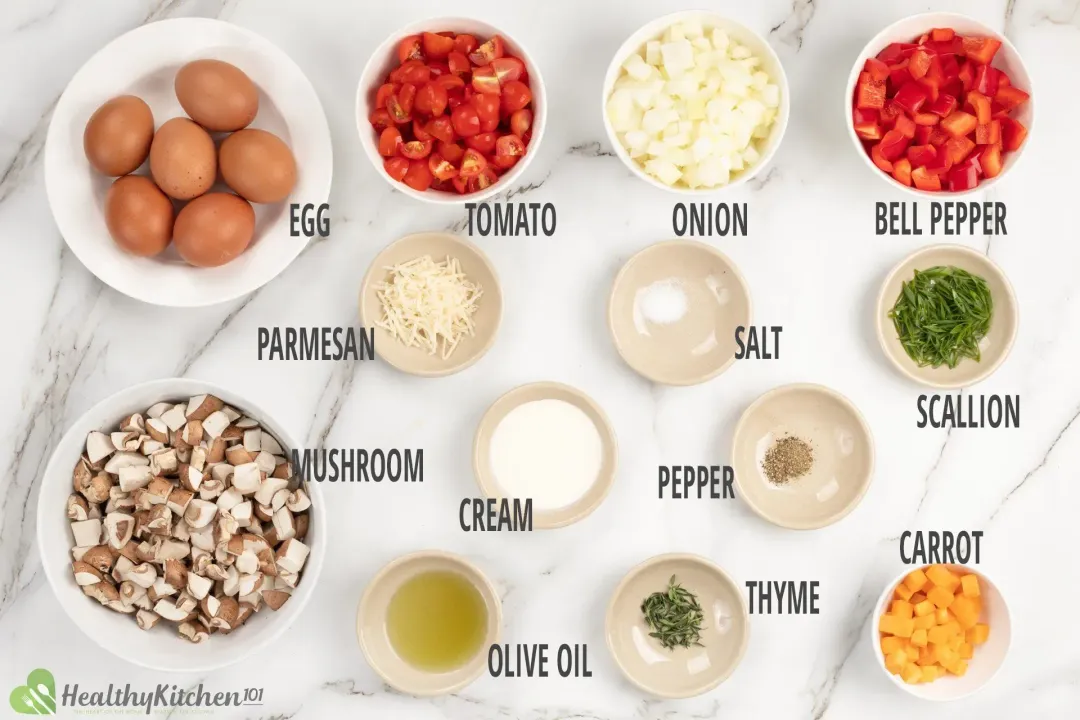 1. Spaghetti
This recipe comes together when you have some leftover spaghetti in the fridge. If you wonder how you could combine pasta with egg to stretch to another meal, the frittata is a perfect answer. 
Simply add boiled spaghetti noodles to the egg mixture and cook like any regular frittata recipe. All ingredients are held together by the eggs, creating a complex, thickened texture and comforting mouthfeel.
2. Zucchini
This squash is available year round and easy to prep. However, you should cook it before adding it to the egg mixture as this helps eliminate excess moisture. The addition of zucchini gives added texture and nutrients to the dish.
3. Spinach
Spinach and eggs are an unbeatable combination. We find that fresh spinach works best in this dish. Chopped spinach will rise to the surface after baking, making an attractive appearance. 
4. Asparagus
You can switch out any vegetables in the recipe, and asparagus is a delicious and wallet-friendly substitute. For maximum flavor, we roast this veggie before adding it to the frittata. Alternatively, you can steam or stir fry asparagus in a pan.
5. Potatoes
A creamy starch, potatoes are a great addition to the frittata. To prep potatoes, simply cut them into small pieces and stir fry them in a pan with a drizzle of olive oil.
One hack to speed up the cooking process is to use leftover baked or mashed potatoes.
6. Broccoli
You can steam broccoli or stir fry it with other vegetables for this recipe. Broccoli may not be a revolution in flavor combination, but it's easy, healthy, and can satisfy your craving for comfort food anytime.
7. Mushrooms
All sorts of mushrooms work well in this dish: button, baby Bella, and shiitake. You can experiment and see what kind you like best, or use a combination. This veggie is also a great meat alternative, adding texture as well as flavor..
8. Sausage
Sausage is a delicious way to get extra protein for the frittata. We love smoked sausage since its unique, smoky flavor compliments the egg nicely.
9. Ham and Cheese
Cheese brings a creamy factor that works beautifully in this recipe. Sharp cheeses like parmesan are our favorites, but soft cheeses like goat cheese or feta are delicious as well. You can mix cheese and ham directly in the egg mixture or sprinkle some on top.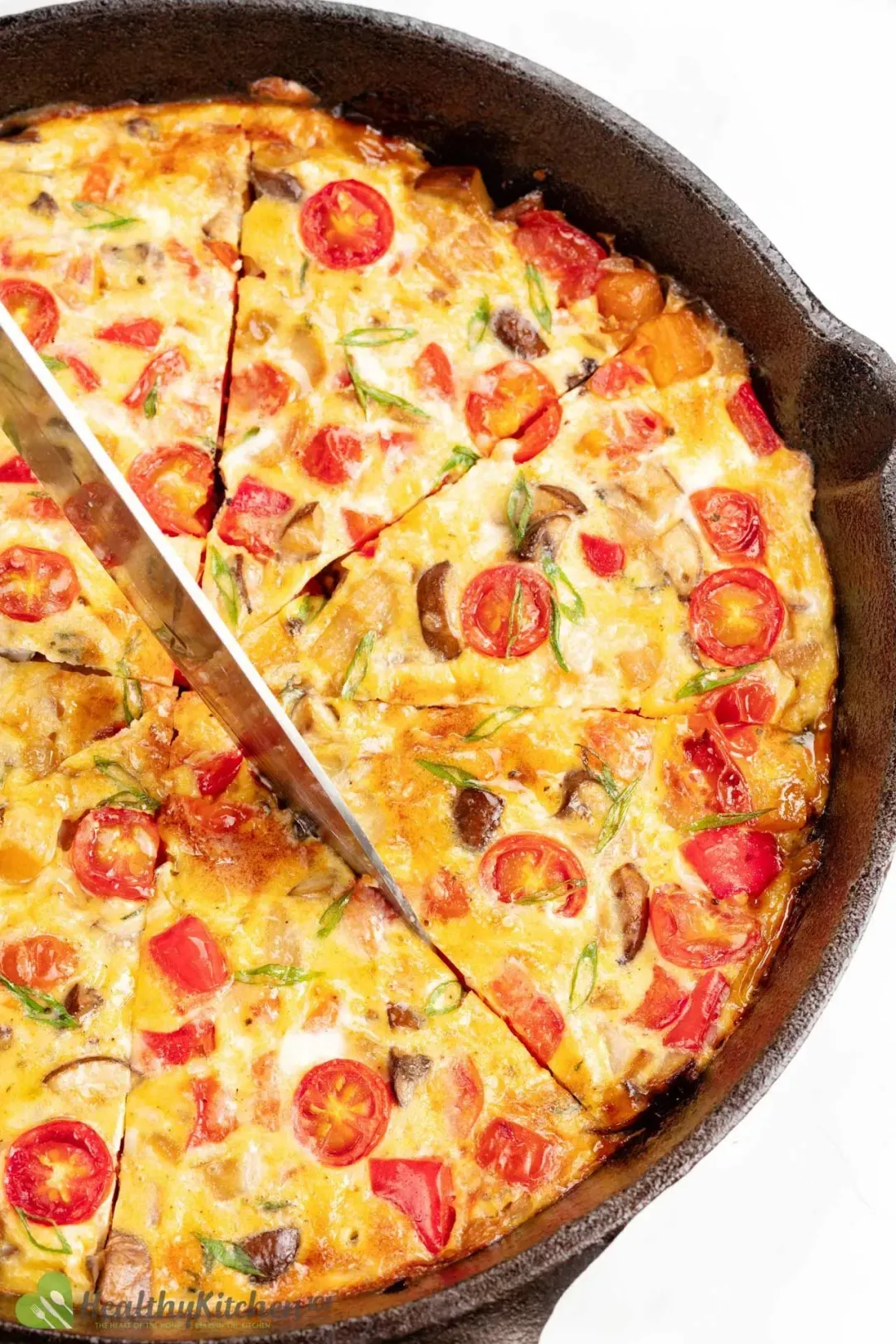 Can You Freeze Frittatas?
Yes, you can. Frittatas are quite freezer-friendly, making them a perfect make-ahead dish.
You should freeze a frittata the same day you make it. Carefully wrap it tightly in plastic wrap, then cover it with aluminum foil before putting it in the freezer. 
To reheat the frittata, you can bake it in the oven at 350℉. Make sure you thaw the dish completely beforehand, otherwise, the frittata may end up with excess moisture. 
A frozen frittata can last up to 6 months in the freezer. 
How Long Does an Egg Frittata Last?
Since it contains eggs and dairy, a frittata can keep about 2 hours at room temperature and 3-4 days in the fridge.
The freshness of individual ingredients in frittatas can affect the shelf life of the dish. If your frittata has an unpleasant smell or bad taste, we suggest not to consume it.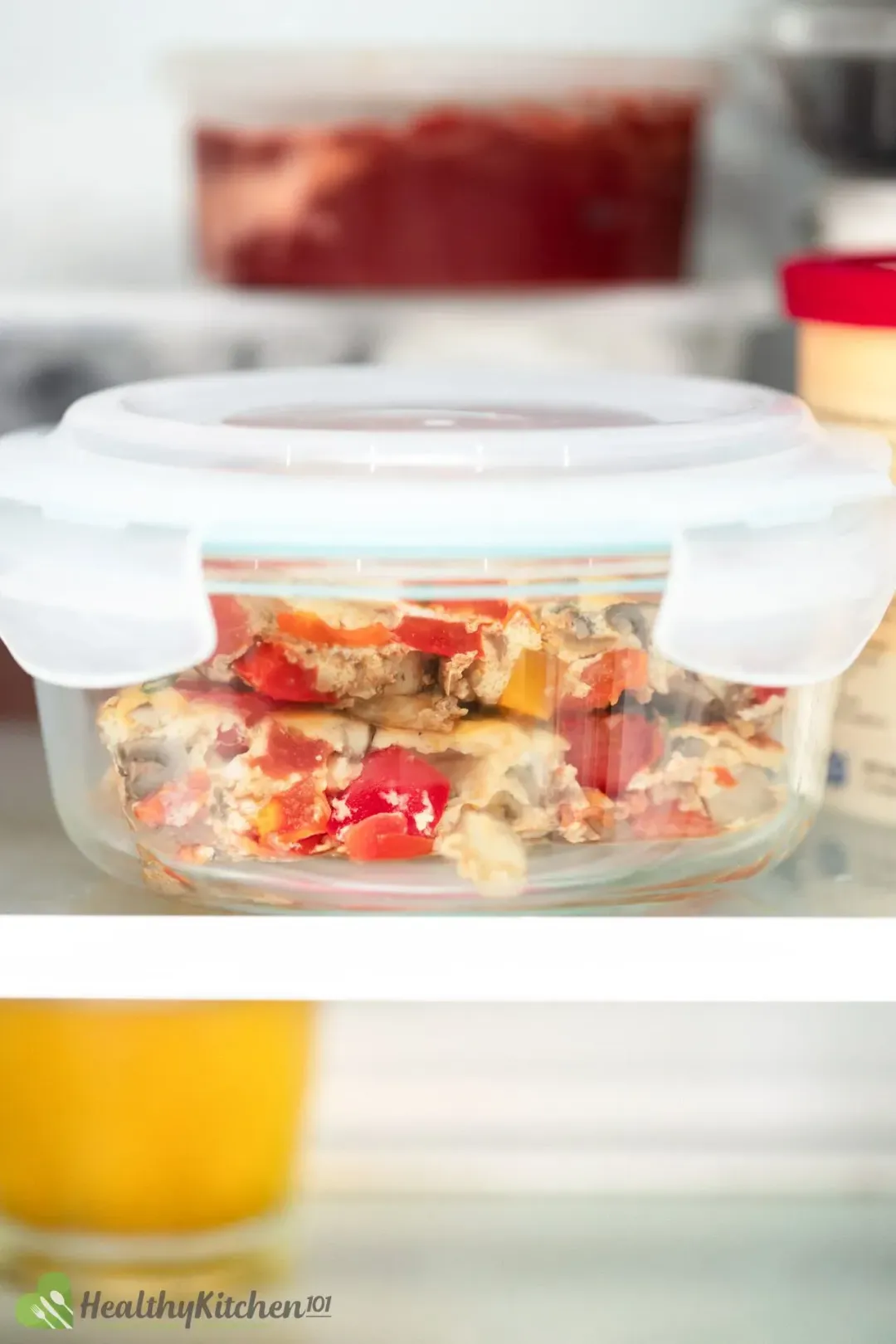 What to Serve with a Frittata
This frittata recipe makes a wonderful breakfast or light side dish for any meal of the day. Team the dish with a light salad or juice for a healthy breakfast. 
Frittatas are served traditionally in Italy with cold cuts of meat (antipasto). The dish can be simple with a few slices of ham and a drizzle of olive oil.
We recommend having a frittata with some protein like beef or pork, or you can try to make your own antipasto for a nutritious accompaniment to your frittata. 
You can serve the dish with toast or a glass of juice for a light and healthy breakfast. And for dinner, sauteed mushrooms and roasted vegetables never go out of style.
If you are looking for more healthy egg recipes, our egg muffin is a great option. Or check out our best healthy eggs recipes.
Other Healthy & Delicious Dishes to Try
Frittata
This frittata recipe is the ultimate clean-out-the-fridge meal since you can add just about anything into the egg mixture. You can top the dish with cheese or bacon for an interesting flavor experience.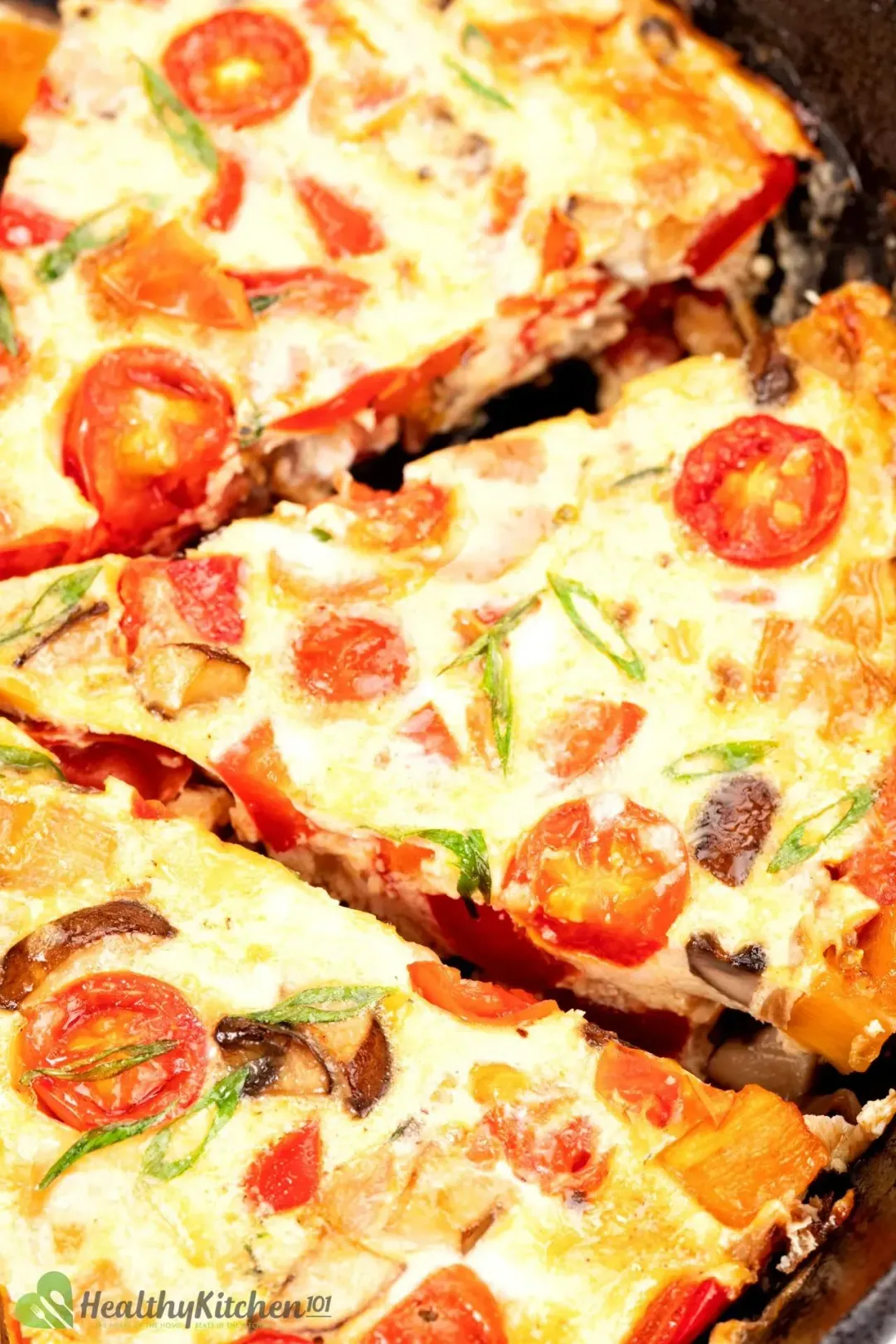 cook TIME

20 mins

prep TIME

5 mins

total TIME

25 mins
COURSE

Side Dish

CUISINE

Italian

SERVINGS

CALORIES

205 kcal
INGREDIENTS
0.25 oz

parmesan cheese

(shredded)

8 oz

cherry tomatoes

(halved)
INSTRUCTIONS
1
Preheat the oven to 350°F.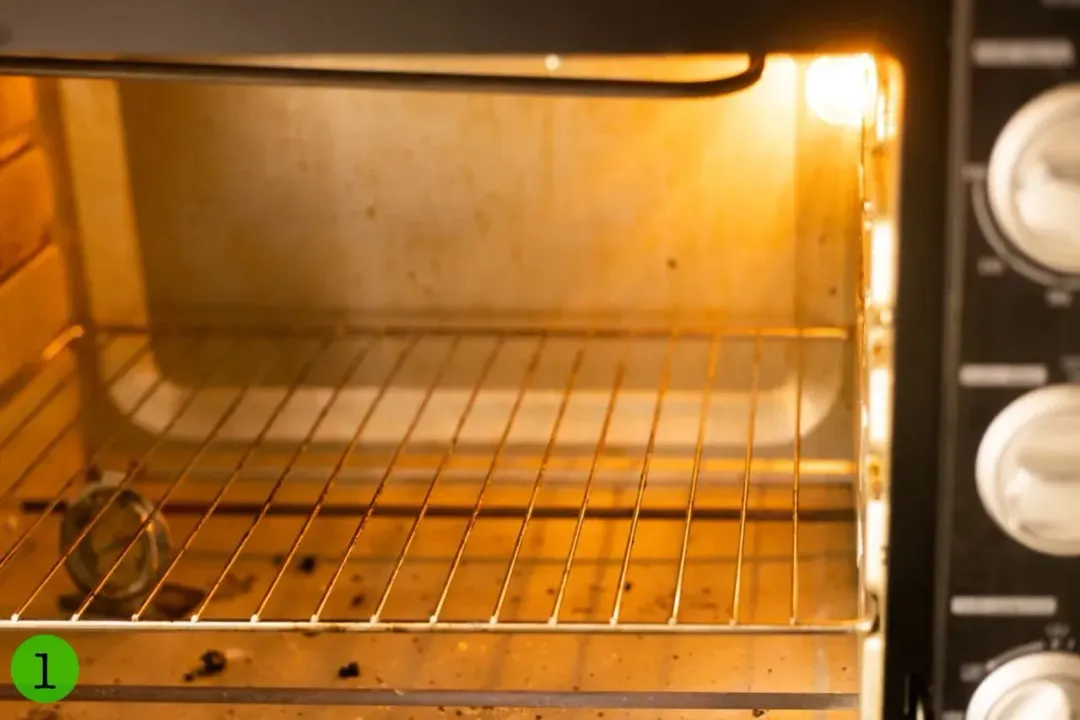 2
In a large bowl, combine eggs, heavy cream, thyme, salt, black pepper, and half of the parmesan cheese. Gently mix until well blended.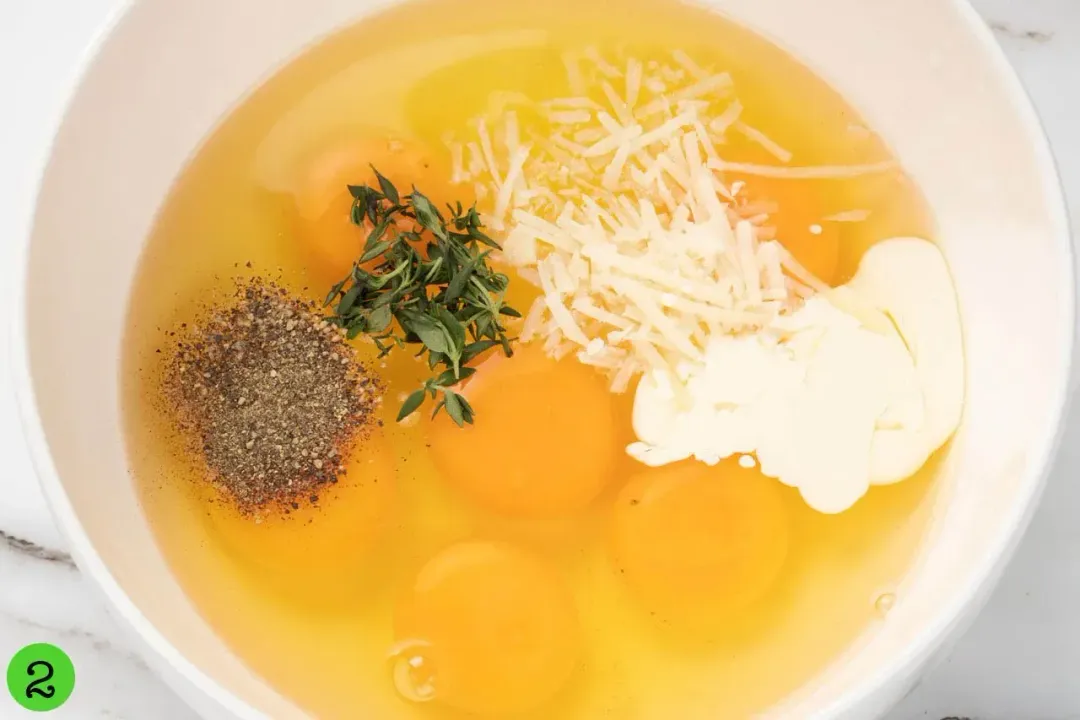 3
In a skillet, heat olive oil over medium heat, add onion, and stir fry until softened. Then add mushrooms. Cook until mushrooms are tender, add bell peppers, carrots, and 7 oz tomatoes to the skillet.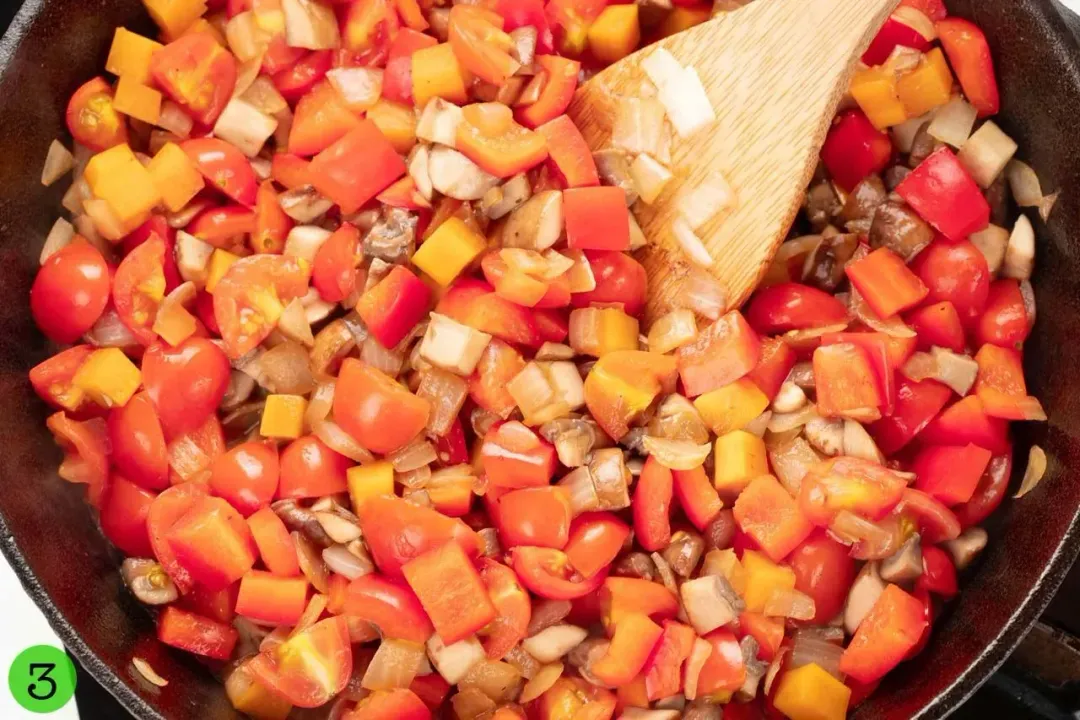 4
Pour the egg mixture into the skillet. Transfer the skillet to the oven. Bake for 5 minutes.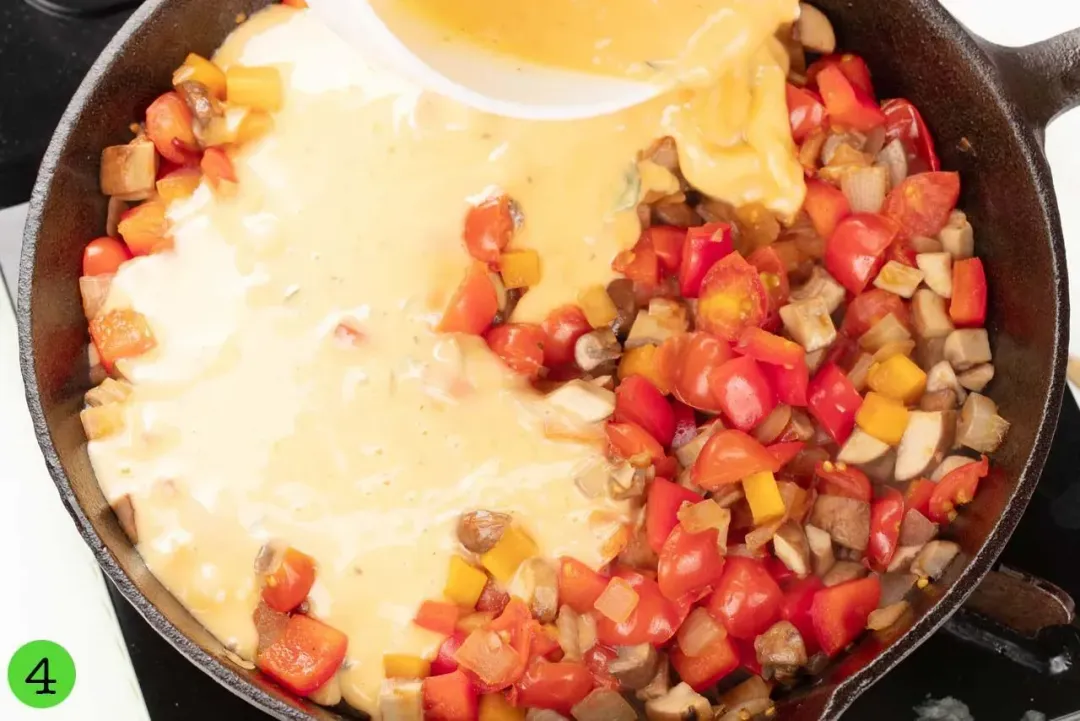 5
Sprinkle the remaining parmesan and half of the scallions on the frittata. Then bake for another 10 minutes.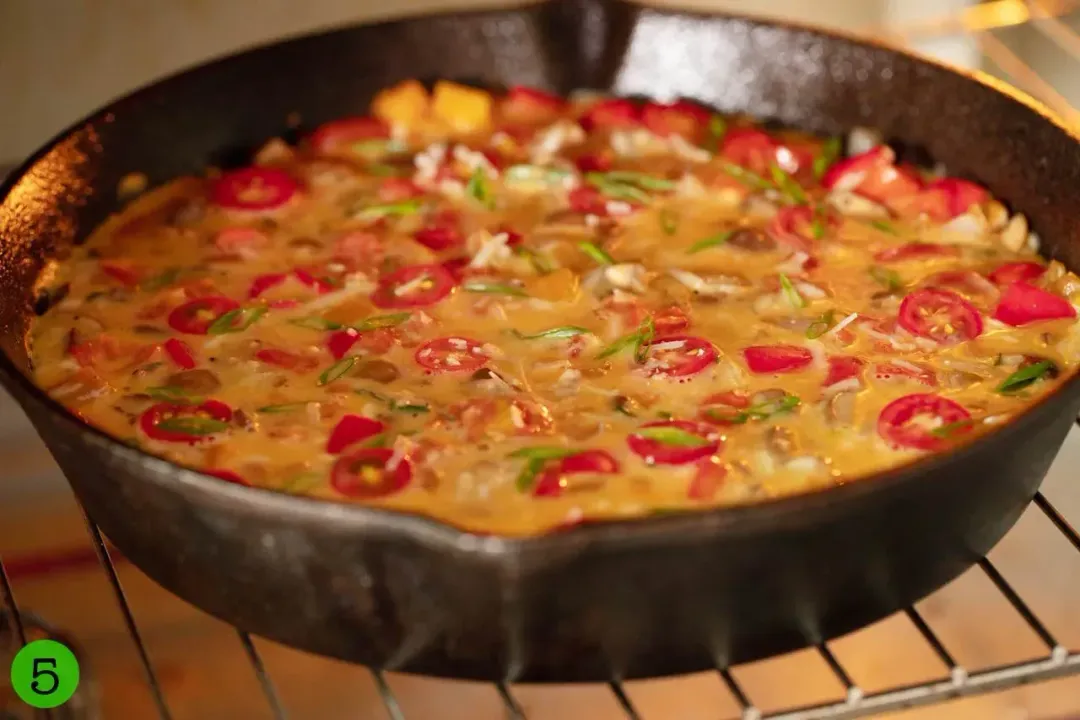 6
Garnish with the remaining scallions.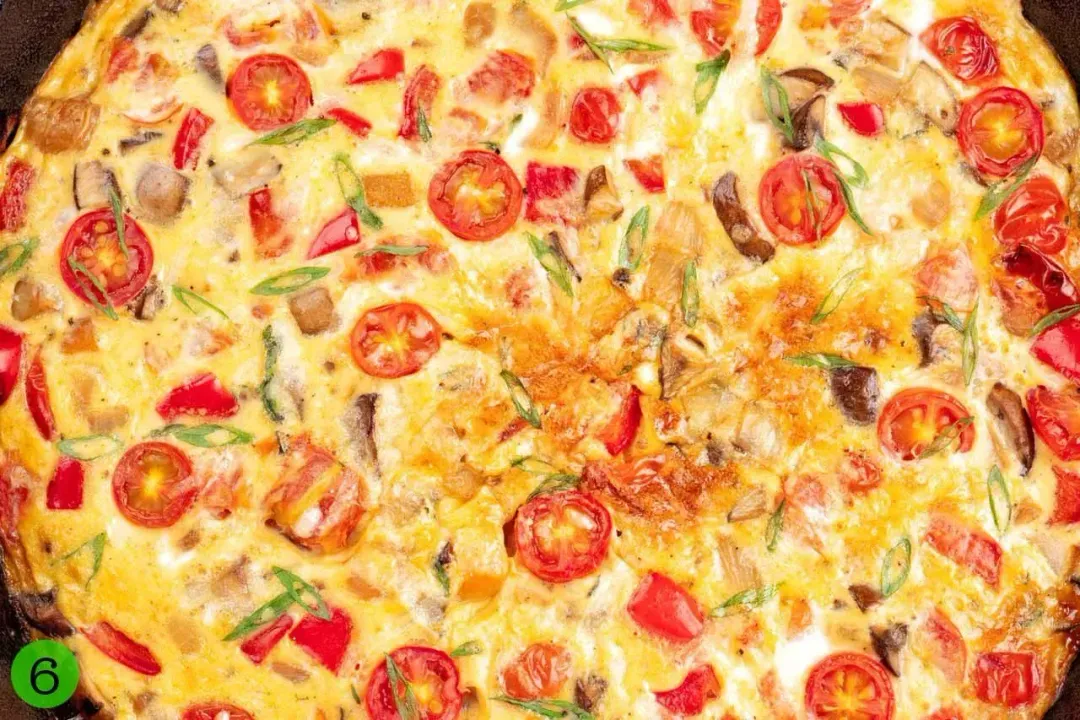 NUTRITION
Nutrition Facts
Frittata
Amount Per Serving (1 serving)
Calories 205
Calories from Fat 108
% Daily Value*
* Percent Daily Values are based on a 2000 calorie diet.
Keywords: Frittata, Frittata Recipe, Homemade Frittata, How to make Frittata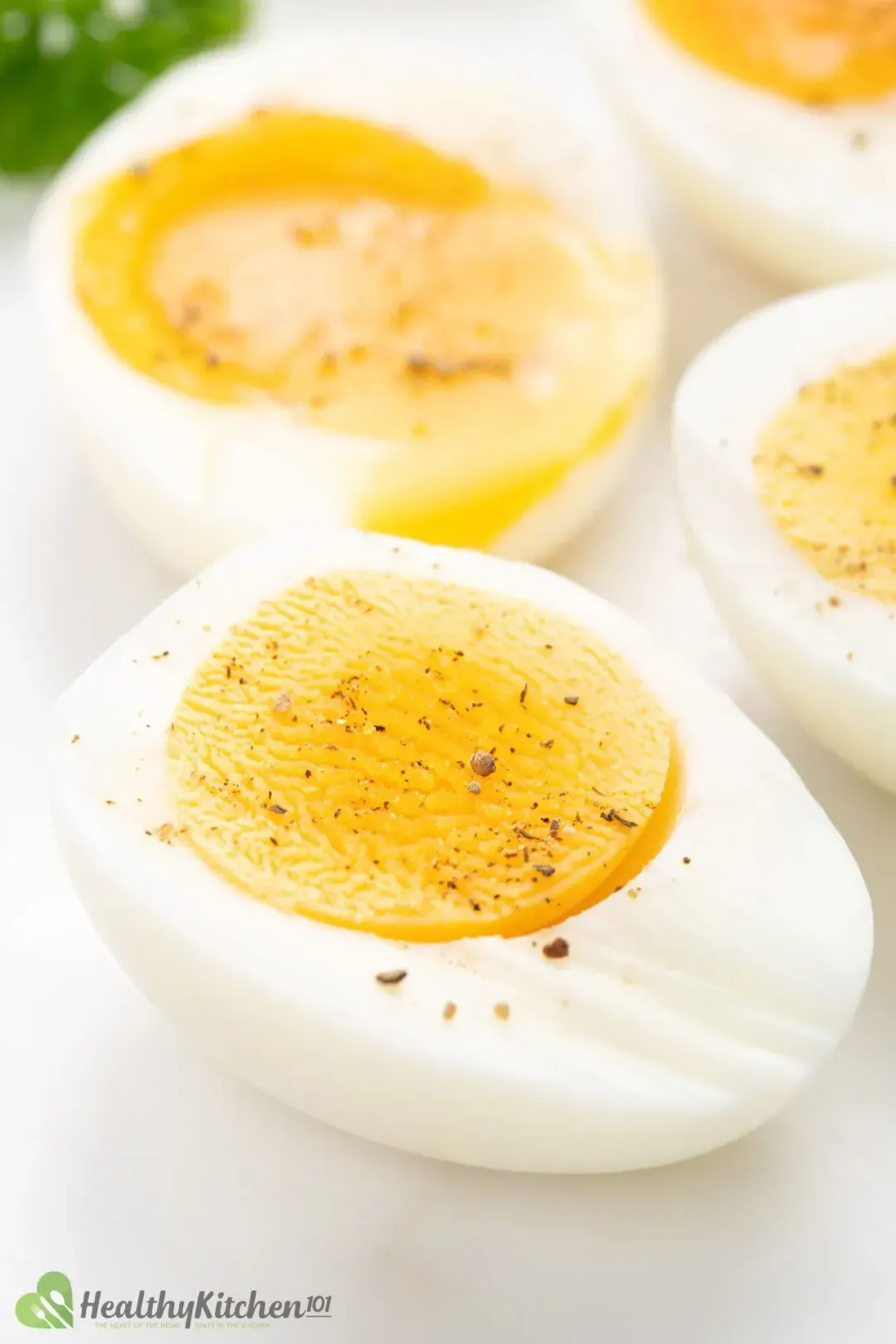 Previous Recipe
How to Boil Eggs
How to Boil Eggs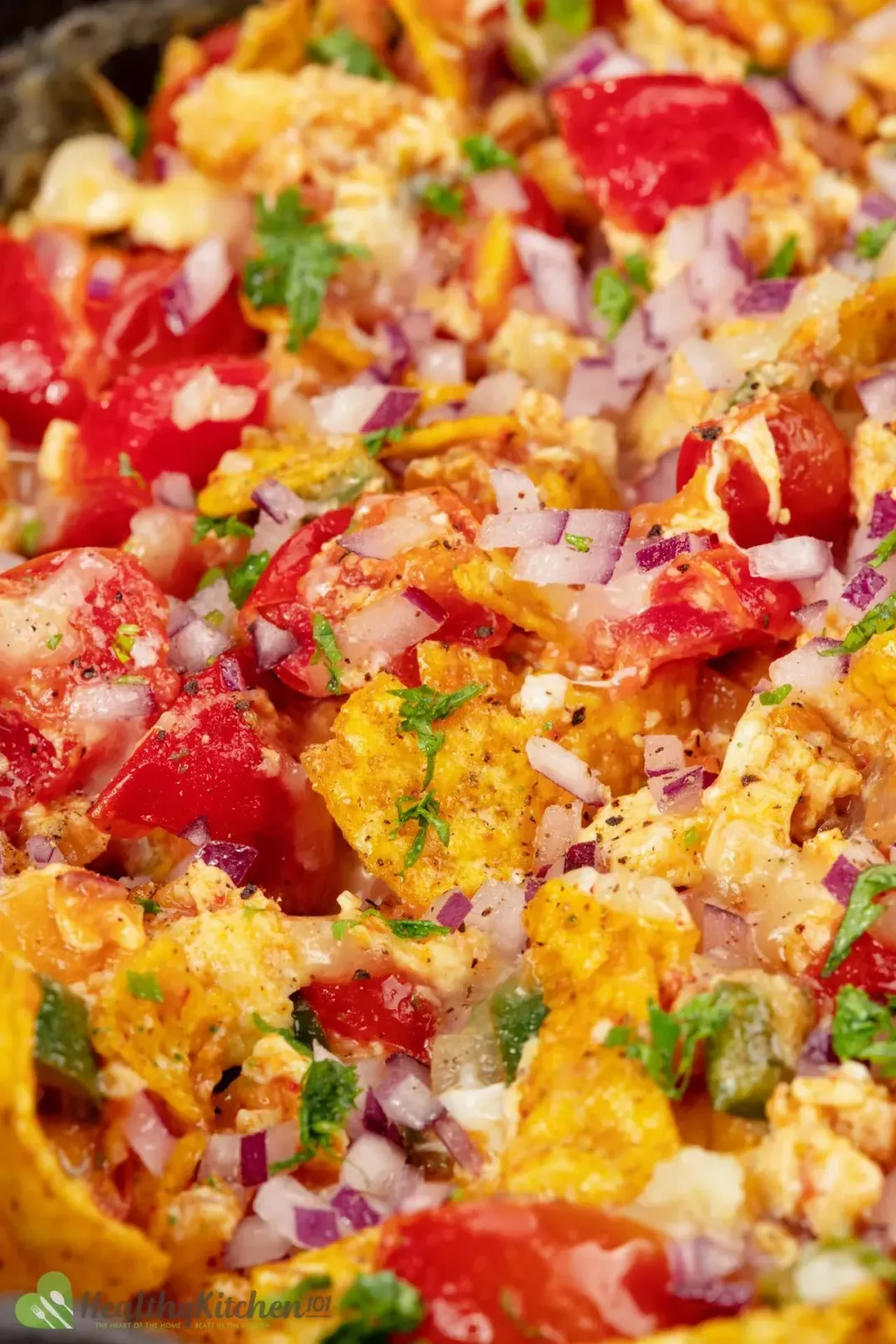 Migas
Head Chef, Culinary Consultant
Tuyet Pham is an award-winning Saigonese chef who believes that joy is the secret ingredient to delicious food. At Healthy Recipes 101, Tuyet personally tests and simplifies every recipe, ensuring maximum flavor with minimal effort. With a background at prestigious French restaurants P'TI Saigon and Le Corto, Tuyet knows how to make every dish exceptional.
Writer, Author
Luna Regina is an accomplished writer and author who dedicates her career to empowering home cooks and making cooking effortless for everyone. She is the founder of HealthyKitchen101.com and HealthyRecipes101.com, where she works with her team to develop easy, nutritious recipes and help aspiring cooks choose the right kitchen appliances.
Nutrition Reviewer
Lizzie Streit is a Minneapolis-based dietitian and founder of It's a Veg World After All. She completed her MS in Human Nutrition from Drexel University, and is an expert in culinary nutrition, recipe development, and nutrition communications. Lizzie's philosophy is centered around making nutrition recommendations, and especially the advice to eat more vegetables, approachable and realistic. She is excited to be working with the team at Healthy Recipes 101 to ensure that their recipes are both nutritious and delicious.
Really tasty, i made it just as written and it turned out great.