This pesto spaghetti recipe offers a simple way to bring complex Italian flavors into your meal. It mixes pasta with an aromatic and herbaceous pesto sauce that's complemented by bright pops of cherry tomatoes, and finishes with tangy hints of parmesan cheese. The whole dish comes together easily in approximately 20 minutes, making it the ideal choice for any weeknight dinner.
What Does Pesto Spaghetti Taste Like?
Pesto is a traditional Italian sauce made mainly from basil, garlic, cheese, pine nuts, and various types of leafy greens. This gives it a diverse flavor profile.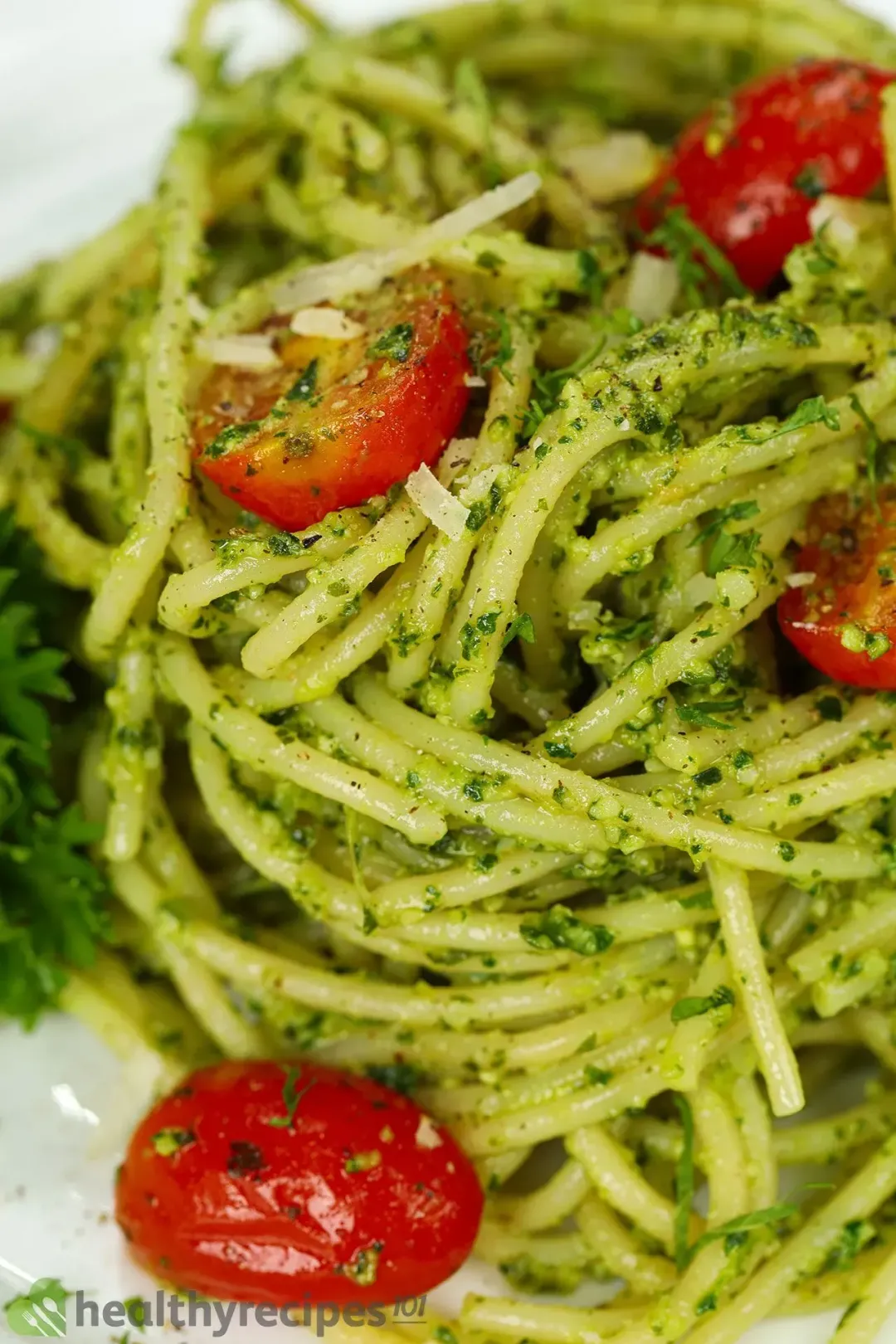 Most prominent is the vibrant and herbaceous basil scent, layered with the garlic's robust piquancy, as well as the cheese and nuts' earthy undertone. For recipes that also add veggies like spinach or kale, it also has a pleasant grassy taste.
When paired with spaghetti, pesto gives the overall dish a delicious creaminess. The pasta is relatively neutral, which balances out the sauce's intense aroma and keeps it from being too overwhelming.
Is Pesto Spaghetti Healthy?
With approximately 5 g saturated fat and 573 mg sodium in a 459-calorie serving, we believe the answer is yes. To arrive at these amounts, we have carefully selected and measured the ingredients based on our healthy-eating guidelines.
Furthermore, our pesto sauce's main ingredient is spinach. This leafy green provides a substantial amount of water, vitamins A, E, C, and numerous minerals. It's also rich in zeaxanthin and lutein, which are carotenoids that may help to reduce the risk of age-related macular degeneration.
Another great source of vitamins in this dish is cherry tomatoes. They are packed with various vitamins and other nutrients, resulting in potential health benefits like reducing inflammation, lowering heart disease risk, and promoting skin health.
Ingredients for Pesto Spaghetti
This pesto spaghetti comes together quite easily, with most of the ingredients only needing some simple preparation. Here are the ingredients you'll need to make the dish: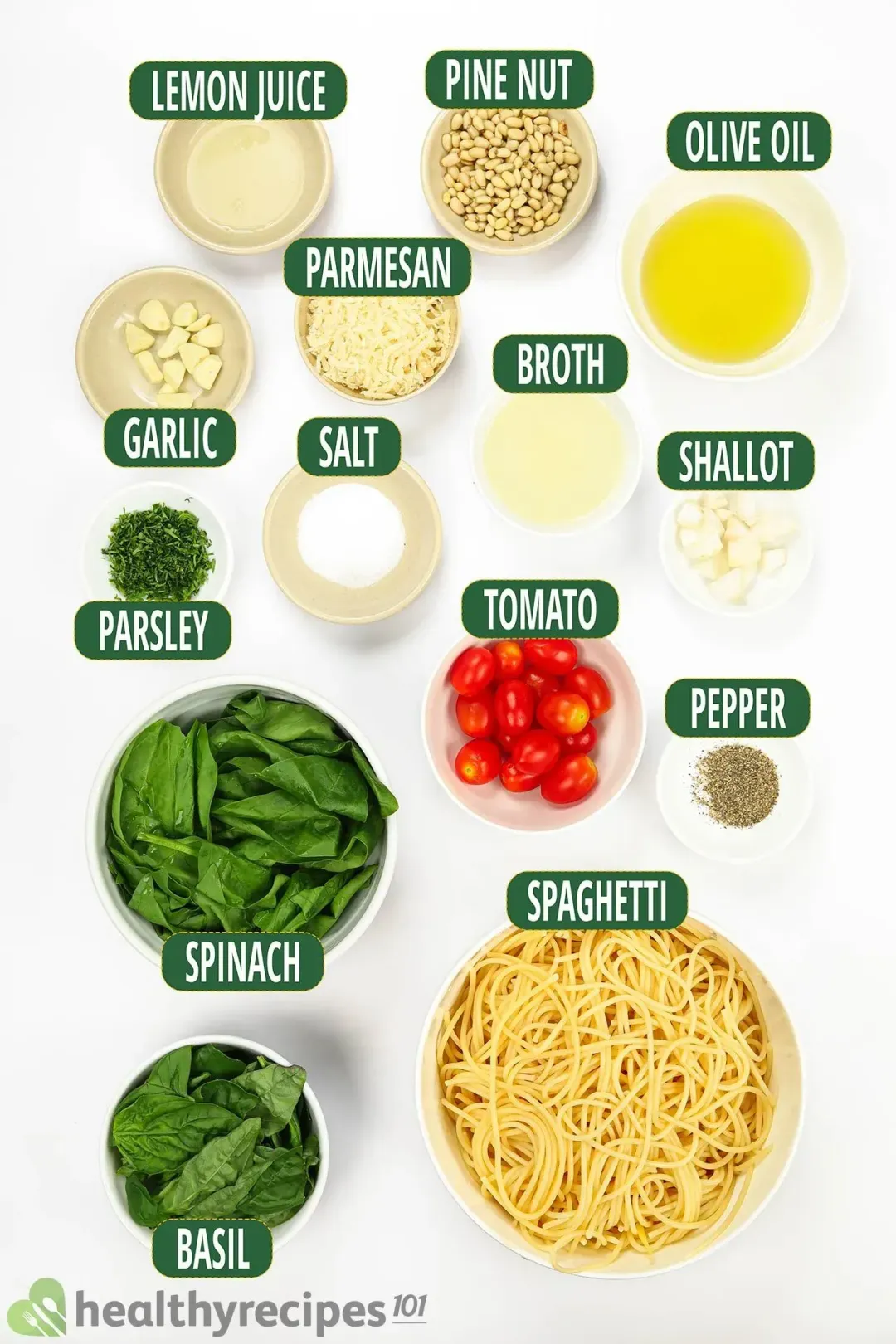 1. For the Sauce
Spinach: As one of the key ingredients, spinach's grassy and earthy taste sets the base flavor for the pesto sauce. When buying this vegetable, look for ones with dark green and crispy leaves, small stems, and a fresh scent. More matured ones have darkened leaves and thick stems, which may have a bitter taste, so avoid them if you don't like the harsh flavor.
Basil: This essential pesto ingredient gives the sauce its signature vibrant and herbaceous flavor. The herb also has a peppery and slightly "spicy" undertone that's balanced out quite nicely by a sweet aftertaste.
Aromatics: We used garlic and shallot to add a robust aroma. Garlic, in particular, is an essential ingredient that gives the pesto its signature subtle garlicky scent.
Pine Nuts: Pine nuts have a relatively soft and nutty taste with hints of sweetness, adding a tender layer of flavor to the sauce. When blended, they also contribute to the velvety consistency of the sauce. If you don't have any on hand, substitute them with other varieties like almonds or walnuts.
Parmesan Cheese: Keeping up with the earthy and rustic flavor profile, we added sprinkles of parmesan cheese to the pesto sauce. Its distinguished nutty undertone also pairs marvelously with the pine nuts.
Other Ingredients: We also added chicken broth, olive oil, and lemon juice to smooth out the dish's texture and enrich its flavor. The lemon juice also helps to brighten up the overall taste of the dish, giving it a lively, zesty lift.
2. For the Pasta
Spaghetti: As the name suggests, this recipe uses spaghetti. You can also use other long-strand varieties like angel hair, linguine, and fettuccine. If you want to go for different shapes, penne or ziti are also good. Or make your own pasta from scratch, just as you would with Spaetzle or Sweet Potato Gnocchi.
Cherry Tomato: Cherry tomatoes bring a gorgeous pop of color and flavor to the dish. They're bright, sweet, and deliciously juicy with hints of sourness, giving the taste buds a great burst of flavor versatility.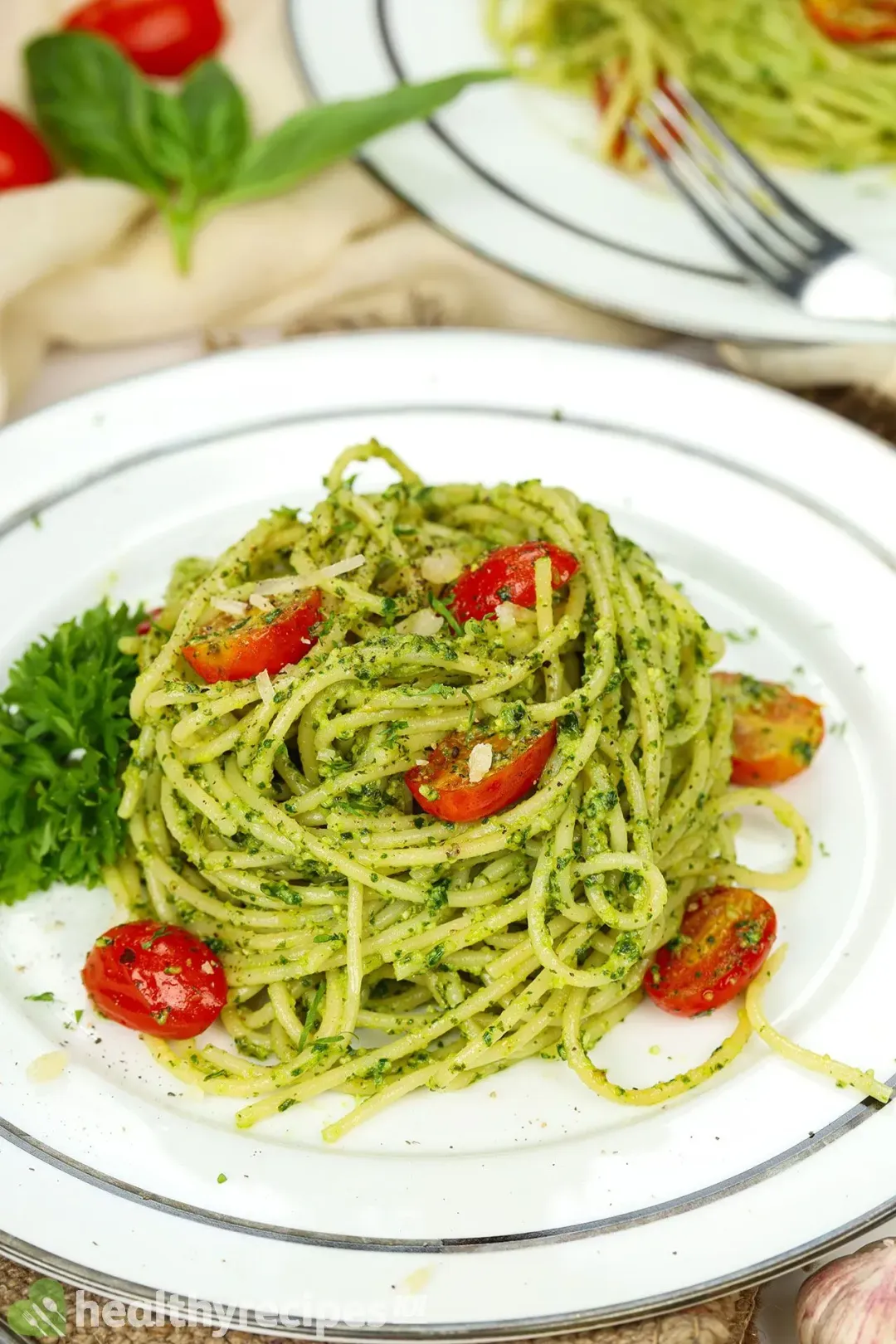 How to Store and Reheat
This pasta should last up to three days when kept in an airtight container in the fridge. To reheat, you can either place it in the microwave for one minute or gently stir it on the stovetop over medium-low heat. Add a little olive oil or water to loosen the texture if it appears dry.
What Meat Goes With Pesto Spaghetti
Pesto's bright and vivid flavors can be suitably complemented by a variety of meat. You can either add some directly to the dish or make a separate one to serve alongside the pasta.
Chicken: Grilled or roasted chicken has a smoky taste that meshes quite nicely with the pesto's earthy tones.
Seafood: Sweet and delicate, seafood like shrimp and salmon have a tender flavor profile that won't be overwhelming when paired with pesto.
Other Meats: Ground beef, pork chops, sausage, or even bacon are great additions if you want to introduce some irresistible savoriness to the dish.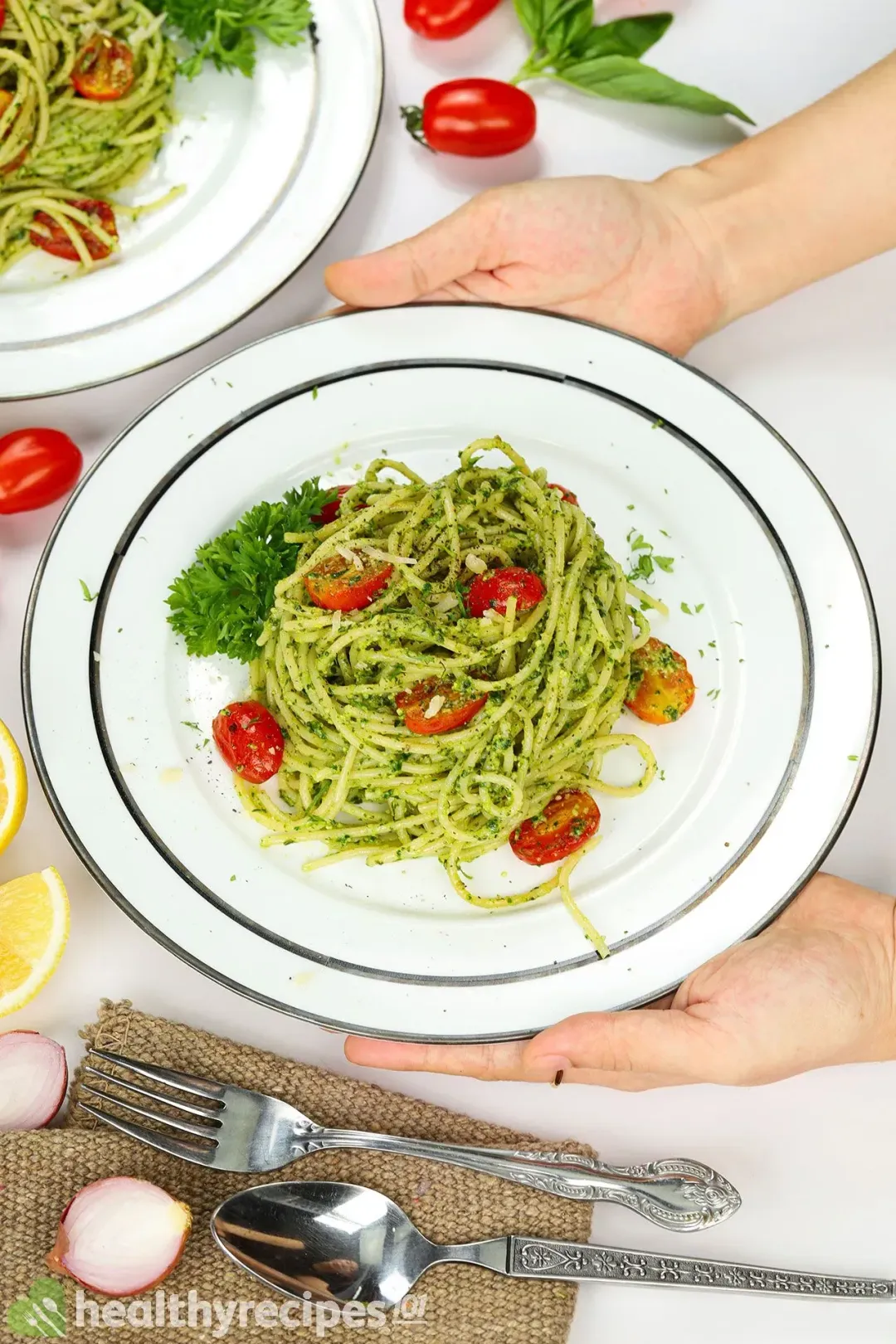 What to Serve With Pesto Spaghetti
This pesto spaghetti will go well with a wide variety of salads, especially ones featuring similar ingredients like tomatoes and leafy greens. Here are some of our suggestions:
How to Make Pesto Spaghetti
This pesto spaghetti recipe mixes pasta with aromatic and herbaceous pesto sauce, bright cherry tomatoes, and tangy parmesan cheese. The whole dish comes together easily in approximately 20 minutes, making it the ideal choice for any weeknight dinner.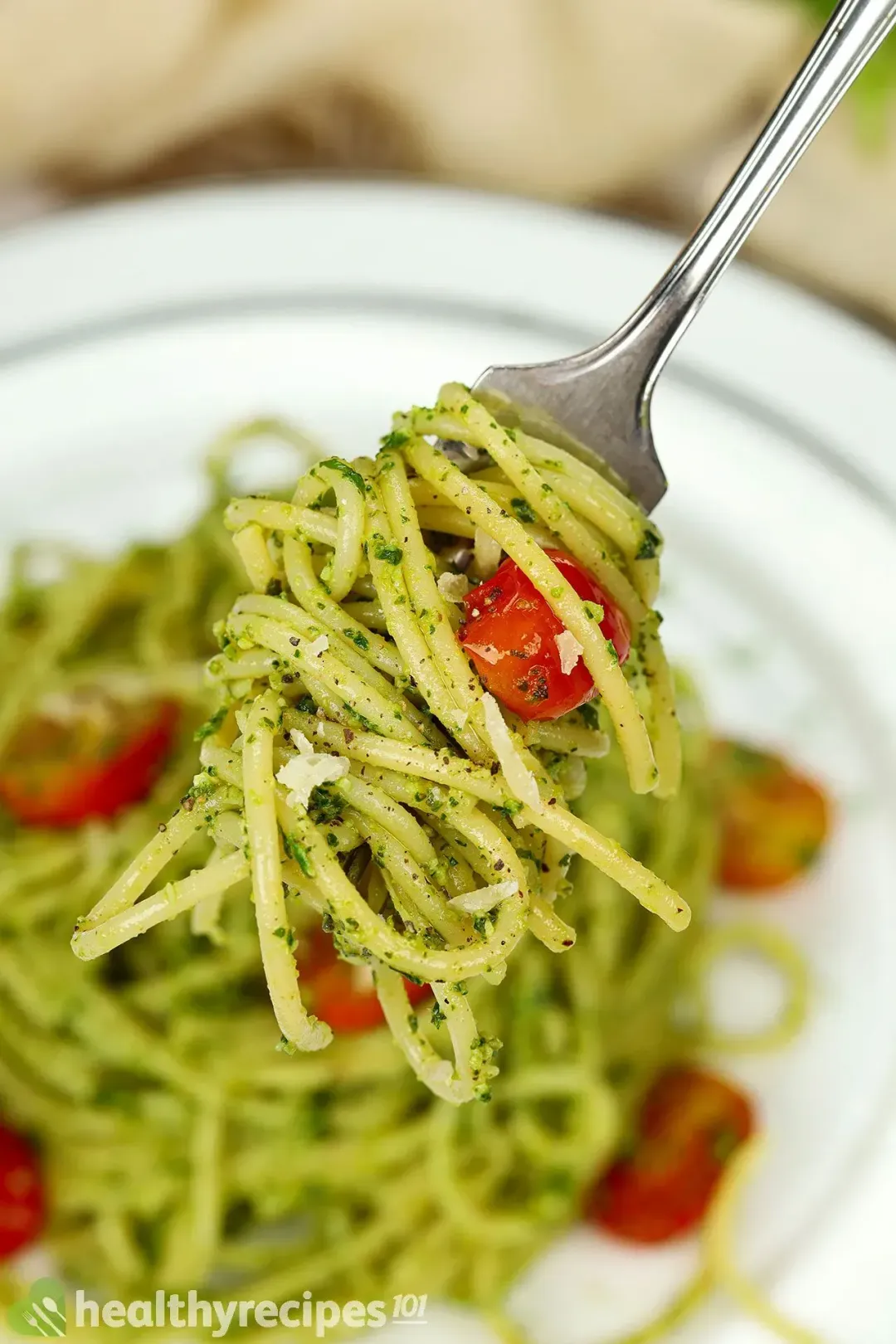 cook TIME

8 mins

prep TIME

12 mins

total TIME

20 mins
COURSE

Main Course

CUISINE

Italian

SERVINGS

CALORIES

459 kcal
INGREDIENTS
17 oz

cooked spaghetti

(from 8.5 oz raw)

3 oz

red cherry tomatoes

(halved)

1 oz

shredded parmesan cheese

0.5 oz

shallot

(coarsely chopped)

2 fl oz

unsalted chicken broth
INSTRUCTIONS
Prep:
1
Cook the Spaghetti: Boil the water, add the pasta then check the packaging for the specific cooking time. Gently stir every few minutes then drain when pasta becomes al dente.
2
Chop the Shallot: Slice off the stem, peel and discard the skin, separate the bulbs, then chop into large pieces.
3
Chop the Parsley: Remove the stems. Bunch the leaves together on one hand then thinly slice. Rock the knife back and forth over the pile for finer pieces.
Cook:
1
Cook the Greens: Bring water to a boil then add 1 oz spinach and 0.5 oz basil for 30 seconds then remove and transfer into a bowl of ice water to soak until cool. Bunch the leaves together then gently squeeze to dry.
2
Blend the Sauce: In a blender or food processor, add the cooked basil and spinach, 0.5 oz shredded parmesan cheese, 3/4 tsp salt, 3 garlic cloves, 0.5 oz shallot, 1 tbsp lemon juice, 5 tbsp olive oil, 1 oz pine nut, and 2 fl oz unsalted chicken broth and blend until well-combined.
3
Sauté the Tomatoes: In a pan over medium heat add 1 tbsp olive oil and 3 oz red cherry tomatoes, then sauté for 1 minute.
4
Add the Spaghetti and Sauce: Continue adding 17 oz spaghetti and the pesto sauce, and evenly stir for another 3 minutes.
5
Serve and Enjoy: Transfer the cooked mixture onto serving plates and garnish with 0.5 oz shredded parmesan cheese, 2 tbsp parsley, and 1/2 tsp pepper.
NUTRITION
Nutrition Facts
How to Make Pesto Spaghetti
Amount Per Serving (1 serving)
Calories 459
Calories from Fat 257
% Daily Value*
* Percent Daily Values are based on a 2000 calorie diet.
Keywords: how to make pesto spaghetti, pesto spaghetti, pesto spaghetti recipe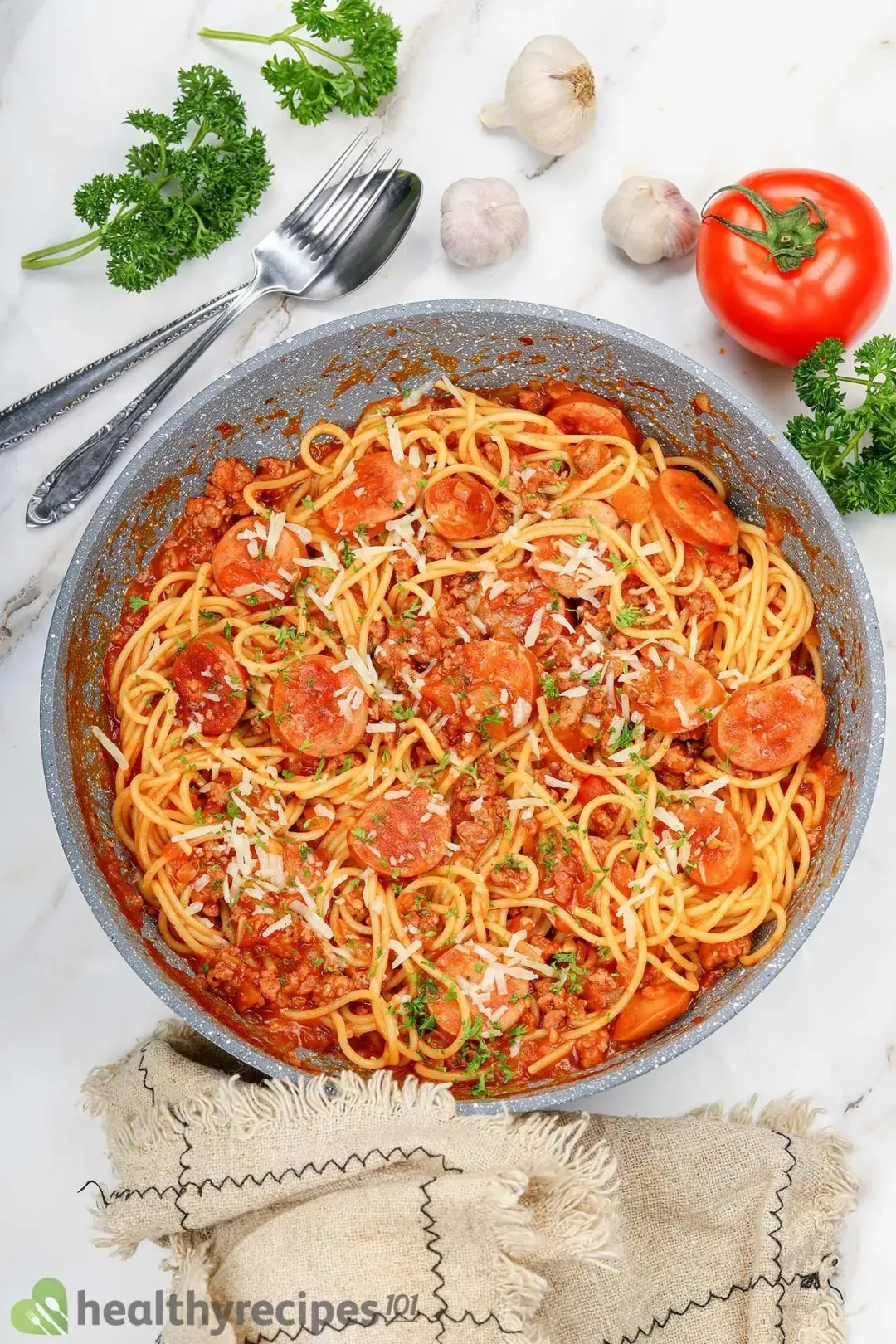 Previous Recipe
Spaghetti With Sausage
Spaghetti With Sausage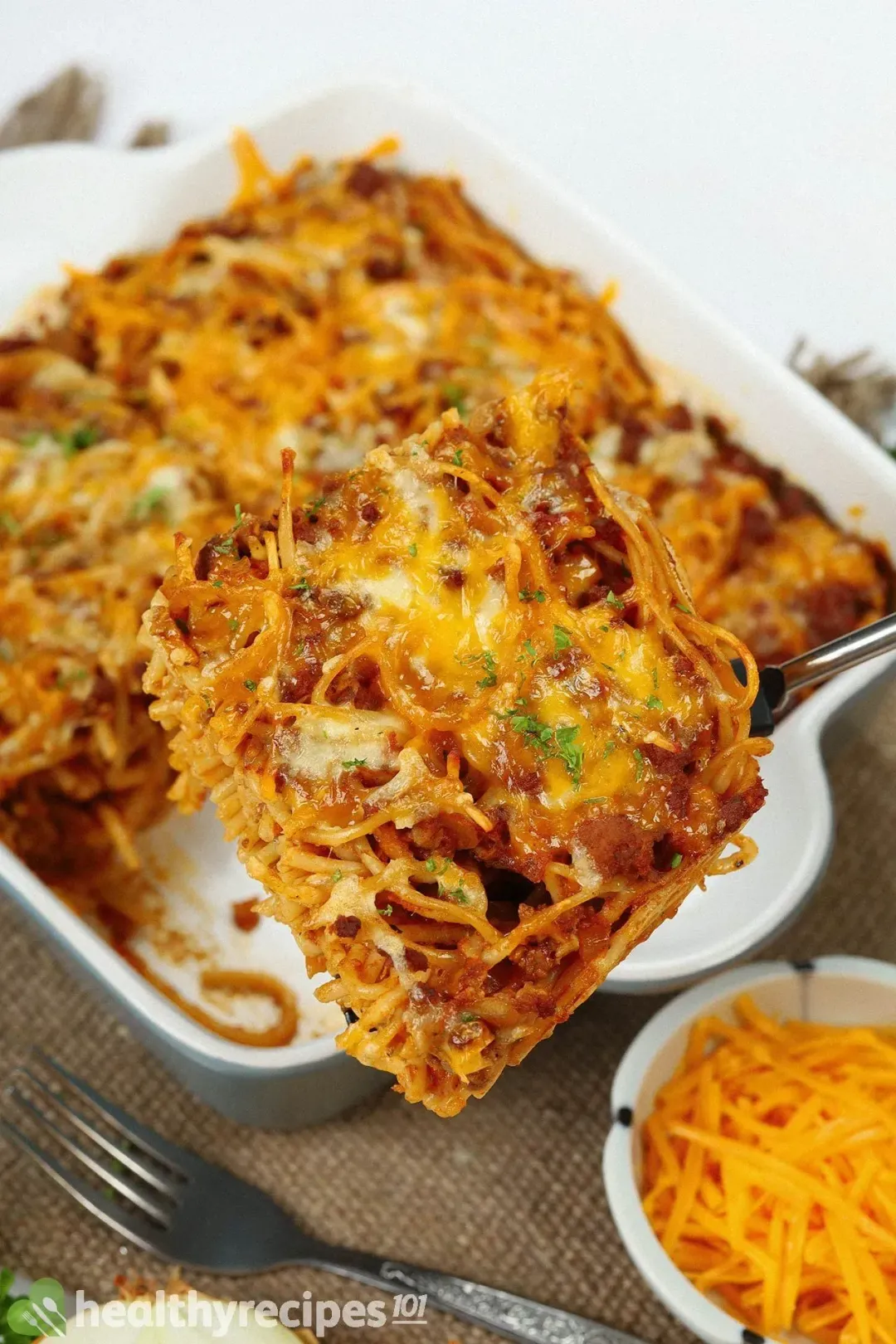 Next Recipe
Baked Spaghetti
Baked Spaghetti
Head Chef, Culinary Consultant
Tuyet Pham is an award-winning Saigonese chef who believes that joy is the secret ingredient to delicious food. At Healthy Recipes 101, Tuyet personally tests and simplifies every recipe, ensuring maximum flavor with minimal effort. With a background at prestigious French restaurants P'TI Saigon and Le Corto, Tuyet knows how to make every dish exceptional.
Writer, Author
Luna Regina is an accomplished writer and author who dedicates her career to empowering home cooks and making cooking effortless for everyone. She is the founder of HealthyKitchen101.com and HealthyRecipes101.com, where she works with her team to develop easy, nutritious recipes and help aspiring cooks choose the right kitchen appliances.
Nutrition Reviewer
Natalie Butler is a registered dietitian nutritionist with a passion to help others live their best life through food, fitness, safer beauty and a healthy lifestyle. She has expertise with a variety of diets and diseases and believes that there is no one-size-fits-all approach for health.
This recipe features the vibrant flavors of fresh basil, garlic, pine nuts, and Parmesan cheese, all blended together to create a rich and aromatic pesto sauce.