This spaghetti with sausage recipe is our favorite way of preparing pasta with Italian sausage. Browned before being simmered in a ground beef and tomato sauce, the sausages are enhanced in both flavor and texture. With the addition of white wine and shredded cheese, the sauce becomes incredibly irresistible!
Is This Spaghetti With Sausage Recipe Healthy?
The short answer is yes, our spaghetti with sausage recipe is healthy as we have adhered to our nutrition guidelines and kept everything in moderation.
Each serving contains around 500 calories. We have minimized the amounts of saturated fat and salt. There are just 7 grams of saturated fat and 580 milligrams of salt, both of which account for less than 25% of the USDA's recommended daily allowances.
Additionally, our homemade tomato sauce has an abundance of nutrients without any of the preservatives usually found in store-bought varieties. Also, the presence of protein in the pork sausage and ground beef serves to boost your metabolic health and help you gain muscle mass and strength.
Ingredients You'll Need
Our spaghetti with sausage recipe is prepared with al dente spaghetti, spicy Italian sausage, tender beef, and a tomato sauce. The ingredients are readily available in local stores.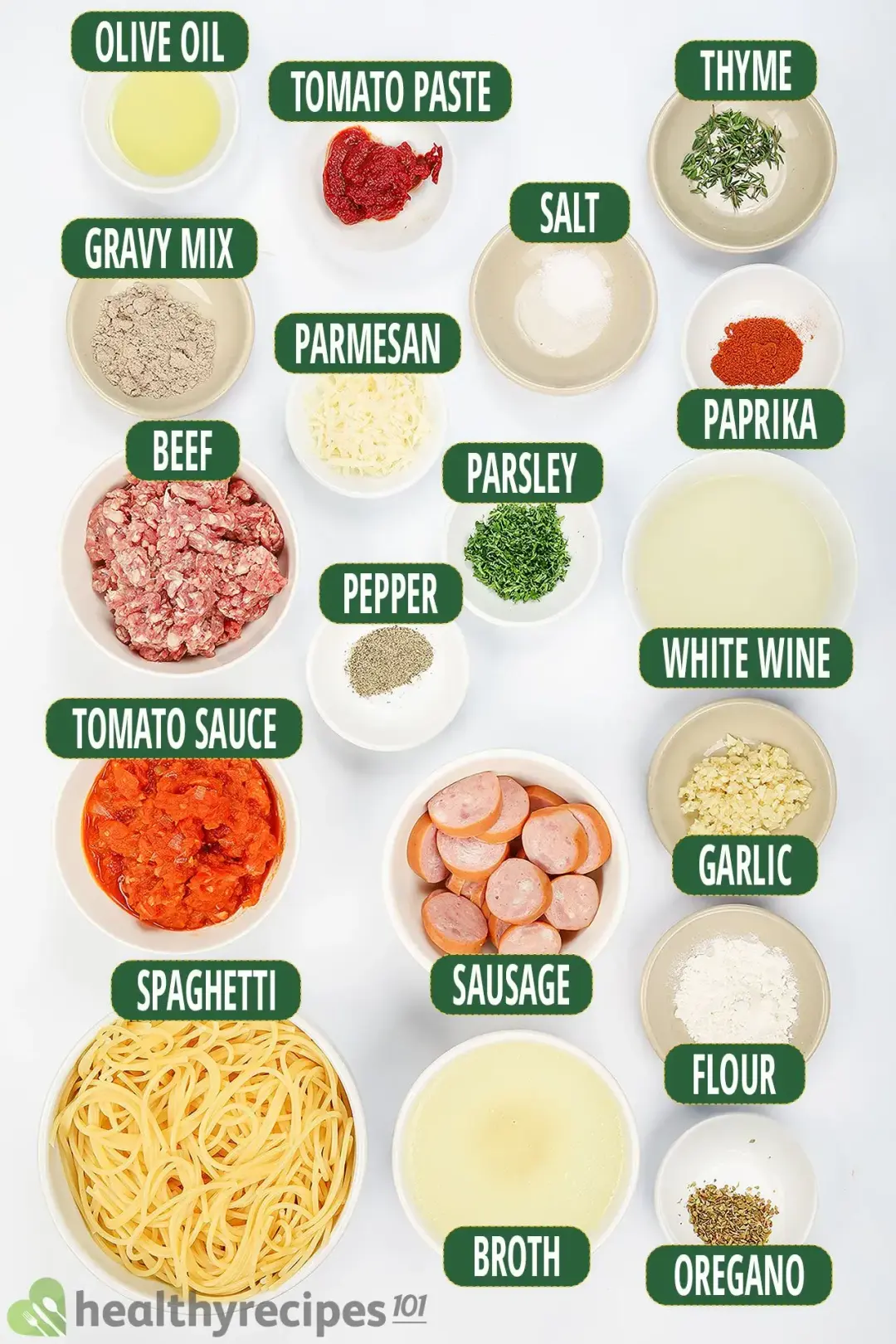 Sausage: We enjoy Italian pork sausage since it has a wonderful sweet-with-a-hint-of-spice flavor. If you're searching for a leaner alternative, chicken or turkey sausage is an excellent choice.
Tomato Paste: Use fire-roasted tomatoes for their enhanced flavor and smoky aroma.
Tomato Sauce: We prepared our own tomato sauce without adding salt or flavorings. The combination of homemade tomato sauce and tomato paste builds an incredibly flavorful sauce base.
Broth: Instead of plain water, we used chicken broth to improve the texture and taste of the sauce. Don't be concerned about it dominating the final flavor since the broth is mild and light. You may prepare your own version at home or get unsalted packages at your local grocery shop.
Pasta: Our recipe calls for spaghetti, but feel free to use whichever pasta you like.
Seasonings and Spices: The sauce is seasoned with garlic, salt, pepper, thyme, and oregano. Add more herbs and spices as desired. 
White Wine: It's used to deglaze the pan and add a complex, acidic flavor to the pasta.
Cheese: The nutty flavor of the Parmesan cheese pairs beautifully with the sauce and enhances the overall authenticity of the meal. Additionally, you can sprinkle it over the spaghetti as a garnish.
Storage and Reheating
Store the sausage spaghetti in sealed containers for 3 – 4 days in the refrigerator.
 To reheat the pasta, place in a skillet on the stovetop. Note that the pasta will absorb some liquid, so add a bit of extra sauce or water to thin it down.
What to Serve With Sausage Spaghetti
This spaghetti, similar to a typical Italian pasta, is often served as a filling and satisfying main course. Pair it with a side salad and garlic bread, and you will have a weeknight supper that is full of nutrients.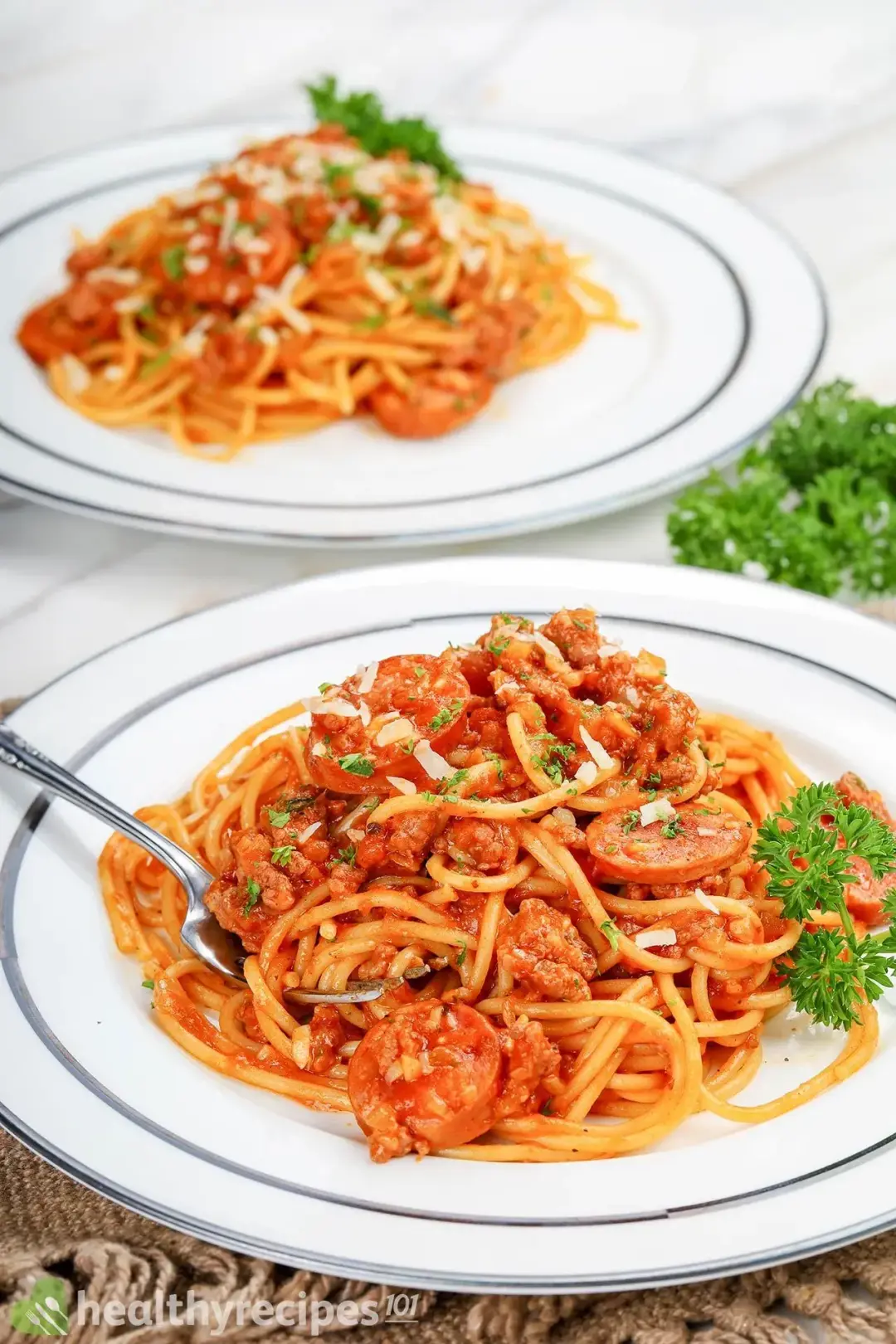 How to Make Spaghetti With Sausage
This effortless spaghetti with sausage recipe makes for an easy and wholesome Italian-inspired meal within 20 minutes.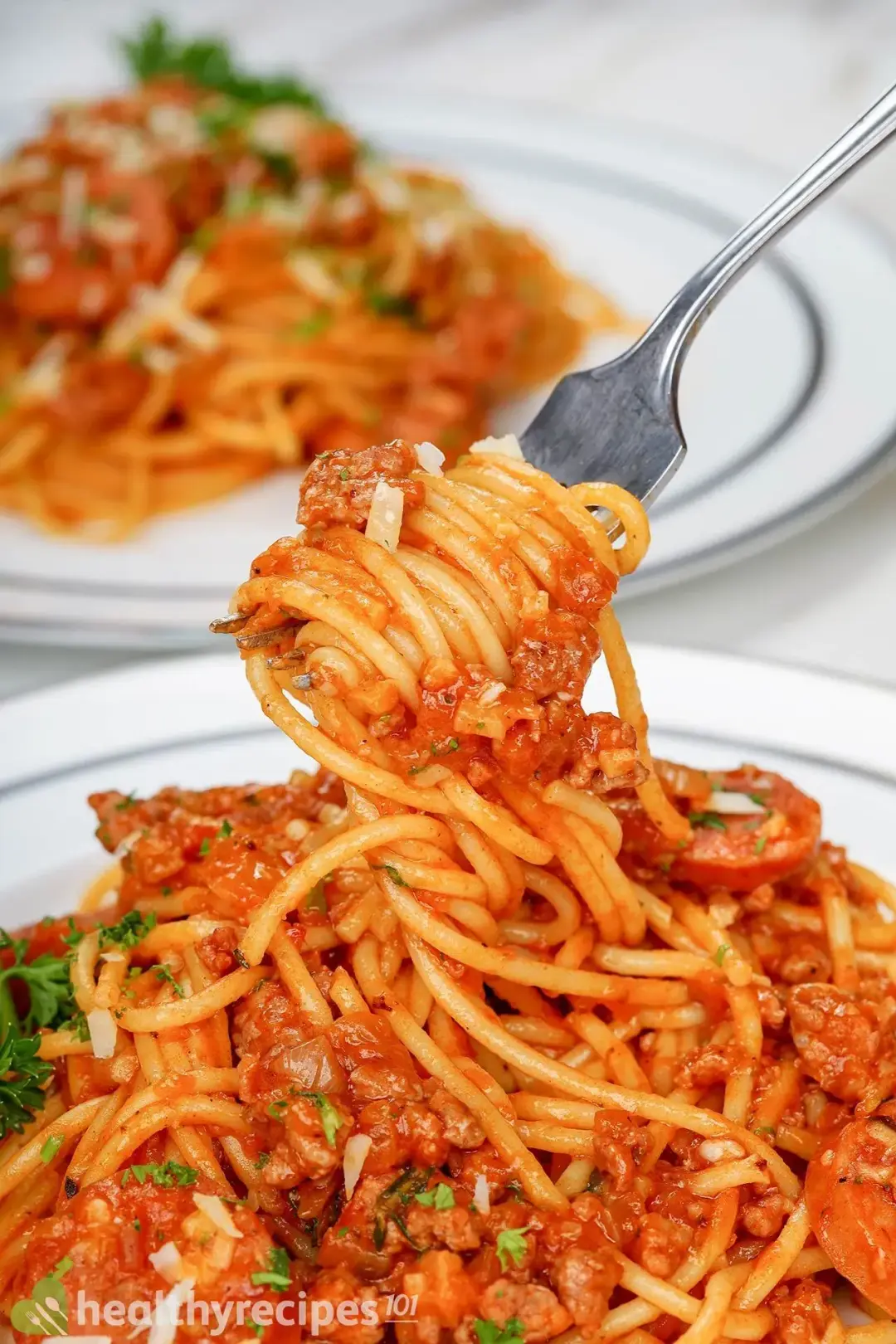 cook TIME

10 mins

prep TIME

10 mins

total TIME

20 mins
COURSE

Main Course

CUISINE

Italian

SERVINGS

servings

CALORIES

500 kcal
INGREDIENTS
14 oz

cooked spaghetti equals to 7 oz uncooked

4 oz

smoked sausage sliced

1.5 tbsp

olive oil

1 tbsp

garlic minced

6 oz

85% lean ground beef

1 tbsp

Hunt's tomato paste

0.3 tsp

salt

0.5 tsp

black pepper

0.5 tsp

oregano

0.5 tsp

paprika

1 tsp

fresh thyme

2.5 tsp

gravy mix

2 tsp

all-purpose flour

1 cup

homemade tomato sauce

2 fl oz

white wine

0.3 oz

parmesan cheese shredded

2 tbsp

parsley chopped
INSTRUCTIONS
Prep:
1
Finely chop 1 tbsp of garlic.
2
Slice 4 oz sausage link into 0.5-inch circles.
4
Shred 0.25 oz parmesan cheese.
5
Boil 6 - 7 oz uncooked spaghetti tillo al dente. Drain the cooked pasta.
Cook:
1
Pan-sear the sausage: Heat a non-stick frying pan over medium heat. Sear 4 oz smoked sausage on both sides for 2 minutes or until beautifully browned and just barely cooked through.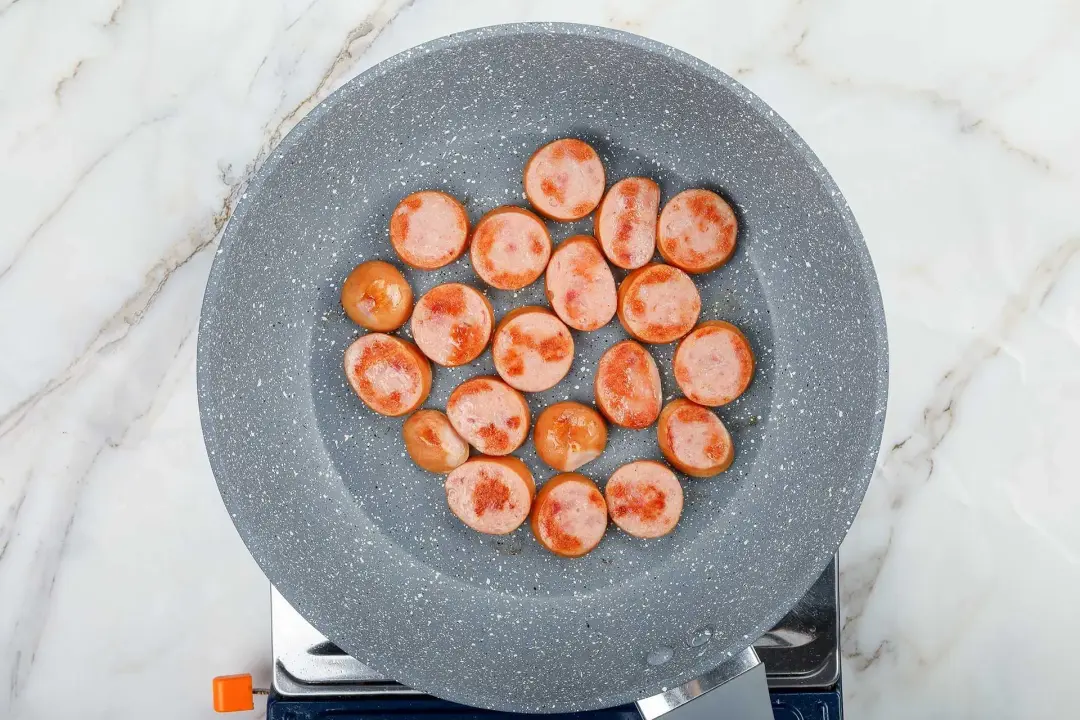 2
Sauté the garlic: Add 1 1/2 tbsp olive oil and 1 tbsp garlic and sauté for 30 seconds.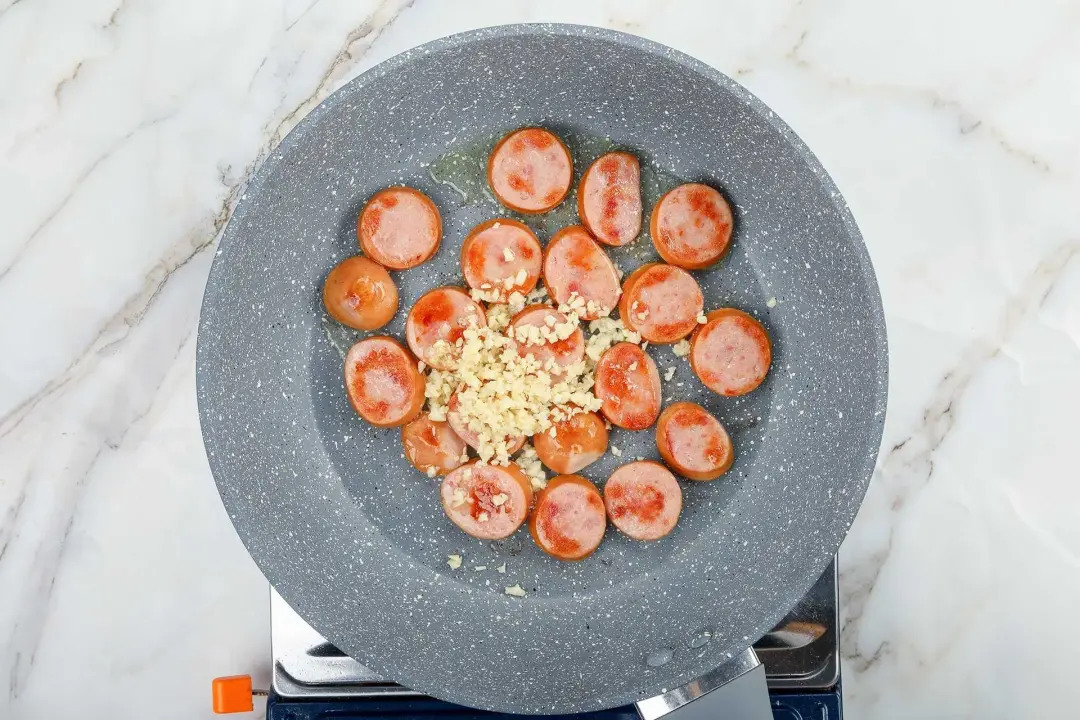 3
Stir fry the beef: Add 6 oz lean ground beef and break up the meat with your spatula or wooden spoon as you add it to the pan. Stir occasionally and continue to cook for a further 2 minutes.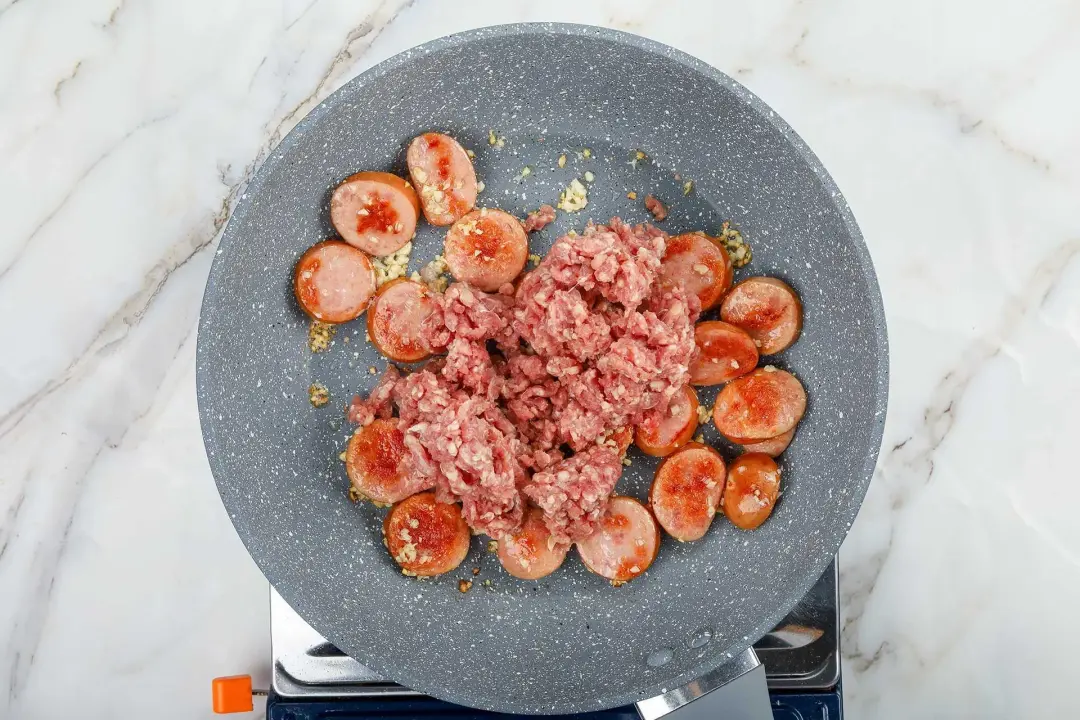 4
Add the tomato paste and seasonings: Add 1 tbsp tomato paste and stir the mixture for 30 seconds to combine. Then stir in 1/4 tsp salt, 1/2 tsp black pepper, 1/2 tsp oregano, 1/2 tsp paprika, 1 tsp thyme, 2 1/2 tsp gravy mix, and 2 tsp all-purpose flour. Stir and cook on medium heat for 1 minute.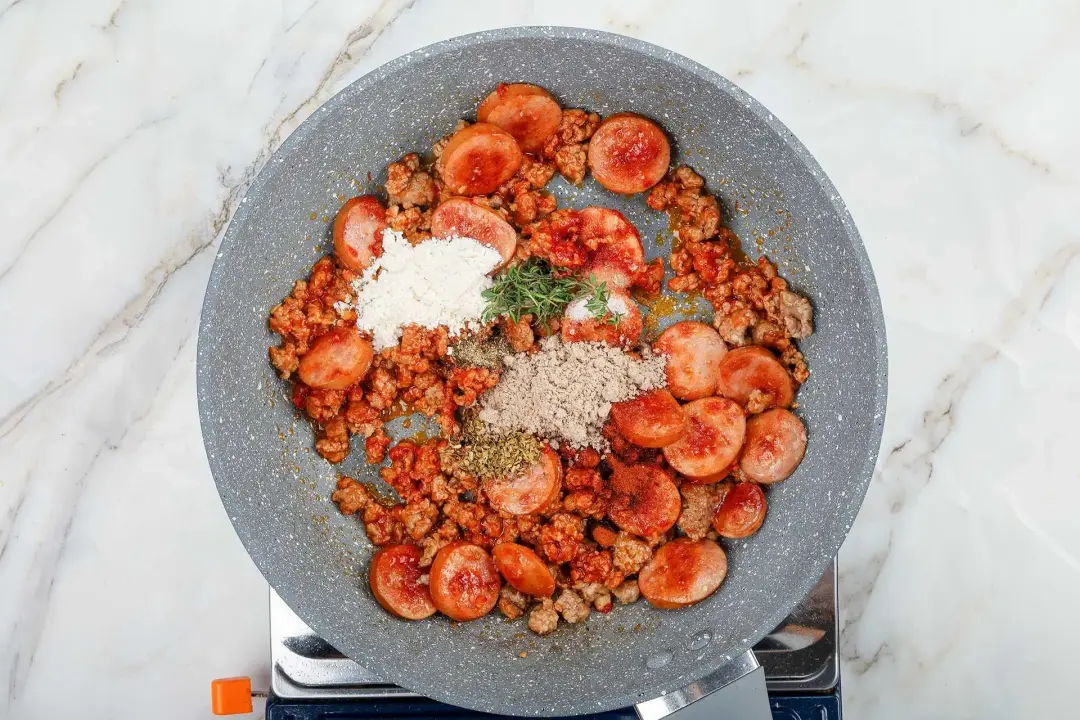 5
Add the wine, broth, and tomato sauce: Pour in 2 fl.oz white wine and simmer for 30 seconds or until the wine has almost evaporated. Add 1 cup tomato sauce and 1 cup unsalted chicken broth and continue to simmer for 2 minutes.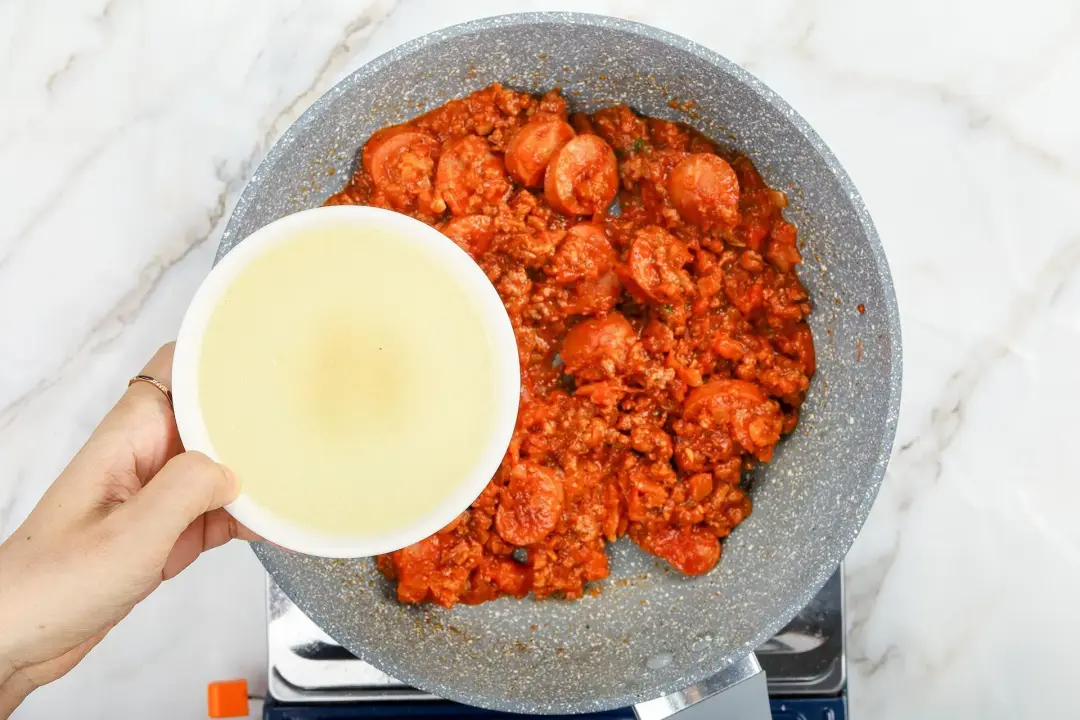 6
Stir in the spaghetti: Transfer 14 oz cooked spaghetti into the pan of hot sauce. Mix until thoroughly combined, about 2 minutes. Take off the heat.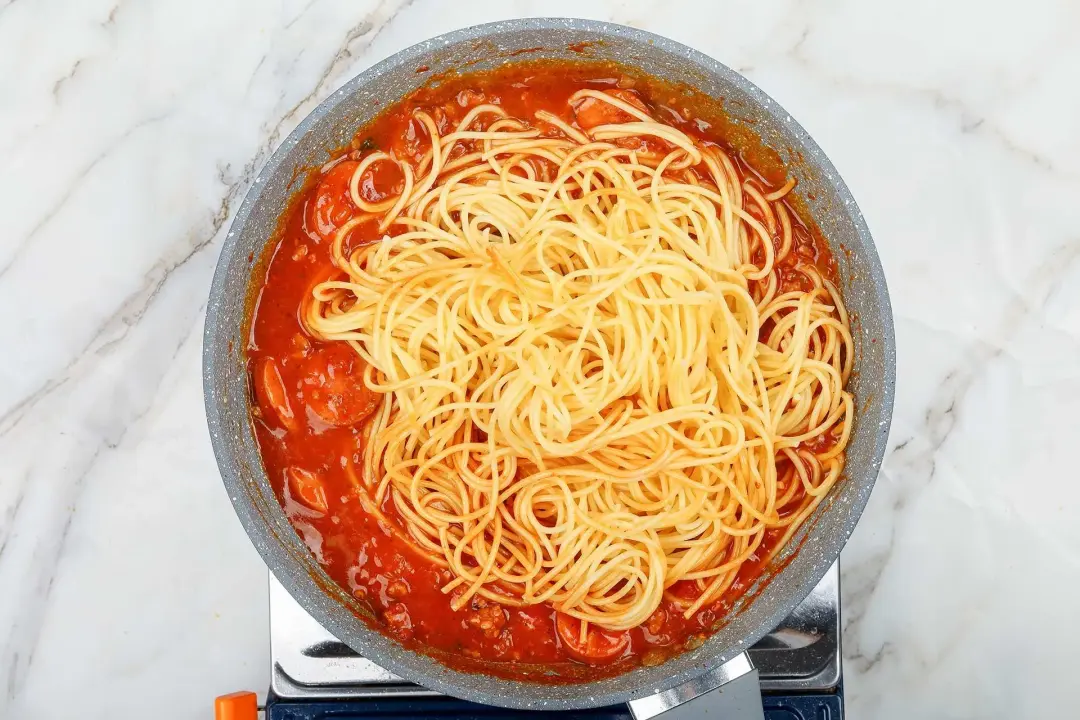 7
Serve the pasta: Transfer the spaghetti to serving plates. Sprinkle with 0.5 oz shredded parmesan cheese and 2 tbsp chopped parsley. Serve the dish immediately.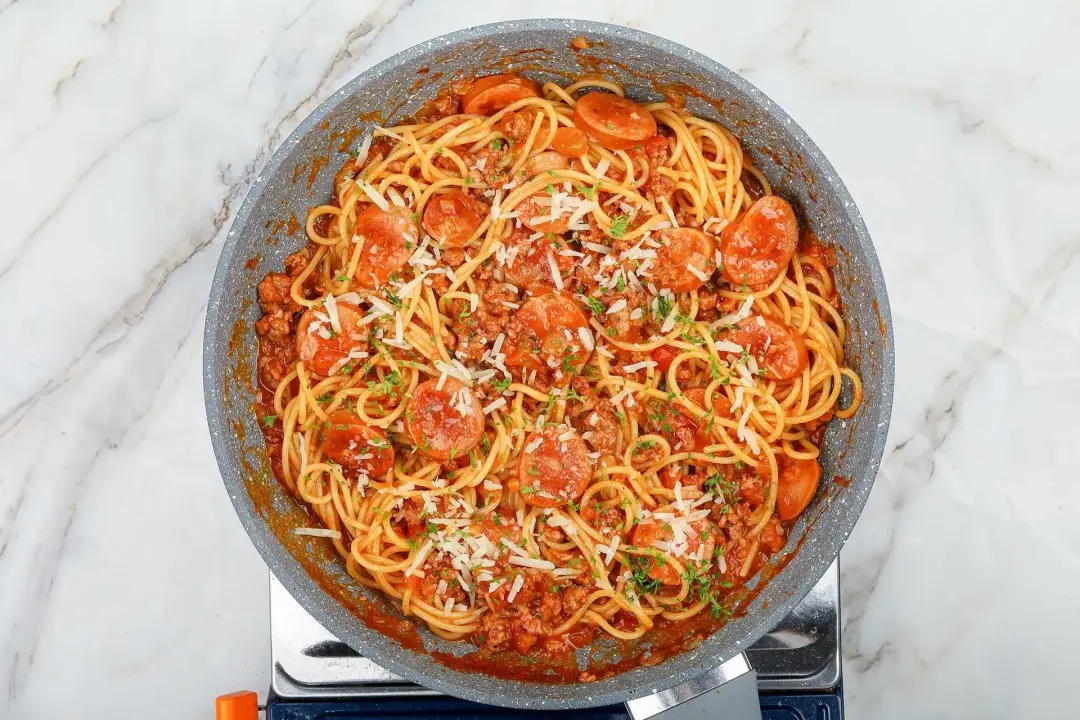 NUTRITION
Nutrition Facts
How to Make Spaghetti With Sausage
Amount Per Serving (1 serving)
Calories 500
Calories from FDA
% Daily Value*
* Percent Daily Values are based on a 2000 calorie diet.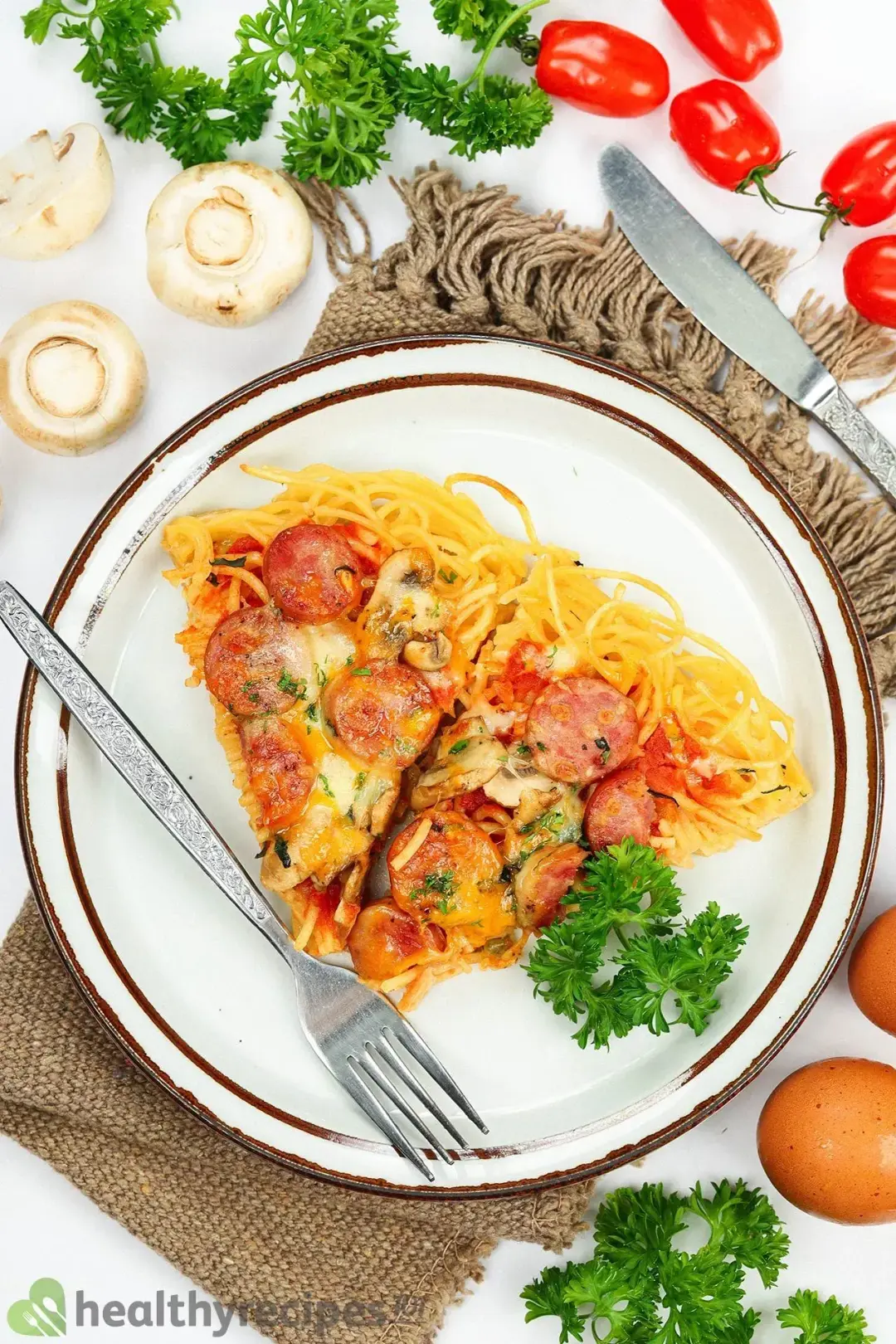 Previous Recipe
Spaghetti Pizza
Spaghetti Pizza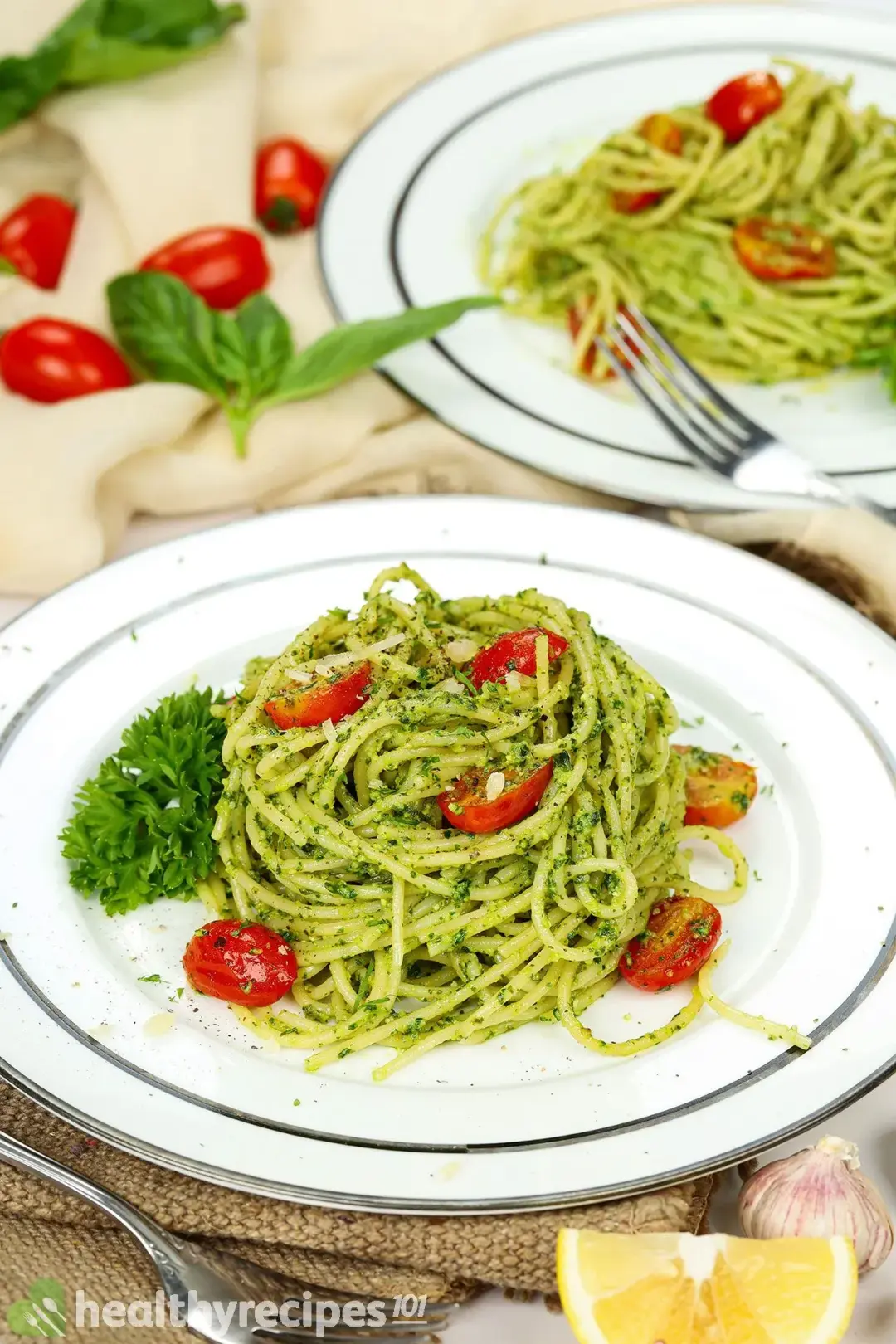 Next Recipe
Pesto Spaghetti
Pesto Spaghetti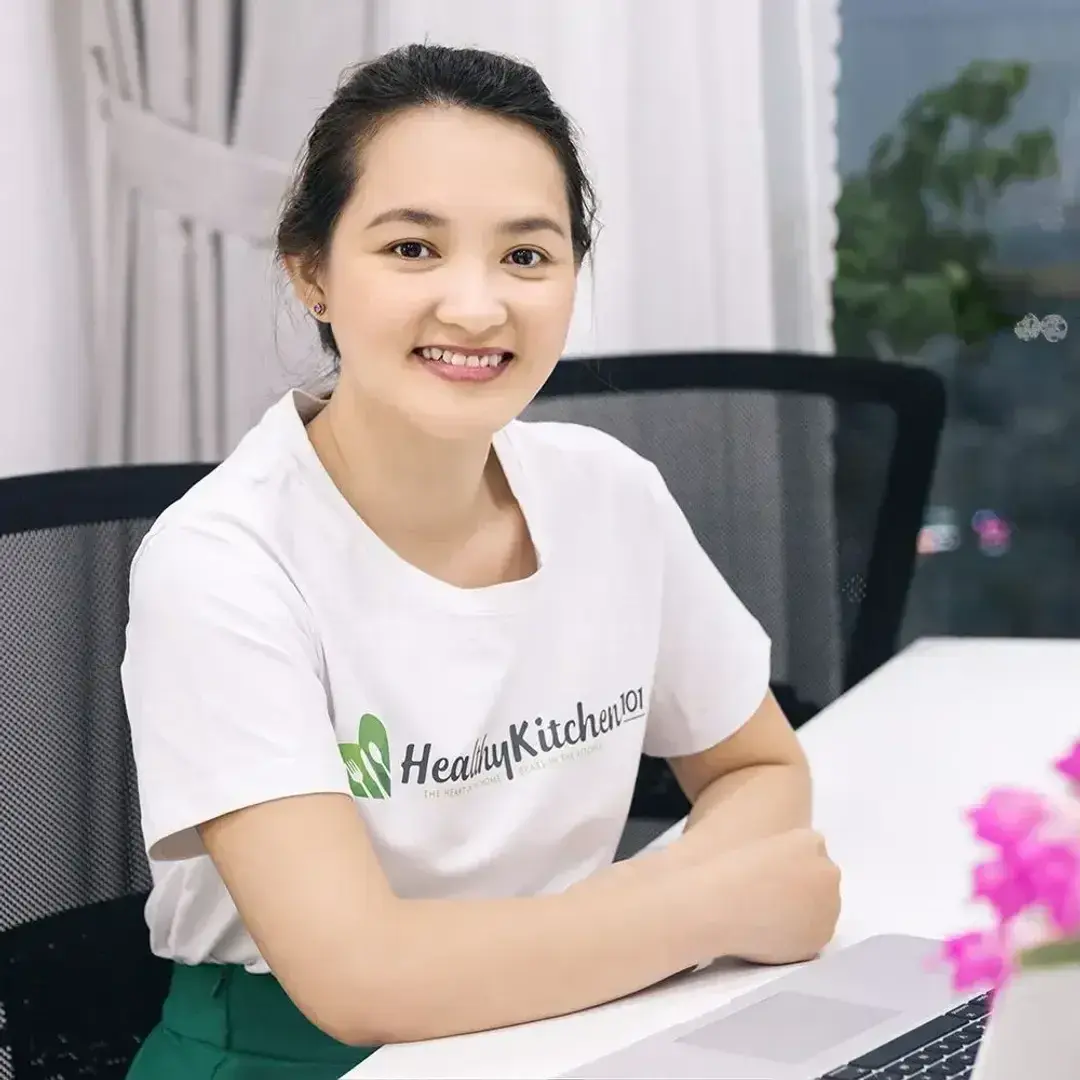 Luna Regina
Luna is the founder and chief recipe developer of Healthy Recipes 101. Apart from cooking, she also loves reading, programming, exploring the outdoors, and collecting useless facts about everything.