If you want to make Hawaiian pulled pork at home, this Instant Pot kalua pork recipe is just what you're looking for. It's juicy, smoky, flavorful, and it requires no fancy machine (or special construction) other than your pressure cooker.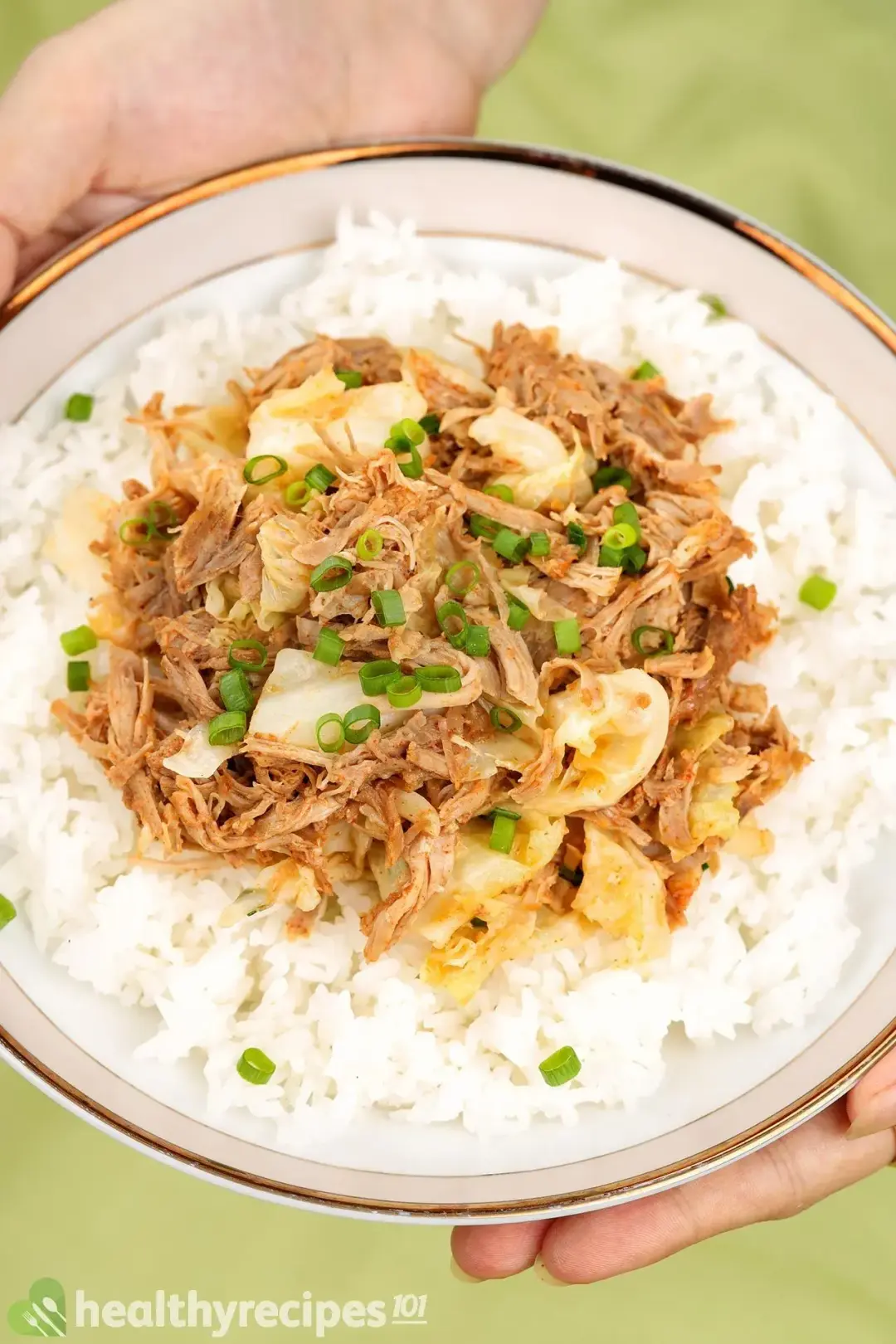 What Is Kalua Pork?
'Kalua' is a Hawaiian traditional cooking method that cooks food using an 'imu'; a special contraption people build to cook whole animals (usually pigs) for traditional festivals. How they're built is fascinating.
First, a fire is built by lighting firewood inside a pre-dug pit, into which more firewood and selected rocks are added. Once the rocks can't get any hotter, some of them are packed inside the pig, which is then placed on top of the heated rock pile.
However, the 'imu' won't be complete without this next and final step: the pig is then encased with leaves, trees, and some damp cloth. The heat is kept up for hours to cook the pig very slowly and the result is super-tender juicy pork.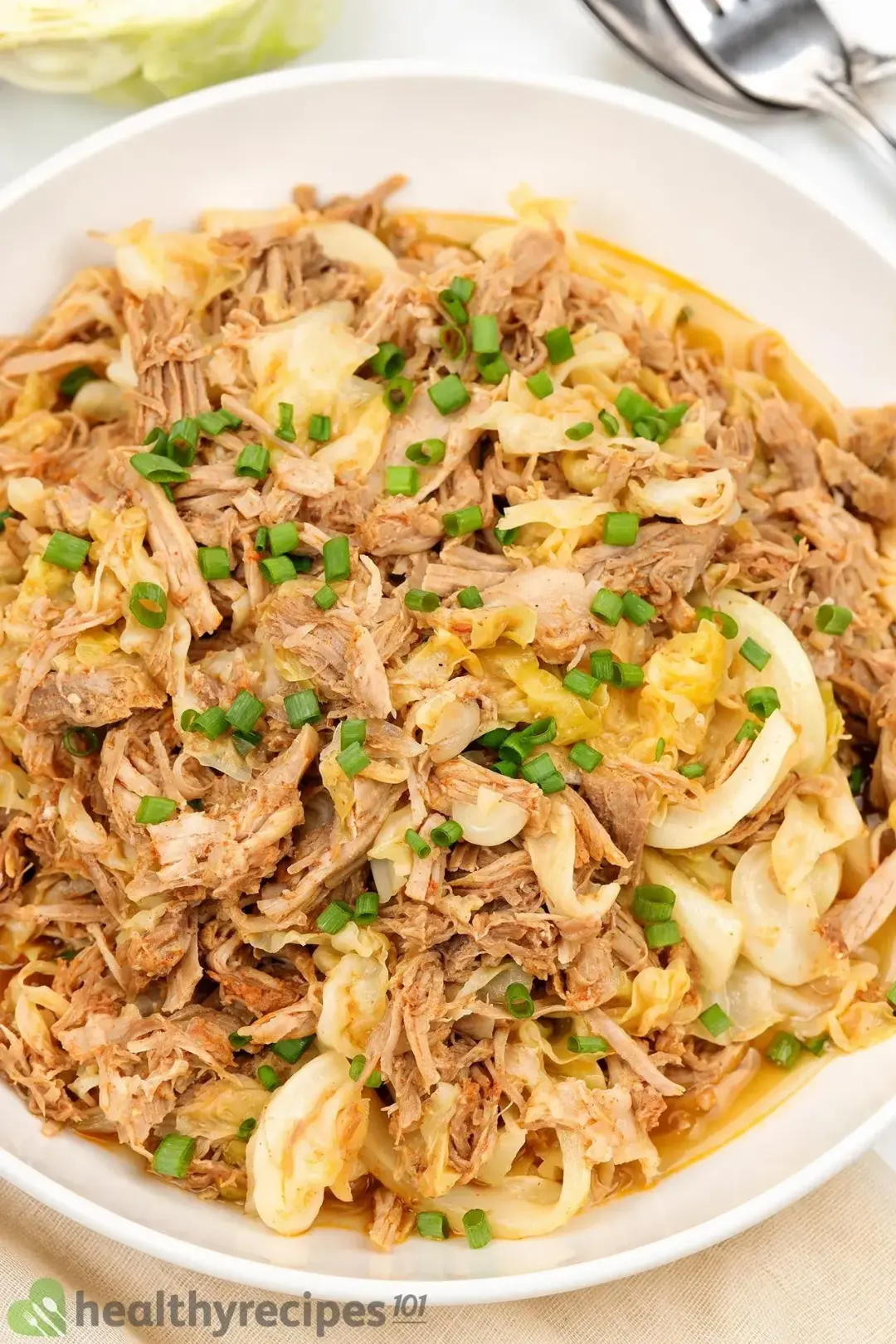 Since the traditional cooking method takes a long time, home cooks prefer to cook the pork inside their ovens or with their grills. However, we found that kalua pork cooked inside the Instant Pot turns out a lot juicier and tastier.
Is Kalua Pork Healthy?
Yes, Kalua pork is a relatively healthy dish. It packs plenty of lean protein (ours has 38.8 g per serving) and includes a lot of cabbage to up your fiber intake.
Packing your meal with protein just to meet your calorie needs isn't considered healthy eating, so we served the pork with cooked rice. Rice is considered a healthy carb that can make any meal more satisfying.
To keep sodium levels healthy and within the safe range, we used just a little Himalayan salt. It's a crucial nutrient, but experts found that overconsuming it leads to serious health conditions relating to the heart.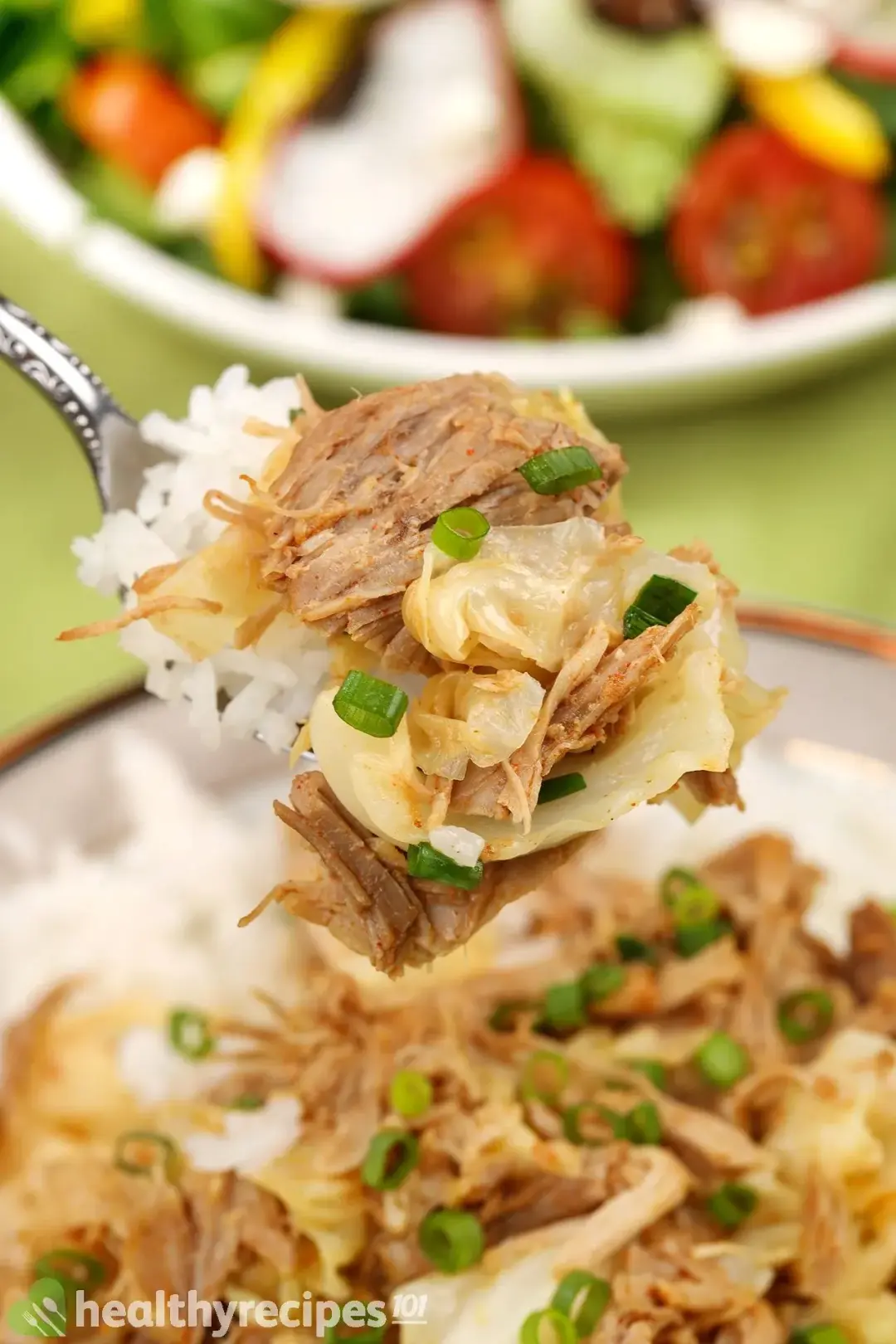 Ingredients for Instant Pot Kalua Pork
Pork: You might think tender meat cuts are a good choice for this recipe, but let us tell you why tougher cuts are better. Homemade kalua pork is usually cooked slowly in the oven, but our Instant Pot kalua pork recipe uses a pressure cooker. It melts and turns the connective tissues inside the tough cuts into gelatin, making the meat a lot softer and tastier. That's why you need to save whatever expensive cuts you have on hand like tenderloins or pork chops for other dishes. Instead, choose pork shoulder or butt for this recipe. Once your pork is ready, cut it into about five pieces and poke it to create little 'pockets'. You're going to stuff garlic inside these pockets, allowing the garlic flavor to penetrate the meat better.
Seasoning: As mentioned before, what makes kalua pork different is the use of pink salt, or Himalayan salt. It tastes like regular salt, but it has a unique sulfurous aroma that enhances the flavor of the smoky meat. Since we're not smoking our meat, the next ingredient is a crucial one: liquid smoke. Compared to the real thing, it's a sure-fire time saver. Finally, add some paprika — three seasonings for one dish. Feel free to adjust the amount of paprika to your liking.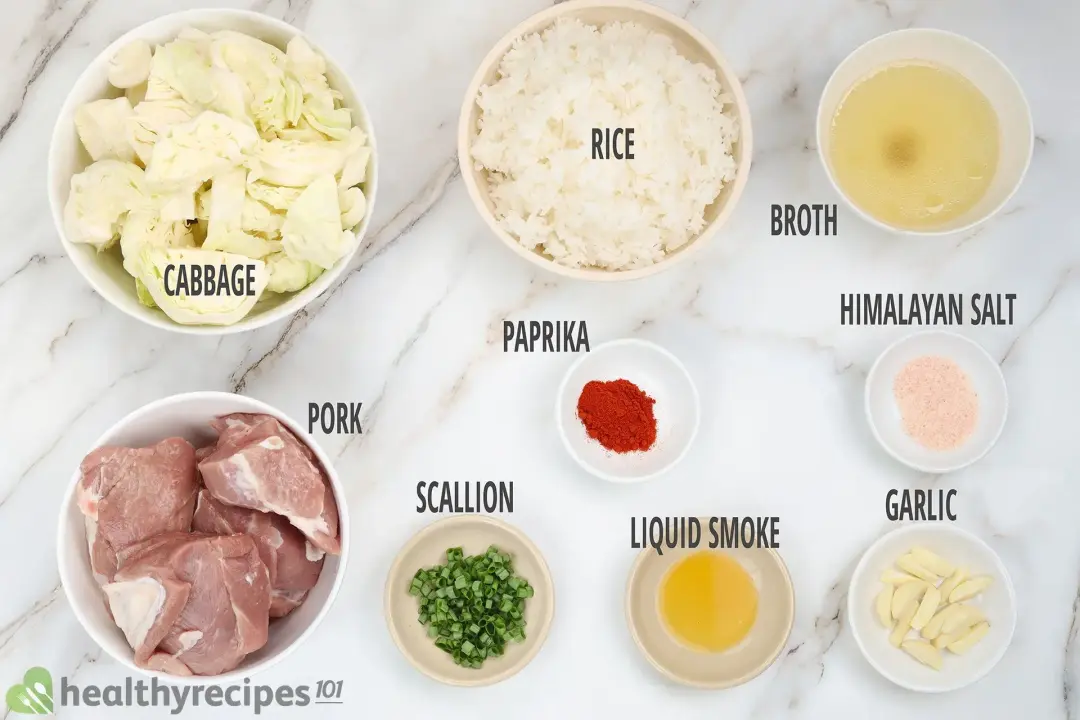 Chicken Broth: A little liquid is crucial when pressure-cooking as it prevents the bottom of the meat from burning. You can use plain water if you want, but we thought you'd appreciate the savoriness of chicken broth.
Cabbage: Although not traditionally called for, cabbage brings lightness and texture to the dish. When the meat had finished cooking, we added the cabbage. Doing this now will allow the cabbage to cook in the meat juice and absorb all of the delicious flavors.
Rice: Kalua pork is traditionally served with a lot of side dishes, but we think rice pairs with it perfectly. The meat will spend 45 minutes in the pot — the perfect amount of time to cook up some rice. Finally, before serving the rice, we sprinkled a good amount of chopped scallions on top for some freshness.
How to Make Kalua Pork in the Instant Pot
Place garlic into each piece of pork.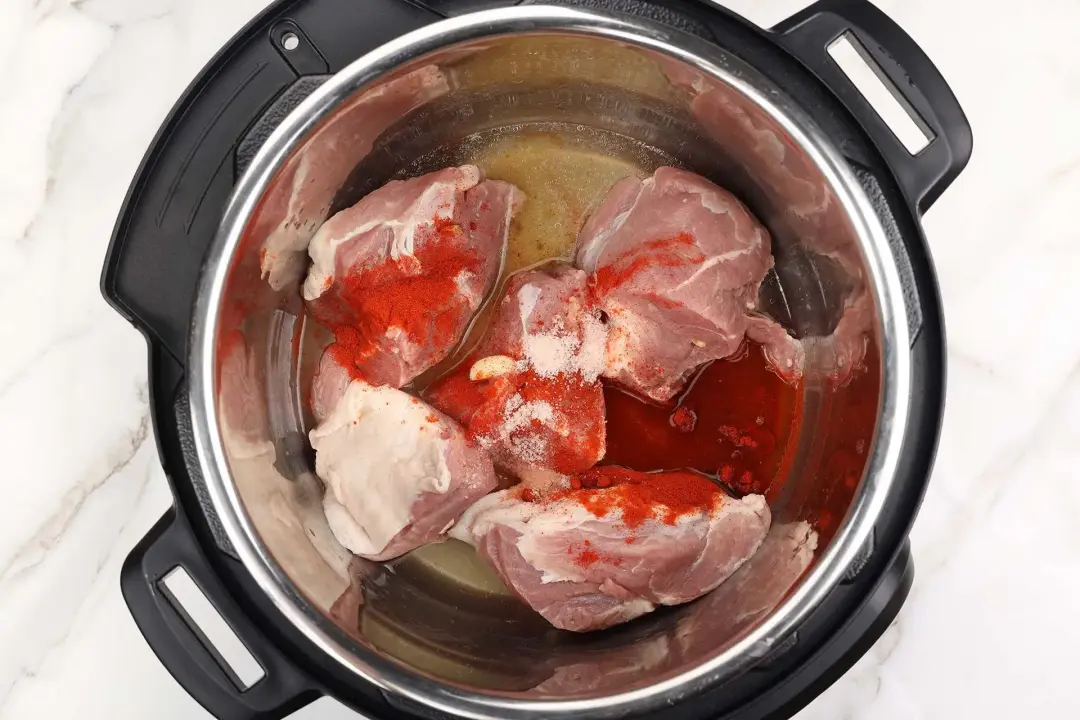 Pressure-cook the pork with the seasonings.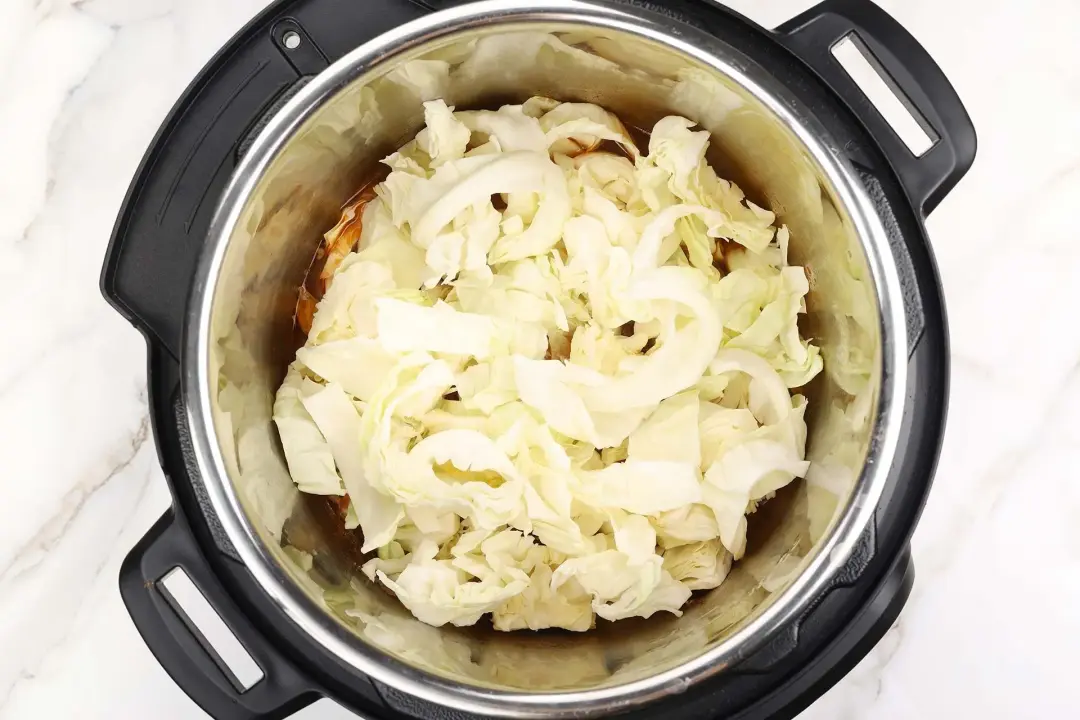 Cook the cabbage in the meat juice.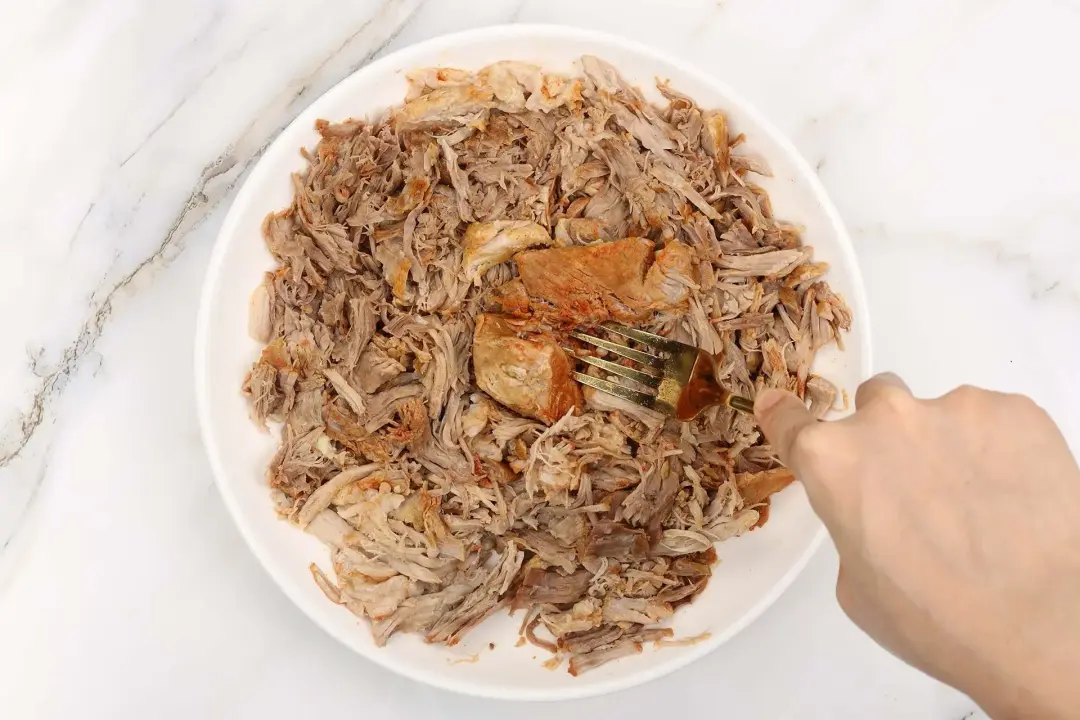 Shred the pork.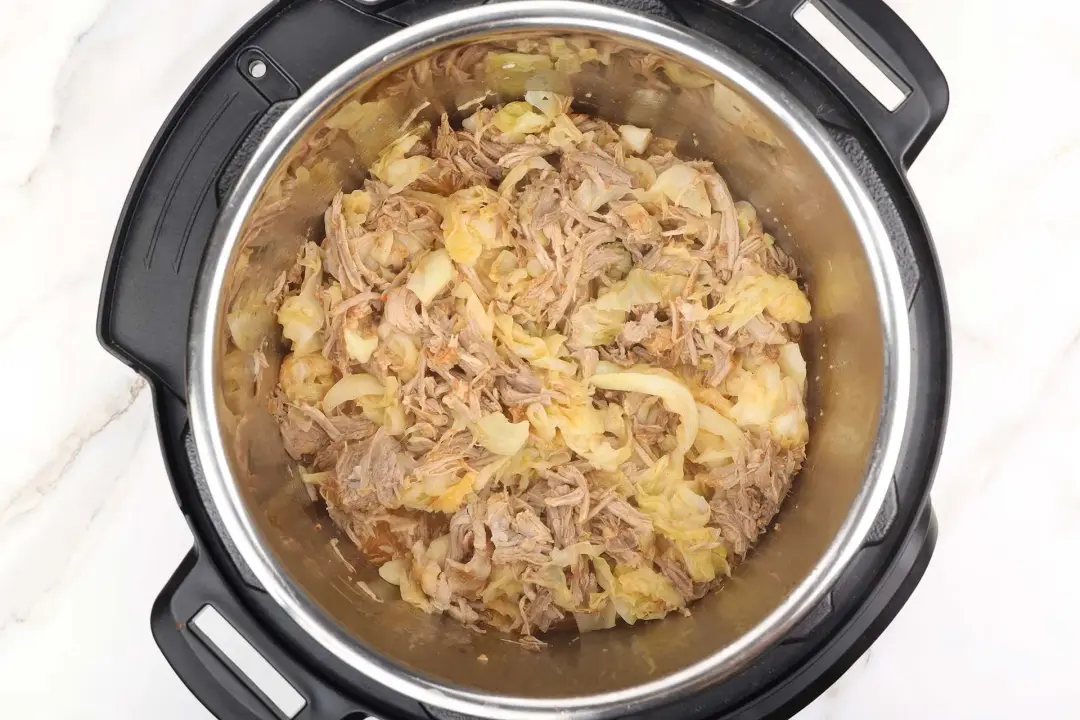 Stir everything together.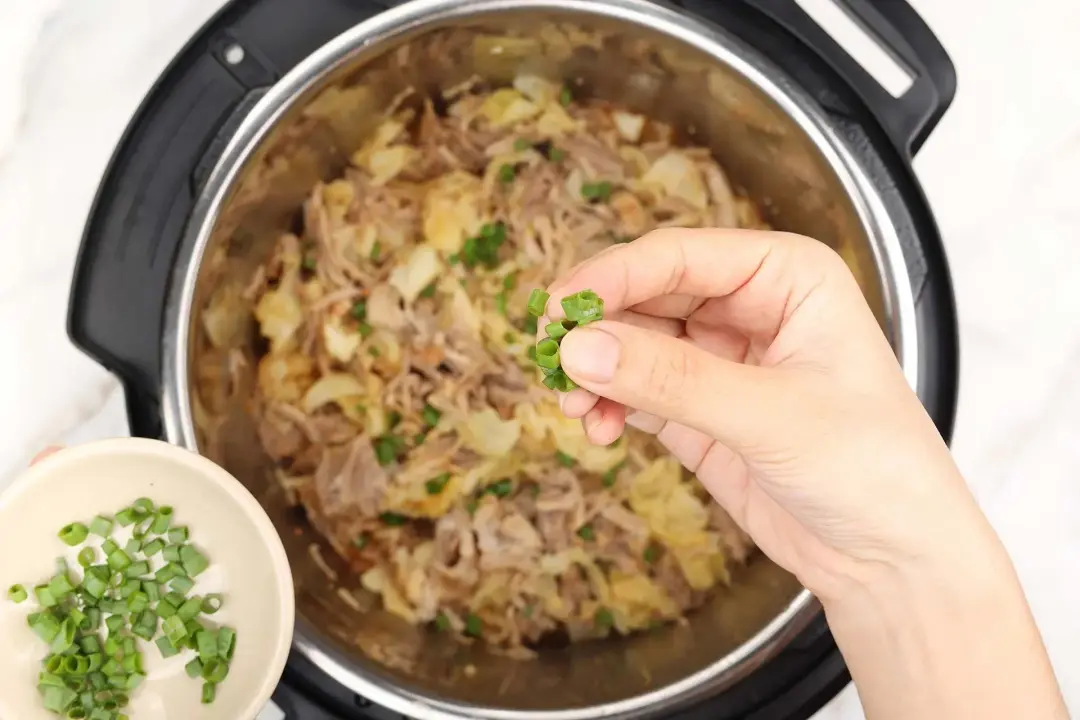 Sprinkle chopped scallion on top to garnish.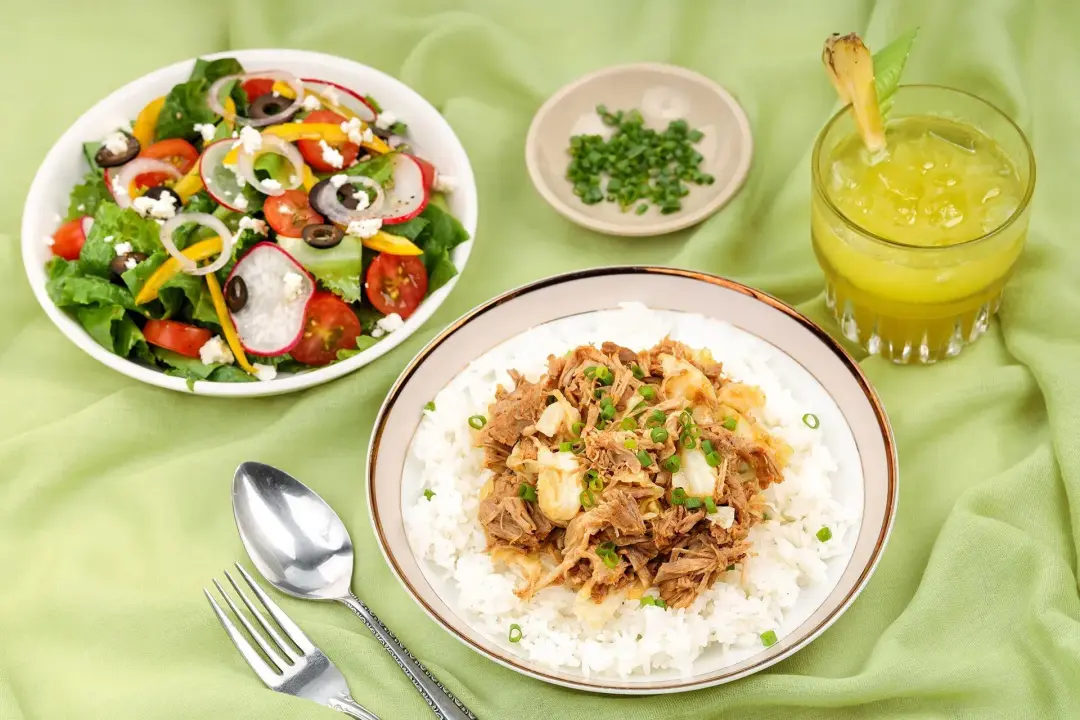 Serve the meat with rice
For measurements, timings and other details, refer to the Instant Pot kalua pork recipe card below.
How to Store and Reheat Leftover Kalua Pork
For any portions that you want to eat within a week, store them in the fridge, and keep the remaining in the freezer. They'll last for up to 3 months once frozen.
Of course, you need to place the leftovers in an airtight container before storing. A Ziploc bag will work just fine.
To reheat, place the meat and cabbage mixture in a saucepan along with some water (1 tbsp per serving). Heat it over medium heat and try to break it up as you stir it. Once it's simmering, it's ready to serve.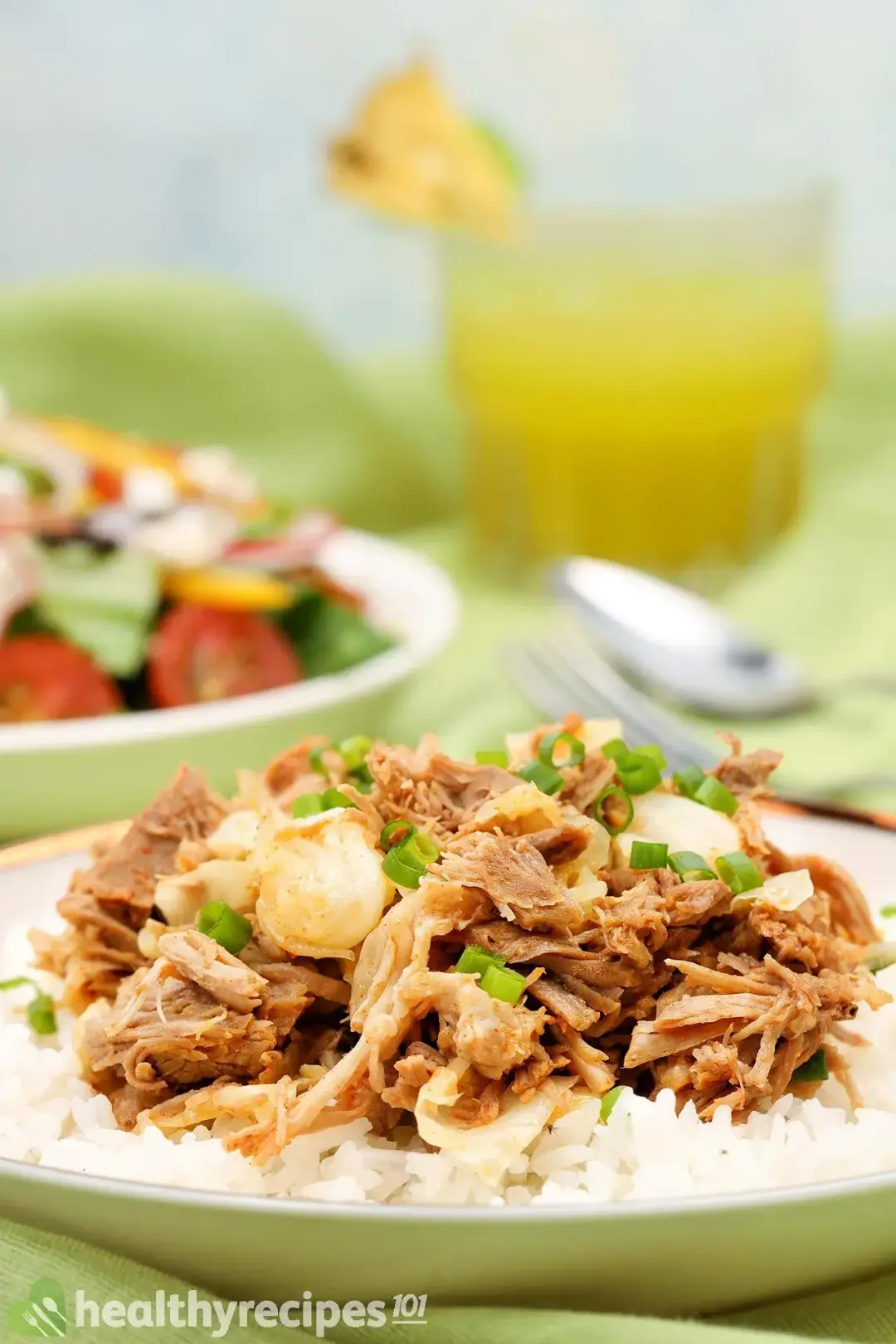 What to Do With Leftover Kalua Pork
You can always serve it with leftover rice, of course, but we have some other ideas:
1. Kalua Pork Tacos
Whip up some salsa and bake some taco shells, and you can assemble yourself some juicy pulled pork tacos. Perfect for a quick weekday dinner.
2. Kalua Pork Sandwiches
On the other hand, you can sandwich it between two burger buns to make tasty pork sliders. Or sautée it with some onions and bell peppers and fill your breakfast burritos with it.
What to Serve With Instant Pot Kalua Pork
Our tangy Greek salad and sweet pineapple-celery drink balance out the savoriness of the pork. Together, they make a wholesome meal that's about 850 calories: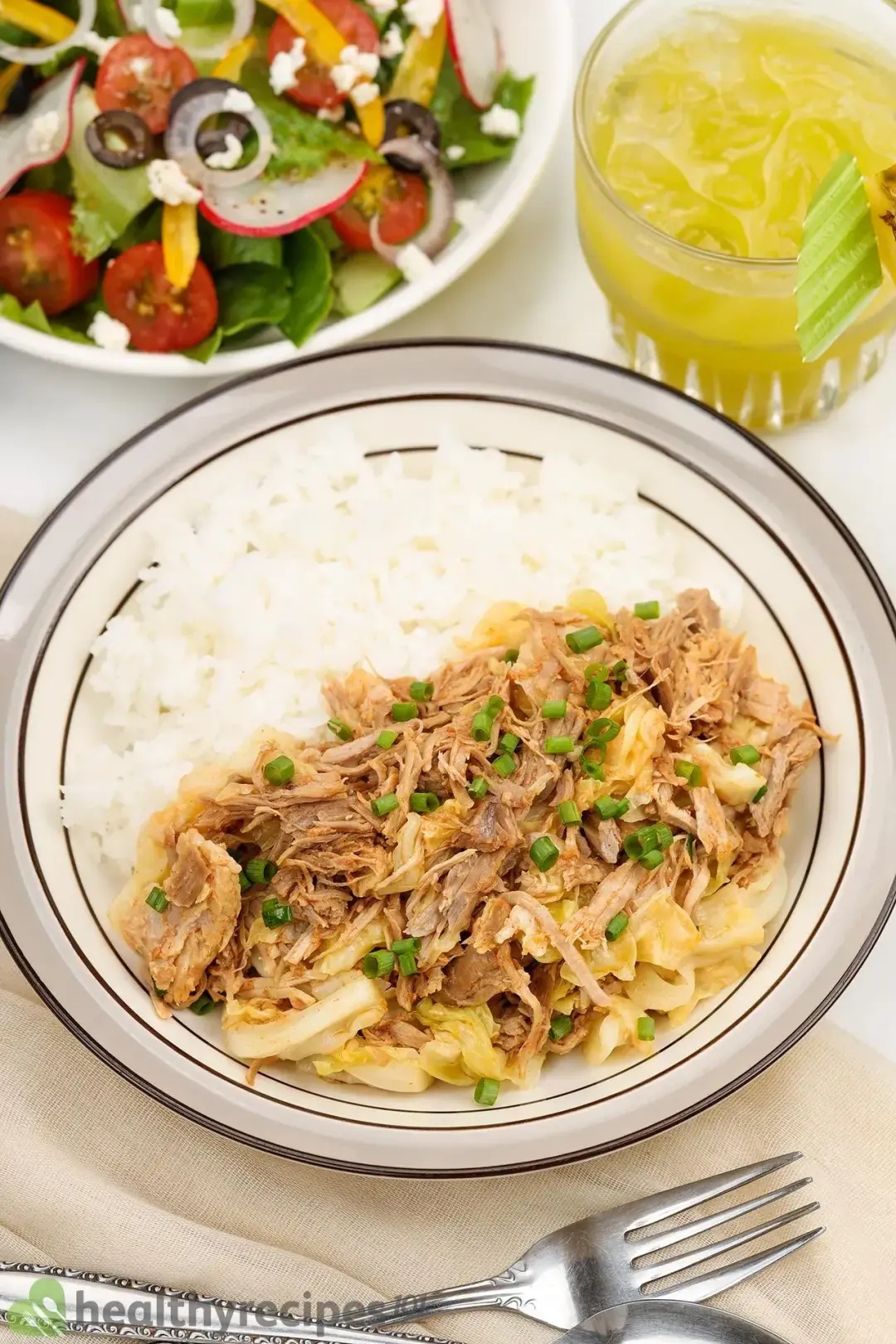 If you want more delicious instant pot recipe, check out this easy dinner instant pot roundup and best of instant pot pork recipes.
Instant Pot Kalua Pork Recipe
This Instant Pot kalua pork recipe will take an hour, but most of it is easy and hands-free.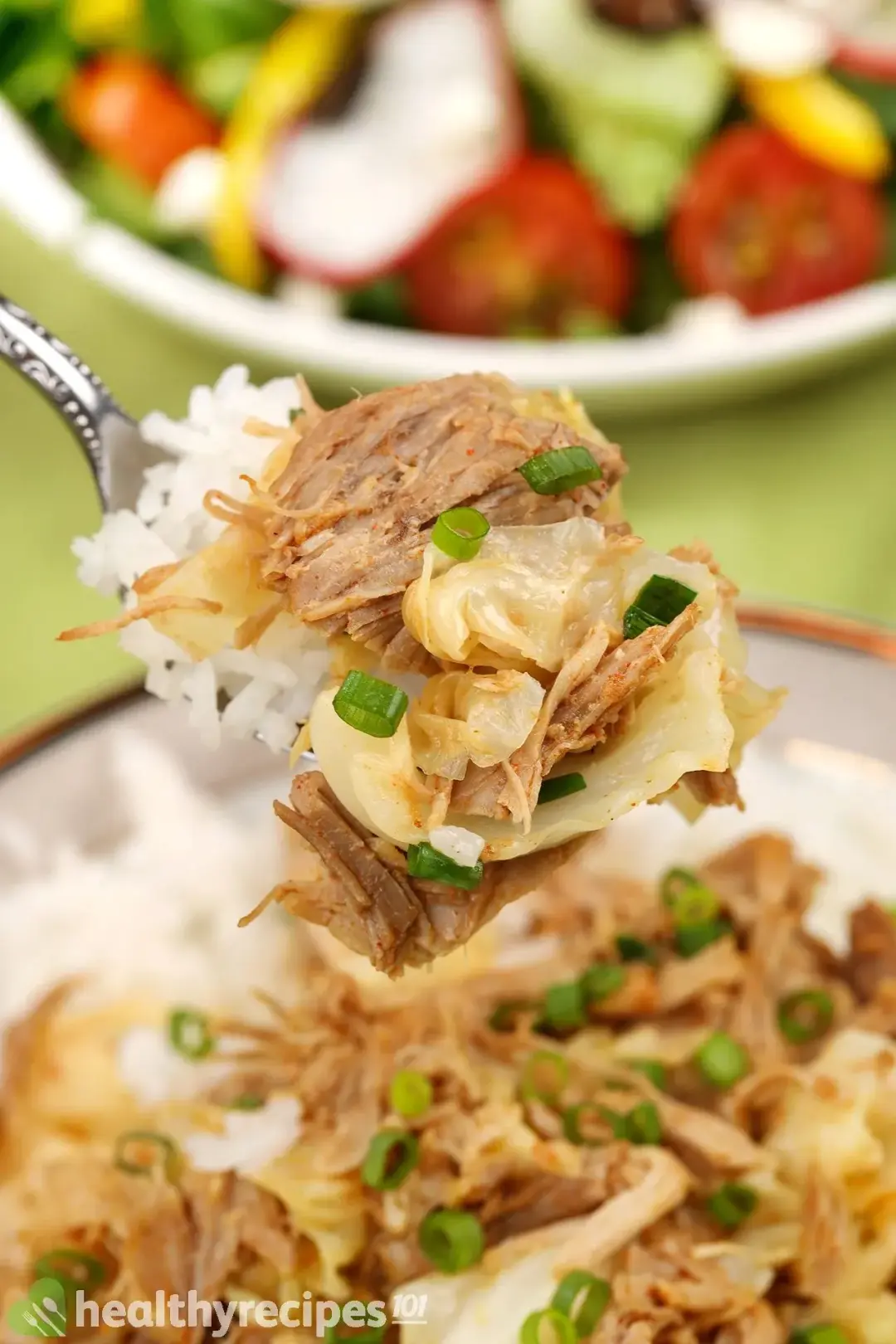 cook TIME

50 mins

prep TIME

5 mins

total TIME

55 mins
COURSE

Main Course

CUISINE

American, Hawaiian

SERVINGS

servings

CALORIES

503 kcal
INGREDIENTS
24 oz

lean pork shoulder cut into 5 or 6 pieces

5 cloves

garlic quartered

0.5 cup

unsalted chicken broth

0.8 tsp

Himalayan salt

1 tsp

paprika

1 tsp

liquid smoke

12 oz

green cabbage cut into bite-sized chunks

2 tbsp

scallion chopped

3.5 cups

cooked medium-grain rice
INSTRUCTIONS
1
Poke each piece of pork shoulder to create small pockets (3 or 4 pockets per piece) and stick a piece of garlic into each pocket. Repeat until all of the pieces have garlic in them.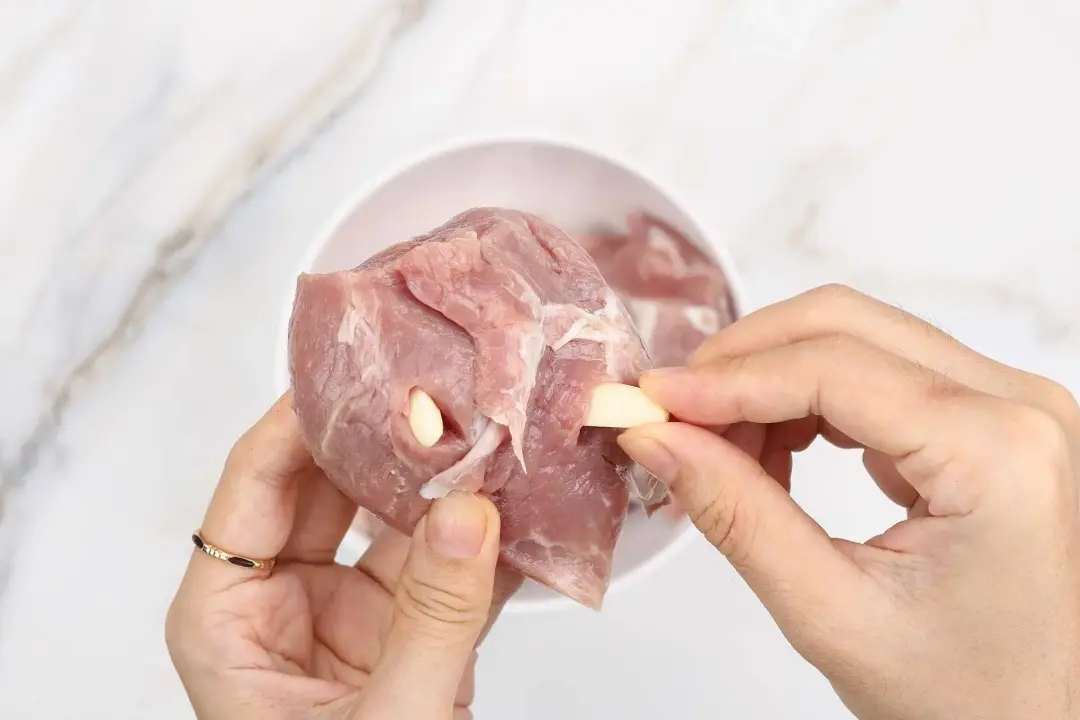 2
Add the pork into the Instant Pot with 1/2 cup broth, 3/4 tsp Himalayan salt, 1 tsp paprika, and 1 tsp liquid smoke. Close the lid, turn the steam handle to 'sealed', select 'meat stew' mode, adjust the timer to 45 minutes, and let the machine cook.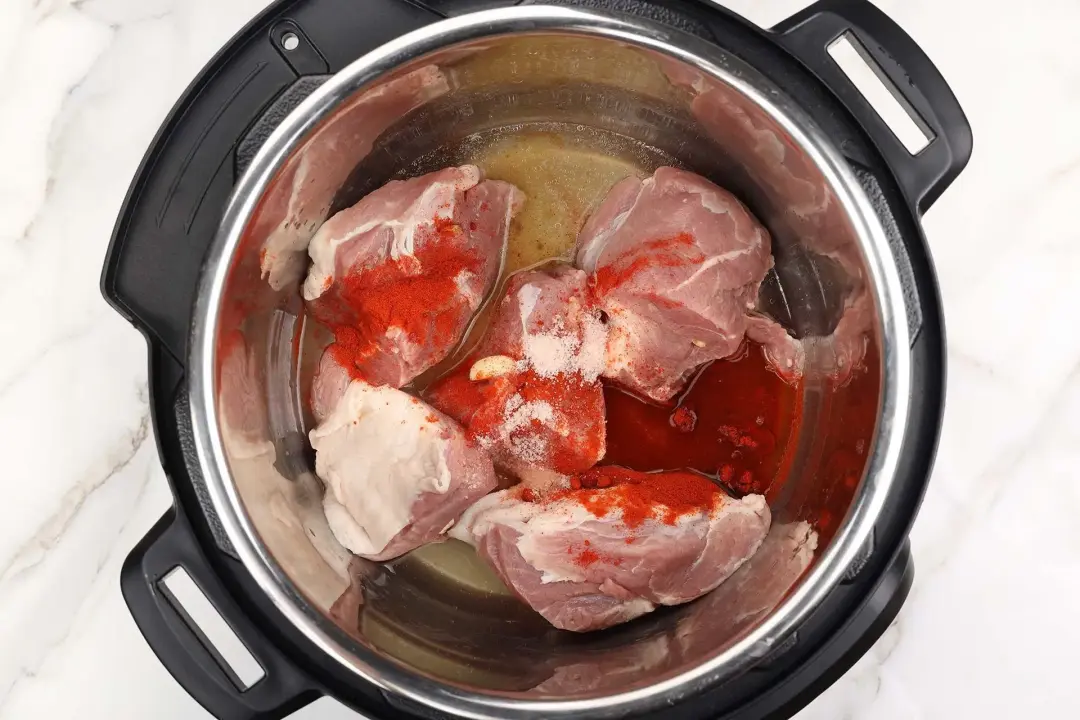 3
Place a kitchen rug onto the steam handle and use a spoon to switch it to 'venting'. Carefully open the lid, put the meat into a bowl, and add 12 oz cabbage to the pot. Select 'sauté' mode and allow it to cook for 10 minutes.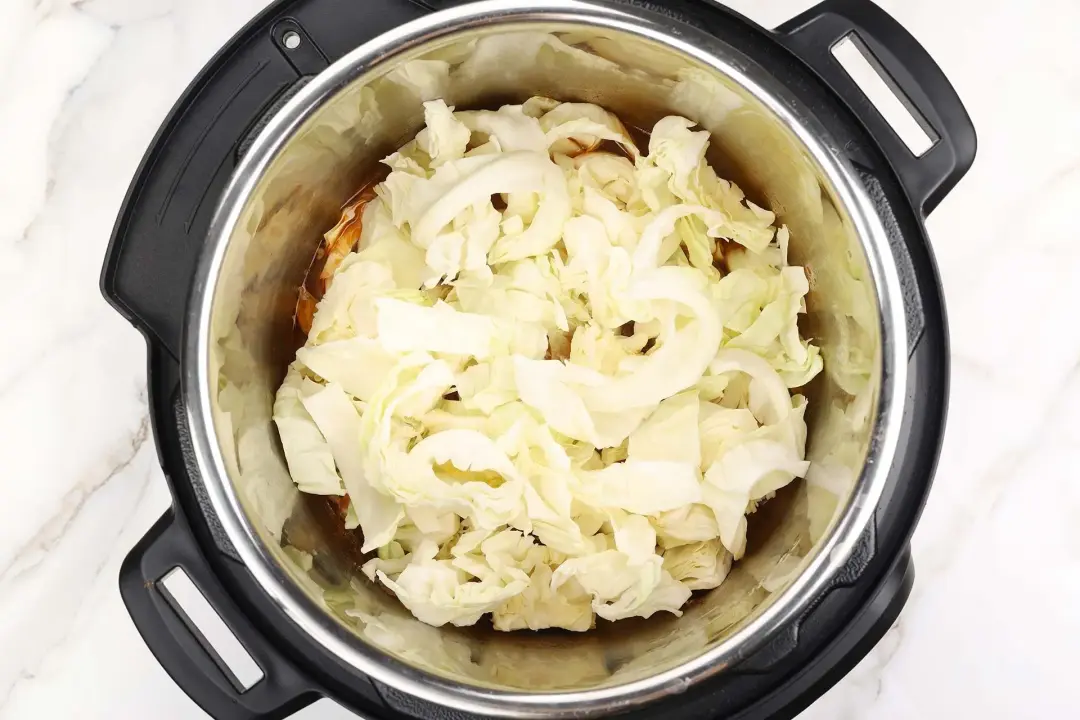 4
Meanwhile, use two forks to shred the cooked pork.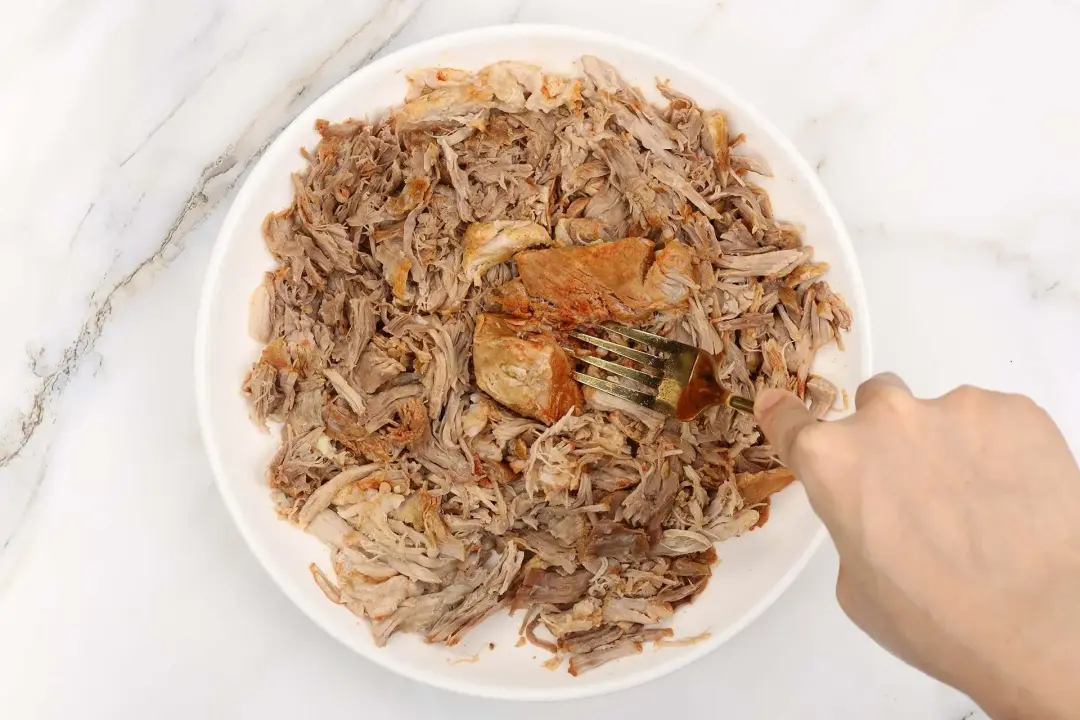 5
As the cabbage finishes cooking, add the meat back and stir everything together.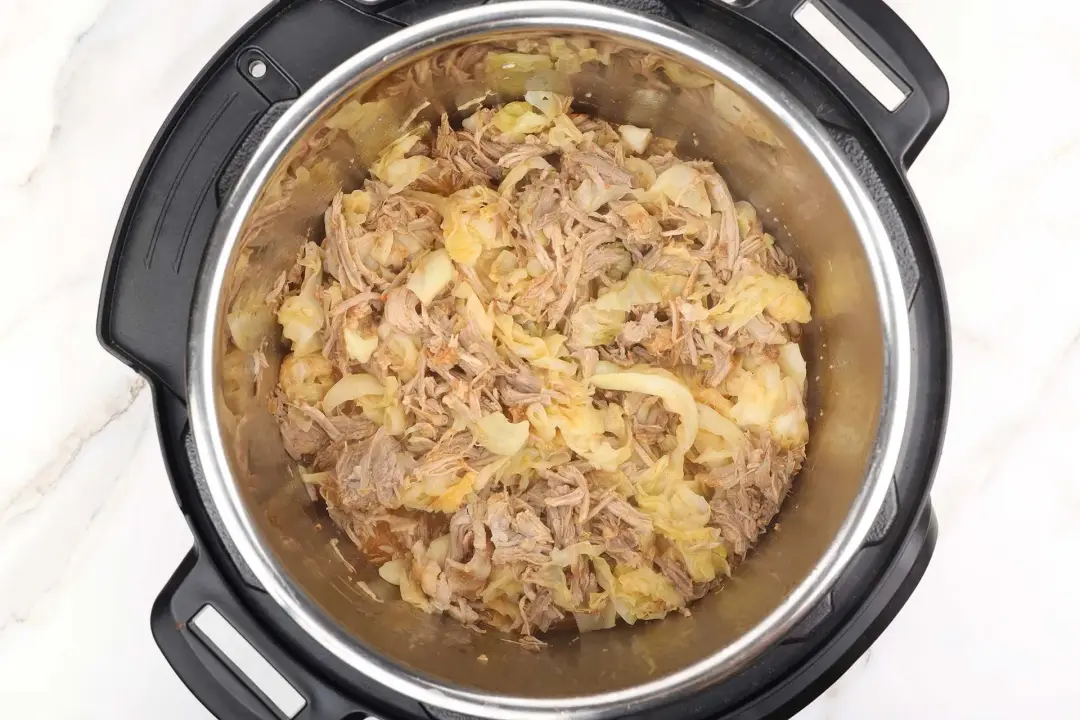 6
Sprinkle chopped scallion on top to garnish.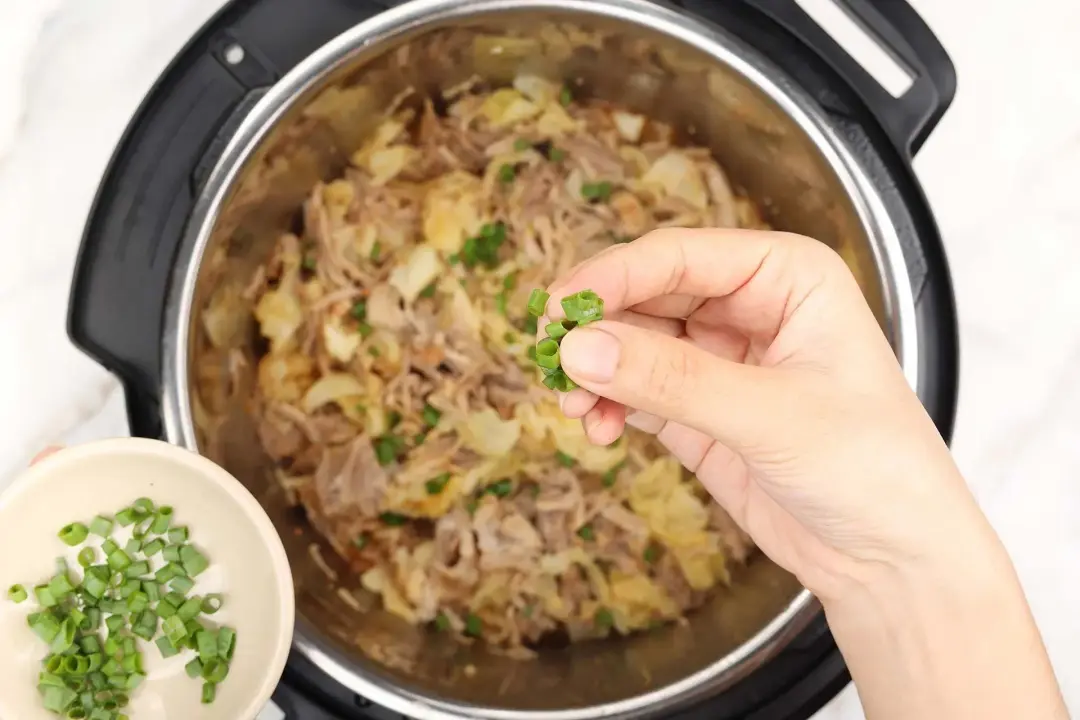 7
Serve the meat with rice.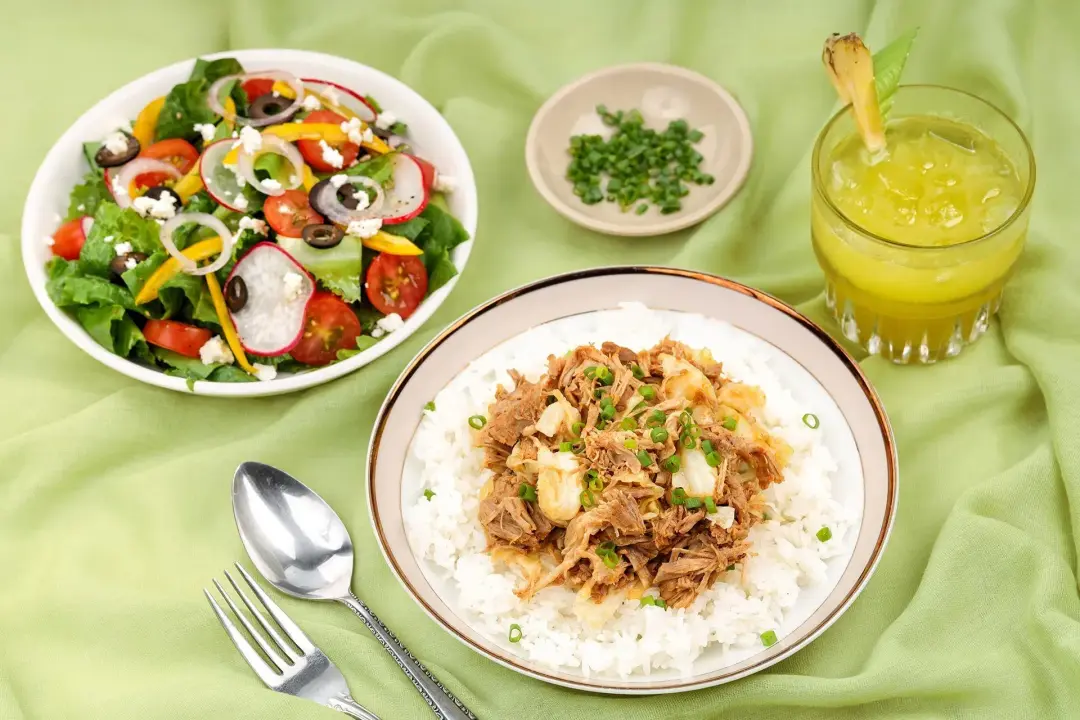 NUTRITION
Nutrition Facts
Instant Pot Kalua Pork Recipe
Amount Per Serving (1 serving)
Calories 503
Calories from FDA
% Daily Value*
* Percent Daily Values are based on a 2000 calorie diet.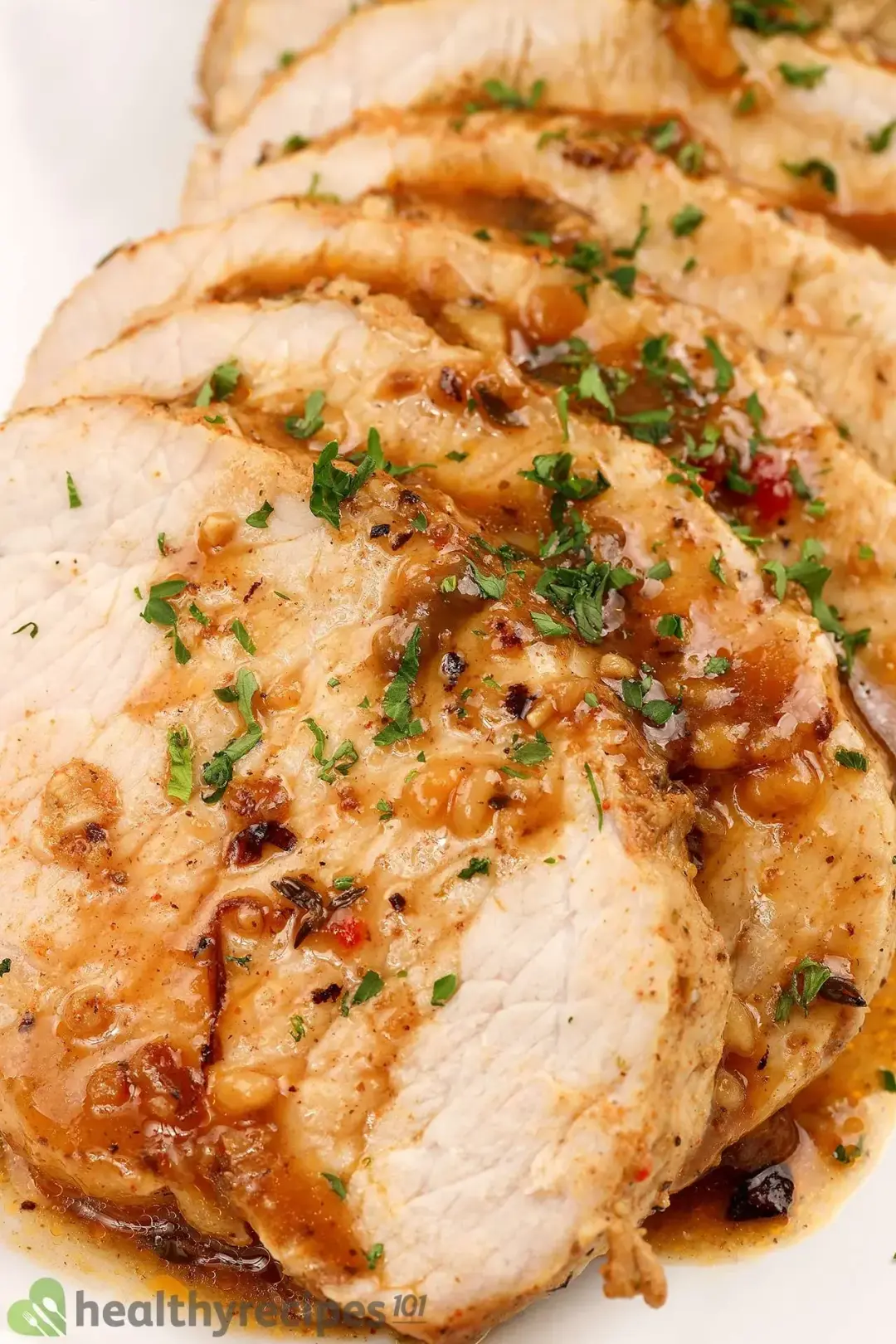 Previous Recipe
Instant Pot Pork Loin
Instant Pot Pork Loin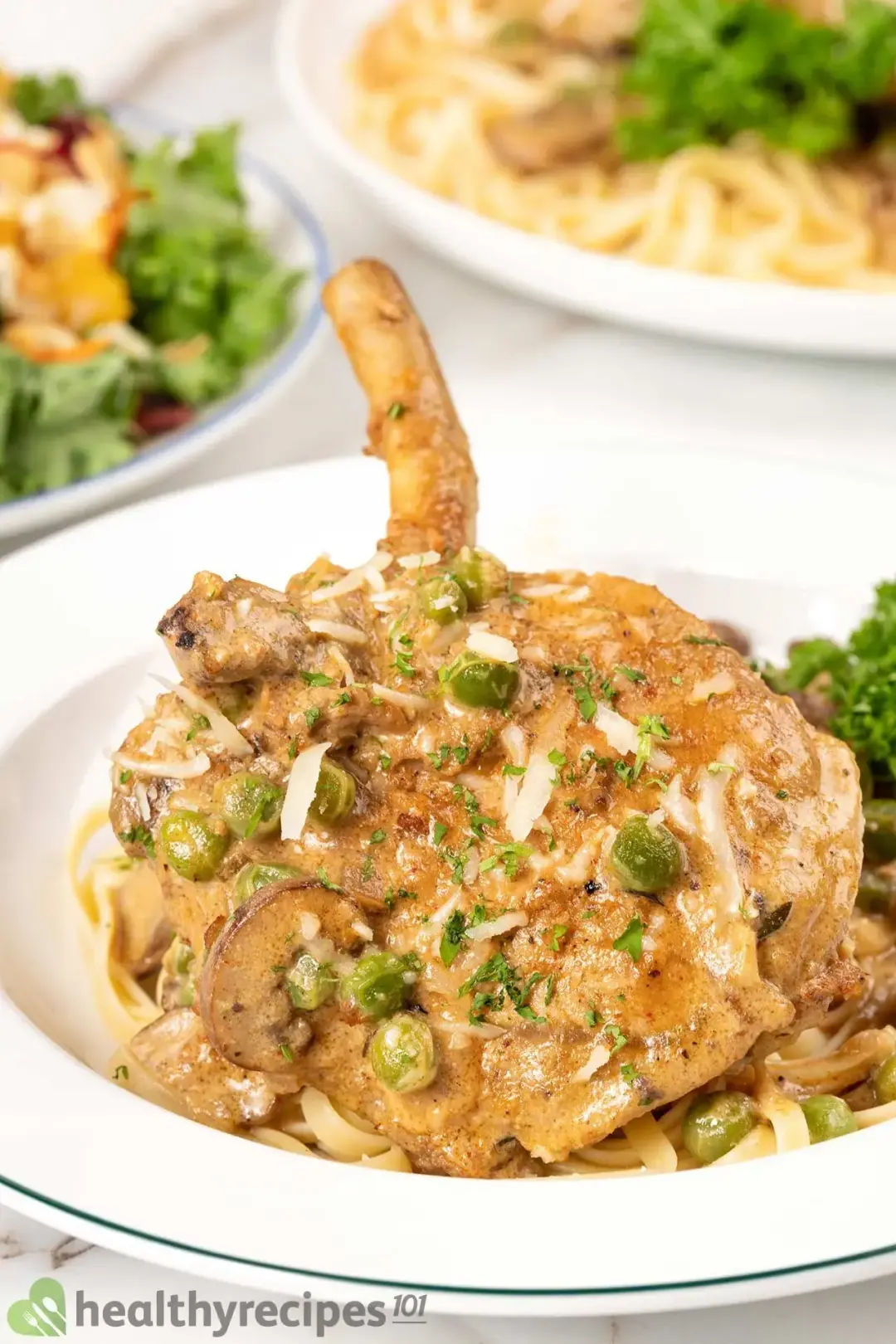 Next Recipe
Instant Pot Pork Chops
Instant Pot Pork Chops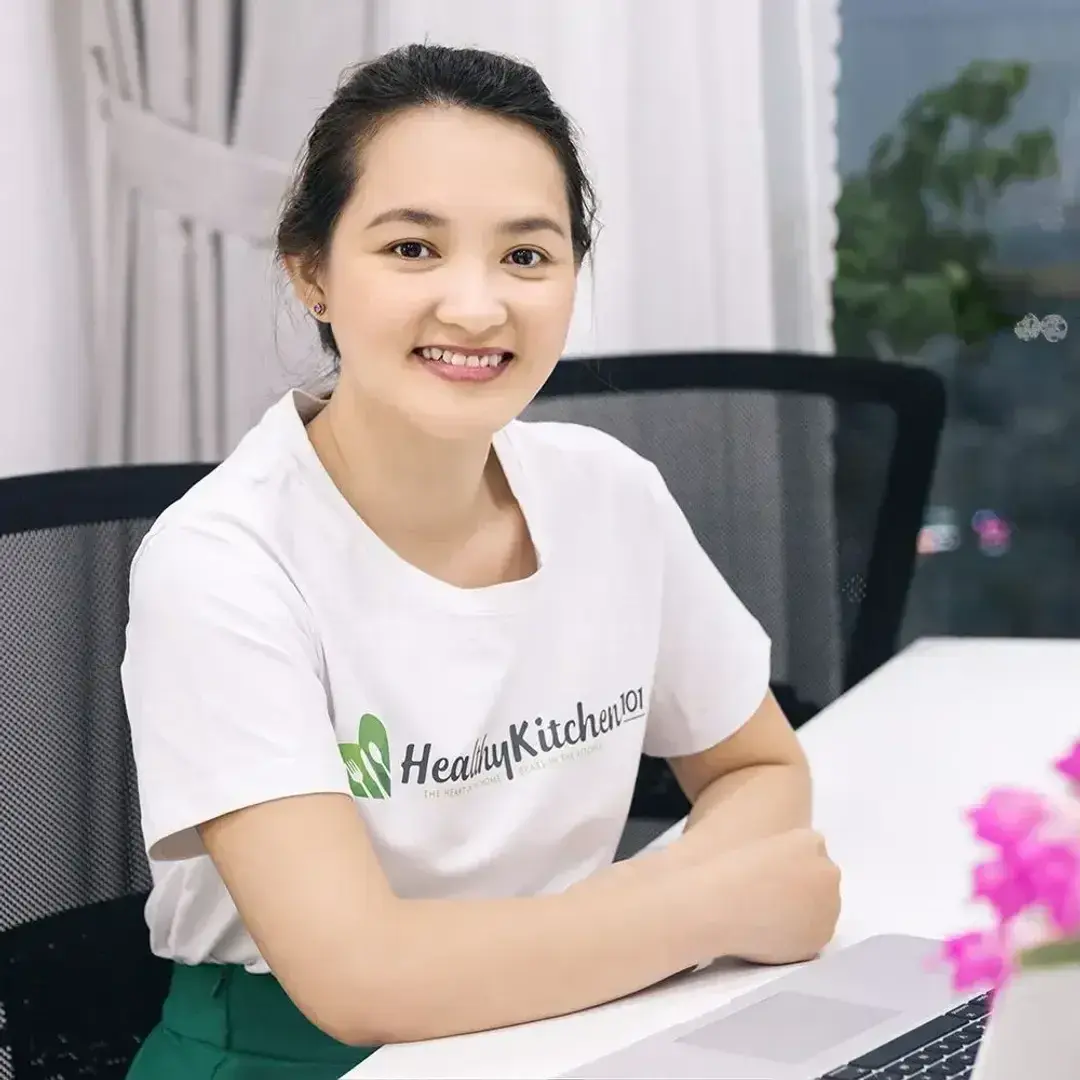 Luna Regina
Luna is the founder and chief recipe developer of Healthy Recipes 101. Apart from cooking, she also loves reading, programming, exploring the outdoors, and collecting useless facts about everything.