Today's Instant Pot pork carnitas recipe introduces you to a Mexican dish with tender, pulled meat. Before we start, let's dig into some facts and learn more about this dish.
Barbacoa vs Carnitas: What Are The Differences?
If you've never had carnitas or barbacoa, then they may seem very similar because they both look like shredded meat. However, there are a few things that differentiate them.
"Barbacoa" means "barbeque" in Spanish and it refers to a Mexican method of slow-cooking meat. "Barbacoa" can also be the name of the meat and dish itself.
Traditionally, to make barbacoa, you need to roast whole pieces of lamb or goat slowly in an underground pit. The pit is covered with maguey leaves to trap the heat inside and maintain the cooking temperature for several hours.
Nowadays, barbacoa can be made in a modern kitchen by using a slow or pressure cooker. In addition, many cooks prefer using beef or pork instead of goat because they are more commercially available. 
Carnitas, on the other hand, is traditionally made with pork shoulder and doesn't require a special underground pit to cook.
With both carnitas and barbacoa the meat is either chopped or shredded into smaller pieces and served with tortillas and condiments.
Meat drippings from barbacoa are made into a broth and served alongside for diners to dip the meat. However, with carnitas, the meat juice is reduced and mixed with the shredded meat to let it absorb all the flavors.
Differences aside, we can all agree that these two Mexican staples are both delicious.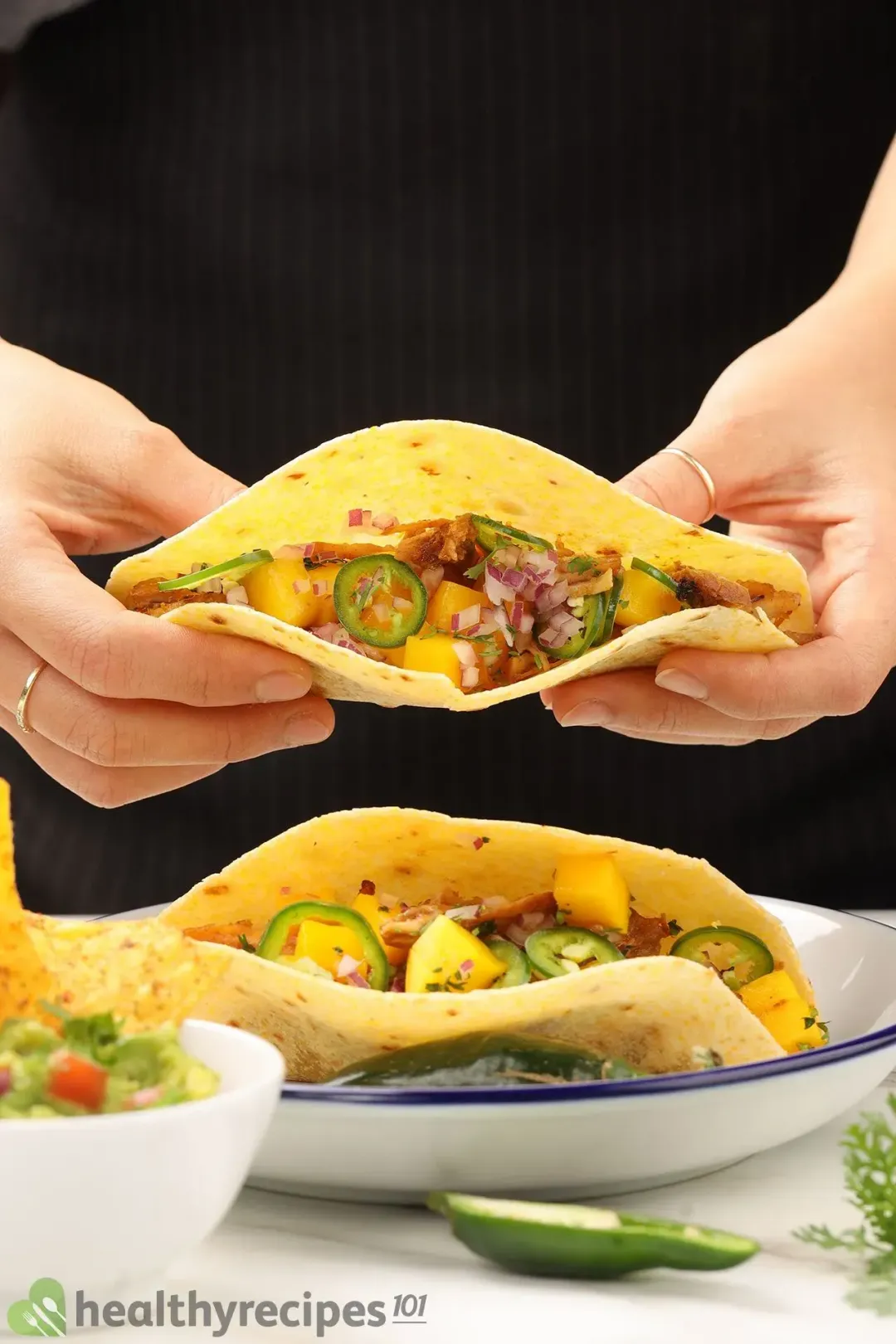 If you want to give it a try, check out our Instant Pot barbacoa recipe. And, similar to barbacoa, we also have an Instant Pot pulled pork recipe that you may like so come check it out!
Now let's get back to today's pork carnitas recipe.
Is This Carnitas Recipe Healthy?
Yes, our Instant Pot pork carnitas recipe is healthy. Here's why:
We're serving the carnitas in tortilla shells to make little tacos with fresh toppings. The tacos may taste a bit sweet, but they don't contain any added sugar.
In fact, we're adding ripe mangoes to our tacos. Their sweet and tangy flavor will freshen up your taste buds and stimulate your appetite.
Our carnitas is low in fat and calories because we're using pork shoulder, which is a fairly lean cut (containing 7 grams saturated fat per 4 oz). We recommend trimming any excess fat off the meat to minimize your fat intake.
Cheese may be tasty, but it's high in fat, calories, and sodium. For that reason, we're not using any cheese in this recipe.
In the end, one serving of our pork carnitas tacos contains:
503 calories: It may seem only enough for your body to function, but don't worry, we're serving it with a side dish to make you feel full and provide more calories for your body.
8.6 g of saturated fat.
430 mg of sodium.
Of course, our recipe is only a guide for you and you can customize it to your preference. If you do, refer to our healthy eating guidelines to make sure you don't exceed your recommended intakes.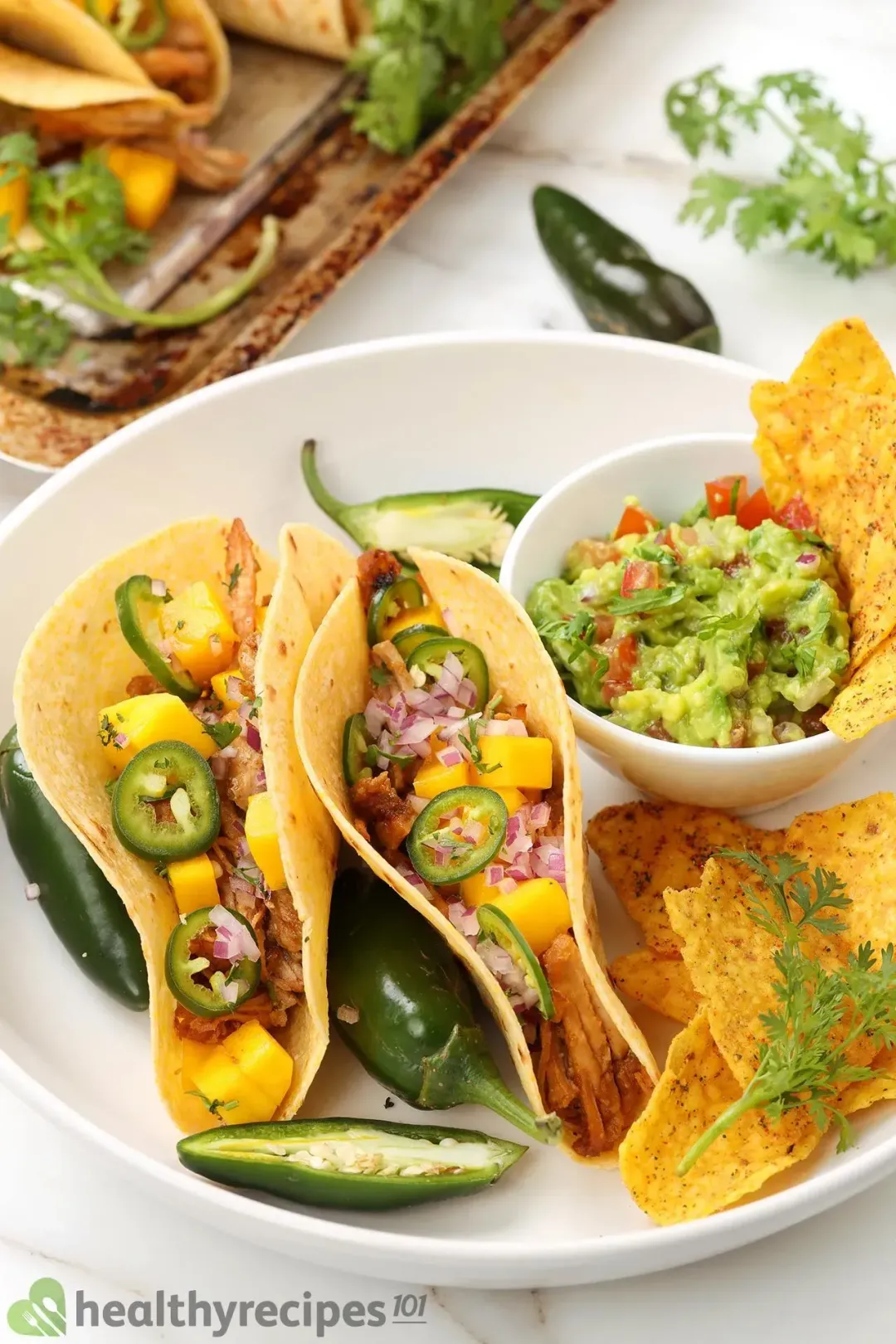 Main Ingredients for Instant Pot Pork Carnitas
Here are the main ingredients for today's Instant Pot pork carnitas recipe:
Meat: As mentioned, pork shoulder is the main source of protein for today's recipe. We're going to sear it lightly with olive oil before cooking it until it's tender and falling apart.
Broth: We're using a combination of lime juice, orange juice, and unsalted chicken broth to slow-cook the pork.
Tortillas: We're using 6-inch corn tortillas sheets to make carnitas tacos.
Taco toppings: We're using fresh mangoes, sliced jalapeño, red onions, and cilantro.
Seasonings for Carnitas
Here are the spices and condiments we used to season the pork:
Spices: Paprika, ground cumin, salt, and pepper.
Herbs: We're using dried oregano and freshly minced garlic for today's recipe.
Dijon mustard: This may seem like an unconventional ingredient in a pork carnitas recipe, but it will work. You will barely notice its pungent, vinegary aroma, but its acidity helps balance the sweetness of the broth.
How to Make Pork Carnitas in an Instant Pot
Traditionally, it used to take hours to cook the meat until tender, but those days are gone. With the help of an Instant Pot, you can have this dinner ready in less than an hour.
Here's a brief instruction on how to make pork carnitas in an Instant Pot:
Detailed instructions and full ingredient measurements are available below.
Tips for Making Crispy Carnitas
As mentioned above, carnitas is traditionally cooked slowly in lard over low heat until tender. Once the meat has reached the desired tenderness, the heat is increased to crisp up the exterior of the meat.
Once the meat is shredded, you will experience both crispiness and tenderness in one single bite. But how do you achieve the same texture if you cook your carnitas in an Instant Pot?
The answer is simple. Here's what you need to do:
Put your shredded carnitas on a baking tray and spread it into an even layer.
Place in the oven and bake for 10 minutes at 375°F to make it crispy on the outside.
How to Store and Reheat Carnitas
Store your pork carnitas in an airtight container and tortilla sheets in a Ziploc bag. All of the taco toppings should be kept in separate containers as well to prolong their shelf life.
Avoid storing carnitas tacos with toppings and all as the tortillas will absorb moisture from the meat and become soggy.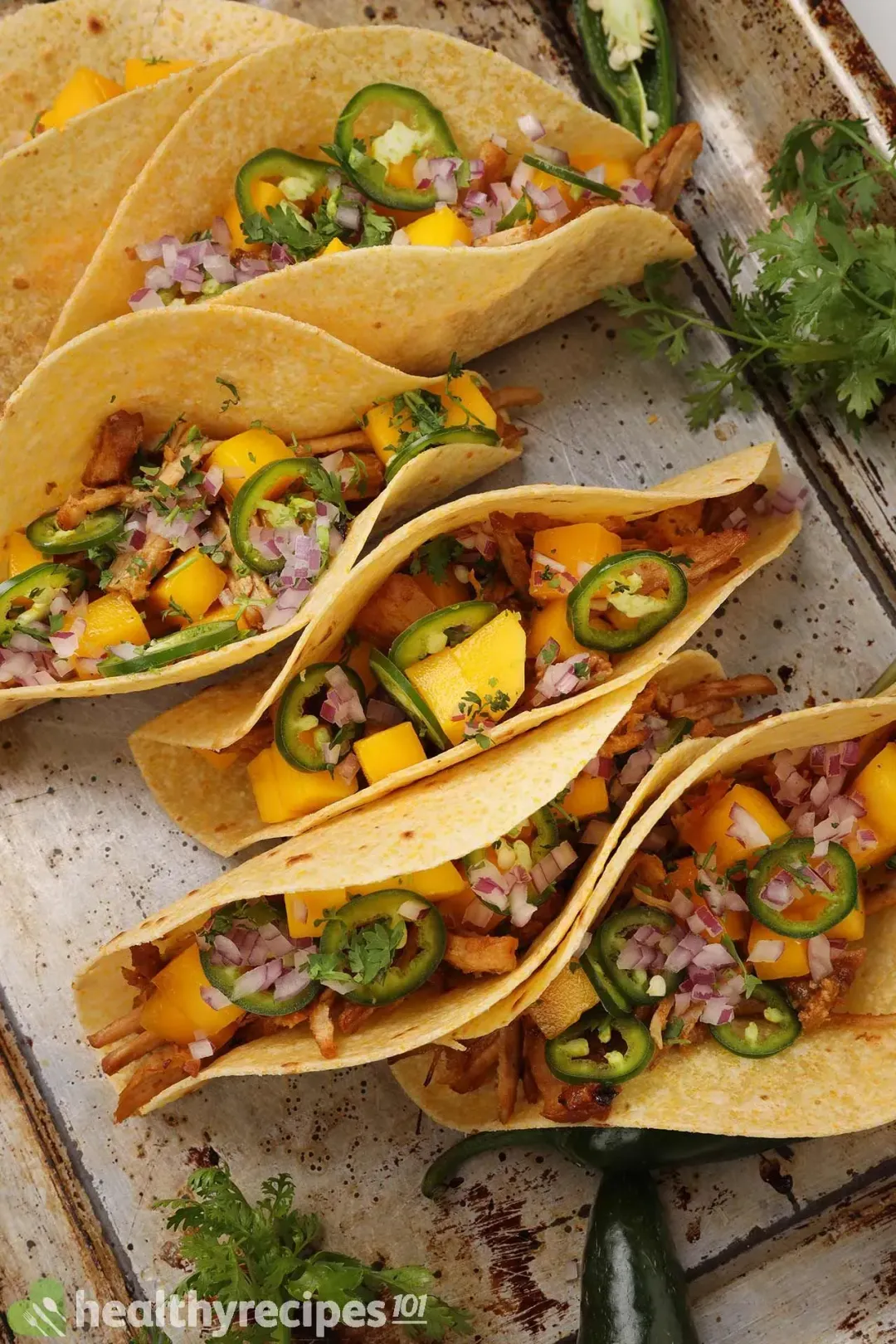 Our Instant Pot pork carnitas will last for up to 5 days in the fridge. You can also keep it for a month in the freezer.
If you want to reheat the carnitas, we recommend transferring it to a microwavable bowl. Cover with a loose-fitting lid to prevent the meat from drying out and reheat in the microwave for 2 minutes.
Bake the tortilla sheets in the oven as instructed in the recipe section. Once all the items are warmed through, you're ready to make some fresh carnitas tacos.
Check out our healthy instant pot pork roundup for more delicious meals.
What to Serve With Instant Pot Pork Carnitas
There are a number of ways to serve pork carnitas: with rice, in a quesadilla, or burrito. For today's recipe, we're turning them into small tacos filled with fresh and crunchy vegetables.
To take these tacos to another level, we've decided to pair them with freshly made guacamole. Add a couple of dollops of this tangy mashed avocado on top and your carnitas tacos will taste heavenly.
Our guacamole recipe also comes with a small side of tortilla chips for you to dip. 
Here are the combined nutrition facts of the meal: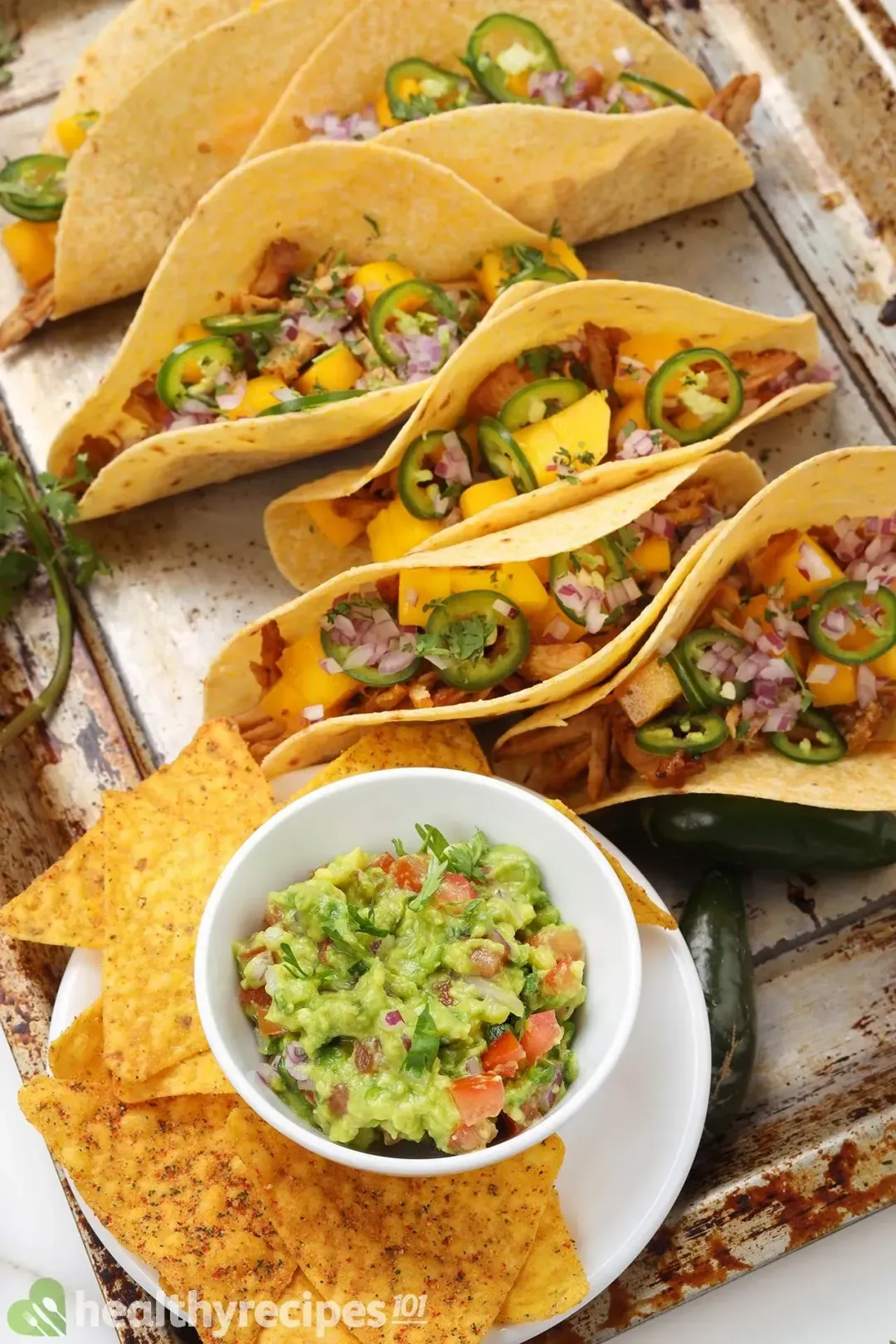 For a wider selection of instant pot dishes, don't miss out this collection on healthy instant pot dinner recipes that we've carefully sorted out for you!
Similarly Tasty Instant Pot Tortilla Recipes
Here are some tasty, easy Instant Pot tortilla meals that we just couldn't help but fall in love with:
Instant Pot Pork Carnitas
Today's Instant Pot pork carnitas recipe will show you how to make a Mexican-style tender, pulled pork. Let's check out the ingredients.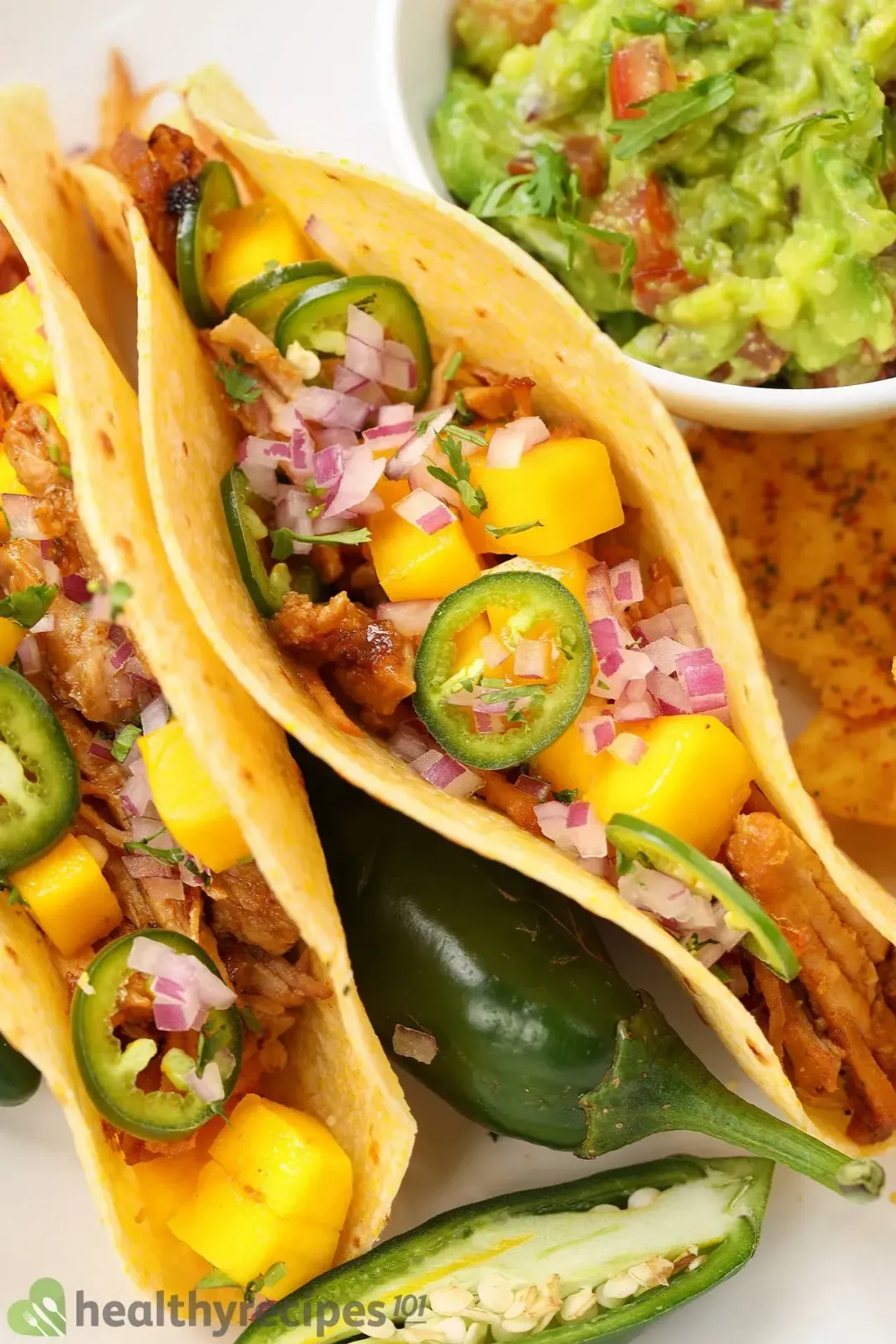 cook TIME

1 hr 20 mins

prep TIME

10 mins

total TIME

1 hr 30 mins
COURSE

Main Course

CUISINE

Mexican

SERVINGS

CALORIES

503 kcal
INGREDIENTS
18 oz

pork shoulder

(cut into large chunks)

1 tsp

traditional Dijon mustard

1 cup

unsalted chicken broth

2 tbsp

lime juice

(freshly squeezed)

5 oz

mangoes

(peeled, cut into ½-inch cubes)

0.5 oz

jalapeño peppers

(thinly sliced)

2 tbsp

cilantro

(roughly chopped)

1 oz

red onion

(finely diced)
INSTRUCTIONS
1
Sear the meat: Set your Instant Pot to the "Sauté" program and wait for it to heat up. Once the cooking surface is hot, add 1 tbsp olive oil, 18 oz pork shoulder, 1/4 tsp black pepper, 1/2 tsp salt, 1 tsp paprika, 1 tsp ground cumin, 1 tsp dried oregano, and 1 tsp Dijon mustard. Mix to coat the seasonings evenly. Sear the meat for 5 minutes or until golden brown on all sides.
2
Sauté the aromatics: Add 1 tbsp minced garlic and 2 oz diced white onions to the pot. Stir constantly for about 2 minutes or until translucent.
3
Slow-cook the meat: Add 1/4 cup orange juice, 1 cup unsalted chicken broth, and 2 tbsp lime juice to the pot. Stir to combine and cover with the lid. Seal the valve knob and set your device to the "Meat Stew" program. Cook for 45 minutes.
4
Reduce the meat juice: Carefully turn the valve to release the steam before opening the lid. Set your device to the "Sauté" program and cook for 15 minutes or until the meat juice is reduced by half. While you wait, preheat the oven to 375°F.
5
Caramelize the meat: Remove the pork from the pot and transfer to a baking sheet. Shred the pork using a pair of forks. Pour the remaining meat juice in the pot over the shredded pork. Mix well to distribute the juice evenly. Spread the shredded pork out on the baking sheet. Put in the oven and bake for 10 minutes or until the pork is crispy on the outside.
6
Make the taco shells: Put 8 corn tortillas on a taco rack, transfer it to the oven, and bake for 3 minutes. (We didn't have a taco rack so we improvised and turned a cupcake tray upside down to hold our tortillas.)
7
Assemble the tacos and serve: Divide the carnitas, 5 oz diced mangoes, 0.5 oz sliced jalapeño peppers, 1 oz diced red onions, and 2 tbsp chopped cilantro into 8 taco shells. Transfer the carnitas tacos to a serving platter and serve with our recommended side dish.
NUTRITION
Nutrition Facts
Instant Pot Pork Carnitas
Amount Per Serving (1 serving)
Calories 503
Calories from Fat 261
% Daily Value*
* Percent Daily Values are based on a 2000 calorie diet.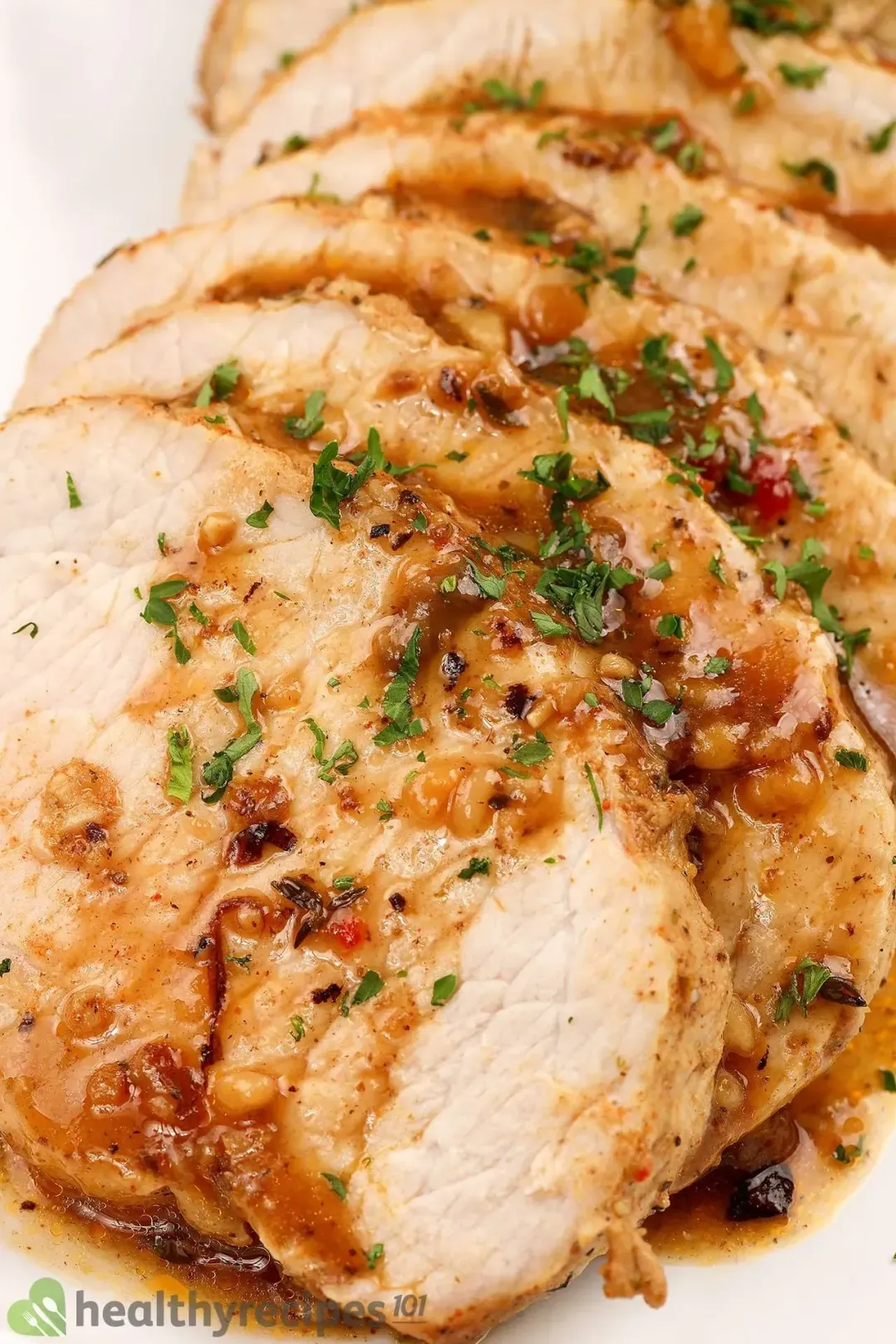 Next Recipe
Instant Pot Pork Loin
Instant Pot Pork Loin
Head Chef, Culinary Consultant
Tuyet Pham is an award-winning Saigonese chef who believes that joy is the secret ingredient to delicious food. At Healthy Recipes 101, Tuyet personally tests and simplifies every recipe, ensuring maximum flavor with minimal effort. With a background at prestigious French restaurants P'TI Saigon and Le Corto, Tuyet knows how to make every dish exceptional.
Writer, Author
Luna Regina is an accomplished writer and author who dedicates her career to empowering home cooks and making cooking effortless for everyone. She is the founder of HealthyKitchen101.com and HealthyRecipes101.com, where she works with her team to develop easy, nutritious recipes and help aspiring cooks choose the right kitchen appliances.
Nutrition Reviewer
Natalie Butler is a registered dietitian nutritionist with a passion to help others live their best life through food, fitness, safer beauty and a healthy lifestyle. She has expertise with a variety of diets and diseases and believes that there is no one-size-fits-all approach for health.
Crispy and juicy pork made effortlessly healthy!