Our Instant Pot pork chops recipe is the easiest way to transform tough chops into a fine meal.
There are tons of ways to cook pork chops but only some are worth the time. Today, we're sharing a good one. We cooked ours in the Instant Pot and served the juicy meat over pasta, all drenched in a flavorful mushroom cream.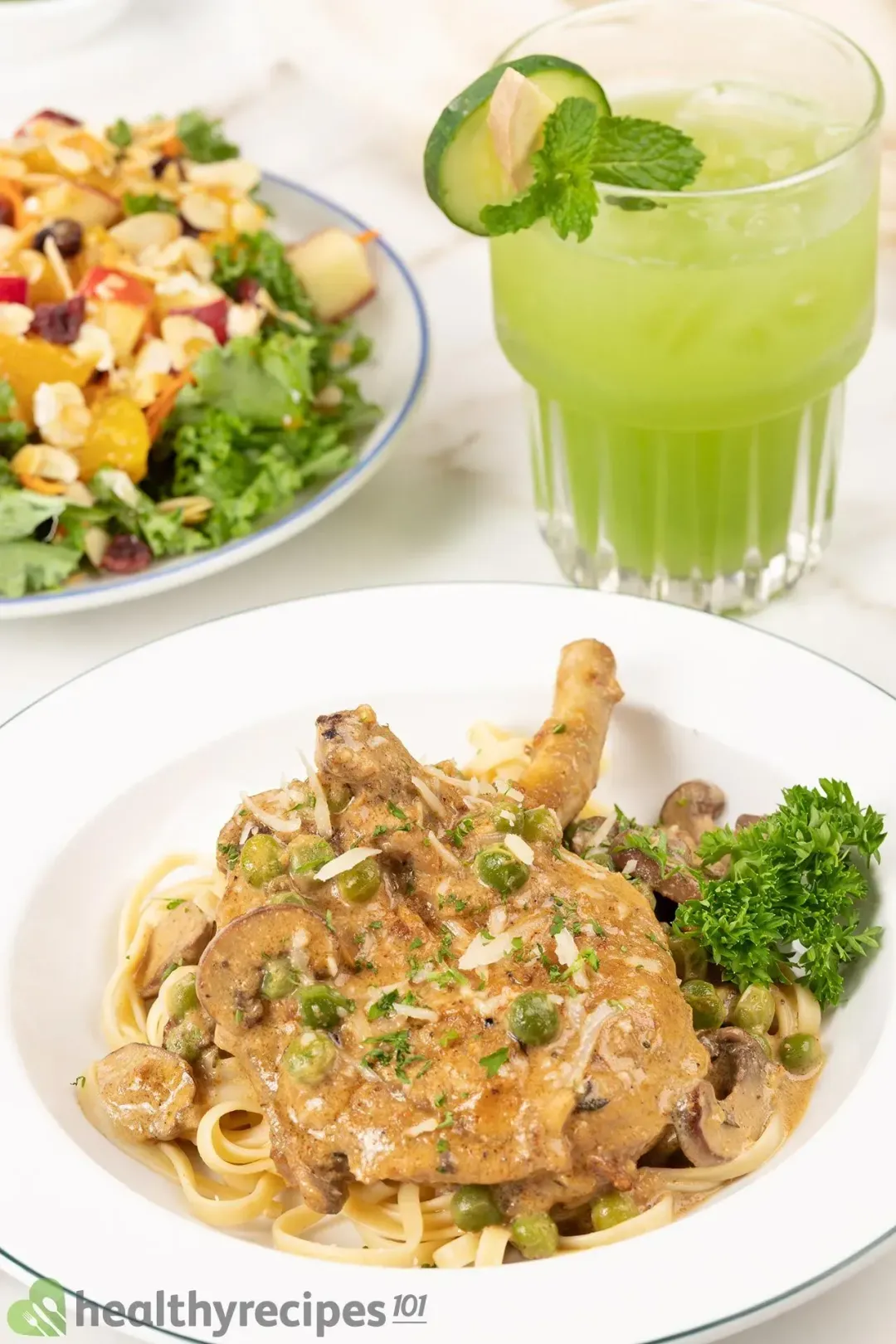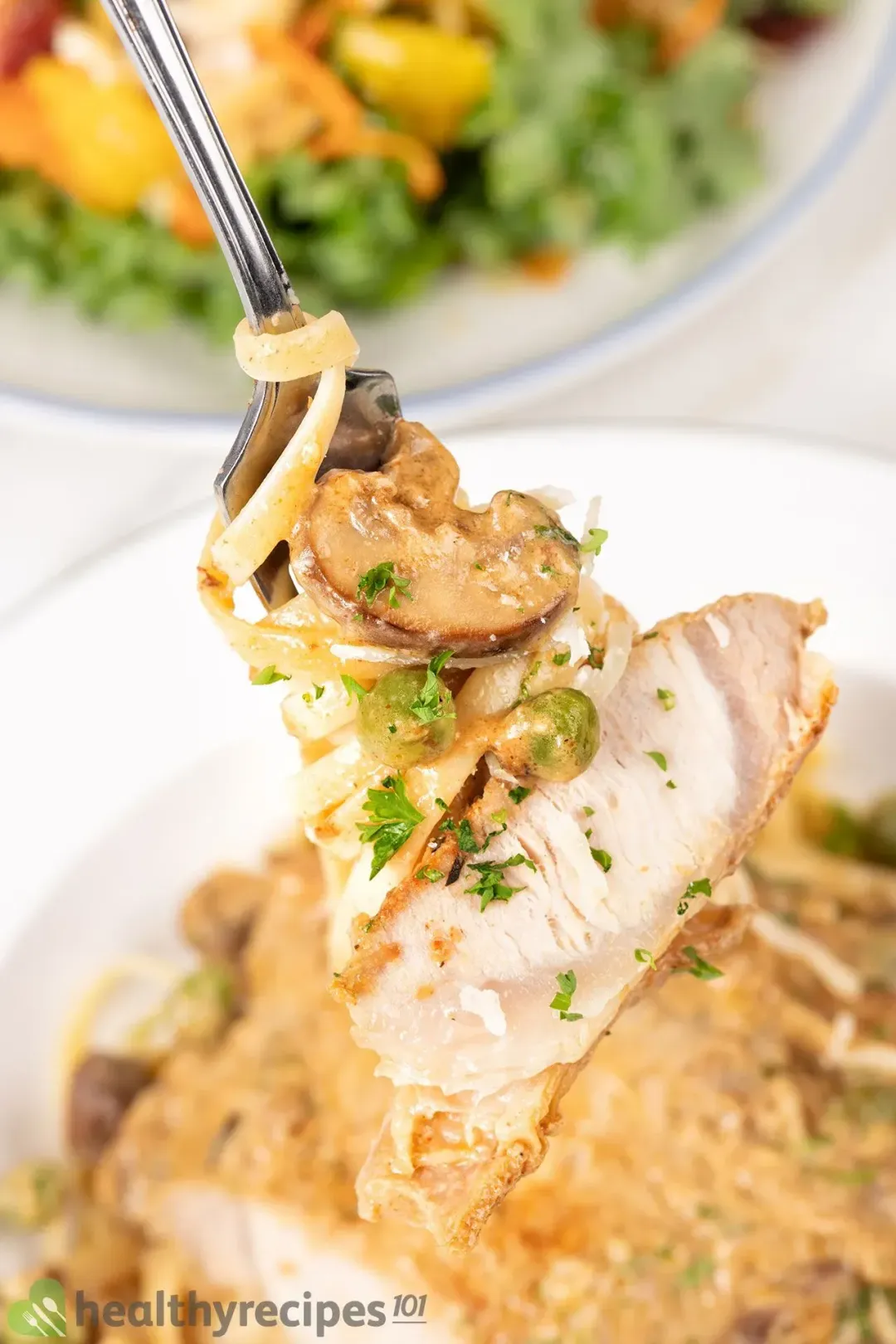 The dish may take 30 minutes to make, but half of that is hands-free. You can arrange to fit some chores in there or make a salad and a juice (like we did) to complete your meal.
Does the Instant Pot Make Better Dishes?
Compared to cooking methods that take hours, the Instant Pot takes under one, which minimizes the loss of some nutrients. It also preserves the nutritious juice from the meat and vegetables.
Plus, under intense pressure, tough meats like pork chops tenderize well, making them easier to digest.
Of course, when it comes to nutrition, what goes into the pot matters even more.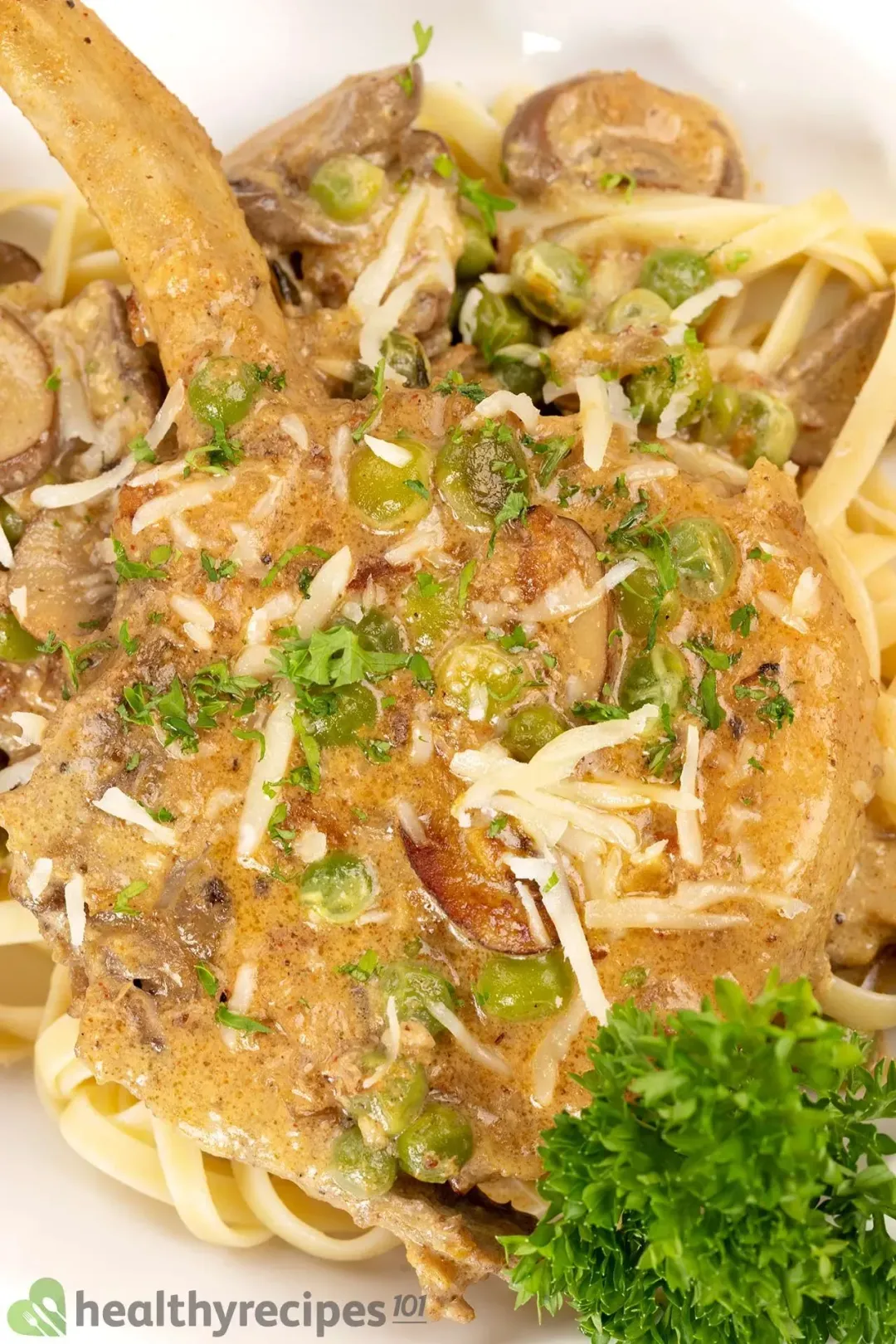 What Makes Our Pork Chops Healthy
This recipe uses heavy cream, milk, and butter. Saturated fats are not necessarily bad, but the combination of high fat high salt dishes lead to heart disease over time.
To keep these levels within reasonable limits, we used just enough salt and dairy and kept a close eye on the nutritional profile. The pork doesn't taste any less flavorful, as we slathered it with plenty of seasoning and not just salt.
Seasoning for Pork Chops
Like many other pork chop recipes, we first added the basics: salt, pepper, onions, and garlic. We also use powdered onions and garlic because the powders can give a more intense flavor than their fresh counterparts.
For aroma, we went with thyme. We also sprinkled some parsley on the finished product, for a little freshness.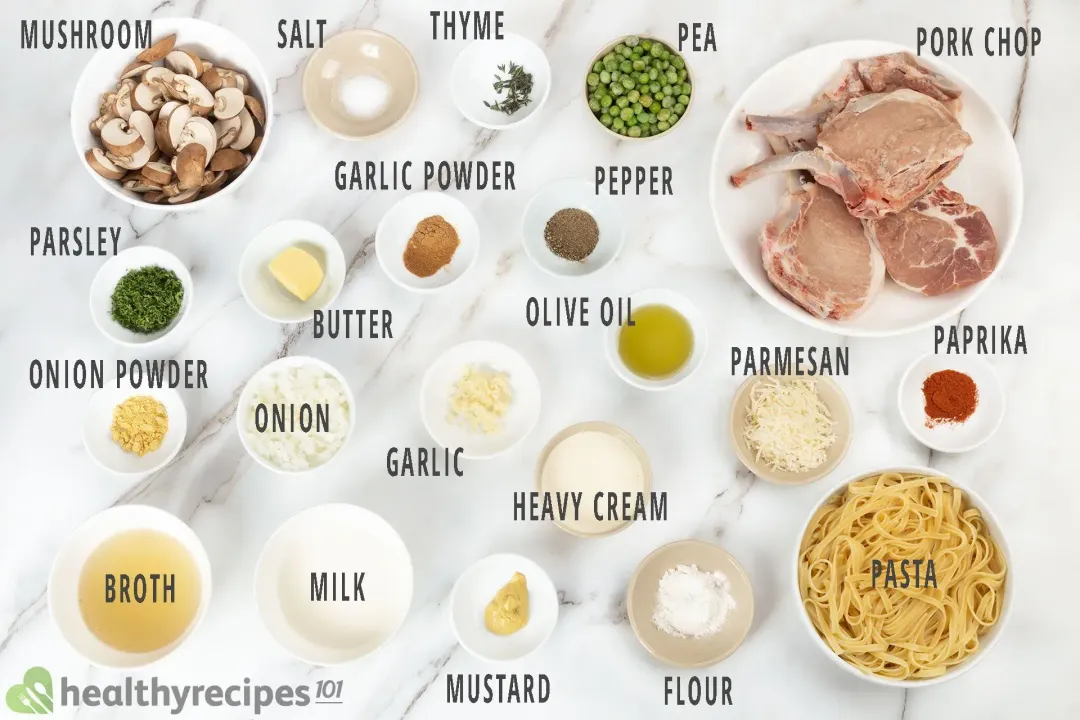 If you also love a little heat as we do, add a dash of paprika. You can further enhance the heat by adding cayenne or chili powder.
All of these seasonings and aromatics go into the creamy sauce made of butter, heavy cream, and milk. We added mustard to the sauce for a hint of pungency.
Finally, sprinkle Parmesan on top for a touch of savoriness and a fancy finishing.
How Long to Cook Pork Chops in the Instant Pot
For the crucial searing stage, our pork needed only 5 minutes, both sides. Give yours some more time if they're yet to turn golden.
For the pressure-cooking stage, it's 15 minutes for our 3/4" pork chops. Thicker chops need about 5 more minutes.
Fifteen minutes may sound nothing like "Instant", but it's really quicker than other cooking methods. Chops of the same size would take 20 minutes in the air fryer and 30 minutes in the oven (not including the searing stage).
With this knowledge, you're now ready to cook.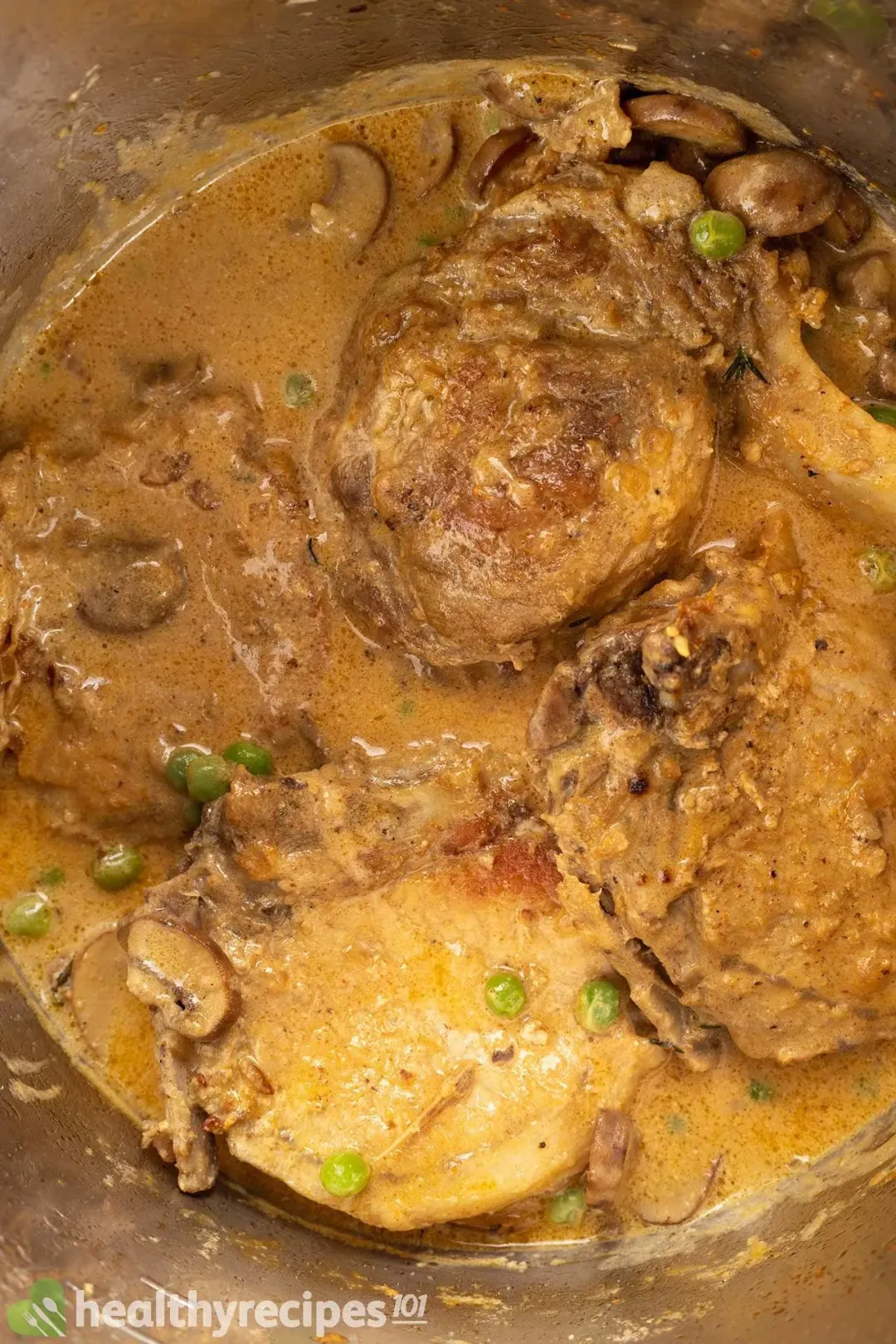 How to Cook Pork Chops in the Instant Pot
First, select the "sauté" mode and sear both sides of the pork chops until they're golden brown. You can adjust the time with the "-" or "+" buttons.
Set the chops aside, and sauté the mushrooms in butter with aromatics until they're caramelized.
Add the pork back into the pot along with broth, seasonings, and milk. Close the pot, turn the pressure vent to "lock", and pressure-cook the pork for 10 minutes on "stew/meat" mode.
You'll need to set the time to 10 minutes because the mode automatically sets it to 45 minutes. We utilized this free time to boil the pasta, mix the salad, and juice the juice.
Place a kitchen rug on the vent, and use the handle of a spatula to turn it to "release". The steam will shoot out with great force, so it's crucial that there is a rug and your hands are away from the vent.
Add heavy cream and green peas, cook for another 5 minutes on "meat/stew" mode and release the steam. If the peas splitting in half doesn't bother you, feel free to add the peas along with the pork and the cream after everything's done.
All there's left to do is serve it on top of the cooked spaghetti.
Here's a recap: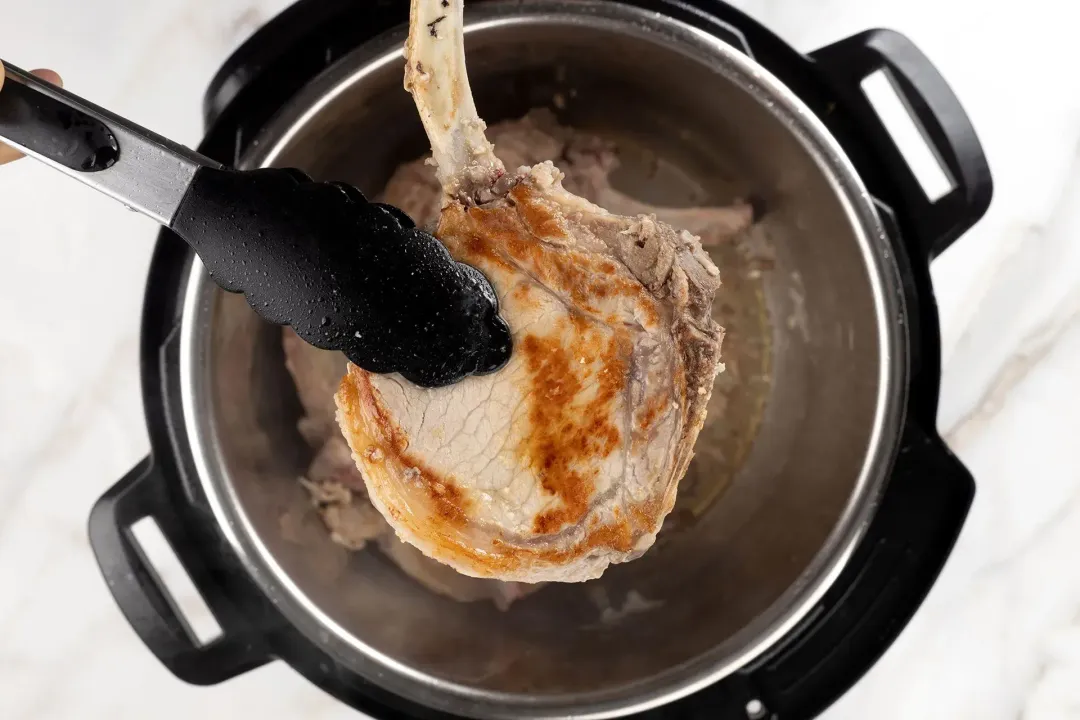 Sear the pork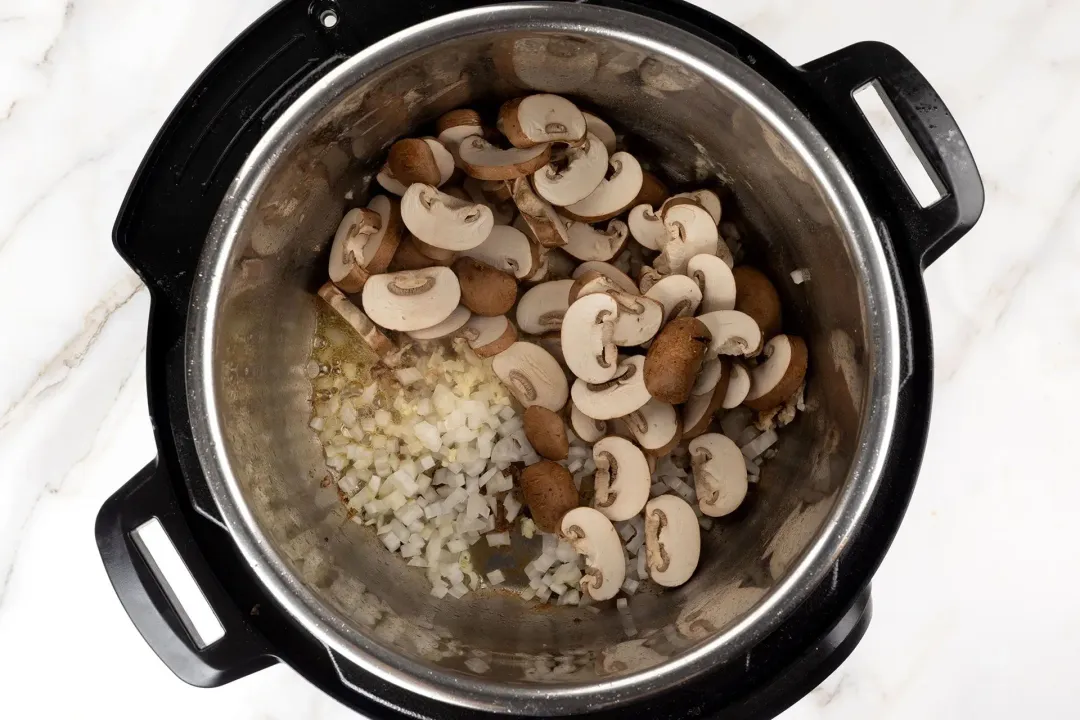 Sauté the mushrooms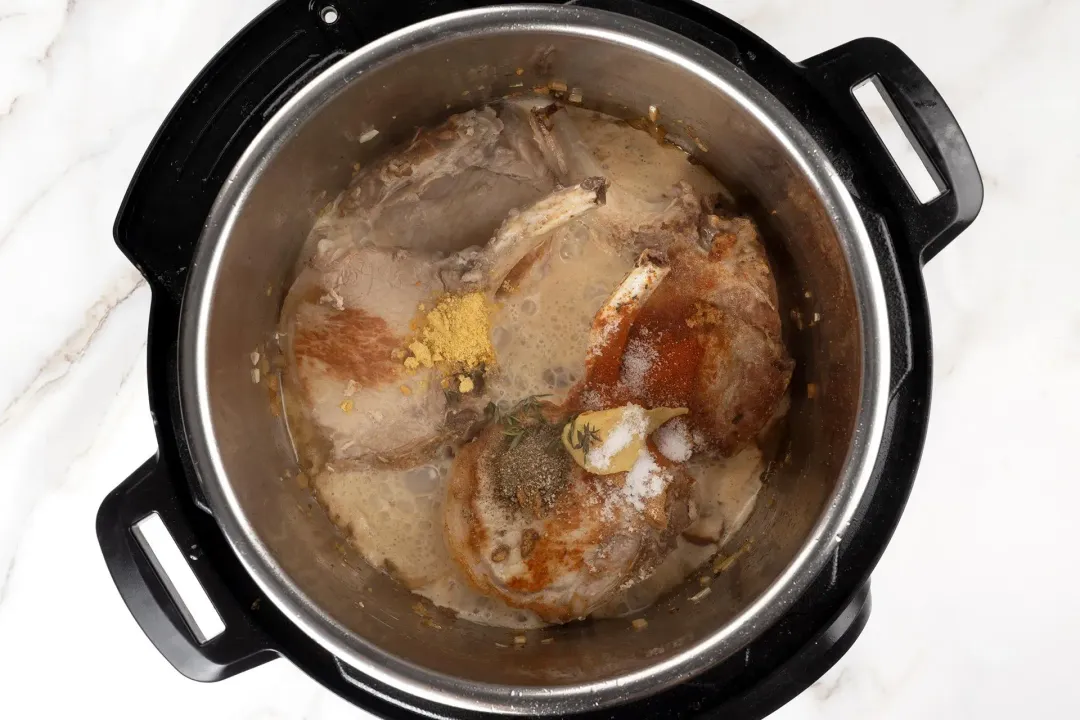 Pressure-cook the pork (and boil the spaghetti)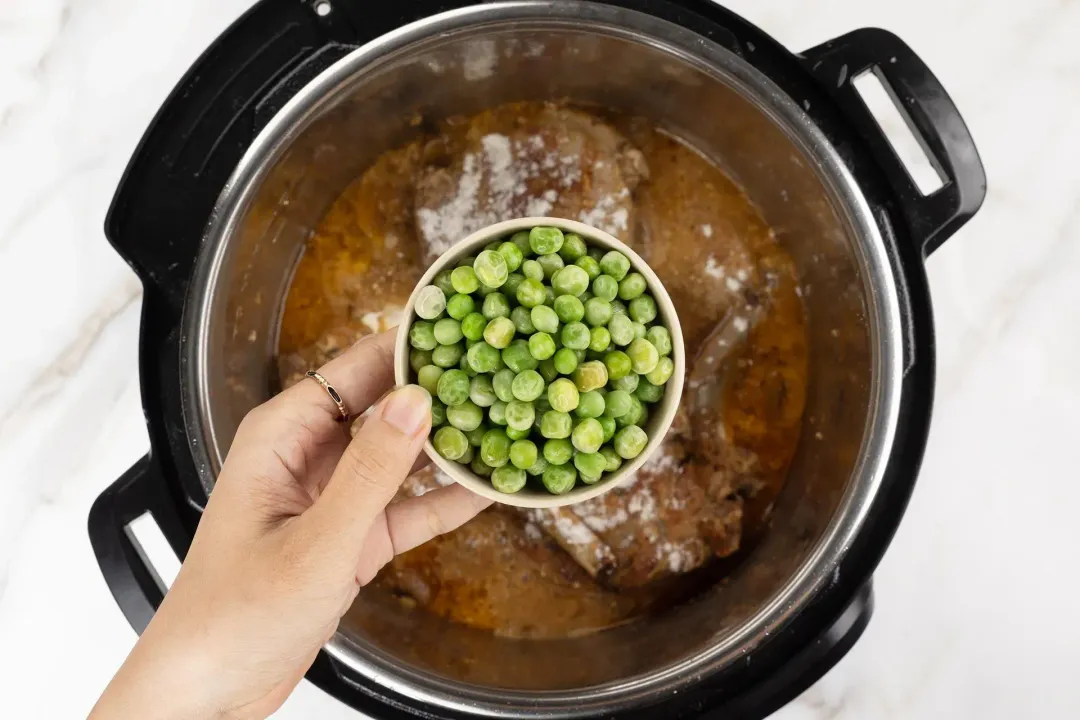 Release pressure and add the peas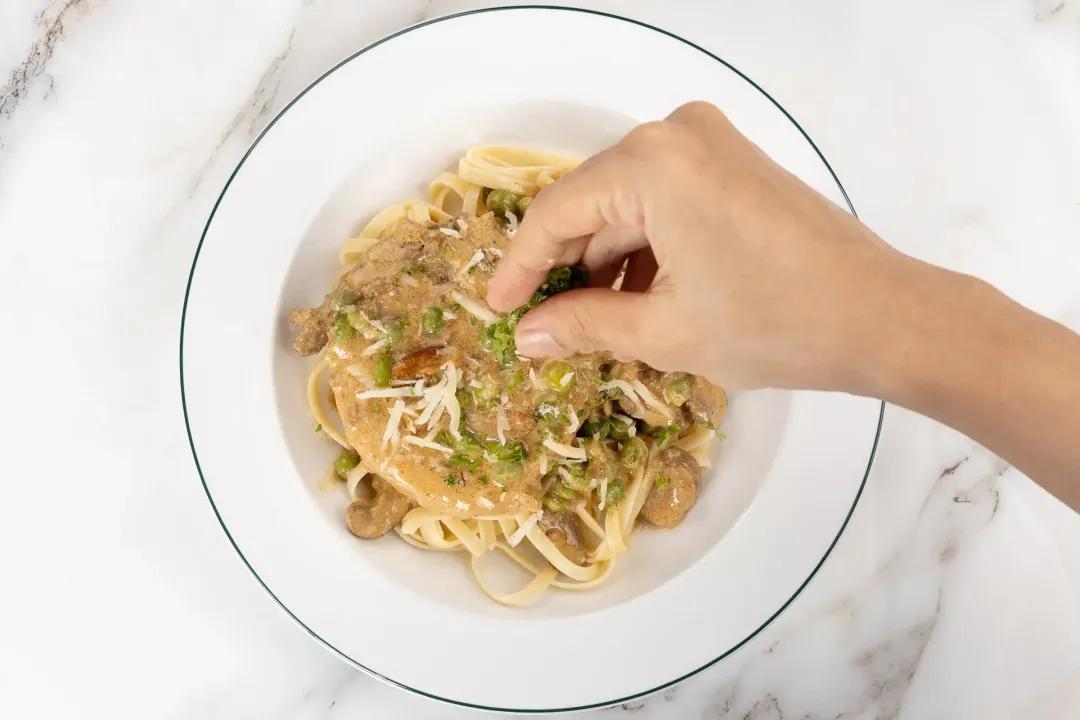 Serve the pork over pasta
Check out our "Instant Pot pork chops recipe" card down below for the measurements of these ingredients and more detailed instructions.
Can You Cook Frozen Pork Chops in the Instant Pot?
Yes, you can cook frozen pork chops in the Instant Pot. However, it may take some more time to sear and pressure-cook.
We tried, and we had to sear the chops for 10 minutes instead of 5. The pressure-cooking time also takes 5 minutes extra, so we highly recommend that you thaw your meat in advance.
Sides for Pork Chops
The salad we mentioned is a kale salad, which isn't solely comprised of greens. It also has juicy oranges, chewy dried fruits, and nuts, all tossed in a sweet-tangy dressing.
The meal is already creamy, savory, tangy, and sweet, so a little cool and refreshing edge should complete it. We picked out our cucumber juice, which is made of fresh coconut water enhanced by a few drops of ginger essence.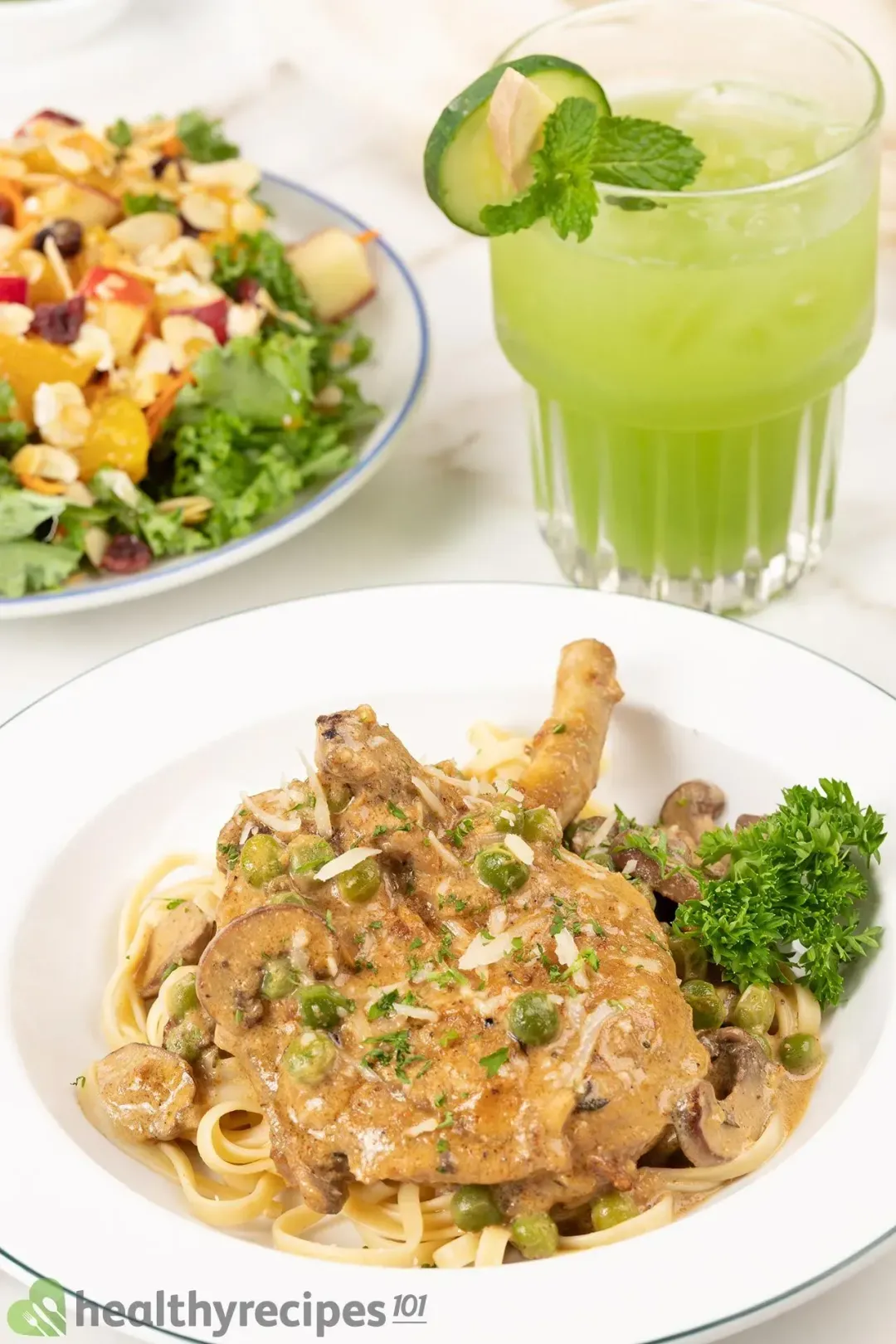 Instant Pot Pork Chops
This Instant Pot pork chops recipe makes a satisfying meal in just 30 minutes. While the pot works its magic, you can also make a few sides to go with it.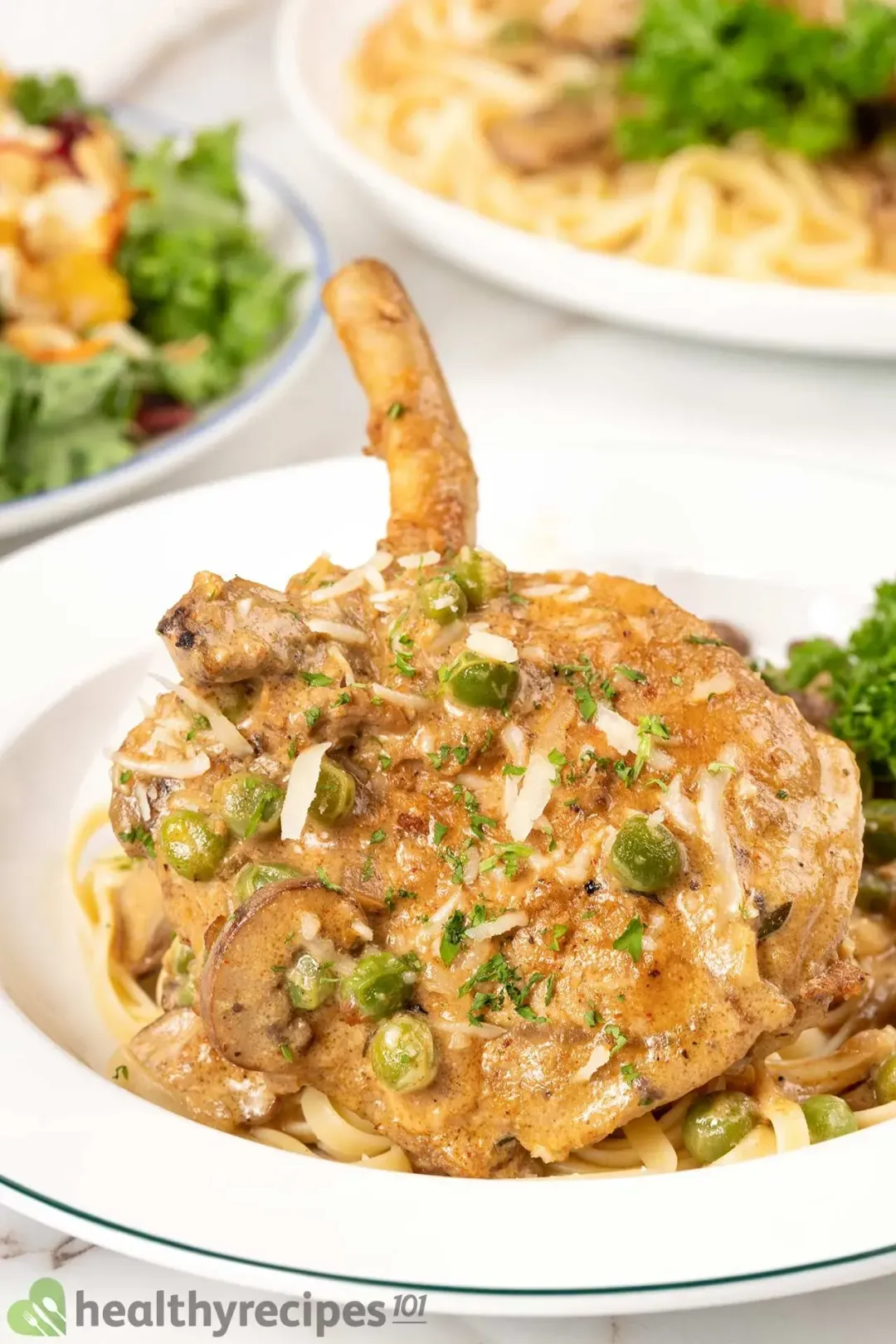 cook TIME

25 mins

prep TIME

5 mins

total TIME

30 mins
COURSE

Main Course

CUISINE

Global

SERVINGS

CALORIES

490 kcal
INGREDIENTS
22 oz

center loin, bone-in, lean only pork chops

2 oz

onions

(finely diced)

6 oz

brown mushrooms

(quartered)

1 tsp

fresh thyme

(about 2 sprigs)

1 tsp

traditional Dijon mustard

1/2 tbsp

all-purpose flour

1/4 tsp

ground black pepper

1/4 cup

unsalted chicken broth

2 tbsp

parsley

(finely chopped)

0.5 oz

Parmesan cheese

(grated)
INSTRUCTIONS
1
Select the "sauté" mode and heat 1/2 tbsp olive oil inside the pot. Sear 22 oz pork for about 5 minutes, or until it's golden brown on both sides.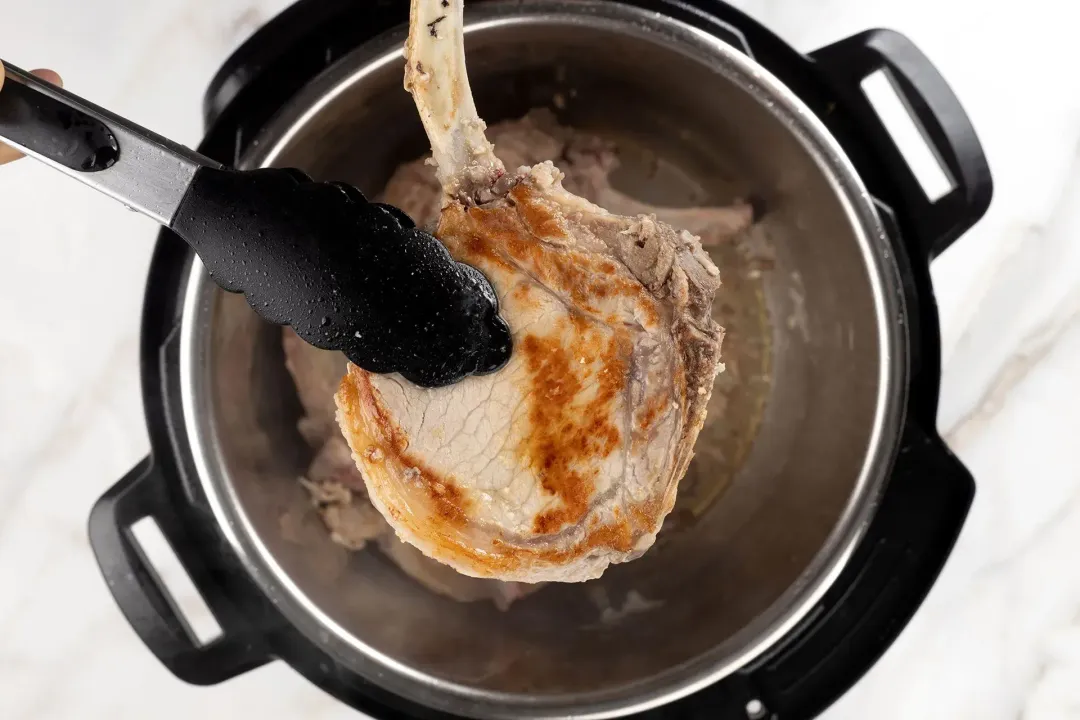 2
Set the pork aside, then add 1/2 tbsp unsalted butter, 2 oz onions, 1 tbsp garlic, and 6 oz brown mushrooms to the pot. Stir-fry the mushrooms for about 5 minutes or until they're brown on the outside.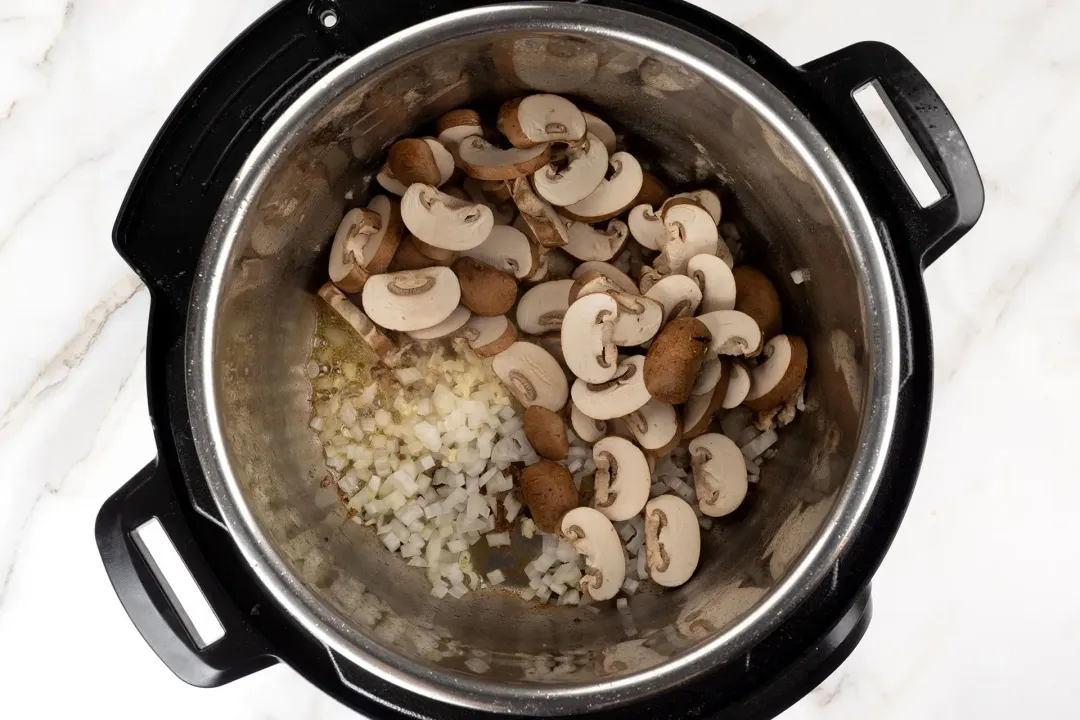 3
Pour in 1/4 cup unsalted chicken broth and 1/4 cup whole milk, then add the pork. Add 1 tsp fresh thyme, 1 tsp traditional Dijon mustard, 1/2 tbsp all-purpose flour, 1/2 tsp garlic powder, 1/2 tsp onion powder, 1/2 tsp paprika, 1/2 tsp salt, and 1/4 tsp ground black pepper to the pot, and stir. Close the lid, select "meat/stew" mode and adjust the time to 10 minutes. Cook the pasta according to the package's instructions if you haven't already.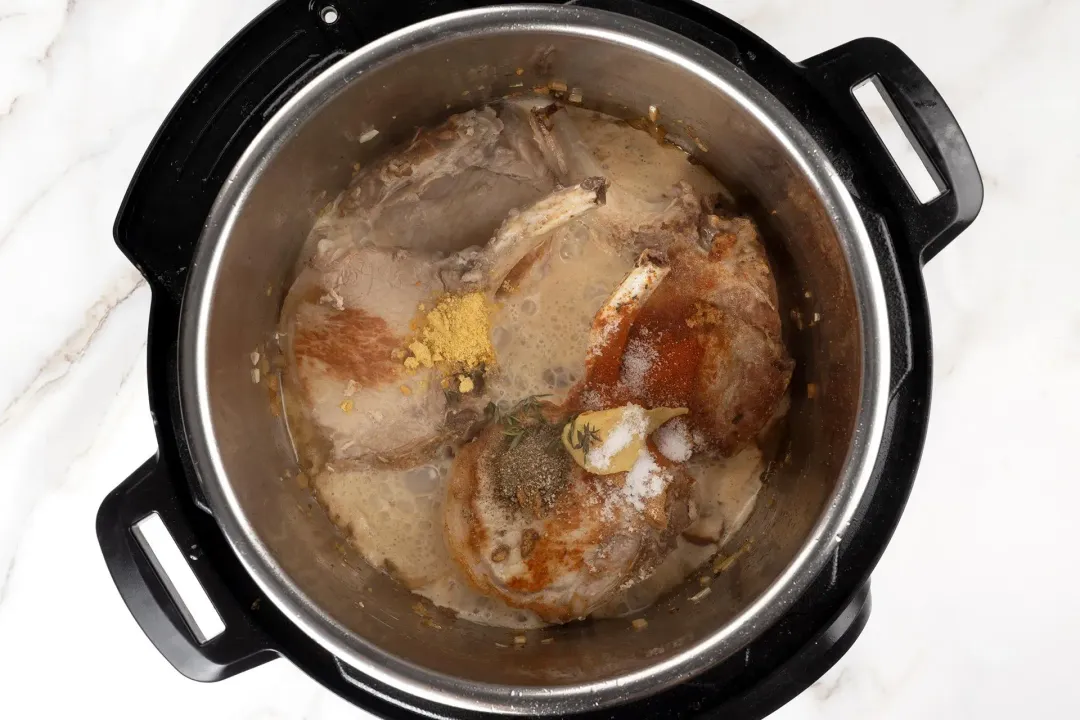 4
Place a kitchen rug onto the pressure vent and turn it to "release" using a spatula. Wait until all of the steam has been released, then add 3 oz green peas along with 3 tbsp heavy cream and cook for another 5 minutes on "meat/stew" mode.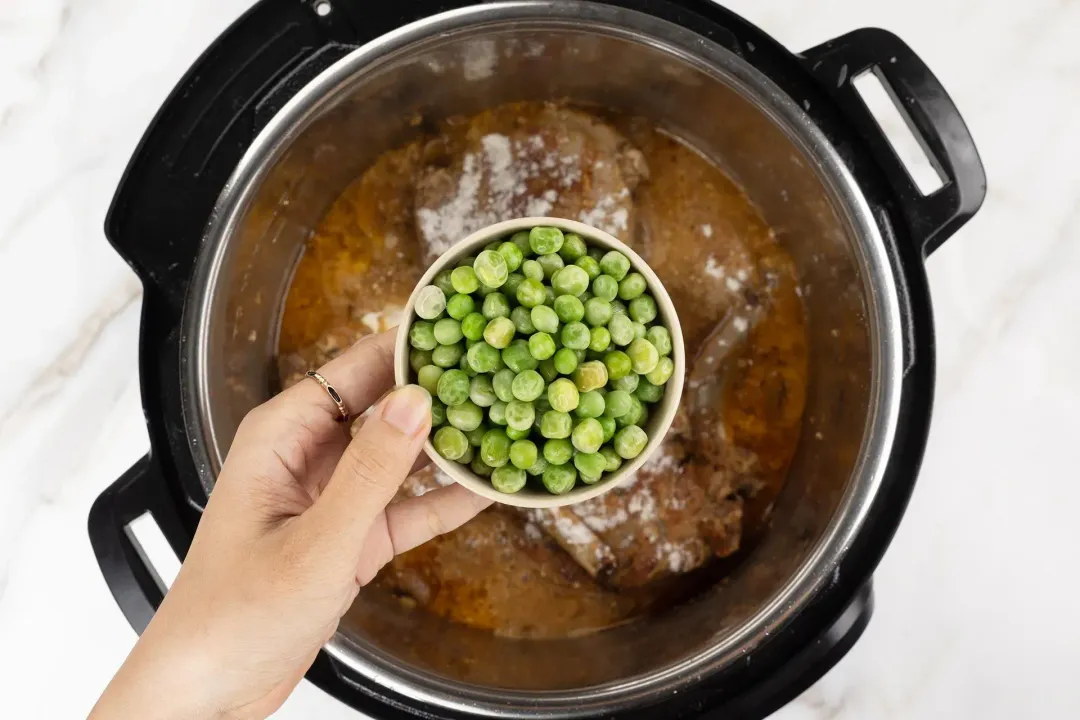 5
Release the pressure similar to step 4, and begin to serve. Plate 14 oz cooked spaghetti, place the pork chop on top, and ladle on a good amount of mushroom cream. Sprinkle with 2 tbsp parsley, 0.5 oz Parmesan cheese, and enjoy!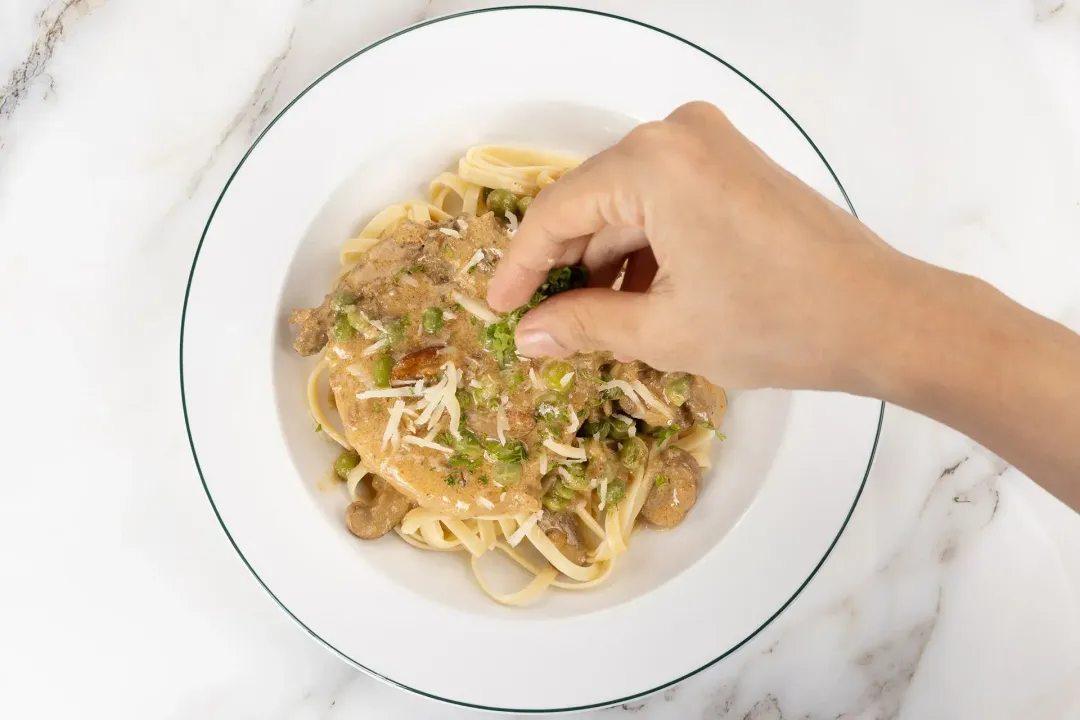 NUTRITION
Nutrition Facts
Instant Pot Pork Chops
Amount Per Serving (1 serving)
Calories 490
Calories from Fat 144
% Daily Value*
* Percent Daily Values are based on a 2000 calorie diet.
Keywords: how to cook pork chops in the instant pot, instant pot pork chops, instant pot pork chops recipe, pork chops in instant pot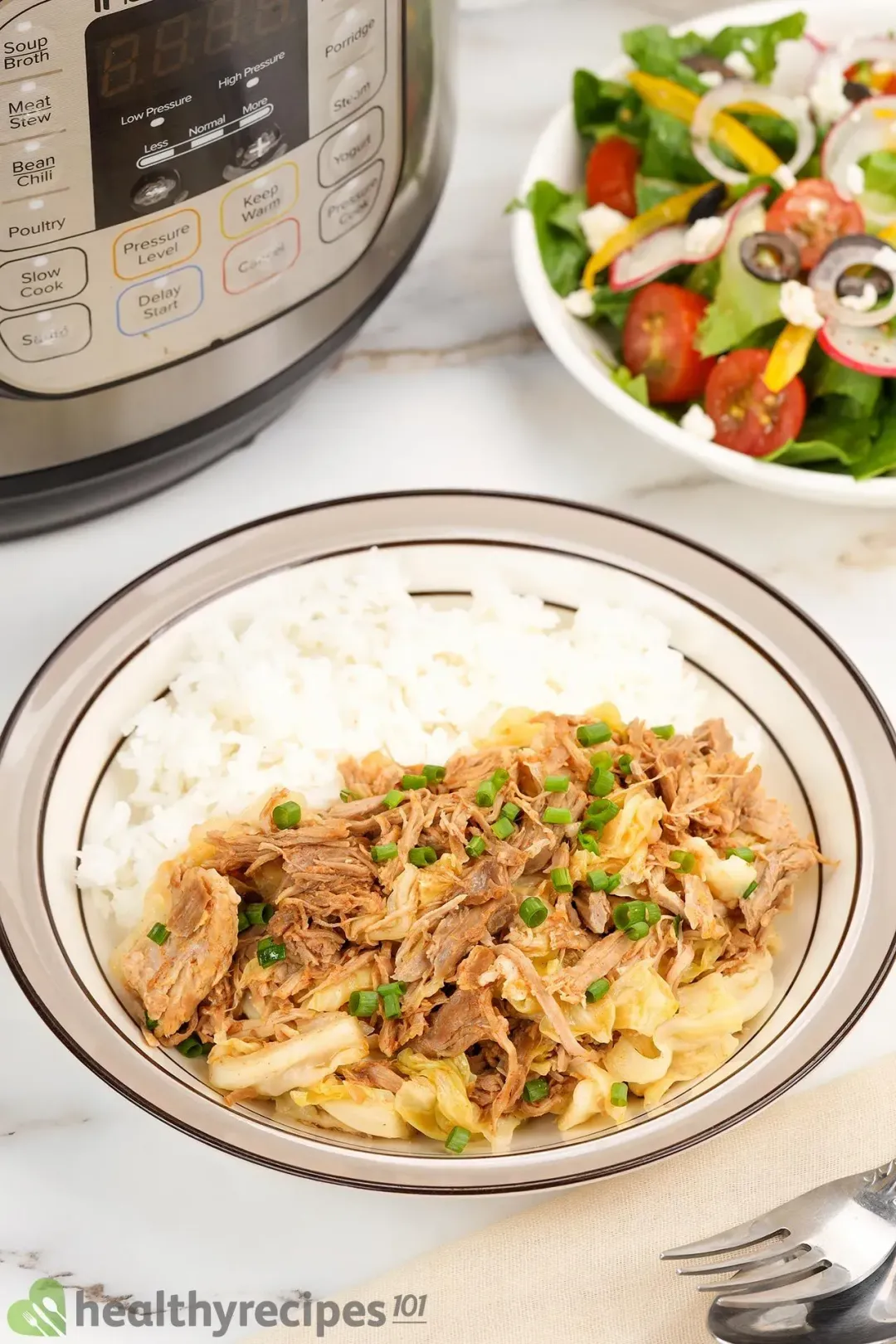 Previous Recipe
Instant Pot Kalua Pork
Instant Pot Kalua Pork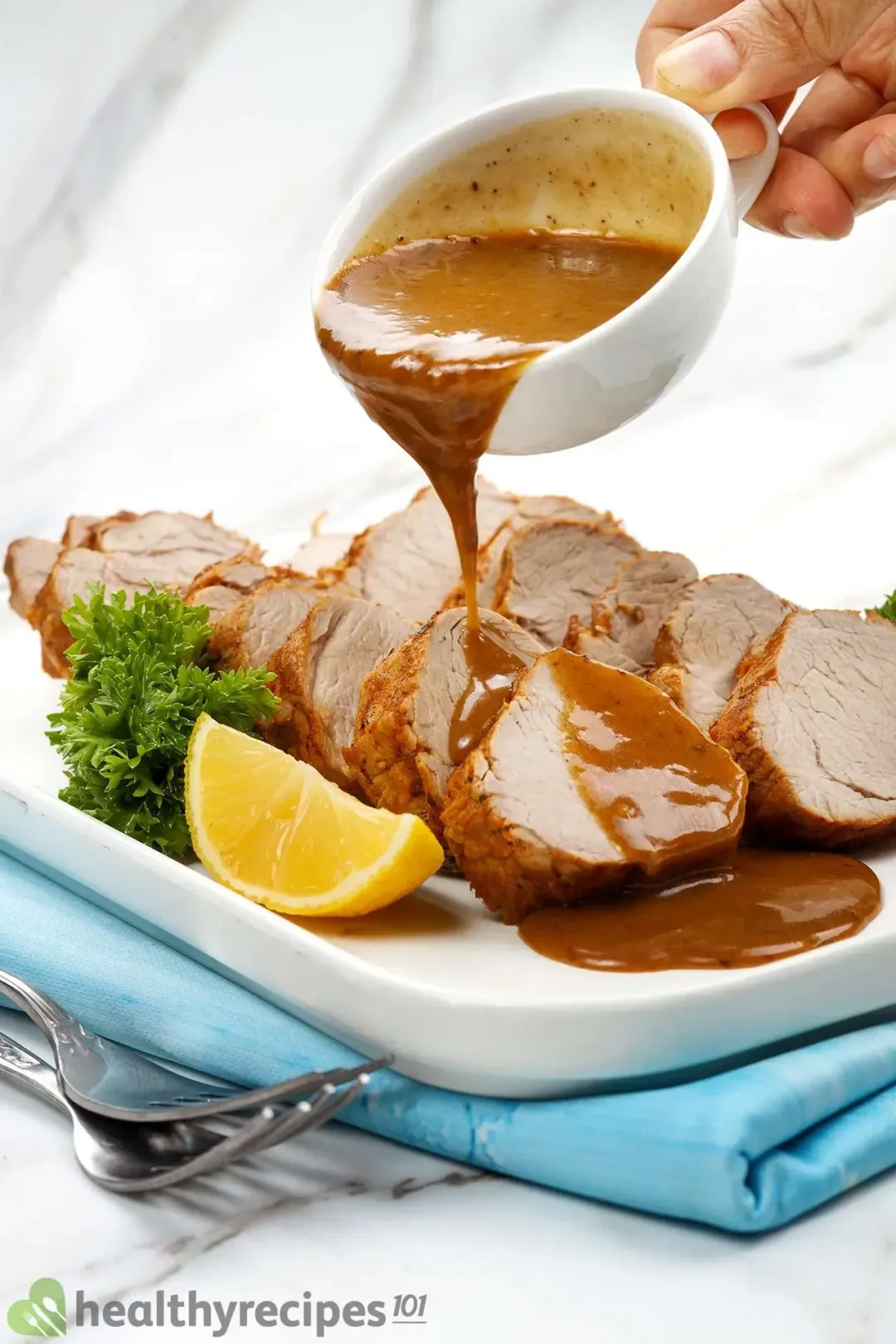 Next Recipe
Instant Pot Pork Tenderloin
Instant Pot Pork Tenderloin
Head Chef, Culinary Consultant
Tuyet Pham is an award-winning Saigonese chef who believes that joy is the secret ingredient to delicious food. At Healthy Recipes 101, Tuyet personally tests and simplifies every recipe, ensuring maximum flavor with minimal effort. With a background at prestigious French restaurants P'TI Saigon and Le Corto, Tuyet knows how to make every dish exceptional.
Writer, Author
Luna Regina is an accomplished writer and author who dedicates her career to empowering home cooks and making cooking effortless for everyone. She is the founder of HealthyKitchen101.com and HealthyRecipes101.com, where she works with her team to develop easy, nutritious recipes and help aspiring cooks choose the right kitchen appliances.
Nutrition Reviewer
Natalie Butler is a registered dietitian nutritionist with a passion to help others live their best life through food, fitness, safer beauty and a healthy lifestyle. She has expertise with a variety of diets and diseases and believes that there is no one-size-fits-all approach for health.
Juicy and tender Instant Pot pork chops recipe.