If pork is on the table, it's usually a special occasion. But with our easy Instant Pot pork tenderloin recipe, pork can be another regular in your rotation.
In this one-pot recipe, all the ingredients are cooked in the same place. Thus, every drop of flavor is absorbed by the meat and vegetables to tender and juicy perfection, leaving you craving for another bite.
Is Instant Pot Pork Tenderloin Healthy?
Yes, our Instant Pot pork tenderloin is healthy. We keep an eye on the measurement of all the ingredients so that the main nutrient profiles align with the USDA Dietary Guidelines.
In terms of calories, the pork tenderloin is served along with salad and juice. The sides add extra fiber, vitamins, and essential nutrients and combine with the pork to make a filling 750-calorie meal.
To lower the sodium and saturated fat content, we used as little salt, olive oil, and butter as possible — enough to keep the dish tasty while keeping the calories down.
Homemade meals are one of the easiest ways to stick to a healthier lifestyle. And our pork tenderloin recipe could be a great start.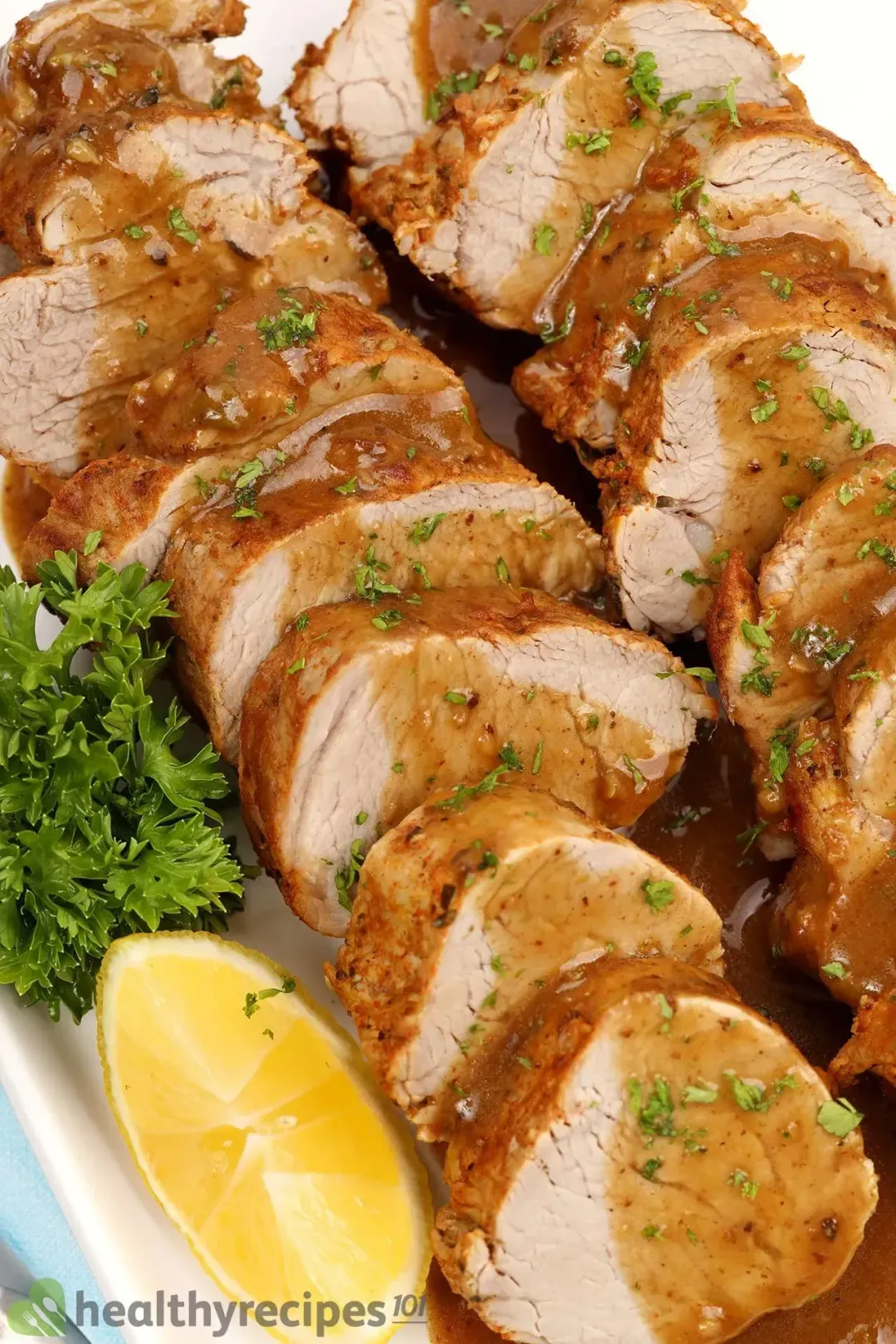 Ingredients for Instant Pot Pork Tenderloin
This Instant Pot pork tenderloin is one of the recipes with maximum return for minimum effort. All you need is a few ingredients on hand.
Pork: Pork tenderloin is lean, rich in protein, and low in fat content. This cut is also versatile since it's relatively mild and can be flavored with a wide range of spices, herbs, and seasonings.
Vegetables: Use any vegetables of your choosing. The more vegetables, the merrier the dish is!
Chicken broth: Broth helps deglaze the pot to make the gravy later.
All-purpose flour: Flour thickens the sauce for a silky, luscious consistency.
Seasoning: The blend of salt, pepper, dried herbs, and lemon juice builds layers of flavor, giving the pork an exceptional deliciousness.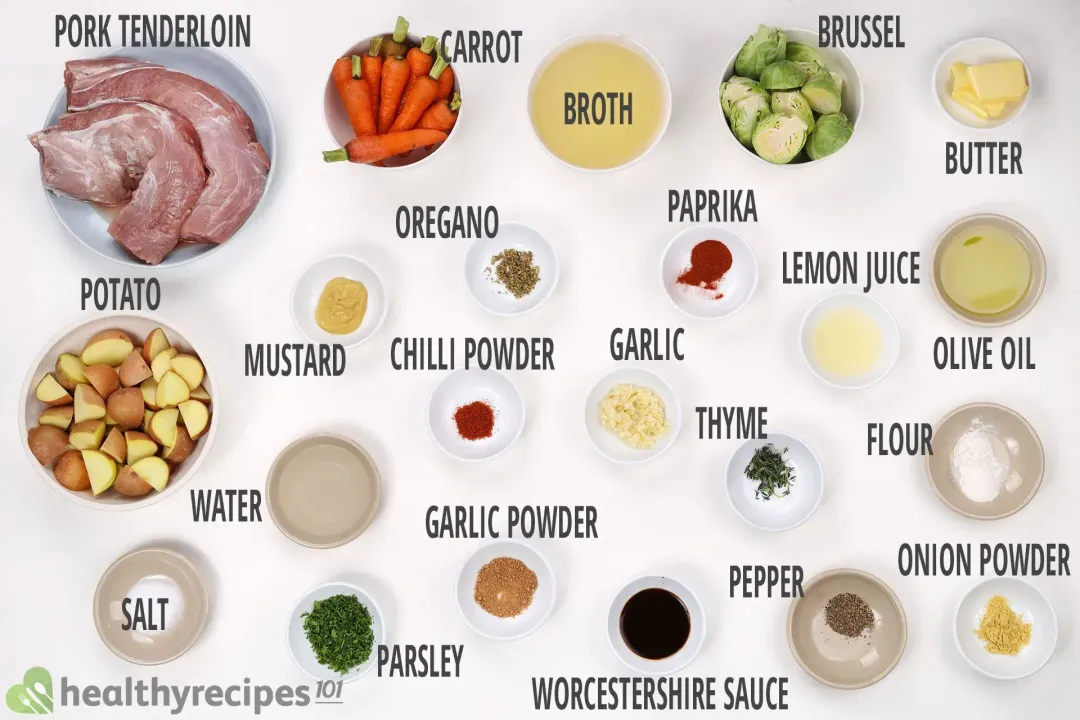 If you love this Instant Pot recipe, check out our Instant Pot pork loin and Instant Pot pork chops. You will also enjoy these healthy and easy recipes.
Can I Use Frozen Pork Tenderloin?
Yes, you can, but the result will be less consistent and flavorful than a fresh cut of pork. For the best quality and texture, we recommend thawing the meat from its frozen state before cooking.
Defrosting meat is simple. Here are a few things to take note of:
The safest way to thaw the frozen pork is in the refrigerator. Spending too much time in what is called a "danger zone" — between 40°F and 140°F — allows bacteria to grow in the meat. 
Generally, an average-sized cut of pork tenderloin takes 8 – 16 hours to thoroughly defrost in the refrigerator. 
If you have a last-minute dinner and forget to thaw a pork tenderloin the night before, use the microwave. Note that microwave power differs with each brand, so carefully check the instructions manual for the defrosting time of your model in advance.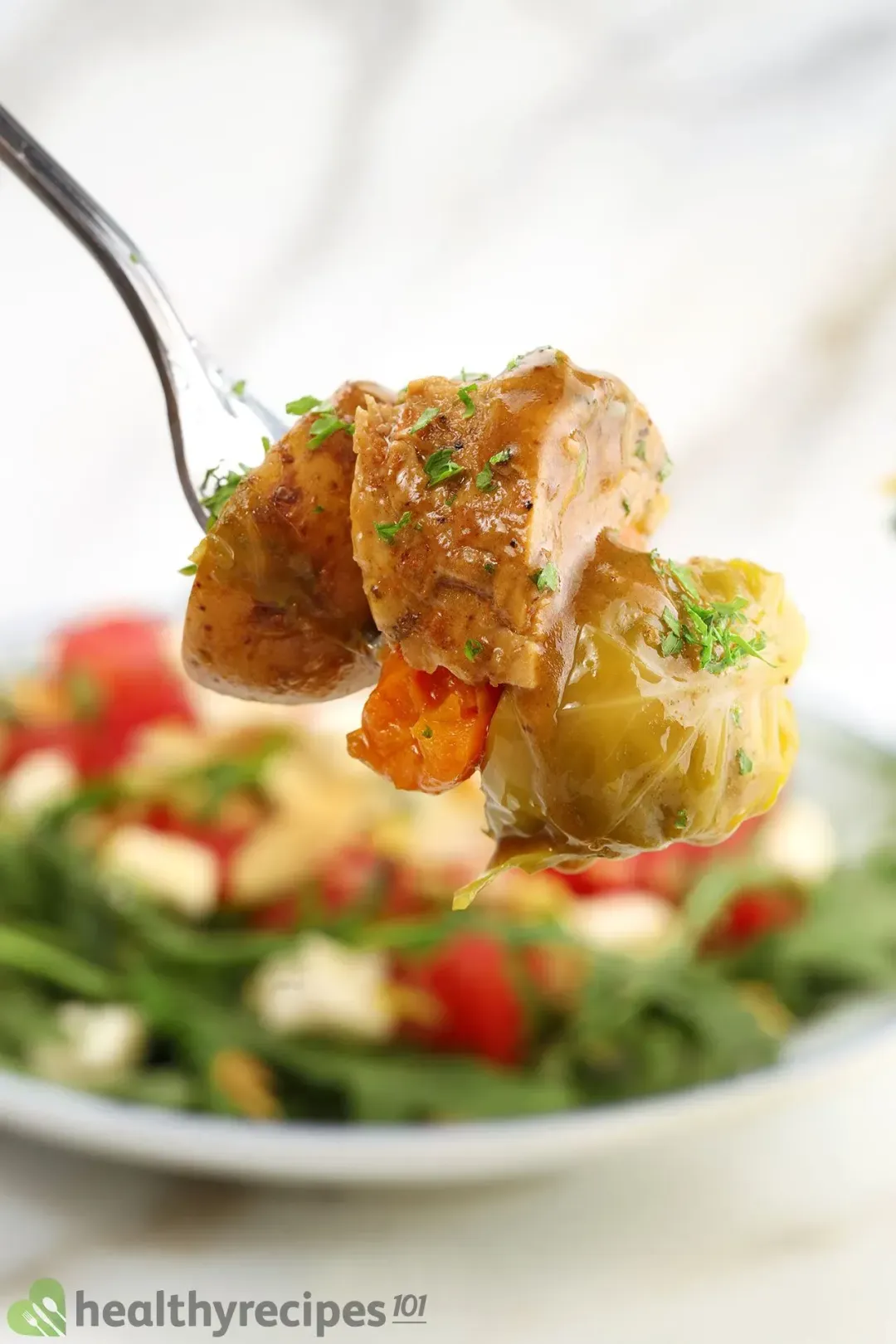 What to Do With Leftover Pork Tenderloin
Pork tenderloin is excellent for leftovers since there are a great variety of ways to eat and combine it. You can simply serve pork tenderloin on the side of salad and vegetables, or it can go amazingly well in sandwiches and tortillas.
Also, serving pork tenderloin leftovers can save you a lot of time and energy on meal prep. The meat even tastes better the second time cooking.
However, like any other meat, the real challenge of the dish is how to store and reheat it without any degradation in quality. The good news is that the process is quite simple.
How to Store and Reheat Pork Tenderloin
To store the pork tenderloin, put it in an airtight storage container or a Ziplock bag for up to 3 days in the fridge. To lengthen the shelf life of the meat, freeze the pork in an airtight freezer-safe container for up to 3 months.
If you want to reheat the pork tenderloin without ruining the taste and texture, here is how to do it. First, thaw the frozen tenderloin in the refrigerator overnight. 
When you want to cook it, place it in a pan with a lid, and put it in the oven. The lid is the key here as it helps to lock all the juices and flavors in the pork. If you reheat the pork in a pan without a cover, then it allows the moisture to escape, and the meat will end up drying out.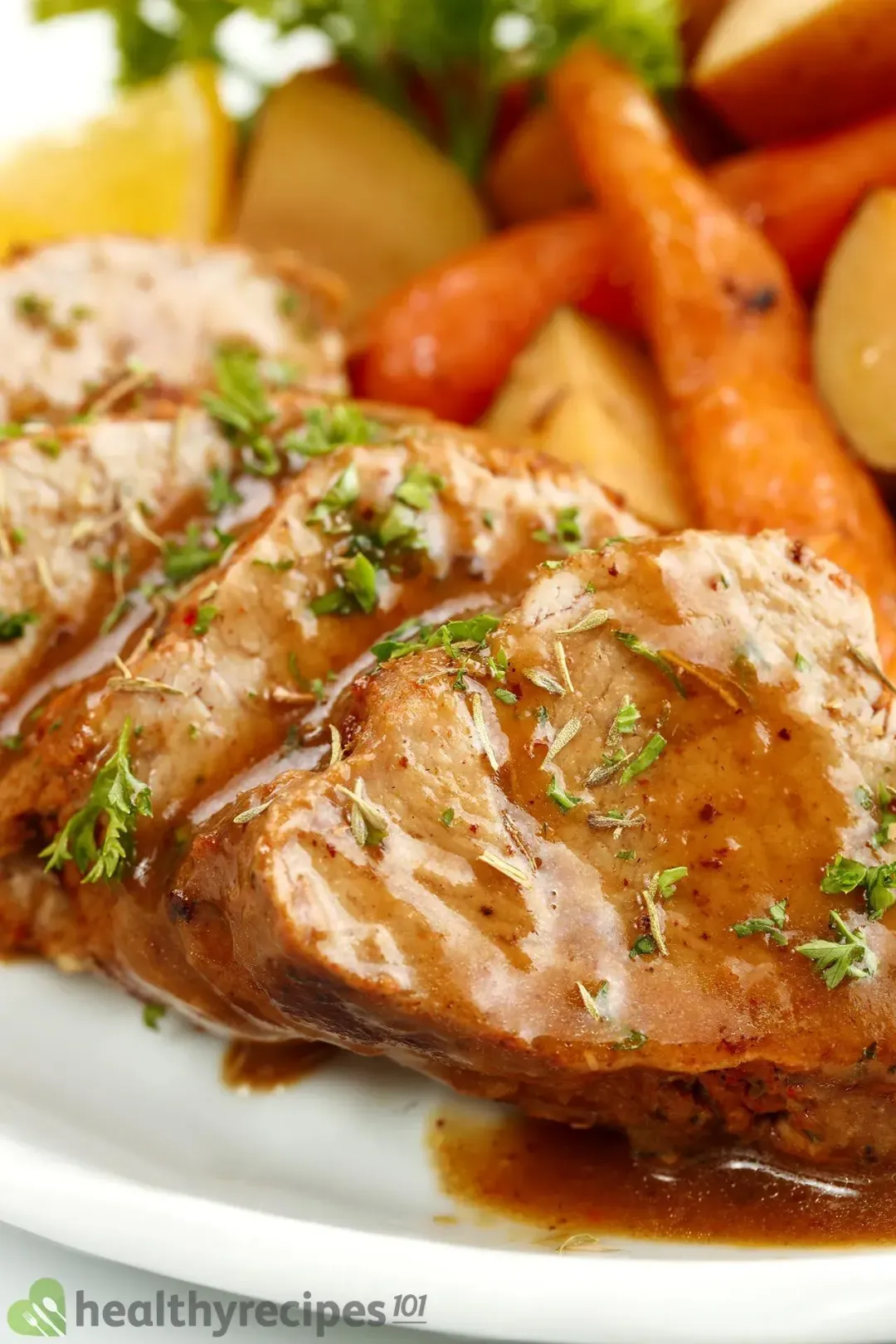 Turn over every couple of minutes until heated through. It should take somewhere between 10 – 20 minutes, depending on the size and thickness of your pork tenderloin.
Another easy way to reheat pork tenderloin without drying it out is using a microwave. Cut your tenderloin into slices and cover them with plastic wrap before placing them in the microwave. Heat for 3 – 5 minutes.
What to Serve With Pork Tenderloin
To make this succulent instant pot pork tenderloin a full meal, here are a few ideas for side dishes you can serve it with:
1. Salads
It takes only 15 – 20 minutes to turn fresh fruits and vegetables into a light, delicious salad. We added sliced almonds for the crunchiness, giving the dish a variety of tastes and textures.
2. Roasted Vegetables
Consider roasting vegetables like carrots, potatoes, broccoli, or arugula while the pork is in the instant pot. A simple twist is to add spices and herbs, giving a complex flavor dimension that will make your veggies stand out from the crowd.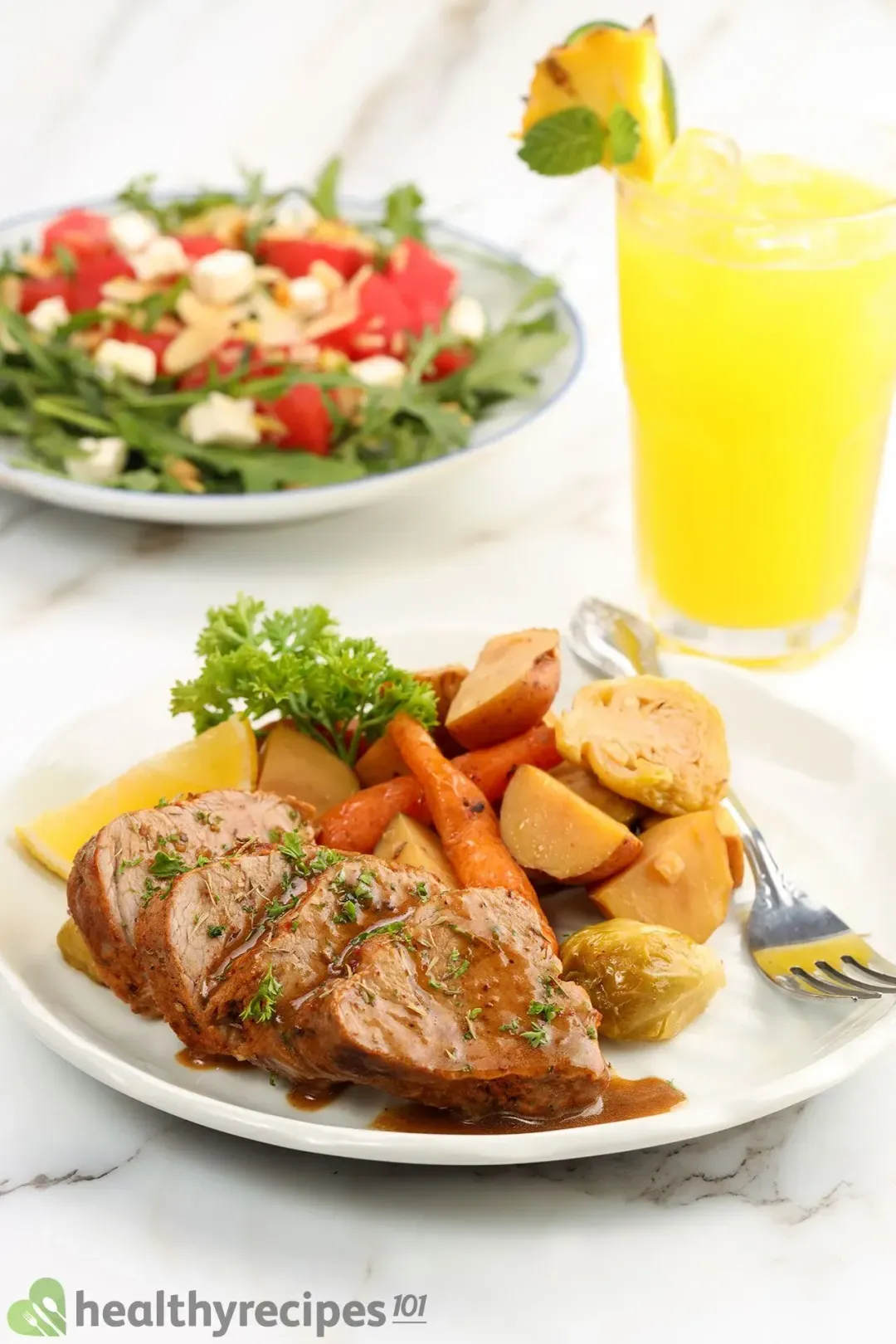 3. Soups
Winter soups like pumpkin or split pea will warm you up on the inside while still offering a great dose of healthy nutrients. Pumpkins, carrots, and peas all make ideal companions to pork, and those soups blend them beautifully into a hearty and creamy puree.
Without a proper side dish, it can feel like something is missing from the meal. From the classic roasted veggies to the light salad, these side dishes will raise the bar for your pork dinner.
Here are the nutritional profiles of our main and sides:
We also have a large collection of instant pot recipes for your reference. Come check them out. Or check out our 40+ instant pot pork roundup.
More of Our Favorite Pork Recipes:
Instant Pot Pork Tenderloin
This Instant Pot pork tenderloin recipe makes an easy, tender, and juicy meal that can be cooked in one pot.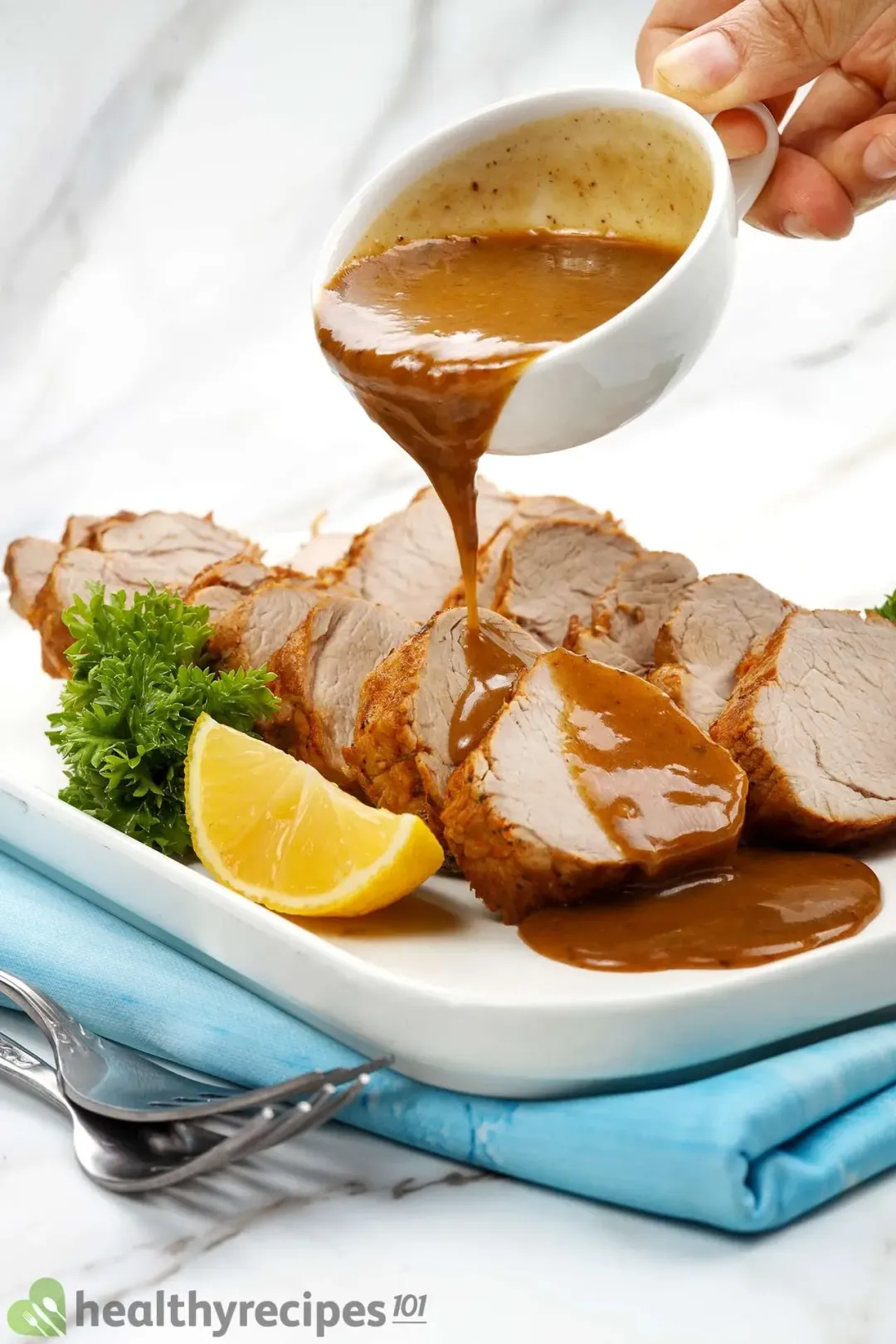 cook TIME

35 mins

prep TIME

10 mins

total TIME

45 mins
COURSE

Dinner, Lunch, Main Course

CUISINE

American

SERVINGS

CALORIES

462 kcal
INGREDIENTS
1 cup

unsalted chicken broth

2 tsp

traditional Dijon mustard

1/2 tbsp

Worcestershire sauce
INSTRUCTIONS
1
Season 26 oz pork tenderloin with 1/2 tsp paprika, 1/2 tsp salt, 1/2 tsp oregano, 1/2 tsp onion powder, 1/2 tsp garlic powder, 1/4 tsp ground pepper, 1 tsp thyme, 1/4 tsp chili powder, and 1 tbsp lemon juice. Set aside.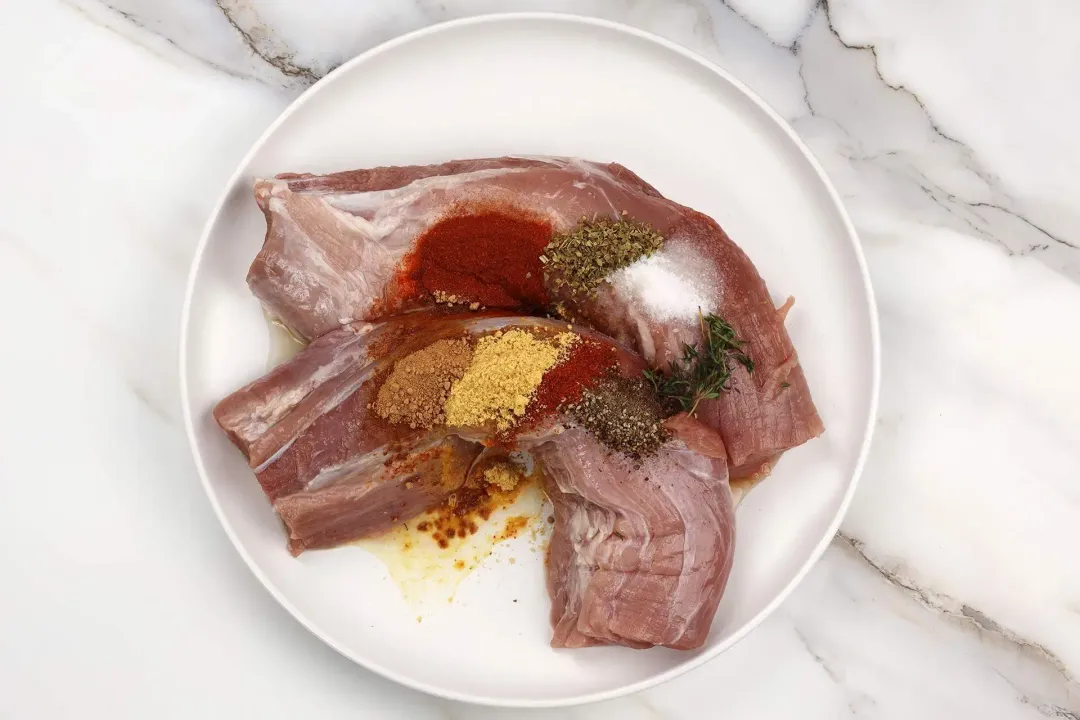 2
Turn on Sauteé Mode, heat 2 1/2 tbsp olive oil in the pot then add the pork to sear until brown on all sides for about 5 minutes. Transfer the meat to a plate.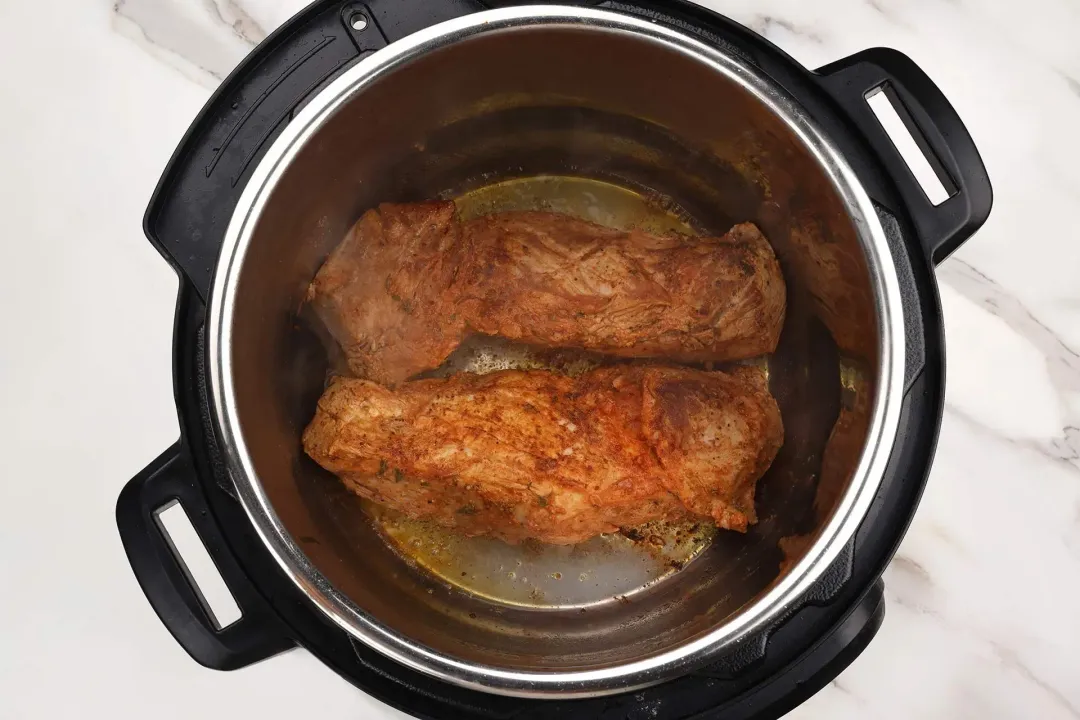 3
Add 1 tbsp garlic and sauteé until fragrant. Then stir fry 6 oz Brussel sprouts, 6 oz baby carrots, and 12 oz baby potatoes in the same pot for 2 minutes. Add 2 tbsp unsalted butter and stir to combine well.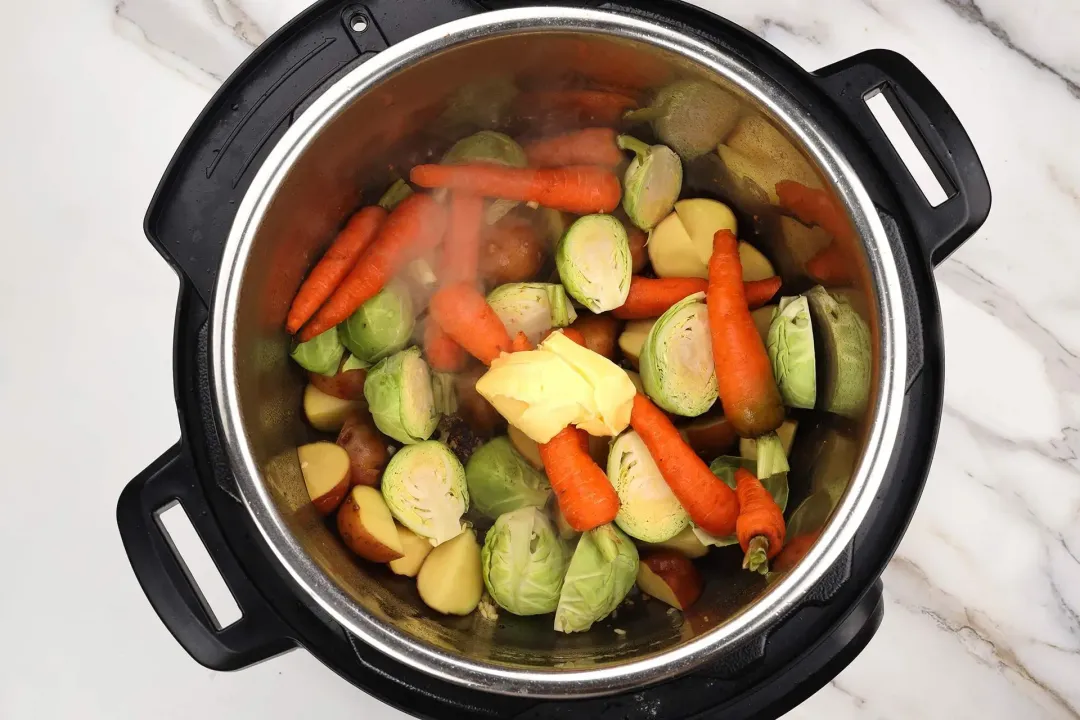 4
Pour in 1 cup unsalted chicken broth to deglaze the pot. Add trivet to the Instant Pot and place the pork on it. Place the lid on and lock. Set the Steam Mode for 15 minutes.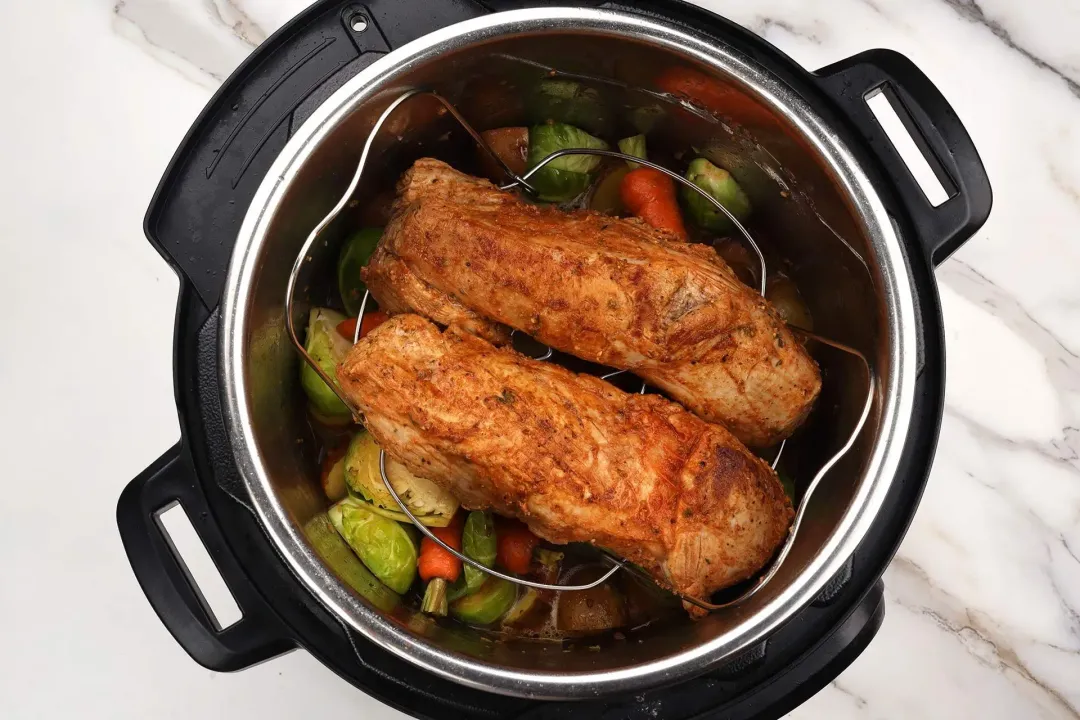 5
Allow the pressure to release slowly. Transfer the pork and vegetables to a plate.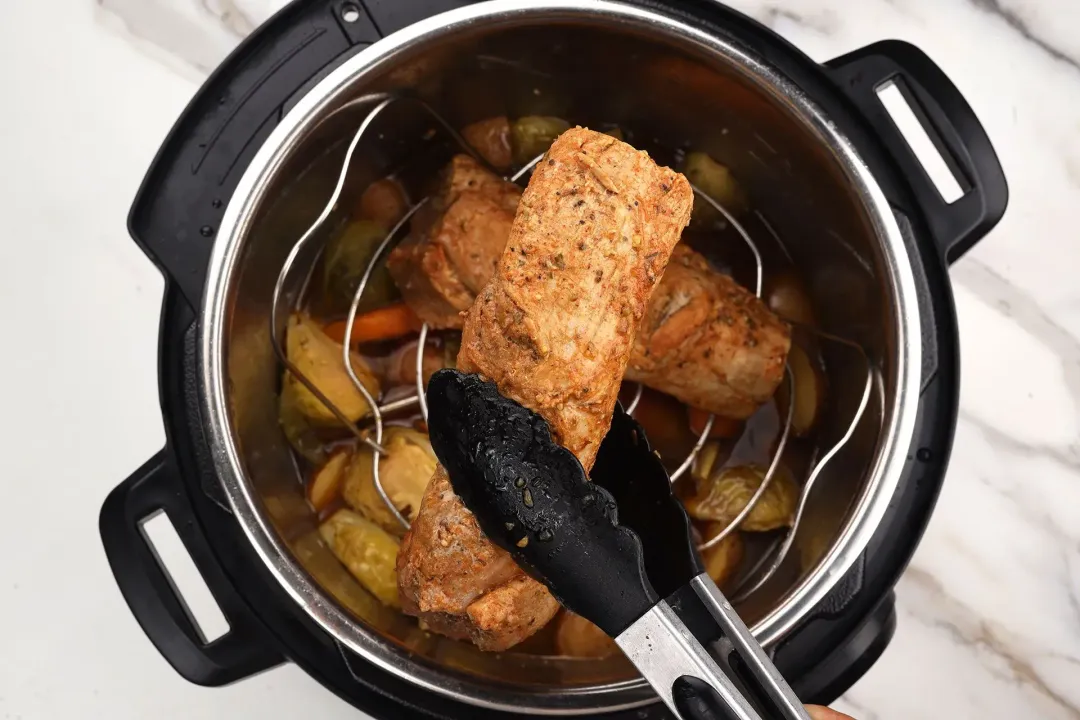 6
Turn on Sauteé Mode. Add 2 tsp mustard and 1/2 tbsp Worcestershire sauce and cook for another 10 minutes to thicken the liquid. Whisk together 2 tsp all-purpose flour with 2 tbsp water and pour the mixture into the pot to make the gravy.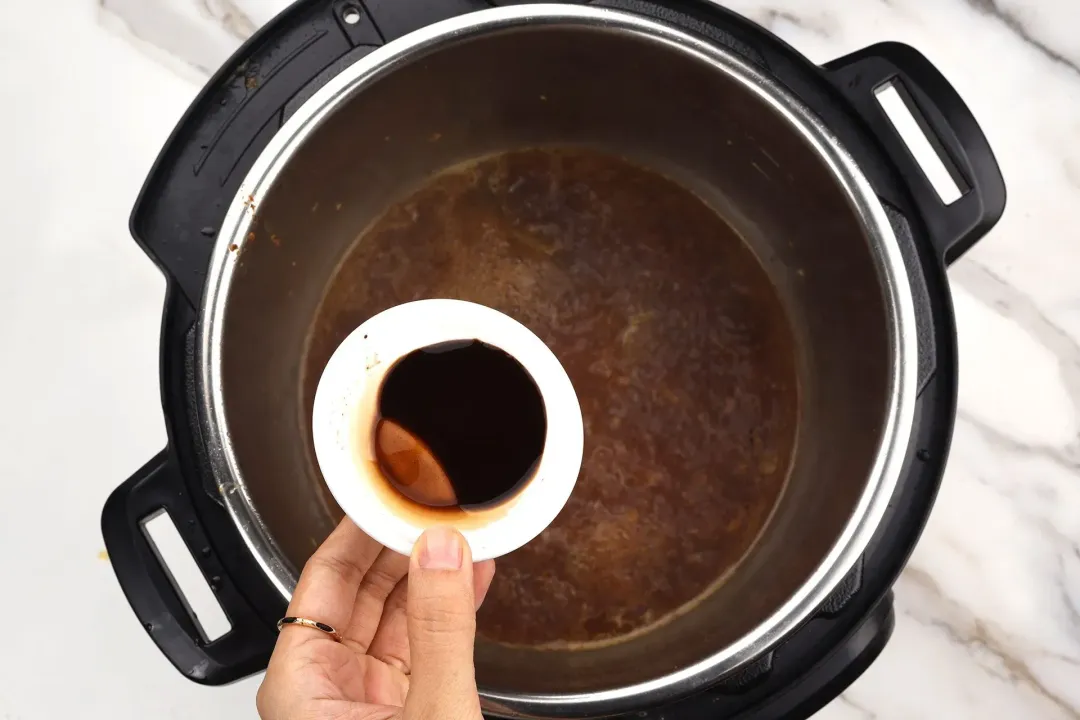 7
Cut the pork tenderloin into slices.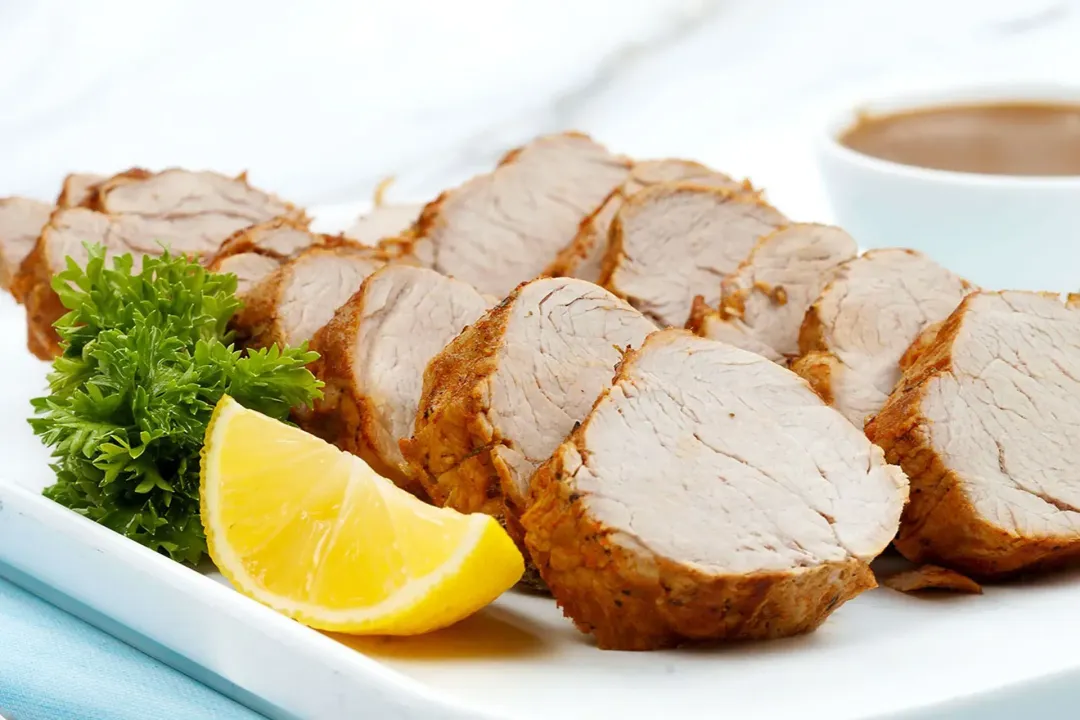 8
Garnish with 2 tbsp parsley. Serve with vegetables and drizzle with gravy.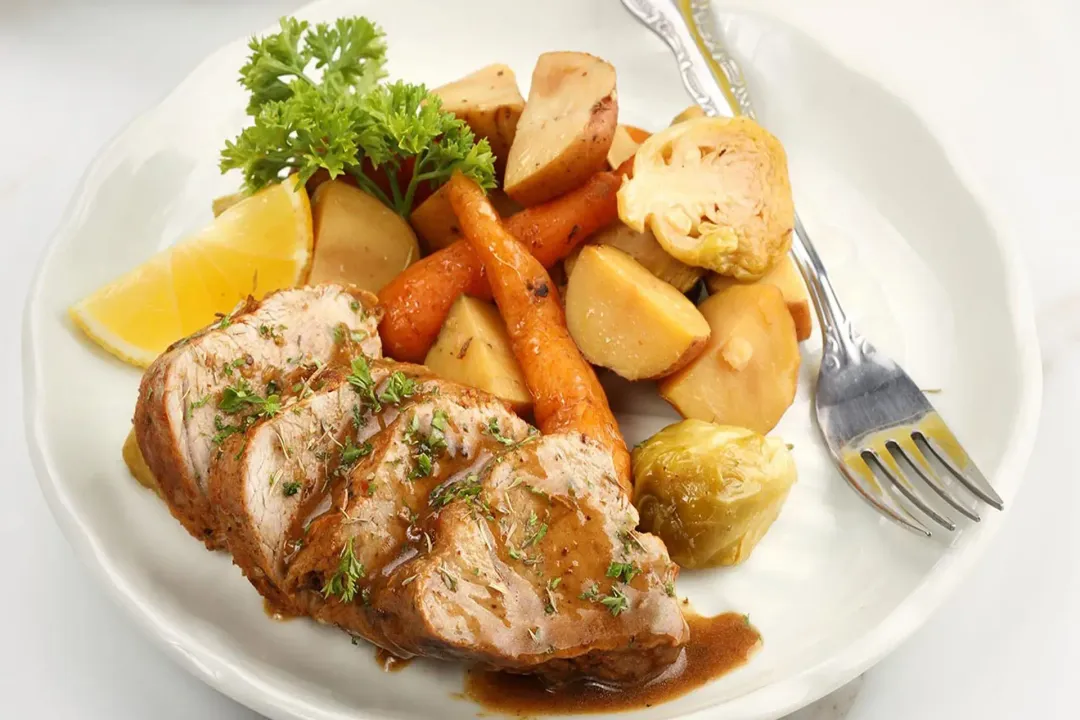 NUTRITION
Nutrition Facts
Instant Pot Pork Tenderloin
Amount Per Serving (1 serving)
Calories 462
Calories from Fat 189
% Daily Value*
* Percent Daily Values are based on a 2000 calorie diet.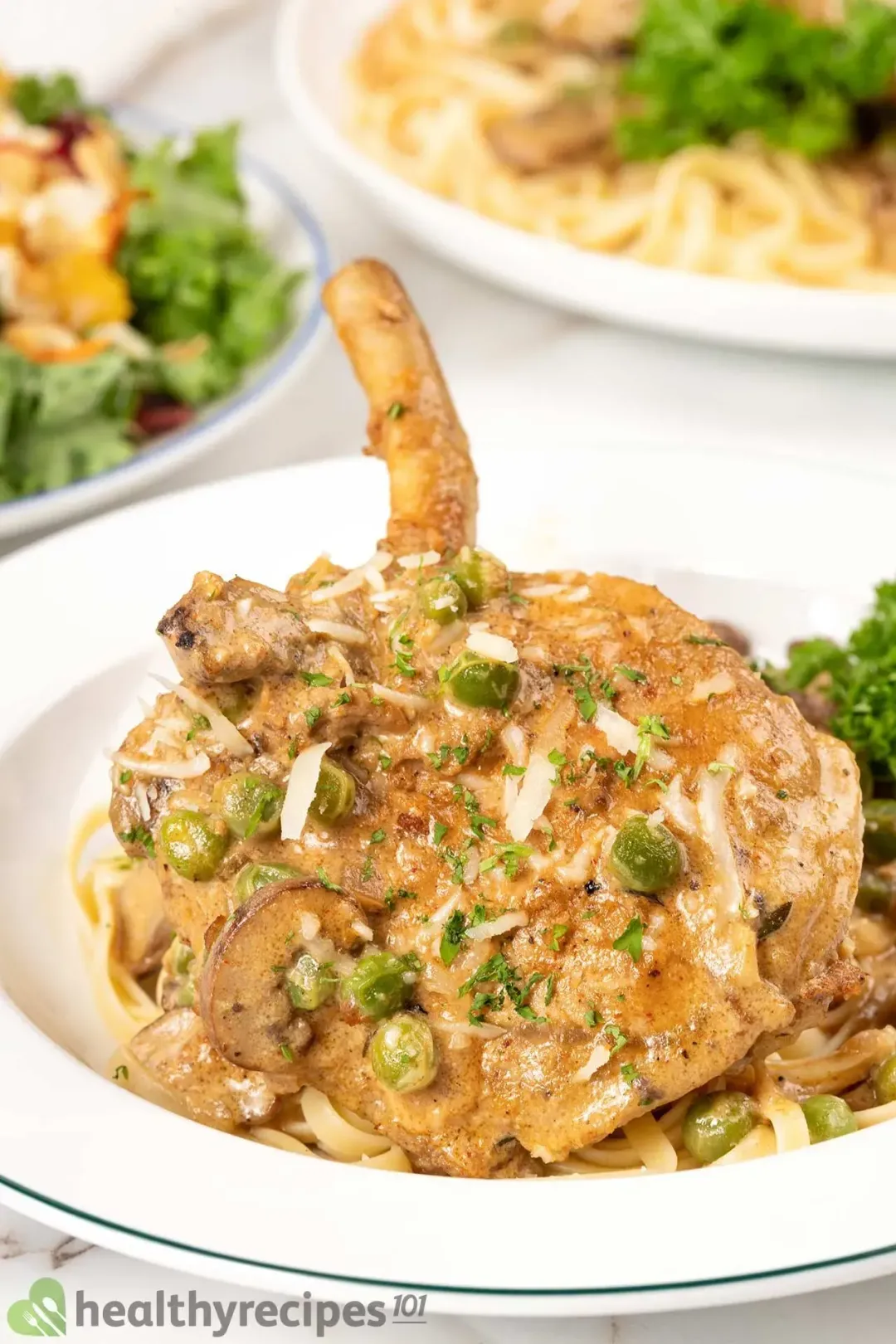 Previous Recipe
Instant Pot Pork Chops
Instant Pot Pork Chops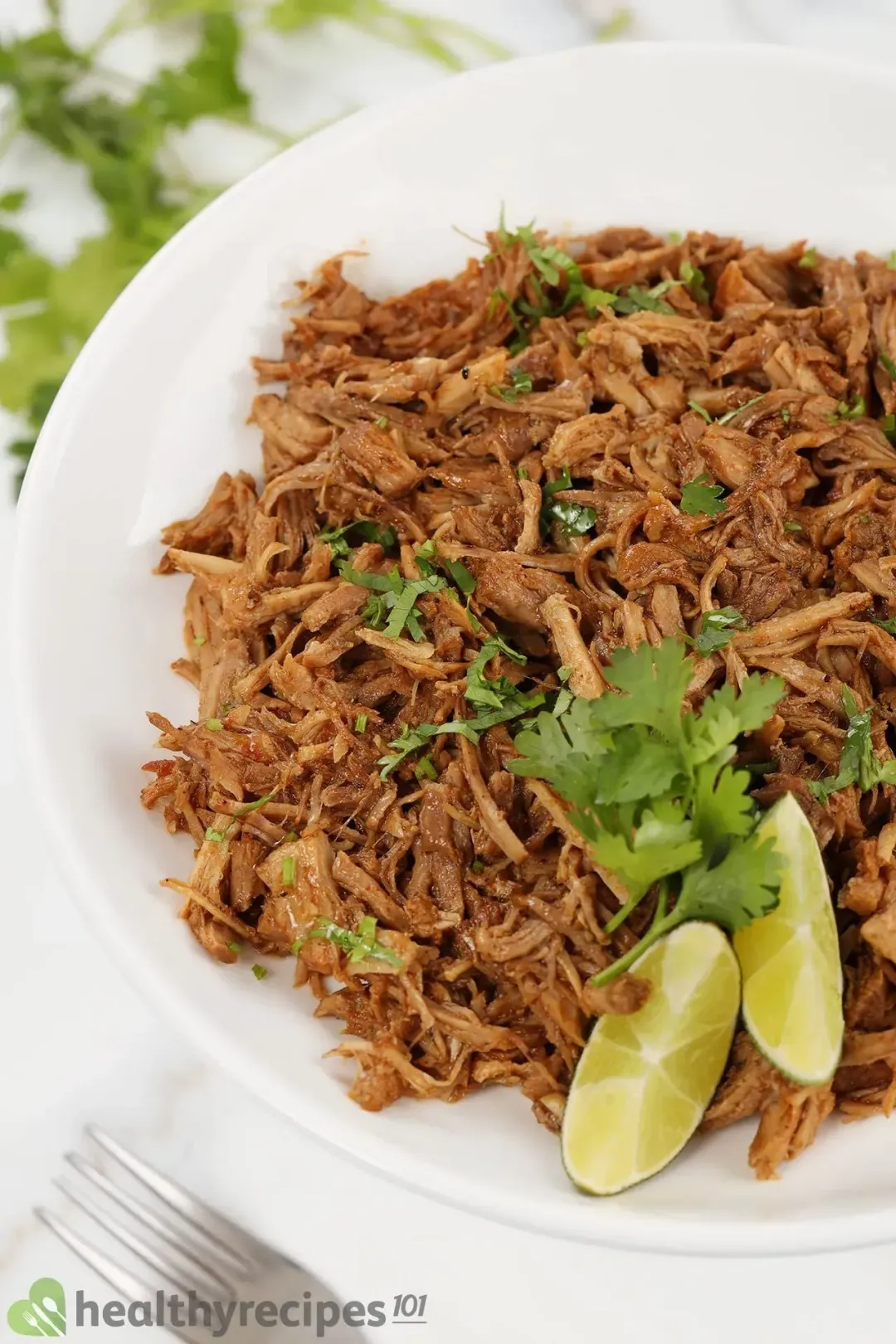 Next Recipe
Instant Pot Pulled Pork
Instant Pot Pulled Pork
Head Chef, Culinary Consultant
Tuyet Pham is an award-winning Saigonese chef who believes that joy is the secret ingredient to delicious food. At Healthy Recipes 101, Tuyet personally tests and simplifies every recipe, ensuring maximum flavor with minimal effort. With a background at prestigious French restaurants P'TI Saigon and Le Corto, Tuyet knows how to make every dish exceptional.
Writer, Author
Luna Regina is an accomplished writer and author who dedicates her career to empowering home cooks and making cooking effortless for everyone. She is the founder of HealthyKitchen101.com and HealthyRecipes101.com, where she works with her team to develop easy, nutritious recipes and help aspiring cooks choose the right kitchen appliances.
Nutrition Reviewer
Lizzie Streit is a Minneapolis-based dietitian and founder of It's a Veg World After All. She completed her MS in Human Nutrition from Drexel University, and is an expert in culinary nutrition, recipe development, and nutrition communications. Lizzie's philosophy is centered around making nutrition recommendations, and especially the advice to eat more vegetables, approachable and realistic. She is excited to be working with the team at Healthy Recipes 101 to ensure that their recipes are both nutritious and delicious.
Excellent! My cat and housemate both loved it;)