Our Easy oven baked pork chop recipe features both meat and veggies, all cooked in the same oven. It's a real time-saver.
Is This Oven Baked Pork Chop Recipe Healthy?
With roasted veggies on the same tray, our healthy oven baked pork chops recipe is both protein-packed and nutrient-rich.
1. The Pork Chops
Similar to other types of meat, pork contains all of the necessary amino acids. It's considered one of the most complete sources of protein.
In addition to proteins, pork is a rich source of vitamin Bs, selenium, zinc, and iron. They serve a variety of functions in our body, promoting the strengthening of our immune system.
2. The Veggies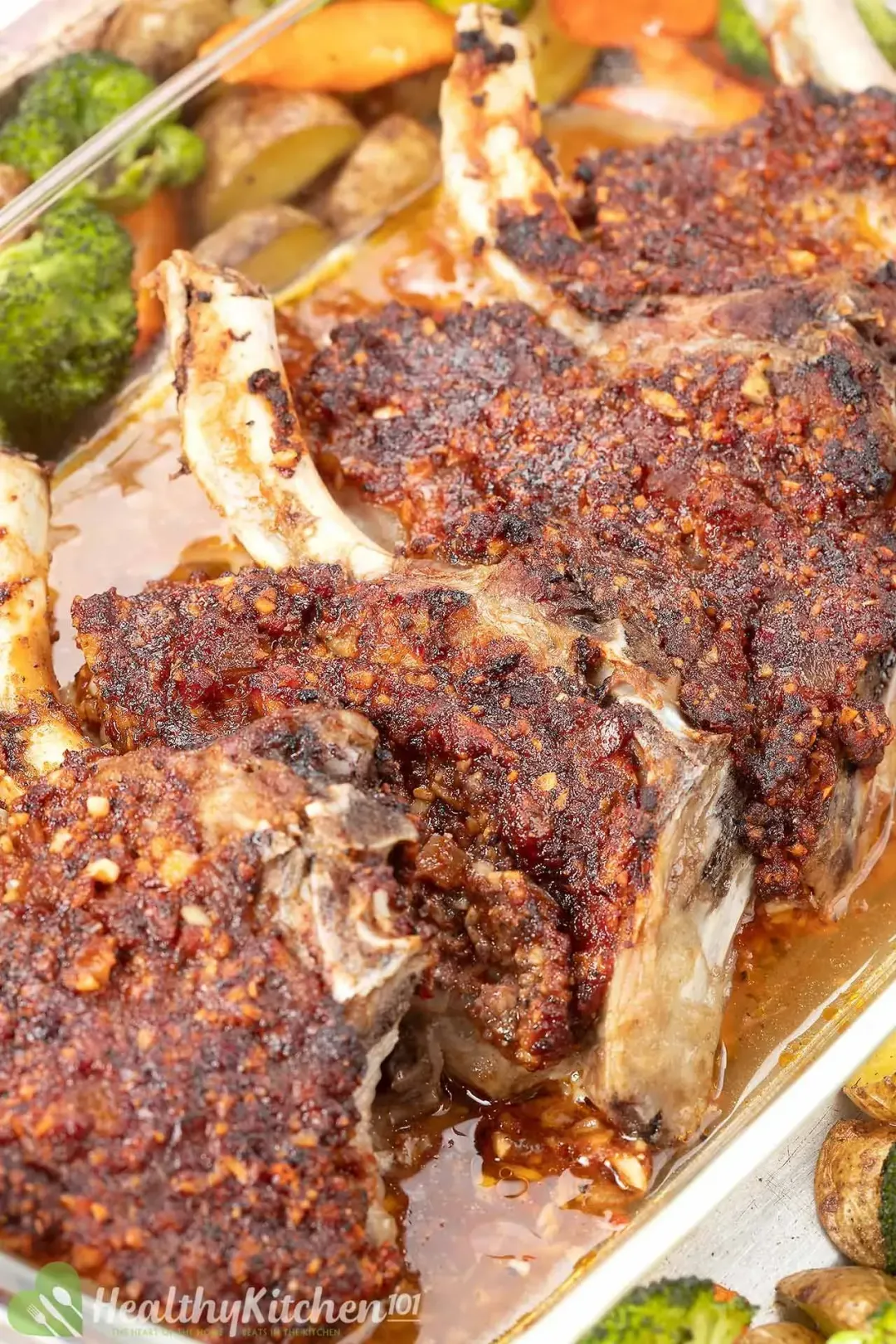 Broccoli is loaded with vitamin C, an antioxidant that can prevent oxidative stress in the body. Research shows that oxidative damage is often linked to cancer development.
Carrots, on the other hand, are a reliable source of dietary beta carotene (vitamin A). It also has antioxidant properties and is a crucial element for your eyes to function.
Calories in Pork Chops
Our baked pork chops recipe provides around 500 calories per serving. Almost 40% of the calories are from protein and 22% of it is from good fats.
1. How Much Protein is in Pork Chops?
Each serving of our baked pork chop recipe contains 48 grams of protein.
Although the recipe card says this constitutes 98% of your daily protein intake, this number is only for reference. It is based on a 2000-calorie diet, which does not apply for all of us since we're all different size, activity, and goal wise.
The optimal protein intake depends on your body goal/situation, according to the Institute of Medicine. Each person should consume 0.54 to 0.8 grams of protein per pound.
For example, if someone weighs 150 pounds, they should consume 84-126 grams of protein per day, for optimal health. In other words, they could have 2-3 servings of this dish to meet the daily recommended intake of protein.
From the formula, you can calculate the amount of protein you should consume per day which is more accurate than following recipe cards.
2. Low Fat Pork Chops
Fat in pork chops should be visible and can be trimmed off. If you prefer low-fat pork chops, simply ask the butcher to remove it or trim the excess fat at home.
Each serving of our recipe has 200 grams of bone-in, lean pieces— with less than 4% of total fat per chop.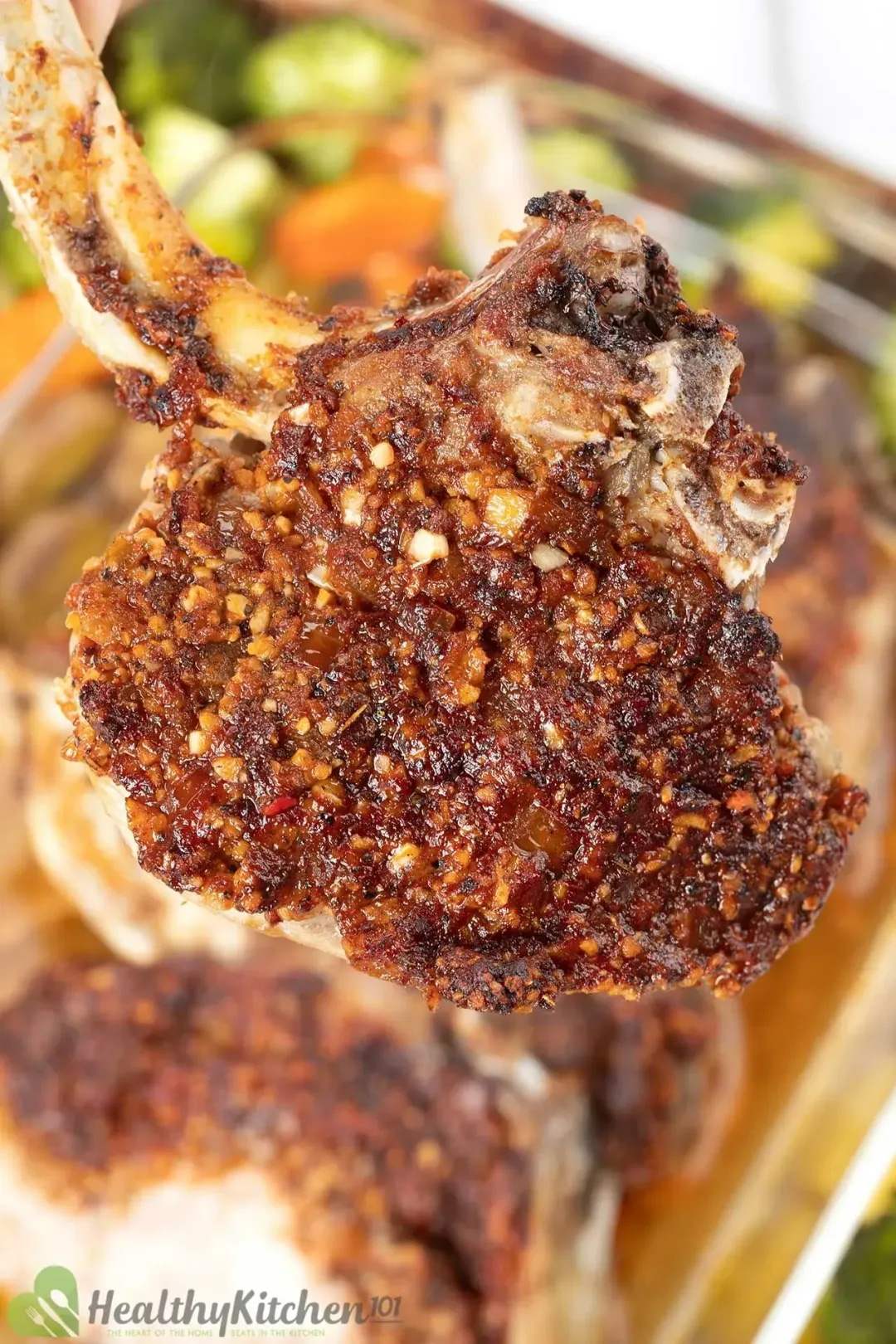 Types of Pork Chops
For many people, a pork chop is simply an ordinary cut of meat, but that is a misconception. Choosing the right pork chop is important as it decides how well your dish will turn out.
All pork chops come from the loin- the part from the shoulder to the hip of the pig. This is the leanest and most tender part of the pig.
1. Center Cut Pork Chops
Also known as the porterhouse, or T-bone, this cut is very suitable for searing or roasting.
The chops can come with a piece of fat or they may be completely lean. You can also choose between bone-in or without bone, depending on your preference.
2. Pork Tenderloin Chops
This boneless cut is the leanest and most delicate piece of meat (and it is the most expensive cut, too).
Just like beef tenderloin, pork tenderloin has very little marbling. Therefore, under no circumstances should it be overcooked.
Check out our roasted pork tenderloin recipe for some inspiration.
3. Sirloin Chop
This particular cut of meat comes from the hip area of the pig. It has bones and several types of muscles, making it hard to cook.
The sirloin chop is best suited for braising or stewing.
4. Blade chop
Or "the shoulder chop", "pork shoulder steak". It is cut from the shoulder end, near the pig's loin.
The dark-colored meat has lots of fat and connective tissues, which requires proper care or it will get tough. This cut is relatively hard to find in the market.
In this recipe, we're choosing frenched center-cut loin, the part with a rib sticking out. If possible, you should choose the above cuts for the best flavor.
How to Season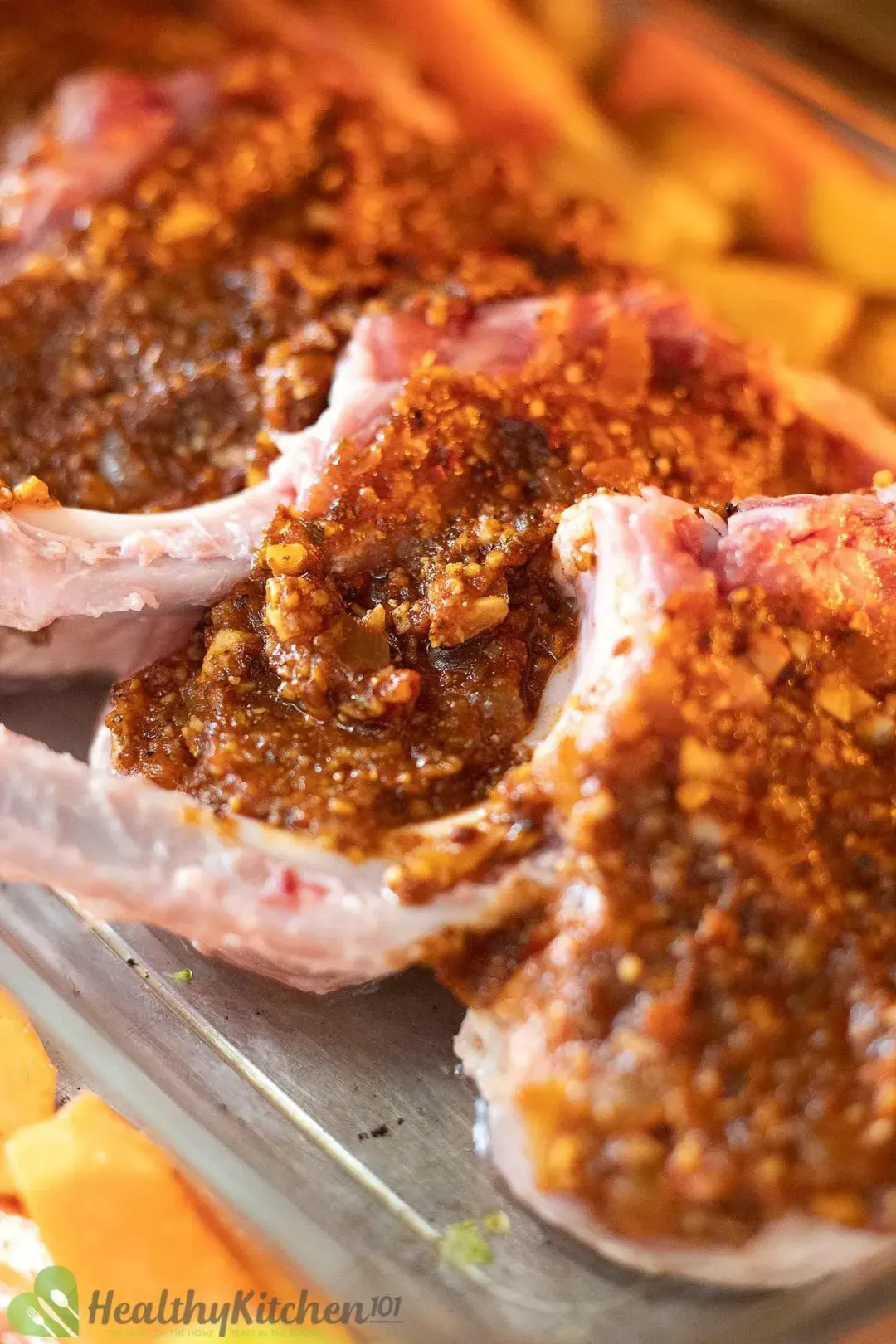 Many people season their pork chops with a dry rub with a typical set of spices, herbs, salt, and pepper. It's the easiest, quickest way to season a large chunk of meat.
We, however, prefer our pork chops a little saucy. We made our sauce, spread it onto each piece of meat, let it sit, then popped them in the oven.
Although the sauce is really dry, as the meat cooks in the oven, it will gradually soak into the chop.
How to Cook Pork Chops in Oven
When the timer dings, all that's left to do is serve, like so: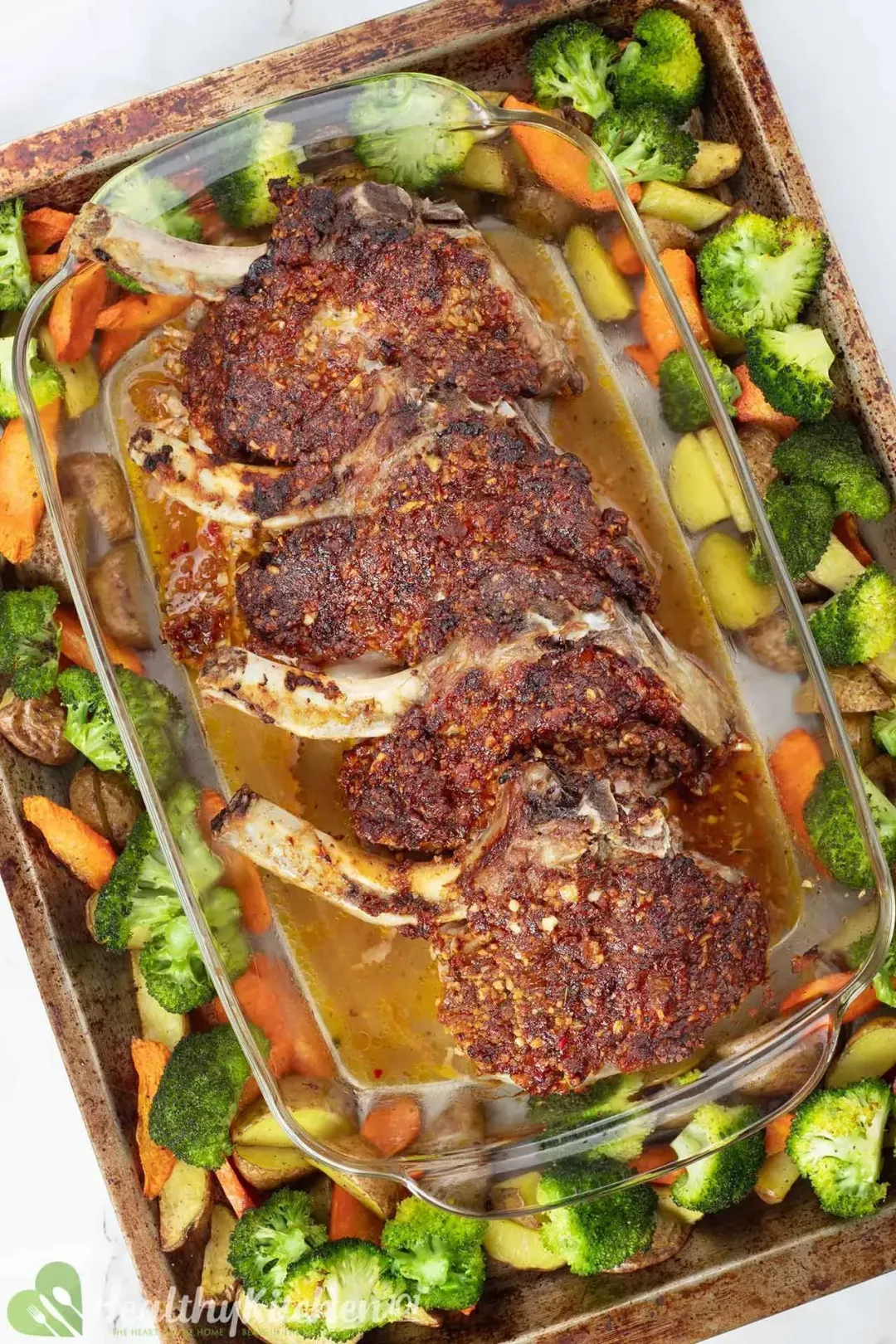 How Long to Bake Pork Chops in The Oven
It depends on the temperature and thickness of your pork chop.
We got our pork chop straight from the butcher, so it was at room-temp when we baked it. It's highly recommended that you use fresh meat, indicated by a deep reddish-pink hue, not gray-ish.
In case you already have frozen meat in your freezer, simply give the meat more time to bake. We've found it takes about 30 minutes more.
Keep an eye on the potatoes and carrots, because they only take 30 minutes to cook.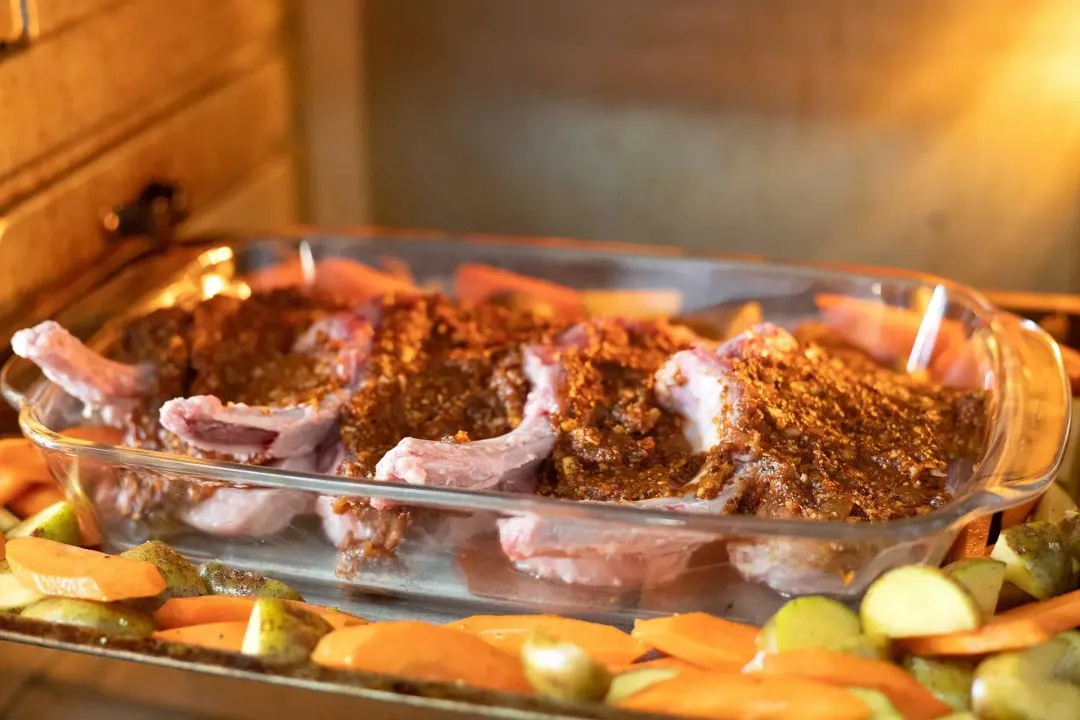 Tips for Baking the Perfect Chops
There are a few things you can do to take your easy oven baked pork chop to the next level.
1. Using a Meat Thermometer
This tool is really helpful, especially since some ovens don't cook at the exact temperature they display. It also comes in handy when you're baking cold meat.
Stick a meat thermometer in one of the chops, and place them in the oven. When you see the internal temperature of the meat reach 145°F, they're ready.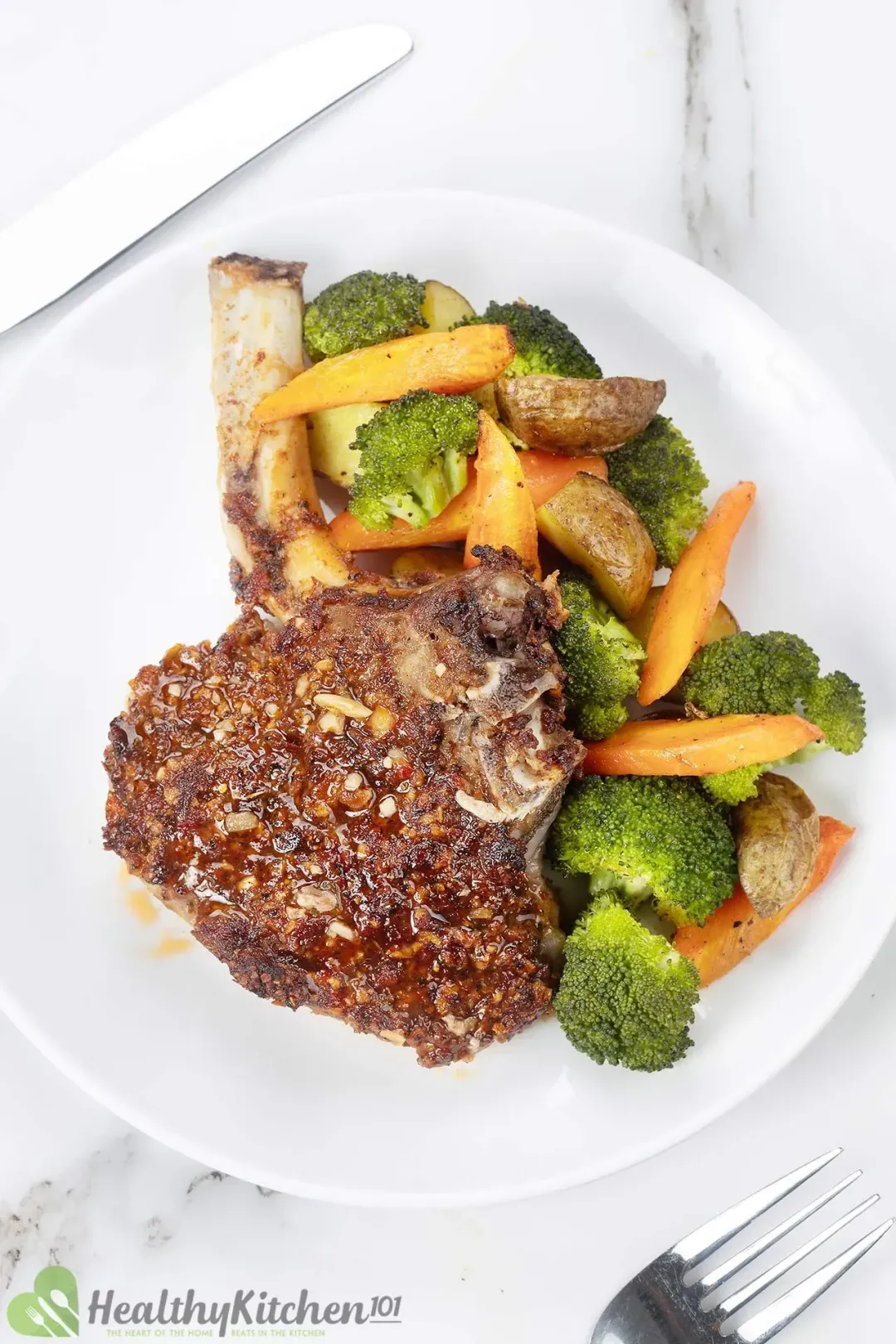 2. Meat Resting
Always allow your meat to rest after baking, no matter if it's poultry or red meat.
Under the tension of heat, the meat contracts, allowing the juice to come out. Some of the juice will come out of the meat, while some of it stays inside the meat.
By letting the meat rest, the juice inside redistributes evenly through the meat. As you cut into it, the juice will end up in your mouth instead of running all over the place.
As for how long, it depends on the thickness of the cuts. Thick ones take about 15 minutes, while smaller ones take only 5-10 minutes.
3. Searing
Some oven baked pork chops recipes do ask you to sear your meat before finishing them in the oven. This creates a crust that not only gives a better mouthfeel but also allows the meat to retain more juice.
However, the method only applies to dry-seasoned pork chops, which is different from our take. We'll try them in the future and tell you how it turns out!
If you're also looking for ideas to cook other pork chops, Air Fryer perfecting version is a good recipe
How Long Do Cooked Pork Chops Last?
Cooked pork chops last for 3-4 days in the refrigerator, and of course, for food safety, you shouldn't store them for more than 2 hours at room temperature.
You can freeze the pork chops raw or cooked to store them for 4-6 months. Cooked meat is best used within 2-3 months. It can last longer, but the quality of the meat won't be the same.
What Goes with Easy Oven Baked Pork Chops?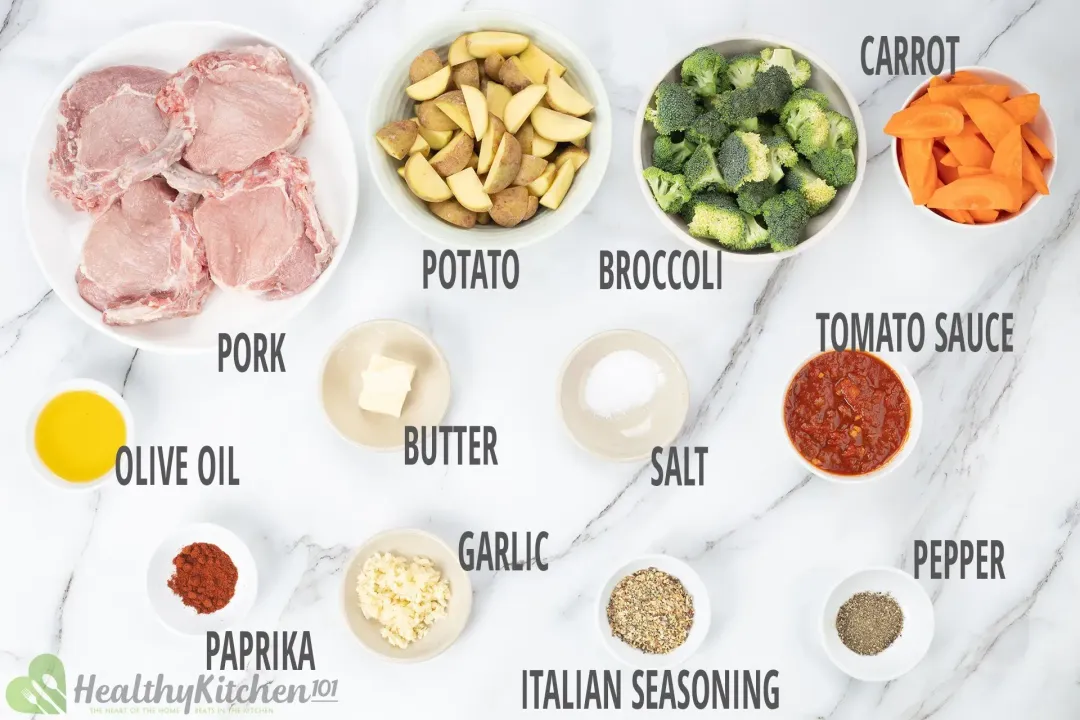 1. Potatoes
The classic veg combo of potato, carrot, and broccoli is not only convenient to make but is also a nutrition-packed-trinity.
Like we instructed, you simply need to place them on the same tray as the pork— very little mess!
2. Mushrooms
Mushrooms are the best side vegetables that can go with any savory dish. Their unique springy, chewy texture makes them fun, pleasant to eat.
You can add sliced mushrooms to the tray, as many as you like. They only take 30 minutes to bake whole, or only 10 minutes to bake if sliced.
3. Cabbage
If you feel like adding more fiber to baked pork chops, braised cabbage would be perfect. It's tender, juicy, and super flavorful.
As the pork sits in the oven, turn on the stove and sautee your cabbage with olive oil and garlic.
Add your favorite seasonings, ¼ tsp of salt and pepper, and water, and place a lid on. Cover and cook for 5 minutes and you have a healthy veg side to go with your meat.
What to Serve with This Healthy Baked Pork Chops Recipe
For additional calories to meet the 750-calorie-meal goal, here are our recommendations:
1. Cream of Mushroom Soup
The firm meat and savory, zingy sauce already complement one another, but it'd be even better when paired with a creamy soup.
Seeing as canned mushroom soup contains a lot of fat and sodium, we make our own. Check out our tuna noodle casserole recipe for instructions on how to make it.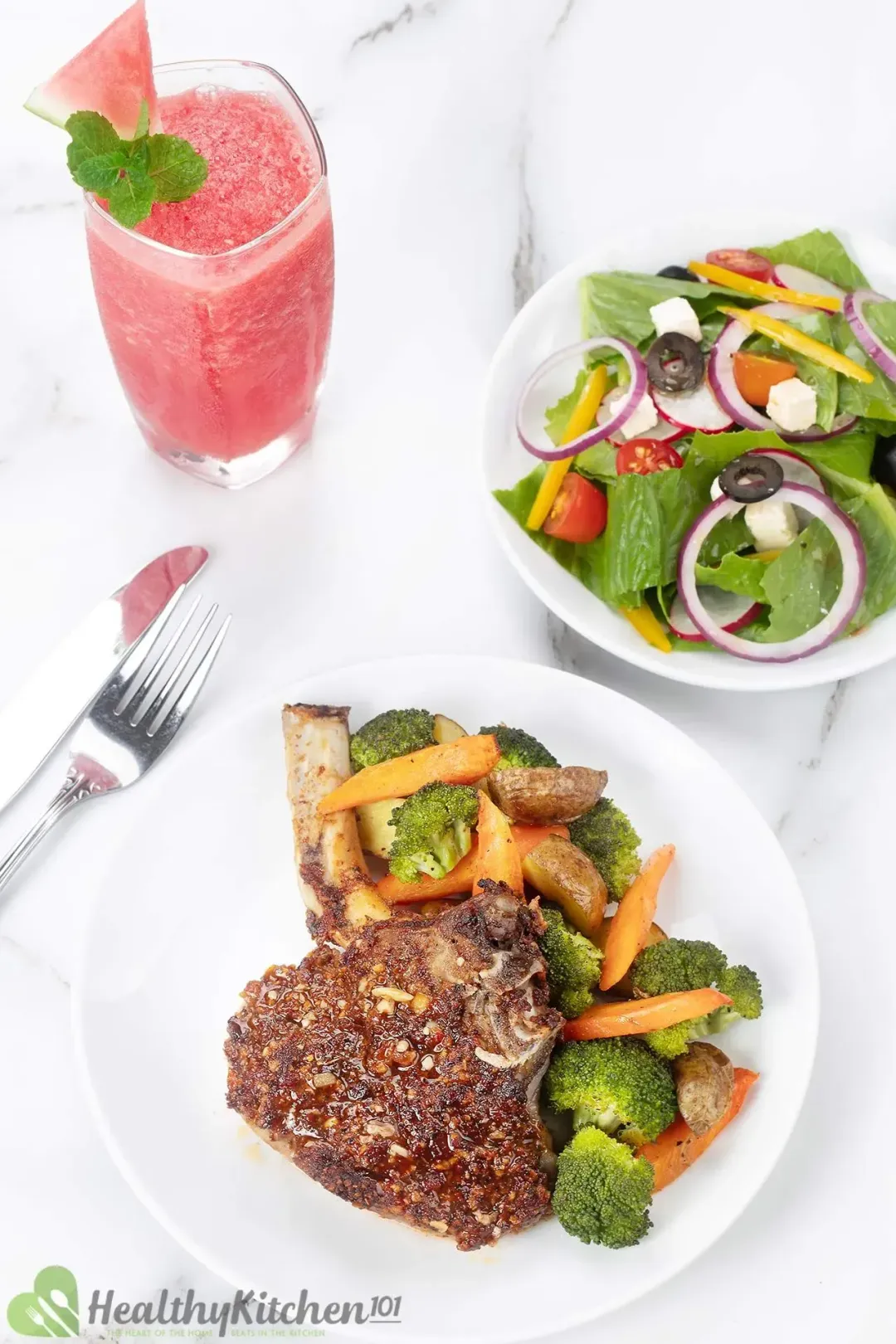 2. Rice
If you love rice like us, you can have baked pork chops with rice (like we did). Rice is a healthy source of carbs, and some types of rice even add fiber and lots of vitamins!
3. Greek Salad
Of course, a salad is an easy, versatile addition to have for roasts. It's tangy, crisp, palate-cleansing, and adds a moderate amount of calories, nutrients, and fiber.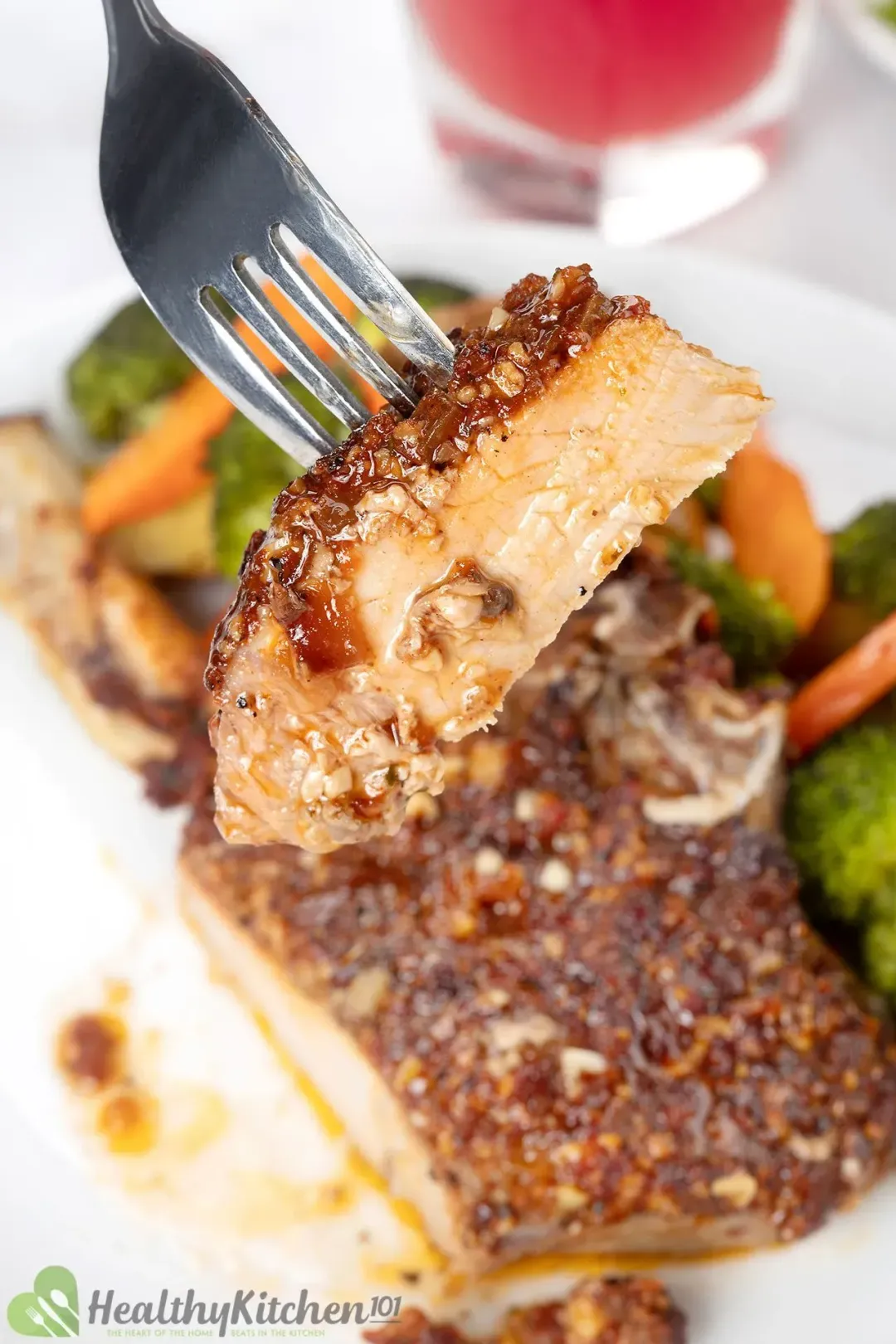 Easy Oven Baked Pork Chops
These easy oven baked pork chops recipe should make a healthy dinner for you. A healthy dinner for 4 people, cooked on a single tray, and filled with meat and vegetables. Simple, quick, and delicious.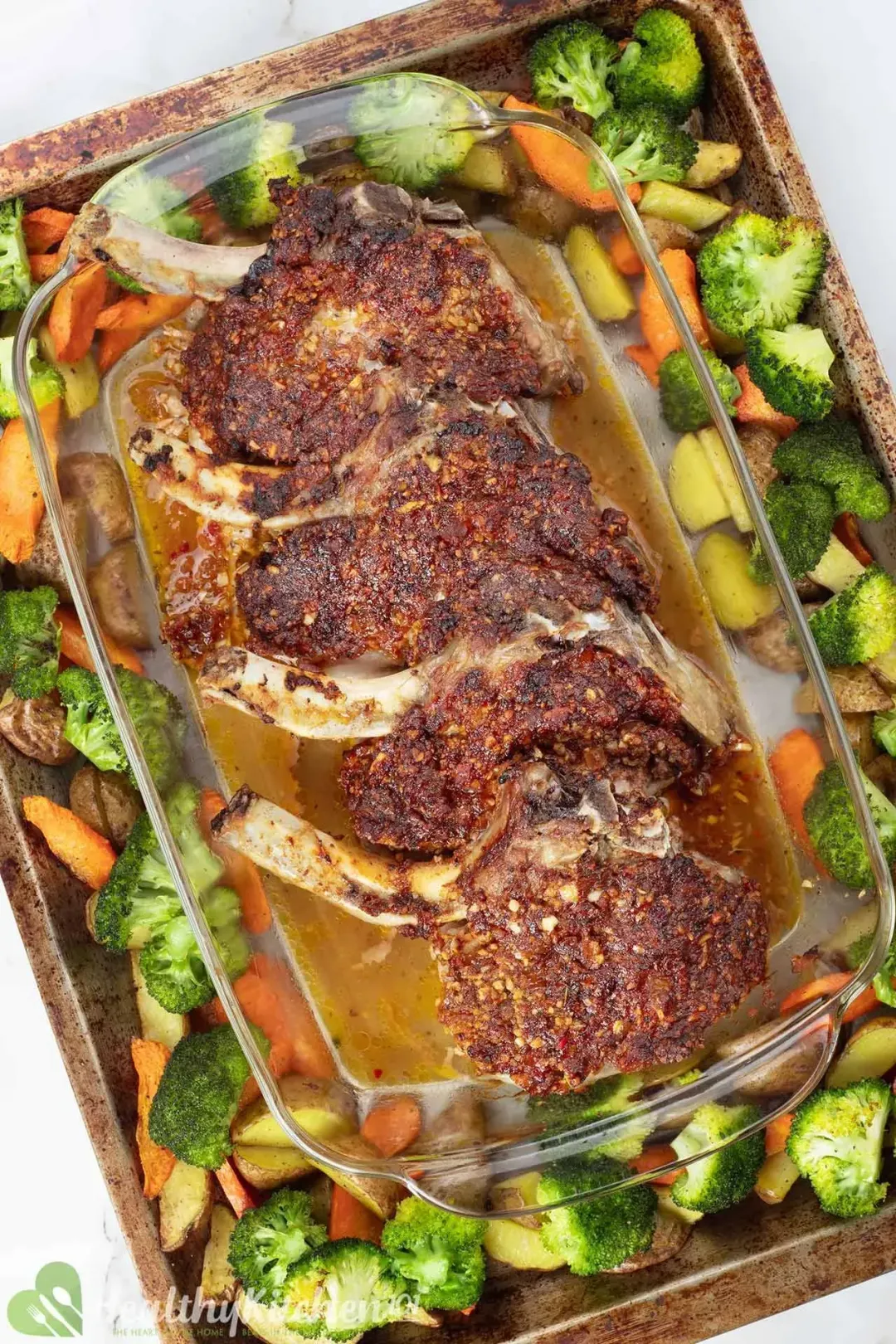 cook TIME

45 mins

prep TIME

30 mins

total TIME

1 hr 15 mins
COURSE

Main Course

CUISINE

Global

SERVINGS

CALORIES

508 kcal
INGREDIENTS
28 oz

center loin

(bone-in, lean only pork chop)

12 oz

baby potato

(halved)

8 oz

carrot

(cut into chunks)

8 oz

broccoli

(cut into chunks)

1 1/2 tbsp

unsalted butter

(room temp)

1/2 cup

homemade tomato sauce

1 tsp

ground pepper

(divided into halves)
INSTRUCTIONS
1
Make the sauce by mixing 1/2 tsp salt, 1/2 tsp pepper, 2 tbsp Italian seasoning, 1 tsp paprika, 2 tbsp garlic, 1/2 cup tomato sauce in a small bowl.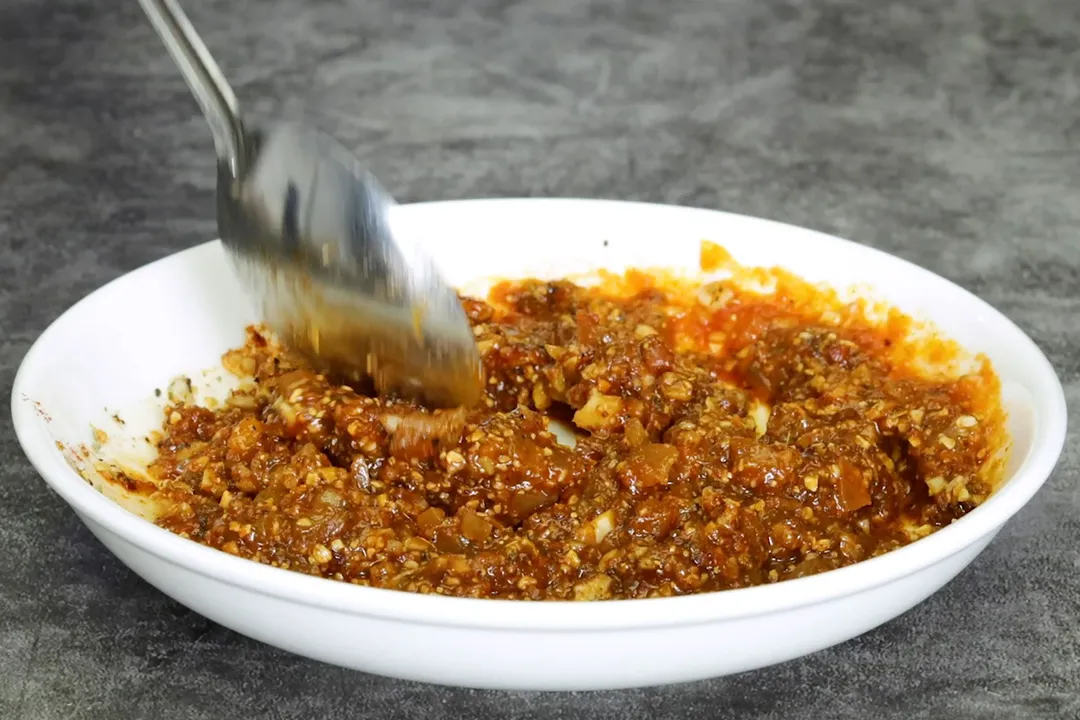 2
In a baking dish, marinate 28 oz pork (both sides) with the sauce for 15 minutes.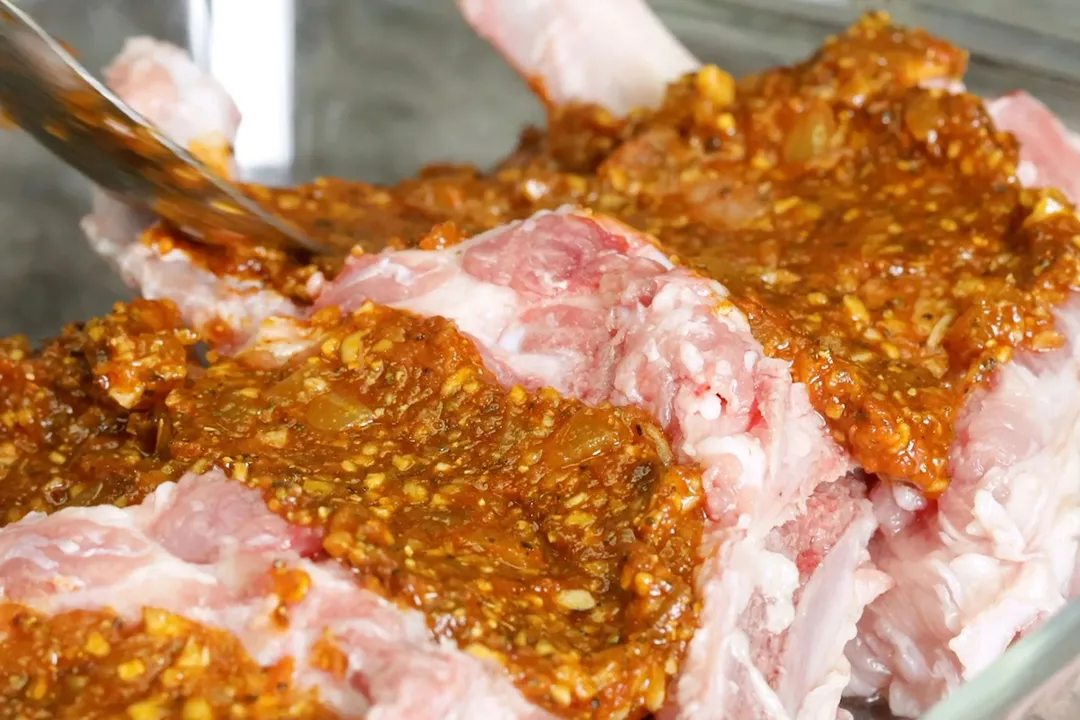 3
Spread 8 oz carrot, 12 oz potato, and 8 oz broccoli onto a baking sheet. Drizzle in 2 tbsp olive oil and sprinkle on 1/2 tsp pepper. Toss to coat evenly and wait until the pork is ready.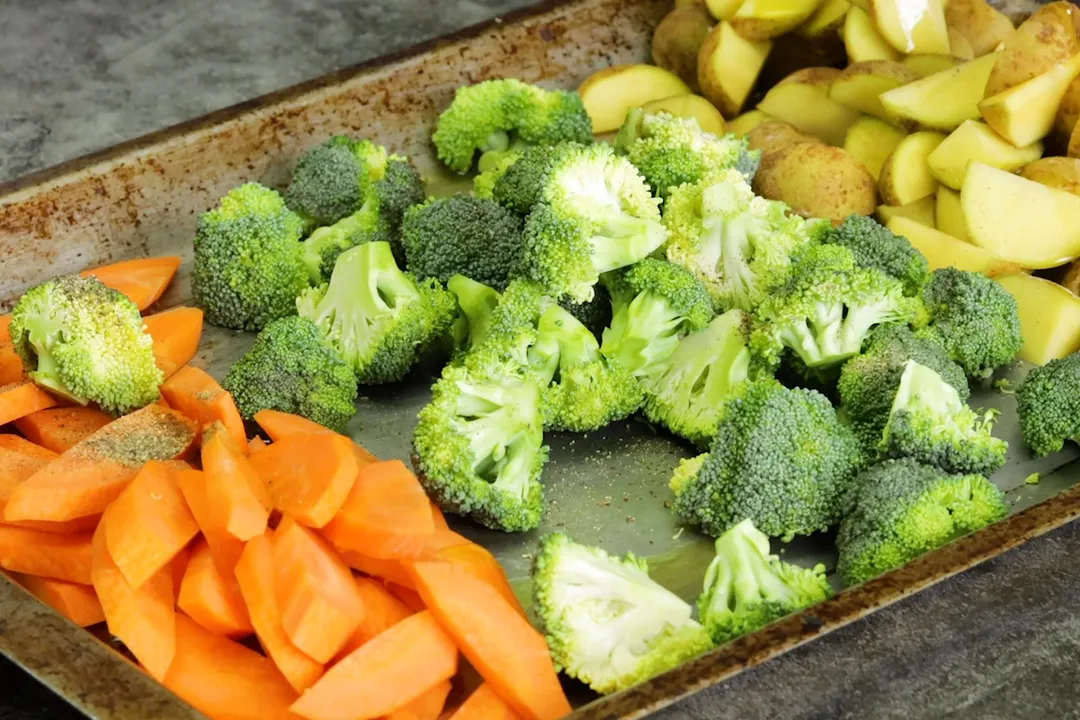 4
Take out the broccoli and leave it aside. Move the veg around to make space for the baking dish, and put the baking dish (with the pork chop inside) onto the tray. Bake at 400°F for 30 minutes.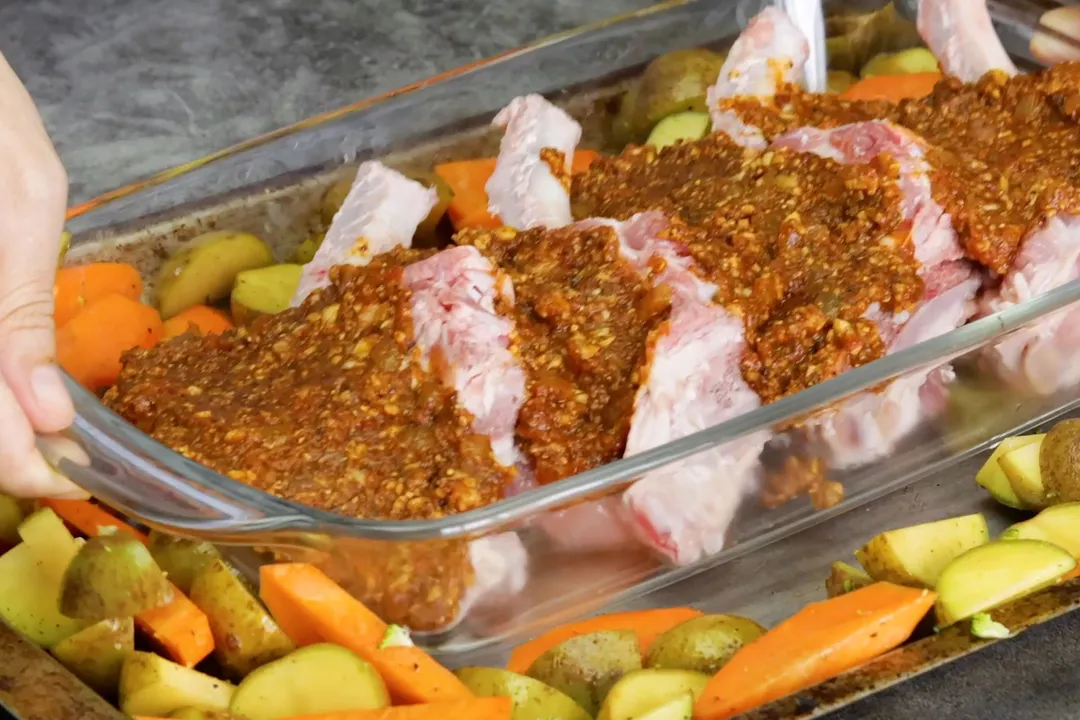 5
Remove the tray from the oven to spread 1 1/2 tbsp room-temp butter onto the pork, add 8 oz broccoli onto the tray. Then put the tray back into the oven and broil for 15 minutes at 400 °F .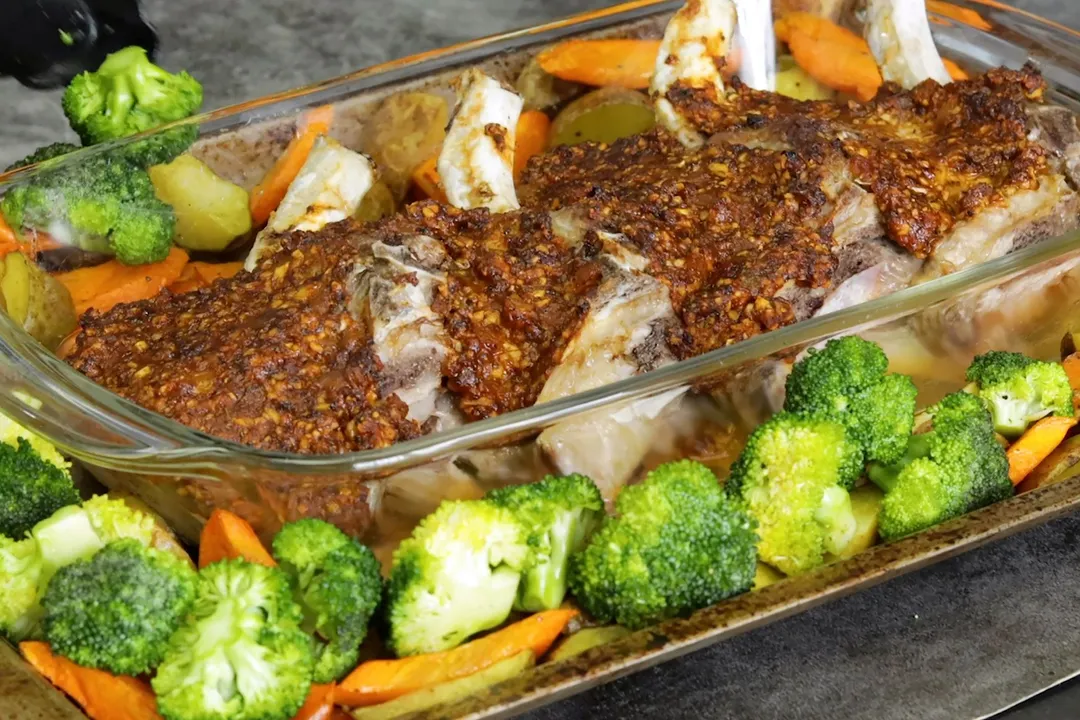 6
Plate and serve. Drizzle the sauce onto each pork chop.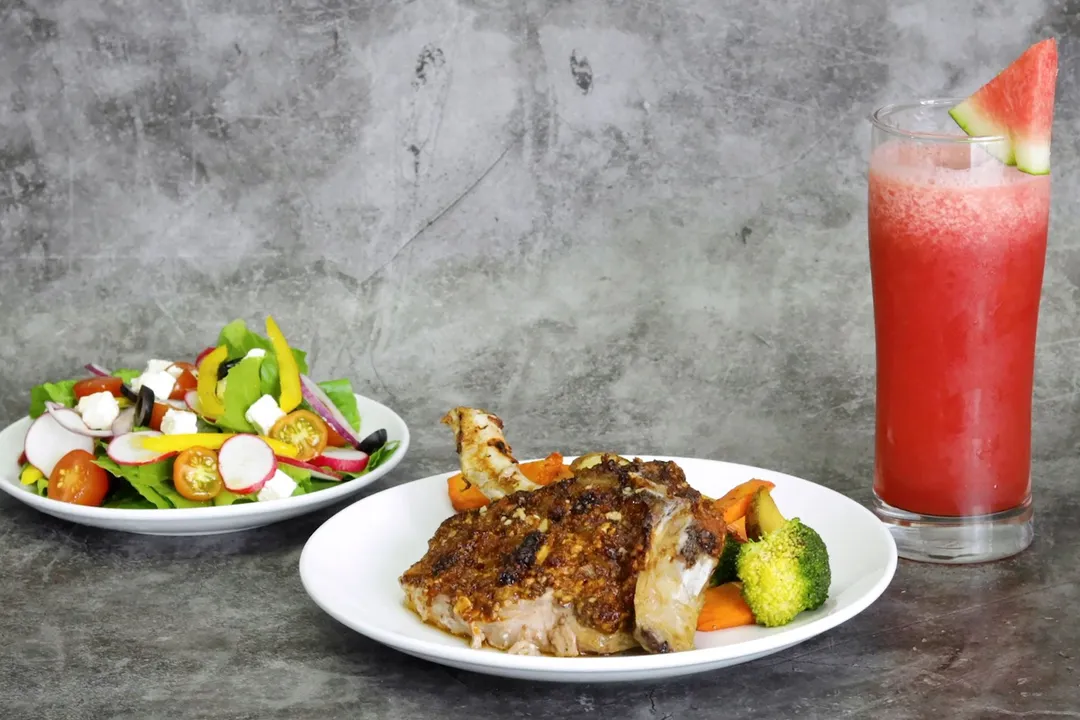 NUTRITION
Nutrition Facts
Easy Oven Baked Pork Chops
Amount Per Serving (1 serving)
Calories 508
Calories from Fat 189
% Daily Value*
* Percent Daily Values are based on a 2000 calorie diet.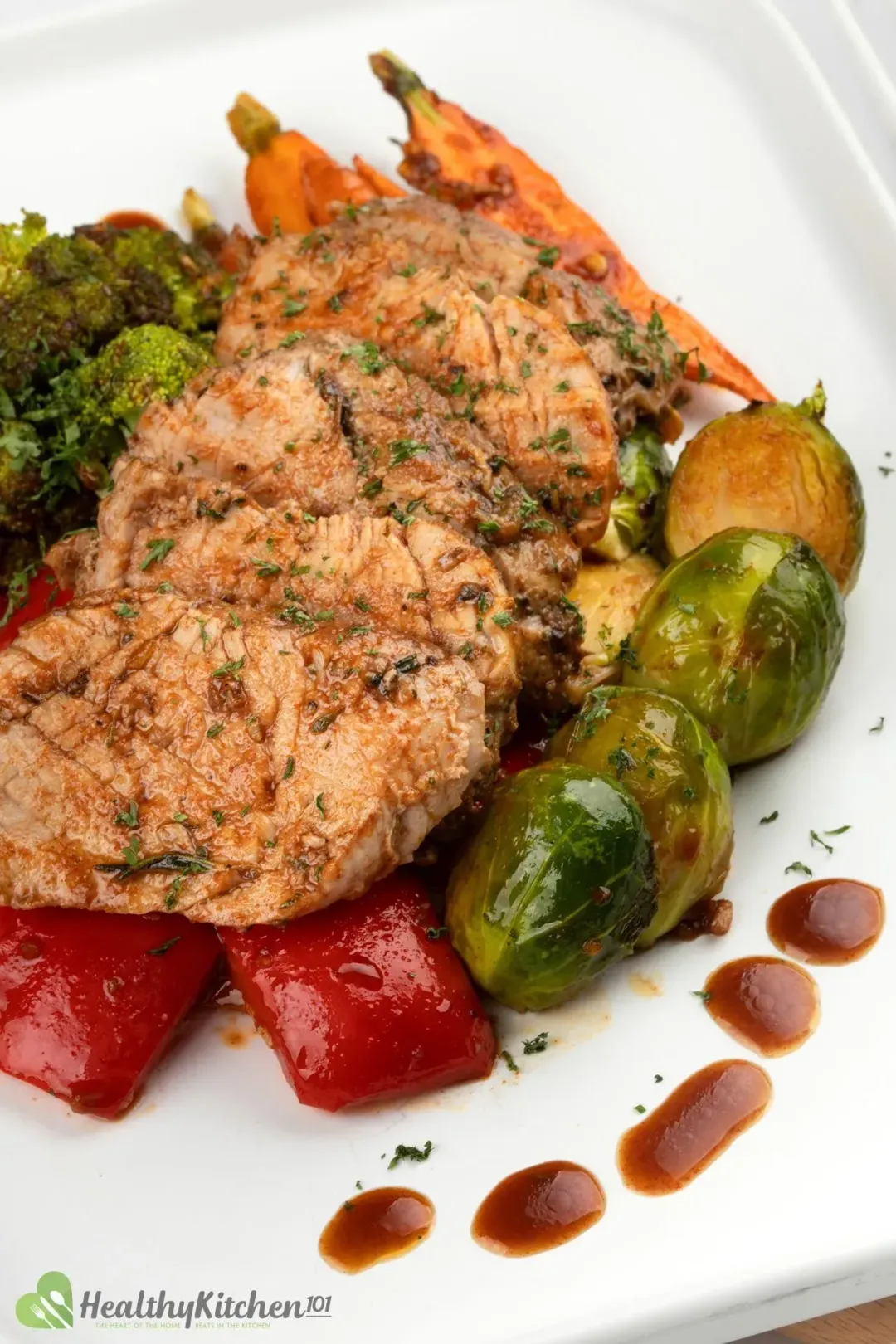 Previous Recipe
Pan Seared Oven Roasted Pork Tenderloin
Pan Seared Oven Roasted Pork Tenderloin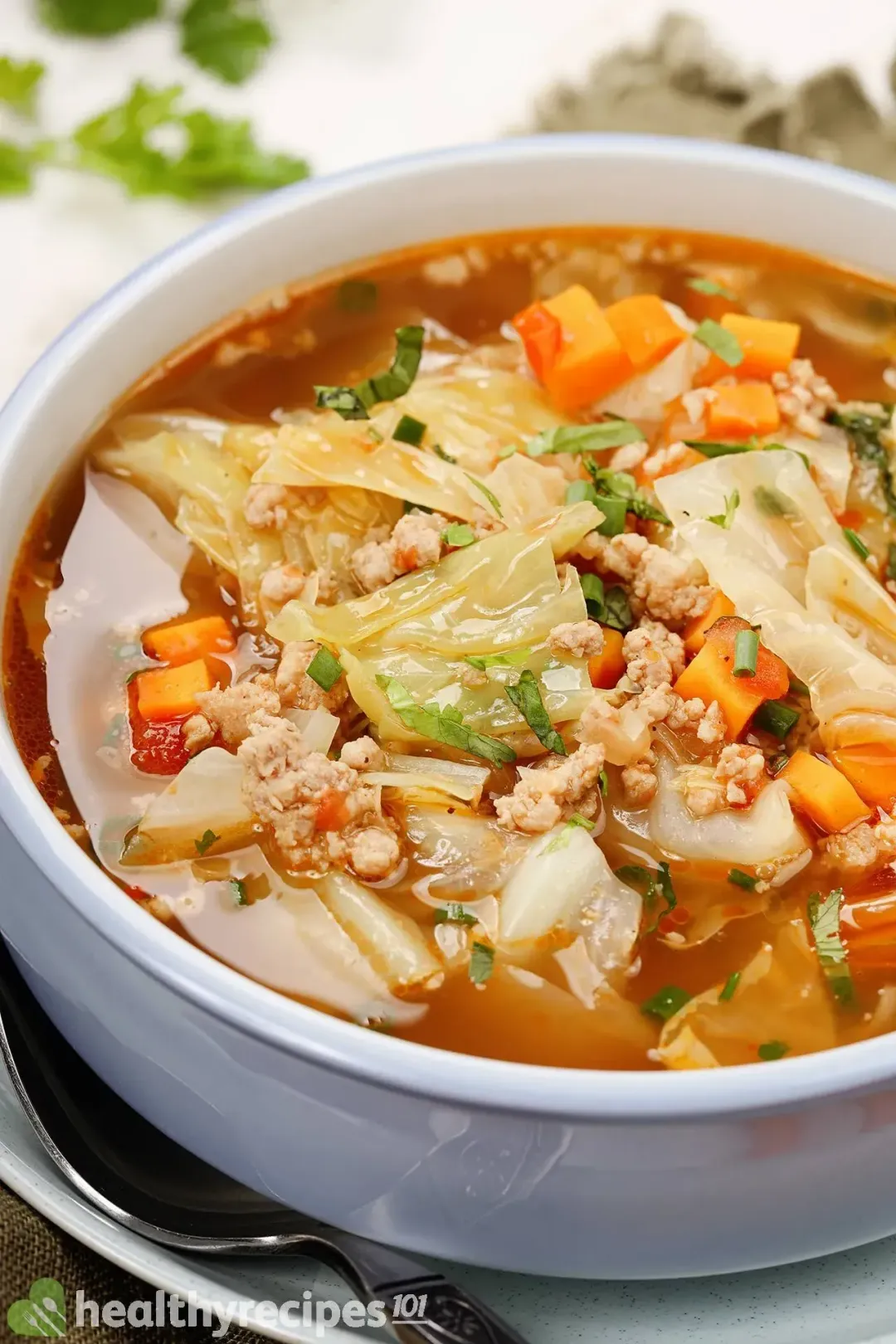 Cabbage Soup
Head Chef, Culinary Consultant
Tuyet Pham is an award-winning Saigonese chef who believes that joy is the secret ingredient to delicious food. At Healthy Recipes 101, Tuyet personally tests and simplifies every recipe, ensuring maximum flavor with minimal effort. With a background at prestigious French restaurants P'TI Saigon and Le Corto, Tuyet knows how to make every dish exceptional.
Writer, Author
Luna Regina is an accomplished writer and author who dedicates her career to empowering home cooks and making cooking effortless for everyone. She is the founder of HealthyKitchen101.com and HealthyRecipes101.com, where she works with her team to develop easy, nutritious recipes and help aspiring cooks choose the right kitchen appliances.
Nutrition Reviewer
Lizzie Streit is a Minneapolis-based dietitian and founder of It's a Veg World After All. She completed her MS in Human Nutrition from Drexel University, and is an expert in culinary nutrition, recipe development, and nutrition communications. Lizzie's philosophy is centered around making nutrition recommendations, and especially the advice to eat more vegetables, approachable and realistic. She is excited to be working with the team at Healthy Recipes 101 to ensure that their recipes are both nutritious and delicious.
Great work Luna! As always.

The oven-baked pork chops is easy to follow and results in tender and flavorful pork chops that are perfect for a family dinner.