Seafood can be delicate and exquisite. And, when prepared carefully, provides a wealth of health benefits. A ceviche recipe (pronounced suh-vee-chey) raises the question of whether raw fish is safe to eat. And if so, how does it promote health?
In any case, don't be afraid to delve into this seafood delicacy. Our ceviche recipe is a reliable sea-to-table dish carefully-made for the satisfaction of all who eat it whether as an occasional indulgence or for National Tortilla Chip Day (February 24).
What is Ceviche?
Many people have the misconception that ceviche is a raw food. However, it's actually a process whereby lime cooks the fish.
The term "ceviche" means meat cooked in vinegar. And the specialty comes from Latin America, where a typical ceviche recipe includes fresh-cut sea bass cooked in lime juice.
To spice things up, chefs add chili, onions, salt, and pepper to the fish. It's then served with cooked potato and corn to complete a satisfying meal.
One important aspect of ceviche is that it relies on the quality of its ingredients.
You only need a few elements to make it, and they should all be fresh. We can't emphasize this enough!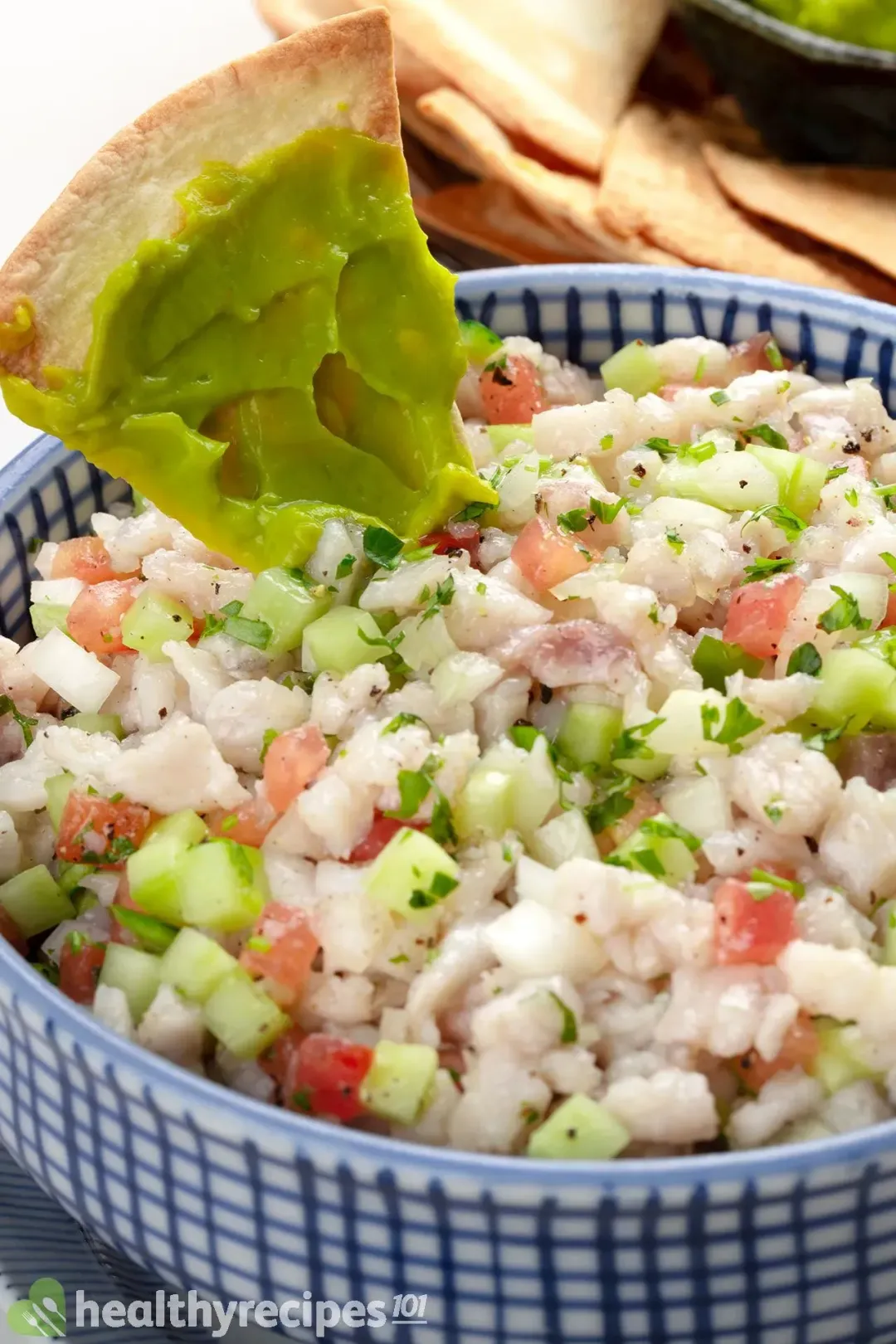 Is Ceviche Safe to Eat?
Yes. Ceviche is safe. This mainly depends on the type of fish, its freshness, and the marinating time required to prepare it in citrus juice.
Citric acid, found in citrus juice, breaks down protein in fish— a process that also takes place over heat. Furthermore, it reduces bacteria, making the fish more safe for consumption.
Freezing also kills parasites and reduces the risk of infection without ruining the taste of fish. We recommend fresh-frozen fish found in the sushi-grade section along with inspected, high-quality fish.
Some ceviche recipes briefly cook the fish before it's marinated to further reduce bacteria. Though very rare, this lowers the risk of gastric upset and other related illnesses.
We advise implementing the above measures to avoid safety risks and potentially harmful threats.
Is Ceviche Healthy?
Absolutely, yes.
Ceviche delivers nutritional benefits through much-needed omega-3 fats. Fish are high in essential fatty acids, which are important for brain function and development. 
In fact, it's recommended to eat fish at least twice a week in order to fulfill a healthy diet.
We've also included a savory blend of avocado puree. Avocados are full of good, heart-healthy fats that reduce unfavorable cholesterol levels.
Paired with fish, it not only creates a nutrition-packed duo but also brings an appreciated, mild flavor that cuts through the bold acidity of the fish.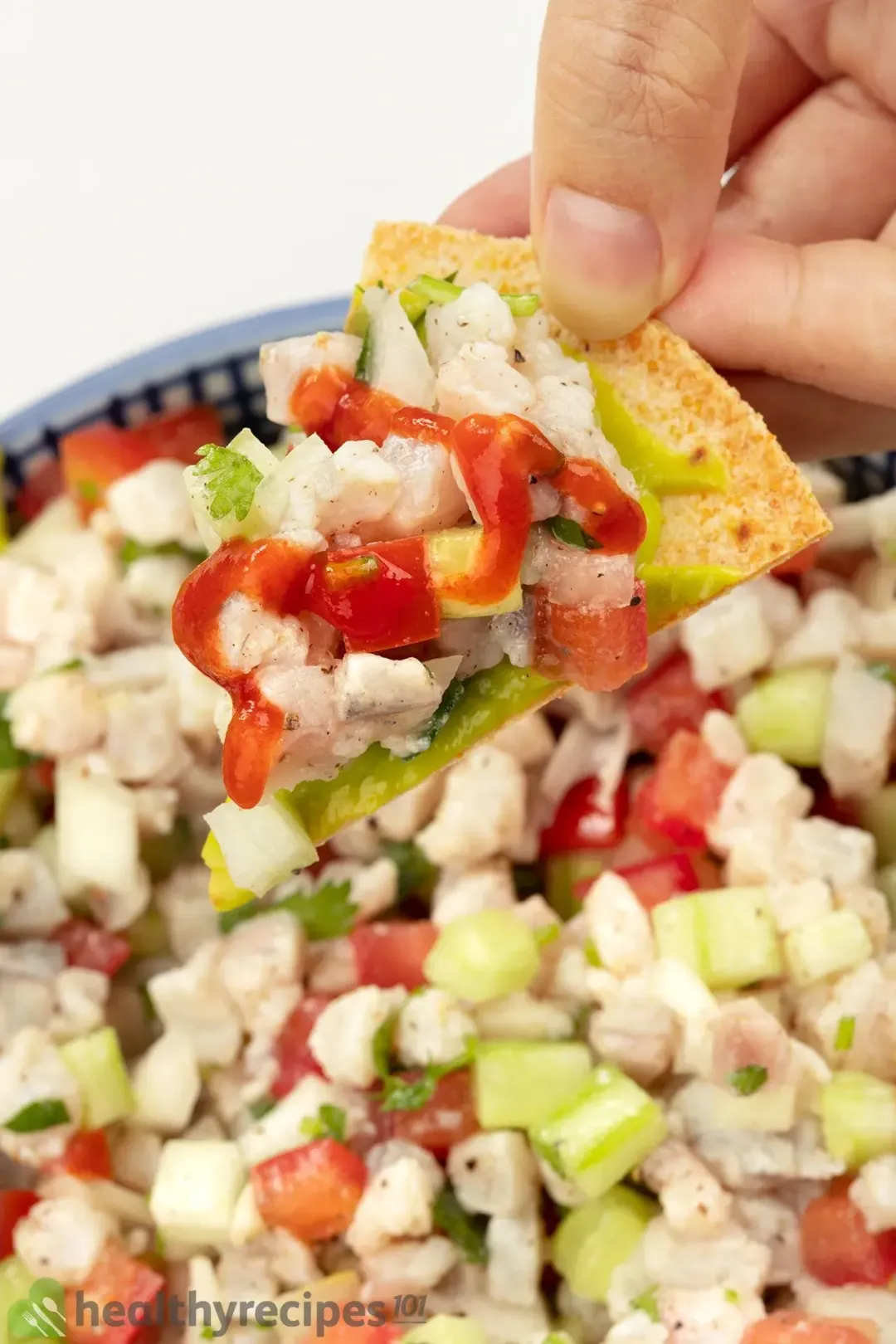 What Seafood to Use
The concept of ceviche is not specific to one type of fish, at least not anymore. Below are several different types of fish you can use for your ceviche recipe.
Sea Bass: Sea bass is a broad term that includes a range of fish varieties like saltwater and rockfish. It's a white fish with a firm, moist texture, and hints of sweetness. Unlike anchovies, it has a mild flavor, so it's excellent for this ceviche recipe.
Red Snapper: Red snapper is of lean texture and also has a sweet and subtle flavor. Therefore, it's excellent for those who can't stand the strong smell of fish, and can be interchanged with sea bass.
Corvina: Corvina is also similar to sea bass in that it's firm-textured with a sweet flavor and large flakes. It's very traditional in ceviche recipes, and pairing it with cilantro elevates its mild flavor.
Dorado: Better known as mahi-mahi, dorado also has a sweet undertone with a mild fish flavor. But it's not as buttery as sea bass, so it quickly dries out while cooking. Pair dorado with seasonings like garlic, parsley, and lemon for the best results.
Escolar: Escolar, white tuna, or oilfish, is a type of snake mackerel that's particularly tasty. As the name implies, it's buttery and high in fat. One concern is its high wax ester content. Take note to consume escolar in small amounts, no more than 4 oz/serving, as it can cause diarrhea.
Tilapia: Tilapia is common in Mexican ceviche. If you choose to use it, you can spice up your ceviche using parsley, cilantro, and lemon for perfect flavor pairings.
Hamachi: Hamachi is usually used in sushi recipes. However, its bold, fishy taste can be off-putting to some. So either use it in small amounts, or avoid it if you can't stand the strong taste and smell of fish.
Shrimp: With its softly sweet taste and tender texture, shrimp makes an excellent addition to various dishes, and ceviche is no exception. In fact, we've got a Shrimp Ceviche Recipe that's packed with vibrant and zesty flavors—incredibly worth a try.
Scallops: Scallops are sweet, soft-textured, and very palatable. For this reason, they can make a delectable ceviche. Just don't overcook them to a rubbery texture!
Salmon: Salmon has a soft texture and high fat content. It's a very delicious fish that requires minimal seasoning, and you can add dill or cilantro to complement it. Marinate it in lime for an hour, or overnight, until it turns opaque to show that it's cooked through. This lomi lomi salmon is an example of how you can recreate this dish.
Ceviche Ingredients
We've chosen to use sea bass for our ceviche recipe. It's easy to prepare, and interestingly, it's the most common type of fish used in Chilean ceviche.
You can, of course, use bottled lime juice. But we've gone for freshly-squeezed lime juice for a clean, citrus essence, which imparts a vibrant flavor.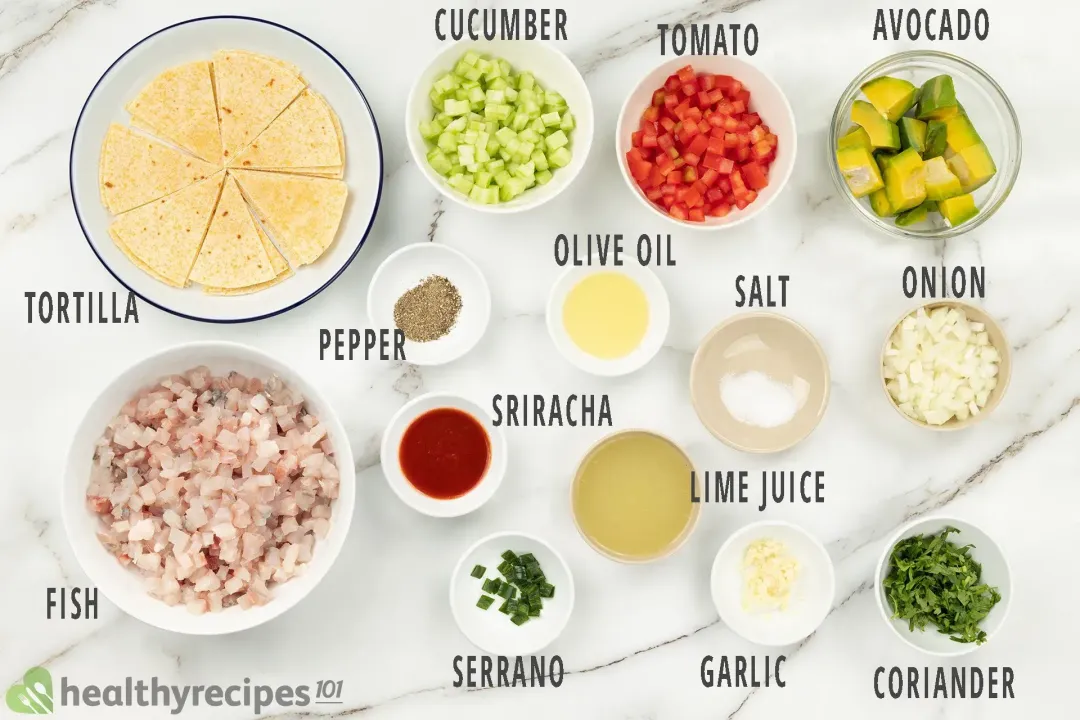 It doesn't particularly matter which variety of cucumbers, tomatoes, and onions you use, but they should be equally fresh too. You can also substitute cilantro with parsley and add other seasonings like oregano.
Serrano pepper, salt, olive oil, and garlic are in small amounts but very essential to creating the taste of ceviche. And sriracha is optional, but we must say it really adds a dynamic flavor to this dish.
Avocados also add a creamy texture that ties this dish together.
Lastly, corn tortillas add a pleasant crunch to ceviche. But you can replace them with lettuce and still maintain the crisp texture, or corn for a sweet, starchy finish.
How to Cut Fish for Ceviche
Start with a piece of trimmed sea bass fillet with no bones and skin. Use a sharp knife to cut it into 1/4 inch strips.
Then take one strip, turn it sideways and slice it in half to end up with roughly a 1/4 x 1/4 inch long strip of fish. 
Finally, dice the fish so that you have 1/4 inch cubes, and repeat this process for the remaining strips.
Essential Tips for Preparation
First, get a hold of fresh ingredients. It's so essential, given that you'll taste every element of this dish. Fresher ingredients give a fresher taste. Imagine the pleasure of biting into a sea-fresh dish of aromatic flavors— delightful!
Second, avoid doing too much ahead of time. That includes marinating hours before eating (unless the recipe calls for it.) 
Lastly, the thickness of the fish is important. If cut too thin, it'll cook too fast. If too thick, the exterior may cook quicker than the center. So aim for a thickness of about 1cm or 1/4 inch.
How Long Does It Last?
Ceviche can be stored for two to three days, but it very much depends on the freshness of the ingredients.
Assuming you begin with fresh sea bass, you can squeeze in that extra third day without losing the original seafood flavor.
That's not to say it'll remain as potent. You may find it less tasty, slightly paler, and a bit mushy when you bite into it.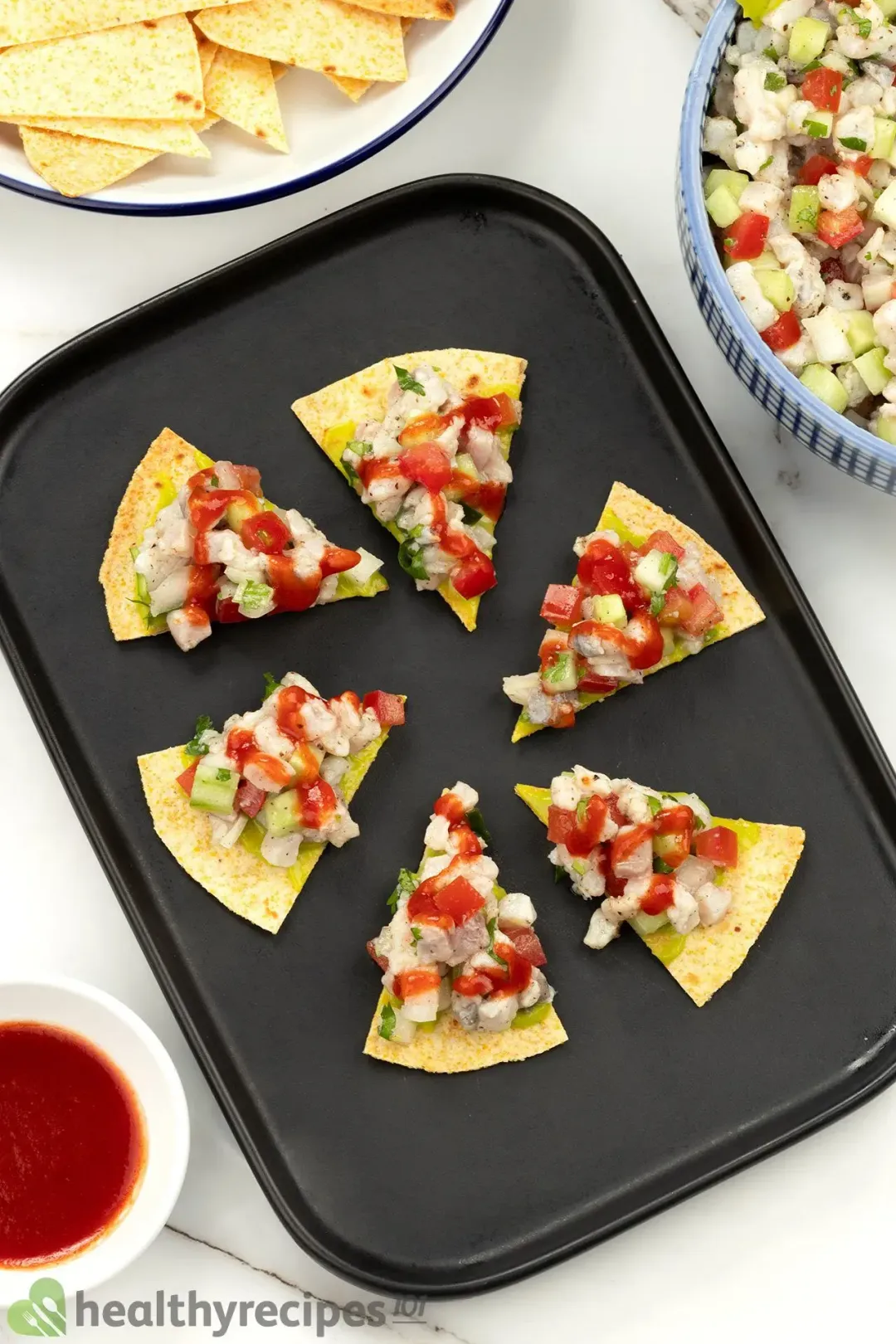 How Many Calories in This Recipe?
This ceviche recipe will give you 250 calories worth of delicious nutrients. It's altogether a low-calorie meal, so you can snack on it or have it as an appetizer.
Most of the calories come from protein, followed by heart-healthy fats. Which makes this a great recipe to keep for low-carb, gluten-free, and weight loss diets.
Want More Dishes Like This? Give These a Try
Healthy Ceviche
Ceviche is a healthy, low-calorie appetizer that's great for snacking or having with friends. Prepare it right before eating, and serve it with tortilla chips to ensure a pleasantly crunchy, fresh, and robust seafood dish!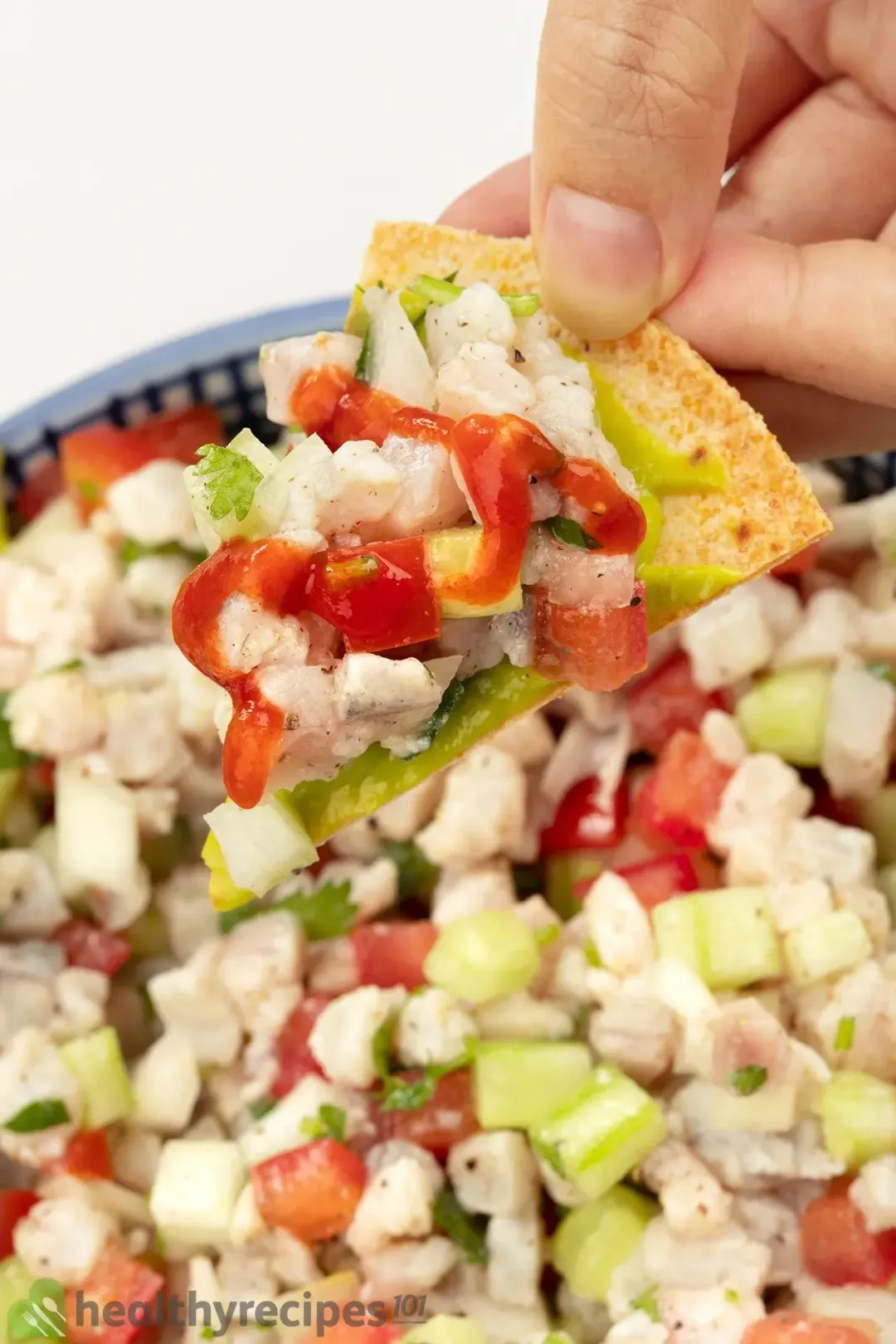 cook TIME

10 mins

prep TIME

5 mins

total TIME

25 mins

INACTIVE TIME

10 mins
COURSE

Appetizer

CUISINE

Latin American

SERVINGS

CALORIES

250 kcal
INGREDIENTS
3 oz

tomato flesh

((no seeds or center), chopped)

3/4 cup

freshly squeezed lime juice

(*)

1 tbsp

olive oil

(divided)

1/2 tsp

serrano/jalapeno pepper

(chopped)

1/4 cup

cilantro leaves

(finely chopped)
INSTRUCTIONS
1
Preheat the oven to 325°F.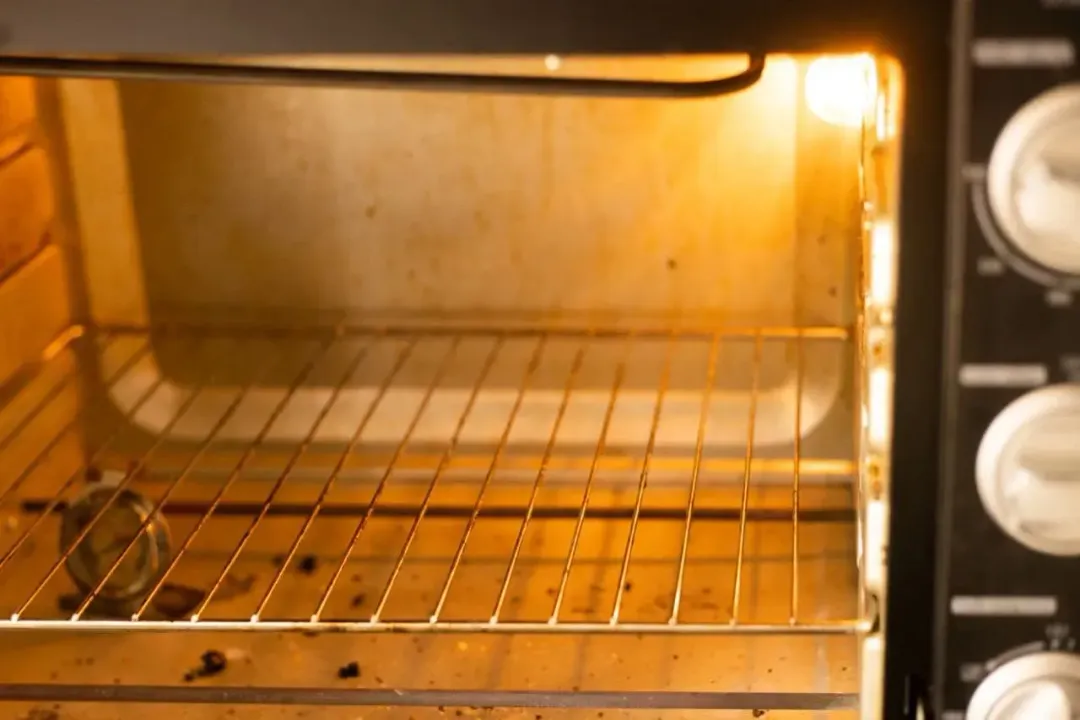 2
Chop 11 oz sea bass fillet into 1/4 inch pieces. Soak fish in 3/4 cup freshly squeezed lime juice for 20 minutes.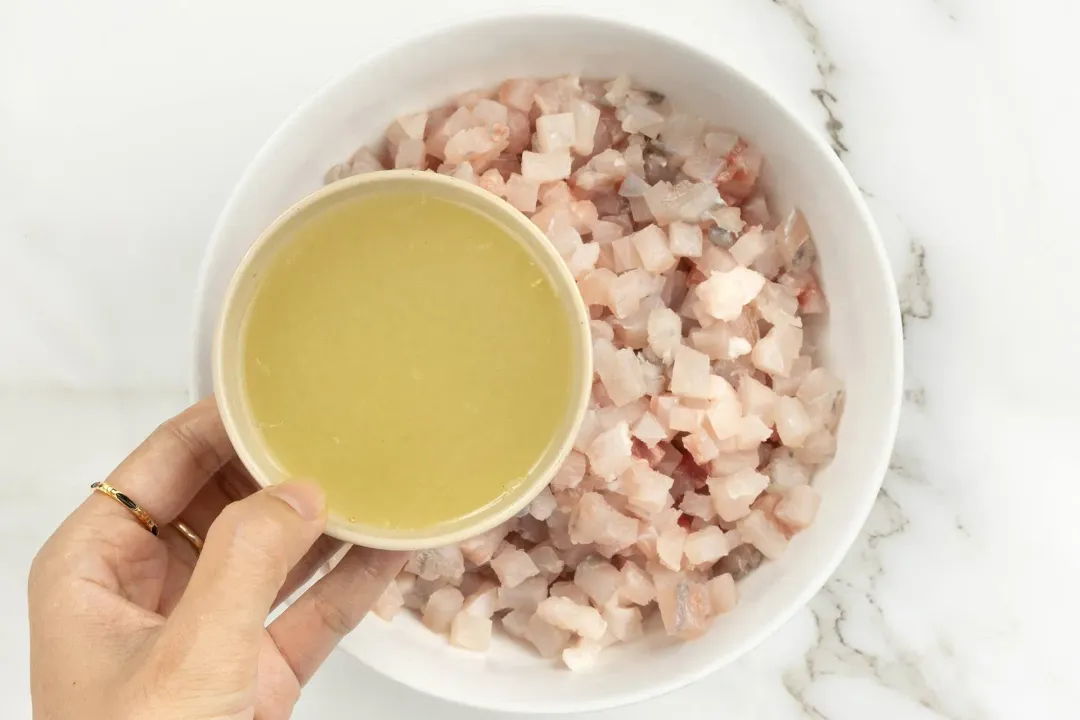 3
Lightly brush 4 6-inch corn tortillas with 1/2 tbsp olive oil and pile them on top of each other. Slice them diagonally four times so that each tortilla forms 8 equal (triangular) pieces.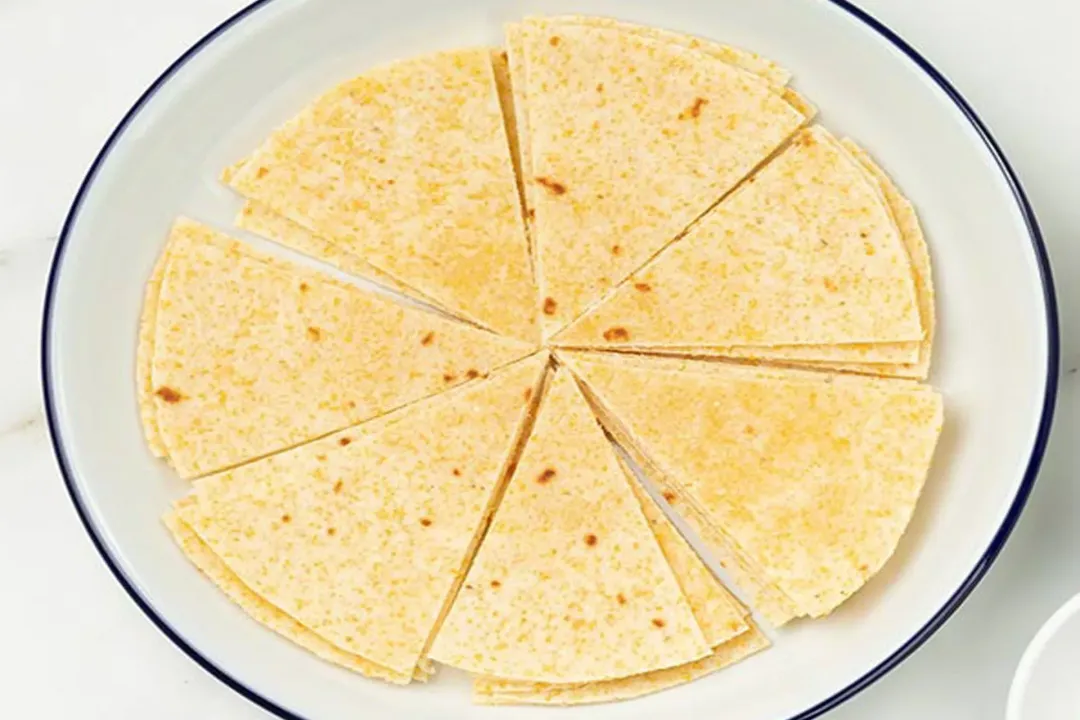 4
Place tortilla pieces onto a sheet pan and bake for 6 minutes (be sure to check them at 4 minutes, they cook quickly!) Remove from the oven.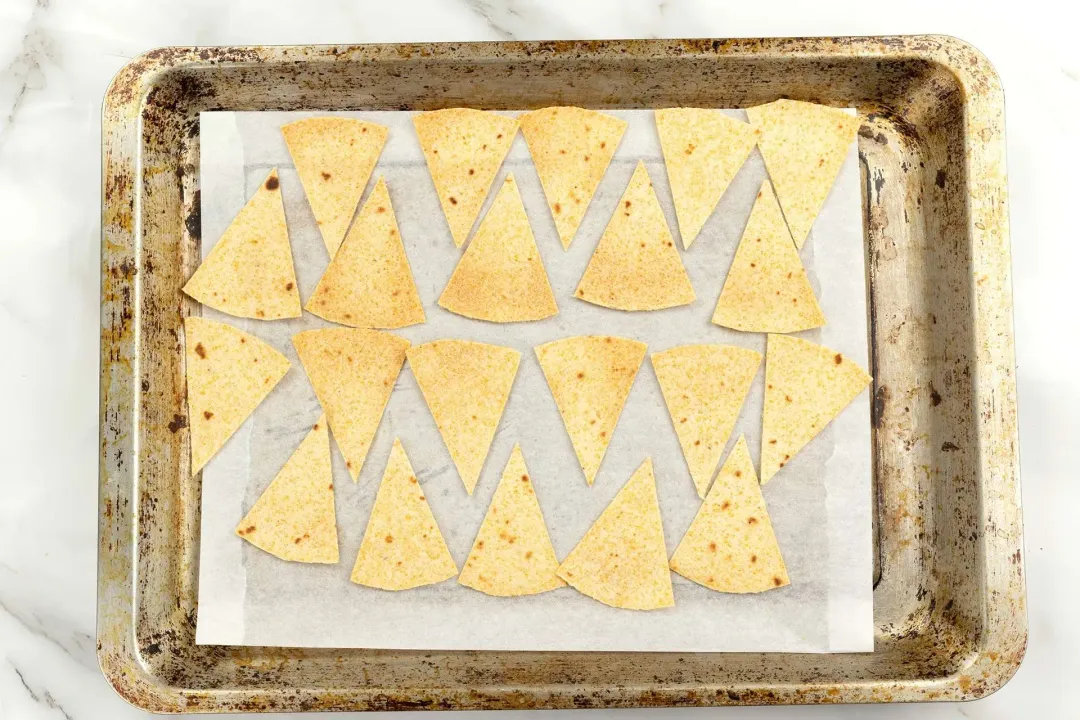 5
Once the fish has turned white, drain and discard the lime juice.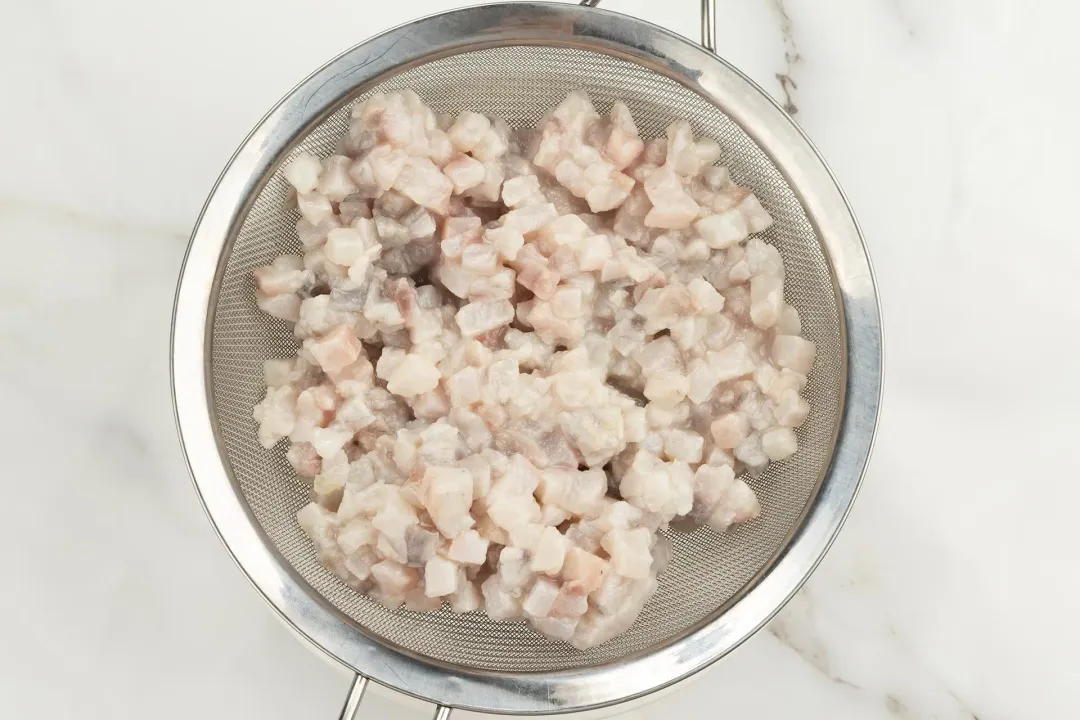 6
In a medium-sized bowl, mix together 3 oz cucumbers, 3 oz tomatoes flesh, 2 oz onions, 1/2 tsp jalapeno pepper, 1/4 cup cilantro leaves, 1/2 tsp black pepper, 1/4 tsp salt, and fish.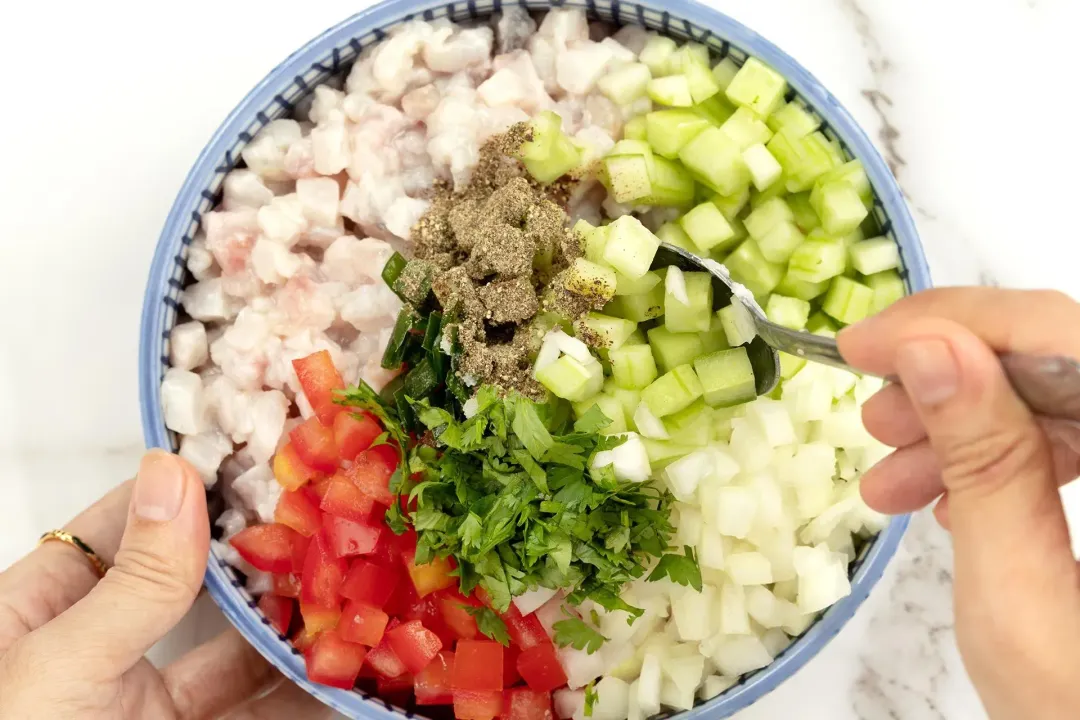 7
In a blender, blend 5 oz avocado, 2 tsp garlic, and remaining olive oil into a creamy paste.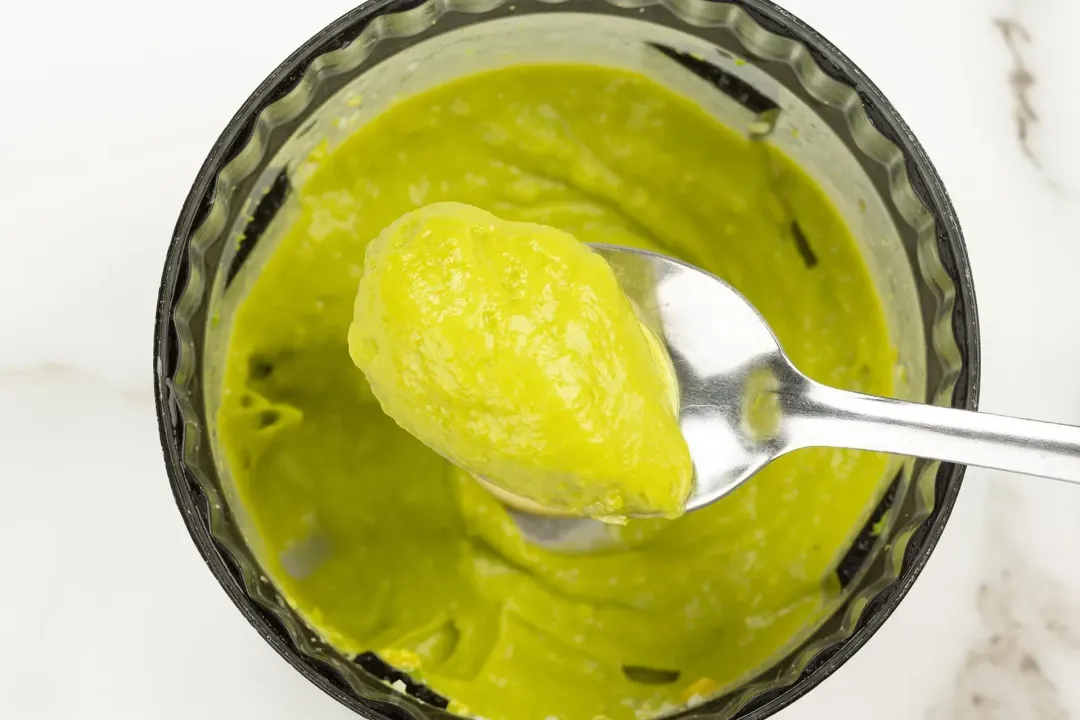 8
To assemble the ceviche, spread a teaspoon of avocado paste onto a baked tortilla chip, add 1 1/2 tablespoons of the fish mixture, and top with 4 tsp sriracha sauce.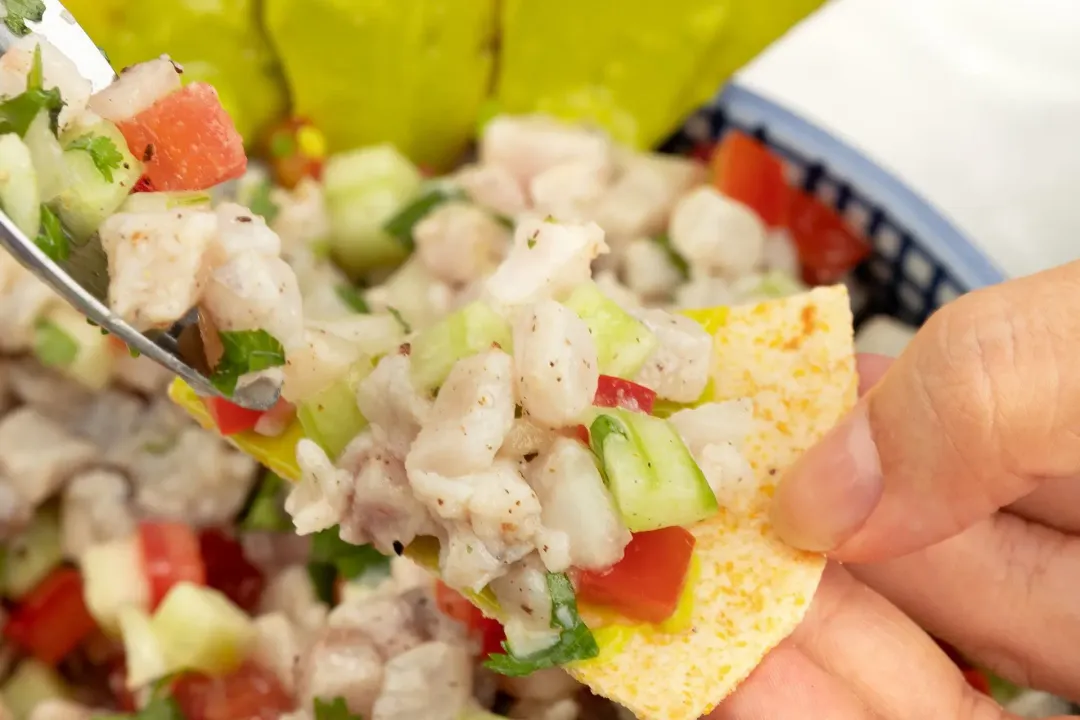 (*) Only some of the lime juice is present in the final product and we have calculated nutritional values based on that amount. The total amount consumed is ⅓ cup of lime juice.
NUTRITION
Nutrition Facts
Healthy Ceviche
Amount Per Serving (1 serving)
Calories 250
Calories from Fat 108
% Daily Value*
* Percent Daily Values are based on a 2000 calorie diet.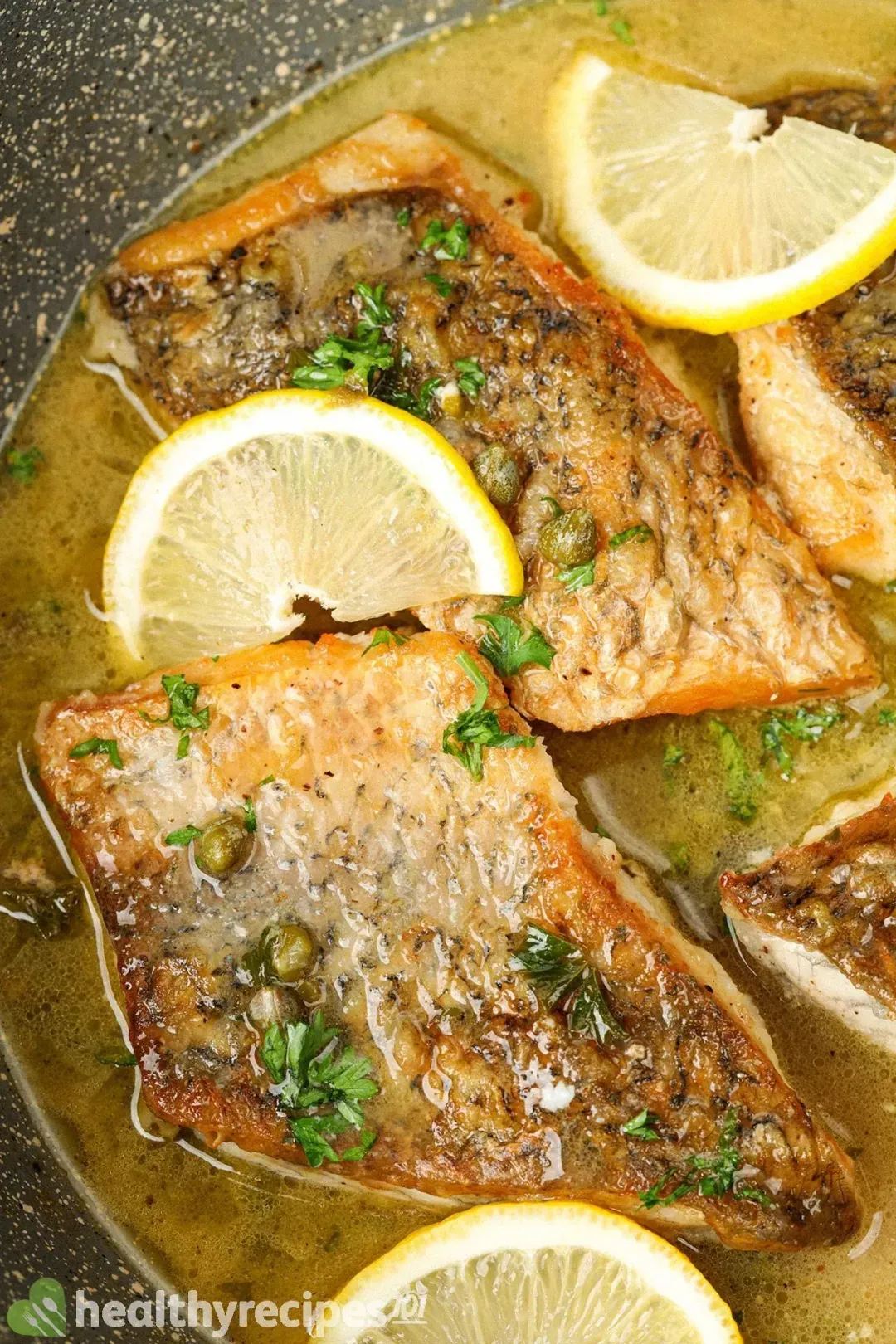 Previous Recipe
Sea Bass Piccata
Sea Bass Piccata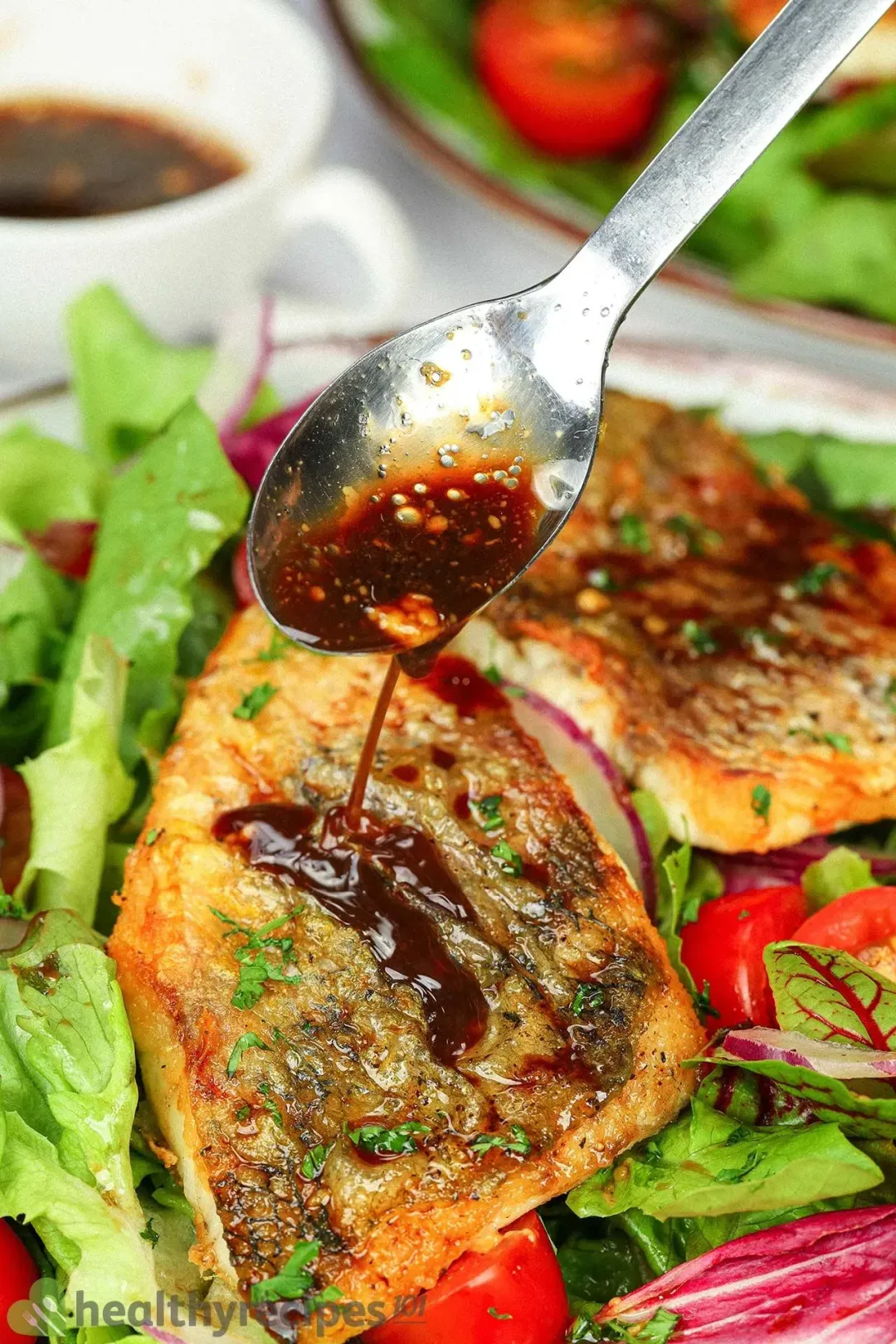 Next Recipe
Sea Bass Salad
Sea Bass Salad
The ceviche was such a refreshing summer dish! All the ingredients worked together very nicely, and it had just enough zing without being too spicy.