Today's shrimp ceviche recipe is a 35-minute guide to a crowd-pleasing dish that's packed with vibrant and zesty flavors. It's a beautiful medley of succulent poached shrimp, colorful fresh vegetables, and a fresh citrus marinade.
Is Shrimp Ceviche Healthy?
Yes, it is.
You can tell this shrimp ceviche is a light and wholesome side dish by looking at the ingredient list. It's a simple combination of plump tender shrimp, a fresh veggie mix of cucumber, tomatoes, red onion, jalapeño, avocado, and a fresh citrus marinade.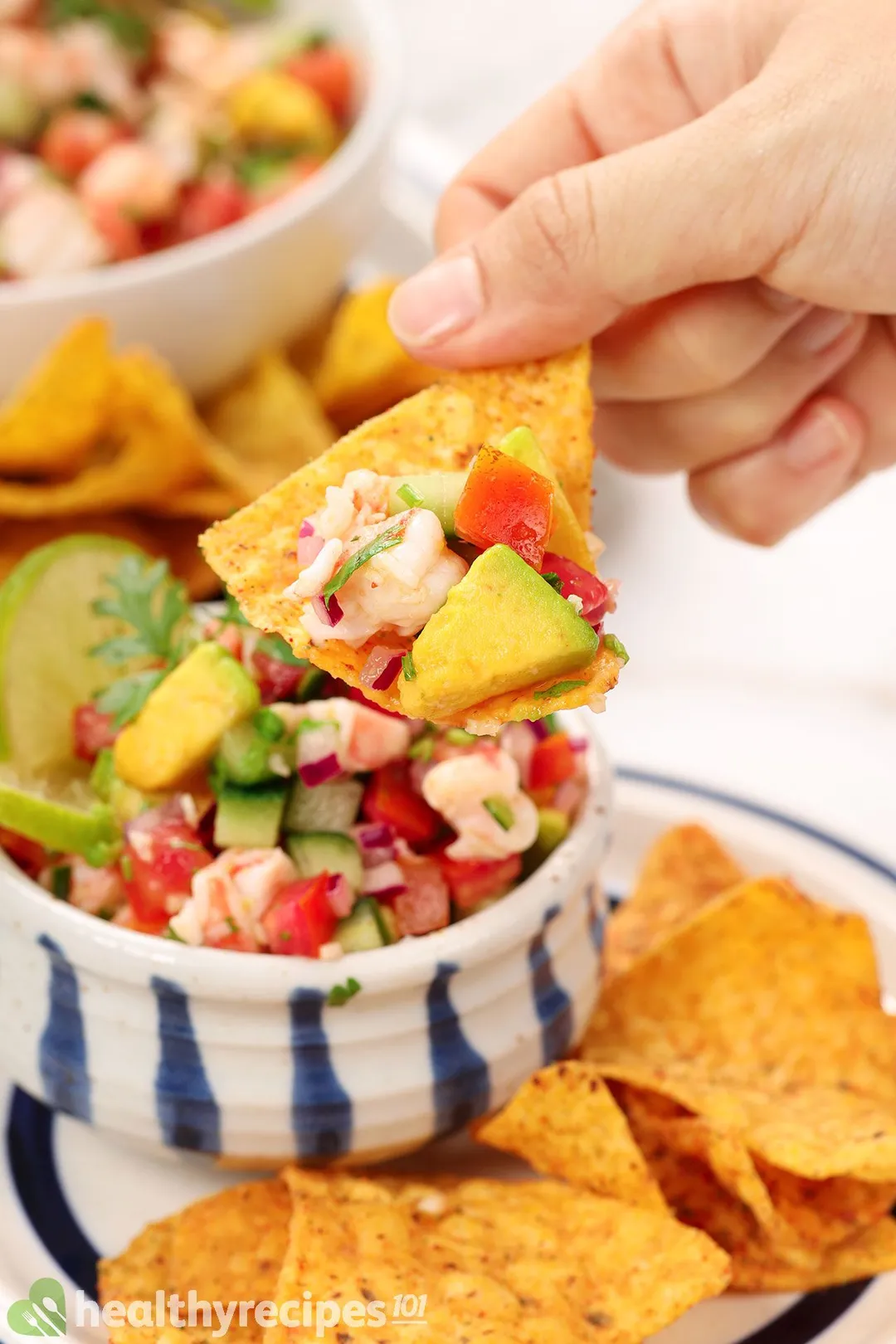 Shrimp ceviche is a Latin American dish that's made by tossing raw shrimp in an acidic citrus marinade to "cook" it without the need for a heat source. Therefore, freshly caught shrimp are essential in the traditional recipe.
The acidic marinade that's used for ceviche has an extremely low pH. So technically, it denatures the protein structure in the raw shrimp and turn the shrimp firm and pink naturally, which mimics cooking with a heat sourcer. But if the shrimp isn't extremely fresh, the citrus juice may not be able to kill all the lingering bacteria and may lead to foodborne illnesses.
However, since it's very difficult to get fresh line-caught seafood directly from the sea to our plate, the only available options left are either frozen shrimp (overseas farm-raised shrimp) or shrimp prepared by fishmongers from the seafood market.
That is why we decided to adapt the original recipe and poach the shrimp in boiling water before combining it with other ingredients. By using poached shrimp, we can preserve its natural texture and flavor but still guarantee food safety for our dish.
Calories in Shrimp Ceviche
A serving of this shrimp ceviche recipe offers 253 calories and only 1.3 grams of saturated fat. This dish is perfect as an appetizer, a side dish, or even a wholesome snack.
Ingredients for This Shrimp Ceviche
Either frozen wild shrimp, freshly caught shrimp, or even leftover shrimp will work well in this recipe.
After a quick poaching, we chopped it into bite-sized pieces, so the shrimp size doesn't matter much. However, please note that small shrimp cook faster than jumbo shrimp, so if you go for small ones, be careful not to over-poach them.
If you use frozen shrimp, you'll need to thaw them first. Simply put your bag of frozen shrimp in a washing bowl filled with cold water and wait for 15-20 minutes until it's defrosted.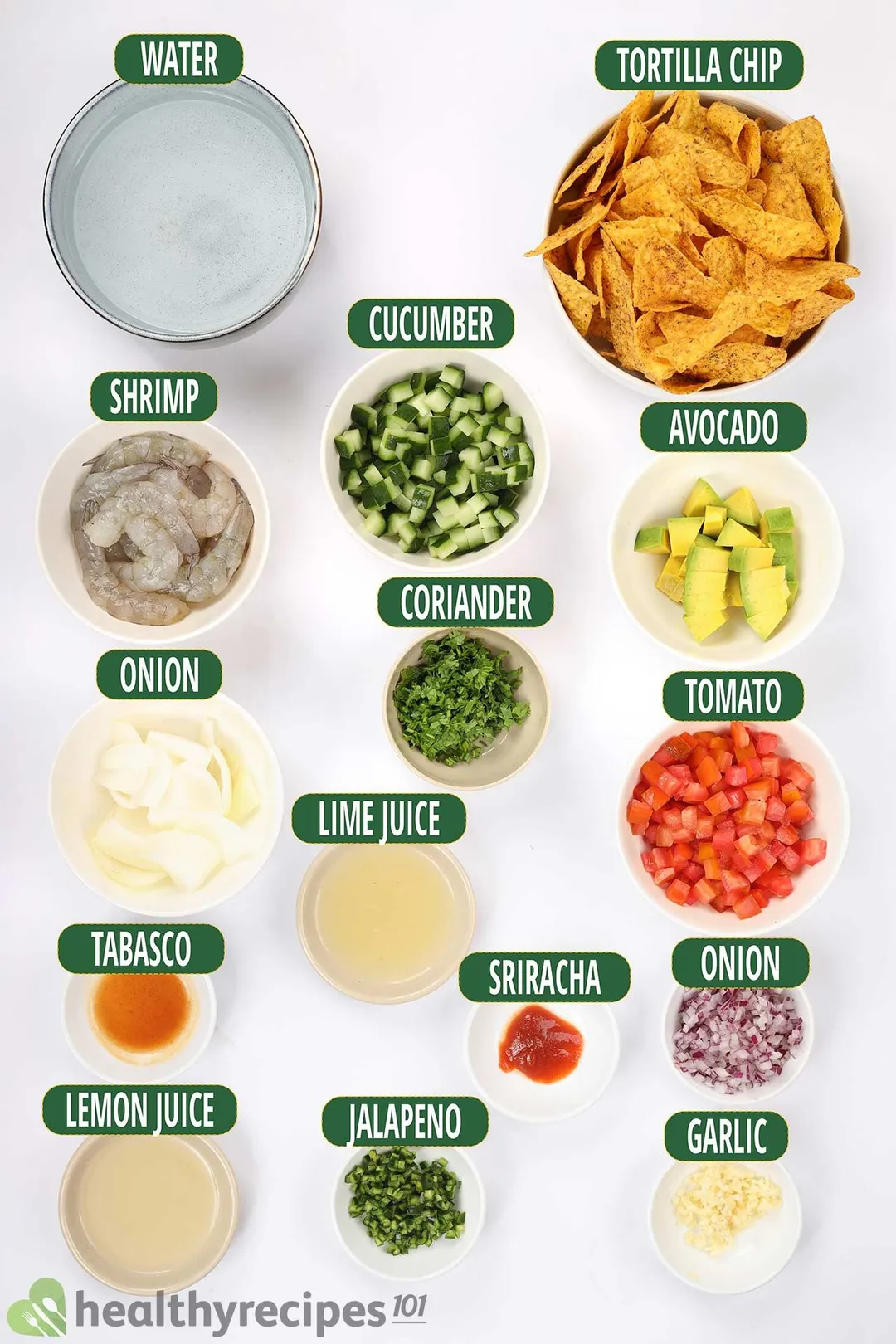 Besides juicy plump shrimp, our shrimp ceviche is also dotted with finely diced cucumber, tomatoes, red onion, jalapeño, avocado, and minced garlic. Remember to dice the avocado a bit larger than the shrimp so it won't break down easily when tossing.
Once cut, avocado will also brown quickly, so add it last just before serving to preserve its color and texture. Although the acidic juice will help slow down the color change, it's only for a few minutes.
Red onions and jalapeño are also added to lend this dish some zippy and pungent notes. For this recipe, we removed the ribs and seeds from the jalapeño to reduce the overall spiciness.
You can keep the jalapeño seeds, or swap jalapeño with habanero or serranos to make it even spicier if preferred. The spice levels, ranging from the strongest to the mildest, are habanero to serranos to jalapeño.
To create the citrus marinade, we mixed lime juice, lemon juice, Tabasco, and Sriracha. 
Lime juice and lemon juice add freshness and vibrancy to shrimp ceviche, while Tabasco and Sriracha add extra zest and heat to complement the shrimp and avocado. Feel free to tone any of these ingredients up or down to suit your taste.
How to Cook Shrimp for Ceviche
If the shrimp that you bought isn't freshly caught from the sea, you need to poach it quickly in boiling water to make sure that any bacteria and harmful organisms are killed, thus making the shrimp safer to eat.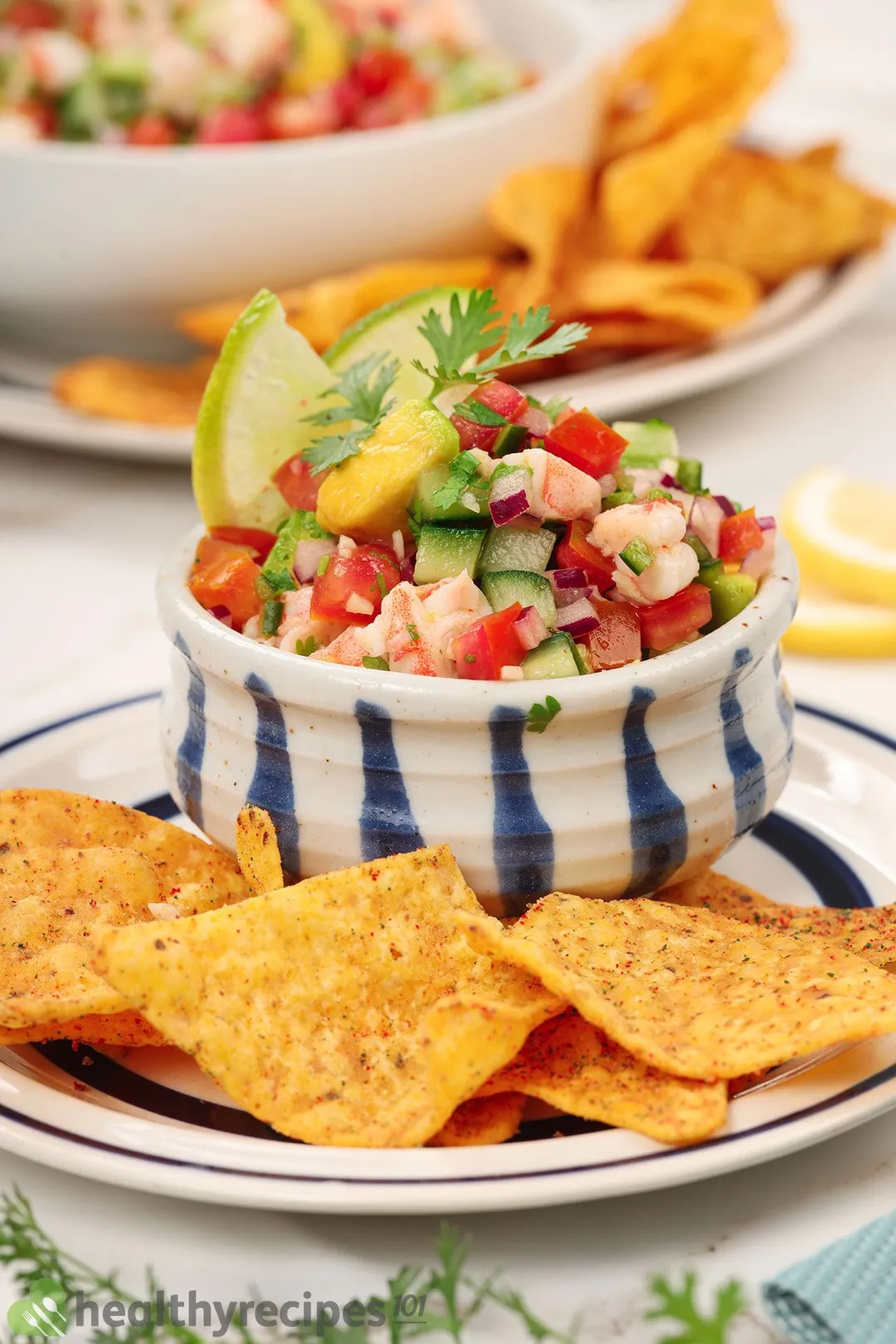 Poaching shrimp is simple. Simply bring water to a boil in a pot, then add the shrimp to poach very quickly for 1 minute.
As long as the shrimp turns pink and there is no more translucent gray colour, it can be slotted out of the boiling pot and be ready for the next steps. Use a mesh sieve or a slotted spoon to remove the shrimp and transfer it to a bowl filled with iced water to stop it from cooking.
How Long Does Shrimp Ceviche Last?
We recommend enjoying this shrimp ceviche right after it's finished or at least within the day you make it.
The shrimp is firm and juicy after it's just cooked, and it will continue to "cook" when sitting in the concentrated citric acid marinade. The longer the shrimp sits in it (for over a day or two), the tougher and more rubbery it will become.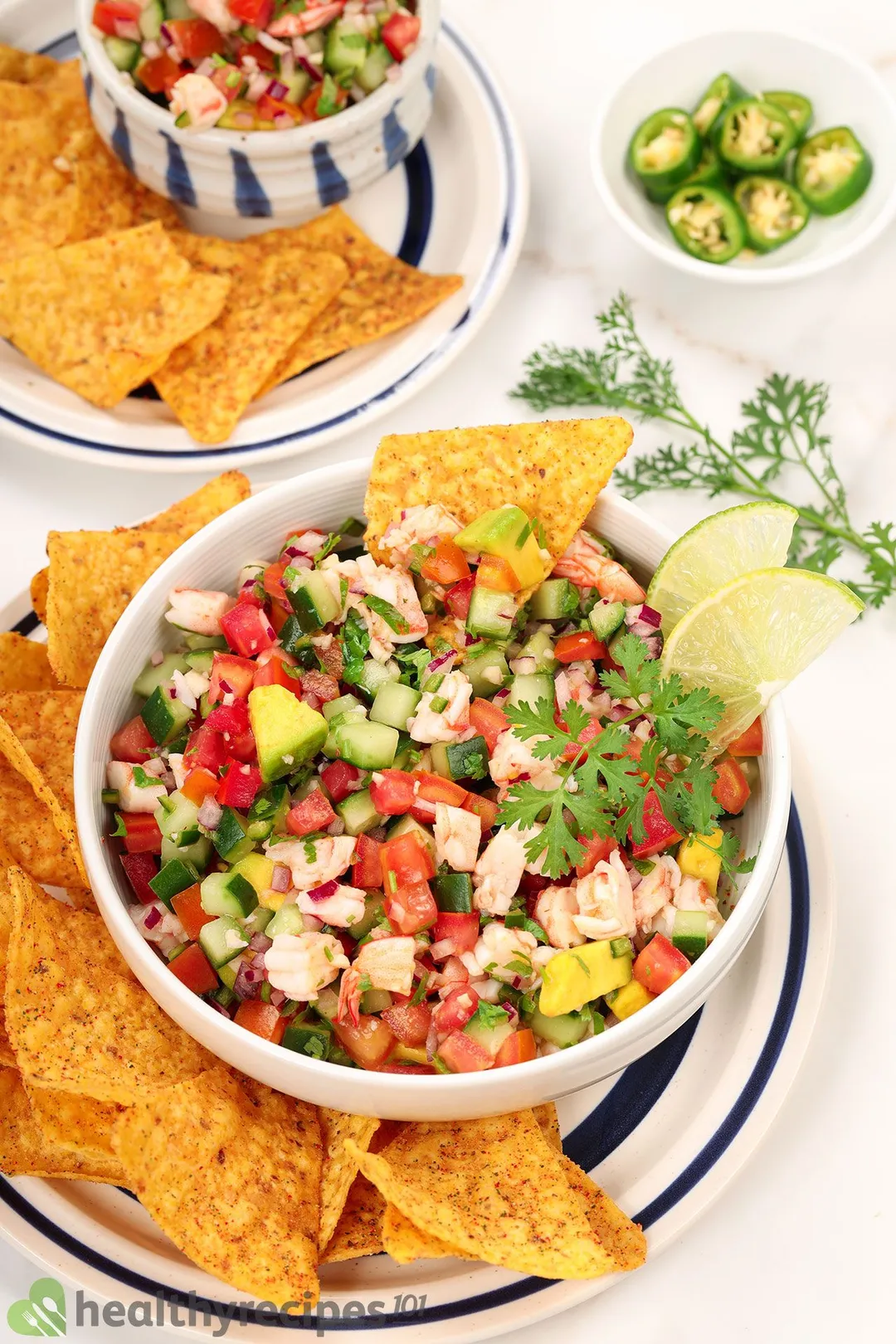 If it sits for up to a week, the leftover shrimp ceviche will turn mushy. Also, the coriander will start to taste bitter, and the avocado may break down and turn brown.
To save time preparing shrimp ceviche, you can poach the shrimp one day before serving and refrigerate it overnight, separately from the remaining ingredients. When you're ready to eat, combine the poached shrimp with cucumber, tomatoes, red onion, jalapeño, garlic, and avocado, then toss with the citrus marinade.
How to Serve Shrimp Ceviche
This shrimp ceviche is perfect as an appetizer, a side dish, or a light snack. Still, there are many ways to make this dish more delish.
For instance, shrimp ceviche can be paired with Doritos (which we did in this recipe!), tortilla chips, saltine crackers, or plantain chips. It can also be added to tacos, tostadas, or salads.
Other easy toss-and-serve salads that are made with seafood:
Healthy Ceviche Recipe: A healthy, low-calorie appetizer with avocado puree, sea bass fish, and a veggie mix spread on crunchy tortillas. The creaminess from the avocado cuts through the bold acidity of the fish, pepper, and onion to create a nutrition-packed duo that's great for snacking.
Lomi Lomi Salmon Recipe: Our tasty and simple lomi lomi salmon is made with freshly shredded salmon, tomatoes, onions, scallions, jalapeno, and crispy cashews. It's a low-calorie Hawaiian side salad that's packed with enjoyable textures and addictive flavors.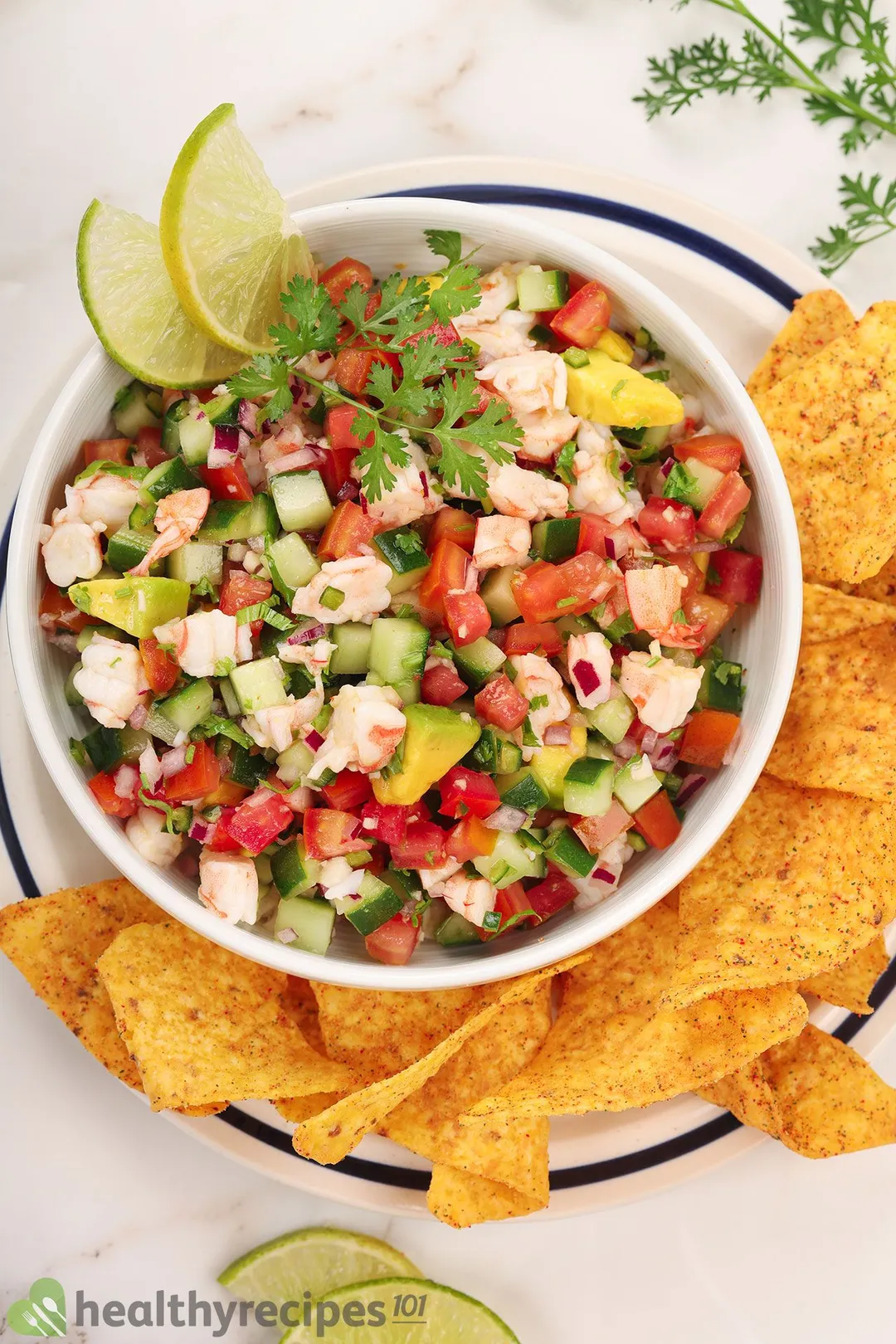 You May Also Like
Shrimp Ceviche
Today's shrimp ceviche recipe is a 35-minute guide to a crowd-pleasing dish that's packed with vibrant and zesty flavors. It's a beautiful medley of succulent poached shrimp, colorful fresh vegetables, and a fresh citrus marinade.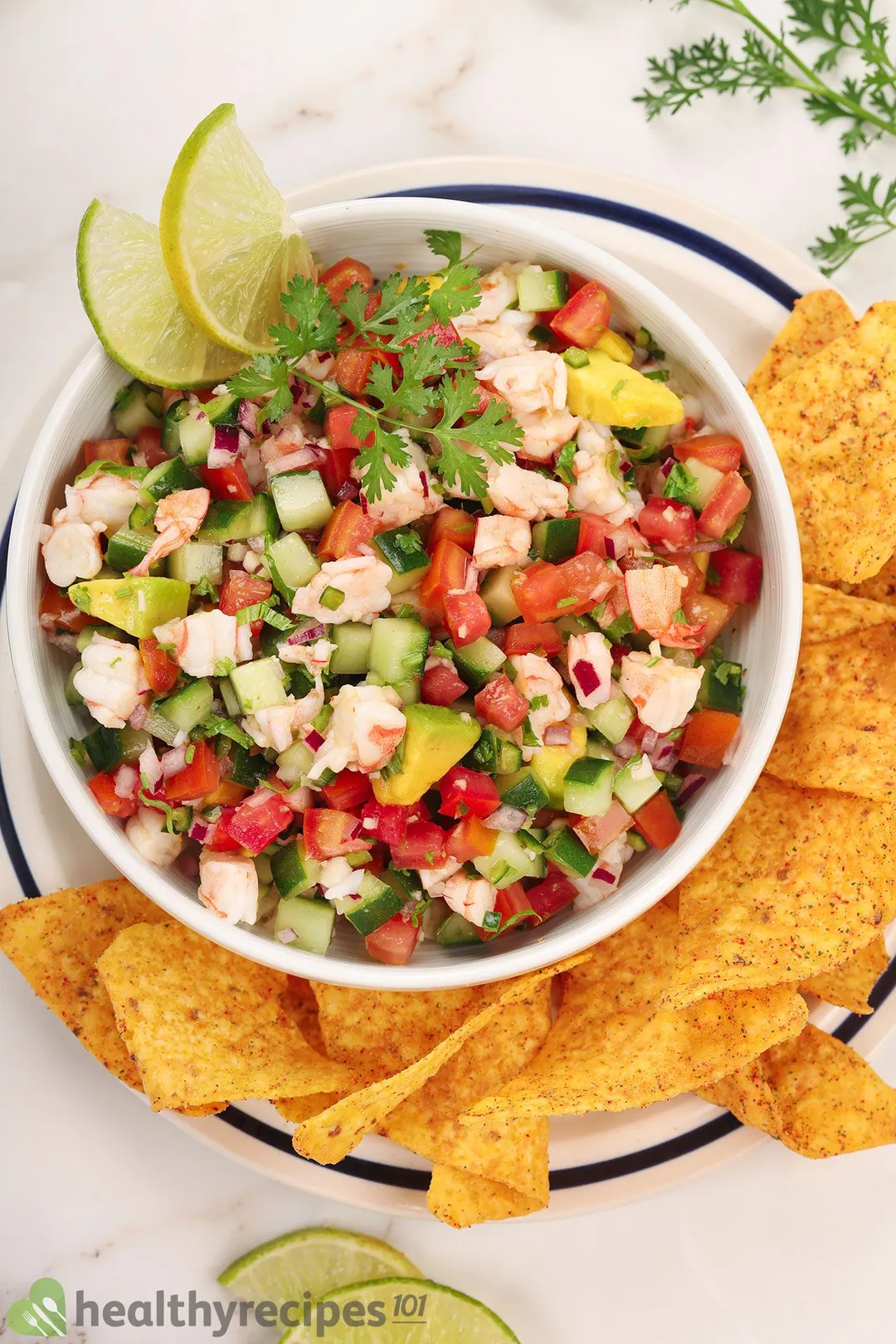 cook TIME

5 mins

prep TIME

30 mins

total TIME

35 mins
COURSE

Side Dish

CUISINE

Mexican

SERVINGS

CALORIES

253 kcal
INGREDIENTS
5 oz

raw shrimp

(peeled, deveined, tails off, equals 10 oz whole)

2 oz

yellow onion

(largely chopped)

1/4 cup

coriander

(chopped)
INSTRUCTIONS
1
Bring a pot of 2 cup water to a boil with 2 oz diced yellow onion.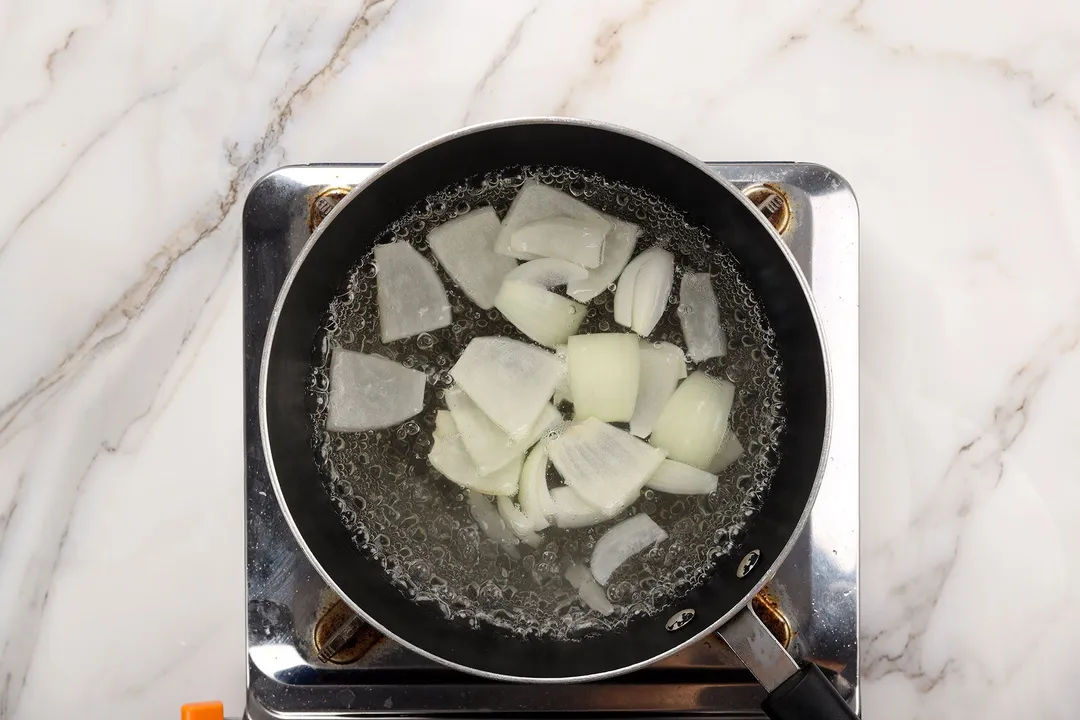 2
When the water is boiling, add 5 oz raw shrimp to poach very quickly (for about 1 minute).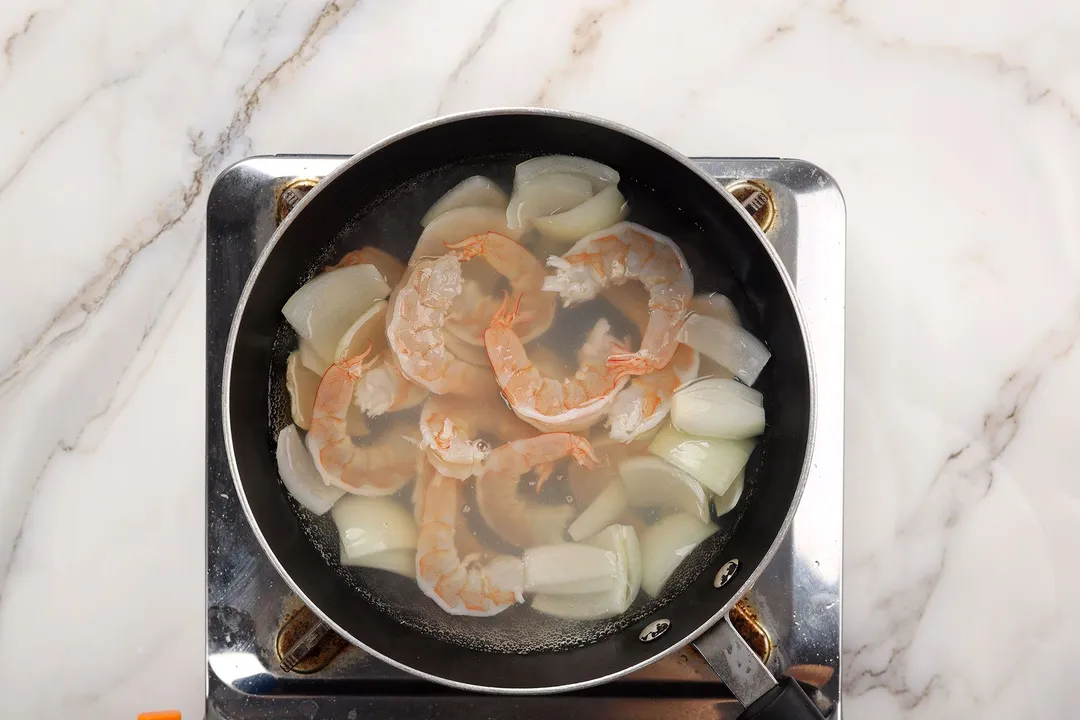 3
Remove the poached shrimps with a mesh sieve or a slotted spoon to drain water. Discard the yellow onion. Place the shrimps into a bowl of ice water to stop them from cooking.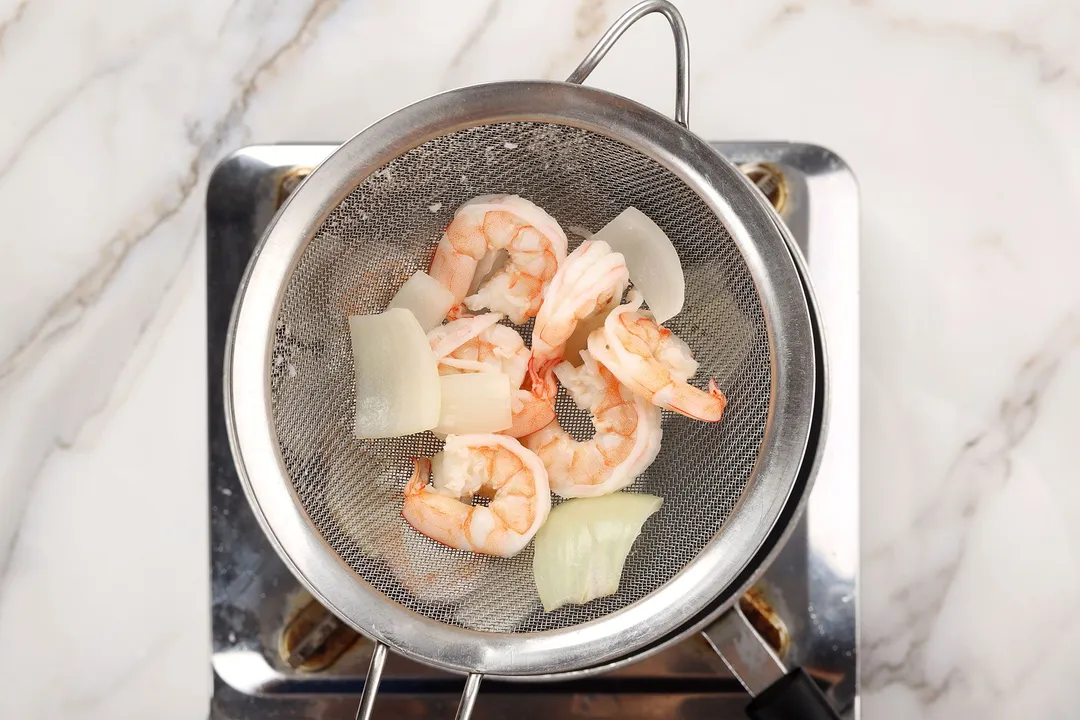 4
Chop the shrimps into 1/2-inch pieces and add them to a mixing bowl.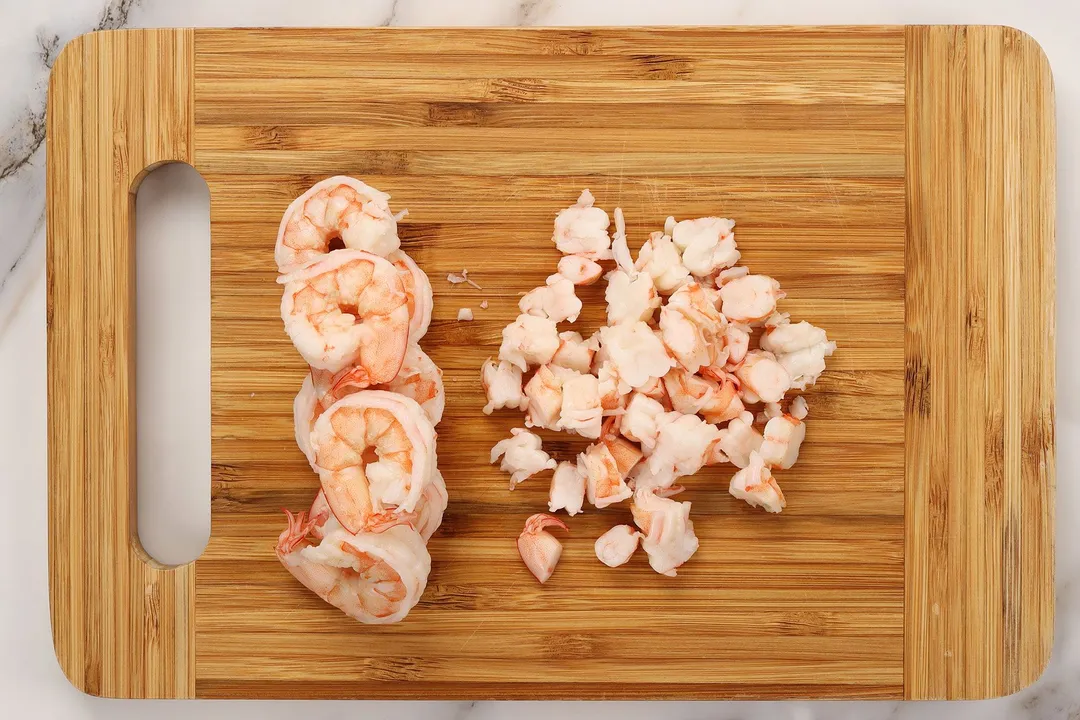 5
Add 4 oz diced cucumber, 4 oz diced tomatoes, 1 oz diced red onion, 0.5 oz diced jalapeño, and 1 tsp minced garlic to the mixing bowl with the shrimps.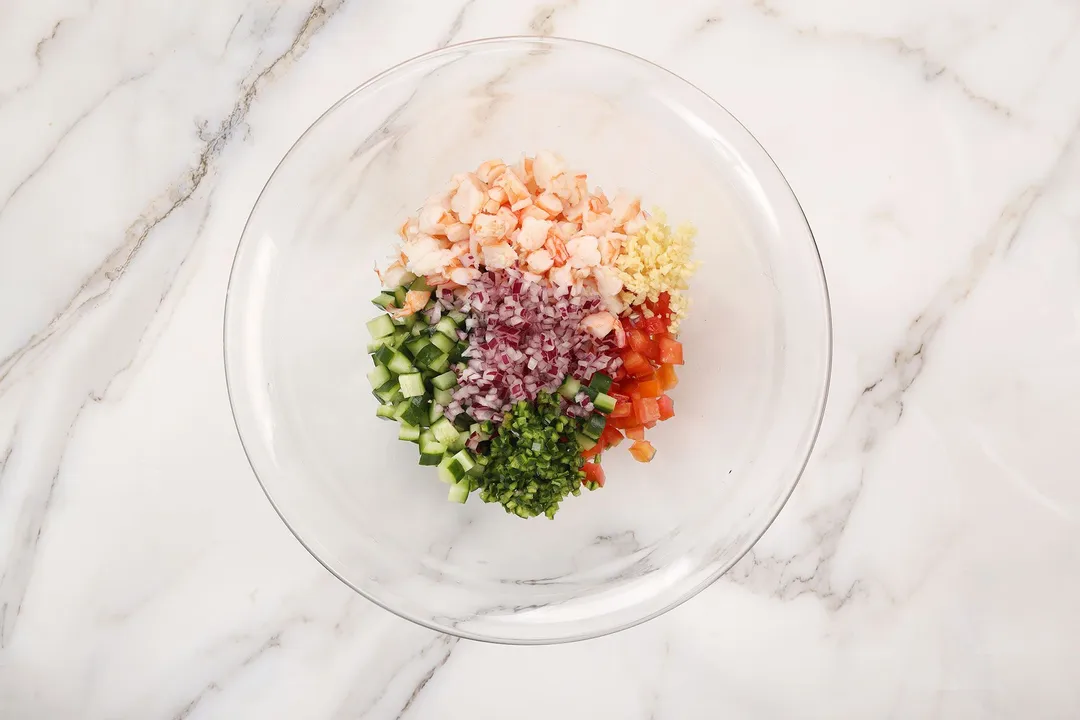 6
Pour 2 tbsp lime juice, 2 tbsp lemon juice, 1 tsp Tabasco, 1 tsp Sriracha, and 2 oz cubed avocado into the mixing bowl. Toss everything up to combine. Refrigerate for 10 minutes.
7
Remove shrimp ceviche from the fridge and continue to add 1/4 cup chopped coriander. Toss gently.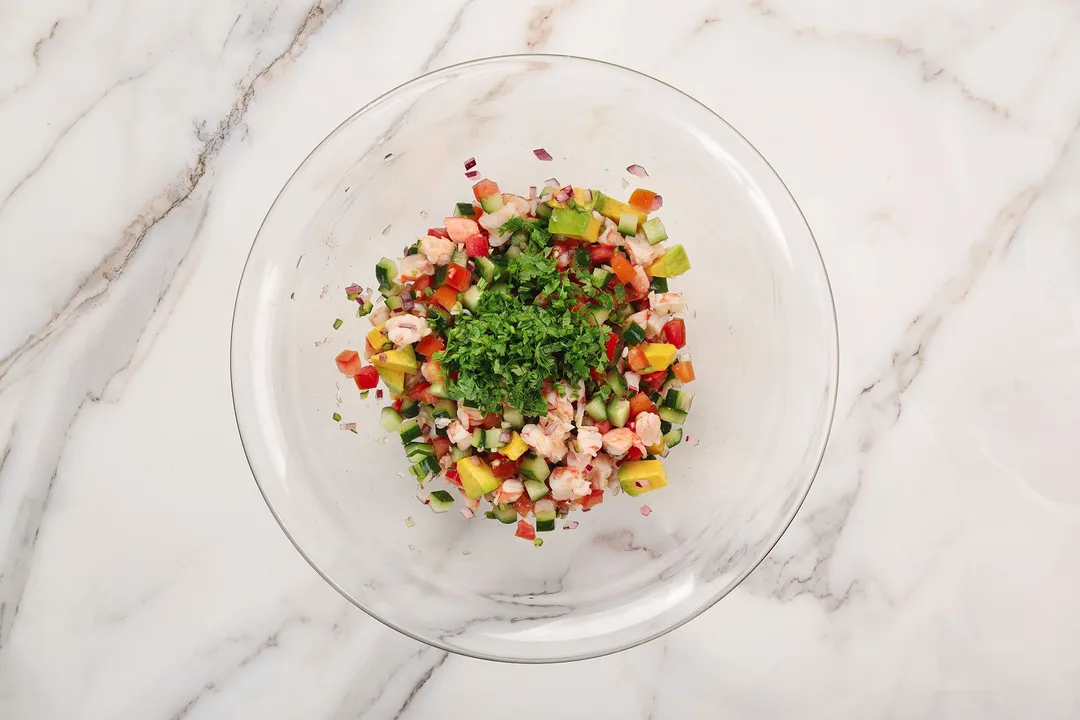 8
Portion out the shrimp ceviche and enjoy with 4 oz tortilla chips on the side.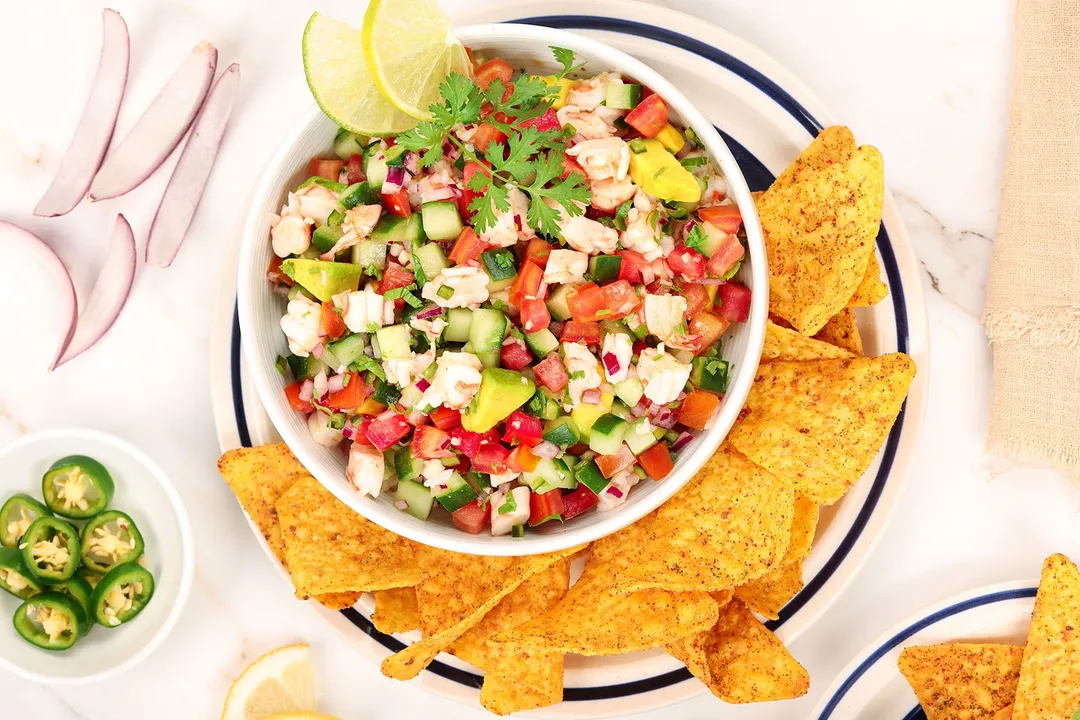 NUTRITION
Nutrition Facts
Shrimp Ceviche
Amount Per Serving (1 serving)
Calories 253
Calories from Fat 99
% Daily Value*
* Percent Daily Values are based on a 2000 calorie diet.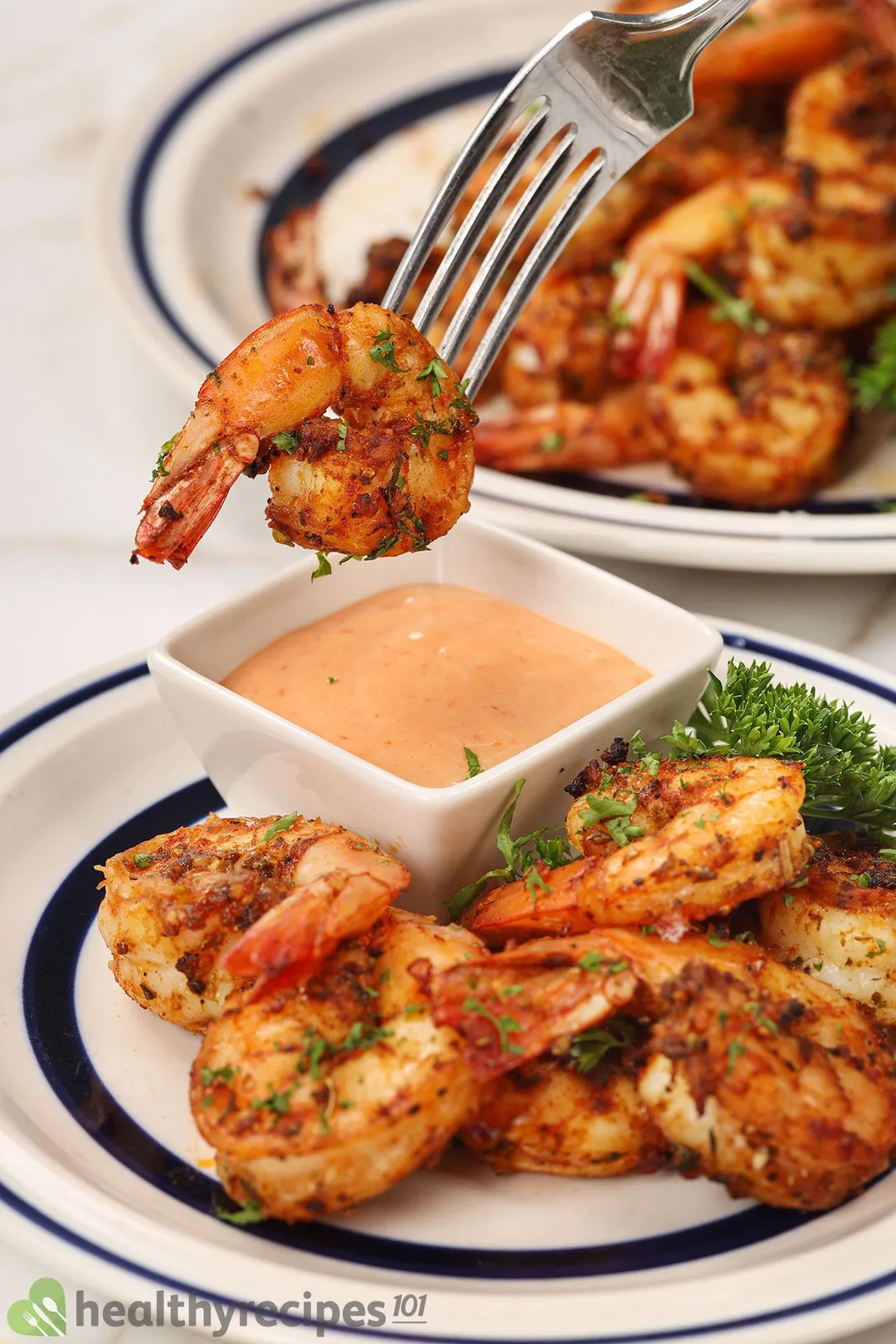 Previous Recipe
Air Fryer Shrimp with Mayo Sauce
Air Fryer Shrimp with Mayo Sauce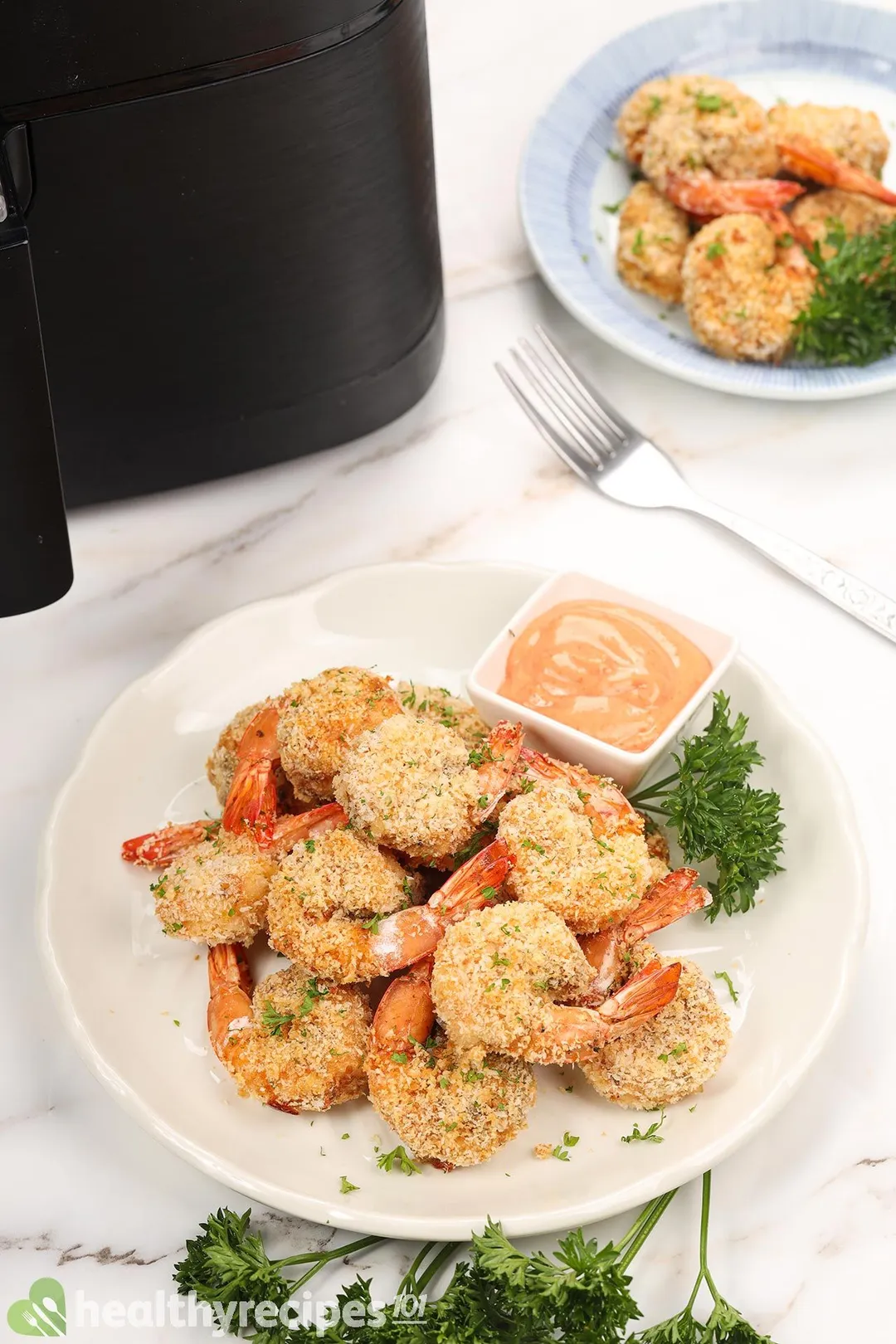 Next Recipe
Air Fryer Coconut Shrimp
Air Fryer Coconut Shrimp
Head Chef, Culinary Consultant
Tuyet Pham is an award-winning Saigonese chef who believes that joy is the secret ingredient to delicious food. At Healthy Recipes 101, Tuyet personally tests and simplifies every recipe, ensuring maximum flavor with minimal effort. With a background at prestigious French restaurants P'TI Saigon and Le Corto, Tuyet knows how to make every dish exceptional.
Writer, Author
Luna Regina is an accomplished writer and author who dedicates her career to empowering home cooks and making cooking effortless for everyone. She is the founder of HealthyKitchen101.com and HealthyRecipes101.com, where she works with her team to develop easy, nutritious recipes and help aspiring cooks choose the right kitchen appliances.
Nutrition Reviewer
Natalie Butler is a registered dietitian nutritionist with a passion to help others live their best life through food, fitness, safer beauty and a healthy lifestyle. She has expertise with a variety of diets and diseases and believes that there is no one-size-fits-all approach for health.
This shrimp ceviche is a light and refreshing appetizer that's perfect for summer gatherings.