This grilled sea bass recipe offers a fuss-free and uncomplicated way to enjoy grilled food. Everything comes together on a simple grill pan right inside your kitchen, but still carries the classic qualities that we all love in grilled food. 
The sea bass meat is tender and flaky with a subtly sweet undertone, wonderfully contrasted by its delectably crispy skin that's irresistible at the first glance. Complemented by an array of colorful and vibrant veggies, this dish is proof that indoor grills still possess all the magic that you would find in an outdoor BBQ.
Is Grilled Sea Bass Healthy?
Considering that it has 38.2 g protein but only 5.9 g saturated fat and 595.3 mg sodium in a 453-calorie serving, we believe the answer is yes. We achieved these amounts by carefully selecting and moderating the ingredients to follow our health guidelines.
Furthermore, its main ingredient is sea bass, which comes with a lot of nutrients. It's a great source of selenium – a mineral that plays a key role in body development. It also contains EPA and DHA, both of which are omega-3 fatty acids that may help prevent heart disease and strokes, amongst other potential health benefits. 
To keep things balanced, we also included loads of veggies like potatoes, red bell pepper, and red onion along with green beans, all of which help to add fiber, vitamins, and other healthful nutrients to the dish.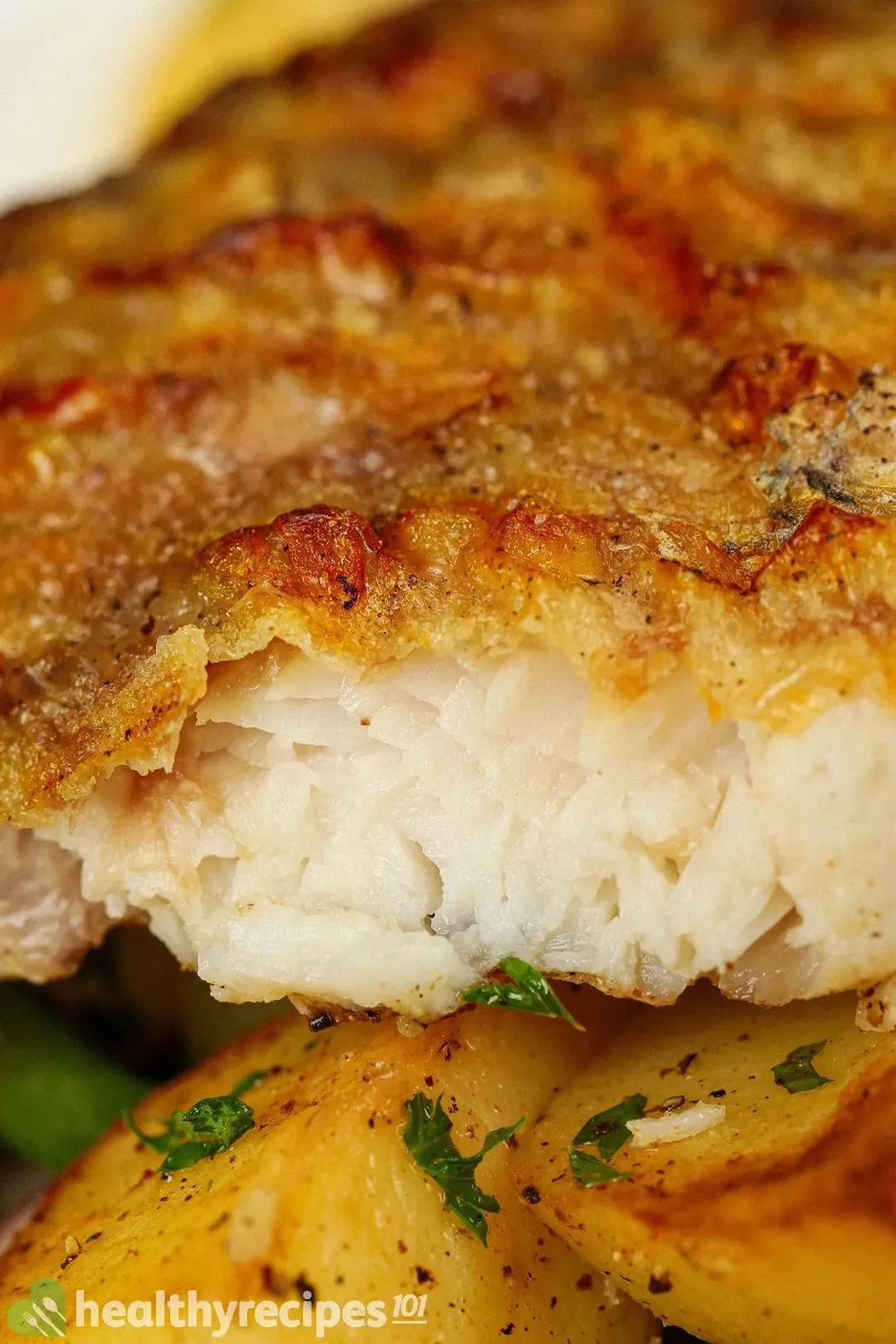 You may be concerned about grilling's tendency to produce harmful chemicals like HCAs and PAHs, which are created when meat is cooked at high temperatures, resulting in the black charred marks that you often see on grilled food.
While this may be true, there are adjustments you can make to minimize the damage. This includes grilling with gas instead of charcoal to limit direct heat exposure and lowering the cooking temperature, as well as removing the charred parts, and most importantly, not over-consuming grilled food.
Ingredients You'll Need
Despite the eye-catching appearance, this dish requires relatively simple ingredients. The veggies are familiar and we kept the seasonings simple since the grilling method is enough to bring out all the fish's flavors.
Sea bass has a mild taste that becomes more flavorful when grilled. However, the meat still manages to remain tender and flaky with a sweet seafood undertone that tastes absolutely marvelous. 
For convenience, we recommend that you buy fillets. Go for ones with bright, firm flesh that are still intact with a little moisture and don't have a foul odor that would suggest spoiling, which doesn't include the briny sea smell they might have.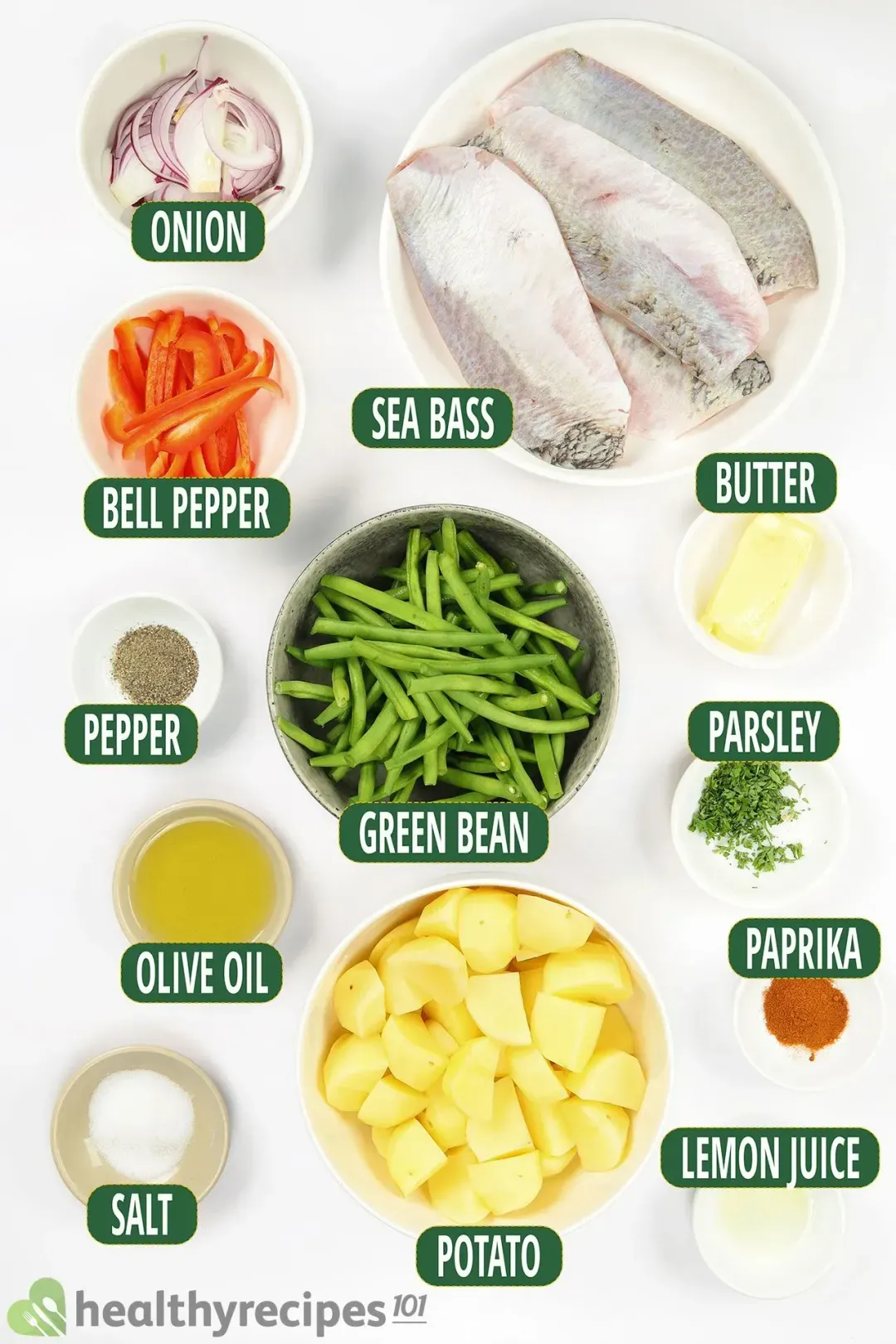 We added loads of potatoes, green beans, red bell peppers, and red onion. They have a variety of flavors and textures that greatly diversify the dish.
This colorful combination of vegetables and legumes creates a balanced harmony of sweet, earthy, bright, and slightly spicy flavors. The potatoes are deliciously starchy while the bell peppers, beans, and onion have their own distinctive crunchiness that makes every bite a lot more exciting.
Salt, pepper, and paprika are used to season this dish. Only a small amount of each is used so that the fish and veggies' original flavors are heightened, but not entirely changed.
Can I Use Frozen Sea Bass for Grilling?
Yes, you can, provided that it's properly thawed prior to cooking so the texture and taste remain somewhat fresh.
The most efficient way is to leave it in the fridge to gradually thaw overnight. If you don't have time, you can place the fish in a bowl of cold water to soak for approximately 30 minutes.
With both of these methods, remember to keep the fish inside a sealed package to prevent the water from seeping in as well as the moisture from leaking out and spreading bacteria. Other food safety hazards to avoid include using warm water and leaving the fish to thaw at room temperature.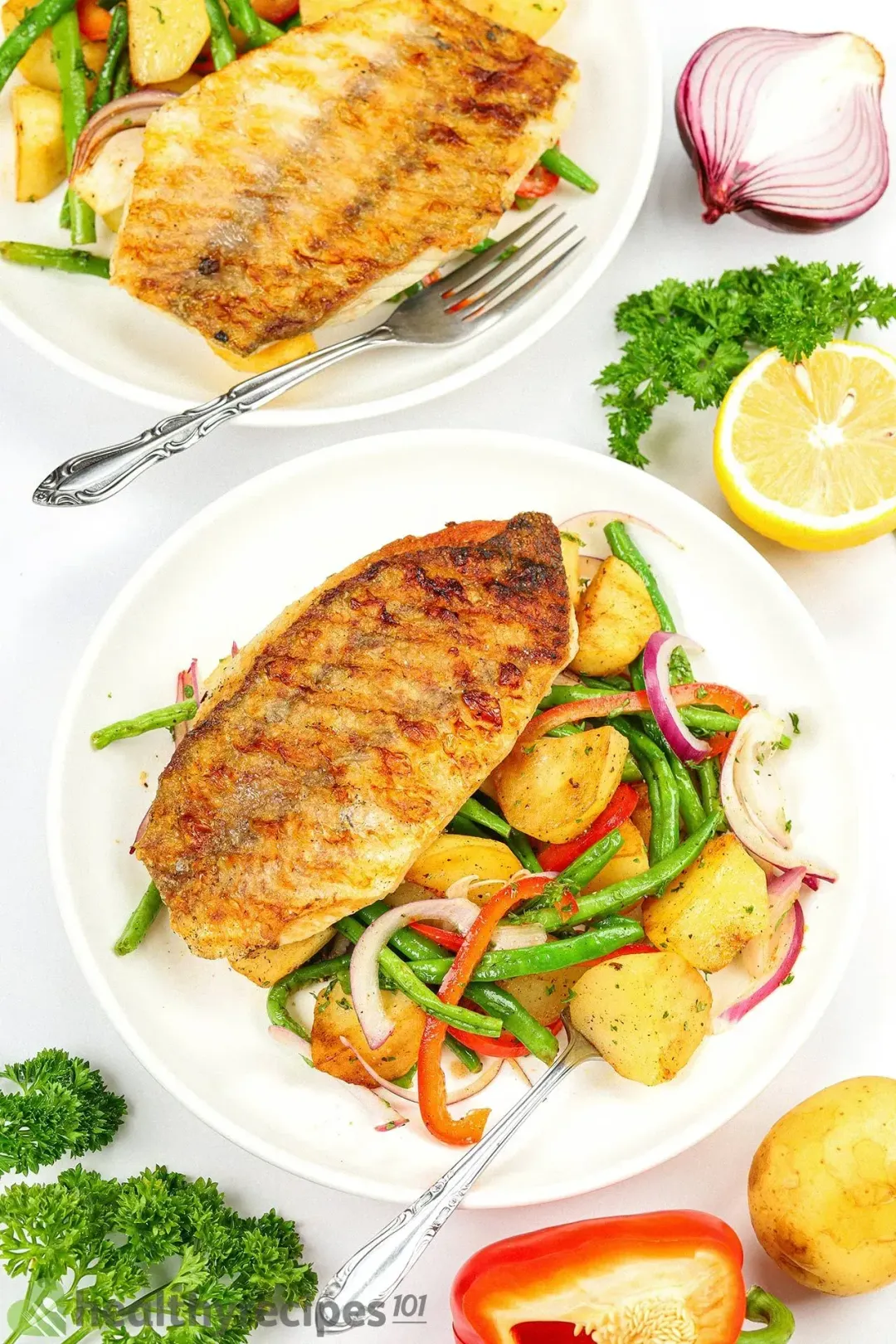 How Do You Know When Sea Bass Is Cooked?
Sea bass's meat is relatively tender, so it's important that it isn't overcooked and dried out. Its doneness can be checked by using a knife or fork to gently poke at an angle and test out the flesh's texture and color.
Cooked sea bass will flake easily while still maintaining a certain firmness. It's usually opaque white on the inside while the exterior turns golden-brown. 
In addition to the flake test, you can be more precise with a meat thermometer. Pierce it into the thickest part of the fish and if its internal temperature reaches 145°F, it's good to take off the heat. 
How to Store and Reheat
Since this dish contains both fish and veggies, you should store them in separate airtight containers to ensure overall quality. They should last for up to two days when kept in the fridge. 
To reheat, put the fish in a dish loosely covered with foil and leave it in the oven at 275°F for 10 to 15 minutes. You can drizzle a small amount of oil or water if it seems to have dried out. The salad can be enjoyed separately at room temperature. 
What to Serve With Grilled Sea Bass
This dish is already filled to the brim with a colorful mixture of meat, veggies, and legumes, so it doesn't need much company. We recommend the following light salads to keep the meal balanced and flavorful: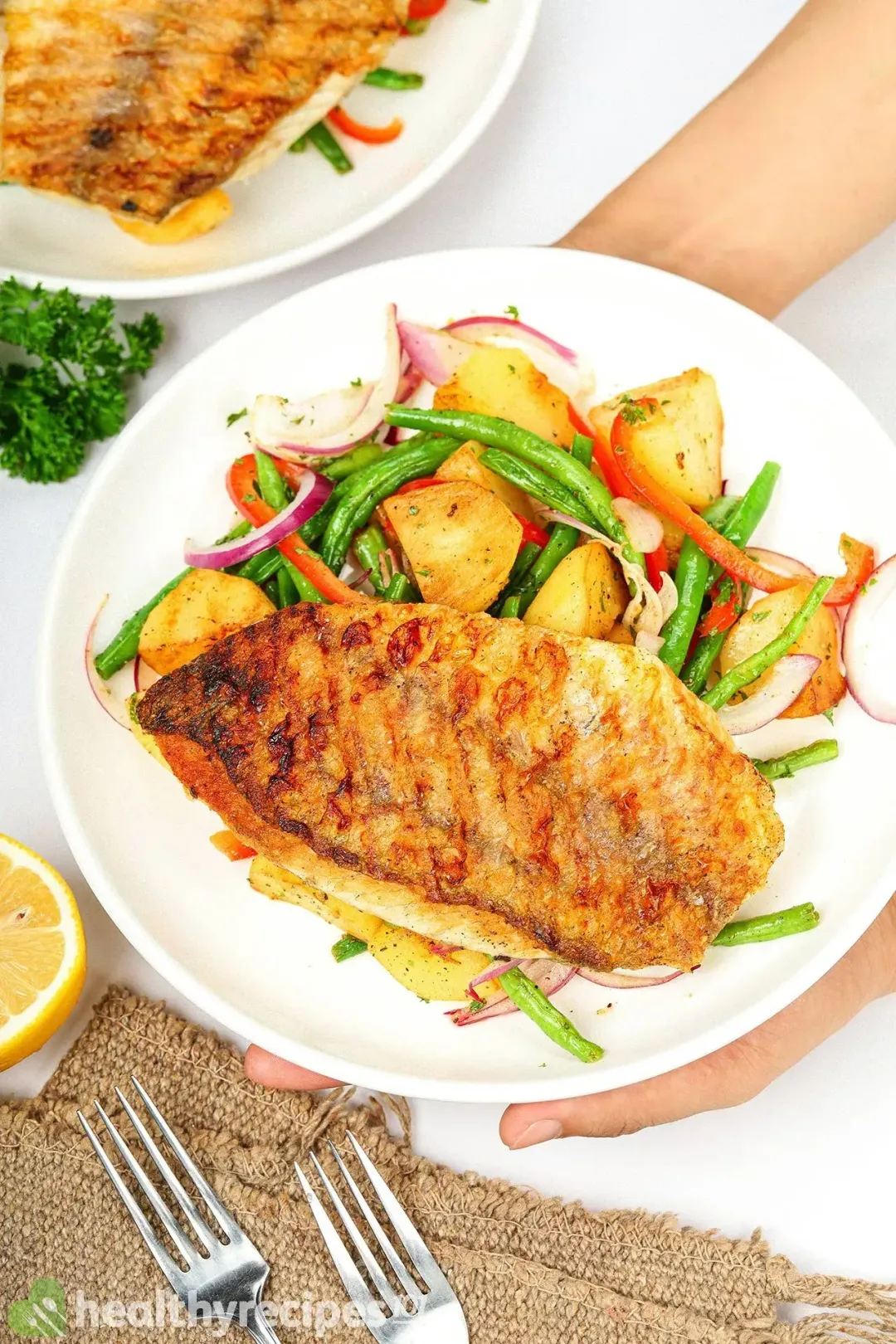 How to Make Grilled Sea Bass
Bring the BBQ magic right into your kitchen with this grilled sea bass recipe. The fish is subtly sweet with a divine texture contrast and wonderfully complemented by colorful veggies, making the dish utterly irresistible.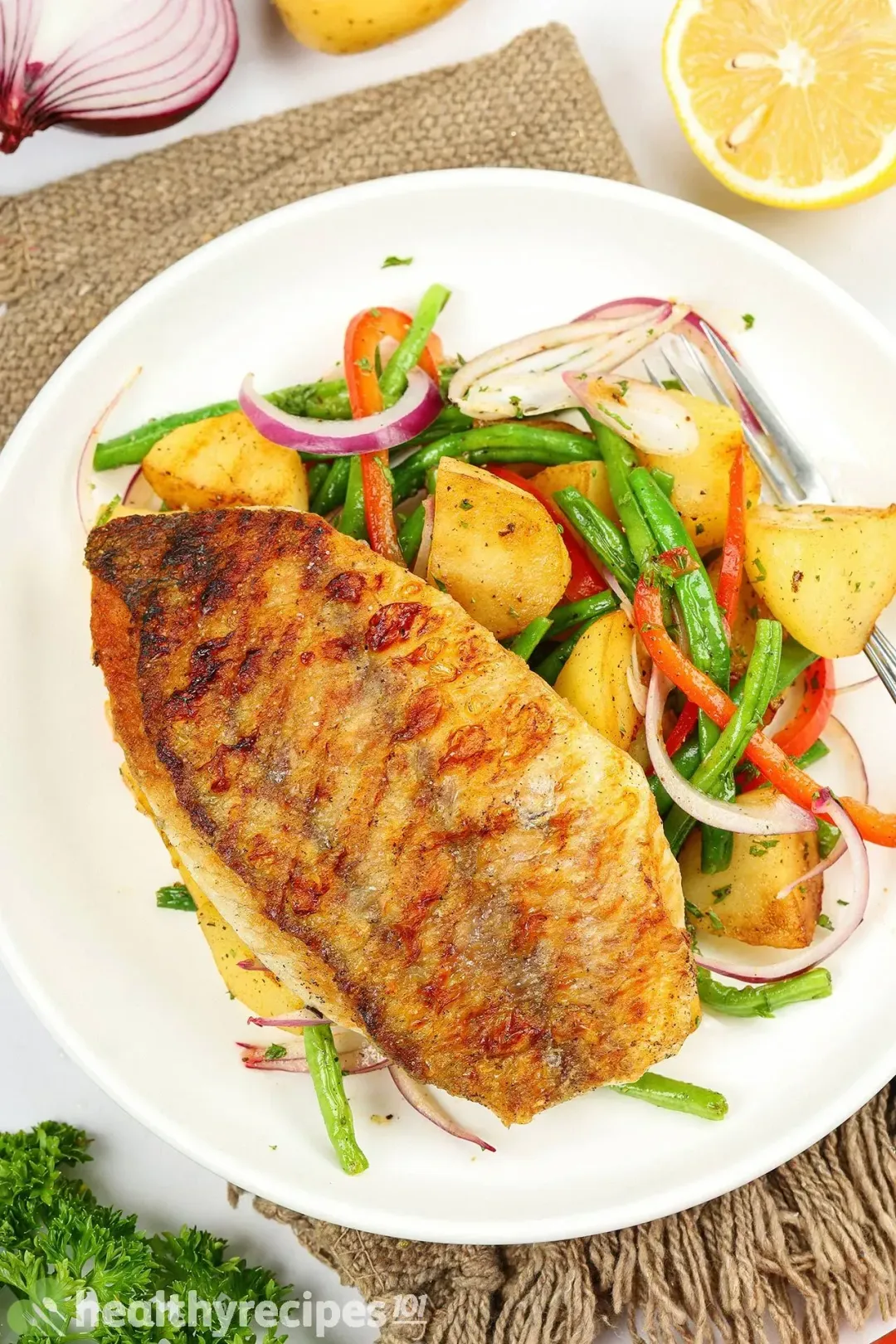 cook TIME

35 mins

prep TIME

10 mins

total TIME

45 mins
COURSE

Main Course

CUISINE

American

SERVINGS

CALORIES

454 kcal
INGREDIENTS
26 oz

sea bass fillets

(skin-on, boneless)

25 oz

potatoes

(peeled, quartered)

6 oz

green bean

(ends removed)

2 oz

red bell pepper

(julienned)
INSTRUCTIONS
Prep:
1
Prepare the Fillets: If the fillets still have scales, slide a chef's knife against where they're laying to fluff them up and make short strokes to scrape until the skin is clear.
2
Cut the Potatoes: Hold the peeled potato upright and slice lengthwise to cut it in half. Repeat the steps with the halves to turn them into quarters. When finish, put these pieces in a bowl of water to soak off the excess starch.
3
Julienne the Bell Peppers: Slice the bell pepper lengthwise into several pieces. Go around the stem to separate and discard the core at once. Then, lay each piece vertically on the chopping board and thinly slice it into julienned sticks.
4
Slice the Onion: Cut off the stem end, slice the onion in half, then remove the papery skin. Lay the half horizontally flat and make thin slices slowly toward the root.
Cook:
1
Microwave the Potatoes: In a microwave-safe bowl, microwave 25 oz potatoes at full power for 12 minutes. Cover the bowl with plastic wrap.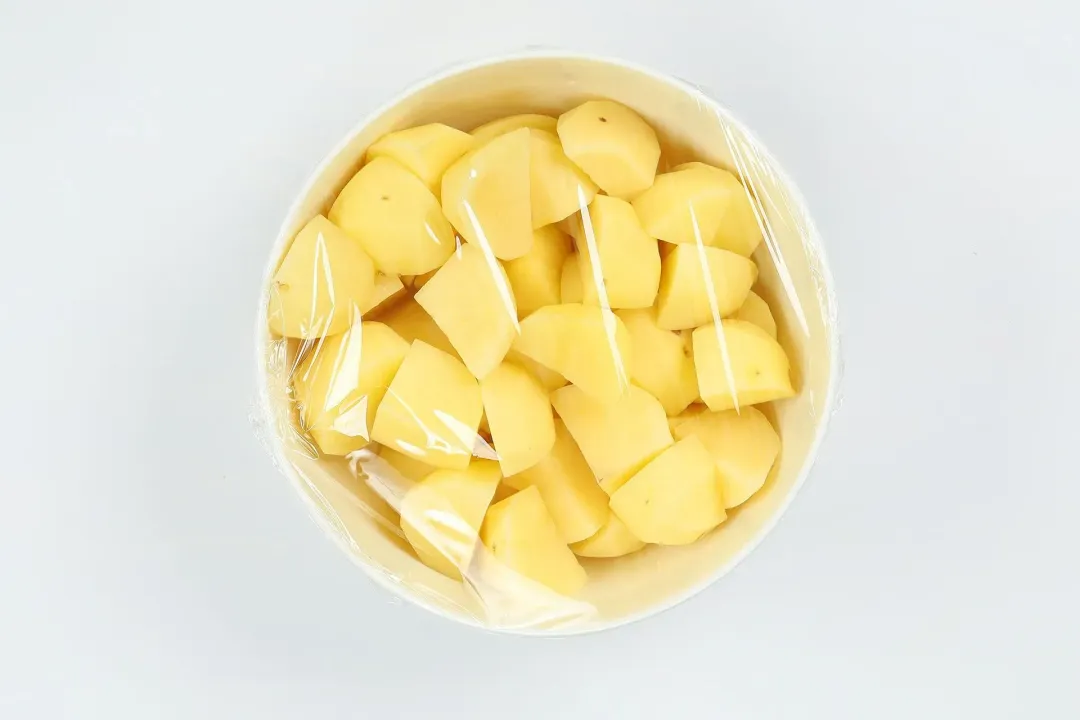 2
Grill the Potatoes: When the time is up, remove the potatoes and put them on a grill pan with 2 tbsp unsalted butter to grill at medium heat for 7 minutes.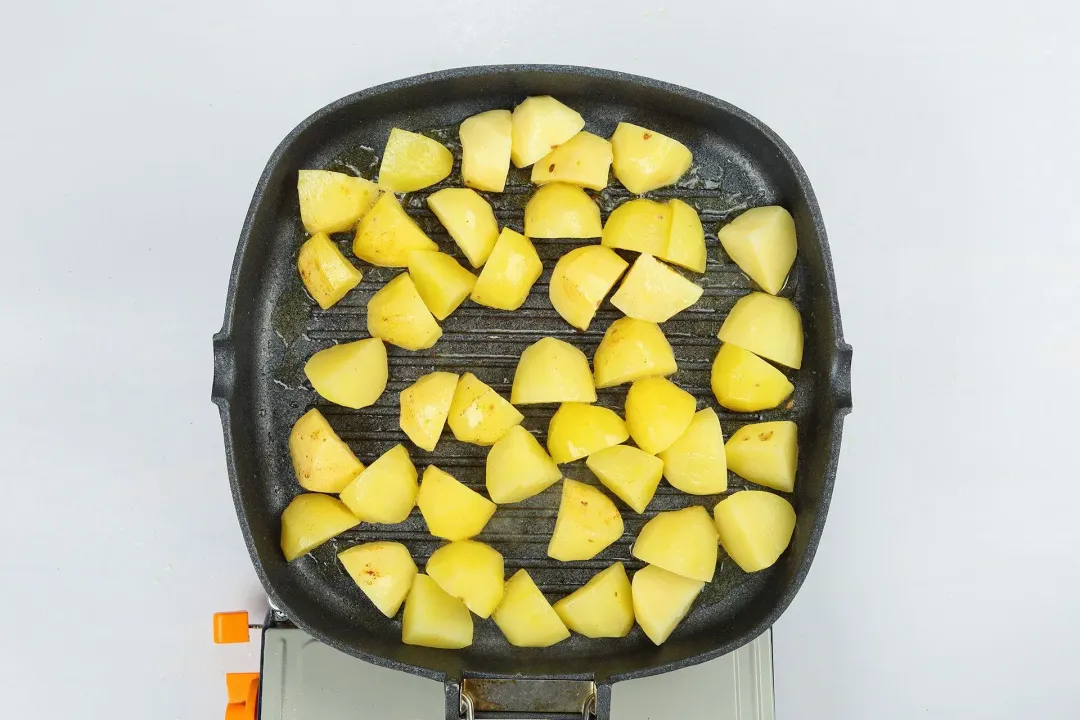 3
Sauté the Beans: Remove the potatoes, then sauté 6 oz green beans with 1 tbsp olive oil for 2 minutes then remove.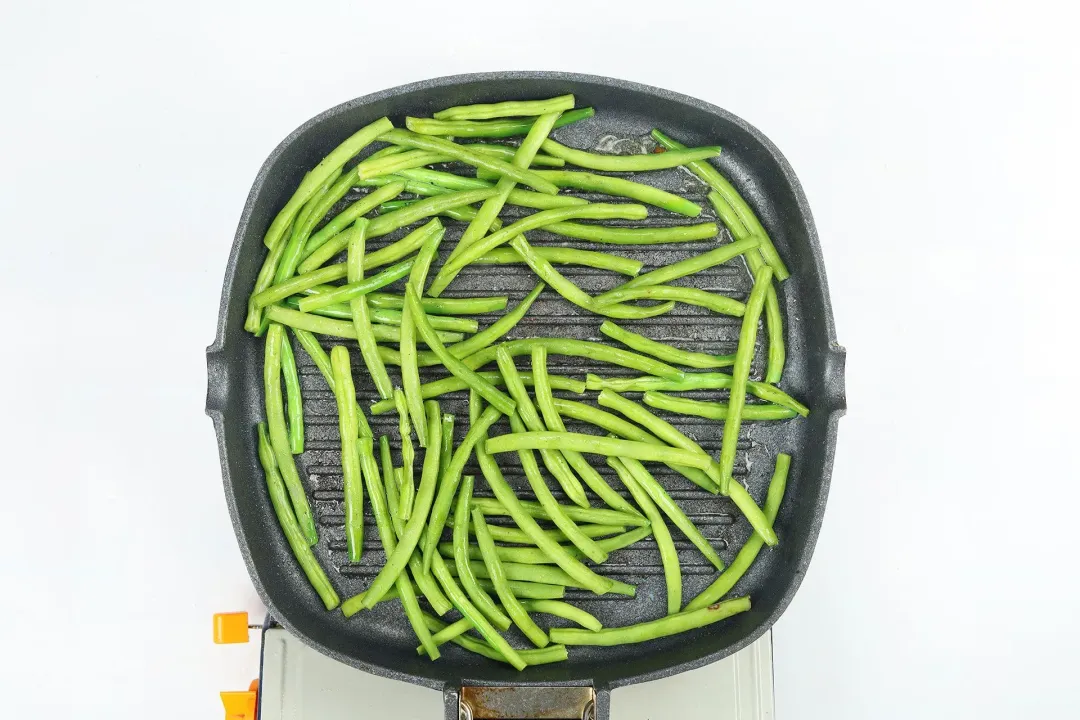 4
Grill the Sea Bass: Over medium heat, grill 26 oz sea bass fillets with 1.5 tbsp olive oil. Press the skin-side to the pan for 7 minutes, then flip over to the other side for 3 minutes. Season both sides with 3/8 tsp salt and 1/4 tsp pepper while you grill.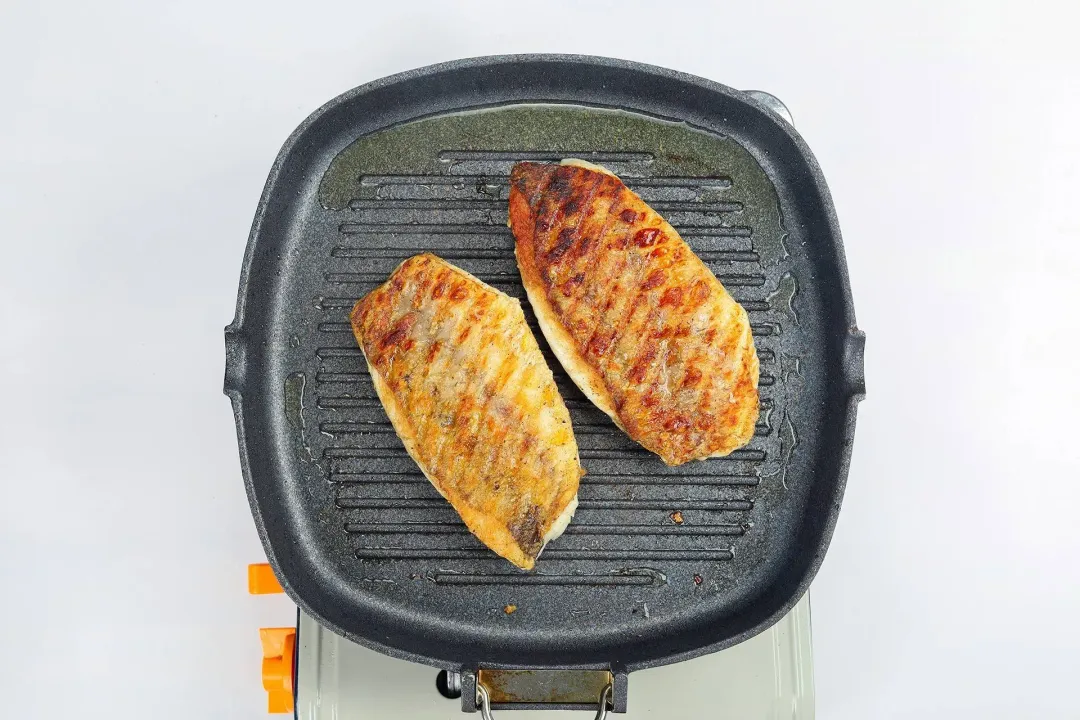 5
Toss the Veggies and Bean: Meanwhile, in a large bowl, toss the grilled potatoes, sautéed green beans, 2 oz red onion, 2 oz red bell pepper with 3/8 tsp salt, 1 tbsp lemon juice, 1/4 tsp pepper, 1/4 tsp paprika and 2 tbsp parsley until well-combined.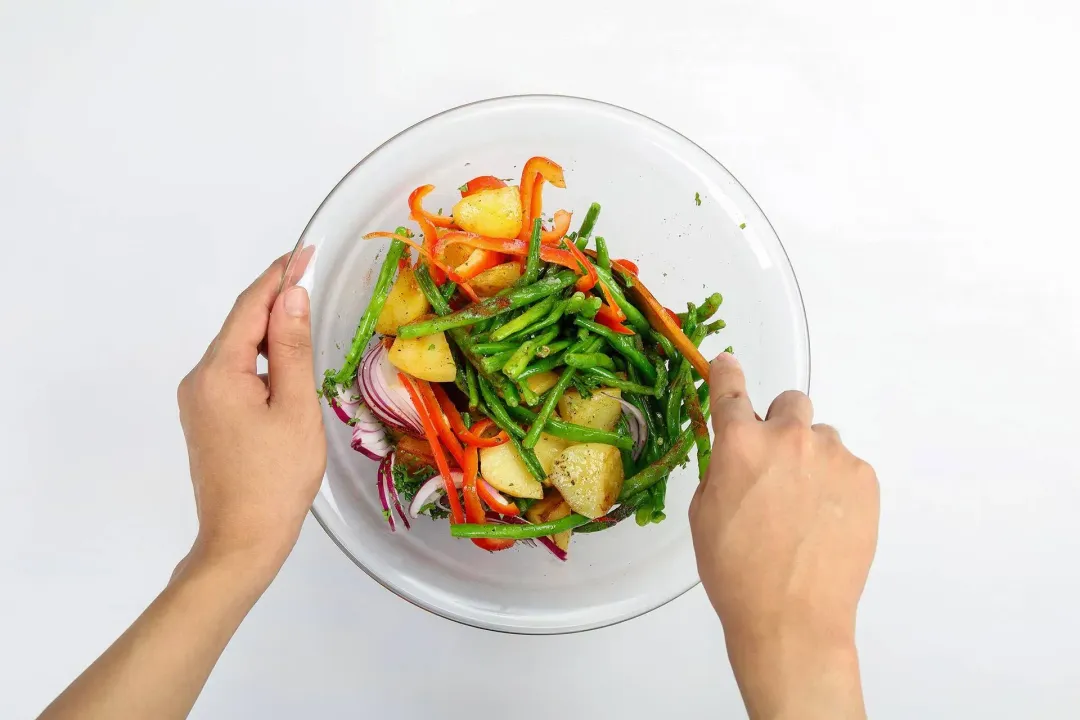 6
Serve the Food: Take the sea bass off the heat then serve over the tossed salad.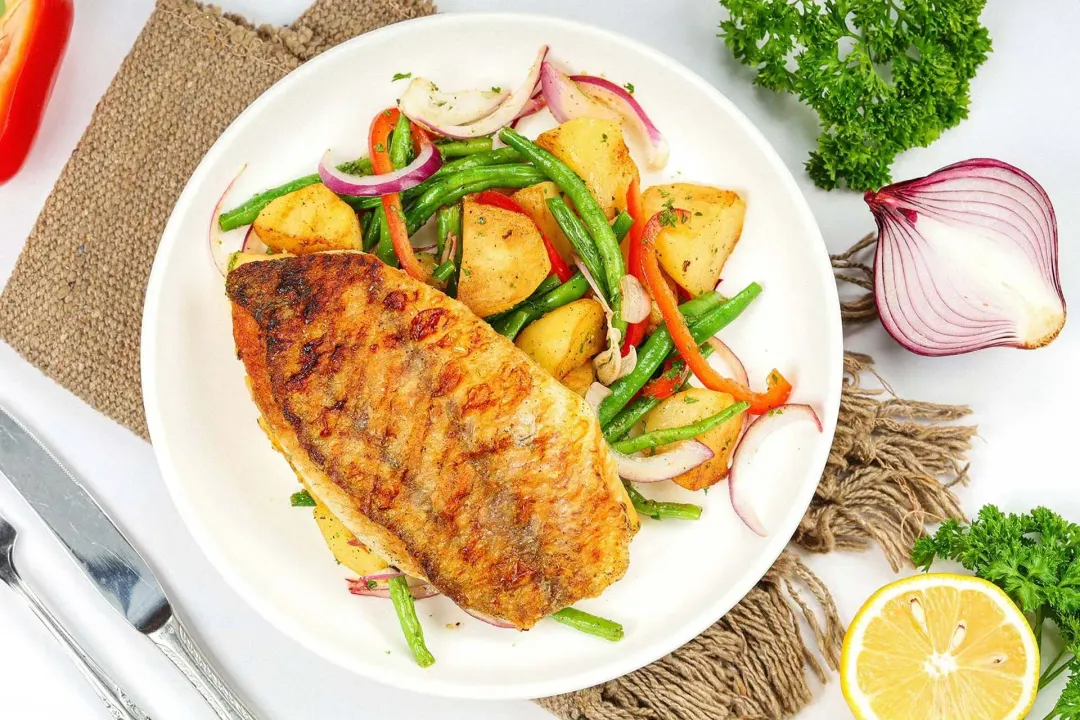 NUTRITION
Nutrition Facts
How to Make Grilled Sea Bass
Amount Per Serving (1 serving)
Calories 454
Calories from Fat 167
% Daily Value*
* Percent Daily Values are based on a 2000 calorie diet.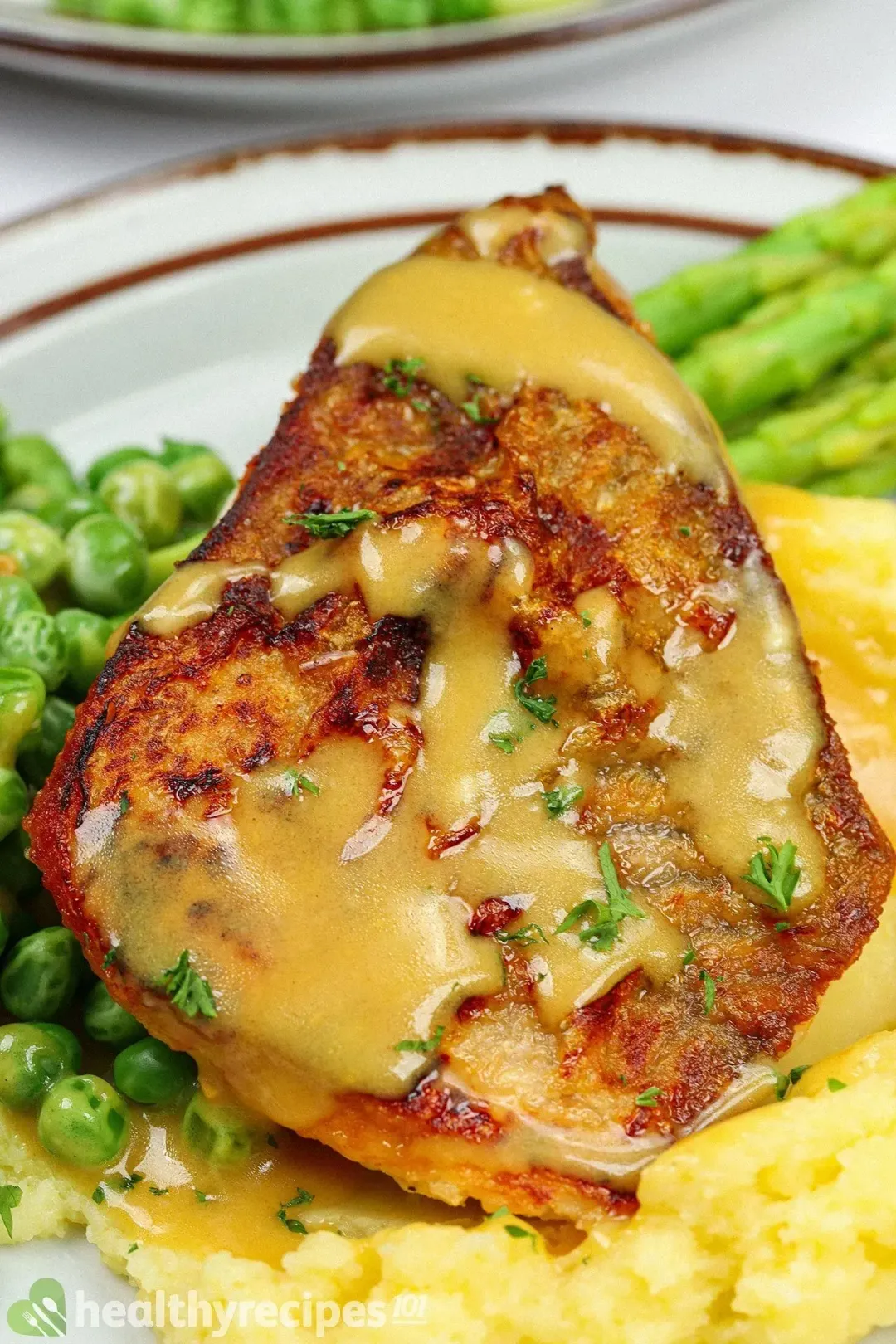 Previous Recipe
Honey Mustard Sea Bass
Honey Mustard Sea Bass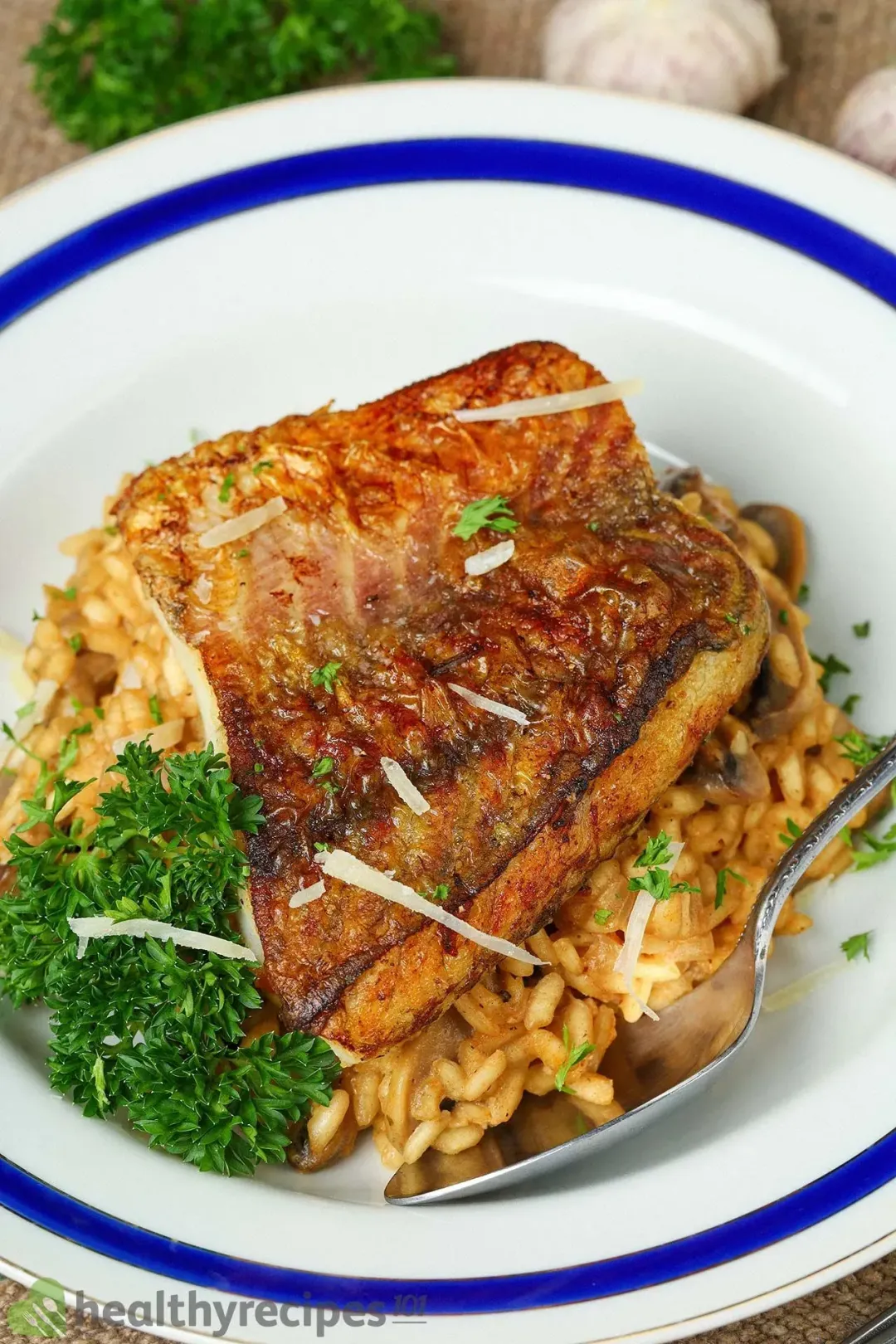 Next Recipe
Sea Bass Risotto
Sea Bass Risotto
Head Chef, Culinary Consultant
Tuyet Pham is an award-winning Saigonese chef who believes that joy is the secret ingredient to delicious food. At Healthy Recipes 101, Tuyet personally tests and simplifies every recipe, ensuring maximum flavor with minimal effort. With a background at prestigious French restaurants P'TI Saigon and Le Corto, Tuyet knows how to make every dish exceptional.
Writer, Author
Luna Regina is an accomplished writer and author who dedicates her career to empowering home cooks and making cooking effortless for everyone. She is the founder of HealthyKitchen101.com and HealthyRecipes101.com, where she works with her team to develop easy, nutritious recipes and help aspiring cooks choose the right kitchen appliances.
Nutrition Reviewer
Natalie Butler is a registered dietitian nutritionist with a passion to help others live their best life through food, fitness, safer beauty and a healthy lifestyle. She has expertise with a variety of diets and diseases and believes that there is no one-size-fits-all approach for health.
Perfectly grilled sea bass with amazing flavor thanks to the special marinade.

Turned out great. Very tasty. Easy to make.