Homemade food has never looked so good with this sea bass risotto recipe. It features golden sea bass laid over a decadent bed of risotto, complemented by delectable pieces of mushrooms and onions. The best part is everything comes together in just one pan with a few simple steps, so it's a fuss-free dish that you can quickly whip up for any occasion.
What Does Risotto Taste Like?
Risotto is an Italian dish made by slowly cooking short-grained rice in broth and condiments. As the ingredients stick together, this results in a very creamy and saucy texture. The grains themselves, however, are quite al dente.
In terms of taste, it's pretty earthy with an aromatic undertone. Depending on the herbs, spices, and other foods it's cooked with, it could also be infused with a wide range of flavors.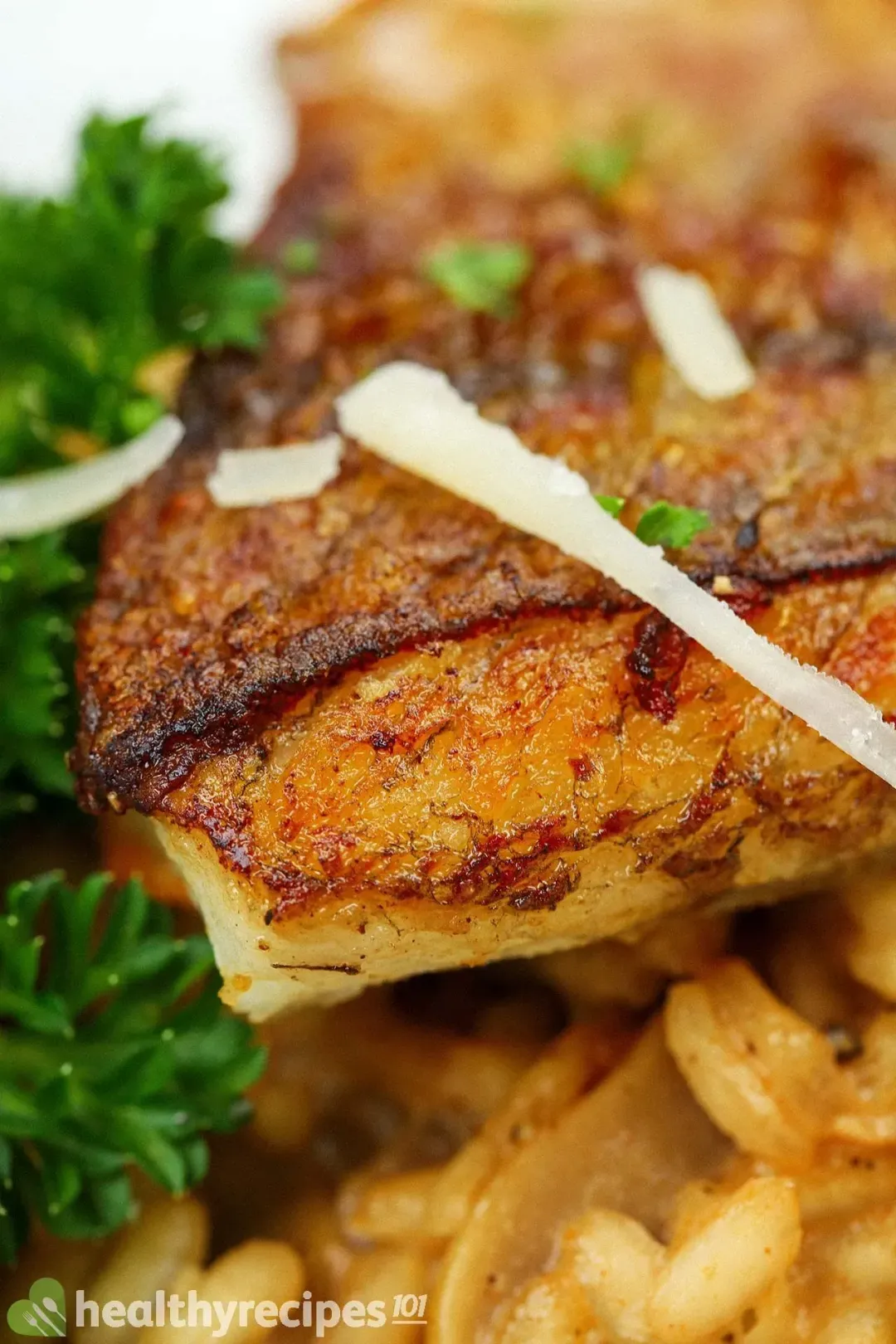 Is Sea Bass Risotto Healthy?
Yes, it is. 
Firstly, it's quite high in protein thanks to the arborio rice and sea bass, both of which have a hefty amount of protein. We also made sure to balance the ingredients so that there are around 7.8 g saturated fat and 601 mg sodium in a 488-calorie serving. These amounts strictly comply with our nutrition guidelines. 
Sea bass, in particular, is a great source of EPA and DHA — omega-3 fatty acids that may have heart benefits such as lowering blood pressure, improving blood vessel function, and reducing the risk of a heart attack.
We also used a decent amount of white mushrooms for this recipe. They are low in calories, and also come with a myriad of potential health benefits, such as promoting heart health, controlling blood sugar, and improving gut health.
Ingredients for Sea Bass Risotto
This dish mainly revolves around the fish and the rice, with a few additional ingredients to elevate their flavors. Here are what you'll need to put together this sea bass risotto: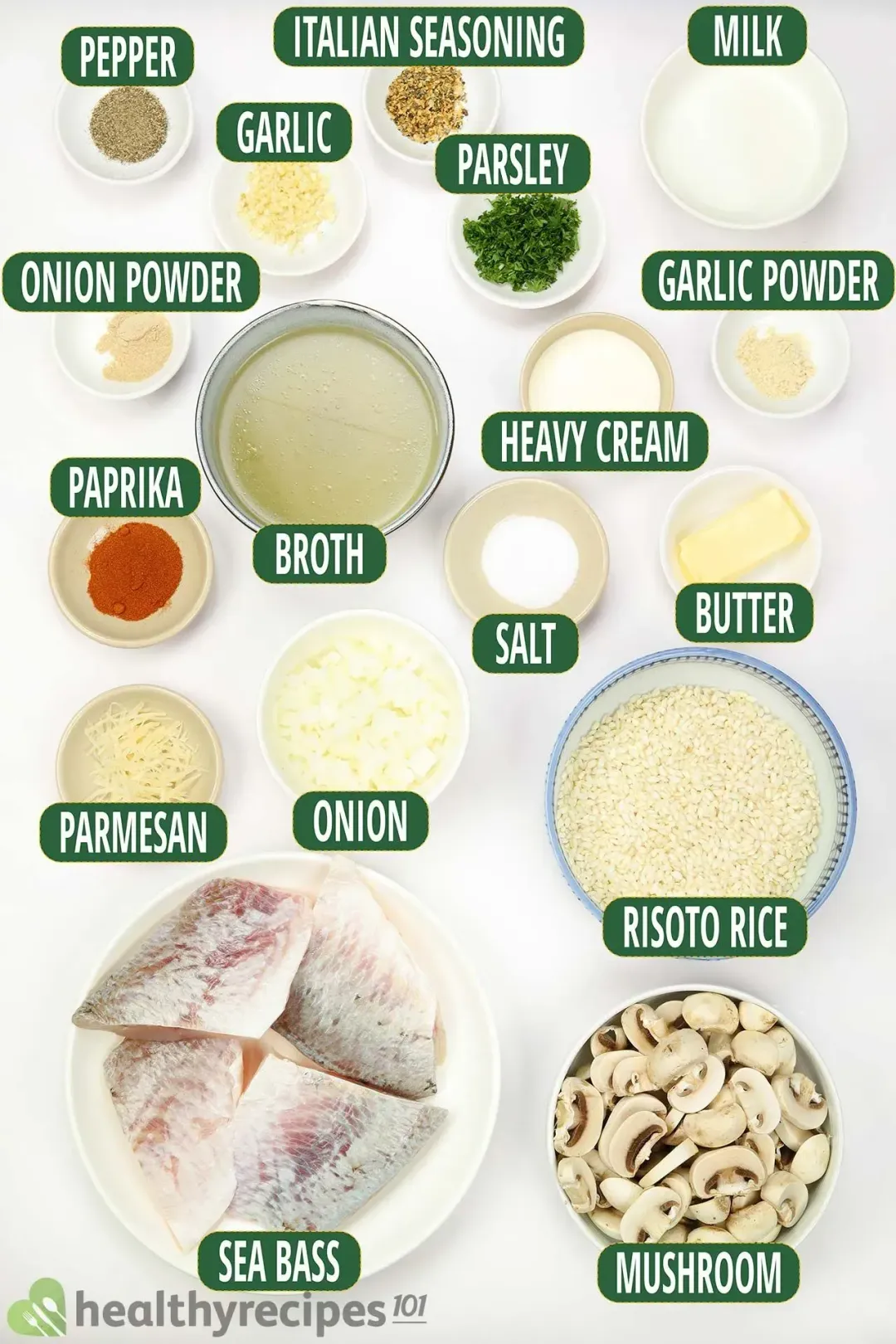 Sea Bass: The sea bass generally tastes quite mild and pleasant, which makes it a perfect pairing for the well-seasoned risotto. Its crispy skin and flaky meat also bring a marvelous contrast to the rice's creamy tender texture. We recommend that you use fillets to shorten the preparation process. Choose ones whose skin and flesh are bright, intact, and firm with a little bit of moisture. They should have a fresh and slightly briny smell, but nothing foul that could indicate spoilage.
Rice: Arborio is the most common type of rice used in risotto. This rice is distinguished by its oval grains that are a bit shorter and fatter than regular rice. It's available in white and brown, although the white variety is much more common. One important thing to remember is you shouldn't rinse this rice because it could remove the outer layer of starch that's needed to create its signature creamy consistency.
Mushroom: We used white mushrooms for this recipe; distinguishable by their small size, short stems, and smooth white caps. Their mild and earthy flavor browns quite nicely when cooked, releasing a pleasant sweetness that wonderfully complements the fish.
Dairy Products: Butter helps to brown the fish while the milk and heavy cream enhance the risotto's signature creaminess. We also used a sprinkle of parmesan cheese for garnishing. If you're lactose-intolerant, you can substitute the heavy cream and butter for plant-based products and the milk with water, or broth, or just skip it. You can also forgo the cheese and use any of your preferred garnishes.
Onion: We quickly sautéed the onion to lay a sweet and caramelized base for the risotto. It also deepens the dish's flavors by adding a slightly peppery taste.
Chicken Broth: This is an essential ingredient for when you're cooking risotto. Its distinct warmth is infused into the rice, giving it that wholesome homemade food taste.
Seasonings: We used salt, pepper, onion powder, paprika, and garlic powder to enhance the remaining ingredients' flavors and kick them up a notch. Since this is an Italian dish, we also added a dash of Italian seasoning for as authentic an experience as possible.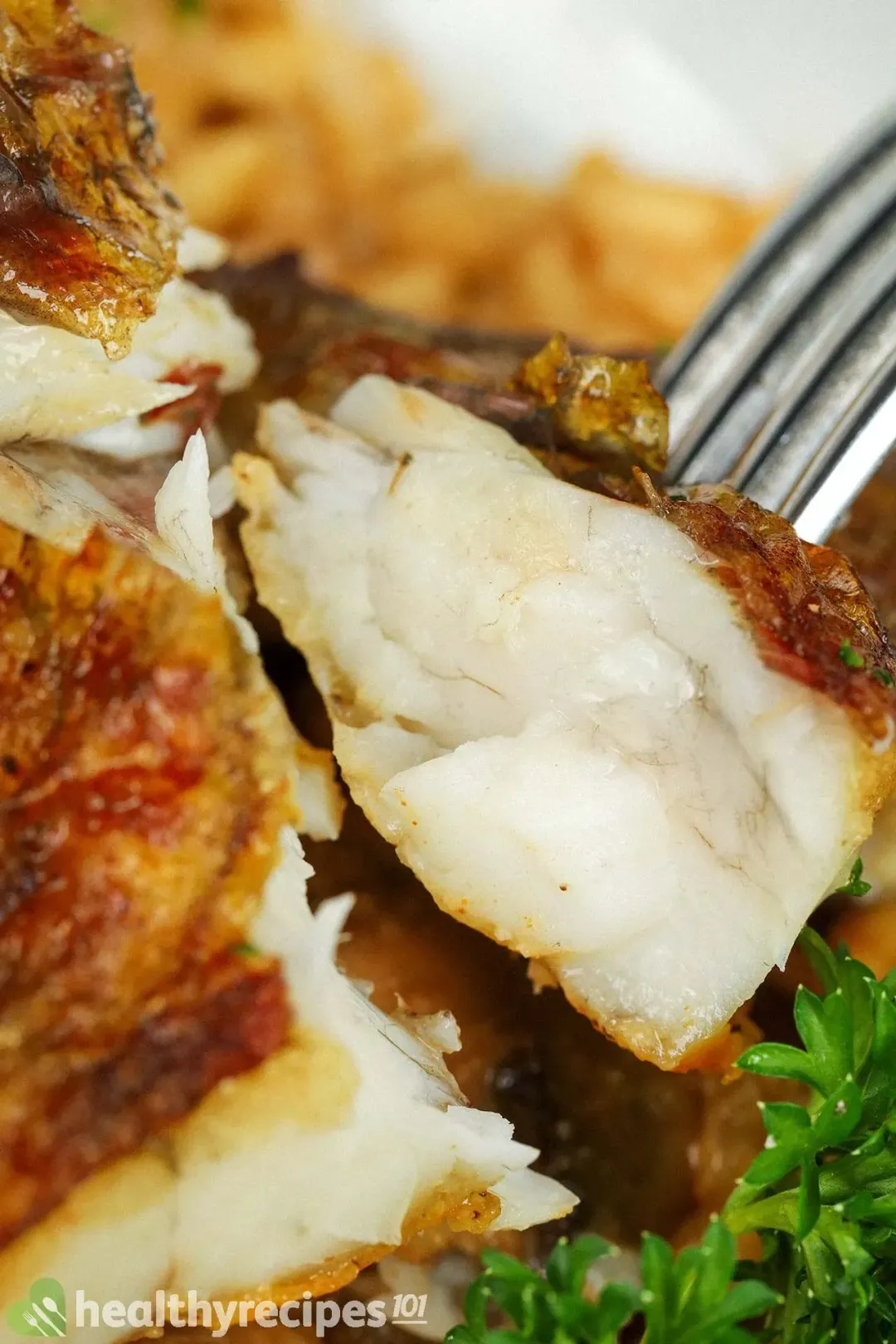 How to Store and Reheat
This dish should last for around two or three days when kept in an airtight container in the fridge. If the fillets are still intact, you can keep them separately to preserve their texture. We don't recommend freezing because it might alter the risotto's consistency.
The risotto will likely have dried out, so add about a half or a quarter cup of broth to reactivate it. Stir the pot on low to medium heat until the rice has loosened up. The fish can be refried for a few minutes on the stovetop or reheated in the microwave.
 What to Serve With Sea Bass Risotto
This risotto is quite rich in both tastes and textures, so salads with a sweet and cheesy profile flavor should balance it out quite nicely. Here are some recipes you should check out: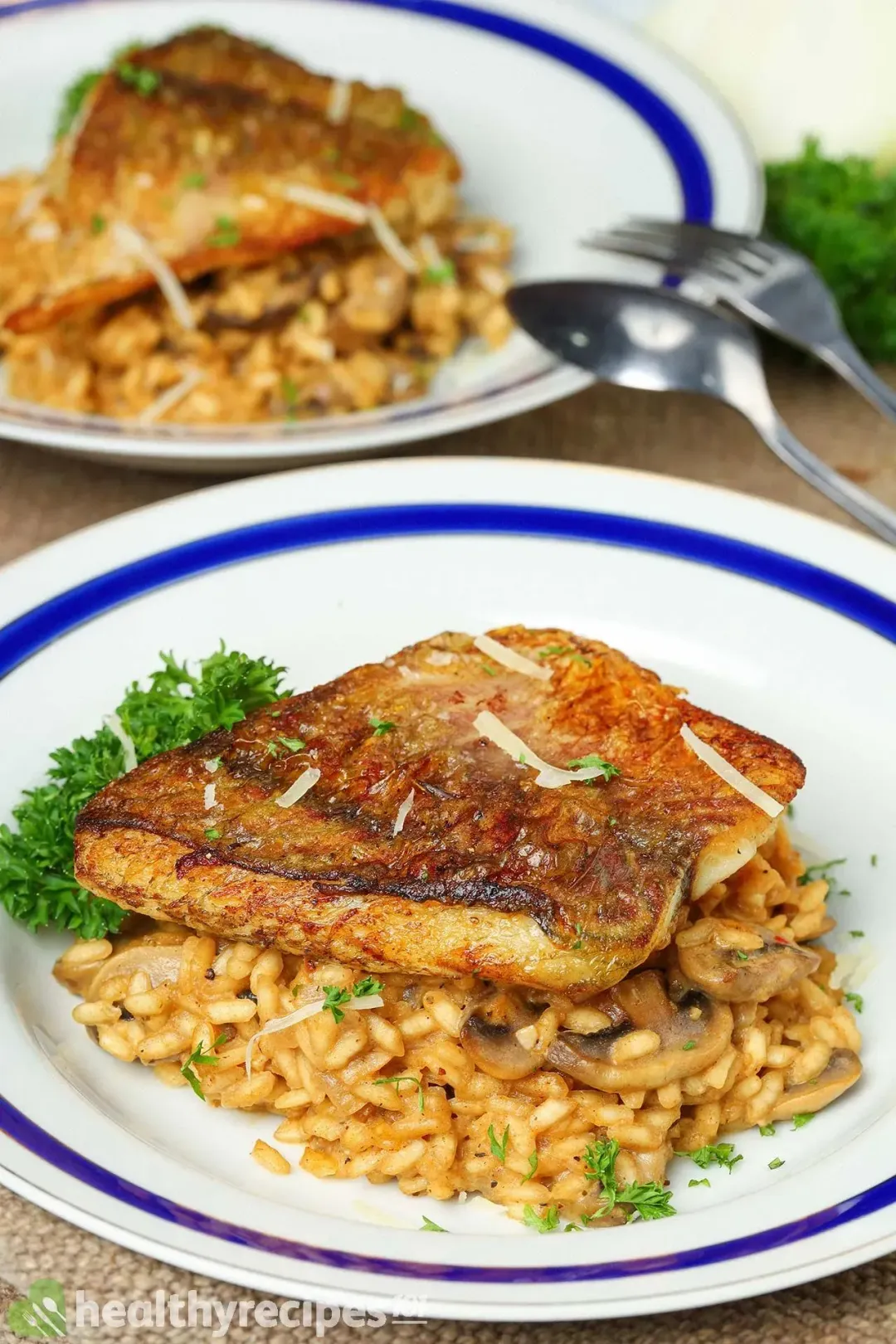 How to Make Sea Bass Risotto
Homemade food has never looked so good with this sea bass risotto recipe. It features golden sea bass laid over a decadent bed of risotto, complemented by delectable pieces of mushrooms and onions.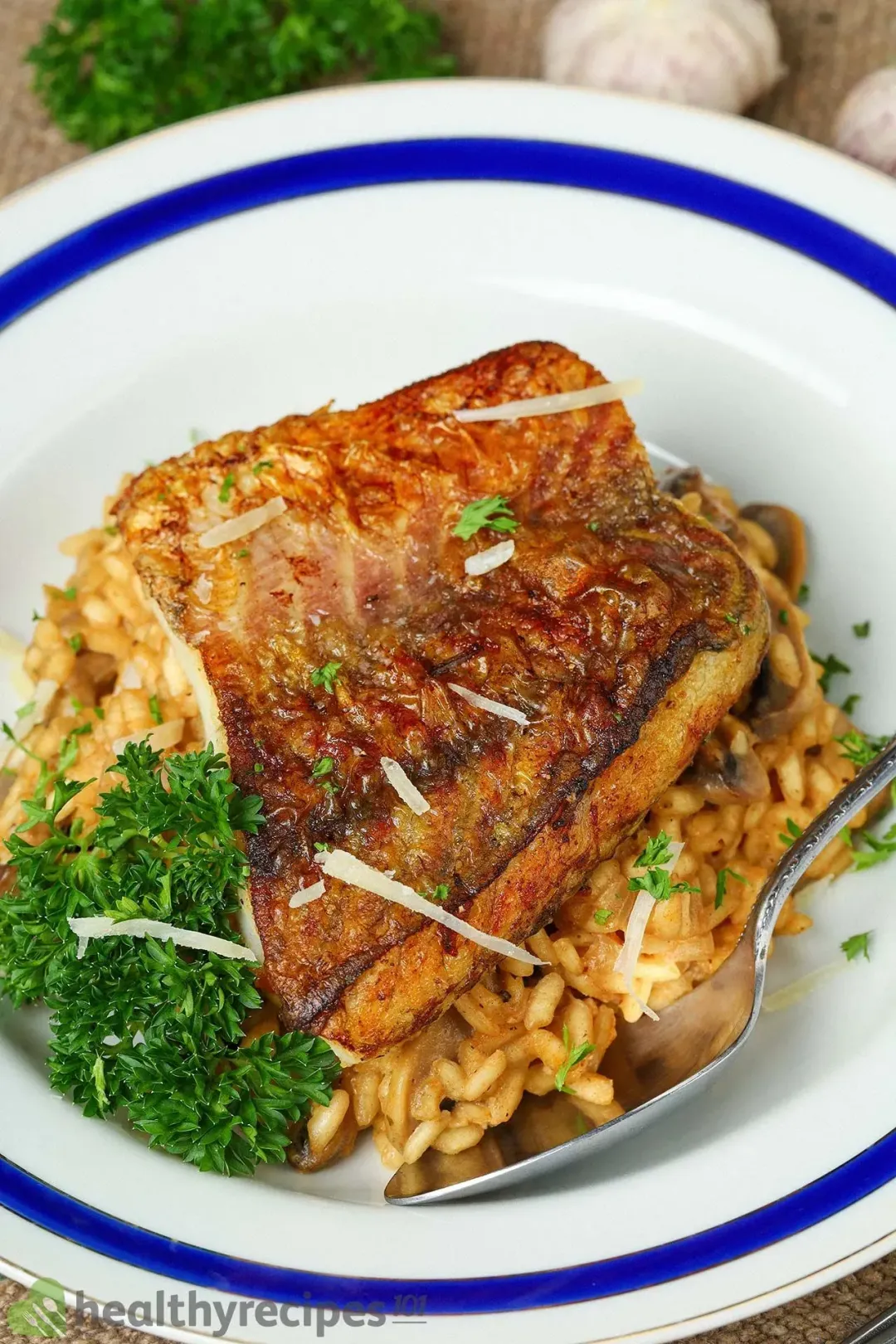 cook TIME

30 mins

prep TIME

10 mins

total TIME

40 mins
COURSE

Main Course

CUISINE

Italian

SERVINGS

CALORIES

488 kcal
INGREDIENTS
20 oz

sea bass fillets

(skin-on, boneless)

8 oz

white mushrooms

(sliced)

1 1/2 tbsp

unsalted butter

0.25 oz

shredded parmesan cheese

1 1/2 cup

unsalted chicken broth
INSTRUCTIONS
Prep:
1
Prepare the Fillets: Slide a chef's knife against where the scales are laying to fluff them up and scrape in short strokes to remove them.
2
Dice the Onion: Slice the onion in half and leave the roots on then thinly slice the onion.
3
Mince the Garlic: Thinly slice the peeled cloves then place under the knife's edge. Mince the cloves by rocking the knife back and forth over the sliced pile until they become fine pieces.
4
Prepare the Mushrooms: Wash the mushrooms in a colander to clean them off the dirt and pat them dry with paper towels. Remove the short stems then slice the heads into halves.
5
Chop the Parsley: Pluck the leaves from their stems. Then, bunch the leaves and thinly slice. Continue slicing over the leaves in a rocking motion once more to make fine pieces.
Cook:
1
Fry the Fillets: Over medium heat, add 3/4 tbsp butter into a pan, wait for a few seconds for it to fully melt then add 20 oz sea bass fillets. Hold the skin-side down for 7 minutes then flip it over and fry the other side for another 4 minutes. Season with 1/4 tsp salt and 1/4 tsp pepper while you fry.
2
Sauté the Aromatics: Remove the fillets then continue adding 3/4 tbsp butter, 3 oz onion, and 1 tbsp garlic into the pan, and quickly stir for 2 minutes until fragrant.
3
Sauté the Mushrooms: In the same pan, continue adding 8 oz white mushrooms and sauté for 3 minutes until browned.
4
Add the Rice and Broth: Continue adding 1 1/4 cup arborio rice, evenly stir, then add 1 1/2 cup unsalted chicken broth and continue stirring.
5
Add the Seasonings: While the mixture is cooking, add 1/2 tsp onion powder, 1 1/2 tsp paprika, 1/2 tsp garlic powder, 1 tsp Italian seasoning, 1/4 tsp pepper, 1/2 tsp salt and 1/2 cup milk then gently stir.
6
Add the Heavy Cream: Continue stirring for around 15 minutes until the rice becomes slightly tender, then add 4 tbsp heavy cream and gently stir to mesh the ingredients together.
7
Serve and Garnish: Transfer the fillets and the risotto onto serving plates and garnish with 0.25 oz shredded parmesan cheese and 2 tbsp parsley. Enjoy hot.
NUTRITION
Nutrition Facts
How to Make Sea Bass Risotto
Amount Per Serving (1 serving)
Calories 488
Calories from Fat 131
% Daily Value*
* Percent Daily Values are based on a 2000 calorie diet.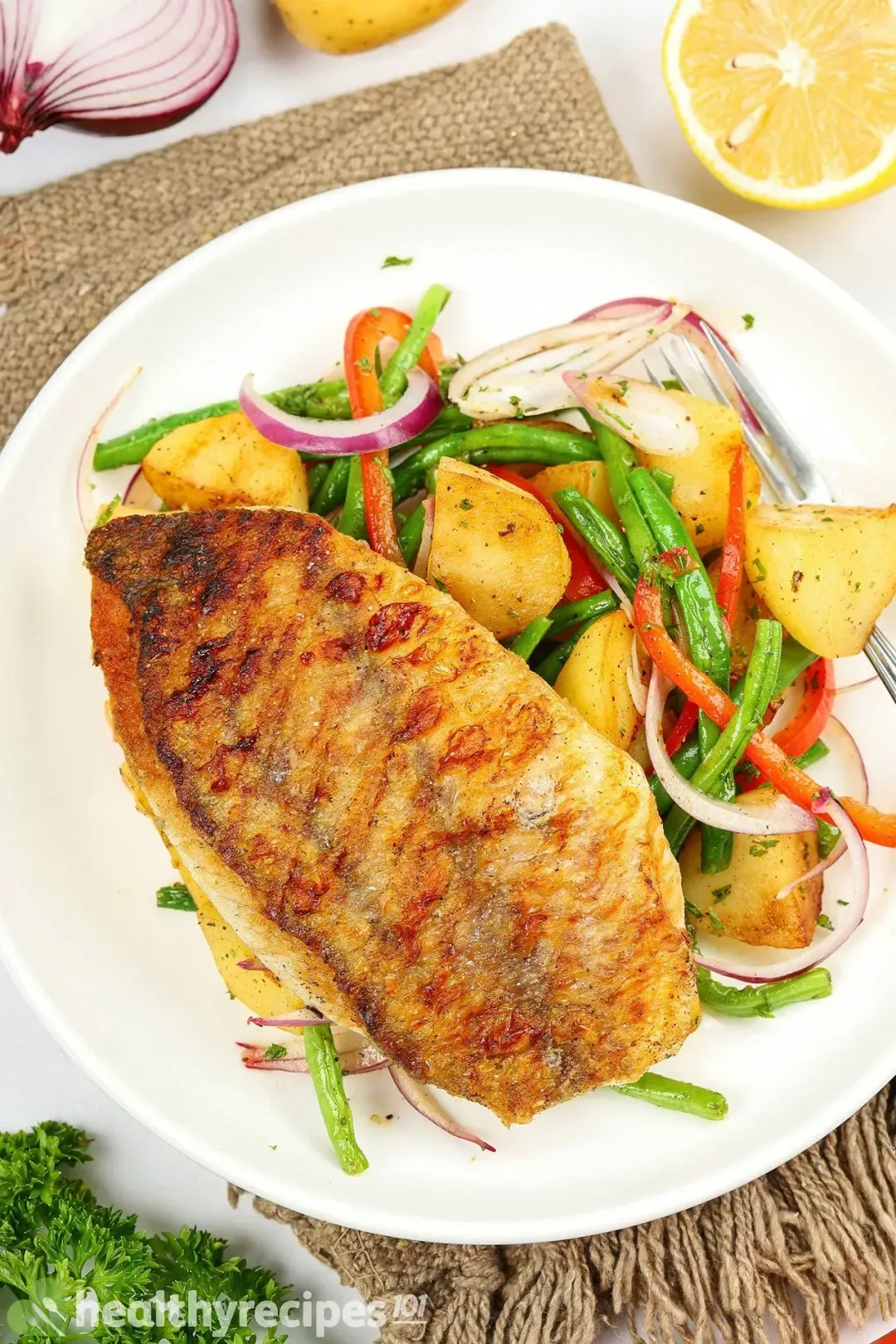 Previous Recipe
Grilled Sea Bass
Grilled Sea Bass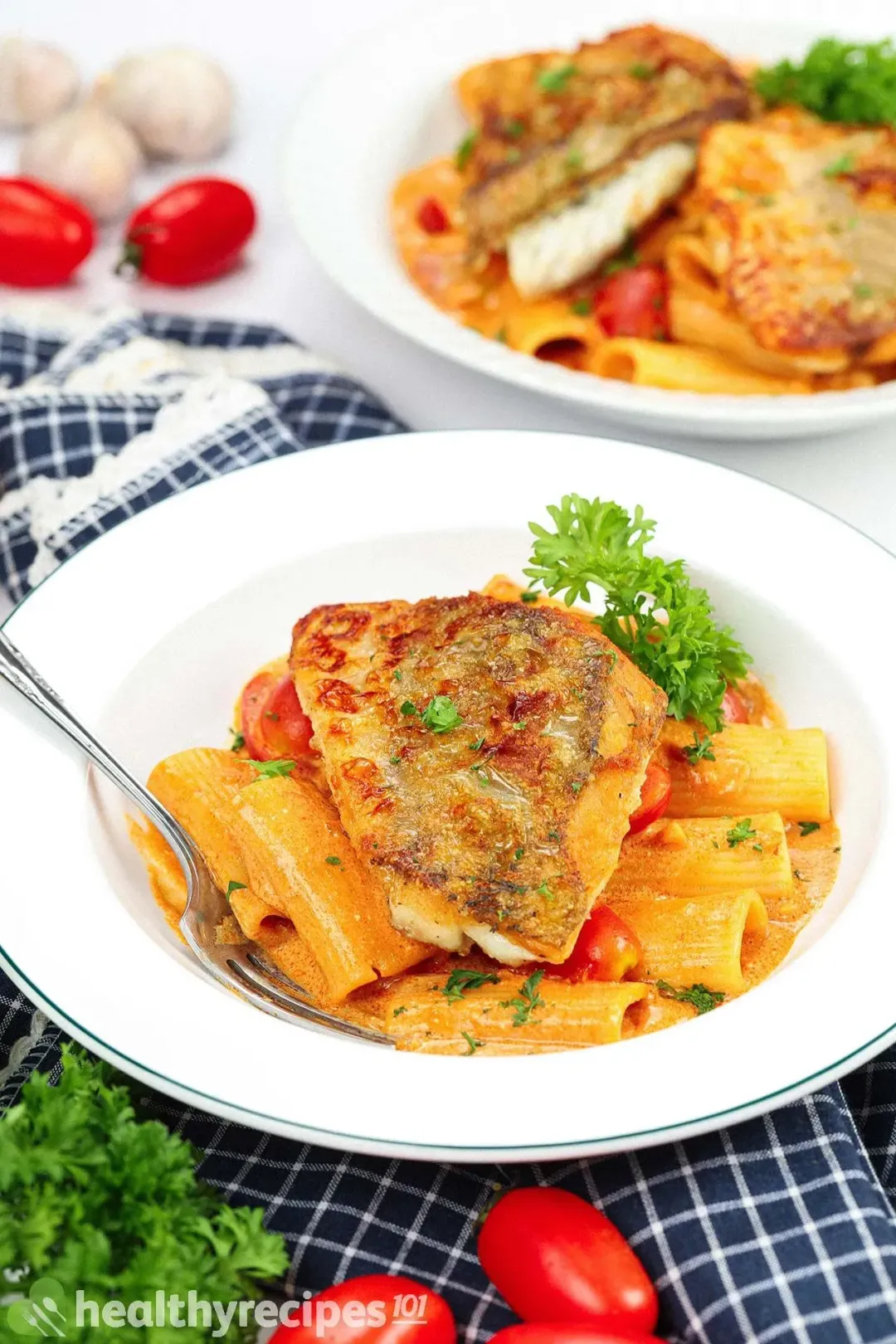 Next Recipe
Rigatoni With Sea Bass
Rigatoni With Sea Bass
Head Chef, Culinary Consultant
Tuyet Pham is an award-winning Saigonese chef who believes that joy is the secret ingredient to delicious food. At Healthy Recipes 101, Tuyet personally tests and simplifies every recipe, ensuring maximum flavor with minimal effort. With a background at prestigious French restaurants P'TI Saigon and Le Corto, Tuyet knows how to make every dish exceptional.
Writer, Author
Luna Regina is an accomplished writer and author who dedicates her career to empowering home cooks and making cooking effortless for everyone. She is the founder of HealthyKitchen101.com and HealthyRecipes101.com, where she works with her team to develop easy, nutritious recipes and help aspiring cooks choose the right kitchen appliances.
Nutrition Reviewer
Natalie Butler is a registered dietitian nutritionist with a passion to help others live their best life through food, fitness, safer beauty and a healthy lifestyle. She has expertise with a variety of diets and diseases and believes that there is no one-size-fits-all approach for health.
Delicious sea bass risotto - so creamy and flavorful!