There are a lot of cabbage soup recipes out there, some more appealing than others. Today we're showing you an Asian way of making cabbage soup.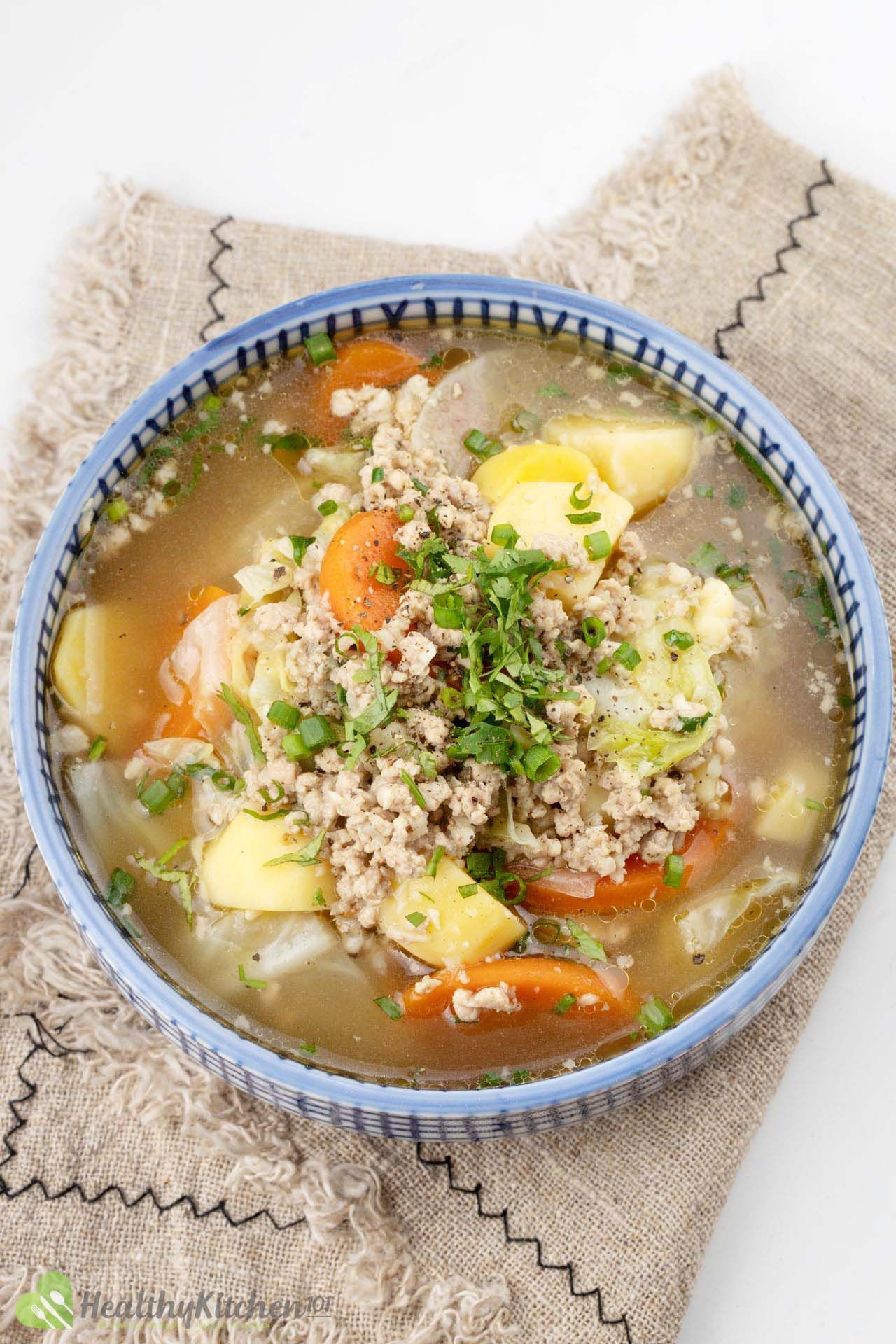 Is Cabbage Soup Healthy?
This cabbage soup only has 9.3 grams of total carbs, which makes it keto-friendly and low-carb friendly. The carbs come mainly from the potatoes, carrots, and cabbage, which are considered to be sources of good carbs.
Each serving of our cabbage soup recipe yields less than 150 calories. To have a 750-calorie meal, you can select another main dish and have a juice or a smoothie on the side.
Types of Cabbage
Cabbage comes not only in the green variety. There are other kinds of cabbage, which have specific uses and are often not interchangeable:
1. Green Cabbage
Green cabbage is the most popular kind of cabbage, so popular that it is often referred to as "cabbage". It has green outer leaves covering its firmer, crunchier white inner leaves.
When it is used in salads, the soft green leaves are often discarded and only the crisp part is used. Some choose to keep the green leaves, but the salad is best without them (even though it sounds wasteful).
For soups or stews, all of the parts are chopped and cooked until soft and juicy.
Cabbages in general have a light sweetness and mild aroma. It is a good start for vegetable-haters and also rich in vitamins as well as fiber.
2. White Cabbage
White cabbage is a kind of green cabbage with paler outer leaves and hence named like so. Its texture and taste are similar to green cabbage and the two can be used interchangeably.
3. Red Cabbage
With a purple hue rather than what the name indicates, it is often used to add color to salads. Since its crunchiness does not match green cabbage's, people often put a small amount of it, not a lot.
Besides salads, red cabbage can be used in soups or stews to make them more colorful. However, use it moderately to maintain the dish's original color (and flavor), as they will give a purple-ish hue to your stock.
4. Chinese Cabbage
Often referred to as "napa cabbage", it is often stir-fried or simmered to make Asian cabbage soup. It has more water and a sweeter taste than cabbage, which makes it more popular in Asian cuisine.
You can easily recognize Chinese cabbage by its cylindrical shape. It is available in most Asian grocery stores, most likely next to the bok choy in the produce section.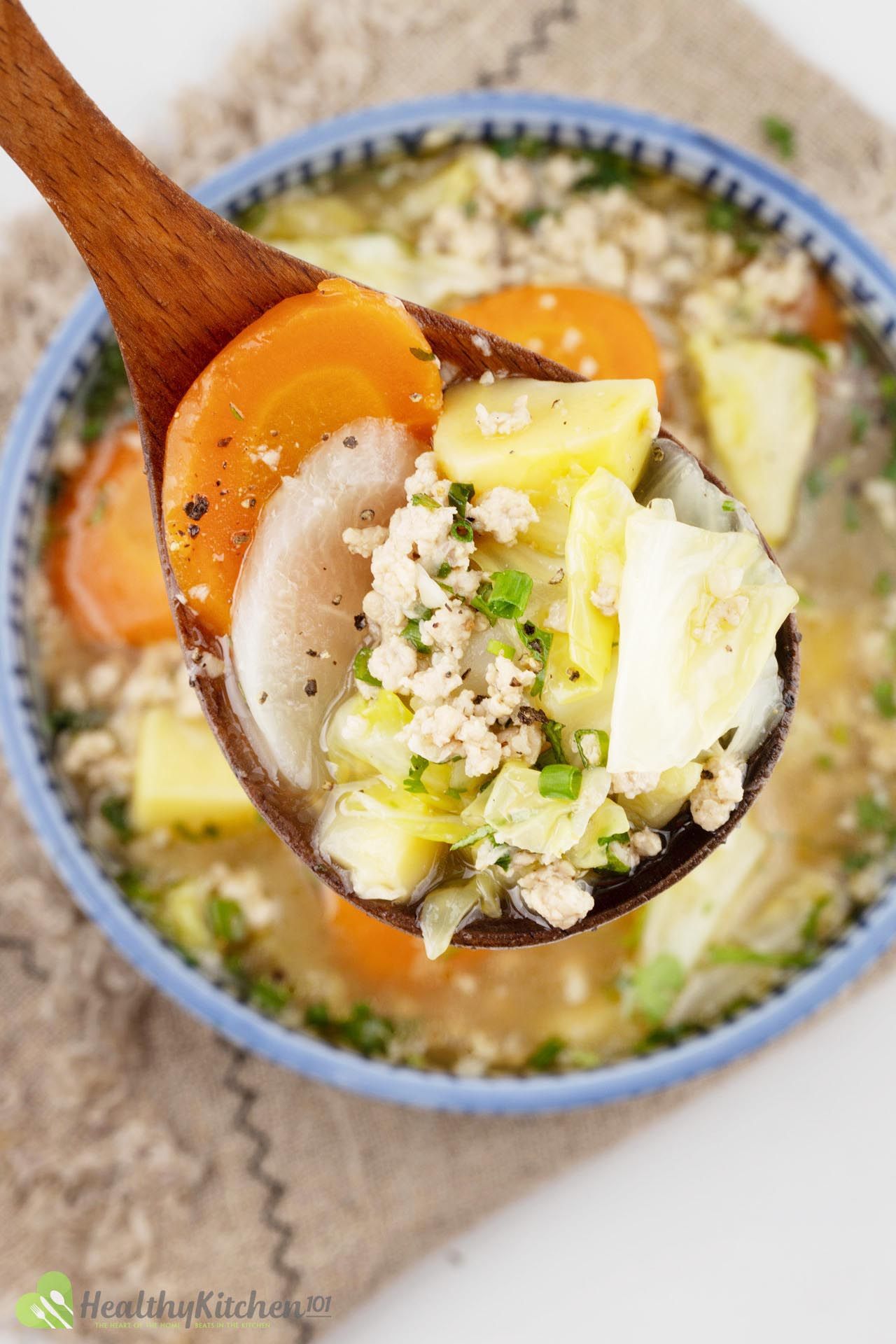 How to Cut Cabbage
Cabbages are pretty straightforward to work with and not intimidating at all. Let's go through the basics when it comes to cutting cabbage.
1. Remove the Core
One thing we love about cabbage is that we only need to wash the outside of it, not each individual leaf. To save even more time, we remove one or two outer leaves, and run it quickly under tap water.
Next, place it on a cutting board and slice it in half, right in the middle to reveal the interior. The tough part in the middle is called the core, which can be tough to eat and should be removed.
Make diagonal incisions close to this tough, this enables you to remove and discard it with ease. The halves are now ready to be prepped— chopped, finely chopped, or shredded.
Often, cabbages can be too large to eat all at once. You can divide the halves into more sections, prep the part you need and refrigerate the rest.
2. Chop, Finely Chop, or Shred?
Cabbages are finely chopped only to make coleslaw, which is not what we are making today. You can finely chop cabbage quicker by roughly chopping it and then letting the food processor take care of the rest.
Shredded cabbage, on the other hand, is perfect for salads or stir-fry dishes. To shred it, either use a mandoline or half the cabbage, lay it on its flat side and slice by hand.
In this cabbage soup recipe, we prefer having chunks of everything for added texture. So we sliced the carrots and white radish and roughly chopped the cabbage.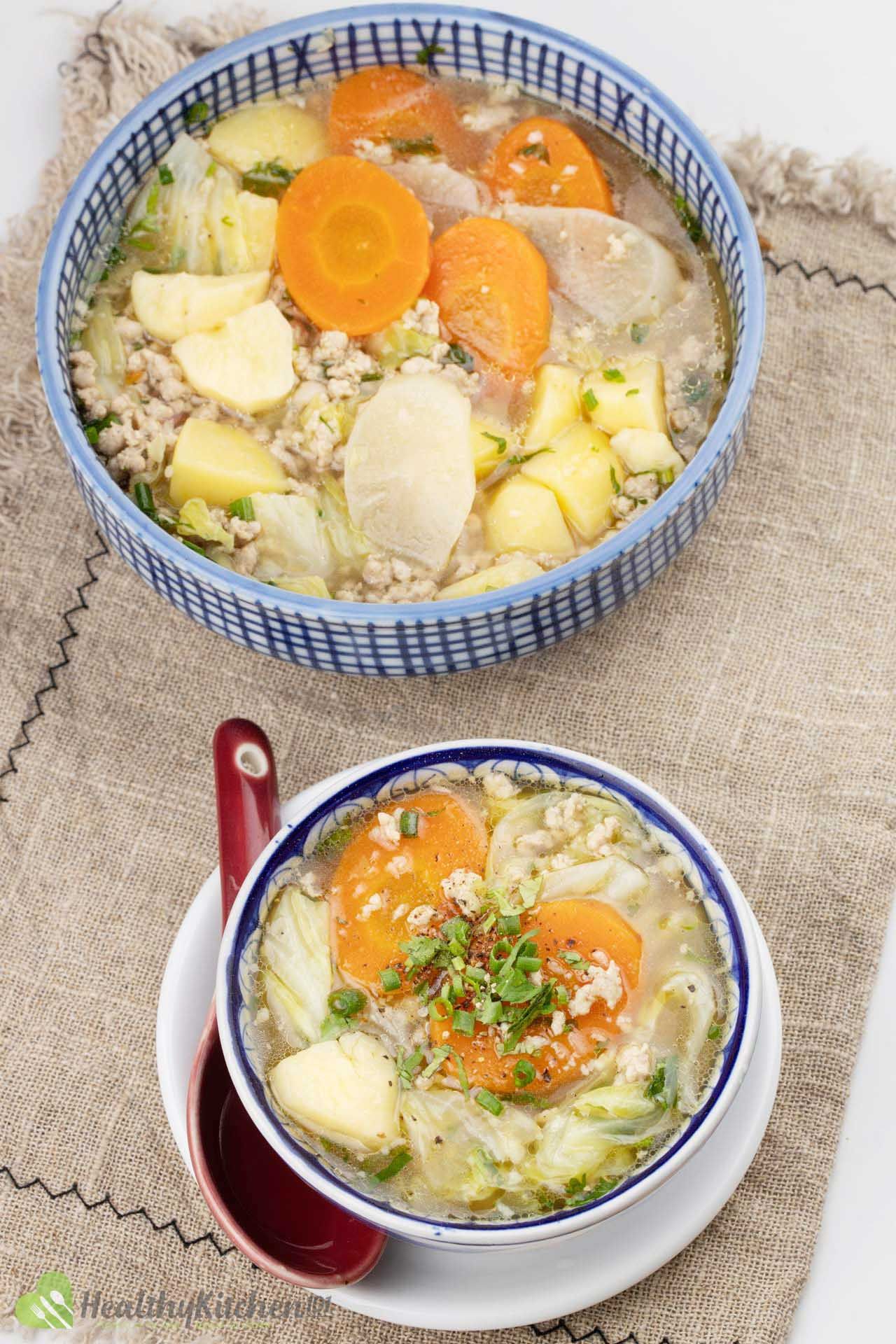 Cabbage Soup Ingredients
Other ingredients you can include in cabbage soup (besides cabbage) are:
1. Pork
Some people use minced pork and other people use sliced pork. Either works well, but we prefer the texture of minced pork— it does not require much chewing and is easier to find in each bite.
2. White Radish
Rarely used in Western cuisines, this white "carrot" adds natural sweetness to the stock and an irreplaceable smell. Plus, when it is thoroughly cooked, it will melt in your mouth.
3. Carrot
Carrot is a crucial ingredient in this soup. It gives the soup sweetness like white radish, a plentiful amount of vitamin A, and makes the soup all the more pleasing to the eye.
4. Potato
Tender potato suits the warm, hearty characteristic of this cabbage soup. Plus, it helps to thicken the stock slightly without the use of other thickeners.
5. Stock
You can make a good cabbage soup with just water, but an excellent soup cannot be without a good stock. Any stock you have on hand works fine, as long as it is low-sodium like our chicken stock.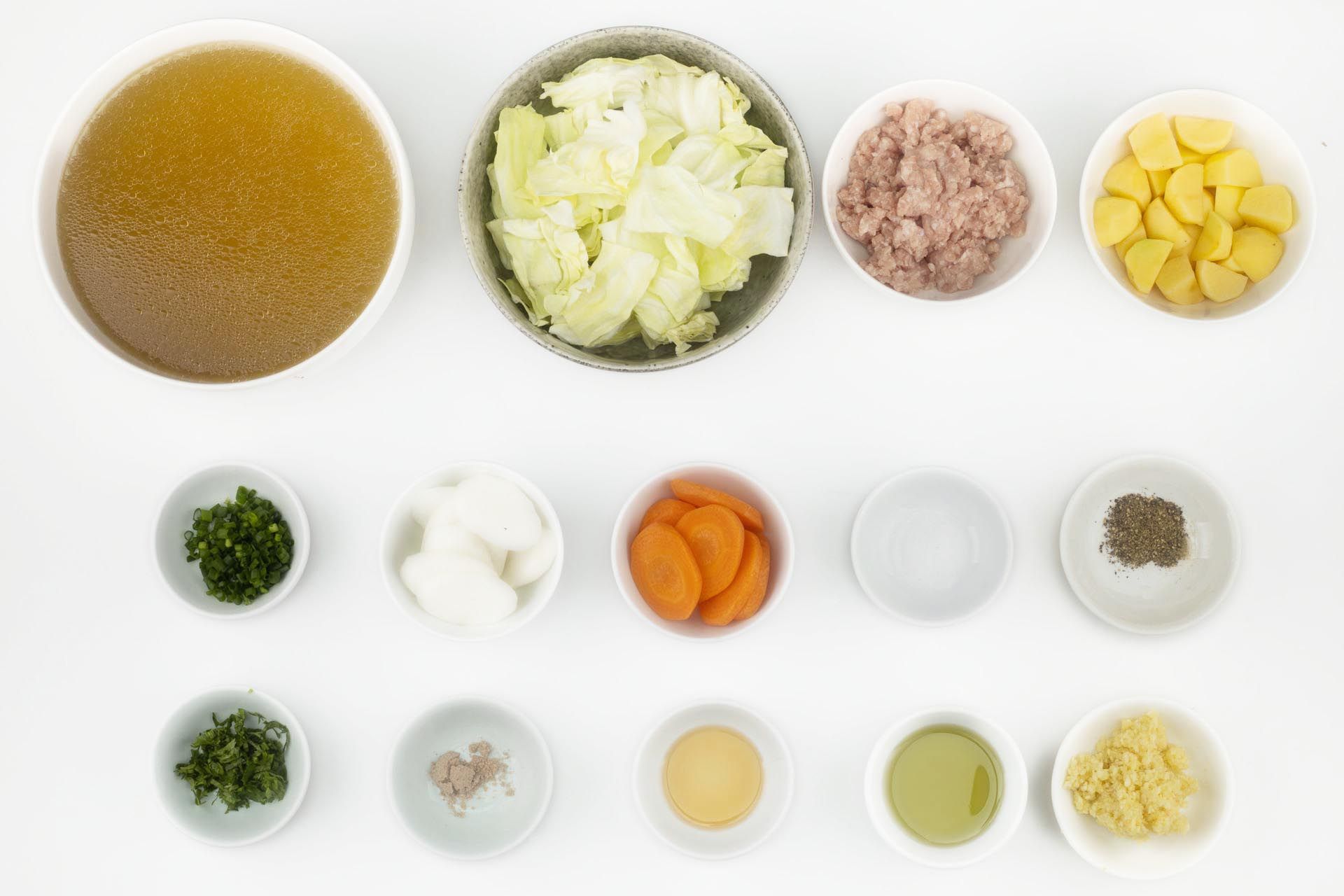 Seasonings
We stir-fried garlic with the minced pork, because it adds great flavor.
We seasoned the soup with salt and pepper, so the soup is not bland.
We added gravy mix to the soup, to add a greater depth of flavor.
We drizzled sesame oil on top, to make the soup Asian and fragrant.
We sprinkled herbs like green onion and cilantro, to add brightness.
And above all, we made this cabbage soup recipe with a warm heart.
How to Make Cabbage Soup The Asian Way
Step 1: Sear the meat
Heat a pot over medium-high heat, then add canola oil, garlic, and ground pork. Cook for 2 minutes.
Step 2: Simmer the potatoes
Add broth and potatoes and turn the heat to medium-low. Simmer for 15 minutes.
Step 3: Add carrot and radish
Add white radish and carrots. Simmer for 25 minutes.
Step 4: Add cabbage
Add cabbage. Simmer for another 5 minutes.
Step 5: Season
Turn off the heat. Add the seasonings and stir to combine.
Step 6: Add herbs and serve
Sprinkle green onion and cilantro on top. Serve hot.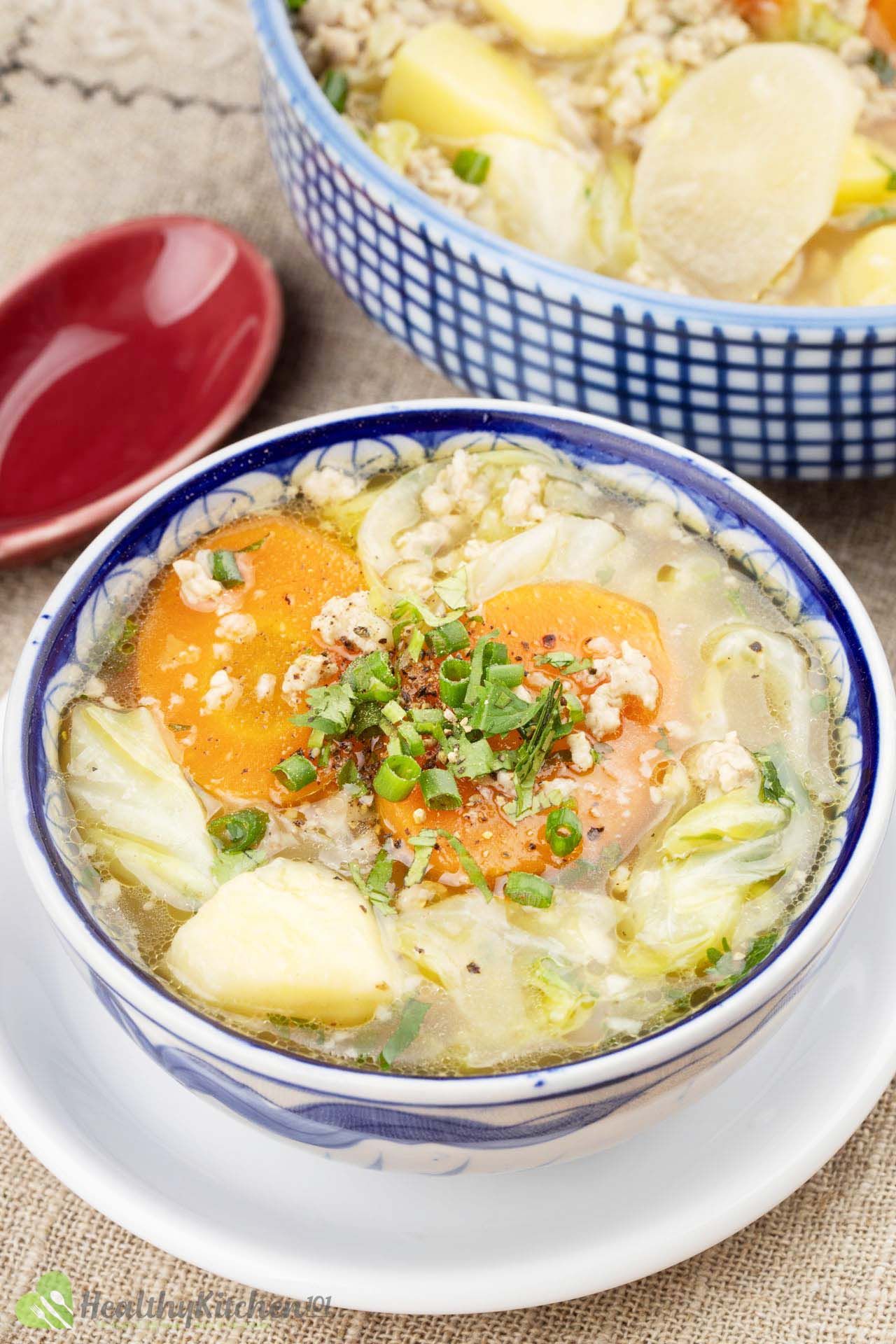 How Long Does Cabbage Soup Last?
Cabbage soup can last up to 4-5 days in the refrigerator if kept properly.
First, you need to make sure that the soup isn't double-dipped. Our saliva can spoil food, as it contains bacteria that will thrive in a nutritious environment, like our soup.
If you're not sure, simply bring the soup pot to a boil and leave it to cool before refrigerating. This kills most bacteria that might be present in your food and thus, helps to keep your soup for longer.
Then, you need to cover your soup for airtight storage. Most people use a lid (if it's a whole pot), ziplock bags, or cling wrap (if it's a small bowl).
With the movement towards plastic-free living, we suggest silicone covers instead of cling wraps. They're relatively cheap, reusable, washable, and durable too.
But still, having a taste of your soup after reheating is a must. If it smells bad or has a sour taste, it's spoiled, and should be discarded.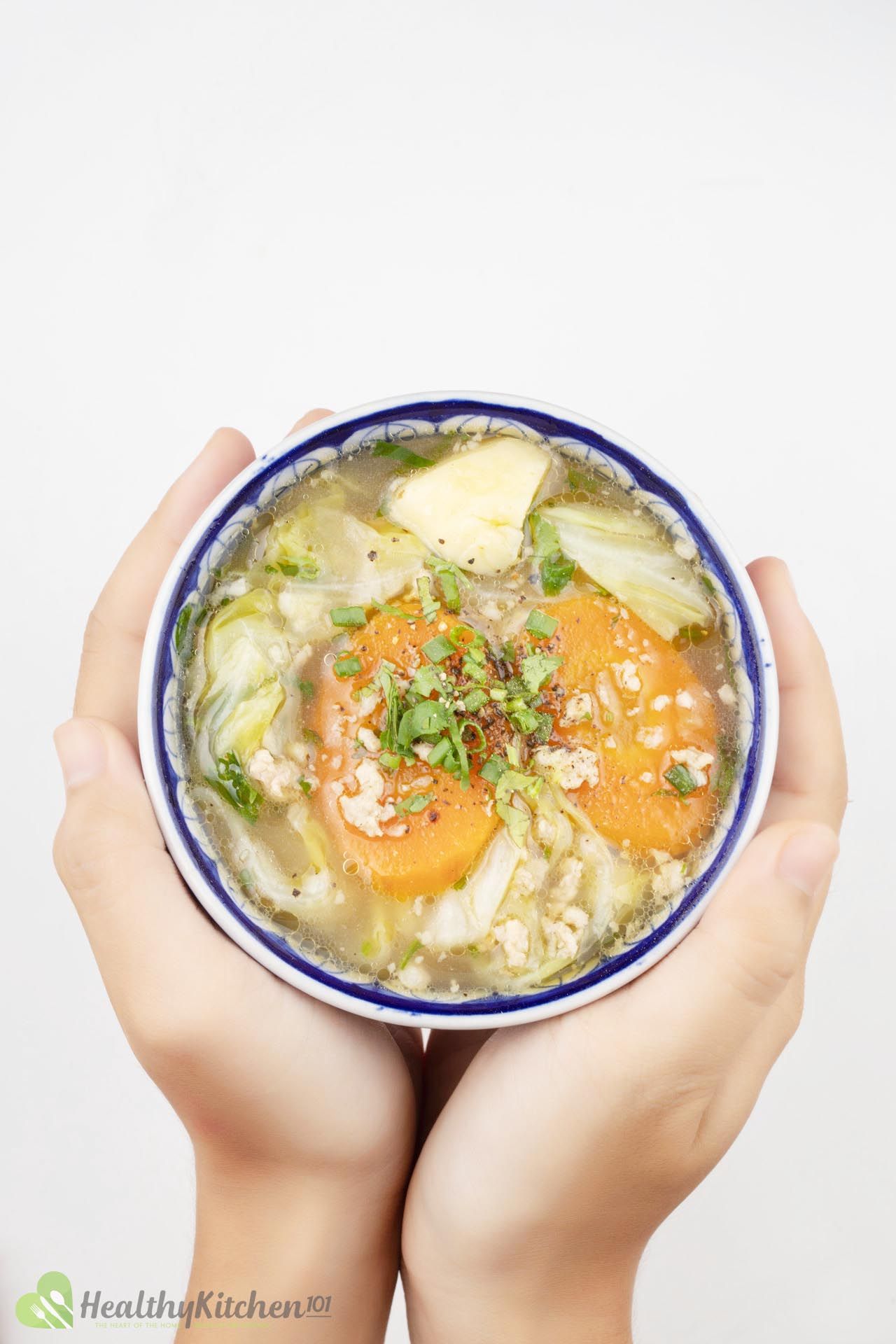 Can You Freeze Cabbage Soup?
Freezing cabbage soup can help keep it for months. You can make a large batch, divide it into small bags or containers, and simply take one serving out when needed.
Before you freeze the soup, bring it to a boil first to make sure nothing spoils your food while it's been in the freezer. Your food is frozen for sure, but some bacteria might be active even when the temperature is low.
The texture of the soup will remain pretty much the same after reheating.
And again, things may happen and your soup might go bad. Tasting the soup after reheating is a must, to make sure your soup isn't spoiled.
What to Serve with Cabbage Soup
Cabbage soup can be eaten after a nutritious meal of cooked rice and a salty meat/vegetable dish. It is the perfect palate-cleanser after a heavy main course.
1. Pepper Steak
In the original recipe, we paired pepper steak with rice and a bowl of winter melon meatball soup. However, cabbage soup can make for a perfect substitute.
In two descriptive words, pepper steak can be described as meaty and fragrant. The meat is chewy, tender, doused in a flavorful gravy that would be best served with hot rice and soup.
Nutritionally speaking, the meal makes a harmonious combo of carbs (rice and veg), protein (meat), and good fat (sesame oil).
2. Kung Pao Chicken
Kung pao chicken, as Chinese as the name indicates, is beloved not only by its country but numerous others as well. It boasts tender chicken thighs, crunchy pepper, and nutty toasted peanuts coated in a flavorful gravy.
And like a regular main dish in Chinese cuisine, a warm soup will be a perfect round-off to the meal.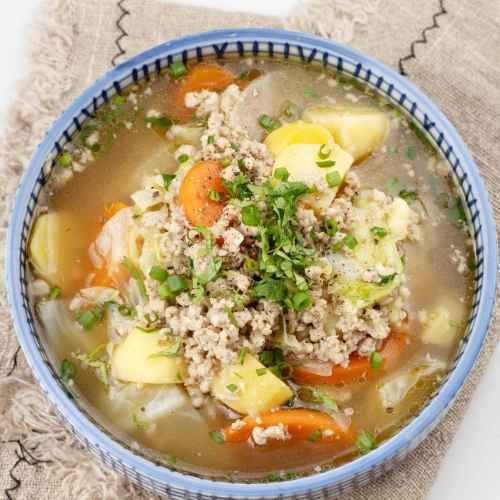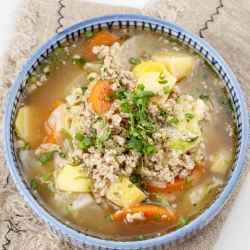 Cabbage Soup Recipe
Print
RATE
This cabbage soup recipe is really easy and wholesome.
Ingredients
1

tbsp

canola oil

1

tbsp

garlic

minced

4

oz

85% lean ground pork

4

cups

unsalted chicken broth

4

oz

potato

chopped

2

oz

carrot

sliced

2

oz

white radish

sliced

4

oz

green cabbage

chopped

1/2

tsp

ground black pepper

1/4

tsp

salt

1/4

tsp

brown gravy mix

1/2

tsp

sesame oil

1

tbsp

green onion

minced

1

tbsp

coriander

minced
This post may contain links to Amazon or other partners; Purchases made via these links may benefit us at no additional cost to you. Read our Affiliate Disclosure.
Instructions
Heat a pot over medium-high heat, then add canola oil, garlic, and ground pork. Cook for 2 minutes.

Add broth and potatoes and turn the heat to medium-low. Simmer for 15 minutes.

Add white radish and carrots. Simmer for 25 minutes.

Add cabbage. Simmer for another 5 minutes.

Turn off the heat. Add the seasonings and stir to combine.

Sprinkle green onion and coriander on top. Serve hot.
Nutrition
Nutrition Facts
Cabbage Soup Recipe
Amount Per Serving (1 serving)
Calories 145
Calories from Fat 72
% Daily Value*
Fat 8g12%
Cholesterol 19mg6%
Sodium 239mg10%
Potassium 354mg10%
Carbohydrates 10g3%
Protein 8g16%
Vitamin A 2413IU48%
Vitamin C 17mg21%
Calcium 36mg4%
Iron 1mg6%
* Percent Daily Values are based on a 2000 calorie diet.
Hello! All photos and content are copyright protected. Please do not use our photos without prior written permission. Thank you!