With this healthy dirty rice recipe, you'll be having a nutritious, hearty, comforting meal for dinner. Not only does it taste great, it also only takes 30 minutes to make it from scratch.
Before we start, here are some interesting things to think about when it comes to making this dish.
What Is Dirty Rice?
Dirty rice is a traditional Creole stir-fried rice dish. The recipe often consists of medium-grain white rice, chicken liver, ground meat such as pork or beef, and various seasonings.
When cooked, the color of white rice is stained by bits of ground meat and liver. This gives the white rice a mucky appearance, hence the name "dirty rice".
Is Dirty Rice Healthy?
Yes, our dirty rice is healthy. Here's how:
It contains only 7g of saturated fat: saturated fat is what increases your LDL cholesterol. It's best to keep your saturated fat consumption to a minimum.
It's packed with protein: there's 20.5g of protein per serving. Being high in protein means that eating this dish will keep you full for a more extended period of time.
There's no added sugar: there is only 3g of sugar per serving. This is the naturally-occurring sugar in rice and vegetables— it won't cause a spike in your blood sugar level.
It's full of nutrients: since this dish is packed with meat and vegetables, it contains lots of vitamins and minerals.
This dirty rice recipe also adheres to our healthy eating guidelines and keeps the sodium level to a minimum.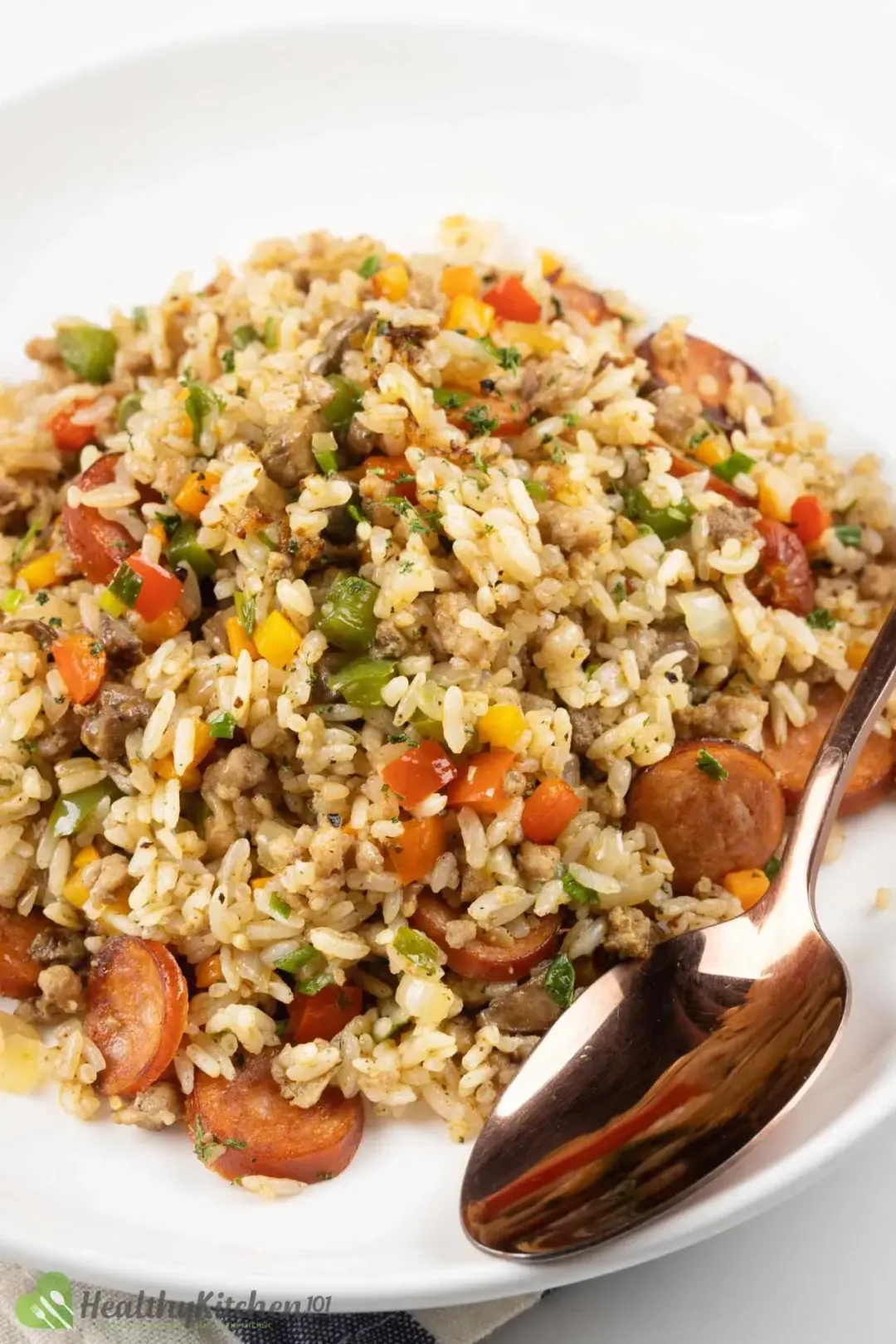 Calories in Dirty Rice
Our dirty rice contains 493 calories per serving. That is just enough calories to feed your body and keep it functioning properly.
You can also pair this dish with a salad and/or a light drink to make a wholesome 750-calorie meal.
What Goes into a Dirty Rice Recipe?
Here are the main ingredients in our dirty rice recipe:
Main protein: smoked sausage, chicken liver, and ground pork.
Fat for stir-frying: olive oil.
Vegetables: bell peppers, carrots, and onions.
Rice: we use cooked medium-grain white rice.
Herbs: scallions and parsley.
A couple of things we'd like to mention about the chicken liver and sausage:
1. Chicken Liver
As mentioned, chicken liver is what gives the dish a rich flavor and "dirty" appearance. However, if it's not available at your local store or if you can't eat it, opt for canned paté instead.
Paté is a thick meat paste consisting of ground meat, liver, fat, herbs, and spices.
You can purchase canned paté at the store in the canned food aisle or online through Amazon. (Though they may look and sound the same, try not to mistake it for wet cat food.)
2. Sausages
When it comes to sausage in Cajun/Creole cuisine, andouille sausage is always the preferred option.
However, it may not always be available at your local grocery store. If that's the case, look for any type of smoked and/or spicy sausage.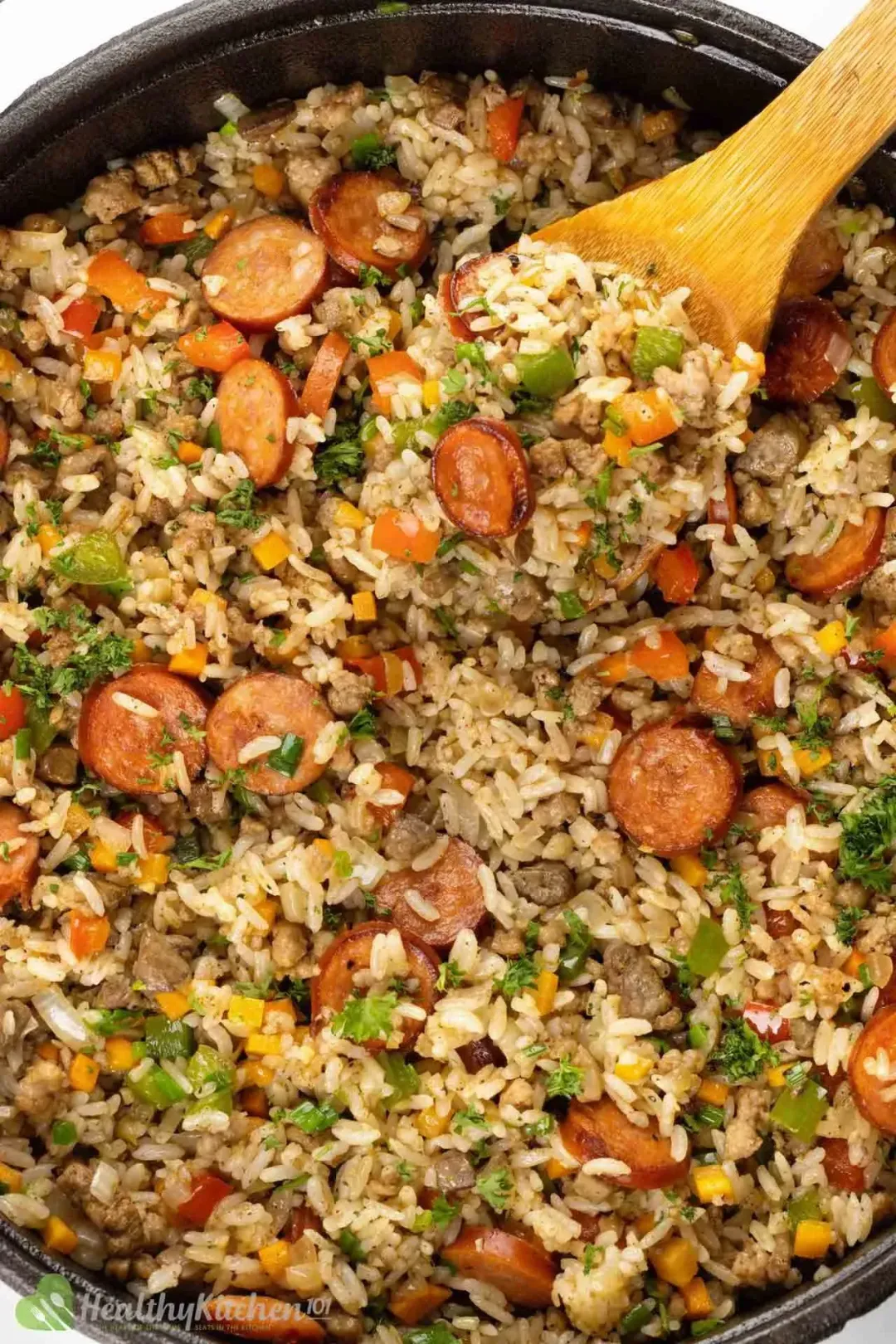 3. Seasonings for Dirty Rice
Our dirty rice recipe contains the following seasonings:
Minced garlic
Cajun seasoning
Paprika
Cayenne pepper
Worcestershire sauce
Salt and black pepper
If you're not a fan of spicy food, leave out the paprika and cayenne pepper. You can also keep it simple by using only Cajun seasoning, salt, and pepper as well.
If you love simple rice recipe like this one, we also have an Instant Pot Jambalaya recipe that you may like.
What Else Goes Well with Dirty Rice?
If you're looking for ways to customize the recipe, here are some ideas:
1. Ground Turkey or Chicken
Although we're using pork in today's recipe, poultry will work just as well. You can choose either ground turkey or chicken— both are an excellent fit for this recipe.
In addition, both ground chicken and turkey tend to contain 90% lean meat or higher. This means that it has less saturated fat so you will consume less.
2. Ground Beef
Similarly, you can replace ground pork with ground beef. This type of meat has an interesting meaty, smoky flavor and only takes minutes to cook.
We also recommend using 85% lean ground beef or higher to avoid consuming too much saturated fat.
3. Beans
Beans can be a great addition to dirty rice. They enhance both texture and flavor of the dish while providing plant-based protein, fiber, and micronutrients.
For this recipe, we recommend using unsalted canned red or black kidney beans. Simply rinse and drain them before sautéing along with the vegetables.
If you do add beans to your recipe, remember to check total calories per serving. You may need to reduce the amount of rice a little bit to avoid overconsuming calories.
4. Shrimp
Dirty rice is a versatile dish; any type of protein will fit the recipe just fine, including shrimp. This type of seafood cooks quickly and adds a lovely crunchy texture to your Creole fried rice.
How to Make Dirty Rice
Here's a brief summary of our cajun dirty rice recipe:
Step 1: Sear the sausage.
Step 2: Sauté the chicken liver.
Step 3: Sauté the ground pork.
Step 4: Cook the vegetables.
Step 5: Mix in the rice.
Step 6: Serve.
Full instructions will be available below.
What to Serve with Dirty Rice
1. Vegetables
Although our dirty rice recipe does contain vegetables, there isn't enough fiber per serving. It's best to serve it with a salad on the side.
Since the rice is so rich and savory, we recommend pairing it with Greek salad. This salad contains lots of fresh vegetables and a tangy dressing to balance the flavors.
2. Smoothie
To finish this wholesome meal, we decided to add a glass of refreshing watermelon smoothie. This drink is also the perfect healthy dessert for you to cleanse your palate after a meal.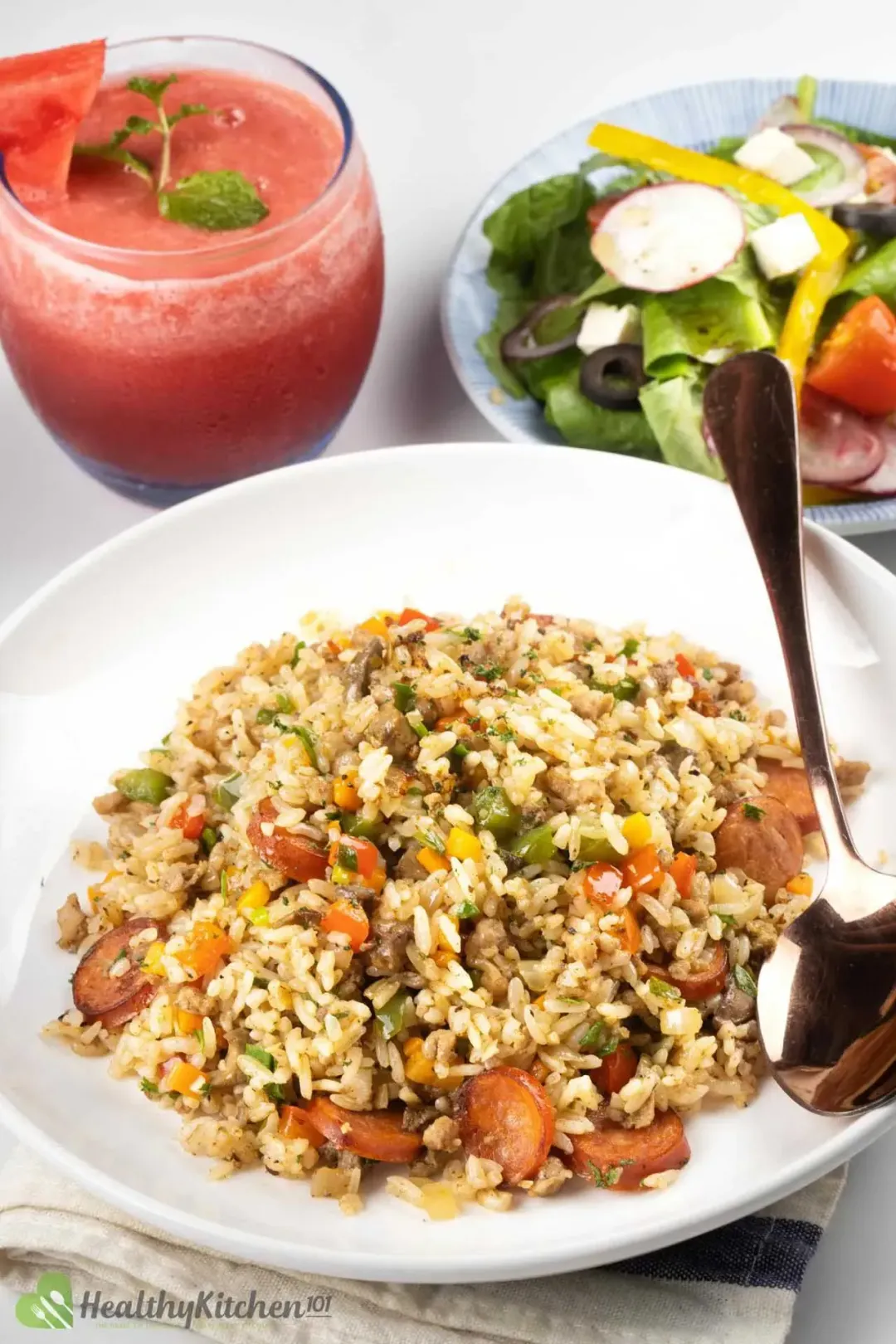 Meal Plan
The nutrition facts of this meal combination are as follows:
But Wait, There's More!
Rice can be a real craving sometimes. Check out these five rice recipes to plan your next days' menu with ease: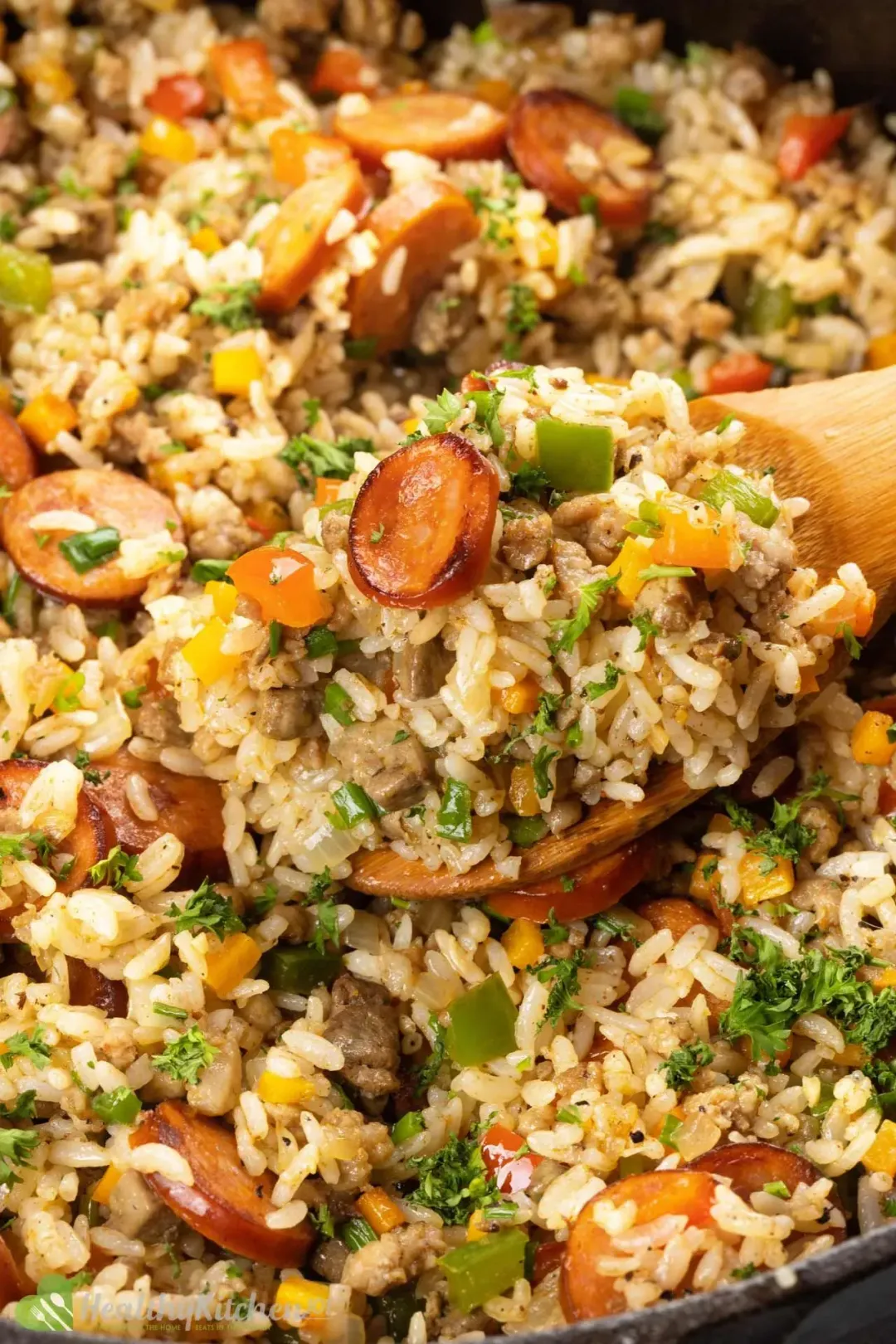 FAQ
Here are some commonly asked questions about dirty rice:
1. Can You Freeze Dirty Rice?
Yes, you can. Dirty rice freezes well and can stay good for a month.
You can divide leftover rice into portions and store them in freezer-safe airtight containers. So when you're ready to use them, it'll be easier for you to take one portion out at a time and thaw it faster.
To thaw dirty rice, you can use a microwave to defrost it in minutes. Or you can put it in the fridge and let it thaw overnight.
Once thawed, we highly recommend putting the rice in a pan and stir-frying to reheat. This will make the rice slightly crispy and enhance its texture.
2. How Long Does Dirty Rice Last?
Dirty rice can last up to 3 days in the refrigerator if you store it properly. We recommend leaving leftover rice on the counter and allowing it to cool completely before putting it into airtight containers.
If you put hot or warm food in an airtight container, it will release steam. The steam gets trapped inside the container, creating moisture for bacteria to grow and spoil the food more quickly.
In addition, putting hot/warm food in the fridge can increase the temperature of your fridge. A warm fridge is an ideal environment for bacteria to grow and spoil all of the food in the fridge.
It would be best to leave your food to cool before refrigeration so that it lasts longer.
Cajun Dirty Rice
This dirty rice recipe takes only 30 minutes to make from start to finish. Now let's gather your ingredients and get cooking!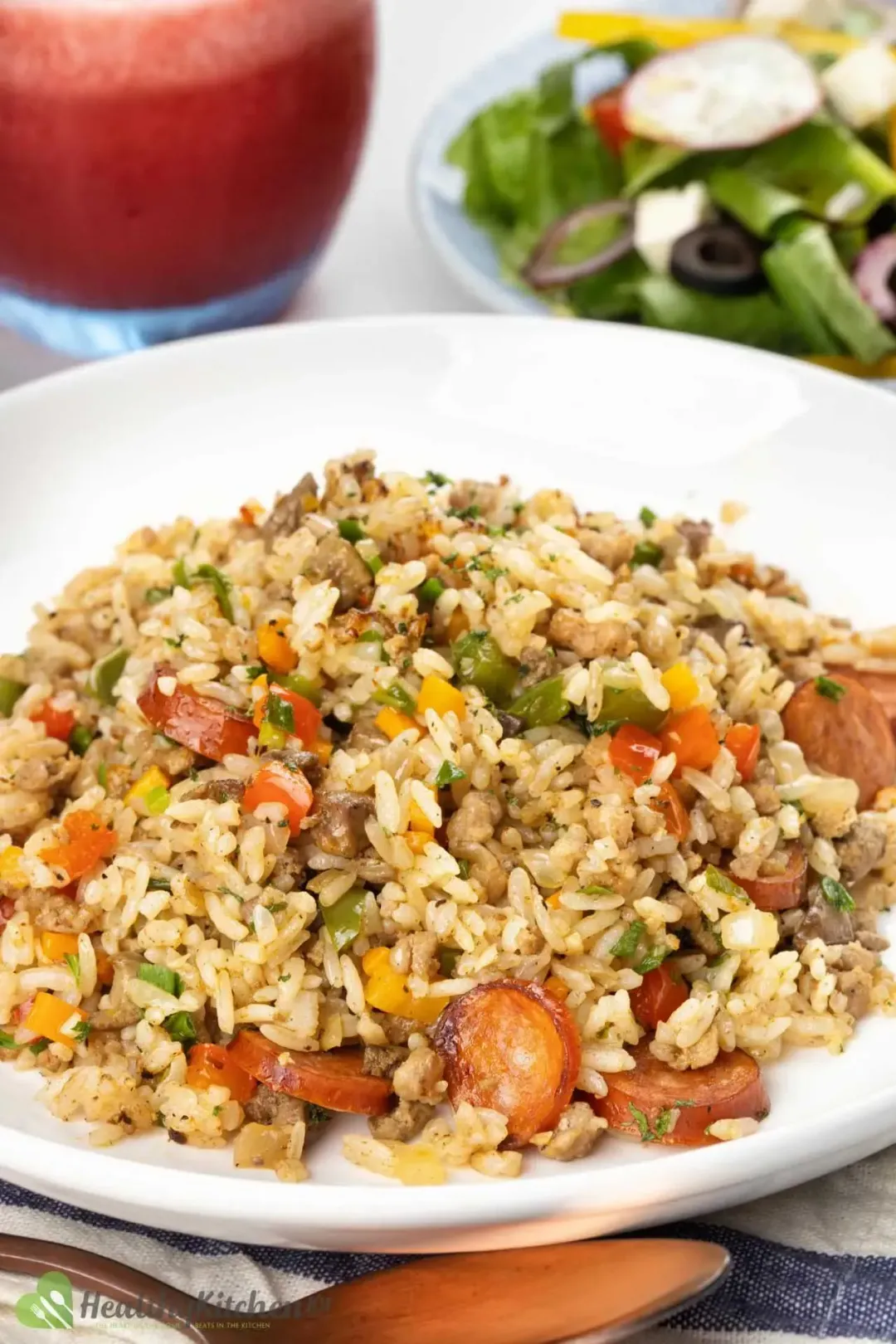 cook TIME

20 mins

prep TIME

10 mins

total TIME

30 mins
COURSE

Dinner, Lunch, Main Course

CUISINE

American

SERVINGS

CALORIES

493 kcal
INGREDIENTS
4.8 oz

smoked sausage

(about 2 links, cut into thick slices)

2 tbsp

olive oil

(divided)

4 oz

chicken liver

(chopped)

6 oz

85% lean ground pork

1 tsp

freshly ground black pepper

(divided)

3 oz

bell peppers

(red and green, deseeded and diced)

2.5 oz

carrots

(peeled and finely chopped)

3 cups

cooked medium-grain rice

1 tsp

Worcestershire sauce

1 tbsp

parsley

(freshly chopped)
INSTRUCTIONS
1
Sear the sausage: In a dry skillet over medium heat, add 4.8 oz smoked sausage and sear for about 3 minutes or until lightly browned on both sides. Transfer to a plate and set aside.
2
Sauté the chicken liver: Add 1 tbsp olive oil and chopped 4 oz chicken liver to the same skillet. Cook over medium heat for about 3 minutes or until almost cooked through.
3
Sauté the ground pork: Add 6 oz 85% lean ground pork to the chicken liver. Cook over medium-high heat for about 6 minutes, stirring constantly to break up the pork. Add minced 1 tbsp garlic, 1/2 tsp black pepper, and 1/8 tsp salt. Stir and cook for another minute.
4
Cook the vegetables: Add 3 oz bell peppers, 2.5 oz carrots, 3 oz onions, 1/2 tsp Cajun seasoning, 1/4 tsp paprika, and 1/4 tsp cayenne pepper. Stir and cook for 5 minutes over medium heat or until the vegetables are slightly softened.
5
Mix in the rice: Add 3 cups cooked medium-grain rice and 1 tbsp olive oil. Mix thoroughly to break up the rice. Add 1/2 tsp black pepper, 1/8 tsp salt, and 1 tsp Worcestershire sauce. Mix again to season evenly. Put the sausage back into the skillet along with the chopped 1 oz scallions. Stir again for 1 minute. Turn off the heat.
6
Serve: Transfer the rice into a bowl or deep dish. Garnish with freshly chopped 1 tbsp parsley and serve immediately.
NUTRITION
Nutrition Facts
Cajun Dirty Rice
Amount Per Serving (1 serving)
Calories 493
Calories from Fat 225
% Daily Value*
* Percent Daily Values are based on a 2000 calorie diet.
Keywords: Dirty rice recipe, homemade dirty rice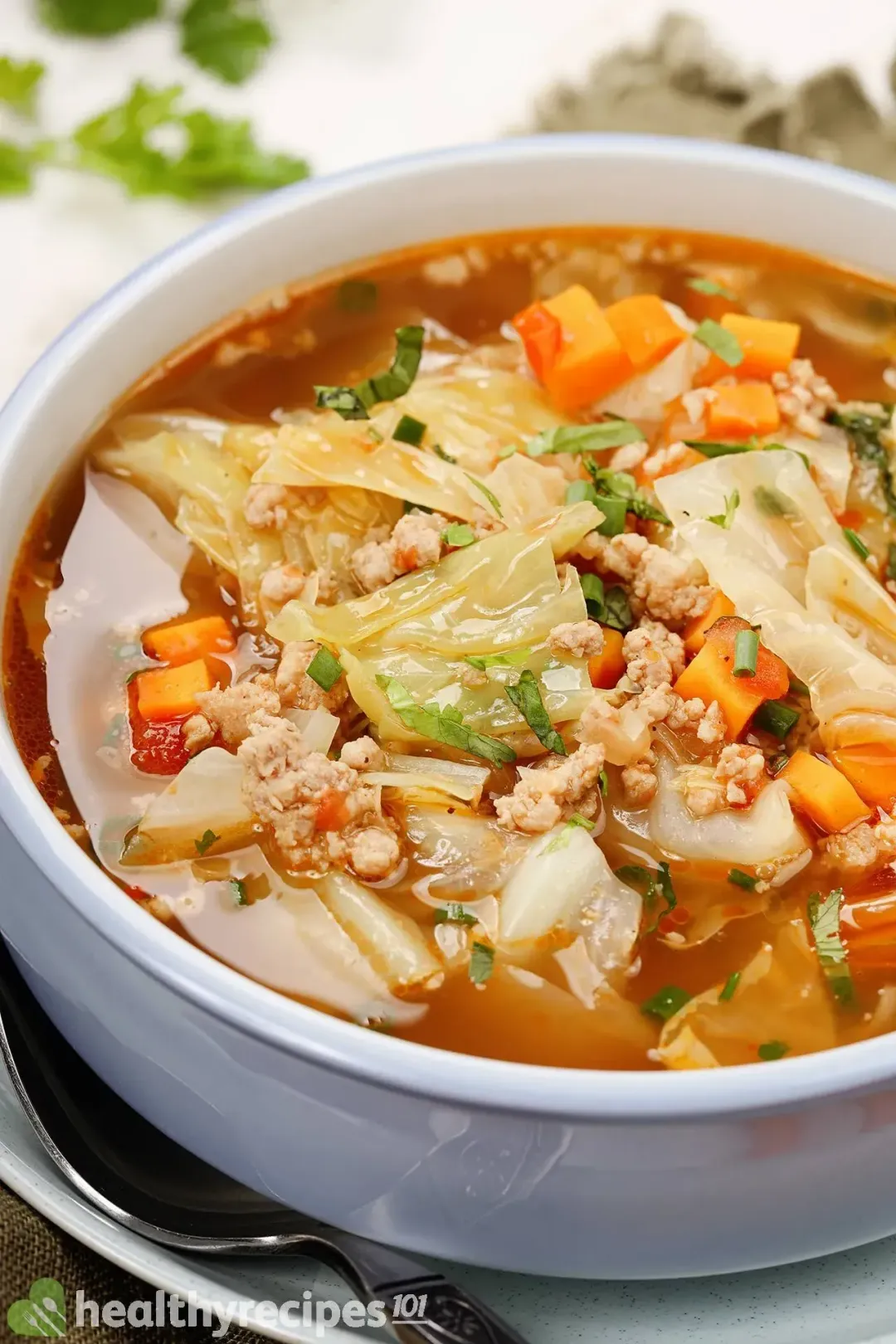 Previous Recipe
Cabbage Soup
Cabbage Soup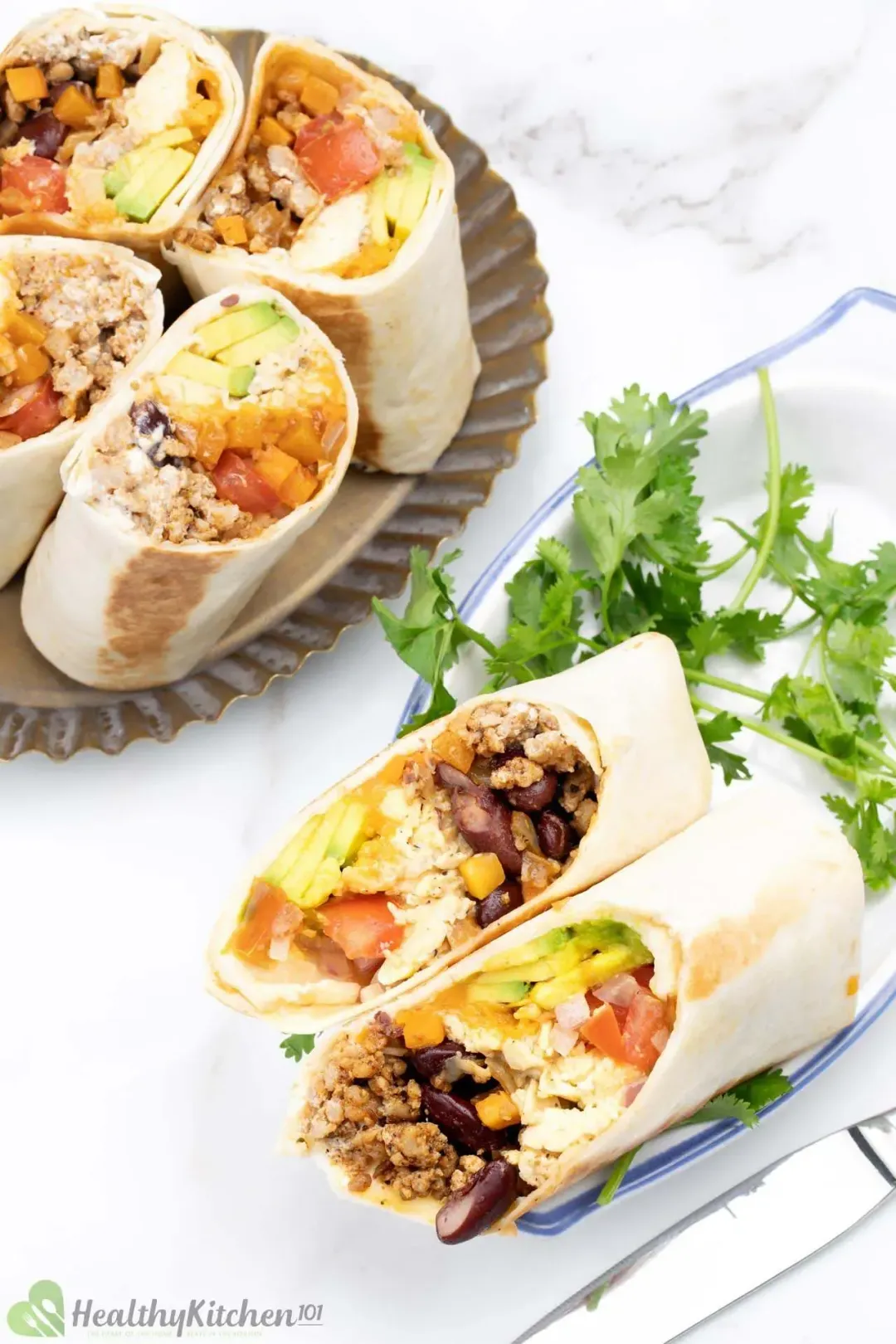 Next Recipe
Breakfast Burrito
Breakfast Burrito
Head Chef, Culinary Consultant
Tuyet Pham is an award-winning Saigonese chef who believes that joy is the secret ingredient to delicious food. At Healthy Recipes 101, Tuyet personally tests and simplifies every recipe, ensuring maximum flavor with minimal effort. With a background at prestigious French restaurants P'TI Saigon and Le Corto, Tuyet knows how to make every dish exceptional.
Writer, Author
Luna Regina is an accomplished writer and author who dedicates her career to empowering home cooks and making cooking effortless for everyone. She is the founder of HealthyKitchen101.com and HealthyRecipes101.com, where she works with her team to develop easy, nutritious recipes and help aspiring cooks choose the right kitchen appliances.
Nutrition Reviewer
Lizzie Streit is a Minneapolis-based dietitian and founder of It's a Veg World After All. She completed her MS in Human Nutrition from Drexel University, and is an expert in culinary nutrition, recipe development, and nutrition communications. Lizzie's philosophy is centered around making nutrition recommendations, and especially the advice to eat more vegetables, approachable and realistic. She is excited to be working with the team at Healthy Recipes 101 to ensure that their recipes are both nutritious and delicious.
This cajun dirty rice is a delicious one-pot dish that combines savory flavors of pork and rice in a Cajun style, making it a great weeknight dinner option.

I made this and loved it. Very simple.