Today's easy ratatouille recipe might look a little labor-intensive, but its beautiful presentation and amazing taste are incredibly rewarding. We promise those thick and silky layers of stewed zucchini, eggplant, and ripe tomatoes will be worth all the effort you put in.
What is Ratatouille?
Ratatouille (pronounced rat-uh-too-ee) is an aromatic vegetable stew that originated in Provence, France. The most commonly found ingredients in this dish are tomatoes, bell pepper, onion, garlic, zucchini, eggplant, and a mix of herbs.
There are many variations of ratatouille, with different recipes adapted to different cooking methods. For today's dish, we took our inspiration from the famous Disney movie, where it's portrayed as a vegetable casserole.
Is This Ratatouille Healthy?
Yes, absolutely. Our ratatouille is packed with heaps of vegetables and a hearty homemade tomato sauce. It's a tasty and simple way to sneak more fiber and nutrients into your diet.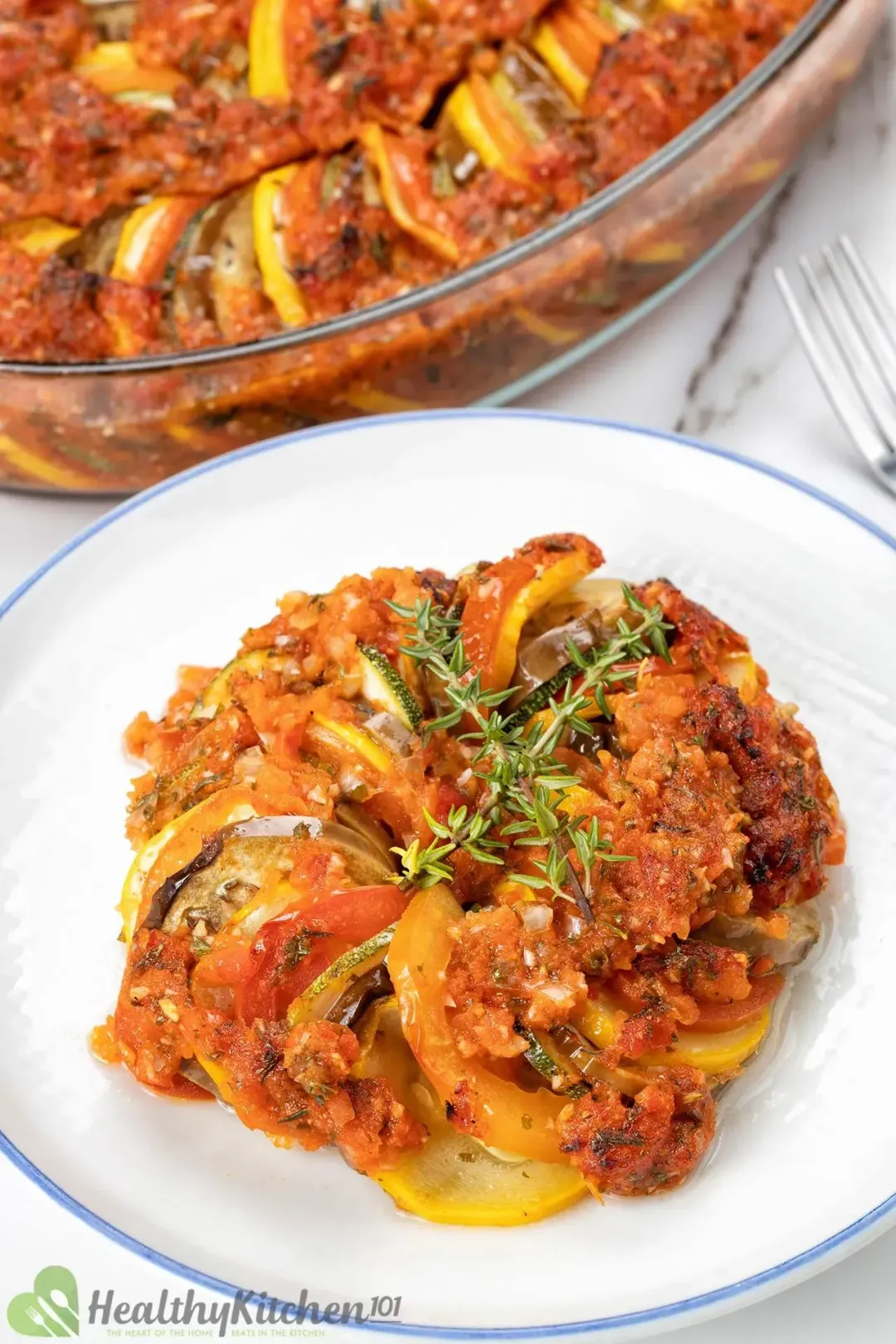 There are no additives, preservatives, food coloring, or excessive fat included in this recipe. We're only adding a little oil atop the vegetables to raise the surface temperature and prevent a mushy texture.
Ratatouille Ingredients
In today's ratatouille recipe, the vegetables are arranged in layers and cooked in a casserole until tender. One hour of simmering in the oven allows all the flavors to blend together flawlessly.
1. Tomatoes
Fresh tomatoes are always the top choice for ratatouille. They're the key to creating a natural freshness for this dish.
Plum tomatoes that are firm and ripe with juicy flesh are the optimal choice. Canned tomatoes can be used, but the effect is not the same — it's best to go for fresh produce.
2. Eggplant
Eggplant is easier to roast than you might have thought — especially small and firm ones.
Some recipes suggest salting before cooking to draw out excess moisture, but there's no need for salting in this recipe. A little moisture between the layers is just what you want to help the dish not feel dull and heavy after cooking.
Peeling eggplant is also optional, depending on how large the eggplant is. The exceptionally large ones usually come with very thick skins. For us, we prefer keeping the skin on to add more texture and a nice purple hue to the dish.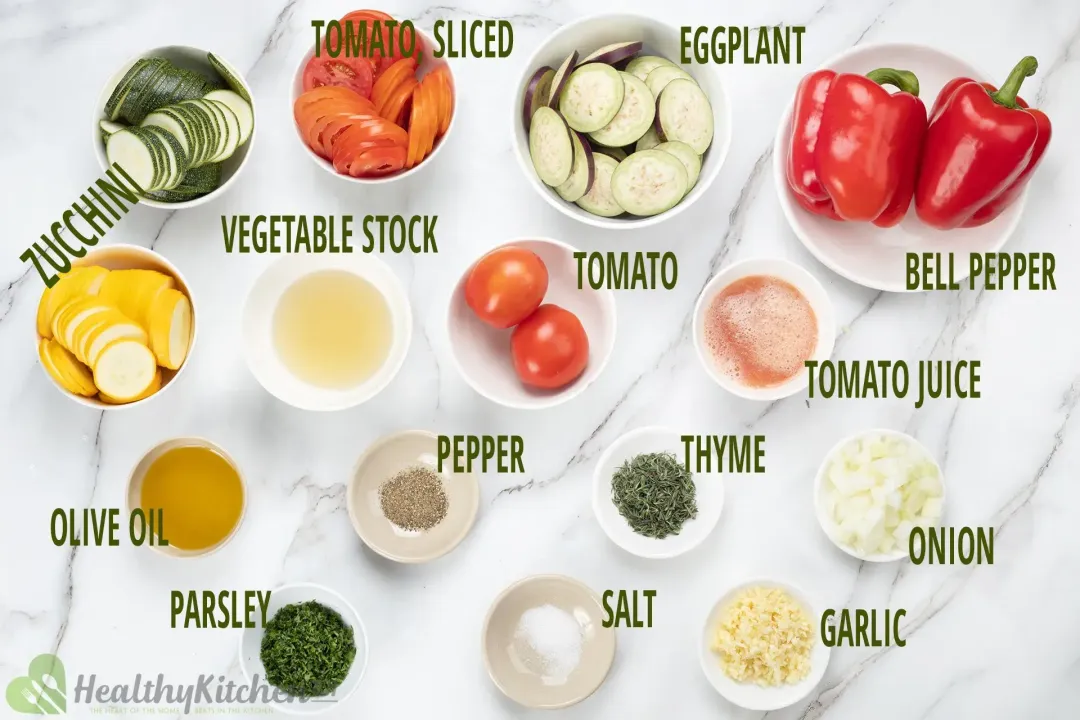 3. Zucchini
The zucchini chosen for this ratatouille should also feel firm and solid. The best ones to buy are those that have shiny and unblemished skin; the smaller and greener they are, the more dense their insides are likely to be.
Our ratatouille recipe calls for green and yellow zucchini to complete the color palette with the red tomatoes and purple eggplant. So try to look for veggies that are relatively similar sizes to each other to create the beautiful even layering effect.
For more cooking ideas with this hearty summer squash, take a quick look at this Instant Pot Ratatouille Recipe and other recipes with zucchini that we have on the website.
4. Homemade Tomato Sauce
Red bell pepper, tomato juice, onion, garlic, parsley, vegetable stock, salt, ground black pepper, and olive oil are combined together to create this thick, smooth, and delicious homemade sauce. Don't worry, if you're short on time, store-bought marinara can still do a wonderful job.
Cooking Tips
People usually make ratatouille in two ways — stewing chunked vegetables in meat broth or assembling slices of vegetables in a casserole dish and baking. Being inspired by the iconic Disney movie, we chose to make ratatouille the latter way to recreate that lovely presentation thinly sliced vegetables affords.
As an alternative, we add a tablespoon of olive oil on top of the vegetables before baking to raise the surface temperature and prevent them from turning mushy. In the tomato sauce, we also combine olive oil and thyme to produce a herbaceous aroma and liven up the overall flavor.
When cooking, the vegetables and the tomato sauce will get the chance to fully combine. As a result, you'll get silky steamed vegetables with delicious flavors infused together perfectly in every part of the casserole.
How Long Does Ratatouille Last?
Ratatouille can last up to 5 days if stored in an airtight container and put in the fridge. Truth be told, it actually tastes great on the next day as the flavors have time to really meld together.
Before reheating, we recommend you sprinkle a little salt and pepper on the surface to wake up the flavors.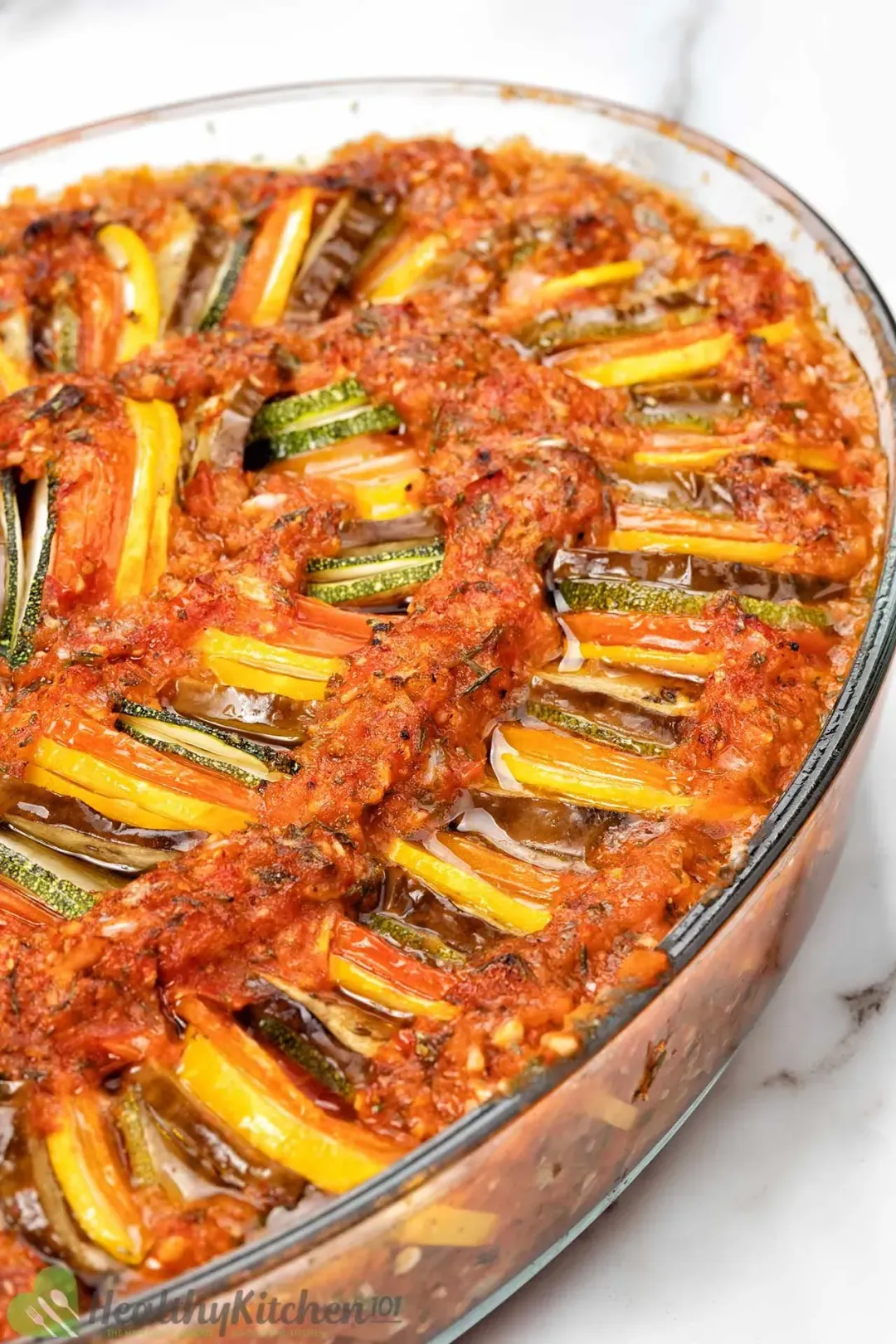 Can You Freeze Ratatouille?
Yes, you can.
If you find yourself with larger servings of ratatouille than planned, freeze the extras for up to 1 month. By doing so, you'll have these stewed vegetables ready for the next time you're in the mood for a fresh taste of summer.
If you are craving some casserole recipe ideas, our best healthy casserole recipes is definitely worth a try.
What to Serve with Ratatouille
1. Meat & Fish
Ratatouille is super forgiving in taste, making it a favorable side dish to complement protein-rich dishes.
Our vegetable casserole can pair with any type of meat. It could be a simple pan-seared steak or a nicely baked chicken breast. Meatballs, pork chops, and slow-cooked meat are also good options to consider.
For fish, we believe a juicy baked whitefish of any type would be the best choice.
Remember that no matter which type of protein you choose, keep the seasoning simple. The flavor of the meat or fish should stand out on its own but blend with the ratatouille.
If you're not a fan of meat, leave it out and keep this ratatouille simply vegan. But if vegetables alone are not enough to make you full, here are some more filling options:
2. Rice & Pasta
As this ratatouille comes with a tomato-based sauce, it's a great fit for pasta. It could either replace or go well with bolognese, spicy arrabbiata or any other creamy tomato sauce.
If you don't have time to make a whole other dish, white rice isn't any less of an option. A hot bowl of rice takes as little as 15 to 25 minutes to cook.
Fiber-rich types of rice such as whole-grain brown or wild rice will keep you full much longer. Alternatively, a small serving of baked potatoes on the side could also be a healthy carb source to add along (think potatoes and chili, but instead, ratatouille).
3. Bread
Enjoying ratatouille with slices of toasted bread is a brilliant brunch idea. It's simple and light and a great way to turn leftovers into a quick grab-and-go food.
If you're looking for another light and fresh side dish to add to your mains, check out this roasted vegetables recipe. Straightforward and scrumptious, we're sure you'll love them!
Alternatively, here's more of our delicious vegetable side dishes which recipes are posted:
Roasted beets — A colorful party of beetroot, carrot, and sweet potatoes. It's quick and easy side dish fully packed with earthy sweetness of plants.
Roasted broccoli — A healthy roast that calls for a mix of golden butternut squash, caramelized carrots, and charred broccoli to fill you with warm flavors.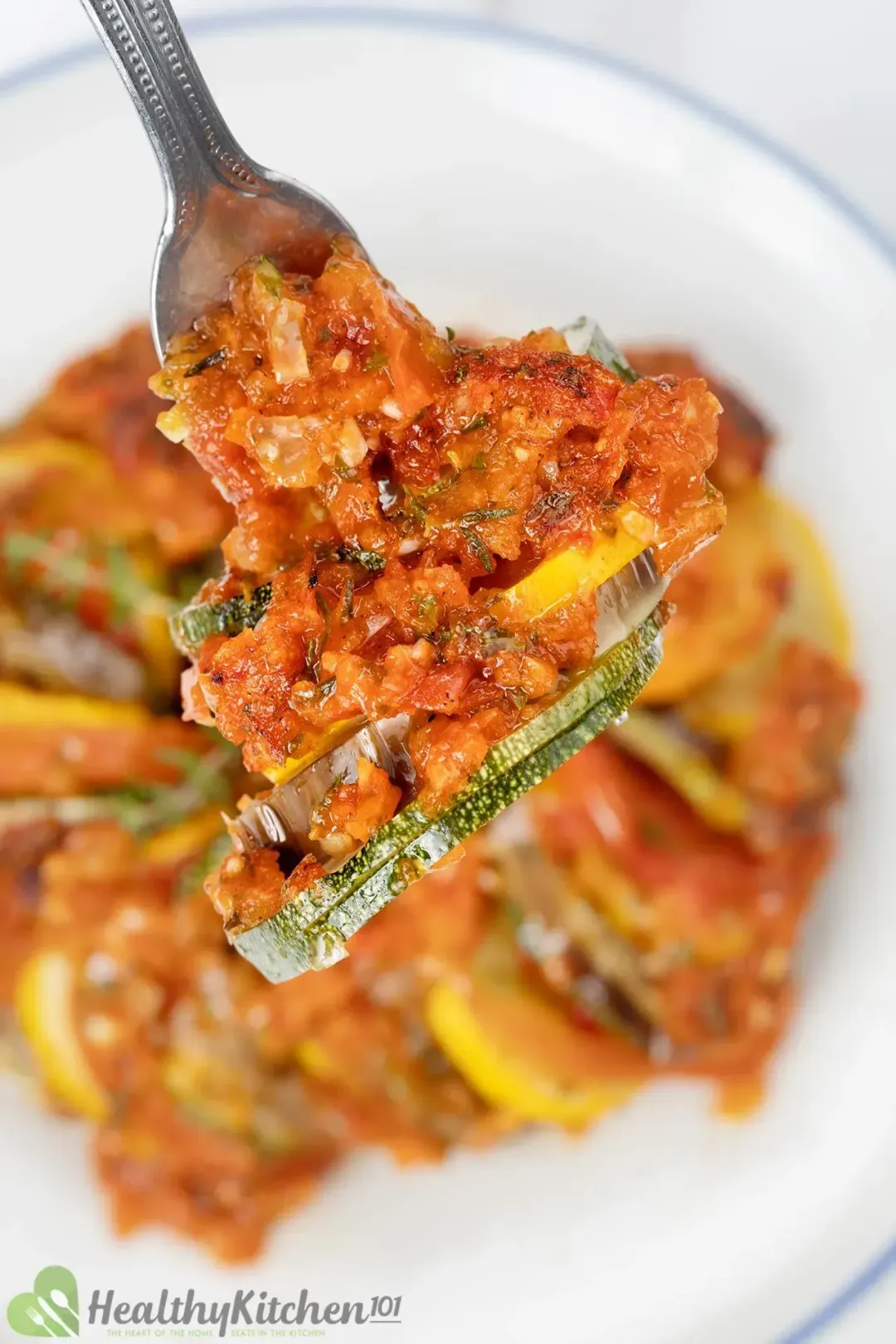 FAQ
1. Do You Eat Ratatouille Hot or Cold?
Surprisingly, ratatouille can be served warm or chilled, depending on the season and personal preferences. It can even be eaten straight from the fridge as a cold snack.
2. How Many Calories Are There in This Ratatouille Recipe?
One serving of this ratatouille provides 140 calories and zero cholesterol. It makes a light and easy-going vegan side dish for any meal of the day.
Easy Ratatouille
This easy healthy ratatouille recipe is a fancy way to use up extra vegetables in your kitchen. It may not be the authentic version of this dish, but it tastes amazing and comes with beautiful presentation!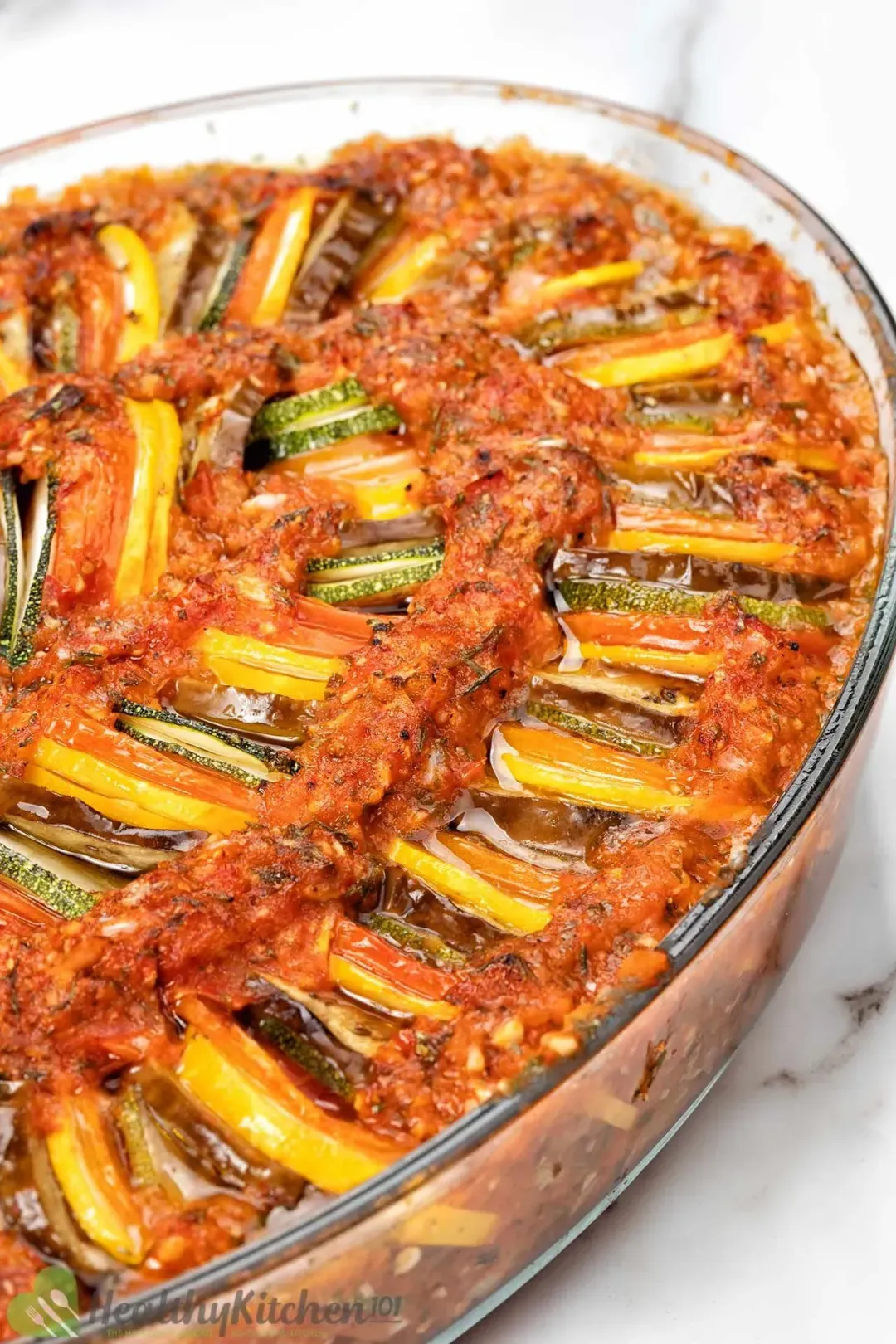 cook TIME

1 hr

prep TIME

30 mins

total TIME

1 hr 30 mins
COURSE

Side Dish

CUISINE

French

SERVINGS

CALORIES

181 kcal
INGREDIENTS
14 oz

zucchini

(green and yellow, sliced)

3 tbsp

olive oil

(divided)

1/4 cup

unsalted vegetable stock

1/2 tsp

ground black pepper
INSTRUCTIONS
1
Preheat the oven to 475°F.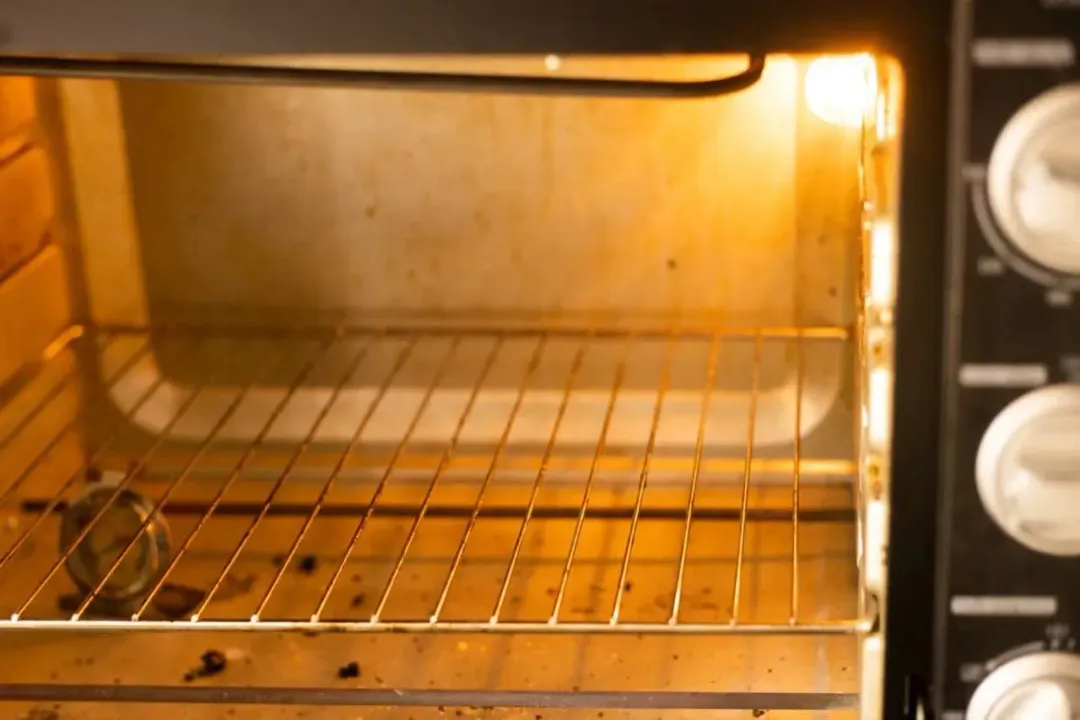 2
Roast 13.4 oz red bell peppers whole until well-done and their skins peel off (roughly 20 minutes).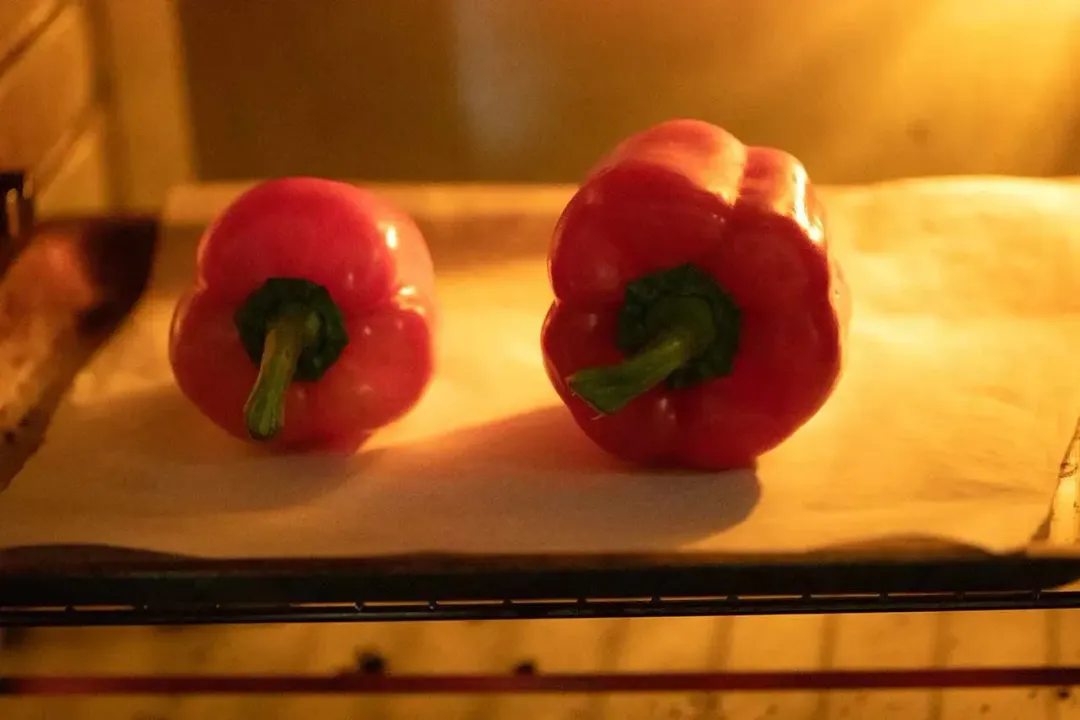 3
Remove from the oven, cover them with aluminum foil, and let them rest for 5 minutes to cool down.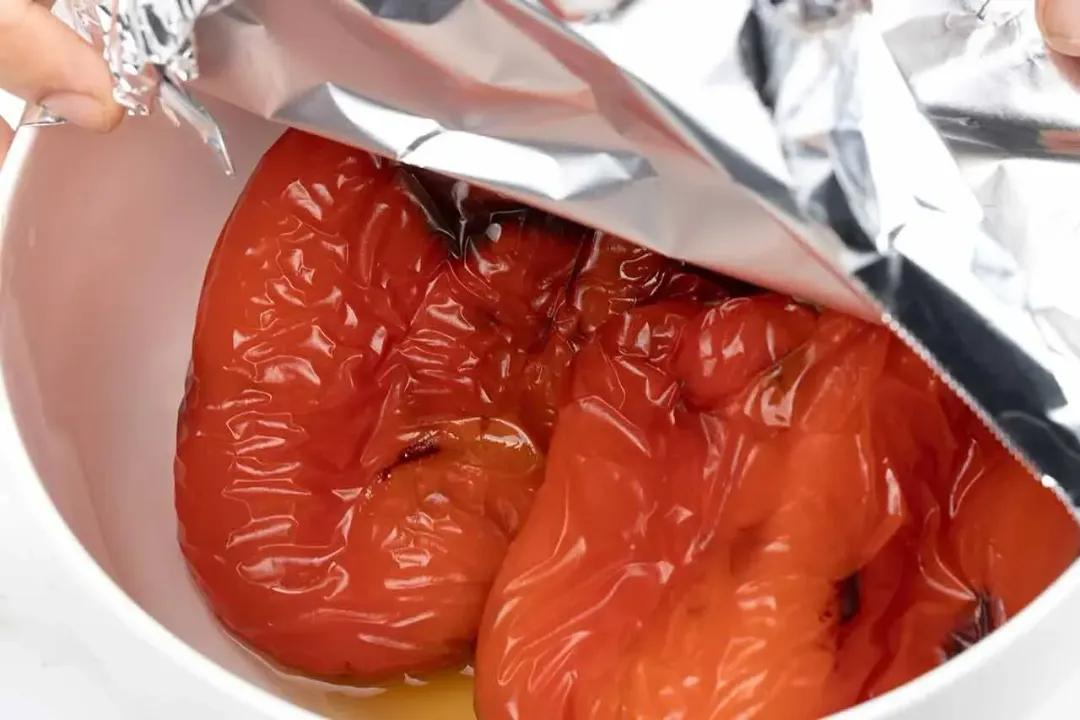 4
Peel and core the red bell peppers. Cut them into slices.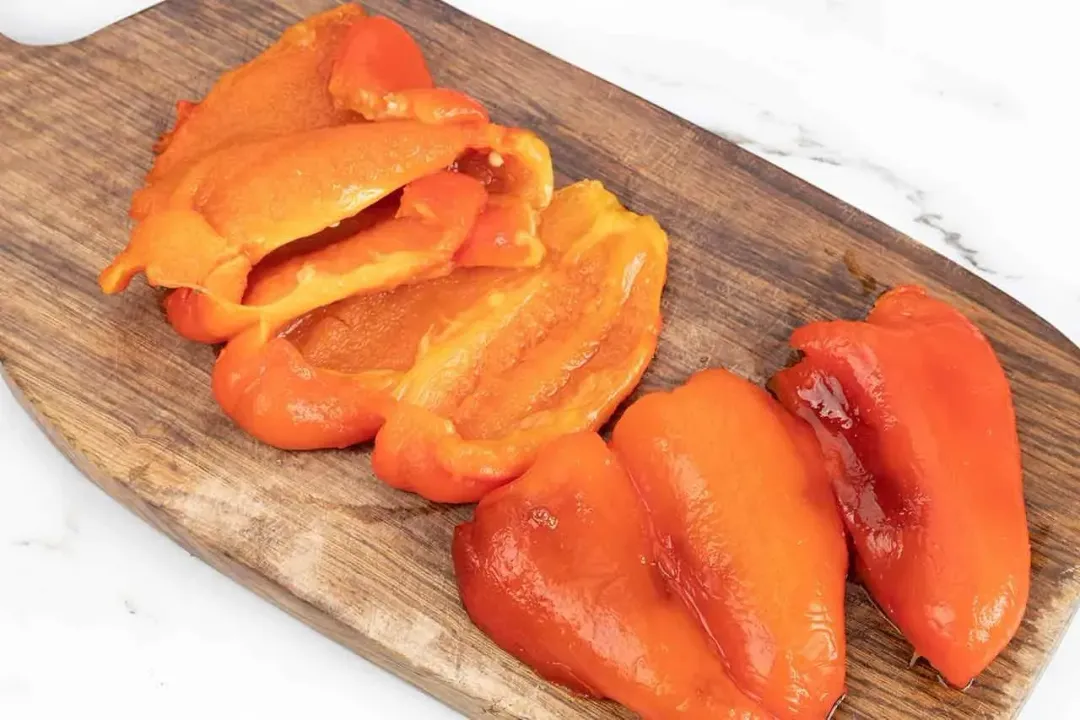 5
Make the sauce: In a blender, put red bell peppers, 1/2 cup tomato juice, 2 oz onion, 2 tbsp garlic, 3 tbsp parsley, 1/4 cup vegetable stock, 1/4 tsp salt, 1/2 tsp ground black pepper, and 2 tbsp of olive oil. Blend into a thick sauce.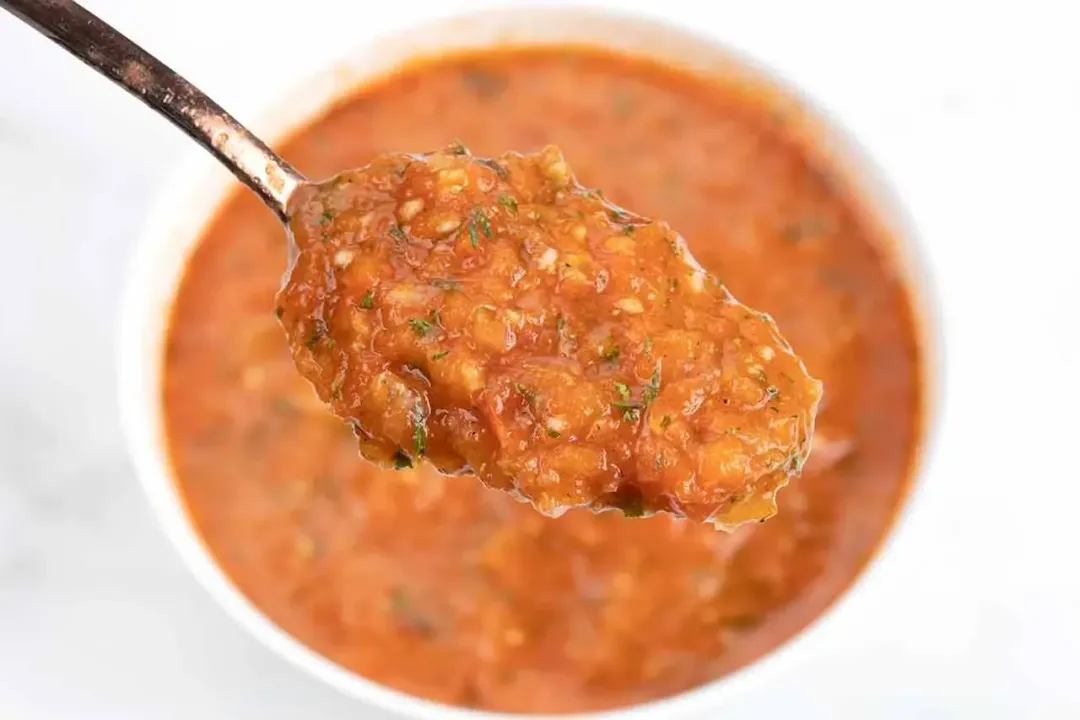 6
In a large and shallow glassware baking dish, pour 3/4 of the sauce on the bottom of the pan and spread evenly.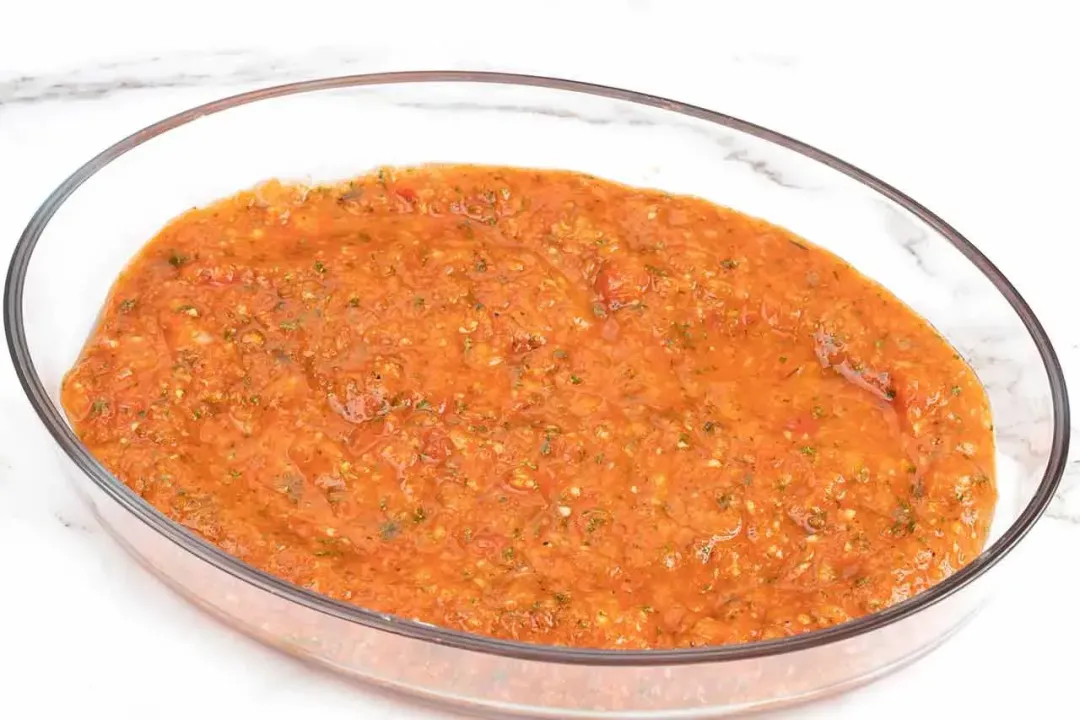 7
Arrange the vegetable slices (14 oz green and yellow zucchini, 14 oz tomatoes, 6 oz eggplants) into the pan by overlapping one on top of another, alternating the colors. It's best to have one pattern and stick to it; we went with the order of tomato, green zucchini, yellow zucchini, then eggplant.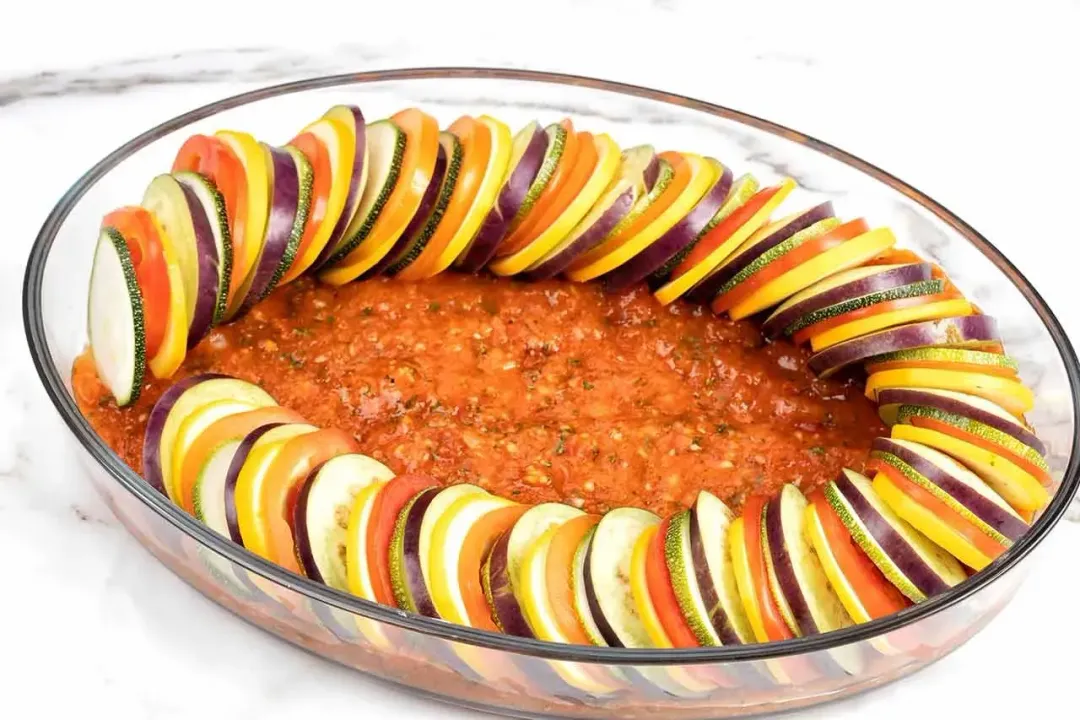 8
Ladle the remaining sauce atop the vegetables and drizzle with 1 tbsp of olive oil.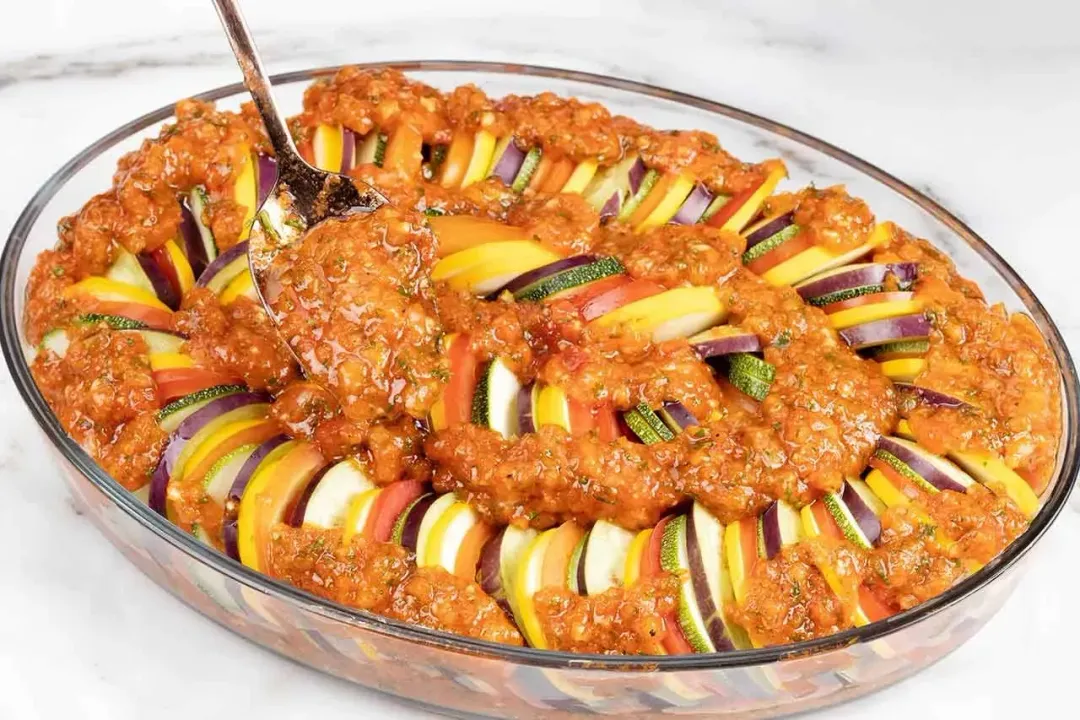 9
Bake for 1 hour at 400°F. You can check for doneness after 30 minutes and then every 5 minutes after that, and adjust the baking time accordingly if needed.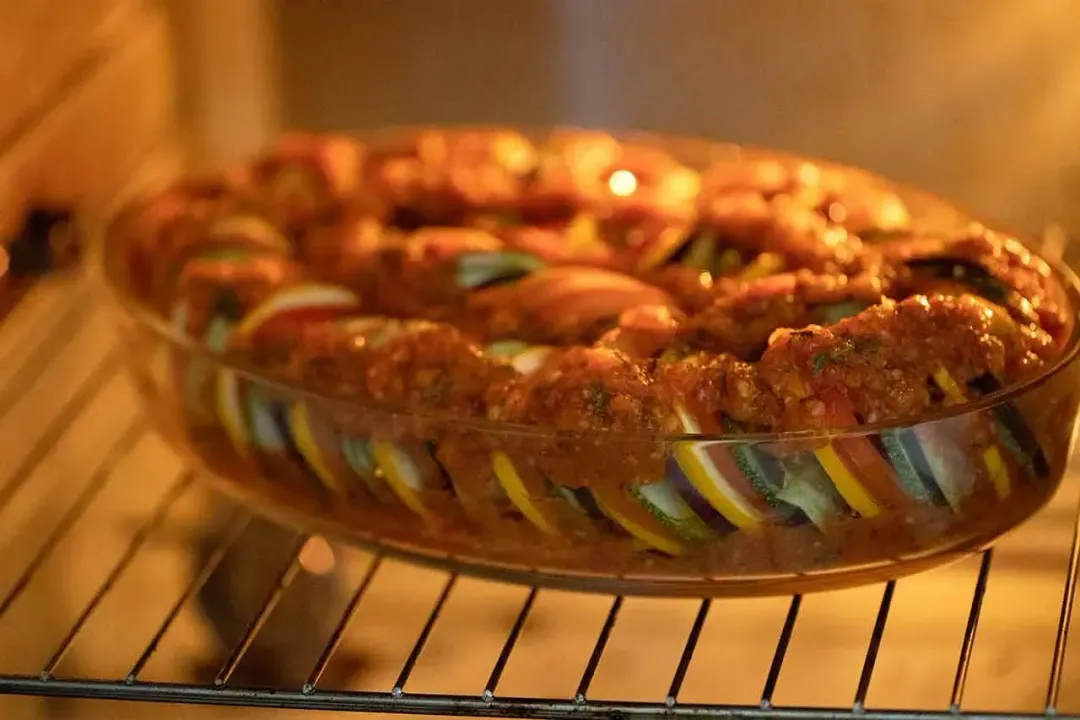 10
Arrange a stack of vegetables on a plate and spoon the sauce over. Garnish with fresh sprigs of thyme. Enjoy it hot.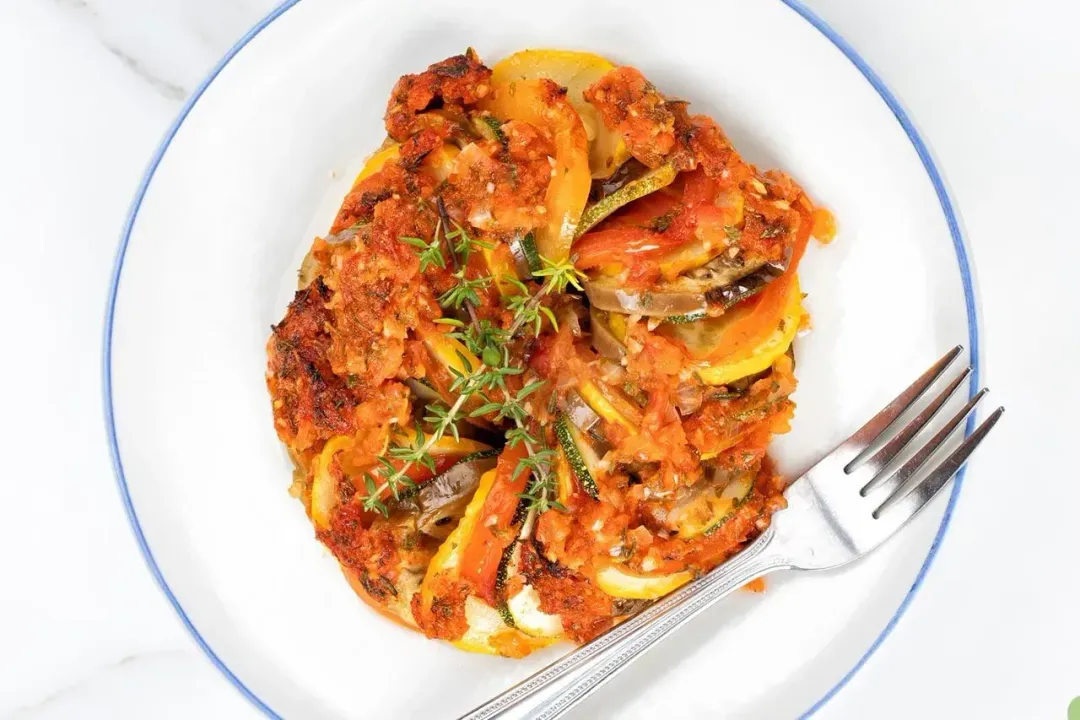 We recommend using a mandoline slicer to thinly slice your vegetables. It's quick-and-easy to use, and safer than knives.
NUTRITION
Nutrition Facts
Easy Ratatouille
Amount Per Serving (1 serving)
Calories 181
Calories from Fat 99
% Daily Value*
* Percent Daily Values are based on a 2000 calorie diet.
Keywords: How to Make Ratatouille Recipe, Ratatouille, Ratatouille Recipe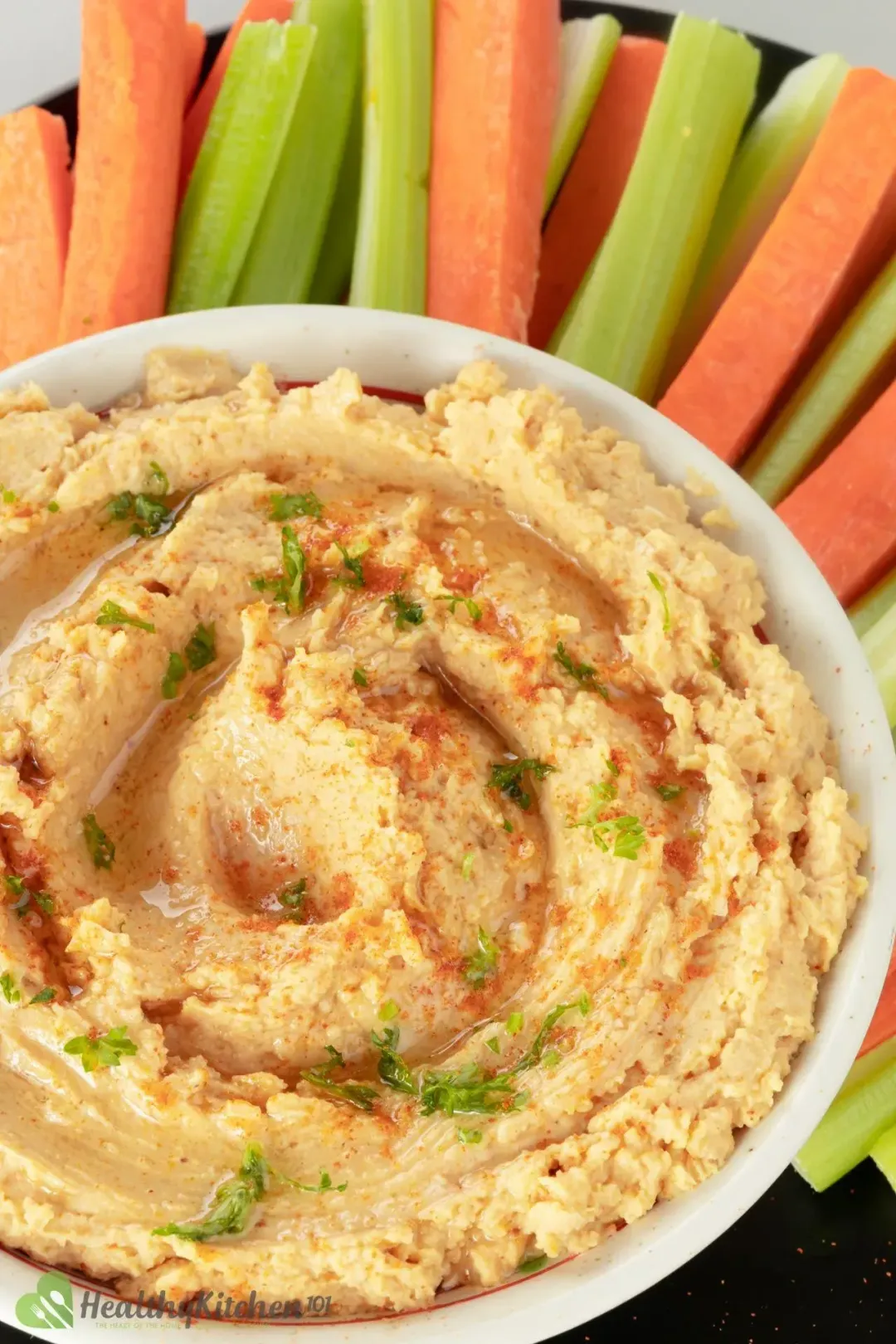 Previous Recipe
Hummus with Tahini
Hummus with Tahini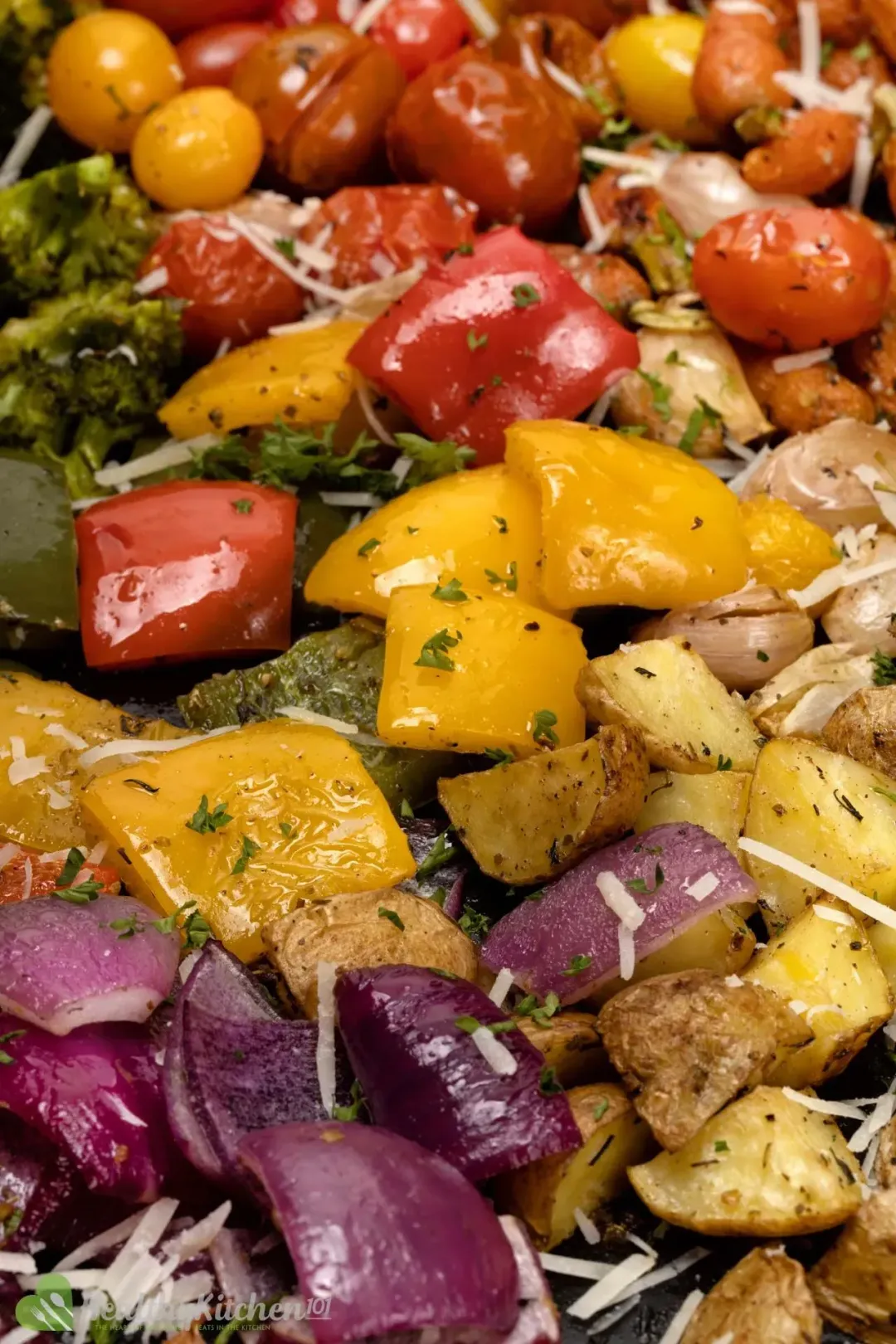 Next Recipe
Roasted Vegetables
Roasted Vegetables
Head Chef, Culinary Consultant
Tuyet Pham is an award-winning Saigonese chef who believes that joy is the secret ingredient to delicious food. At Healthy Recipes 101, Tuyet personally tests and simplifies every recipe, ensuring maximum flavor with minimal effort. With a background at prestigious French restaurants P'TI Saigon and Le Corto, Tuyet knows how to make every dish exceptional.
Writer, Author
Luna Regina is an accomplished writer and author who dedicates her career to empowering home cooks and making cooking effortless for everyone. She is the founder of HealthyKitchen101.com and HealthyRecipes101.com, where she works with her team to develop easy, nutritious recipes and help aspiring cooks choose the right kitchen appliances.
Nutrition Reviewer
Lizzie Streit is a Minneapolis-based dietitian and founder of It's a Veg World After All. She completed her MS in Human Nutrition from Drexel University, and is an expert in culinary nutrition, recipe development, and nutrition communications. Lizzie's philosophy is centered around making nutrition recommendations, and especially the advice to eat more vegetables, approachable and realistic. She is excited to be working with the team at Healthy Recipes 101 to ensure that their recipes are both nutritious and delicious.
This was delicious. It's one of my favorites.

Vibrant and flavorful veggie dish.