Mulberries are dark, sweet, and slightly tart fruits that grow in abundance during summer. If you have a flourishing mulberry tree, you're almost guaranteed a sea of ripe berries that have fallen from its branches. And while some people love this scenario, others don't. What everyone will love, however, are these easy mulberry recipes.
Brownies, cheesecake, cocktails, smoothies, and pies—there's a bunch of delectables to make with this tiny black jewel. You can crush, muddle, smoosh, blend, or puree them to include in your recipe. You can even do more complex things like baking mulberries to make Kuchen (cake.)
Read through the following recipes to learn the myriad of mulberry recipes you can cook right in your kitchen. You're bound to find one, or plenty more, that everyone will enjoy.
25 Mulberry Recipes That'll Have You Climbing up Your Backyard Tree
1. Mulberry Jam
Here's a 3-ingredient mulberry jam recipe to keep you out of any sticky kitchen situation. Whether you need a gooey preserve for plain bread or freshly made biscuits, this homemade jam is just ideal. The recipe involves heating fresh berries to a boil while smooshing them and then adding sugar and lemon juice for a zesty kick.
If you've made extras, bottle or can the jam and store it sealed.
Go to Recipe
2. Mulberry Juice
There's nothing more refreshing than cold, freshly squeezed berry juice on a hot summer's day—especially if you can make it yourself. If you have mulberries, sugar, lemon juice, and cold water, you're well on your way to achieving this thirst-quenching treat. Simply blend everything until smooth, pour into a glass, and serve.
Go to Recipe
3. The Best Mulberry Pie Recipe
This is not your everyday pie but it is one you'll want to make every day. The recipe works if you have an overabundance of mulberries, about six cups, and some pie crusts. This dish uses store-bought pie crust, but you can make your own from scratch. Allow the pie to cool before serving it with vanilla ice cream for a heavenly treat.
Go to Recipe
4. Mulberry Syrup
This homemade syrup is so simple you'll barely go wrong with it. It's perfect for slathering onto pancakes, drizzling over cheesecakes, spooning onto ice cream, and stirring into plain yogurt. The list of many wonders of mulberry syrup goes on, and we'll leave you to explore the rest with this versatile recipe.
Go to Recipe
5. Mulberry Lemon Yogurt Cake
This cake is an excellent way to use excess fresh mulberries before they go bad. Apart from your essential baking ingredients, you'll need yogurt to give this loaf a deliciously fluffy texture. Once you've mixed everything, carefully add the berries and fold them into the batter. Finish this loaf by cooling it, then drizzle a quick confectioners sugar and lemon glaze.
Go to Recipe
6. Mulberry Mango Beet Smoothie
This refreshing smoothie makes a wonderful summer beverage. It requires fresh mangoes and beetroots for a clean, crispy base and frozen berries for a thick consistency. Add in cashew nuts and coconut water to achieve a creamy texture with nutty aromas that'll have you dancing your way to seconds.
Go to Recipe
7. Mulberry Crumble Ice Cream
This recipe had us sold at 'crumble.' The combination of creamy ice cream and crunchy cinnamon bits'll ignite a delicious party in your mouth. To get this flavorsome dessert on your table, you'll need to make a berry compote and add it to the creamy mixture. Finish by churning the mix in an ice cream churner for a silky smooth finish.
Go to Recipe
8. Mulberry Lemon Gin Fizz
It's always good to have a unique element on your party list. Something to differentiate you from other hosts, and this 5-minute cocktail is your golden ticket to hosting excellent parties and gatherings. Featuring mulberries, lemon juice, sugar, gin, and club soda, it offers pleasant refreshments in each sip. We can guarantee that everyone will be asking for this recipe.
Go to Recipe
9. Favorite Mulberry Muffins
These handy muffins will arm you with delicious coffee companions in-between meals. What makes them unique is their aromatic combination of cinnamon and vanilla. The recipe produces moist muffins of robust flavors with mulberry preserve swirled into the batter for bits of delicious sweetness.
Go to Recipe
10. Mulberry Pie Bars
If you love a chewy snack with crunchy textures, you're truly in for a treat with these pie bars. They're perfect for enjoying with your morning coffee, adding flaky, fruity, and crumbly textures to your meal. Each bar is fun, flavorful, and bound to become a family favorite. And given that everything is made from scratch in just an hour, this recipe is one not to pass up!
Go to Recipe
11. Fresh Mulberry Compote
Compote is a formula for a fruit-based sauce or reduced fruit in simple syrup. It requires fruit, sugar, and lemon juice to balance the flavors. Start by boiling everything in a saucepan until the berries have released their juices and turned a beautiful silky texture. When cooled, the sauce is ready to pour over ice creams, pancakes, waffles, or cakes.
Go to Recipe
12. Mulberry Sorbet
This sorbet includes a few essential steps; blending mulberries with simple syrup, passing the mixture through a sieve, and pouring it into an ice cream maker for a smooth finish. However, if you don't have an ice cream maker, pop the mixture into the freezer and stir it every 30 minutes to achieve a similarly silky sorbet.
Go to Recipe
13. Mulberry Granita
Among the many reasons to love this granita is the fact that you can have it for breakfast. That's right; it's Sicily culture to sit in a cafe and enjoy this tasty dessert. What's better, you can make granita at home with fresh mulberries, water, sugar, and lemon juice, whether you have an ice cream maker or not.
Enjoy this refreshing breakfast slash dessert with a dollop of whipped cream for the ultimate summer treat.
Go to Recipe
14. Apricot and Black Mulberry Crumble
For a dish with complex flavors, this recipe is surprisingly simple. It's one you can follow with limited ingredients, requiring just three for the crumble: butter, sugar, and flour. The filling for this dessert includes mulberries and apricots, but you can also add juicy, slightly sour fruits of your choice.
Go to Recipe
15. Vanilla Bean Mulberry Cake
It's amazing what you can create with these tiny berries, and this cake is among the best products we came across. It's so versatile—a humble dessert that boasts big and beautiful flavors. So while you can make it for a birthday party, you can enjoy it for tea time too.
You'll even learn to make homemade vanilla sugar that pleasantly emphasizes the rich, sweet bean flavor through each cake layer.
Go to Recipe
16. Mulberry Spritzer
Low effort but upbeat, this mulberry spritzer takes only 15 minutes to prepare. It involves muddling fresh berries and then adding simple syrup, lime juice, ice, and water. That's it! The recipe is easily adjustable to suit your taste, making it excellent for kids, adults, parties, and afternoon refreshments.
Go to Recipe
17. Mulberry Brownie
If you thought brownies couldn't get any better, this recipe will change that very soon. It turns out that mulberries and chocolate are a delightful duo that merges into a blissful treat. Use this dessert as your next party trick to leave guests with a huge appetite and at a loss for words. 
These brownies are made with yogurt and butter, so you can only imagine the addictively rich and sticky textures that ensue. 
Go to Recipe
18. Mulberry Jam Recipe Without Pectin
Berries, sugar, and lemon juice are your keys to making this homemade spread. You can add lemon or orange zest for citrus aromas and an appreciated crunch, or leave it plain, and it'll be just as tasty. The recipe recommends making small batches to spread on bread, biscuits, or cakes. Otherwise, make a bigger batch to store using the canning method.
Go to Recipe
19. Simply Delicious Mulberry Cheesecake
This recipe gives you every reason to make cheesecake. Even if you're a novice baker, the formula is pretty straightforward, yet it turns out a complex dessert suitable for any occasion. This recipe includes a sour cream and cream cheese filling and a graham cracker base baked to a crispy base that perfectly delivers the creamy filling.
Go to Recipe
20. Mulberry Curd
Be careful what a delicious curd like this might do for your weight loss journey. It's so delicious you'll be tempted to gorge on plain spoonfuls. The sweet and sour combination of mulberries and lemon juice makes this an addictive treat that you'll spread onto everything from bread to cakes. So, pick up an extra carton of eggs to make more of this curd, as your first batch may quickly run out!
Go to Recipe
21. Mulberry Puff Pastry Danishes
These puff pastry danishes are the perfect party accessory. The prep time is halved since you'll be using store-bought pastry, so after making the filling, roll the pastry, cut it into pieces, and leave it in the oven to bake. The result is a flaky dessert with a rich cream cheese center and a pink mulberry glaze.
Go to Recipe
22. Mulberry Kuchen
Kuchen is German for "cake" and is a cross between a coffee cake and a crumble. You get the moist, dense texture of cake on the bottom, and a crunchy crumble on top. The sprinkled mulberries between the batter and crumb mixture melt between the two layers as the cake bakes, essentially sealing the two textures together.
When you bite into this cake, you'll experience a crispy-edged texture that's tartly sweet, or sweetly tart—however you prefer to think of it.
Go to Recipe
23. Rhubarb Mulberry Pie
If you like the flaky texture of pie crust accompanied by a sweet filling, you'll love this pie. It features a lovely lattice crust on top so you can see the gooey rhubarb and mulberry center peeping through each tiny square.
Cut a slice once it has baked and cooled down, and enjoy it with a scoop of ice cream—which is the only way to enjoy a freshly baked sweet pie.
Go to Recipe
24. Mulberry Lemonade
Cold, refreshing, and zesty, this mulberry lemonade is perfect for enjoying alone or with a light, crispy snack. You can make it with fresh mulberries blended into a puree, powdered sugar, lemon juice, and club soda. Perfect for a quick and effortless refreshment, this drink comes together in 10 minutes, leaving plenty of time to sit back, relax, and sip away at it.
Go to Recipe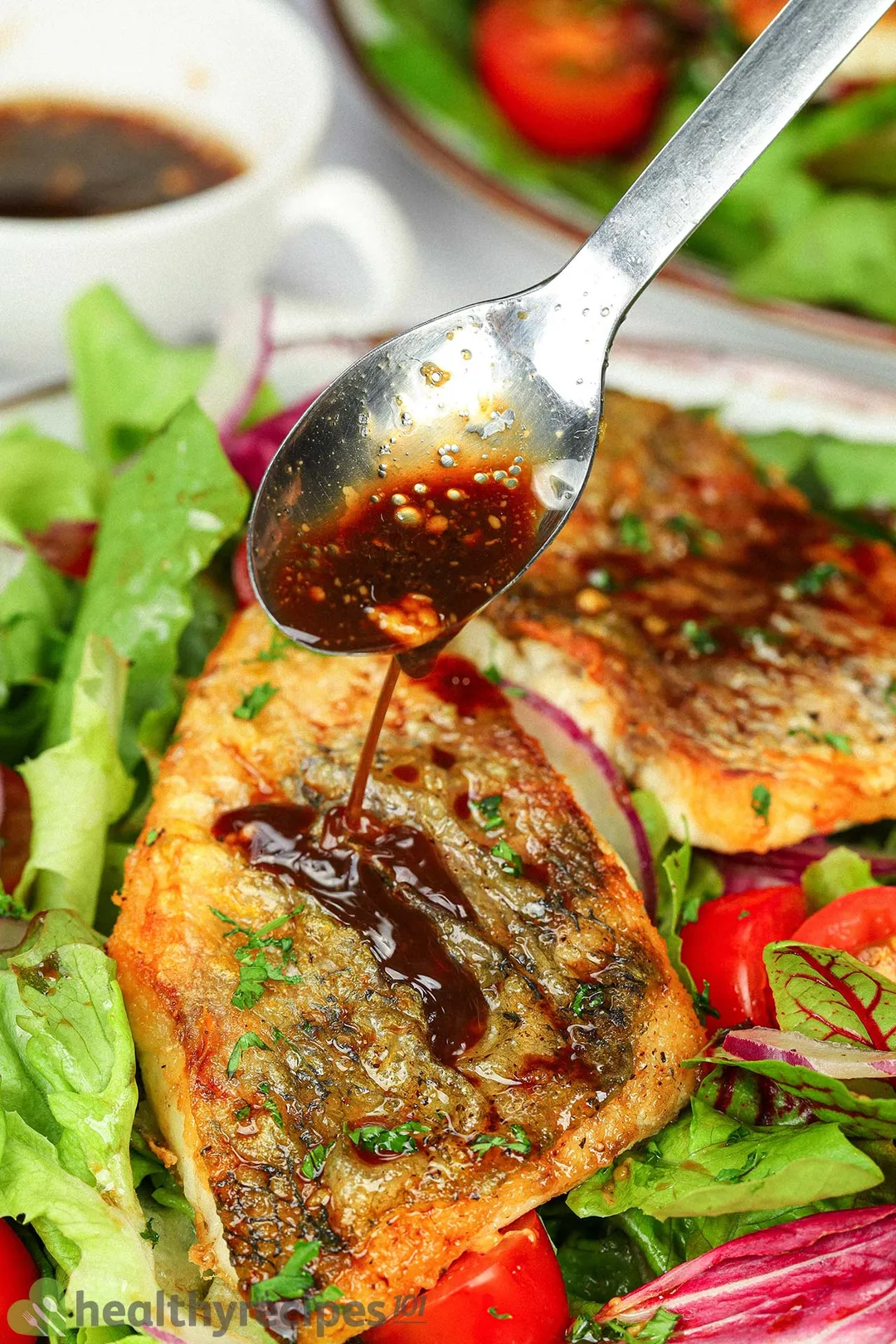 Previous Recipe
Balsamic Vinegar Recipes
Balsamic Vinegar Recipes
Writer, Author
Luna Regina is an accomplished writer and author who dedicates her career to empowering home cooks and making cooking effortless for everyone. She is the founder of HealthyKitchen101.com and HealthyRecipes101.com, where she works with her team to develop easy, nutritious recipes and help aspiring cooks choose the right kitchen appliances.
Comments/ Reviews