From salads, marinades, and soups to desserts, these balsamic vinegar recipes are perfect proof of the Italian condiment's versatility. Its rich and sweet-tangy taste goes surprisingly well with a wide variety of dishes, giving them a flavor complexity that makes them downright irresistible. 
With this list, we'll help you explore all the marvelous potential balsamic vinegar has to offer. So strap on your apron and get ready for some fun culinary adventures!
35 Balsamic Vinegar Recipes You Won't Regret Trying
1. Balsamic Chicken
One bite of this balsamic chicken and you'll be tasting heaven on the tip of your tongue. The chicken is pan-seared, then drenched in a rich and sweet sauce made from balsamic vinegar, honey, ketchup, herbs, and spices. It's served alongside potato wedges, cherry tomatoes, and cubed cheese, altogether creating a wonderful array of flavors and textures that perfectly balance fine-dining and homemade excellence.
Go to Recipe
2. Burrata Salad
With a soft, plump burrata cheese laid in the middle of colorful veggies, this burrata salad is an eye-catching dish that brings unparalleled excitement. Beet, carrots, radish, cherry tomatoes, and arugula make a rainbow arrangement that fills your taste buds with sweet, tart, and piquant flavors. 
Once cut open, the cheese's rich, creamy interior seeps out and fills every nook and cranny of this salad with its milky goodness. Finally, the balsamic vinegar dressing comes in and ties everything together in a sweet, sophisticated delight.
Go to Recipe
3. Caprese Salad
Celebrate summer and all its fresh, vibrant glory with this Caprese salad. It's a classic Italian dish with cherry tomatoes, mozzarella cheese, basil, and balsamic dressing. These ingredients barely require any preparation, so you can put this together in just 5 minutes.
It makes a splendid appetizer or side dish for almost any meal. You can also toast a few bread slices and top them with this salad to make a quick, flavorful, and nutritious breakfast.
Go to Recipe
4. Tomato Bruschetta
Here's another easy and flavorful Italian classic that you'll have no trouble bringing to life. Tomatoes, onions, and basil are mixed in a thick and rich balsamic glaze and laid over toasted bread slices. They make excellent appetizers for those summer parties and get-togethers or delicious snacks to munch on when craving something fun and exciting.
Go to Recipe
5. Balsamic Glazed Pork Loin
Bless your taste buds with this amazing balsamic glazed pork loin. The meat is wrapped in prosciutto, coated in a sticky, rich balsamic glaze, then baked to juicy, tender perfection. It's savory and deeply sweet with that classic vinegar tang—an exquisite flavor combination that mesmerizes you with every bite. Served with roasted veggies or mashed potatoes, it makes a stunning main course for all your dinners.
Go to Recipe
6. Balsamic Honey Roasted Vegetables
Glazing your roasted veggies with a balsamic honey dressing is a surefire way to make them much more enjoyable. Each bite brings a mouthful of exciting textures and flavors that endlessly delight the taste buds. On its own, this dish is a fantastic treat to casually enjoy at any time of the day. Pair it with proteins, grains, or pasta, and you'll have an effortlessly stunning main course.
Go to Recipe
7. Caramelized Onion and Balsamic Tomato Tarts
Flaky, crumbly, and bursting with a mixture of deeply sweet and vibrant flavors, these tarts are everything you could want in a summer pastry. Tomatoes, basil, and crushed red pepper are drenched in balsamic vinegar, then spread over pastry sheets along with caramelized onion. Everything unravels beautifully in the oven and comes out with a wholesome, utterly comforting warmth.
Go to Recipe
8. Balsamic Glazed Salmon
This restaurant-worthy dish comes together in three simple steps and less than 20 minutes. All you have to do is cook the salmon for a bit, whisk together the balsamic glaze, and drizzle it over the cooked fish. That's all!
The result, however, is something straight out of a dream. The fish is tender and flaky, its mild, briny flavors beautifully enhanced by the sweet, savory, and slightly tangy glaze. Serve it with a side of vegetables and some grains and you've got a main course everyone will be talking about for weeks.
Go to Recipe
9. Berries Salad
This berries salad is a summer melody that comes to life on your taste buds. Sweet-tart notes of strawberries, blueberries, blackberries, and dried cranberries fall into perfect harmony with the balsamic dressing's rich, complex taste. It makes an excellent side dish for all your outdoor feasts such as potlucks and BBQs, but would also become a marvelous light meal when paired with savory proteins or earthy grains.
Go to Recipe
10. Caramelized Onion & Balsamic Hummus
Caramelized onion and balsamic continue to be a match made in heaven with this hummus recipe. With the addition of these ingredients, the classic dip's nutty and tangy taste gets a sweet-tangy twist that's unexpected yet delightful. Whip this up whenever your meals, parties, or get-togethers call for a crowd-pleasing appetizer that won't take too much effort or time to make.
Go to Recipe
11. Honey Balsamic Beer Glazed Shrimp Skewers
These shrimp skewers might just be your latest cookout staple. Honey, balsamic, and beer make a stunning glaze that caramelizes beautifully when grilled, coating the shrimp with irresistible sweet and savory flavors. These are a must-try, especially if you're looking for something fun and exciting that comes together with ease.
Go to Recipe
12. Balsamic Glazed Chicken Thighs
These balsamic glazed chicken thighs carry the hearty comforts of homemade food and the elegance of a high-quality restaurant dish. Pan-seared chicken thighs are coated in a luscious balsamic glaze and served alongside mashed potatoes, green beans, and cherry tomatoes. It's a seamless blend of sweet, savory, and tangy flavors with earthy notes from the side veggies. Even better, it only takes 25 minutes to make!
Go to Recipe
13. Balsamic Pasta With Tangled Carrots
This dish features angel hair pasta tossed with a balsamic-honey sauce and shaved carrots, then topped with chopped nuts, cheese, and herbs. The combination creates a dish with a unique taste that's still utterly enjoyable. It pairs marvelously well with various proteins and also makes a fantastic light meal on its own.
Go to Recipe
14. Watermelon Cucumber Salad
With two water-rich foods as the main ingredients, this watermelon cucumber salad is undoubtedly a perfect choice for keeping yourself hydrated and nourished. They both have quite fresh and light flavors, so the balsamic vinegar brings a delightful contrast that really makes the taste buds sing.
Go to Recipe
15. Balsamic Glazed Meatballs
Meatballs are pretty irresistible on their own, but drench them in a balsamic glaze and you've got one truly spectacular dish. This glaze is a hearty and enthralling mixture of balsamic vinegar, red wine, brown sugar, stock, and butter. It coats the savory meatballs with deeply sweet and tangy flavors that will make your taste buds dance with joy. Whatever the occasion—casual dinners, gatherings, celebrations, etc—you can always count on them to effortlessly liven up the meals.
Go to Recipe
16. Caramelized Balsamic Glazed Brussels Sprouts
Eating veggies has never been more fun with this recipe. Brussels sprouts are steamed and cooked with diced onion and bacon, then coated in a delectable balsamic glaze. They're fork-tender with a slight crisp and perfectly caramelized edges, packing a punch of savory, sweet, and earthy flavors with each bite. These make excellent side dishes for all your protein mains, but would probably also work as a hearty appetizer to start the meal off right.
Go to Recipe
17. Balsamic Parmesan Roasted Asparagus and Tomatoes
Asparagus and tomatoes are tied together by melted parmesan cheese and a balsamic reduction in this easy, three-step recipe. Roasting these veggies is a great way to highlight their natural flavors while also mellowing out any harsh, raw edges. With the balsamic reduction drizzled over, they taste even more incredible, constantly pulling you in for more with their earthy, tart, tangy, and deeply sweet taste.
Go to Recipe
18. Garlic, Tomato, & Balsamic White Bean Soup
Wholesome and flavorful, this soup is the perfect comfort food to make whenever you need a little pick-me-up. Hot off the stove, it offers a warmth that soothes your senses and fills them with hearty flavors and cozy aromas.
You can make this soup in three simple steps and 40 minutes (most of which are for simmering). The ingredients are mostly pantry staples, so you'll have no trouble gathering them and cooking up a few steaming bowls any time you want.
Go to Recipe
19. Tomato Balsamic Soup
The classic and beloved tomato soup gets a sophisticated twist with this recipe. It's still ultra-rich and velvety smooth, with an ineffable vibrancy that feels like sunshine on your taste buds. However, with the balsamic vinegar added, there's a sweet-tart zing peeking through, giving the soup a unique twist. Serve it with grilled chicken or a grilled cheese sandwich for a hearty, satisfying meal.
Go to Recipe
20. Radicchio Salad
This colorful salad features radicchio, sweet potatoes, oranges, and fennel bulb tossed with a honey-mustard balsamic dressing. It takes you by surprise with a punchy, robust mixture of earthy, sweet, and zesty notes, accompanied by a slightly bitter undertone. The combination seems so strange and mismatched, but it works spectacularly well when the dressing joins the party. Give this salad a try if you're looking for something beyond the usual "fresh and green" varieties.
Go to Recipe
21. Kachumbari
Kachumbari is an African salad made from tomatoes, onions, and other optional veggies, all tossed in lime/lemon juice and several spices. This recipe comes with a balsamic vinegar and mustard twist that gives this salad a kaleidoscope of bright, sweet, zesty, and slightly piquant flavors. It's so easy to make and perfect for all kinds of meals but works especially well with outdoor grills.
Go to Recipe
22. Sea Bass Salad
This sea bass salad recipe includes pan-seared sea bass fillets laid on a fresh bed of greens, all drizzled with a dressing made from balsamic vinegar, honey, mustard, and lemon juice. It's savory and tangy while still remaining incredibly light on the palate. Beyond the delicious taste, this dish is also a great treat for healthy eaters since it's low-calorie, high in proteins, and densely packed with a great variety of nutrients.
Go to Recipe
23. Olive Oil and Balsamic Bread Dip
It's almost unfathomable how simple yet delicious this olive oil and balsamic bread dip is. Olive oil is cooked with minced garlic, then added cheese, herbs, black pepper, and balsamic vinegar, and served with crusty, toasted bread. And that's it! That's all it takes to make this staple Italian restaurant appetizer that beams with beautiful savory and tangy flavors—a guaranteed crowd-pleaser at any meal.
Go to Recipe
24. Slow Cooker Shredded Balsamic Beef
Cooking beef chuck in a slow cooker with broth, balsamic vinegar, sugar, Worcestershire sauce, and garlic for 6 - 8 hours gives you pull-apart tender meat that's infused with a caramelized sweetness and an irresistible savory, tangy aroma.
What's even more beautiful, is how versatile this dump-and-go dish is. With a side of mashed potatoes, it's a restaurant-worthy spectacle. Stuff it into sandwiches, tacos, or burgers and you've got some irresistible street food staples. Lay it over a bed of rice or pasta for a hearty and filling main course full of comfort. Get as creative as you want!
Go to Recipe
25. Balsamic Grilled Flank Steak Caprese
This balsamic grilled flank steak Caprese combines the smoky, savory goodness of grilled meat with the fresh, vibrant taste of Caprese salad. Drenched in a sweet-tangy balsamic marinade, the steak becomes delectably succulent and tender. With juicy blistered tomatoes and mozzarella cheese scattered all over, each bite brings a symphony of flavors that will keep your guests coming back for seconds.
Go to Recipe
26. Brussels Sprouts Pizza With Balsamic Red Onions
Need a good meatless pizza to serve for dinner or a get-together? This pizza with a Brussels sprouts base and balsamic caramelized onions topping might be exactly what you're looking for. It comes together in just 35 minutes and offers exquisite earthy, sweet, and piquant flavors—all drenched in a decadent layer of melted mozzarella cheese that makes each bite feel like a dream.
Go to Recipe
27. Butternut Squash Salad
When fall comes around, don't just let the season pass you by. Celebrate its vibrant, warm essence with this salad. Butternut squash cubes, dried cranberries, and parmesan cheese are laid on a bed of arugula and lettuce. Everything is tied together by a sweet and tangy balsamic dressing, adding remarkable depth to the veggies' nutty and earthy goodness.
Go to Recipe
28. Balsamic Mushroom Broccoli Rice
Broccoli rice is an excellent gluten-free and low-carb alternative to actual rice. With this recipe, it's served alongside balsamic-sautéed mushrooms, shallots, and grated parmesan cheese. The simple combination creates a rustic, earthy dish that's great both as a main and a side. It comes together in 20 minutes and four easy steps, so no matter how busy you are, your meals will be ready in no time!
Go to Recipe
29. Caramelized Balsamic Goat Cheese Pasta
This dish is a mouthwatering combination of caramelized balsamic reduction and goat cheese, all tossed with cooked pasta, mushrooms, pomegranate arils, and beets. Each forkful brings an exquisite symphony of flavors, ranging from the balsamic's complex sweetness, and the cheese's tangy, tart taste, to the veggies' earthy undertones. Serve this dish for dinner and you'll have a meal everyone will gush over for days to come.
Go to Recipe
30. Orange Salad
This orange salad brings a brightness that will have your taste buds beam with joy. It's sweet, tart, and zesty with a balsamic sauce that leaves lingering woodsy, rich notes. This complex yet harmonious combination of flavors makes a beautiful addition to all kinds of meals, from casual dinners and outdoor fun fests to fancy feasts. Not to mention, it's so easy to put together, you'll have this stunning dish ready to serve in no time.
Go to Recipe
31. Cabbage Rolls
These cabbage rolls consist of ground beef, arborio rice, balsamic vinegar, heavy cream, spices, and herbs. They're covered in a rich tomato sauce and baked to perfection. Each bite brings a delicate mixture of tender textures and savory, hearty flavors that coddle the taste buds with utter comfort. They do take a while to come together, but we promise every single second is worth it.
Go to Recipe
32. Fig Balsamic Jam
Whip up this sweet, tangy, and luscious fig balsamic jam to color all your staple dishes with a brand-new taste. It makes a delicious spread for bagels, sandwiches, and various desserts; a remarkable sauce for ice cream and yogurt; and even a splendid dip when paired with veggies and biscuits. Get as creative or traditional as you want, this jam is good for both!
Go to Recipe
33. Balsamic Strawberry Mascarpone Mousse
True happiness comes in various forms, and if you're a dessert lover, it might look a little something like this mousse. It's made from ricotta, mascarpone, lemon curd, and lemon juice whipped together and left to harden, then topped with balsamic strawberries. Each spoonful brings a heavenly and delicate creaminess that's accentuated by sweet-tart strawberries and woodsy rich balsamic vinegar. It honestly doesn't get any better than this.
Go to Recipe
34. Balsamic Blackberry Bruschetta With Whipped Ricotta
This recipe is a Bruschetta spin-off in which blackberries instead of tomatoes are simmered in balsamic vinegar. They're still served over toasted bread slices, with a layer of whipped ricotta in the middle to really amp up the flavors and textures. Serve this as appetizers at holiday parties to start your meal with an excitement that will keep everyone intrigued for more.
Go to Recipe
35. Balsamic Caramel Dessert Sauce
Take all your desserts to the next level with this balsamic caramel sauce. It has that distinctive caramel-rich sweetness and luscious texture that we all love so much, with sweet-tart vinegar notes for a unique and complex twist. Dripping over your ice cream sundae and fresh fruits, this sauce brings heaven straight onto the tip of your tongue.
Go to Recipe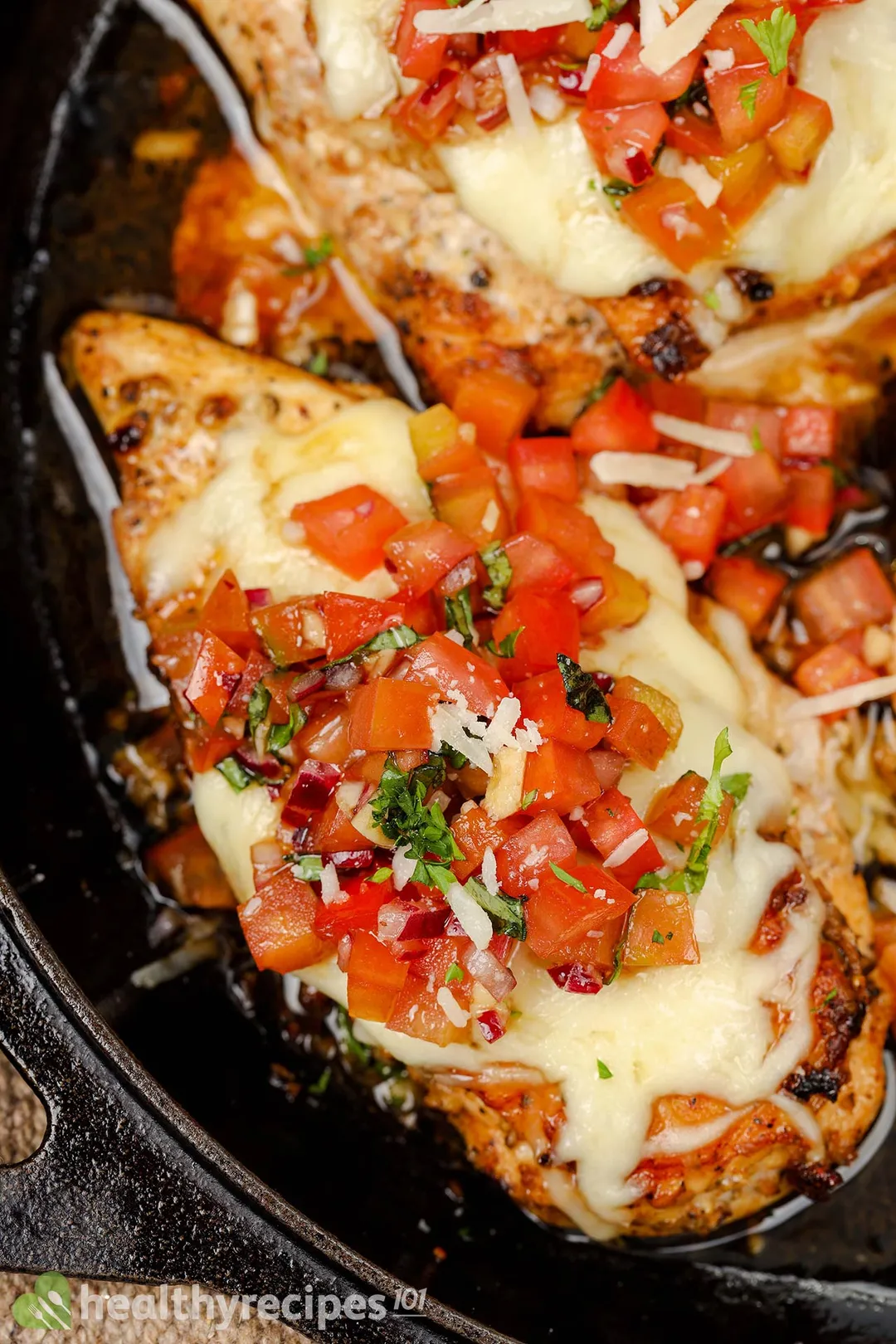 Previous Recipe
Roma Tomato Recipes
Roma Tomato Recipes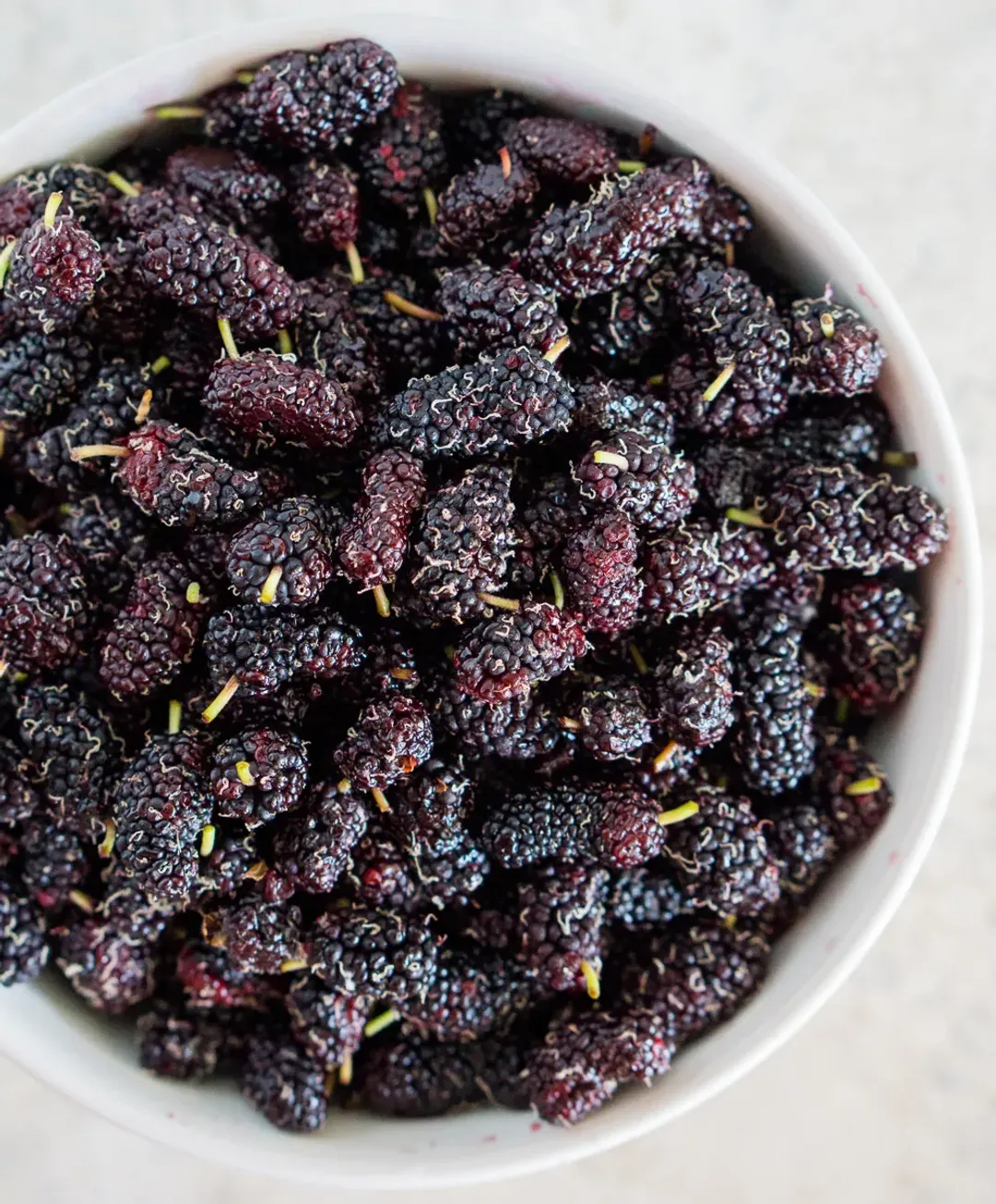 Next Recipe
Mulberry Recipes
Mulberry Recipes
Writer, Author
Luna Regina is an accomplished writer and author who dedicates her career to empowering home cooks and making cooking effortless for everyone. She is the founder of HealthyKitchen101.com and HealthyRecipes101.com, where she works with her team to develop easy, nutritious recipes and help aspiring cooks choose the right kitchen appliances.
Comments/ Reviews