Our air fryer pork loin recipe will help you cook juicy pork loin for dinner.
Isn't it sad to slice into a well-seasoned piece of pork that you made only to find a dry, tough interior? We'll show you how to cook a pork loin properly — juicy meat locked inside a golden crust.
Not only that, our pork is served on a bed of baby veggies, all well-seasoned and cooked through. Afterwards, a sweet, pungent, and creamy sauce is drizzled on, bringing plenty of flavors to the meat.
What Is the Difference between Pork Loin and Pork Tenderloin?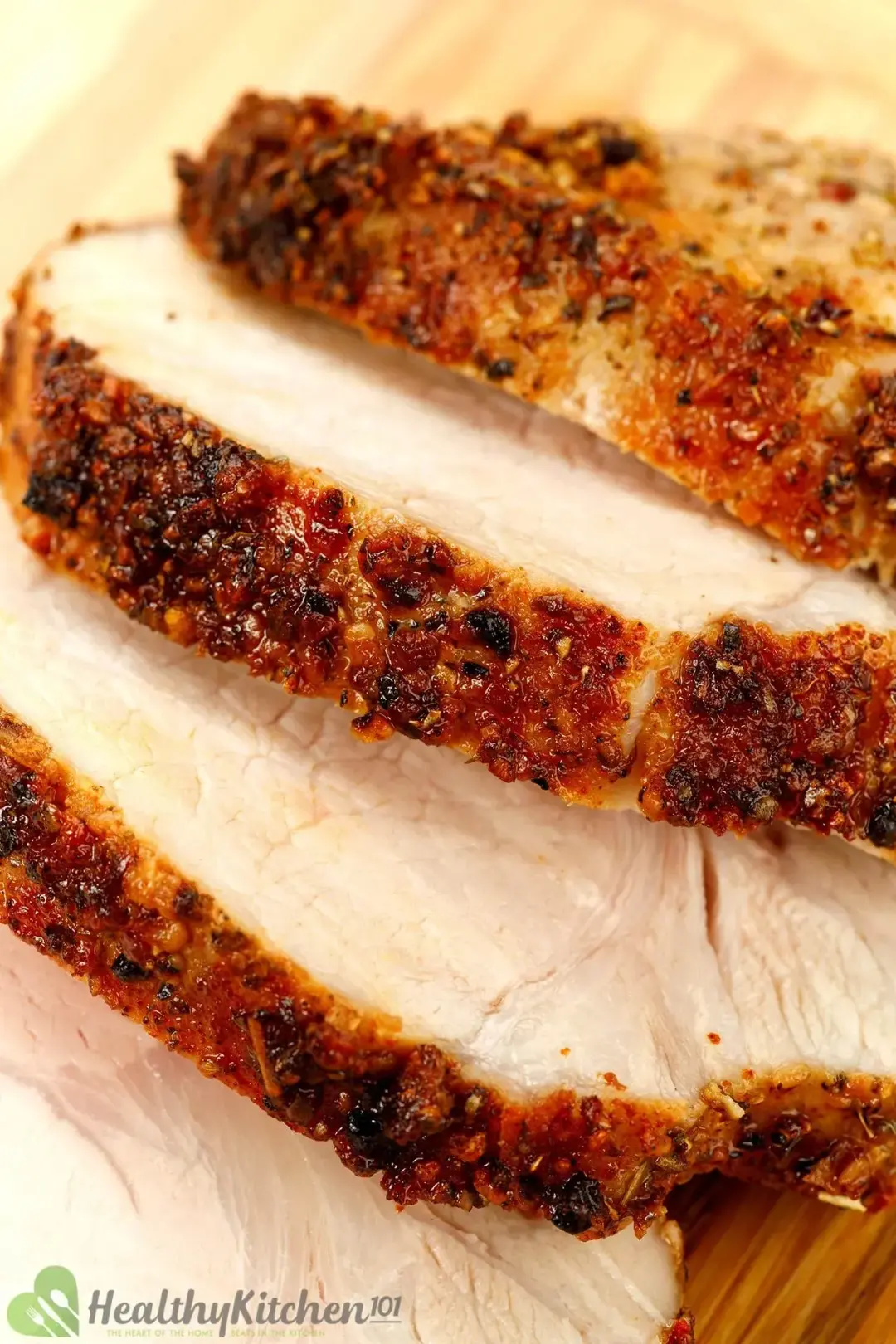 Before getting into the difference, let us begin by looking at the major parts of a pig:
The head
The shoulders and the front legs
The loin, which is the back of the pig
The belly, right below the loin
The hind legs
Both the pork tenderloin and the pork loin belong to the loin area. The tenderloin lies right below the spine, the softest and most tender cut of the animal.
After the tenderloin is separated, the butcher takes the loin and makes a cut between the fourth and fifth vertebrae. The larger part is then sliced into pork chops, while the smaller part has its bones removed and is called the pork loin roast, or pork loin.
Having cooked both pork chops and pork tenderloins, we feel that these cuts don't differ as much in flavor as they do in texture. You can use other cuts as a substitute for pork loin for pork tenderloin in recipes, and vice versa.
Check out our other pork recipes for different ways to season pork:
Is Air-Fried Pork Loin Healthy?
Pork loins can contain plenty of saturated fat, which experts recommend us to limit. By cooking them in an air fryer, a large part of the fat is rendered and stays at the bottom of your deep-fryer instead of getting to your body.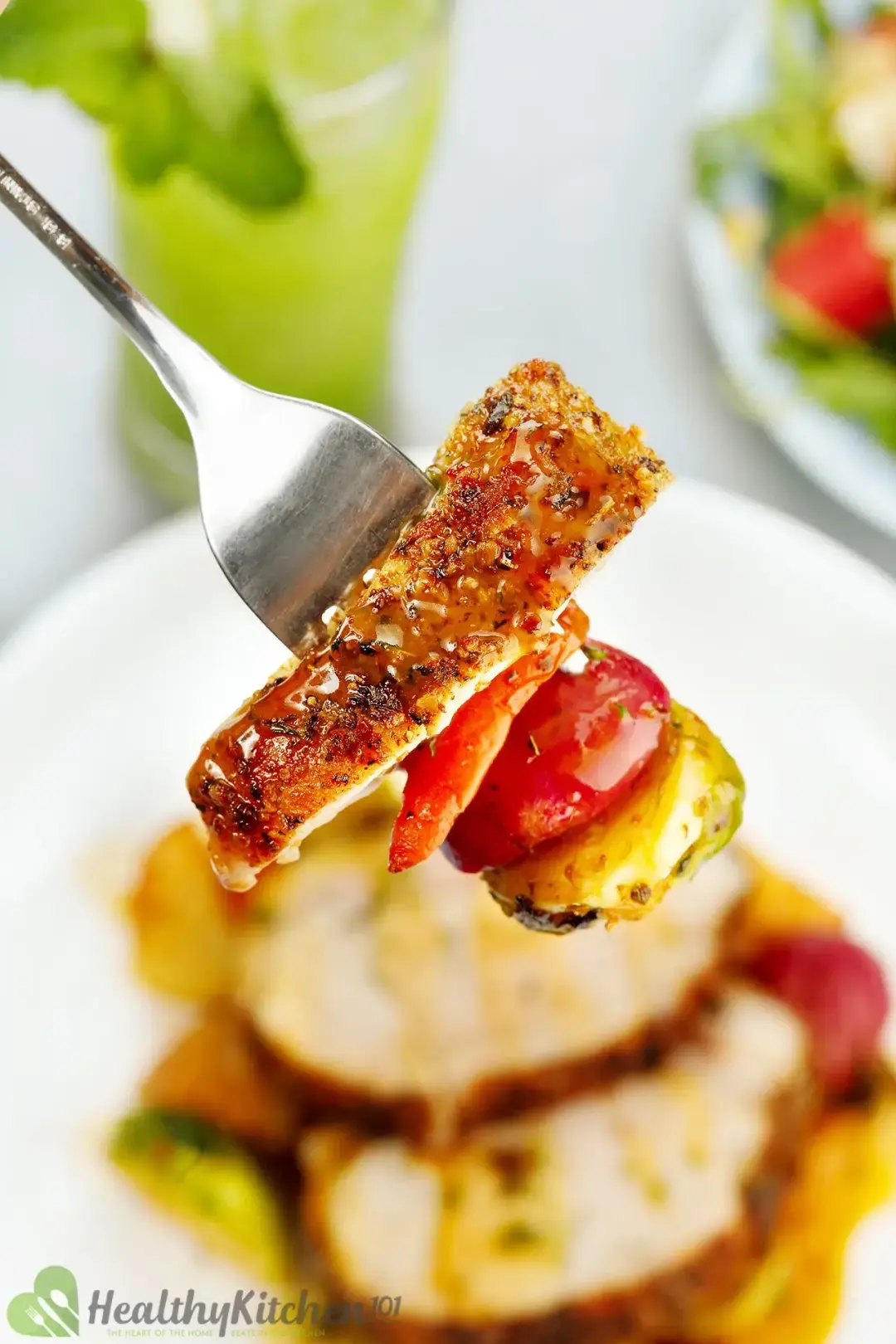 With most of the fat gone, your tenderloin will be also lower in calories.
In addition to these, our air fryer pork loin recipe is healthier than other recipes for the following reasons.
How Our Pork Loin Is Made Healthier
For savory dishes, we try to lower the saturated fat, sodium, and calorie content to the right levels. This is the USDA's recommendation, written in their guidelines.
To lower the sodium content, we used just enough salt in the seasoning, which other recipes tend to overuse. We also made sure to use just enough egg yolk so the saturated fat level is moderate.
For the calories, we're pairing our pork loin with a salad and a juice. The meal in total has around 750 calories, which is exactly what we think a full meal should have.
You can take a look at our calories and nutrients goals for different meal courses here.
How to Cook Pork Loin in an Air Fryer
An air fryer makes everything convenient. You simply need to add food to the appliance, set the temperature and time, and wait for a meal.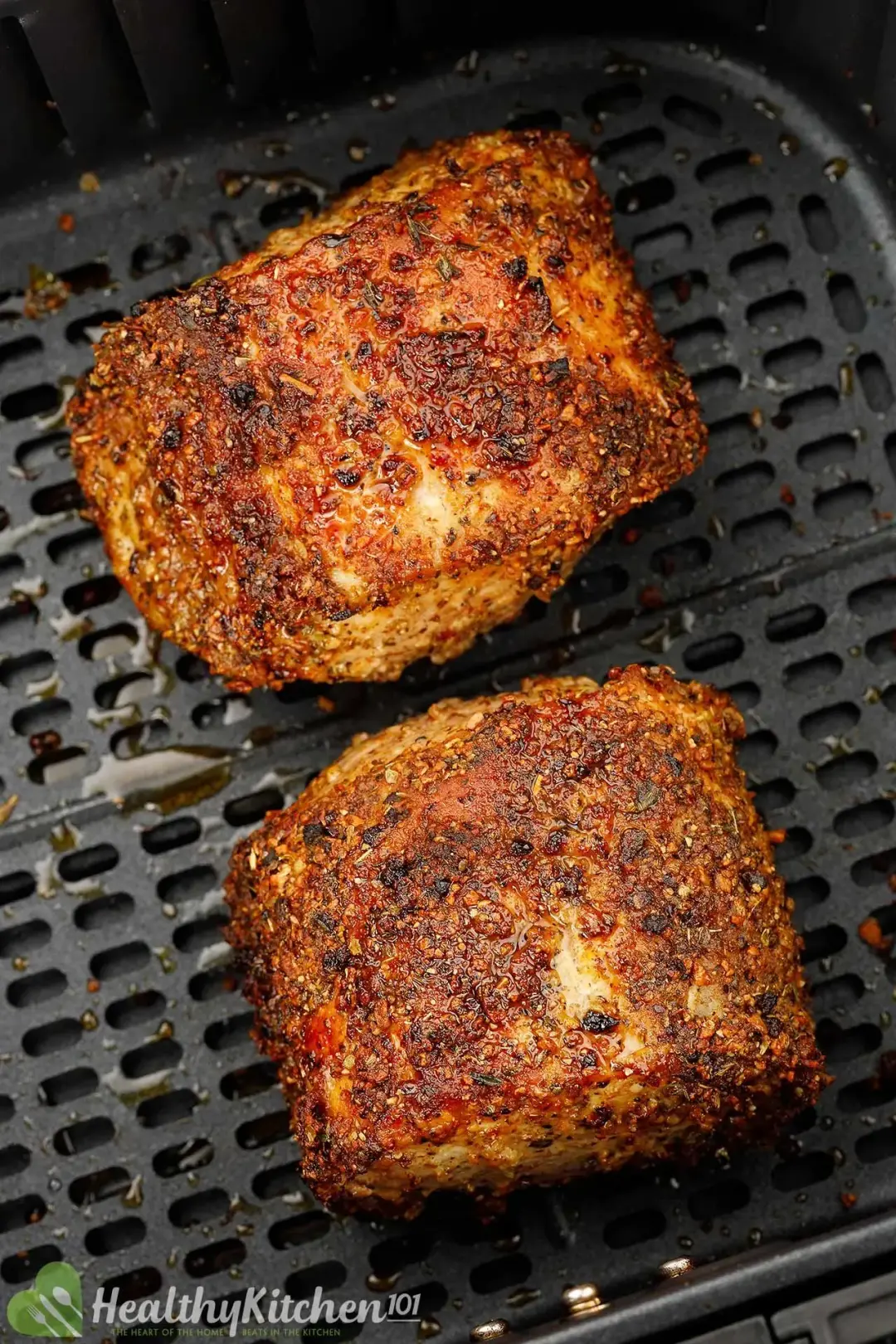 Just like with using an oven, you should allow the meat to rest for 5-10 minutes before cutting. This minimizes evaporation and allows the juice to be redistributed throughout the meat for a tender, succulent eat.
Our Air Fryer Pork Loin Recipe, the Short Version
Preheat the air fryer
Marinate the meat
Cook the potatoes
Season the vegetables
Cook the pork loin along with vegetables
Prepare the sauce
Serve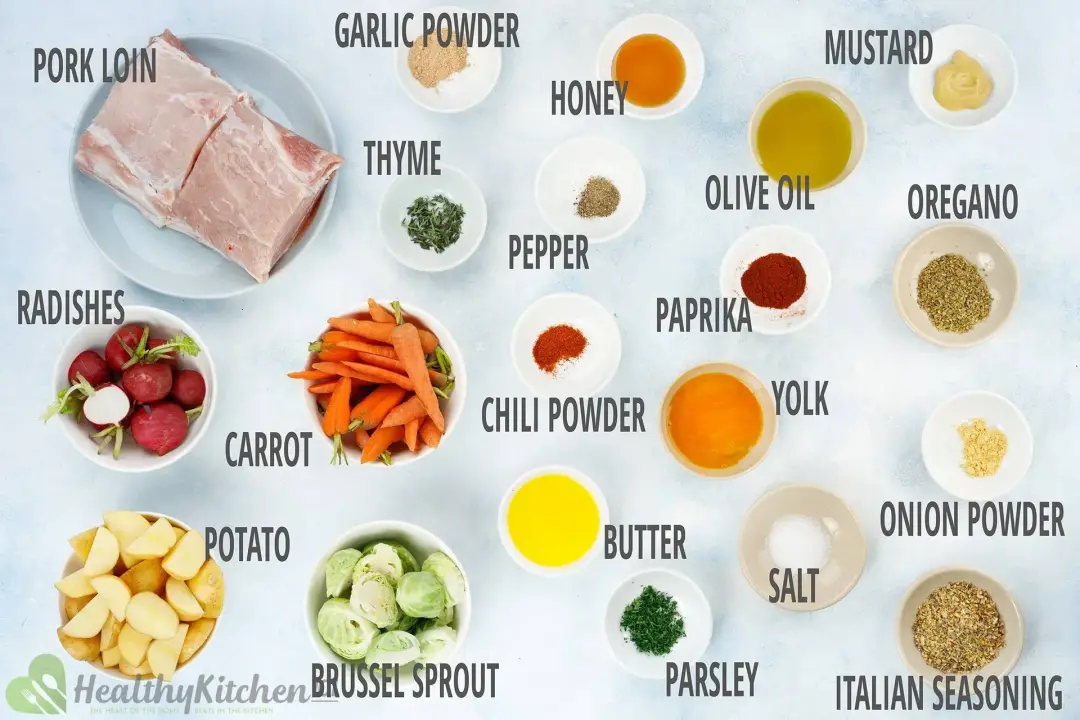 For the full air fryer pork loin recipe with measurements and timing, refer to our recipe card down below.
How to Cook Frozen Pork Loin in an Air Fryer
An air fryer can cook frozen foods that come in small bites, but not large and thick ones like pork loins. You need to thaw the pork loin before placing it in your air fryer, or it won't cook all the way through.
To thaw, you can microwave the meat for 1 minute and let it sit to thaw for about an hour. If you don't microwave it, it takes about 4-5 hours to thaw naturally.
For convenience, always remove your frozen meat from the freezer and place it in your fridge the night before. By the time you're awake, the meat is ready to be used.
What to Serve With Air Fryer Pork Loins
Peppery arugula and juicy watermelon cubes are exactly what our pork loin needs. They add plenty of freshness to the meal.
To round it all up, we went for a glass of low calorie cucumber juice. It's slightly sweet and refreshing.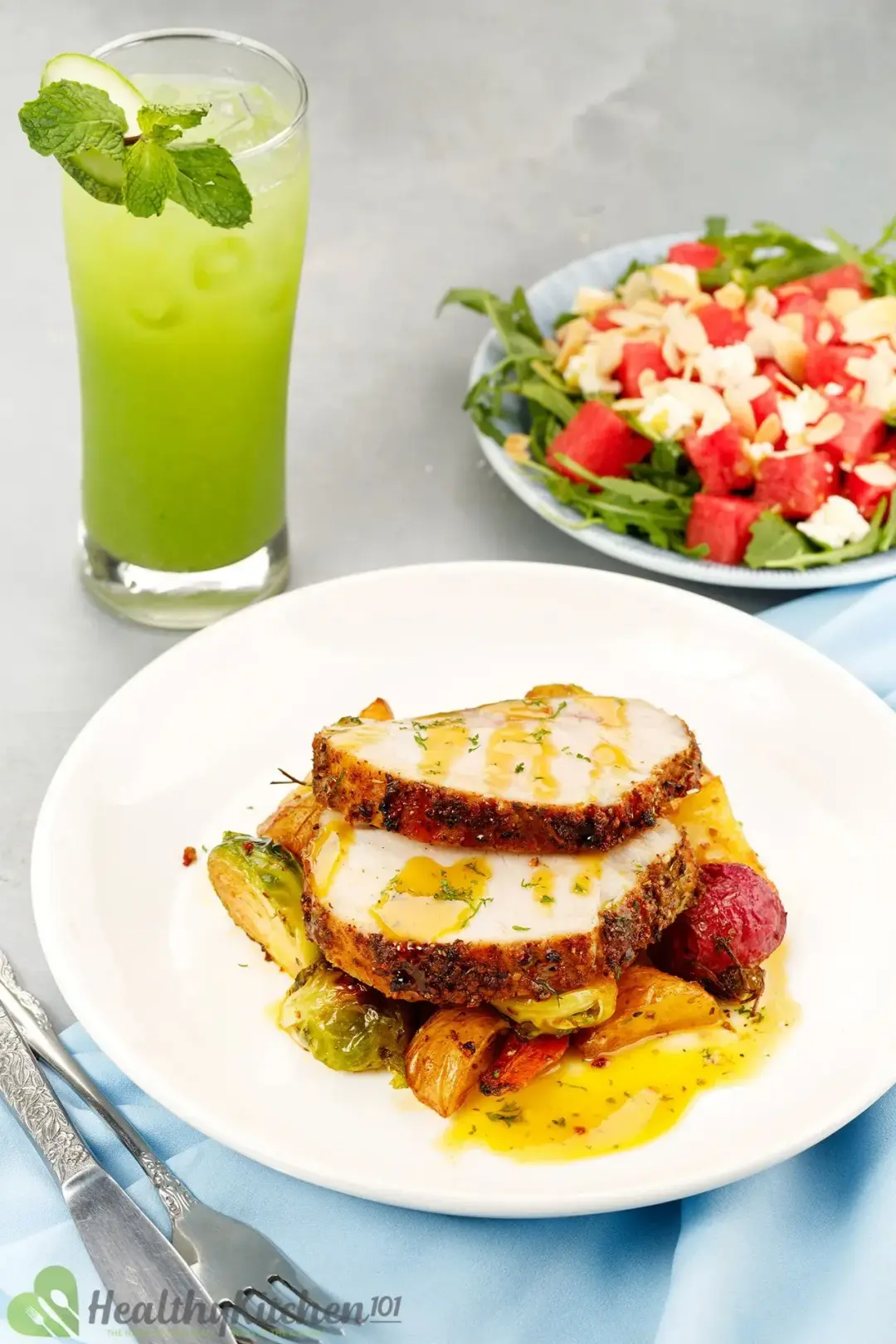 For more air fryer recipe ideas, have a look at our best air fryer dinner roundup.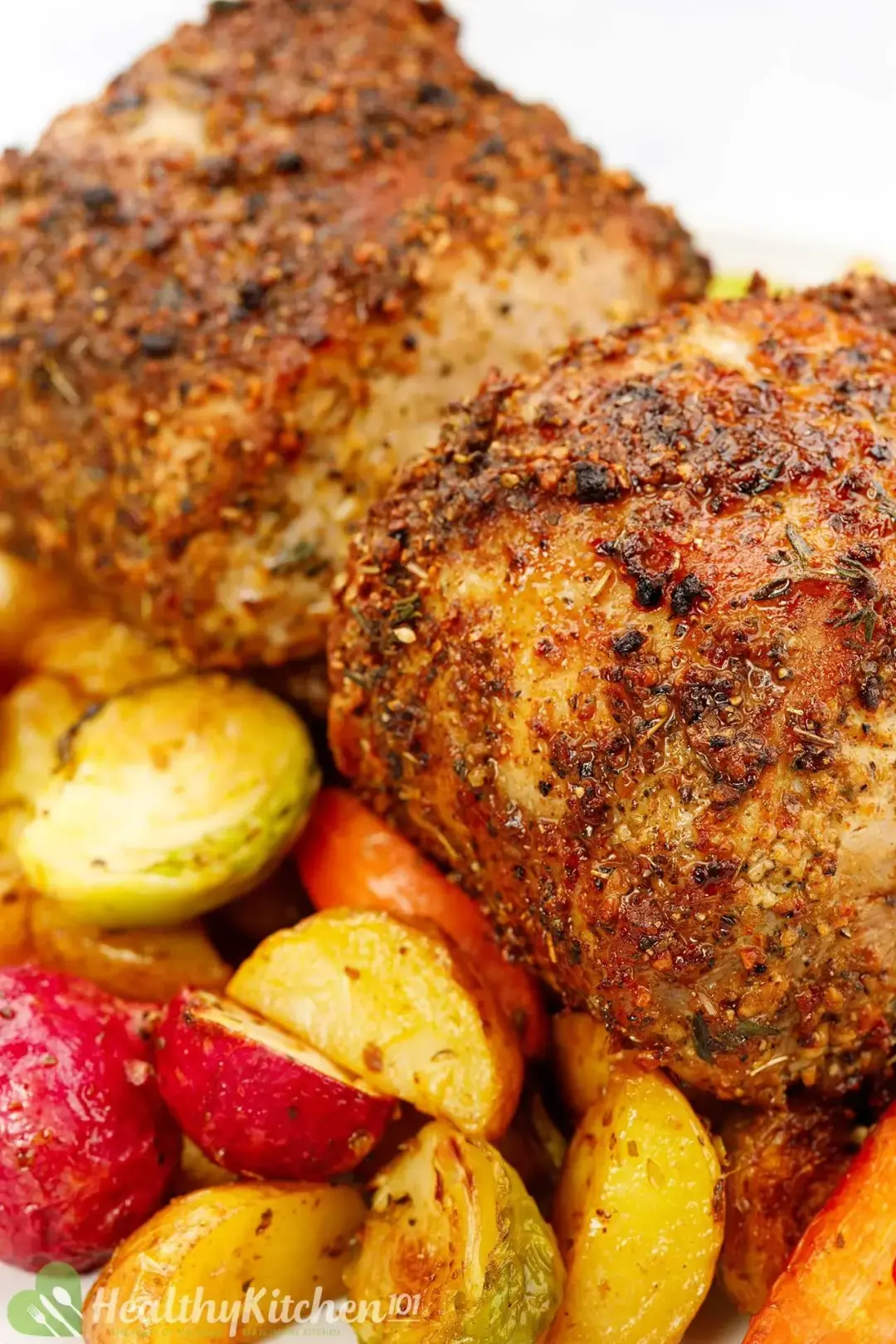 Air Fryer Pork Loin Recipe
Our air fryer pork loin recipe will help you cook delicious pork loins along with vegetables in your air fryer, and a delicious sauce to serve with it.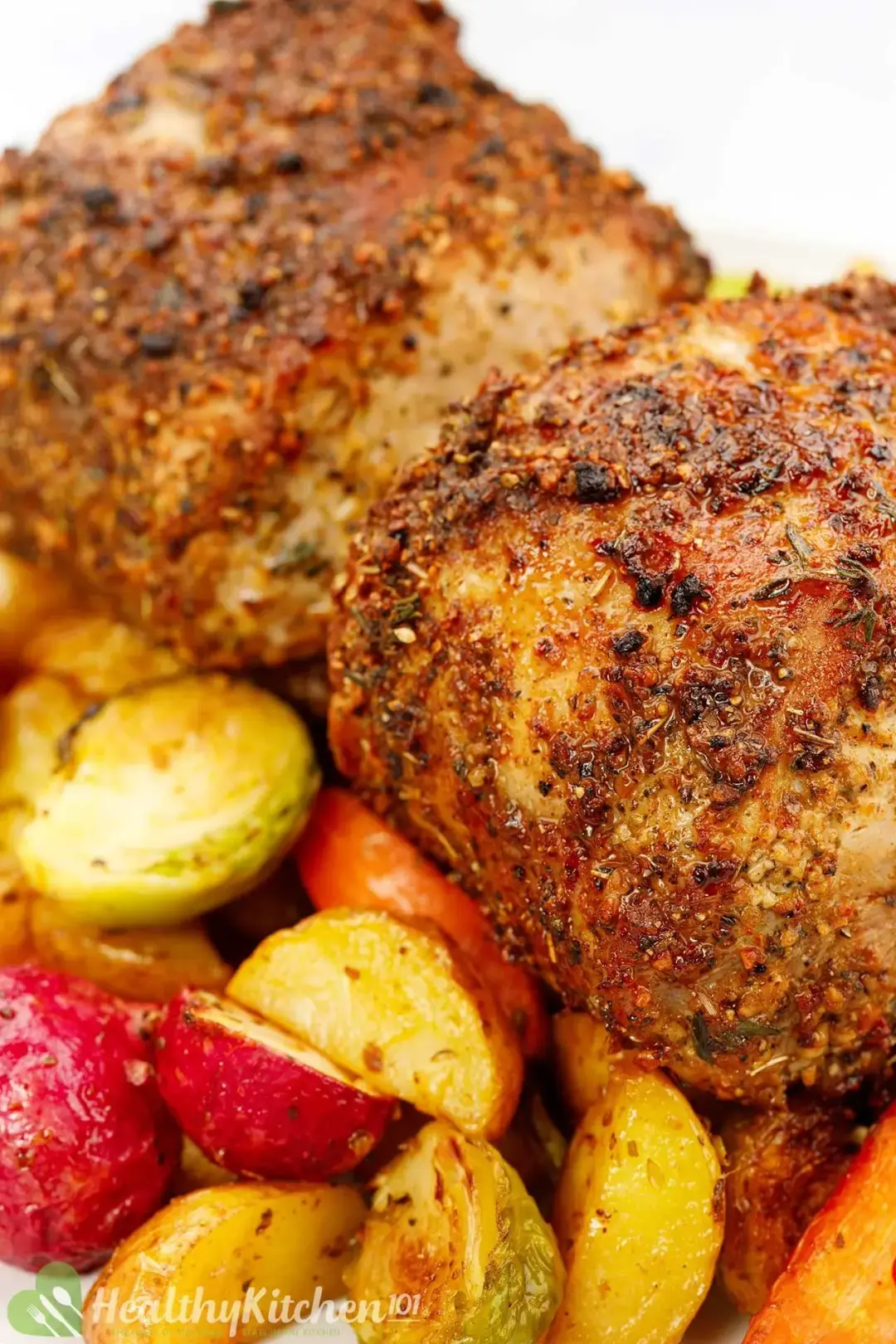 cook TIME

30 mins

prep TIME

5 mins

total TIME

35 mins
COURSE

Main Course

CUISINE

Global

SERVINGS

servings

CALORIES

479 kcal
INGREDIENTS
24 oz

top pork loin

2 tbsp

Italian seasoning

0.3 tsp

chili powder

0.3 tsp

pepper

0.5 tsp

salt

0.5 tsp

garlic powder

0.5 tsp

onion powder

1 tsp

thyme

1 tsp

paprika divided

2 tsp

dried oregano divided

3 tbsp

olive oil divided into 1 and 2 tbsp

10 oz

baby potato halved

4 oz

baby carrots halved

4 oz

brussel sprout halved

4 oz

radish halved

2 tbsp

unsalted butter melted

1

large egg yolk

2 tsp

traditional Dijon mustard

2 tsp

honey

1 tsp

parsley
INSTRUCTIONS
1
Preheat the air fryer to 350°F
2
Place 24 oz pork loin into a bowl. Add 2 tbsp Italian seasoning, 1/4 tsp chili powder, 1/4 tsp pepper, 1/2 tsp salt, 1/2 tsp garlic powder, 1/2 tsp onion powder, 1 tsp thyme, 1/2 tsp paprika, 1 tsp oregano, and 1 tbsp olive oil. Rub the seasonings into the meat well and marinate for 5 minutes.
3
Add 10 oz halved baby potatoes into a bowl, cover with plastic wrap, and microwave for 5 minutes. If you don't have a microwave, place halved potatoes into a pot of boiling water and cook for 5 minutes.
4
Add the cooked potatoes (strain them first if you boiled them), 4 oz baby carrots, 4 oz brussel sprouts, and 4 oz radish to a large bowl. Toss them with 1/2 tsp paprika, 1 tsp oregano, and 2 tbsp melted butter.
5
Open the air fryer and spread out the vegetables. Place the marinated pork on top, and cook everything for 20 minutes. Take the vegetables out and cook the pork loin for another 10 minutes.
6
While it's cooking, with a whisk, beat 1 large egg yolk with 2 tsp mustard, 2 tsp honey, and 2 tbsp olive oil in a bowl for 1 minute or until it reaches a thick consistency. Add parsley and mix.
7
Serve: cut the pork into bite-sized slices, and serve with vegetables and sauce.
NUTRITION
Nutrition Facts
Air Fryer Pork Loin Recipe
Amount Per Serving (1 serving)
Calories 479
Calories from FDA
% Daily Value*
* Percent Daily Values are based on a 2000 calorie diet.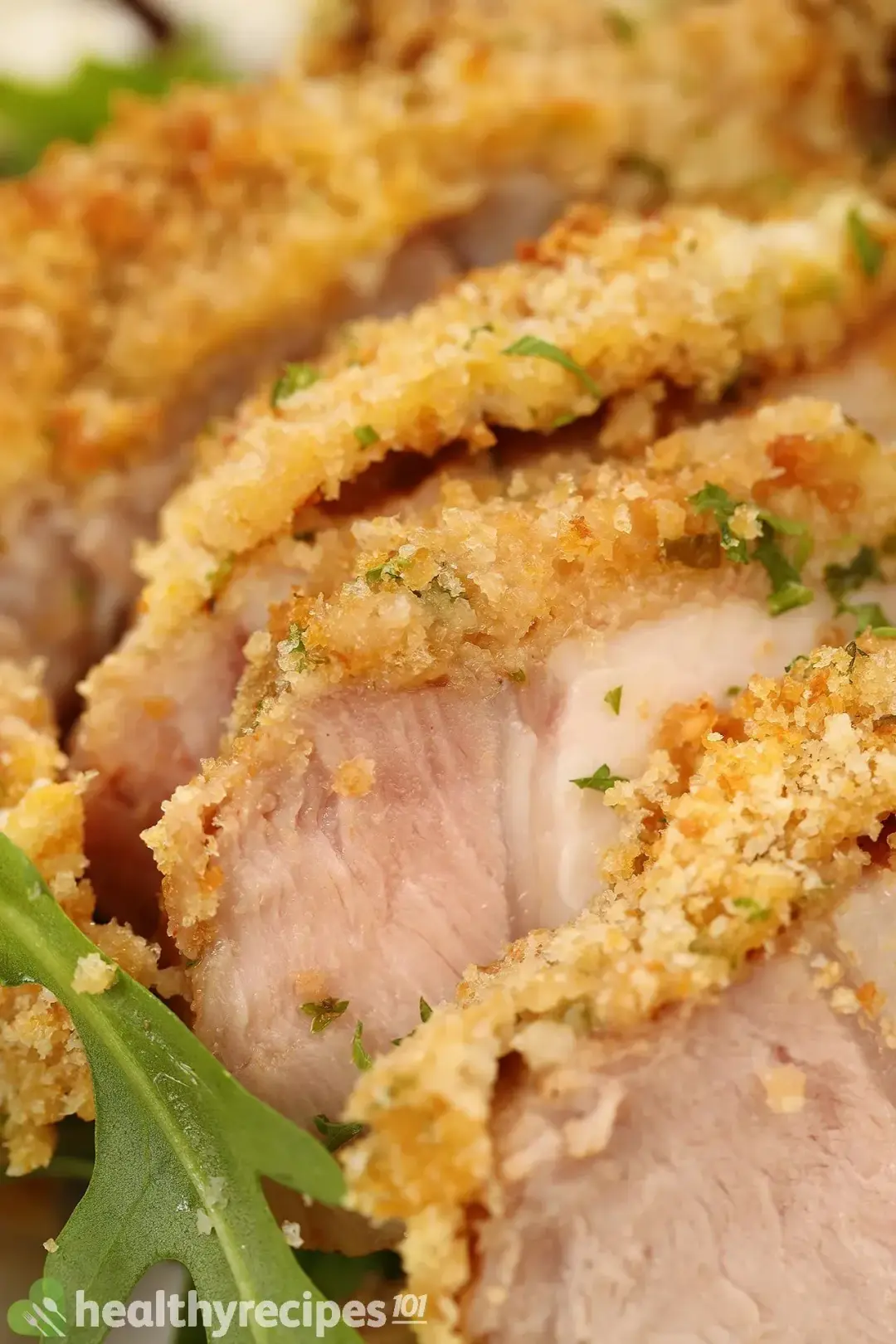 Previous Recipe
Air Fryer Pork Chops
Air Fryer Pork Chops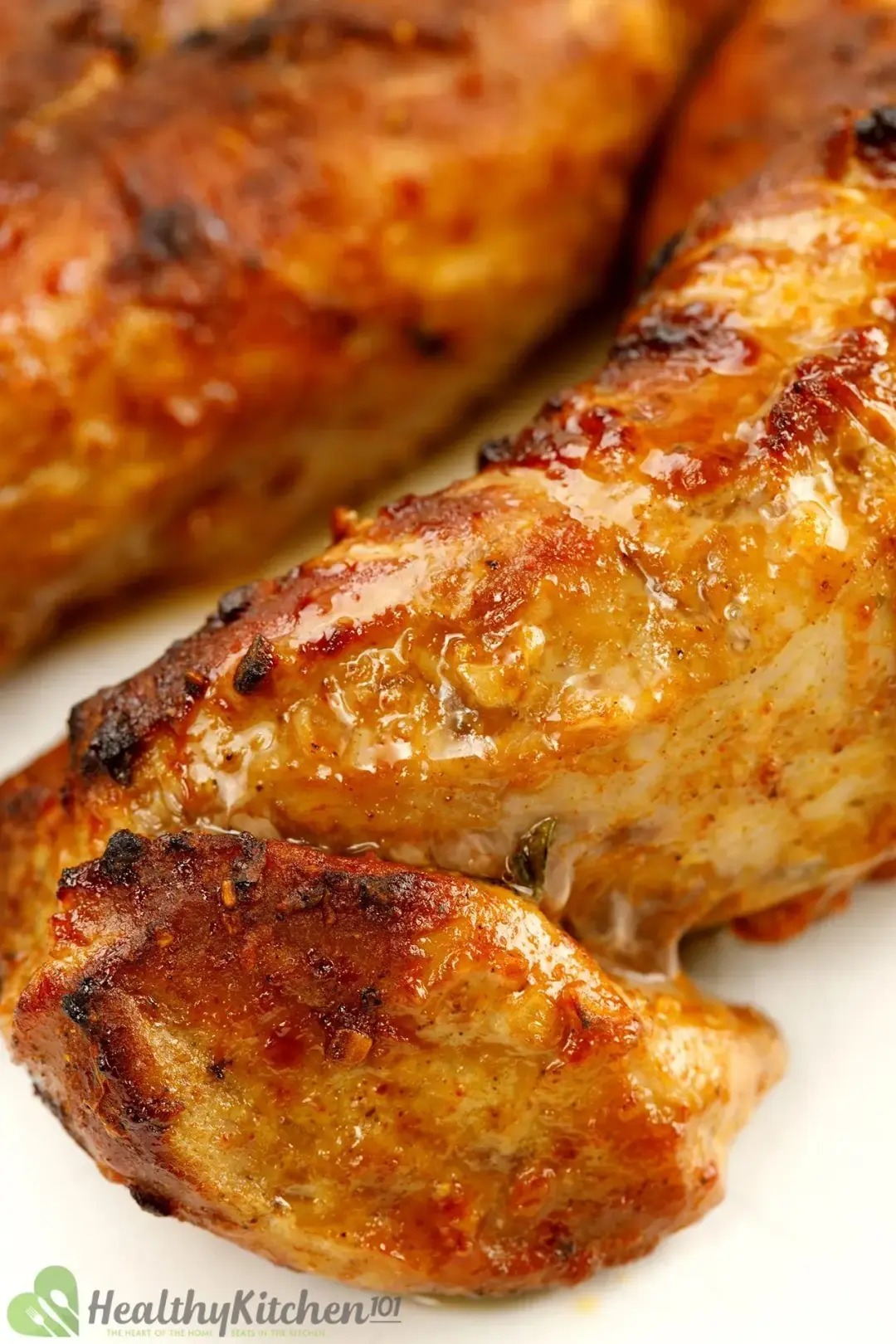 Next Recipe
Air Fryer Pork Tenderloin
Air Fryer Pork Tenderloin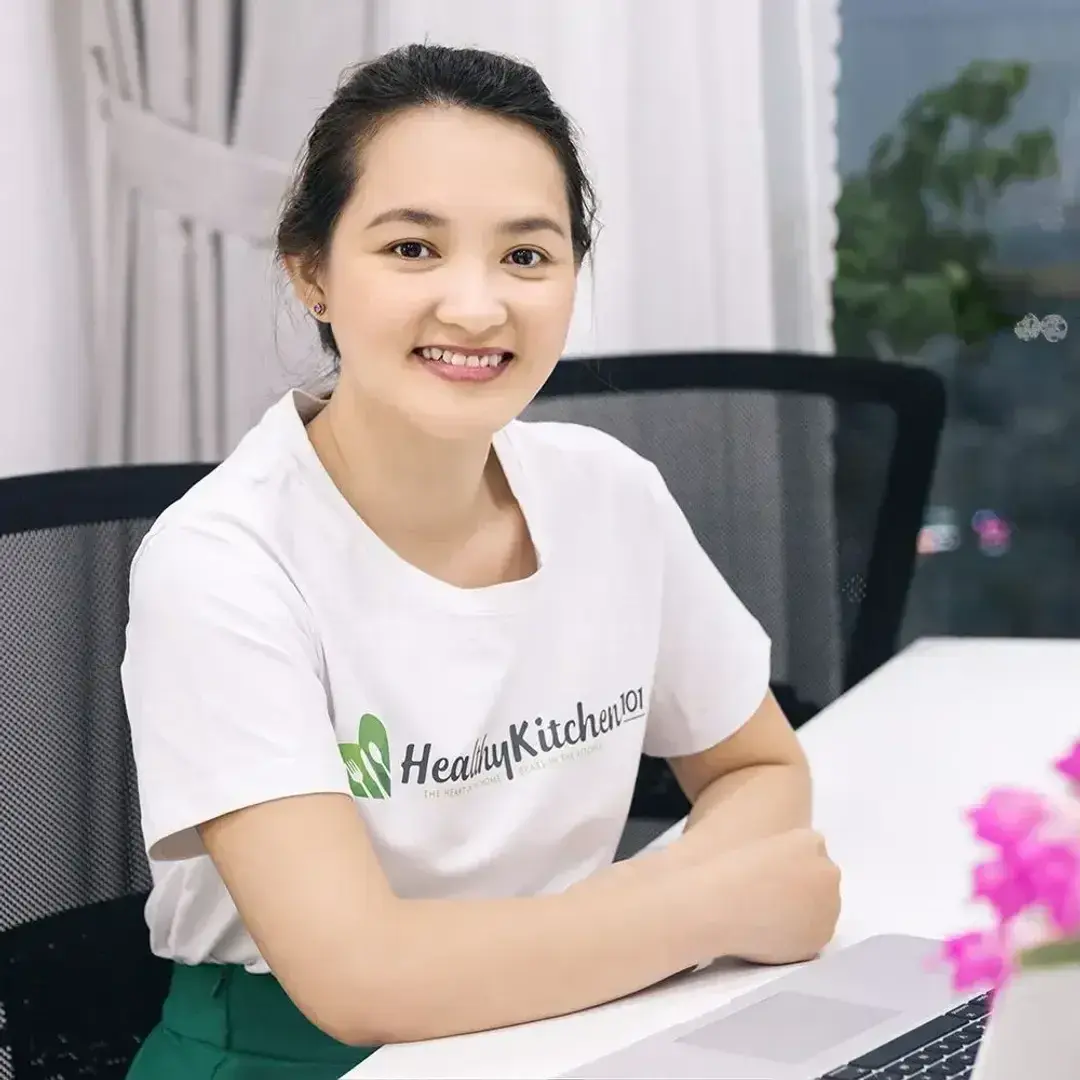 Luna Regina
Luna is the founder and chief recipe developer of Healthy Recipes 101. Apart from cooking, she also loves reading, programming, exploring the outdoors, and collecting useless facts about everything.