Perfecting pork chops can be tricky, but our air fryer pork chops recipe can help. We'll show you how to make juicy, flavorful pork chops sealed inside a golden, crumbly crust.
Even better, everything is done inside your air fryer, operated with just a push of a button. While it's cooking, you can quickly whip up a delicious side, like the creamy mashed potatoes we've included on this page.
Are Air-Fried Pork Chops Healthy?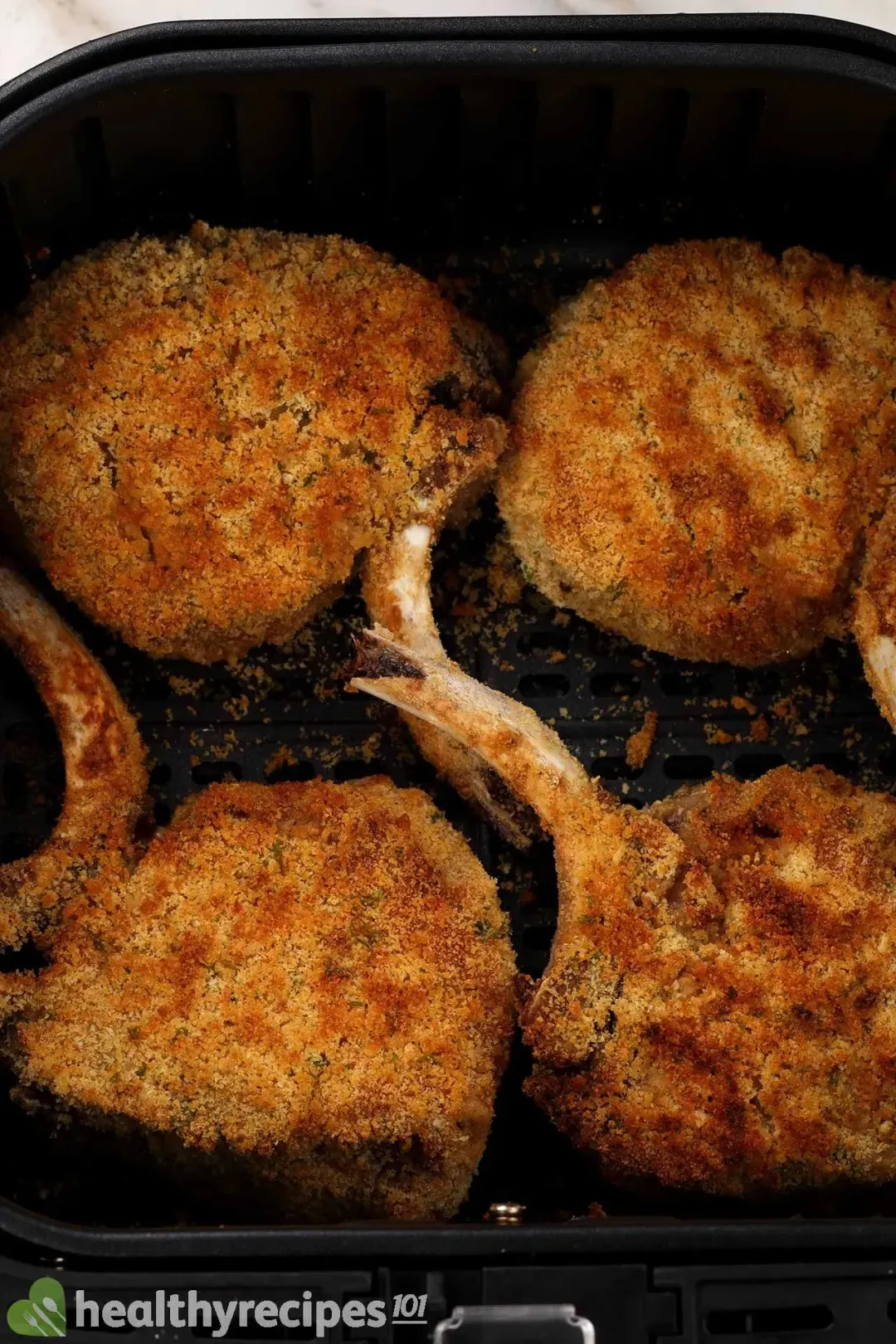 Yes, they are.
Air fryers circulate hot air to cook whatever's in the chamber. This eliminates not only the need for cooking oil but also allows unwanted fat to drip away from the fatty pork cuts.
This less fatty cooking method helps us to control our calorie intake more easily.
And once we take the USDA's latest dietary guidelines into consideration, things look even better. Saturated fats are the main ones that the air fryer method eliminates from our diet — exactly what the guidelines recommend.
How Our Air-Fried Pork Chops Are Better
Besides the saturated fat, the guidelines also ask us to:
 Limit our sodium intake
 Limit our added sugar intake (this recipe doesn't call for added sugar)
 Consume the right amount of calories
We have taken some important steps to keep the above items in check:
We were careful to go easy on the salt and parmesan in order to lower the sodium content.
We used a little butter for fragrance and to make the coating crispy, but didn't add too much saturated fat to the chops.
We made mashed potatoes and a salad on the side. Our daily calories should not come from proteins alone, but vegetables and fruits as well.
As a result, this recipe makes you a wholesome meal with the right amounts of calories, sodium, and saturated fats. You can check our healthy eating guidelines for more details.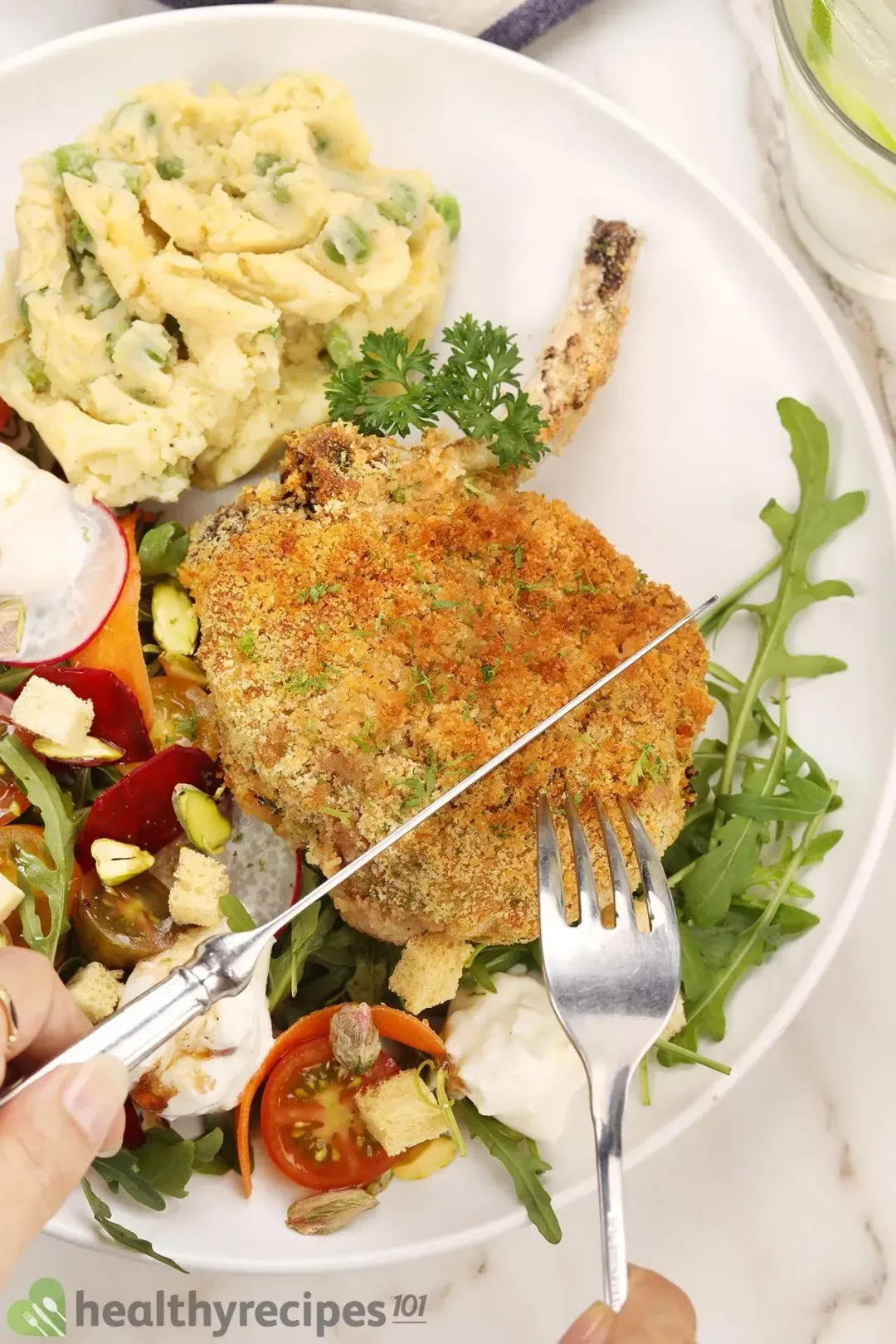 Different Types of Pork Chops?
Pork chops are cut from the loin area of the pig. Their toughness can vary depending on where they're located.
Let's go through each of the cuts, starting at the lower part of the loin and moving up to the head.
The sirloin pork chop is located near the rear legs and contains much connective tissue. This is a tough cut similar to the blade chop we're about to introduce you.
Moving up, we have the pork loin porterhouse (T-bone steaks). It has both the loin meat and the tenderloin meat on a single cut, separated by a T-shaped bone.
The pork center cut chop (top loin chop) is structured like the T-bone, but the tenderloin section on it is much smaller. The two cuts are both the most tender cuts of the animal.
The pork rib chop, cut from the center of the loin, has a Y-shaped bone attached to its side, which sticks out like a pinky. The meat on this cut is all loin meat — still tender but a bit less so than the previous two.
The pork shoulder chop (blade chop) lies near the shoulders and, like the sirloin, is tougher than other cuts. These cuts will be juicy once tenderized with the right marinade solution.
Check out our marinade ideas down below if you have one. There's also boneless chops (or America's cut), which are just boneless top loins or ribs. Experts usually tell you to avoid boneless cuts because they puff up and sear unevenly, but the air fryer makes for an exception.
If you're also looking for ideas to cook other pork cuts, here are some more good recipes:
Air Fryer Pork Tenderloin: this recipe shows you how to treat tenderloin the right way. You'll end up with tender, juicy meat served with roasted veggies on the side and a sweet, tangy sauce drizzled all over.
Air Fryer Pork Loin: we rubbed two large blocks of pork loin with plenty of seasonings and air-fried them with bite-sized vegetables. The meat was juicy and the exterior was very flavorful.
How to Season Pork Chops 
There are many ways to give your meat flavors.
A simple acidic marinade is the solution to a tough cut. We usually go for a mixture of homemade tomato sauce plus some herbs and spices.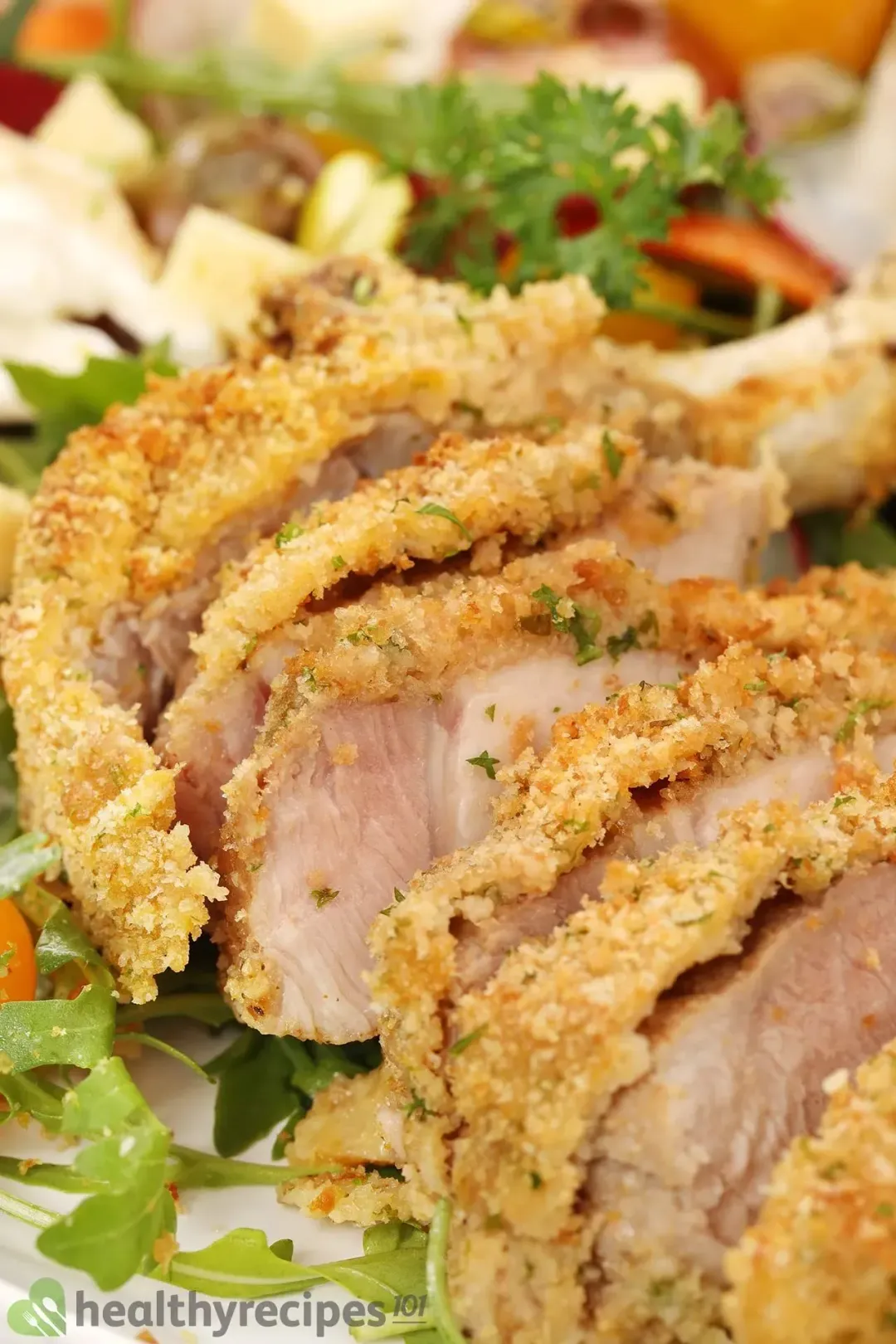 In some cuisines, it's popular to tenderize meat with soy sauce. It breaks down tough proteins in the meat and provides excellent flavors.
If the cut is too tough, pineapple purée or juice can be the solution. It penetrates tough tissues and gives the meat a natural sweetness and zing.
For a flavorful and tenderizing marinade, we suggest a mixture of pineapple purée, soy sauce, scallions, ginger, brown sugar, pepper, and salt.
For this air fryer pork chops recipe, we're using a dry rub because our chops were super tender. The seasonings we used were garlic powder, onion powder, Italian seasoning, paprika, salt, and pepper.
How to Cook Pork Chops in an Air Fryer [Video]
With the ingredients gathered, here are your next steps:
To save cleaning time, you can line the frying basket with parchment or aluminum foil before adding the meat.
You also need to flip your chops when there's about 5 minutes left. Both sides need to be blasted with hot air and become crispy.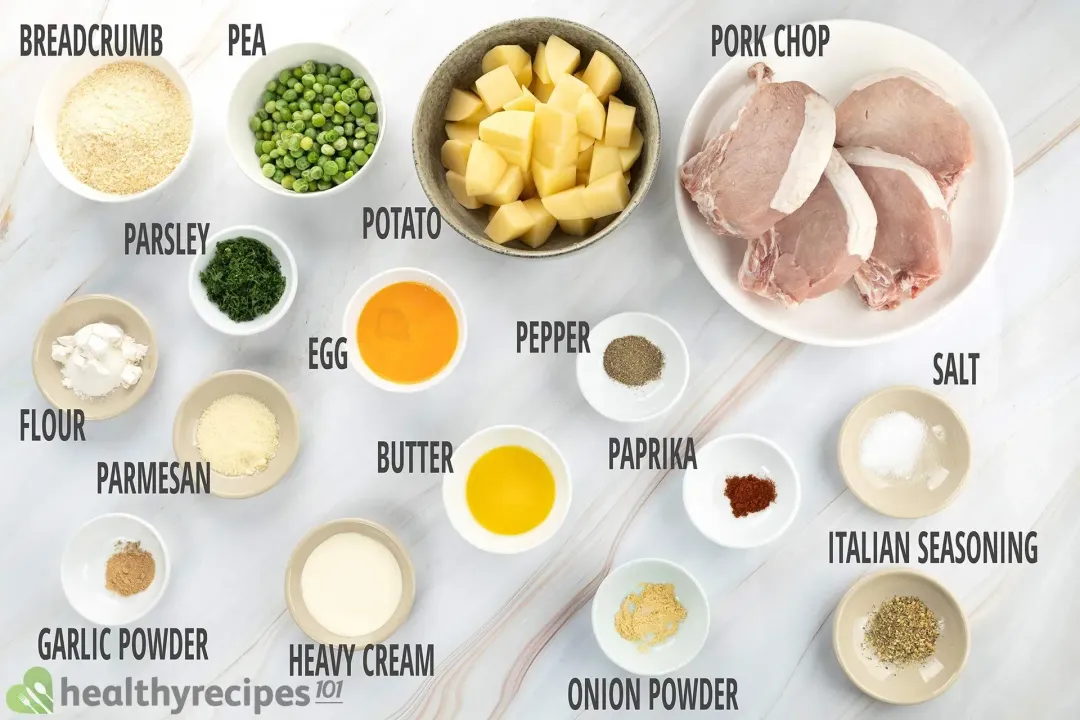 How Long to Cook Pork Chops in an Air Fryer
Our chops were completely thawed and about 3/4 inch in thickness, so they cooked for 20 minutes at 350°F.
If your chops are thicker than that, they'll need an additional one or two minutes in the air fryer. Most chops are around an inch thick, so you don't need to worry much.
If you love this recipe, Instant Pot pork chops is a more convenient version or check out this oven baked pork chops is a traditional version.
Tips to Cook Pork Chops
To be sure your meat is cooked inside, use a thermometer and look for an inner temperature of at least 145°F. This temperature is recommended by the USDA as sufficient to be safe to consume but still juicy when you bite in.
If you want to prep them ahead of time, you can season the pork chops before storing them in the freezer. They will always be ready to thaw and cook whenever you want.
Can I Cook Frozen Pork Chops?
Yes, you can. Frozen pork chops that are about an inch in thickness need to be cooked for an additional 2-3 minutes.
For more air fryer recipe ideas, have a look at our healthy air fryer dinner roundup.
What to Serve with Pork Chops
We love a variety of foods and textures in every meal, so we paired our pork chops with a salad and mashed potatoes: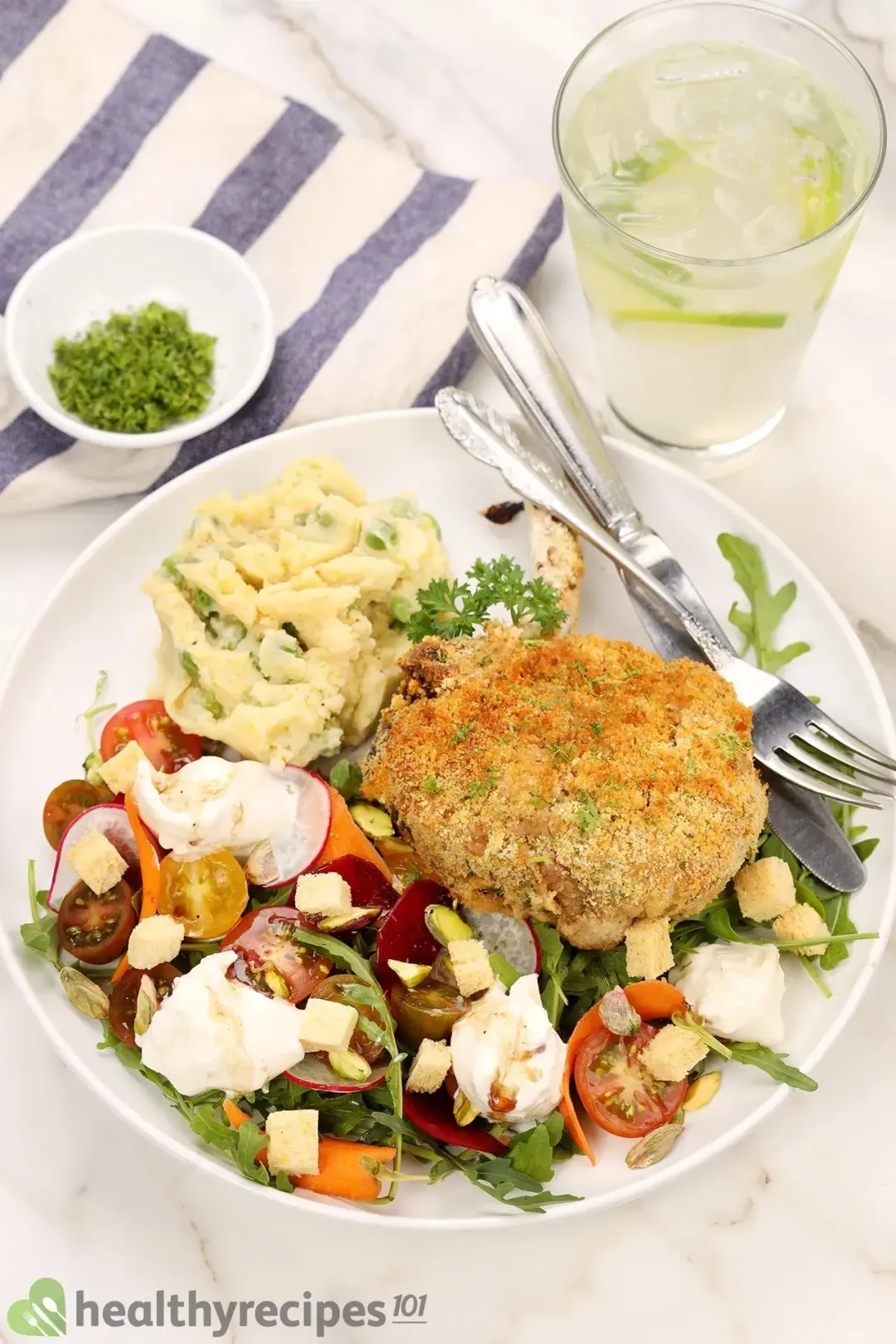 Our burrata salad has a huge ball of cheese on a bed of fresh arugula, tomatoes, and olives, all dressed in a simple vinaigrette. It brings a lot to the table, and is honestly our personal favorite.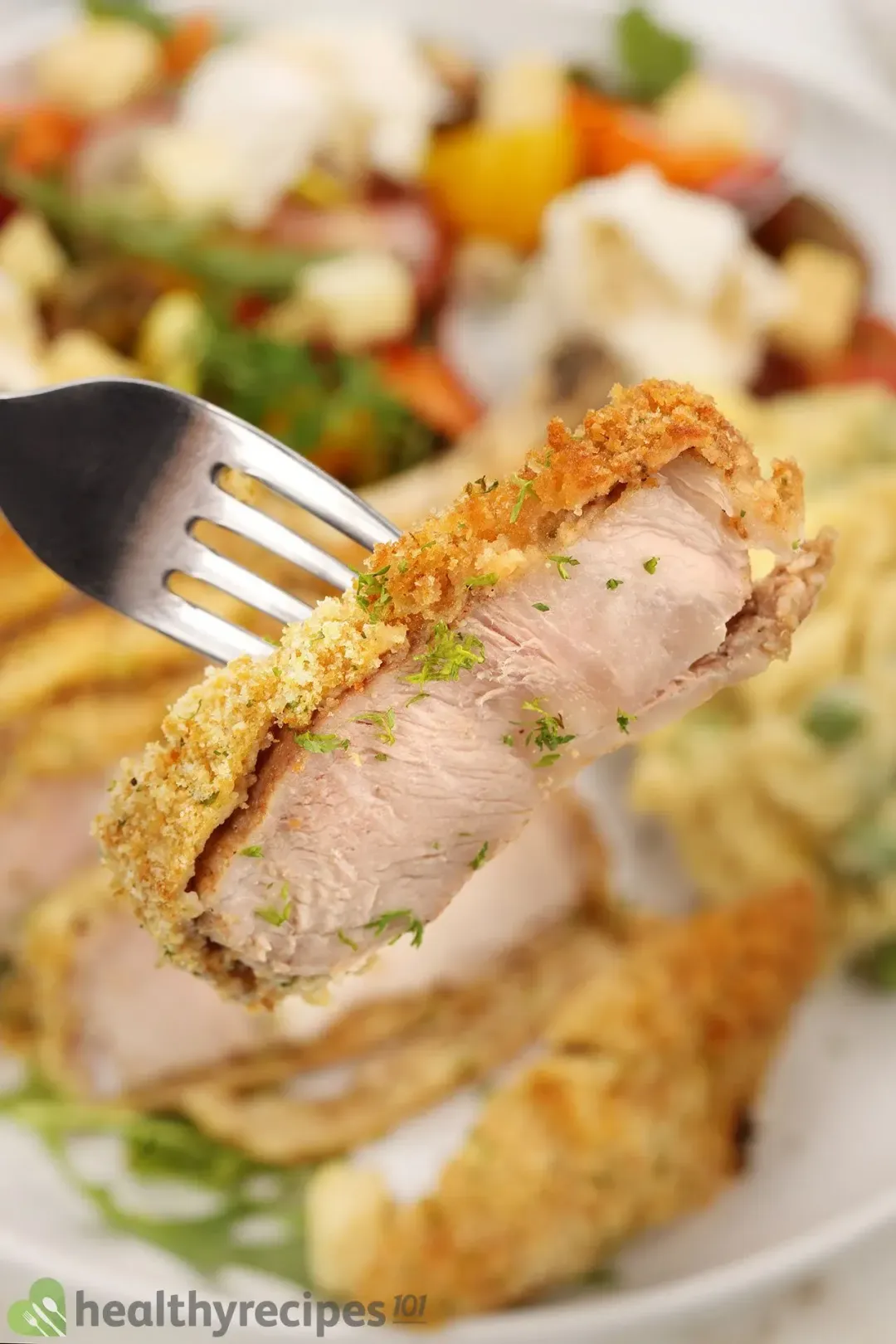 Air Fryer Pork Chops
This air fryer pork chops recipe is what you need for a wholesome meal built around juicy pork with a golden crust.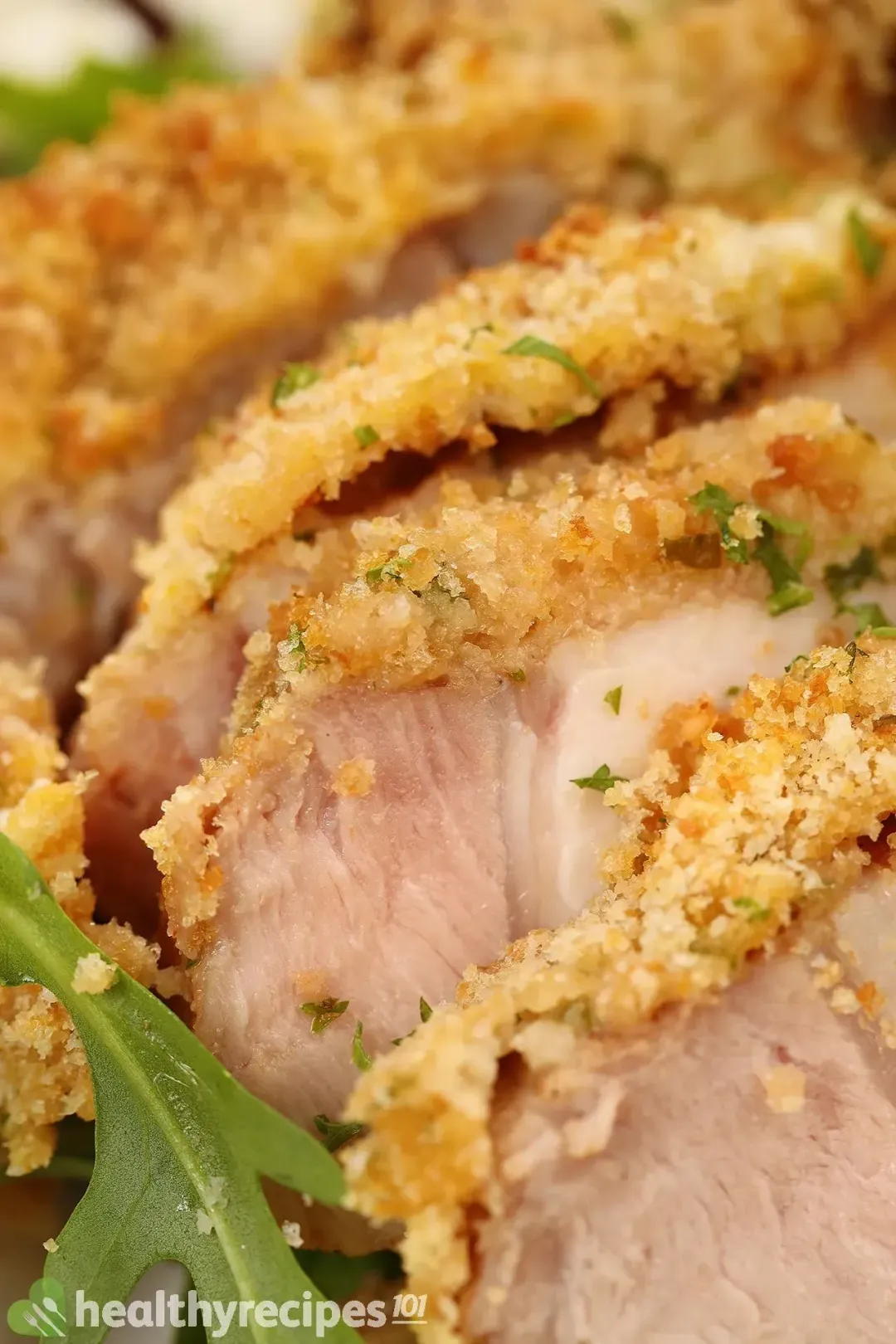 cook TIME

20 mins

prep TIME

5 mins

total TIME

25 mins
COURSE

Main Course

CUISINE

Global

SERVINGS

CALORIES

494 kcal
INGREDIENTS
1/2 tsp

Italian seasoning

1/2 tsp

ground black pepper

3/4 cup

plain panko breadcrumbs

0.25 oz

parmesan cheese

(grated)

2 tbsp

parsley

(finely chopped)

2 1/2 tbsp

unsalted butter

(melted, divided into 1 tbsp and 1 1/2 tbsp)

16 oz

potatoes

(peeled and cut into chunks)
INSTRUCTIONS
1
Preheat the air fryer to 350°F.
2
Season the pork chops with paprika, garlic powder, onion powder, Italian seasoning, black pepper, and 1/4 tsp salt.
3
Beat the egg in a bowl. In another bowl, mix panko with 1 tbsp butter, parmesan, and parsley.
4
Coat the seasoned pork chops in all-purpose flour, dip them into the egg, the breadcrumbs, the egg once more, and finally the breadcrumbs again.
5
Place the pork into the air fryer and cook for 20 minutes.
6
While they're cooking, place the potatoes into a bowl, cover with plastic wrap and microwave on medium for 7 minutes. You can also boil the potatoes for 7 minutes instead.
7
Add cream, butter to the microwaved potatoes. Mash them well and stir in the green peas. Set aside.
8
Serve the pork chops with mashed potatoes.
NUTRITION
Nutrition Facts
Air Fryer Pork Chops
Amount Per Serving (1 serving)
Calories 494
Calories from Fat 153
% Daily Value*
* Percent Daily Values are based on a 2000 calorie diet.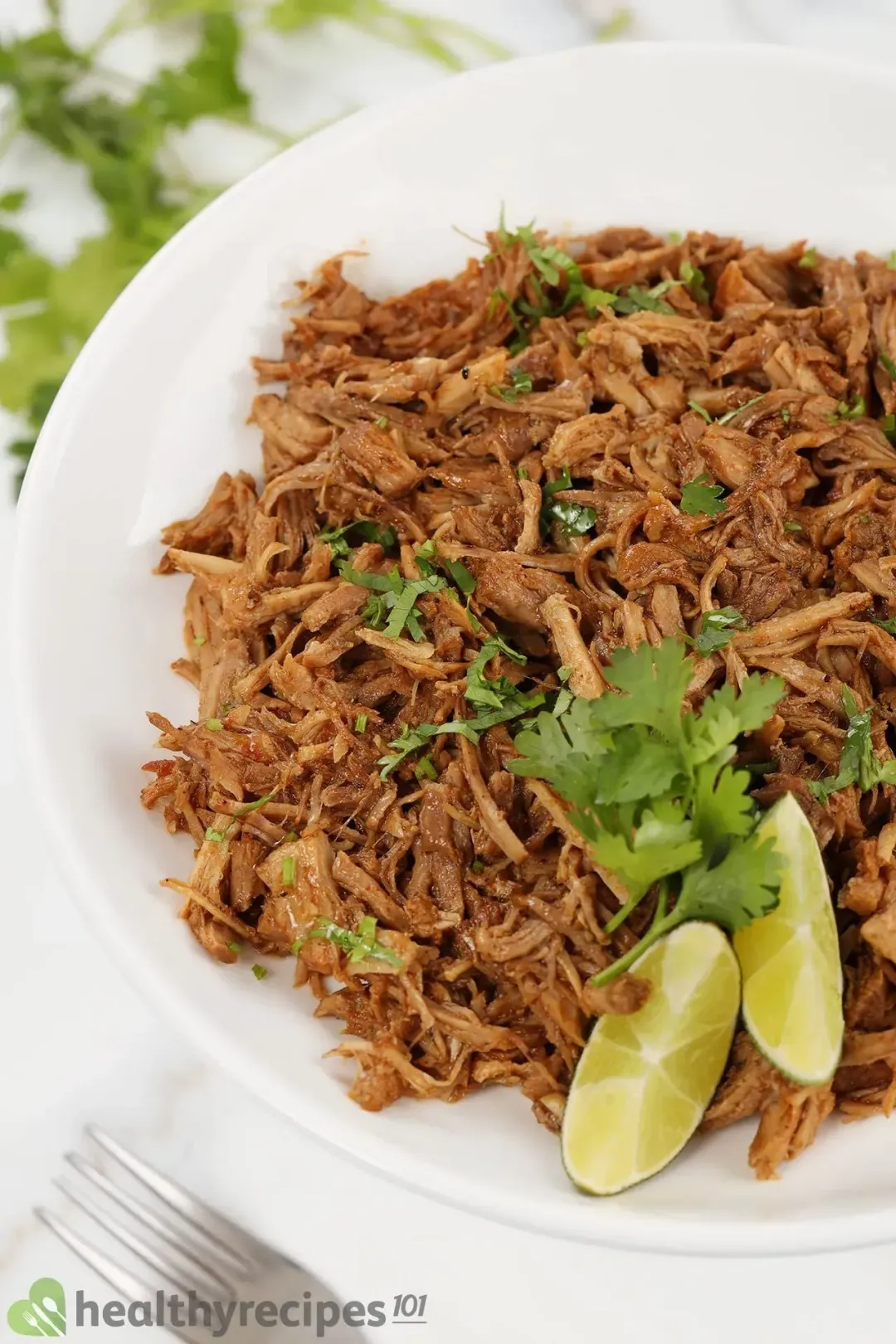 Previous Recipe
Instant Pot Pulled Pork
Instant Pot Pulled Pork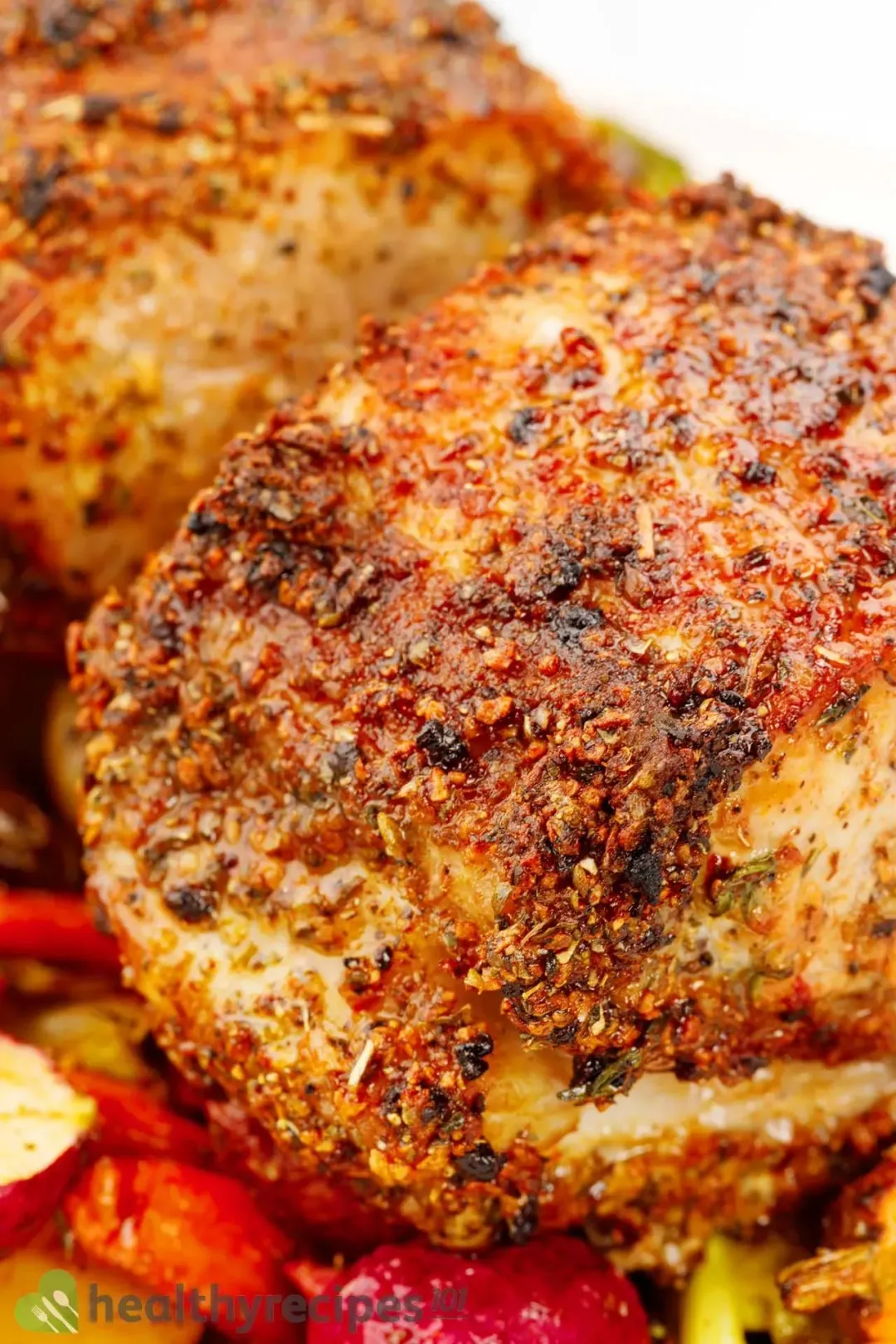 Next Recipe
Air Fryer Pork Loin
Air Fryer Pork Loin
Head Chef, Culinary Consultant
Tuyet Pham is an award-winning Saigonese chef who believes that joy is the secret ingredient to delicious food. At Healthy Recipes 101, Tuyet personally tests and simplifies every recipe, ensuring maximum flavor with minimal effort. With a background at prestigious French restaurants P'TI Saigon and Le Corto, Tuyet knows how to make every dish exceptional.
Writer, Author
Luna Regina is an accomplished writer and author who dedicates her career to empowering home cooks and making cooking effortless for everyone. She is the founder of HealthyKitchen101.com and HealthyRecipes101.com, where she works with her team to develop easy, nutritious recipes and help aspiring cooks choose the right kitchen appliances.
Nutrition Reviewer
Lizzie Streit is a Minneapolis-based dietitian and founder of It's a Veg World After All. She completed her MS in Human Nutrition from Drexel University, and is an expert in culinary nutrition, recipe development, and nutrition communications. Lizzie's philosophy is centered around making nutrition recommendations, and especially the advice to eat more vegetables, approachable and realistic. She is excited to be working with the team at Healthy Recipes 101 to ensure that their recipes are both nutritious and delicious.
A Really healthy way to cook a fatty meat like chops!

Mihaela | https://theworldisanoyster.com/

This is something I haven't tried yet (new owner of n air fryer!), but added to the list!

Yum! So delicious! Thank you for sharing your lovely recipe!

A great air fryer pork chop recipe 🙂

So glad you enjoyed it, Luke!

Delicious pork chops, this is such a helpful post!

Can't wait to try this recipe in my new air fryer – the pork chops looks so moist!

this recipe turns out 100% every time!

Great air fryer recipe! Will make again for sure!

The pork chops came out perfectly!

I love how easy this is with my air fryer! Thanks for the recipe!