Our air fryer pork tenderloin recipe will help you make juicy tenderloins and roasted veggies with an air fryer.
Want to cook tenderloins but don't want to wait an hour or clean oily stove tops? With an air fryer, you can have juicy pork AND roasted veggies in just 25 minutes.
If you want the ingredients list and detailed how-to, Jump to Recipe to get there in an instant. Or, you can read on to learn some interesting facts, like how pork tenderloin and pork loin are different.
Difference Between Pork Loin and Pork Tenderloin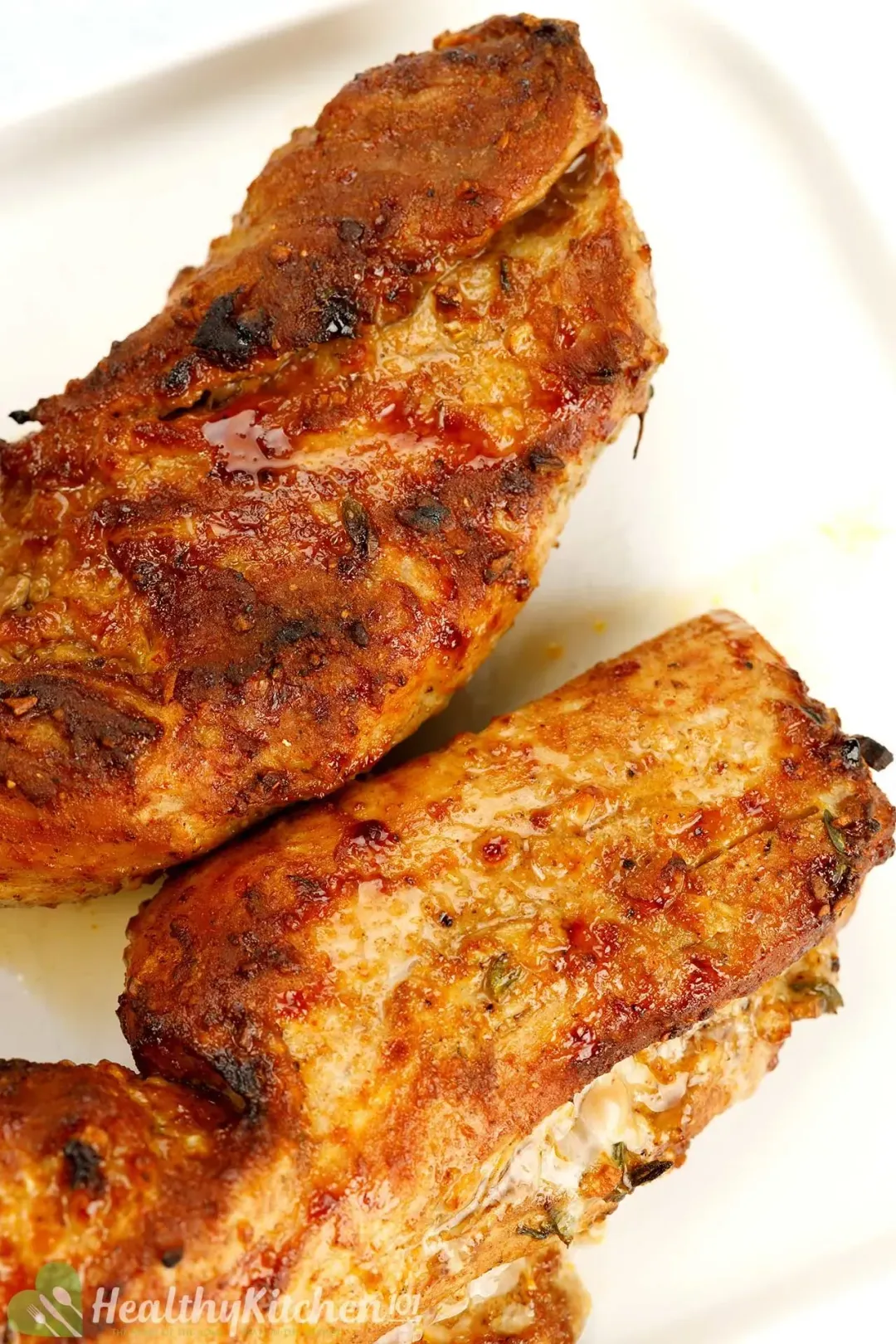 There are plenty of pork cuts that serve very unique purposes. 
To begin with, the animal is divided into these major parts:
The head
The shoulders, including the front legs
The back, or the loin
The belly, sometimes called the sides
The hind legs, which are often turned into ham
The tenderloin lies right below the spine and it's the most tender cut, hence the name. Tenderloin is also the most precious cut because there is only one of it for each pig.
After the tenderloin is cut out, the butcher begins to further dissect the loin area.
First, a vertical slice is done near the fourth or fifth vertebrae. This part has less bones than the rest of the loin and will be turned into boneless pork loins.
The rest of the loin is further divided into bone-in pork chops or boneless pork chops. The butcher often uses a hand saw because the bones are too hard to cut through using only a knife.
Our juicy, flavorful pork chops recipe is an example of using loin to make bone-in pork chops. In this recipe, we're using the tenderloin.
Is Air-Fried Pork Tenderloin Healthy?
Air-frying is a healthy cooking method because it removes a large amount of fat from foods. Pork contains plenty of saturated fat, which experts recommend us to have less of.
If you're cooking a fatty meat cut, you'll see it at the bottom of the air fryer. With most of the fat gone, your tenderloin will be leaner and also lower in calories.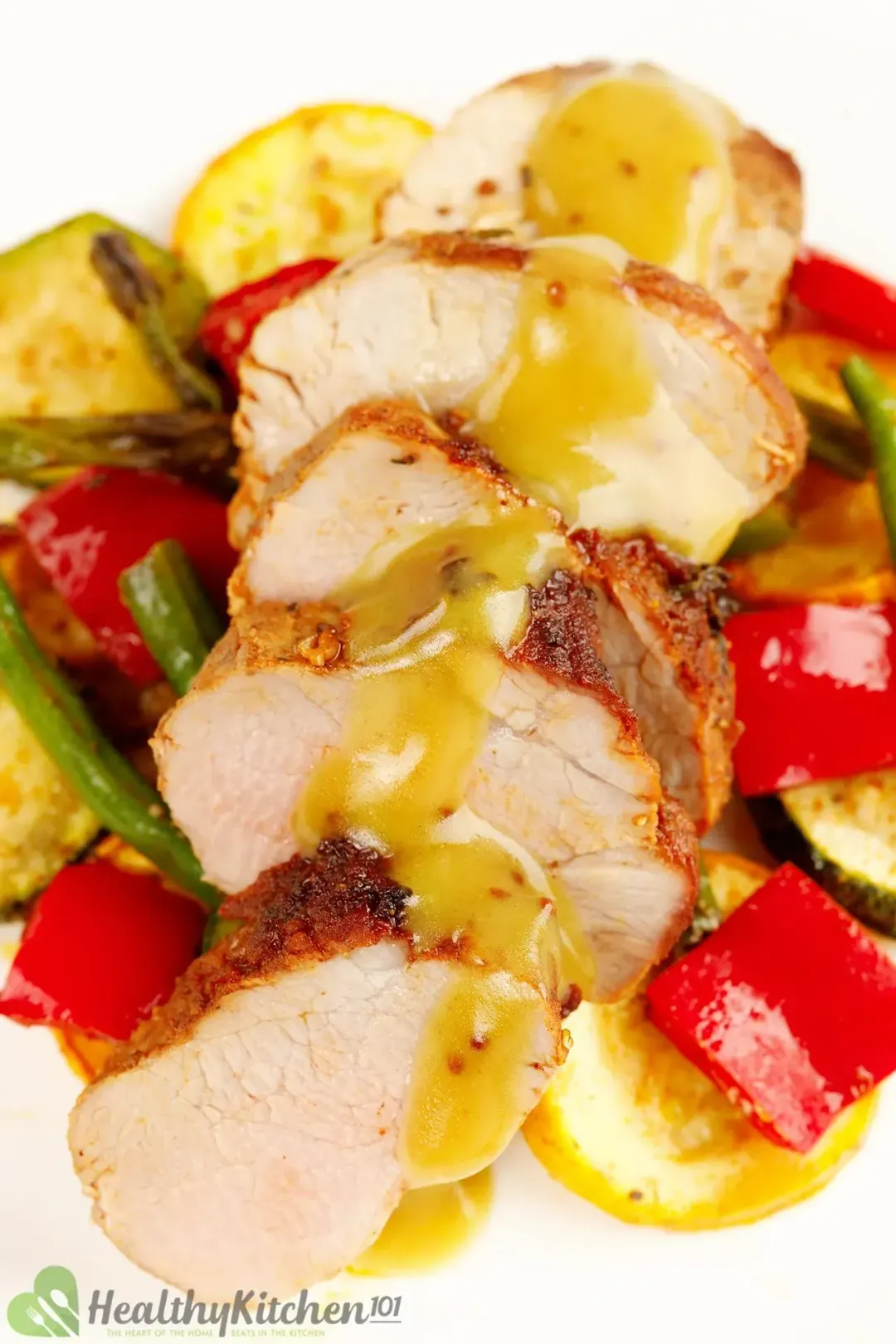 In addition, our air fryer pork tenderloin recipe might be healthier than other recipes, for the following reasons.
How Our Pork Tenderloins Are Made Healthier
We try to keep our savory dishes low not only in saturated fat but also calorie and sodium. This is what the USDA recommends in their previous and current guidelines.
For this recipe, we tried to use as little salt and butter as possible, but still offering enough that the flavor is not compromised. As a result, each serving of the dish contains the right amounts of sodium, saturated fat, and calorie that a main dish should have.
You can take a look at our calories and nutrients goals for different meal courses here.
Also, we paired the meat with green beans and zucchini, which will help you meet your fiber and micronutrient needs.
What to Season Pork Tenderloin with
Any great dish needs a good selection of seasonings.
Firstly, we season the tenderloin with salt and pepper. We added just enough salt so the meat is flavorful and the sodium is within limits.
For the herbs, we chose thyme to rub on the tenderloin and oregano to toss with the zucchini and green beans. Thyme complements the flavors of red meats, such as pork, while oregano brings out the flavors of roasted vegetables.
For the spices, we picked onion powder and garlic powder, because they give more flavor than the fresh alternative. We enjoyed a bit of heat, so we also went for paprika and cayenne.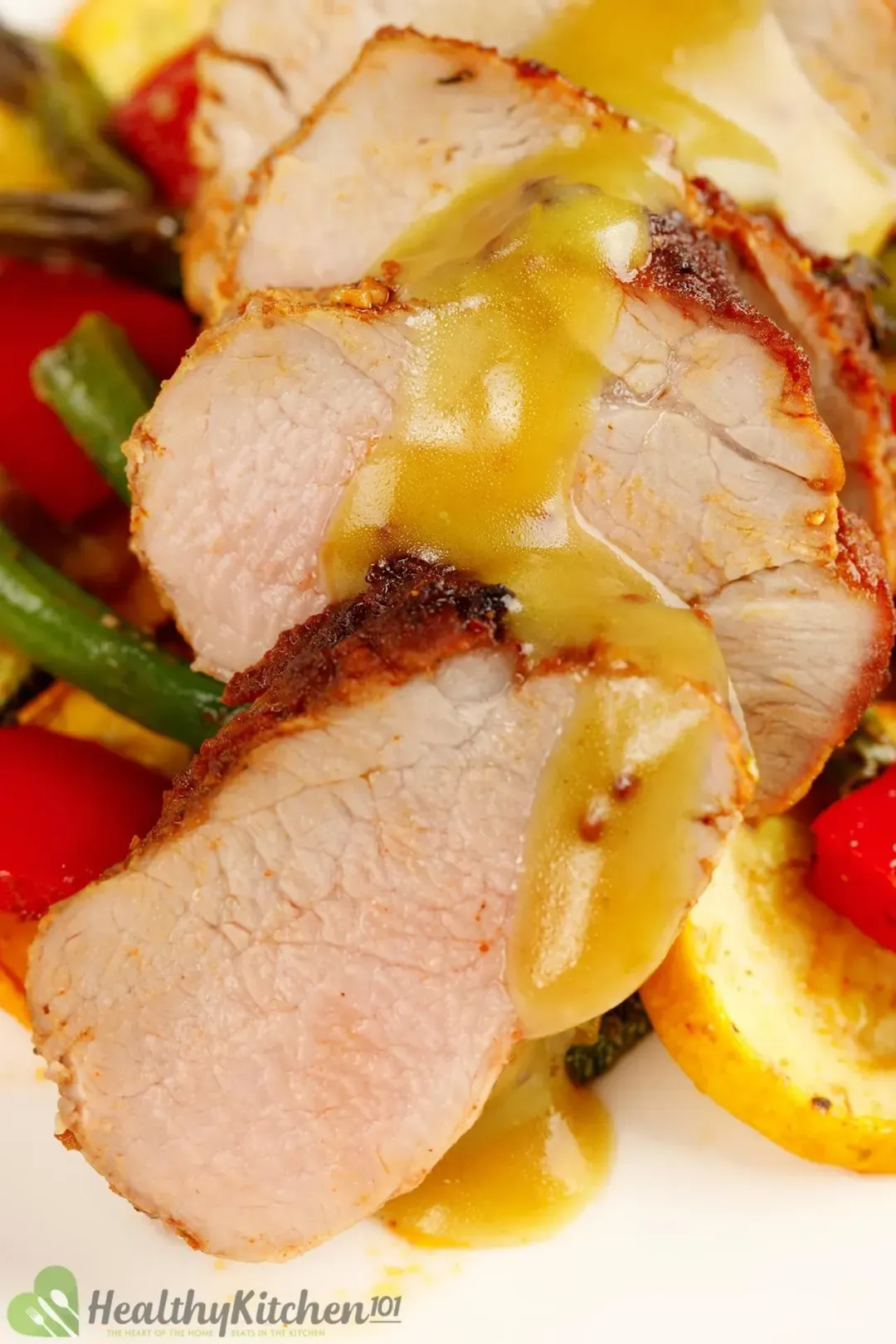 To mimic the grilled meat look, we added brown sugar to the seasoning mix. It adds a touch of sweetness as well as a smokey flavor when caramelized in the air fryer.
We also prepared a simple sauce made of honey, mustard, mustard seeds, salt, and olive oil. The sauce is lightly sweet and pungent, which makes the meat moist and takes the flavor profile up a notch.
If you love pork tenderloin but don't own an air fryer, you can still cook up delicious tenderloins using your oven. They're well-seasoned, seared to perfection, then cooked in the oven along with plenty of flavorful vegetables.
How to Cook Pork Tenderloin in an Air Fryer
With the ingredients gathered, here's how we cooked our pork tenderloin: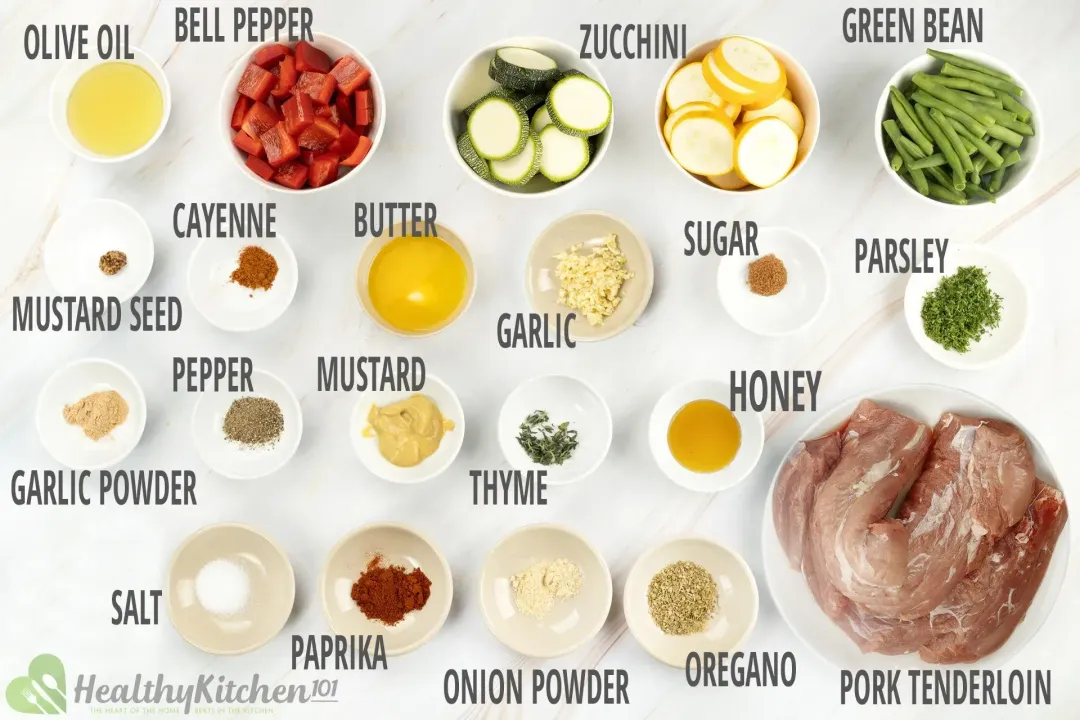 If you're serving one or two people, everything will take just around 25 minutes instead of 40 minutes.
For a more-detailed recipe with specific time and measurements, refer to our full air fryer pork tenderloin recipe down below.
How to Cook Frozen Pork Tenderloin in an Air Fryer
You can cook frozen pork tenderloin with an air fryer in just 25-40 minutes at 300°F (flip halfway), depending on how thick your tenderloin is. Our tenderloins weighed 14 oz each, and they took us 30 minutes in the air fryer.
You can use a thermometer to measure the inner temperature, making sure it reaches 145°F. That's the safest temperature to eat pork, according to the FDA.
If you fancy this recipe, you may also love our Air Fryer Pork Loin. If you're interested in other air fryer recipes as healthy as this one, have a look at this air fryer dinner roundup.
Side Dishes for Pork Tenderloin
As mentioned before, our pork tenderloin is served with roasted vegetables, mashed potatoes, and a glass of lime watermelon juice: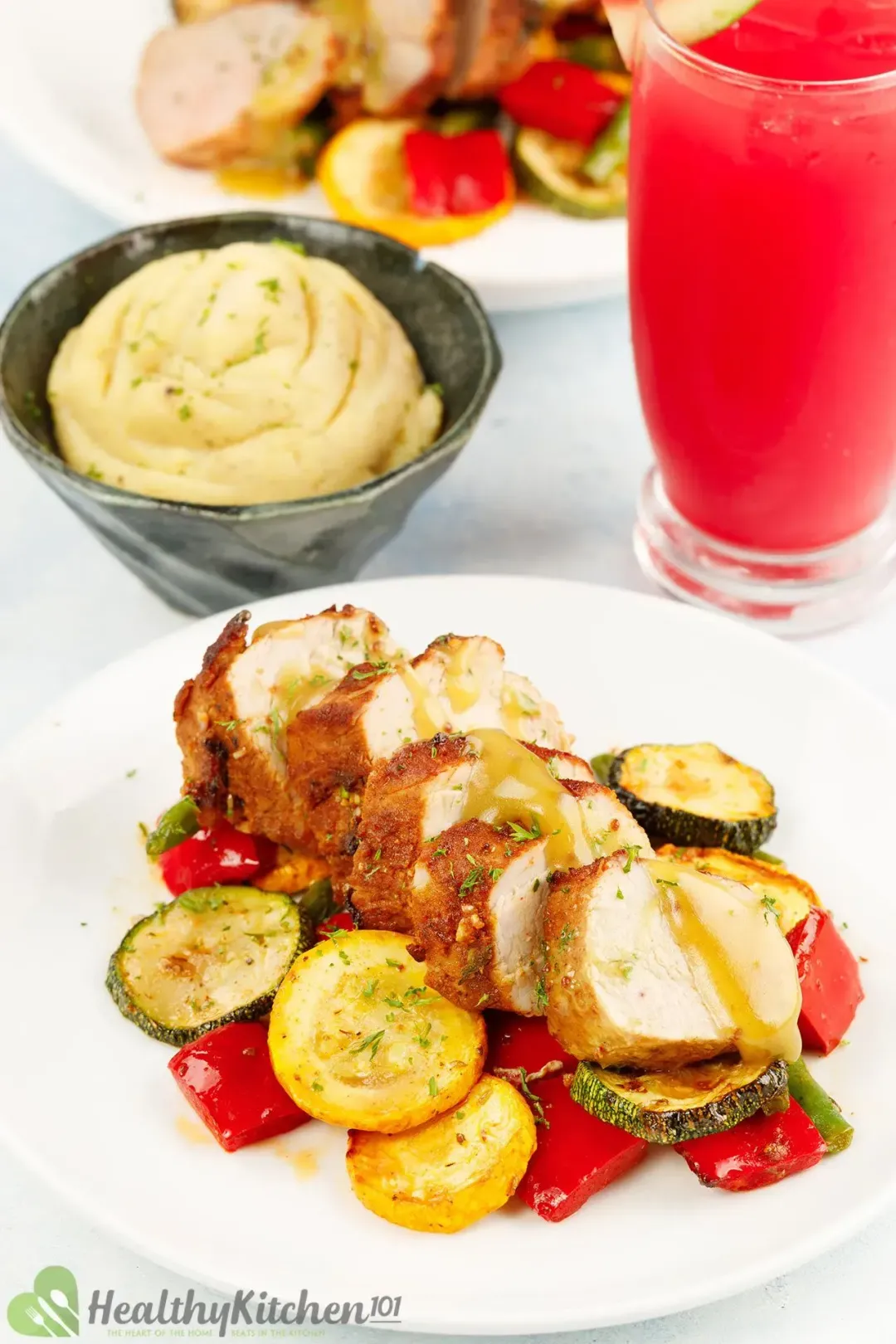 Altogether, they make a wholesome meal with plenty of flavors and textures.
Air Fryer Pork Tenderloin
Our air fryer pork tenderloin recipe will help you cook delicious pork tenderloins in your air fryer, in 25 minutes for 2 servings and 40 minutes for 4 servings.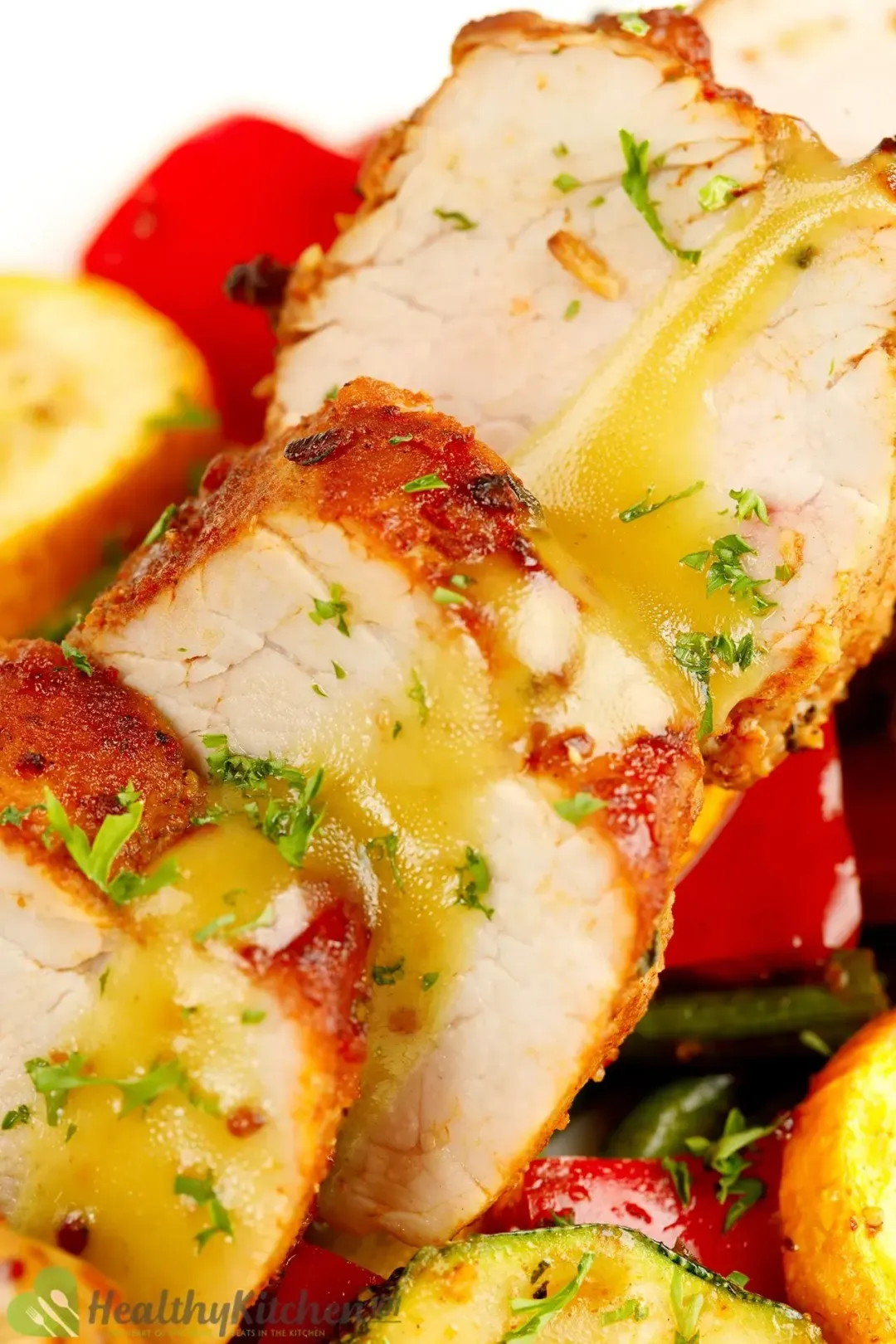 cook TIME

30 mins

prep TIME

10 mins

total TIME

40 mins
COURSE

Main Course

CUISINE

Global

SERVINGS

CALORIES

470 kcal
INGREDIENTS
28 oz

pork tenderloin

(two large pieces)

4 tbsp

olive oil

(divided into 1 and 3 tbsps)

3 tsp

traditional Dijon mustard

(divided into 1 and 2)

1/2 tsp

black pepper

(divided in half)

1/2 tsp

salt

(divided into 4 parts)

1 tsp

paprika

(divided in half)

6 oz

red bell peppers

(cut into chunks)

4 oz

green beans

(sliced off both ends and then halved)

1 3/4 tbsp

unsalted butter

(melted)

1/4 tsp

whole grain mustard
INSTRUCTIONS
1
Preheat the air fryer to 400°F.
2
In a large bowl, place in the tenderloin along with 1 tbsp olive oil, 1 tsp mustard, 1/4 tsp black pepper, 3 parts of the salt (3/8 tsp), 1/2 tsp paprika, cayenne, garlic powder, onion powder, brown sugar, fresh thyme, and garlic. Massage to season the meat thoroughly.
3
In another large bowl, place inside bell peppers, green beans, zucchini, and toss with melted butter, dried oregano, 1/4 tsp black pepper, and 1/2 tsp paprika.
4
Open the air fryer, and place in one piece of marinated tenderloin along with half the amount of vegetables. Cook for 15 minutes in the air fryer. We're doing it in two batches, but if your air fryer is large, you can cook everything at once. Remember to keep everything in one layer.
5
While it's cooking, make the sauce. In a small bowl combine honey, 2 tsp mustard, whole grain mustard, 1 part of the salt (1/8 tsp), and 3 tbsp olive oil.
6
When it's done cooking, allow the meat to rest for at least five minutes before serving. To serve, cut the tenderloin into half inch slices, place them on serving plates along with the vegetables. Sprinkle parsley over the top and drizzle with sauce.
NUTRITION
Nutrition Facts
Air Fryer Pork Tenderloin
Amount Per Serving (1 serving)
Calories 470
Calories from Fat 243
% Daily Value*
* Percent Daily Values are based on a 2000 calorie diet.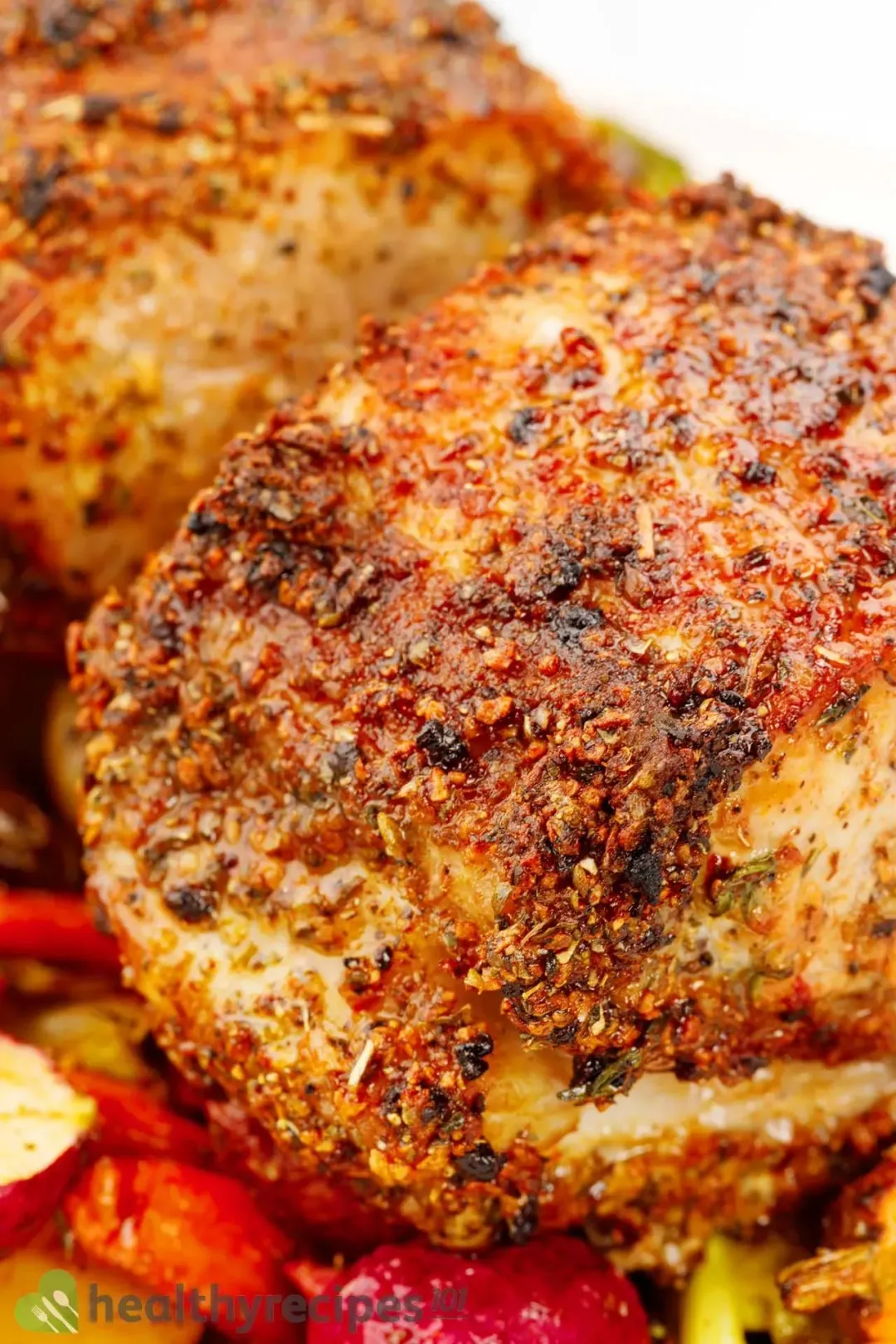 Previous Recipe
Air Fryer Pork Loin
Air Fryer Pork Loin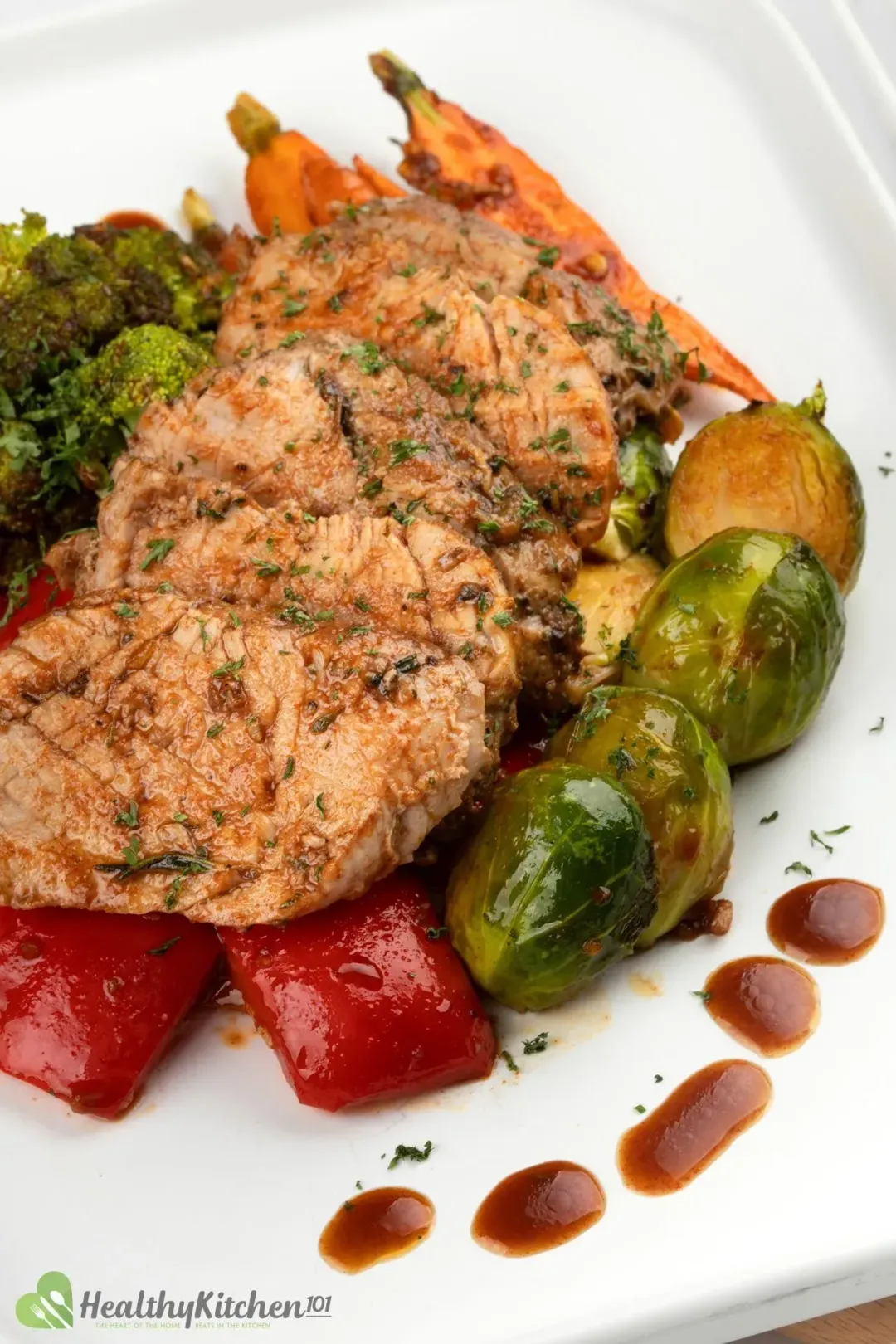 Next Recipe
Pan Seared Oven Roasted Pork Tenderloin
Pan Seared Oven Roasted Pork Tenderloin
Head Chef, Culinary Consultant
Tuyet Pham is an award-winning Saigonese chef who believes that joy is the secret ingredient to delicious food. At Healthy Recipes 101, Tuyet personally tests and simplifies every recipe, ensuring maximum flavor with minimal effort. With a background at prestigious French restaurants P'TI Saigon and Le Corto, Tuyet knows how to make every dish exceptional.
Writer, Author
Luna Regina is an accomplished writer and author who dedicates her career to empowering home cooks and making cooking effortless for everyone. She is the founder of HealthyKitchen101.com and HealthyRecipes101.com, where she works with her team to develop easy, nutritious recipes and help aspiring cooks choose the right kitchen appliances.
Nutrition Reviewer
Lizzie Streit is a Minneapolis-based dietitian and founder of It's a Veg World After All. She completed her MS in Human Nutrition from Drexel University, and is an expert in culinary nutrition, recipe development, and nutrition communications. Lizzie's philosophy is centered around making nutrition recommendations, and especially the advice to eat more vegetables, approachable and realistic. She is excited to be working with the team at Healthy Recipes 101 to ensure that their recipes are both nutritious and delicious.
Delicious and tender pork with authentic flavors!

This is awesome. Thanks for recipe.