Using ingredients available in your fridge and a simple cooking method, our egg rolls recipe is effortless and can become one of your favorites. It's just what you need for National Egg Roll Day (June 10).
What Are Egg Rolls?
Egg rolls are fried, savory rolls usually filled with pork, vegetables, and a few other staple Asian ingredients. The flour-based wrappers give the dish a crispy blanket and uniquely small bubbles on the surface once fried.
The very first egg rolls recipe was born back in the '30s in New York and inherited the quintessence of both Chinese and American gastronomies. As fascinating as their crunchiness is, these taste-saving treats truly carried out the cross-cultural flavors.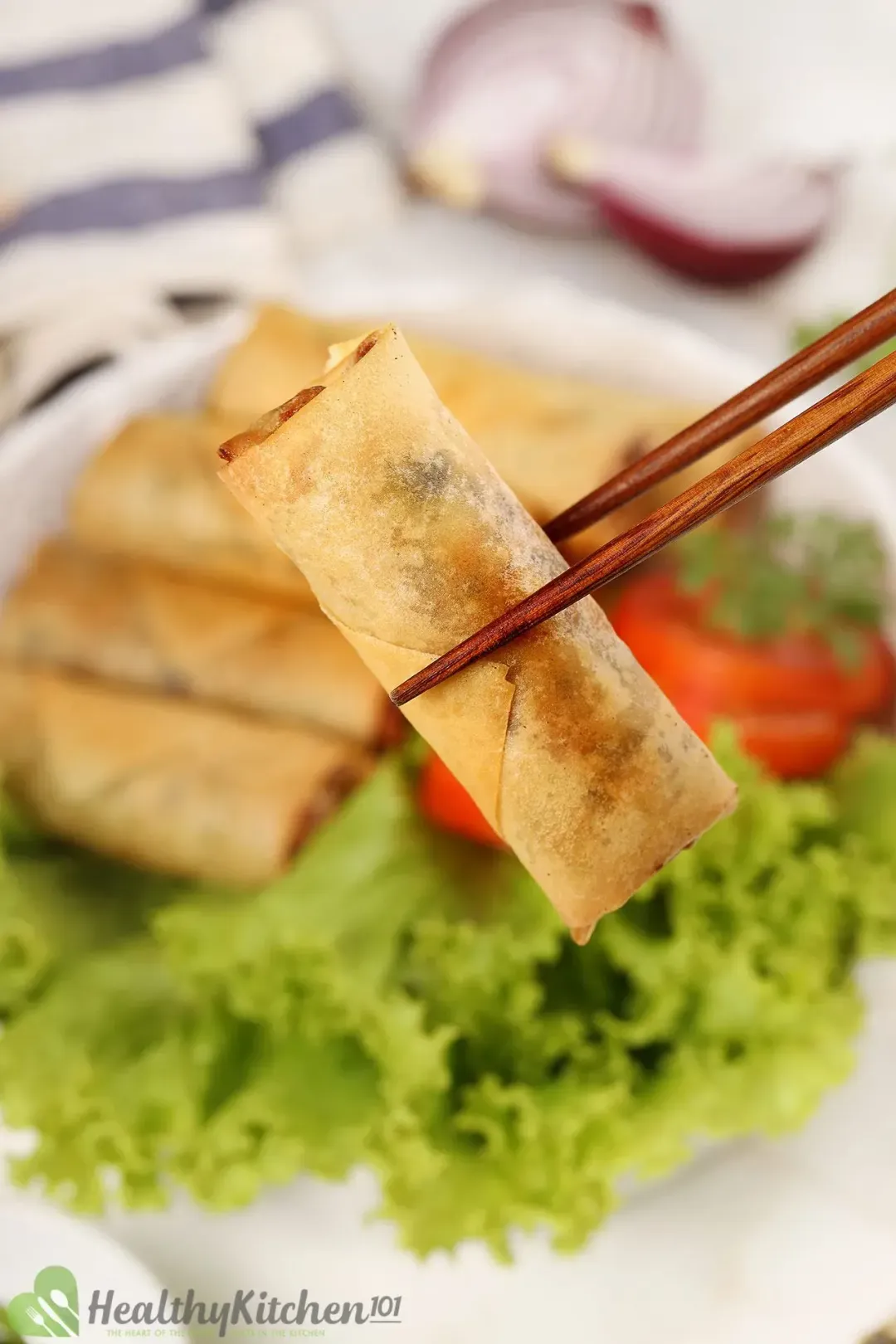 With many similarities to Hong Kong's traditional "spring rolls," it was adapted to American culture by using local ingredients. Soon after, the invention became a widely popular appetizer.
As time passed, the original ingredients have been replaced with anything fresh, tasty, and well cooked. Nowadays, there are countless variants of egg rolls due to diners' palates getting more and more distinctive.
Egg Rolls vs. Spring Rolls
The most significant difference between egg rolls and spring rolls, in fact, comes from their visual distinction. Egg rolls have a sturdier texture, with the dough made from flour and eggs. On the other hand, spring roll dough doesn't contain egg, making them lighter than egg rolls once fried.
Speaking of filling, traditional recipe often combine pork sausage, cabbage, and other ingredients like carrots, taro, or mushrooms. When it comes to spring rolls, the filling varies greatly according to different regions and cooking methods.
There are fried and non-fried spring rolls. The deep-fried version calls for filling ingredients similar to those found in this recipe: meat and vegetables. Fresh spring rolls assemble cooked pork, noodles, and lettuce in Vietnamese transparent rice paper.
Despite their differences, egg rolls and spring rolls are both appetizing and have become a staple in American-Asian cuisine.
Egg Roll Ingredients
The combination of pork and vegetables in egg rolls creates a complex layer of texture and flavor. They are then seasoned with some traditional Asian spices, bringing out extraordinary taste in every bite.
Pork: Lean pork is most commonly used for this recipe, however, you can go for other choices like chicken, turkey, or seafood.
Vegetables: Cabbage is the most authentic flavor, but you may substitute with tons of different types, from carrots to onions or mushrooms.
Spices: Salt and ground pepper are the main flavor enhancers.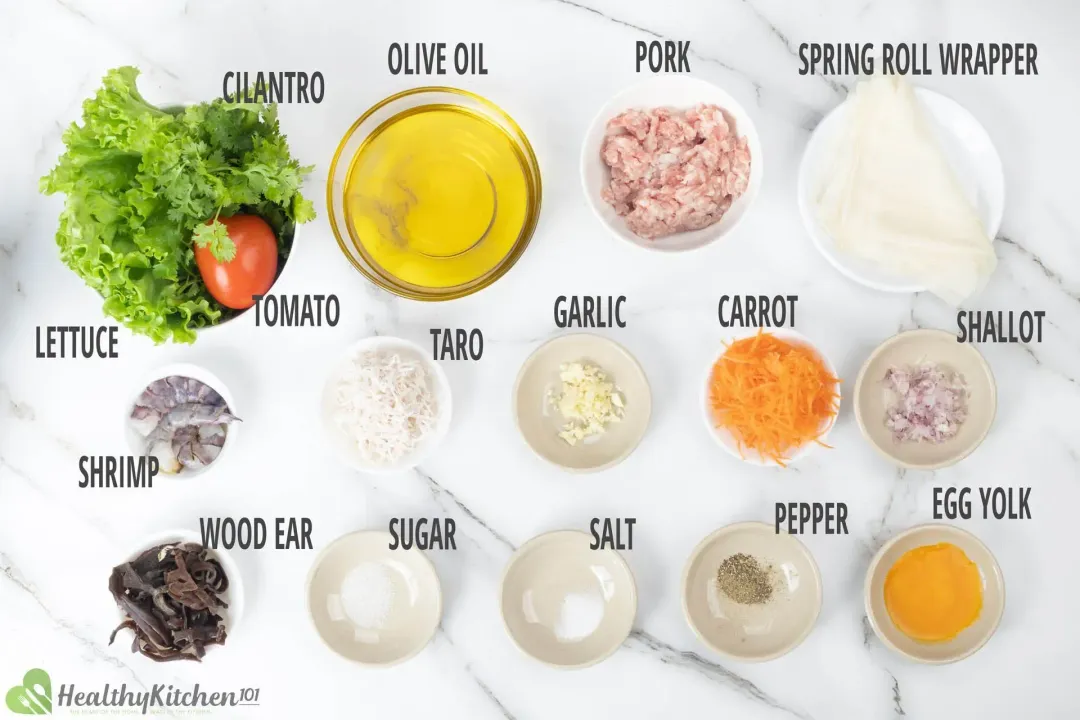 Egg Roll Wraps
Egg rolls hit a homerun with their crispness. You don't need to be superbly clever to make some crunchy-munchy ones; it's the wrapper that matters.
Nowadays, rice paper comes in multiple shapes from different brands. So, please note that the wrapper used for this recipe is a specific kind itself.
Pasta sheets, or spring roll/dim sum wrappers, are a wrong choice here. Anything doughy and bubbly will make your rolls soggy and mushy.
The wrapper for this recipe is an entirely different thing. It's primarily made from wheat flour and green pea powder and is much lighter and thinner. Search for "rice paper" or "egg rolls rice wrapper" at any food store nearby to get started on the right foot.
Air Fryer Egg Rolls
Air fryers can be a great time-saver in this recipe. Simply brush your egg rolls with a light coating of olive oil before placing them in the air frying basket. This ensures your rolls will crisp up beautifully after baking.
Turn on your fryer and wait for a few minutes until your beloved dish reaches perfection— crispy on the outside and full of juicy flavor on the inside.
If you love this recipe, this Cheeseburger Egg Rolls Recipe is a more convenient version.
What to Serve With Egg Rolls
These signature Chinese rolls can be served as an appetizer, snack, or even part of the main dish for dinner.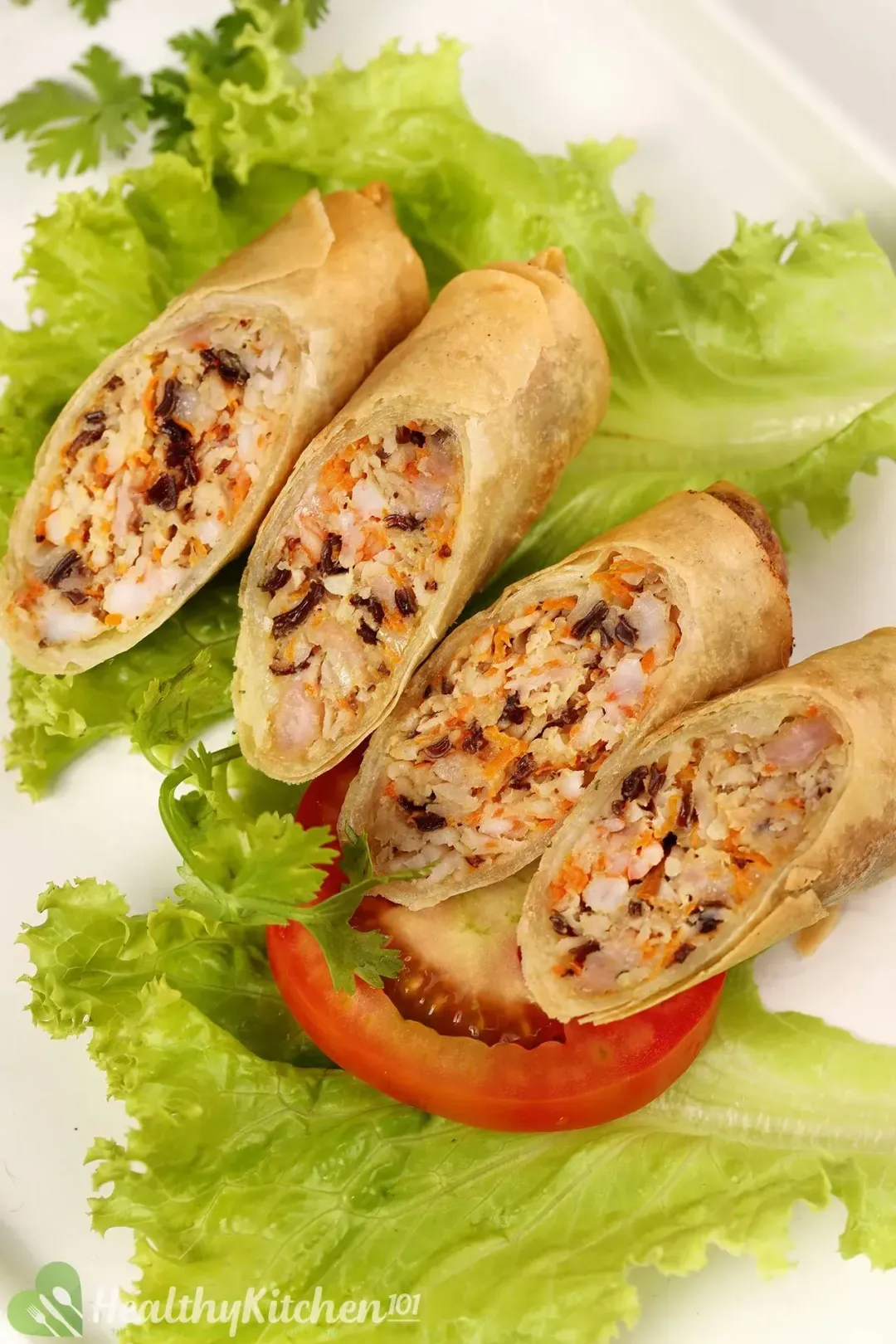 1. Lettuce
A typical way to eat these crispy rolls is to wrap them with green lettuce, herbs, and dipped in a special sauce (usually fish sauce or soy sauce). 
Other add-ins for this ideal combo include tomatoes, cucumbers, and avocado. These fresh elements not only help balance out the meaty flavor, but also give a great textural contrast.
2. Rice
You can turn egg rolls into a fulfilling dinner by serving them with cooked rice, a salad, or a hot vegetable soup.
If you would like to see more healthy eggs options, see our collection of healthy eggs recipes.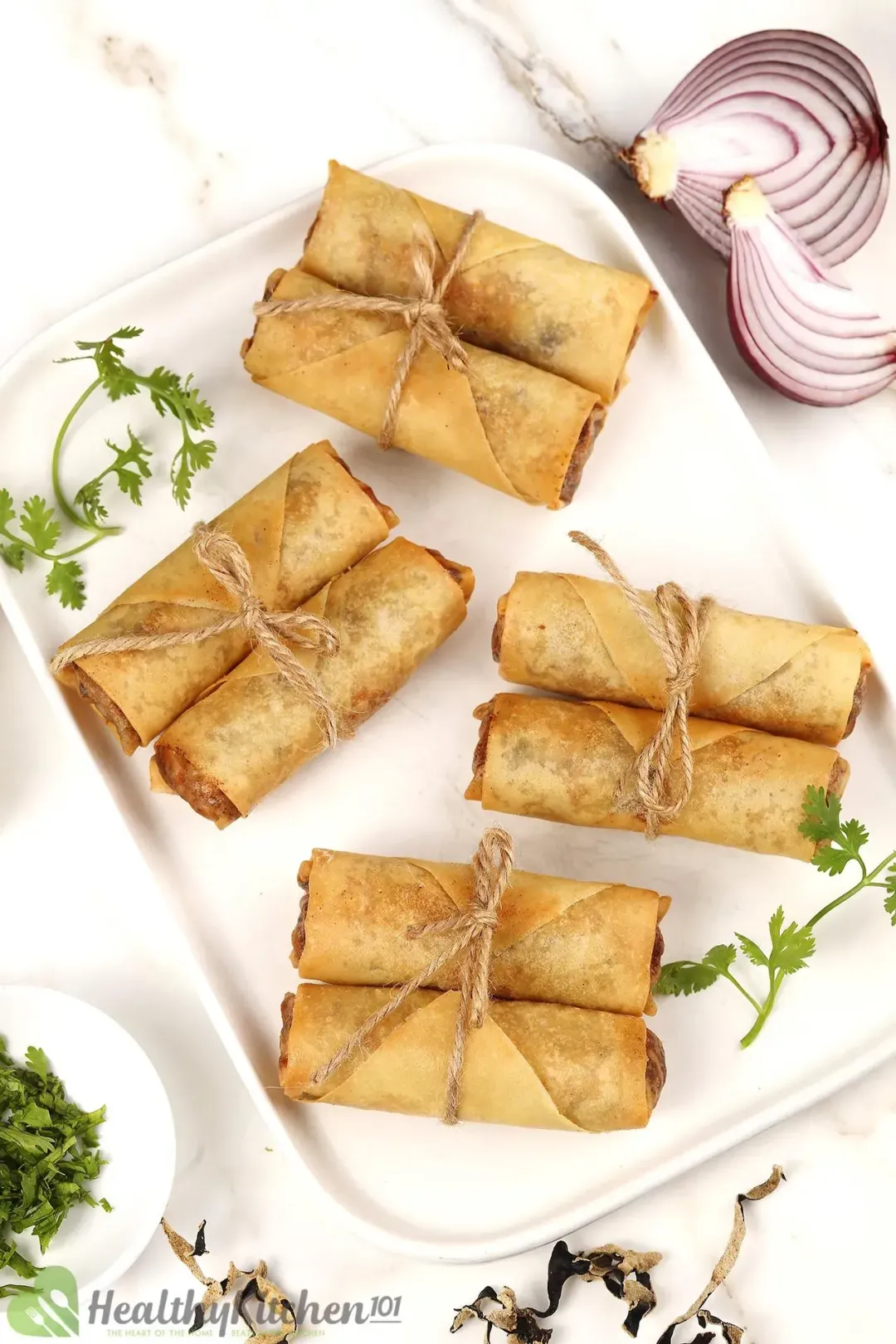 FAQ
1. Calories
Each serving of our recipe, which is two rolls served with lettuce and tomatoes, yields 238 calories. They are tasty and light enough to be a starter for any lunch or dinner.
2. How Long Does It Last?
At room temperature, fried egg rolls can last for 2-3 hours, while the uncooked ones can stay no longer than 1 hour. In the fridge, the fried rolls can last for 3 days, and the raw counterparts for a week.
3. Can You Freeze This Recipe?
Yes, you can freeze both cooked and uncooked egg rolls.
Once cooked, let your rolls cool down completely (about 1 hour). Then, place them in a plastic bag and freeze.
Freezing uncooked egg rolls is a bit more challenging since they can stick together and end up like a ball of dough. To avoid this, layer your rolls with wax paper in between before transferring them into an airtight plastic bag or container. The last step is to keep them in the freezer.
With those freezing methods, both cooked and uncooked egg rolls can stay fresh up to 6 months in the freezer.
The thawing process isn't necessary since you can take your frozen rolls out of the freezer and drop them in a pan of hot oil straight away. 
A small tip is to start frying them over low heat first. This ensures the meat filling will cook through nicely. Then, turn the heat up high for a couple of minutes until you get a golden, crispy texture on the outside.
Egg Roll
Egg rolls are a quintessential Chinese takeaway food that can be found in many restaurants and on Asian family tables.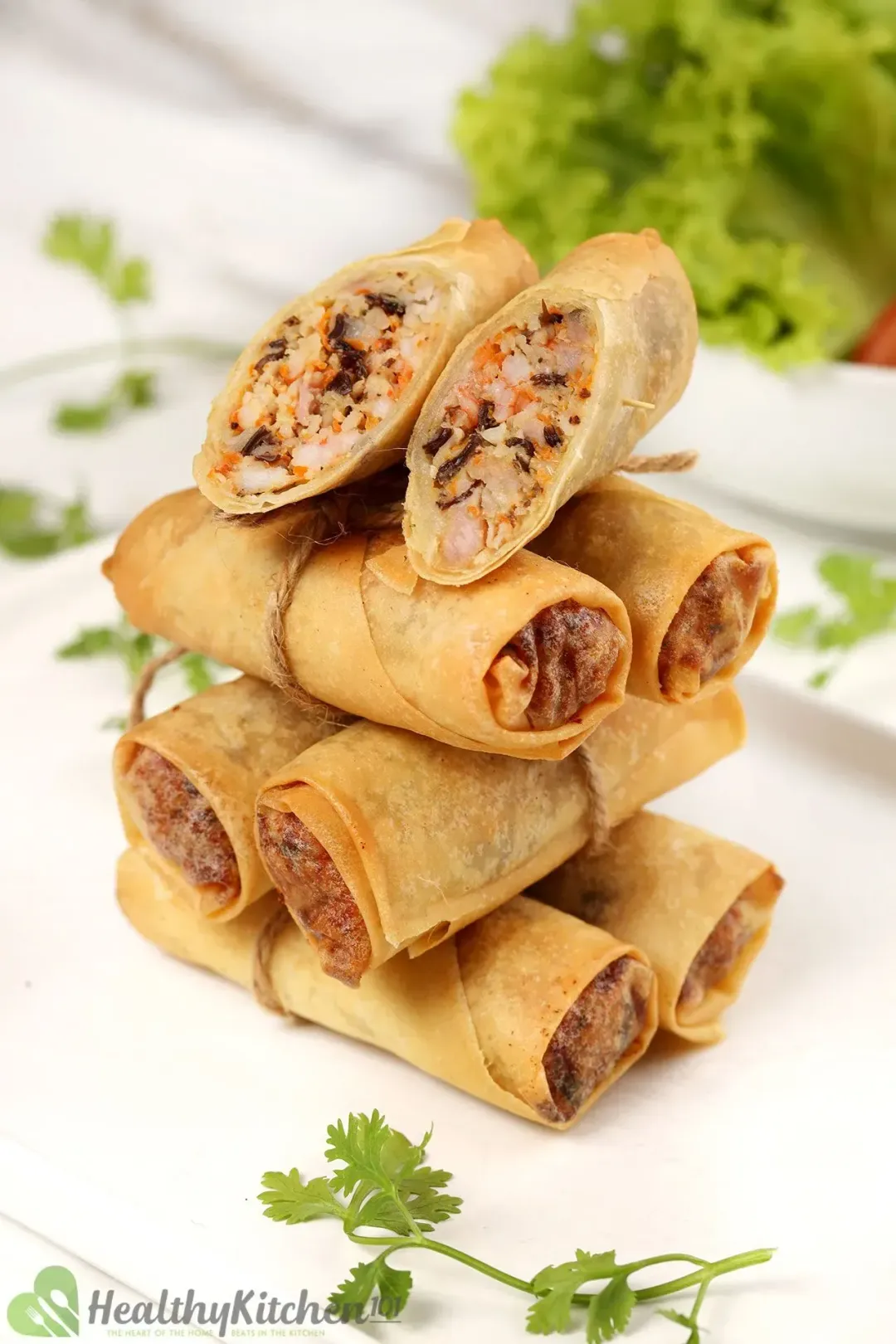 cook TIME

15 mins

prep TIME

20 mins

total TIME

35 mins
COURSE

Side Dish

CUISINE

Asian, Vietnamese

SERVINGS

CALORIES

248 kcal
INGREDIENTS
8

spring roll wrapper sheets

2 oz

raw shrimp

(peeled, deveined, and chopped)

0.2 oz

wood ear mushrooms

(chopped)

1 tbsp

shallots

(chopped)
INSTRUCTIONS
Make the filling:
1
In a medium bowl, mix 4 oz ground pork, 2 oz shrimp, 1 oz carrots, 2 oz taro, 0.2 oz wood ear mushrooms, 1 tsp garlic, 1 tbsp shallots, and 1 egg yolk.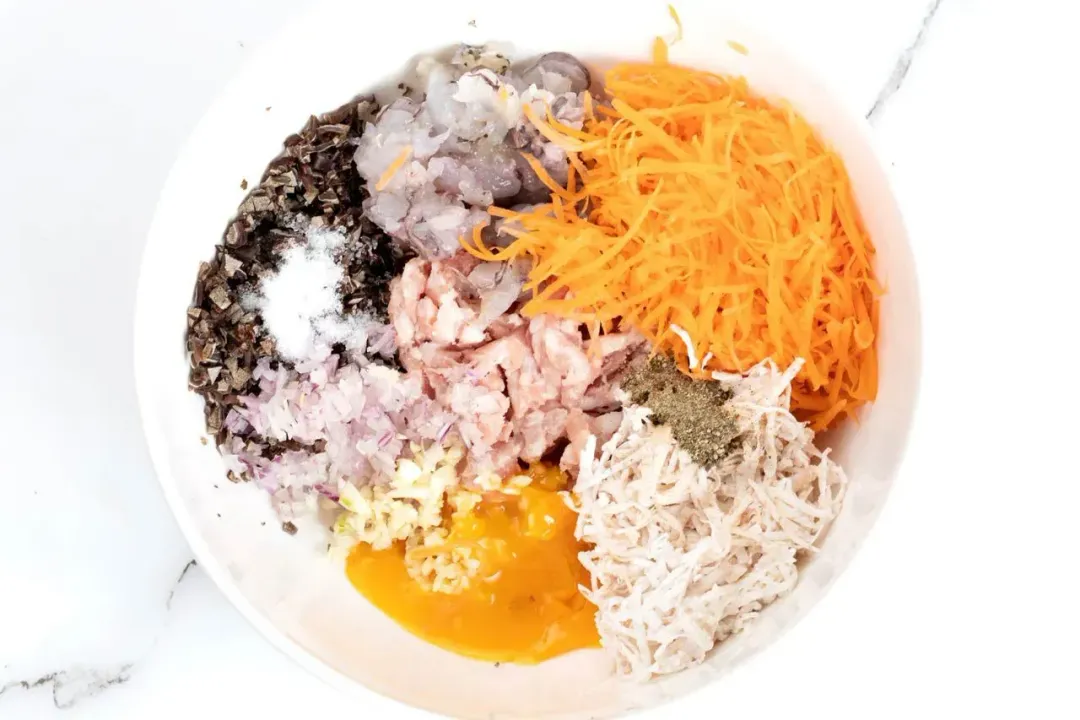 2
Add 1/4 tsp salt, 1/8 tsp sugar, and 1/4 tsp pepper and mix by hands until perfectly mingled.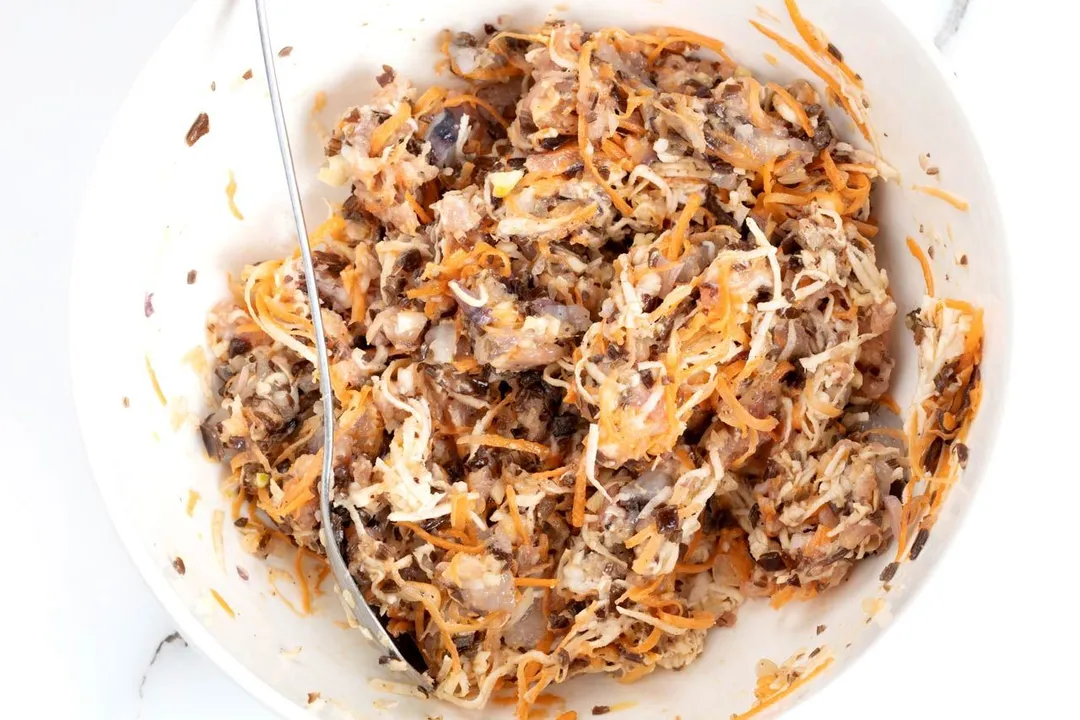 Wrap the roll:
1
Gently remove one wrapper and set it in front of you. Rotate it a bit so you look at it in a diamond shape. Scoop a tablespoon of filling near the bottom of the corner nearest to you.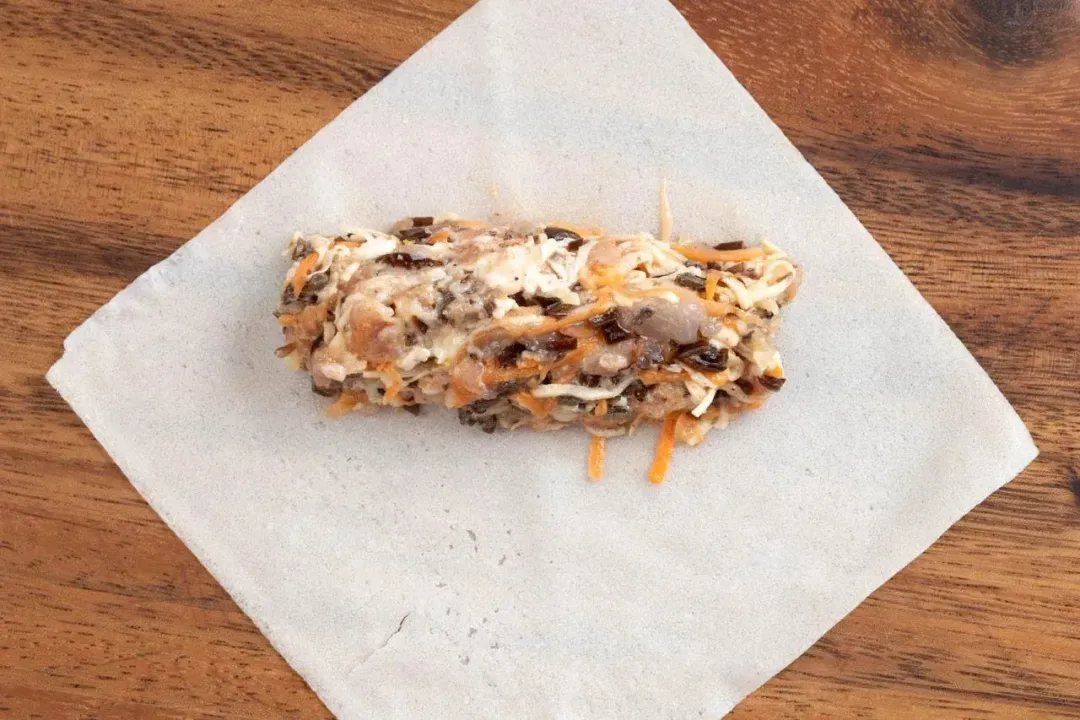 2
Lift the bottom and start rolling until it covers all the filling.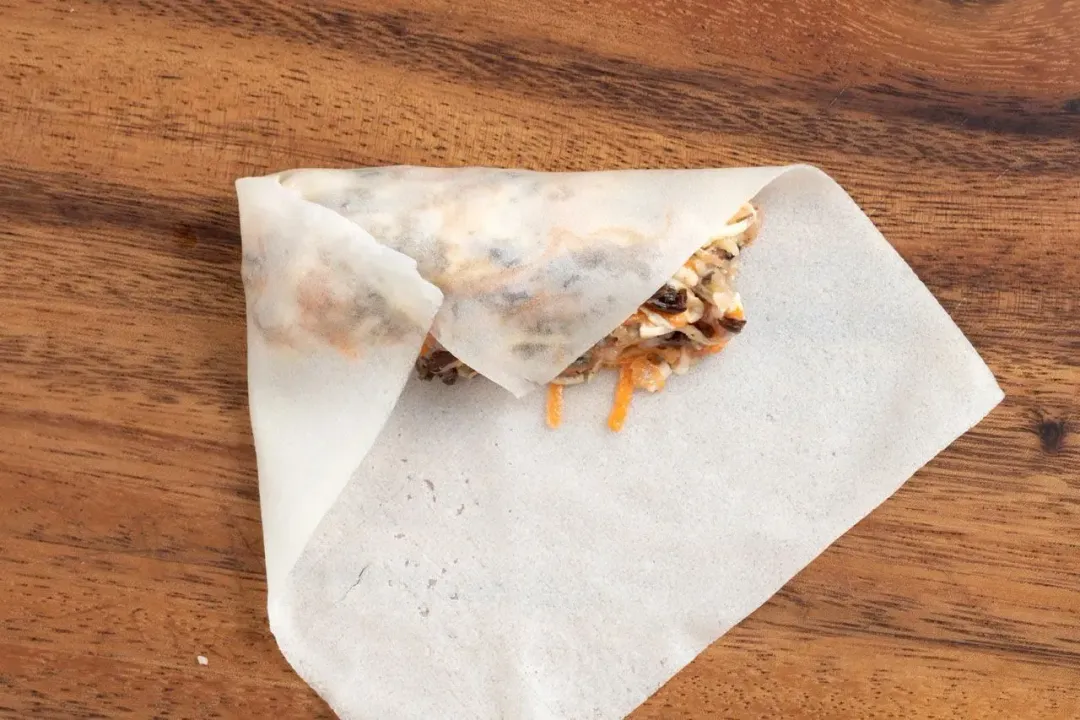 3
Fold over the left side and the right side one after another, towards the center. Continue rolling the egg roll until it is completely wrapped. Dab some egg wash on and underneath the envelope-looking fold to seal the egg roll.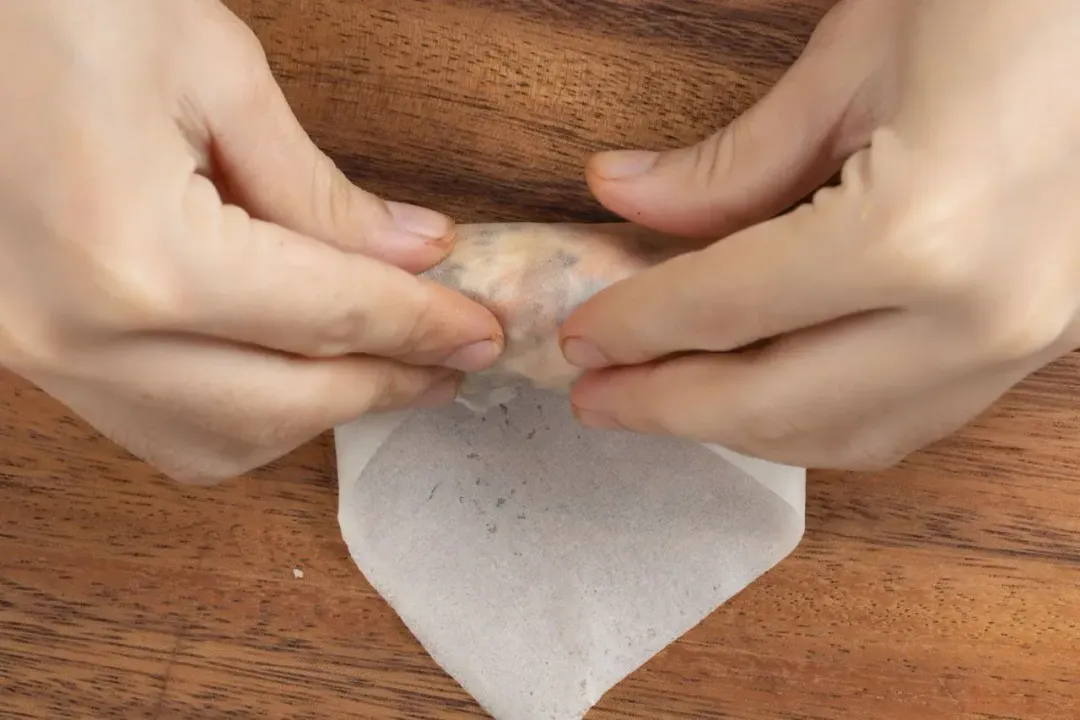 4
Repeat until all the filling is done.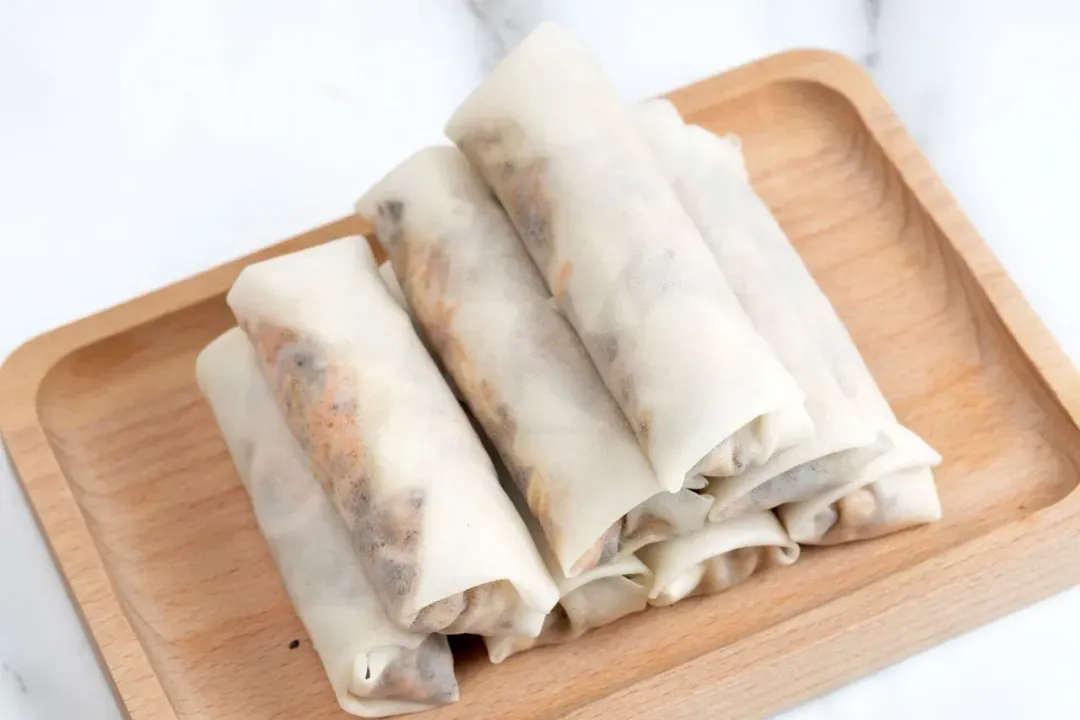 Fry:
1
Heat a cup of oil to 350°F (175°C) in a pot.
2
Gently slide the raw egg rolls in, seam-side down.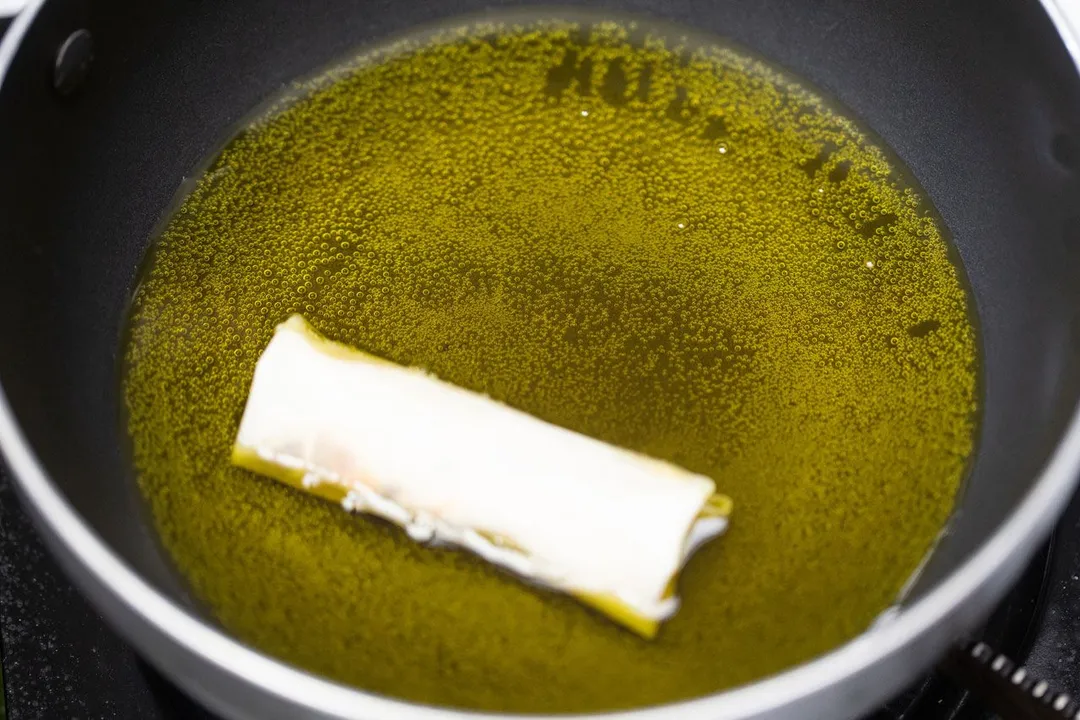 3
Fry each side for 2 minutes and keep turning occasionally until they're golden brown and crispy (about 12 minutes).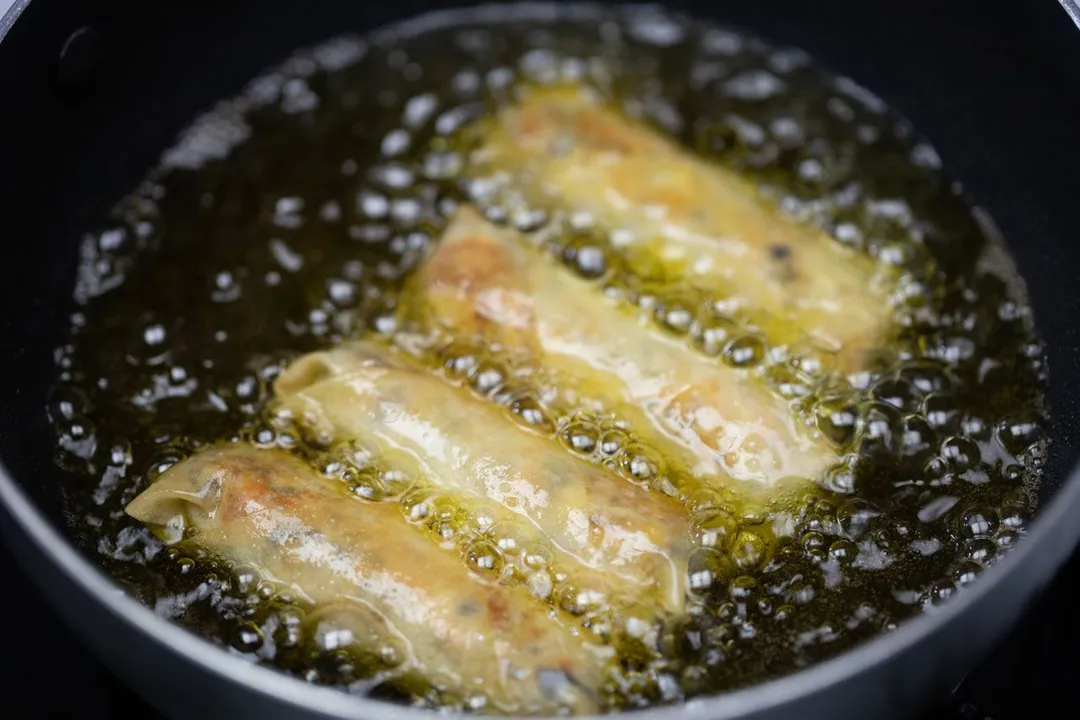 4
Place them on a wire rack or paper towels to drain the oil.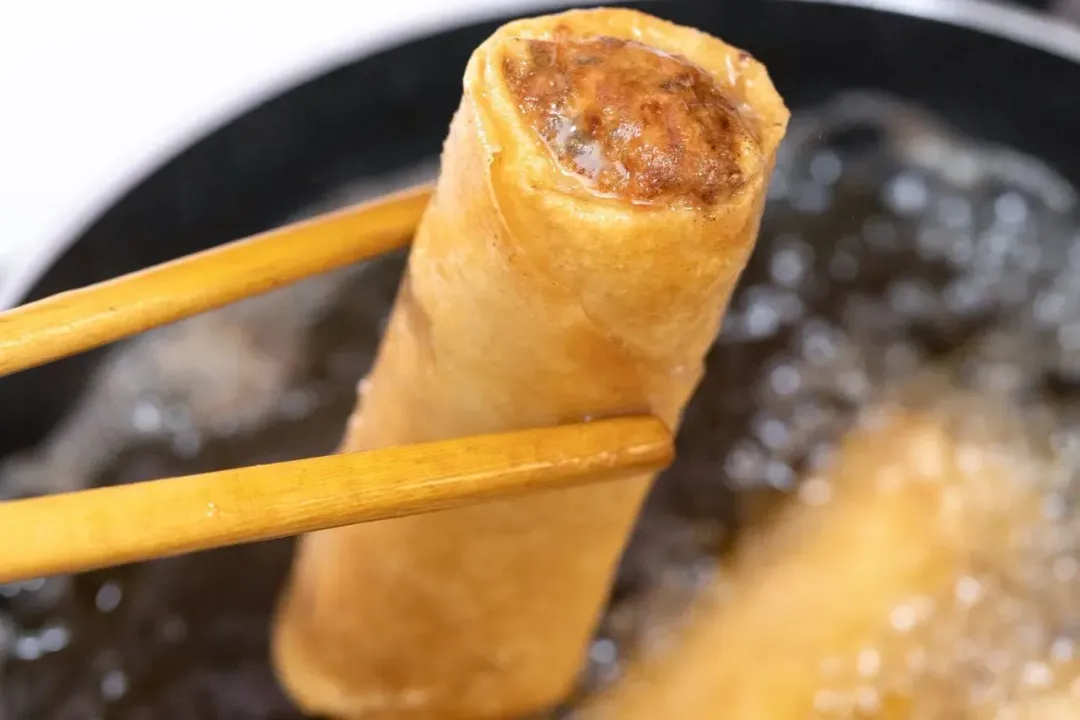 Serve:
1
Serve the rolls on a plate immediately while they're still hot. Optionally, add some slices of tomato, cilantro, and lettuce for an appealing display.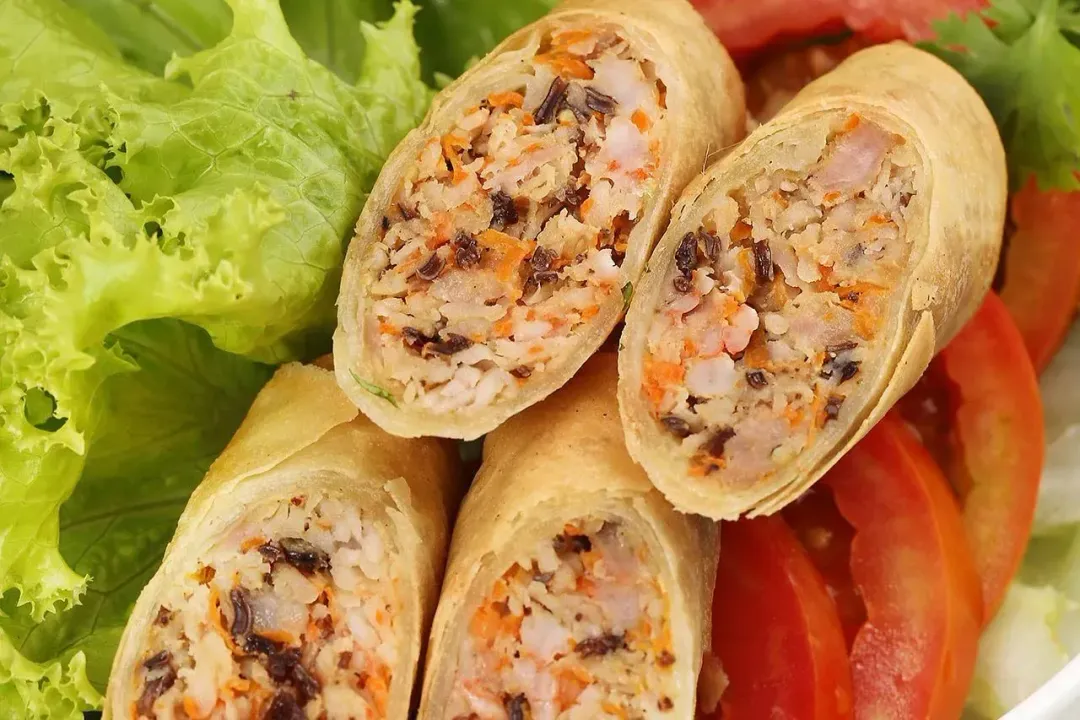 (*) Only part of the oil will end up in the final product and we have calculated nutritional values based on that amount. The whole amount is needed for frying, but what actually ends up being consumed is 1 tbsp of olive oil between four servings.
NUTRITION
Nutrition Facts
Egg Roll
Amount Per Serving (1 serving)
Calories 248
Calories from Fat 108
% Daily Value*
* Percent Daily Values are based on a 2000 calorie diet.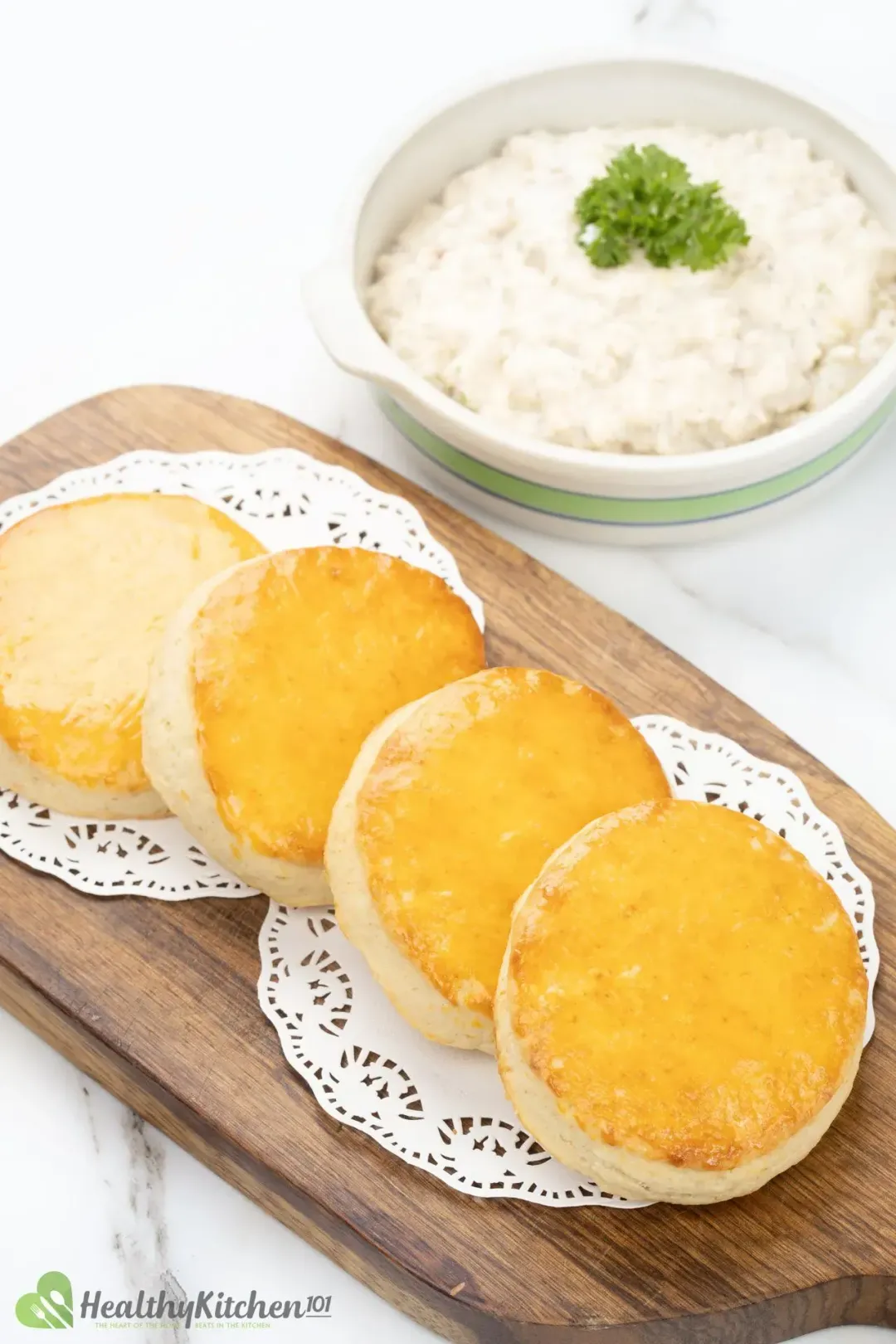 Previous Recipe
Biscuits And Gravy
Biscuits And Gravy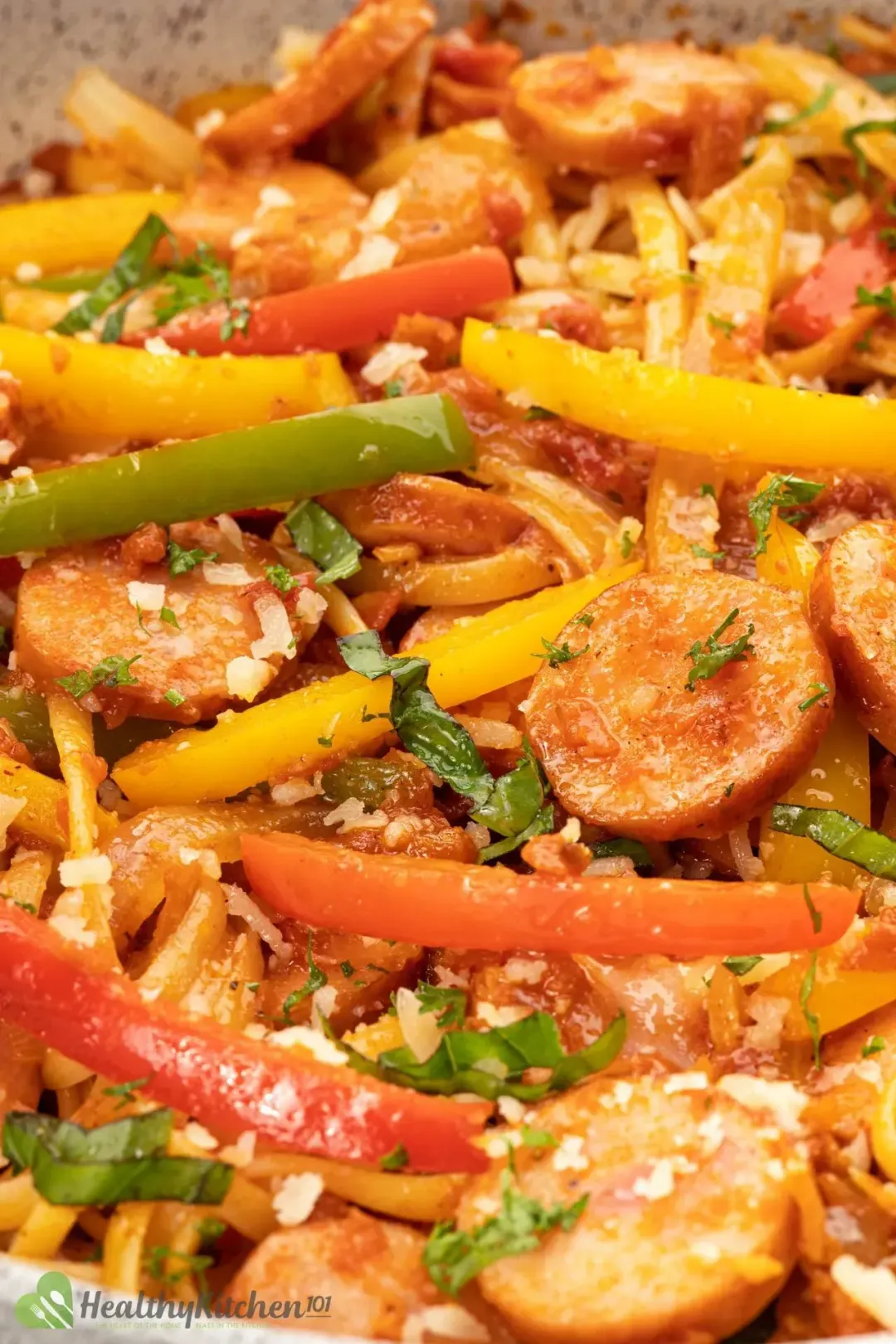 Next Recipe
Sausage and Peppers
Sausage and Peppers
Head Chef, Culinary Consultant
Tuyet Pham is an award-winning Saigonese chef who believes that joy is the secret ingredient to delicious food. At Healthy Recipes 101, Tuyet personally tests and simplifies every recipe, ensuring maximum flavor with minimal effort. With a background at prestigious French restaurants P'TI Saigon and Le Corto, Tuyet knows how to make every dish exceptional.
Writer, Author
Luna Regina is an accomplished writer and author who dedicates her career to empowering home cooks and making cooking effortless for everyone. She is the founder of HealthyKitchen101.com and HealthyRecipes101.com, where she works with her team to develop easy, nutritious recipes and help aspiring cooks choose the right kitchen appliances.
Nutrition Reviewer
Lizzie Streit is a Minneapolis-based dietitian and founder of It's a Veg World After All. She completed her MS in Human Nutrition from Drexel University, and is an expert in culinary nutrition, recipe development, and nutrition communications. Lizzie's philosophy is centered around making nutrition recommendations, and especially the advice to eat more vegetables, approachable and realistic. She is excited to be working with the team at Healthy Recipes 101 to ensure that their recipes are both nutritious and delicious.
For a novice egg roll maker, you've made these perfectly! And your filling reminds me of what my mom used. My mouth is watering just thinking about these!!! Well done!

These rolls look just perfect! Your step by step pictures make it look really easy. The filling is a great combo of flavors.
Never had wood ear mushrooms. Never even heard of it. Need to check it at the markets here.

Thanks so much!
The mushrooms are amazing! You should try 🙂

I love egg rolls but I have never made them. These look amazing!

It's not difficult to make. Hope you give it a try 🙂

I've never thought to make egg rolls at home! Love that they use rice paper, since my husband doesn't eat wheat. We'll have to try these!

I'm looking forword to hearing about what you think 🙂

Oh how delicious! I didn't know about all of the small differences between wrappers. I've only based which I get by shape in the past. Ha! Now I know.

Something that would make my hubby quite happy. He loves Vietnamese food!

Glad to here that. So do I xD

These look and sound so good. It would be hard for me not to eat a whole plate of these!

Welcome and thank you for stopping by our website! I'm a big fan of these vietnamese egg rolls, too. I totally understand why it's so hard to stop eating too much of them :))

wow, these egg rolls look so delicious and yummy. I just love this recipe. thanks for sharing this amazing article and recipe.