This Sausage and peppers recipe is a classic Italian favorite. There are many ways to make this beautiful dish but the easiest one is to start by searing all the ingredients in a pan. 
Your dinner will be finished within an hour with minimal preparation and clean up. It's also a one pan meal, making clean-up all the easier. 
You can enjoy this dish with pasta, as in our recipe, or make it an easy add-on for rice, or your sandwich filler… you name it! Now, here are a few things to know before we can kick off fall with today's recipe.
Is Sausage and Peppers Healthy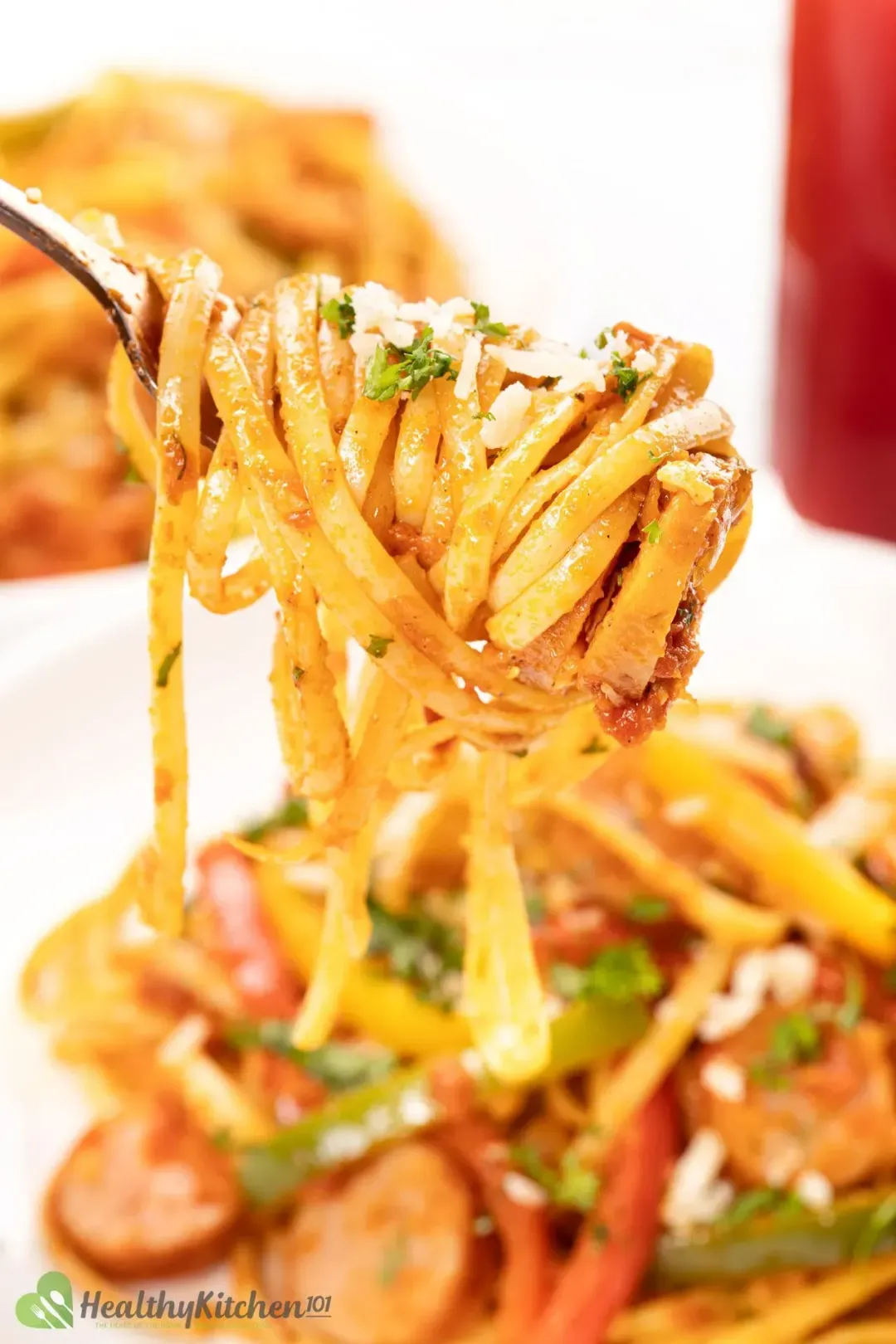 Yes, our sausage and peppers recipe is relatively healthy.
1. Calories
One serving of our sausage and peppers contains 493 calories when served with pasta. This number is not enough for lunch or dinner, so we suggest having the dish with salad or soup to reach our recommended daily intake of calories — 750 calories for lunch/dinner.
2. Carbs
There are 34 grams of carbohydrates in a serving of sausage and peppers, which account for about 12 percent of the recommended daily intake for carbs.
Types of Peppers and Sausage to Use
We recommend Italian sausage for this sausage and peppers recipe for maximum flavor. The regular savory or sweet sausages can both work well in the dish, so choose whichever you prefer. If you want to be creative with meat, beef or turkey sausage are also excellent choices.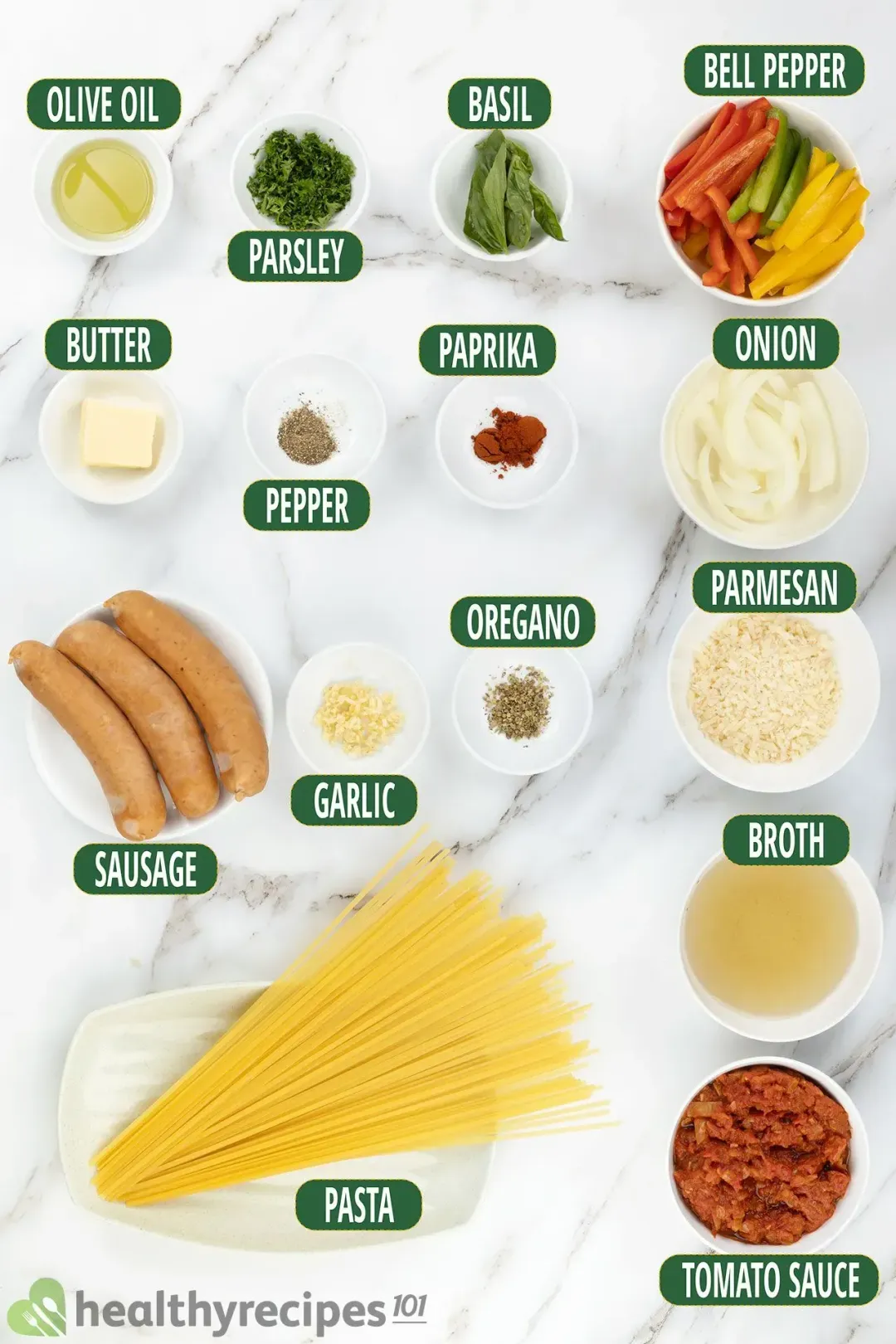 As for peppers, there are a variety of options available:
1. Bell Peppers
These big round peppers come in rainbow colors — green, red, yellow, orange, and purple. Red and yellow peppers are the ripened green peppers, resulting in their sweeter flavor.
Having a less spicy flavor than most peppers, bell peppers (or sweet peppers) are great to toss in salads or stir-fry in the sauce. They add more texture and nutrients to the dish.
2. Cherry Peppers
Cherry peppers are red, round, or heart-shaped peppers, sweet, and can be a bit spicy. They taste and smell like their appearance — small red peppers.
3. Serrano Peppers
These long, thin, green peppers offer a slight punch of heat which many people love to have in their pasta. You can chop them up and add to salad, salsa, or sauce for more depth of flavor.
How to Make Italian Sausage with Peppers and Onions in the Oven
Here's a summary for Italian Sausage and Peppers recipe: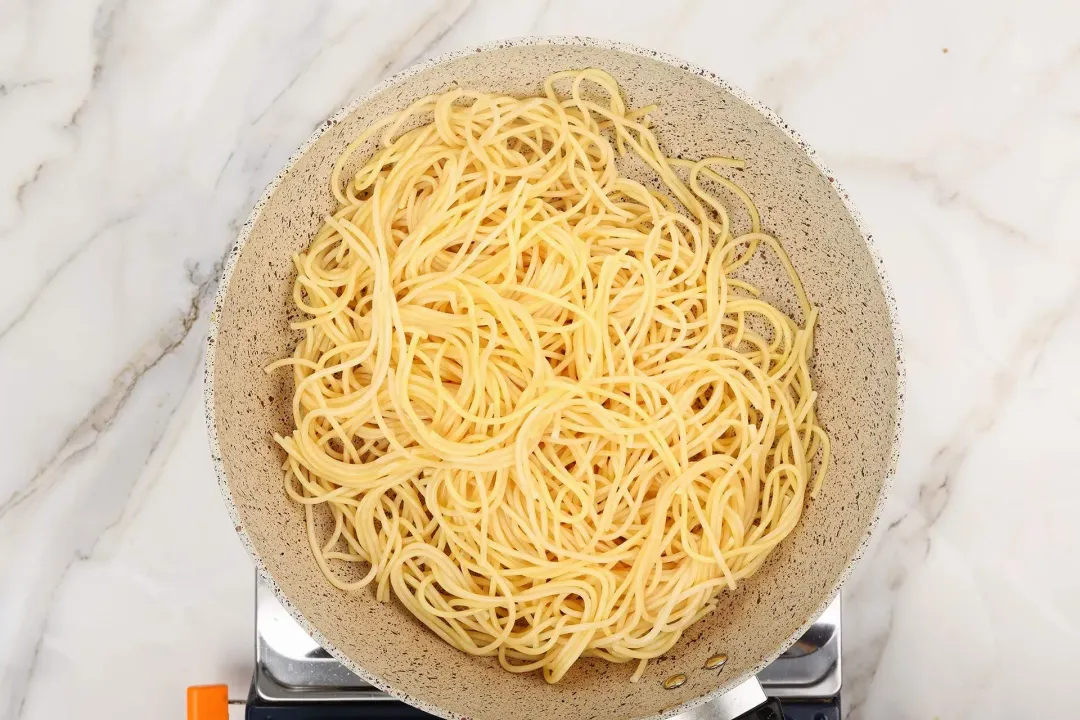 Cook pasta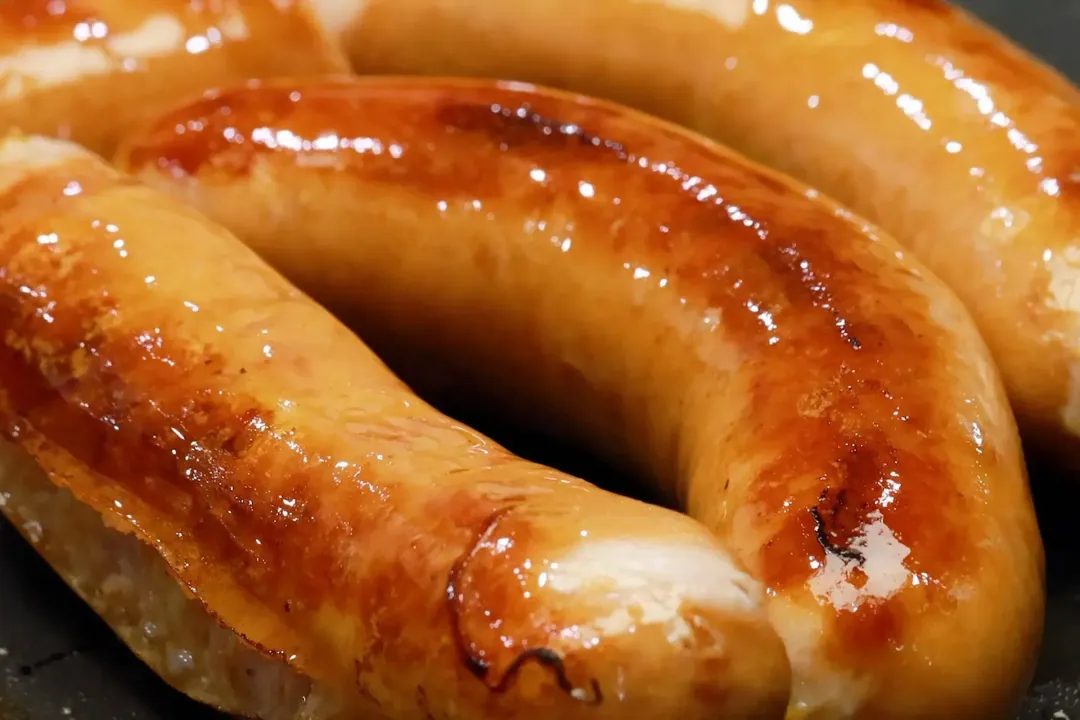 Brown sausages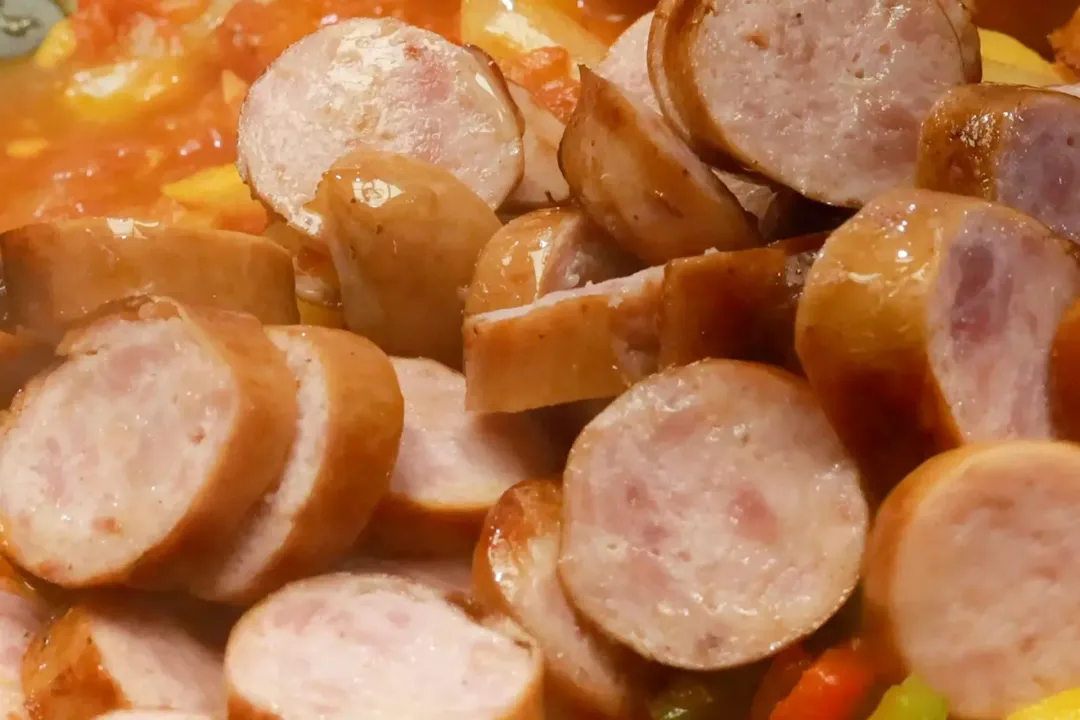 Cut sausage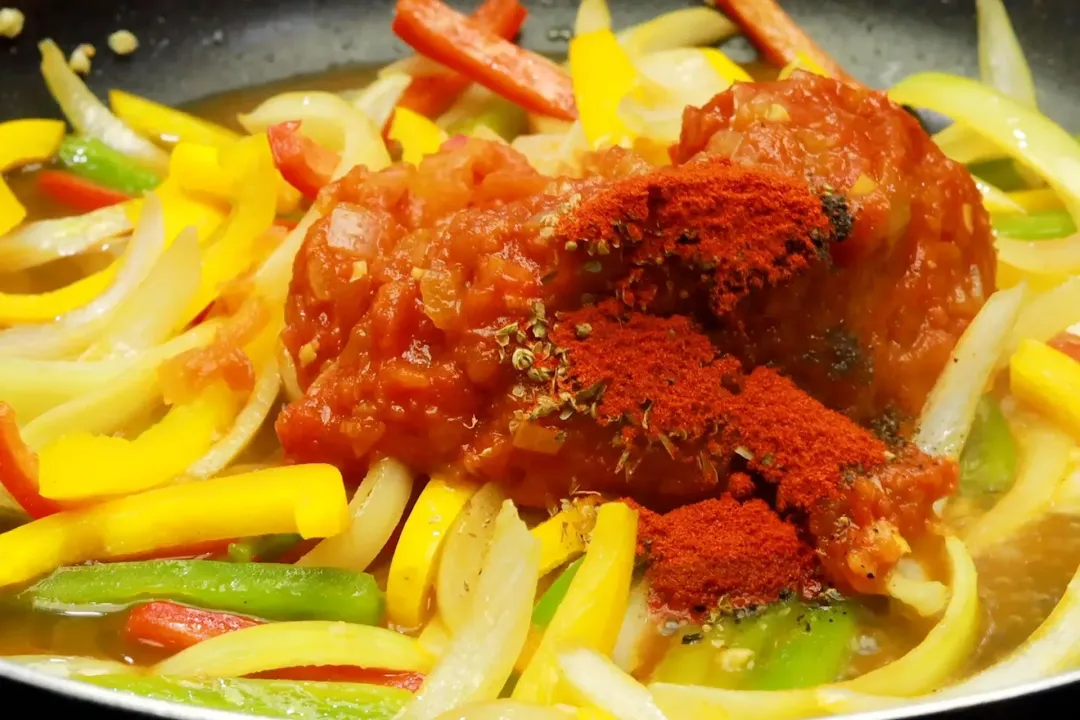 Make the pasta sauce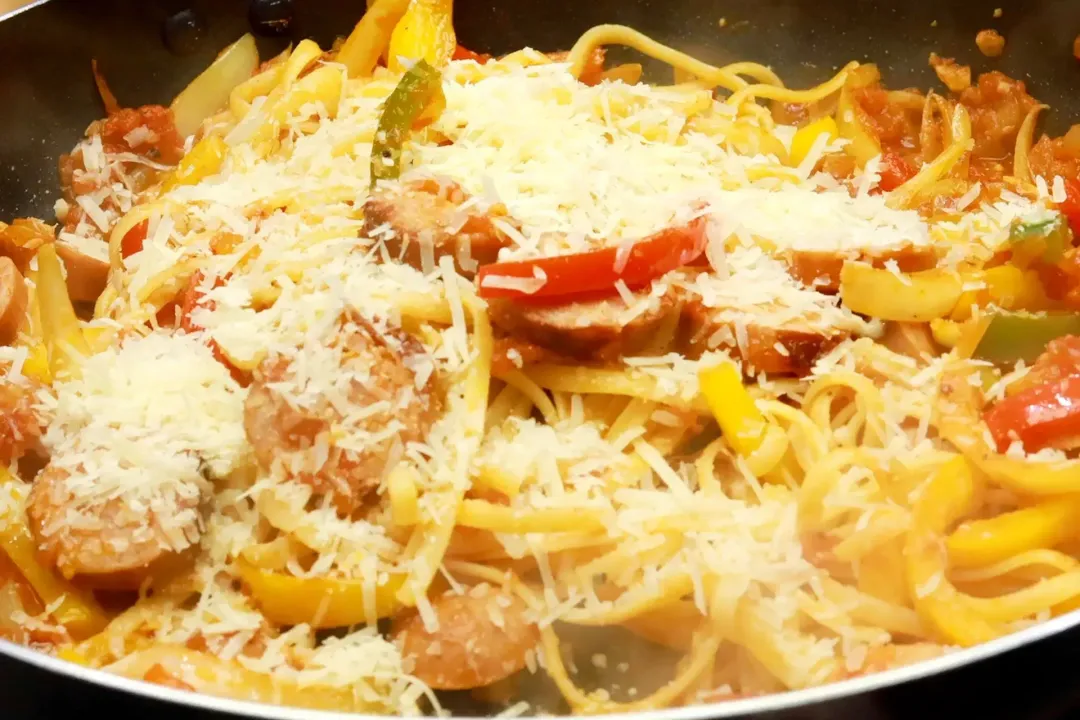 Add sausage and pasta to the pan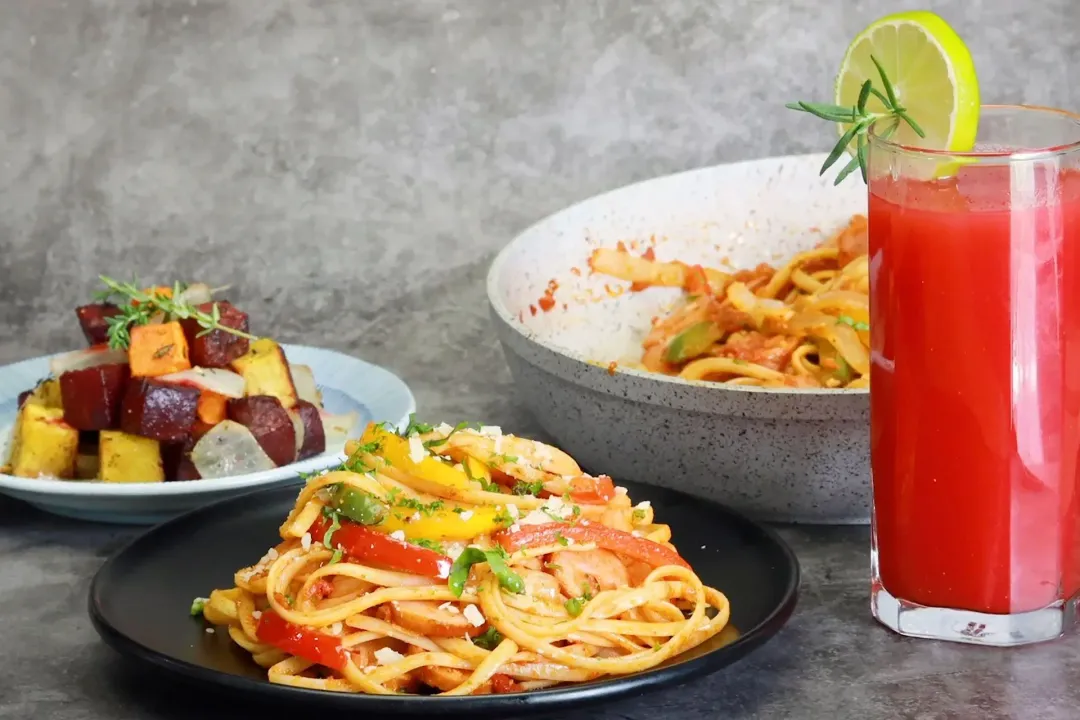 Garnish and serve
How to Cut Bell Peppers
For this sausage and peppers recipe, we cut the peppers into strips. To slice the peppers the right way, here are 3 simple steps to follow:
Cut off the top and bottom of the pepper.
Remove the ribs and seeds.
Cut them into strips.
How Do You Know If Sausages Are Done
With thicker sausages, it can sometimes be challenging to know when they are fully cooked. Generally, a medium link sausage will take about 15 – 20 minutes to cook in a frying pan.
To cook sausages evenly on both sides, you have to keep a close eye on them and turn them over frequently. Cooked sausages should have a nice, even, golden-brown crust on the outside, and a paler color on the inside (but not pink).
When you cut into the sausages, you should expect clear juice coming out of them. There should not be any pink juices or blood.
As for today's sausage and peppers recipe, we will be cooking them twice: first, by frying and then by simmering with the sauce, so undercooked sausages shouldn't be an issue.
That being said, having a probe thermometer around to check for internal temperature would be the best way to ensure food safety. The perfect temperature for a cooked sausage link should fall around 160 to 165 degrees Fahrenheit.
What Goes with Sausage and Peppers
Our sausage and peppers recipe is a traditional favorite that can pair with many ingredients: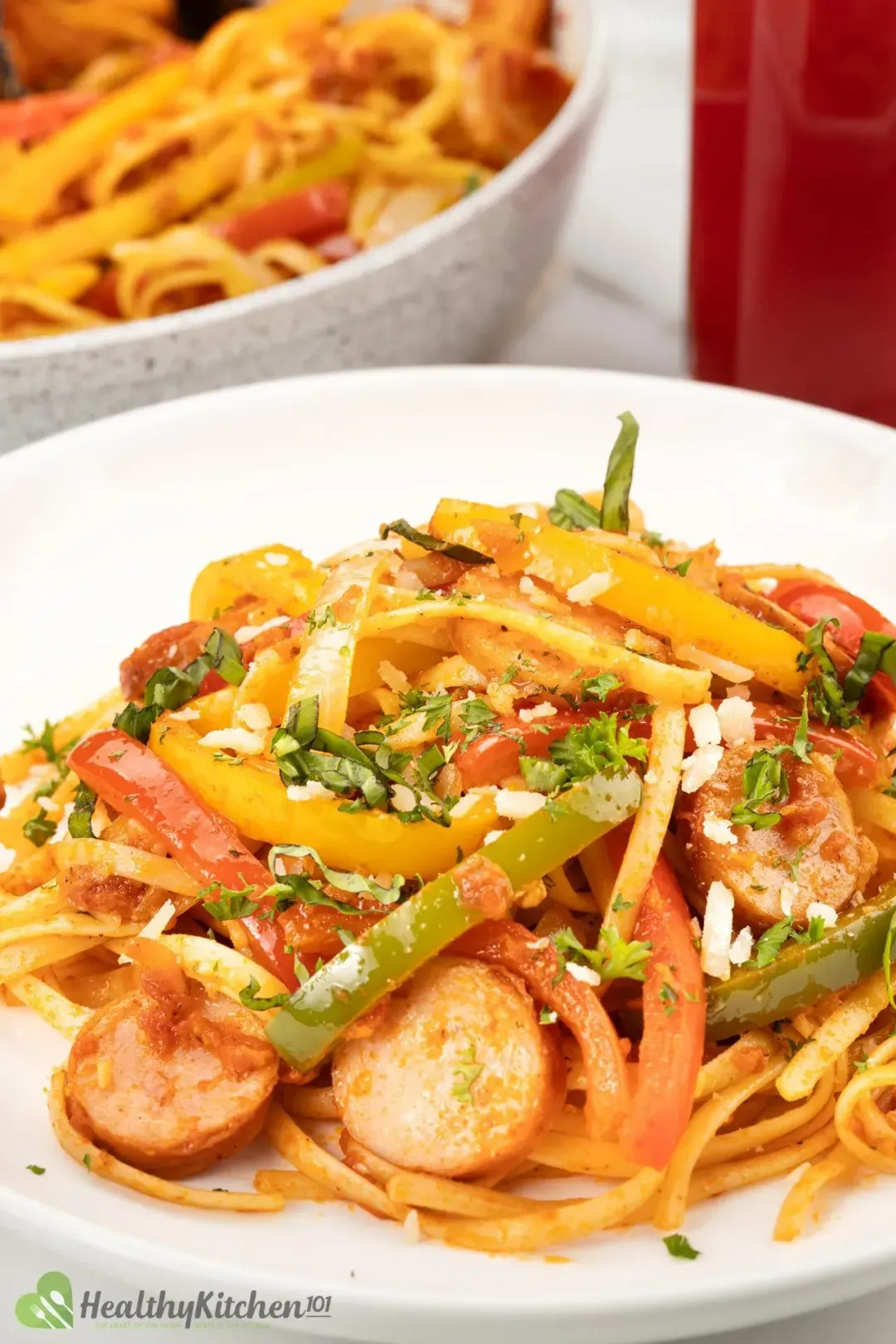 1. Pasta
Pasta, of course, is essential in this sausage and peppers recipe. We use fettuccine since its flat shape can hold the sauce well. 
However, you can use what you have in the kitchen — rigatoni, spaghetti, or farfalle — any pasta will work in this recipe.
2. Rice
For a sausage and pepper rice, you add the rice to the skillet then simmer everything for about 20 minutes or until the rice is cooked through. Brown rice is a more heart-healthy choice, however, we prefer the texture of white rice in the dish.
3. Sandwiches
Instead of pasta or rice, try to put this delicious sausage and pepper mix in sandwiches. When it comes to sandwich add-ins, the possibilities are endless.
Add some cheese or fresh veggies and turn your sausage sandwich into an even more satisfying meal.
4. Onions
Onions and tomatoes are an excellent combo — the sweetness from fresh onions balances out the tang of tomatoes. Cooked together, they make the sauce turn out beautifully and become extra delicious!
5. Potatoes
With the same main ingredients: sausages and peppers, but with a different cooking method. We stir fry sausages and veggies in a pan and then roast in the oven.
This is where the taste gets intense and smoky. Italian home cooking can be easy and tasty all in one!
Can You Freeze Sausage and Peppers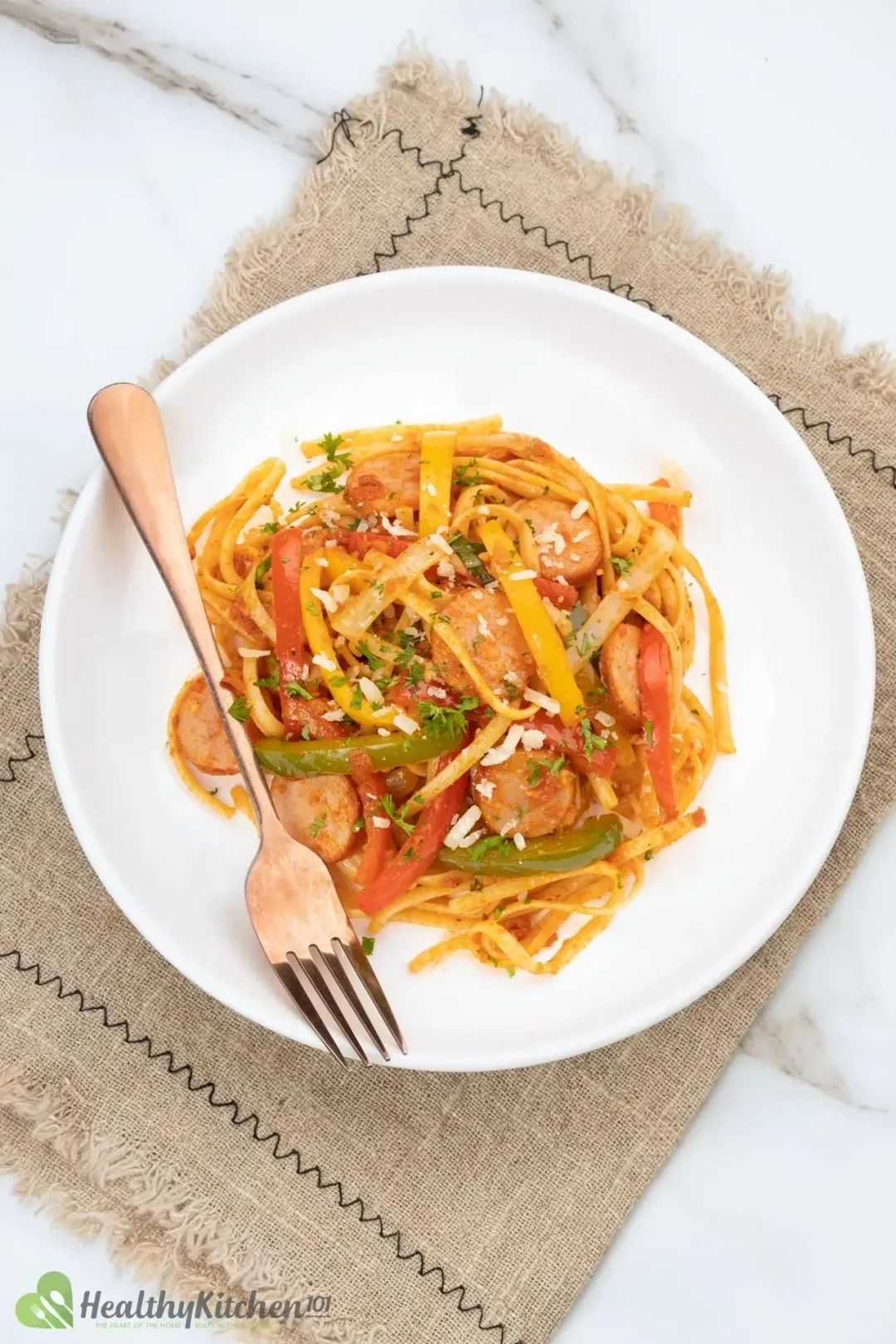 This sausage and peppers recipe makes 4 servings but you can easily double it if you prefer and save the leftovers for another meal by simply freezing them. The easiest way to do this is to let your cooked dish cool down completely to room temperature, then freeze it in a freezer-safe food container or zip-top freezer bag.
You can also freeze this sausage and peppers dish before cooking. First, divide the sausage, vegetables, and seasonings into different bags. Then you can throw everything in a hot pan whenever you are craving a hot and hearty dinner.
Whether this dish is frozen before or after cooking, it will last in your freezer for up to 2 months.
How Long Does Cooked Sausage Last in the Fridge?
Cooked sausages can last up to 3-4 days in the fridge. To store correctly, keep them in an airtight container after letting them cool down completely at room temperature.
If you smell any unpleasant odors or the surface gets moldy, this means your cooked sausages have spoiled. Our advice is to discard them and start with fresh ones.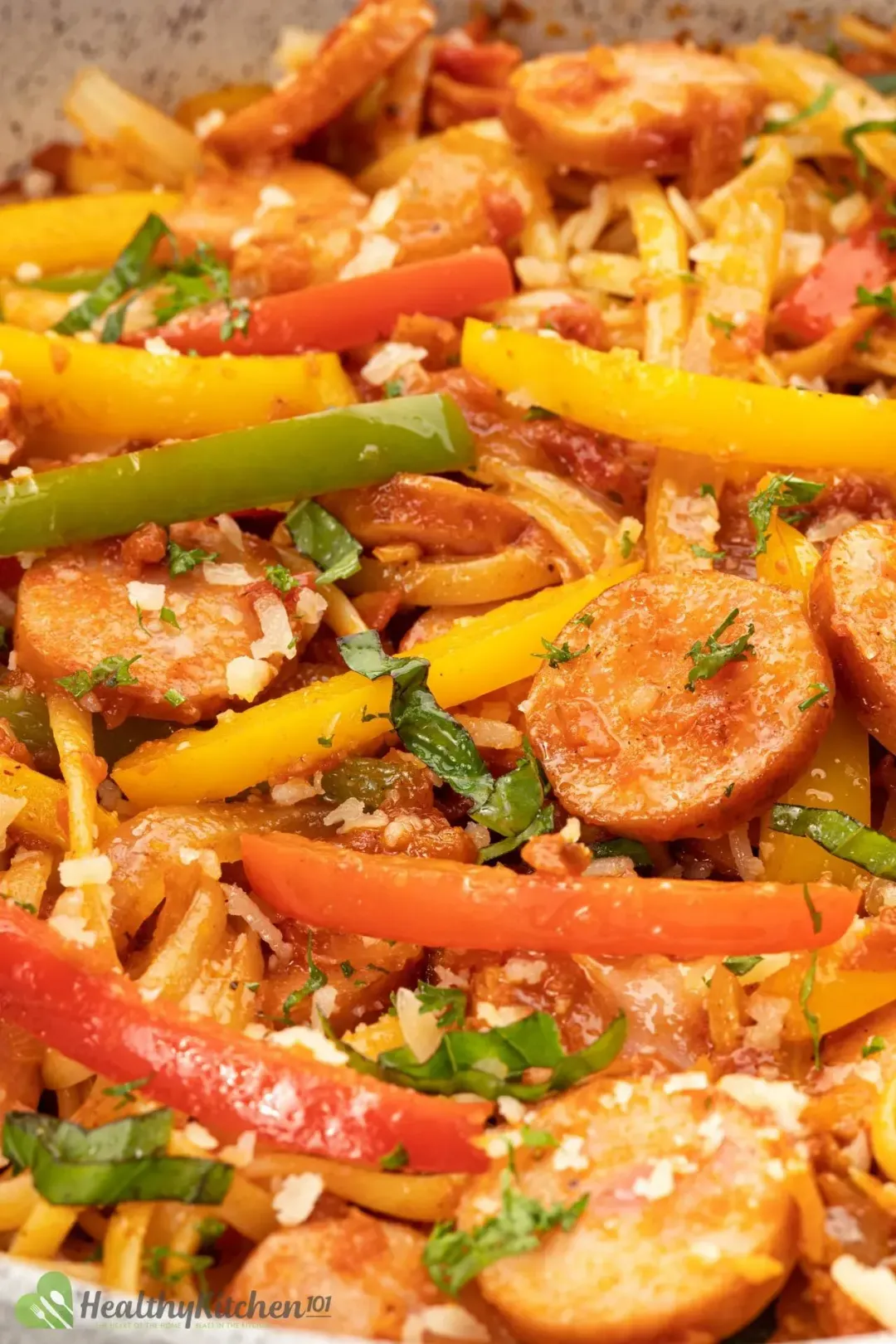 What to Serve with Sausage and Peppers
Normally, hot dog buns would be the perfect companion for sausages. However, they are not the healthiest choice and not the friendliest option for many dieters. So here are some healthy alternatives to pair with sausage and peppers:
Potatoes: we recommend simple mashed potatoes or roasted sweet potatoes. Both offer another level of flavor and texture that would work beautifully with the sausage and peppers.
Salads: for a hearty recipe like sausage and peppers, we suggest adding a simple salad for some freshness. A healthy broccoli salad to add more vegetables, or a lovely fresh fruit salad for dessert, would be perfect to complete your meal.
Pasta: the tomato sauce from sausage and peppers goes well with almost any pasta. However, we do recommend whole grain pasta because it contains more fiber, protein, iron, magnesium, and other minerals, making it healthier than your regular pasta.
Of course, sausage and peppers is a filling dish and you could have it all on its own, but we love to have it with pasta which easily soaks up that tasty sauce to become an earthy, filling dish. It also adds more carbohydrates to the dish that are needed for a well-rounded meal.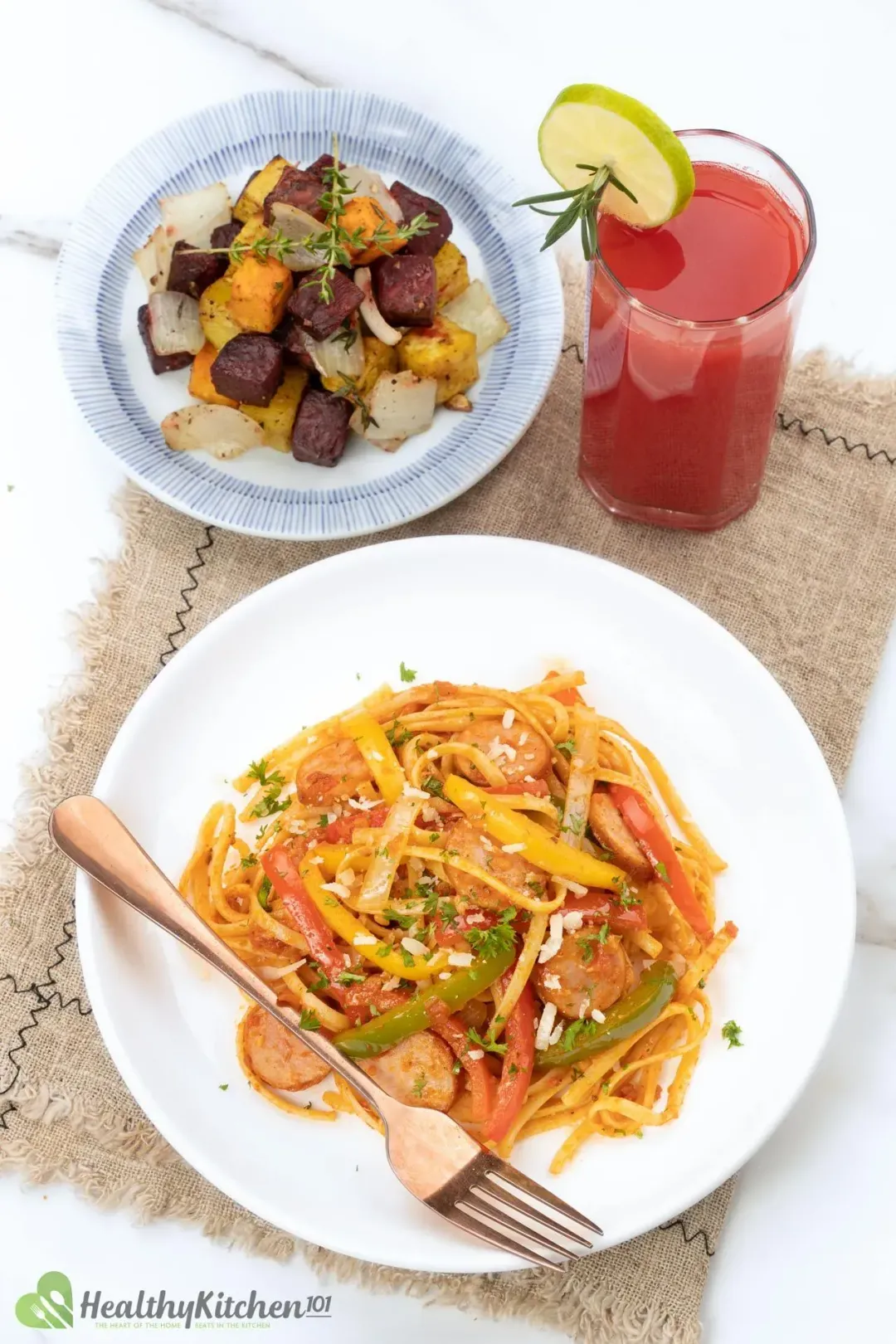 If you are in the mood for another healthy pasta recipe, our shrimp scampi is also a great option.
Sausage and Peppers
This sausage and peppers recipe might take 50 minutes to make, but only the first half of that requires focused effort. After that, you can spend the last 20 minutes preparing dessert or munching on a cheese appetizer, whichever your heart desires!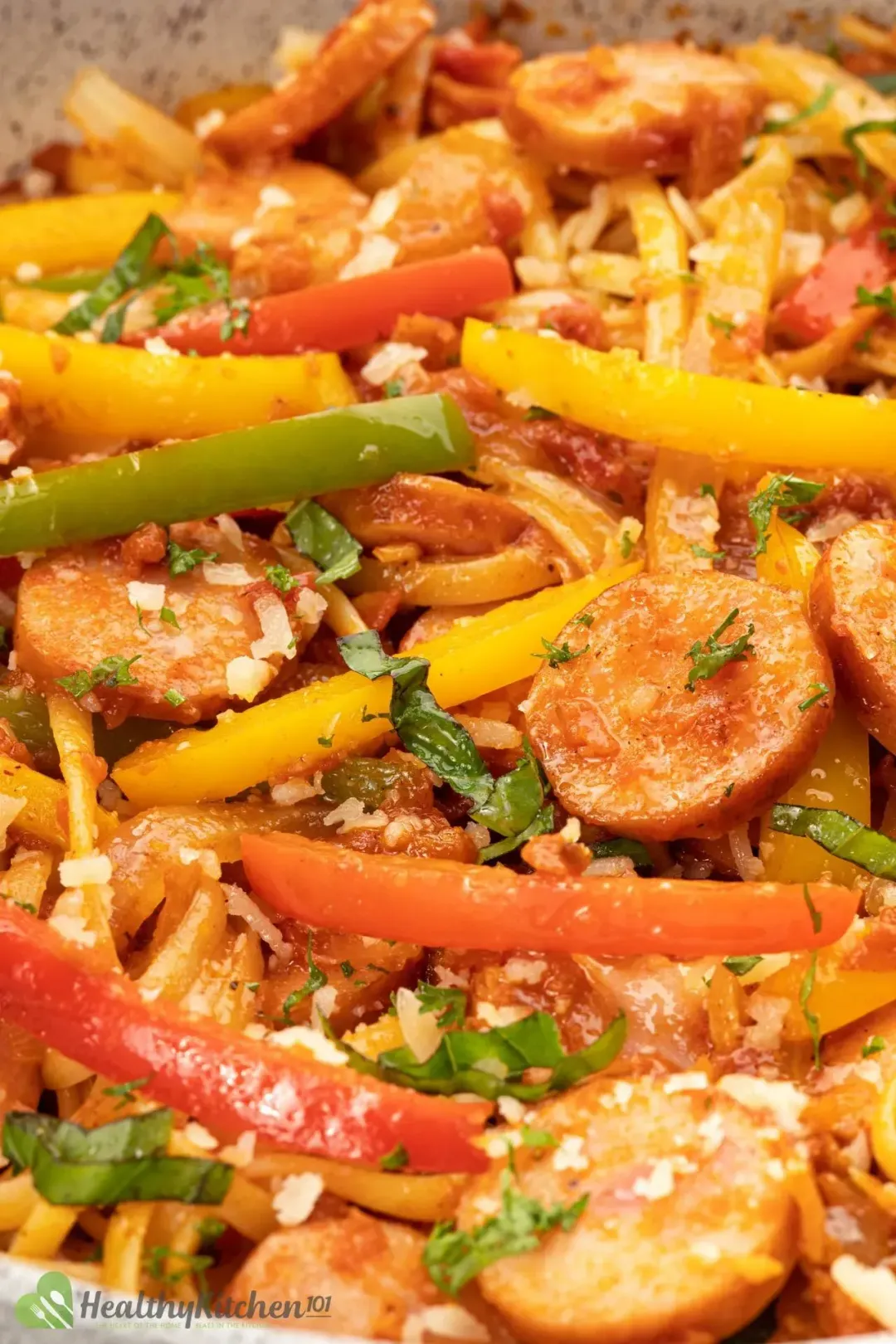 cook TIME

40 mins

prep TIME

10 mins

total TIME

50 mins
COURSE

Dinner, Main Course

CUISINE

American, Italian

SERVINGS

CALORIES

493 kcal
INGREDIENTS
8 oz

bell pepper (red, green, yellow)

(sliced)

1 cup

homemade tomato sauce

1/2 cup

unsalted chicken broth

1.5 oz

shredded parmesan cheese
INSTRUCTIONS
1
Bring a large pot of water to a boil. Cook pasta until al dente and drain. Set aside.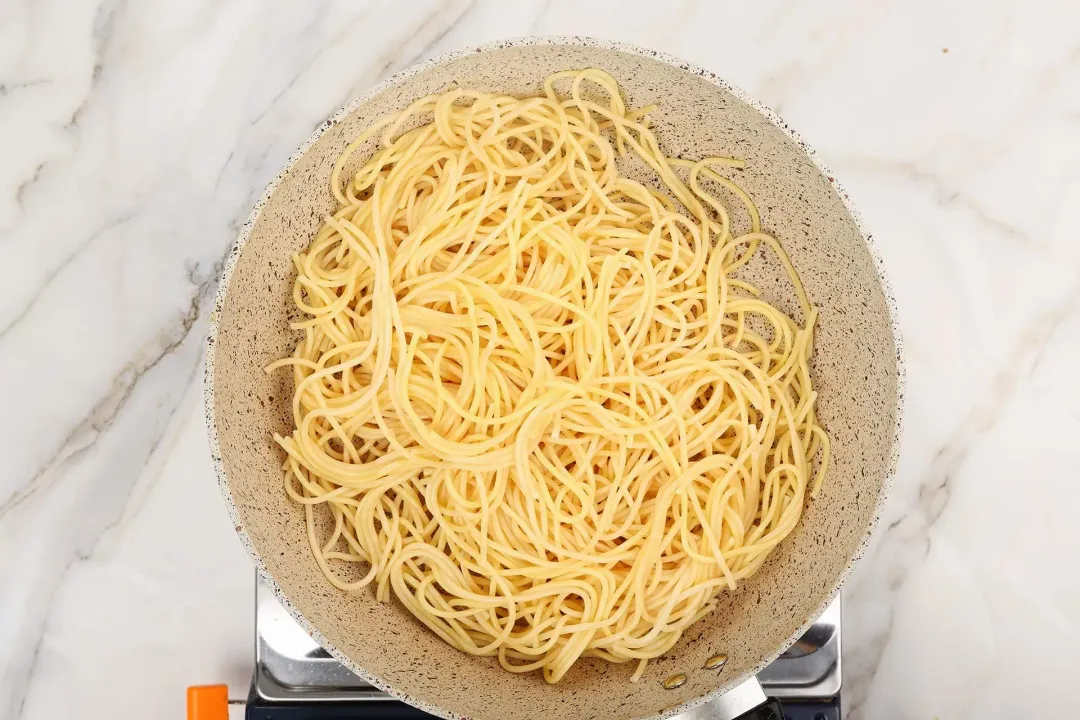 2
Add olive oil to a skillet over medium-high heat. Once hot, add the sausages and cook until they are browned on all sides. Transfer sausages to a cutting board and let them cool at room temperature.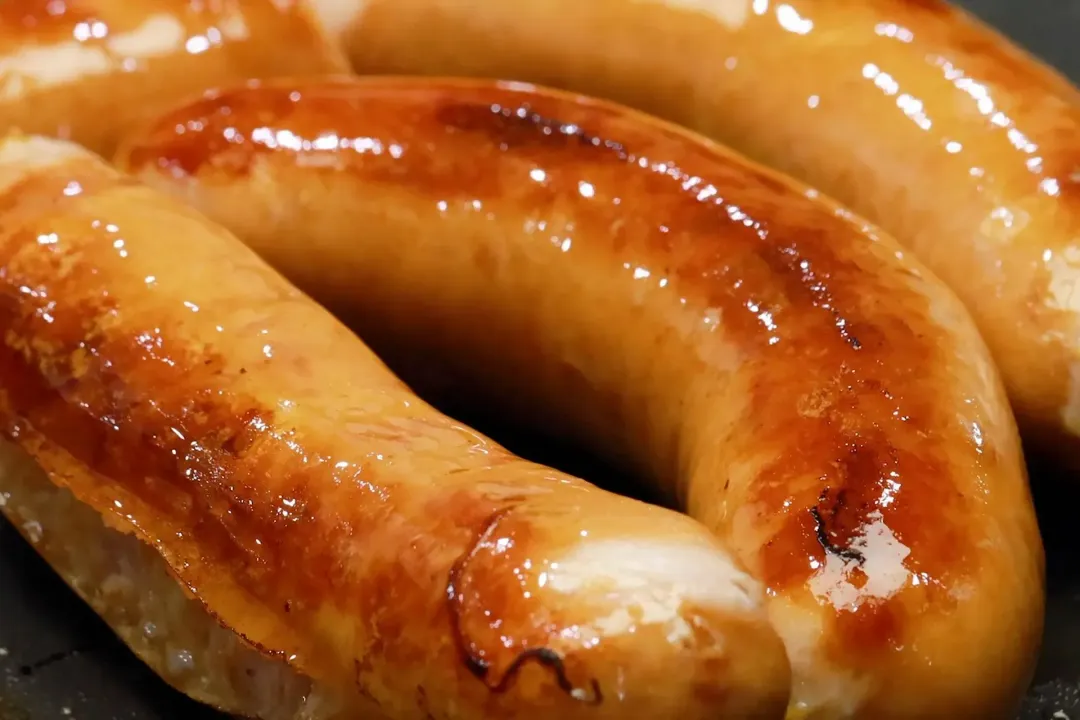 3
Slice sausages into 1-inch rings, and set aside.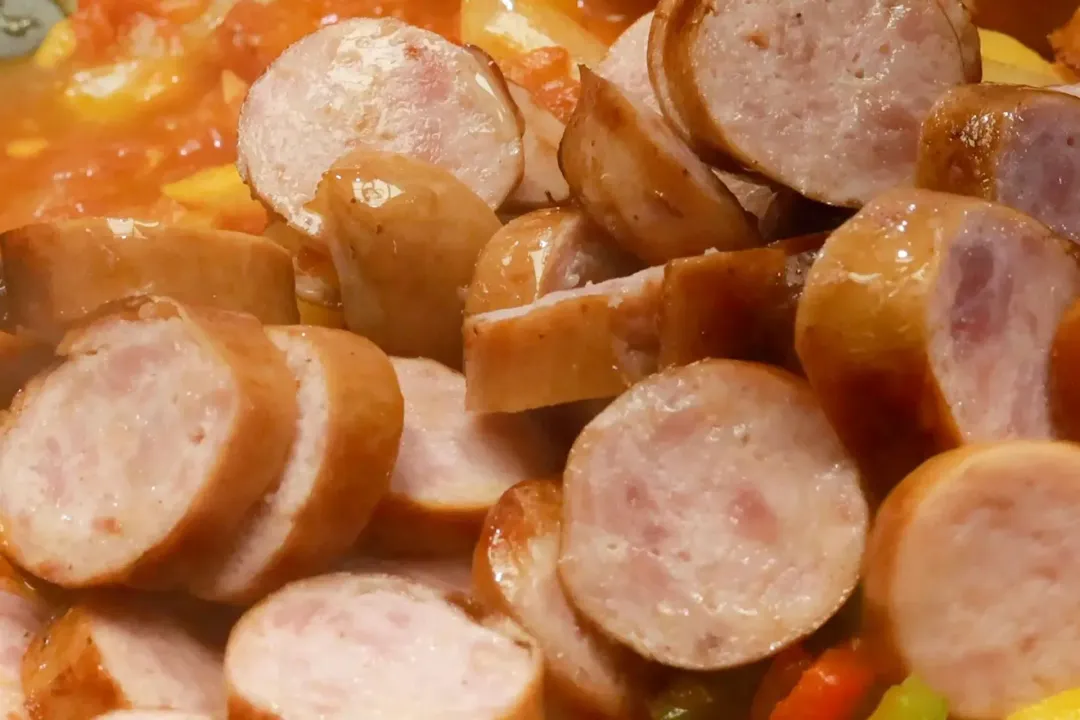 4
Add butter to the same skillet over medium heat. Add garlic and cook until fragrant. Stir in onion and bell pepper. After the vegetables have softened, pour in tomato sauce, chicken broth, ground pepper, oregano, and paprika.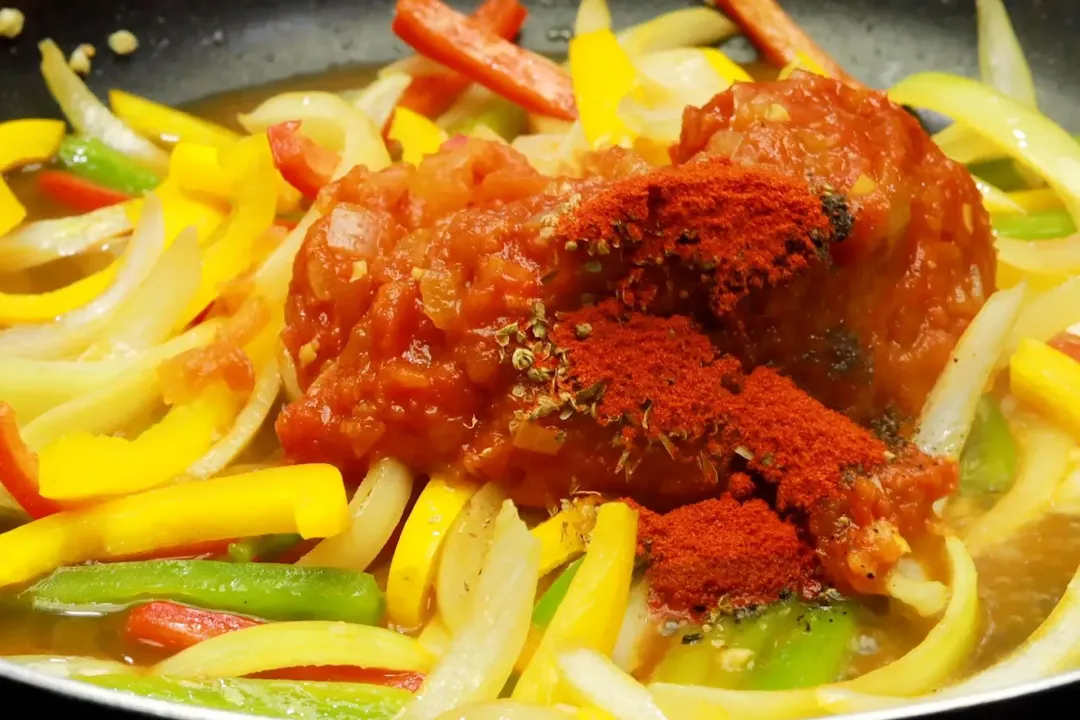 5
Add in sausage. Stir and simmer for a few minutes. Then reduce the heat to low-medium heat. Add in cooked pasta and parmesan cheese, toss to bring everything together. Remove from heat.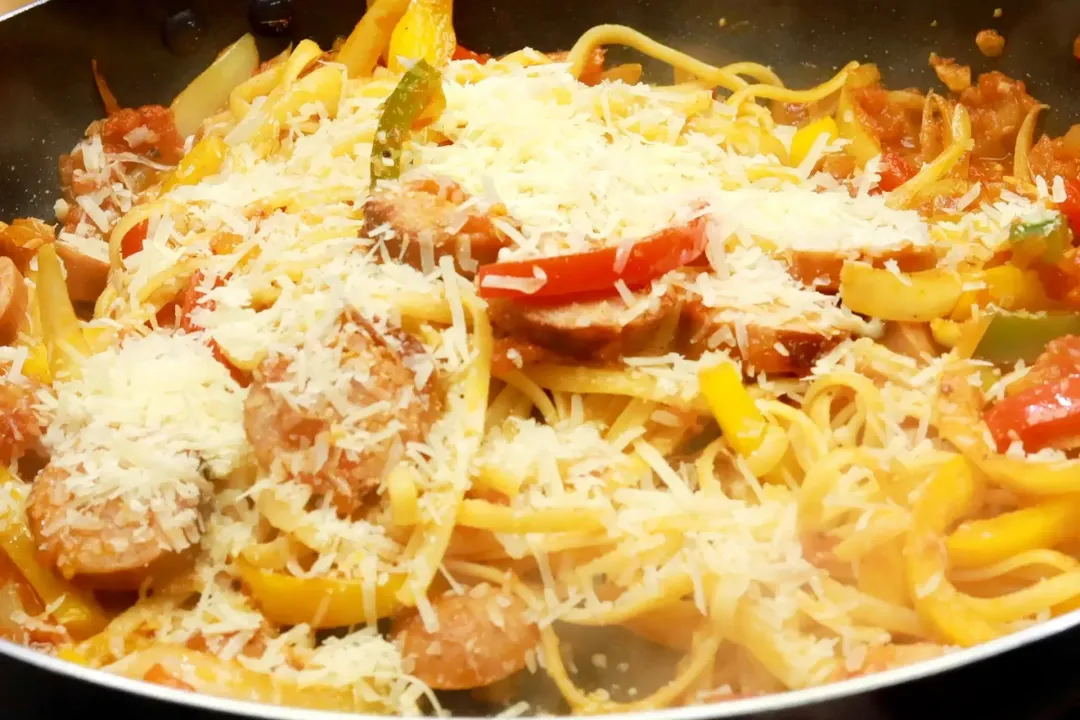 6
Top with parsley and fresh basil. Serve.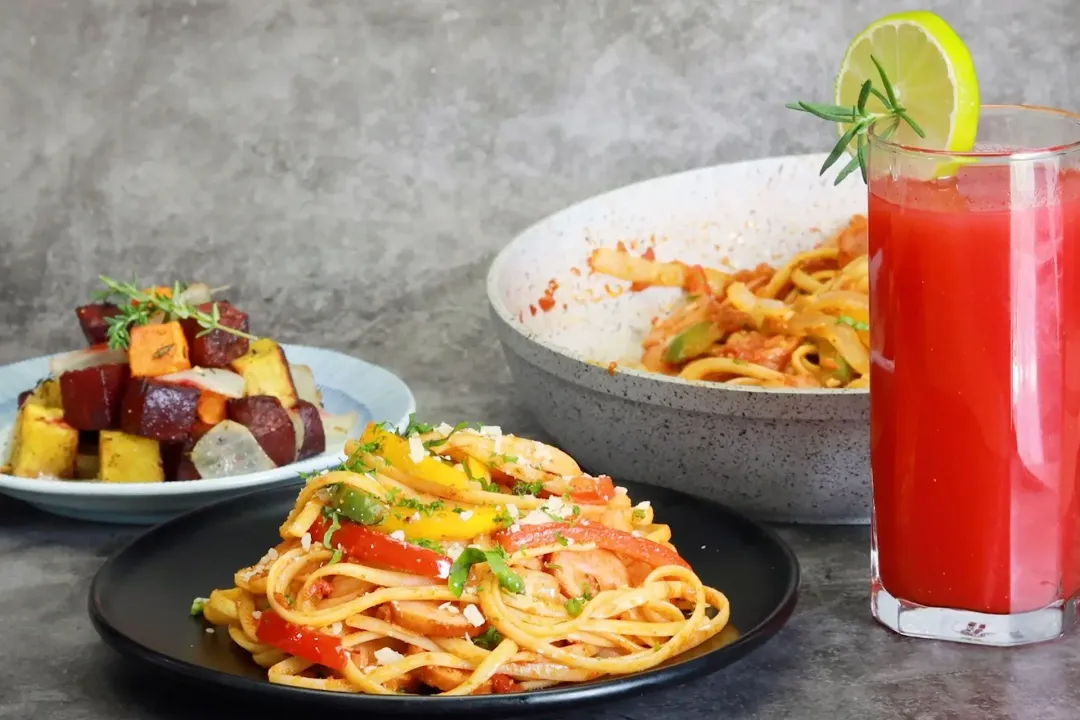 NUTRITION
Nutrition Facts
Sausage and Peppers
Amount Per Serving (1 serving)
Calories 493
Calories from Fat 279
% Daily Value*
* Percent Daily Values are based on a 2000 calorie diet.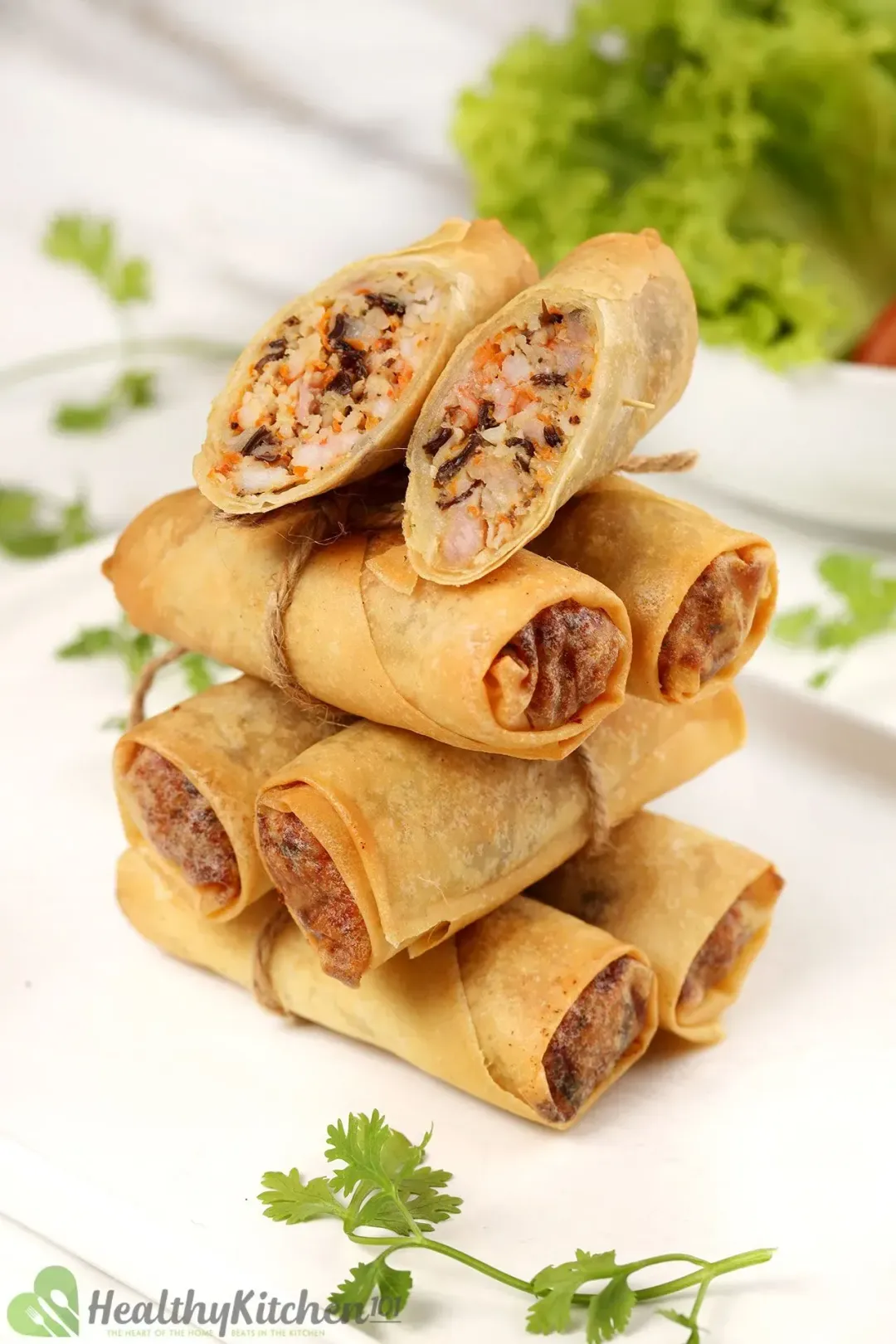 Egg Roll
Head Chef, Culinary Consultant
Tuyet Pham is an award-winning Saigonese chef who believes that joy is the secret ingredient to delicious food. At Healthy Recipes 101, Tuyet personally tests and simplifies every recipe, ensuring maximum flavor with minimal effort. With a background at prestigious French restaurants P'TI Saigon and Le Corto, Tuyet knows how to make every dish exceptional.
Writer, Author
Luna Regina is an accomplished writer and author who dedicates her career to empowering home cooks and making cooking effortless for everyone. She is the founder of HealthyKitchen101.com and HealthyRecipes101.com, where she works with her team to develop easy, nutritious recipes and help aspiring cooks choose the right kitchen appliances.
Nutrition Reviewer
Lizzie Streit is a Minneapolis-based dietitian and founder of It's a Veg World After All. She completed her MS in Human Nutrition from Drexel University, and is an expert in culinary nutrition, recipe development, and nutrition communications. Lizzie's philosophy is centered around making nutrition recommendations, and especially the advice to eat more vegetables, approachable and realistic. She is excited to be working with the team at Healthy Recipes 101 to ensure that their recipes are both nutritious and delicious.
Recipe does not include noodles, but the picture does. Why?

Thanks for the question. Our recipe contains the fettuccine pasta in the ingredietnt list.

Another amazing recipe - the sausage & peppers were unbelievable! Such great flavors combined together - I'd definitely make this again.