This Instant Pot pulled pork recipe can help you make a tender, flavorful filling for your sliders very quickly. We're talking juicy pork that falls apart with a slight touch, finishing in exactly 40 minutes after just a press of a button.
There's plenty you can do with this pulled pork, too, and we've got some great ideas for you in this article. We served ours sandwiched between two soft, sweet buns along with a creamy slaw and a chilled glass of juice on the side.
What Is Pulled Pork?
Pulled pork is an American barbecue dish made by slowly cooking pork chunks, then pulling it apart and mixing it with a sauce. It's most often served on burger buns.
Traditional pulled pork is slow-smoked over a stove, which gives it a pleasant smoky aroma. This method can be time consuming, however — it takes hours for the pork to reach that perfect tenderness.
We realized that this effect can be achieved in an Instant Pot, and all it takes is the right seasoning mix. It's quicker, more convenient, and takes less time both to cook and to clean.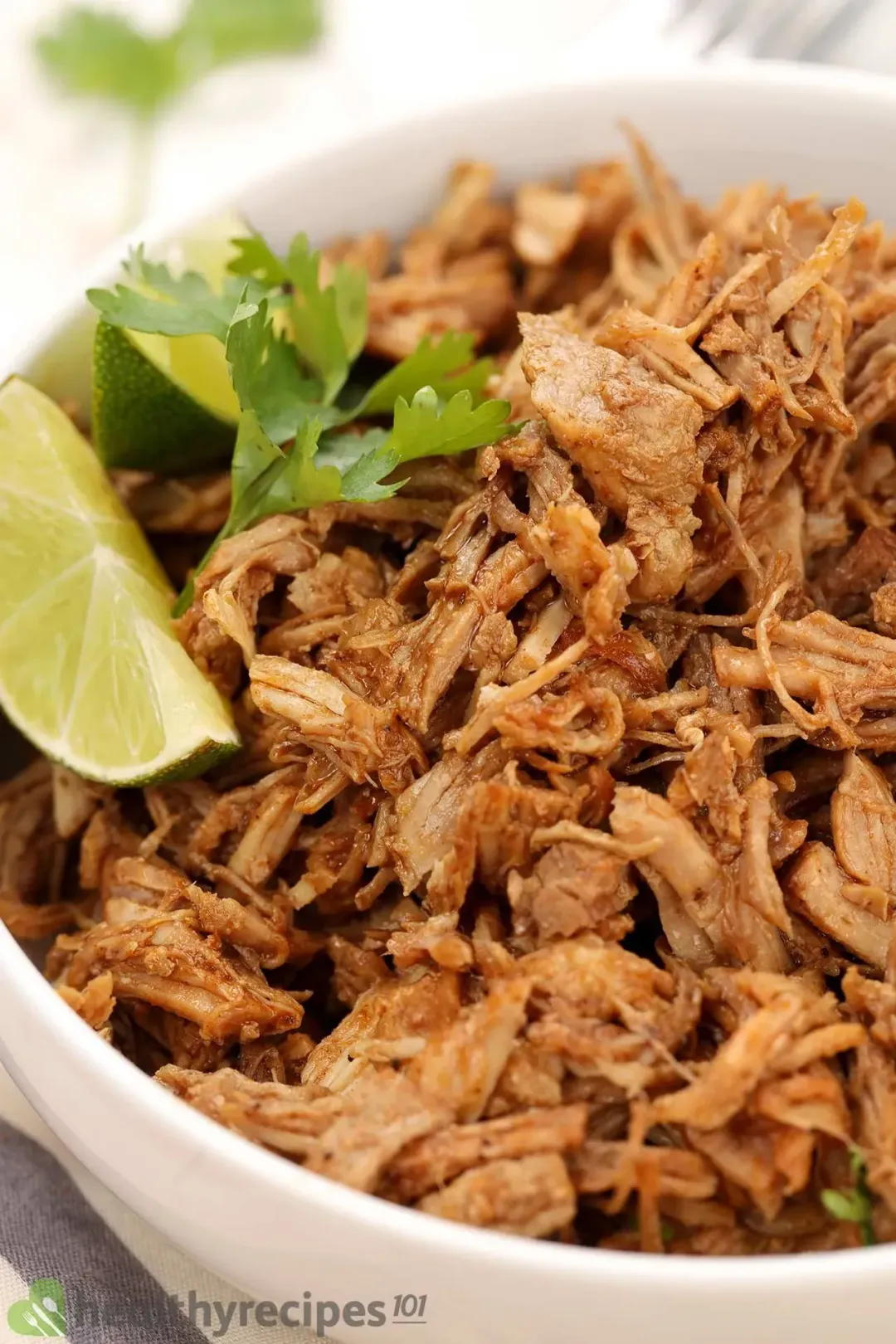 Is Pulled Pork Healthy?
Yes, it is.
First of all, pulled pork made in an Instant Pot requires very little oil. It is as healthy as sauteéd dishes.
Similar to shredded chicken, the pork cuts used to make pulled pork often contain very little fat. Lean meat helps you reduce your saturated fat intake and control your calorie input, important steps that the USDA recommends in their dietary guidelines.
Plus, since we won't be smoking the meat, we're excluding plenty of cancer-promoting substances from our diet.
How Our Pulled Pork is Made to be Healthier
Besides saturated fat and calories, the USDA also suggests that we limit our added sugar (not naturally-occurring) and sodium intakes.
Based on years of cooking, we knew exactly how to keep our food flavorful with moderate amounts of seasonings. This is the key to keeping these nutrients in the sweet spot.
If you wish to learn more about the recommended amounts of these nutrients, check out our healthy eating guidelines.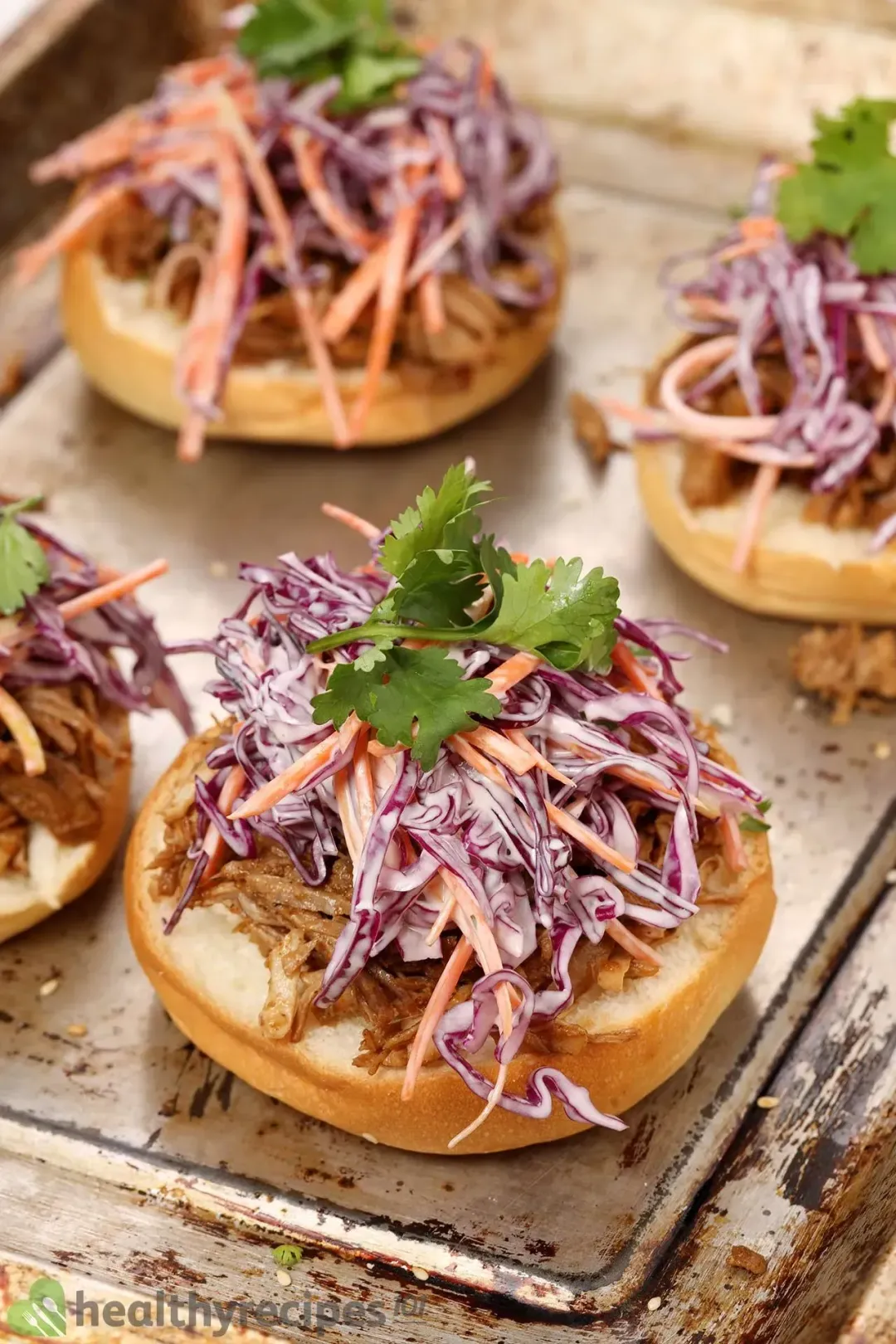 Main Ingredients for Instant Pot Pulled Pork
All you need is a good pork cut and the right seasoning.
1. Best Pork Cuts for Pulled Pork
Using the most tender, delicious pork cut (like tenderloin) to make pulled pork might seem legitimate, but it's a bit of a waste. Expensive cuts contain plenty of moisture, and are meant to be cooked and served whole, not pulled apart.
Since we will end up tearing the pork, we want a cheap cut that'd be otherwise tough to chew. After all, pulled pork is a good meat option for when you're short on funds.
Here's some tough cuts you can ask the butcher to get for you: shoulder roast (the one we purchased), blade roast, or pork butt. In general, you want the ones that are far from the belly and loin areas.
Under the pressure of the Instant Pot, the meat becomes tender no matter how tough it was to start. We found ours very juicy and easy to pull apart.
2. Instant Pot Pulled Pork Seasoning
Our seasoning mix has salt, pepper, garlic powder, onion powder, cayenne, paprika, cumin, brown sugar, Worcestershire sauce, and lime juice.
The brown sugar and Worcestershire are the secret to the caramelized color and the smoky aroma— classic hallmarks of a good grilled dish. A dash of lime juice gives the meat a bright tang, adding complexity to the flavor profile.
The other ingredients are the basic seasoning mix that goes perfectly with any meat you have on hand.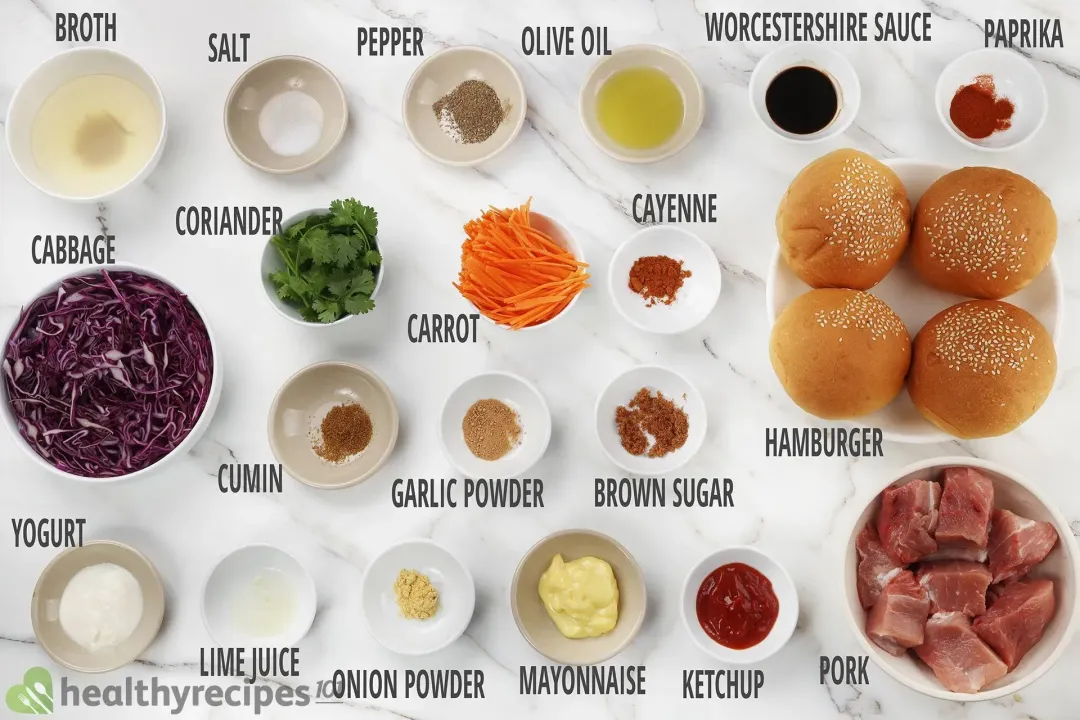 3. Sauce for Instant Pot Pulled Pork
After the meat is cut and torn apart, it's usually mixed with a BBQ sauce of your choice. Since our seasoning array pretty much covers all the flavors, we simply mixed ours with ketchup.
If you prefer a more flavorful pork, consider using your favorite BBQ sauce in place of the ketchup.
How to Make Pulled Pork in an Instant Pot
Begin by selecting the "sauteé" mode on your pressure cooker or Instant Pot. Heat the oil and give the pork a good sear on all sides.
Unlike most cases, this time we want to sear the meat without any seasoning because otherwise the seasoning will burn quickly.
Once a golden crust is achieved, we add the seasonings and stir until it becomes caramelized and fragrant. Add the chicken broth and pressure-cook the meat for 30 minutes.
You can do other things while the machine's doing its job. We whipped up a quick slaw to serve on top of the pulled pork later on.
Place a kitchen rag onto the machine's vent, and use the spatula's handle to switch the vent to "release". Wait for everything to cool down a little, then tear the meat with two forks and cook until the liquid evaporates.
You should be left with extra-flavorful pulled pork. All that's left to do is mix it with ketchup and assemble the world's easiest sliders.
Here's a summary of the steps: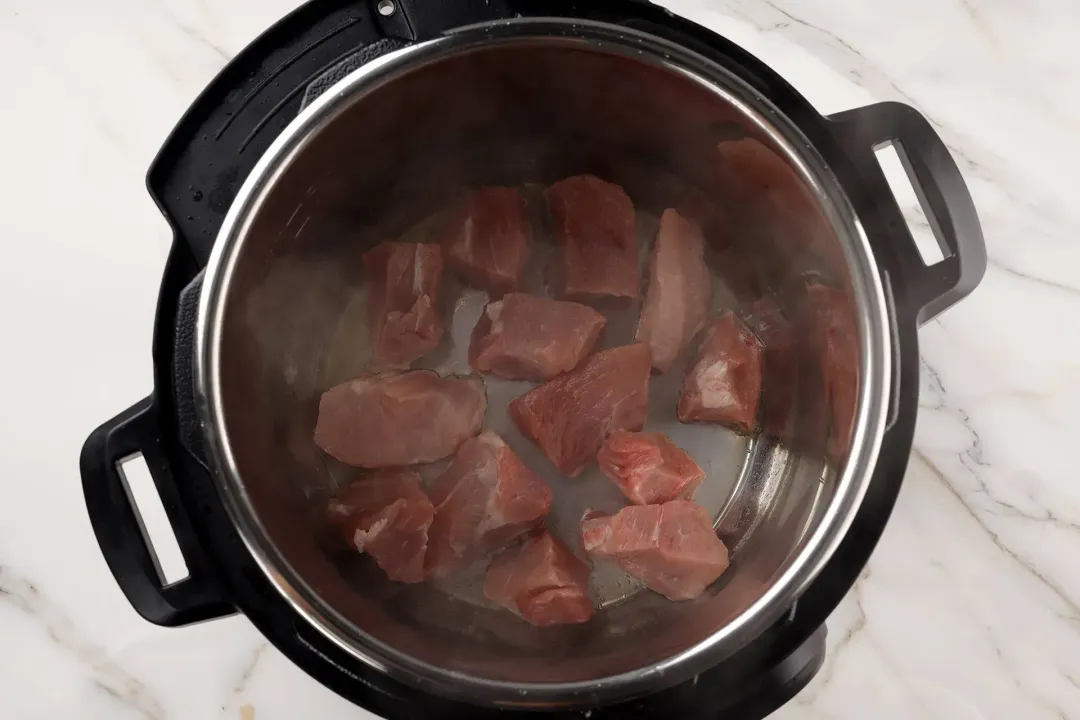 Sear the meat.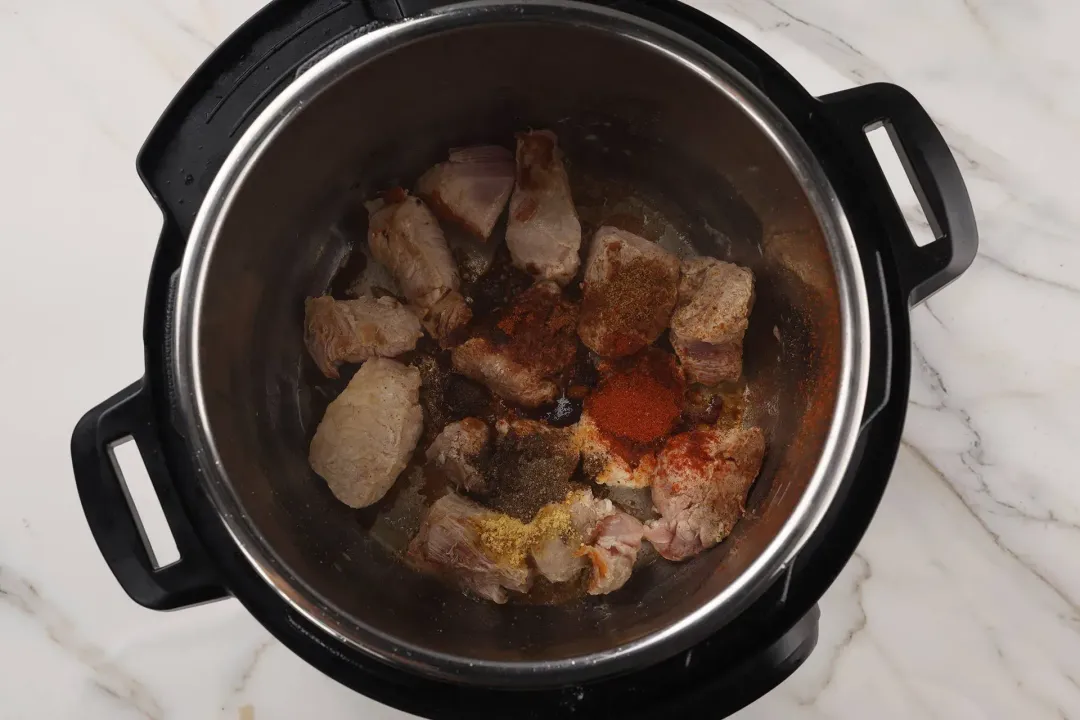 Add seasonings and stir.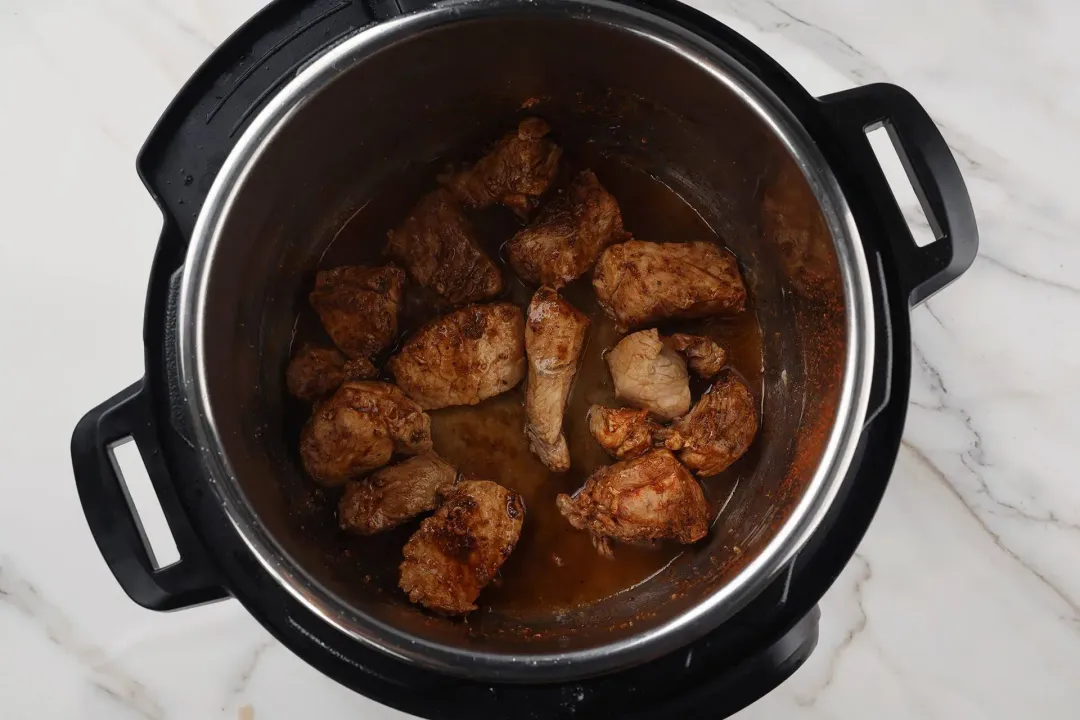 Pressure-cook with broth.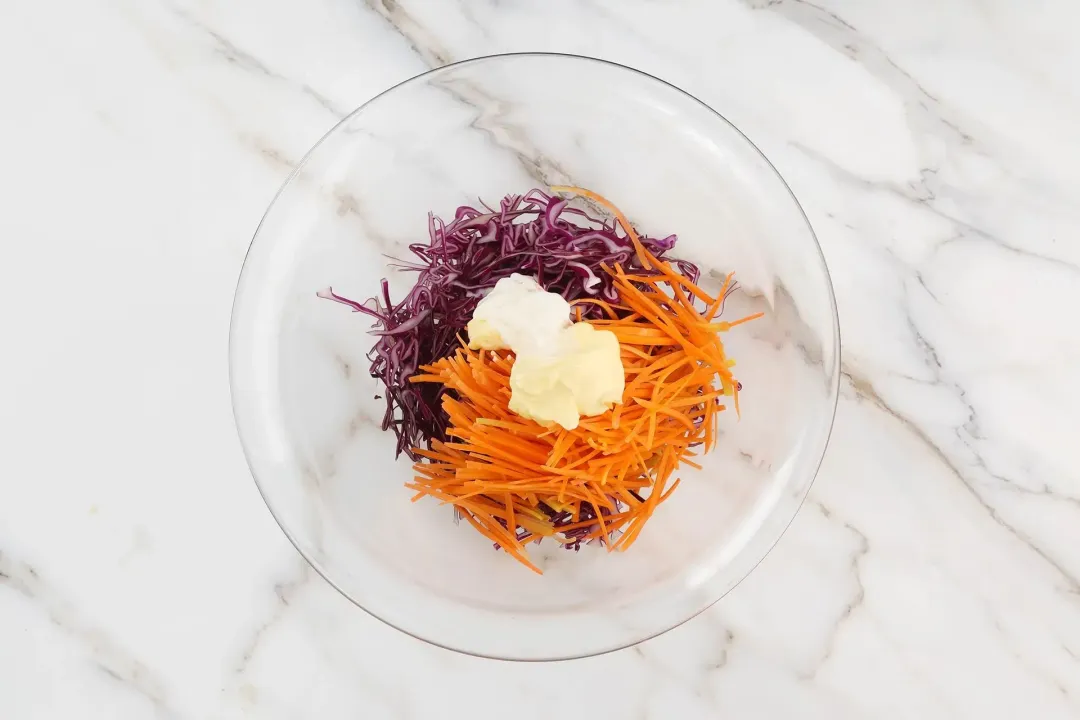 Make cabbage slaw while it cooks.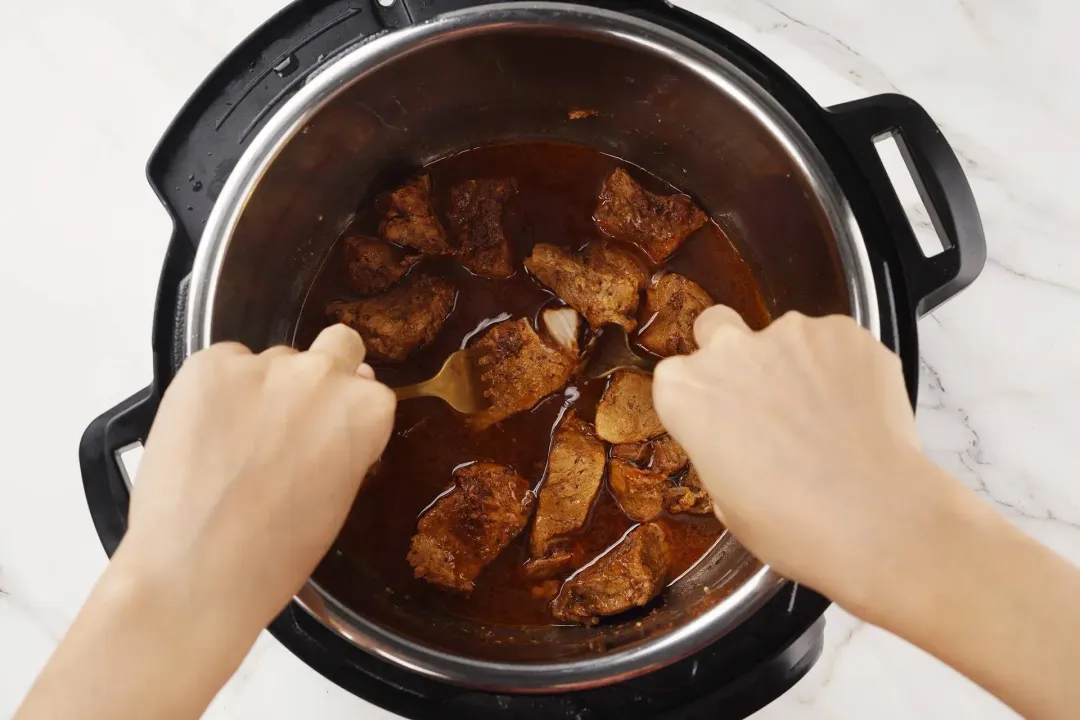 Pull the pork.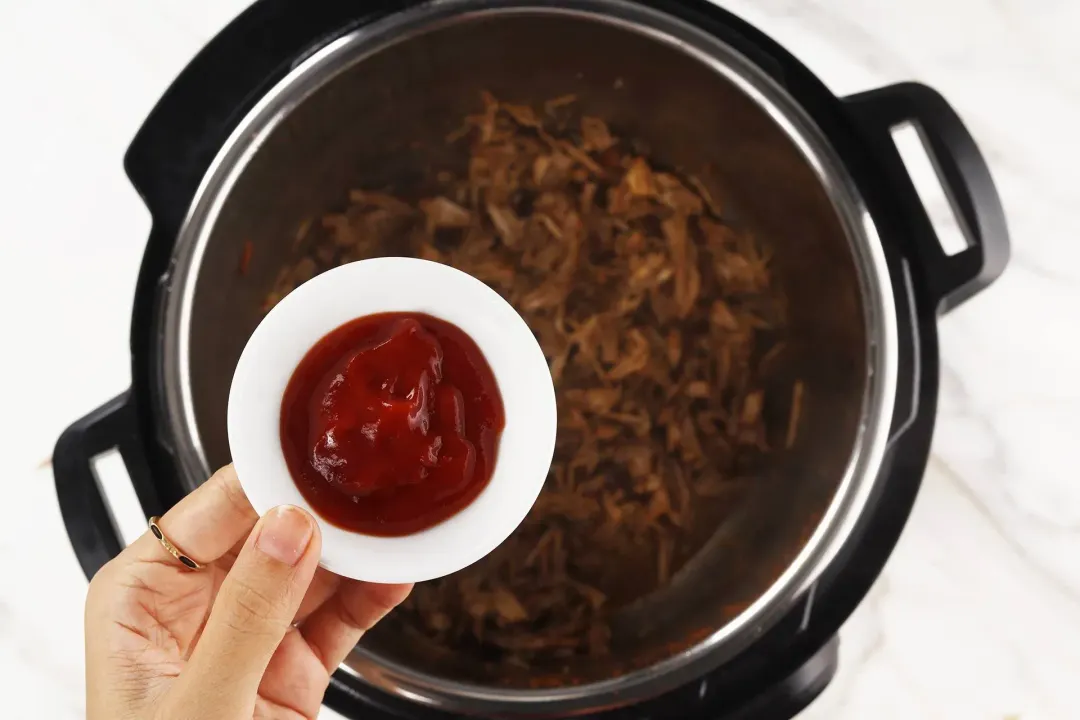 Reduce the broth and mix the meat with sauce.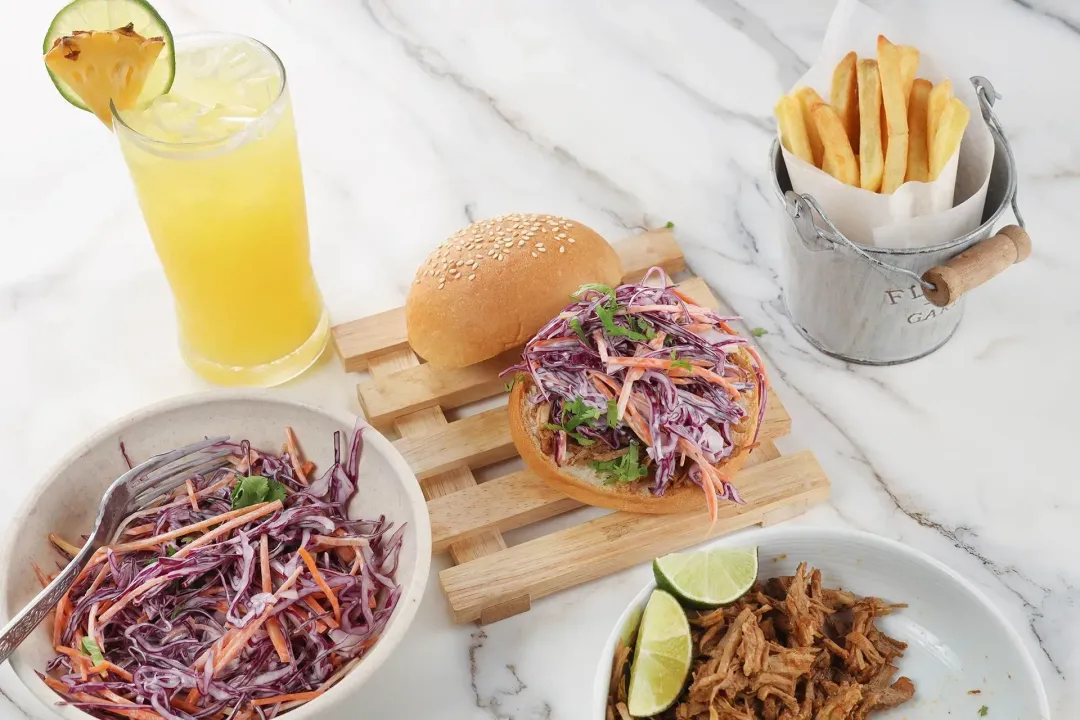 Assemble the sliders and serve.
What to Do With Leftover Pulled Pork
Everyone we know loves a second round of sliders, so those have been our go-to option for leftovers. 
If your crowd prefers something else, though, rest assured that there is plenty you can do for them, like an Instant Pot Kalua Pork Recipe.
Try adding more broth, chopped carrots, and potatoes to the pot and cook for 15 minutes for a hearty stew. In fact, we tried the same thing on our beef chuck to create a wholesome pot roast stew.
Some Mexican rolls like taquitos or enchiladas call for shredded meat as a filling. Since it's already seasoned with plenty of spices, this pulled pork can be a fitting candidate.
Or, simply save the leftovers to serve it with any meal that lacks protein. Mac'n'cheese, pasta, hash browns, or even pizzas are good examples to start with.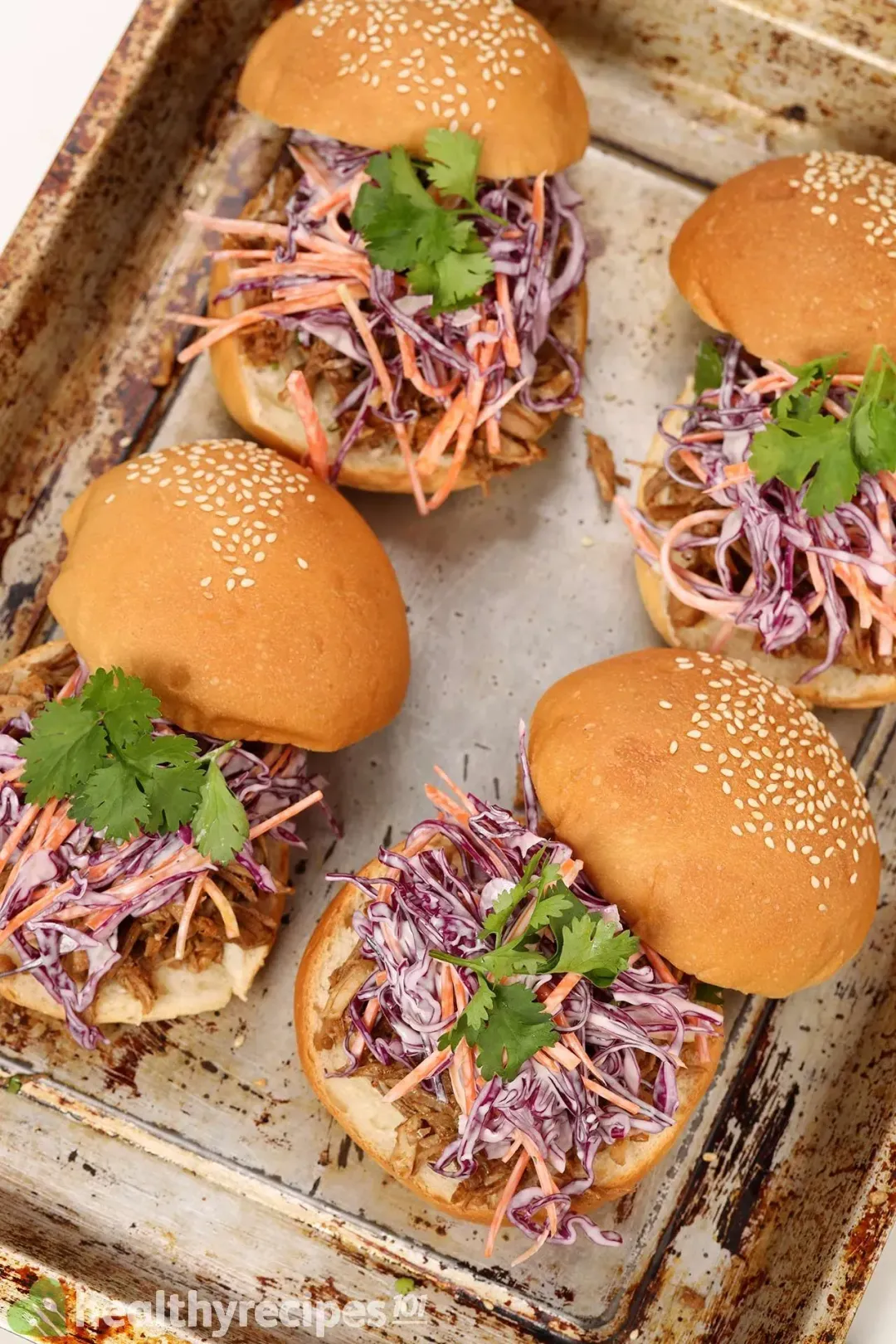 Can I Freeze Pulled Pork?
Yes, you can, and it's the best way to keep cooked pulled pork usable for months.
To freeze it, portion it into individual sealable freezer bags and remove as much air as you can. Microwave-friendly, oven-safe, air-tight containers also work well.
How to Reheat Instant Pot Pulled Pork
To reheat pulled pork, place the frozen meat into a microwave-safe container and defrost it using the "defrosting" setting.
Alternatively, place it into a pot, add 1/4 cup of chicken broth, and simmer it. As the meat loosens up, break it apart and stir it around so everything heats evenly.
Sides for Pulled Pork
1. Coleslaw
We made our slaw using just a few ingredients: red cabbage, carrots, mayonnaise, and Greek yogurt. It's creamy, a little tangy, fresh, and only needs to sit for about 30 minutes in the fridge.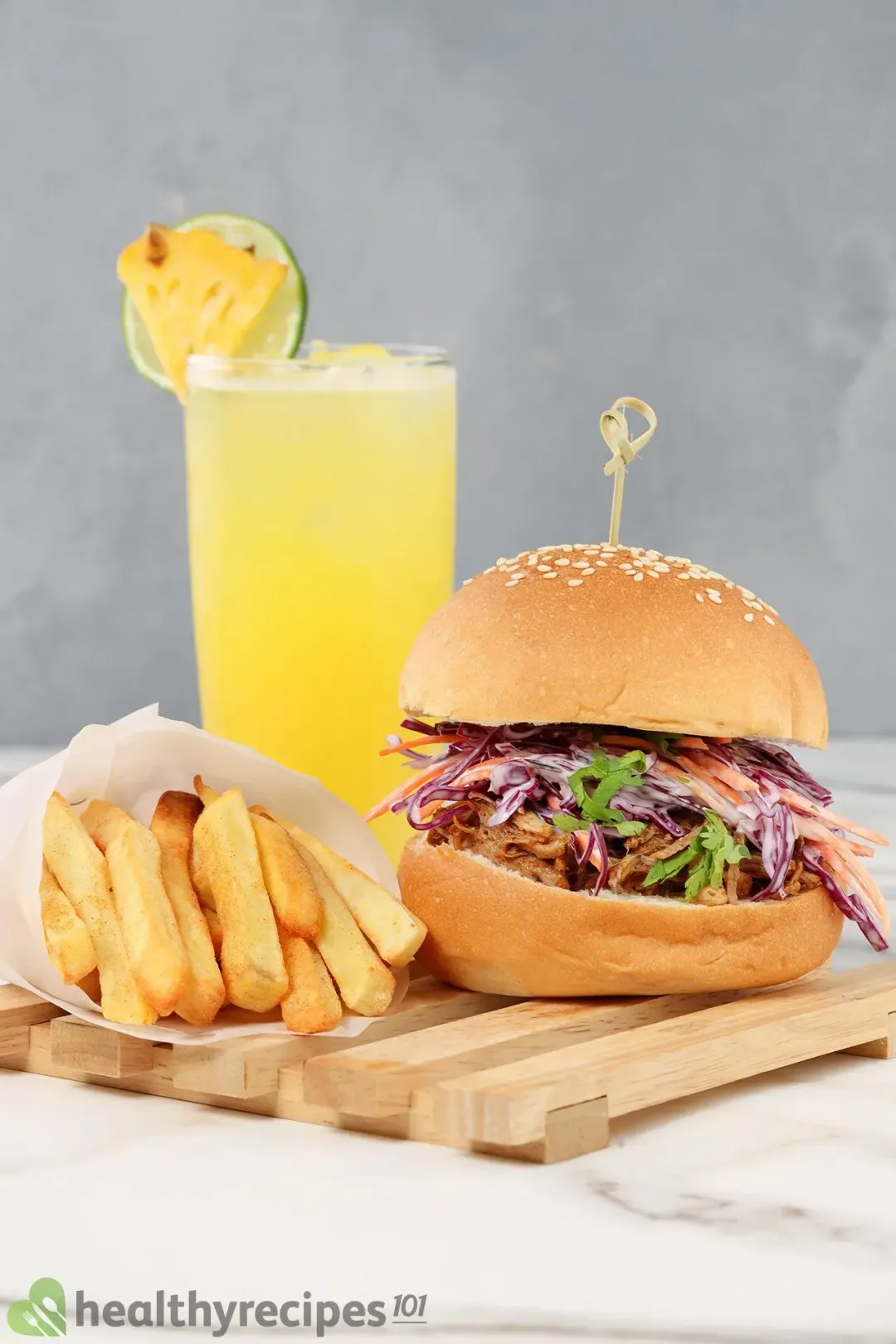 2. French Fries
Serving sliders without fries is practically sacrilege, so we used our air fryer to whip up a batch. They come out crunchy, not greasy, and are really quick to make.
3. Pineapple Ginger Juice
The sliders' savory flavor is best rounded off with a refreshing and mildly tangy juice. Pineapple ginger juice is a great option that will keep your meal's calorie count within bounds.
Check out our healthy instant pot dinner roundup or best 40+ instant pot pork recipes for more delicious dishes.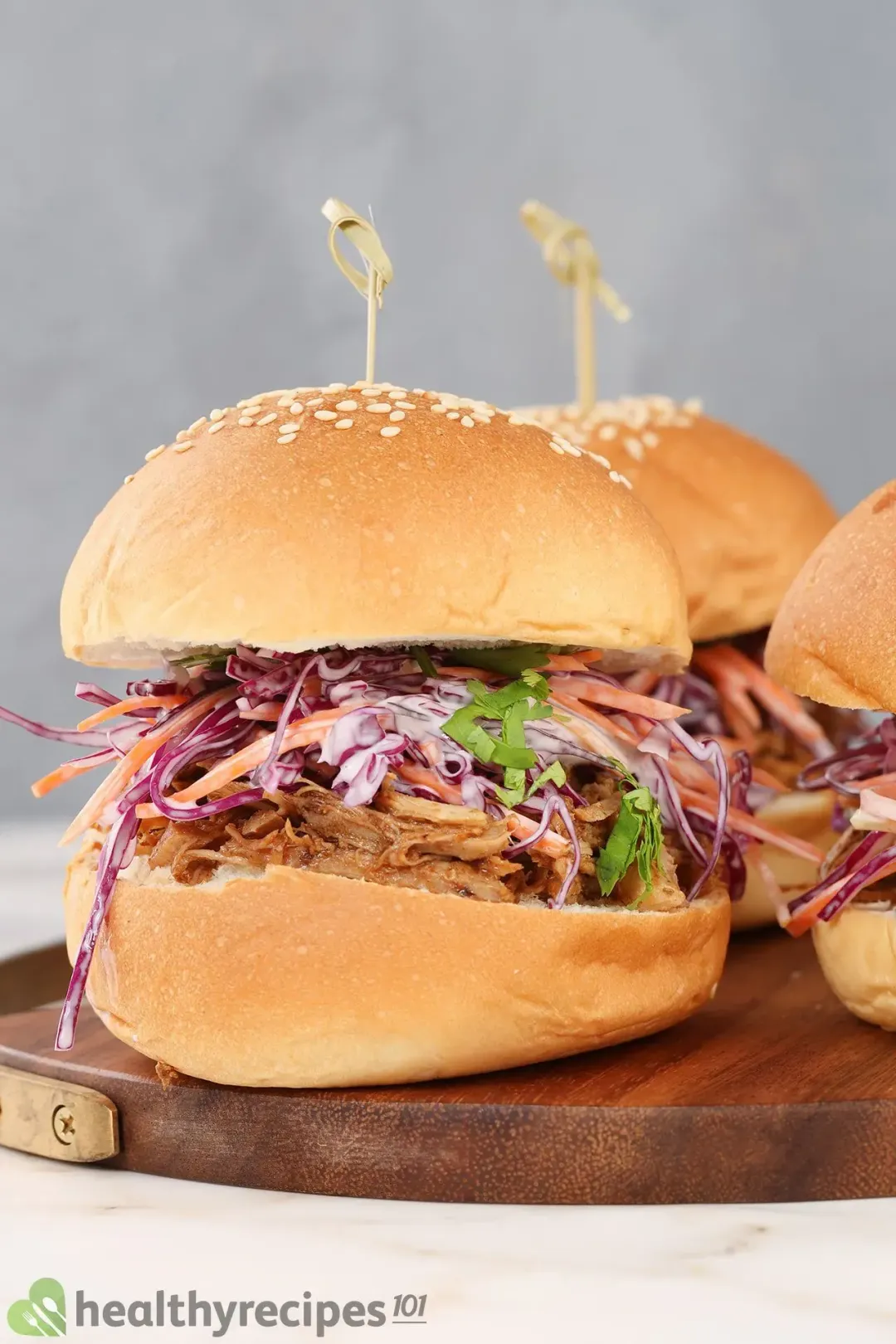 Instant Pot Pulled Pork
If you're into sliders but are pressed for time, this Instant Pot pulled pork recipe can be a big help. You'll get juicy, tender pulled pork in 40 minutes, but since most of that time is Instant Pot cook time, you can spend it doing something else.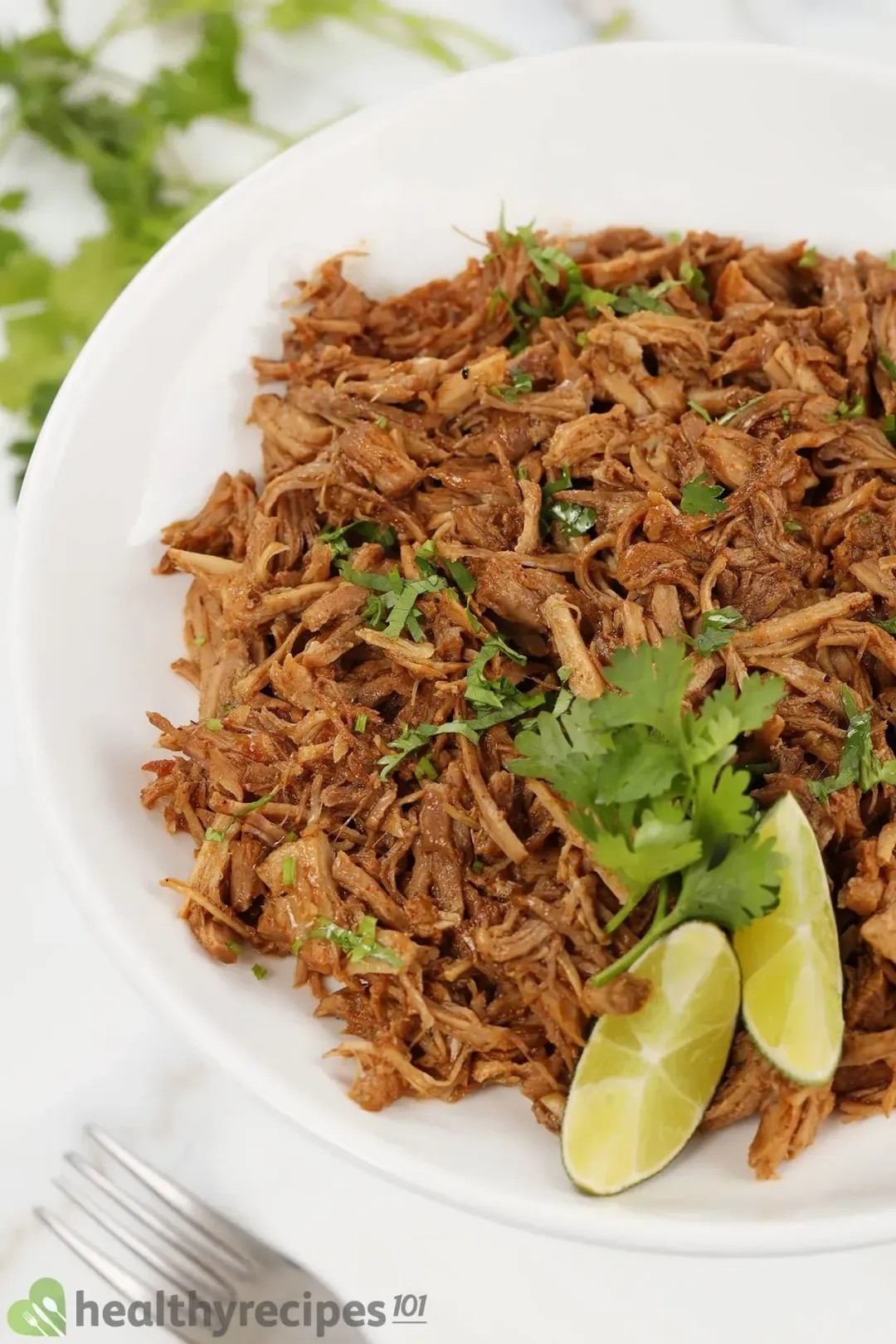 cook TIME

35 mins

prep TIME

5 mins

total TIME

40 mins
COURSE

Main Course

CUISINE

American

SERVINGS

CALORIES

503 kcal
INGREDIENTS
16 oz

pork shoulder

(cut into chunks)

1/2 tsp

ground black pepper

1 tsp

Worcestershire sauce

1/2 cup

unsalted chicken broth

4 oz

red cabbage

(shredded)

2 tbsp

Japanese mayonnaise

1 tbsp

plain Greek yogurt
INSTRUCTIONS
1
Select the Instant Pot's "sauteé" mode and heat the olive oil. Add the pork and sear it on all sides for a total of 3 minutes.
2
Add cumin, paprika, cayenne, onion powder, garlic powder, salt, pepper, Worcestershire sauce, brown sugar, and lime juice. Stir for 2 minutes.
3
Add chicken broth. Close the lid, turn the steam handle to "sealed" position, select the "meat stew" mode, and adjust the timer to 30 minutes.
4
In a large bowl, mix shredded red cabbage and carrot with mayonnaise and Greek yogurt. Cover and preserve in the fridge.
5
Place a piece of kitchen rag onto the steam vent and switch the steam handle to "venting" with a spatula. Use two forks to pull the meat apart.
6
Cook the pulled pork for another 5 minutes on "sauteé" mode or until all the liquid evaporates. Turn off the machine, add ketchup, and give it a good mix.
7
Assemble the sliders with burger buns, pulled pork, slaw, and coriander. Add more veggies if desired.
NUTRITION
Nutrition Facts
Instant Pot Pulled Pork
Amount Per Serving (1 serving)
Calories 503
Calories from Fat 279
% Daily Value*
* Percent Daily Values are based on a 2000 calorie diet.
Keywords: how to make pulled pork in an instant pot, instant pot pulled pork, instant pot pulled pork recipe, pulled pork in instant pot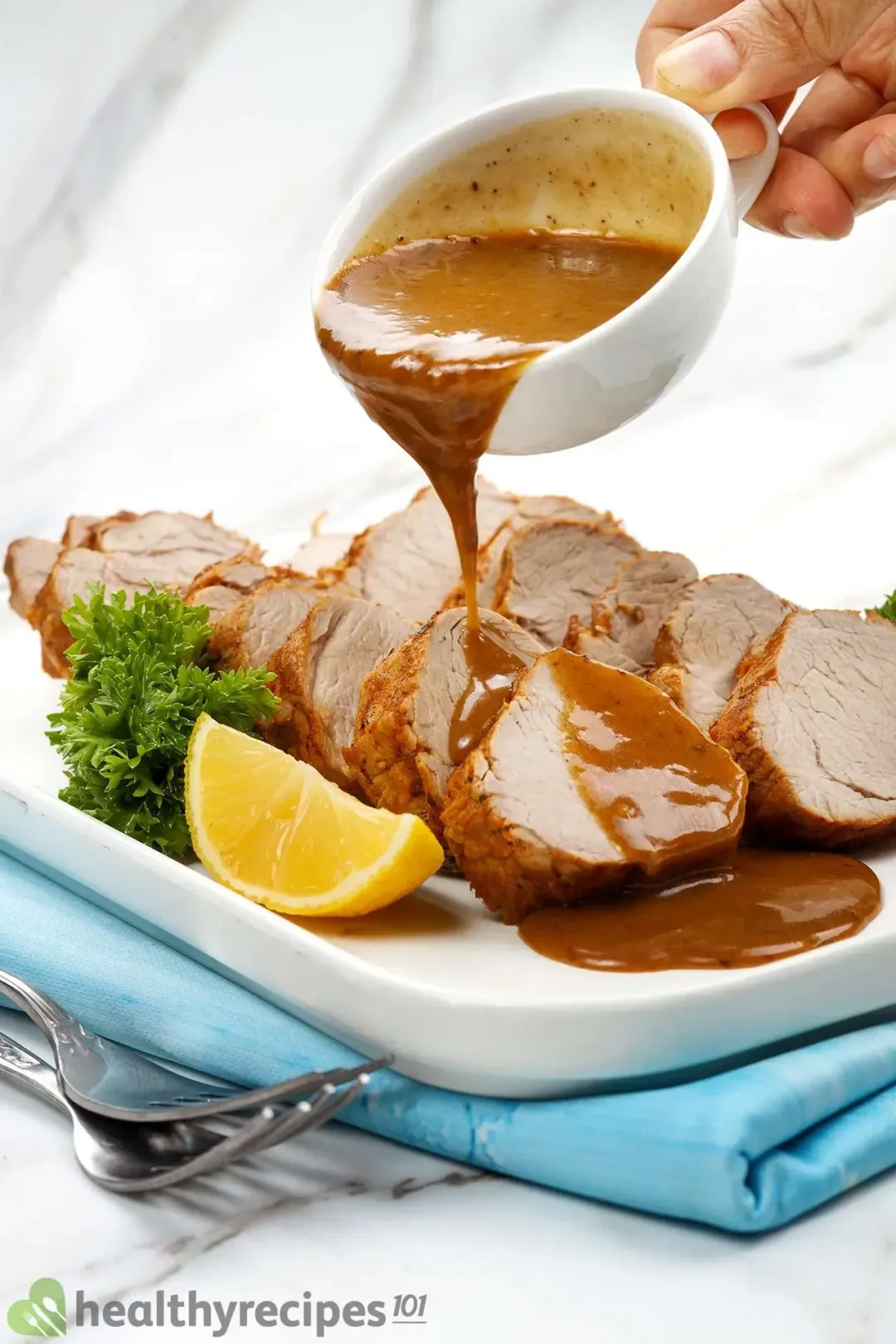 Previous Recipe
Instant Pot Pork Tenderloin
Instant Pot Pork Tenderloin
Next Recipe
Air Fryer Pork Chops
Air Fryer Pork Chops
Head Chef, Culinary Consultant
Tuyet Pham is an award-winning Saigonese chef who believes that joy is the secret ingredient to delicious food. At Healthy Recipes 101, Tuyet personally tests and simplifies every recipe, ensuring maximum flavor with minimal effort. With a background at prestigious French restaurants P'TI Saigon and Le Corto, Tuyet knows how to make every dish exceptional.
Writer, Author
Luna Regina is an accomplished writer and author who dedicates her career to empowering home cooks and making cooking effortless for everyone. She is the founder of HealthyKitchen101.com and HealthyRecipes101.com, where she works with her team to develop easy, nutritious recipes and help aspiring cooks choose the right kitchen appliances.
Nutrition Reviewer
Lizzie Streit is a Minneapolis-based dietitian and founder of It's a Veg World After All. She completed her MS in Human Nutrition from Drexel University, and is an expert in culinary nutrition, recipe development, and nutrition communications. Lizzie's philosophy is centered around making nutrition recommendations, and especially the advice to eat more vegetables, approachable and realistic. She is excited to be working with the team at Healthy Recipes 101 to ensure that their recipes are both nutritious and delicious.
Tender and flavorful Instant Pot pulled pork.