Tired of pasta? Need an enticing treat for National Noodle Day (October 6)? This classic tuna noodle casserole recipe may be just the thing you need. It has soft egg noodles, tender peas, and umami tuna, all coated with the good ol' cream of mushroom soup and ready to dish out on World Tuna Day (May 2nd).
In this recipe, we're making everything from scratch— no preservatives, and tons more flavor! Let's take a look at the process.
Is Classic Tuna Noodle Casserole Healthy?
Yes, it is:
The traditional classic tuna noodle casserole recipe calls for canned tuna. Canned or fresh, tuna is rich in omega-3 fats and B vitamins, and is a lean source of proteins.
It is said that tuna meat contains mercury, which is toxic to the human body. However, it is also proven that the levels of mercury in tuna are low, making the fish safe to consume.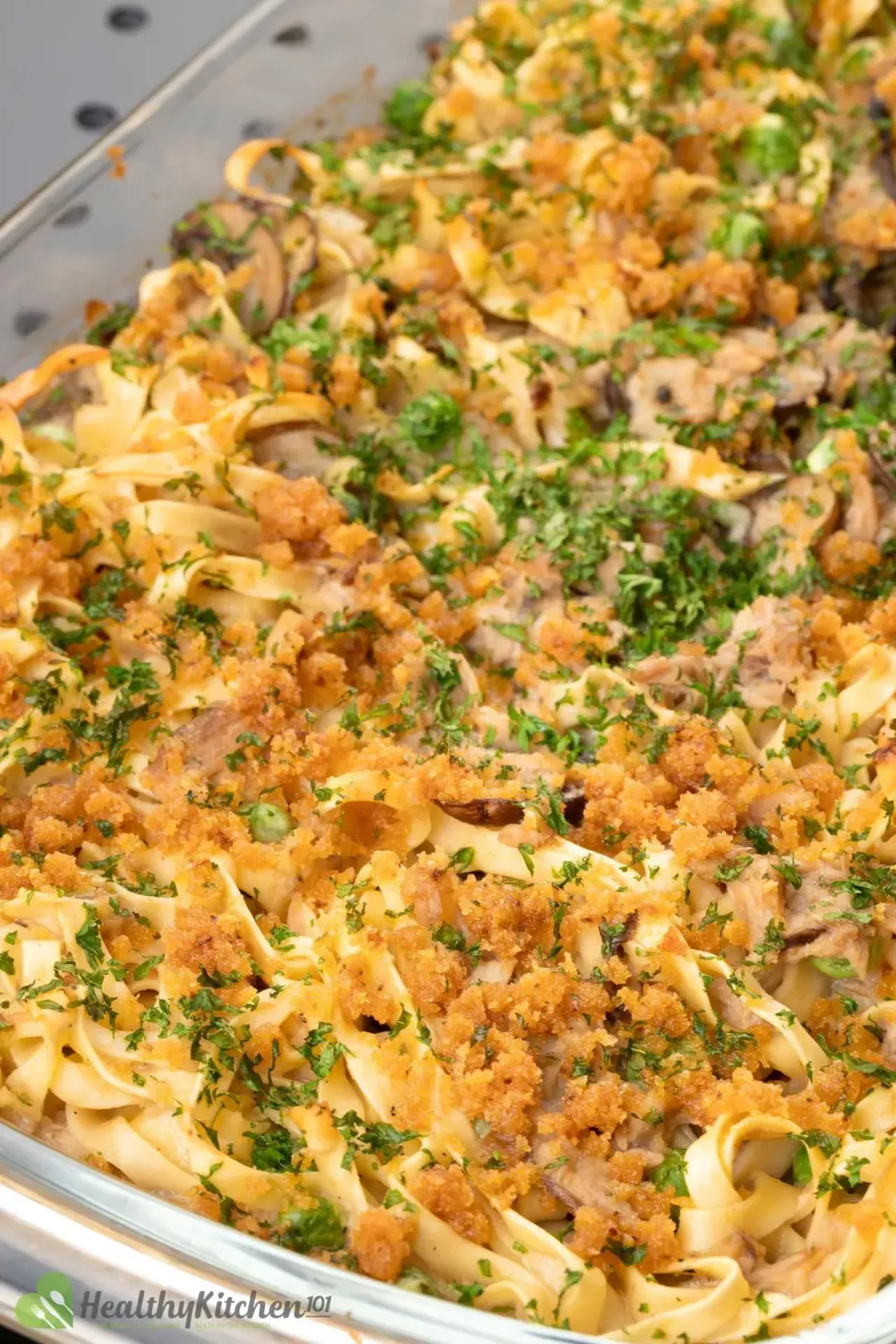 Canned tuna comes in two versions: in oil and in water. Either works fine for this tuna noodle casserole recipe, but we chose tuna in water since it has fewer calories.
The dish also has green peas, which contain various micronutrients and are rich in proteins.
Most recipes we saw, however, use canned mushroom soup. The saturated fat and sodium content for it is way over USDA's allowance.
In this tuna noodle casserole recipe, we'll show you how to make cream of mushroom soup from scratch.
Our Recipe's Calories
Each serving of our tuna noodle casserole recipe yields 435 calories. 50% of the dish's calories consist of healthy fats and proteins.
The sodium and saturated fat content are respectively 287 mg and 9 g, completely within healthy limits.
Making Cream of Mushroom from Scratch
Start by heating olive oil and butter in a pot over medium heat. When it's all melted, stir in onions and garlic until fragrant, then add the mushrooms.
Once the mushrooms are golden, add chicken stock, white wine, seasoning, and herbs, and simmer for around 5 minutes. Stir in the cream, and you're done!
We found most tuna noodle casserole recipes use dry white wine instead of white wine. The only difference between the two is the hint of sweetness that white wine possesses, which dry white wine does not.
Our recipe uses only a little wine, so regular white wine available in the cupboard was what we chose. It doesn't affect the flavor, truth be told.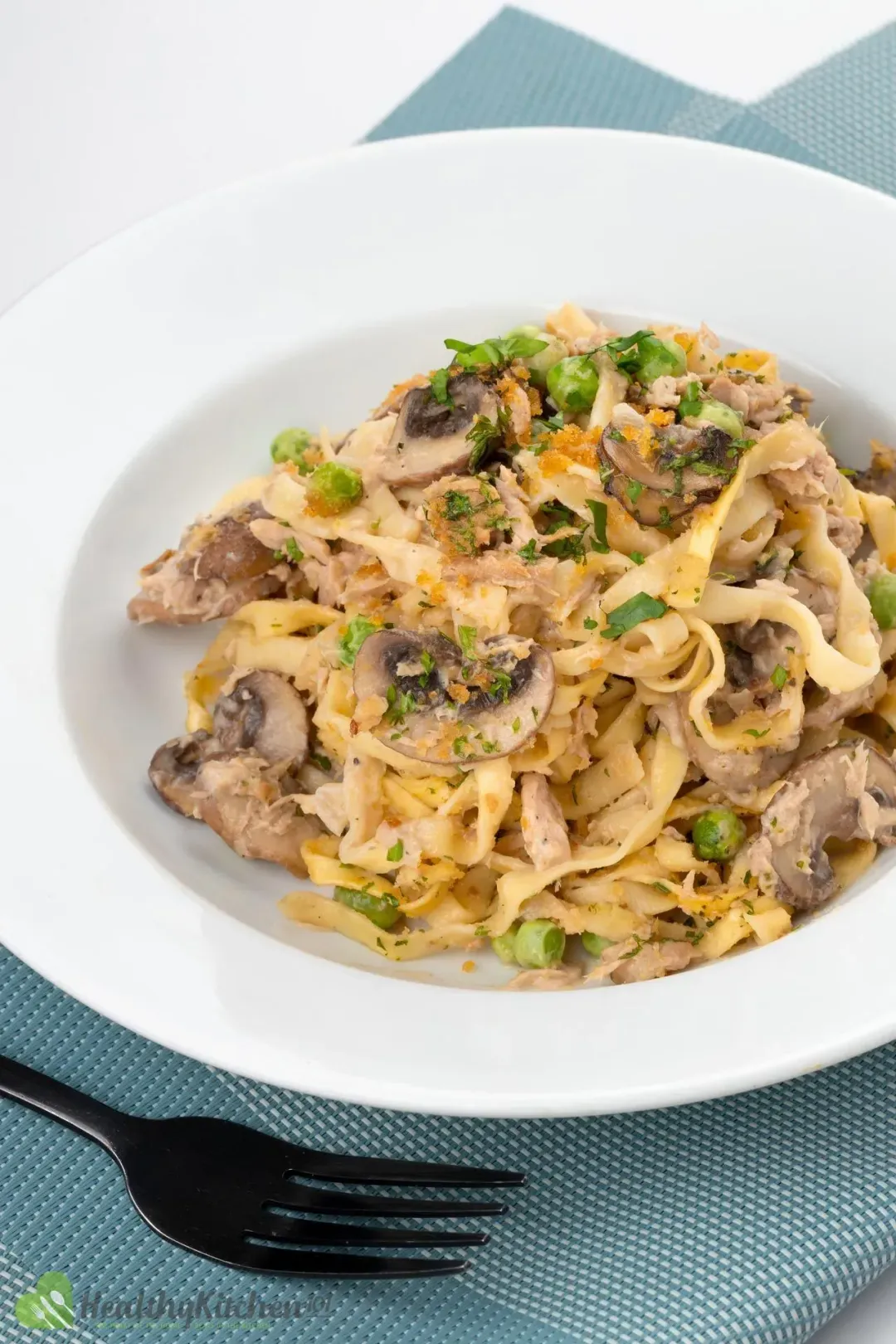 Regarding the mushrooms, brown mushrooms are often used in the cream of soup. We believe white mushrooms work as well, since they belong to the same species and only differ in skin color. Need a quicker method to make your sauce? Check out this Instant Pot Tuna Casserole Recipe that takes only half the time.
Tips for Making a Perfect Tuna Noodle Casserole
Since egg noodles are the main ingredient of this recipe, it is important that you choose and cook them correctly.
1. Choosing Egg Noodles
Some tuna noodle casserole recipes call for pasta, which works just fine. We prefer egg noodles because they pack lighter carb, which makes for a really tender, creamy casserole.
When you go noodle-hunting, you should see two types of egg noodles: one is cylindrical while the other is flat. For this recipe, we recommend using the latter type since it's not so mushy coming out of the oven.
Also, thanks to the large surface area, it will soak up the moisture and flavor of the milk and cream. The result is more tender, more flavorful strands of noodles.
2. How Long to Cook Egg Noodles
Most of the time, we basically follow the instruction on the package. For this recipe, we need to undercook the noodles by taking it out sooner than what's said in the instruction.
Because we're baking the noodles with liquid, being a little underdone helps with absorption. So, as our package said to cook the noodles for 4 minutes, we did ours for 2 minutes only.
In case your noodle package mentions no cooking time, chew a strand after every minute. If they're not hard but still undercooked, they're ready.
What Goes With Classic Tuna Noodle Casserole?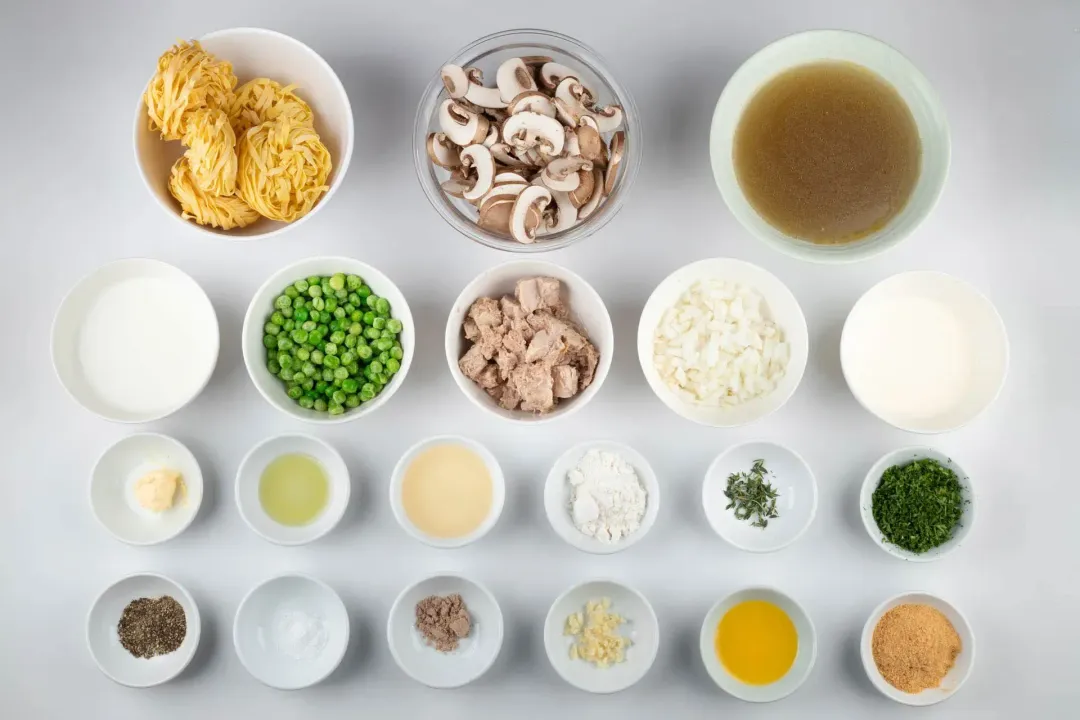 Here are the things that people often add to their tuna noodle casserole:
1. Potato Chips
Instead of sprinkling a mixture of breadcrumbs and butter on top, some recipes call for potato chips. The chips can be whole or crushed, and they add a fun, flavorful, crispy layer on top of the casserole.
As the chips also add unhealthy fats and unnecessary calories, though, we suggest you do this on your cheat days only.
2. Sour Cream
Although the dish is already creamy thanks to the cream of mushroom soup, you can increase its richness further to suit your liking. Noodles and tuna always go well with creaminess, and a little bit more wouldn't hurt.
One of the ways is to add dairy-based ingredients, such as sour cream. Not only does it enhance the flavor, but it also increases the sauce's thickness, which makes it more appealing.
However, since we're watching our saturated fat intake for the sake of healthy eating, go easy on the dairy. You could use half cream of mushroom soup and half sour cream to still have a richer dish as a result.
3. Cheese
Similar to sour cream, cheese increases a dish's richness. Plus, if you mix cheeses like mozzarella or cheddar with hot noodles, you'll get an appetizing cheesy, stretchy effect.
Again, we're keeping our saturated fat intake within reason, so we suggest half cheese, half cream of mushroom soup.
4. Mayonnaise
Different from dairy, mayonnaise is made of oil and egg yolk. It's free of milk proteins that are not good for those with lactose intolerance or a dairy allergy.
Most importantly, it can make your dish creamier and tastier.
Still, because it's made of egg yolk, it does contain (a lot of) saturated fat. If you decide to add mayonnaise, add about 1 tbsp and cut the cream of mushroom in half.
Can You Freeze Tuna Noodle Casserole?
One of the great things about tuna noodle casserole is that it can be frozen and reheated with ease. The taste doesn't differ much from a fresh batch, so it can be treated as a make-ahead casserole.
Here are the steps to preserve your classic tuna noodle casserole in the freezer:
Bake and leave it to cool to room temperature. We don't want to freeze a hot dish.
Divide it into portions and place each portion into a freezer-safe, microwavable airtight container. Freeze.
To reheat, simply place the container in the microwave and press the button.
What to Serve with Tuna Noodle Casserole
With only 435 calories per serving, the casserole may not keep your tummy full. Here's what you can serve with it to make a 600-calorie meal: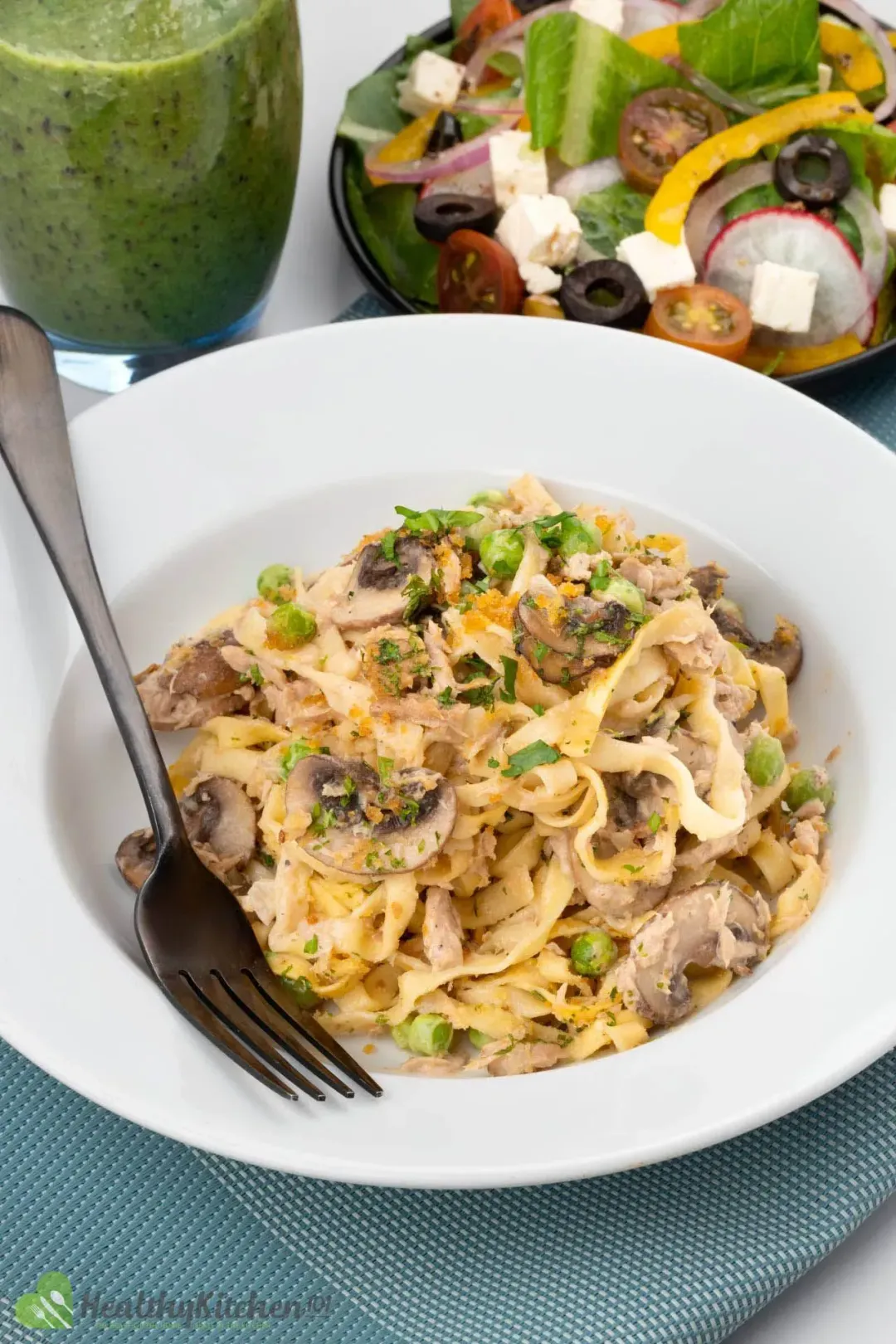 1. Greek Salad
As this is a creamy, comforting dish, we wanted to pair it with a contrasting side. Something like a tangy, simple salad that contrasts both in texture and flavor.
After consideration, we chose this Greek salad for simplicity. The tangy dressing can really cut the richness of the tuna.
2. Green Smoothie
And, to finish the meal, we recommend a smoothie for a healthy and delicious energy boost. Any smoothie would do, but we chose a green smoothie to increase the fiber intake.
It might appear too green, but in reality, it tastes nothing like vegetables. It's mildly sweet, which makes it the perfect option to balance out the salad's tanginess.
To have perfectly casserole recipes, check out this article.
More Tuna Dishes to Try Out
Classic Tuna Noodle Casserole
This is a healthy classic tuna noodle casserole recipe that tastes wonderful. With a little prep, you can create a wholesome, comforting meal.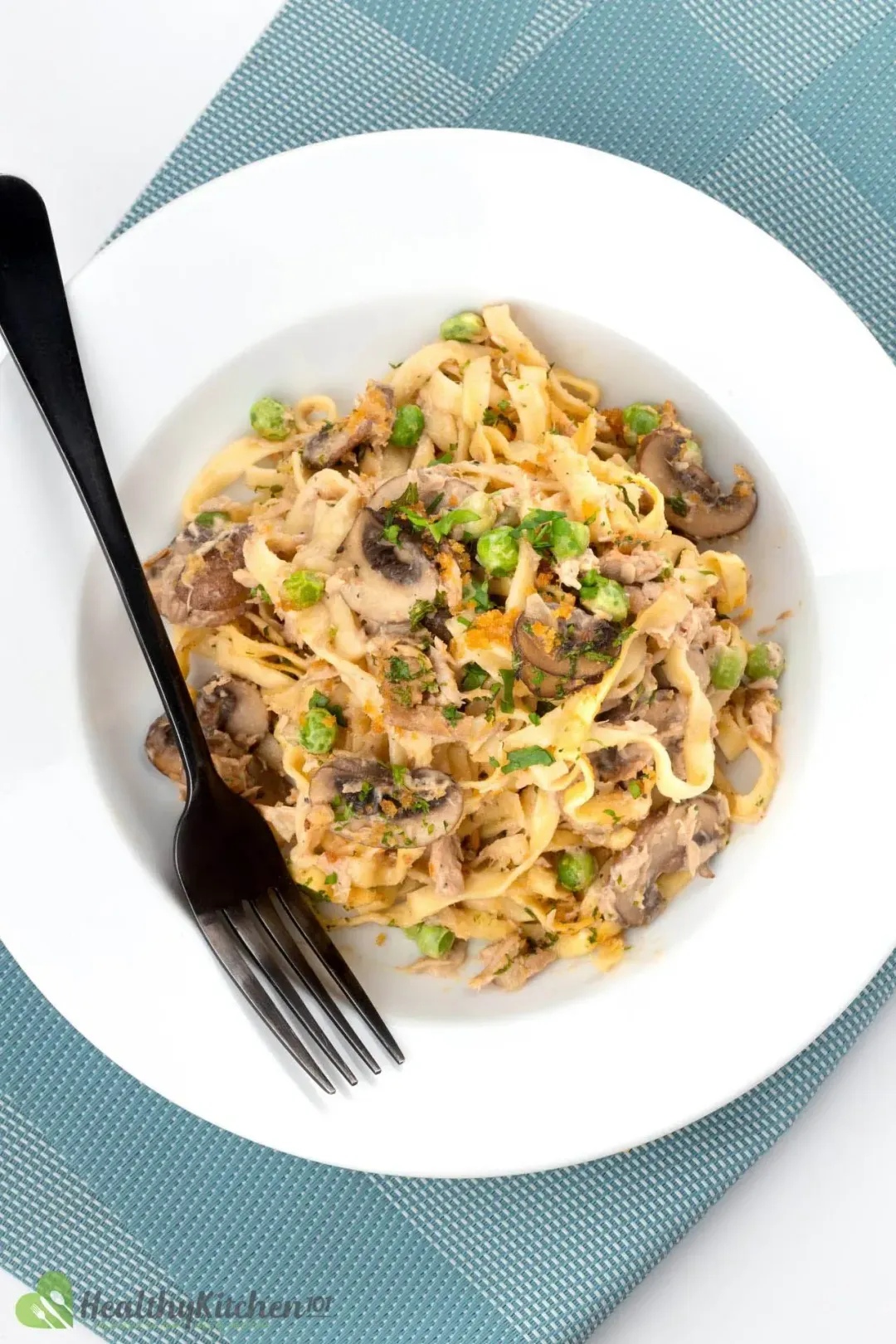 cook TIME

45 mins

prep TIME

15 mins

total TIME

1 hr
COURSE

Main Course

CUISINE

American

SERVINGS

CALORIES

435 kcal
INGREDIENTS
Cream of Mushroom

1 1/2 cup

unsalted chicken broth

Casserole

4 oz

frozen peas

(thawed)

Crumbly Topping

1 tbsp

unsalted butter

(melted)
INSTRUCTIONS
1
Add 1/2 tbsp olive oil to a pan, and 0.5 oz butter in it over low heat. Stir in 2 oz onions and 3 tbsp garlic, and cook for about 2 minutes.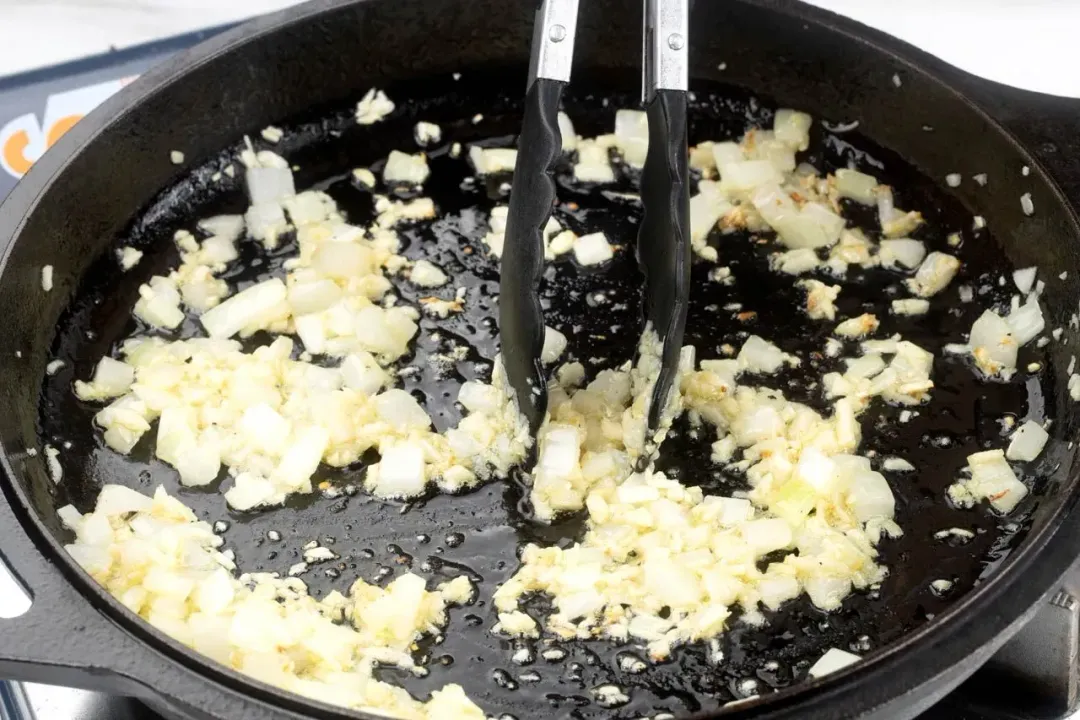 2
Add 6 oz mushrooms and stir for another 4 minutes on medium heat. Add 2 tbsp flour and stir for another minute. If it's too dry, add about 1-2 tbsps of the chicken stock to avoid burning.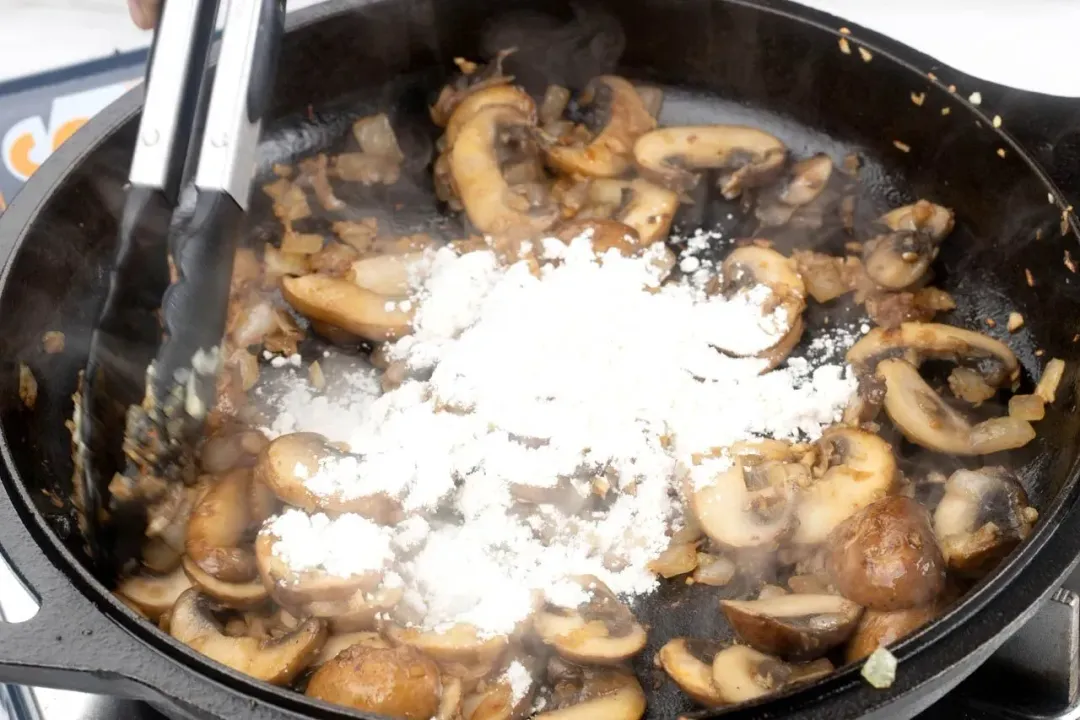 3
Add 1/6 cup wine, 1 1/2 cup chicken broth, 1 tsp thyme, 1/4 tsp salt, and 1/4 tsp pepper. Simmer for 11 minutes over medium heat.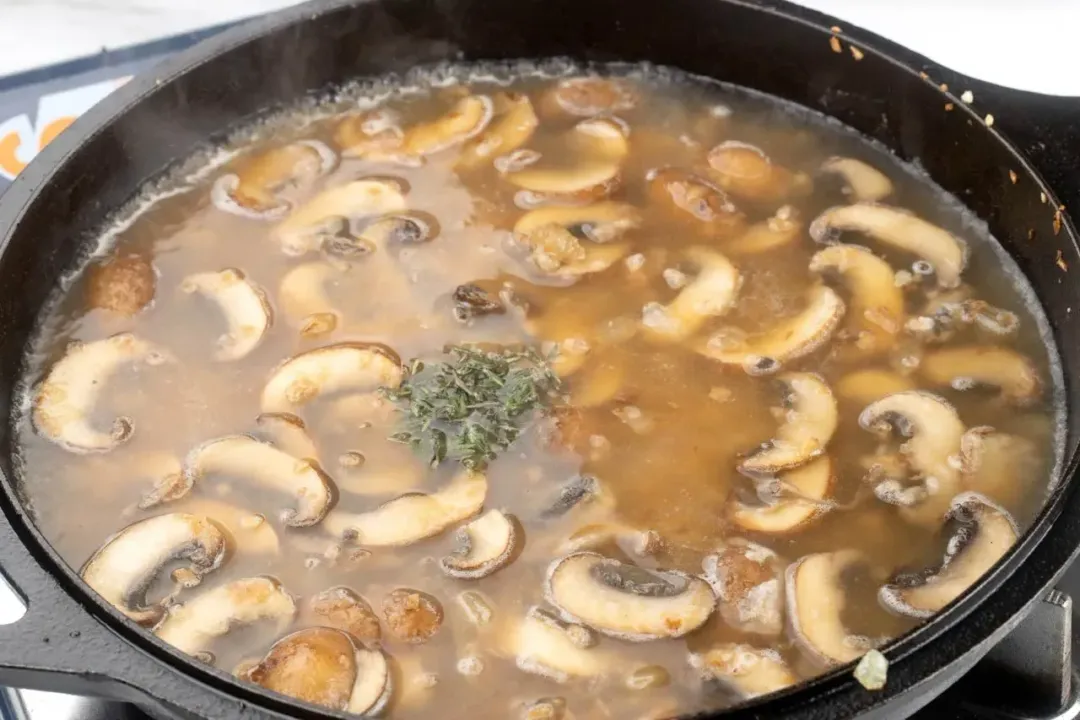 4
Add 1/4 cup heavy cream and turn off the stove. Stir well.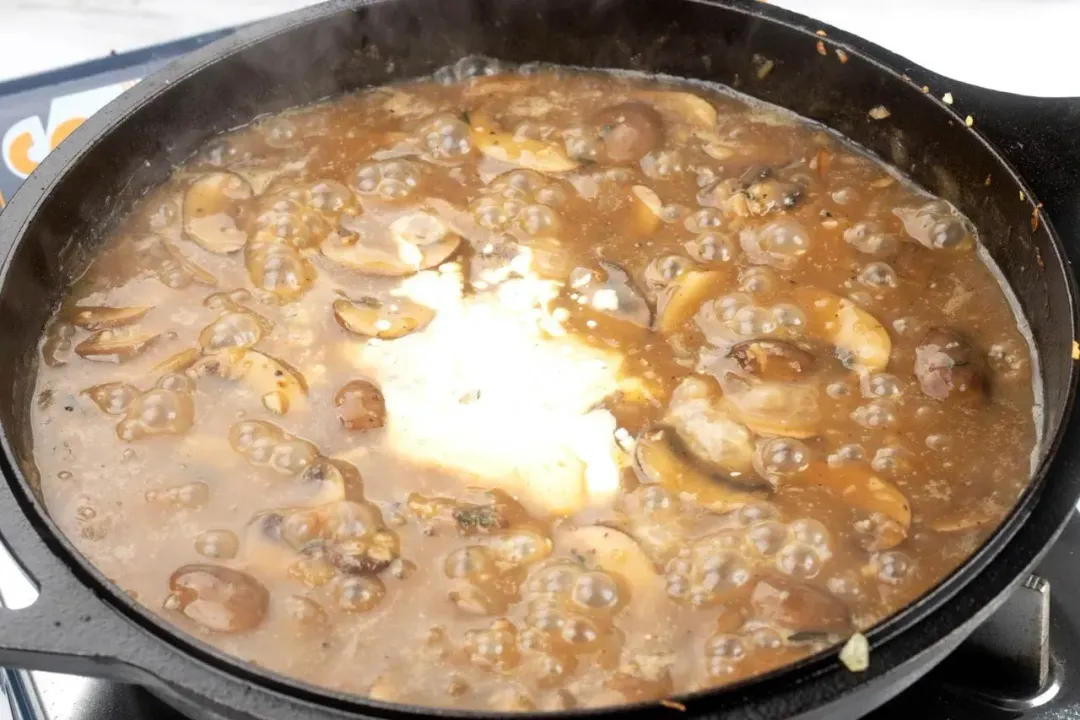 5
Preheat the oven to 450°F.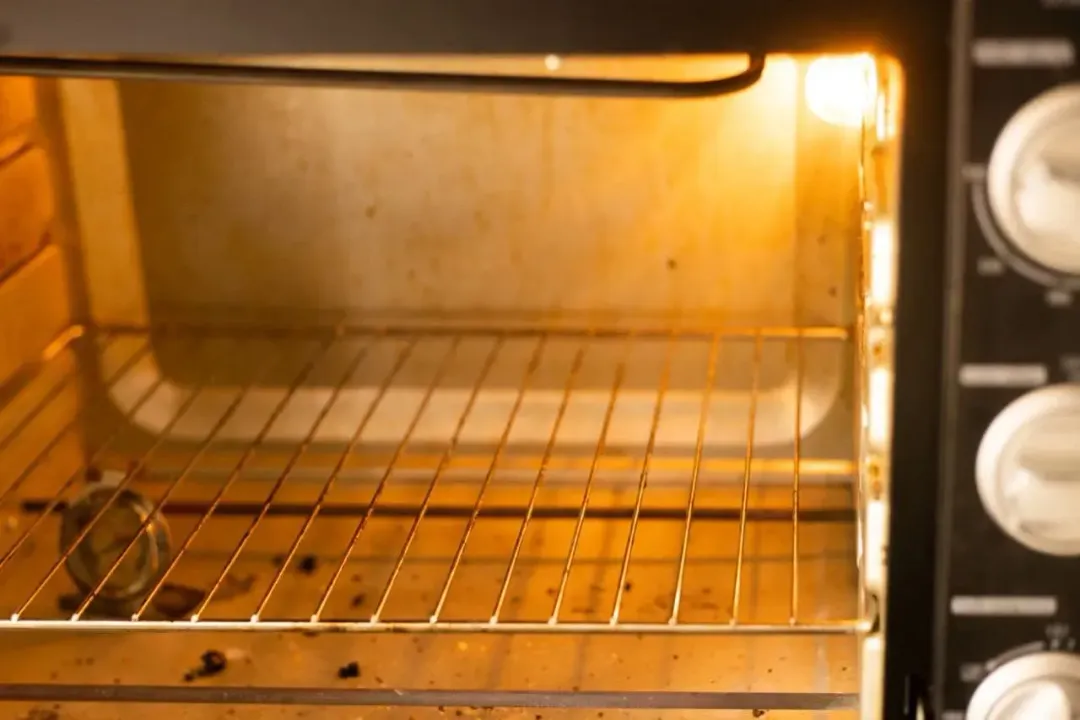 6
Bring a pot of water to boil and cook 5 oz egg noodles for 2 minutes. Drain.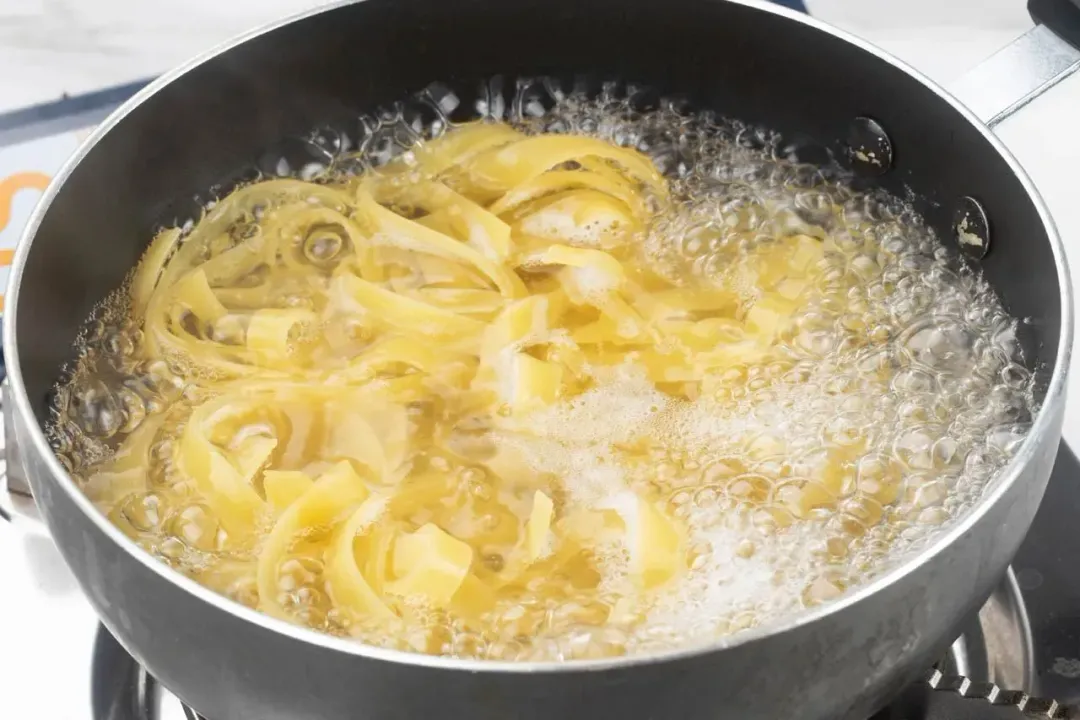 7
In a large baking dish, combine cooked noodles, 6 oz tuna, 4 oz peas, 1/4 cup milk, 1/2 tsp gravy mix, 1/4 tsp pepper, 1/4 cup parsley and the homemade cream of mushroom soup.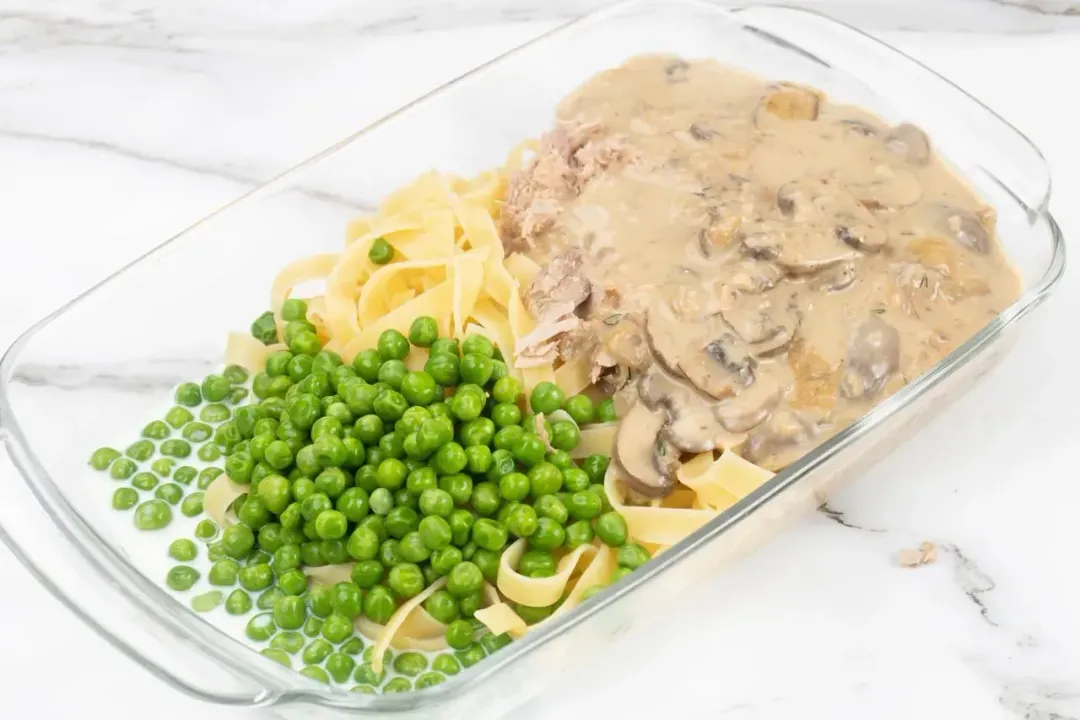 8
Mix 2 tbsp bread crumbs and 1 tbsp melted butter in a small bowl until lumps form. Sprinkle the mixture on top of the casserole.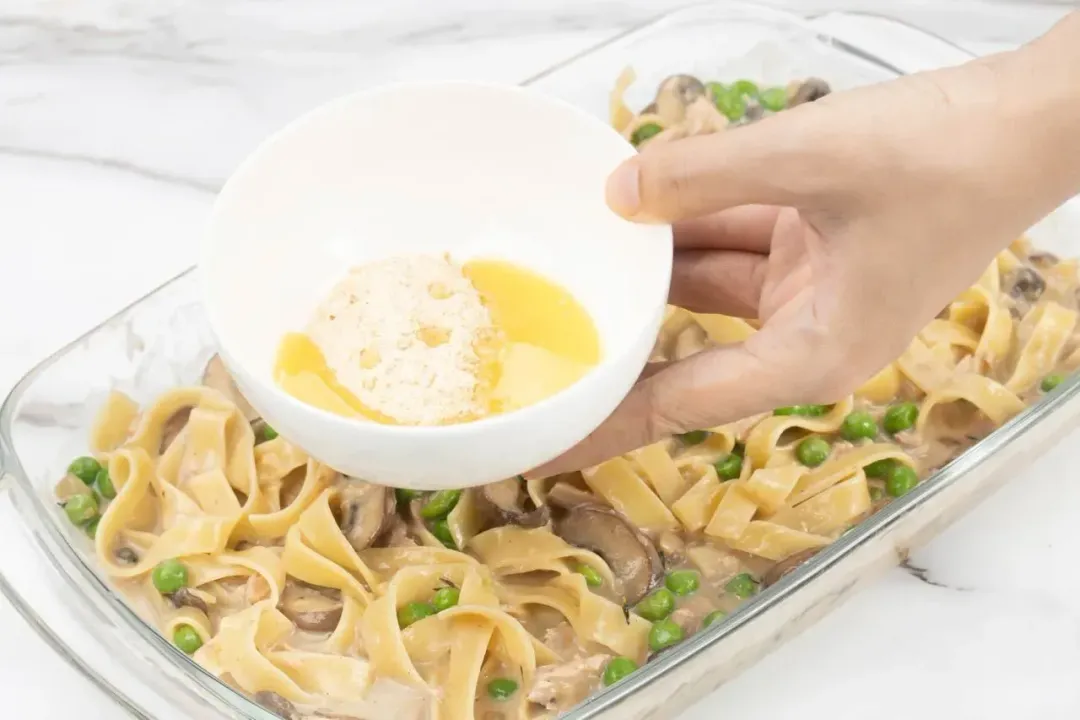 9
Put the casserole on a baking tray and bake it in the preheated oven for 15 minutes. Meanwhile, you can make the salad and blend the smoothie.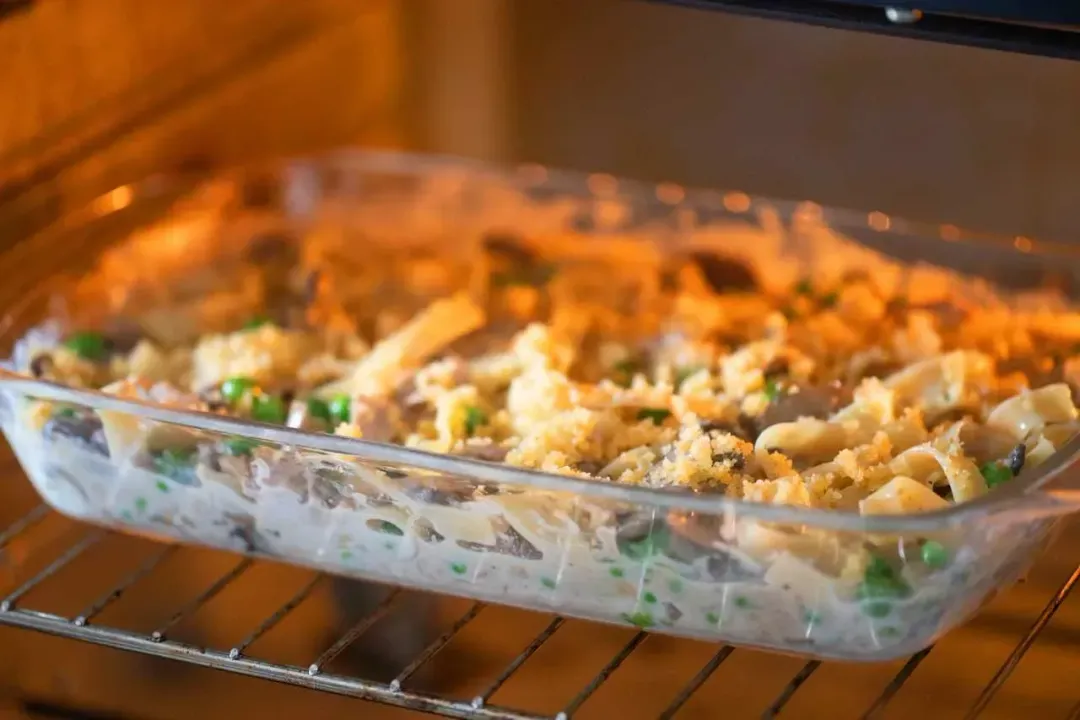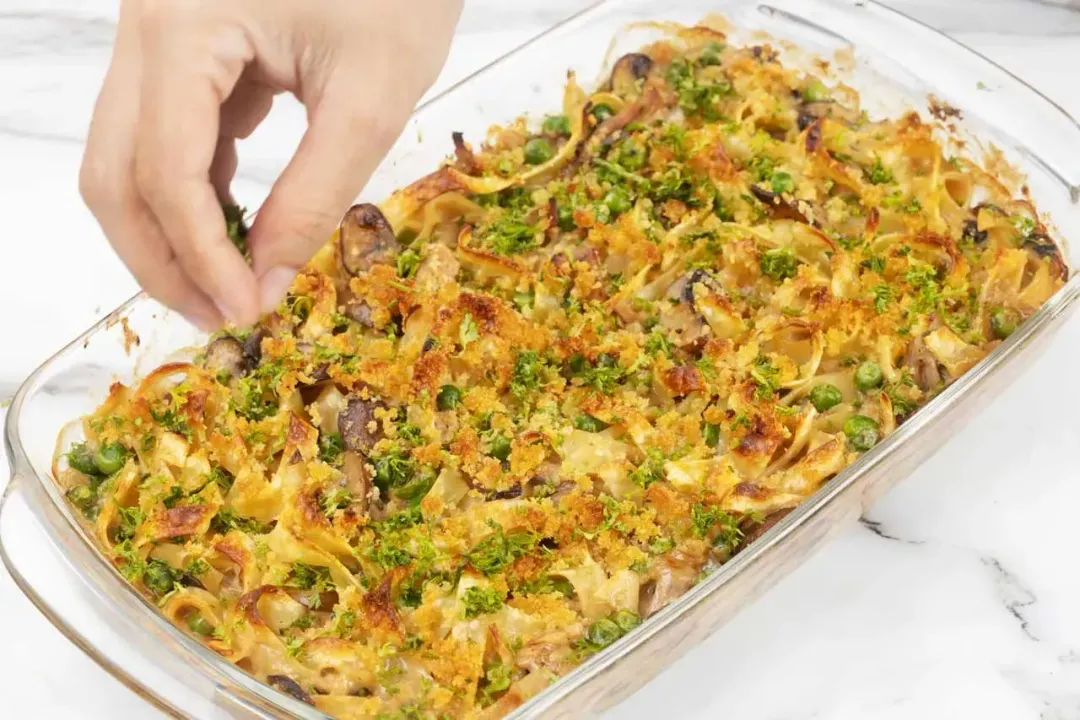 NUTRITION
Nutrition Facts
Classic Tuna Noodle Casserole
Amount Per Serving (1 serving)
Calories 435
Calories from Fat 171
% Daily Value*
* Percent Daily Values are based on a 2000 calorie diet.
Keywords: How to Make Tuna Noodle Casserole, tuna noodle casserole, Tuna Noodle Casserole Recipe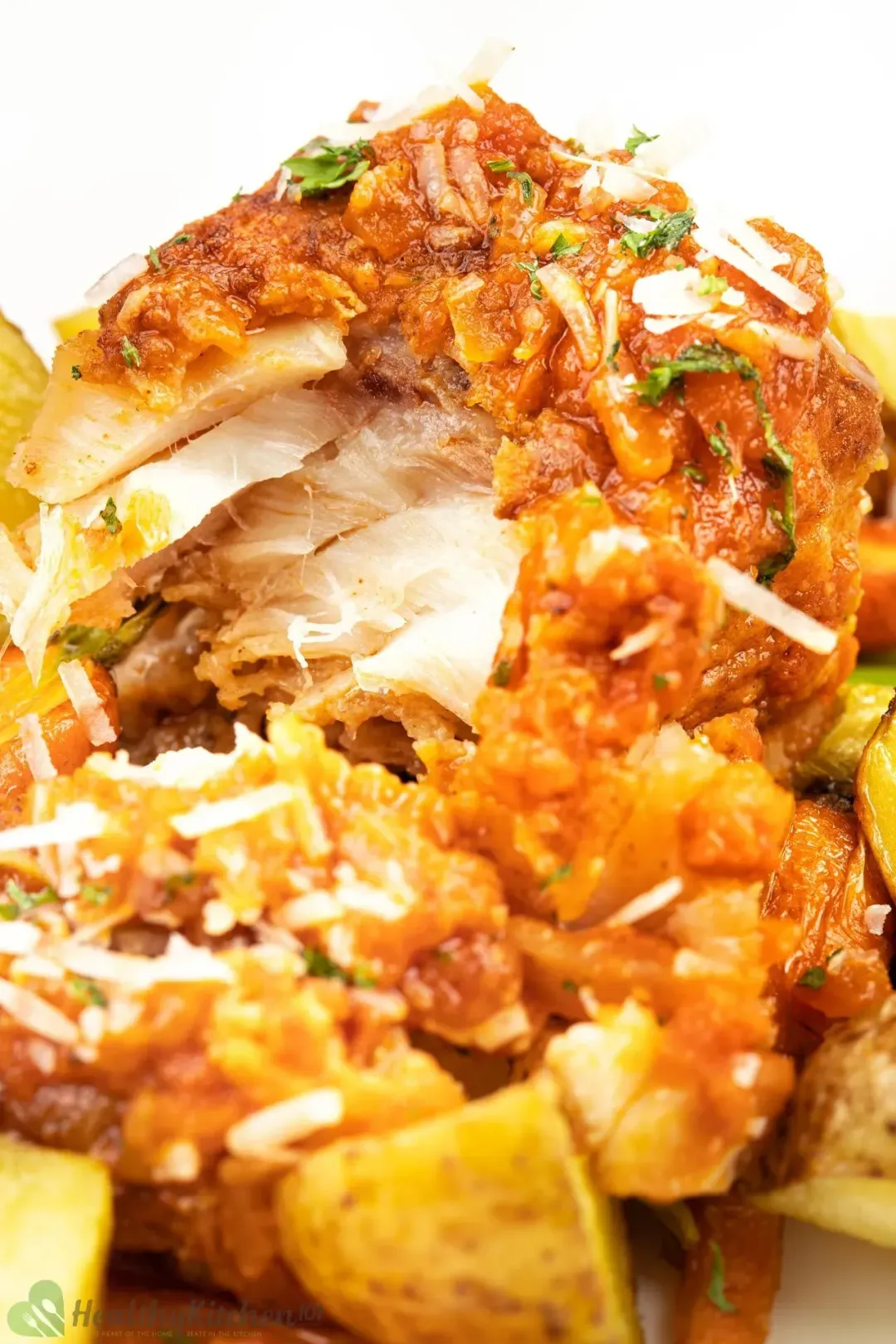 Previous Recipe
Healthy Parmesan Baked Cod
Healthy Parmesan Baked Cod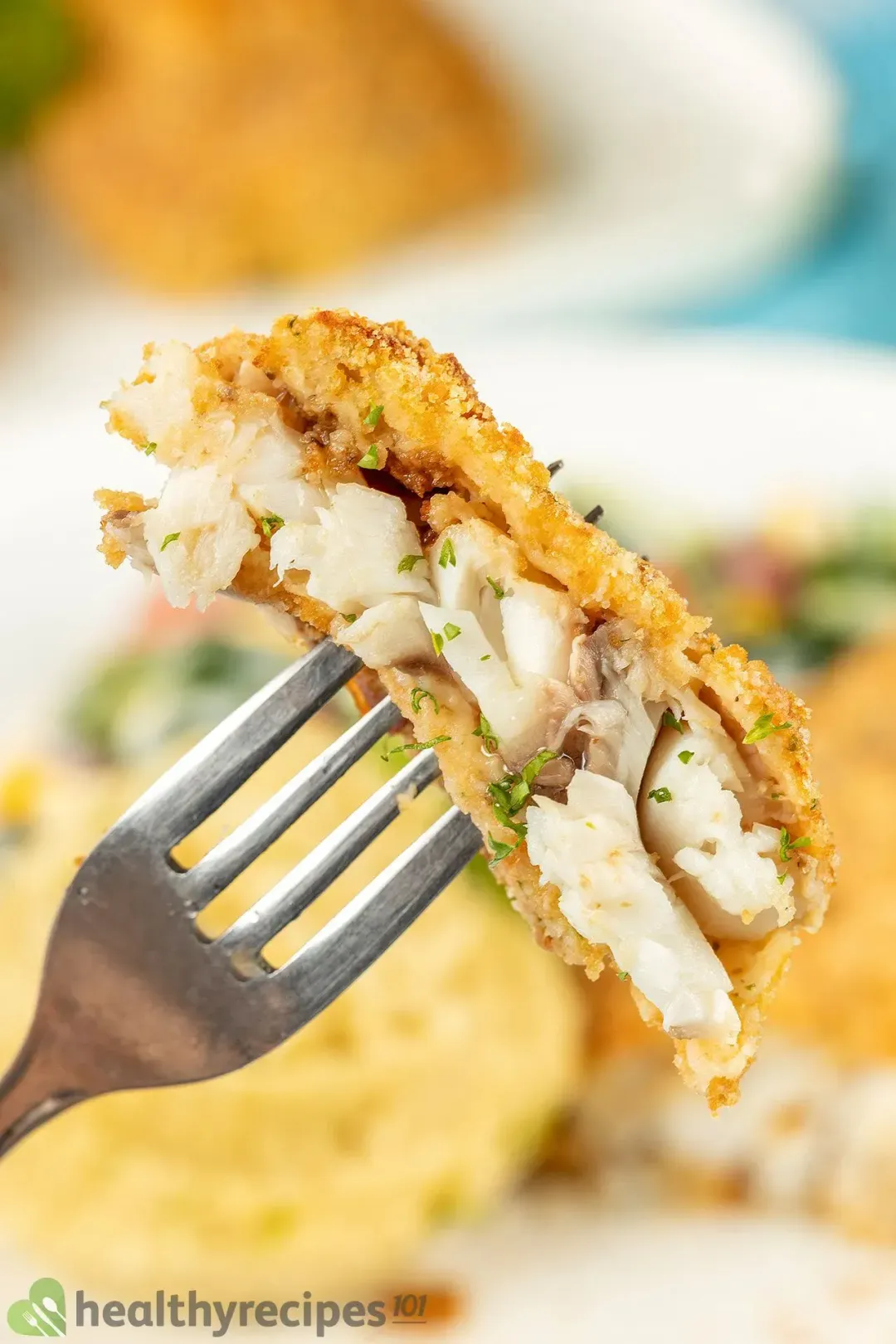 Next Recipe
Air Fryer Tilapia
Air Fryer Tilapia
Head Chef, Culinary Consultant
Tuyet Pham is an award-winning Saigonese chef who believes that joy is the secret ingredient to delicious food. At Healthy Recipes 101, Tuyet personally tests and simplifies every recipe, ensuring maximum flavor with minimal effort. With a background at prestigious French restaurants P'TI Saigon and Le Corto, Tuyet knows how to make every dish exceptional.
Writer, Author
Luna Regina is an accomplished writer and author who dedicates her career to empowering home cooks and making cooking effortless for everyone. She is the founder of HealthyKitchen101.com and HealthyRecipes101.com, where she works with her team to develop easy, nutritious recipes and help aspiring cooks choose the right kitchen appliances.
Nutrition Reviewer
Lizzie Streit is a Minneapolis-based dietitian and founder of It's a Veg World After All. She completed her MS in Human Nutrition from Drexel University, and is an expert in culinary nutrition, recipe development, and nutrition communications. Lizzie's philosophy is centered around making nutrition recommendations, and especially the advice to eat more vegetables, approachable and realistic. She is excited to be working with the team at Healthy Recipes 101 to ensure that their recipes are both nutritious and delicious.
This tuna noodle looks so delicious! The combination of tuna, egg noodles, cheese, and vegetables makes it a complete meal. Yum!