This chicken cordon bleu recipe can make a wonderful dish to celebrate Swiss Cheese Day (January 2nd). No toothpicks required, it takes roughly one hour to make and can be dipped in whatever sauce you like.
It stands to reason that chicken cordon bleu is usually mistaken for a 5-star indulgence. Its name suggests a swanky meal, which could also mean costly.
Truth be told, chicken cordon bleu is adaptable for cooks of all levels with an average ingredient list. It's the kind of dish that's manageable but will make you look like an exceptional fine-dining chef to your family this National Chicken Cordon Bleu Day (April 4th).
What Is Chicken Cordon Bleu?
First, about the term "cordon bleu". This phrase is actually French, in which "cordon" means ribbon, and "bleu" means blue, as in the color.
With some rooting around, here's what we've found out about the name's origins.
In the 12th century, blue ribbons used to be worn by knights of the highest order of chivalry. The name "chicken cordon bleu" hints at a high-quality dish with excellent taste made by eminent cooks.
Though represented by a French name, it was originally a Swiss dish and first mentioned in a cookbook in 1949.
However, it wasn't until 1967 that it made its way over to America. This is where it came to be widely known as "chicken cordon bleu".
Is Chicken Cordon Bleu Healthy?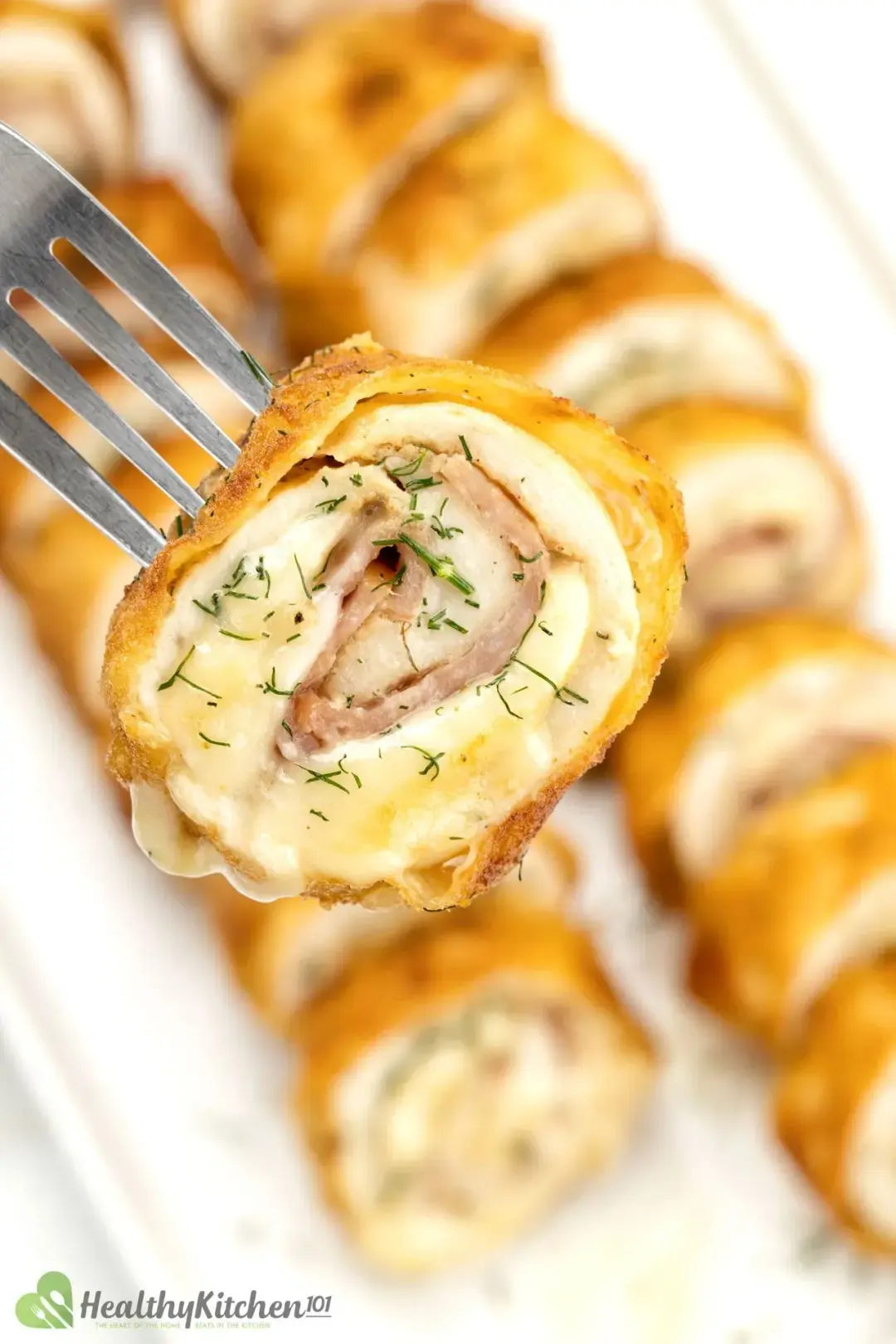 It's easy to see that these crispy chicken rolls with melted cheese and smoky hot ham are packed with fat. However, we managed to keep the fat content at a moderate amount, with 6 grams of saturated fat.
The nutrition values of this dish still remain within our approved health limits. These limits, as presented on our website, are set for an average adult having no specific health issues.
Nevertheless, we don't recommend this dish for people with diabetes or hypertension. It's best to consult health experts about your diet to omit foods that may increase risk factors for certain diseases.
Searching for a chicken breast recipe with less excess oil and simple ingredients? We've got this healthy baked chicken breast that's super basic and straight-forward but still delicious and an impressive Air Fryer Chicken Cordon Bleu Recipe.
How Many Calories are in Chicken Cordon Bleu?
This chicken cordon bleu recipe provides you with 411 calories per serving (without the sauce or side). In which, the calories from fat are 198.
In this chicken cordon bleu recipe, we used regular breadcrumbs and all-purpose flour. Feel free to substitute these with Panko and almond flour to make it lighter and less calorie-dense.
Chicken Cordon Bleu: Ingredients
This chicken cordon bleu recipe is hands down a simple and delicious combination of chicken breasts, ham, and Swiss cheese.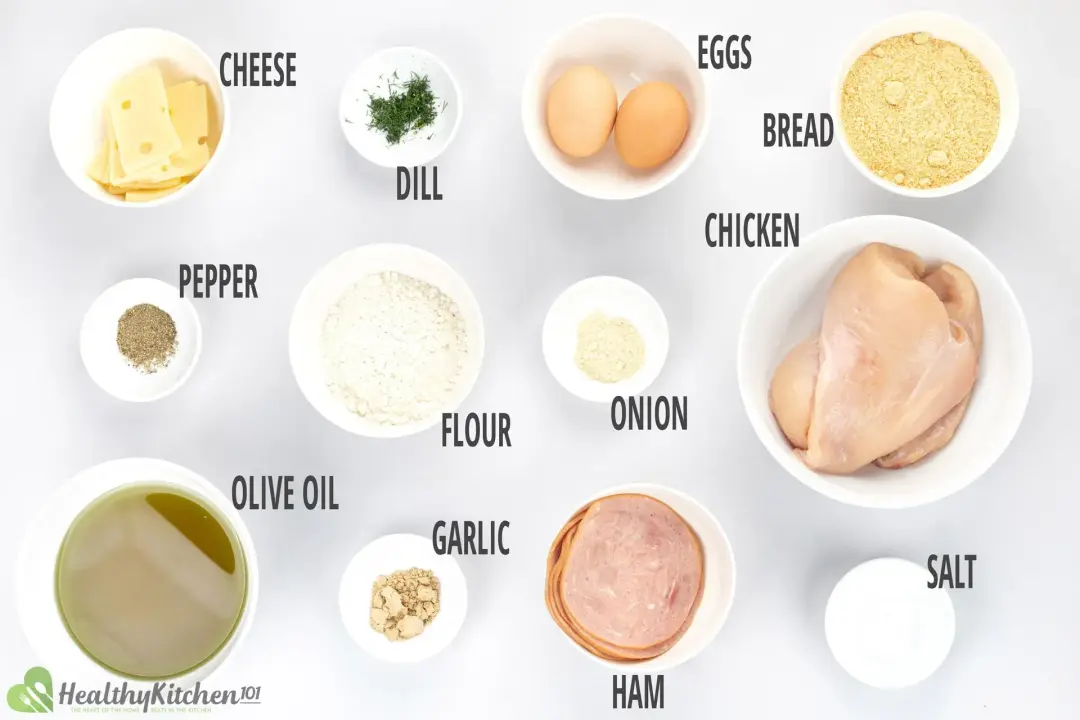 1. Ham
Ham is the meat that's cut from the thigh or rump of a pig. It's usually cured or cooked fresh and used most often in salads and sandwiches.
The reason we chose to make chicken cordon bleu with ham is because it's a leaner cut than bacon. Besides, it doesn't release as much excess fat after cooking.
2. Bacon
Truth be told, there doesn't have to be a fixed filling for every chicken cordon bleu recipe. Sometimes people opt for ham, others for bacon, or both.
Bacon often comes with thin fat strips running along the slice's length, while ham is more lean and dense. You can also substitute prosciutto for bacon if preferred.
3. Cheese
Chicken cordon bleu is traditionally made with Swiss cheese (obviously not a stretch of the imagination since it's from Switzerland).
Swiss cheese is known for a firm texture with a rather dry mouthfeel afterward. The strong, slightly sweet, and the acrid scent of this cheese makes perfect sense when added to this dish.
Swiss cheese is not the top choice of cheeses to eat fresh. Be that as it may, it melts excellently when baked.
There's still a softer, silkier, and creamier kind of Swiss cheese you may have heard of, that is Baby Swiss. However, it works best in omelets or frittatas rather than fried rolls.
Aside from Swiss cheese, many chicken cordon bleu recipes also use Parmesan cheese. Parmesan cheese delivers a delicious flavor mix of saltiness and sharpness, and won't be too overpowering for other ingredients.
For chicken cordon bleu, we recommend using Parmesan cheese that's aged at least one year. This variety often comes with a straw shade and a demi-souffle texture— ideal for either coating or melting.
How to Make Chicken Cordon Bleu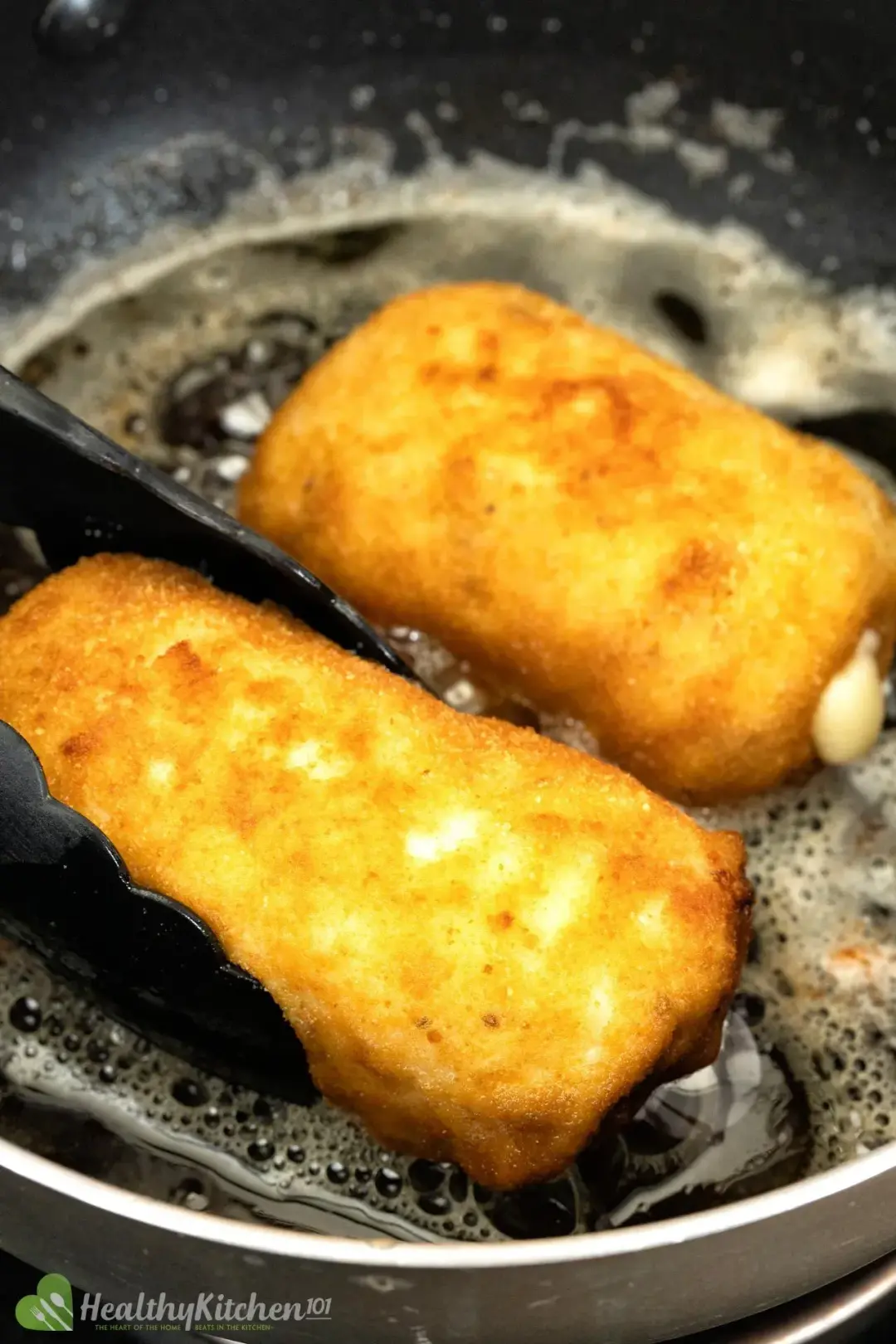 Step 1: Prep the chicken breast
Slice the chicken breasts in half lengthwise and pound them to 1/4 inch thick.
Step 2: Season the chicken
Season the chicken with salt, ground black pepper, garlic powder, and onion powder on both sides. Rub evenly and let them sit for 5 minutes to absorb the flavors.
Step 3: Make the rolls
Place each chicken cutlet on a piece of cling film, place 2 slices of Swiss cheese and 2 slices of ham on top. Roll them up.
Step 4: Wrap the rolls in plastic wrap
Tightly wrap each of the chicken rolls in plastic wrap, twist the excess plastic on the two sides, and tie them together. Chill the rolls in the fridge for 5 minutes.
Step 5: Coat the rolls
Prepare 3 large plates, one with flour, another with beaten eggs, and the last, bread crumbs. Dredge the chicken rolls successively in flour, beaten eggs, and bread crumbs. Chill the coated rolls in the fridge for 10 minutes.
Step 6: Deep-fry the rolls
On a cast-iron skillet, deep-fry the chicken rolls in olive oil over medium-high heat for 8 minutes until golden brown.
Step 7: Serve
Sprinkle chopped dill on the rolls and serve hot.
How Long to Cook Chicken Cordon Bleu
Let us be absolutely honest: Our chicken cordon bleu took only 10 minutes to fry.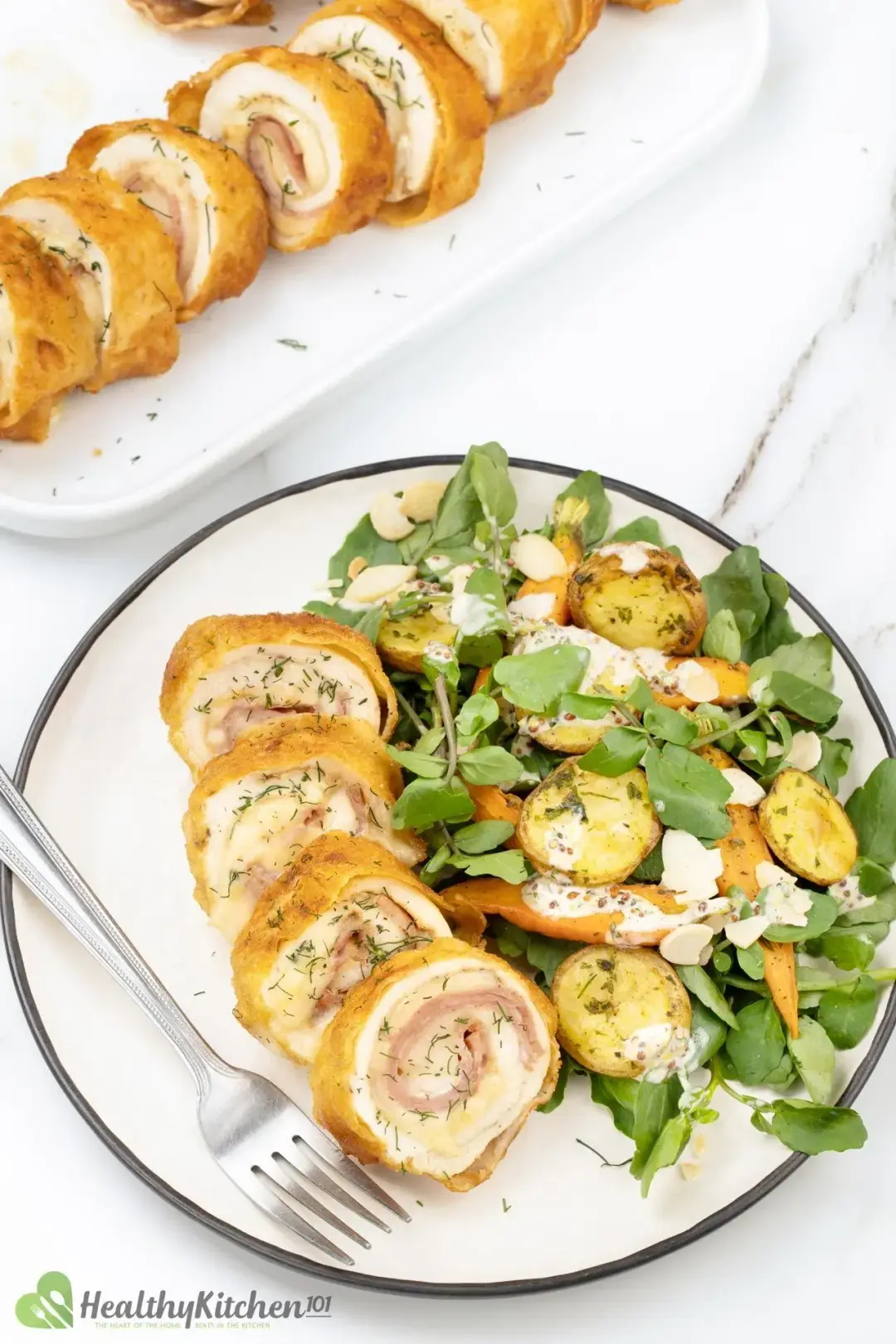 However, the part that will take you the most time is the prepping and rolling— for us it's 40 minutes. It requires patience and a little clever maneuvering with your hands, but bit by bit, you'll create perfectly nice-looking rolls.
The end result will be golden crispy rolls with swirling cheese in each bite you take. It's certainly worth the effort.
Follow the instructions for a fail-safe dinner!
Sauce for Chicken Cordon Bleu
As our health limit doesn't allow excessive consumption of fat, we completely omitted the sauce from this recipe.
Chicken cordon bleu tastes as heavenly as it's supposed to even without being joined by a sauce. Nonetheless, it is your meal and you can always have it whatever way you like.
Whether you want to serve these rolls as they are or get them a perfect dip, we're here for you. That's why we thought a little chat about this might be helpful.
Chicken cordon bleu is usually served with a mustard cheese sauce or hollandaise. When it comes to these sauces, it's all about whisking this and that together for a homemade delight.
We'd love to share a simple mustard cheese sauce recipe with you that worked pretty well our way. Hopefully someday soon we'll eventually get it down to an official recipe on the website with precise measurements.
Here's a brief instruction for the sauce:
First, melt butter in a skillet and stir in flour, milk, and chicken broth successively. Note that there must be a pause-and-whisk between adding each ingredient.
Let the sauce mixture simmer over medium heat for a couple of minutes, whisk constantly until it thickens.
Season with salt, ground black pepper, and Dijon mustard (if you like). Sprinkle in grated cheese (preferably Parmesan cheese), quickly stir it up one more time, and there you have it.
Tips to Make
No one finds oddly-shapen, splotchy, weird fried rolls appealing. Here are some small fool-proof tips for a chicken cordon bleu recipe that's adapted for the deep-frying method.
When pounding the chicken breasts, try to keep the meat mallet working at the best possible steady speed. You probably don't want to create rolls with damaged chicken cutlets that fall apart or come with uneven thickness.
For chicken cordon bleu, we believe the ideal thickness for a chicken breast is ¼ inch.
Be careful not to pound chicken too thin as it'll easily tear apart later. Contrastively, keeping it too thick will result in enormous rolls with an abnormal ratio of the chicken to the filling.
Last but not least, never forget to place layers of paper towel in a fine-mesh sieve over a large bowl. This is to drain excess oil from the rolls before serving to help make them less greasy.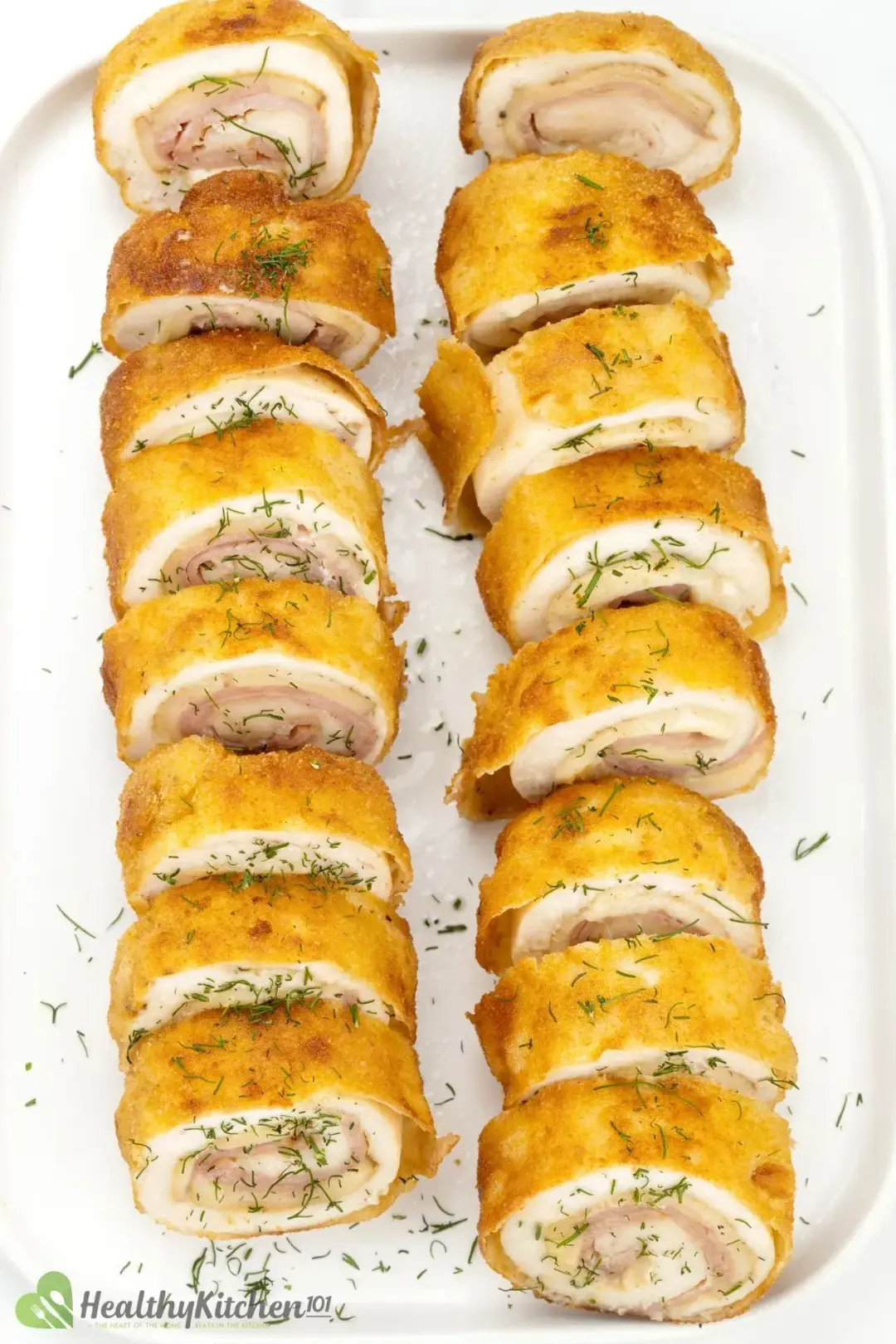 What Goes with Chicken Cordon Bleu
Chicken cordon bleu itself is already packed with protein and fat. Therefore, adding more fiber to the dish is a good move.
1. Broccoli
For something on the side, we strongly suggest steamed or roasted vegetables like broccoli or roasted asparagus. This adds variety of color, taste and texture, as well as upping your nutrient intake.
2. Spinach
You can include spinach in your rolls but it will take more time to prepare. You'll need to steam the spinach first and then roll it together with the ham and cheese.
Want to challenge your skill with a slightly more complicated style of rolls? Don't miss this healthy stuffed chicken breast recipe that also calls for spinach in the filling.
3. Corn Flakes
Corn flakes are actually a substitution for breadcrumbs. After dredging the rolls in flour and the egg mixture, transfer them to the cornflake crumbs to complete the coating.
How Long Does Cordon Bleu Chicken Last in The Fridge?
Chicken cordon bleu is served best when it's smoky hot out of the frying pan. It's because the exterior crumb will only stay crispy within half an hour at room temperature.
Texture aside, chicken cordon bleu can last up to two days in the fridge, then you can microwave to reheat.
However, it's important to note that the outer cannot reach its top crispness even after microwaving. Remember to reheat only what you will eat, as it's not good to reheat food multiple times (especially meat).
How to Freeze Chicken Cordon Bleu
For the best experience, we wouldn't recommend making a big batch of chicken cordon bleu and saving it for later. Homemade frozen chicken cordon bleu would be a disaster, to be frank.
Chicken cordon bleu could get soggy and squashy after being frozen and then thawed. So best possible advice— don't try to take shortcuts, just experience and enjoy your time cooking and eating altogether.
If you want to include more chicken in your diet, this healthy chicken recipes have a bunch of ideas.
What to Serve with Chicken Cordon Bleu
Chicken cordon bleu is a rich meal with bold flavors. Therefore, a fresh and light-flavor side is best to create a complete meal.
1. Sandwich
Chicken cordon bleu can be made into a delicious sandwich. Try adding these intriguing rolls along with baguettes and a few leaves of crispy lettuce!
2. Pasta
If you're looking to add pasta, the recipe must follow a completely different method. Chicken cordon bleu pasta is not about crispy rolls but a one-pan dish.
For the present case, chicken is chunked and cooked together with ham and pasta in creamy gooey cheese. In fact, it bears a close resemblance to chicken alfredo in appearance.
3. Rice
Rice is a less common pair for chicken cordon bleu. Same as when adding pasta, a chicken cordon bleu recipe with rice must also follow its own cooking method.
Normally, chicken and rice will be cooked together and made into a casserole. You'll find it similar to chicken and rice casserole— the only difference is the teaming up of ham and cheese.
4. Mustard Potato Salad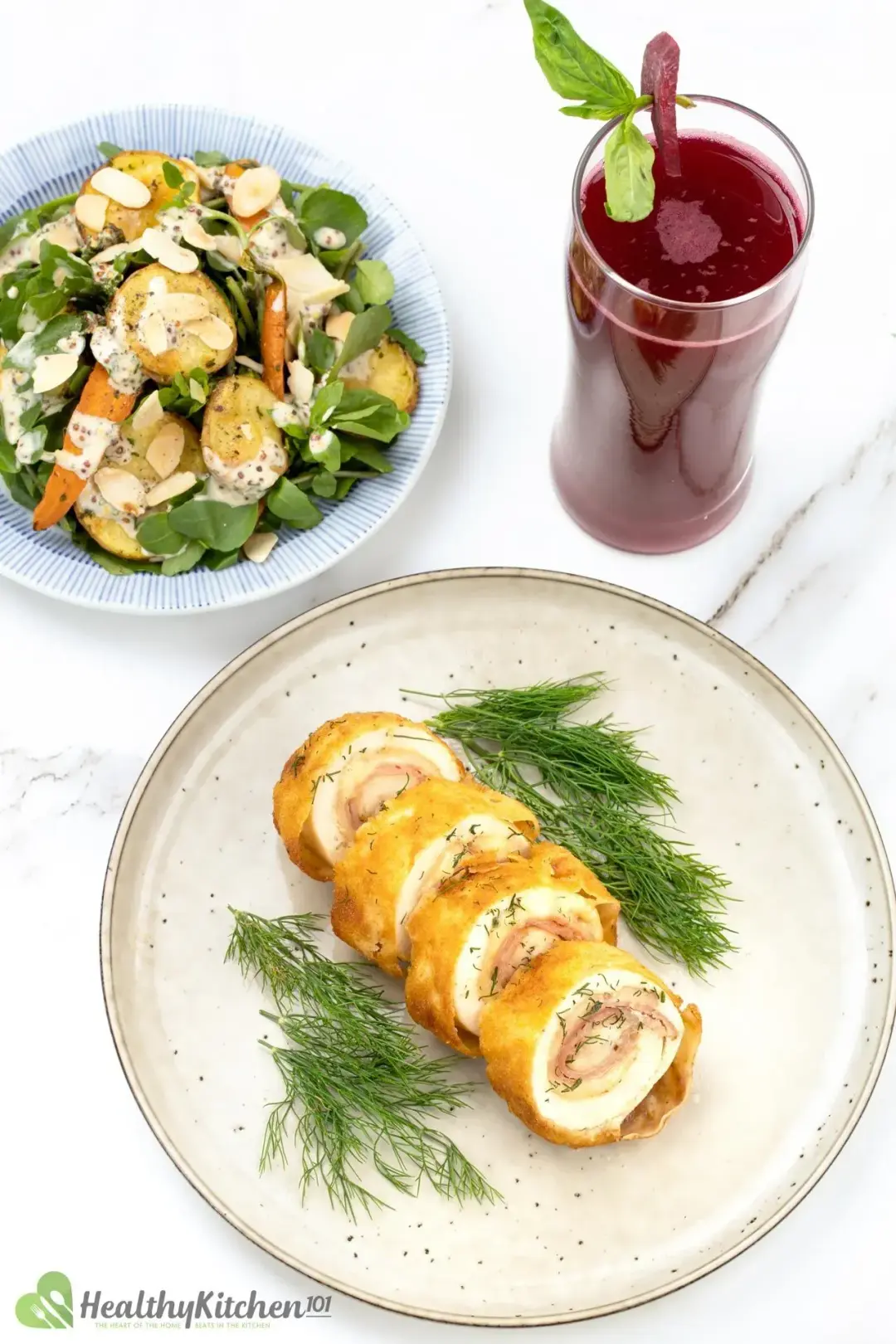 Mustard potato salad with a creamy tangy vinaigrette definitely was the first thing that came to our minds. Needless to say it perfectly balanced out these chicken rolls that are swirling with melted cheese.
We didn't plan on any sauce for this chicken cordon bleu, mostly because we've seen this coming. The rich flavor and tanginess of this mustard potato salad simulated a very similar taste to a mustard cheese sauce.
Mixed with crunchy carrots and creamy, tangy mustard, mustard potato salad is tasty and easy to make. With baby carrots for natural sweetness, whole-grain mustard for pungency, and almond kernels for a nutty aroma, you can't lose.
There's also room to modify this salad to your taste. Feel free to add more of your favorite herbs and Mediterranean spices for extra texture and tang.
5. Ginger Beet Juice
Finally, we chose to complete this meal with beet juice. Beet, ginger, lemon juice, and green grapes join together to create a hearty drink with an added zing of freshness.
Pour this drink over ice cubes and top it off with basil. Healthy and tasty, check!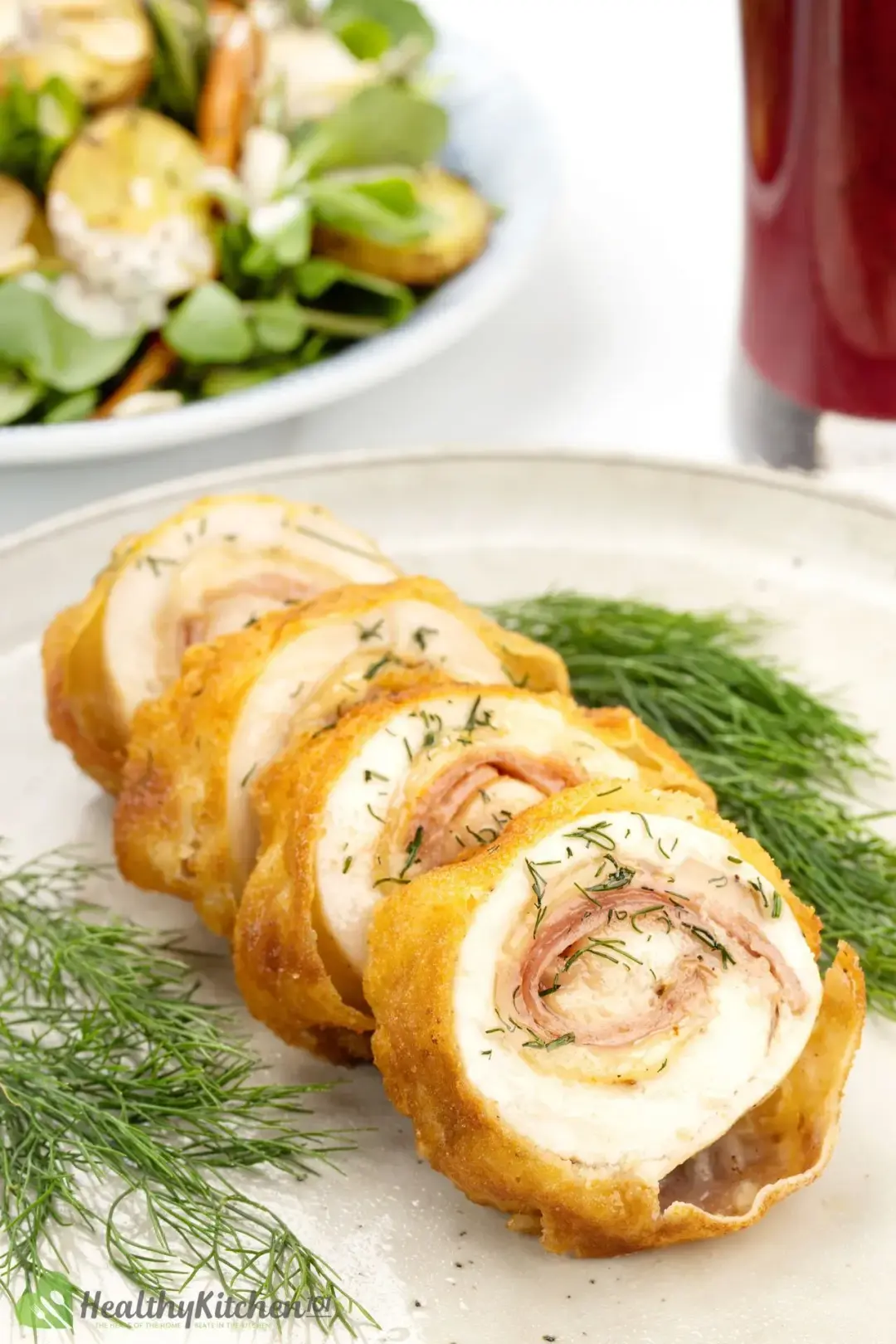 Chicken Cordon Bleu Recipe
Admittedly, roll dishes are not usually my strong suit. I did, however, round this Chicken Cordon Bleu recipe out in a jiffy, which means you can totally do the same, too. Go on and hit that right note!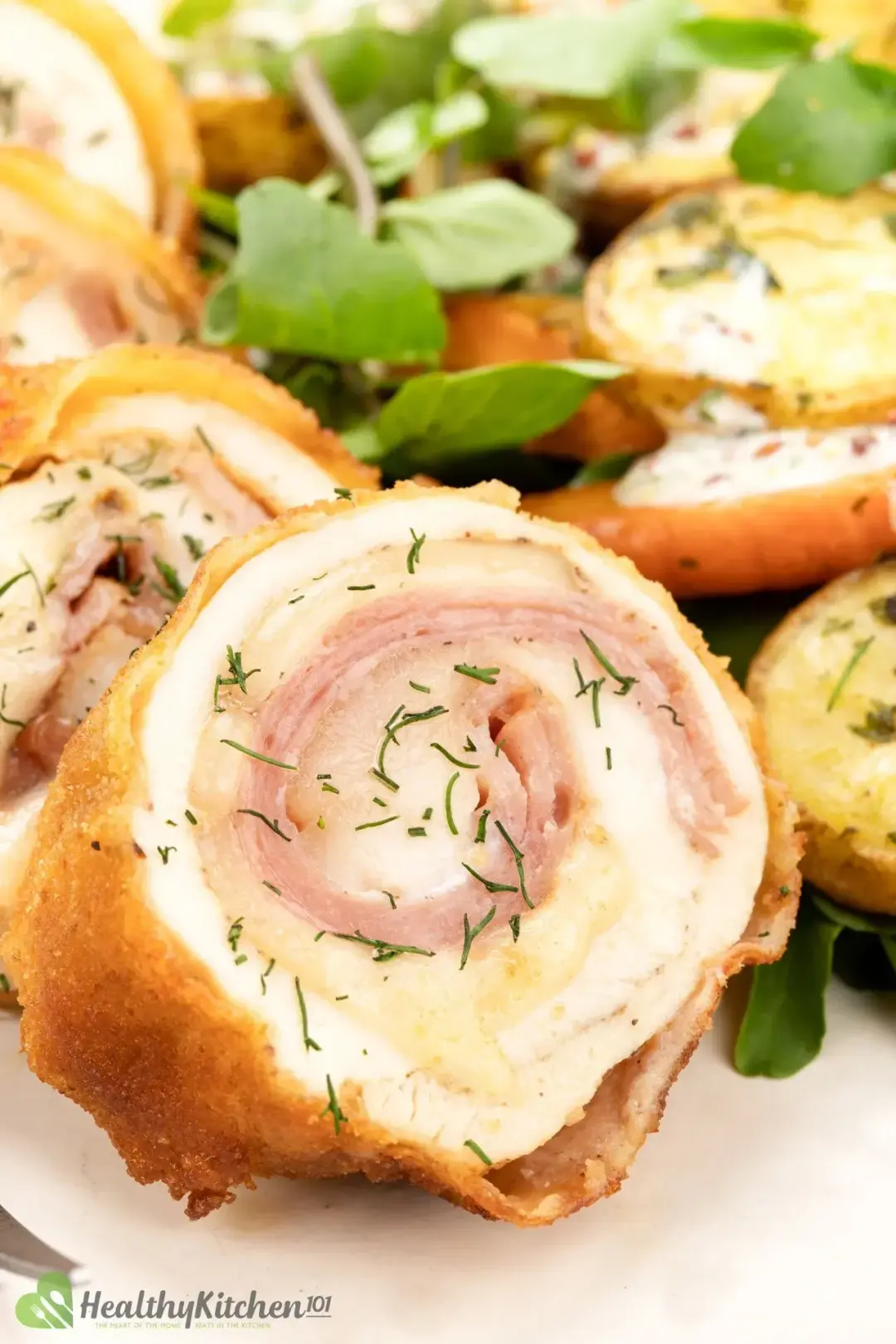 cook TIME

10 mins

prep TIME

40 mins

total TIME

1 hr 10 mins

INACTIVE TIME

20 mins
COURSE

Main Course

CUISINE

French

SERVINGS

servings

CALORIES

419 kcal
INGREDIENTS
12 oz

skinless boneless chicken breast (4 halves)

0.1 tsp

salt

0.5 tsp

ground black pepper

1 tsp

garlic powder

1 tsp

onion powder

1 cup

olive oil ((*))

0.5 cup

all-purpose flour ((*))

2

medium eggs ((*))

4 oz

baguette bread (crumbed (*))

3 oz

ham

3 oz

Swiss cheese

1 tbsp

dill (chopped)
INSTRUCTIONS
Prep
1
Slice the chicken breasts in half lengthwise. Pound them thin to 1/4 inch thick.
2
Season chicken breast cutlets with salt, ground black pepper, garlic powder, and onion powder on both sides, rub them evenly. Let sit for 5 minutes.
3
Make the rolls: Place each chicken cutlet on a cling film, put successively 2 slices of Swiss cheese and 2 slices of ham on top of the cutlet, roll them up together. Wrap the chicken roll in the plastic wrap tightly, twist the excess plastic on the two sides and tie them together. Repeat with the remaining. Chill the rolls in the fridge for 5 minutes.
4
Prepare 3 large plates with flour, beaten eggs, and bread crumbs. Dredge the chicken rolls successively in flour, in beaten eggs, and in bread crumbs. Chill in the fridge again for 10 minutes.
Cook
1
On a cast-iron skillet, heat olive oil over medium-high heat, wait until the oil is sizzling. Transfer the chicken rolls in and turn down to medium heat.
2
Fry the chicken rolls for 8 minutes, turn whenever one side is golden brown.
3
Sprinkle chopped dill on top. Serve while still hot.
NUTRITION
Nutrition Facts
Chicken Cordon Bleu Recipe
Amount Per Serving (1 serving)
Calories 419
Calories from FDA
% Daily Value*
* Percent Daily Values are based on a 2000 calorie diet.
Note:
(*) Only part of these ingredients will end up in the final product and we have calculated nutritional values based on that amount. The whole amount is needed for the coating and cooking process, but what actually ends up being consumed are 3 tablespoons of olive oil, 1/6 cup of all-purpose flour, 1 medium egg, and 3 1/2 ounces of breadcrumbs.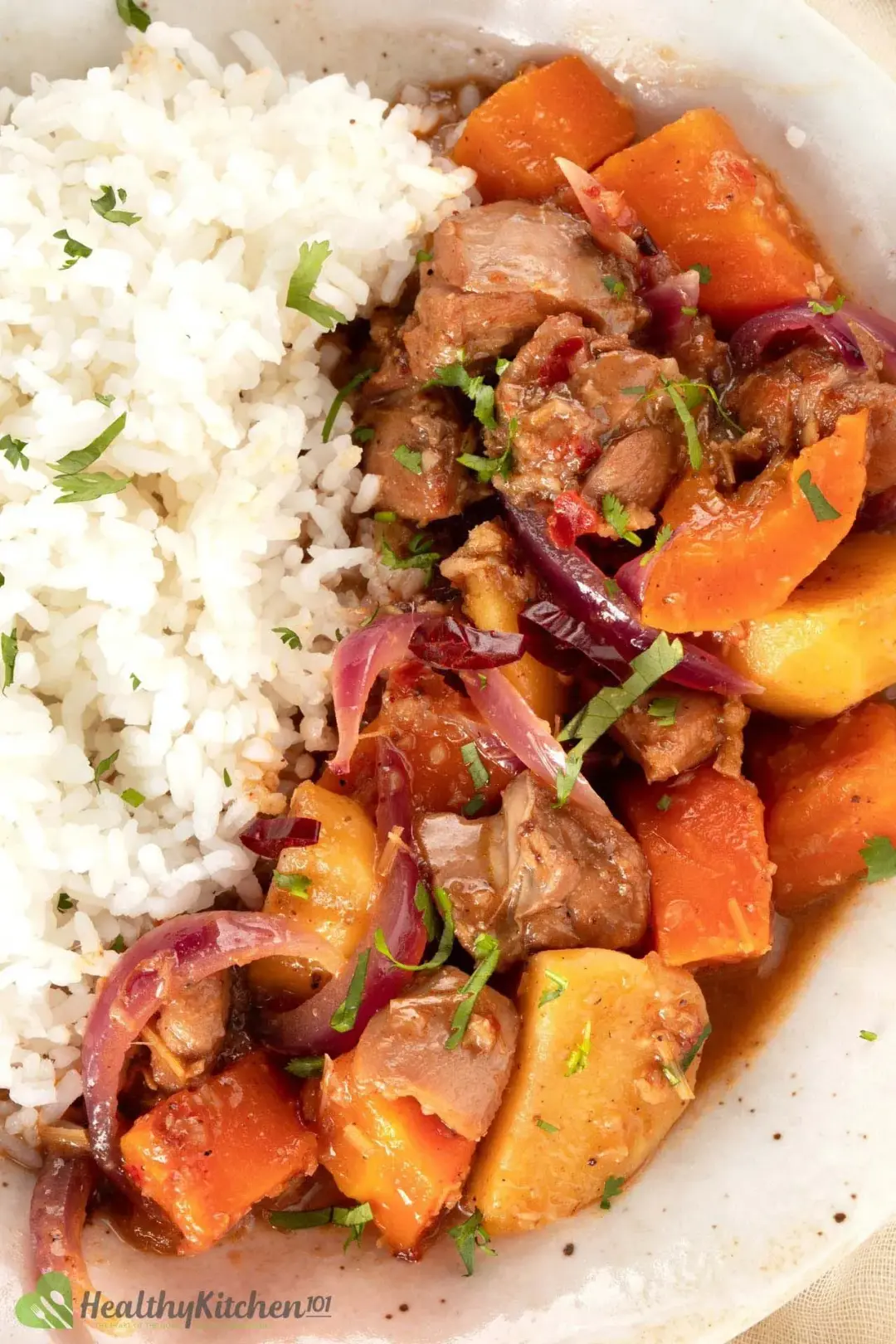 Previous Recipe
Chicken Massaman Curry
Chicken Massaman Curry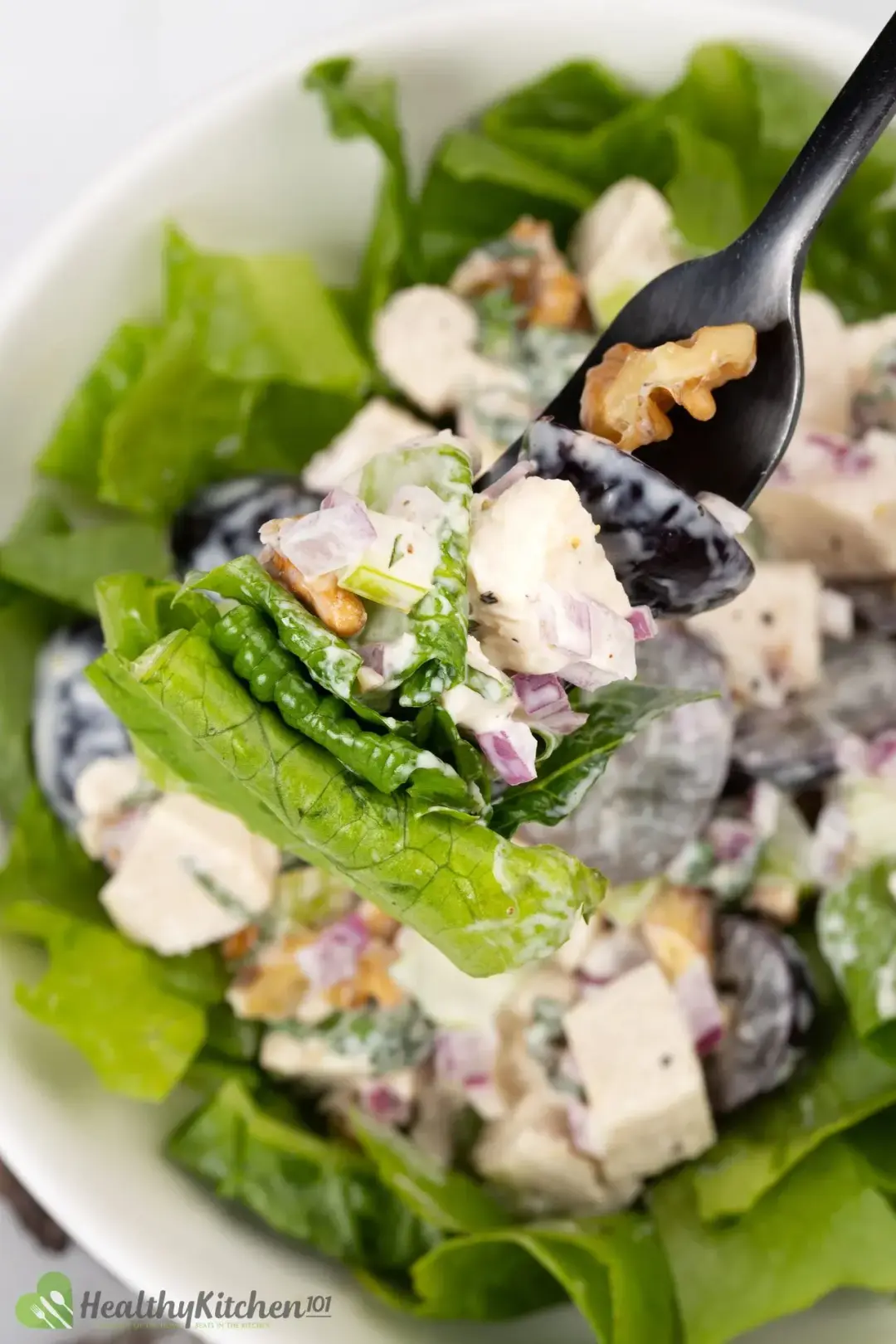 Next Recipe
Healthy Waldorf Chicken Salad
Healthy Waldorf Chicken Salad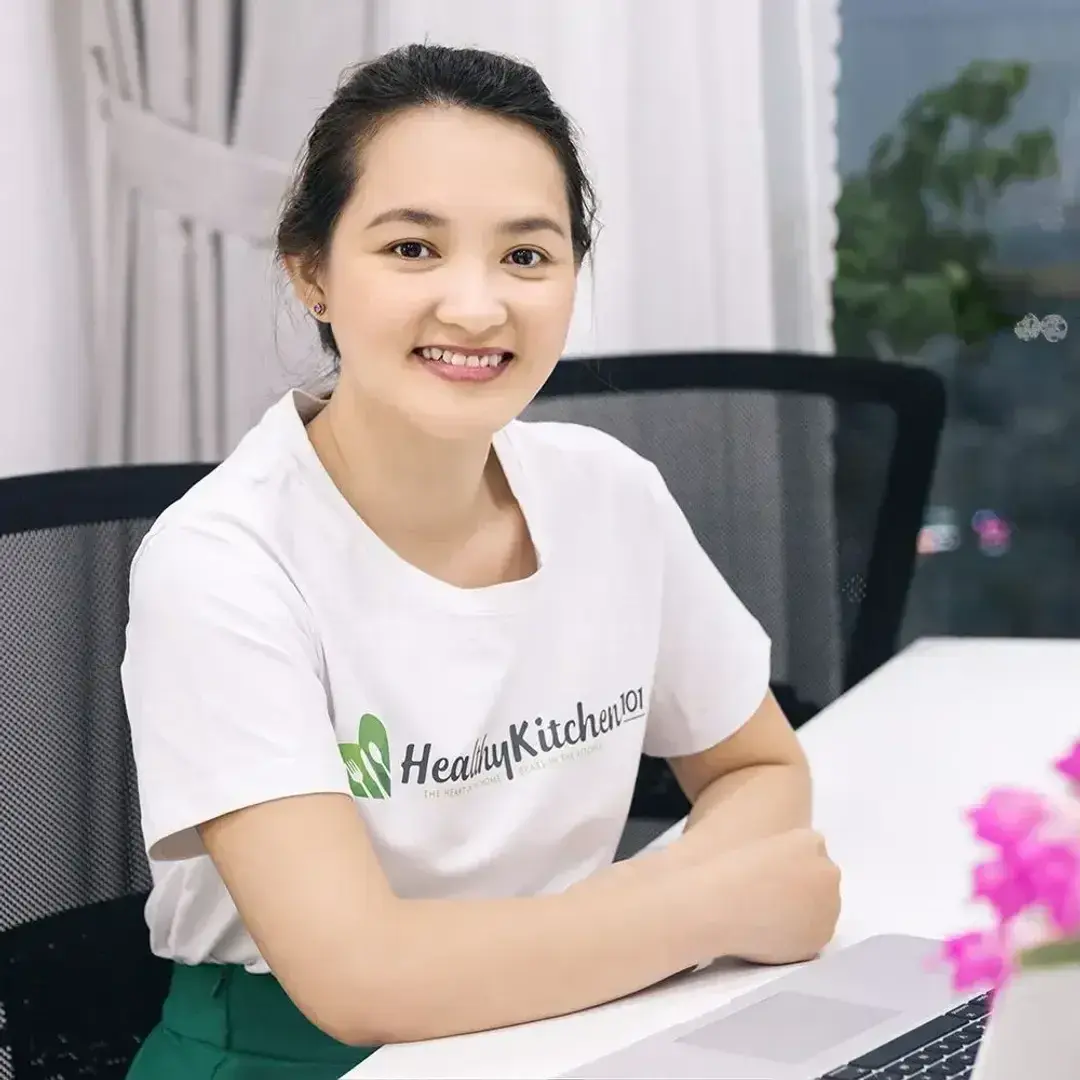 Founder
Luna Regina is an accomplished writer and author who dedicates her career to empowering home cooks and making cooking effortless for everyone. She is the founder of HealthyKitchen101.com and HealthyRecipes101.com, where she works with her team to develop easy, nutritious recipes and help aspiring cooks choose the right kitchen appliances.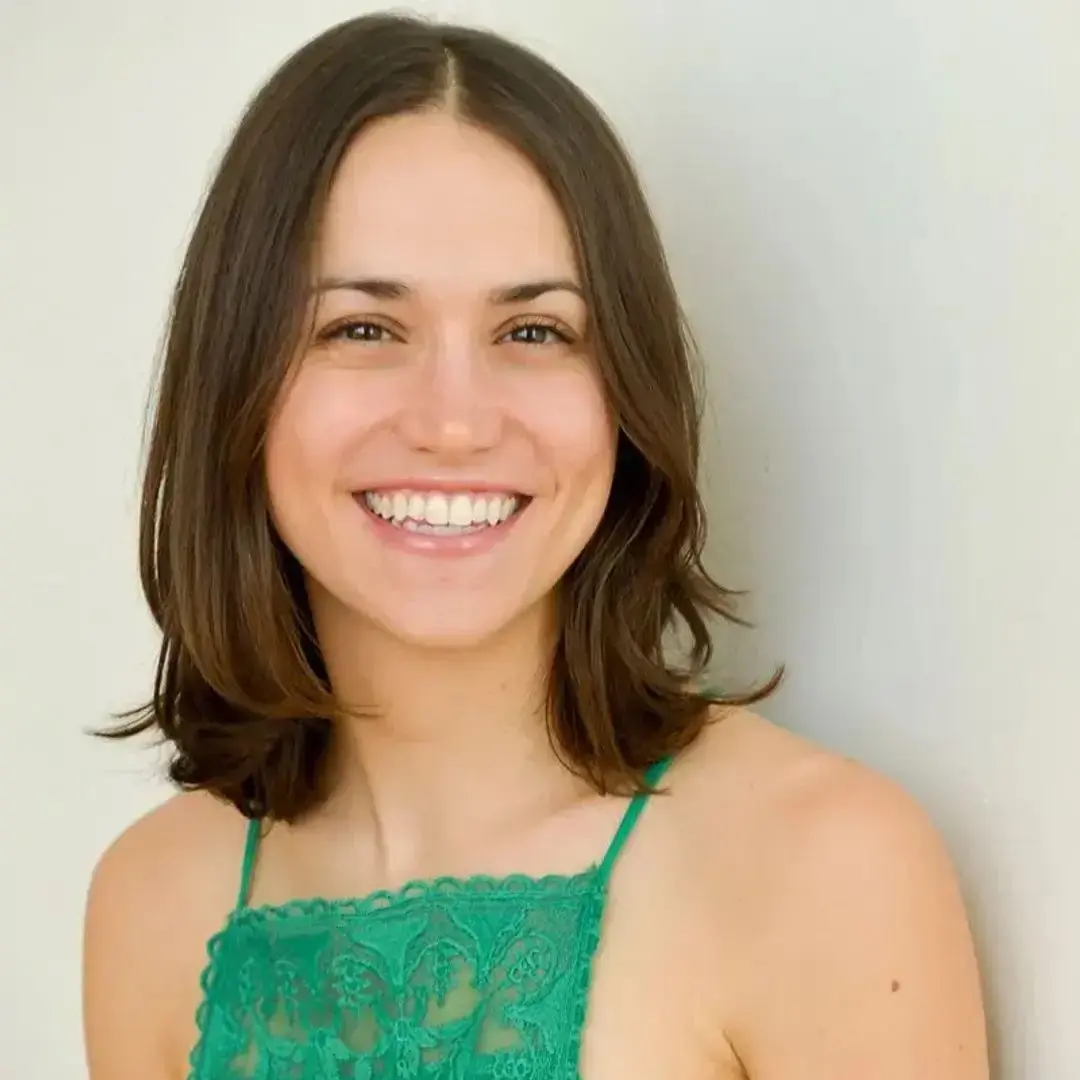 Nutrition Reviewer
Lizzie is a Minneapolis-based dietitian and founder of It's a Veg World After All. She completed her MS in Human Nutrition from Drexel University, and is an expert in culinary nutrition, recipe development, and nutrition communications.
Comments/ Reviews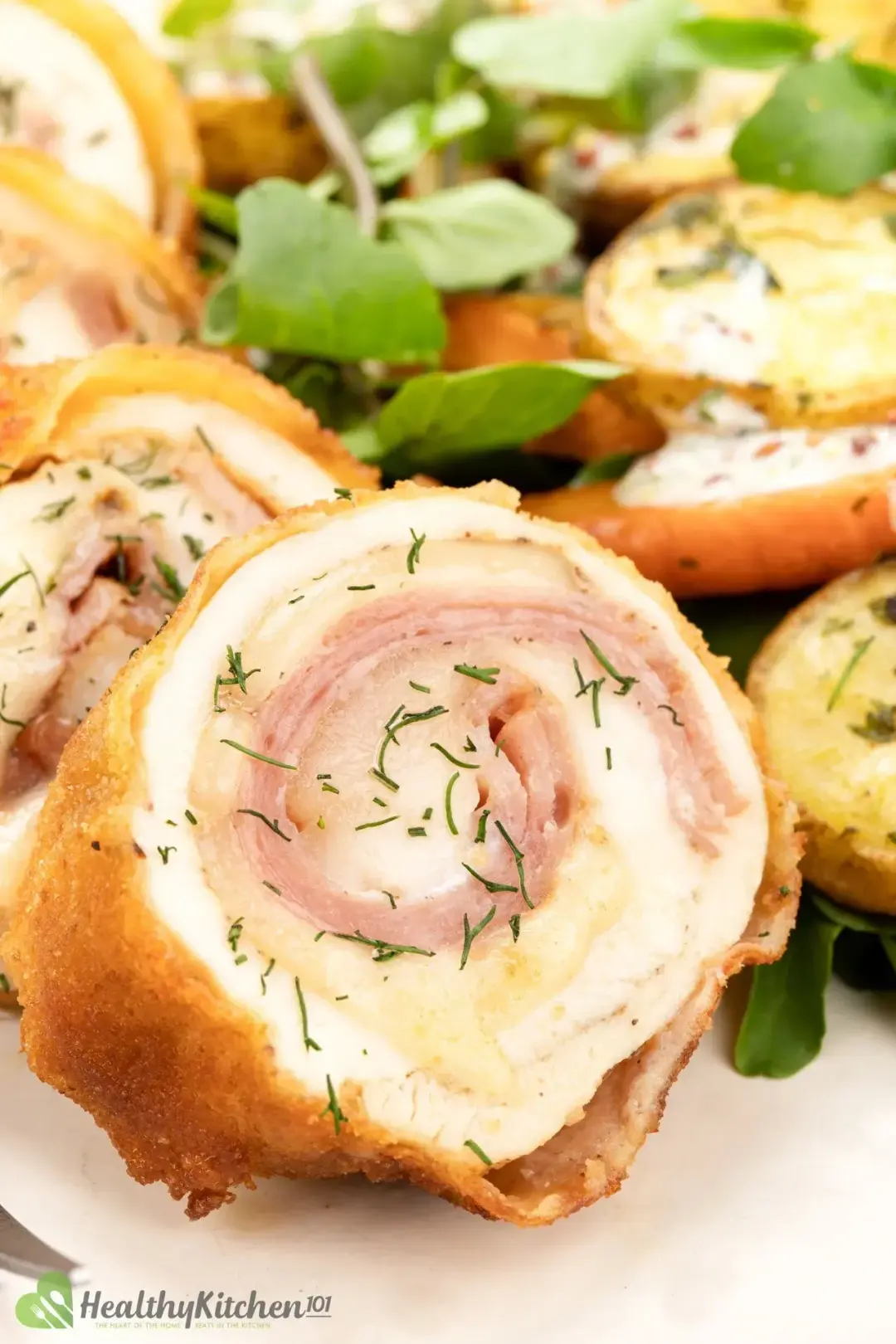 Chicken Cordon Bleu Recipe