This healthy baked chicken breast recipe will always be one of our all-time favorites. Chicken breast is a simple and versatile ingredient that everyone loves. However, it can be tricky to work with as it can become dry and bland easily.
But don't worry! You will never have a dry piece of chicken ever again with today's easy, juicy, fail-proof recipe.
This one-pan chicken breast recipe only takes 10 minutes of prepping and 35 minutes in the oven. It's all done in less than an hour. And, this recipe is kid-friendly. They can have fun while helping you out in the kitchen.
But first, here is some useful information about today's healthy recipe.
Is Baked Chicken Breast Healthy?
We are happy to announce that baked chicken breast is healthy. But how is it healthy?
Firstly, boneless skinless chicken breast is one of the healthiest meat options.
It's super lean and packed with protein— perfect for almost any diet. Having a protein-rich meal can also give you a sense of satiety.
Some people may think that carbs are better filler than protein. But when you eat more protein, your body actually needs more time to digest than carbs.
And since the body needs more energy to digest all that protein, it will burn more calories as well.
This is also the reason why chicken breast is good for weight loss.
Secondly, to keep your chicken healthy and delicious, baking is one of the best options. You don't need to use as much oil as you would if you deep-fried or stir-fried.
Using less oil in your recipe means you'll consume less calories, saturated fat, and cholesterol. You will be eating healthier and cutting out excess fat.
Ingredients for a Healthy Baked Chicken Breast Recipe
The ingredients for today's healthy baked chicken breast recipe are simple. Let's categorize them: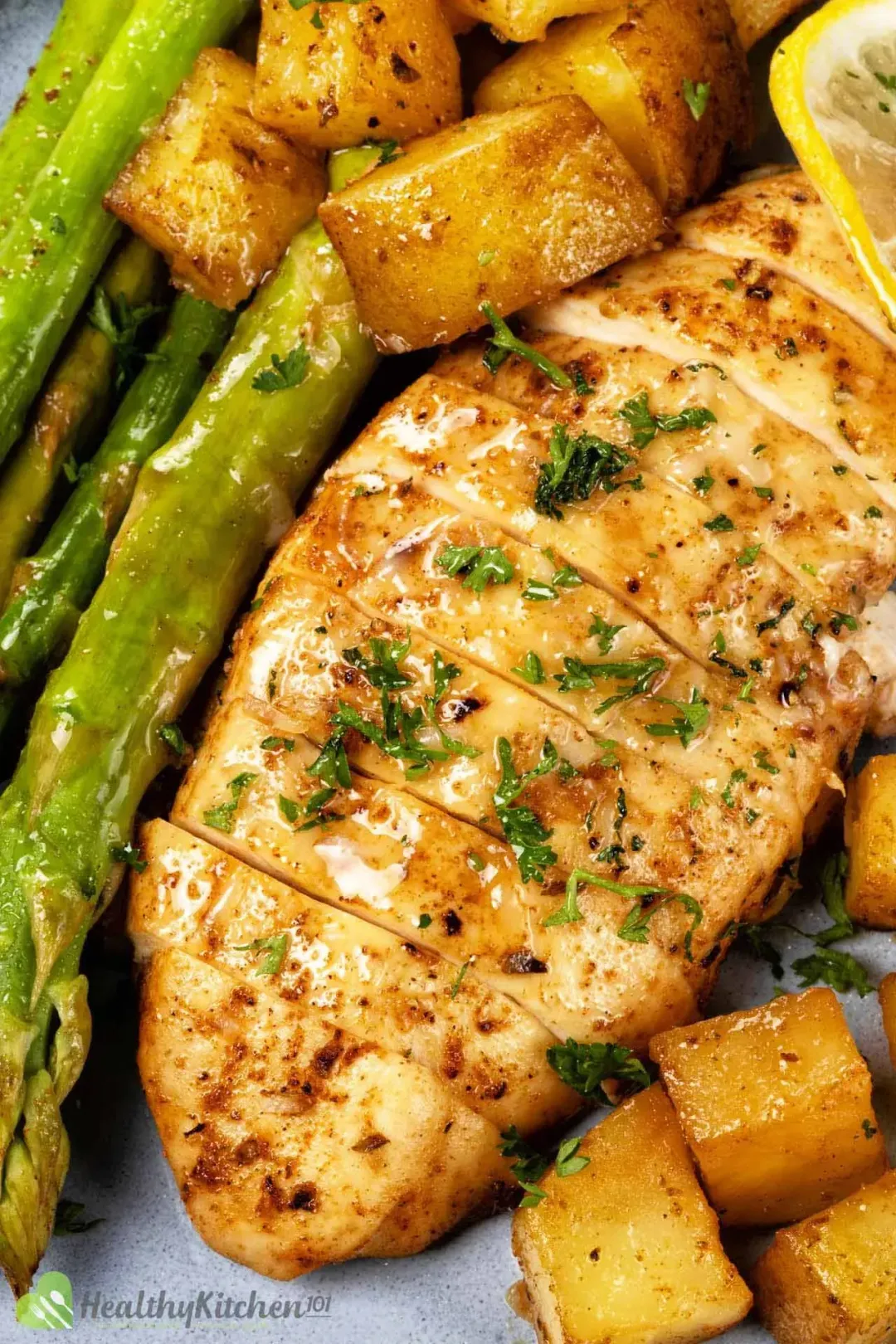 Main protein: boneless skinless chicken breast (of course).
Vegetables: russet potatoes and asparagus.
Fat: olive oil and unsalted butter.
Seasonings: paprika, garlic powder, black pepper, salt, and dried oregano. We also use grated Parmesan cheese to season the chicken and vegetables as well.
Garnishes: lemon slices and herbs. We're using fresh parsley, but you can use thyme if you prefer.
For lean protein like chicken breast, you want to keep the seasoning blend simple. But simple doesn't have to be plain and boring.
You can add paprika, cayenne pepper, dried herbs, garlic, or onion powder. Anything your heart desires to give the chicken more character.
As for the fat, both olive oil and butter can give more flavor to your chicken and veggies. Olive oil will also act as a shield to keep the chicken moist and juicy.
And last, but not least, adding lemon slices will give the chicken a hint of citrus freshness. You can put lemon slices on top of the chicken for visual effect and to prevent it from drying out, too.
You can customize the recipe to your preference. Use ingredients that complement each other and you will have a perfect chicken recipe.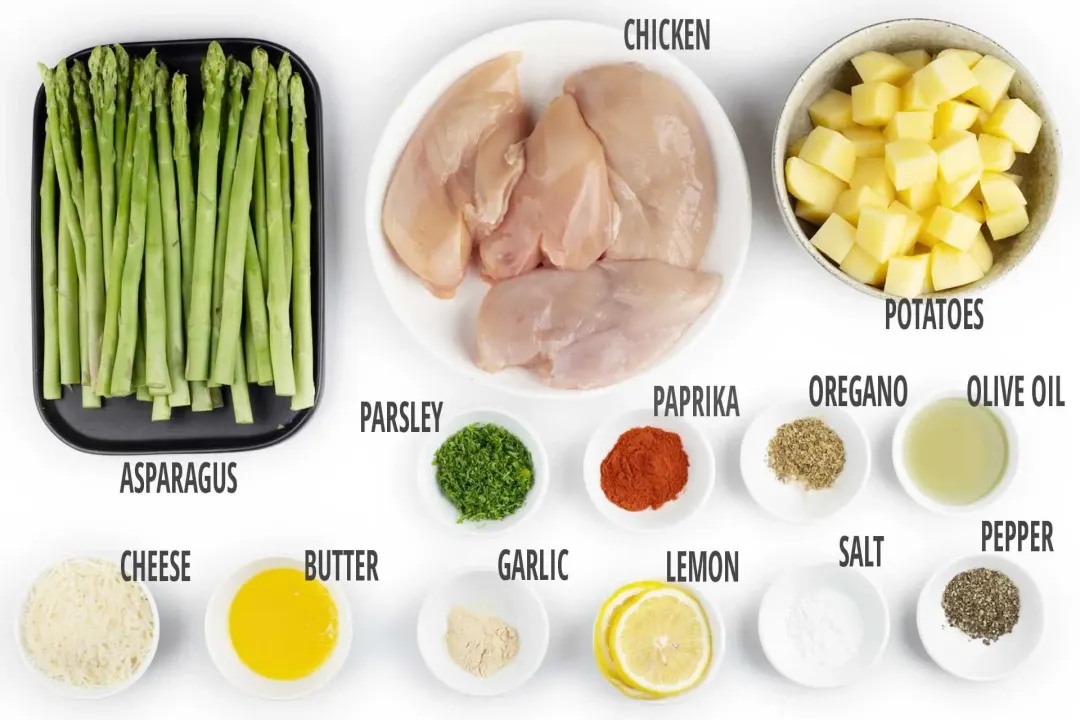 See another simple, easy recipe for chicken breasts on the stovetop.
How Long to Cook Chicken Breast in the Oven
This recipe requires the meat to be cooked uncovered at 375℉ for 35 minutes in the oven.
However, the cooking time and temperature may vary depending on the size and thickness of the chicken breast. Different cuts of chicken affect the cooking time and temperature as well.
It can be tricky. But have no fear, we have a detailed article on how long to bake chicken.
You will master the skills of cooking chicken in no time.
But in the meantime, it's best to use a meat thermometer to make sure that your chicken is perfectly cooked.
When using a meat thermometer, you want to insert it at the thickest part of the chicken. The internal temperature of cooked chicken should be at least 165°F.
If your chicken's temperature is lower than that, put it back in the oven for another 5 minutes and then check again.
What to Serve with Boneless Baked Chicken Breast Recipe
Although baked chicken breast is delicious and healthy, it's not a whole meal on its own. However, it's super versatile so you can pair it with almost any other food.
Here are some of our recommendations:
1. Vegetables and Potatoes
Since you're baking your chicken, it would be ideal to bake the vegetables on the same tray. You want to choose veggies that take about the same time to cook as the chicken.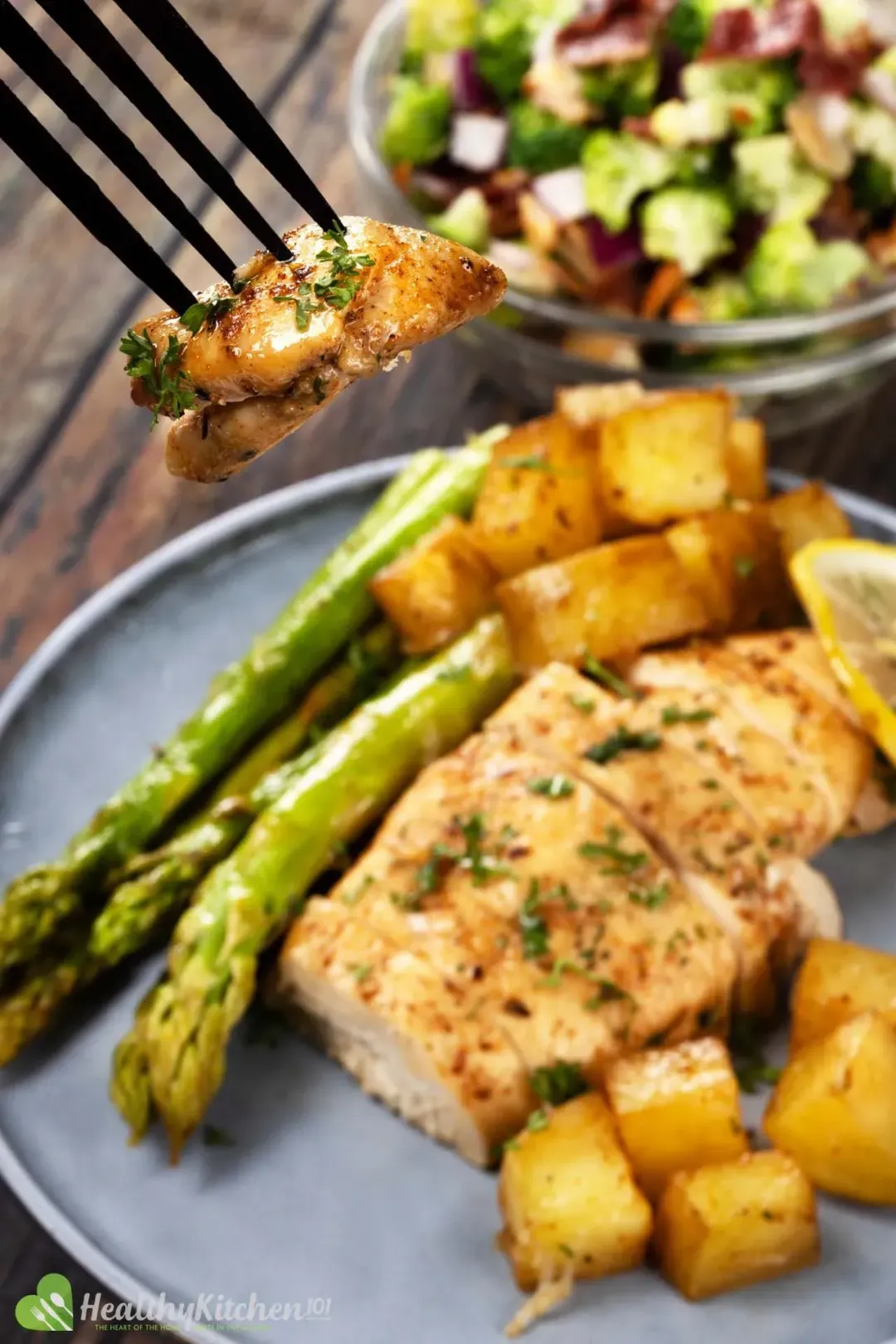 Here are a few vegetable options for this healthy baked chicken breast recipe:
Asparagus: Requires little preparation. You only need to rinse and cut off the fibrous ends before seasoning them.
Broccoli: When roasted, broccoli will become caramelized, crispy, and nutty. You can add garlic and parmesan cheese to make it more flavorful.
Mushrooms: You can add butter, parmesan, chopped parsley, and pepper to your roasted mushrooms. And if you love chicken and mushrooms, check out our healthy stuffed chicken breast recipe.
Brussel sprouts: Tend to have a nutty, charred, slightly bitter flavor with a crunchy and soft texture when roasted. They are a great fit for oven baked chicken.
Potatoes: Whether you're using yukon gold, russet, or sweet potatoes, any variety will fit well with baked chicken.
Carrots: Are easy to prepare, yet taste amazing— making them a perfect side dish. For a simple seasoning, toss your carrots in olive oil, minced garlic, thyme, salt, and pepper.
Pumpkin: Roasted pumpkin can have a sweet taste, soft texture, and a thin crust. To season your pumpkin, drizzle olive oil and sprinkle over minced garlic, grated parmesan cheese, and pepper.
Onions: Roasted onions add a nice hint of sweetness to a savory dish. You can cut them into slices, wedges, or cubes.
An excellent place to start is with this Chicken and Cauliflower Recipe. A hearty dish that features crispy cauliflower.
2. Rice
People love rice for its versatility. It can be a great side dish that makes you feel full longer as well.
Here are a few ways to cook rice:
Steamed rice: A simple and quick side dish for those who are busy. You can prepare and let the rice cook while your chicken is baking.
Seasoned rice: The base is plain old steamed rice with a few tweaks to make it more flavorful. Experiment with your rice by adding salt, pepper, scallions, chicken broth, saffron, or butter when you cook.
Stir-fried rice: Works best with leftover cooked rice. For a simple stir-fried rice, you'll need a bit of oil, minced garlic, and a pinch of salt and pepper.
Risotto: Though it takes the most effort to make, a delicious risotto pairs perfectly with our baked chicken breast. You can cook your risotto while your chicken is in the oven to save time.
To make risotto, you will need arborio rice. This Italian short-grain rice is super starchy— giving the risotto its signature creamy consistency.
For steamed, seasoned, or stir-fried rice, any type of rice will work just fine. 
How to Store Baked Chicken Breast
Baked chicken breasts tend to be dry when left in the fridge. Here's how to store cooked chicken breast properly:
Do not cut your chicken. Slicing the chicken breast creates more surface area and makes the meat dry faster. You want to leave the chicken breast whole when you store it, if possible.
Wrap chicken breasts separately and tightly in parchment paper, aluminum foil, or plastic wrap.
Use an airtight container to store your chicken. If your chicken comes with vegetables, keep them in a separate container.
If you wrap and store carefully, cooked chicken breast can last from 3 to 5 days in the fridge. 
How to Reheat Chicken Breast
Leftover poultry tends to be dry, especially after reheating. And it's even harder when it comes to baked chicken breasts.
Here are a few tricks to heat up leftover chicken without making it dry:
Use the oven. This will ensure your chicken heats up more evenly than using a microwave. Preheat the oven to 350℉ and bake the chicken for 15-20 minutes.
Brush your chicken with olive oil, chicken broth, or its leftover sauce. This will create a shielding layer to trap the moisture inside the chicken.
Wrap the chicken tightly in either aluminum foil or parchment paper to prevent drying out. You can also put chicken in a baking dish, add ¼ cup chicken broth, wrap tightly with foil, and bake.
And that's how to reheat chicken breast properly.
For an even better treat, throw any leftover chicken breast into this healthy chicken and rice casserole and save yourself lots of effort!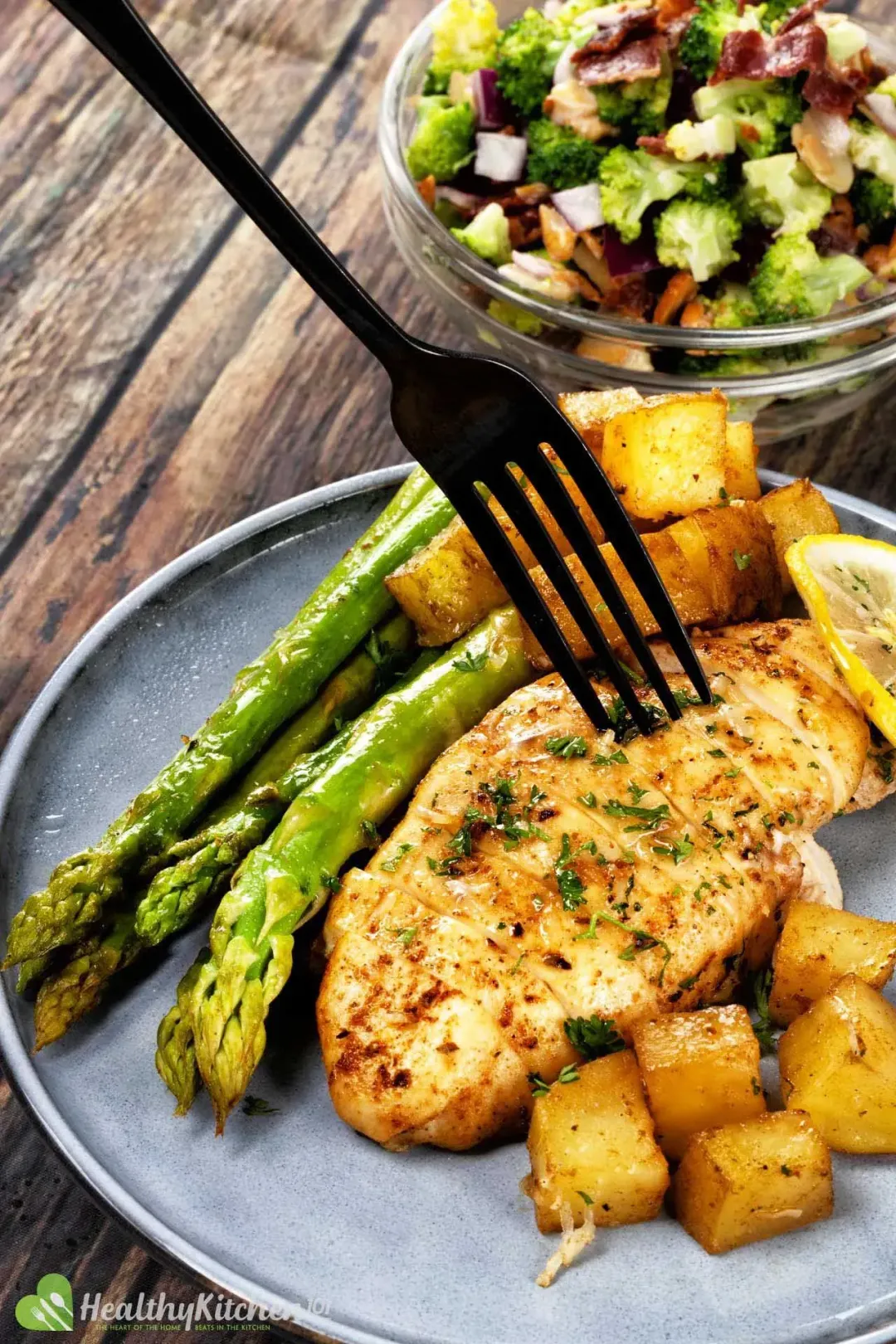 Nutrition Facts
A medium boneless skinless chicken breast generally weighs about 6 oz, but it can vary from 4 to 8 oz.
Here are the nutrition facts per 4 oz of boneless skinless chicken breast:
Calories: 136
Protein: 25.4g
Fat: 2.96g
Sodium: 50.8mg
Carbohydrates: 0g
Sugar: 0g
Fiber: 0g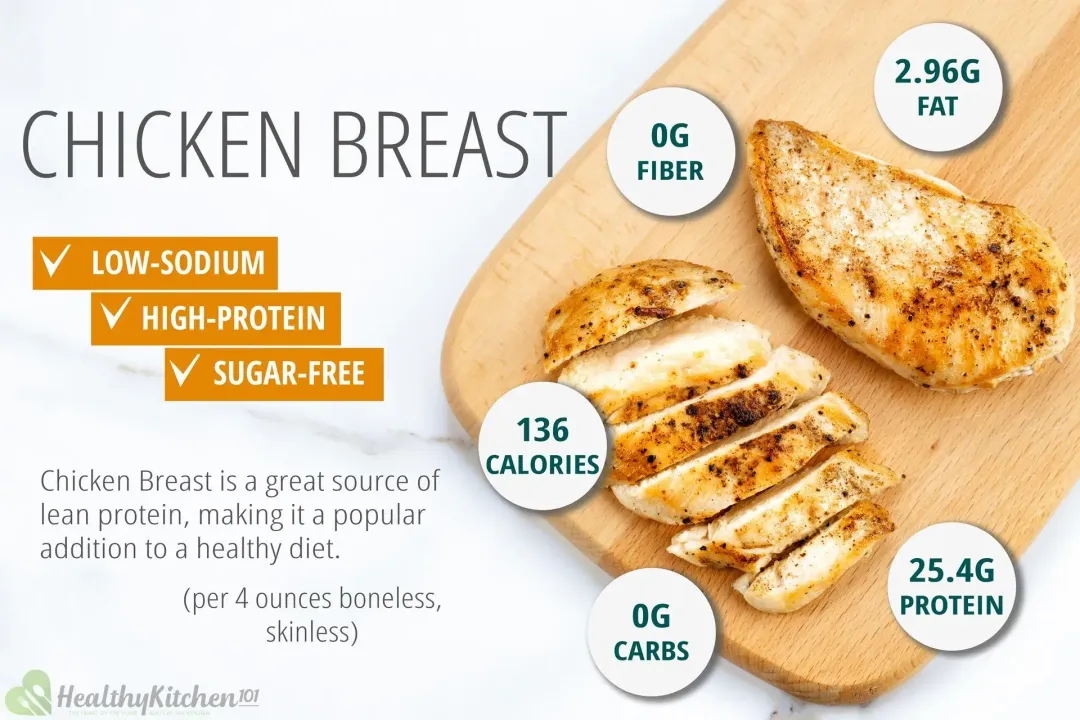 This nutritional data is from USDA Food Data Central. Let's get into the details.
1. How Many Calories in Chicken Breast?
There are 136 calories per 4 oz of raw boneless skinless chicken breast.
For the amount, this is relatively low in calories. But why is chicken breast low in calories?
It's because it doesn't come with fatty skin. If you eat skin-on chicken breast, you will consume a lot more calories than you should.
And if you eat more calories than your body needs, your body stores the excess as body fat.
So, if you want to lose weight, boneless skinless chicken breast should be your go-to cut of meat.
2. How Much Protein Is in Chicken Breast?
There is 25.4g of protein in 4 oz of boneless skinless chicken breast.
So, if you have a 6-oz piece, it provides you with about 38g of protein. This is nearly 80% of an adult's daily protein intake.
Chicken breast is a popular cut of meat among bodybuilders and fitness gurus.
Its high protein content helps build muscle mass and makes you feel full for longer. If you're looking for an affordable source of protein, skinless chicken breast is your best bet.
3. Fats
There are 2.96g of total fat per 4 oz of skinless chicken breast. It also contains only 0.63g of saturated fat.
Since it's so low in fat, this makes it the best candidate for any diet. And, you can add more fat into your meal later without worrying about over-consumption.
4. Sodium
Since this data is based on raw, unseasoned chicken, it only contains 50.8mg of sodium. With its low sodium content, you can season the chicken to perfection without consuming too much sodium.
5. Carbs
There are 0 grams of total carbohydrates in raw boneless skinless chicken breast. This is another great benefit of chicken breast.
It is also rich in protein and can keep you full, making it the best fit for any low-carb diet. You would want to increase your carb intake by adding something to the chicken for a rounded meal.
6. Sugar
Raw chicken breast does not contain any sugar. So, if you're on a zero-sugar diet like keto or Atkins, you can have chicken breast.
7. Fiber 
Lastly, it also has 0 grams of fiber.
Although chicken doesn't contain fiber, you can find other sources of fiber like fruits and vegetables to go with it. Having vegetables with chicken will ensure you have a well-balanced meal as well.
Some More Chicken Meal Ideas We Like
Our shoyu chicken cooks chicken thighs until the skin turns very crispy, then slathers them with a fragrant soy sauce mix. Every bite is as flavorful as it is fragrant, and it has a kick of heat, too.
Our carnitas bowl has quite a lot of ingredients to take care of, but in the end you'll find every effort worthwhile. Each serving has a plate of rice, beans, corn, grilled chicken, and tomatoes topped with yogurt sauce, and that plate has a tortilla and guac dip on the side. It's tons of flavors in disguise.
Not satisfied? Check out our grilled chicken recipes for healthy eats that are just as flavorful.
Healthy Baked Chicken Breast
Welcome to today's healthy baked chicken breast recipe. It is no secret that chicken is a popular go-to protein for many home cooks. The lean protein is quick to cook, affordable, versatile, and is very easy to incorporate into a variety of family favorites. Time to make them.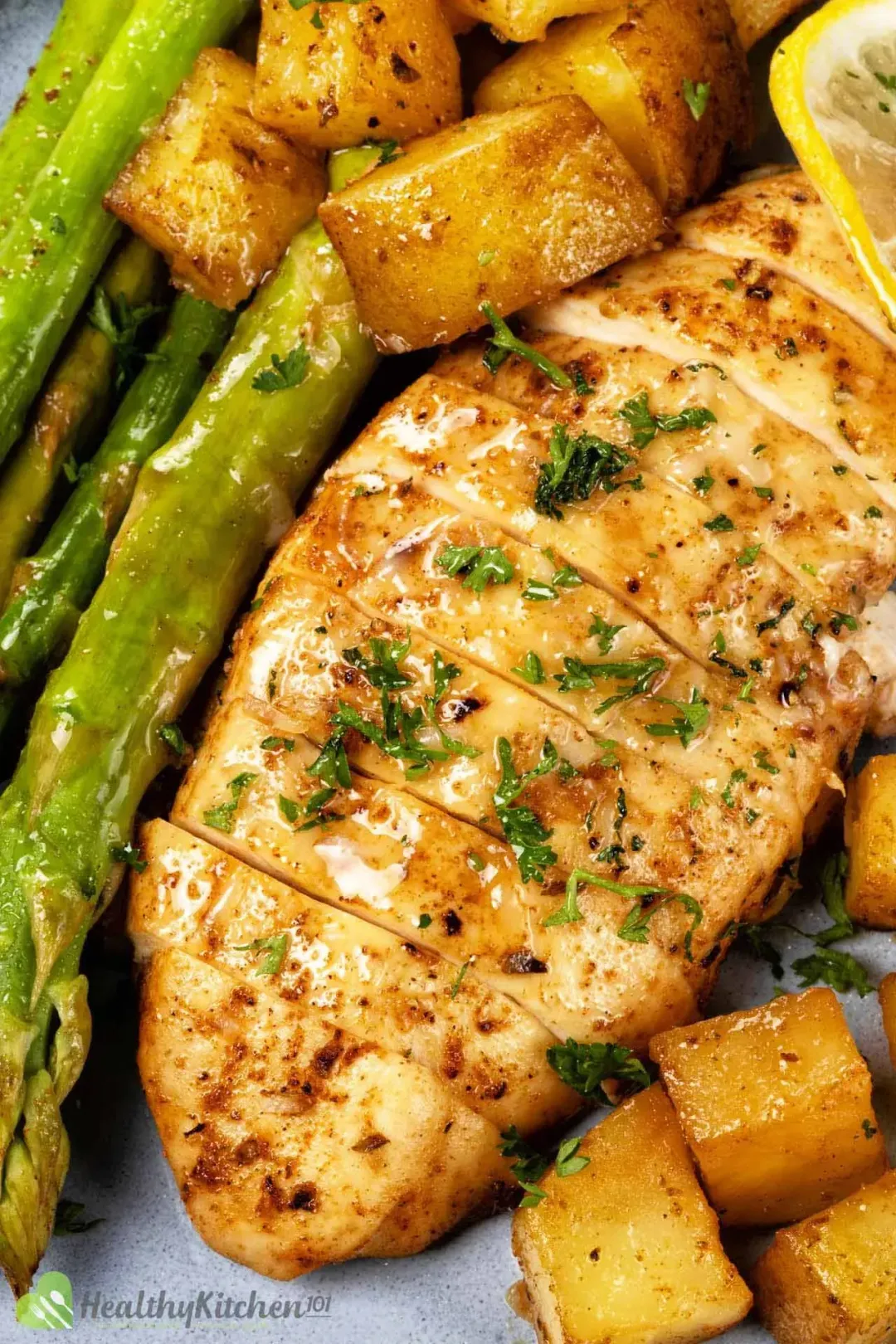 cook TIME

35 mins

prep TIME

10 mins

total TIME

45 mins
COURSE

Main Course

CUISINE

American

SERVINGS

CALORIES

507 kcal
INGREDIENTS
24 oz

skinless boneless chicken breasts

(4 medium)

18 oz

russet potatoes

(peeled, cut into 1/2-inch chunks)

1.5 oz

grated Parmesan cheese

1 tsp

ground black pepper

2 1/2 tbsp

unsalted butter

(melted, divided)

2 tbsp

chopped parsley

(optional)
INSTRUCTIONS
Prep
1
In a bowl, combine 2 tsp paprika, 1 tsp garlic powder, 1 tsp ground black pepper, 1/2 tsp salt, and 1 tsp dried oregano. Mix to make a spice blend, divide it into 3 equal parts and put in 3 small bowls. Set aside.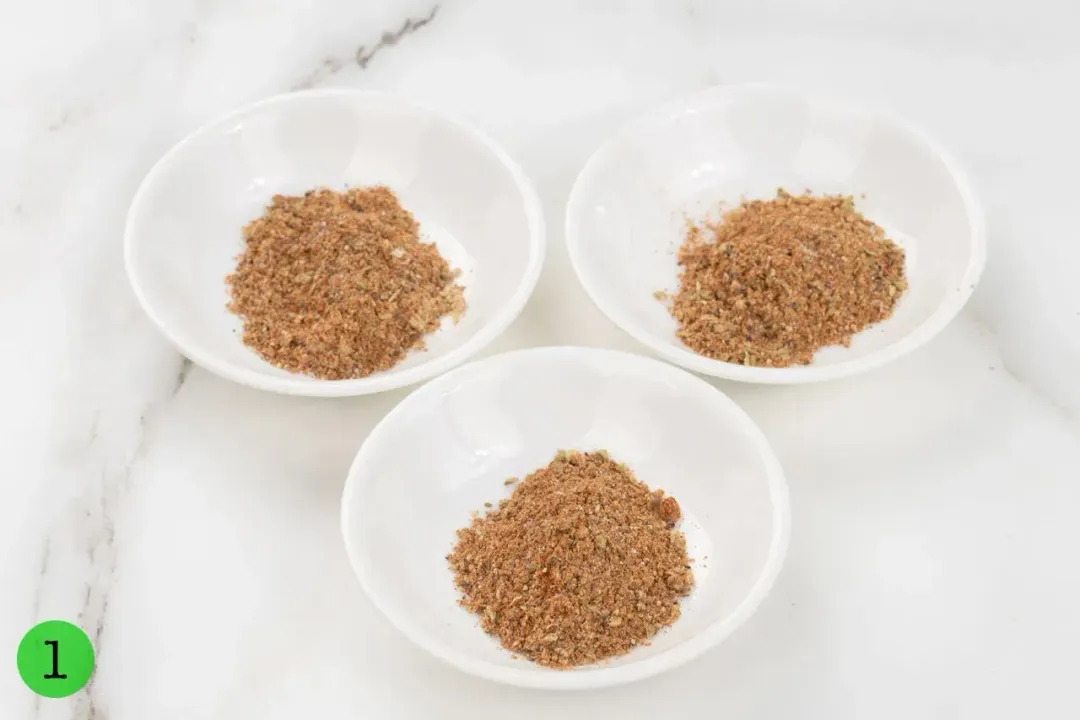 2
Put a piece of chicken breast on a cutting board and cut three-quarters of the way into the chicken breast to create a pocket on the side. Repeat with the remaining pieces and put them on a lined baking pan. Arrange potatoes around the chicken.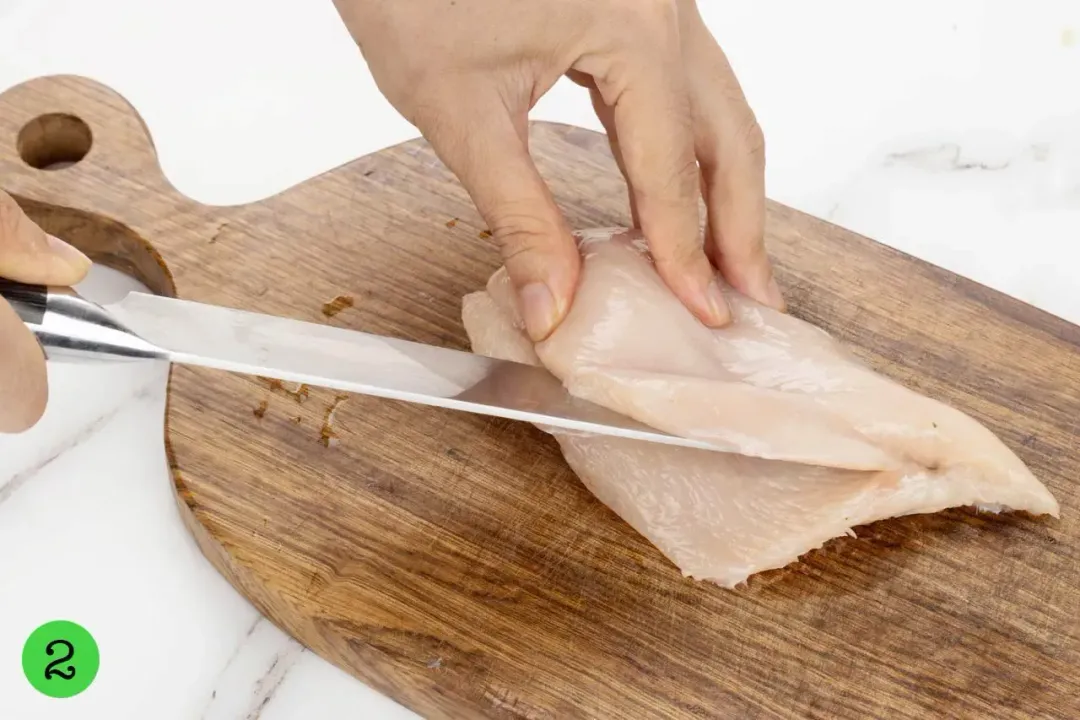 3
Season 24 oz chicken breast with one-third of the spice blend and 2 tbsp olive oil. Rub the chicken to distribute the seasoning evenly. Then, season the 18 oz potatoes with another part of the spice blend and 1 1/2 tbsp of melted unsalted butter. Toss to coat evenly.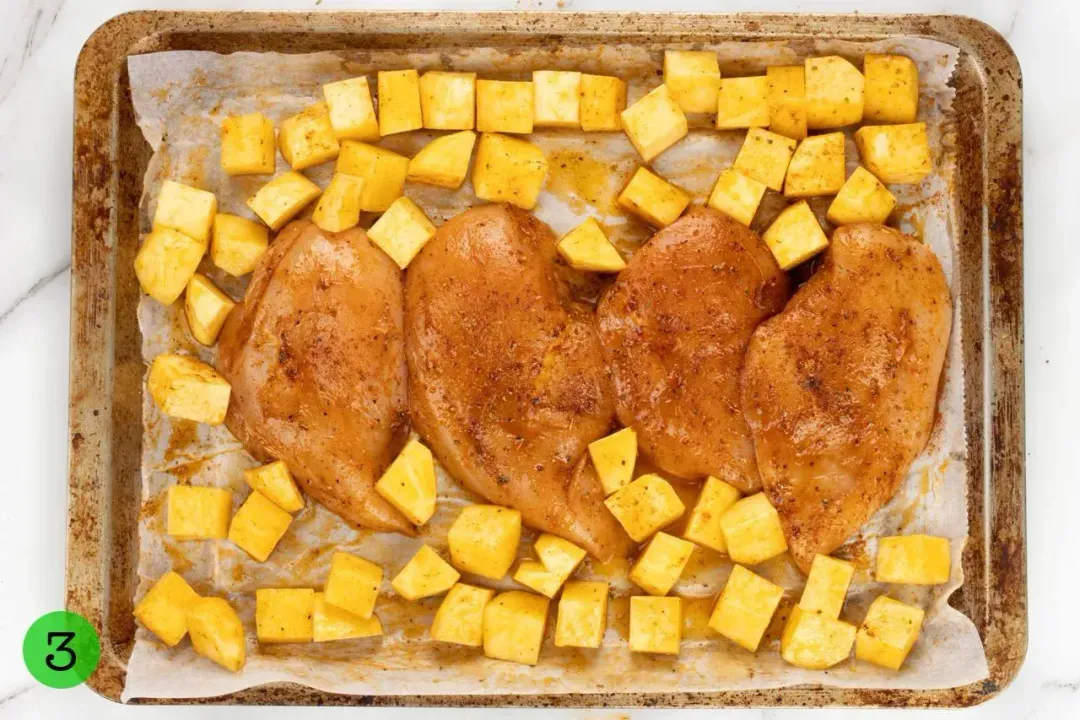 4
Meanwhile, put asparagus in a large plate. Drizzle the remaining 1 tbsp of melted unsalted butter and sprinkle the rest of the spice blend on 16 oz asparagus. Mix to coat the seasoning evenly.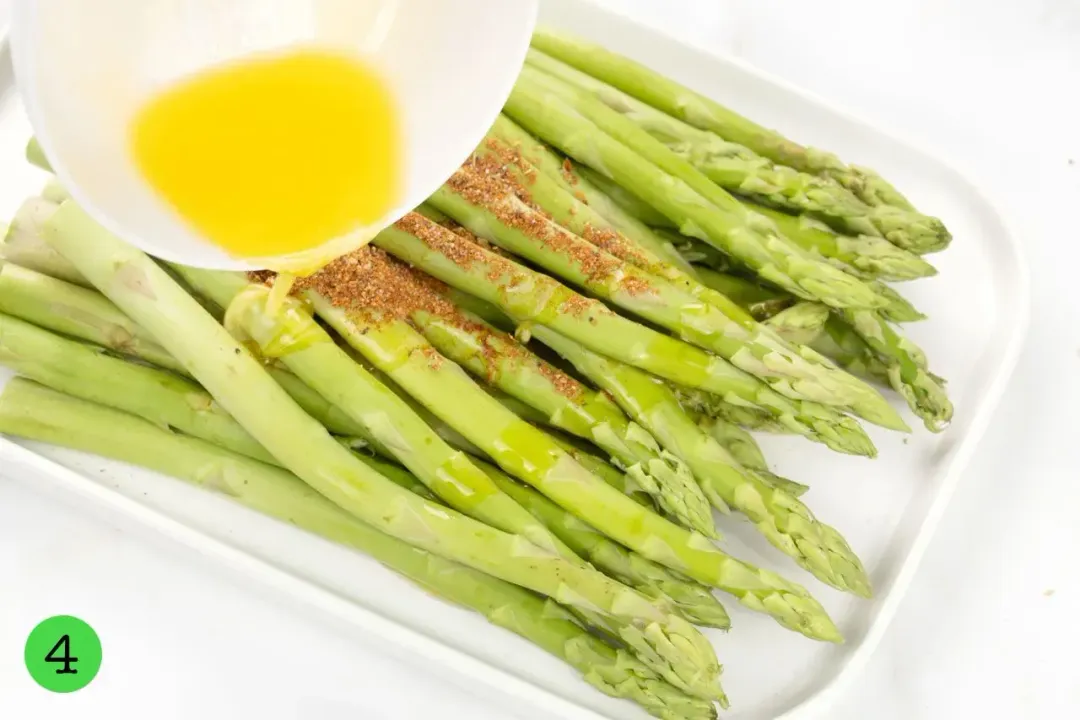 Cook
1
Preheat the oven to 375°F. Put the baking pan in the oven and bake for 20 minutes. Once the timer rings, take the pan out of the oven. Move the potatoes to one side of the pan and arrange the asparagus on the other side. Put lemon slices on the chicken. Put the pan back in the oven and bake for 10 minutes.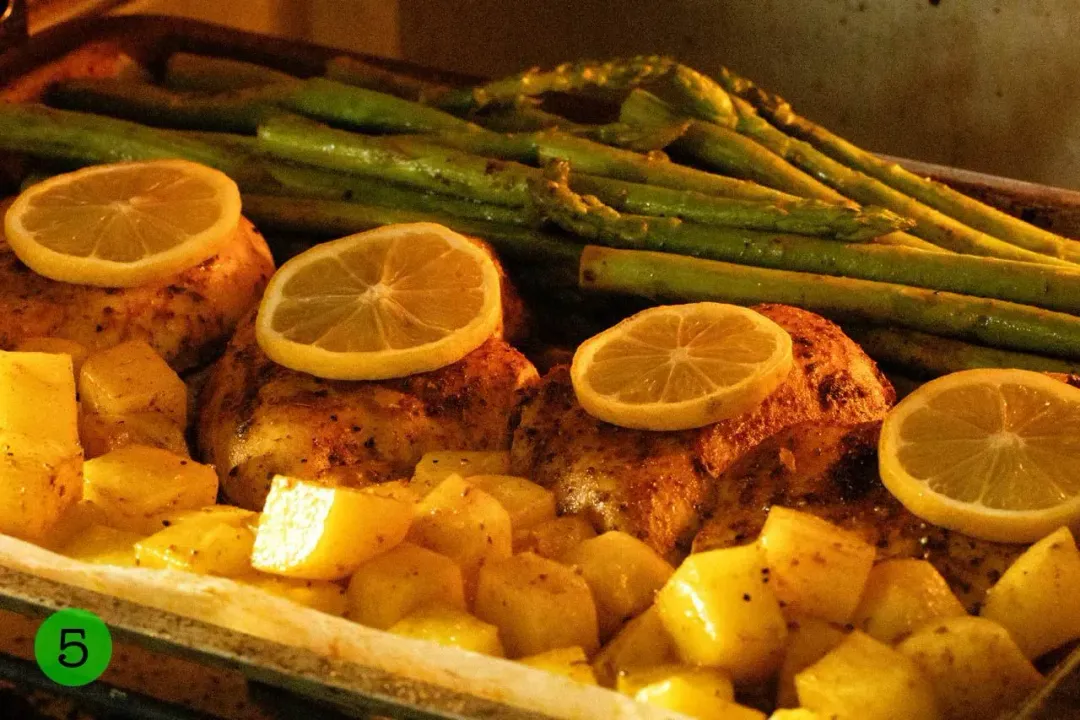 2
After 10 minutes, take the pan out. Move the lemon slices to the asparagus. Sprinkle 1.5 oz grated parmesan cheese over the chicken and potatoes. Return the baking pan to the oven and bake for another 5 minutes.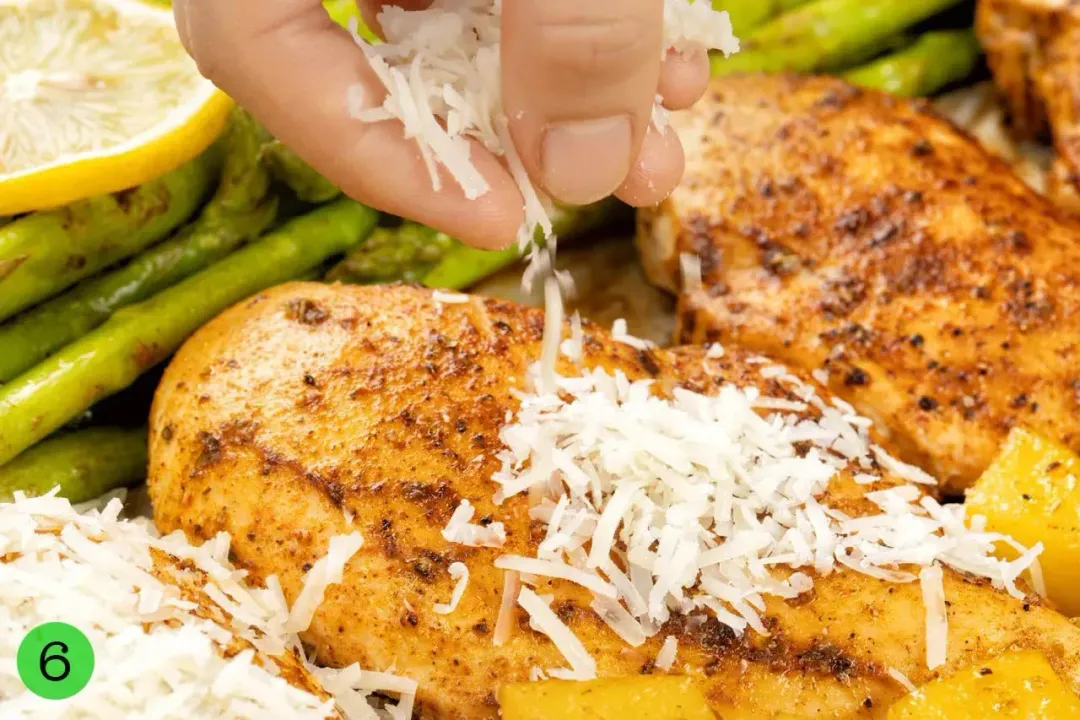 3
Once the time is up, remove the chicken from the oven. Garnish with 2 tbsp freshly chopped parsley. Transfer to a plate and serve.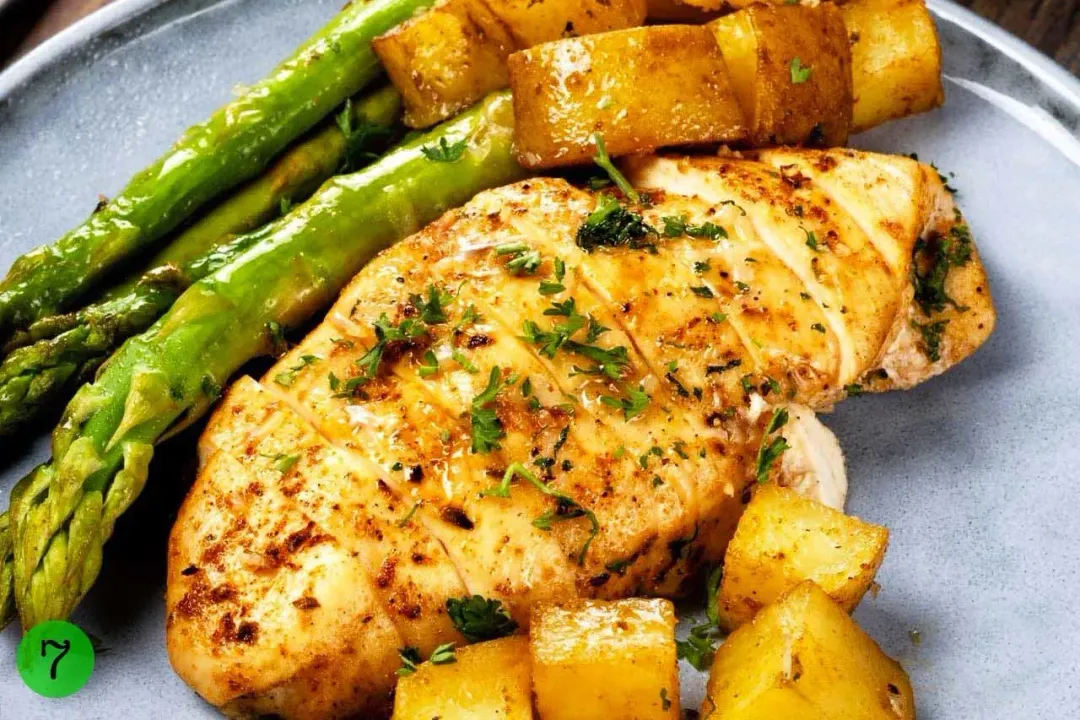 Tips to make the juiciest, tastiest chicken breast:
Cut into the chicken to create a pocket. You will later rub oil and seasonings into this pocket to marinate the chicken.
Make a diagonal incision when you cut into the chicken. This will create a downward slope inside the chicken. When the chicken cooks and releases its juices, they will be drawn down the slope, helping to keep it moist.
Brush or rub oil on the chicken to keep it juicy.
Marinate the chicken for at least 5 minutes. If you're busy, let it marinate ahead of time in the fridge for up to 2 hours.
Cover the chicken. You can wrap the whole baking tray tightly in aluminum foil and put it in to bake. As mentioned, we also put lemon slices on top of the chicken breasts for an extra layer of covering.
NUTRITION
Nutrition Facts
Healthy Baked Chicken Breast
Amount Per Serving (1 serving)
Calories 507
Calories from Fat 198
% Daily Value*
* Percent Daily Values are based on a 2000 calorie diet.
Keywords: bake chicken breast, baked chicken, baked chicken breast, baked chicken recipes, chicken, oven baked chicken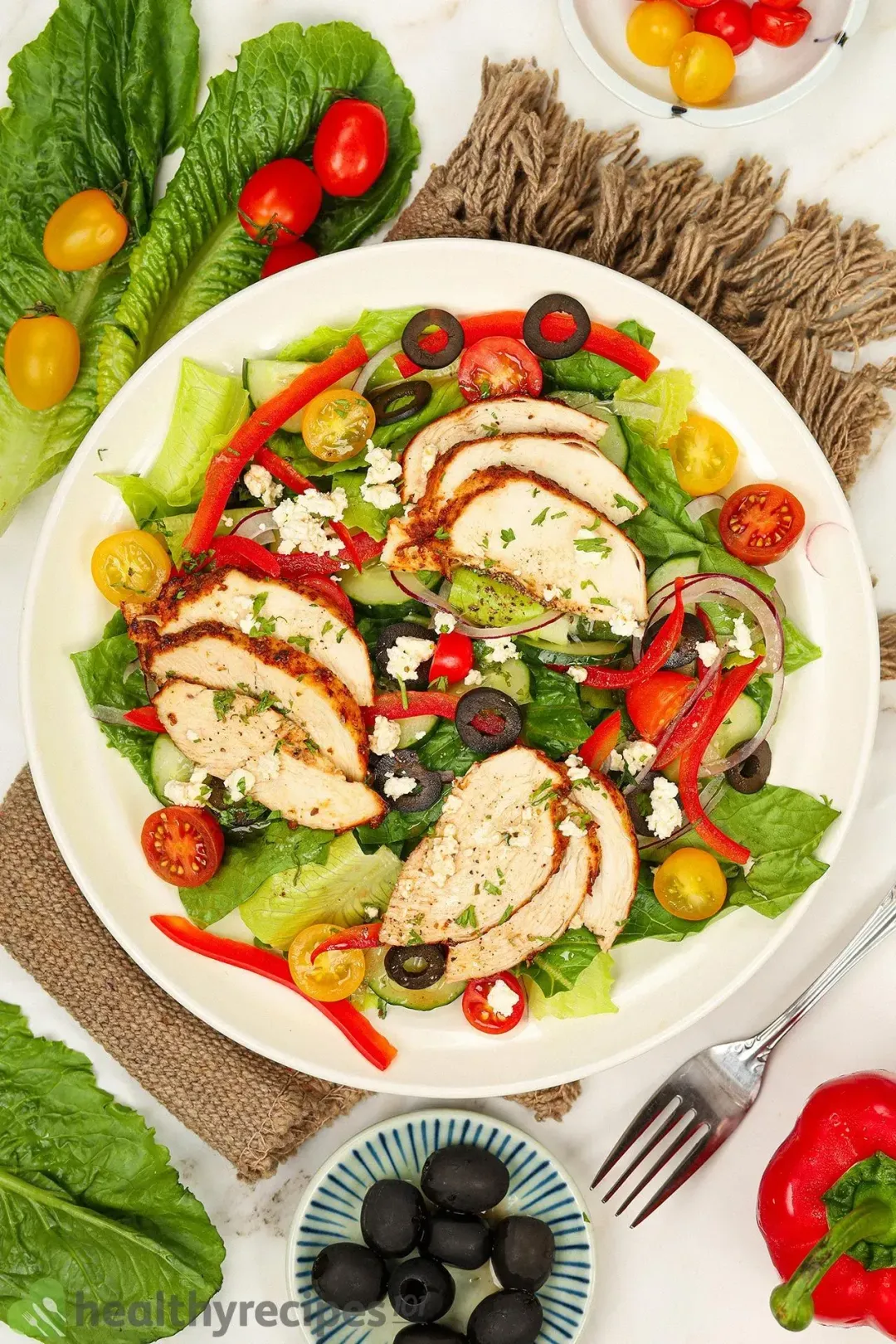 Previous Recipe
Greek Chicken Salad
Greek Chicken Salad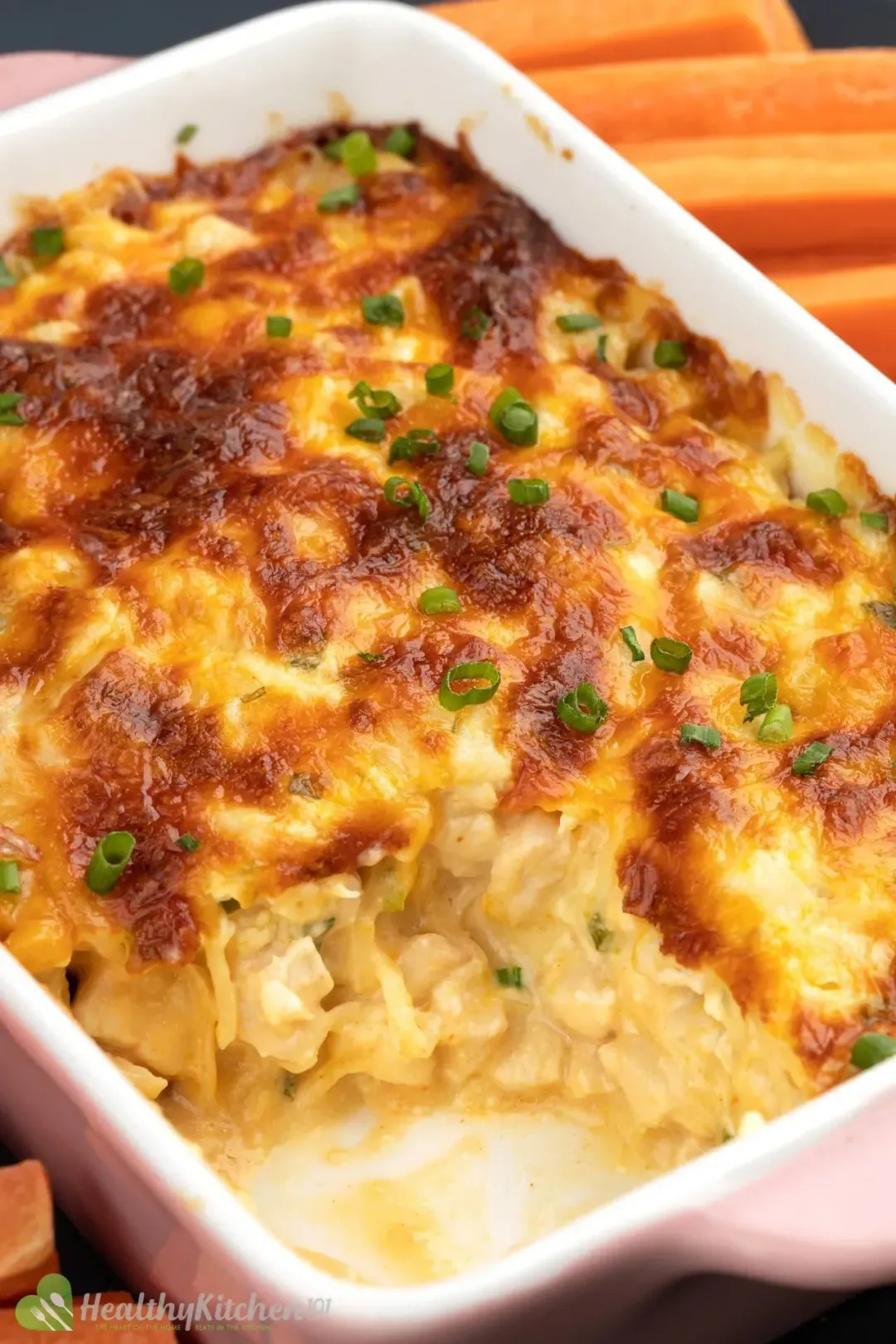 Next Recipe
Buffalo Chicken Dip
Buffalo Chicken Dip
Writer, Author
Luna Regina is an accomplished writer and author who dedicates her career to empowering home cooks and making cooking effortless for everyone. She is the founder of HealthyKitchen101.com and HealthyRecipes101.com, where she works with her team to develop easy, nutritious recipes and help aspiring cooks choose the right kitchen appliances.
Nutrition Reviewer
Lizzie Streit is a Minneapolis-based dietitian and founder of It's a Veg World After All. She completed her MS in Human Nutrition from Drexel University, and is an expert in culinary nutrition, recipe development, and nutrition communications. Lizzie's philosophy is centered around making nutrition recommendations, and especially the advice to eat more vegetables, approachable and realistic. She is excited to be working with the team at Healthy Recipes 101 to ensure that their recipes are both nutritious and delicious.
My type of meal, low carb and protein loaded. So yummy looking!

Thanks Denise! The chicken is specially tasty when we use with asparagus 🙂

This one is so cost-efficiency, tbh. Took me about 30 mins – seemed pretty fit for a hurry evening. I was actually a bit dizzy looking at the instructions, but turned out it's just plain through. Cool idea with quick steps and simple ingredients. Crispy on the outside and succulent on the inside.

You can see this is truly a hearty meal, so I think 30 min is worth it 😉
Thanks for stopping by!

I had my third time dealing with chicken breasts, each was a different one. I'm not so used to kitchening, so honestly saying this recipe is a total effort saver! I kept to the recipe but played it a bit further with chipotle flakes. Thoroughly spicy, juicy and tender as I hoped for.

Glad it hepled you 🙂 Thanks for stopping by!

Wow! What a beautiful quick and easy dish! It looks absolutely scrumptious! 🙂

You did not give the brine recipe for the oven baked chicken breasts. Pls send. I can't wait to try them.
Thanks,
Linda

I have cooked a ton of chicken but have never brined it. I am eager to try it and see the difference. These sheet pan dinners are a favorite for me I appreciate the tip to ensure the chicken comes out perfect. Thanks

Hi Hannah! Thanks for commenting! And we can't wait to hear how chicken turned out!

I am learning this thing called "Adulting" and this was my first real dinner I made for myself. Steps were easy to follow. One thing I would add: "be sure to save the last bit of melted butter and seasoning mix, you'll need it in the final steps! I had to make more seasoning mix/melt butter for this. Might just be my lack of following directions, though!

Thank you for creating this! Really enjoyed eating a meal made by my "adult" self!

Hi Kaley, thank you for your comment! We glad you enjoyed this recipe. We have many more easy recipes to help you on your "adulting" journey. Good luck!

Hey, this chicken breast recipe is my kid's favorite too. I liked the way you shared the recipe. For a long time, I was searching for a perfect recipe for breast chicken. Will try it soon. Keep sharing recipes like this.

Thanks for commenting! We glad you enjoyed it! We have lots of easy chicken breast recipes on our website, too. Check them out!

My chicken is raw and my potatoes aren't cooked 🙁

We're so sorry to hear that. 🙁
We'd like to suggest a few ways to prevent you from having to experience undercooked food:
– Invest in an oven thermometer to make sure that your oven comes up to the right temperature.
– Also invest in a food thermometer to read your meat internal temp. That way you can the doneness of the meat without having to cut into it.
– Cooking time varies depending on different ovens and thickness of the meat. So if your meat is undercooked, put it back in the oven and cook for another 5 to 10 minutes and check for doneness again.
– Check out our article article on how long to bake chicken. We have detailed demonstrations on how to bake different cuts of chicken at different temperature.

It really was simple and juicy! i loved it!

Amazing flavor! It was a huge hit to my family.

This was easy and delicious! It will definitely become a staple. Plus…. Very few dishes with time to clean as you go!

Thank you for your support. We're glad you enjoyed it! Stay tune for many more quick-and-easy, one-pan recipes!

It was delicious, not to mention quick and easy! This will definitely be a regular meal we make in our home. We used spinach instead of asparagus, and it turned out super yummy!

Yay, Briana! I'm glad you loved it!

Amazing and sooo helpful in a day work

Very good recipe! Super tasty chicken!

I have a chicken breast thawing for supper tomorrow and want to try this, but I want to substitute acorn squash for the potatoes. I have never cooked acorn squash before and wondering if it will cook in time or should I start it sooner. Thank you!

Sorry Janet, I haven't cooked with acorn squash either. You'll have to adjust the time as you experiment. Good luck!

I haven't made the recipe yet but I'm wondering why you create a pocket in the chicken breast? I can't see where you put anything in the pocket. I'm excited to make this but just want to make sure I'm not missing something!

This recipe is amazing, I will definitely make it again. Thanks, Luna!

Absolutely delicious!! Just what I needed for a boost in flavour while reducing caloric intake!! I'll be making this once a week for sure!! Didn't have asparagus in the fridge, so I substituted broccoli.. sooo yummy!!!

Oops forgot the star rating, if I could it wou be 10 out of 5!!!! Like I said so flavourful and satisfying 😋😊😋

Planning on making this tonight, but why cut a pocket? Is that a misprint?

The step is actually optional. Creating a pocket allows us to get more of the seasonings into the meat as we rub the mix not just on the outside, but into the pockets as well. It's fine to skip this step, but we think the meat turns out better this way.

Looking to try this recipe, wondering about the pocket. Are you putting just the seasoning in there? I don't see any instructions on what to do with it. Thank you!

Yes, the chicken breasts are butterflied so that we can rub more seasonings in between the small pockets and make them more flavorful.