With today's chicken pot pie recipe, you can now make this delicious comfort food from scratch for National Great American Pot Pie Day (September 23) this year.
Our chicken pot pie consists of two golden, buttery crusts wrapping a creamy, savory filling of tender chicken and veggies. In this recipe, we'll show you how to make pie crust yourself using only flour, butter, shortening, and water.
It's a lot of work, but all of your efforts will be rewarded with a scrumptious meal. Before we start, let's find out a little more about this classic American staple.
What Is a Chicken Pot Pie?
A "pot pie" is a type of meat pie that consists of flaky crusts and savory fillings. The main choice of protein for the dish can be beef, poultry, seafood, or vegan-friendly plant-based meat substitutes.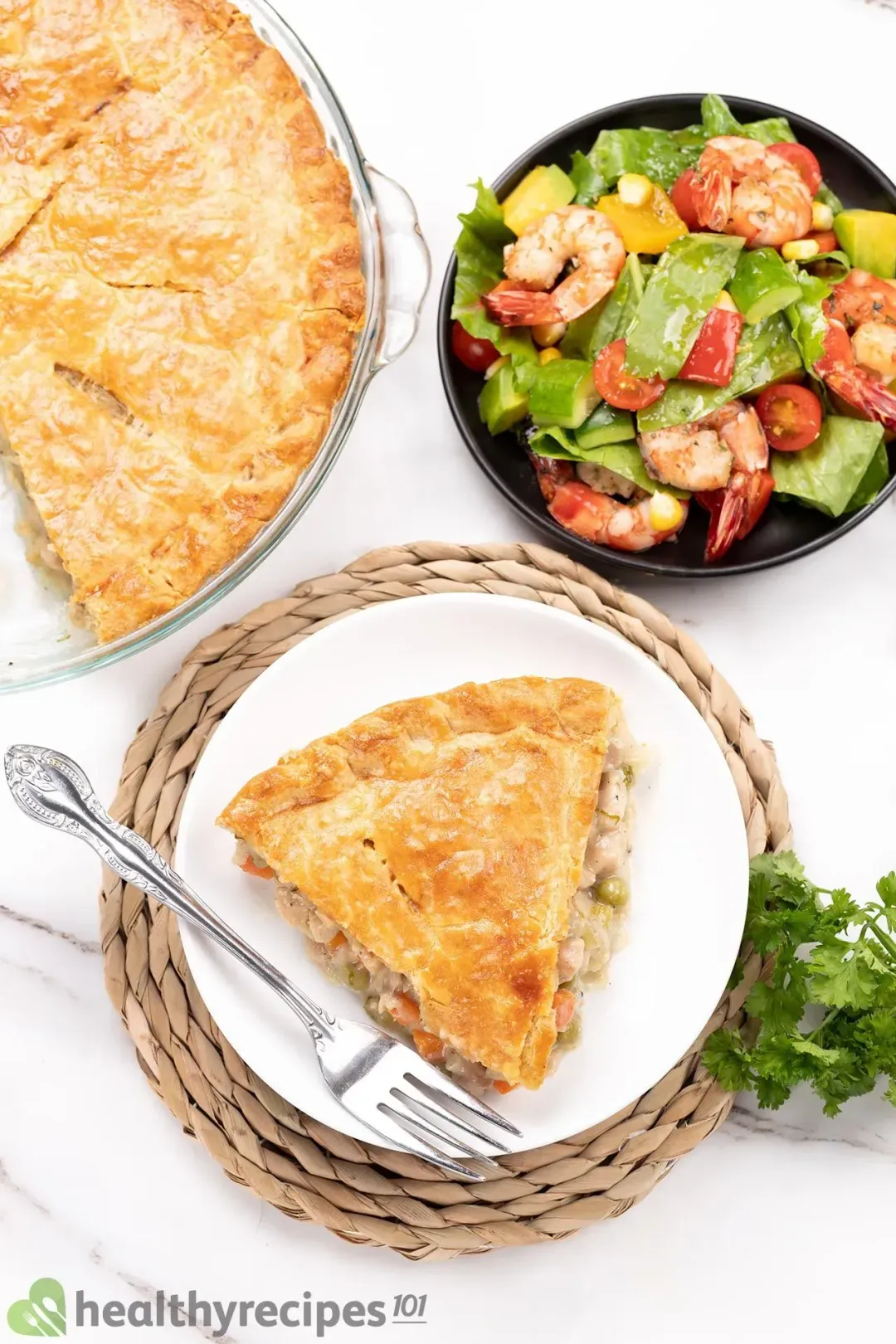 The preparation and cooking methods of a chicken pot pie vary depending on the preference and imagination of chefs. Culinary skills aside, chicken pot pie is indisputably one of the most popular comfort foods in the U.S and is considered one of the top must-try American staples.
If you've never had chicken pot pie before, don't expect to be dazzled by an otherworldly gastronomic experience. Rather than that, each bite is like a warm, soothing hug for your stomach and soul, bringing you the feel of a cozy, traditional American family meal.
Is This Recipe Healthy?
Yes, today's chicken pot pie recipe is healthy. Here's why:
As always, boneless, skinless chicken breast is our favorite source of protein due to its versatility and low fat content. Let's take a look at the nutrition facts in a 4-oz raw chicken breast:
Calories: 136
Total fat: 2.96 g
Saturated fat: 0.64 g
Protein: 25.4 g
Since it's low in fat, the chicken breast is also relatively low in calories. Plus, thanks to its versatility, you can combine this lean cut with a reduced-calorie diet to lower your daily calorie intake.
In addition, eating skinless chicken breast may help lose weight.
With its high protein content, chicken breast is every fitness guru's favorite as it helps build and maintain muscle. High-protein foods can also help you stay full longer, preventing you from munching on unhealthy snacks and consuming excess calories.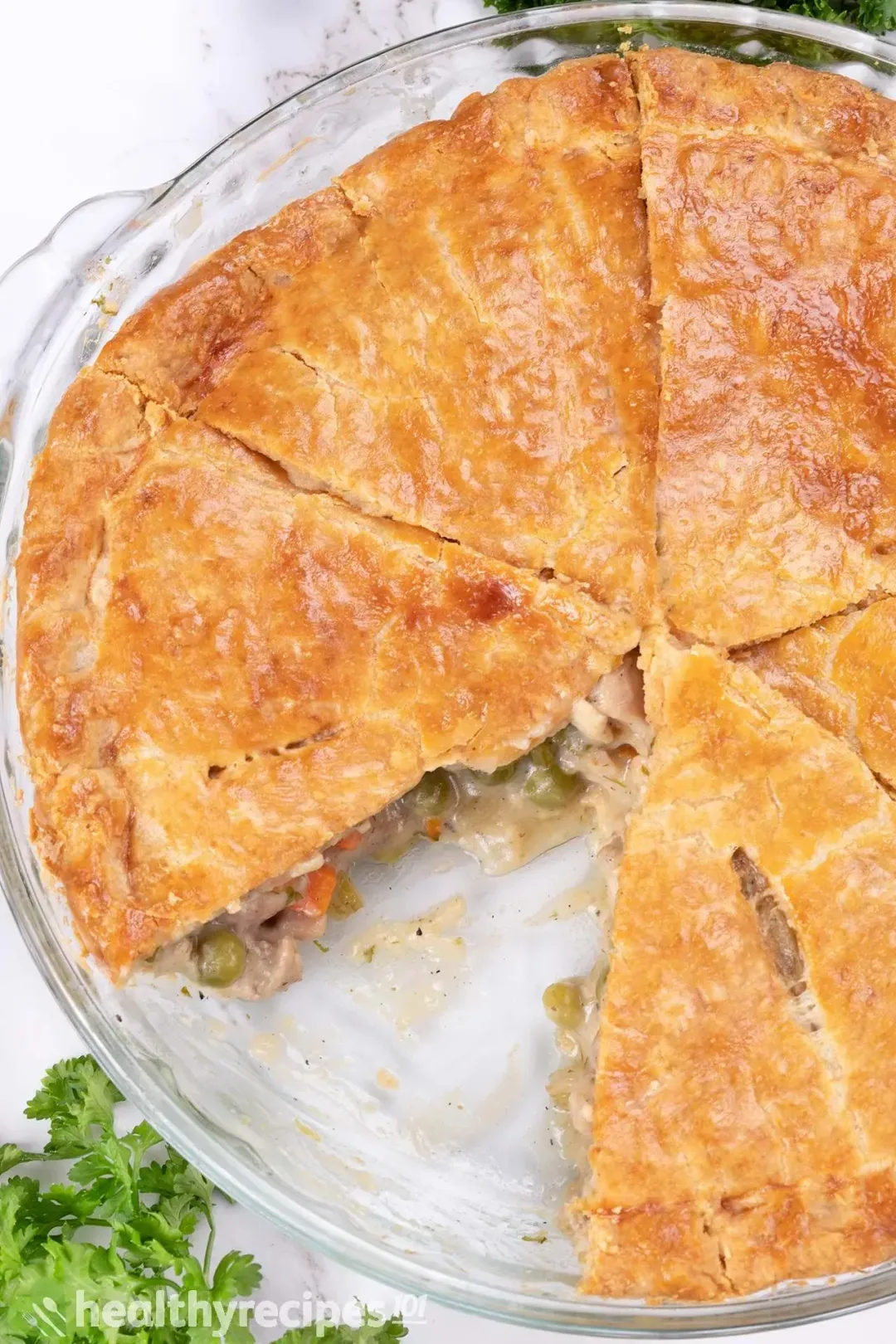 If you love similar healthy, low-fat chicken recipes, check out our baked chicken breast recipe. It's just as simple, easy to make, and delicious.
Pie Crust
Here are some popular pie crust options for chicken pot pie:
1. Biscuits
If you love biscuits and gravy, you'll definitely want to try using biscuit dough to make the crust for your pot pie. When baked, it will puff up into a lovely, fluffy crust on top of your pie.
We recommend using biscuit dough as the top crust of a serving-sized pot pie as it may not work as a bottom crust.
2. Bisquick
We haven't tried using Bisquick to make chicken pot pie, but we've heard so many praises for how easy it is to make. If you have tried it, please let us know how it went in the comment section below.
3. Homemade Pie Crust
Making the pie crust from scratch is quite laborious and time-consuming, but if you like a challenge, give it a try. We can guarantee your effort will pay off.
Filling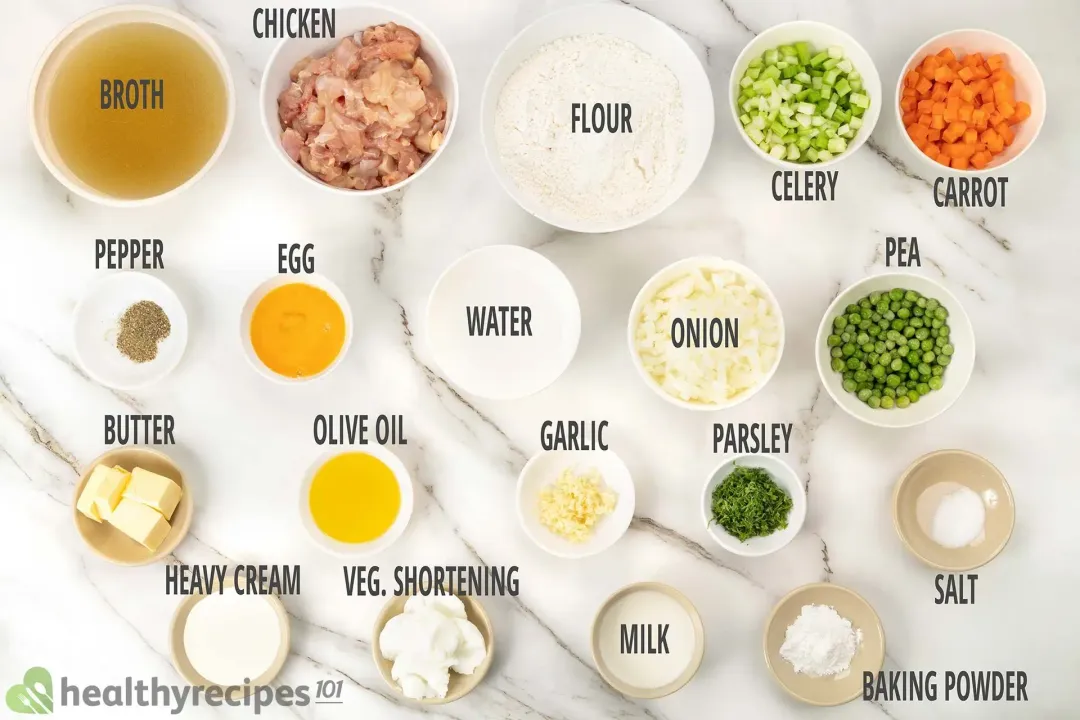 Here are the main ingredients of our chicken pot pie filling:
Boneless, skinless chicken breast: This is our favorite choice of protein. That being said, you can replace it with turkey if you have it available at home.
Chicken broth: As always, we recommend using unsalted broth to keep your sodium level to a minimum.
Aromatics: Carrots, onions, and celery make the "Holy Trinity" in today's recipe. We also add garlic to enhance the savory flavor of the chicken broth.
Whole milk and heavy cream: We only use a small amount of milk and cream to add a touch of richness to the gravy.
Vegetables: We only add frozen peas to our chicken pot pie, but you can try other vegetables such as potatoes, sweet potatoes, or even broccoli.
Herbs: Our recipe only uses parsley, but thyme can be a great addition to elevate the flavor of the chicken.
What Else Goes Well In a Chicken Pot Pie Recipe?
1. Potatoes
It is debatable whether potatoes should be included in a chicken pot pie, but they are a great addition.
2. Cream of Chicken Soup
Okay, we admit it: cream of chicken soup is super convenient and decently delicious for a store-bought product. If you're using it for your pie filling, you just need to add it to the seared chicken and be done with it.
However, it is high in calories and sodium and loaded with fat, which is not very nutritious for your body. It's safe to say that making the filling from scratch can steer you away from consuming all those excess calories and fat.
What to Serve With
Here are some suggestions on what to pair with your meal: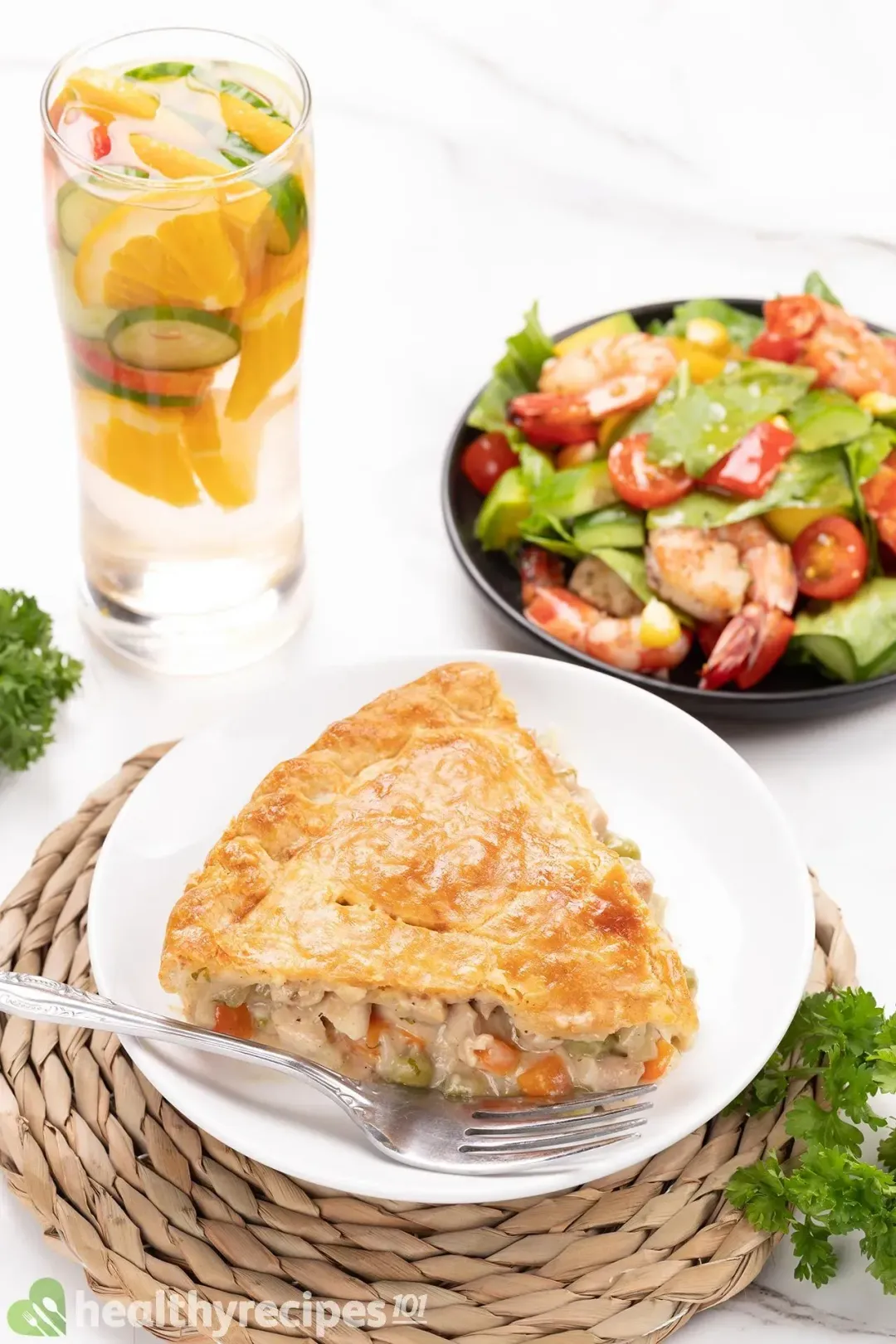 1. Mashed Potatoes
Chicken pot pie with mashed potatoes is one of the must-try American staples. Together, they create a hearty, wholesome meal that can satiate and pick you up instantly.
However, they may not be a very healthy combination as both dishes are quite rich in fat. It's best to look for another, more nutritious side dish.
2. Shrimp Salad and Cucumber Water
Our shrimp salad is packed with lots of crunchy vegetables mixed in a tangy, vinaigrette dressing. This cold salad and its flavor profile may seem completely opposite to the warm, savory pot pie, but they pair perfectly.
The faint hint of sourness from the lemon juice freshens up your palate in every bite. It will make you feel like your palate is cleansed and ready to enjoy another tasteful bite of the creamy chicken pot pie.
In addition, we add a glass of refreshing cucumber water on the side for you to take a sip every now and then. It helps wash down all that richness from the chicken.
More Chicken Recipes to Cook on the Weekends
We usually have two moods when it comes to weekends: to treat us very nicely with a fancy recipe, or make space for a peaceful retreat with something easy. For the latter mood this roundup would do you just well, but for the fancy stuff, here are some of what we'd love to make:
Chicken Vesuvio: golden, chewy skin, and tied with potato wedges and peas in a savory, powerful sauce, this Italian dish is a treat. We have it paired with a green beans casserole and a sweet-tart strawberry lemonade.
Coconut Chicken: simmered in a sauce so savory and wonderfully rich of coconut cream, the chicken breasts are super flavorful and anything but dry. They're cooked with asparagus and mushrooms, and served over cooked rice.
FAQ
1. Calories
One serving of our chicken pot pie provides 491 calories.
It may not seem like enough energy to fuel your body, but don't worry. You can pair the pot pie with our recommended side dish to have a wholesome and satisfying meal.
2. Can You Freeze It?
Yes, you can.
If you're making a large chicken pot pie like we are today, it's best to allow it to cool. Divide the pie into serving portions before transferring the leftovers to freezer-safe containers.
We recommend leaving the pie in the fridge for a couple of hours so that the crust can firm up if you have the time. By doing so, it won't crumble and fall apart as easily when you transfer the pie to the container.
If you plan to make a big batch of chicken pot pie to freeze, make several small pies in serving-sized ramekins. All you have to do is put them in Ziploc bags and into the fridge they go.
Frozen chicken pot pie can last up to a month.
When you want to eat it, defrost it in the microwave for about 5 minutes and reheat it on the highest setting for 2 to 3 minutes.
3. How Long Does It Last in the Fridge?
If you have leftovers, cover the baking dish with cling film and refrigerate them. Or, you can transfer the pie to an airtight container to save storage space.
Your homemade chicken pot pie should last up to a week in the fridge.
Chicken Pot Pie
This homemade chicken pot pie recipe may take some effort, but we guarantee you it is worthwhile. Your hard work will pay off with a delicious, comforting pie — what could be better?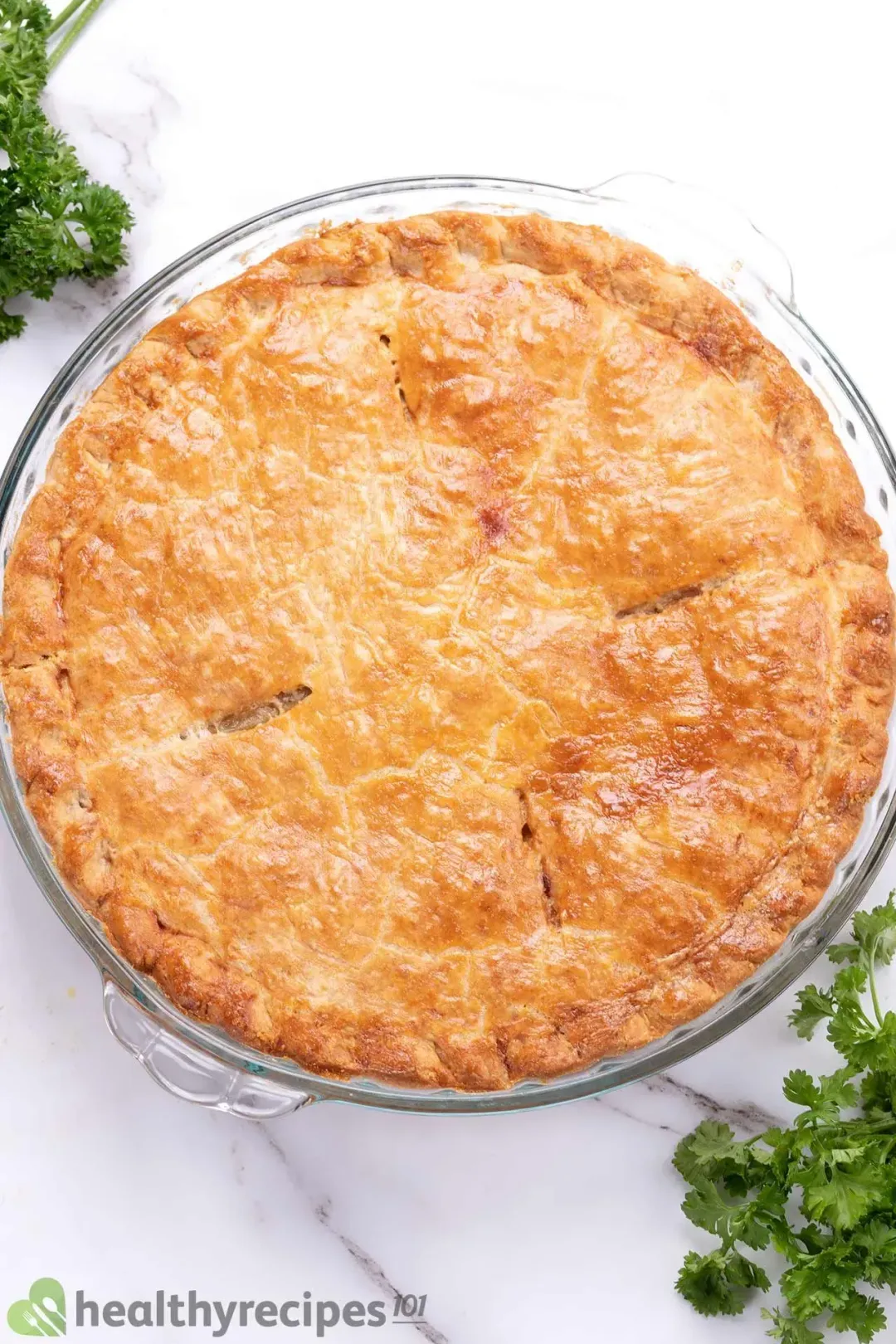 cook TIME

1 hr 5 mins

prep TIME

20 mins

total TIME

4 hr 10 mins

INACTIVE TIME

2 hr 45 mins
COURSE

Main Course

CUISINE

American

SERVINGS

CALORIES

493 kcal
INGREDIENTS
16 oz

skinless boneless chicken breast

(cubed)

6 oz

yellow onions

(diced)

8.8 oz

all-purpose flour

(divided into 1 3/4 cup and 1/3 cup *)

5 1/4 tbsp

unsalted butter

(room temperature, divided into 4 1/2 tbsp and 3/4 tbsp *)

4 1/2 tbsp

vegetable shortening

1 1/2 cups

unsalted chicken broth

1 1/2 tsp

baking powder

(*)

1 1/2 tbsp

chopped parsley

(optional)
INSTRUCTIONS
Make the pie dough
1
Combine the dry ingredients: In a big bowl, combine 1 3/4 cup all-purpose flour, 1/2 teaspoon salt, and 1 1/2 tsp baking powder.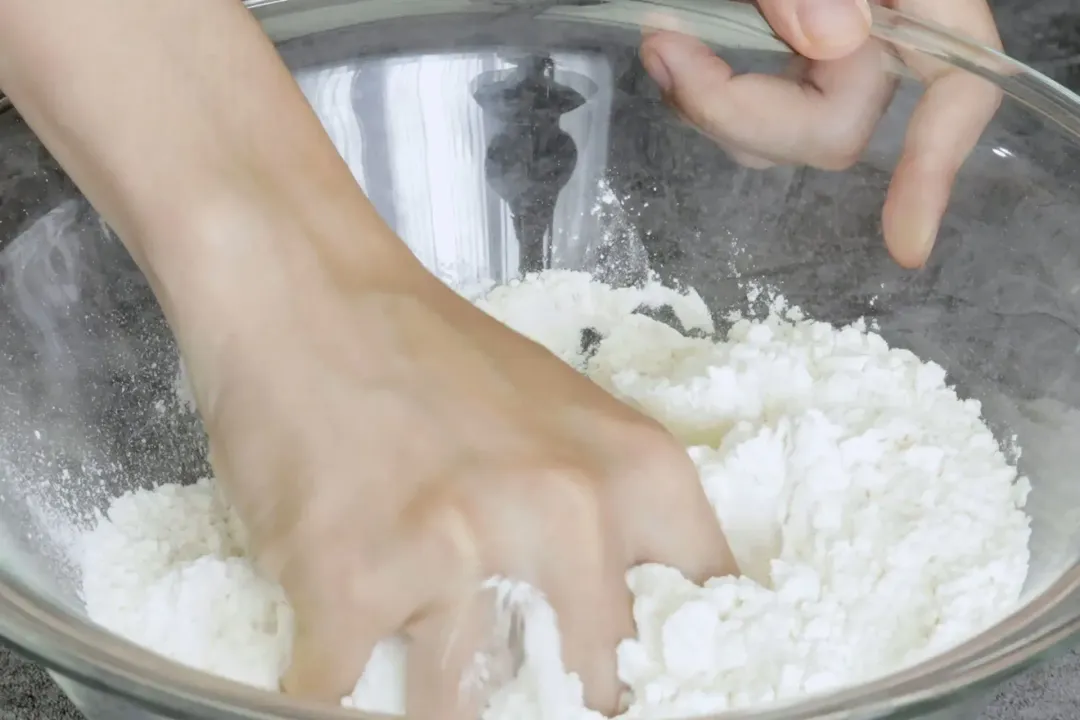 2
Add fats: Add 2.3 oz unsalted butter and 4 1/2 tbsp vegetable shortening to the flour mixture. Knead quickly to form large crumbs.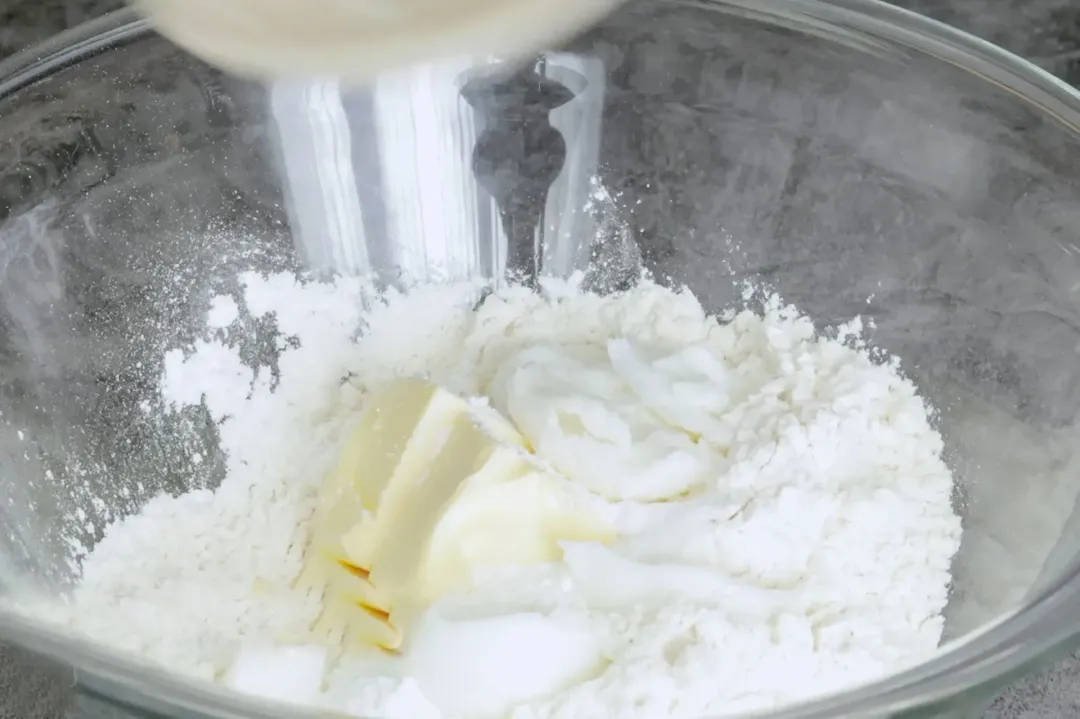 3
Form the dough: Add 1/3 cup cold water, one tablespoon at a time. Knead the water to combine it with the crumbs and form a large dough.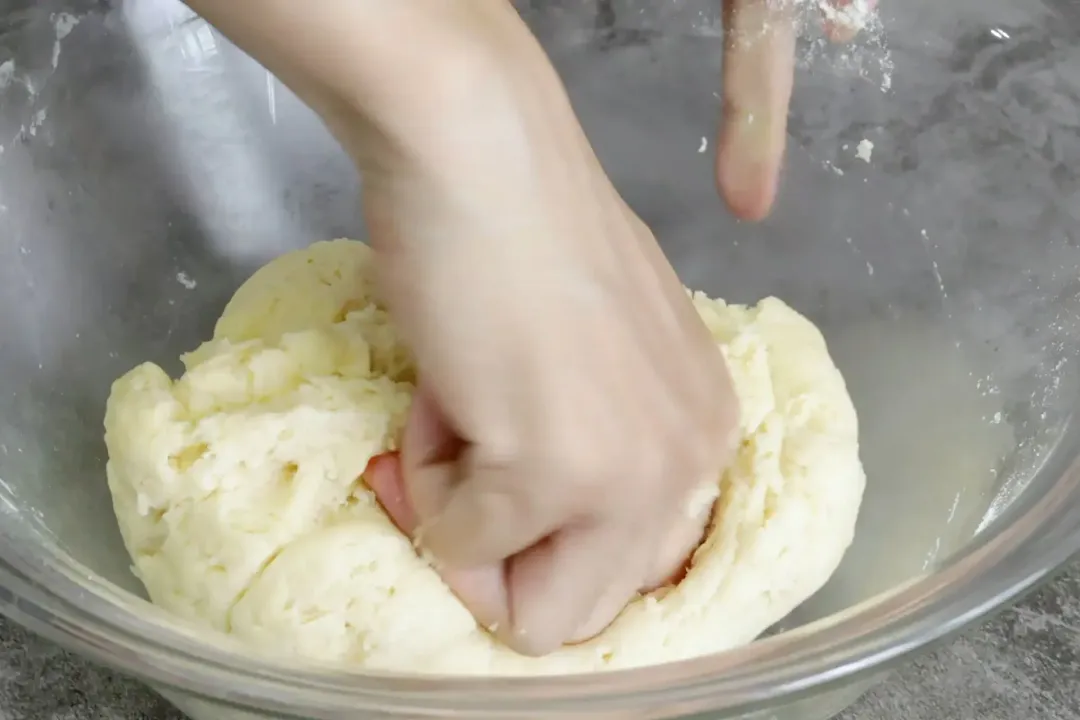 4
Divide and let the dough rest: Turn the dough onto a clean work surface. Gather any crumbs and add them back to the dough. Divide into two. Flatten each dough ball into a round disk. Wrap in cling film and refrigerate for at least 2 hours.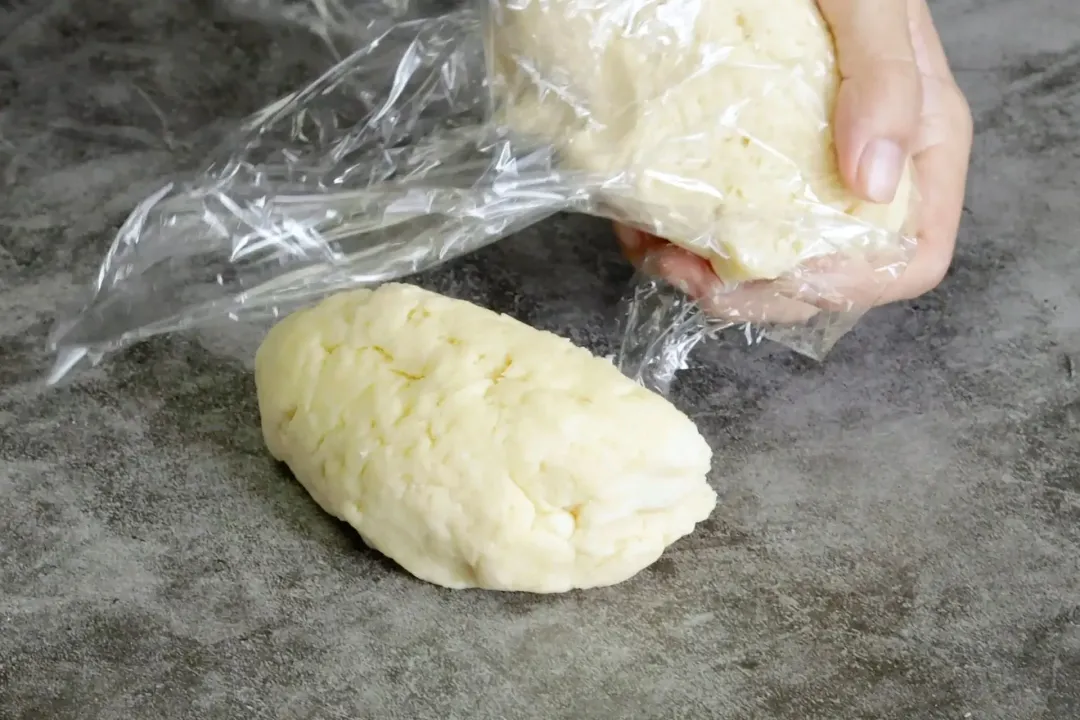 5
Optional: this pastry can also be made in a food processor following the same order.
Make the filling
1
Sear the chicken: Heat 2 tbsp olive oil in a deep, cast-iron skillet over medium heat. Add 16 oz cubed chicken breast, 1/4 tsp salt, and 1/4 tsp black pepper. Sear for 6 minutes or until golden brown on all sides, stirring occasionally. Transfer the seared chicken to a plate and set aside.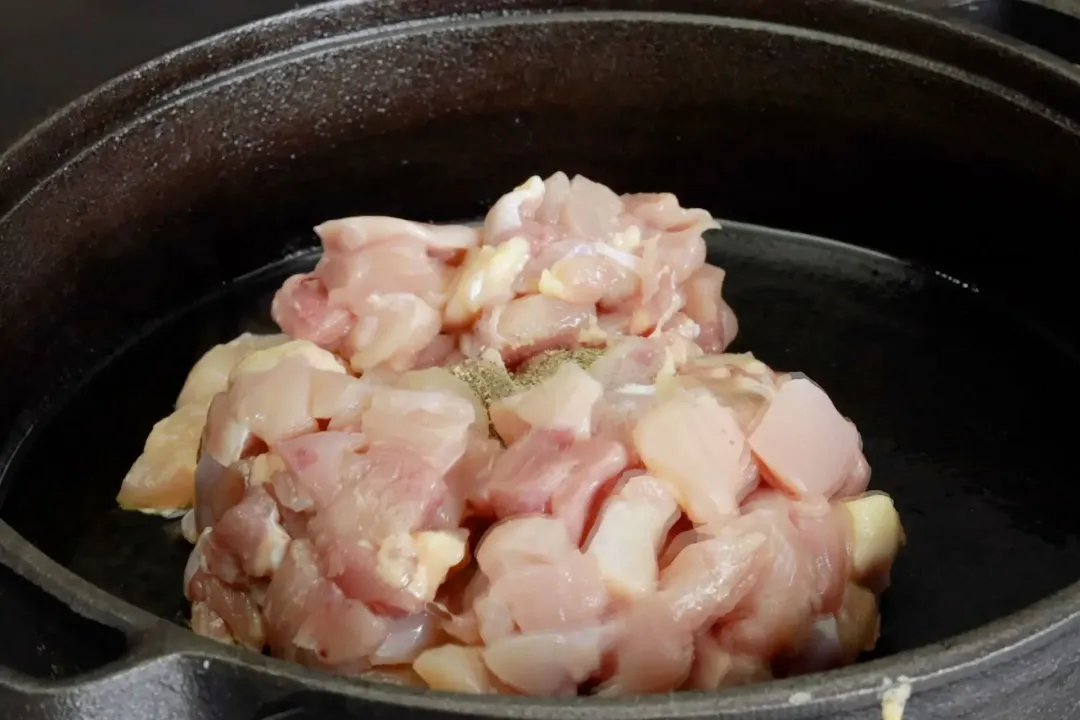 2
Sauté the aromatics: Add 6 oz onions, 1 tbsp minced garlic, 3.6 oz carrots, 3.6 oz celery, and 3/4 tbsp unsalted butter to the same skillet. Stir and cook for 4 minutes or until translucent, stirring constantly. Return the chicken to the pan.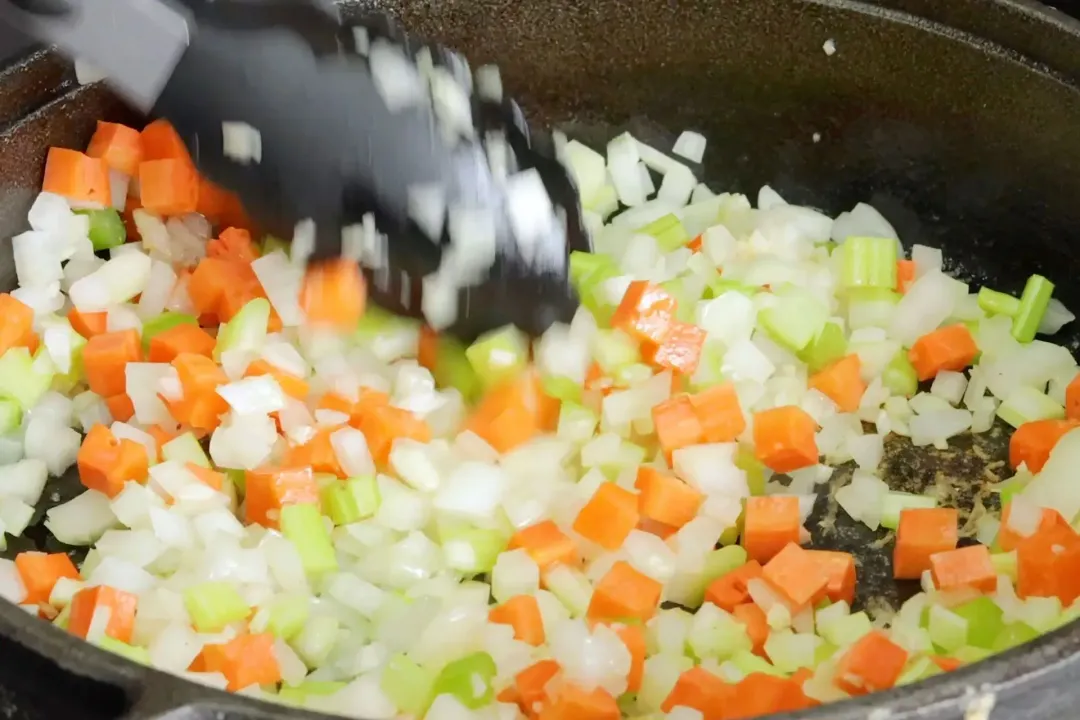 3
Make a roux: Add 1/3 cup all-purpose flour. Mix well so that the flour coats the chicken evenly.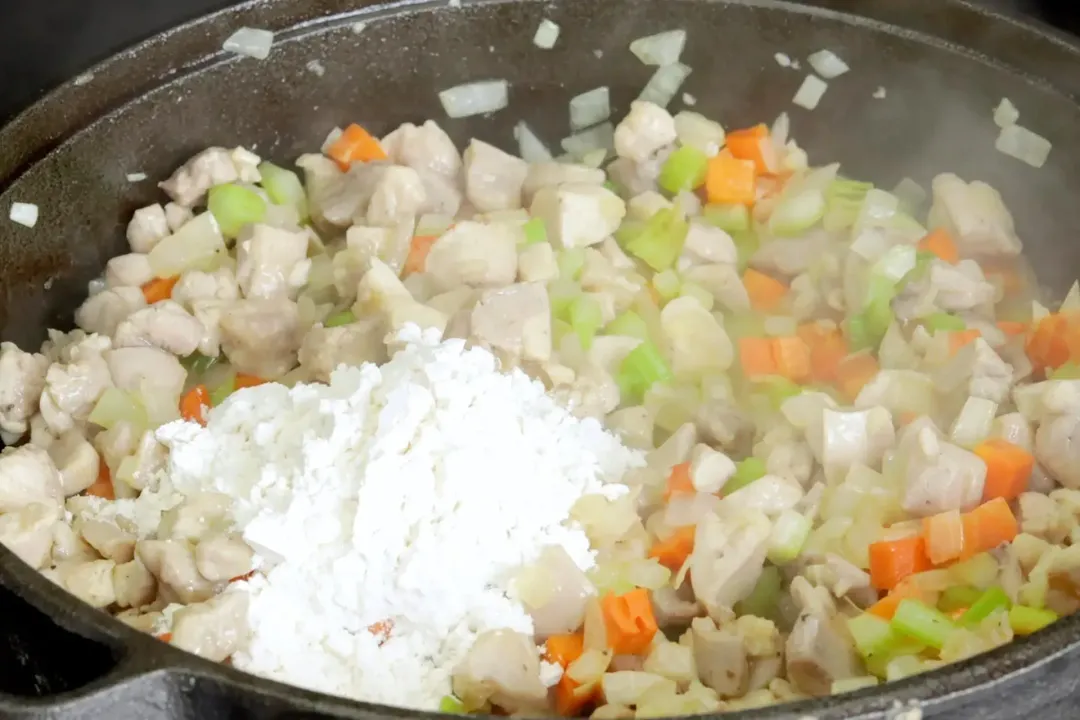 4
Make the gravy: Add 1 1/2 cups unsalted chicken broth, 1/4 tsp salt, 1/4 tsp black pepper, 3 tbsp whole milk, 2 tbsp heavy cream, and 1/2 cup frozen peas. Stir and cook for another 5 minutes or until thickened. Turn off the heat and sprinkle with 1 1/2 tbsp chopped parsley.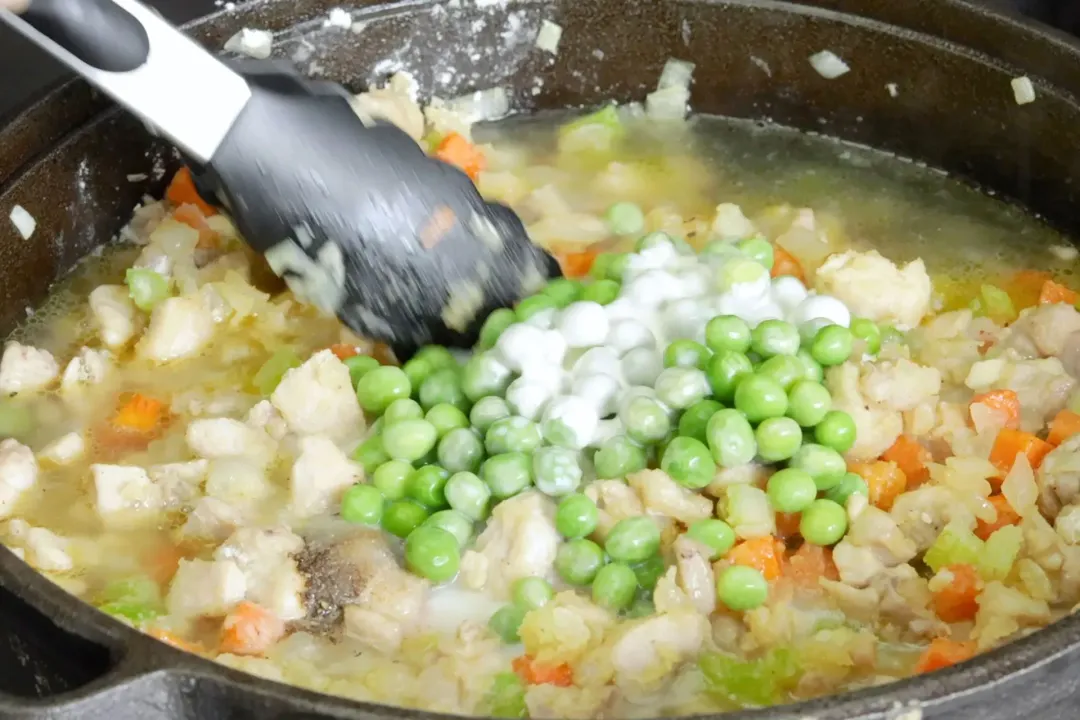 Assemble the pie
1
Roll the bottom crust: Before you start, preheat the oven to 375°F. Then, take the first pie dough out of the fridge. Unwrap and put it on a clean, floured work surface. Apply flour onto your hands and rolling pin, and start to roll out the pastry into a flat pie crust about 1/8 inch thick.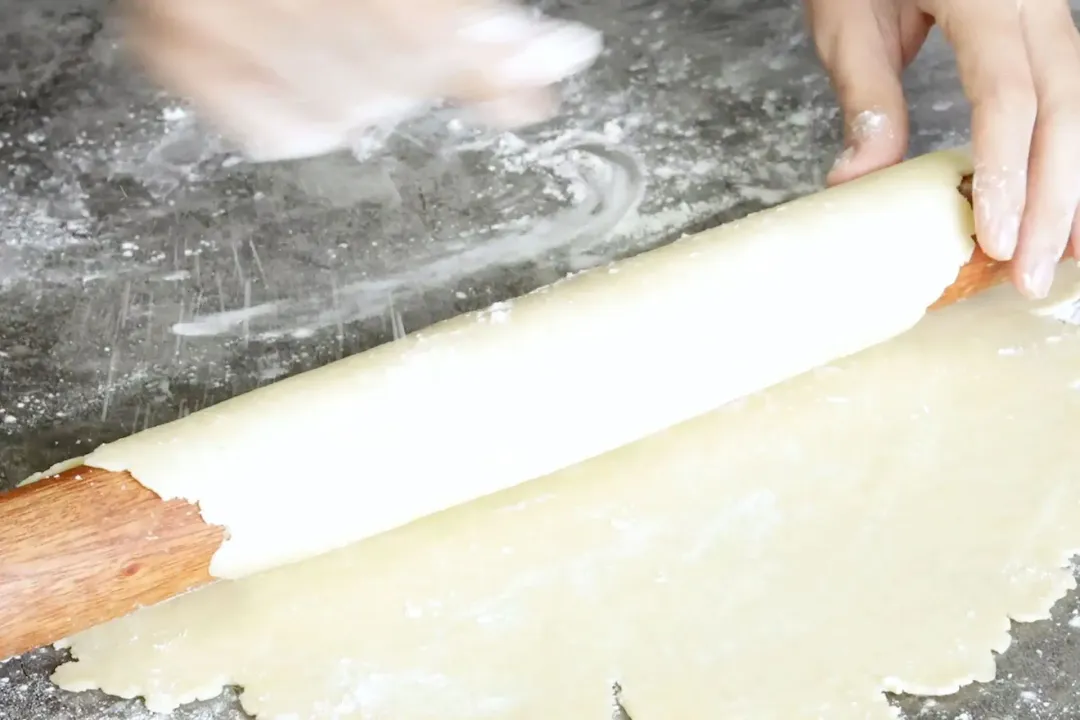 2
Put the bottom crust into the baking dish: Lay the bottom crust into a 9-inch pie dish. Scoop your chicken filling into the dish and set aside.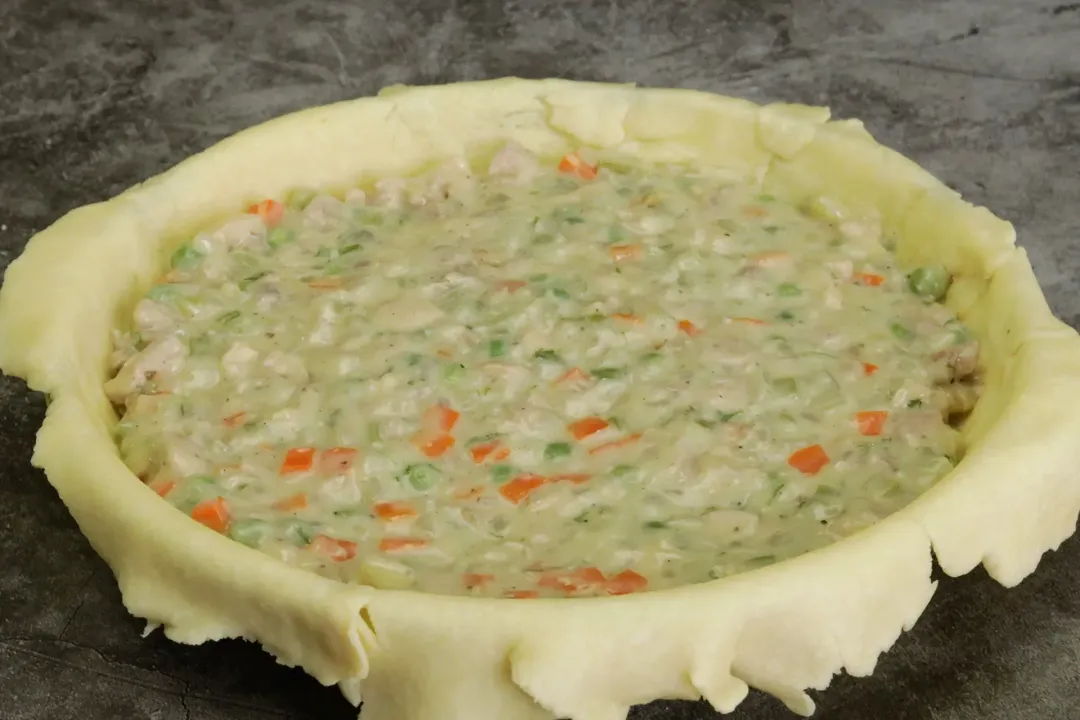 3
Roll the top crust: Take the second dough out of the fridge and roll it out in the same way to form the top crust.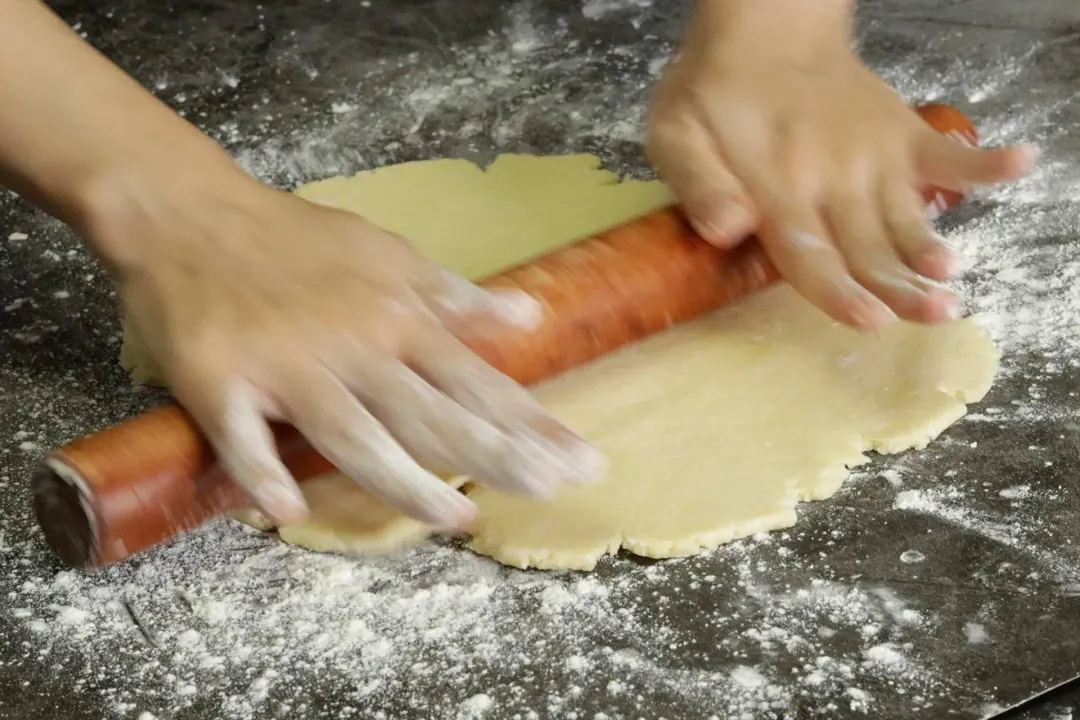 4
Put the top crust over the pie: Cover the pie with the top crust. Trim the dough around the edges of the pan, leaving about 1 inch of dough overhanging. Fold the excess dough in and tuck it underneath. Crimp around the edges of the pie with your fingers and knuckle.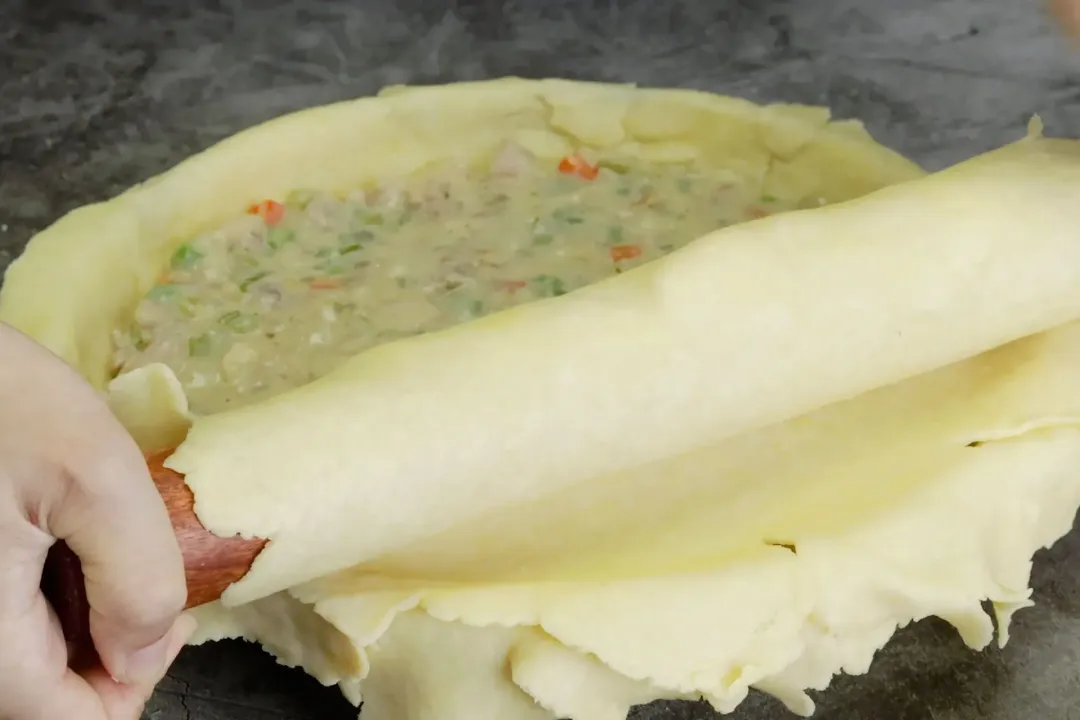 5
Decorate the surface of the pie: Brush the surface of the pie with a beaten egg. Make 4 indentations in the middle of the top crust with a knife for the steam to come out while baking.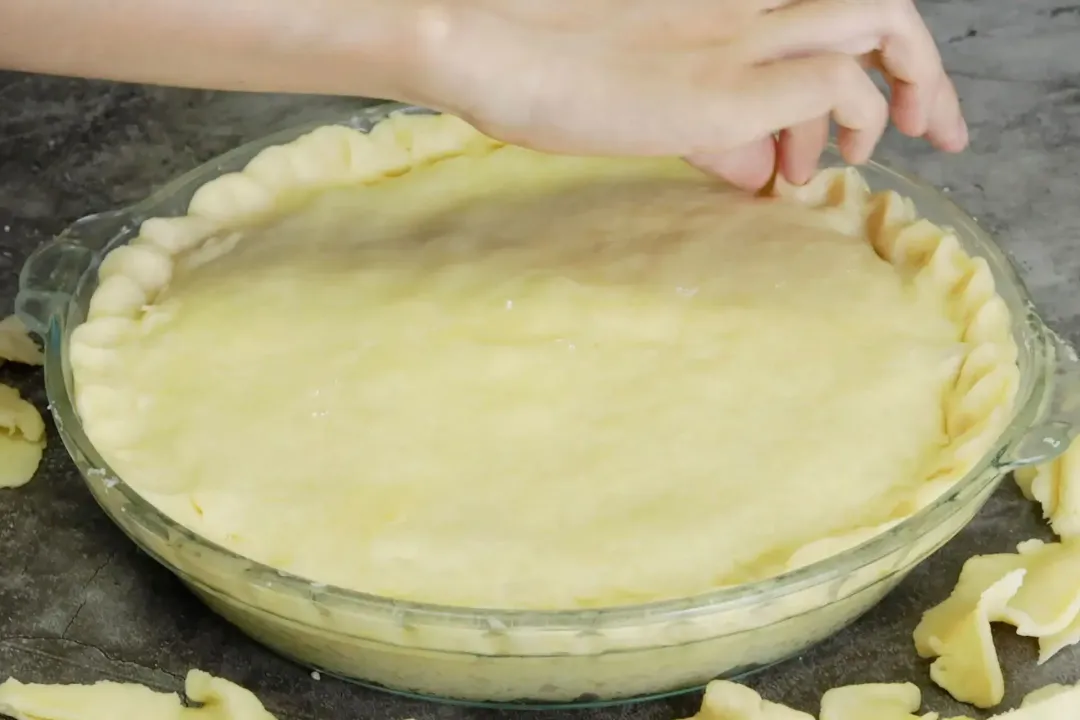 6
Bake the chicken pot pie: Bake for 45 minutes in the preheated oven.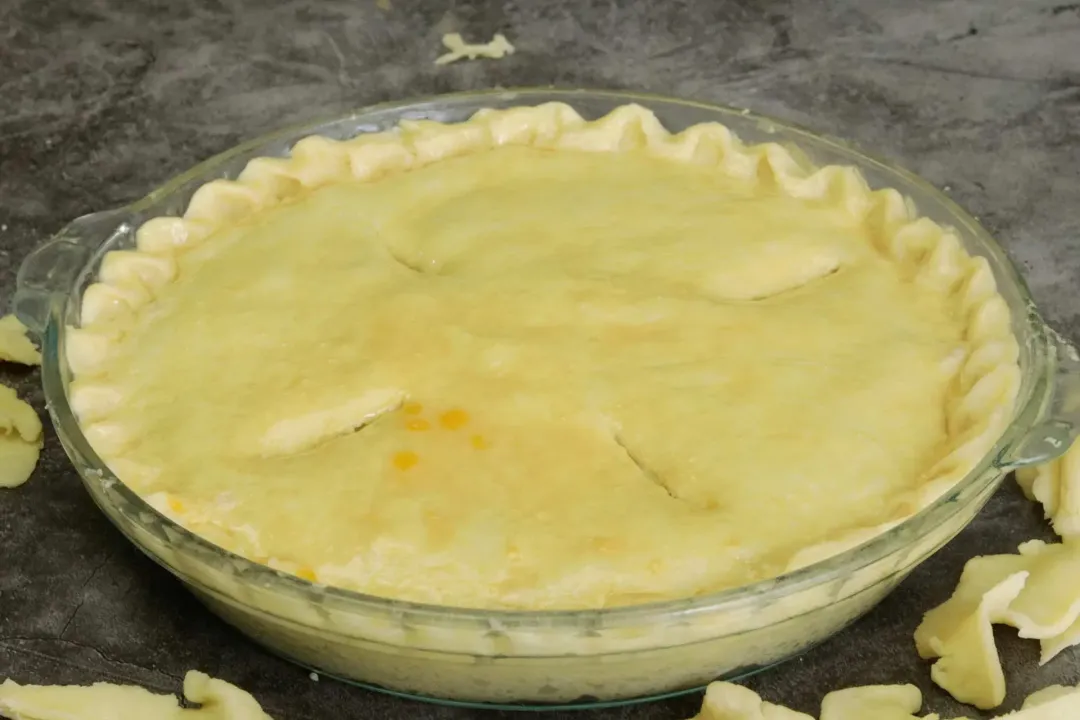 7
Serve: Once the timer rings, take the pie out of the oven. Let it cool for at least 45 minutes before you cut into it and serve.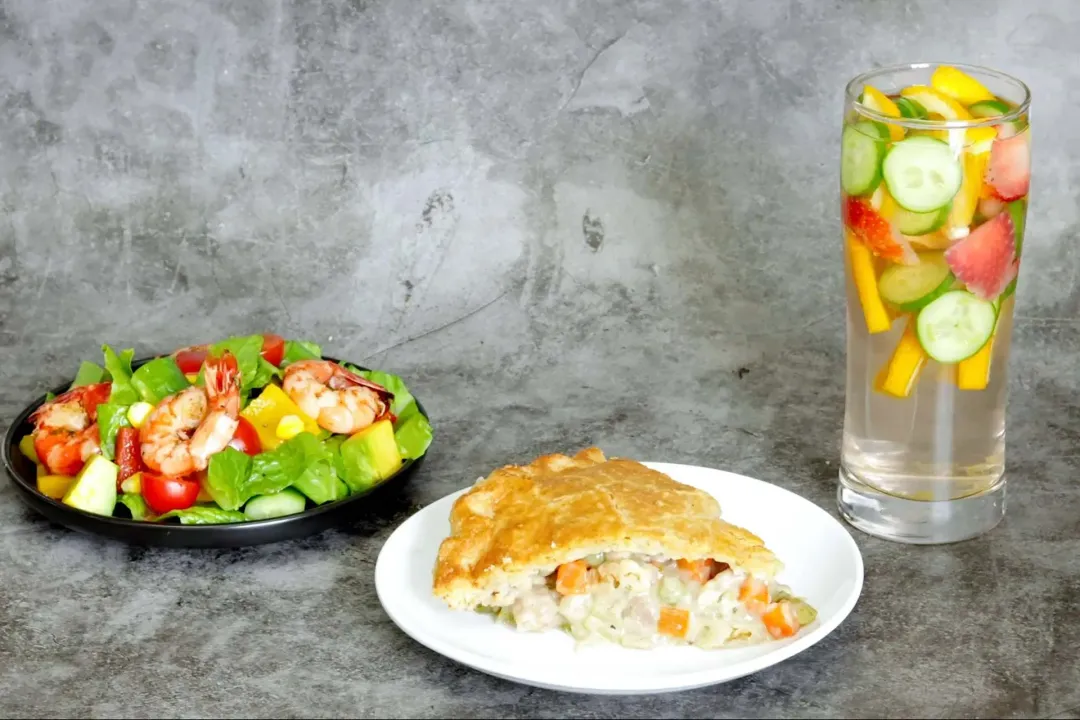 (*) Only part of these ingredients will end up in the final product. We have calculated nutritional values based on that amount. The whole amount is needed for making the pastry, but once you thinly roll it out and trim the edges, you will end up consuming less than the listed amounts. The actual amounts being consumed are approximately:
7.92 oz all-purpose flour
0.9 tsp salt
1 ⅓ tsp baking powder
2.37 oz unsalted butter
2.07 oz vegetable shortening
NUTRITION
Nutrition Facts
Chicken Pot Pie
Amount Per Serving (1 serving)
Calories 493
Calories from Fat 243
% Daily Value*
* Percent Daily Values are based on a 2000 calorie diet.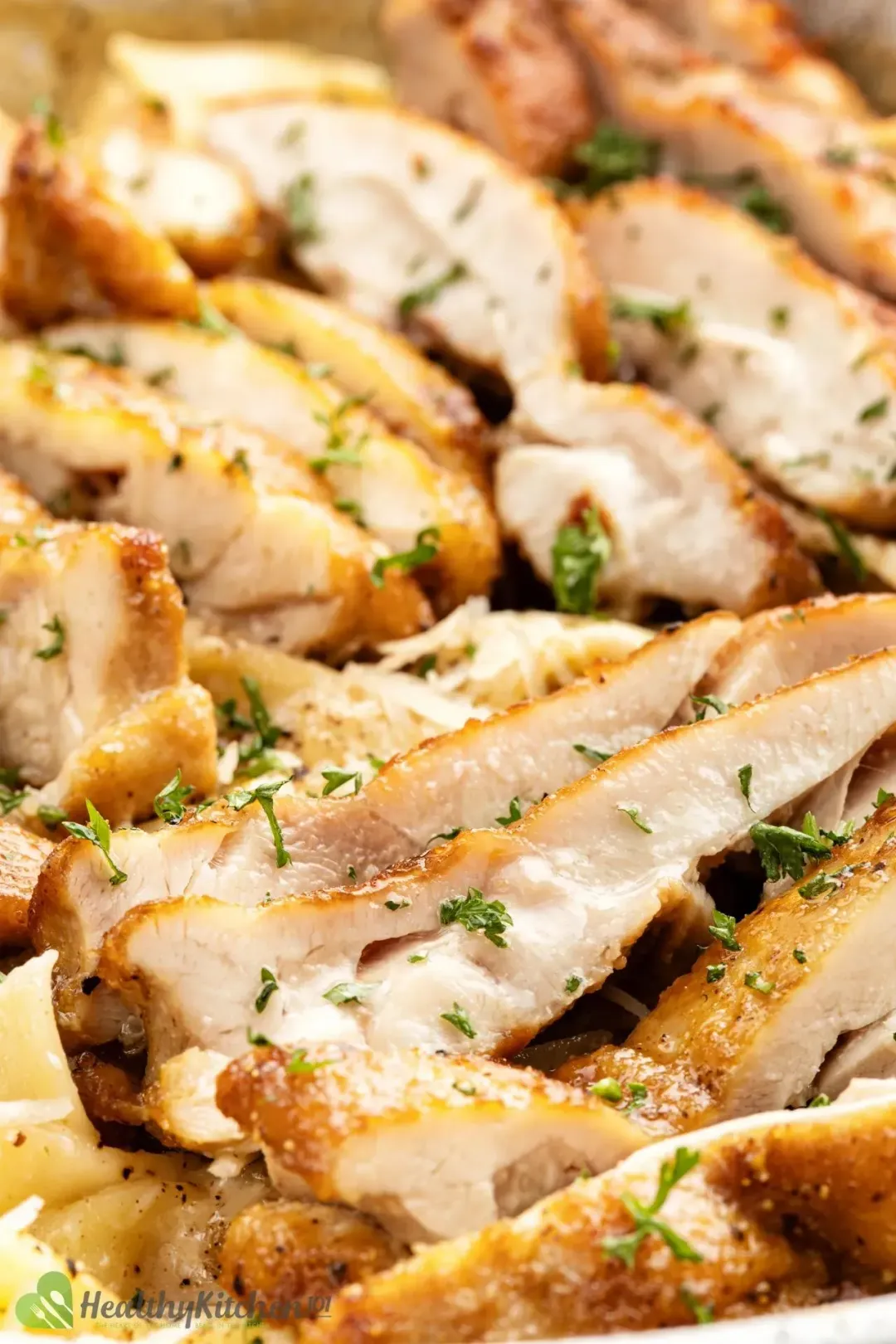 Previous Recipe
Chicken Alfredo
Chicken Alfredo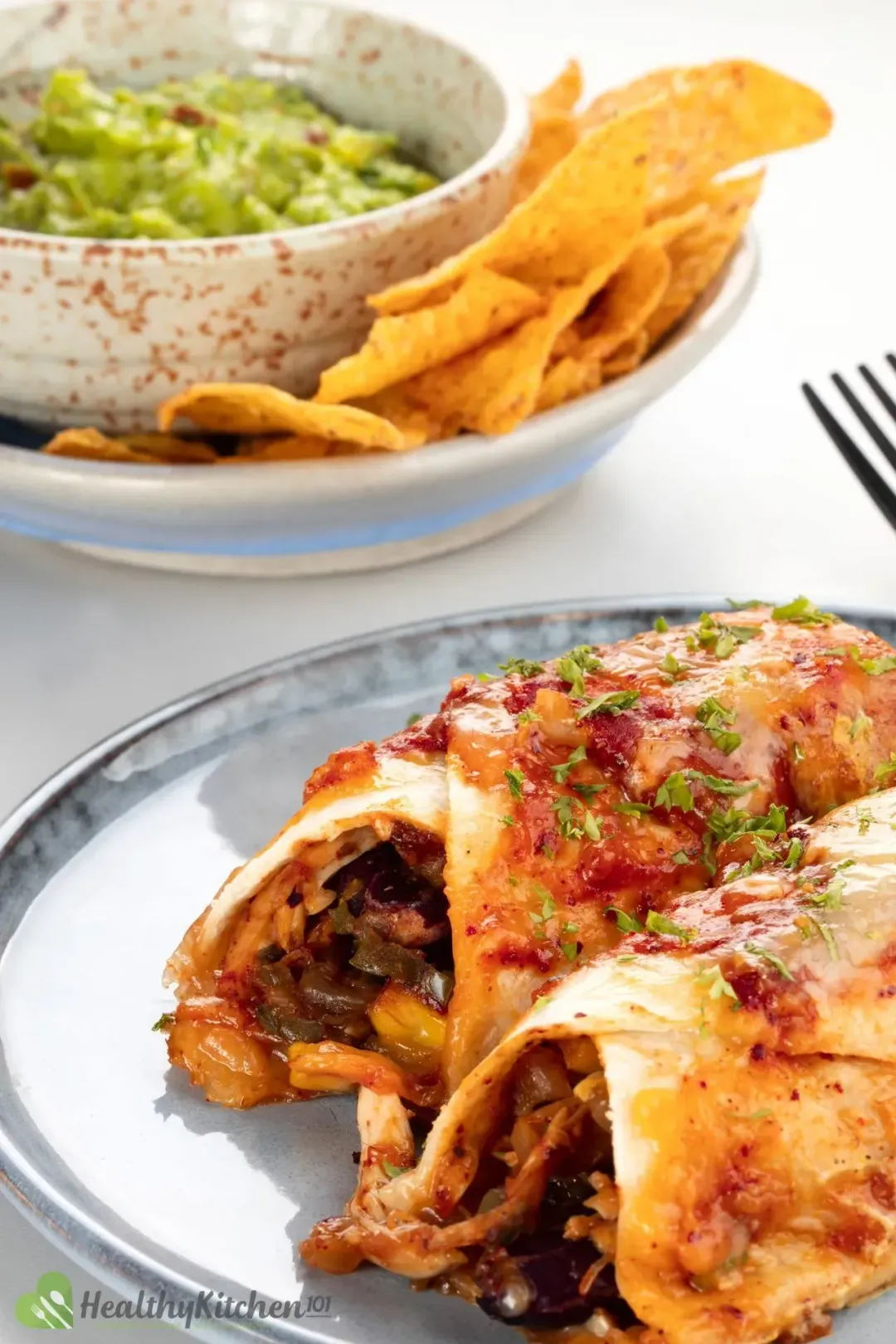 Next Recipe
Chicken Enchiladas
Chicken Enchiladas
Head Chef, Culinary Consultant
Tuyet Pham is an award-winning Saigonese chef who believes that joy is the secret ingredient to delicious food. At Healthy Recipes 101, Tuyet personally tests and simplifies every recipe, ensuring maximum flavor with minimal effort. With a background at prestigious French restaurants P'TI Saigon and Le Corto, Tuyet knows how to make every dish exceptional.
Writer, Author
Luna Regina is an accomplished writer and author who dedicates her career to empowering home cooks and making cooking effortless for everyone. She is the founder of HealthyKitchen101.com and HealthyRecipes101.com, where she works with her team to develop easy, nutritious recipes and help aspiring cooks choose the right kitchen appliances.
Nutrition Reviewer
Lizzie Streit is a Minneapolis-based dietitian and founder of It's a Veg World After All. She completed her MS in Human Nutrition from Drexel University, and is an expert in culinary nutrition, recipe development, and nutrition communications. Lizzie's philosophy is centered around making nutrition recommendations, and especially the advice to eat more vegetables, approachable and realistic. She is excited to be working with the team at Healthy Recipes 101 to ensure that their recipes are both nutritious and delicious.
How about using phyllo dough for a crust? Plain white tortilla?

Interesting. We would not recommend phyllo pastry, though, because they're too thin. Using a tortilla sheet, on the other hand, will give a different result (which may or may not pair well with the creamy filling.) If you have the time, we suggest making the pie crust– it's not that hard to make. Or you can buy premade pie shells to save some time.

This sounds like a good recipe, but I don't have the time to prepare it. I use frozen pie shells and canned mixed vegetables. I also use cream of chicken soup. Makes for a quick dinner.

Yes, this recipe does take a lot time to make. We suggest you give it a try on the weekend when you have the time. 🙂

Thank you for sharing. We will make this again and again!