If you're a busy person in the morning, you'll probably love this breakfast burrito recipe.
With this recipe, you can make a nutritious breakfast ahead of time and save yourself some time in the morning. But before we start, here are some interesting facts about burritos.
What Is a Breakfast Burrito?
Burrito is a type of Mexican wrap. It consists of various savory fillings wrapped inside a large tortilla sheet.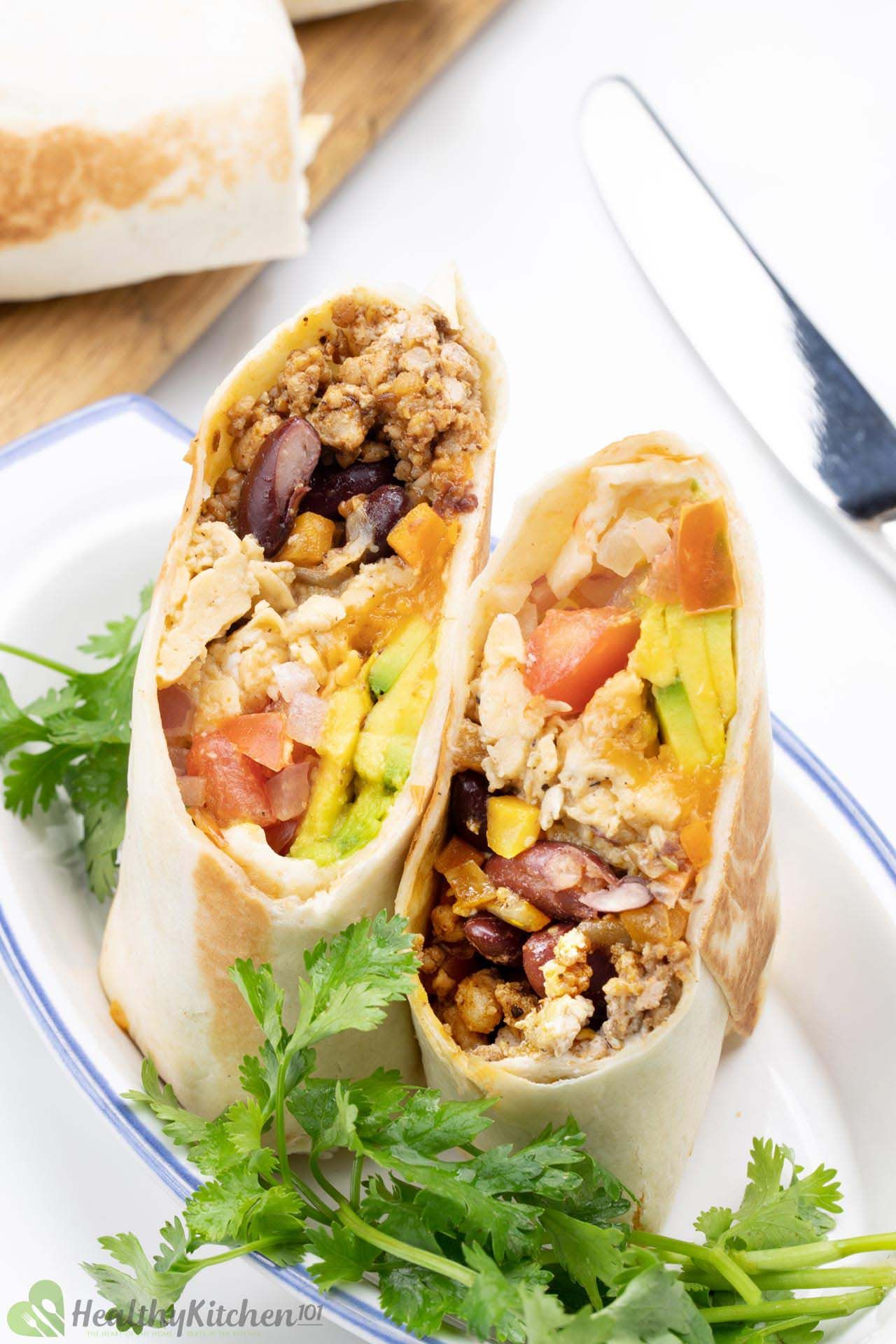 Burrito fillings vary depending on the chefs, but they're often wholesome as they include protein, starch, fiber, and fresh vegetables. The most common fillings are cooked meat, beans, rice, cheese, pico de gallo, and guacamole.
Breakfast burrito is an American take on this classic Mexican wrap. This particular type of burrito often includes scrambled eggs— a popular and beloved breakfast item, among traditional burrito fillings.
Is Breakfast Burrito Healthy?
As mentioned, burritos are nutritious food that contains protein, starch, fiber, and fresh vegetables. However, since burritos are packed with fillings, sometimes they may be too high in calories, saturated fat, and sodium.
Fortunately, these breakfast burritos adhere to our healthy eating guidelines. We want to make sure all the nutritional values of the food stay within recommended limits.
These burritos end up having about 7.7g of saturated fat and 553mg of sodium.
1. Calories
Our breakfast burritos contain only 471 calories per serving. Serving size is one burrito weighing about 8.5 oz.
2. Carbs
There are 36g of total carbs in one serving of our breakfast burrito. This includes about 5g of dietary fiber per serving.
Breakfast Burrito Ingredients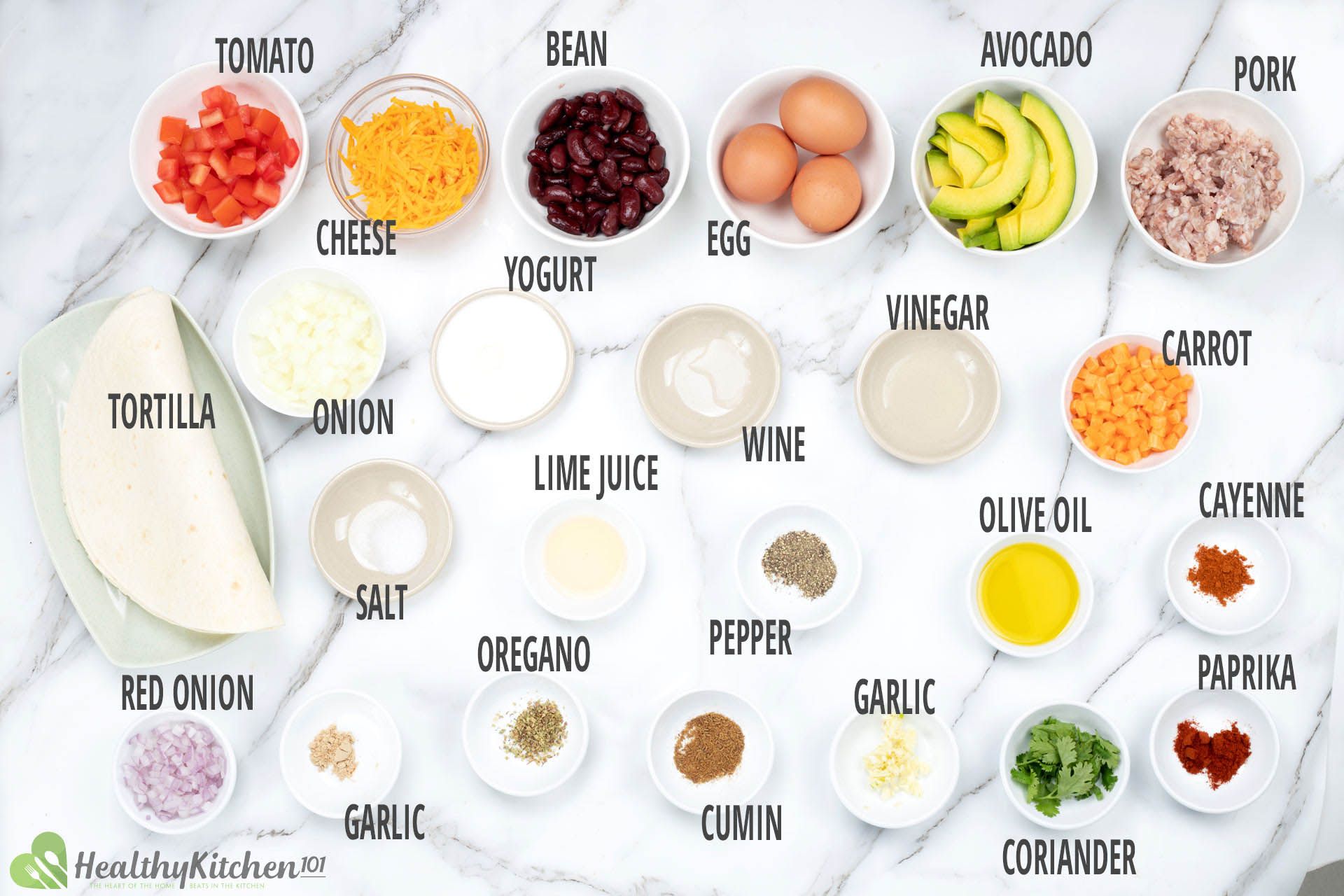 Here are the main ingredients in recipe:
The wrap: flour tortilla.
Main protein: ground pork and eggs.
Fruits and vegetables: red onions, onions, tomatoes, carrots, and avocados.
Starch: beans.
Dairy: cheese and yogurt.
Fat: olive oil.
Seasonings: we'll go into details later.
We hope listing the main ingredients into groups can help you get the basic idea of a breakfast burrito recipe. And, in case you want to customize the recipe, you'll know what ingredients you want to change in each group.
Here are some examples:
1. Beans
For today's recipe, we use canned red kidney beans, but you can use whatever type of beans you want. Black, pinto, and cannellini beans are also a great fit for your burrito.
We recommend using unsalted canned beans; rinse and drain well before you use them. Or, you can use refried beans instead of canned beans.
Refried beans are basically cooked and mashed beans. They have a creamy, buttery texture that can go well with many Mexican-inspired dishes.
2. Cheese
We use cheddar cheese, but you can opt for other varieties. Any soft, melty, or mild-flavored cheese would be a perfect fit for our burritos.
If you don't know what type of cheese to look for, we recommend cheddar, Monterey Jack, queso fresco, oaxaca, manchego.
3. Burrito Seasoning
Besides salt and black pepper, here are a few other spices and flavorings you can use in your breakfast burrito recipe:
Herbs: cilantro, garlic, and dried oregano.
Spices: ground cumin, paprika, garlic powder, and cayenne pepper.
Condiments: white wine and white vinegar.
These spices and seasonings work well for pork and also chicken and beef.
How to Make Breakfast Burrito Recipe
Here's a brief summary of our breakfast burrito recipe: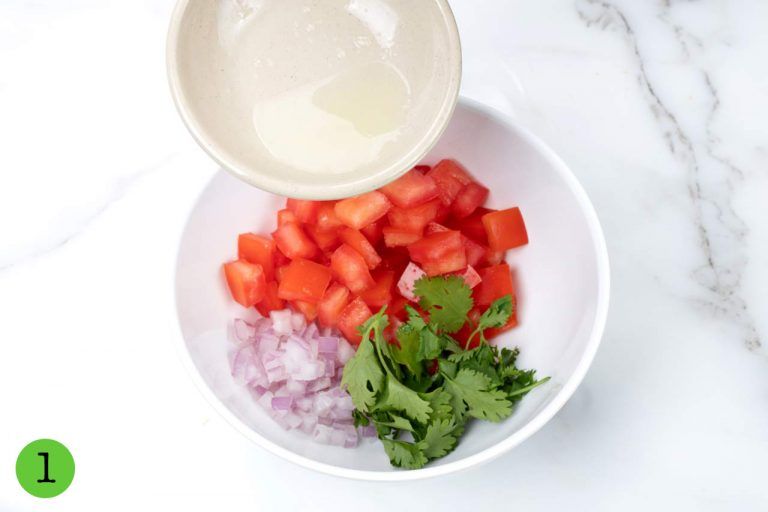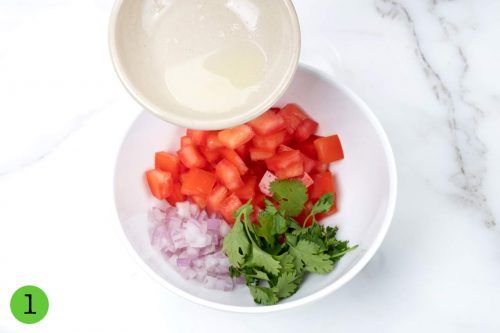 Make the salsa.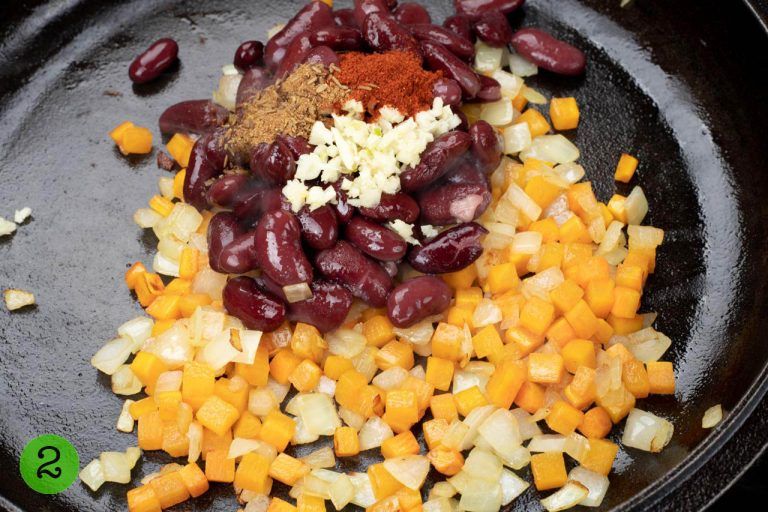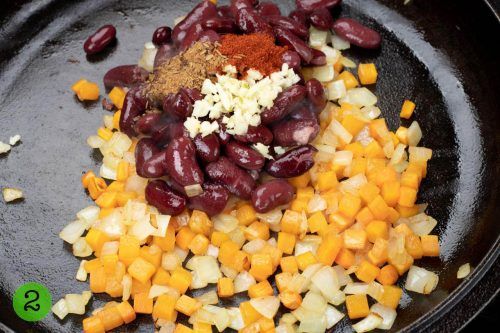 Cook the vegetables.
Sauté the meat.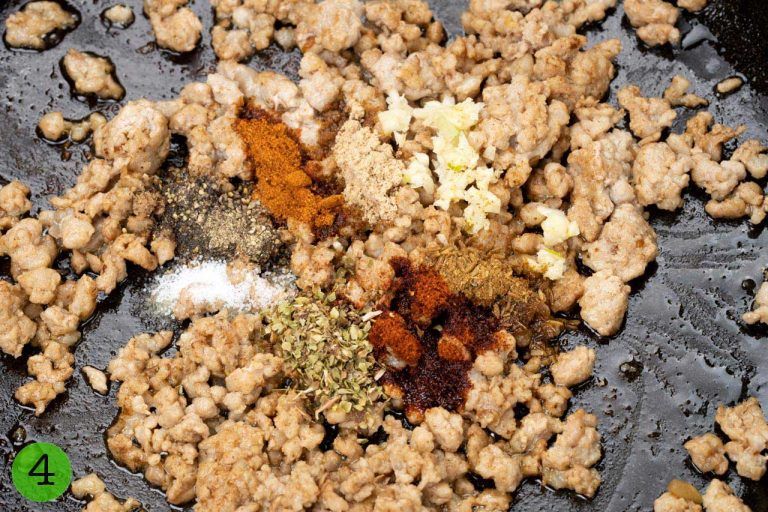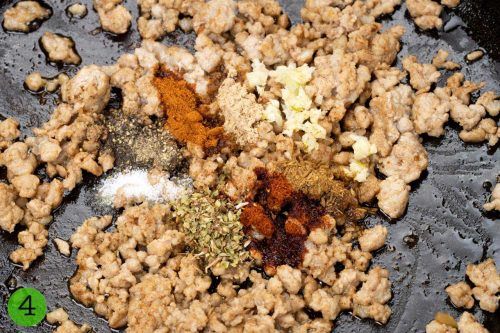 Season the meat.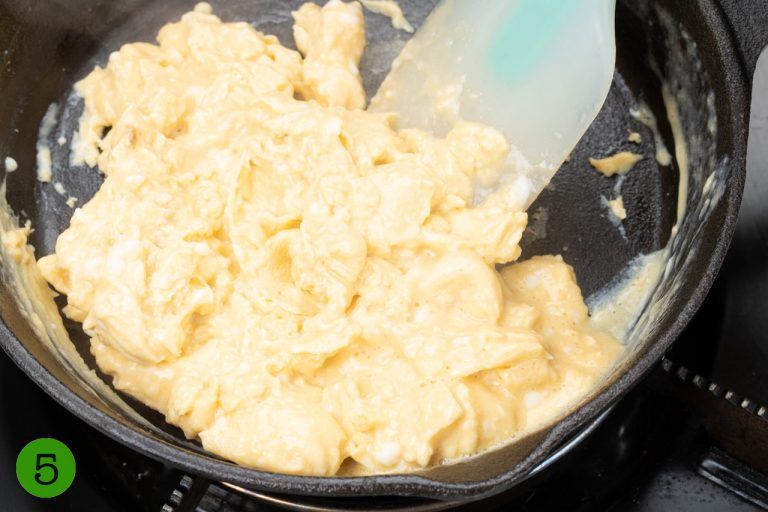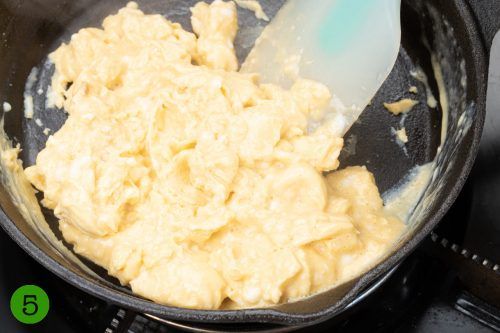 Scramble the eggs.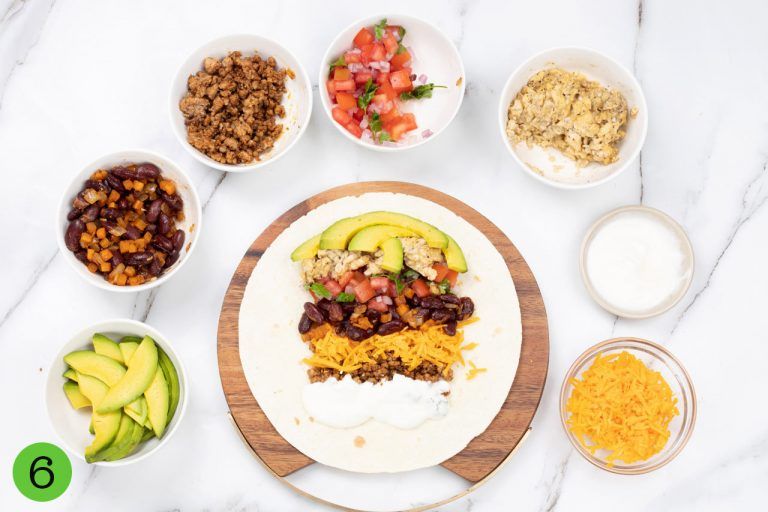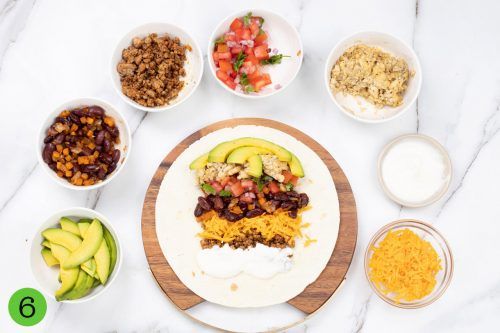 Set a workstation.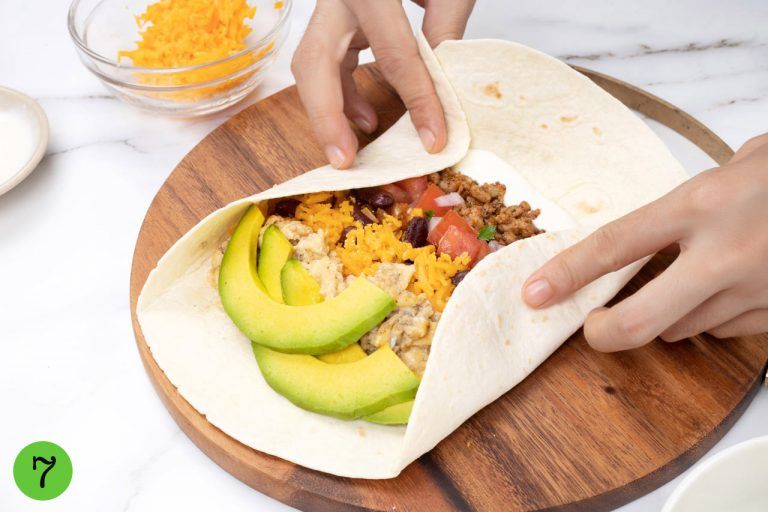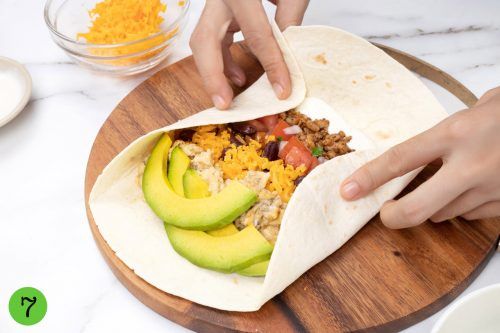 Wrap the burritos.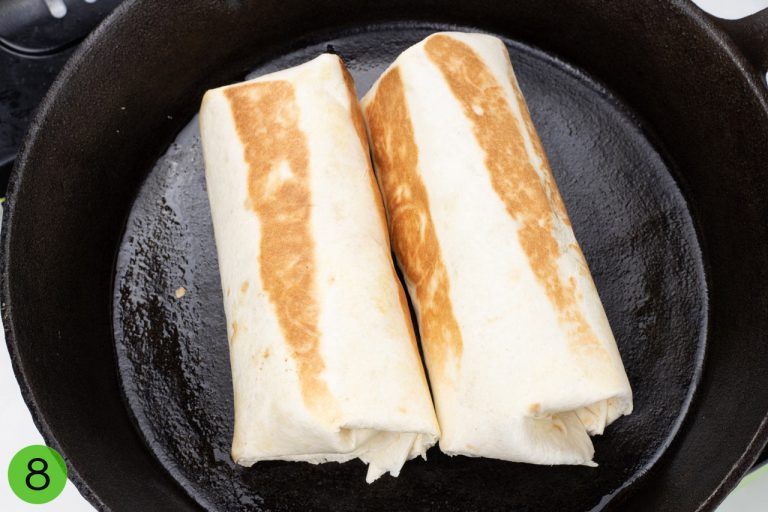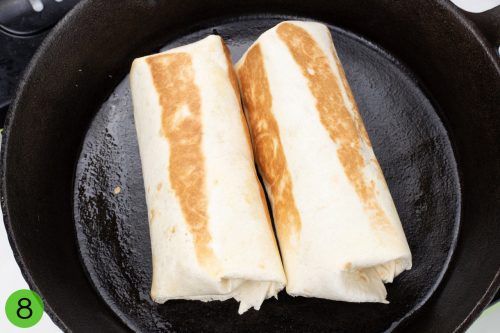 Toast the burrito.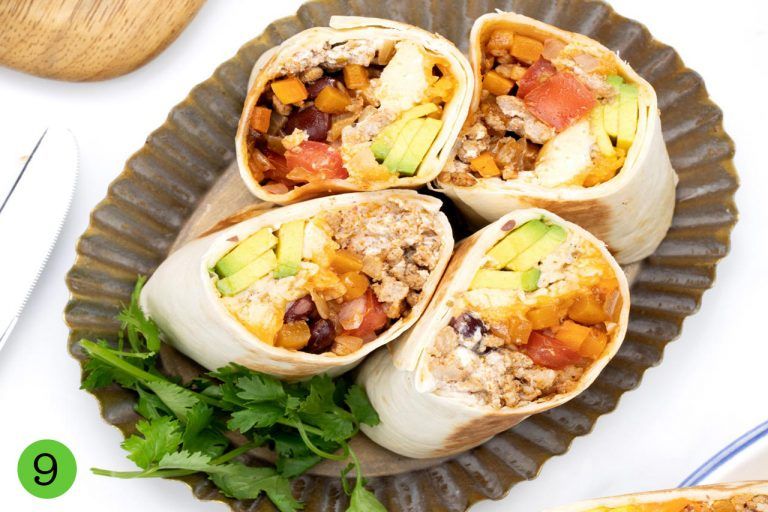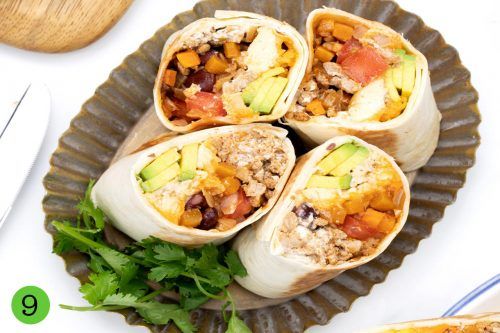 Serve
Full measurements and detailed instructions will be available below.
Jump to Recipe
How to Fold a Burrito
Folding a burrito may be tricky, but it's actually simple. All you need to do is be extra careful:
Put the fillings in the center, slightly off to the bottom of the tortilla sheet. Pat down so the fillings lay flat.
Fold the sides towards the center.
While still holding the sides, tuck your thumbs underneath the tortilla sheet to lift the bottom of the sheet up.
Start rolling the burrito from the bottom to the top. Don't wrap it too tightly or you risk ripping the tortilla.
Once finished, place the burrito on a plate, seam-side down, to avoid it unfolds itself.
What Else Goes Well with Breakfast Burrito?
Here are some common ingredients you may find in a breakfast burrito:
1. Chicken
You can customize our breakfast burrito recipe and replace ground pork with chicken. You can choose either ground chicken or boneless skinless chicken breasts— both will fit your burrito perfectly.
Cooking the chicken is simple: all you need is a simple seasoning blend and sear the chicken until cooked through.
2. Beef
Ground beef is a great alternative to pork. It even takes less time to cook compared to chicken and pork.
We recommend using 85% or more lean ground beef to avoid consuming too much saturated fat.
3. Shrimp
Besides poultry and livestock meat, you can add seafood to your breakfast burrito. And shrimp is the best seafood for today's recipe.
All you need to do is peel the shells, remove the veins, and sear until cooked on both sides.
4. Sausage
Instead of ground pork, you can use either breakfast or Italian sausage. Since sausage is already well-seasoned, it'll add smokiness, savoriness, and many more flavors to your burrito.
To cook the sausage, simply remove it from the casing and sear until fully cooked.
5. Bacon
Bacon can be a great addition to almost any food, and breakfast burrito is no exception.
You can sear it for a few minutes and it's ready to be wrapped inside the burrito. Or, baking it in the oven until crispy can render the fat and give more texture to your burrito, too.
6. Egg-Normous Burrito
Egg-normous burrito is a type of breakfast burrito made famous by the fast food chain Burger King. It consists of bacon, sausage, hash browns, scrambled eggs, various types of cheese and condiments wrapped inside a tortilla.
If you're trying to replica this at home, remember to check the nutritional values when you're building the recipe. This is to ensure that you don't eat too much calories, saturated fat, and sodium.
Meal Plan with Breakfast Burritos
Today's we're serving breakfast burrito with a glass of carrot orange ginger juice. A burrito packed with fiber and protein and a glass of refreshing juice will surely keep you full for longer.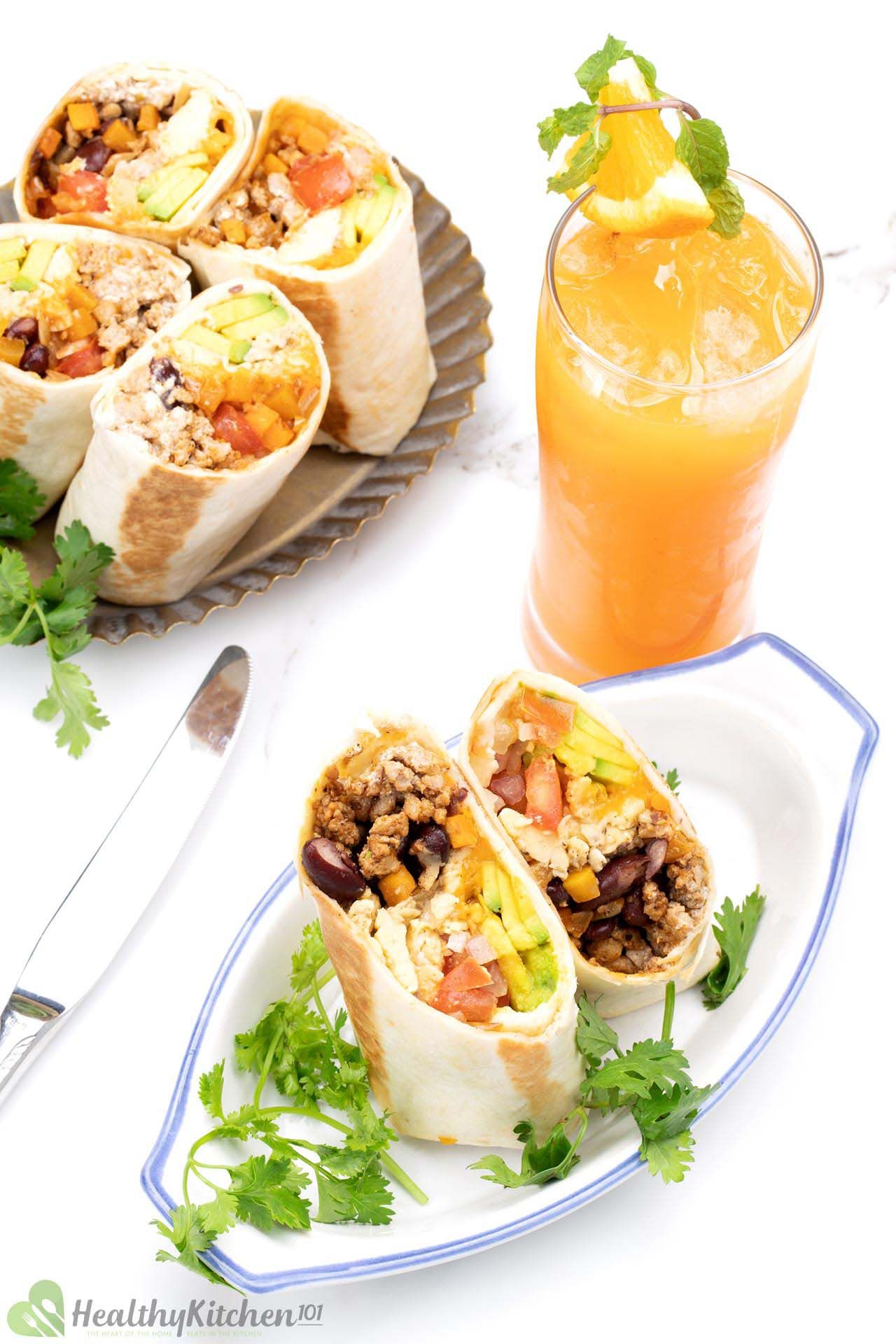 The nutrition facts of this meal combination are as follows:
Nutritional values in this table vary somewhat to those below due to different app calculations. Read more...
Meal Prep with Frozen Breakfast Burritos
Breakfast burritos can be made ahead of time and stored in the freezer. They make a delicious, easy-to-make meal prep for those who are busy in the morning.
However, here are a couple of things to keep in mind when making frozen burritos ahead of time:
Leave out the fresh ingredients: raw avocado, onions, and tomatoes should not be put in a frozen burrito. The reason is because when you thaw the burrito, these no-longer-fresh ingredients will become mushy, soggy, and unappetizing.
Wrap individual burrito in parchment paper and put into a ziploc bag: this will keep them from getting freezer burnt. This will allow you to take one burrito out and thaw with ease.
Frozen burritos can last up to one month in the freezer.
How Long Does It Last in the Fridge?
Depending on the ingredients, burritos can last up to 3 to 5 days in the fridge. However, our breakfast burritos contain fresh avocado, onions, and tomatoes, it won't last as long.
Burritos with raw, fresh ingredients can only stay good for about 24 hours in the fridge. However, we recommend eating it all up within 12 hours to enjoy the best quality possible.
How to Reheat a Breakfast Burrito
To reheat a burrito, wrap it in a piece of parchment paper and put it in the microwave. Your burrito should be nice and warm after a couple of minutes.
A frozen burrito needs to be thawed before reheating. It can thaw slowly in the fridge overnight or defrost within a few minutes in the microwave as well.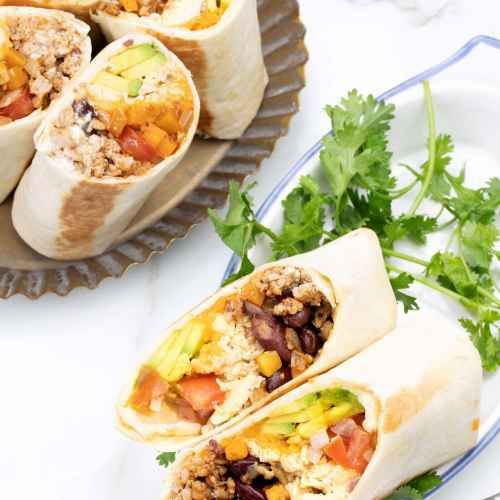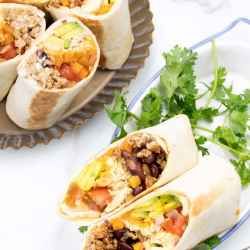 Breakfast Burrito Recipe
This healthy breakfast burrito recipe will show you how to make an easy meal prep. There's no need to rush in the morning anymore.
Ingredients
1

oz

red onion

finely diced

3

oz

tomatoes

deseeded and diced

1/2

tbsp

lime juice

1

tbsp

cilantro

freshly chopped

1 1/2

tbsp

olive oil

divided

2

oz

carrots

finely chopped

2

oz

onions

3.6

oz

unsalted dark red kidney beans

rinsed and drained

1

tsp

garlic

minced, divided

1/2

tsp

ground cumin

divided

1/2

tsp

paprika

divided

4

oz

85% lean ground pork

1/2

tbsp

white wine

1/4

tsp

white vinegar

1/4

tsp

garlic powder

1/4

tsp

oregano

dried

1/4

tsp

cayenne pepper

1/4

tsp

salt

divided

1/2

tsp

black pepper

divided

3

medium eggs

4

oz

avocado

flesh only, sliced

2.4

oz

cheddar cheese

shredded, about ½ cup

4

tbsp

plain Greek yogurt

4

flour tortillas

10-inch
Instructions
Make the salsa: in a mixing bowl, add red onions, tomatoes, lime juice, and cilantro. Mix well and set aside.

Cook the vegetables: in a skillet set over medium heat, add 1/2 tbsp olive oil, carrots, onions. Cook for 6 minutes. Add kidney beans, 1/2 tsp minced garlic, 1/4 tsp ground cumin, and 1/4 tsp paprika. Cook for another 2 minutes over medium heat. Turn off the heat, transfer to a plate/bowl, and set aside.

Sauté the meat: in the same skillet, add 1/2 tbsp olive oil and ground pork. Cook for 6 over medium-high heat. Add white wine and vinegar to deglaze the skillet. Scrape the meat off the bottom of the pan. Cook for 2 minutes on high heat or until the liquid evaporates.

Season the meat: add 1/2 tsp minced garlic, 1/4 tsp ground cumin, 1/4 tsp paprika, garlic powder, oregano, cayenne pepper, 1/8 tsp salt, and 1/4 tsp black pepper. Stir well for 1 minute. Turn off the heat and transfer the meat to a bowl. Set aside.

Scramble the eggs: in a clean pan, heat 1/2 tbsp olive oil over low heat. Meanwhile, whisk the eggs in a bowl. Add eggs to the pan. Use a spatula to stir gently. Cook for 4 minutes or until the eggs are barely set. Turn off the heat. Season with 1/8 tsp salt and 1/4 tsp black pepper. Stir again to distribute the seasonings evenly. Transfer to a plate and set aside.

Set a workstation: place a cutting board on the counter. Place the salsa, cooked vegetables, meat, scrambled eggs, sliced avocado, cheddar cheese, yogurt, and flour tortillas around the cutting board. Divide each filling into 4 parts.

Wrap the burritos: put a tortilla sheet on the cutting board. Take 1 part of each filling and put it in the middle of the tortilla. Fold the two sides of the tortilla towards the middle. While still holding the sides, slide your thumbs under the bottom of the tortilla and fold it up. Roll it away from you, tucking the ingredients in fairly tight. Set aside and repeat with the remaining tortillas.

Toast the burrito: put the burrito in a clean, dry pan, seam-side down. Turn the heat up to medium and toast for 2 minutes per side or until golden brown. Repeat with the remaining burritos.

Serve: cut the burritos in half at an angle. Transfer to a serving platter and serve warm.
Nutrition
Nutrition Facts
Breakfast Burrito Recipe
Amount Per Serving (1 serving)
Calories 471
Calories from Fat 252
% Daily Value*
Fat 28g43%
Cholesterol 161mg54%
Sodium 553mg24%
Potassium 497mg14%
Carbohydrates 36g12%
Protein 20g40%
Vitamin A 2914IU58%
Vitamin C 9mg11%
Calcium 174mg17%
Iron 1mg6%
* Percent Daily Values are based on a 2000 calorie diet.