This chicken flautas recipe is a weeknight dinner idea put together with simple and healthy ingredients. These delightfully tasty rolls are bursting with flavor from juicy shredded chicken and melted cheddar cheese wrapped in crunchy baked tortillas. Serve with drizzles of Greek yogurt on top to make a complete, nutritious weekday meal!
What Are Chicken Flautas?
Flautas are a popular Mexican street food that consists of crispy rolled tortillas filled with seasoned meat and cheese. These rolls are fried or baked until golden crispy and served either as a snack, an appetizer, or an entrée.
Nowadays, you can find flautas in pretty much any restaurant throughout Mexico. They're often served with lettuce or dunked in guacamole, sour cream, or salsa (or all three).
The term "flautas" derives from the Spanish word for flute, referring to how the rolled tortillas look like the shape of a flute. Where flautas originated is a source of debate, but the state of Sinaloa in the northwest of Mexico claims them as one of their food specialties.
Today's chicken flautas are made by filling flour tortillas with shredded chicken, cheddar cheese, and sprinkles of cilantro. The tortillas are rolled up tightly, then baked until crispy and golden.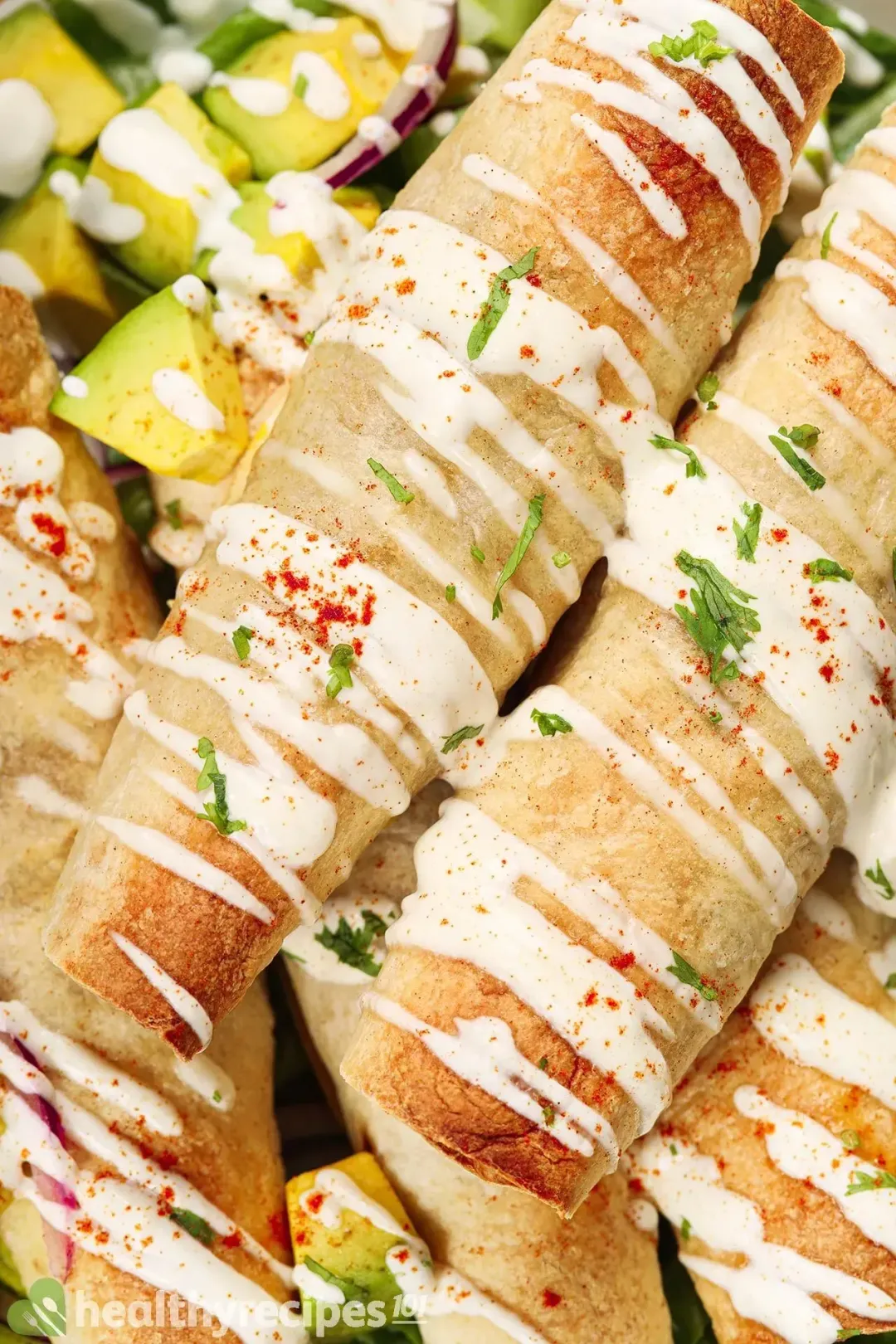 Taquitos vs Flautas
Taquitos are rolled tacos that use corn tortillas. Flautas are very similar to taquitos, but they use flour tortillas instead.
Due to the difference in the type of tortilla used, taquitos are usually smaller than flautas. Because of their sizes, taquitos are often served as an appetizer or side dish, while flautas can be enjoyed as a main dish on their own.
Is This Recipe Healthy?
A serving of this recipe (two flautas) includes 506 calories, which is a reasonable amount for a main dish.
Cooking chicken flautas at home in the oven eliminates the need for additional oil and calories. To keep the saturated fat and sodium levels within a healthy range, we measured out an acceptable amount of cheddar cheese for the filling and a small amount of salt for seasoning (8.9 g and 558.9 mg per serving, respectively).
In addition to the chicken breast, which is a lean protein, this chicken flautas recipe also includes avocados for extra richness and creaminess. Avocados are a great source of vitamins and omega-3 fatty acids.
There are many health benefits associated with avocados, including improved digestion, reduces the risk for chronic disease such as cardiovascular, cancers, and age-related macular degeneration.
Ingredients
We use skinless boneless chicken breasts for today's recipe to make both seasoning and shredding easier. We spice up the chicken breasts with a seasoning mix of chili powder, garlic, cumin, paprika, pepper, salt, and lime juice before searing them in the skillet.
If you don't fancy chicken breast, you can use other chicken cuts or any protein you desire, including pork, beef, or lamb. To save time, you can also start with rotisserie chicken or leftover shredded chicken, and the results will be just as fabulously tender and delicious.
The shredded chicken in this recipe also works great in many other dishes such as carnitas or taquitos, so you can cook a large batch of it and then save it for later meals.
It may come as no surprise that you can also go vegan with flautas by swapping chicken for an equal amount of black beans, chickpeas, zucchini, corn, firm tofu, or any grilled veggies of choice.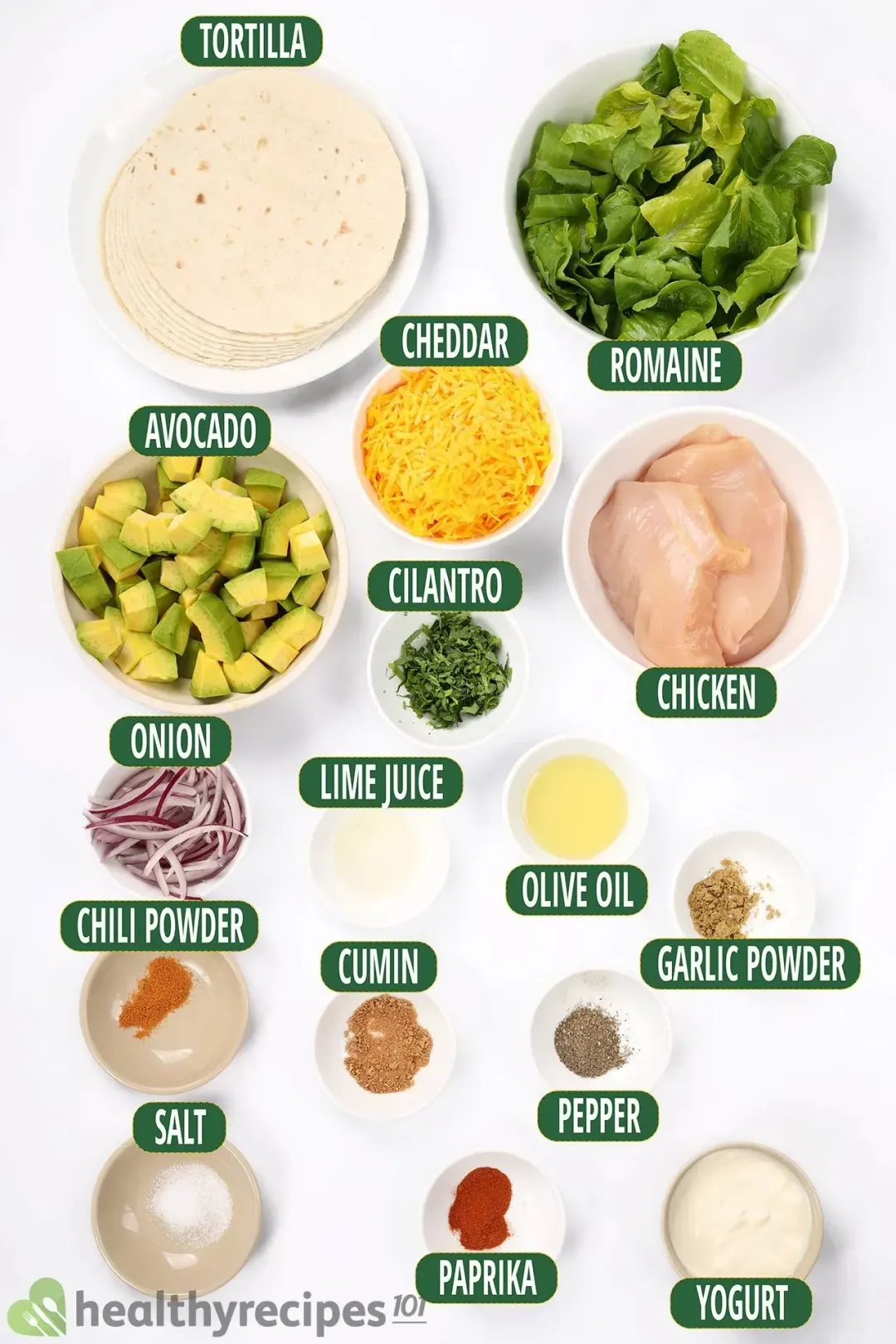 Flour tortillas are easy to work with, however, for people who are new to Mexican cuisine, there are a few things to bear in mind.
First, the tortilla size matters. We use tortillas that are 6 inches in diameter, but for smaller ones, you might need to adjust the corresponding amounts of fillings, so they won't be overstuffed.
Also, you shouldn't use tortillas that are larger than 8 inches, as it will be harder to bake them evenly.
This recipe doesn't require you to warm or cook the tortillas beforehand. You can start rolling with tortillas straight from the pack/pile.
To make the flauta rolls, first, spread the filling in the middle across the diameter of the flour tortilla. Next, roll them up tightly and place them seam side down on the baking sheet to keep the filling from falling out when baking.
20 minutes in the oven is enough to crisp up these chicken flautas nicely, but you can make them extra crispy by spraying the rolls with a little cooking oil if preferred. 
The filling for flautas varies by region and the preference of the chef. However, the two must-have ingredients in flautas are always pulled meat and cheese.
We made it simple for this recipe — only shredded chicken, freshly grated cheddar cheese, and chopped cilantro are required. When combined, they yield a fabulous flavor with an irresistible creaminess and juiciness in every bite.
Sharp cheddar cheese melts wonderfully and adds a kick of flavor and an ooey-gooey texture to the crispy flautas. Besides cheddar, Monterey Jack cheese can also bring a similar flavor and texture as a replacement if you don't have any cheddar at home.
Chicken flautas are best served hot with a creamy topping, and our choice for today's recipe is Greek yogurt. A dollop of sour cream, guacamole, or salsa are also all great options.
We like to prepare a bed of romaine lettuce, avocado cubes, and sliced red onions to enjoy along with the flautas. Of course, you can make it your own and load these tasty flautas with your favorite toppings!
How to Store and Reheat Leftover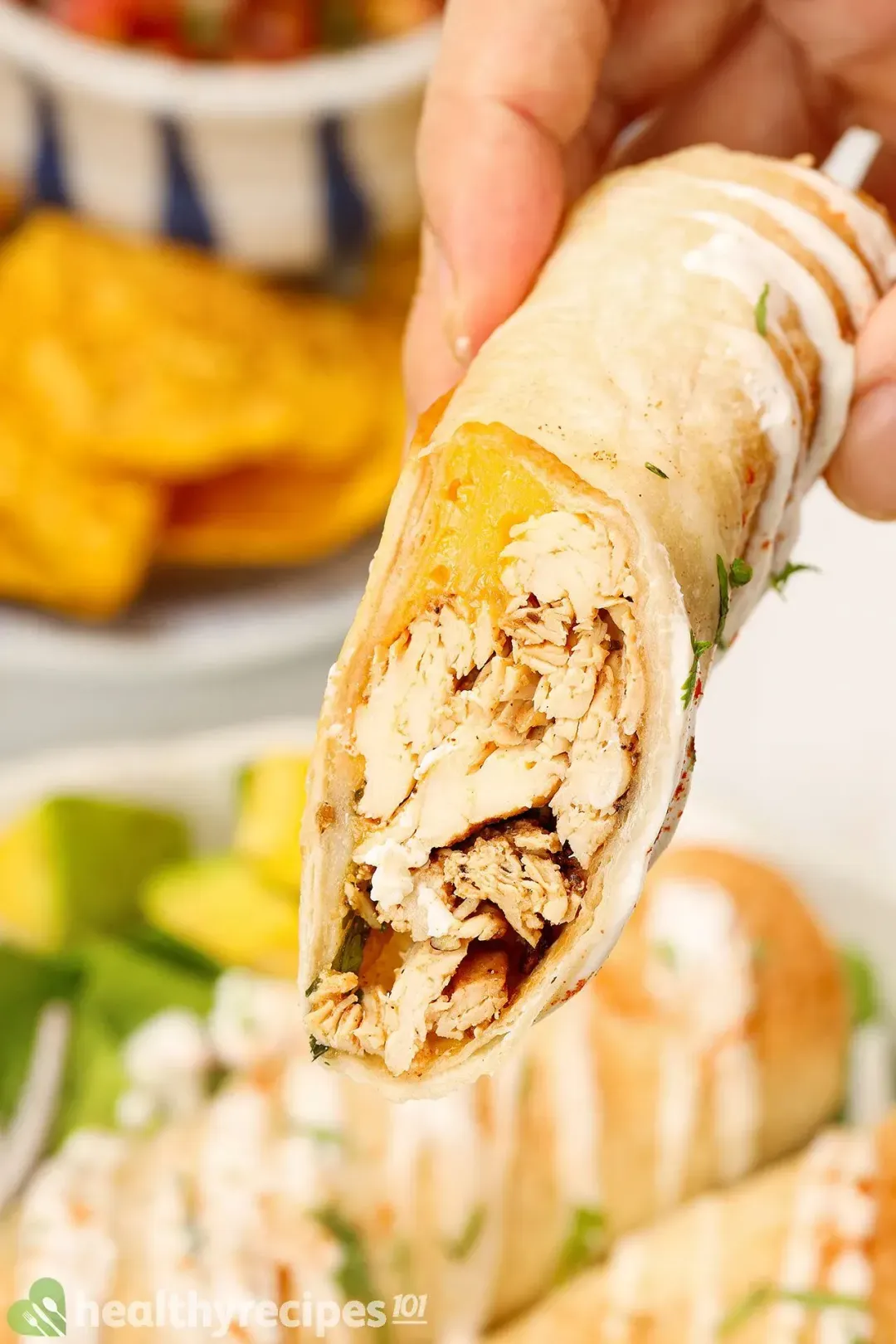 1. To Store
Leftover chicken flautas can last for up to 4 days in the fridge.
First, let the flautas cool to room temperature completely. Transfer them to airtight containers lined with foil or parchment paper so when reheating, all you need to do is remove them from the fridge and pop straight to the oven.
2. To Freeze
Chicken flautas are freezable and can freeze well for up to 3 months.
Store the leftovers as you would if you were refrigerating but add another layer of parchment wrap in between each roll. By doing so, you can stack them in the freezer without them becoming soggy and glued to each other.
3. To Reheat
You can reheat the leftover portions of chicken flautas either in the microwave until warmed through, or in the air fryer, on the stovetop, or in the oven until they crisp up again. Convenience at its finest!
If you're starting with frozen flautas, be sure to let them thaw in the fridge overnight before reheating.
In the air fryer: Air fry at 400 ℉ for 6-8 minutes, flipping halfway.
On the stove: Cook the flautas in heated oil in a nonstick skillet on low heat, rotating every couple of minutes.
In the oven: Bake at 400 ℉ on a baking rack in the oven for about 10 minutes.
In the microwave: Microwave the flautas on high for a minute, then in 15-second intervals. Reheating flautas in the microwave won't help recreate the crispy exterior, but it's a foolproof method especially when you're short on time and simply need some warm food on the plate.
What to Serve With
Chicken flautas can either make a great appetizer or a main dish when paired with a light side. Here are our choices to pair with chicken flautas and create a nutritious full meal:
Pico de Gallo: This popular salsa is our very first go-to choice for today's dish. Made with pantry ingredients such as tomatoes, onions, jalapeño, cilantro, lime juice, and garlic, this salsa adds a vibrant freshness to any Mexican-style meal. Scoop it with Doritos or tortilla chips for an extra crunch.
Cucumber Lime Juice: A cooling and refreshing drink to keep you hydrated and give you some extra nutrients. It's quick, easy, and extremely low-calorie!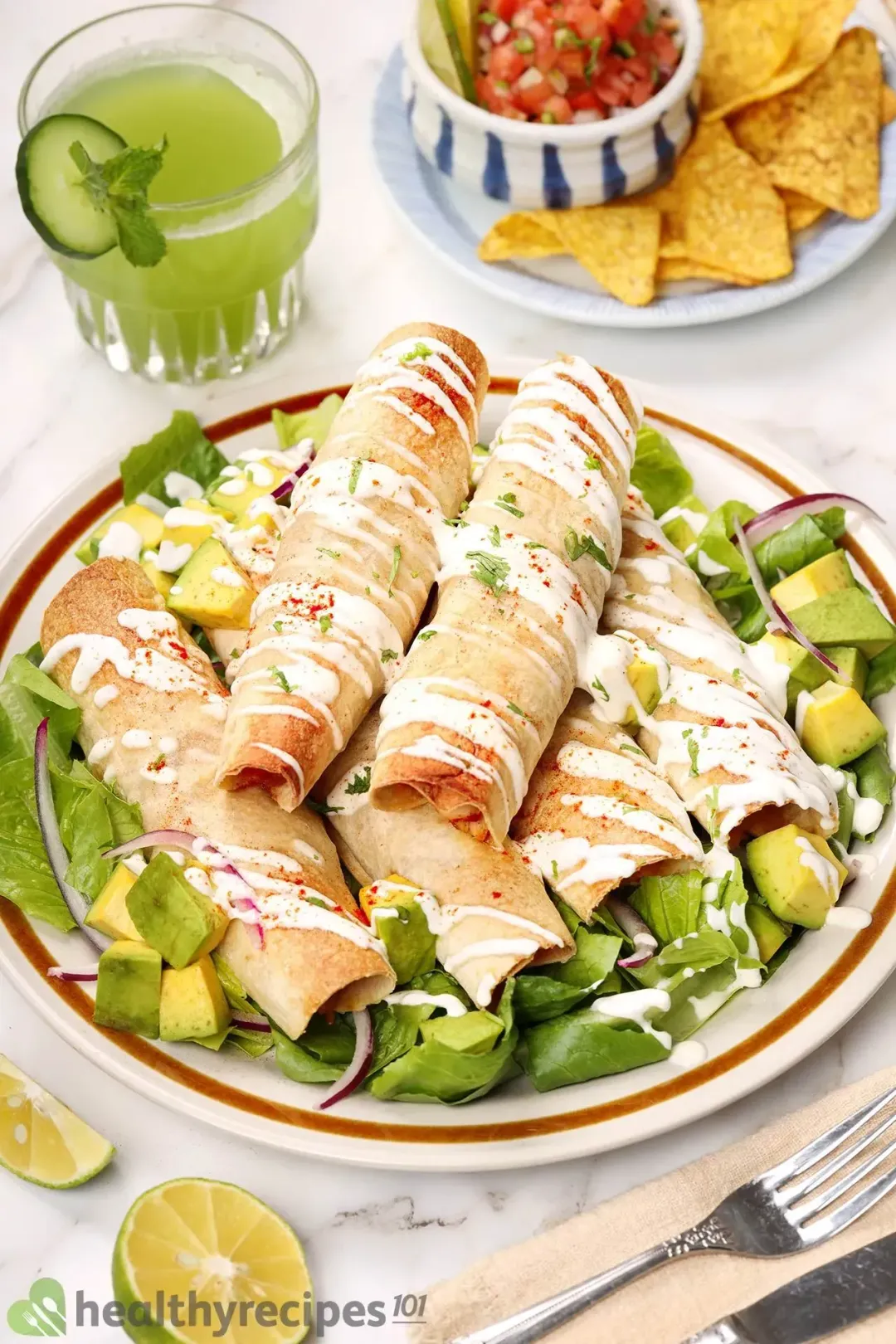 These Wraps Are Also Delicious
Has it been a while since you had a really good Italian meal? How about making one with our chicken Fajitas recipe? The gorgeous meat cooks in a skillet so it's really quick, and when it's done, you can keep it in the fridge for days to come.
These chewy enchilada rolls are stuffed with meat, beans, corn, and a slew of flavors. They're topped with a generous amount of tomato sauce and cheese on top before baking, ensuring that chewy texture that's tantalizing by just the look.
Chicken Flautas
This chicken flautas recipe is a weeknight dinner idea put together with simple and healthy ingredients. These delightfully tasty rolls are bursting with flavor from juicy shredded chicken and melted cheddar cheese wrapped in crunchy baked tortillas. Serve with drizzles of Greek yogurt on top to make a complete, nutritious weekday meal!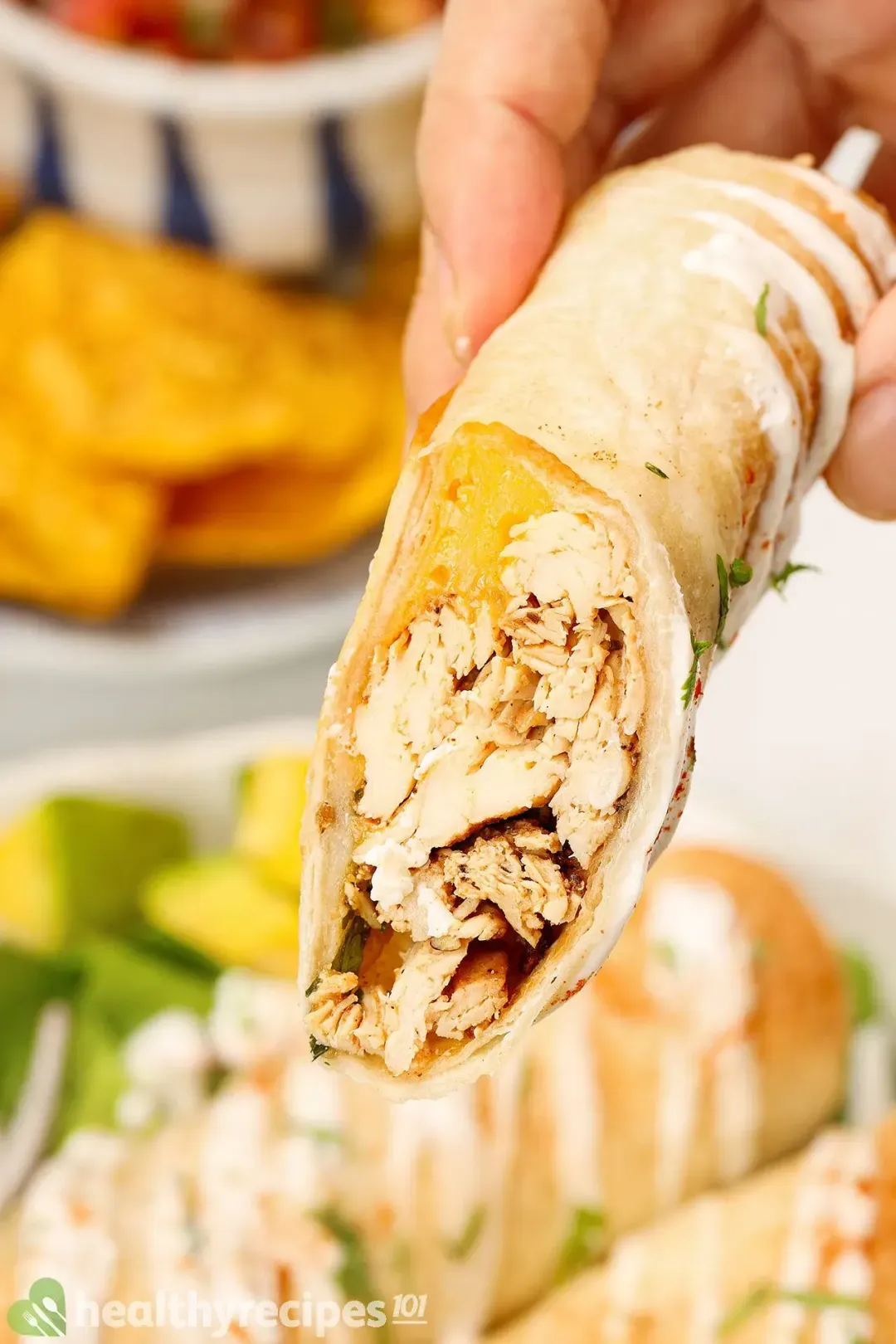 cook TIME

45 mins

prep TIME

10 mins

total TIME

55 mins
COURSE

Main Course

CUISINE

Mexican

SERVINGS

CALORIES

506 kcal
INGREDIENTS
14 oz

skinless boneless chicken breasts

8

flour tortillas

(6 inches in diameter)

3 oz

grated cheddar cheese

1/4 cup

plain Greek yogurt

1/4 cup

cilantro

(chopped, divided)

1/2 tsp

ground black pepper
INSTRUCTIONS
1
In a mixing bowl, combine 14 oz skinless boneless chicken breasts with 1/4 tsp chili powder, 1/2 tsp garlic powder, 1/2 tsp ground cumin, 1/2 tsp paprika, 1/2 tsp ground black pepper, 1/8 tsp salt, and 1 tsp lime juice. Mix to coat.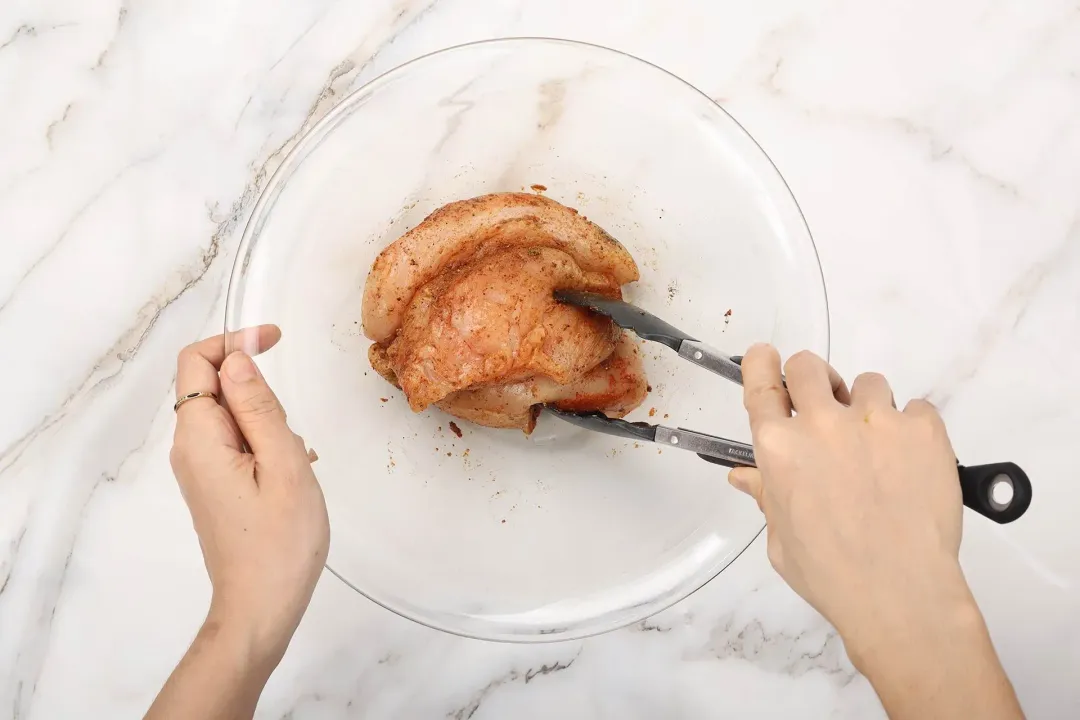 2
In a cast-iron skillet, heat 1 tbsp olive oil over medium low heat. Sear the marinated chicken for 10 minutes on both sides.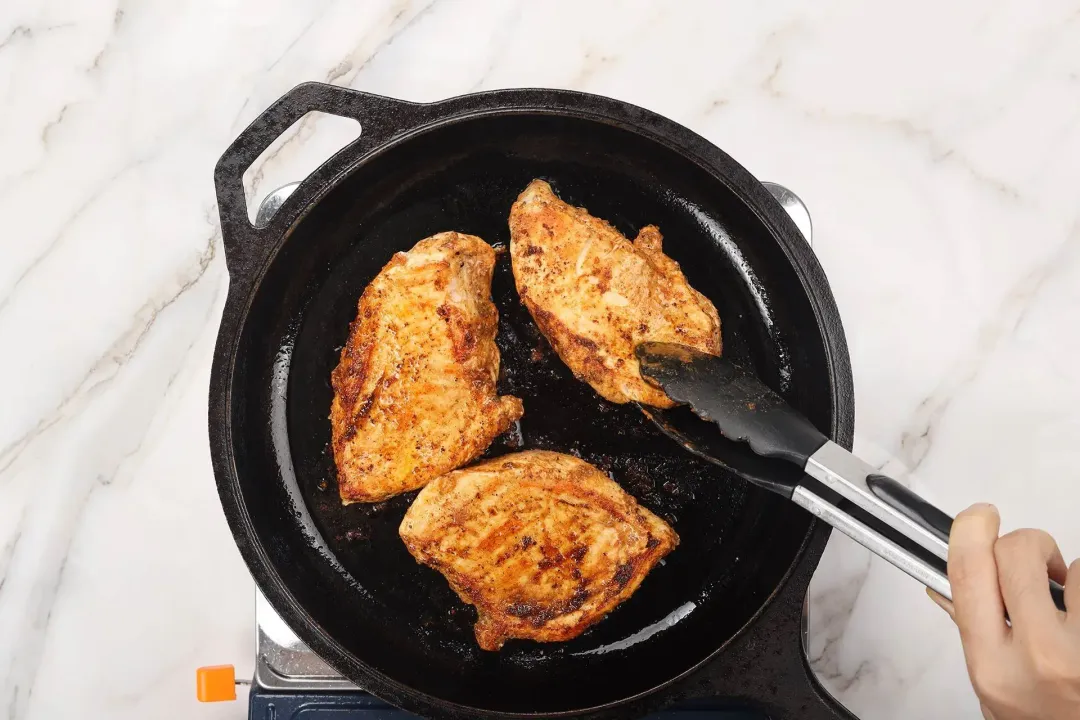 3
Turn off the heat. Use two forks to shred the chicken into strips. Preheat the oven to 350℉.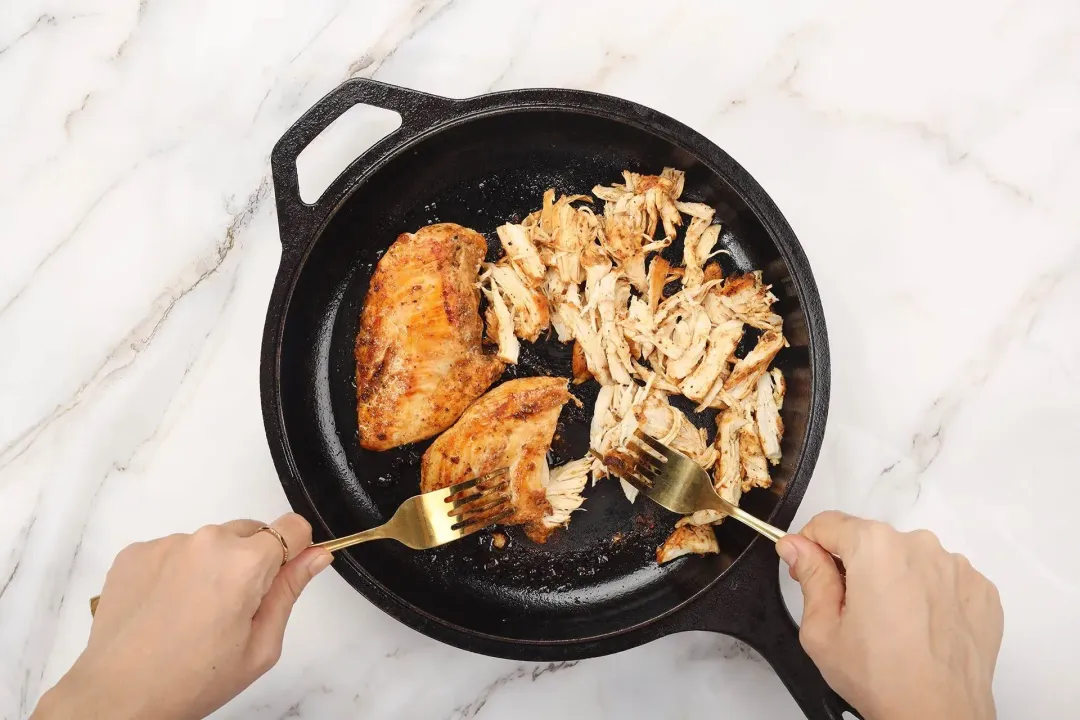 4
Place a tortilla on a flat surface. This recipe uses a total of 8 flour tortillas (6-inch diameter).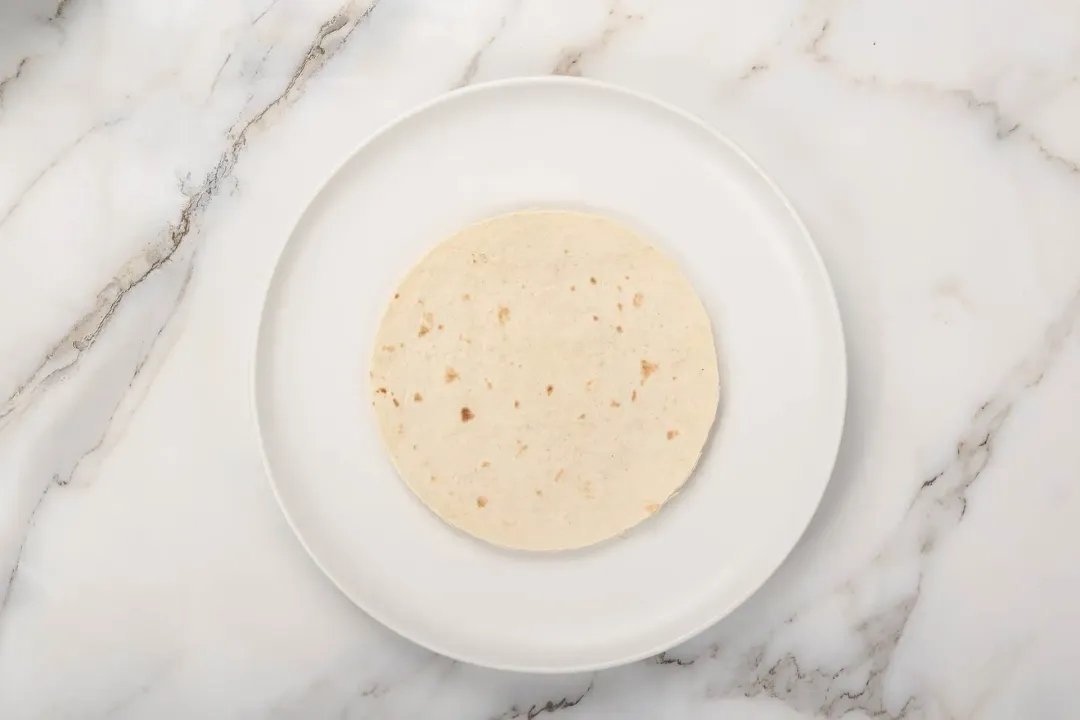 5
Spoon some of the shredded chicken onto the tortilla.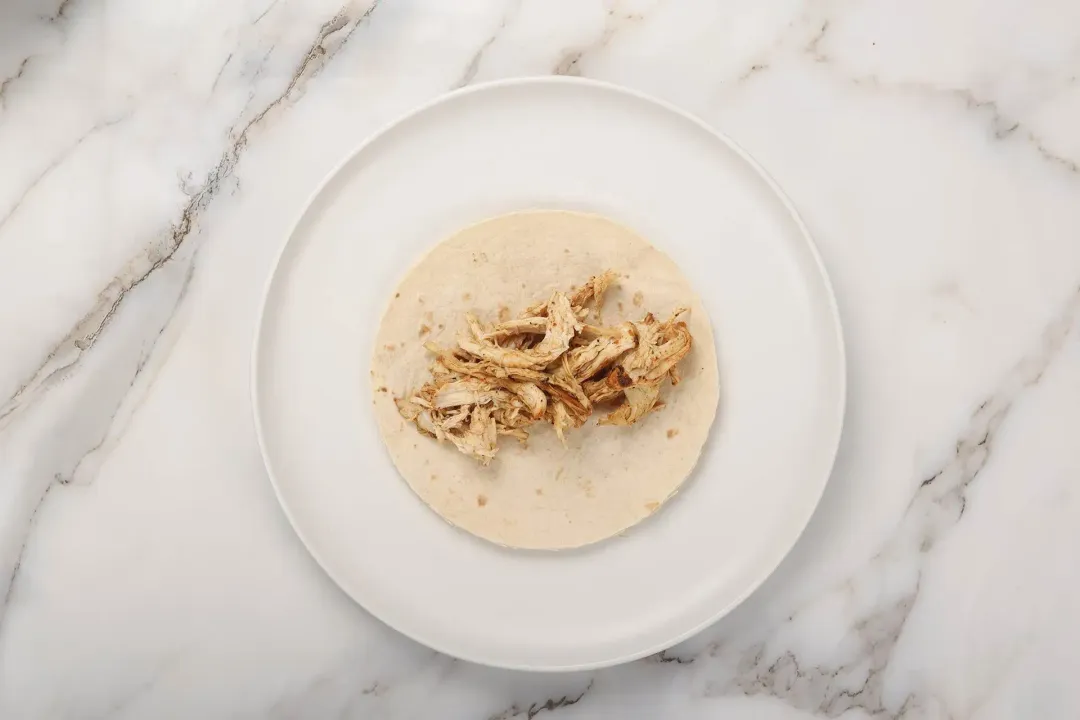 6
Add a handful of grated cheddar cheese onto the tortilla. This recipe uses a total of 3 oz grated cheddar cheese.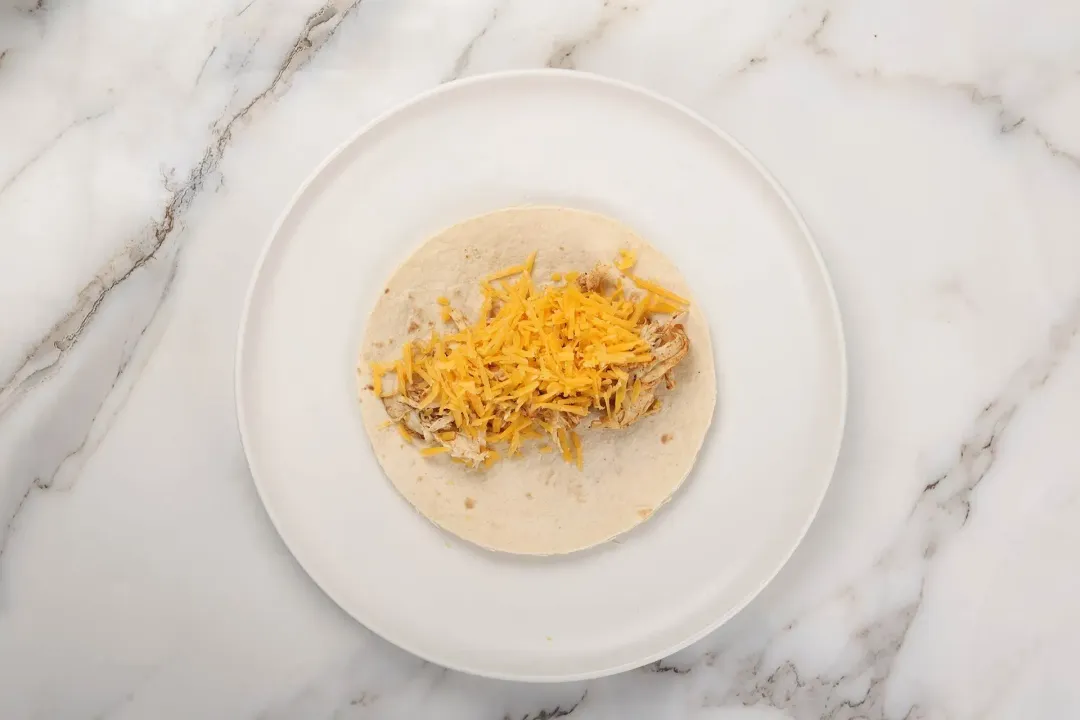 7
Sprinkle some chopped cilantro. This recipe uses a total of 1/4 cup cilantro. Save some for garnishing later.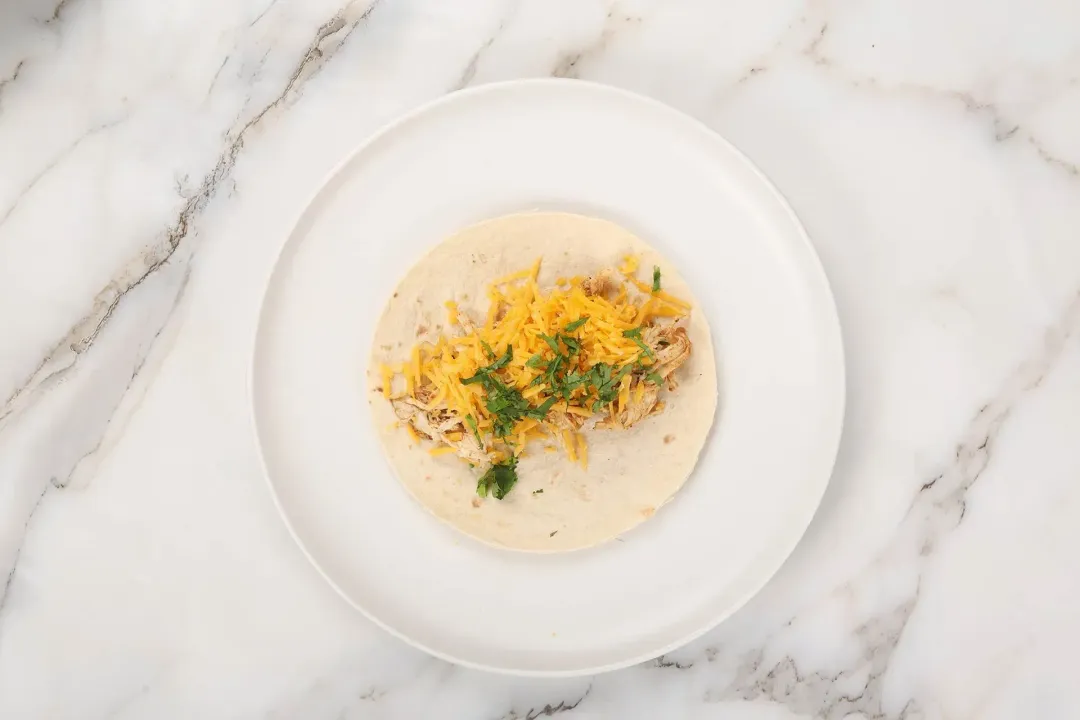 8
Tightly roll the tortilla up over the filling, no need to tuck in the ends. Repeat with the remaining tortillas and filling.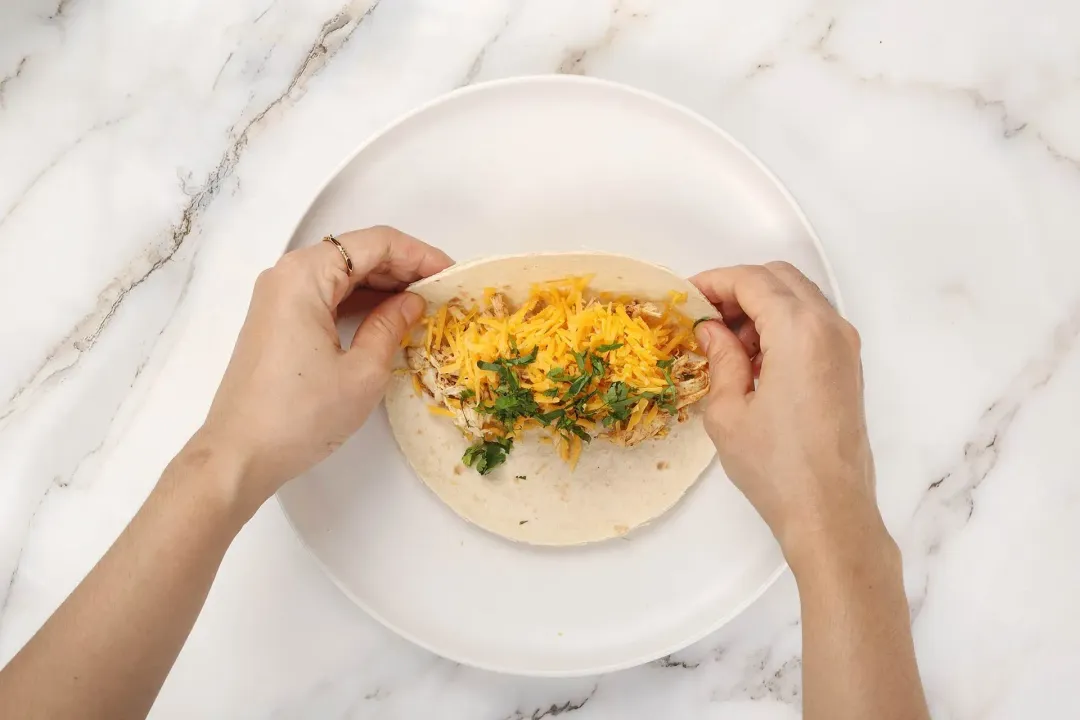 9
Line a baking sheet with parchment paper. Place the rolls onto the baking sheet seam side down.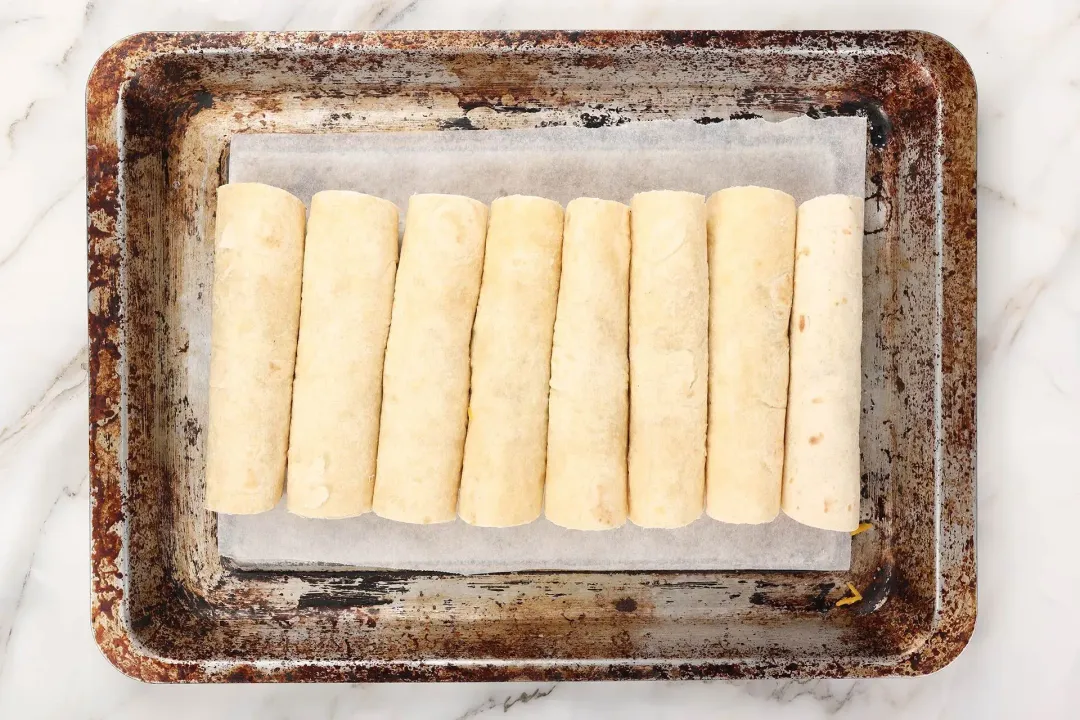 10
Bake for 20 minutes until crispy and slightly golden.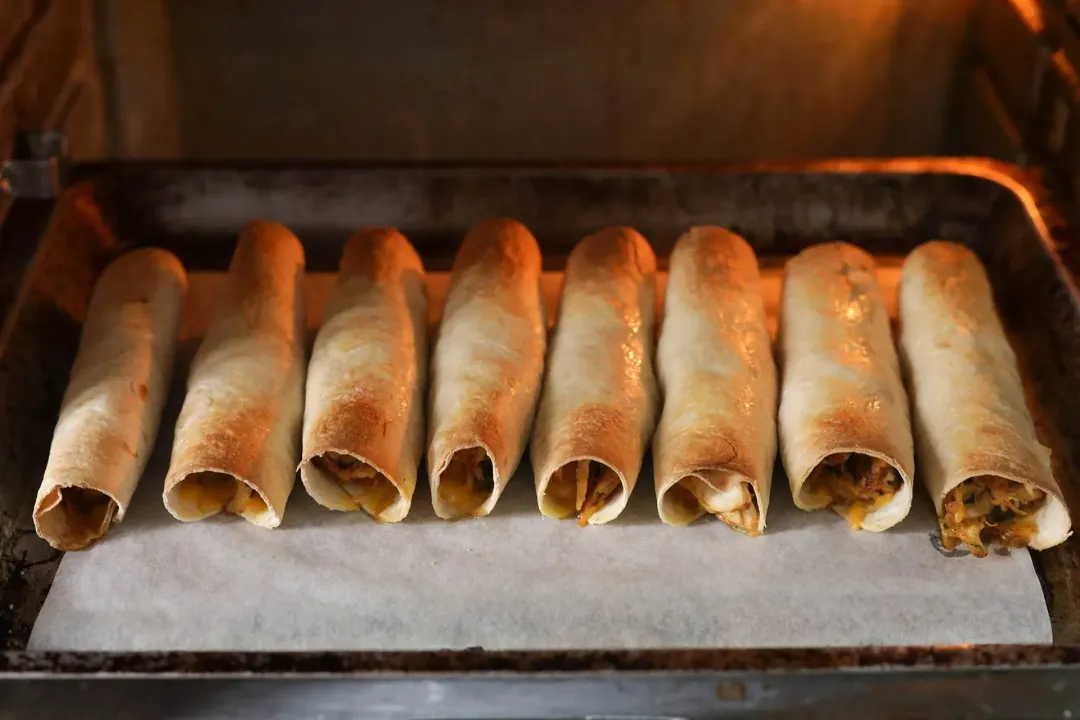 11
Arrange chicken flautas on a bed of salad of 4 oz romaine lettuce, 8 oz avocado cubes, and 1 oz sliced red onions.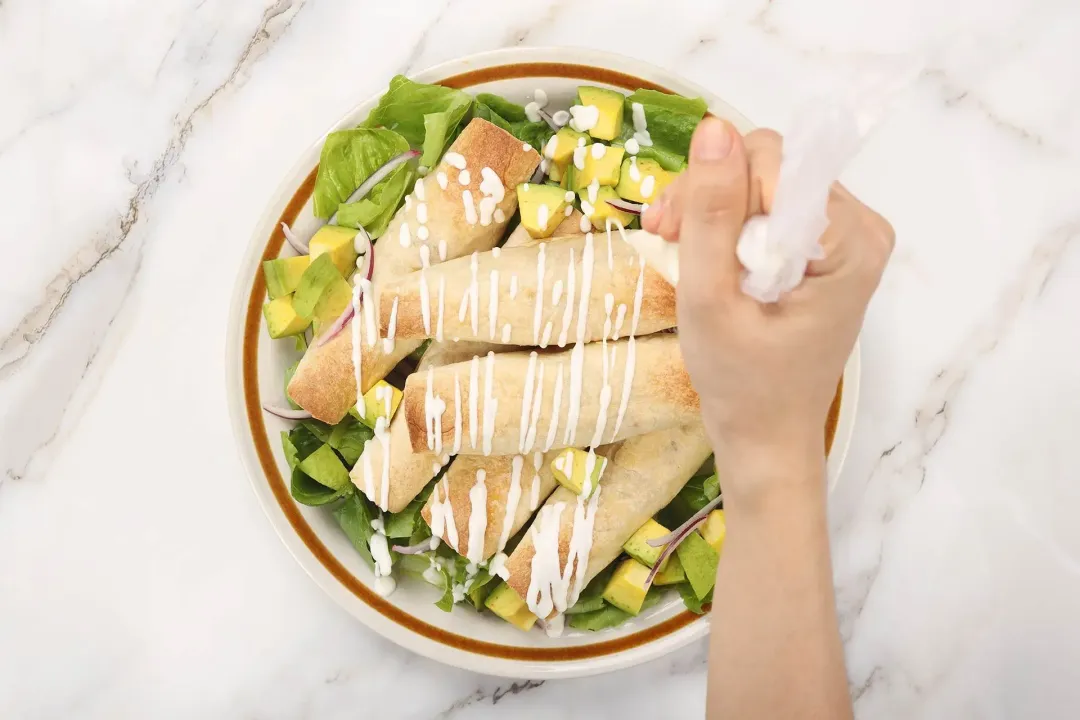 12
Drizzle with 1/4 cup Greek yogurt and garnish with the remaining chopped cilantro. Serve hot.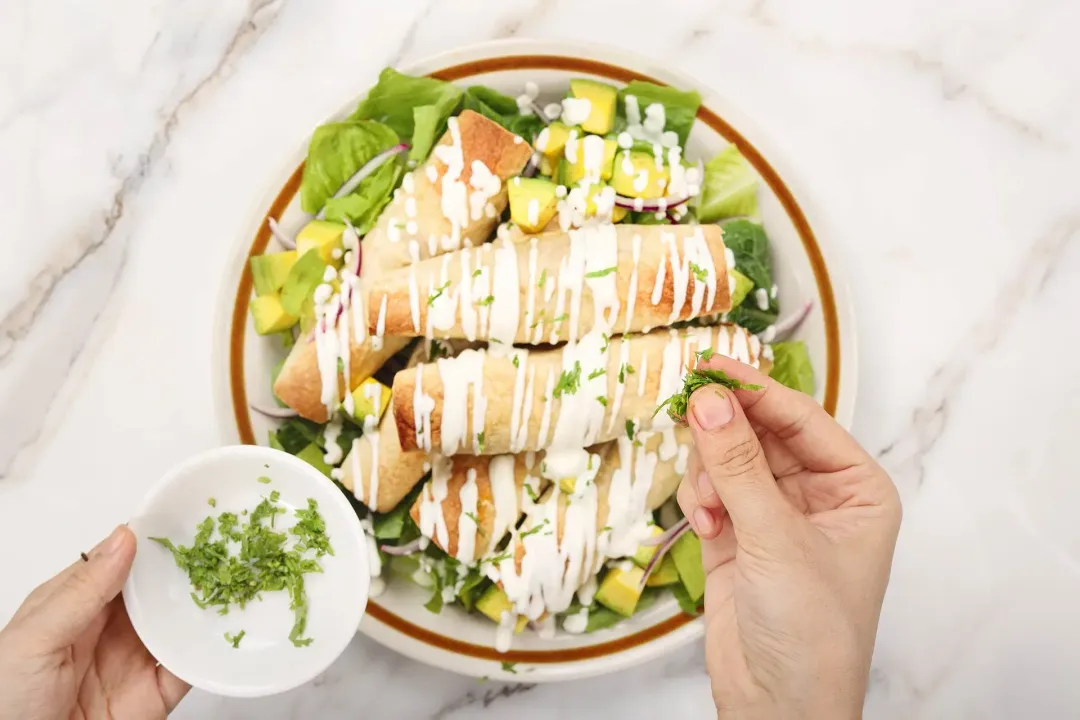 NUTRITION
Nutrition Facts
Chicken Flautas
Amount Per Serving (1 serving)
Calories 506
Calories from Fat 252
% Daily Value*
* Percent Daily Values are based on a 2000 calorie diet.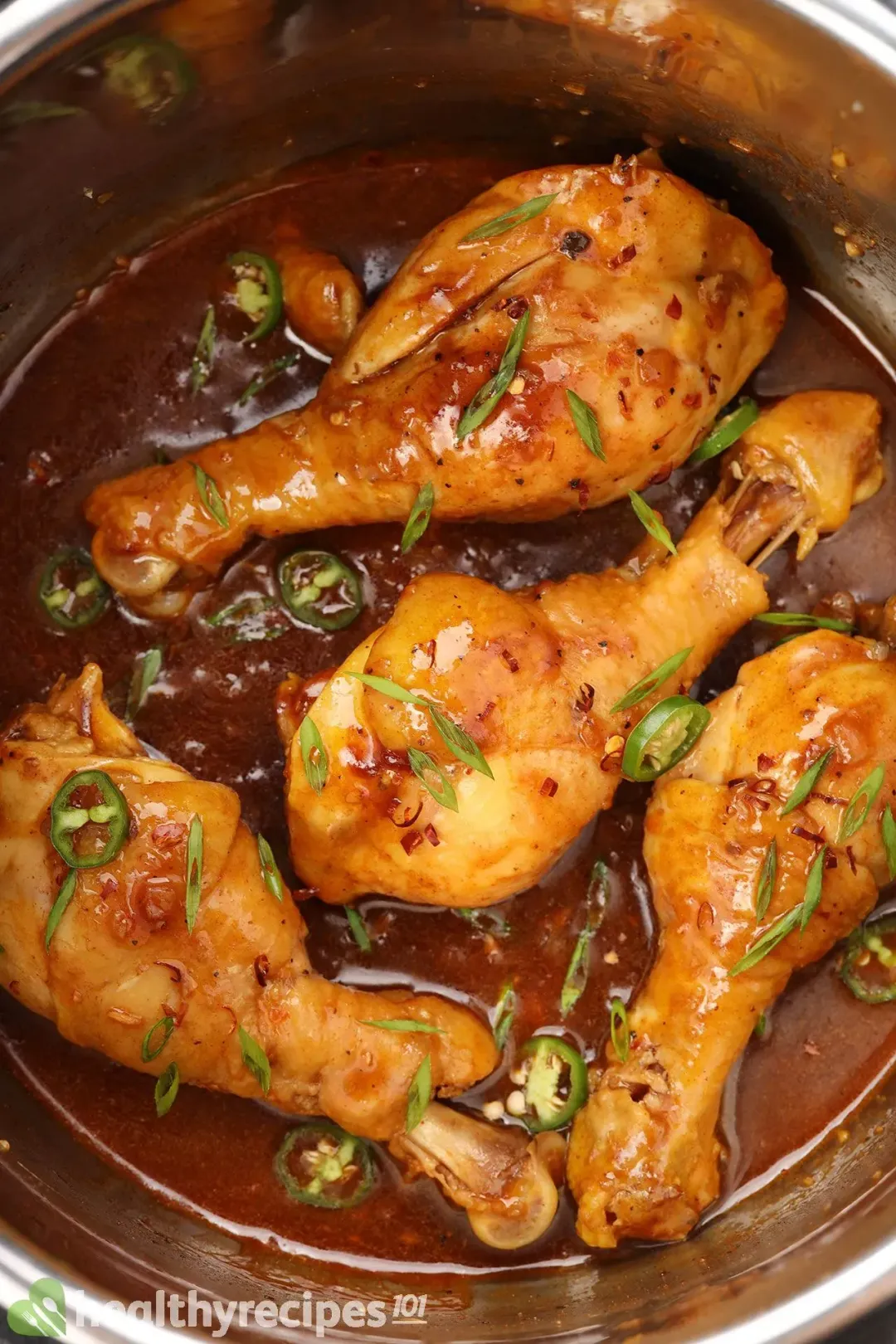 Previous Recipe
Instant Pot Chicken Adobo
Instant Pot Chicken Adobo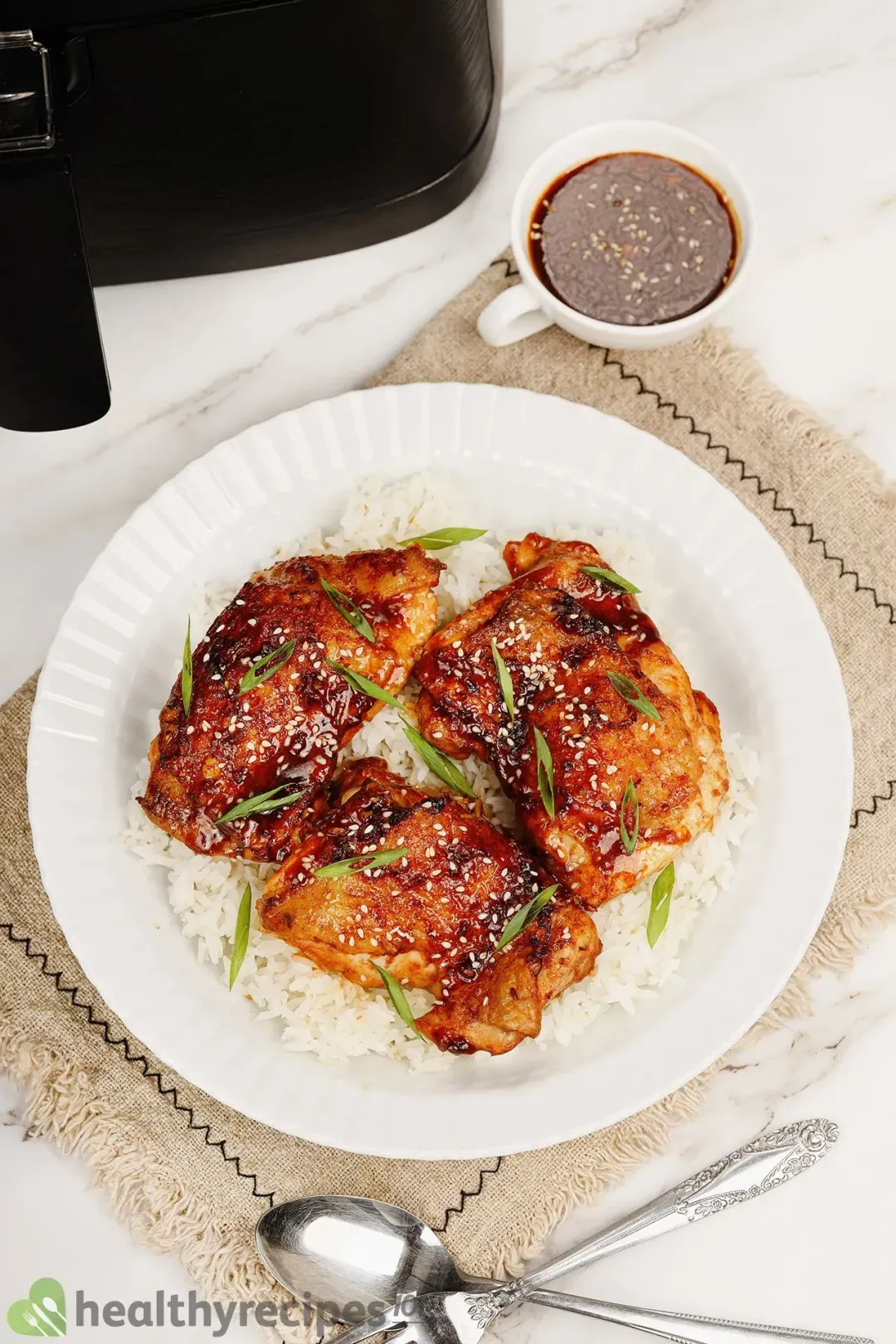 Next Recipe
Air Fryer Teriyaki Chicken
Air Fryer Teriyaki Chicken
Head Chef, Culinary Consultant
Tuyet Pham is an award-winning Saigonese chef who believes that joy is the secret ingredient to delicious food. At Healthy Recipes 101, Tuyet personally tests and simplifies every recipe, ensuring maximum flavor with minimal effort. With a background at prestigious French restaurants P'TI Saigon and Le Corto, Tuyet knows how to make every dish exceptional.
Writer, Author
Luna Regina is an accomplished writer and author who dedicates her career to empowering home cooks and making cooking effortless for everyone. She is the founder of HealthyKitchen101.com and HealthyRecipes101.com, where she works with her team to develop easy, nutritious recipes and help aspiring cooks choose the right kitchen appliances.
Nutrition Reviewer
Natalie Butler is a registered dietitian nutritionist with a passion to help others live their best life through food, fitness, safer beauty and a healthy lifestyle. She has expertise with a variety of diets and diseases and believes that there is no one-size-fits-all approach for health.