Enjoy a sweet and vibrant summer by adding this carrot orange ginger juice recipe to your regimen. It's healthy and will keep you feeling nourished and refreshed throughout the day.
Its potent ginger pairs with the sweet taste of orange and carrot juice. And mint completes this drink with cooling notes.
It's also low in calories, meaning you can have it frequently without worrying about weight gain. So you can both look and feel the summer part!
Is This Carrot Orange Ginger Juice Recipe Healthy?
Yes, this carrot orange ginger juice recipe makes a healthy drink. Each component offers its own set of health benefits that combine to form a drink rich in nutrients.
1. Increased Antioxidants
Drinking carrot juice daily for three months has been shown to increase plasma antioxidant status. Thus regular consumption may protect the cardiovascular system, helping to decrease the risk of diseases like heart failure.
2. Lower Blood Pressure
It was also found to lower systolic blood pressure. This is similar to the effects that you get from quitting smoking, reducing caffeine, and regularly exercising.
That's not to say that drinking carrot juice alone will replace the benefits of your weekly workout. But it will contribute to a healthier lifestyle.
3. Vitamin C
Consuming freshly squeezed orange juice increases vitamin C intake. In one study, it reduced plasma lipid peroxidation in healthy women.
This suggests that you could reduce the risk of cell injury by regularly drinking fresh orange juice. Reducing cell injury keeps you healthier and helps reduce the risk of various diseases too.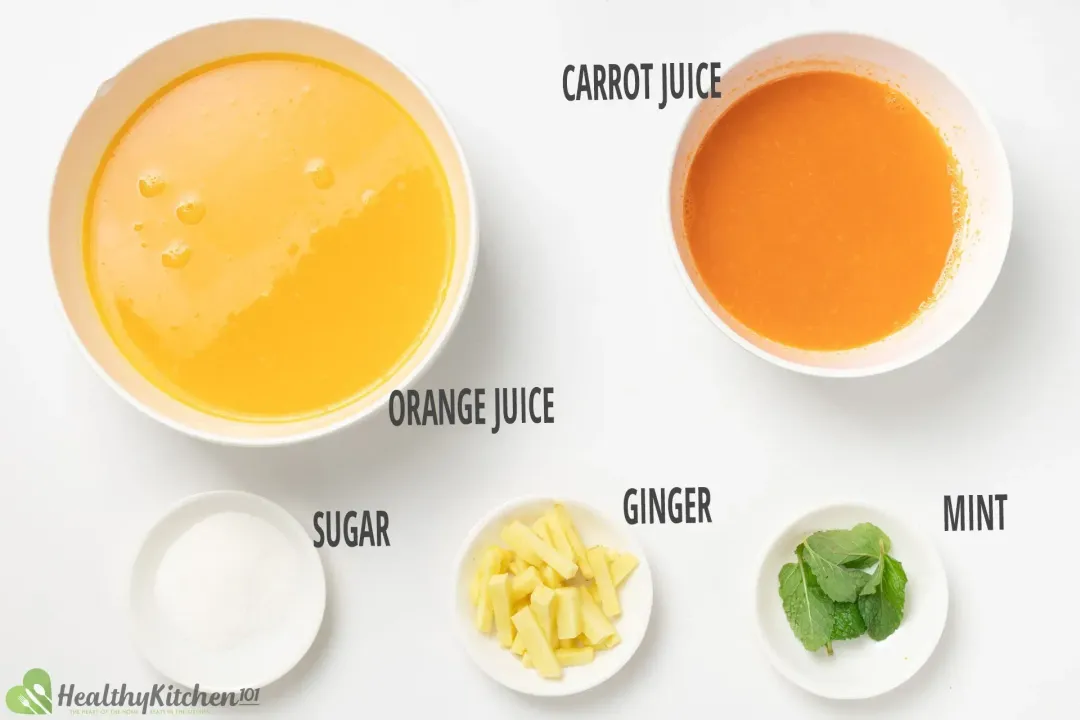 4. Weight Management
The other main component is ginger juice which is very aromatic. It's best to consume it with other less potent liquids.
There's little to no research on the benefits of straight ginger juice. But ginger water has been used in animal experiments.
In this study, groups that received the white liquid extract from ginger rhizomes experienced a decrease in weight gain.
It concludes that later research in humans may show similar results whereby ginger water/juice helps to manage weight gain.
Having healthy components, however, doesn't always guarantee a nourishing drink. That's why we've limited added sugars and additives too.
Added sugar is not your worst enemy. Just try to regulate it, with no more than six teaspoons/day for women and nine teaspoons/day for men.
This carrot orange ginger juice recipe contains only 1.5 teaspoons per serving, which is within the USDA guidelines. It gives you minimal calories and plenty of room to consume other meals that also incorporate added sugars.
How to Make Carrot Orange and Ginger Juice
To make carrot orange ginger juice, begin by washing and peeling the ginger, carrots, and oranges. Cut them to a size that will fit in your juicer chute.
You don't have to deseed the oranges when using a juicer. If you're using a blender, however, deseed them to avoid chewing on bitter pieces.
You can use our article to learn some of the best ways to juice carrots even without a juicer or blender.
And even without electrical equipment, you can discover other ways to extract orange juice in this Top 10 Orange Juice Recipes article.
Wash the mint leaves too, and divide them to leave some for garnishing.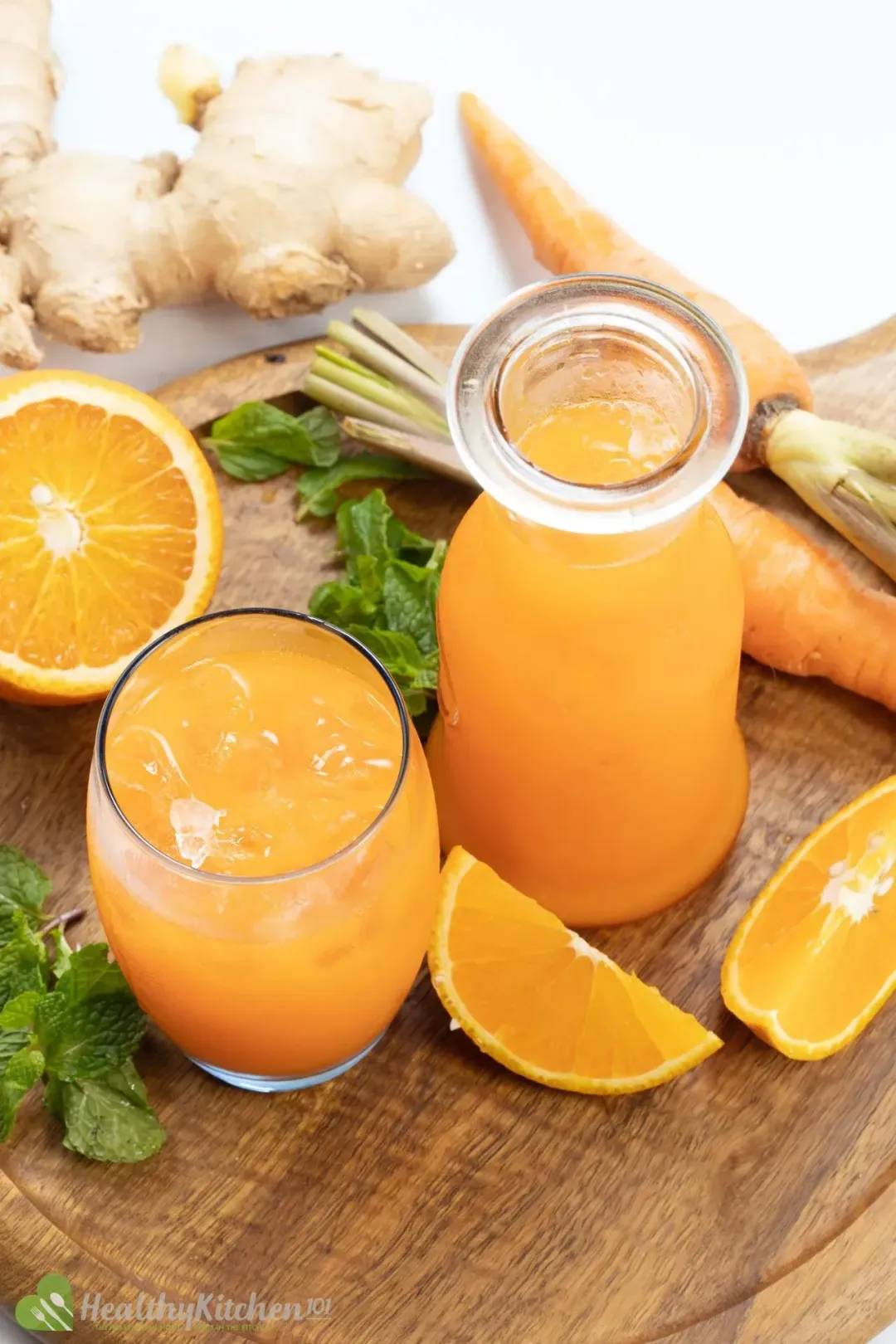 Juice the oranges, ginger, carrots, and mint leaves, and collect the juice in a pitcher. Then, add sugar to the juice and use a wooden spoon to stir it until the sugar dissolves.
Serve it over ice and garnish the drink with fresh mint leaves for an elegant finish.
We use just these ingredients in this recipe, but something more savory, like tomato, can leave you with another healthy juice recipe to enjoy.
You can also try our recipe with other fruits juiced with carrots, or even omit some ingredients and end up with another tasty carrot juice combination. The options are endless!
How Long Does Carrot Orange Ginger Juice Last?
Fresh-squeezed juice is prone to harmful bacteria and shouldn't be kept outside the refrigerator for more than 2 hours. It's best to keep your carrot orange ginger juice refrigerated.
We suggest that you store it, at most, for two days. Like most fruit and vegetable beverages, carrot orange ginger juice will lose some of its nutrient value over time.
Store it in an air-tight container to avoid exposure to air for long periods. And limit exposing it to light and heat for lengthy periods, as this too may reduce light and heat-sensitive vitamins.
However, it's possible to store it for even longer.
If you find that you have too much excess juice left, transfer it into a freezer-safe jar. (Remember to leave about an inch of empty space at the top to accommodate any expansion).
You can leave it in the freezer for up to three months. Any longer than that could risk a flavorless beverage with minimal nutrients.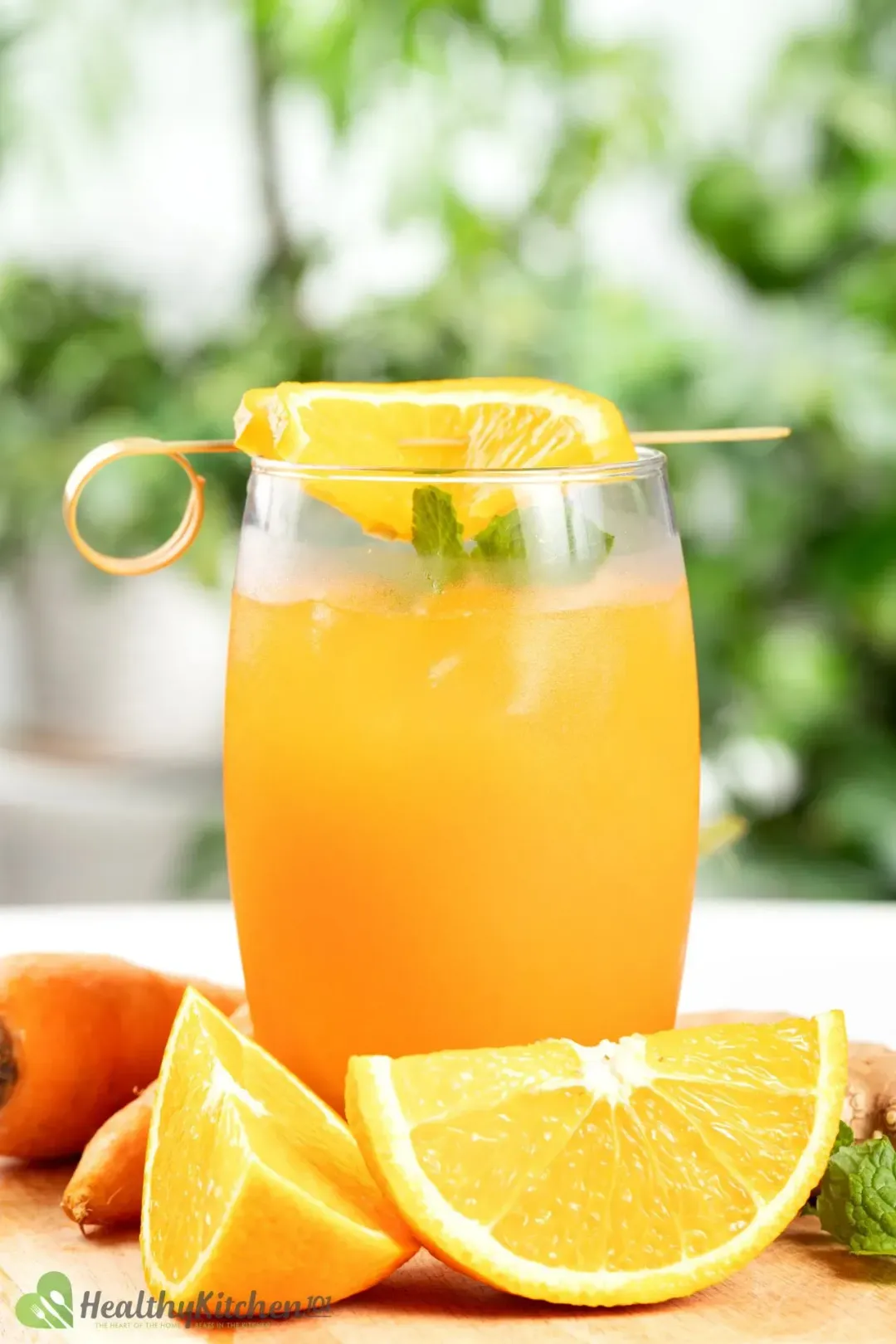 And though it loses nutrients after a few months, you still retain enough to retain some health benefits. Plus, it would save you so much time.
Leave the juice out at room temperature to defrost. It comes in handy for busy days, when you still want the benefits of a quick, healthy beverage!
See more juice recipes at: Delicious and Healthy Juice Recipes
Calories
This carrot ginger orange juice contains 127 calories per serving. That's a small quantity that you can safely incorporate into your daily routine.
It contains a small amount of proteins.
They're equivalent to a quarter of the amount found in a serving of milk. Still, it's beneficial in that it contributes to your daily protein intake while fulfilling healthy calories.
The majority of the calories come from carbs in the form of sugars. These, though commonly misconceived, are needed and add a healthy dose of energy to your day.
Besides, this orange carrot ginger juice is laced with vitamins that boost your immune system, making every calorie worth it!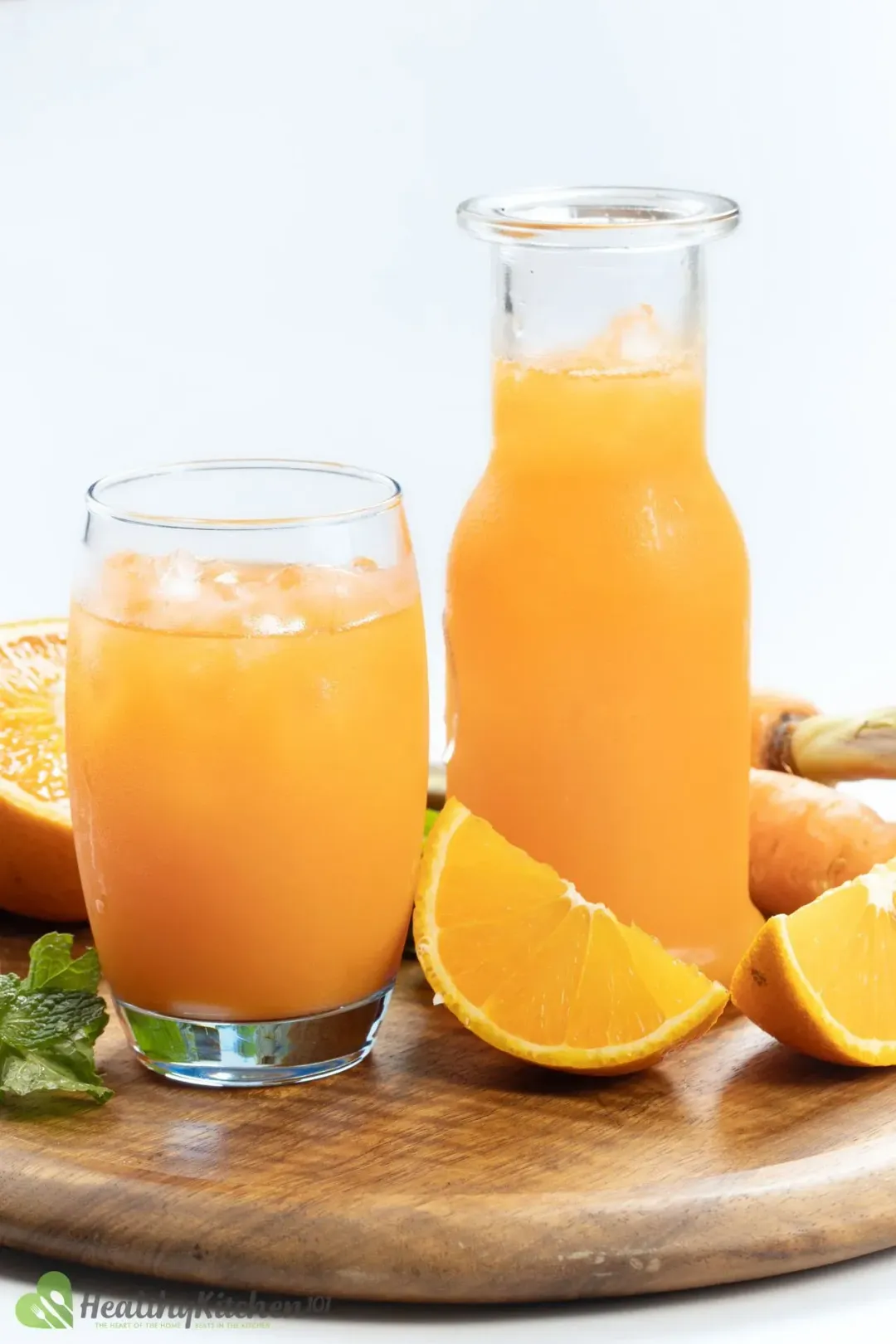 Check out our other low-calorie drinks including our simple juicing recipe with carrots, this juice recipe using beets, and this list of the best juices with ginger — all delicious too!
Carrot Orange Ginger Juice
This carrot orange ginger juice recipe makes a bright-colored drink with sweet, aromatic flavors that boost your health— and your day! Serve it ice-cold for a refreshing feel and a cooling, crisp beverage.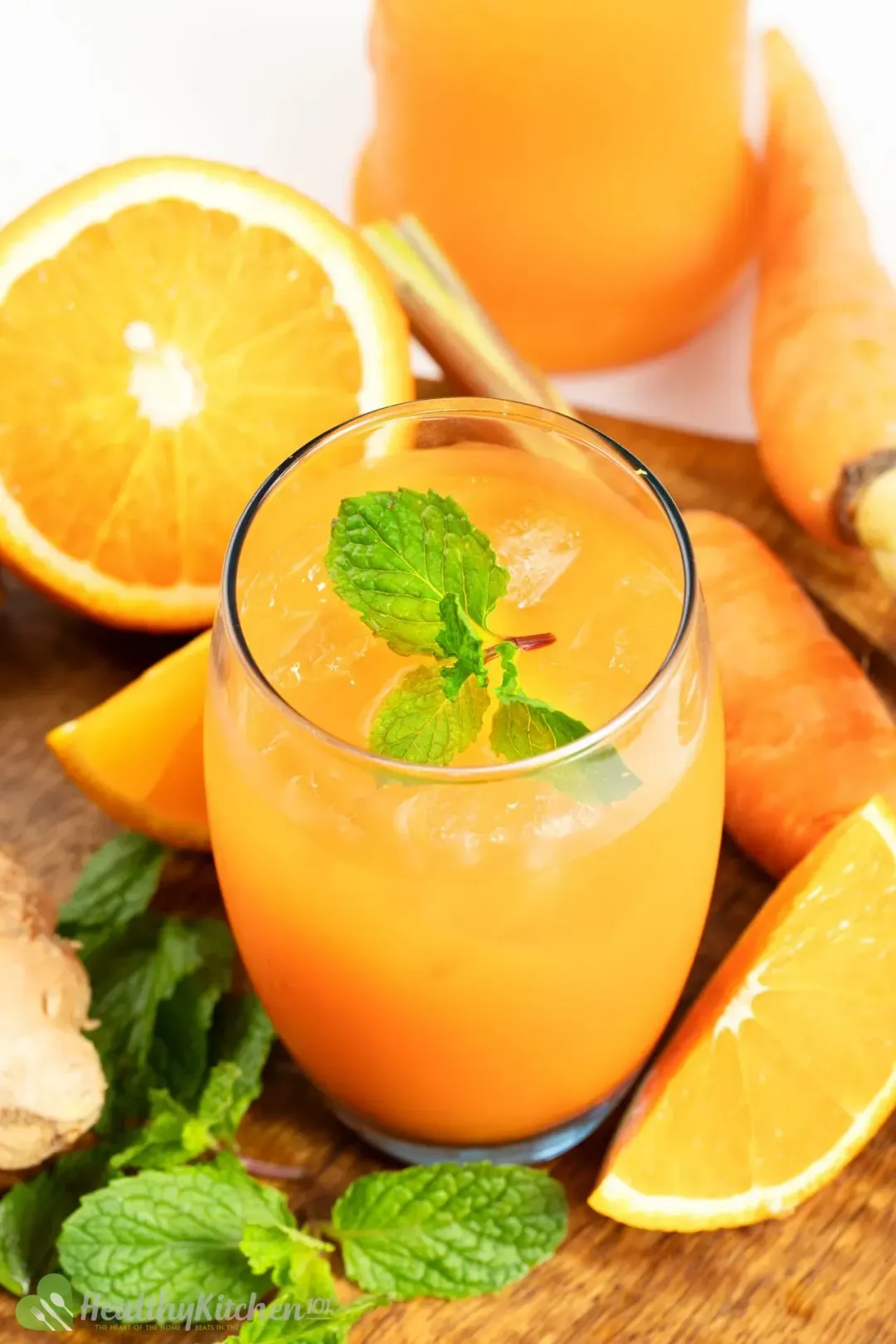 prep TIME

10 mins

total TIME

10 mins
COURSE

Beverage

CUISINE

American

SERVINGS

CALORIES

127 kcal
INSTRUCTIONS
1
Wash and peel carrots, oranges, and ginger. Cut into appropriate sizes for the juicer feed chute.
2
Run carrots, oranges, ginger, and one tablespoon of mint through the juicer. Collect the juice in a pitcher.
3
Add sugar and stir until it dissolves.
4
Pour over ice and garnish with mint leaves. Serve.
NUTRITION
Nutrition Facts
Carrot Orange Ginger Juice
Amount Per Serving (1 serving)
Calories 127
Calories from Fat 9
% Daily Value*
* Percent Daily Values are based on a 2000 calorie diet.
Keywords: Carrot Orange Ginger Juice, Carrot Orange Ginger Juice Recipe, How to make Carrot Orange Ginger Juice Recipe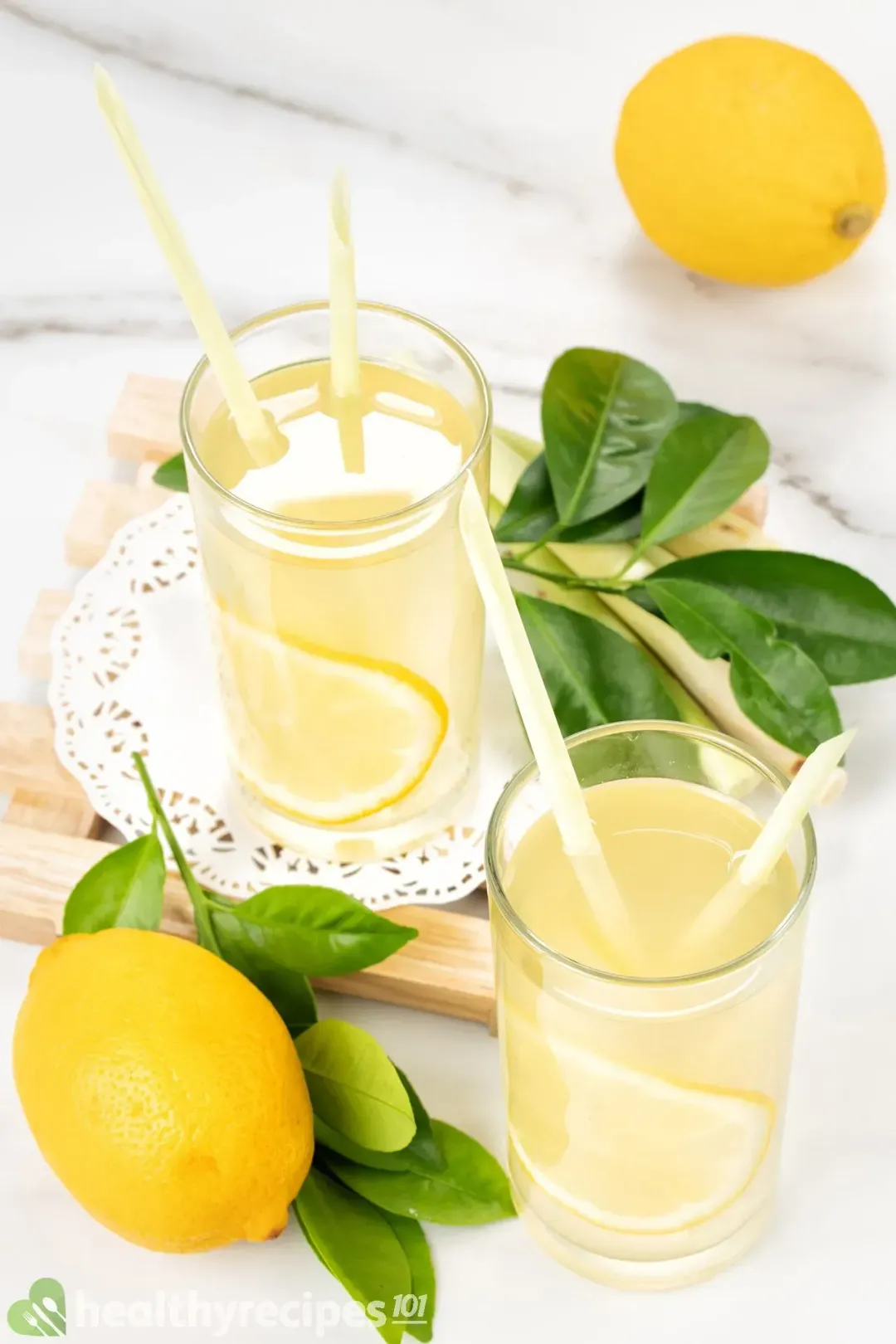 Previous Recipe
Apple Cider Vinegar and Lemon Juice
Apple Cider Vinegar and Lemon Juice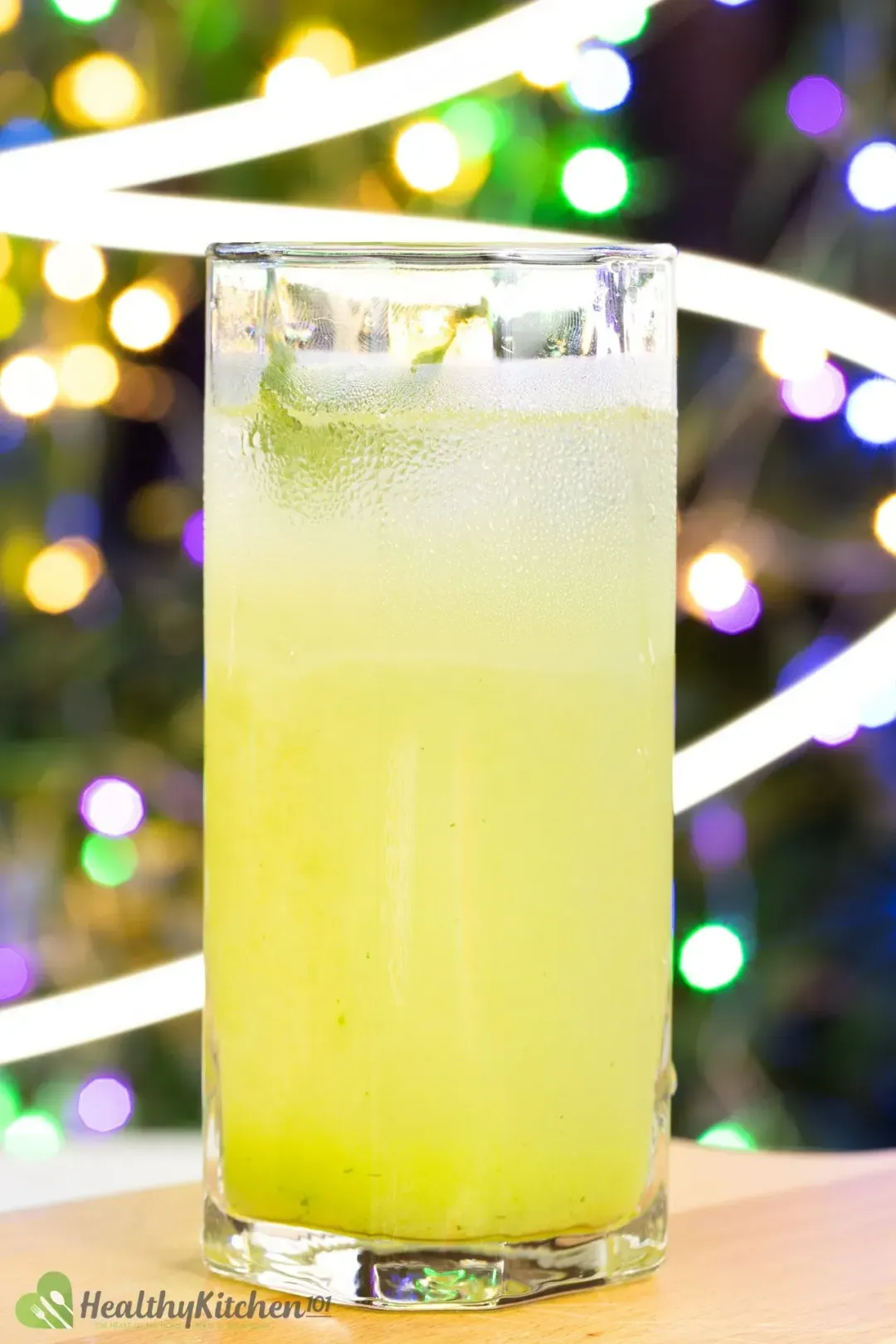 Next Recipe
Cucumber Lime Juice
Cucumber Lime Juice
Great taste! Just the prefect amount of ginger.